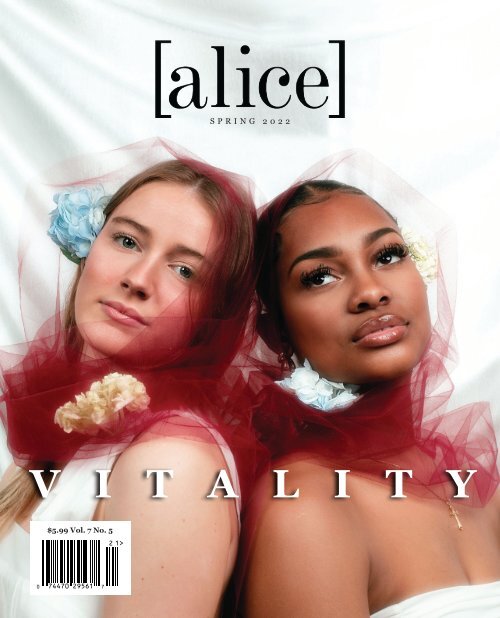 Alice Vol. 7 No. 5
Volume 7 Issue 5 will renew your sense of vitality. Vitality is defined by the capacity to live, grow and develop, so we covered all our bases. We are obsessed with the award-winning drama "Pose" and the fashion surrounding ballroom culture, so we took a trip to the 70s in New York. No need to stress about your 21st birthday; we talked to students about how they spend milestone birthdays. We investigated the complex reality of pole dancing, illuminated Asian influence in media, analyzed child labor abuses in the beauty industry and talked with researchers about period poverty in the United States.
Volume 7 Issue 5 will renew your sense of vitality. Vitality is defined by the capacity to live, grow and develop, so we covered all our bases. We are obsessed with the award-winning drama "Pose" and the fashion surrounding ballroom culture, so we took a trip to the 70s in New York. No need to stress about your 21st birthday; we talked to students about how they spend milestone birthdays. We investigated the complex reality of pole dancing, illuminated Asian influence in media, analyzed child labor abuses in the beauty industry and talked with researchers about period poverty in the United States.
SHOW MORE
SHOW LESS
Do you know the secret to free website traffic?
Use this trick to increase the number of new potential customers.
SPRING 2022

V I T A L I T Y

$5.99 Vol. 7 No. 5
---
#LovetheloftstyleL o v e t h e l o f t s t y l e

o n t a c t u s t o d a y a b o u t o u r s p e c i a l f o r f a l l 2 0 2 2

[2]
---
[3]
---
table of

10 12

14

lifestyle

the importance of girl gangs: why we need to have each other's backs

34

36

how to help those who have experienced crisis trauma

26

30

22

24

rebuilding yourself post breakup

16

18

milestone birthdays

pre-graduation panic

beauty

bama rushtok: where they are now

the benefits of lash extensions

secrets, lies and disguise in the industry

28

the mrs. degree

the hidden hazards of children's makeup

fashion

the overall effect: a look inside ballroom fashion

the crossroads of cultural attire and fashion influence

38

40

42

unisex fashion: rejection of the gender binary

which style icon of the big screen are you?

a guide to Y2K fashion in 2022

[4]
---
features

the curation of sustainable fashion

asian influence in the industry

tattoo taboo

the evolution of musical theater

the complex reality of pole dancing

photostory: vitality

entertainment

which kpop fandom do you belong in?

it's in the details: the moving parts of storytelling in tv

protest music

into the hyper-realm

sex sells: women and sex representation in hollywood

food and health

nothing good happens after midnight

76

veganism and meat lovers: the truth about our food

the importance of knowing what's in your air

going against society's standards: achieving a healthy lifestyle

period poverty

50

66

84

58

70

48

46

54

56

62

64

72

78

80

82

contents contents

[5]
---
[ letter from the editor ]

Vitality.

Volume 7 Issue 5 will renew your sense of vitality. Vitality is

defined by the capacity to live, grow and develop, so we covered

all our bases. We are obsessed with the award-winning drama "Pose"

and the fashion surrounding ballroom culture, so we took a trip to the

70s in New York. No need to stress about your 21st birthday; we talked to

students about how they spend milestone birthdays. We investigated the

complex reality of pole dancing, illuminated Asian influence in media,

analyzed child labor abuses in the beauty industry and talked with

researchers about period poverty in the United States.

It's no secret we've been busy here at Alice. Our writing department

has written 80 stories for our five issues. Our creative department filled

almost 300 pages with dynamic, captivating photos and strong, charming

designs. I wish I could tell you how many views the past four issues had,

but as I'm writing this Issue 4 has yet to be released.

In addition to five issues, we've been keeping readers up-todate

over on socials and web. We've released over 20 YouTube videos

showing behind the scenes of issues, reviewed local restaurants, created

beauty tutorials and more. We took on TikTok and reached almost three

thousand accounts. On Instagram, we hit and surpassed two thousand

followers. On our website, we continued to keep our readers informed by

publishing over 20 stories.

When we realized we would be working on three issues

simultaneously, I wish we could say that we didn't panic, but we did.

Never fear, every single person on staff quickly rose to the challenge and

ascended every expectation. Despite the added pressures and deadlines,

our creators put vast amounts of their time, energy and creativity into

every piece we produced, and our readers get to reap the rewards.

When you read a story in this issue, know that it has been touched

by at least five students. Our writers, photographers, models, designers

and editors all have a hand in making Alice a respected, thriving, beautiful

publication for the women on our campus and beyond. Words cannot

express how proud and grateful I am to have led such talented people.

When I stumbled, this staff had grace and bloomed right alongside me.

This has been an experience of a lifetime, and serving as Editor-in-Chief

at Alice will always be one of my greatest honors.

For the readers and my staff who continue to renew my sense of

vitality,

Lindsey Wilkinson

[6]
---
[editors]

EDITOR IN CHIEF

MANAGING EDITOR

CREATIVE DIRECTOR

DESIGN EDITOR

PHOTO EDITOR

ASST. DESIGN EDITOR

ASST. PHOTO EDITOR

MARKETING EDITOR

FASHION EDITOR

BEAUTY EDITOR

LIFESTYLE EDITOR

ENTERTAINMENT EDITOR

FOOD & HEALTH EDITOR

DIGITAL DIRECTOR

SOCIAL MEDIA EDITOR

ONLINE EDITOR

VIDEOGRAPHY EDITOR

CONTRIBUTING WRITERS

CONTRIBUTING DESIGN/

PHOTO

CONTRIBUTING VIDEO

MODELS

EDITORIAL ADVISOR

ADVERTISING

DIRECTOR

Lindsey Wilkinson

Jennafer Bowman

Rebecca Martin

Ella Smyth

Sarah Hartsell

Wesley Picard

Emma Kate Standard

Mary Groninger

Ta'Kyla Bates

Beth Wheeler

Cat Clinton

Jeffrey Kelly

Evy Gallagher

Kendall Frisbee

Katie Morris

Sophia Surrett

Emily Rabbideau

Jane Lipp, Savannah Dorriety,

Caitlin Neill, Kierra Thomas,

Emie Garrett, Morinsola Kukoyi,

Annabelle Blomeley, Alexxa

Clausen, Baylie Smithson, Tory

Elliott, Victoria Whitcomb, Caroline

Branch, Mary Claire Wooten,

Morgan Byerley. Ashley Clemente,

Bella Carpino, McKenzie Stevens,

Hadley Elsesser, Lucy Barrow,

Jolie Money

Sarah Smith, Katie Nebbia, Kayla

Roberson, Katie Harmon,

Jennifer Stroud, Grayson

Byrd

Alice Choup, Megan Davis,

Laura Fecanin, Sami LaCount,

Jocelyn Claborn, Ashley Clemente

Ariel Yavuncu, Sa'Niah Dawson,

Analise Chambers, Emily Enes, Des

Davis, Morgan Barnum, Hasten

Howard, Julie Newton, Abinandhan

Narayanan, Kefentse P. Kubanga,

Abigail Sunday, Anna Snider,

Marcus Johnson

Monique Fields

Julie Salter

Jessie Jones

Editorial and Advertising offices for Alice Magazine are located at 414 Campus

Drive East, Tuscaloosa, AL 35487. The mailing address is P.O. Box 870170,

Tuscaloosa, AL 35487. Phone: (205) 348-7257. Alice is published by the Office

of Student Media at The University of Alabama. All content and design are

produced by students in consultation with professional staff advisers. All

material contained herein, except advertising or where indicated otherwise, is

copyrighted © 2022 by Alice magazine. Material herein may not be reprinted

[7]
---
10

the importance of girl gangs: why we need to have each other's backs

12

how to help those who have experienced crisis trauma

14

rebuilding yourself post- break-up

16

18

milestone birthdays

pre-graduation panic

[8]
---
[9]
---
The Importance of

Girl Gangs:

why we need to have each other's backs

By Victoria Whitcomb

Photo Sarah Hartsell

[10]
---
Having a group of girls doesn't just increase the

number of people to watch Euphoria or the

Bachelor alongside. The females who add value

to one's life can impact individual wellness and

improve quality of life.

The importance of girl gangs is more

than having people to gossip with and tell secrets

to; it's being confident in the support system and

having friends who always know the right thing to

say.

Everyone has been through friendships

where someone has caused pain and treatment

the other party would never inflict back. In those

moments, it is important to look towards the

people who have consistently been there to help

recover.

"I learned the importance of having

female friendships from a young age because I

have an older sister who has always been there

for me. The scariest part of going to college was

knowing I would have to start over and find a

group of girls I felt comfortable with," said Lydia

Jackson, a junior interior design major at The

University of Alabama. "I quickly met girls who

I knew would be my life long friends. They are

people I can call at any minor inconvenience

and offer me new perspectives on life. Female

friendships are the most rewarding, fulfilling and

intentional relationships we can have."

In situations like these, girl gangs can

ease the stress and anxiety by allowing individuals

to vent and share emotions. When talking to

someone trusted full-heartedly, people tend to

get a sense of home. It's comforting to know that

certain girls would never participate in activities

that leave others feeling betrayed.

Although men are also great to have

close friendships with, there is a difference.

Females understand each other in ways men

do not. Women often have more emotional

motivations than men, causing multiple divides

in the way people act, think and problem solve.

Therefore, it is incredibly beneficial for women to

create strong bonds with one another.

"Having girlfriends is an essential part

to having the best college experience. After a hard

day in school, being able to hang out with friends

is the thing that can cheer me up," said Patricia

Dyer, a junior accounting major at The University

of Alabama. "Also, having friends in your classes

can make learning easier and more enjoyable."

Women can serve as each other's

emotional support system. Without a doubt, a

huge part of a girl's emotional and mental strength

comes from the power of how close the girlfriend's

relationships with other women are. These friends

can brighten any day and comfort every sorrow.

Although finding friends like these cannot always

be easy, once found, it is important to never let go.

"Having a girl gang in college has been

beneficial for me because they are my home away

from home," said Lauren Jolly, a junior psychology

major at The University of Alabama. "They are the

people I can always rely on and confide in when

I have a good or bad day. At the end of the day, I

know I have someone in my corner."

Unfortunately, today's world can often

make it a goal to tear other women apart. Tearing

women down is too often rumored to bring

validation. Too often are women categorized as too

sensitive, too dramatic and too emotional.

Supporting other women can only

benefit the gender as a whole, especially when

others underestimate women. The idea that close

friends can be the love of our lives has been

prevalent since it was declared on Sex in the City.

Carrie Bradshaw said, "They say nothing lasts

forever, dreams change, trends come and go, but

friendship never goes out of style."

[11]
---
HOW TO HELP THOSE WHO HAVE

EXPERIENCED TRAUMA

*Trigger Warning: Sexual Assault

By Jennafer Bowman

National Sexual Assault Hotline: 1-800-656-4673

In late August of 2021, the University

of Nebraska Lincoln came under fire after

a fraternity member allegedly sexually

assaulted an underage girl at an offcampus

dwelling. In early September of

2021, reports of three separate incidents

of sexual assault in less than one week

at Auburn University surfaced. One in

five women in the United States has

experienced some form of sexual assault,

according to the National Sexual Violence

Resource Center. While these reports and

their details are spread across the news,

their resources are attached at the bottom

of the page. This is not one of those articles.

Women and Gender Resources Center: 205-348-5040

[12]

Design Ella Smyth

Robin Taylor is an independent

clinical social worker at The University of

Alabama's Women and Gender Resources

Center (WGRC). Her job starts as soon as

a report is received.

"The key to crisis intervention

is always to first try to help whoever the

survivor is," said Taylor. "The second step

is to make sure that person feels safe, we

are there to support them."

She said, in one case, a survivor was

extremely overwhelmed and had their

senses heightened. When the police were

questioning the survivor, they became

overwhelmed.

"During questioning, I could

tell it was a lot for them," said Taylor. "I

stepped in and pulled them aside and just

tried to help the person understand what

was going on and take some time to take it

all in."

After any crisis event, survivors

will have a hard time understanding what is

going on. Taylor said that they also explain

the resources available to survivors. The

SAFE Center of Tuscaloosa, a 24/7 sexual

assault crisis center that provides care to

survivors, is one of those resources.

SAFE Center of Tuscaloosa 24/7

Hotline: 205-860-SAFE (7233)

"The one thing our community can

do to help survivors is acknowledging that

it is a real thing and it's happening in all

communities," said Taylor.

Only 20% of female survivors report

their assault to law enforcement, according

to RAINN. Many women become afraid to

report sexual assault for several reasons,

including thinking they won't be believed,

self-blame or their relationship with their

assaulter.

End the Silence:

https://officialendthesilence.org/

Rachel Jakovac is the CEO of End the

Silence, a nonprofit organization dedicated

to giving survivors of interpersonal

violence room to heal. The organization

has three goals: raise awareness about

"the prevalence of abuse so we can end

it." raise money for aid for survivors of

interpersonal violence and take action by

using your voice to make a change.

"As long as we get out here and

we show that we care for all survivors,

especially those that don't automatically

report it, then we're doing the right thing,"

said Jakovac.

Protests such as those that happened

on the University of Nebraska Lincoln

and Auburn University campuses show

survivors that people care and hold the

administration accountable to address

these events.

"There are so many unreported cases

and we need to keep this energy for them,"

said Jakovac. "A way that we can really do

this is creating awareness and culture shift

that says 'We do not tolerate this.'"

Many people don't know how to

respond when someone comes forward.
---
Online, there are many instances of

jokes about sexual assault, inappropriate

questions and dismissive tactics. While

these responses are wrong, many don't

know where to continue the conversation.

"When someone is coming forward

to you to share their story, the first step

is just to listen and believe even when it's

not the story that you necessarily want to

hear, even if it makes you or your idols or

your friends look bad, it's important to decenter

yourself and let the survivor share

their story," explained Jakovac.

Both Jakovac and Taylor agreed that

the best thing to do to support survivors is

to listen. However, sometimes they might

just want some space. Everyone copes

differently when experiencing trauma.

Alex Nail is a senior psychology and

social work major at The University of

Alabama. She said listeners should also

be aware that their mental health could be

affected by listening to stories.

"It can be just as traumatic to be

the listener," said Nail. "It is a traumatic

experience to hear a traumatic experience

but try to remove your emotions from their

experience."

The next step after listening is

asking what the survivor wants the listener

to do. Nail said that survivors might be

scared to report because they don't know

what happens after they report it and

sitting in an office waiting room can be

uncomfortable.

They could want the listener to share

a personal experience, want the listener

to go with them to appointments or help

them file a police report. Even if survivors

don't want to talk to anyone, still give them

access to resources.

Survivors and their supporters

should know there are people out there

that want to help. If you or someone

you love has experienced crisis trauma,

encourage them to talk to you or someone

they trust. Everyone can contribute to

stopping the stigma surrounding sexual

assault survivors and creating a safe

environment for women on every campus.

[13]
---
[14]

Photo Emma Kate Standard
---
People often put their hearts out there. Most

people have loved someone wholeheartedly

and thought it would work. Then one day the

relationship is over, and the lovers become

strangers. It's easy to feel at a loss for words. As

if life has crumbled before everyone's very eyes.

It feels like a pit in the stomach, and ultimately

staying in this state will only end in misery and

heartache.

A breakup is never easy, especially for those

who have been together for quite some time.

When people love each other, parting ways can

feel crippling. Rebuilding is hard, but there are a

few things that may help.

When dating someone, it becomes

second nature to invest time. Nights full of

conversations, phone calls and endless plans.

It seems normal to spend time together and,

suddenly, lives become intertwined. After

breaking up, it may feel as if nothing will ever be

normal. It is difficult coming to terms with the

fact that newly singles are forced to seek some

sense of normalcy.

Normal looks different for everyone, but it is

okay to ease into the normal that works best.

Adapting to a new way of life takes some getting

used to. Identities are not tied to relationships

or significant others but what people do and say.

The key to progress is to appreciate the person in

the mirror who has grown through experiences.

"After you are emotionally dependent

on someone for so long it is hard to take

accountability for your own emotions. I didn't

have him to blame anymore, I had to learn

how to be alone with my own thoughts," said

Grace Skelton, junior social work major at The

University of South Alabama.

Breakups bring a lot of change. Whether for the

best or the worst, there is no denying that life

will change. Regaining independence is exciting,

and it's important to take the time to get to know

oneself. Taking care of emotional and physical

needs is an essential way to heal.

"I am a much different person than who I

was before, and I think that it's for the better.

There are definitely parts of me I see now that

I never knew existed before," said Eli Bruce, a

finance and economics senior at The University

of Alabama.

Everyone handles breakups differently. One

may end messy while another ends mutually.

Regardless of how things ended, communicate

and reach out to people. Having a good support

system will truly save some tears. By hanging

out with friends and family, people get the

opportunity to make good memories. Sometimes

it can be easy to lose any sense of practicality

when having a bad breakup. Talking with friends

helps bring a new perspective. Friends and loved

ones can usually relate or at the very least listen.

In addition to reaching out to friends, carve

out some personal time. By implementing metime,

people should find new things that spark

joy. Breakups typically bring heavy and dull

emotions that cloud thoughts and make people

feel gloomy or uninspired. By simply trying

something new, like a pottery class or going to

a restaurant, inspiration can spark. Everyone

should also attempt to set aside time each week

and find something

That creates a reason to smile. The best thing

for self-care is to put in the effort when taking

time alone.

Said Emma McGowan, senior at the University

of Alabama, "I really started to focus on myself

after my breakup. I went to the gym, I spent time

with friends, and I finally learned how to enjoy

being with myself again."

In order to rebuild, everyone needs time to

mourn. Taking the extra time to mourn the

past selves who dated each former partner. Be

gentle with self-criticism and pay attention to

the growing pains often experienced. Once a

relationship comes to a close, there are a few

ways to look at what has happened. The best

way is to take the experience of the relationship

and use it as an advantage. It takes time to heal

and adjust to being someone with no romantic

attachment.

Rebuilding a foundation and finding the

person we are and want to take time. There is

no timeline for someone to fully move on and

feel normal. Post-breakup growth is not linear.

Getting up and rediscovering personalities,

quirks and personal interests may not be easy,

but it is beneficial. By remembering time heals

all, the post-breakup feeling will slowly but

surely become more comfortable.

[15]
---
By Mary Claire Wooten

Photo Sarah Hartsell

Everyone has preconceived notions of

what a milestone birthday looks like.

Sweet sixteens and sign nights surrounded

by friends, family and everyone in between.

More often than not, these milestones are

accompanied by a new found freedom.

Freedom the celebrated guest has often

counted down the days until receiving.

The freedoms, commonly associated with

generic milestone birthdays, come from a

legal perspective. The ability to drive, vote

or even drink are rights gifted to those

in the corresponding years. These big

responsibilities can cloud the important

things accompanying them, like the lessons

learned in the wake. Responsibilities that

have the potential to be more beneficial

than the skill it accompanies. Nobody has

ever fully adapted to a concept without

bumps in the road (or the car itself in some

cases).

Augie Barnette, a sophomore majoring

in creative media at The University of

Alabama, did not pursue his drivers license

for months after his milestone sixteenth

birthday.

"I wasn't really in any rush," said

Barnette. This would come as a shock to

many of his peers, given his early birthday

and access to the one form of freedom

every adolescent thinks will change their

lives.

In Barnette's hometown, multiple

serious accidents involving people his

age occurred, resulting in a realization

that simple mistakes can have long-term

consequences. Amongst these lessons,

and as a plus on his birthday, he was also

permitted to legally drive himself and one

friend until a set curfew.

Any year can represent a milestone

and every year offers the opportunity to

grow. As opposed to learning lessons,

sometimes a new year can help people

gain experiences to better self-reflect and

understand personal preferences and

values.

Christian Mckee, a junior majoring in

psychology at The University of Alabama,

[16]

at the time of his nineteenth birthday, was

navigating a new environment, hours from

home, in his first year at The University of

Alabama.

"It was the first time I had lived by myself,

I learned a lot about my priorities and

standards for personal relationships," said

Mckee.

Everything is not so open and closed

as it seems though. Mckee recounts this

was the age he had to decide what to do

with his life, an issue common for many

entering a new phase of life with so many

new freedoms, ones that weren't planned

out based on age.

The age varies for people of the moment

first launched from the comfort of one's

childhood home's and parents, forced

alone into the world. Not everyone moves

out at 19, nor does everyone experience the

first dose of reality at 19. For those that do,

the learning curve can be overwhelming.

Some people have career paths chosen

from diapers. Others get three years into

a degree and are still struggling with

doubts about their plans. Neither path

is better. People discover personal goals

and ambitions during many different

experiences and events and sometimes

these aspects of growing up take you by

surprise.

While questioning abilities are normal,

the feeling resulting in years of secondguessing

and self-doubt can cause

emotional turmoil. A birthday can lead to

questioning personal identities and values

completely.

At the age of 21, Katie Henry had just

graduated college from Auburn University

with an architecture degree and was

entering the workforce with a lot of

decisions to make. Most importantly, the

question persisted, where now? Henry

runs her own business doing contract

architecture and design work from her

home.

"The entire business has been a huge

learning curve," said Henry.

To date, Henry has been living in a

booming college town and enjoying her

life, as if overnight, she transitioned from

a girl and student into a woman with a

degree and business. The transition was

just about as easy as you would expect.

"Within the first couple of paychecks I had

to learn to actually budget and balance a

checkbook which I had never experienced

before," said Henry.

It's commonplace to think that everyone

around is ahead of you on a nonexistent

path, but adjustment is hard and everyone,

in some shape or form, has had to adapt.

While specific ages and events in life come

without an outline, no person experiences

life the same way. Everyone has different

backgrounds and upbringings. The

surroundings and experiences in life

can affect people differently. Maybe a

driver's license means a good opportunity

to grasp independence, but sometimes

these milestone birthdays bring the gift

of a valuable life lesson. Everyone has to

learn somehow, but the age and birthday

it occurs on depends on the person

experiencing it.
---
[17]
---
PRE-

GRADUATION

PANIC

BY

SOPHIA

SURRETT

DESIGN KATIE HARMON

[18]
---
As graduation season is

approaching at full speed, panic

for seniors can begin to set in as their

college expiration date is closing in.

Whether you are a senior in college

or high school, not knowing whether

the future holds a job, an internship, a

degree or a gap year can be taxing and

scary. However, these anxieties occur in

most graduates and can dissipate with

planning and a support system.

"What is important for graduates

to know, is that experiencing stress,

anxiety, and/or depression during this

transition in life is not only natural but

also a typical part of human and social

development," said Melissa Boudin,

Psy.D, clinical director of Choosing

Therapy, an online therapy platform

that serves clients across the U.S. ages

13 and up.

Graduation ceremonies themselves

can be daunting if stage fright is on the

top ten fear list, let alone what follows

the ceremony. Although change is scary,

it can be good as well. This is the next

stepping stone in life, and concurring

it can become a challenge. However,

throughout the college career, small

experiences mature a student and

prepare them for the future.

An University of Alabama (UA) student

studying News Media and Alice's

Editor-in-Chief, Lindsey Wilkinson

is an upcoming senior graduating

May 2022. Wilkinson said she is not

prepared as she has not gotten her cap

and gown or her class ring yet, but she

feels her time in college has come to an

end naturally.

"I'm prepared in the sense that my

time as a student is over. The transition

feels like the next step," said Wilkinson.

"I've grown a lot, learned a lot and

grown as a person. I'm also looking

forward to being paid for work instead

of classwork."

Wilkinson went on to say that she

knows everyone has anxiety about

graduating. She doesn't know where

she is going after she graduates or if she

will know anyone when she gets there;

these are her main anxieties.

This is one of the main stressors for

most college graduates, especially since

the pandemic. COVID-19 raised the

unemployment rate to 14.7% in April

2020, but now the unemployment

rate is down to 4%, according to the

Bureau of Labor Statistics (BLS), which

is about 6.5 million people. On the last

day of December 2021, there were 10.9

million job openings available in the

U.S. the BLS reported. This means that

there are still roughly 4.4 million jobs

out there.

UA's Interim Executive Director

at the Career Center, Schernavia

Hall, encourages students to start

early regarding their professional

development and reach out to the

UA Career Center or an equivalent

career service. They can help line up

internships, full-time jobs and more.

Hall said she talked with an advisor

and later her mentor, and those

conversations helped guide her towards

what she wanted to do that was best for

her.

"Years ago, I was probably like some

students, and I was debating on whether

I wanted to enter the job market or go

back to school, so I was very nervous

[because] I didn't know if I was making

the right decision," said Hall.

UA's Career Center provides career

fairs, Handshake guidance and more to

help prepare students for their future

careers or to navigate their career

interests. To talk to an advisor, call

(205) 348 - 5848 or visit https://career.

sa.ua.edu/. Hall said to take advantage

of these services as they are ready and

willing to help students, but know

many students might not be thinking of

graduation so soon.

"Enjoy the moment, but have a plan,"

said Hall.

Having a good support system

around can decrease stress levels with

graduation approaching. Hall said her

family and her advisor as her support

system were one way her anxieties were

eased.

"Finding a group and just going for it

is the best way to invest your time in

college," said Wilkinson.

Wilkinson encourages students to not

surround themselves with people who

make you feel less than.

"The most important things to do, to

cope in a healthy way, include focusing

on maintaining positive social support,

engaging in interests, creating plans

centered around things you have

control of, talking to a trusted mentor

or support person and in some cases,

talking to a professional about how you

are feeling," Boudin said.

Talking to a therapist or a counselor

can help ease anxieties and help

determine the right plan for the student

and what's next. UA's Counseling

Center can provide those services

to students looking for guidance as

graduation is approaching, or any

season that might seem daunting. To

set up an appointment, call (205) 348 -

3863 or visit https://counselingcenter.

sa.ua.edu/.

[19]
---
22

24

bama rushtok: where they are now

the benefits of lash extensions

26

30

secrets, lies and disguise in the industry

28

the mrs. degree

the hidden hazards of children's makeup

[20]
---
[21]
---
Bama RushTok:

Where Are They Now?

By Alexxa Clausen

Photo Rebecca Martin

[22]
---
Attending a university and

obtaining a degree is one of the

biggest accomplishments for many.

Though the journey of acquiring a

degree is irreplaceable, it has never

been deemed as easy. Despite the

difficulty, college students manage to

pursue many different extracurricular

activities while maintaining their

education. One of the most popular

extracurriculars that most universities

have to offer is Greek life.

In August of 2021, girls participating

in rush at The University of Alabama

(UA) quickly became viral on TikTok.

Celebrities and brands, like Addison

Rae and Kendra Scott, posted content

related to the phenomenon. Taking

on sorority rush similar to a reality

tv show, the girls attended different

houses each day and the potential new

members (PNMs) and houses would

rank each other. Unfortunately, this

experience was not the best for some.

For others, it was life-changing. PNMs

would log into TikTok each day to

show their daily outfits and tell their

audience where they got their clothing

items and trendy accessories.

When it comes to the south, Greek

life is a one-of-a-kind experience.

Sorority and fraternity culture holds

a special place in a lot of college

students' hearts. In 2021, many girls

from UA shared their rush experience

on TikTok. Soon enough, everyone

from all around the United States

was invested in Bama RushTok.

Fascinated viewers refreshed their

pages constantly wondering what the

girls wore that day and where they

could buy it.

"[It was] exhausting," said Annie

Clarke, former UA student and

sorority member.

Clarke, from Huntsville Alabama,

participated in rush at UA last fall.

Unlike the masses watching online,

Clarke grew up surrounded by her

family and friends' southern rush

experience. Because of this, when

Clarke noticed Bama rush rapidly

going viral on TikTok, she could not

help but think it was "crazy" because

that was normal to her.

Just like that, rush was over, the girls

had found their forever homes and

school started. Posting content while

maintaining academics and sorority

activities is not a simple task.

When it came to managing school

and sorority life, Clarke struggled at

first. Clarke said her sorority would

bring in tutors and conduct study halls

for those struggling with academics.

Clarke said, "Being in a sorority at

Bama was exciting, but my sorority is

pretty quick to catch who is succeeding

and who is not'.'

For many students, there is a large

learning curve when they first get to

college. Sara Beth Cotton, a junior at

UA and TikTok personality with 19.1

thousand followers, is no stranger

when it comes to maintaining many

different responsibilities all at once.

When it came to settling into college

life, Cotton found herself struggling

at first. Since balancing multiple

responsibilities was a challenge, her

freshman year was quite sporadic.

Google calendar soon became

her best friend. Cotton used the

online calendar to color-code her

assignments and help her manage her

time better. After finding a consistent

routine, she quickly saw a huge change

in her mental health. Another method

she used to better her schedule was to

treat her extracurriculars like a reward

for completing schoolwork.

Within the hundreds of girls

participating in Bama RushTok, some

rapidly became fan favorites. Emma

McGowin, a freshman at UA who

goes by @Dollypartonwannabe02,

accepted her bid to Alpha Delta Pi.

McGowin has managed to reach 148.5

thousand on TikTok and around

32.9 thousand on her Instagram and

started an online boutique, Butterfly

Girlie Boutique.

@Whatwouldjimmybuffetdo,

Makayla Culpepper, also participated

in Bama RushTok. Culpepper is

from Pike Road, Alabama and is

currently pursuing a job in real estate

Unfortunately, her experience was not

the smoothest. While participating,

Culpepper was dropped from

every house which left the TikTok

community filled with anger. During

this situation, hashtags and hundreds

of videos demanding justice for

Culpepper were created. Currently,

she has a total of 145.7 thousand on

TikTok and 17 thousand Instagram

followers.

Haylee Golden, UA Apparel

and Textiles major, is a TikTok

personality that goes by @

haygoldenrayofsunshine. Golden

hit ten thousand followers during

rush. Since then, Golden has reached

56.1 thousand on TikTok and 13.8

thousand on Instagram.

Next year there are sure to be

participants hoping for TikTok fame.

Cotton said, "[You need to] post

consistently and find your niche."

The exclusiveness of Bama rush

quickly reeled in the majority of

TikTok users. A previously mysterious

process was brought to light for

everyone on the platform to see. The

ups and downs created a unique

form of entertainment that was

irreplaceable. As well, balancing a

school and social life in the public eye

is a real accomplishment for these

freshman girls. The TikToks have

inspired girls in different colleges in

America to recreate the trend. The

University of Alabama's rush TikToks

will forever be known for the sorority

recruitment experience.

[23]
---
The Benefits of Lash Extensions

By Baylie Smithson

Design Katie Nebbia

Lash extensions have grown significantly

in popularity over the last few years,

not only for their aesthetics but for the

many benefits they offer.

Lash extensions are not a new

beauty invention. The first record of women

attaching lashes to their eyelids was in

1882 when Parisian women sewed hairs on

their eyelids, according to lashlovers.com's

Kara Marlene. However, the 21st century

has seen the most advancement in the

technology behind lash extensions.

Lash extensions are applied professionally

by certified lash technicians and require

strategic upkeep. The desirable aesthetics

of long and full-looking lashes for most

outweigh the cost and time it takes to

build a beautiful set of lashes. For the right

person, the list of lash extension pros is

endless.

The most obvious pro to lash

extensions is longevity. Lash extensions

can last "about 4-6 weeks," according to

Sara, staff writer at hip2save.com. Lash

extensions will naturally fall out over

time, but don't need daily application and

removal. They do require daily cleaning

and grooming to maintain.

JoAnna Walker, professional

lash technician for 11 years and owner of

Teased, a Tuscaloosa-based salon, said,

"You're not having to constantly worry

about the lashes lifting at all throughout

your day, especially if it is a big event like

[24]

your wedding or if you're just going to the

gym."

The second most desirable pro to

lash extensions is their time-saving ability

in the mornings. Walker listed one of the

main pros of extensions as "cutting down

on makeup application."

Many don't have the time to

spend every morning glamming for a

day in class, at the office or just going for

a coffee run, but still want to look fresh,

awake and put together. The University

of Alabama's Director of Nursing Clinics,

Professor Kacie Duncan, has worn

extensions for a couple of years. Duncan is

a full-time professor, mom and nurse. The

extensions' lifestyle definitely suits her, as

she wears many hats and doesn't have the

time to add "daily application of lashes"

or "fifty coats of mascara every morning"

onto her plate.

"[For me] they look more natural.

They're easier to upkeep because I don't

have to worry about them coming off when

I'm out and about," said Duncan. "It feels

more expensive because it's about $70 [at

the salon I go to] about every two weeks

to keep up. If I'm doing the fake lashes,

however, then I'm spending around $12

on a set and those are only lasting me a

day. All in all, I like the extensions better,

and I feel like they irritate my eyes less."

Another pro of extensions is their comfort.

Lash extensions, though a foreign object

on the eye, should not be uncomfortable or

immensely heavy.

"The procedure should never be

painful or uncomfortable," Walker said.

There should not be any intense burning

from the prep process if so, the lash tech

should stop immediately. The placement

of the lashes shouldn't bring any feeling

of discomfort to the lash line. Walker said

every lash tech should be knowledgeable

on the science behind eyelashes in order to

properly apply and maintain them.

"There are three phases of the

eyelash cycle: anagen (the improper time

for application), catagen (the right time for

application), and telogen (the shedding of

the eyelash). Unlike hair, eyelashes do not

grow the same way; they shed, or else we'd

have to trim them not replace them," said

Walker.

Adding to the list of benefits,

another is the customizability of extensions.

There can be many variations, but there

are three main types of extensions: classic,

hybrid, and full-volume.

"We customize each set for

each person, we have a 15-20 minute

consultation before each appointment

and chat about weight and length that

the natural lashes can manage. There's a

difference in preference and expectations

and as professionals, we need to guide our

clients with what is proper for their natural

eyelashes," said Walker.
---
Although, where there are

pros, there are always cons. The biggest

con of lash extensions is the time and

cost. Most of the time, pricing and

amount of time come down to the

technicians' experience.

"Application is anywhere

between 1 1/2 to 3 hours, but each client

is different. It depends on how much

experience the lash tech has. Removal–

as long as your set was done by a

professional–should only take about

15-30 minutes. When done properly, it

should feel like butter coming off your

eyelashes," Walker said.

Walker has been a lash tech for

11 years, one of the first in Tuscaloosa.

Her prices range depending on which

lash style, "For classics, it's typically

$200, classic-hybrid $250, full volume

$300".

Some people are lower priced

due to experience and materials.

Walkers' prices are the average price in

Tuscaloosa.

Despite being a lash

technician, Walker would discourage

stress lash pickers, avid swimmers and

deep sleepers (to name a few) from

getting lash extensions.

"It depends on the person–do

your research," says Walker.

The main reasons come

down to oil and friction that break

down extensions. Oil and friction from

the fingers of stress lash pickers and

pillows of the deepest of sleepers will

ultimately break down the extensions

quicker. Chlorine and saltwater will

also break down the bonds of the

adhesive used to attach the extensions.

Notable mentions are athletes; sweat,

which contains sodium, will break

down the lashes the same.

The biggest mistake Walker said she

sees her clients make is not cleaning

the extensions.

"The majority think they're

not supposed to clean them, but that

can create build up. Lash mites help

clean lash follicles, but when you're not

cleaning your eyes and eyelashes those

lash mites can become abundant," said

Walker.

Thoroughly and gently cleansing

off oil, dirt and makeup will help keep your

lashes in tip-top shape.

"I'll be the first to say, heck yes

the extensions can ruin your lashes," said

Walker. "The lash expert has to know what

they are doing in application and removal,

and the clients also have to know how to

care for them."

It is obvious why lash extensions

are such a hot commodity today as the

list of benefits is as long as a set of lashes.

From their longevity, comfort and style,

lash extensions are one of the most soughtafter

beauty procedures today.

INSTA–WORTHY

LOOKS. NO FILTER NEEDED.

Get the latest looks without leaving T-town.

Tuscaloosa's largest selection of the newest

fashions, shoes and accessories all under

one roof.

Shop Belk Women, Belk Men, Kids and Home,

JCPenney, Café Court and More!

online on facebook + twitter + instagram

university-mall.com

1701 McFarland Blvd. East

Shop Mon-Thurs 10am-7pm; Fri-Sat 10am-8pm

Sunday 1-5:30pm

[25]
---
SECRETS, LIES

AND THE DIGUISE

OF THE MAKEUP INDUSTRYSTRY

BY TORY ELLIOTT

DESIGN ELLA SMYTH

[26]
---
Beauty is timeless, and so is the

makeup industry. Unfortunately,

the makeup industry is not as ethical as it

may make itself out to be. With the push

towards natural products, people are now,

more than ever, more interested in what is

in their makeup, but many fail to consider

who sources the ingredients. Child labor is

the makeup industry's darkest secret.

Mica is a mineral dust that occurs

naturally and is commonly used in

eyeshadows, highlighters and other

popular products. Children are used to

mining this hard-to-find mineral, and the

beauty industry alone accounts for about

18% of the mica mined globally each year,

as stated by Jocelyn C. Zuckerman, writer

for Marie Claire magazine in her article "Is

Your Makeup the Result of Child Labor?"

Many have no idea the makeup

industry is heavily involved in child labor.

Consumers should learn more about the

companies that utilize this material and

seek to end this heinous crime, but it is up

to the beauty companies to seek alternate

solutions to this problem ultimately.

An article from Terre des Hommes

gives consumers insight into the reality

of mica production in Madagascar by

informing consumers that "in the three

main mica regions, the percentage of

children between the ages of five and 17

that are working varies between 56% and

62%."

Lexy Lebsack, writer for Refinery29,

exposed these mines in their article: "The

Makeup Industry's Darkest Secret Is

Hiding In Your Makeup Bag".

As reported by Lebsack, children

wake up early in the morning and spend

the rest of the day in small, man-made

tunnels armed with ice picks, hammers

and baskets.

"They carefully chip into the sides

and backs of the small pits to loosen

rock and dirt before carefully hauling

it out of the mine," said Lesack. "The

children take turns dumping their baskets

over a rudimentary sifting tool that

reveals handfuls of mica, a shimmery

mineral composite that's been forming

underground for hundreds of years."

These children, forced to work all

day in unsafe conditions, will make 43

cents a day. School and playtime are not

norms to them—all to make a foundation

that will be thrown away in 3 weeks.

The beauty industry is not only

allowing this; they are actively hiding it

from consumers. They crouch behind their

vows of "ethically-made" products and

clean beauty, but they are not following

through with their promises. Mica might

serve as a natural product, but using

children and endangering their safety

to get the product does not solve any

problems. This is the reality that goes

behind shimmery makeup.

People use makeup to express

themselves, and it's important to buy from

a company with similar values. According

to "​Child Labor: The Ugly Truth About the

Beauty Industry" by Kavitha Kavy, brands

that have been linked to Mica's child labor

include L'Oreal, Maybelline, Lancôme,

Garnier, Yves Saint Laurent Beauty,

Kiehls, Urban Decay, Estée Lauder, MAC,

Bobbi Brown, Clinique and Too Faced.

These well-known corporations go against

the transparency of their makeup products

promoted on social media and through

self-proclaimed clean beauty influencers.

Amie Ray, a mother of two children,

actively researches makeup products

before using them.

"I dislike it because they [the

children] are exploited and paid poorly

in the cosmetics industry, which is worth

over $500 billion," said Ray.

Beautycounter, a makeup company

that strives to adhere to clean beauty

standards, has found solutions to this

problem. Bryant Wood, managing director

with Beautycounter, manages a team

across the nation that spreads the mission

of Beautycounter.

"We make sure that the ingredients

we source are clean and safe but where

they are sourced and how they are

sourced matters so much as well. We are

a B Corporation that is doing good for the

people, planet and profit," said Wood.

"The work that we do behind the

scenes goes beyond clean beauty. We

recognize that child labor is an issue

and therefore at Beautycounter we

have worked to source [mica] from a

manufacturer in Georgia, where we can

trust the practices and screen for safety.

We also go beyond clean by assuring that

the ingredients that we source nationally

and internationally meet our high ethical

and safety standards. We, for example,

joined forces with a foundation in India

that is trying to eradicate child enforced

labor throughout the world."

With this knowledge, the makeup

industry can change for the better.

Consumers can actively work to stop the

brands that still use unethically sourced

mica in their products. Consumers can sign

petitions, stop buying their products and

educate others on using ethical products.

April Turner, a senior at The

University of Alabama majoring in public

relations, actively buys from beauty brands

and enjoys doing her makeup daily.

"To make sure my makeup is crueltyfree;

I usually do research on the company

before and check the label while in the

store because most packaging will tell you

if it's cruelty-free. If it's not, I usually don't

buy it unless I absolutely need it, but I

think most makeup companies are crueltyfree

now," said Turner.

She said she realizes that she

should be buying cruelty-free makeup,

but the issue is most companies are

advertising animal cruelty-free, not child

cruelty-free. Consumers can check their

products for mica and start using brands

that are transparent and working to pass

legislation restricting unethical mica

mining. Here is a small list of brands that

are cruelty-free and ethical mica makeup

brands: Adorn Cosmetics, Beautycounter,

Love The Planet, Milk Makeup and Red

Apple Lipstick.

Ethically mindful companies are

using ways to mine natural mica without

the use of child labor, One example is

synthetic fluorphlogopite, a lab-produced,

eco-friendly chemical that enables a wide

range of colors and intensities in products.

A blog by Beautycounter said, "By

the end of 2020, we will have conducted

third-party traceability audits of all of

our mica mine locations—a radical step

towards transparency in the beauty

industry."

Beautycounter is one of the leaders

in this movement, and hopefully, others

will follow soon. The European Union

bans 1,400 ingredients from being in

beauty products—the United States only

bans 30 of these products. According to

Wood, the beauty industry is not regulated

by what ingredients they use or how they

source them. It is up to these corporations

to transition from unethically derived mica

to clean beauty cosmetics. ​

Child labor is not only a severe

problem, but it is also a violent act

that is actively happening today. Using

unethically sourced mica is contributing

to child labor. People can learn about this

and seek to actively alter this industry,

but it is the cosmetics companies' burden.

Transparency in beauty is not just a trend;

it is a necessary standard.

[27]
---
The MRS.

"She's just here to get her Mrs.

Degree," is a quote overheard a little too

often as a junior in college. This comment

typically goes over everyone's heads,

but can pierce the hearts of some college

women. Condescending in its nature, the

meaning behind a Mrs. degree is that a

woman is going to college to get a degree

that some would label as pointless in order

to find a partner to marry that will provide

for them with their degree that actually

means something.

It seems the root of these Mrs.

degrees are degrees with feminine

undertones or not under the S.T.E.M

(Science, Technology, Engineering and

Mathematics) list. Creative majors and

others, such as social sciences, deal with

questions regarding their degree's validity

and worth.

"I think business majors, not just

for females, but for any gender are cut

short," said Reese McGee, The University

of Alabama junior and business major. "I

came into the business school expecting

it to be a piece-of-cake like how it is often

stereotyped, and instead was faced with

economics and accounting classes that

require a great deal of time and effort."

Business majors get the reputation

for what some deem to be a less demanding

degree. People use a negative connotation

when citing instances of attending social

events and many other perceived benefits.

Despite the bad press, gaining a

business degree can allow an individual

to explore many paths, such as becoming

a CEO and managing or working on Wall

Street, the holy grail of the business world.

Many successful women have business

degrees to back them, such as comedian

and actress Wanda Sykes, who graduated

from Hampton University with a degree

in marketing and even worked for the

National Security Agency before diving

into entertainment. A few other names to

mention are Melinda Gates who is current

General Manager at Microsoft, Mary Barra

who is current CEO of General Motors and

Amy Hood, current Chief Financial Officer

of Microsoft.

According to mba.com, "87%

of female graduates say their return on

investment has been positive, and 84%

say their professional situation is better or

much better as a result of their business

school degree."

Another commonly misunderstood

major is communications. The stereotypes

around this area of study are most likely

due to people's lack of knowledge about

what the major entails. Communications

is a basis for most transactions in the

world. Successful women that have

studied communications are famous

talk-show hosts Oprah Winfrey and Ellen

DeGeneres.

"It's much more than watching

'Cocomellon' like TikTok seems to say.

We learn case studies, analyze in real-time

what reactions are, how humans respond

to events and what their upbringing can

evolve into when they become adults,"

said Alice Helms, communications major

at the University of Alabama.

A key component of communications

is learning to read people and their

behaviors–a task not easily obtained.

"There are many organizations like

the FBI and CIA that rely so much on

communication in order to complete their

missions. Proper communication can be

the difference between multi-billion dollar

deals or interviews for a one-in-a-lifetime

job," said Helmss

Dr. Barely of The University of

Alabama, a favorite of Helms, once said,

"If you want something done, give it to a

[28]
---
Degree

By Beth Wheeler

Design Katie Nebbia

communications major."

Fashion majors have a bad Mrs.

reputation, too. However, if anyone takes

a quick peek into a classroom for design

students, they will see a team of extremely

disciplined students engineering a design

that they've probably been working on

day-in and day-out for weeks to finish.

The drive and motivation to carry out

a career in fashion is inspiring, and

many successful men and women have

dominated the world of fashion. Some

of these leaders, with degrees in fashion,

are Alexander McQueen, Calvin Klein and

Marc Jacobs.

"The typical response that I get from

someone when I tell them I am majoring

in apparel design is 'Oh? And what do you

think you are going to do with that?" said

Grace Federico, junior at The University of

Alabama studying apparel and textiles with

a concentration in apparel design. "It is

typically delivered very condescendingly."

The daunting question rises yet

again, intending to discourage women in

fashion by making them think that their

degree would amount to nothing–an

opinion that just isn't true.

"What people don't realize is that

every single person uses fashion and

apparel design every day. Everyone, no

matter who they are, has a sense of fashion.

Majoring in apparel design and working

in the fashion industry is the complete

opposite of useless–it is extremely

necessary for everyday self-expression,"

said Federico.

No matter if the major someone

chooses is in the S.T.E.M field, creative

field or wherever their passion lies, all

majors are valid. All paths are valid. As

long as the industry that is chosen is

an industry that is fulfilling mentally,

emotionally and spiritually, it is the right

path. Each major–no matter what it is–

requires hard work. The commitment to

finishing a degree (or committing to the

non-traditional route) is hard work for

anyone successful in what they do. And

that, itself, is enough to be proud of.

[29]
---
Photo Jennifer Stroud

Burning rashes and severe skin

reactions caused by makeup

products can be incredibly painful and

embarrassing. Insecurities caused by

skin problems are common. The culprit

is the exact products used to cover skin

irritation and discoloration in the first

place.

Certain beauty products sold

at Claire's have warnings instructing

consumers to discontinue use if the

product causes irritation. Knowing

the dangers of ingredients before

irritation occurs, however, should not be

something that requires complaints and

a call to action from consumers. There

is a current demand for safer children's

beauty products, without parents having

to search through a hidden list of unsafe

ingredients.

Sharyl Donegan, a nurse

practitioner and mother of three,

had her own experience dealing and

experimenting with children's makeup.

"Anything citrus stay away.

Citrus face washes or grapefruit scrubs

can cause a reaction in sensitive skin, and

it made my daughter develop a horrible

rash," said Donegan. "Those egg-shaped

EOS chapsticks would also cause a

terrible reaction."

Colorful, fruity-themed products

are placed on the end of shopping aisles

and at checkout areas because the

packaging is bright and enticing, but that

does not mean the ingredients are healthy

and safe.

"Make sure to do research.

Some people break out because they mix

products and acids. Mixing certain acids

can cause a reaction. It's important to

know what you are using and what works

for you," said Antonio Hernandez, a local

makeup consultant.

E veryone's skin is different, but

it is a well-known fact children have a

weaker immune system and a higher

surface-to-volume ratio. This makes

children more prone to breakouts and

skin irritation than adults or individuals

with a more experienced immune system.

"Anything scented or that has

fragrance will likely make you break out,"

said Kamiya Holifield, Claire's employee.

"If the child is incredibly young, I

[30]
---
ecommend skipping skin coverage

altogether. Instead, stick to lip gloss and

eyeshadow."

Makeup producers know how

to target the desired audience. Children's

makeup likely spends more budgeting on

packaging and marketing than on safety

concerns and featured ingredients.

"I recommend younger girls

start with brands like Clinique or Benefit.

These brands put an emphasis on the

skincare side of makeup. Anything that

has alcohol listed in the beginning of the

ingredients is a red flag," said Kay Bolten,

a Tuscaloosa makeup artist.

Makeup is fun to play with, and

a lot of little girls love to play dress-up.

Even adult women have themed social

events. Makeup can be a pleasure, but

pleasure can evolve into a problem when

made with harmful products and cheap

ingredients. Bacterial, talc, alcohol and

acids can all be dangerous components of

makeup, making the benefit of a natural

glow come at the cost of having healthy

skin.

"Younger girls with good skin

should try to avoid foundation. A sheer

powder is lighter, and most people don't

need a lot," said Chelsea Shepard, The

University of Alabama alumni and beauty

consultant. "If you are new to makeup,

really just have three good products;

cleanser, moisturizer, and sunscreen."

Choosing the products to use on

a child's face during Halloween or events

like face painting should not be a scary

decision. Research is the best way to be

cautious when applying new products.

Don't be afraid to read articles,

sample the product on less sensitive areas

of skin and scan the popular reviews.

Poor quality products often get critiqued

by consumers before critics are aware of

the problem, so google the product before

purchase. Eventually, these products may

be discontinued, leaving options that are

safe, reliable and appealing.

[31]
---
34

36

the overall effect: a look inside the fashion of ballroom

the crossroads of cultural attire and fashion influence

38

40

unisex fashion: rejection of the gender binary

which style icon of the big screen are you?

42

a guide to Y2K fashion in 2022

[32]
---
[33]
---
The hit series "Pose" introduced the world of

ballroom, a subculture of everything fashion,

face and voguing. Ballroom is a haven for young

Black and Latinx LGBTQ+ individuals to escape

from a world where they aren't always accepted.

House balls emerged from a marginalized group

of people who found a way to express themselves

freely and unapologetically. Many people believe

ballroom is a relatively new thing that emerged

in the 1970s in New York, but ballroom has been

around for over a century..

Ricky Turner, the author of "And the Category

is…," writes about what ballroom Culture is and

the history of the ballroom scene.

"What my book is trying to do is make it so that

people know about the history of ballroom so that

everyone doesn't feel like it's a brand-new thing,

and that it belongs to whoever appropriates that

every four or five years, which tends to end up

happening," said Turner.

In Turner's book, he recalls his personal

experience with ballroom, specifically voguing.

History.com defines voguing as an

"improvisational dance inspired by the poses of

models in fashion magazines." Originating from

trans and gay Black people.

Turner explained how he went to voguing

workshops and saw people vogue for the first

time. Turner makes voguing seem more than

just dancing, but an expression of the body and

building self-esteem and processes those bodily,

racial and generational traumas.

"Going to do research for the book and going to

a ball conference in Toronto, and I was feeling

all out of sorts, and like a little bit dislocated and

remote, then I got there, and finally I got to the

voguing workshop that I signed up for. I was like,

Design Wesley Picard

oh, I'm home,' said Turner.

In the U.S. alone approximately 4.2 million

youth experience homelessness and among

those 4.2 million 40% are a part of the LGBTQ+

community, according to True Colors United, an

organization whose goal is to find a solution for

LGBTQ+ youth homelessness.

Twiggy Pucci Garcon, Chief Program Officer

of True Colors United, writer, director and

producer, co-wrote a documentary, "KIKI,"

that explores the New York ballroom scene. The

documentary follows seven young people of color

who are a part of the LGBTQ+ community and

their navigation of identity, family and ballroom.

Garcon is no stranger to the ballroom scene,

they began her ballroom journey in 2004 where

they attended their first ball and eventually

walked their first category. Garcon fell in love

and has been walking categories ever since.

"Ballroom literally saved my life," said Garcon.

Garcon expressed their gratitude to ballroom

for creating a place where they were accepted

for being them. They said they owe their life to

ballroom, and they will pour whatever they can

to keep it alive and thriving.

Garcon is no stranger to the world of ballroom

fashion either.

"So in ballroom, the outfit or costume that

you walk in, and it's called an effect," explained

Garcon.

Garcon produced their first high school fashion

show and uses fashion as self-expression in

ballroom.

"I went to school for fashion. I just have always

been enamored by fashion and the intricacies

and details of it all. Like when we get up, we

put on our clothes in the morning, go out into

[34]
---
the world and it's like you are saying something,

whether it's conscious or subconscious; you're

saying something. I think it's no different in

ballroom," said Garcon.

Stepping into the ballroom is like stepping onto

a runway, where cheers, screams and snaps are

always present and sometimes a few boos and

laughs. It is all part of the culture, and at the end

of the day, the Ball is full of family and friends.

"When you put in your effect, you're saying

something to the ballroom, and the feeling that

one gets when competing, or when putting on

that costume to step out. I think I can't really put

it into words," said Garcon. "The closest thing I

can think of is affirmation. You are presenting

yourself to your peers and loved ones, family,

people for you, against you and the statement

that you're making is like I am here," said Garcon.

Many people aren't familiar with the difference

between ballroom culture and drag culture.

Garcon said they would describe them as sisters,

and Tucker said he would describe them as

cousins that just so happen to maybe share the

same grandparents.

"I think this is where ballroom and drag have

sort of the same grounding. It's all DIY. You

make your own dress, you source the fabric, do

your own wigs, or it was a collective sort of thing

where the community would come together and

help you do all those things," said Tucker.

Tony Sinclair, drag queen by the name of Capri

Dupree, highlighted the differences between

drag and ballroom culture. Sinclair also walks

the vogue category at many balls. In ballroom

culture, belonging to a house and living together

is a major element, and walking and participating

in balls "is an escapism." While in drag culture

the pageantry life is very similar, just without the

house. Whether it's ballroom or Drag, love and

creativity are very important elements to these

two cultures.

"I feel like all LGBTQ+ people are born with

these creative genes, and if they see something

creative, they want to capitalize on their

creativity and just go crazy with creativity on top

of creativity," Sinclair said.

Many houses are named after fashion brands,

for example, House of Mugler, House of Gucci,

House of Dior and even the House of Old Navy.

"Being super creative on all levels, whether it

comes to tailoring, being a seamstress, dyeing

things, doing hair, you have to know how to do

a lot of different things. There's that element,

but that doesn't mean that it isn't couture. A lot

of the dresses I see on runways and stuff now,

rival with your Dior's and your Prada's, but

they're made by the House of Garcon rather than

Comme des Garcons," Tucker said.

Most of the extravagant, beautiful pieces are

made by ballroom members, correlating to the

theme of the category. Ballroom has been around

for such a long time. The fashion is timeless, so

much so that big fashion brands steal ballroom

fashion without crediting ballroom.

"I think the unfortunate thing is ballroom has

been around so long, and so people have been

secretly influenced [by the culture]," said Garcon.

This phenomenon can sometimes happen

unknowingly. Garcon said people could be

inspired by a coworker or friend's outfit and not

know they were a part of ballroom culture.

"I think the unfortunate part of many of the

last few decades is so many mainstream fashion

moments have come from ballroom have not

been credited," said Garcon

As ballroom has made its way into mainstream

culture, many houses and fashion brands have

started to collaborate. Garcon said they hope

that with more visibility, ballroom will begin to

receive recognition and the collaborative work

continues.

"We're at a time when fashion houses are

acknowledging the ballroom houses named after

them and collaborating, so things are shifting

in a way that I dreamt. I don't even know that

that had gotten to the part of my mind where I

thought it was possible," said Garcon.

Ballroom culture has changed the way fashion

exists. Whether its low-end brands like Old Navy

or high fashion like Dior, these brands represent

a major entity of the ballroom scene. The world of

fashion and ballroom are continuing to make an

imprint on the world, and the Black and Latinx

LGBTQ+ communities are making themselves

seen and heard. As Elecktra Abundance-

Evangelista said, "I look too good not to be seen."

[35]
---
The Crossroads of Cultural Attire and

Fashion Influence

By Jane Lipp

Photo Emma Kate Standard

Traditional cultural attire

tells a story through physical

adornment and designs rich in

significance. Each item of dress holds

purpose, history and meaning when worn

by Native Africans, Indians, and a diversity

of races throughout the world. Clothing

and accessories that express a specific

culture offer an opportunity to celebrate

and exhibit pride. While the origin of

traditional cultural attire is not grounded

in fashion, the garments are undoubtedly

beautiful.

Indian ceremonial saris sparkle

with intricate beading, glittery trims and

metallic materials. African cultural attire

often combines unique patterns inspired

by nature, with richly ornate accessories.

In a society where people admire beauty

and are curious about other cultures, the

urge to embrace a culturally-inspired style

exists among many. Traditional cultural

attire is increasingly serving as a source

of inspiration for fashion designers and

aficionados, whether they are drawing

upon their own personal backgrounds, or

incorporating the influence of a specific

culture's clothing into their style brand.

Sabyasachi Mukherjee is an Indian

fashion and jewelry designer from Kolkata,

India. He launched his Sabyasachi label in

1999, featuring high-end luxury Indian

textiles and design techniques such as

block printing and hand dyeing, all reimagined

into modernized silhouettes.

For almost two decades, his clients

were primarily of Indian descent. More

recently, his designs launched to the

forefront of high fashion because of a

partnership with Christian Louboutin,

of red-heeled fame. In 2017, Louboutin

collaborated with Sabyasachi to

incorporate sari materials and the craft

[36]
---
of Indian beading into a capsule shoe

collection, showcased in an article that

can be found on his website titled "Behind

the Collaboration: Christian Louboutin

x Sabyasachi." The attention elevated

Sabyasachi's entire brand, and now his

clothing designs are worn by American

and Western European fashion setters and

celebrities, including Reese Witherspoon

and Renée Zellweger.

A common thread connecting

cultural attire is that each piece of clothing

offers its unique detail and meaning.

Clothing is much more than what meets the

eye. It's inspired by memories, traditions

or historic significance. Cultural attire

opens up the doors to new conversations,

often allowing people from different places

throughout the world to make a connection

and share their backgrounds. Traditional

cultural attire serves as a platform for

people to express their identity, heritage

and culture.

The members of the Indian Students

Association of Tuscaloosa wear traditional

cultural attire to celebrate their Indian

traditions at The University of Alabama.

They invite students of all backgrounds to

participate.

Abhinandhan Narayanan, a native of

India, serves as president of the association.

Narayanan said he acknowledges the

differences that exist within a culture,

while also highlighting the role traditional

clothing plays in creating community.

"Every state in India has a different

language, a different cuisine and different

attire, so you can tell from a person's attire

whether they are from the northern part

of India or the southern part of India,"

said Narayanan. "Attire is something that

is very intrinsic to Indian culture. When

you see people going to the temples, their

places of worship, they will all be dressed

in similar attire, offering a huge sense of

community."

With a population of 1.4 billion

people, India has the second-largest

population in the world and is home to

thousands of ethnic groups, hundreds of

languages and numerous religions. The

country has more than 29 states, and

as Narayanan explained, the traditional

cultural attire can vary from state to state

and region to region. But regardless of

where in India a person is from, Narayanan

said he feels "flattered" when people from

non-Indian cultures wear traditional

clothes from India because he sees that as

a sign of respect.

"If I see someone else wearing

Indian clothes, I feel really happy and

glad that Indian culture has reached other

people," said Narayanan.

Narayanan was excited and proud

to share memories celebrating his favorite

Indian celebration, Diwali. Narayanan

said the traditional events that take place

for this celebration include wearing new

cultural attire and celebrating with food,

family and friends. Diwali is known as the

festival of lights and is a five-day event

held in late fall that celebrates the triumph

of light over dark and good over evil.

Narayanan said he and his Indian friends

look forward to sharing the traditions of

Diwali with their non-Indian friends at The

University of Alabama. Last fall, leading

up to the Diwali celebration, members of

the association accumulated all of their

traditional Indian clothing and encouraged

their non-Indian friends to wear the attire

to attend the Diwali festivities.

"It was just amazing. You feel very

happy, especially when you are so many

miles away from home, and you see

someone who is not from your country or

culture wearing clothes from your country,

you feel a sense of gratification," said

Narayanan.

In March of 2018- just five months

after the Sabyasachi and Louboutin

partnership launched the term cultural

appropriation was added to the Oxford

Dictionary. According to the Oxford

Dictionary, cultural appropriation is

"the unacknowledged or inappropriate

adoption of the practices, customs,

or aesthetics of one social or ethnic

group by members of another typically

dominantcommunity or society."

Cultural appropriation is a new term

and is a subject people are still exploring

and considering, especially regarding

how it relates to style and fashion. The

concept of cultural appropriation is

complicated, and there are very few clear

lines in determining or understanding why

something is or isn't appropriate to wear

based on one's cultural background.

"As a general rule, I think it's a

good idea to listen and be deferential

to members of the source culture of

the clothing in question," said Erich

Hatala Matthes, an assistant professor of

philosophy studying the ethics of cultural

heritage at The University of Alabama.

"We also shouldn't assume that

every member of a particular cultural

group will have the same views about who

wears what clothes, so things are often not

so simple," said Matthes.

The continent of Africa has a

population of 1.2 billion, with 54 countries,

and more than 3,000 tribal communities,

according to Think Africa's, "10 largest

tribes in Africa."

"My attire is me, it represents who I

am as a Botswana woman," said Kefentse

Kubanga, Vice resident of the African

Students Association at the University of

Alabama. "And whenever I see someone

else wearing it, I know the person is also

a Botswana woman because the clothing

is very different from any other person or

any other culture."

Botswana traditional clothing is rich

in ornamental objects, with necklaces,

bracelets, armlets, rings and earrings, all

easy pieces for individuals of other cultures

to wear as everyday accessories. Kubanga

said she believes knowledge and respect

play an important role when someone not

from her culture is wearing clothing or

jewelry that are or resemble her culture's

attire.

"It shows someone is appreciating

and embracing a culture that is different

from their own. So it is flattering in that

sense. I don't think you can really feel

insulted, but you just ask yourself if the

person really understands the significance

behind that attire," said Kubanga.

Careful thought and the context

surrounding the adoption or imitation of

aspects of cultural attire within a fashion

style seem to be the guiding considerations

when deciding if what you or what someone

else is wearing is culturally appropriating.

"When it comes to fashion in

particular, you want to make sure that

you're not enforcing norms that limit

the success of culturally marginalized

designers," said Matthes. "So, for example,

it would plausibly be a bad thing if worries

about cultural appropriation made people

disinclined to buy clothes from Native

designers: if the work is being produced

for the market, the designers probably

want people to buy it and wear it."

As a whole, clothing provides people

of all different ethnicities and experiences

a method to display and celebrate their

culture. The beauty of clothing is it can be

more than what meets the eye. Traditional

cultural clothing has meaning, in the way

it represents history, power, community,

and identity. One of the most valuable

lessons to learn in life is that there is

great joy, education, and friendship that

is gained from learning about another

person's culture.

Traditional cultural attire tells a

story, and if you're lucky enough in life,

you will have the opportunity to listen to

an individual's own telling of what their

traditional cultural attire means to them

personally.

[37]
---
Unisex Fashion

Rejection of the Gender Binary

By Savannah Dorietty

Photo Rebecca Martin

2020 was a year of many firsts. Kamala Harris became

the first woman vice president, Katie Sowers, the first

woman and openly gay person, coached at the Super Bowl

and Harry Styles was the first man to appear solo on the

cover of Vogue in December, an added bonus, he was

wearing a dress.

Despite the significant backlash, celebrities like Harry

Styles, Lil Nas X and Billy Porter have taken to the runway

and red carpet in flowing gowns and feminine silhouettes,

making a big statement about the place of unisex in

mainstream fashion.

The trend towards genderless fashion has been gaining

momentum for hundreds of years, according to fashion

historian, Kimberley Chrisman-Campbell.

"If you look at the history of fashion it's become gradually

more casual, more gender-neutral, more unisex, and that's

been happening for centuries so this is an ongoing trend

that pops up in different ways," said Chrisman-Campbell.

"It is interesting though because men's clothing and

women's clothing are so alike in the late 20th, early 21st

century that you can wear jeans and a t-shirt [whatever

your gender]."

Fashion has evolved significantly since a woman in pants

was deemed inappropriate for the public eye, though

most of this evolution has involved the masculinization

of women's clothing. Women have been the ones pushing

gender boundaries by adopting more masculine wardrobes,

while gender expression for men has remained largely the

same, until recently, that is.

"When we talk about unisex or gender-less fashion we

see women wearing clothes traditionally reserved for men.

[Then] suddenly it's about men taking on traditionally

female garments like skirts, and doing it in a way that was

not meant to blur boundaries or create confusion about

gender but to present a kind of masculine femininity," said

Chrisman-Campbell.

This shift has brought a whole new meaning to the idea

of unisex.

"It was mostly in one direction, whereas now, to say

unisex I'm not sure what that means anymore," said Jo

Paoletti, former fashion historian with a focus on gender.

The evolving definition of unisex fashion could be rooted

in shifting perceptions of gender in today's society. In the

past, women fought to be recognized as equals of men,

thus using them as a basis for evaluating that equality and

potentially influencing the masculinization of women's

fashion.

Today, feminist goals recognize women as women,

abandoning that previous evaluation. The concepts of

toxic masculinity and repression of male femininity have

also become hot topics in our recent social climate. These

factors may have contributed to the shift in fashion,

however, that is not to say masculinity and femininity are

simply trading places.

"What I'm seeing is less a rejection of one thing being

replaced by another [than] a rejection of something that

was very rigid and trying to replace it with something that

is much more fluid," said Paoletti.

This ideal calls into question the title of genderless fashion

itself.

"I don't necessarily think genderless fashion exists. I kind

of take issue with that title. I want to advocate for more of

a spectrum or maybe a sphere," said Aidan Miles-Jamison,

a junior majoring in art history at The University of

Alabama who frequently experiments with the boundaries

of gendered fashion. "I think of the x and y-axis, what is the

z that makes it 3-dimensional versus a binary."

Rather than seeking gender neutrality or rejecting one

gender identity for another, the new era of unisex fashion

works to embody that fluidity. It recognizes gender as

[38]
---
a spectrum rather than the binary that society has

pushed in the past.

Though the idea of gender as a social construct

was adopted by Second Wave feminists and used to

promote gender expression, it came out of science that

is, at its core, problematic.

Contrary to its connotation today, this concept

stemmed from the research of John Money, a

psychologist whose practice was built on assigning

binary sex to intersex children and essentially training

them to follow the norms associated with that sex. One

famous example of Money's research is the involuntary

sex reassignment of David Reimer that eventually led

to the adult suicides of both David and his brother.

"Both sex and gender are in part social constructs, but

they take place in the body, and so are simultaneously

biological," said Anne Fausto-Sterling, a sexologist

and professor of biology and gender studies at Brown

University, said. "Cultural experience has physiological

effects."

The implications of this conclusion support the

fluidity of gender that modern fashion promotes by

suggesting a mix of underlying motivations. Gender

and sex are not solely socialized, nor solely biological.

Just as gender-fluid fashion is not solely masculine or

feminine. It is a choice while also being predetermined,

the ultimate symbolic representation of identity.

The impact of this interpretation of unisex fashion on

the communities most concerned with gender identity

varies.

"There are a lot of people for whom identifying

something as feminine [or masculine] and then

aspiring towards that is really important," said

Paoletti. "For example, there are transgender women

who would hate to see something that masks gender

because for their identity, it's very important to adopt

clothing that automatically identifies them as female.

For some people, the binary is very real and very

necessary, and for other people, it's meaningless."

In this way, it is important that the idea of genderfluid

fashion does not fall too far into gender neutrality

or the rejection of gender but preserves the fluidity

seen today. The goal must remain focused on inclusion

and acceptance rather than drawing strict lines.

Unisex fashion, despite its inclusive and uplifting

message, has its flaws. One of those is the fit.

"The biggest issue has always been the body and

sizing," said Paoletti. "If you want clothes that fit,

the human body has such variations that it would be

difficult, and then there's society too."

The societal connotation of pushing these gendered

boundaries can be intense. Miles-Jamison reported

several drive-by verbal assaults for being openly queer

and feminine with a masculine body.

"UA has a very normative dress culture, and I'm not

saying that's bad, but for me as a gay person wearing

very 'weird' clothing, I was shunned for doing that,"

Miles-Jamison said. "I was definitely intimidated

and scared by their actions … but it also made me

reactionary."

Though met with such resistance from society,

gender-fluid fashion has the potential to change the

face of the fashion industry as we know it.

"The fashion industry now has a lot of people who

can reach a niche audience," said Paoletti. "There is

more opportunity to identify, [for example] say we

create suits for trans men who might have a particular

concern about the fit, details, sizing, and they can

market their design for that niche."

This niche-focused business model will turn away

from the mass market that dominates the industry

today. As identities and interests are further explored

and defined, the effectiveness of mass-marketed

fashion diminishes significantly. Paoletti believes

that if unisex fashion continues to grow as it is today,

fashion's mass market may become obsolete.

In its place could be services that allow total

customization. Paoletti speculates about a future

where fashion shopping is as simple as inputting your

measurements and customizing the product. The main

concern then is sustainability.

"Being able to totally customize clothes seems like

something that's not easily transferable to other

people for hand-me-downs or reuse, so everything has

a downside," said Paoletti.

Another concern is that gender identity will become

a mere commodity.

"I think [the fashion industry] would corrupt it and

commodify it like you have to buy these things in order

to be a part of this identity," said Miles-Jamison. "It's

all about having to spend capital to gain entrance, like

Pride Fest charging money."

Despite its flaws, gender-fluid fashion has

opened a new conversation in fashion. A conversation

that questions our very understanding of gender and

expression; that subverts the binary and allows for the

expression of diverse identities.

[39]
---
Which S T Y L E Icon

Are You?

By Caitlin Neill

Design Ella Smyth

Our style is influenced by so many things in life, but one of the biggest influences in the fashion world is the style icons we see

on the big screen. Whether it be the classics such as Carrie Bradshaw or Blair Waldorf or newcomers like Maddy Perez or Zoey

Johnson, everyone has a style icon they want to be just like!

1.) Your favorite accessory is…

2.) Your ideal night out includes…

3.) At the beach, you love to wear…

A Purses

B Shoes

A

House Party B

An exclusive party

in the city

A

Anything with

some cutouts,

I'm here to

impress

B

A floral bikini

and fun pair of

sunglasses

C

A Strand of

Pearls

E Layered

necklaces

D Statement

Earrings

C

Drinks at a hotel

bar.

D

Going to the

nearest bar on

campus with

friends

C

A classic and

simple black

one-piece

E Bonfire on the beach E Whatever swimsuit

I have laying around

with my favorite pair

of denim shorts

D

A one-piece with

a cute slit, but

a hat and cute

cover-up is where

it's at

4.) You would describe your

style as…

5.) You forgot you had a big test

and you didn't study at all, you…

6.) Your dream job is…

A

Bold

B Timeless

A

I'm just skipping

class

B

I honestly didn't

need to study

anyway

A

I just wanna

be rich

B

Journalist

C

Preppy

E Casual

D Playful

C

Charm my way

into my teacher

letting me retake

it

E

D

Cheat Just wing

it and hope for

the best

I literally don't go

to school

C

CEO D Stylist

E

Honestly just

want to graduate

first

7.) Your friends would describe you as…..

8.) Your favorite color is…

A Feisty

B Self-obsessed

A Black

B Pink

C Loyal

E Adventurous

D Popular

C Purple D Blue

E Yellow

[40]
---
A

C

9.) Your go-to make-up look is…

Full Glam B

Mostly As

The No Makeup-Makeup

Look

Classic with a Bold Lip D Simple with a Winged Liner

10.) Your ex calls you and says they want to get

back together, you…

A

B

C

Hear them out, but call

your best friend and ask

for their advice

E No makeup at all E

Give it a shot, but don't

make any promises

D

Play hard to get, but

secretly are still in love with

them

You are Maddy Perez - "Euphoria"

You're confident and bold with your fashion statements, and

you don't shy away from wearing something to get people's

attention. Maddy Perez is very extroverted and will tell you how

it is; she is not afraid to speak her mind. Despite being unfiltered,

she is still very loyal to her friends and will never back down

when defending them.

Immediately plan a date with

him and start again where you

left off

Tell them no, but you can still

be friends

Mostly Bs

You are Carrie Bradshaw - "Sex and the City"

Your closet is full of timeless pieces, but you also like to add a

fun flair to any outfit. Carrie Bradshaw is an optimist in life, and

with her wardrobe, she is youthful and bright. She can charm

her way through anything life throws at her and always seems

to be laughing.

Mostly Cs

You are Veronica Lodge - "Riverdale"

You keep your outfits classy, and you'll never get caught without

looking completely put together. Veronica Lodge is charismatic and

determined; she is fiercely loyal to her friends and can accomplish

anything she chooses.

Mostly Ds

Mostly Es

You are Zoey Johnson - "Grown-ish"

Any outfit you put together gets compliments. Your style is fun,

youthful, and creative, and you can pull anything off with a little

bit of confidence. Zoey Johnson is pretty, smart, popular and the

absolute "it girl." Even though she can be a little entitled, she still

makes time for her friends and doesn't judge them for who they

are.

You are Sarah Cameron - "Outerbanks"

Your style is simple and laid back, so you can live life to the

fullest and go on any adventures you want. Sarah Cameron is a

free spirit, and she doesn't play by the rules. While she is kind,

she won't shy away from a fight when someone messes with her

and her friends.

[41]
---
By Ta'Kyla Bates

Design Wesley Picard

Photo Grayson Byrd

A favorite saying for many historians is "Don't let history repeat itself," but in the case of fashion, history is once

again repeating itself. Trends from the 80s and 90s have seen a major resurgence in the past 10 years. Now, the

y2k era is taking over the 2020s. From statement sunglasses to velour tracksuits, y2k fashion making a comeback is

probably the greatest thing to happen to fashion since, well, y2k. At this rate, flip phones are going to be back in style.

The year 2000 is when it all began, celebrities became the face of some of the biggest y2k fashion trends. From

Destiny's Child to Britney Spears to Paris Hilton, early 2000s fashion was an unstoppable force. Here's a guide to

emulating those queens while also staying with the times.

Tip #1: Throw those

skinny jeans away.

Tip #2: Get a Velour Tracksuit.

One iconic woman who wasn't

afraid to sport a velour tracksuit back in

the day was Paris Hilton. There wasn't a day

that went by that Hilton wasn't caught rocking

a velour tracksuit. Brands like Juicy Couture

and Baby Phat were huge and are making a

comeback. No one said the tracksuit had to be

name-brand; it just has to look good.

Tip #3: Sunglasses

make or break the outfit.

Whether we realize it or not

skinny jeans are slowly going out of

style. It's all about mom jeans, dad jeans

and wide-legged jeans. A quick thrift store

visit and a wide array of wide-legged jeans

will line the aisles. Many big brands such as

Hollister, ASOS and Urban Outfitters have

sections dedicated to y2k inspired jeans. Lowrise

jeans were the thing in the 2000s, but

society is on the fence about them now.

Tiny sunglasses and frameless sunglasses are

where it's at, and they will make the outfit.

They'll make you look like you just walked

out of the year 2000, so get rid of the aviators

and the Ray-Bans. If you want to look like y2k

Britney and J LO, frameless is the way to go.

Tip #4: Don't be afraid of

a little color, glitz and glam.

The 2000s was all about color, glitter and the most glamorous pieces.

Stay away from the warm tones and bring in some pastels. Pinks,

purples and lime greens will have you looking like you belong in an

early 2000s teen rom-com.

[42]
---
Tip #5: Graphics, graphics

and more graphics.

Back in 2000, everybody had something to say on their shirts.

From their favorite cartoon or tv show to a simple smiley face, a

graphic on a baby tee was the style of the 2000s. It has started to

make its way back into fashion now, especially with a pair of big

pants. Don't be afraid to sport that cropped tank with the cherry

on it; you're making a statement!

Tip #7: Have something

on your head.

Tip #6: Always have at least

one shoulder purse.

No crossbodies, no mini

backpacks! A shoulder purse can

make the dullest outfit pop. It creates a

statement, and they are cute and lightweight.

Whether you want to go name brand with

Prada or thrift a shoulder bag, always have one

handy to get that y2k aesthetic.

Put a bandana or a trucker hat on your head, and

you're set to go. We've seen trucker hats trend their

way to mainstream fashion, especially the iconic Von

Dutch popularized in the 2000s. It's now a high fashion

statement. Bandanas are another option and can be a

lifesaver. Throw on a bandana and a cute outfit to solve

any bad hair day.

Tip #8: A platform shoe is

just what you have to do.

Whether it's a Doc Marten

or a heel, shoes at least 2 inches off

the ground are the epitome of a statement

shoe. If you want to buy those platform

sandals, go for it. It's what all the fashionistas

of the 2000s were wearing.

Brands have started to capitalize

off of fashion from decades ago, and

it seems to be working in their favor.

People are getting bored with the

same old skinny jeans and oversized

tees. Designers are pulling from times

when the world wasn't so divided,

and the debate about climate change

wasn't as heated. It's nostalgic to go

back in time, and since there are no

time machines, the best way we can

go back is through fashion. The great

Coco Chanel once said, "Fashion is

not something that exists in dresses

only. Fashion is in the sky, in the

street, fashion has to do with ideas,

the way we live, what is happening."

[43]
---
46

the curation of sustainable fashion

48

54

asian influence in the industry

50

tattoo taboo

the evolution of musical theater

[44]

56

the complex reality of pole dancing

58

photostory: vitality
---
[45]
---
The Curation of

Sustainable Fashion

By McKenzie Stevens

Design Ella Smyth

[46]
---
TikTok trends, Instagram

influencers and corporations

have created a landscape of global fashion

that evolves at an astronomical rate. The

current state of fashion, encouraged by

brands like Shein, Princess Polly and

Zara, has created a life cycle of fashion

that creates and retires trends at an

unsustainable pace.

Birmingham-based Samra Michael,

known as "Samra, The Curator" on

Instagram, has initiated sustainable

fashion efforts with her brand Cross

Dressin' among a young generation of

consumers in the Birmingham area.

While balancing her nine-to-five job, she

was inspired by vintage stores and small

businesses in the Birmingham area. This

inspiration led to her creating a passion

project and creative outlet over a year ago

for her photography, fashion and styling.

With sustainability and fashion at

the forefront of Cross Dressin', Michael

aims to service all genders ages 16 to

30-years-old at affordable prices to combat

fast fashion. Many young adults want to

invest in sustainability but don't have the

expendable income to spend on expensive

clothing. Vintage stores and brands that

are sustainable, such as Reformation and

Everlane, are often expensive, making

sustainable shopping unattractive for

younger individuals despite being ethically

made.

"Cross Dressin' can be for everyone,

really just anyone who is looking for

affordable, lightly used, sustainable

clothing," said Michael. Her mission is to

"focus on basic pieces that you can wear

like that you can layer in the winter, that

you can dress down in the summer, just

stuff that's going to last next season."

Michael says that Basic., a slow

fashion shop based in Birmingham,

Alabama, taught her a lot about

sustainability, why it is important to focus

on timeless pieces rather than trends and

the importance of knowing how ethical the

clothes you buy are.

"Fast fashion is the antithesis of

sustainability," said Lacey Woodroof,

Owner of Basic.

Fast fashion refers to the low-cost,

mass-produced clothing business model

that many brands emulate. These trends

are regularly in high-fashion runway

shows, then they are recreated and sold at

a low cost to consumers.

Finding staple pieces that you can

wear and style differently throughout the

year is vital in aiding the fashion industry

to become more sustainable.

The implications of this practice

translate to an increasing amount of

waste globally, poor manufacturing

practices and inhumane labor facilities.

As brands outsource their suppliers and

manufacturers, the laborers in these

countries experience poor working

conditions as a ramification.

"A big misconception inside the

fashion world is that if it says "Made in

the USA," it's automatically going to be

more sustainable or ethical and that's

just not the case," said Woodroof. "There

are plenty of places in the USA that are

doing large-scale manufacturing that are

not doing it in a way that respects human

beings in any kind of way."

Sustainability and ethical practices

can help manufacturers globally with

ethical working conditions and slow the

rate of negative environmental impacts the

fashion industry has on the planet.

"I think sustainable fashion is such

a great and effective way to help the

planet," said The University of Alabama

Student Fashion Association President

Anaya McCullum. "It also benefits those

in developing countries who work in

harsh conditions and are paid under the

living wage to make clothes that aren't

sustainable."

Brands such as H&M have a

reputation for greenwashing or claiming

to be sustainable despite unethical and

unsustainable practices.

"Greenwashing is such a big

problem. I feel like sustainability is almost

just a buzzword that people are using,"

said Michael.

Focusing on second-hand, thrift,

vintage and shopping locally are the focus

of many sustainable brands to reverse

the effects of fast fashion trends and stop

greenwashing.

Another aspect of fast fashion is

overconsumption, a prominent issue in the

fashion industry because of consumers'

habits of getting rid of old, trendy clothing

and replacing it with new trends.

"The reality of it is that we have

enough clothes out there as it is," said

Woodroof. "We've got plenty of clothes

to go around tenfold, so if we want to

continue having a fashion industry that's

interesting, we're going to have to produce

things that work for people's wardrobes

for a long time."

Sustainable Brands said that as

Gen-Z's buying power grows, brands

are going to have to put corporate social

responsibility at the forefront to grow with

the sustainability demands. Gen-Z is now

leading the way in changing unethical

fashion and business practices globally.

Michael said Gen-Z cares more

about brand transparency and researches

ethically sourced clothing more than

previous generations have.

"This fast fashion, major

overproduction, overconsumption,

mass consumption society we've lived, I

think, is going to naturally start shifting

because of younger generations having

conversations," said Woodroof.

As an agent of change, Michael is

sourcing the clothing she sells through

various ethical outlets such as thrifting,

donations and buying vintage pieces.

"I had so much clothing because I

love fashion and clothes, and I just felt like

other people could get a lot of wear out of

my pieces," said Michael.

Her desire to learn how to sew and

take herself more seriously as a young

fashion designer also influenced her to

start Cross Dressin'. She said she felt

like she had pieces that she could mend

and sell, and was in a good place to start

producing content despite feeling like

Cross Dressin' was not perfect yet.

"It doesn't have to be perfect. It's

actually cooler when it's not perfect," said

Michael.

Michael is currently using Depop

as an online store for Cross Dressin'

and promotes it through Instagram and

pop-ups in Birmingham in stores such

as Urban Outfitters. Because she is only

selling individual pieces currently, she

said a challenge she has faced is getting

people to go from Instagram to Depop.

She has considered starting doing drops,

a limited release of merchandise, despite

feeling unethical. Because of the limited

nature of drops, Michael said it felt wrong

to promote purchasing a piece now before

it sells out and is gone forever.

As her brand continues to grow, she

encourages everyone who wants to shop

sustainably to support small businesses

and do their research. Websites such as

Good On You are valuable tools to help

consumers do their research to find the

best sustainable brands.

"Every little bit helps. It feels better

to support a real person," said Michael. "I

think that the world needs it."

[47]
---
Asian Influence

in The Industry

By Hadley Elsesser

Photo Jennifer Stroud

[48]
---
Asia is one of the largest social

media markets and represents

a vast number of social media users.

Countries filled with tons of young

individuals, such as China, have gotten

social media down to a science by

staying right on the pulse and targeting

all the right media platforms. With

social media expanding daily, Asian

influencers have been right on-trend,

growing along with the media.

The pandemic, while exhausting, has

actually helped the influencers greatly.

Individuals engage in social media

much more than ever before. Young

individuals have turned to social media

to find creative ways to expand their

style, life choices and entertainment.

With less face-to-face communication,

Asian influencers have utilized social

media as an outlet for individuals to get

feedback on what is new and on-trend.

One Asian influencer who created

a trend that reached millions was

Chloe Ting. During the pandemic,

millions of teens and young adults

everywhere participated in the Chloe

Ting Challenge. Ting's workout videos

inspired people to get moving despite

having nowhere to go. Based on the

intensity of her workouts, followers

took to Tik Tok starting the "what hell

sounds like" trend with the music from

Ting's workout videos. Ting responded

to her followers, ecstatic about the

impact she made on individuals'

lifestyles.

Haley Slampak, Michigan State

University freshman and business

management major, was one of the

individuals impacted by Ting.

"I found Chloe during quarantine

when I was looking for at-home

workouts, as the gyms were closed.

Tik Tok had taken a liking to her, and

I really liked her workouts. I felt they

were effective and entertaining. The

videos were very streamlined and cool

with good music in the background,"

said Slampak. "Along with that, her

programs are timed and tell you exactly

how much time you will be committing

daily. It definitely helped me to stay

consistent and motivated while working

out."

Along with Ting, other Asian

influencers such as Aimee Song,

Brigitte Truong and Aja Dang have also

been trending. From fashion to lifestyle

and even to business influence, these

women have it all covered.

Aimee Song is American-born and

raised of Asian descent. She is a bestselling

author and has been featured

on three Forbes lists, including the 30

under 30 list. Song is an international

influencer whose unique style attracted

millions of followers. Song's Instagram

is full of creative and aesthetic images

of beautiful outfits, interior design and

sceneries. Visiting Song's page is a great

way to find outfit concepts, ideas for

cool trips and photoshoot ideas.

Maddie Dishman, freshman

majoring in public relations at the

University of Alabama, often visits

Song's page.

"Aimee Song portrays a story

throughout her Instagram posts that

have been really cool to follow along

with. She recently announced her

pregnancy, and it has been interesting

to feel like I was part of that journey,"

said Dishman.

A big part of why individuals follow

influencers is to ride along with them on

their journey. Viewers, like Dishman,

enjoy watching them grow and take on

new experiences in life.

In Dishman's view, "Aimee Song will

now be able to gain a new audience

in addition to her current followers

because of the new products and

brands she will be able to endorse with

her baby on the way."

Without brands, there would be

nothing to influence. With the everevolving

pandemic, brands have stayed

wary of volatile business. With no

guarantee jobs can stay operative, there

is no guarantee brands will continue to

have customers able to purchase their

products. New marketing tactics have

helped brands to stay on top of the

changing market.

One tactic is embracing different

cultures and allowing themselves to

stand apart from others. Asian brands

have become quite popular in the U.S.

recently because of this, and people

cannot seem to get enough of their

products. An Asian brand that has hit

the U.S. market–in almost all stores–

is Shiseido, a Japanese cosmetics

company. Shiseido is actually one of

the oldest cosmetics companies in the

world and has many raving reviews.

Sarah Wray, freshman physics major

at The University of Alabama, can

personally review Shiseido Products.

Wray came about this product

while shopping around Sephora one

day. With super dry skin, she had

experimented with numerous products.

Wray heard of Shiseido previously, so

when a sample was offered, she jumped

at the opportunity to try something

new. While she found that she loved the

products, they can be a bit pricey for the

average college budget.

"I felt the products worked well

for my skin. I purchased the Vital

Protection Cream. I really appreciated

that the product contained SPF, which

was very important to me," said Wray.

Asian culture is becoming more

prevalent in everyday brands and

influencing. A few of them are above.

Every brand and influencer has its

own origin story, so it is essential, as

a consumer, to investigate brands that

they are financially supporting.

[49]
---
y Lucy Barrow

Design Wesley Picard

Photo Sarah

Hartsell

[50]
---
Through generations, American

society created an environment

balanced on the stigma surrounding

tattoos, known as button-up culture.

Button-up culture is the belief

that tattoos should be covered

in professional settings. This

culture stigmatized the creative

self-expression of tattoos with the

unsavory characteristics of lazy,

unmotivated, underqualified and

worst of all, unworthy.

Professionals across varying

industries took to physically buttoning

up tattoos under neatly ironed shirts

and suits to prevent falling victim to

such stigmatization. Many parents

emphasize the perceived dangers

of tattoos due to their assumed

relationship with risque, counterculture

behaviors. This discriminatory

way of thinking ignores the traditions

of underrepresented cultures and

the origins of nontraditional selfexpression.

Nancy Einhart, previous Executive

Editor and Vice President of Content

for Popsugar in New York City and

current Editor-in-Chief of House

of Wise, remembers her parents

condemning tattoos. Attributing them

to something only men, prisoners

or soldiers ventured to have. They

warned her that she would never

become the CEO of a company with

the permanent "stain" of a tattoo.

Defying her parents' advice, Einhart

received her first tattoo in 2001, right

as she debuted into the professional

world. Following the current societal

rules for the early 2000s acceptable

tattoo culture, Einhart strategically

placed her ink to ensure it could be

covered when the time came to be

perceived as professional. Twenty

years later, her tattoo collection has

grown in number and indifference

for what society deems proper or

deserving in a professional setting.

"People who work in the media or

other creative industries often see

their tattoos as ways to signal their

counter-cultural perspective," said

Einhart.

While her own class of professionals

entered the creative field with

tattoos hidden from society, the next

generations approached interviews

with their tattoos on display, proud

of their significance. Because many

jobs in the creative industry revolve

around the internet–predicting

cultural trends, maintaining media

presence and tracking media

attention– employees often begin

to normalize tattoos and other nontraditional

lifestyle expressions.

Unlike job environments within

the creative fields, those in more

traditional, often conservative

industries such as investment banking

or finance are more likely to uphold

[51]
---
the expectation of a button-up culture. While the surface

level expectation for these traditional work environments

appears harmless, the employees outside the norm could

be subject to unintentional ostracization.

"Many times, I believe I have been addressed as a laidback

surfer guy," said Caio Fernandez, a current Equities

Derivatives trader for Morgan Stanley in New York City.

"The tattoos definitely impact the way the older generation

see me, even if quietly."

Fernandez explained that the office fitness center became

his only indicator of his colleagues' tattoos. Being born

and raised in Brazil, Fernandez experienced both cultures'

professional fields, which he said have their individual

setbacks. He said Brazil has an overall more relaxed culture

that is accepting, while America offers a place for individuals

to express themselves, to a certain extent.

"[Tattoo culture] is definitely an area that is being developed

in the industry, as the younger generations are using tattoos

as a way of expressing themselves more and more," said

Fernandez. "I believe that improvement will always have a

limitation because face or hands tattoos will likely never be

accepted."

[52]
---
Mark Pigilia, a recent audit associate hired

for a firm in Dallas, Texas, said he has yet

to encounter any tattoos while in his new

position but would feel comfortable if he had

any himself.

It seems the traditional branches of the

professional world have improved from

staunch button-up culture, however, it's not

on par with their creative or international

industry peers. Einhart said while older

generations brand tattoos as something

individuals are "stuck" with, younger

generations embrace the significance and

honor of having something permanently on

their bodies.

There are many reasons someone might

get a tattoo. People worldwide and through

different cultures are getting tattoos in

remembrance of passing family members.

Māori, the indigenous Polynesian people of

mainland New Zealand, receive Tā moko, the

use of tattoos as a signifier of personal growth

to adulthood. Female survivors of breast

cancer have taken to getting beautiful tattoos

on their breasts to cover mastectomy scars,

highlighting the sheer power of women.

"Almost every fashion trend, slang, music

starts in some small community, and you

may not know what that community is," said

Einhart. "You may not understand everyone

else's cultural aesthetics, but that does not

mean they are wrong."

With time, American society has grown to

be slightly more accepting of less mainstream

culture, gaining a greater understanding

of the people that inspires its culture. This

growth created space for professional

settings to take account of their diverse

group of employees and create conversation

to establish an environment as diverse and

inclusive as the people it includes. Buttonup

culture is disappearing from professional

environments, and businesses are creating

rules to meet the needs of their employees.

[53]
---
evolution

of musical theater

On Dec. 25, 2020, the Netflix original

series "Bridgerton" debuted to 82

million households. Based on Julia Quinn's

popular romance series of the same name, the TV

show became the second most-watched Netflix

series by total watch time on the platform.

The show, which is set in Regency-era

England, became a huge hit on TikTok. From

reactions to the series to fan edits, the title has

gained over 430 million mentions on the app.

However, one of the most popular series of videos

came from creators Abigail Barlow and Emily

Bear, who began to create videos entitled "What If

Bridgerton Was a Musical?"

Barlow, a singer/songwriter, and Bear, a

composer, producer and singer/songwriter,

gained millions of views from their songs

based on the Bridgerton characters. Within

two months of collaborating over their first

song, "Ocean Away," the duo composed and

recorded 15 tracks to create "The Unofficial

Bridgerton Musical."

The album debuted in the top 10 iTunes of

worldwide pop albums, and in 2021, it was

nominated for a Grammy for best musical

theater album.

Keith Cromwell, executive director of Red

Mountain Theatre in Birmingham, Alabama,

has witnessed Barlow's genius firsthand.

Barlow, who was a member of Red Mountain

Theatre's youth ensemble for many years,

once attended an alumni concert at the

theatre and created live recordings with a

small amount of equipment.

"I remember coming out after she finished

her set and saying, 'This is someone who we

will be hearing a lot about in the future,'" said

Cromwell.

Barlow and Bear's success with "The

Unofficial Bridgerton Musical" has brought

legitimacy to a quickly-growing form of

musical theater, Tik-Tok driven projects.

"Musical Without a Cool Acronym," an

By Jolie Money

Design Sarah Smith

unofficial parody musical based on Disney's

animated TV show "Phineas & Ferb," is

another musical that found popularity on

TikTok with over 5 million mentions.

Caitlin Garnett, a sophomore hospitality

management major at The University of

Alabama, was scrolling through Tik Tok when

she came across a casting call for "Musical

Without a Cool Acronym."

"They had a site where you sent in an

audition tape singing a few bars of music for

whatever character you wanted. Then, they

emailed us. When I got my email, I was cast in

the ensemble, so I got to play a lot of different

characters, which was exciting," said Garnett.

Andrew Grabowski, the writer of "Musical

Without a Cool Acronym," had previously

performed the show in person, but during the

COVID-19 pandemic, he decided to move the

musical online. This way, performers from all

over the world could get involved.

"One of my favorite things about the show is

that I have castmates from Argentina, China,

Indonesia, Canada and all over the states,"

said Garnett. "People from all over the world

came together in a way that they never would

have been able to otherwise."

Most of the musical was recorded on the

video call app, Discord. When cast members

lived close enough to record together, they

would meet up and film together. After a year

of recording and promoting on TikTok and

Instagram, the full musical was posted to

YouTube and has now gained over 52,000

views.

Garnett attributed some of the musical's

success to being released soon after

"Ratatouille: The TikTok Musical," which was

a crowdsourced musical based on Disney's

animated movie "Ratatouille."

"Ratatouille: The TikTok Musical" began

as one song by TikTok user Emily Jacobsen,

[54]
---
ut soon grew into a full cast that performed

a benefit presentation of the musical on

January 1, 2021. The presentation was

viewed by 350,000 people and raised $2

million for The Actors Fund.

"The whole TikTok musical phenomenon

was buzzing after the 'Ratatouille' musical,

so right after people were watching it, they

wanted to know what was next. We were

next, and we were ready to go," said Garnett.

During the COVID-19 pandemic, people

craved interaction, and virtual musicals

allowed for people to feel a part of a larger

project.

The craving for social interaction has

continued, even as restrictions have become

more relaxed.

"Right now, we seem to have a real desire

for adults who want to take classes. Several

of our adult classes ended up having

waitlists, or we had to add more programs

to our roster," said Cromwell about Red

Mountain Theatre programs. "I think it may

be a product of, we haven't been able to be

social, and we haven't been able to do things

with people. When 16-20 people get into a

room with tap shoes on for the first time in

their lives, they're just having a ball. It feels

good to get out again."

The pandemic has shown us that now more

than ever, community is vital. Whether

virtually or in person, the theater gives

people solidarity.

With the success of virtual shows, it is clear

that musical theater has found a market

on TikTok. TikTok allows for creativity to

shine and for creators to be able to interact

and build off of each other's work. While

virtual musicals may never be able to reach

the experience of in-person productions,

TikTok creators have endless opportunities

to create new and exciting changes to the

world of musical theater.

[55]
---
The Complex

Reality of

Pole

Dancing

By

Jeffrey Kelly

Design Kayla Roberson

Whether it's defying gravity on a 50

mm titanium pole in a dance studio

or gracefully twirling on a club's stage

under glimmering luminescent lights,

pole dancing has been an art form that has

consistently captivated attention.

And although its connotation hasn't

always been positive in society, recently

pole dancing has seen an emergence in

positive representation through its use in

television shows like American playwright

Katori Hall's "P-Valley" and music videos

like FKA Twigs' "Cellophane," SZA's "Good

Days" and Lil Nas X's "Montero (Call Me

By Your Name)."

Elle Camembert, the owner of Studio

Steel, a pole dancing studio in Birmingham,

Alabama, said she loves the exposure pole

dancing has been getting. She had been so

captivated by pole dancing after her first

class; she decided to make it her life.

Yet, as pole dancing garners a rise in

popularity, it's important to note how

impactful the art form has always been.

Micayla Goodgame, a 22-year-old

woman, began pole dancing in 2019 for

money and fun at a gentleman's club in

Savannah, Georgia. Yet, soon after, it

evolved into a chance to express herself

and embrace the "divine feminine."

"I'm kind of introverted and shy. [Pole

dancing] brought out a more confident

outspoken me, and a lot of times you don't

even have to speak through words; you can

just speak through your movements," said

Goodgame.

Camembert agreed with Goodgame's

sentiment.

"Pole is very empowering," she said. "It

focuses on what we can do, rather than

how we look, which might surprise you to

hear."

She noted technical reasoning behind

what dancers wear while on the pole.

[56]

Though people might assume pole dancers

wear less clothing for attention or just for

the look, it's mainly so they can stick to the

pole.

"Skin will stick to the pole tights will not,

so this is not a thing that can be done in

leggings," she said.

Camembert said while teaching pole

classes, her best experiences have

been moments where people surprise

themselves and realize they can do things

they didn't think they could do.

While pole dancing is empowering and

looks glamourous, it isn't an easy activity

on the body or mind.

"It's really the art of making it look like

it doesn't hurt," said Goodgame. "You just

have to push through; a lot of girls get

bruises… and it's a pain that never goes

away."

Goodgame said pole dancing also takes a

toll on a person's mental health if they're

pole dancing for monetary reasons.

"It's just a draining job," she said. "There's
---
a lot of days where it might be hard to take

rejection, or it might be hard to not leave

with the amount of money that you felt

like you were worth leaving with, and you

have to just go home, leave everything that

happened at the club behind and go back

in the next day."

Though Goodgame said the rejection

helped her build her confidence, she

learned how to take a no and give one.

However, the physical and mental toll

stripping has isn't exactly quantifiable.

Each person's experience is different, and

each experience has certain nuances that

must be noted.

Catherine Roach, a University of Alabama

New College professor of cultural and

gender studies, said after doing interviews

for her book "Stripping, Sex, and Popular

Culture," which follows strippers' journeys

through the industry and raises questions

about gender, sexuality, fantasy, feminism

and spirituality, she found that stripping

doesn't adhere to a binary.

She said it's not completely negative or

positive; it's a "complex reality at play."

"Particularly if you are a woman without

a college education, it can be the most

lucrative legal job available to you, but

there's a lot of ways that it can go wrong.

So it's important not to romanticize the

world of the strip club. Strip clubs can be

badly run, badly managed, and in which

case, they can be quite dangerous sites for

women with a lot of potential for sexual

abuse," said Roach. "So, I'm not claiming

this is a wonderful sex-positive feminist

space, but there is potential to explore

themes of such. It all depends on a lot of

factors."

Goodgame agreed that while she has

had positive experiences at her club in

Savannah, Georgia, every experience is

different, and it's important to know what

type of environment you're in.

And due to its rise to mainstream

awareness, many of the complexities that

surround the strip club are being explored

in different stories like "P-Valley,"

"Strippers" and "Naked Hustle," which

then allow people to take more of a critical

look at the environment and people's

experiences.

Roach said when people criticize a young

woman for becoming a stripper; one

response that people can have is that we

live in a patriarchal world, where women

face many problems that limit their

economic employment growth.

"[So,] one way a young woman wins at

this game is by taking what it most values,

her youth and beauty and using it against

the system to maximize her economic

potential," said Roach. "Stripping can feel

like a way to win. We live in this stupid

world of racism and sexism and sexual

harassment, then use what's valued by

those in power against them to make

money off them."

She said we could also think about

stripping through a feminist or economic

critique of the labor market.

"Like why aren't there better employment

possibilities out there? Why is college so

expensive, so that people might go into

sex work in order to pay for their college

education?" said Roach.

Yet, while the media has allowed people

to take in those complexities, the attention

has been a double-edged sword for strip

clubs.

"From my perspective, as a dancer, it's

become harder to make money because

there's more competition because there's

more girls interested, but on the other

hand, there's more diversity in the club.

Everybody doesn't look the same," said

Goodgame. "So, I feel like it's helping

to make people just be confident in

themselves and show up as they are. I

feel like people have had this idea to be a

dancer; you have to have this perfect body

or even know how to do a lot on the pole

when in reality you don't have to know

how to do either. It's just about being

confident in whatever you're going to do.

So, I've seen that shift over the past two

years of me dancing."

While connotations about stripping are

being dispelled in some spaces, stigma and

stereotypes are persisting and infiltrating

the strip club environment.

"Even now, when I tell people that I

dance, it's kind of already perceived in the

way you see in music videos," Goodgame

said.

Though she said it isn't just an issue of

the connotations developed from media,

it's also a discussion of race.

"There's a lot of clubs that turn me down

and tell me because I look too Black or the

girls will tell me like, 'oh, the managers

don't like you dancinga nd the hip hop

music because they say it's ghetto.' So, I

feel like clubs are trying to steer away from

that negative connotation, but they're not

realizing how negative they're making

it for the dancers who are [Black]," said

Goodgame.

While the connotation and overall

experience of strippers can be debated, for

Goodgame, the main focus is artistry.

Goodgame said she believes that a lot

more people are starting to realize that

things deemed negative in society are just

things people are programmed to think so.

Pole dancing has allowed people to express

themselves confidently and authentically.

She advised those interested in pole

dancing to work on their body strength

and have fun.

"I know for me; I could have probably

learned a lot quicker if I wasn't scared

to just slink around and have fun. Don't

make it too serious like literally look at

it as art, and create and let yourself feel

awkward. Let yourself try new shapes,"

said Goodgame.

[57]
---
Photo Sarah Hartsell

[58]
---
[59]
---
64

72

62

which kpop fandom do you belong in?

it's in the details: the moving parts of storytelling in tv

70

66

protest music

into the hyper-realm

sex sells: women and sex representation in hollywood

[60]
---
[61]
---
WHICH K-POP FANDOM

DO YOU BELONG TO?

DESIGN ELLA SMYTH

In Korean pop music culture, each group creates a fun, catchy and unique official name or nickname for their fan base. There's

usually a deep and emotional meaning behind each name because the name is associated with the particular group's sound, colors or

text. Take the quiz to see which fandom and group you should join.

What song title would you choose to describe

your life at this point in time?

A. "Mic Drop"

B. "Kill This Love"

C. "I CAN'T STOP ME"

D. "Magic"

E. "God's Menu"

By Kierra Thomas

1 2

What is your favorite type of music?

A. Hip Pop

B. Pop

C. Dance

D. EDM

E. Rap

3 4

When you wake up, what's the first thing you're

doing?

You want to change your hairstyle, what are

you doing to it?

5

A. You're washing your face and

brushing the teeth

B. You're still in the bed, half asleep

hitting the snooze button

C. You're in your closet, picking out

your clothes for the day

D. You're getting up fixing your bed,

then it's off to the kitchen to make

breakfast

E. You're still in bed scrolling through

social media (TikTok, Twitter,

Instagram)

What is your favorite color to wear?

6

A. Feeling bold! You're dyeing your hair

a different color

B. Get the scissors! You're cutting your

hair

C. Adding extensions and curling your

hair

D. Nothing, you can't decide so you're

keeping the same

E. You're getting a perm

What emoji best describes you?

A. Red: represents determination,

excitement and power

B. Black: represents power, elegance and

strength

C. Pink: represents youth, playful and

good health

D. Blue: represents freedom, freshness

and loyalty

E. Yellow: represents joy, happiness and

positivity

A. Purple heart: you're supportive and

passionate

B. Pink heart: you're very loving and

empathetic

C. Peace sign: you're chill and peaceful

D. Smiley face: you're always happy and

energetic

E. Flame: you're tough and awesome to

be around

[62]
---
7

You're at a party, what dance are you

doing?

8

What

topping is going on your pizza?

A. The Floss dance

B. Dougie

C. The Jerk

D. Tik Tok dances

E. The Woah

9

You're in the pet store looking for a new

pet, which pet are you taking home?

A. Dog

B. Cat

C. Guinea pig

D. Fish

E. Lizard

A. Pepperoni

B. Cheese

C. Pineapple

D. Veggies

E. Meat Lovers

If you chose mostly A's - BTS (ARMY)

You're definitely a fan of BTS! Welcome to the

A.R.M.Y., which stands for "Adorable Representative

M.C. for Youth." A.R.M.Y. correlates with "Bangtan

Boys" which stands for "bulletproof boy scouts." BTS

consists of seven members, Jin, Suga, J-Hope, RM,

Jimin, V, and Jungkook. BTS are the biggestK-pop

stars in the world that are known for storytelling by

creating diverse songs and concepts.

If you chose mostly B's - BLACKPINK

(BLINK)

You're a blink! BLINK is a portmanteau of black

and pink. Blackpink consists of four members: Jennie,

Lisa, Rose, and Jisoo. The girls are known for their

concepts for each song. Blackpink has about five or six

completely different concepts with different hair colors

and clothing featured in their videos. They're known for

their independent, strong women aesthetic.

If you chose mostly C's - TWICE (ONCE)

You're definitely a ONCE! If fans love the group

just once, the girls will repay their fans with TWICE

the love! Twice is a girl group that consists of nine

members: Jihyo, Nayeon, Jeongyeon, Momo, Sana,

Mina, Dahyun, Chaeyoung, and Tzuyu. The group

is known for its cute personalities, catchy songs and

creative and colorful aesthetic.

If you chose mostly D's - TXT (MOA)

Welcome to the world of MOA! MOA means

"gather/collect every Moment of Alwaysness. TXT

(Tomorrow X Together) represents the fourth

generation of K-pop. TXT consists of five members:

Yeonjun, Soobin, Beomgyu, Taehyun and Huening Kai.

They're considered the "little brothers" of BTS but with

different styles of music and concepts.

If you chose mostly E's - STRAY KIDS

(STAY)

STAY is Stray without the r. The r in STAY stands

for reason, meaning that their fans are their reason and

where they stay. Stray Kids is one of the most successful

4th generation K-pop groups with an exciting and fun

dynamic. Stray Kids consists of eight members: Bang

Chan, Lee Know, Changbin, Hyunjin, Han, Felix,

Seungmin, and I.N. They're known for their different

tempos, sick beats, rap styles and languages.

[63]
---
IT'S IN THE DETAILS: THE MOVING

PARTS OF STORYTELLING IN TV

BY EMIE GARRETT

[64]

When viewers sit down to watch

television and movies, few question

how many moving parts go into creating

the art on their screens, however, one must

wonder what would "Euphoria" be without

Maddy's dress-code-annihilating outfits

or Orville Peck's dreamy track "Dead of

Night" punctuating a pivotal scene or

Jules' ethereal makeup. It likely would be

an entirely different series and a much less

beautiful, enticing and tragic one at that.

Many don't recognize what massive

roles' makeup, hair, costume design and

sound design play in breathing life into

the stories people love and creating the

iconic cinematic moments throughout

generations.

The costume, makeup and hair

design of characters changes as they evolve

within the show, following the writing and

direction of that character.

DESIGN KATIE HARMON

For example, in the second season

of "Euphoria," we see Cassie Howard,

portrayed by Sydney Sweeney, go from

her normal, sweet style to waking up at

4 a.m. every morning before school to

do elaborate hair and makeup and wear

clothes untrue to the character's original

style.

Cassie's spiral into this overlydone-up

version of herself is all to attract

attention from her toxic love interest. She

is in a manic state and quickly unraveling

emotionally, all of which is greatly shown

through the hair, makeup and costume

design, as well as the cinematography.

In an interview with Decider, Sweeney

spoke of the attention to detail director,

Sam Levinson, has when filming.

"What I love about [Levinson] is

every shot he wanted her to be drinking

a different bottle. So if you notice, every
---
single shot she has a completely

different bottle in her hands," said

Sweeney.

Fashion and trend analyst on

TikTok, Mandy Lee, recently created

a TikTok analyzing the significance of

Euphoria costume designers choosing

to dress Lexi Howard, portrayed by

Maude Apatow, almost exclusively in

the designer brand, Miu Miu.

"Miu Miu's unofficial

nickname is Prada's little sister, like

Lexi is little sister to Cassie, who is

much more of a main character based

on screen time alone," said Lee. "Prada

is typically thought of as the more

luxurious, glamorous brand in the

sisterhood. Miu Miu is more creative,

playful and witty. Miu Miu's brand fits

Lexi's character archetype."

With reboots happening right

and left, it's important for costume

designers to show, especially in fashioncentric

series, that while the characters

have matured and grown, there is still

a vein of their younger self that viewers

grew to love, running through them.

Morgan Igou, the president

of The University of Alabama's

National Retail Federation Student

Association and a junior majoring in

fashion merchandising, said she loves

how costume design can show viewers

where characters are in their lives and

how they have evolved.

"The costuming in "And Just

Like That…" so seamlessly transitioned

Carrie, Miranda and Charlotte into

this new period of their lives while

staying true to their original style,"

said Igou. "Miranda went through such

huge, amazing changes throughout

this first season and the costume

designers beautifully showed that while

maintaining her style as this strong,

independent woman."

In an interview with Variety,

"And Just Like That…" costume

designer, Molly Rogers, said since

everyone is so familiar with the "Sex

and the City" girls, the "DNA of their

clothing was really set in stone from

the original show, so it was just about

finding new designers and seeing who's

out there now … and, of course, their

classic go-to's."

Makeup, or even the lack

thereof, also tells a lot about where a

character is at mentally.

Brooke Bivens, a UA

sophomore majoring in criminal justice

who works as a freelance makeup

artist, said in "Euphoria," viewers

can see when Rue Bennett, portrayed

by Zendaya, is going through drug

withdrawal, has relapsed or is sober

based off of her skin alone.

"When Rue is having

withdrawals, [the makeup artists] use

more oil on her skin to make her look

sweaty, and her hair is super disheveled

and messy, but when she has relapsed

or is clean and isn't experiencing

withdrawals anymore, she's way more

put together… makeup is a great way

to see where a character is at mentally,"

said Bivens.

In an interview with W

Magazine, Euphoria makeup director,

Doniella Davy, said the process for

creating Rue's makeup looks start with

accentuating what's already there.

"I would just accentuate the

bags under her eyes, or put this red

eyeshadow around her eyelash line,

or even trace over her veins on her

temple and her brow bone using this

watercolor-style special effects makeup

and a really skinny brush," said Davy.

Davy said her approach to

each character is to make sure the

makeup visually communicates with

the characters' states of mind because

"the looks give more insight into that

character in that moment."

Any bookworm will talk about

how the "book is always better than the

movie," and this often has to do with

the fact that, in books, readers get the

internal monologue of characters and,

therefore, a better understanding of

their motives and emotions, which is

difficult to portray in film.

Brandi Stephney, a composer

studying African American studies with

a minor in creative media, said sound

design in film conveys pieces of a story

that can't be said aloud by the actors.

"The point of cinema is for

the story to be told visually. If you take

away the music in a film, there really

isn't as much dialogue as people think,"

said Stepheny. "The music composed

or chosen for scenes acts as a means

of amplifying emotions the actors are

trying to portray…music helps tell the

whole story. It speaks when no one else

can."

In a 2017 Vox article entitled,

"How music supervisors create iconic

TV moments," Maggie Phillips, who

at the time worked on three different

FX series– "Fargo," "Legion" and

"Snowfall"– said that it's crucial to be

able to "occupy a character's state of

mind" and one must have a heightened

sense of empathy to do that.

"You have to be very

empathetic to do this because you have

to be able to put yourself in all these

characters' lives and feel what they're

feeling," said Phillips.

While many may think being

a music supervisor simply requires

having great taste in music and

scrolling through Spotify for hours

on end, it actually involves extensive

collaboration and jumping through

creative and legal hoops– due to

copyright laws.

In the same Vox article, Kerry

Drootin, an Emmy-nominated music

supervisor, said that there is often

disagreement between supervisors

and producers that happens during the

creative process.

"A lot of people think you just

get to put in your favorite songs and

it's super cool and 'I have great taste,

so I'm going to show it off,'" Drootin

said. "In reality, you're working for the

producers, and you have to help make

the show that they want. A lot of times

you're dealing with music that might

not be your favorite, and you really

have to get your ego out of the way a lot

more than a lot of people expect."

Actors, writers and directors

frequently, rightfully, get praise for

creating beautiful stories that deeply

connect with viewers, but it's important

to recognize those who help further

paint the picture in ways many viewers

can't exactly put their finger on.

The talent, creativity and

ingenuity required to produce

outstanding work in costume, hair,

makeup and sound design are truly art

forms to be applauded– hell, they're

standing ovation-worthy.

[65]
---
not a genre, not a

style, but a method of

engagement

[66] Design Wesley Picard
---
For many, music is more than just

something to listen to, it's a way

to express grief, pain, anger and truth.

These words have been synonymous

with how people have felt while suffering

from racism, oppression and

injustice throughout history. While

searching for change and accountability,

musicians have used protest music

to critique administrations, express

their feelings and call for societal

change.

"Songs express values; they articulate

and encapsulate cares, what we

stand for and what we stand against,"

said Theodore Trost, The University of

Alabama New College professor who

specializes in music and social protest.

"Probably the most typical kind

of popular song and even religious

song is the love song because love is a

value people long for and try to hold

onto, but there is much in our society

that undoes love. Protest songs arise

to oppose this injury to both the self

and to society."

Protest music has spanned across

history dating back as far as the 18th

century, yet one of the most notable

periods of protest music was the civil

rights movement.

In an article for PBS, Bernice Johnson

Reagon, a composer, song leader,

scholar, social activist, and producer,

said while discussing protest music

during the civil rights movement, it's

important not to think of protest music

as a strategic move of the movement.

"Like the collective breath of the

movement, they were a natural outpouring,

evidencing the life force of

the fight for freedom," said Reagon.

One example of this outpouring of

"life force" is "Strange Fruit," a 1939

song originally written as a poem by

Abel Meeropol, also known as Lewis

Allan, in 1937. The poem "Bitter

Fruit" stemmed from Meeropol seeing

a picture of the lynchings of two

Black men. Two years later, Jazz singer

Billie Holiday recorded those lyrics,

and one of the most notable protest

songs was born.

According to Biography, Holiday

didn't enjoy singing "Strange Fruit." It

reminded her of her father, who was

turned away from a hospital because

he was Black and later died of pneumonia.

Even though the song brought

back terrible memories for Holiday,

she did it to remember her father and

remind people that the discrimination

he faced continued to happen to

other Black people decades later.

"['Strange Fruit'] preserves a portrait

of America that we still have not come

to terms with despite the civil rights

movement and despite the work of the

Equal Justice Initiative, for example,

or the Legacy Museum in Montgomery,"

said Trost.

This was a movement that developed

over decades during which a

repertoire of songs emerged, including

John Coltrane's "Alabama," Nina

Simone's "Mississippi Goddam," Sam

Cooke's "A Change is Gonna Come"

and Mahalia Jackson's performances

of several gospel songs like "How I

Got Over" at the March on Washington.

However, protest music didn't only

exist during the civil rights movement.

Jennifer Caputo, The University

of Alabama New College and New

College life track senior instructor

who specializes in music and social

protest, said music has been utilized

throughout history in different social

movements, labor unions, geographical

locations and historical periods;

for example, during the Holocaust.

According to the United States Holocaust

Memorial Museum, during the

Holocaust, many Jewish people living

in ghettos and concentration camps

turned to music as a way to preserve

their humanity. Operas and art songs

were produced and performed by

prisoners of some of the camps.

"It helped not only the people

who were living under such terrible

conditions, and helped them have

something to live for, but it also still

reminded those who were forced to

work as the security forces, soldiers,

etc. that these people are human and

they're doing human things, they have

culture, they're producing music," Caputo

said. "So it's one of the things we

look at in terms of music, it may not

be that the music itself is the protest,

but the act of singing the act of performing

music makes you human,

and it could make others empathize

with you as a human being."

Not only did protest music showcase

the plight of people who were facing

horrific experiences, but it also created

a sense of community in times of

adversity.

For Anne Powers, a music critic at

NPR, her first foray into protest music

was an anti-nuclear proliferation

rally in Seattle when she was in high

school.

At the protest, they sang along to

anthems like "My Mom's a Feminist,"

and Powers has been interested in

protest music ever since.

"As I became aware of the diversity

and global reach of protest music,

I came to understand that it's not a

genre or a style, but a method of engagement,"

said Powers.

Powers said protest music can take

the form of spirituals like "We Shall

Overcome," pop anthems like Helen

Reddy's "I Am Woman," funk

breakdowns like James Brown's "Say

It Loud (I'm Black and I'm Proud),"

punk rants like the Sex Pistols' "Anarchy

in the U.K.," and hip hop joints

like Kendrick Lamar's "Alright."

While protest music is a genreless

sound that has stood the test of time

when discussing protest music and its

evolution, it's important to consider

an artist's intent.

Powers said music becomes protest

music through the intention of the

[67]
---
artist and the passion of the audience

who embrace it, and while

times change, Powers doesn't believe

protest music changes; it's

more of a "cyclical presence."

"Protest is always renewing itself

within music and taking new

shapes," she said.

Trost agreed that he didn't think

protest music had changed that

much "apart from the appropriation

of different musical styles."

He said a number of "good protest

songs" appeared in 2020 like

Amy Ray's "Tear it Down," Lil Baby's

"The Bigger Picture" and Chris

Pierce's "American Silence" which

all addressed the issues of 2020, but

also the historical racism and injustice

leading up to 2020.

He said in "Tear it Down," Ray,

a member of the Indigo Girl's, addresses

the nostalgic and false picture

of the South that is conjured

by films like "Gone With the Wind"

and her childhood in the South.

Then Trost explained how Pierce's

"American Silence" is a direct appeal

to traditional folk protest

music, and it questions the "effectiveness

of protest music itself."

Juggling with keeping the listener's

attention and alluding to the unjust

things happening to people being

arrested.

"A third song that sort of draws

the tensions of the whole year together

is 'The Bigger Picture,' by

Lil Baby. With a majestic assault of

words written in the aftermath of

the George Floyd killing, the song

is an indictment of the 'whole way

of life' in America that perpetuates

violence, hatred and fear," said

Trost. "Lil Baby resolves, in the end,

to change things, to make it count

while I'm here."

To further highlight protest music

during 2020, NPR's own Bobby

Carter, Nate Chinen, Shana L. Redmond,

Oliver Wang and Powers

collaborated on a series titled "We

Insist: A Century of Black Music

Against State Violence," a timeline

of 50 songs that together constructed

a "kind of timeline of an ongoing

movement within American music,

stretching back more than a century."

Powers said she was specifically

looking for songs that would tell the

story of how people of color exposed

and resisted state violence through

song.

"The project grew and changed as I

teamed up with my great group of collaborators

on the project. We wanted

to show that, just as sanctioned violence

has been a reality for non-white

people from the very dawn of American

history onward, so music has told

of the horrors official history omitted

and helped people sustain energy to

fight against such oppression," said

Powers.

She said the response to the timeline

was "great," and people's engagement

with the project inspired the "We Insist:

A Timeline of Protest Music in

2020," which documented the songs

and videos that defined the summer

of 2020 and the months leading up to

the presidential election.

Powers said she's always been interested

in how music can serve resistance,

and creating this timeline in

collaboration with other scholars and

writers reinforced the importance of

protest music in music's history.

However, before the summer of

2020, she said she was sometimes unsure

if protest music would ever be

central to pop culture again, "especially

because younger generations are as

engaged with gaming culture and social

media platforms as they are with

music. You've got to really love something

to see it as a means to protest."

Yet, she said during the pandemic,

when artists found themselves with

more time, all they needed was a

prompt.

"Once this new movement coalesced,

the floodgates just opened. It's been a

very exciting few years. Protest music

is now, again, interwoven into many

different musical genres and scenes,"

said Powers.

However, some question the relevance

and importance of protest music,

wondering if, in this time, it is still

relevant and genuine.

"There is likely an implicit protest

in many of the songs people listen to;

the songs just don't seem to fall into

the category, or maybe the category

itself is a problem at the moment—in

the aftermath of wokeness, or political

correctness, or prejudice against the

term social justice warrior," said Trost.

Powers said for those who are indifferent

about protest music, it's possible

they don't realize they're listening

to it because "protest can inform all

kinds of music and inspire change

within the most surprising contexts."

Powers said some protest songs like

Tyler Childers, "Long Violent History"

where the song's explicit message

challenges his white audience to "cultivate

solidarity with their BIPOC

neighbors," and Lil Nas X's hit record

"Montero (Call Me By Your Name)"

is a form of protest music because it

expresses the message of queer liberation

which has been its own movement

since the Stonewall Riots, a six

day long protest in New York City that

served as a catalyst for the gay rights

movement in 1969.

In a time where unity is most important,

music has brought people

together for centuries and continues

to do so.

"It doesn't matter if the song is a

protest song. If it's a song that is unifying

a group of people, it's also empowering,

and it's also can become representative

of a particular movement or

time period or particular message,"

said Caputo.

[68]
---
[69]
---
INTO THE

HYPER-REALM

[70]

By Morinsola Kukoyi

Design Ella Smyth

Emerging in the 2010s, hyper

pop is a microgenre of pop

that has been steadily gaining visibility

in the music industry. This vibrant genre

incorporates pop and electronic music

themes that blend together to create a

whole new avant-garde and expressive

sound full of colorful beats.

In an article by The Atlantic, hyper

pop's sound was described as a "Janet

Jackson drum slam here, a Depeche Mode

synth squeal there, the overblown pep of

novelty jingles throughout."

Queer EDM producer, Antoine

Buisson described hyper pop as an

amalgamation of all the new styles of

music that have emerged over the past

decade, including SoundCloud/mumble

rap, EDM, pop music, pop-pun and new

school metal.

"Mash it all up, and that would

pretty much give you hyper pop," Buisson

said. "I think it's pretty hard to strictly

define hyper pop."

Spotify does have a playlist that

fans and new listeners can experience for

themselves and come up with their own

definition of hyper pop, but Buisson said

there's "so much more of it."

"Since hyper pop is so many things

and has so many influences, I would

almost say that it's not really a genre, but

the departure from any adherence to a

certain way of making music," he said.

"the departure from any adherence

to a certain way of making music," he said.

This experimental sound's

beginning has been linked with PC Music,

a label created by British producer AG

Cook in 2013. Cook founded his record

company because he wanted to have an

A&R role. He wanted to take musicians

who dabbled in music and make them

feel like A-list musicians. A couple of

years later, his record label got big, and he

started signing other artists. PC Music is
---
esponsible for different artists, including

Namasenda, Hannah Diamond, umru,

etc. The label first started streaming their

artists' songs on Soundcloud and when

it became bigger, it started to take their

opportunities to get their artists bigger.

There are many different artists that

make up the musical face of hyper pop,

including 100 Gecs, Dorian Electra, Charli

XCX and more, but one that many think

of when thinking of hyper pop is SOPHIE

Xeon, known as SOPHIE, a Scottish

musician, record producer, DJ and trans

icon.

SOPHIE was a very prominent figure

in the musical movement of hyper pop.

She was a popular singer and producer

that carried hyper pop music. She was

a key figure in hyper pop, and her mind

was a working industry of gears that was

able to produce so many unique sounding

songs. "Sunscreen" and "My Forever"

are some incredible songs to listen to if

you want to learn more about SOPHIE's

musical direction. Some of her other

highly recommended and popular songs

include "PonyBoy" and "It's OK to Cry."

Critics from Gender Amplified

described "PonyBoy" as a "dramatic,

reverberant, percussive bridge [like

sound]," while they contrasted "It's OK to

Cry" as a comparatively quiet, vulnerable

overture."

According to an article in The

Michigan Daily, SOPHIE labeled her music

as an advertisement. Her music came

"across like a promotion, not of herself

or even of the music itself, but rather of

the philosophy of emotive reconstruction

behind the music."

She tragically passed away in 2021

after falling from the balcony of her Athens

apartment while trying to see the moon in

Athens, Greece.

"She's a musical genius on the

level of historical music acts like Mozart,

Beethoven, Miles Davis, Michael Jackson,

Hans Zimmer, etc.," said Buisson. "In

my opinion, she's the most influential

and important musical figure of the 21st

century, and I don't think you'd find many

people with good music knowledge that

would dispute that."

SOPHIE's talent and hard work will

always be remembered in the hyper pop

community. Hyper pop is still thriving, but

it will never be the same without her too

many fans.

Many of the artists of this genre are

members of the LGBTQ+ community. In

most genres, there is a heavy presence

of straight cisgender artists and a lower

presence of LGBTQ+ members.

With hyper pop, many of these

artists can be who they truly want to be.

They can have fun expressing gender

identity, not only through their looks

but with their sound as well. It is a genre

where the artists and fans can feel like they

belong somewhere and feel accepted by

everyone around them. Finding comfort in

music is such an important part of being a

fan, and hyper pop does such a meaningful

job of becoming that type of haven.

"So many of the originators of [hyper

pop] are queer, and so many of the current

artists pushing it forward are queer. If you

go to a hyper pop show like HEAV3N or

Subculture in LA, I would guess at least

90% of the crowd is queer," said Buisson.

He said there's a deep connection to

queer culture and music, especially Black

queer culture.

"At the end of the day, my peers and

I wouldn't be doing what we're doing or

making the music we're making if Black

and queer artists hadn't pushed music

forward throughout history and anyone

who doesn't think so has some studying to

do," said Buisson.

Another popular artist in this unique

genre is Charli XCX, a British singer known

for hit songs like "Boom Clap" and "Gold

Coins." The critically acclaimed singer

mainly stayed in the typical pop realm,

but fully stepped into the hyper pop realm

with her 2019 album "Charli."

The album "Charli" can be defined

as hyper pop because it contains elements

of the musical sound. It contained hints

of EDM and pop that presented a new

extravagant sound. The singer worked

with producers like A.G. Cook to achieve

the hyper pop sound she was going for,

and overall, the album did fairly well.

According to a review from Rolling

Stone, the album was described as "a

spectacle of people broadcasting their

rightness 24/7, where apologies are never

made."

"I love Charli's music because it's

such a great blend of hyper pop elements

and the modern pop style that hyper pop

genre often satirizes. She's definitely seen

as one of the most 'mainstream' hyper pop

artists, but it's easy for me to see why she

has such an appeal given her talent and

song construction," said Watson Coker,

a senior at The University of Alabama,

majoring in political science and Spanish.

Charli brings a fresh and bright

perspective to her music that keeps her

fans on their toes and has them singing

along anywhere they go. Some hyper popinfused

songs of hers to check out would

be "Backseat" featuring Carlie Rae Jepsen

and "Crash." These songs have catchy

beats and lyrics that will get fans nodding

their heads along as they listen.

The fanbase of hyper pop is very

diverse and is welcoming to everyone. It is

a musical home where people can find an

artist they love listening to.

The atmosphere of the fanbase is not

only countercultural but very connected.

Its heavy presence can be found online

and makes it easier for people to access it

and find new artists and songs to discover.

Many of the genre's fans are always

welcoming to give recommendations and

advice when listening to hyper pop for the

first time.

Coker is one of those fans who loves

helping people discover the electric genre

of hyper pop because he, too, was once

new to the hyper pop fandom.

"My biggest advice though is to

come back to it if you don't like what you're

listening to the first time. It's such a wide

genre, and there are so many different

styles, you're bound to find something

that suits your taste if you look for it,"

said Coker. "The first time I listened to

hyper pop, it didn't click with me. It wasn't

until I came back to it after my music

taste evolved slightly that I began really

enjoying the genre."

Buisson recommends Galen

Tipton, an "underrated and still fairly

underground" artist to those interested in

learning more about the genre.

"She's been at the forefront of hyper

pop since the genre's inception and has

incredible sound design; labeling her

music as hyper pop is understating her

artistry, in my opinion," said Buisson.

Hyper pop seems to have the

potential to become a long-lasting genre in

the music industry.

"It's influencing some of the biggest

pop artists around the world, but the

region and culture/market also will play a

big role," said Clay Woods, a Nashville pop

and EDM producer.

There are so many determining

factors that will decide whether or not

hyper pop will succeed. Still, with a strong

fanbase and diverse artists, hyper pop

does have a high chance of dominating

the music industry and making a name for

itself.

[71]
---
From children's cartoons and

romantic comedies to high school

dramas and superhero movies,

there's a clear distinction between the

way women are portrayed versus men

in films. According to a report by the

American Psychological Association, girls

are depicted in a sexual manner more

often than boys, whether that is shown

through the way they dress or through

their storylines. Beyond this, many of the

sexualized women in Hollywood do not

fully represent the population, with most

of them being thin, straight white women.

Questionable movies can often depict

women in revealing clothing when in job

positions that don't require i or female

characters who only serve as love interests

to the main male characters, like the girl

next door character tropes.

However, recently movies and television

shows have been struggling to balance the

male gaze with the ongoing sector of the

feminist movement that strives to include

three-dimensional, dynamic female

characters.

One of the most popular ways to tell if a

female character is there for the enjoyment

of sexual fantasy or for actual storyline

purposes is the famous "Bechdel Test."

Created by Alison Bechdel and Liz Wallace

in 1985, the Bechdel Test includes three

criteria for a movie or television show to

be included in healthy representation for

women. First, there have to be two female

characters. Secondly, these women have to

talk to each other, and third, they have to

talk about something other than a man.

Popular blockbusters that fail the

Bechdel Test include the entire "Lord of the

Rings" trilogy, "The Avengers," "Avatar,"

"A Star is Born," "Breakfast at Tiffany's,"

"Harry Potter and the Goblet of Fire" and

"Star Wars V: The Empire Strikes Back."

Priscilla Shreve, a junior majoring in

creative media and anthropology at The

University of Alabama, said she often

looks back at shows she loved when she

was younger, only to realize the beloved

female characters weren't as dynamic as

she once thought.

"As a [bisexual] woman, when I was

younger I was drawn to these characters

that honestly looking back now weren't

well-written characters," said Shreve. "I

just thought they were very attractive and

hot. Young Priscilla was like, 'Oh, this

character is very cool, and I think they're

the best character in the show,' when really

they were a flat surface character and just

had like skimpy clothes basically."

A study conducted by the Geena Davis

Institute on Gender in Media found that

[72]

sex

sells

Women and Sex Representation in Hollywood

By Annabelle Blomeley

Design Kayla Roberson

women are four times as likely to be shown

undressed in films and television shows

than male characters. Male characters also

receive around two times the screen time

as their counterparts and speak twice as

often.

"It's not enough for you to be an

interesting character, but it is enough for

you to be an attractive character that's

boring," said Shreve.

For Shreve, her favorite television show

as a child demonstrates this perfectly.

"Kim Possible," a show about a teenage

girl turned spy, depicts one of the villains,

Shego, with skin-tight clothing and a not

like other girls attitude.

Shreve said one way she tests the

attractive female characters in television

shows is by looking at the male

counterparts. In "Kim Possible," this

comes in the form of the villain Drakken,

who is not nearly as sexualized as his

partner Shego. Even with the heroes of the

show, Kim is a beautiful spy in tight clothes

while her male friend, Ron, is shown as an

average, nerdy teenage boy.

"It's fine to have attractive girls, but

when that's all you have, it is a concern,

especially since it was supposed to be a

show for young girls to aspire to be spies

and try to be the hero of their own story,"

said Shreve. "It's like you have to be the

hero of your own story, but you also have

to be hot while you're doing it. You're not

allowed to just be a person; you have to be

an item of sexual fantasies or be attractive

while you're doing all these other things.

Your sexuality to other people is your

worth."

People watching shows with only

conventionally attractive characters

often struggle to find themselves in the

characters they love, which in turn leads to

body and sexual health issues.

Ariane Prohaska, an associate professor

of sociology, specializes in researching

gender at The University of Alabama,

bodies and the concept of beauty,

particularly in a research area minted "fat

studies," which explores the stereotypes

and oppression of plus-sized individuals.

Prohaska explained the detrimental

effects of one-sided representation in the

media as a real problem that many people

face.

"It can make [people] feel as if they are

not sexy," said Prohaska. "We do know that

our beauty standards and the United States

have been very white and westernized and

the idea of the thin white woman. We

have been lucky to have an acceptance of

more diverse beauty standards, more body

positivity, but there still is the focus on the

thin body, even if it's not the hyper-thin

body that has been if you think, the 1990s

and early 2000s."

In fact, according to a study in

Bloomberg, 67% of American women are

above a size 14 in clothes, but only 2% of

images of women in the media are of plus-
---
size women.

Many plus-size women in movies and

television play roles meant to poke fun at

people with bigger bodies, like Fat Amy

in "Pitch Perfect" and Regina George's

weight gain plotline in "Mean Girls." In

other movies and television shows, the fat

friend plays the funny side character to an

attractive, thin person, like Julie in "Lady

Bird" and Megan in "Bridesmaids."

"Women do not fit the mold of the thin

body type are very underrepresented in

romantic roles in TV and movies," said

Prohaska. "And sometimes when they are

in romantic roles, there's a lot of humor

involved that may not be funny to people

of larger body sizes."

The over-sexualization of girls and

women in television also applies to young

women, particularly those who don't meet

the rigid standards of beauty, to struggle

with self-acceptance and confidence.

Prohaska said one of the only

representations of a plus-size woman

navigating sex and romance on current

television is Hulu's "Shrill," which stars

"Saturday Night Live" alumna Aidy Bryant

as a young journalist who is determined

to enhance her life without changing her

body.

"It's a stereotype that every fat woman

wants to be thin, and that undermines

body acceptance and undermines that

with our body size, a lot of it is not under

our control. A lot of it has to do with our

genetics and our social class and if we had

access to exercise and healthy foods and

things like that," Prohaska said.

However, representation doesn't just

stop with body size. Women of color are

often sexualized in different ways than

white women in television and movies.

For example, in the classic "Taxi Driver,"

a black woman has sex with a white

businessman in the back of a taxi, which

was supposed to represent the moral

decline of America. Other examples

include Beyonce as Foxxy Cleopatra in

"Austin Powers in Goldmember," Halle

Berry in "Monster's Ball" and more.

Prohaska said many stereotypes revolve

around the hypersexualized woman of

color, particularly in depictions of Black

women and Asian women, which can lead

to people in the real world viewing these

women as "sexually available."

On television, women of color are twice

as likely to be portrayed nude than white

women. However, only 19% of Black

leading actresses are dark-skinned, and

the majority are shown with hairstyles that

"conform to European standards of beauty

as opposed to natural Black hairstyles,

according to the Geena Davis Institute

on Gender in Media.

For many, the representation

problem doesn't just happen on screen.

Women, people of color, and members

of the LGBTQ+ community are found

significantly less frequently in other

positions across Hollywood.

Vannah Smalley, a junior creative

media major at The University of

Alabama, hopes to be a screenwriter for

a comedy sitcom television show when

she graduates. As a theater minor at

the university, she's seen firsthand the

sexualization pushed on young female

actors.

Smalley said she recently had a

marketing internship where she was

told she was "too nice" and that "people

were going to run her over" if she

continued to pursue screenwriting.

"Behind the camera, in the writers'

rooms, a lot of women are just thrown

to the back burner, or if they're

considered, they're taken advantage of,

and they'll be just used for girl topics

and things like that. They don't get

to expand themselves," said Smalley.

"People need to stop not taking the

woman's opinion and running it over

and reusing the same six topics about

women that they have in their drawer

over and over again. They need to let

women write and act and direct."

One of Smalley's favorite television

characters is Zooey Deschanel's

character Jess Day on the sitcom "New

Girl." For Smalley, Jess is upbeat,

positive, sensitive and emotional, while

also exploring sexual and romantic

interests.

On the other end of the spectrum,

both Smalley and Shreve cited the

popular show "Riverdale" as being a

bad example of over-sexualization in

media. The show, which has characters

who are shown in high school, features

the teenagers having sex often and on

camera, girls stripteasing in front of

older men as a gang initiation, a male

teenager having a romantic and sexual

relationship with a teacher at his school,

a teenager becoming pregnant, being

sent to a "Home for Troubled Youths"

and many more.

While some online commentators

have praised parts of "Riverdale"

for showing healthy sex in romantic

relationships, others have been taken

aback by the creators' obsession with the

sex lives of teenagers. From the release

of Betty and Jughead's sex tape to

Betty's turn towards BDSM as roleplay

character "Dark Betty," "Riverdale" is

often slammed for sexualizing teens in

a way that could negatively impact real

teenagers and their sex lives.

"The portrayal of sex in the way they

[Riverdale] do it and how unhealthy it

is, when you see straight, skinny white

people having unhealthy sex, I think that

makes you feel like 'So how's it going to

be for me as someone who isn't white,

someone who isn't straight, and someone

who's plus size?' What is sex going to

be like for me when all these straight,

white, skinny people are having a hard

time either having sex or when they do it,

their partner is pressuring them to do it,

or the sex causes all this drama; it causes

conflict and turmoil. 'Is it going to be so

much worse for me if I look different than

them?'" said Shreve.

While the over-sexualization of women

comes at a cost, specifically when the only

representation involved is straight, thin

white women, depicting sex in media isn't

always a bad thing.

Shreve said sex can be done well

in media when it's only one aspect of

a person's personality and character

development.

However, healthy sex discussions and

representation is difficult to achieve when

the people writing the shows, directing

and producing the shows, and others, are

not involved in the creation process.

"We need to have more women creators

who can accurately portray what it's like

to be a female sexual being, or a queer

sexual being, or a woman of color who is a

sexual being," said Prohaska. "It's not just

white men or white women writing stories

because depending on your social status,

your race, your class, your ethnicity, your

gender, your sexuality, once there are

more people who look like you writing the

stories, then they will represent more and

they may be less exploitative."

Although Hollywood still has a long

way to go in depicting an accurate

representation of female bodies and

sexuality, more women than ever are

pushing back. With more women and

diverse voices present in every aspect of

media, some movies and television shows

are moving away from the male gaze and

into a new Hollywood.

[73]
---
82

78

nothing good happens after midnight

veganism and meat lovers: the truth about our food

80

76

the importance of knowing what's in your air

going against society's standards: achieving a healthy lifestyle

84

period poverty

[74]
---
[75]
---
Nothing Good

Happens After

Midnight

By Evy Gallagher

Design Ella Smyth

[76]
---
Sleep is an aspect of human health that

is often wildly overlooked, especially

by college-age students. The culture of

college seems to revolve around hours of

homework and studying, balancing a social

life with academics and sometimes even

working a full-time job, all of which can

lead to a lack of sleep. It can be difficult to

prioritize sleep, especially when people's

lives are so busy, but the most important

aspect of sleep may not be what first comes

to mind. While getting the suggested six

to eight hours of sleep every night is a

principle in health and wellness, the most

crucial aspect of sleep is actually going to

bed before midnight.

The body's circadian rhythm is an

internal clock that helps to regulate

sleep. According to the Sleep Foundation,

"circadian rhythms are 24-hour cycles

that are part of the body's internal clock,

running in the background to carry out

essential functions and processes." The

sleep-wake cycle is the most well-known

part of the circadian rhythm which keeps

people awake during the day, and at night,

signals to the brain to start producing

melatonin, a sleep-inducing hormone, for

sleep. When this system gets thrown off

because of an irregular sleep schedule,

the body's functions and processes do not

work properly and therefore, can start to

negatively affect someone's health. The

difficult part about this circadian rhythm

is that each person has their own circadian

preference, meaning an individualized

time of when they go to sleep and wake up.

Dr. Heather Gunn, assistant professor and

Director of the Behavioral Sleep Medicine

Training Program at The University of

Alabama, said that people can range from

a night-owl to a morning-lark to an inbetween

circadian preference. This can

make it hard for everyone to be asleep

before midnight.

"People in the sleep field believe it's best

to be asleep between 2 a.m. and 4 a.m,"

said Gunn. "The other piece of info that's

important to consider is that wake time

matters a lot for bedtime. Consistent wake

time is also really important if you want

consistent bedtimes."

According to Ergo Flex, fourteen to

eighteen hours is the average amount of

time adults are awake during the day.

Waking up between 7 a.m. and 9 a.m.,

depending on one's circadian preference,

would be the best schedule for allowing

the body to start producing melatonin

around 9 p.m. in order to be asleep before

midnight.

Going to bed before midnight can seem

intimidating or even impossible for college

students, but this positive lifestyle change

may be a very big part of living a healthy life

without future complications. In an article

by The Ladders, Dr. Nerina Ramlakhan,

a sleep expert and author of "Tired But

Wired," said the 90-minute phase before

midnight is the most crucial phase because

that is when the body is replenished. The

deepest and most valuable sleep happens

earlier in the night, a couple of hours before

midnight.

In an article by Health.com, Dr. Shelby

Harris, Clinical Psychologist and Board

Certified Behavioral Sleep Medicine

Specialist in private practice, and author

of "The Women's Guide to Overcoming

Insomnia," said "when you're sleeping

you're regulating hormone levels, you're

regulating insulin levels, your blood

pressure is being kept under control, there

are a lot of things going on, and if you're

not getting enough sleep you're throwing

these things out of whack".

Some of the other important processes

that happen during sleep are when the

brain encodes memories, hormones release

to rebuild muscle, the immune system

releases cytokines to support the immune

system and cortisol levels decrease

significantly. All of these functions are

essential for the body to get prepped and

ready for the following day.

"If you go to bed too late for your normal

bedtime it can cause negative health effects

(poorer attention/concentration, more

mood issues and health effects depending

on how long you sleep deprived yourself)

but only if you're doing that later than

you normally sleep and causing sleep

deprivation," said Harris.

Madi Boudreaux, a junior psychology

major at The University of Alabama,

further proved the latter quote from Harris

with her own experiences.

"When I have things to do really early in

the morning, like yoga at the recreation

center, I won't make it through the day if

I don't go to bed before midnight," said

Boudreaux.

Feeling exhausted after going to bed after

midnight is only one of the negative side

effects of an inconsistent sleep schedule.

Cardiovascular disease (CVD) is one of the

major health issues linked with going to

bed at the wrong time and a lack of sleep.

According to an Oxford Academic article,

"an age- and sex-controlled base analysis

found that a sleep onset time of 10:00

p.m. to 10:59 p.m. was associated with the

lowest CVD incidence."

Going to sleep both before 10 p.m. and

after midnight was both associated with

a higher risk of CVD. Sleep allows organs

to rest, especially when the most healing

part of the night happens before midnight.

This way, the heart will have enough time

to recover and heal before the next day. On

top of that, the immunity system can suffer

when one goes to bed too late.

According to the Sleep Foundation,

getting the proper amount of high-quality

sleep allows the immune system to gain

its best defensive mechanisms, as well as

adaptive immunity, efficient response to

vaccines and less severe allergic reactions.

The 21st-century has come a long way with

science and medicine, yet still, no medicinal

feats seem to come as close to preventing

a disease-free and overall healthy life as

going to bed before midnight. Listen to the

generations of grandmothers and mothers

when they say, nothing good happens after

midnight.

[77]
---
[78]

DESIGN WESLEY PICARD
---
Imagine a salad filled to the brim with

vegetables of all colors: red peppers,

carrots, cucumbers, tofu, and more.

Imagine another kind of meal: a surf

and turf dinner with a steak and a side

of salmon. Two very different meals and

two very different ways of thinking about

food. Many people have an idea of the

vegan movement and the commitment to

no meat and no animal by-products. The

term "plant-based" has been trending in

recent years making people think more

deeply about where their food comes from

and what they are putting in their bodies.

Many people enjoy meat for its protein and

taste, while others have found a healthier

lifestyle by becoming vegetarian or even

vegan. What are the benefits of being vegan

and what does it look like to enjoy a diet

with meat?

Grace Dorsey, is a student at The

University of Alabama and president of the

club Vegan Voices. The club, open to anyone

interested in veganism, is a community of

members committed to the vegan lifestyle.

Dorsey began her vegan journey seven

years ago when she started cutting out

meat and fully committed to being vegan.

One of her driving motivations was ethical

concerns with the killing of animals and

meat farms.

"My philosophy is to avoid harm

whenever possible," said Dorsey. "So if

it's unnecessary and I can eat something

different then I'll do that because I would

prefer my actions not to harm anyone."

Veganism also appeals to people for

many other reasons such as environmental

concerns and the processes used in meat

farms. Dorsey said that concentrated

animal feeding operations, known as

CAFOs, are essentially farms with a large

population of animals used to produce

meat. These feeding operations can cause

large amounts of pollution and raise

concerns about the quality of the meat

produced.

"They're [animals] stuffed in cages,

can't even move and we just pump them

with antibiotics so they don't get sick,"

said Dorsey. "And then we're ingesting

antibiotics. Then those antibiotics are now

leaching into the waterways and causing

problems in the natural ecosystems. There

are just so many ripple effects on the

system that we have currently in place."

Another driving motivation of veganism

is the health benefits associated with

cutting out meat. Vegetarian diets can also

have similar benefits from getting protein

and nutrients from plants alone.

"Plant-based diets, including a vegan

diet, can provide a number of key nutrients

and health benefits along with it," said

Lori Greene, a registered dietician and

professor at The University of Alabama.

Greene described that there are many

benefits to eating plants.

"These may include cardiovascular

benefits, decreasing cancer risk and weight

loss," said Greene. ​"Of course, these

benefits can also occur in those who eat

animal proteins but also have a diet full of

many plant-based foods."

Although eating plants have many health

benefits, meat also has its own merits.

Many enjoy meat for the taste and find it

to be a good source of protein. Although

plants can also supply a good source of

protein, there are several key differences

between meat and plant proteins.

"Animal proteins provide all nine

essential amino acids (the building blocks

of protein) that our body needs, but most

plant proteins only have some, not all

nine," said Greene. "Plant proteins may

also not include important trace minerals,

iron and zinc, whereas they tend to be rich

in animal proteins. However, some plant

proteins may be high in fiber, which is not

typical of an animal protein."

It's important to recognize that there

are some benefits to eating meat since

it is a complete source of protein. At the

same time, there are many benefits to

incorporating plants into a meat diet.

Eating meat along with some plants can

help with having a balanced diet and

getting necessary nutrients.

Eating meat and being vegan are two very

different diets with positives and negatives

on both sides. There are many other diets

and ways of eating that lie between these

two diets. It's possible to eat more "plantbased"

while consuming smaller portions

of meat or even become vegetarian.

Holly Waite is a freshman at The

University of Alabama majoring in food

and nutrition. Several years ago, Waite

started slowly cutting out meat until

she was completely vegetarian. Unlike

veganism, vegetarians do eat animal

products like milk and eggs but still

avoid meat. One criticism that sometimes

arises with veganism or vegetarianism is

not being able to get enough calories or

nutrients from plants alone. Waite said,

however, it's possible to have balanced

meals with plenty of nutrients.

"To make sure I'm getting enough

nutrients, I take a multivitamin that

includes B12 and Vitamin D," said Waite.

"I also make sure to have protein-rich

meals with calorie-dense foods often since

fruits and vegetables normally are lower in

calories."

Like anything in life, veganism and

vegetarianism may have challenges, but it's

possible to overcome those challenges with

planning and preparation. For someone

even remotely interested in veganism, it's

important to do your research and talk to

a dietician or doctor. Many people slowly

start cutting out meat and start trying to

find vegan options.

"I would say start slowly if you have any

interest," said Waite. "Talk to your doctor

or a registered dietician. Include more

plant-based foods before taking away all

animal products at once. Ease into it if

you like it-- don't put a ton of pressure on

yourself. It can be really fun to explore all

the plant-based options nowadays."

From vegan to vegetarian to meat lovers,

everyone has a different way of thinking

about and enjoying food. At the end of

the day, it's important to recognize the

source of food since it influences not

just a person's body but can also have

environmental consequences. Without

going completely vegan, incorporating

more plants and vegetables into meals can

bring many positive and healthy effects.

Even a meat lover can enjoy meat while

also enjoying the benefits and nutrients of

plants. No matter the diet, thinking about

the impacts of food is crucial to a person's

health and wellbeing.

[79]
---
THE IMPORTANCE OF

KNOWING WHAT IS IN

YOUR AIR

BY ASHLEY CLEMENTE

DESIGN WESLEY PICARD

[80]
---
With the number of threats posed to

human life and success, among the most

hidden are the effects of air pollution.

It is believed that the biggest threats are

visible, however, air pollution is a silent

killer, permeating large cities, populous

regions and industrial plants. As Earth's

population continues to grow, air pollution

levels increase, the quality of air decreases

and premature death and disease run

rampant.

Air pollution is defined by any physical

or chemical changes in the atmosphere.

Air exists in a balance of gasses, including

nitrogen, oxygen, carbon dioxide and

argon. Pollution occurs when other

particles like dust, smoke, exhaust and

smog are mixed into this composition.

Other factors include heat and methane

emissions. According to the Environmental

Pollution Centers, the presence of these or

any foreign chemicals can cause damage to

the ozone layer. The ozone is the protective

layer of the atmosphere that absorbs

ultraviolet radiation emitted from the sun.

The ozone layer is crucial to all species on

Earth, as excessive ultraviolet radiation is

harmful to living organisms. When there

is an excessive amount of pollution in

the atmosphere, the ozone layer becomes

depleted and UV radiation reaches Earth's

surface in greater amounts.

There are many causes of air pollution.

Some of the most widely known include

traffic and factories. The chemicals

released from buses, cars, trains and other

transportation vehicles cause build-ups

of smog in cities and populated areas.

Industrial factories that manufacture

anything from car parts to construction

equipment use machines that emit

gasses that upset the balance of gasses

in the atmosphere. Additionally,

wildfires, burning waste, construction,

deforestation, demolition, fossil fuels

and household chemicals are all causes

of chemical and physical air pollution.

Not only do these create changes in the

chemical compounds of the atmosphere,

but there is also a visible difference in the

sky. Children draw pictures of landscapes

featuring bright blue skies, white puffy

clouds and a happy, smiling sun. Today,

a more realistic image would depict gray

or brown cloudy skies with low visibility.

Though there are far more harmful effects,

aesthetically, the world does not look the

same as it once did.

Each region of the world is affected

by air pollution predominately through

specific media. According to the National

Geographic Society, large cities in

developing countries are more likely to

have a higher pollution level than rural

areas or more developed cities. This is in

part due to the lack of legislation restricting

transportation and waste production.

Developing countries also tend to use more

basic technology, which is not as friendly

to the environment as more modern

technology, like electric-powered cars

and recycling. According to the National

Geographic Society, the most polluted

cities in the world in the past decade

include Beijing, Los Angeles and Delhi.

In Beijing, the majority of air pollution

is caused by excessive transportation in

an extremely dense population. This,

combined with industrialization, poor

pollution control and few trees, caused

over three thousand deaths in 2021

(Beijing Air Quality Index). Similarly, Los

Angeles is being clogged by diesel engines

and power plants that release fine particles

and dust into the air. On the other hand,

in Delhi, the primary cause of air pollution

is stubble burning, an agricultural method

to clear land after harvest, which produces

almost 15% of the air pollution in the city.

Construction, industrialization and wind

are also major contributors.

"It is important to learn about

air pollution and its health effects

because it disproportionately affects

socioeconomically disadvantaged

populations and minorities," said Meg

Woodard, a senior urban planning major

at The University of Alabama. "This is

because of racism, class bias, housing

market dynamics and land cost. We can

achieve more environmental justice by

moving to more substantial technologies

and equitable housing practices."

The air pollution levels in each city in the

world are monitored by the Air Quality

Index, also known as AQI. When a city

scores between zero and 50, it is deemed

good air quality. Between 50 and 100 is

moderate and 100 to 150 dictates that the

air is unhealthy for members of sensitive

groups. A score of over 200 is unhealthy,

and over 300 is hazardous. Many of the

most polluted cities score over 150, which

is dangerous to human health with long

enough exposure.

Currently, the most polluted city in the

United States is Niland California, with

an Air Quality Index of 193. California,

Michigan and Georgia are home to

the top 10 most polluted cities in the

US today, all with scores over 110. By

comparison, Tuscaloosa scores a 38,

with good air quality and low to medium

physical pollutants. By contrast, there

are many reports of individuals living in

rural areas who live long, healthy lives.

This discrepancy further solidifies the

notion that air pollution is a silent killer of

modern society.

There are many health concerns

associated with residing in areas with high,

or any levels of air pollution. According

to an article by InsideClimate News from

2020, air pollution causes more premature

deaths than smoking, HIV/AIDS, violence

and several other diseases. For most

individuals, the presence of altered

atmospheric compounds can cause lung

inflammation and low oxygen levels, which

can then lead to cancer and other chronic

illnesses. More specifically, long-term

exposure can be detrimental to respiratory

health. This can present itself in illnesses

such as asthma, bronchitis and lung

cancer. According to the National Institute

of Environmental Health Sciences, more

recent studies show a correlation between

increased particulate matter in the air and

increased COVID-19 cases and deaths.

Statistics show that almost nine out of

10 people who live in densely populated

developing countries are affected by air

pollution, and the global life expectancy is

reduced on average by approximately two

years.

Dr. Ellen Spears is an award-winning

author and professor of environmental

history and social movements at The

University of Alabama.

"We think of our bodies as containing

us, but they are permeable. Much like

ingestion through eating or drinking,

the skin absorbs substances," said

Spears. "When we're introduced to toxic

substances in the air, the body can absorb

these chemicals. This is a major reason for

having a strong public policy concerning

toxic substances and exposures. During

COVID-19, people have learned that more

air pollution results in a higher volume

of cases and mortality. The triple threat

of pollution, injustice and COVID-19

results in higher vulnerability and worse

health outcomes, especially for African

American, Latinx and Native American

communities."

It is a human instinct to keep oneself

out of harm's way. There are plenty of

measures that people take daily to ensure

that they are safe and healthy. Dr. Spears

said that people are aware of air pollution

and there have been major strides in

cleaning the atmosphere. However, many

regions have yet to be tested and are still

affected by environmental injustice and

lack of clean-up or enforcement. Being

aware that air pollution is a threat to

longevity is the first step to helping the

environment to recover.

[81]
---
Going

Against

Society's

Standards:

By Bella Carpino

Photo Emma Kate Standard

Achieving a Healthy Lifestyle

Many people have a different definition of what it

truly means to be healthy or unhealthy. While some

interpret health as equating to how many days in a

week one goes to the gym or how many salads they consume in

one day, others value their health as the number they see while

standing on a scale.

In general, to be healthy means to enjoy health and vigor of

body, mind or spirit. While diet and exercise are two key tools

to achieve a healthy lifestyle, a person's appearance actually

exhibits the least information regarding their health. In

other words, the terms unhealthy and obese should never be

utilized interchangeably because appearance does not expose

the numbers found in blood tests, such as blood pressure and

cholesterol.

Although a person who has a thin body type may come across

as healthy, their frame does not express the stability of their

mental health and more. An individual deemed unhealthy

not only needs to focus on the improvement of their physical

health but also their emotional, social, spiritual and intellectual

health.

Without a doubt, the standards of what it means to look healthy

vary from person to person. These variables cause health to be

undeterminable at first glance. Chelsea LeBlanc, a Registered

Dietitian Nutritionist living in Nashville, Tennessee, provided

evidence for this idea by explaining what she believes it means

to truly look healthy.

"We are all so different so what might be healthy for me may

be completely different than it is for someone else - healthy

does not have a look, but is more of a state of well-being," said

LeBlanc

Due to health being a topic that encompasses the different

aspects of being healthy including mental, physical and social

wellness, whether one appears as healthy or not externally is

not something that can be determined with pinpoint accuracy.

Because of this, the standards of looking healthy should go

hand-in-hand with achieving a healthy lifestyle.

LeBlanc shared her perspective on the best path to embark

upon for attaining this flourishing way of life. As far as

nutrition, she expressed that since she is a big fan of consuming

everything in moderation,

"A healthy individual must be realistic when it comes to food

choices, sleep, exercise, work-life balance and social activities,"

said LeBlanc. "While 80% of the time a healthy person should

focus on choosing foods that support their overall wellness and

vitality, 20% of the time they can enjoy the cake, sleeping in

too late, skipping a workout and binging a show on Netflix."

While many people form their own views of what the ideal

body looks like and often determine that body type as being

in its healthiest form, it is important to acknowledge where

those standards come from. Many times, social media publicly

highlight an artificial or ideal version of an individual's life, and

this is what plants the seed that develops into false standards

of looking healthy.

Ashley Saros, a sophomore kinesiology major at Michigan

State University, has experienced the influence social media

has on the formation of standards first-hand.

"With social media continuing to grow more and moreover

the years, I have definitely recognized the effect it can have not

only on how people value the appearance of their own bodies

over their internal health, but also how they view themselves

and their own body image," said Saros.

When models and other popular influencers on social media

publicize the look of their thin bodies and appear as though

they are full of self-love and good health, their audiences begin

to create levels of attainment in their minds that standardize

health based solely on appearance.

Like Saros, it is only natural for other social media users to

develop the idea that one's quality of health can be calculated

from an outside perspective, which causes progressively more

individuals to live with a false standard of being considered

healthy. Furthermore, these inaccurate standards cause people

to strive for a body type that they believe they should obtain,

which then becomes increasingly detrimental to their mental

and emotional health.

While social media is just an example of something that can

cultivate unrealistic standards of health that cause individuals

to compare their bodies to the false principles, its platforms

also compose the concept of health within a tiny box, without

consideration of how healthy looks different for everyone.

[82]
---
Lori Greene, an Intro to Human Nutrition

professor at The University of Alabama,

expressed how tools such as Body Mass Index,

which assesses the ratio of height to weight for

a person, fails to take into account "​the ratio

of fat mass to fat-free mass, such as muscle."

While it may be an accurate strategy to

assess the BMI of certain individuals such as

children, it is not one that the overall health

of a human being should be based upon,

similar to many other "health-determining"

approaches individuals often make the

mistake to consider. Greene went on to

explain the relativity of health and the way

in which society's standards of health fail to

apply to every person.

"A healthy individual may also display

'healthy' in different ways and it is likely

difficult for most individuals to portray the

perfect picture of health in all areas of life,"

said Greene. "Nutrition and the foods we eat

are important for a healthy lifestyle, but a

picture-perfect diet cannot be obtained every

day, even if Instagram or TikTok makes us

think it is possible to see what other people

eat in a day."

The complexity of health cannot be isolated to

one standard created by social media. Health

is not and has never been a state determined

by appearance and comparisons, especially

without consideration for the other aspects of

health including mental health.

While standards of health are naturally

developed and bloomed in the minds of

individuals in this society, it is important to

accept their false foundation. Not only do the

standards of what it looks like to be healthy or

unhealthy have the power to have an incorrect

vision of our overall well-being, but they also

blind people from understanding the key

concept of the conditions necessary to live and

prosper while doing so.

[83]
---
PERIOD

POVERTY:

"WOULD THIS HAPPEN TO A MAN?"

BY

LINDSEY

WILKINSON

DESIGN ELLA SMYTH

[84]
---
Period poverty is defined as

inadequate access to menstrual

products, education, hygiene facilities,

waste management or some sort of

combination. Current data suggests the

average person who menstruates spends

an average of $2,000 on menstrual

products in their lifetime, according to

Global Citizen. Globally, this phenomenon

affects over 500 million people, according

to BMC Women's Health in 2021. While

this topic has mainly been researched

abroad in developing nations, there are

an estimated 16.9 million people who

menstruate living in poverty in the U.S.,

according to Medical News Today in 2021.

Anne Sebert Kuhlmann, associate

professor of behavioral science and health

education in the College for Public Health

and Social Justice at St. Louis University

and a Director of the Master of Public

Health program, is a researcher who has

always worked in maternal reproductive

health. Kuhlmann was introduced to

period insecurity by Dignity Period, a

nonprofit organization that keeps girls

in school by ensuring they have access to

quality menstrual hygiene products and

education and has served on the board since

2018. Dignity Period exclusively worked in

Northern Ethiopia until Kuhlmann started

her research in St. Louis in 2019.

"We realized that there was a decent

amount of attention to this issue in lowerincome

countries like Ethiopia, Uganda,

Nepal, but there was almost no discussion

of it in places like the United States or other

high-income countries," said Kuhlmann.

"That really planted a seed in the back of

our head, like wait a second. If people are

struggling to get by, struggling to meet

their basic needs, they may very well be

struggling with this."

After receiving funding,

Kuhlmann started her research in the St.

Louis area, partnering with 10 community

service organizations, such as food pantries,

job training centers and day shelters. 64%

of the women surveyed indicated that they

experienced period poverty in the past

year, and 20% of the women indicated

that they experienced period poverty

every month. Comparatively, in St. Louis,

21.8% or one in five people live in poverty,

according to the U.S. census.

For many experiencing period

poverty, it is a situation plagued by a lack

of information, education and resources

which leads many to struggle in silence.

This impacts school attendance, health

and quality of life.

"It really affects your dignity, your

sense of self-worth, your ability to care

for yourself," said Kuhlmann. "Imagine

this: you only have one pair of underwear,

and you're making makeshift pads and

homemade tampons, but then they get

stained. How does that make you feel?

You've got dirty, soiled underwear, and

you're walking around with nothing to do

about it."

Kuhlmann said when people rely

on homemade products and stretch out

the duration of use, it leads to an increased

risk of urinary tract infections and vaginal

infections. While there is little data in the

U.S., a case study published in the Global

Journal of Health Science found that

65.7% of schoolgirls in India who used

homemade menstrual products reported

urogenital infections compared to 12.3%

of those using sanitary pads.

While Kuhlmann's study

emphasized the inability of many women

to access products, there is a larger

conversation that many in this field said

needs to happen.

"It's rooted in misogyny," said

Elizabeth Lester, student engagement

coordinator at The University of Alabama's

Women and Gender Resource Center.

"People are like, 'I'm not misogynistic,'

but then don't mind when [someone's]

daughter has to miss school for a week

because of her period."

Seven students at Bronx Prep

Middle School in New York decided to

change their school's culture regarding

menstruation. After polling classmates,

they found that 67% of female students

said "they feel uncomfortable discussing

their periods at school because it's not

anybody's business" and 33% of students

said "periods were a dirty topic." By

talking about the stigma surrounding

menstruation, these girls were able to

get people nationwide to start having

conversations about menstruation, and

"Sssh! Periods" became the first-ever

grand prize winner in the NPR Student

Podcast Challenge.

While the conversation is

changing at Bronx Prep Middle School,

other school districts are still perpetuating

the stigma. Commissioned by Thinx and

PERIOD, a nationwide study found that

84% of students in the US have either

missed class time or know someone

who has due to a lack of access to period

products, and one in five teens struggled to

purchase period products or were not able

to purchase them at all.

Some school districts and states,

on the other hand, are fighting for their

menstruating students. In Ann Arbor,

Michigan, a law was passed to stock all

public toilets with menstrual products.

On May 17, 2021, Alabama passed a law

in which feminine hygiene products would

be available at no cost to students upon

request. The bill cited recent efforts by two

13-year-old Montgomery students, Brooke

Bennett and Breanna Bennett. The twin

sisters founded Women In Training as a

nonprofit to provide menstrual products

to those unable to afford them.

Stephanie McClure, assistant

professor of anthropology at The

University of Alabama, previously worked

with Kuhlmann at St. Louis University and

is now partnering up with her to get more

data in the south.

"We got back in touch because

I was using [Kuhlmann's] articles in the

classes I was teaching on health inequities,

and we started talking about maybe

duplicating some of the work she had done

down here," said McClure. "We want to be

able to compare the situations and needs

so that we can both increase awareness

of this issue and contribute to the policy

action that is taking place."

Currently, there are 27 states

that continue to tax menstrual products.

These states consider menstrual products

to be "luxury" items and not a need. In

Alabama, the combined state and local

rate is 9.22%, which would generate $5.4

million in revenue, according to Period

Equity. States profit off of menstruation,

and when they eliminate the period tax,

they lose millions. According to Global

Citizen, when California eliminated taxes

on diapers and menstrual products, they

lost about $55 million in revenue per year.

"You always have to ask yourself,

'Would this happen to a man?'" said Lester.

"Would there ever be a bodily activity that

a man would have once a month that would

keep him from doing things that would not

be then catered to him?"

[85]
---
[86]
---
CONNECT WITH US

alice.ua.edu

@alicethemag

@alicethemag

Alice Magazine

[87]
---
[88]