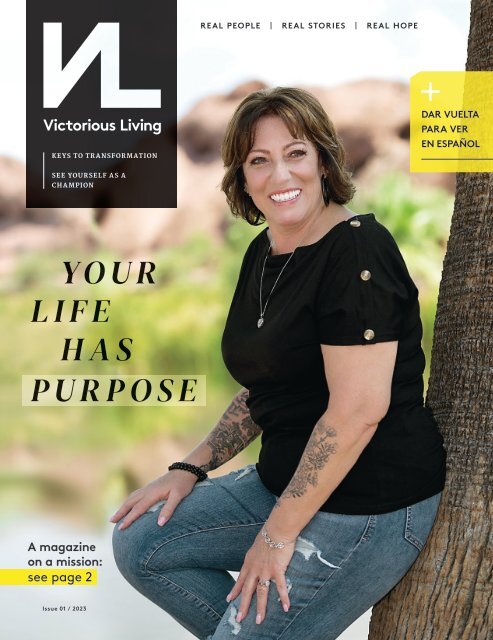 You also want an ePaper? Increase the reach of your titles
YUMPU automatically turns print PDFs into web optimized ePapers that Google loves.
REAL PEOPLE | REAL STORIES | REAL HOPE

KEYS TO TRANSFORMATION

DAR VUELTA

PARA VER

EN ESPAÑOL

SEE YOURSELF AS A

CHAMPION

Y O U R

L I F E

H A S

PURPOSE

A magazine

on a mission:

see page 2

Issue 01 / 2023
---
Discover more of our FREE

life-changing resources on:

• EDOVO platform

• PANDO App

• VLMag.org

• YouTube

• Facebook

VL magazines, podcasts,

and broadcasts available!

VICTORIOUS LIVING

DELIVERS HOPE TO

THE INCARCERATED.

Real life testimonies of the transforming

power of Jesus Christ through our bilingual

magazine, available in jails and

prisons in print and digital formats.

Christian discipleship to inmates through

personal correspondence and digital

resources.

Connection to national organizations that

provide helpful resources for current and

former inmates and their families.

Prison outreach tools to help local

churches carry out God's command to

remember the prisoner.

Search

VICTORIOUS LIVING

ARE YOU AN INMATE

WHO NEEDS

ENCOURAGEMENT?

Write to us and join

our Victorious Living

Family today!

VL Correspondence

PO Box 2751

Greenville, NC 27836

Or email us from your

prison tablet:

hope@vlmag.org

Available on Securus, ViaPath,

and ICS Corrections tablets

PHOTO BY EDOVO
---
ISSUE 1, JANUARY 2023

"God saved us and called us to live a holy life. He did this, not because we deserved it, but because that was

his plan from before the beginning of time—to show us his grace through Christ Jesus." 2 Timothy 1:9 NLT

Publisher & Executive Director

Kristi Overton Johnson

Accounting Manager

Carla Owens

Cover Photography

Arizona Portraits Photography LLC

Editor

Rachel Overton

Spanish Editorial Team

Karissa Anderson, Proofreader

Monica Colangelo, Translator

Creative Designer

Lauren Jones

Creative Content Team

Kristi Overton Johnson

Christina Kimbrel

Production Manager

Christina Kimbrel

Digital Content Manager

Sheridan Correa

Roman Randall

Director of Prison Correspondence

Simone Bryant

Lauren Everett

Director of Partner Care & Development

Pat Avery

Hispanic Outreach Director

Denise San Miguel

Story Contributors

Sheridan Correa

Danny R. Cox

Linda Cubbedge-Smith

Kory Gordon

Ronnie Hopkins

Gerald B. Hurst

Kristi Overton Johnson

Christina Kimbrel

Andre Lightsey-Copeland

Juliana McFadden

Latoya Williams

Photography

Arizona Portraits Photography LLC

Mike Barber Ministries

EDOVO

The Hurst Family

Ty Johnson

Joey Meddock Photography

Ross Outerbridge

Gunnar Rathbun

Geri Simpkins Photography

Holly Stratford

Sweetbee Photography

Noah Vieke

Lyssa Yates

Artwork

Alberto H.

Jared Emerson

Victorious Living magazine is a publication of Kristi Overton Johnson Ministries, a 501c3

organization. Copyright © 2023, Kristi Overton Johnson Ministries, all rights

reserved. For permission to reprint or copy any material contained herein, please

contact us at admin@vlmag.org.

DISCLAIMER: The articles featured in Victorious Living are designed to inspire and encourage

our readers by sharing powerful testimonies from people who, we believe, have been transformed

by God's grace, love, and power. The articles are focused on each individual's testimony.

Although we conduct some independent research, we rely heavily on the information provided

to us by those we interview. Our articles are not intended to be an endorsement of the views,

opinions, choices, or activities of the persons whose stories we feature. The statements, views,

and opinions of those persons whose stories we feature are purely their own, and we do not

control and are not responsible for any such statements, views, or opinions.

HOW TO REACH VICTORIOUS LIVING

General, Subscription, and Partnership Inquiries

• Victorious Living

PO Box 2801, Greenville, NC 27836

• 352-478-2098

• admin@vlmag.org

All Prison Inmate Correspondence

• Victorious Living Correspondence Outreach

PO Box 2751, Greenville, NC 27836

• hope@vlmag.org

Scripture Permissions

Scripture marked NIV is taken from the Holy Bible, New International Version®, NIV®, copyright

©1973, 1978, 1984, 2011 by Biblica, Inc. | Scripture marked NLT is taken from the Holy Bible, New

Living Translation, copyright © 1996, 2004, 2015 by Tyndale House Foundation. | All Scripture is

used by permission. All rights reserved worldwide.

La escritura marcada NVI es tomada de La Santa Biblia, Nueva Versión Internacional®

NVI®, copyright © 1999, 2015 por Biblica, Inc.® | La escritura marcada NTV es tomada

de La Santa Biblia, Nueva Traducción Viviente, © Tyndale House Foundation, 2010.

| Toda la escritura usado con permiso. Reservados todos los derechos en todo el

mundo.

VICTORIOUSLIVINGMAGAZINE.COM

Issue 01 / 2023

3
---
THE VICTORIOUS LIVING STORY

One visit with an incarcerated friend in 2013 opened the eyes

of Victorious Living founder, Kristi Overton Johnson, to the

hopelessness of life behind bars. It also birthed in her a desire to

deliver hope to the souls of incarcerated men and women.

Soon after, God opened doors for Victorious Living magazine to

be distributed in the prison system. He then led Kristi and the VL

team onto prison yards to share His message of hope in person and,

more recently, digitally through prison tablets.

Before that prison encounter, Kristi had

spent 35 years water-skiing competitively

worldwide, never considering those

who had lost their freedom. But God

had a plan for this world champion

water-skier to go behind bars to

encourage hearts with God's love

and His message of redemption

and to equip people to get up and

experience victorious living for

themselves.

Since 2013, Victorious Living

magazine has impacted the lives of

over one million incarcerated souls...

and the story is still being written.

BE A PART OF THE

VL STORY

Victorious Living is a great

way to carry out God's

command to remember the

prisoner (Matthew 25:34–40;

Hebrews 13:3). Here's how

you can help us deliver hope

to the incarcerated.

SHARE

Share VL with your local church,

chaplain, jail, or prison. VL is a

great mission to support and a

good tool to use too!

SUPPORT

VL is partner supported. Your taxdeductible

gift sends copies of

VLMag into jails and prisons, where

it saves lives. And when you give,

we'll send you a copy too.

SPONSOR

Sponsor jails and prisons to receive

quarterly cases of VL. It costs us

$500 to supply 1 case of VL to 1

facility, each quarter, for 1 year.

SOCIAL MEDIA

Visit our website and social media

platforms. Like. Follow. Share.

@victoriouslivingmag

PHOTO BY MIKE BARBER MINISTRIES PHOTO BY JOEY MEDDOCK PHOTOGRAPHY

VISIT VICTORIOUSLIVINGMAGAZINE.COM OR CALL 352-478-2098
---
ISSUE 1, JANUARY 2023

CONTENTS

8

9

19

STEPPING FORWARD

God, Be with Me

BY GERALD B. HURST WITH KRISTI

OVERTON JOHNSON

Flourish in His Care

BY LINDA CUBBEDGE-SMITH

Benched by God? Use Your

Time Wisely

BY CHRISTINA KIMBREL

14

28

TRANSFORMED

LIVES

Commitment and

Consistency: Keys to

Transformation

BY SHERIDAN CORREA

When the decisions you've made have

destroyed the life and relationships you

once treasured and love and trust are

gone, is there hope for recovery?

See Yourself as a Champion

10

16

FEATURES

From Guns to Grace

THE STORY OF ANDRE

LIGHTSEY-COPELAND

Found guilty of murder at age 28, Andre

experienced the life-changing goodness of

God when he finally surrendered his will and

his way to the perfect plan God already had

in place.

Graced for Success

THE STORY OF LATOYA WILLIAMS

31

32

Your Pain Has Purpose

BY KORY GORDON

You Don't Have to Go Back

BY DANNY R. COX

BY KRISTI OVERTON JOHNSON

Do you see yourself as champion or a

loser? If you're a child of God, He sees

you as a champion, no matter what

your circumstances or past actions.

Come on, He created you. You are

champion material!

"Have it your way" might be a good slogan

for a burger joint, but when Latoya applied

it to her life, she found it only brought hardship

and pain.

COVER STORY

20

You Have Purpose

THE STORY OF JULIANA MCFADDEN

PHOTO BY ARIZONA PORTRAITS PHOTOGRAPHY LLC

ON THE COVER

After experiencing

the grace of God

for herself, Juliana

McFadden was able

to extend grace to

her brother, Charlie,

and her husband,

David.

God's divine grace

restored their

relationships and

brought them into

His purposes for

their lives.

24

"Can Charlie stay at your place for a few days?

The cops are looking for him." That Christmas

morning phone call changed Juliana's

previously normal life. From that day on, she

struggled with the shame of being the sister of

a murderer and a growing resentment toward

God. But God had purpose in her pain, and

today she uses her experience to help others

see Christ in their circumstances as well.

More of Jesus, Less of Me

THE STORY OF RONNIE HOPKINS

Years of anger and self-pity kept Ronnie from

recognizing anything good in his life—and

led him straight into prison. With no other

choice, he finally stopped long enough to

hear God's voice, quietly saying, "Trust Me,

Ronnie."

IN EVERY ISSUE

6

Publisher's Note

More Than a Magazine

33

Want to Know Jesus?

I'm Saved...Now What?

34

Ministry News/Resources

VICTORIOUSLIVINGMAGAZINE.COM

Issue 01 / 2023

5
---
PUBLISHER'S NOTE

More Than a Magazine

If you'd like to partner with

our magazine to deliver God's

hope and to impact the lives of

incarcerated men and women,

visit victoriouslivingmagazine

.com. Your gift enables us to

send this magazine into prisons

around the nation. Each

magazine impacts many lives

for years to come.

God never ceases to amaze me. It's

mind-boggling how He works behind

the scenes to bring to fruition

the plans He has uniquely purposed

for us. Day after day, God patiently pursues

us and lovingly draws us onto His path,

even though we fight hard against Him.

You're about to read stories of people

who resisted God's love and plan. Some

refused Him out of anger, blaming Him for

the pain that existed in their lives. Others

rebelled against Him, wanting to do things

their way, not His.

Years of living apart from God took

the subjects of our feature stories down

dark paths that brought much pain. But

God's love pursued them, and everything

changed when they turned to Him.

There was a time when I didn't trust His

love for me either. My young mind thought,

"If God sent His own Son to die—a Son who

was perfect—then what will He do to me?"

I couldn't live up to His perfect standard

on my best day (Romans 3:23).

I didn't understand the sacrifice He'd

made for me. Nor did I comprehend His

grace or desire to be part of my life. God

wanted my heart, not perfection or performance.

He wanted to give me a better,

purpose-filled life.

I grew up in the church and heard the

Gospel of Jesus Christ—how God had sent

His Son to die for my sin so that I could go

to heaven (John 3:16). I believed it wholeheartedly,

and at the age of eight, I accepted

Jesus as my Savior and was baptized. But

I did that out of fear of being sent to hell,

not because I understood God's love for

me and not really because I loved Him.

For years, I imagined God sitting on His

throne of judgment, watching my every

move and analyzing my every thought. I

saw Him sitting on the edge of His seat,

gavel in hand, ready to bring forth punishment.

Being warned that "God's watching

you" and listening to regular sermons on

God's wrath and my need to be good helped

shape my unhealthy view of God.

When you're afraid of someone, you

either try desperately to please them or

you keep your distance. I did both. Every

week, I went to church in my Sunday best.

I prayed at bedtime and before meals, and

I worked hard in school and sports. Oh,

and of course, I tried to be kind to people.

Yet, because I was determined to maintain

control of my life, I kept my distance

from God. If I surrendered my life to Him,

where would He take me? What would He

ask me to do or give up? I was too afraid to

find out, so I kept my faith in a nice, neat,

safe religious box. I wanted Jesus to be my

Savior, but not my Lord.

In my midtwenties, I faced bigger trials

than I could handle. Suddenly, my safe,

boxed-up religion wasn't cutting it. Nothing

the world offered was helping either.

Finally, I cried out to God, and through

His Word, His Holy Spirit, my circumstances,

and other people, He revealed His true

nature and love for me. I quit stiff-arming

God and let Him draw me close (James

4:8). Understanding the depths of His

love gave me the courage to trust His plan

(Ephesians 3:18–19). And like everyone

else in this issue, my life has never been

the same.

God changed me; He made all things

new. Once I tasted and saw how good He

truly was, I couldn't keep it to myself. Now,

I help others understand the goodness of

God, and this magazine is part of how I

do that.

It's been more than 27 years since I

surrendered my life to the lordship of

Jesus Christ. I am so glad I did. Just look—

God's plan has enabled us, you and me, to

cross paths! And I believe He wants to reveal

something about Himself to you today.

If there is anything our ministry can

do for you, please don't hesitate to call.

Victorious Living is more than a magazine.

It's a family.

Kristi Overton Johnson

Publisher & Executive Director

PHOTO BY TY JOHNSON

6 Issue 01 / 2023 VICTORIOUSLIVINGMAGAZINE.COM
---
Through the stories of Victorious Living,

men and women behind bars

meet the God of another chance.

Testimony of Victorious Living

Impact: Alberto H.

Biblical characters are imperfect, regular

people just like me and everyone featured in

this magazine. Their lives reveal how God deals

with our human weaknesses and leads us to our

potential. That's why I love reading Victorious

Living. Every testimony here is a contemporary

example of what I've read in the Bible.

Of all the stories shared in VLMag, Melisha

Johnson's (Issue 02/2022) touched me the most

deeply. Her devotion to Jesus enabled her to go

through many trials, each of which God used to

strengthen her character, refine her, and lead

her to a new path that He had prepared for her

long ago. He's doing the same in me.

Melisha taught me the importance of

consistency. I won't give up or give in as the

Lord molds me into who He wants me to be.

Thank you, Melisha, for being vulnerable and

sharing your story with those of us still behind

bars. I'm sending you this portrait (displayed on

the right) as a token of my appreciation.

I wanted to capture the spiritual fruit—peace,

passion, love, and kindness—I see in your face.

I used dense, intense colors to express your

passion and determination; pastel and bright

but subtle hues to denote the light the Holy

Spirit has poured into you.

May the Lord continue using you, Melisha,

and everyone featured in VLMag, as examples

of His transformative glory. Let your light shine

before men and bring glory to our Father.

ARTWORK BY ALBERTO H.

SPONSOR A PRISON IN YOUR STATE AND IMPACT LIVES TODAY.

VICTORIOUSLIVINGMAGAZINE.COM

Visit victoriouslivingmagazine.com.

Issue 01 / 2023

7
---
STEPPING FORWARD

God,

Be with Me

BY GERALD B. HURST

WITH KRISTI OVERTON JOHNSON

I'VE SEEN GOD MOVE IN MIRACULOUS

ways in my many years. Like when I was

Above: This photo of the wreckage of his plane

is a constant reminder to Gerald of God's grace.

flying combat in Vietnam in the late 1960s.

The air force assigned me to the F-105

Thunderchief aircraft and sent me to the

Right: Major Gerald Hurst in 1970 with his plane

at the Takhli RTAFB prior to the crash. Major

Hurst retired in 1982 as a full colonel.

Royal Thai Air Force Base in Thailand. After

three days of orientation, I flew my first

combat mission.

I was more than anxious as I headed to-

another prayer, and pulled hard. Wham!

ward my assigned target, but I took the time

The ejection seat fired, and my head

to pray. "God, please be with me." Praying

slapped down hard on my knee. My chin

to my heavenly Father brought peace and

strap went into my voice box; I couldn't

comfort. I would repeat that short prayer

breathe. Disoriented, I fell from the air-

on all 91 of my subsequent missions.

craft. When I finally got my bearings, I

On my 38th mission, my aircraft suf-

realized my chute hadn't automatically

fered enemy fire and lost all oil pressure.

deployed. I quickly grabbed the D-ring and

Ejection was imminent, and that didn't ex-

manually opened the chute. I breathed a

cite me. At that time, ejections were only

80 percent successful. So I prayed.

Generally, with no oil, a jet engine will

continue to run no more than a minute.

I've even heard the time be as short as 15

seconds. Miraculously, my engine ran for

over six minutes, allowing me to get away

from enemy territory.

I told the electronic warfare officer in the

back of our F-105G to prepare for ejection

sigh of relief and then focused on where I

was going to land.

The chute was drifting toward obstacles,

I tried to steer clear, but I went down hard

and broke my ankle. Twelve minutes later,

a rescue chopper was right above me.

I'd never been happier! The other officer

survived as well. After rehab, I, like many

others who served, went back to fly 53

more missions. I took more gunfire, and

Those moments are disappointing, and

they can shake our faith if we aren't careful.

I've said my share of "unanswered"

prayers too. But I don't give up on God

or doubt His ability to hear and answer

prayer. Instead, I trust His love for me and

keep asking, seeking, and knocking on the

heart of God (Matthew 7:7).

It helps when I think back on the times

I've witnessed God at work. Those mo-

PHOTOS COURTESY OF THE HURST FAMILY

and headed for the closest airbase.

you can believe, the words, "God, please be

ments serve as powerful reminders of

As I started my descent, the aircraft

with me," were always forth coming. I had

God's power and grace and give me hope

accelerated to over 450 knots (518 mph).

no better protection than the Lord's help.

that if He did it then, He can do it now.

I retarded the throttle and expended the

I believe God hears all our prayers. He

Whatever you are facing today, I encour-

speed brakes—and the engine seized.

knows our hearts. He hears us when all

age you to pray about it (Philippians 4:6–8).

My wingman came over the intercom.

we can say is "help," and He welcomes our

When you give your situation to God, He

"You're on fire! You need to get out."

longer prayers too, when we pour out our

will give you His peace and enable you to

I pulled up the nose to slow the airplane

hearts to Him.

face the difficult thing before you.

and ordered the officer with me to eject.

Two orders and some not-so-religious

words from me later, he finally obeyed.

Smoke filled the cockpit. It was my turn

to eject. I grabbed the ejection lever, said

Of course, God doesn't always answer

our prayers the way we think He should.

Sometimes, for reasons we'll never know,

He chooses not to perform a life-saving

miracle on this side of heaven.

GERALD B. HURST served in the US Air Force for

26 years and has also served as a representative in

the NC Legislature. Colonel Hurst has been married

to his sweetheart, Amelia, for 65 years and still

enjoys flying. He has flown over 5,300 hours.

8 Issue 01 / 2023 VICTORIOUSLIVINGMAGAZINE.COM
---
STEPPING FORWARD

Flourish in His Care

BY LINDA

CUBBEDGE-SMITH

LINDA

CUBBEDGE-SMITH

was Victorious

Living's Prison

Correspondence

Outreach Director

from 2014 until June of

2021. She is currently

working on a book

about the goodness

of God and remains

passionate about

leading others to Him.

I LOVE SPRINGTIME! Sprucing up my yard and

home with colorful flowers and beautiful plants is a

favorite pastime that makes me smile.

A couple years ago, I added some pygmy palm trees

to our home's landscape. They are known to do well

with proper care and a little pruning. I planted two

in the yard and two in large planters. I was excited to

watch them grow.

I thought I did a good job looking after them, but

I soon noticed distinct differences between the ones

in the yard and the ones in the planters. The trees I

regularly pruned were noticeably taller and healthier

than the ones that had not had as much attention. They

were also producing tender new palm branches from

the top center of the trees, each one reaching toward

the sun. I marveled at how they knew to stretch toward

their source of life. The two palms that received less

attention were not exactly living their best lives.

My gardening lesson reminded me of Psalm 92:12–

13: "The righteous will flourish like a palm tree, they

will grow like a cedar of Lebanon; planted in the house

of the Lord, they will flourish in the courts of our God"

(NIV).

The repetition of the word "flourish" in this passage

piqued my interest, and I searched for its meaning.

Merriam-Webster defines it as "a period of thriving"

and "to grow luxuriantly." The Hebrew definition,

the original language of the Old Testament, refers to

a "breaking forth" and "blooming." In the New Testament,

the word appears once and means "to put

forth anew."

God's loving intention for His people is that we grow

in maturity and fruitfulness as we shed our old nature

and bloom anew.

I can't speak for my palm trees, but in my human

experience, growing is hard work. Flourishing doesn't

just magically happen for plants or for people. It

requires a pruning process that can be downright

painful and sometimes make you question the Lord's

goodness.

But I've learned that in those times, we must take

our cue from the palm trees and keep stretching for the

"Son." Jesus's light will sustain us and cause our faith

and love for others to flourish (2 Thessalonians 1:3).

God's pruning process comes in different forms.

Sometimes it requires the removal of selfishness, pride,

stubbornness, bitterness, hate, and jealousy. As we

submit our emotions to God and renew our hearts and

minds with His Word, we experience God's perfect will

for our lives (Romans 12:2). His Holy Spirit will help

us grow in love, grace, and humility. He will develop a

desire in us to walk in obedience to His Word.

At times, pruning requires the removal of people

and things. Hebrews 12:1 says we are to cut away anything

that hinders our steps. Sometimes even beautiful

things must be cut away to make room for God's better.

Those are the hardest things to release.

You can trust the pruning process to the hands of

the Master Gardener. Pruning is evidence of His love

for you. God knows which branches to cut off so you

can be fruitful and experience an abundant life (John

15:1–8). Whatever He removes will make space for

something more beautiful than you can imagine.

Let His promises sustain you as you bloom into the

person He intends you to be. God will help you grow,

produce fruit, and remain full of life even into old age

(Psalm 92:13–15).

Now that is some much-needed hope, isn't it? May it

nourish your soul as you flourish in your relationship

with Jesus.

VICTORIOUSLIVINGMAGAZINE.COM

Issue 01 / 2023

9
---
F R O M

GUNS

T O

THE STORY OF

ANDRE LIGHTSEY-COPELAND

GRACE

MMy childhood is shrouded in mystery. I'm 41 years old,

and I still don't have answers, but this much I know: God

wasn't confused. He wasn't absent. He's always had a

plan and purpose for my life (Jeremiah 29:11). I just had

to come to the end of myself before I could receive them.

No one has ever explained why my biological mom

didn't raise me or why I lived with another family. I've

always had more questions than answers. My mom battled

something great; whatever it was, she ended her

life when I was ten. Everyone worked hard to protect

me—from what horrible truth, I'll never know.

After my mom passed, the family I lived with adopted

me. They let me choose my last name. I decided to

use both surnames and joined them with a hyphen:

Lightsey-Copeland.

Even though Mom wasn't around much, she always

made sure I knew she loved me. No matter what had

happened, she would always be a part of me, so I wanted

to honor her. But I also wanted to honor Mrs. Copeland,

the woman who ensured I never wanted or needed any-

thing. She was my mother now, and I even got three big

brothers out of the deal!

In the Copeland home, I experienced love and positive

male role models. But I took them for granted and became

vulnerable to the world's influences. My thoughts

were quickly shaped by the lies of an enemy I was not even

aware of, much less equipped to fight. Satan was prowling

around like a roaring lion, and he was about to try to devour

me (1 Peter 5:8).

I remember playing outside our apartment one day, when

this guy walked by with sagging pants, a cocked baseball

cap, and a gun in his pocket. I admired the confidence in

his stride and thought, "Wow! He's cool."

I didn't know who he was, but I wanted to be like him. I

stopped playing with Legos and digging holes in the dirt

and headed into high school with a new style and attitude.

PHOTO BY ARIZONA PORTRAITS PHOTOGRAPHY LLC

10 Issue 01 / 2023 VICTORIOUSLIVINGMAGAZINE.COM
---
My new look quickly attracted the wrong kind of attention.

The colors I wore insulted gang members in my

neighborhood, and I had to deal with them daily, even

though I wasn't in a gang. I was in their territory, and

that's all that mattered.

I couldn't even walk to the bus stop without having to

defend myself, but I didn't back down, no matter how

many fights I had to endure. I stood my ground and

did what I wanted, and eventually, the bullying and the

fighting stopped.

My rebellion grew rapidly, as did my ego. I started

messing with drugs, using first and then selling. Once

I tasted that fast money, I couldn't walk away. It made

me feel powerful, accepted, and like I was somebody.

I kept my grades up so my mom wouldn't think things

were off with me. Plus, I didn't want to disappoint her.

I followed the house rules, did my homework, and excelled

in sports. After I graduated from high school, I

went to college. But that didn't last long.

I lived a double life, walking a tightrope between two

opposing identities. My street ego grew and grew, and

I felt invincible. Giving in to the lure of the fast life, I

dropped out of college and hit the streets full time.

And then, one day a drive-by shooting happened in

front of my mom's house. No one was hurt, but it was

quite the reality check. Those bullets had my name on

them. I was ashamed as I realized the danger I'd brought

to my family, not to mention the heartbreak.

But there was more disappointment ahead, and there

was nothing I could do to prepare my family for it. I didn't

even see it coming until it was too late.

Something told me not to leave the house that day, but

with full-blown arrogance, I ignored the warning and

headed out, looking for trouble. I found it in a strip-club

parking lot. Before the night was over, a man was dead,

and his blood was on my hands.

I fled the scene and hid in a shed in the backyard of

an abandoned house. Adrenaline pumped through my

racing heart as I heard police sirens and a helicopter

in the distance. I was twenty-eight years old and on the

run for murder.

I'd never prayed before or even thought about God, but

as reality sank in, I somehow knew He was my only hope.

"God, please help me."

I didn't expect an answer. At that moment, I felt as

far away from God as a person could get. Why would He

even listen to my prayer? I had just murdered a man!

But He heard it, and He didn't waste any time responding.

"Are you ready to surrender your life to Me, Andre?"

It was a gentle but direct question, and I knew without

a doubt that it was Him. I wasn't one to hear voices.

What caught my attention was the use of my name. To

think that God would know me by name! Suddenly, His

presence was tangible, and I realized I wasn't alone.

Frightened, I continued to run from the authorities and

evaded capture for two weeks. But as I ran, that encounter

never left my thoughts.

What could God possibly want with me? The thought was

confusing. As far as I knew, my life was over.

When the cops finally caught up with me, I was relieved.

They booked me into Pima County Jail and charged me with

first-degree murder. The weight of what I'd done hit me with

such force that I could barely breathe. I became numb and

was unable to process what was happening.

Mom came to see me, utterly shocked by the charges

against me. She had no idea the

depths of my rebellion. "Son, I

know you didn't do this terrible

thing," she said. "Tell me what

happened so we can straighten

this all out."

There was no fixing the situation.

I had to tell her the truth. I

was totally to blame for what had

happened.

Alone in my cell, God's question

kept coming to mind, "Are

you ready to surrender your life

to Me, Andre?"

Fear. Shame. Guilt. Grief. Anger.

Confusion. Waves of emotion

washed over me. What did I have

to give God?

"I don't have anything to give

you, God." I finally told Him. "I'm

a mess, and I'm probably in prison

for the rest of my life."

I knew nothing about the Bible,

but when I picked one up, the

Lord wasted no time speaking to

I K N E W

NOTHING

A B O U T T H E

BIBLE, BUT

WHEN I PICKED

ONE UP, T H E

LORD WASTED

N O T I M E

SPEAKING TO

MY HEART.

my heart. He showed me Romans 5:8: "But God demonstrates

his own love for us in this: While we were still sinners,

Christ died for us" (NIV).

I couldn't wrap my head around what I was reading. Jesus

died for me even though He knew I was a sinner? Why? I

had never paid attention to Him. Why would He care about

me? But that's what it said.

Wow.

I kept reading the Bible and learned so much. Jesus was a

perfect man and also God. He died a horrible death so that I

could have my sins forgiven. That blew my mind. I became

hungry to learn all I could about Jesus, the resurrected

Savior. I was fascinated by His teachings and the people He

VICTORIOUSLIVINGMAGAZINE.COM

Issue 01 / 2023

11
---
ROM G

chose to be His disciples. What a motley crew! Then I

learned about King David and how God used him even

though he was an adulterer and a murderer (2 Samuel

11–12; Psalm 51).

As soon as I could, I got baptized and committed my

life to follow Jesus no matter what, even if I had to spend

the rest of my life in prison.

My case dragged through the court system for two

and a half years. As I awaited my sentence, I leaned into

God's Word for courage and comfort. I discovered who I

was in God's eyes. Satan had been feeding me lies about

my identity since my youth.

I attended church with my Spanish-speaking cellie,

who was also a Christian. I didn't understand much

because the service was in Spanish, but it didn't matter.

God's presence was there as those men sought the Lord. I

soaked it in like a plant that hadn't been watered in years.

God showed me that He had pursued me since I was

a kid. He revealed people He had used to sow seeds in

my heart about Jesus. God knew that, eventually, I would

turn to Him, and just like the father of the prodigal son,

He waited patiently for me (Luke 15:11–32).

I remembered a picture my mom had hanging in her

house. As a child, I wondered who all those people were

sitting around a big table sharing a meal. Now I know

it was a painting of the Last Supper with Jesus and His

disciples (Matthew 26:26–29). Thinking of that picture

now comforts my heart. I think maybe Mom knew Jesus too.

Waiting for trial was exhausting. I had no plea bargain, so

when my court date arrived, I expected to get the maximum

sentence. I thought I was dreaming when the jury found me

guilty of a lesser charge, second-degree murder.

The judge's voice was kind but firm on sentencing day.

"Sir, I believe that you are a decent man who lost your way

when you started hanging out with the wrong people." She

then handed me a 12-year sentence. It was nothing short

of a miracle.

God's hand touched my life that day in a way I will never

forget, and I came to understand grace and mercy in a way

many don't. I was receiving a gift that I could never earn or

deserve, and I knew it.

Within a week, I walked through the gates of Arizona State

Prison to begin serving my time. I connected immediately

with other men of faith. Wanting to be a true disciple of

Jesus Christ, I surrounded myself with those whose lives

were testimonies of His transforming power. God worked

through them to help me change.

Before long, I felt God calling me deeper. My salvation, a

reduced prison sentence, and this new life weren't for me to

keep to myself. God wanted to use me for His purpose and

glory (Ephesians 2:8–10). He wanted me to tell others about

His grace and to help them avoid the mistakes I'd made.

Helping others was something I'd never considered before

giving my life to Christ. To better prepare, I took advantage

Left: Mama

Copeland has

always provided

for Andre and

been a source of

encouragement

and comfort.

Right: Andre

(in sweater)

experienced the

blessing of family

in the Copeland

home. Shown

here with his

nephew.

12 Issue 01 / 2023 VICTORIOUSLIVINGMAGAZINE.COM
---
PHOTO BY ARIZONA PORTRAITS PHOTOGRAPHY LLC

UNS

THE BLOOD JESUS

SHED FOR YOU

ON THE CROSS O F

CALVARY CAN WASH

AWAY THE BLOOD

ON YOUR HANDS.

of the education available behind bars and obtained

an associate's degree in alcohol and substance abuse

disorders. I also worked as a peer support facilitator,

helping to prepare men for their release.

It was a privilege to pray for them and introduce them

to Jesus, the true Friend who would be there every step

of the way (John 15:13–14). So many people want to leave

prison, enter the world, and live right, but it isn't easy

to do. With Jesus, these men could succeed.

Still wanting to deepen my roots in Christ, I signed up

for a discipleship training program offered by Alongside

Ministries in Phoenix. A mentor journeyed with me while

I was still in prison. He became my friend and prayer

warrior and met me at the gate the day of my release.

He even took me out for a delicious breakfast before

dropping me off at the ministry's residential program

that I still call home.

It felt great to be out from behind those bars, but Jesus

had already set me free long before I walked out of

prison. He freed me from the wages of my sin and gave

me eternal life the day I believed in Him (Romans 6:23).

And not only was I free, but I was rich beyond measure.

I didn't have any worldly possessions, but I had

eternal life, joy, peace, worth, and purpose.

Today, I work with and encourage men coming out of

prison who are learning to walk with the Lord. It's only

been a few years since I was where they are now. Only

God could have rewritten my story.

VICTORIOUSLIVINGMAGAZINE.COM

Genesis 50:20 says that God can take what the enemy

meant for our harm and use it for good. Romans 8:28 promises

that God works all situations for good for those who

love Him and are called to His purposes. God has kept these

promises and more. His undeserved kindness will remain

beyond my comprehension.

I'll never forget that I took a life and brought pain to undeserving

people. I wish I could go back and make it right,

but I can't. All I can do is live my life in thankfulness, serving

others and sharing the hope of Jesus. I want to honor God

so He can bring purpose out of the pain I caused.

God offers this same chance to you. I hope you'll accept it.

If you're like I was, you're wondering what God could

possibly want with your life. And why would He bother?

Let me tell you: God doesn't look at what you've done. He

looks at who He knows you can become.

He is calling you by name, inviting you to come, right

now, just as you are. God loves you no matter what you've

done. The blood He shed for you on the cross of Calvary

can wash away the blood on your hands.

Brothers and sisters, the forgiveness of sin is a gift of

true freedom that no one can ever take away from you, no

matter where you find yourself (John 8:36).

ANDRE LIGHTSEY-COPELAND, having experienced God's

faithfulness and grace for himself, seeks to share that message of

hope and victory with everyone he encounters. He enjoys the fellowship

of his Alongside Ministries community and uses his testimony to

encourage his family and students at St. Mary's Skill Center in Phoenix.

Issue 01 / 2023

O GRACE

13
---
TRANSFORMED LIVES

BY SHERIDAN CORREA

Commitment

+ Consistency

KEYS TO TRANSFORMATION

IN JULY 2012, I RECEIVED AN EMAIL

saying my soon-to-be ex-husband had

been awarded full temporary custody of

our two sons. Two days later, my children

and I were separated. My heart broke into

a million pieces.

My sadness turned to rage, and I took on

the victim role. Roots of bitterness grew

deep, and I hurt many people (Hebrews

12:15). Intense shame and depression set

in, and I slid into a hopeless pit. I lost all

sense of who I was and my life's purpose.

I had no one to blame but myself. Seven

years of poor decisions caused by drug

and alcohol addiction had led me into dark

places where I had neglected my children.

The court ordered that I would have supervised

visitation, pay full child support, and

attend family drug court for a year.

I set out to avenge my motherhood, but I

was quickly overwhelmed because I didn't

know the Lord and I was fighting my battle

alone. Four months into the court program,

I failed a random drug test. The court took

disciplinary action, but I didn't have the

courage or strength to follow through with

the requirements.

My shame and selfishness kept me from

taking responsibility and fighting for my

life. I gave up and gave myself over entirely

to my addiction and a life of lawlessness. I

became homeless, revolving in and out of

psychiatric hospitals and jail for years. My

children were distant memories.

If you read my story in Issue 03/2022,

you know that the light of Jesus Christ

overcame the darkness of my life (John

1:4–5) while I was in jail awaiting a prison

sentence. Right there, Christ made

me new—He gave me a new heart, a clear

mind, new desires, and a new will to live

and love again. His presence and Word

gave me strength, courage, and hope for

future reunification with my children. My

heart clung to the promise that with God,

all things were possible (Matthew 19:26).

Then He stepped in and made a way for

me to go to the Phoenix Rescue Mission, a

Christ-centered facility providing solutions

for people trapped in cycles of homelessness,

addiction, and poverty. There, I committed

my whole self—heart, mind, body,

will, emotions—as a living sacrifice to God

and renewed it daily (Romans 12:1). I laid

my relationship with my children and their

father on God's altar. Only God could bring

the healing we needed.

The first few months I was at the Mission,

I wasn't allowed to have contact with the

outside world except through writing to

approved people. Each week, I wrote my

two sons. I didn't know if they were getting

my letters, but I continued to pursue them

in faith.

Three months into the program, I received

permission to call them twice weekly.

God planted the words commitment and

consistency in my mind. Commitment and

consistency were new ideas for me, but I've

since learned they are critical components

for life transformation.

A couple months later, my boys were

approved to visit me. I loved those weekend

visits! We would talk, laugh, and play

games. I was grateful their dad allowed

these interactions.

Eventually, I got a car and gained even

more freedom. I felt hopeful and eager. I

was ready to be their mom again and to

have unsupervised visits. But their father

said, "Not yet."

This delay hurt, and I felt rejected. I'd

worked hard and made significant progress.

But my addiction, actions, and brokenness

had betrayed the trust of many, especially

my sons' father. It would take time to unravel

and reshape the mess I'd made. I had

to trust God's timing and His ability to heal

and change hearts. If I rushed the process,

I might cause more delays.

"Commitment and consistency, Sheridan."

The Lord kept urging me to stay the

course, to not react to my hurt feelings, and

14 Issue 01 / 2023 VICTORIOUSLIVINGMAGAZINE.COM
---
TRANSFORMED LIVES

PHOTO BY LYSSA YATES

to keep my eyes fixed on Him. His plans

were good (Jeremiah 29:11); I just had to

trust them.

And then I learned my ex and his family,

including my boys, were moving to Georgia.

My heart broke as my reunification

plan fell apart. "No, God!" I cried. "Why

would You save me and change me, only to

let my boys move away from me?"

I wrestled with my emotions for a hot

minute but returned to the truth—God had

a plan, and I could trust it. I saw that I had

two choices. I could either succumb to the

crippling heaviness of this news and the

uncertainty of my reconciliation process,

or I could "lean not on my own understanding"

(Proverbs 3:5–6) and "be still

and know that He is God" (Psalm 46:10).

Leaning on my minimal and faulty understanding

had consistently led me to

destruction. I had to remain committed

and consistent in my relationship with

God, no matter what my emotions were

telling me. God knew the end of my reconciliation

from the beginning (Isaiah 46:10).

His plan would prevail. "Many are the plans

in a person's heart, but it is the Lord's purpose

that prevails" (Proverbs 19:21 NIV).

I was amazed at the peace in my heart.

Before giving my life to Jesus, a circumstance

like this would have taken me out.

I would have played the victim card, used

drugs, fought for my rights, and been depressed

and filled with despair.

Instead, because of God's presence, power,

and promises in my life, I was able to

receive this news without sliding into that

hopeless pit. He had transformed my heart

and mind and made me a new creation (2

Corinthians 5:17). This new creation was

no longer doing old things. Praise God!

My sons often asked me when I would

move near them. I wasn't able to answer

them definitively, and that hurt. I still had

to complete the program at the Mission

and finish three years of probation before

I could go anywhere.

"Whenever God allows it," I'd reply. I

had to surrender to the unknown and trust

that God was working behind the scenes to

bring about His plan. And you know what?

That's all God asked me to do.

All things are possible for God,

even the restoration of once

broken families. Sheridan

is pictured here with her

husband and two sons.

While I waited, I strove to remain faithful

to the Lord. I started working in ministry,

completed my probation, restored my civil

rights, and returned to school.

God impressed on my heart to pay the

child support I owed, including seven years

of arrearages. I had no idea how to do this—

the bottom line didn't add up. I was already

working two jobs and didn't have enough

money to meet my personal needs. But God

soon blessed me with a promotion. "Commitment

and consistency" kept ringing

in my ears.

I flew back and forth from Arizona to

Georgia to visit my children for the following

year. Before too long, their father

agreed to unsupervised parenting time.

I burst into tears of joy at the news, and a

year later, I moved to Georgia.

Today, my husband and I are coparenting

with my ex-husband and his wife. Only

God could restore such brokenness and

bring forth such beauty (Joel 2:25). Only He

could transform my messed-up self into a

mother who is now part of the solution and

not the problem. And only He could have

softened my ex-husband's heart to bring

us into this arrangement.

You know, God can do the same for you.

You have to realize, however, that transformation

and restoration take time. It's

a process that starts with surrendering

your heart, mind, life, and desires to God.

It requires unwavering commitment and

consistency to God and doing whatever is

necessary to move toward your goal, no

matter how difficult or long it takes.

Along the way, God will give you His

strength, peace, and contentment for the

journey. Trust Him.

SHERIDAN CORREA is a biblical counselor who

is trained in trauma-informed care. She's a wife,

mother of two teenage boys, singer, and avid runner

who has been radically changed by Jesus. She

joined the Victorious Living family in 2022 as digital

content manager.

VICTORIOUSLIVINGMAGAZINE.COM

Issue 01 / 2023

15
---
Graced for Success

THE STORY OF LATOYA WILLIAMS

In the early 2000s, I began a long journey of

redirection. It started with one step, then a series of

steps until finally, I arrived in a spacious place where

today, I am passionately living out my God-given

purpose and helping others do the same (Psalm 18:19).

God's love and grace rescued me from the powers of

darkness that had held me captive since my youth

(Colossians 1:13).

Did I deserve His kindness? No. I had

rebelled early in life and trampled His

gifts, especially the gift of loving parents.

After eighth grade, I ran away from home

and dropped out of school. I wanted to do

things my way.

My parents tried desperately to get me

back on track, but I ignored them. My

only focus was making money. I imagined

it would give me the freedom to do

whatever I wanted. So I found a place to

live with a relative and got a job at the local

Burger King.

Every morning I rode my bike to a place

that tells its customers to "have it your

way." Well, having it my way might have

been desirable for a hamburger, but not

in life. I needed God's way, but it would take

years of hardship for me to figure that out.

Selfish desires, irrational decisions, and

a lack of direction carried me into dark

places where I experienced much physical,

emotional, and mental pain. It still hurts

to revisit that time of my life.

By 17, I was pregnant with my first child.

I had an on-and-off relationship with the

baby's father and gave birth to two more

children with him in the next couple of

years. As often happens to baby mamas,

the father gave no support.

I did my best under the circumstances,

but the weight of raising and providing

for three children was a lot to carry.

Not to mention I was far too emotionally

im mature to care for them properly.

How thankful I am for immediate family

members and community programs that

provided support.

One day, a case worker knocked on my

door and told me about a program that assisted

parents with young children. This

program would allow me to attend a local

community college and obtain my GED

PHOTO BY GERI SIMPKINS PHOTOGRAPHY

16 Issue 01 / 2023 VICTORIOUSLIVINGMAGAZINE.COM
---
while my children participated in a Head

Start program.

The thought of getting my GED kindled

new hope in me. For years, my educational

status had prevented me from obtaining

jobs outside of food service. I was only 19,

but my future had already seemed set in

stone. Suddenly, I could see a way to take a

step toward something positive in my life.

Maybe there was a future for me after all.

I entered the program excitedly and set

what I thought was a reasonable goal to

pass one test a month. Obtaining my GED

took longer than expected, though, as I

had trouble staying focused. I would get

inspired, then fall away.

Math slowed me down. It took three attempts

for me to pass that exam. I didn't

know it then, but depression was contributing

to my inability to stay consistent. At

the time, all I knew to do was push my feelings

down and keep trying.

My teachers noticed my determination

and asked me to be a guest speaker at the

basic skills recognition ceremony. I was

surprised when my speech and a picture

of me in my cap and gown were published

in the local newspaper. It was my birthday,

and I couldn't have received a better gift.

The newspaper article and picture

proved that good things are possible to

those who work hard and believe. I showed

it to my children with pride and encouraged

them those good things were possible

for them, too.

From that day forward, I set more goals

and entered the local community college

to pursue my college education. Filled with

newfound confidence, I refused to count

myself out or be content with just getting

by and relying on others. I wanted more out

of life and was determined to defeat every

challenge that came my way. My children

were looking up to me, so giving up wasn't

an option.

I began pursuing a degree in human services

technology. I wanted to help people,

especially women like me who struggled to

make ends meet. It felt good to take daily

steps to better myself. But in 2005, I lost

focus when the father of my children came

back around. I got pregnant again and had

to put my education goals on hold for nearly

a decade to care for my four children.

Looking back, I see that continuing a

relationship with a man who didn't stay

and didn't care enough to provide for his

family was unwise. But I couldn't see past

the moment. Insecurities and an unhealed

heart led me to make many choices that

resulted in hard consequences.

Don't get me wrong. I love my children

and would make every sacrifice again for

them. But being a single mom and living

in poverty was hard—for my kids and me.

I often felt discouraged by my circumstances

and would isolate myself as I

fought depression and suicidal thoughts.

I'VE FOUND THAT

SERVING OTHERS

HELPS ME AVOID

BECOMING CONSUMED

WITH MY OWN

STRUGGLES.

Only by God's grace were my kids and I able

to survive that long, dark season.

The church was the only place I experienced

a sense of relief. I started attending

with the kids around the same time I

got my GED. We'd walk down the street to

church each Sunday, and there, I'd find the

strength to make it through another week.

Being in the presence of God, His Word,

powerful worship music, and fellowshipping

with other believers lifted a heavy

weight off my shoulders. I knew no matter

what, I needed to cling to my faith. And I

did. But I didn't yet understand the importance

of living in Christ daily.

God used my children to draw me closer

to Him. My children have always been my

motivation to live a better life. I wanted

them to be proud of their mother and see

that they could achieve their goals if they

focused and worked hard.

But God showed me that it was even

more important to teach them to live a life

of faith daily. Worldly success is worthless

if they don't know Jesus Christ as their Lord

and Savior (Philippians 3:8).

I began to seek God daily through prayer

and studying the Bible. I was determined

to give Him more than church attendance.

Soon, God's Holy Spirit convicted me of my

life choices. He showed me that my going

to church and then hitting the clubs and

hanging out was sending mixed messages

to my kids.

Having one foot in the world was also

causing me to be unstable. James 1:8 says

that a person who divides their loyalty

between God and the world is unstable in

all they do.

Setting a bad example for my children

was the last thing I wanted to do. I wanted

to live a life of faith that honored God

and exhibited character worth imitating—

and God gave me the power to accomplish

it (Philippians 2:13).

I returned to school again, and in 2014,

I finally graduated with my college degree.

My older self told my younger self,

"Girl, you did it!" I thanked God for this

joyous day. Later that year, I got married—

something I never thought I'd experience.

But the honeymoon didn't last long as my

kids and I tried to adjust to our new family

unit. We all struggled, and soon, my children

rebelled.

I kept pushing down my emotions and

pressing through situations as I'd always

done. It seemed to be paying off when

in 2016, I started a job at East Carolina

University in an administrative role. I

could hardly contain myself when I sat

down at my very own desk in a private

office. I rejoiced in the Lord and thanked

Him for bringing me so far in life. He had

helped me overcome so many obstacles

(Philippians 4:13).

But things fell apart in the fall of 2018.

My husband and I separated, and my son,

arrested for double homicide, was facing

the death penalty. (Instead of death, he is

now serving a 38-year sentence in prison.)

His arrest took a toll on my mental state.

Life had thrown me many curves in the

past, but I'd always managed to bob and

weave and keep moving. This time, I was

drowning in sorrow.

VICTORIOUSLIVINGMAGAZINE.COM

Issue 01 / 2023

17
---
Satan had a heyday with me while I was

down. He reminded me daily how I had

missed the mark as a mother and wife. He

told me God's plan would never come to

fruition for my kids or me and that I had

experienced all the good I ever would. It

didn't take long before I was engulfed again

in a hopeless pit of despair and self-pity.

All I could see was an endless dark tunnel

with no light, closing in on me. I lost sight

of all the progress I'd made.

A good thing happened during this dark

season though. For years, I had refused to

talk to anyone about my mental health or

seek medical help. I'd used God as an excuse,

telling myself that He alone was my

Healer; I didn't need anyone else.

Don't get me wrong—God is the Great

Physician, and He can heal anyone of anything.

But I wasn't actually receptive to His

help because I didn't want to confront the

painful issues of my past. Finally, I realized

that unless I faced my past with God, I had

no hope of breaking free from the darkness

that held me captive.

It wasn't easy, but I started sharing my

pain, first with God and then with other

trustworthy people. I took the cap off the

place in my heart where I stored my emotions

and painful traumas and let them

rise to the surface. One by one, I gave them

over to God.

First Peter 5:7 (NIV) invites us to "Cast

all your anxiety on him because he cares

for you." As I realized the depth of God's

love for me, I trusted Him more with my

pain. As the old traumas, disappointments,

emotions, and my sinful behavior came to

light, I would write them down, pray, and

then release them to God. It helped me to

remember that God's love was unconditional

and that no matter what I shared, He

would not reject or judge me (John 3:17).

With time, the light of His love overcame

the darkness that had tormented

me (Psalm 18:28; Matthew 4:16). The Lord

also gave me strength and peace to seek

professional help. I am grateful for those

He put in my path to help me. God never

gave up on me, even when I wanted to give

up on myself.

Today, praise God, my mental and emotional

health is more stable. In 2020, God

graced me to launch a nonprofit called

Striving with Vision. I now have the privilege

of helping women discover their worth

in Christ and encouraging them to strive

toward a better future. My past victories

with God have equipped me for this journey.

In the process, I've found that serving

others helps me avoid becoming consumed

with my own struggles, especially my son's

incarceration.

There's a saying, "Nothing worth having

is easy." I know this is true. My life has

been one fight of faith after another. But

the "good fight of faith" is what we must

all face if we want to be victorious over our

circumstances (1 Timothy 6:12).

Satan and this world are not just going to

roll over and let you experience the goodness

of God's plan. You must be willing to

face the fight! God will strengthen you for

the journey and grace you for success.

It may not seem like it now, but there is

hope for your tunnel's end. Keep casting

your cares over to God. Remind yourself

daily of the victories you've already experienced

and cling to your faith that more

will come. And then rise, aim, and move

forward with purpose (1 Corinthians 9:26).

In Christ, you are a conqueror over every

situation (Romans 8:37). No circumstance

or person has the power to stop what God

has purposed for your life (Isaiah 54:17;

Jeremiah 29:11). Well, no one except you.

Your unbelief in God, refusal to believe in

yourself, and unwillingness to keep going

will stop you in your tracks every time.

Right now, maybe you're fighting that

good fight of faith. You're taking steps with

God toward a better future. I'm so glad.

Keep going; you're going to make it. You

can be victorious.

But maybe, like I often did, you've gotten

sidetracked, knocked down, or delayed.

Friend, it's time to get back up. It's not too

late. God's love is big. Nothing you've done

or experienced has disqualified you from

the good things He has for you.

Get your eyes off your circumstances,

your failures, and those deceitful emotions.

Instead, give them to God. He will help you.

Then rise and take the next step He has

for you.

Don't know which step to take next? Ask

Him. He'll show you the way (Proverbs

3:5–6; James 1:5). And when He does, move

in faith and purpose with tightly secured

boxing gloves.

You've got this because God's got you!

Above left: Latoya and her children approximately 15 years ago. Above right: Latoya

and her mother, Sarah Grady, at Latoya's ordination ceremony.

LATOYA WILLIAMS is the founder of Striving

with Vision, an empowerment support group, and

an ordained minister. To find out more about her

nonprofit or to invite Latoya to speak at your event,

visit strivingwithvision.com.

18 Issue 01 / 2023 VICTORIOUSLIVINGMAGAZINE.COM
---
STEPPING FORWARD

BENCHED BY GOD?

USE YOUR TIME WISELY

BY CHRISTINA KIMBREL

I HAVE NEVER CARED ABOUT SPORTS

of any kind. Then I got married.

For the last two years, I have been in

boot camp, learning to be the wife of an

avid sports lover. Any game involving a ball

makes my otherwise attentive husband

oblivious to the world around him.

To keep harmony in my home and avoid

being a nagging wife, I sometimes sit with

him through the games, absorbing more

information than I will ever need or use. I

have learned about teams, players, touchdowns,

field goals, offense and defense,

and good versus poor sportsmanship.

Players who spend time on the bench

consistently catch my attention. Whether

they're there because of injury, poor performance,

or not following the game plan

or their coach's lead, being benched is a

big deal. It can be a temporary setback,

or it can define their career.

The player's attitude and ability to receive

correction and instruction is what

makes the difference. Those who decide

to use the experience to gain wisdom and

guidance are likely to emerge as better

players and possibly even better people.

The same principles apply to our life and

our walk with Jesus. My ultimate bench

experience happened the third time I went

to prison. The first two times I got locked

up, I didn't know the Lord, and I wasn't interested

in trying to do better in life.

I didn't see myself as the problem. I

blamed other people and my circumstances

for where I had wound up. The chaos

and dysfunction of my life had become

comfortable, so it didn't even occur to me

that I should try to change.

But after 25 years of repeating the same

cycle, I was barely alive and exhausted

from doing things my way. In His grace

and mercy, God put me on the bench, and

I finally realized my need for Him. There,

I surrendered my life to Jesus and decided

to let Him be the head coach of my life.

I spent the rest of my prison time immersed in my Bible.

It's God's playbook for a meaningful life (Hebrews 4:12). If you

want lasting transformation, God's Word is where you'll find it.

Once released, I surrounded myself with like-minded people

who were invested in my success. Five years later, they still

take the time to walk with me, share their wisdom, and cover

me in prayer as I learn to live for Christ. When I mess up or

when my thinking is skewed or I misbehave, they don't just

tell me what they think I want to hear. They tell me the truth

about myself and lovingly redirect me to God's Word.

No matter how you get to the bench, trust that God knows

what's best for you. He may require you to sit it out with Him

several times throughout your life. Our heavenly Father deals

with us individually according to what we need (Hebrews 12:7).

If He puts you on the bench, sit there and learn!

Is yours a physical bench or an invisible one? Are you in a

season of correction? Maybe God wants you to be still for a

while and get your priorities straight. Pay attention! Look for

the lessons and the wisdom around you. More importantly,

listen for God.

Spend your time on the bench wisely. Ask the Lord to show

you in His Word how to change, how to break old habits and

behaviors, and how to become more like Him. God disciplines

you because He loves you (Proverbs 3:12). He wants you to

become everything He created you to be—for your good and

His glory (Ephesians 1:4–6).

No matter

how you get

to the bench,

believe that

God knows

what is best

for you.

CHRISTINA KIMBREL

serves as Victorious Living's

production manager. Once

incarcerated, she now

ministers hope to those

held captive by their past

and current circumstances

while sharing the message of

healing she found in Jesus.

VICTORIOUSLIVINGMAGAZINE.COM

Issue 01 / 2023

19
---
YO U

H AV E

PURPOSE

THE STORY OF JULIANA MCFADDEN

It was Christmas morning 1982, and my phone would

not stop ringing. I snuggled up in my warm bed, willing

the phone to hush. But it kept on until finally I gave in,

grabbed the receiver, and muttered an irritated, "Hello?"

It was my mother, and she got straight to the point.

"Can Charlie stay at your place for a few days? The cops

are looking for him. They want to talk to him about some

murders that happened last night."

I was horrified and tried to clear my head. "Murders!

What? Oh, Mom, I can't."

"Juliana, he didn't hurt anyone." She took a drag off

her cigarette, but not even the nicotine could hide the

shaking of her voice. I agreed to come over and meet

with Charlie but committed to nothing more.

This was not my brother's first brush with the cops.

He had already been to prison twice. My gut was telling

me which way to lean.

But we did what most families would do—we protected

our own. Charlie came to stay with me while my parents

arranged to send him away. We didn't talk about what

had happened; we couldn't. The dark cloud hanging over

us was too thick. Nothing would ever be the same again.

Dad and I took Charlie to the airport, and he boarded a

plane for Dallas. I took a train to the city.

I rode the entire day aimlessly. I didn't know what to

do or where to go. I desperately needed to talk to someone.

I thought about going to the church we'd attended

growing up, but those people had not been part of our

lives since Charlie's first time down. Besides, all they'd

do was tell me to pray. Forget that!

But then I remembered Father Baseheart. He had given

me my first holy communion at St. Gregory's Church.

I bussed my way to the old neighborhood, walked to the

parish, and knocked on the door.

Father Baseheart reached out and welcomed me. He led me to an

office, and I sat down. "Now, how may I help you?" he asked gently.

Tears flowed as I passed him a tattered newspaper containing

the story of the murders. "My brother did this, and I don't know

what to do."

Father Baseheart read the article. "We need to pray," he said.

I left the parish soon after, walked to the nearest bus stop, and

rode home. "Pray?!" I yelled internally as the bus bumped along.

"Did You not see what happened, God? Why didn't You stop it?

Where were You? Nowhere to be found, that's where! And now, I'm

supposed to pray to You? I don't think so."

I was so angry. My family had been falling apart for years, and I

had asked God to step in more than once. He didn't seem to care

enough to intervene. And now this? I couldn't wrap my head around

the pain and horror of the murders and the hopeless reality of my

life. And so, for the next 16 years, I cut off communication with God.

It didn't matter that I hadn't hurt anyone. My brother had, and he

was family. We were the same. I deliberately set out to escape my

reality. I was embarrassed and ashamed of my life, my family, and

of what my brother had done. I had no one to talk to.

I tried to blend into society. I didn't want to be identified as the

sister of a murderer, yet I felt such remorse for Charlie's victims.

PHOTO BY ARIZONA PORTRAITS PHOTOGRAPHY LLC

20 Issue 01 / 2023 VICTORIOUSLIVINGMAGAZINE.COM
---
It was too much to bear, and I stepped into the fast lane. Men.

Cash. Coke. Jack. I spun quickly out of control.

When Charlie was given a triple death sentence, I vowed I

would never speak to him again. I was done with Charlie and

Chicago, and I decided to move.

I set off to live with my older brother in Dallas. There I met his

best friend, David. He was another bad boy—but boy, was he cute.

Daily life with David was one big party—until I found out I was

pregnant. My maternal instincts kicked in, and I stopped doing

drugs. I returned to Chicago. David followed me there, and we got

married. Three months later, our daughter Jennifer was born.

We remained in Chicago for the next 13 years. During that

time, I didn't think once about God. I was doing just fine without

Despite the wreckage of my

life, I could feel His presence.

He was still here.

Him. We had another little girl, Kelly, and set out to give our girls

an incredible life.

When our oldest daughter was starting middle school, we decided

to move to Phoenix. I was excited about this new adventure

and proud of the family David and I had built.

But one day, as I mentally patted myself on the back for the

incredible life we had given our girls, God spoke loud and clear.

"But you have not given them the most important thing they need—Me!"

Once close, Juliana and her brother, Charlie (above left),

didn't speak for 20 years due to hurt and unforgiveness.

The gift of forgiveness not only restored Juliana's relation ship with

Charlie, but with her husband, David (above right), as well.

You could have heard a pin drop inside my head. I

hadn't spoken to God in decades, but I recognized His

voice. Conviction gripped my heart. "You're right," I

replied. It's all I could say.

Reluctantly, I promised God I would take the girls

to church. But I made it very clear that I wasn't going.

Drop off and pick up, that's all He was getting from me.

Of course, God knew better.

One night as I was preparing to pick the girls up from

Wednesday night church, the telephone rang. It was the

police. David had been in a head-on collision. He was

okay, but they were holding him in custody. The victim,

they said, had been hospitalized with injuries.

Custody? Victim? I was bewildered. The officer continued,

"Ma'am, it appears Mr. McFadden may have been

under the influence at the time of the crash. We need

you to pick him up at the station."

Turns out, David had fallen asleep at the wheel while

under the influence of opiates and hit a Mercedes headon.

On May 16, 2000, just a year and a half after moving

to our new home in Phoenix, David was charged with

aggravated assault and given a two-and-a-half-year

prison sentence.

Once again, a man I loved and trusted had turned my

world upside down. First Charlie, and now my husband.

Really, God? Still, I pressed on and tried to do the right

thing. I kept my end of the bargain and kept taking the

girls to church. But inside, I was devastated.

Week after week, I dropped them off, went home, and

then back again. But I was a single mom

now, and I was tired. So I began staying at

the church with the girls. I thought it was

a matter of convenience, but God knew it

was a matter of connection.

One night, my friend Joanne invited me

to go with her to hear someone named

Anne Graham Lotz. I had no idea Mrs.

Lotz was the daughter of the great evangelist

Billy Graham until Joanne told me.

I agreed to go.

Perhaps, I thought, if I went to the service,

God would tell me whether I should

stay with my husband or if He would give

me the green light to walk away from my

marriage. I was hurt, betrayed, exhausted,

and emotionally done.

Funny thing, Anne Graham Lotz didn't

say one word about whether I should stay with David, but

I still came away from the event with an answer. Can you

believe God used a statement on a bookmark inserted

in the event program to convey His message? On it were

the words: "I have decided to ."

VICTORIOUSLIVINGMAGAZINE.COM

Issue 01 / 2023

21
---
At the close of the event, we were each instructed to

write down what God was leading us to do based on the

evening's experience. My eyes fell to the blank line, and

I thought about my life. It was a mess.

For years I had sought comfort, hope, and peace but

had always come up empty. I dropped my head to my

hands and cried. I needed Jesus. And I knew it because

I had once personally known Him.

I'd accepted Him long ago as my Savior. When I was

little, Jesus had been my friend, and I'd loved Him. Then

life happened, and I got angry and walked away from

Him. But God had never walked away from me. Despite

the wreckage of my life, I could feel His presence. He

was still here.

I laid down my anger and prayed a true prayer of surrender.

This was different. No longer was I acting like a

spoiled little girl with arms folded defiantly across her

chest. My arms and heart were open. I was ready to go

wherever God would lead me. I had no hope without Him.

That night, in the blank spaces of the bookmark, I

wrote, "I have decided to surrender my life to God—

my will for His will. I commit myself to serve Christ."

This bookmark is still in my Bible today. Like in Joshua

4:21–24, it serves as a stone of remembrance of my

commitment to the Lord.

Through spending time with the Lord, I knew I was

to remain with David. I did, and God renewed my love

for my husband and our marriage. He also led me to

serve Him in a place I'd never dreamed—prison. It all

happened because of my attending Al-Anon meetings.

Al-Anon provides support to people who have been

affected by another person's alcoholism. I started attending

meetings after David was incarcerated. One night,

about a year in, there was a request for volunteers to

host Al-Anon meetings at Perryville Prison for women

in Goodyear, Arizona. God poked my heart and would

not relent about this new thing I could do to serve Him.

"But, God," I protested. "There is no way I'm going to

visit anyone in prison, especially people I don't know!"

God shocked me with His reply. "But you love people

who are in prison."

"Actually," I said, "I do not." I hadn't talked to Charlie

in nearly 20 years, and I still wasn't happy speaking

with my incarcerated husband.

"Try it," He said. "If you don't like it, you can quit."

I spent the next five years hosting Al-Anon meetings

at Perryville. I loved the ladies and being able to serve

God in this way. In Al-Anon, you share your experience,

strength, and hope. I wasn't shy in telling the ladies that

I'd found all these things in God alone—the great I Am

(Exodus 3:14).

And then, it occurred to me, "How can I love these

Above: The

bookmark

that serves as

Juliana's stone of

rememberance.

Right: After

seeing the need

for formerly

incarcerated

people to receive

reentry support,

Juliana founded

SISTER Ministries.

ladies and not even speak to my brother?" I felt a deep sense of

guilt. God was preparing my heart for what was to come.

Not long after that, my younger sister called. "Juliana," she

said, "Charlie tried to commit suicide. He's been transferred

to Statesville." Charlie's death sentences had been commuted,

but he would spend the rest of his life in prison. I had not seen

him in 20 years, and I knew I had to change that. I could not live

with myself if he took his life and I had not reconciled with him.

I had just finished reading The Purpose-Driven Life by Rick

Warren (Zondervan, 2002). I was particularly inspired by these

words, "God wants you to have a Christlike ministry on earth.

That means other people are going to find healing in your

wounds. Your greatest life messages and your most effective

ministry will come out of your deepest hurts" (275).

22 Issue 01 / 2023 VICTORIOUSLIVINGMAGAZINE.COM
---
PHOTO BY ARIZONA PORTRAITS PHOTOGRAPHY LLC

Charlie needed to know that God had a purpose for his life. I

immediately mailed the book to him, asked him to read it, and

told him I would visit him in January. I booked a flight to Chicago

and contacted the warden at Statesville with a request to allow me

extra time with Charlie since I was traveling such a long distance.

God granted me much favor. I was allowed to visit two days in

a row, two hours per visit. My heart leaped when I saw him. All I

could think was that he was the most beautiful thing I had ever

seen. I couldn't help but think that that is how Jesus sees us, no

matter what we've done. We are beautiful and precious in His

eyes, and His heart is full of love for us. (See John 3:16.)

Charlie and I hugged each other tightly. Neither of us wanted

to let go. Afterward, we stared at each other with tear-filled eyes.

We had so much to catch up on. I asked Charlie to forgive me for

abandoning him for so long. I told him I loved him and begged

him never to hurt himself again. He accepted my apology and

jokingly apologized for beating me up when we were kids. We

both had a good laugh.

On our second day's visit, I asked Charlie if he had read the book

I had sent. He was halfway through it. I encouraged him to keep

reading. "Juliana, you don't understand," Charlie interjected, "I

don't have a purpose. I'm in prison. There is nothing here for me."

"God gives everyone a purpose, no matter where they are or

what they've done," I told him. "God has a purpose for your life

even in here." He looked confused.

"You are an OG, Charlie, and God wants to use you. Imagine if

some OG on your first time down had befriended you and taught

you about Jesus. Think about how different things would be.

Instead of wanting to fit in with a gang, you would have been a

disciple for Christ. But you can do that for someone else now. You

might be sentenced to prison for life, but that doesn't prevent

God from using you. Don't cheat yourself, Charlie. Keep reading

the book. God has a plan, and you're about to discover it!"

Not long after, Charlie rededicated his life to Christ. He remembered

the God of his youth just as I had done. And in March

2006, he was baptized. It's been more than 16 years since that

visit. Charlie has persistently pursued a relationship with Jesus,

just like Jesus pursued him—with his life.

Charlie's thirst for learning about Jesus has been unquenchable,

and his heart is on fire. Though incarcerated, he has completed

multiple Bible courses, three college degrees, and earned

a doctorate in theology.

Through the power of Jesus in him, Charlie has turned his

deepest hurt into his Christlike ministry on earth. Once low and

despised, he submitted to Jesus, and as promised in 1 Corinthians

1:26–28, God has used what the world would call weak and

foolish to teach righteousness, sanctification, and redemption.

Just days after my initial visit with Charlie, God brought a new

friendship into my life. Cheryl lived in Tucson and hosted a weekly

Bible study called SISTER (Spiritually in Step to Encourage Restoration)

Connection, for women recently released from prison.

I was intrigued for many reasons by this unique ministry.

First, I knew that if Charlie had had a Christian friend

come alongside him the first time he was released from

prison, he might have surrendered his life to Jesus

sooner and experienced a different life outcome. And

his victims would still be alive. Second, I realized that,

while many programs existed behind prison walls, few

existed that were willing to help formerly incarcerated

people upon their release and in subsequent years.

Interested to learn more, I visited Cheryl and observed

her ministry in action.

Not long after, God opened doors for me to mirror

Cheryl's SISTER Connection in Phoenix. My friend

graciously mentored me for nearly five years. In April

God gives everyone a purpose,

no matter where they are or

what they've done.

2012, I incorporated SISTER Ministries, Inc. as a 501(c)3

nonprofit outreach to formerly incarcerated women.

In addition to its weekly Bible study and support meetings,

SISTER Ministries maintains a pen-pal ministry

for currently incarcerated women and a gatekeeper

program to assist with transportation upon release. In

November 2022, SISTER Ministries celebrated 16 years

of serving formerly incarcerated women.

I recently asked Charlie, "What did you feel when I

told you that God has a purpose for your life?" He told

me he was shocked. But then, I was surprised God had a

purpose for my life, too. No, I hadn't murdered anyone,

but I had rebelled against God and rejected His love.

There's no difference.

How thankful we are that God is rich in mercy, and He

pursued us. His goodness brought us to surrender (Romans

2:4). God loves to shock us with exceedingly more

than we could ever hope or ask (Ephesians 3:14–20).

Does God really have a purpose for your life? Yes,

He does.

God has a purpose, no matter what you've done or

where you are. Don't think that you've messed up God's

plans for a minute. You're not that big. Surrender your

life to Him—His will, His way. Jesus Christ is a restorer

of hope. He gives purpose to anyone who will lay down

their lives to Him.

Friend, what He did for me and for my brother Charlie,

He can do for you, too.

JULIANA MCFADDEN lives out her life mission daily by

ministering to formerly incarcerated women. To learn more about

how she serves, go to sisterministries.org.

VICTORIOUSLIVINGMAGAZINE.COM

Issue 01 / 2023

23
---
THE STORY OF

RONNIE HOPKINS

for it! Have some fun! You

deserve this. Everybody has

it better than you. Your mom's

sick. Your dad's a drug addict.

God cheated you. Life cheated

you. Everybody cheated you."

Anger and self-pity fueled me

for decades. It never mattered

that I knew that what I was doing

was wrong. My inner voice

always urged me to move forward.

I was a victim, and the

world owed me.

As far back as I can remember,

I've felt sorry for myself. It

started in elementary school

when I began comparing my

home life to what I imagined

my peers experienced. I could

never pinpoint exactly what

they had that I didn't, but I

knew it was better. I lost sight

of any good thing in my life and

focused only on the negative.

I loved my family and knew

they loved me, but our home

was dysfunctional and chaotic.

Dad was a full-blown crack

cocaine addict and alcoholic.

His addiction brought much

grief into our home, especially

for my older brother, whom

Dad abused. My brother was

PHOTO BY SWEETBEE PHOTOGRAPHY

24 Issue 01 / 2023 VICTORIOUSLIVINGMAGAZINE.COM
---
my father's stepson; perhaps

that's why he targeted him so

fiercely. Whatever the reason,

it made me uncomfortable because

Dad treated me like the

golden child.

Dad's addiction led him in

and out of jail and eventually

to prison. It also caused us to

move a lot. By the time I was 15,

we had moved ten times.

My mother was loving, but

she had her own struggles,

primarily due to her battle with

diabetes. I don't remember a

time when she wasn't in intense

pain or homebound. She

ultimately became blind and

addicted to prescription pain

pills. Her addiction and physical

misery made it difficult for

her to be emotionally present

for my brother and me, but she

did the best she could.

Extended family provided

much-needed support. My

grandmother, aunt, and uncle

loved our family well. We often

attended church together.

I heard many stories about

Jesus when I was a kid. Early

on, I believed that God had

sent His Son to die for me. I

even prayed to receive His gift

of eternal salvation. But as often

happens, my Christian faith

stopped at my head and never

settled in my heart.

I had no relationship with

God outside of the church, nor

was I interested in developing

one. To me, God was to blame

for the chaos in my home, especially

Mom's sickness. She

passed when I was 15, and that

was just proof that God didn't

care about us.

Dad was in prison then, and

my brother had moved from

West Virginia to Ohio. I felt so

alone, lost, and overwhelmed

by the uncertainty of my future.

Where was God, and why was

He allowing me to endure such

hardships?

Anger pumped through my

veins as I recounted how He

had cheated me.

My Aunt Kathy and Uncle

Herb, a kind Christian couple,

welcomed me into their home.

They loved, accepted, and supported

me daily, and they modeled

God's sacrificial love and

faithfulness. Through them,

I learned the benefits of hard

work and integrity and experienced

a stable home life for

the first time.

But the anger, resentment,

and self-pity inside kept me

from accepting their love or

God's gift of a new life. I spent

the best years of my life at my

aunt and uncle's home, yet I

wasn't satisfied. By focusing

only on the things I didn't have,

I forfeited the very things I had

longed for in a family.

During my two years in

their home, I partied, smoked,

cussed, and messed around

with girls. I occasionally dabbled

in weed. Tired of their

watchful eye, I devised a plan

for my brother to obtain legal

guardianship of me. Because I

was 17, I could make that foolish

choice without my aunt and

uncle's permission. They knew

it would not end well for me as

my brother was involved with

drugs too.

The court granted my request,

and I moved to Ohio.

My brother enrolled me in

high school, but after only six

months, I dropped out and dove

headfirst into a life of destruction.

I traded weed for methamphetamines,

and for the next 13

years, I served a harsh master.

I did whatever I had to do to

satisfy my addiction, including

manufacturing and selling the

drug myself. My choices caught

up with me when I was 30, and

My Christian faith

stopped at my head and never

settled in my heart.

I was arrested. It was the first

time I'd ever been in serious

trouble, and there I was, facing

prison time.

While in solitary confinement

in jail, I came across a

Bible. I opened it a few times,

but my heart of stone couldn't

receive anything it had to offer.

I still blamed God for my miserable

life.

The day before my sentencing

hearing, my lawyer visited

and told me he was getting

me a great deal. His promises

brought me a sense of hope.

That night I decided I'd better

make one more deal. "God," I

said, "if You'll come through for

me tomorrow, I'll follow You. Do

this for me, and I'll trust You. I'll

even read the Bible."

But God wasn't playing my

Let's Make a Deal game.

The lawyer didn't show

up for court. Instead, some

wet-behind-the-ears, state-

appointed attorney represented

me. This new guy knew

nothing about my case, and

the judge sentenced me to a

mandatory three years in prison

with no possibility of early

release. I sat in disbelief as life

as I knew it came to an end.

The officer took me back

to solitary confinement. The

clanging of the chains connected

to my hands and feet was the

only sound in the corridor. As

I shuffled, I searched for some

emotion but felt numb.

Back in my cell, I punched

the wall to feel something. Anything.

Nothing. I turned on the

small 5-station radio in my cell.

I couldn't stand the silence.

"Drunk on a Plane" by Dierks

Bentley echoed through the

cell. I quickly changed the station.

I wasn't in the mood. Suddenly,

"How He Loves" by David

Crowder Band rang through the

emptiness. It's a song about

the unconditional love of God,

and the words brought me to

my knees.

It was a surreal moment.

Years of anger and resentment

toward God drained from my

heart in tears. I was so tired of

fighting for my rightful place

A rebellious spirit led to Ronnie's

arrest. Pictured above is his

mug shot from 2014.

VICTORIOUSLIVINGMAGAZINE.COM

Issue 01 / 2023

25
---
in this world. It had only led

to one painful, lonely, rockbottom

place after another.

In that humble posture, I

heard God's voice. "Trust Me

anyway."

I reached toward the small

window at the top of my cell

and surrendered to the love of

Jesus. "Okay, God. I will trust

You anyway!"

Immediately, His presence

engulfed me and the space

around me. Peace replaced

years of frustration and fear.

Love replaced hatred and

bitterness. Suddenly, unexpectedly,

I no longer felt like a

victim. It was an instantaneous

transformation of the heart.

Back in general population,

the guys immediately knew

something was different.

"What in the world happened

to you?" they asked. Just a few

days before, I'd been dealing

Ronnie began his

education behind

bars and received

his degree from

Ashland University.

Pictured here with

his Aunt Kathy and

Uncle Herb.

Ronnie and his

wife, Kaitlyn, on

their wedding day

in 2020, with Uncle

Herb and Aunt

Kathy. They have

always provided

support for Ronnie,

even at his lowest.

and stealing. Now, I wasn't even

cussing.

The moment I died to myself

and my perception of life,

God raised me.

"Jesus happened."

From then on, I read the Bible

daily and sought God's will. I

was about to spend three years

in prison and—I must admit—I

was afraid. But knowing God

would be walking through those

prison doors with me brought

comfort, courage, and confidence

(Deuteronomy 31:8).

I wanted to honor the second

chance God was giving me and

do my part to better myself. If I

wasn't willing to invest in myself,

I certainly couldn't expect

anyone else to care.

I sensed God telling me, "If

you'll commit yourself and do

the work, I will help you get to

where you need to be." Now that

was a good deal!

My first commitment was

to obtain my GED. Since math

had always been a difficult

subject for me, I asked another

inmate to tutor me. Every

day after lunch, this former

doctor helped me. It wasn't

easy preparing for the GED, as

the test had recently become

more complex. I studied for

hours daily. It's like they say:

Nothing worth having is easy.

I scored so high on the test

that I was asked to tutor other

inmates for the GED. I couldn't

believe it. For the first time, I

was a leader. That alone was a

testament to what God can do.

Not only had He saved my

soul, but He helped me understand

things I had struggled

with before. He was changing

me, making me a better man. I

found the confidence to pursue

a college degree from Ashland

University. They offered an

associate's program to incarcerated

people that other universities

would accept.

I studied hard and was

amazed when I made the dean's

list. I'd never cared to apply myself

in school, so I'd had no idea

what I could do academically.

Once released from prison, I

completed my education and

received my associate's degree

from Ashland.

God's Spirit continually reminded

me, "You're worth the

work, Ronnie."

I had never felt worthy of

anything good. Nor had I believed

I could ever be anything

other than a drug addict. But

God thought differently about

me. He didn't see an addict or

a boy raised in poverty who'd

lost his mom and dad. He saw

a son whom He loved.

Believing I was worthy

helped me continue down this

new path. It wasn't always easy.

There were many times, especially

after I was released from

prison, that I was tempted to

quit college and return to where

I'd been. But God kept spurring

me on. "You're worth the work,

Ronnie! Keep pressing forward

with Me."

After I graduated from Ashland

in 2018, I became a youth

26 Issue 01 / 2023 VICTORIOUSLIVINGMAGAZINE.COM
---
Above: Ronnie had John 3:30 tattooed on his forearm

to remind him of John the Baptist's message that

Jesus must increase and we must decrease.

3:30 tattooed on my arm. It

than you ever imagined possi-

helps me remember the im-

ble. I know. I've been there. But

portant words of John the

I've learned that with Christ,

Baptist about Jesus. "He [Jesus]

rock bottom is a great place to

must become greater; I must

lay a foundation for your new

become less" (NIV).

life (Matthew 7:24–27).

PHOTO BY SWEETBEE PHOTOGRAPHY

pastor at a local church. I wanted

to help kids discover their

worth in God.

For so long, I had wanted

nothing to do with Him, and

now, I was bringing the Gospel

of Jesus Christ to others!

People used to cross the street

to avoid me. Now parents and

tion after promotion as I stayed

faithful. It's just like Luke 16:10

promises: "Whoever can be

trusted with very little can also

be trusted with much" (NIV).

Today, I am over the training

and development of more than

300 employees.

This incredible new life

John knew the secret to life:

more of Jesus, less of self. It's

the only way to experience the

abundant life Jesus promises

in John 10:10.

How about you? Will you

choose to trust God anyway?

Will you lay down your anger

and disappointments, uncurl

God's got good plans in store

for you (Jeremiah 29:11). How

can you experience them? Remember

John 3:30. More of

Him and less of you.

Trust God today. When you

do, He won't waste any time restoring

and rebuilding your life.

I won't promise His plans will

youth were coming to me for

started with a simple: "Okay,

your fists, and open your heart

be easy. But no matter what you

advice. It was incredible.

God, I'll trust You anyway."

to the One who loves you—even

face, God's goodness will meet

Only God could transform

The moment I died to myself

if life hasn't happened like you

you there. And His grace will

this dirty, lying, and conniving

and my perception of life, God

thought it should? And will you

help you move forward to great

manipulator into a man other

raised me. He gave me new

believe that you are worth a bet-

heights.

people trusted.

eyes and a new heart (Ezekiel

ter life?

Don't focus on that thing you

New doors began opening for

36:26) and set my feet on a new

Right now, your experiences

never had. You'll miss the better

me, and I left my youth pastor

path (Proverbs 3:5–6). And as

might have brought you lower

thing God has for you today.

position to travel nationwide,

I humble myself before Him

sharing my story. I also took

a job at Christian Healthcare

Ministries. God brought promo-

daily, God continues to lift me

(James 4:10).

Not too long ago, I had John

RONNIE HOPKINS is the training and development coordinator for Christian

Healthcare Ministries. He is also a spokesperson and advocate for educational

opportunities in prison.

VICTORIOUSLIVINGMAGAZINE.COM

Issue 01 / 2023

27
---
TRANSFORMED LIVES

VL Publisher,

Kristi Overton

Johnson, after

capturing the

1999 women's

World Slalom

Title in Milan,

Italy.

BY KRISTI OVERTON JOHNSON

RECENTLY, WORLD-CLASS ATHLETE

Vennesa Vieke asked me what I thought it

takes to be a champion. For the next year,

she and I spent time together talking about

how I had achieved my success. It was fun,

going back and sharing my 35-year athletic

journey with my new friend. (See her story

in Issue 03/2021.)

What I've learned is that if you want to be

a champion in anything—sports, relationships,

careers, ministries, you name it—the

principles are the same. If you want victory

in your physical, mental, and emotional

health, you must apply these principles.

But here's the kicker: mentally agreeing

with them won't get you anywhere. You'll

have to do the hard work, make sacrifices,

and persevere daily.

If you want to be a champion for the

kingdom of God, you have to use the same

principles.

Let's talk about that phrase, a champion

for the kingdom of God. I chose those words

deliberately because I've realized there

are many champions of God who are not

actively being champions for God's kingdom.

There is a profound difference.

As believers, we are all champions in

God's eyes. And our champion status

isn't based on what we do. It's based on

the simple fact that we are God's children.

There are no chumps in God's family, only

champions.

Right now, maybe you're thinking, "No

way am I a champion. I've never succeeded

at anything. You have no idea what I've

done or what has happened to me. God

couldn't possibly see a champion in me."

The Bible says otherwise.

If you've put your faith and trust in Jesus

for salvation, then you are His champion.

The blood of Jesus has made you one.

Romans 3:25 says, "For God presented

Jesus as the sacrifice for sin. People are

made right with God when they believe

that Jesus sacrificed his life, shedding his

blood" (NLT).

While we were still sinners—not after

we got it all together and had a champion's

success record—God sent His Son, Jesus,

to die for us. Jesus's blood makes us right

in God's sight (Romans 5:8–9). Because of

Jesus, God can't even see our failures. It's

the work of the cross that makes us His

champions, not what we do.

There is nothing we can do to become

PHOTO BY ROSS OUTERBRIDGE

28 Issue 01 / 2023 VICTORIOUSLIVINGMAGAZINE.COM
---
TRANSFORMED LIVES

more of a champion to God. He loves us just

as we are for one simple reason: we're His

kids. There are no conditions to our heavenly

Father's love. You can't earn it, and you

can't lose it. It just is, and it's everlasting.

There aren't different degrees of God's

love either. His love doesn't change. He

can't love you any more than He does right

now. And He doesn't love one person more

than He does someone else. This is great

and amazing news.

So if we're already champions, isn't that

all there is? No. Even though God loves us

and even though He sees a champion when

He looks at us, that doesn't mean every

believer will live the life of a champion. Not

every believer will determine to be a champion

for God and His kingdom.

I didn't for a long time.

I was all about championing my kingdom.

I was focused on using my gifts and

talents for my glory, not His. I didn't realize

there was more to being a Christian than

asking Jesus to forgive me of my sins and

give me eternal life (John 3:16).

I knew I was supposed to go to church,

pray, and read my Bible, but I didn't understand

that God wanted to partner with

me in life and use me for His kingdom

purposes. I had no idea someone could

be a champion for God's kingdom, and I

certainly didn't know how to be one.

Let's look at the life of Moses to understand

this better. God created Moses to

lead the Israelites out of Egypt and into

the Promised Land. God knew Moses was

the right person for the job—even after

he'd killed a man and had to hide out in

the wilderness shepherding his father-inlaw's

sheep. (Check out Exodus 1–2.) Does

that sound like someone who's a champion?

A wanted man, a murderer, living in

obscurity?

Thankfully, when God chooses people

to champion His causes, He doesn't look

at their outward appearance, their past,

or where they live. He looks at the inner

qualities He put in us.

God created Moses to lead. He allowed

Moses to have unique and even painful

experiences to prepare him for the task.

He wanted to journey with Moses to help

him develop those leadership qualities.

In Exodus 3–4, we see God inviting His

champion to go on this adventure with

Him. A voice from a burning bush? You can

believe God had Moses's attention as He

began to reveal what He wanted him to do.

God was like, "Moses, I've chosen you

to champion the cause of My people. I'm

going to use you to save them from the

Egyptians. I want you to lead them, protect

them, and teach them how to live and

love Me."

But Moses couldn't imagine himself

leading anyone. Maybe before, but now?

No way. So he began to object.

"Me?" he said. "Appear before Pharaoh?

But, God—! Who am I to lead the people of

Israel out of Egypt? What if they don't believe

me? What if they won't listen to me?"

It's the work of

the cross that

makes us His

champions, not

our works.

Even after God promised to be with Moses,

even after He gave him instructions

and the words to speak and supernatural

powers, Moses still refused to accept God's

call. He only saw his limitations: "I–I can't

be Your mouthpiece, God. I st–stutter."

Do you ever feel like Moses? Do you

have trouble seeing yourself as someone

God can use? When you think of the word

"champion," do you have difficulty seeing

yourself in that category? Or do you see

yourself as the least of the least, when God

is saying you are a mighty warrior?

Well, I have some good news. God uses

the least of the least to champion His causes!

Consider 1 Corinthians 1:27–28: "God

chose things the world considers foolish

in order to shame those who think they are

wise. And he chose things that are powerless

to shame those who are powerful. God

chose things despised by the world, things

counted as nothing at all, and used them to

bring to nothing what the world considers

important" (NLT).

Have you ever been called a fool? Worthless?

A big fat zero? Have you ever felt despised

or rejected? Well, you are who God

wants to use.

Your past doesn't matter; neither do your

limitations. All that matters is that you are

willing to be used by God. Friend, God is in

you, and Christ in you is the hope of glory

(Colossians 1:27).

You can face anything and do anything

God has called you to do (Philippians 4:13)

because God's Spirit lives in you. The very

power of God, the heart of God, the mind of

Christ is in you (1 Corinthians 2). His Spirit

empowers you to do what He asks you to

do. It's not by your might or power; it's by

His (Zechariah 4:6). You are a champion

because God, the greatest Champion of all,

lives inside you!

It's time to start walking with your head

held high. I love Leviticus 26:13, where

God says to His children: "I am the Lord

your God, who brought you out of the land

of Egypt so you would no longer be their

slaves. I broke the yoke of slavery from your

neck so you can walk with your heads held

high."

We aren't to walk in shame or be overcome

with guilt. We aren't to walk burdened

down by the weight of sin or the words of

others. God sent His Son, Jesus, to die for

us. And in doing so, He freed us from the

penalty and power of sin. He broke the yoke

of bondage.

Now, I am not suggesting that we get all

puffed up with pride and become overconfident

in our abilities. No. Our confidence

is in God and His love for us. God declared

our worth when He created us, and He has

promised to be with us every day since.

Have you ever thought about the moment

you were created? According to Psalm 139,

God was at work in your mother's womb,

fashioning and forming you with His very

hands. Maybe you think, "God didn't plan

VICTORIOUSLIVINGMAGAZINE.COM

Issue 01 / 2023

29
---
TRANSFORMED LIVES

me. I was an accident. I was unwanted, a

product of violence."

There is no life outside of God. He is the

Creator, Giver, and Sustainer of life. (See

Job 33:4; Acts 17:28; Colossians 1:17; and

1 Corinthians 8:6.) Negative circumstances

around your conception or birth do not

negate the fact that God created you, He

loves you, and that He has a good plan for

your life that He wants you to fulfill.

You, no matter who you are, are God's

masterpiece (Ephesians 2:10). He created

you on purpose and for a purpose. Your

earthly parents might have cursed the day

you were born, but God didn't. He wanted

you to be born because He values your life.

Not only that—He took great delight in

forming all the delicate parts of your body

(Psalm 139:13). God knit you together. You

are wonderfully fashioned, and when He

looks at you, He smiles. He has precious

thoughts toward you that outnumber the

grains of sand (Psalm 139:17–18).

You're His prized possession, worth even

the life of His only Son.

It's hard sometimes to remember that.

The world likes to remind us of our shortcomings,

as does Satan, the enemy of our

soul. But God thinks differently, and it is

time we align our thoughts with His. We

can't live the life God intends us to live

without doing so.

Let's do an exercise. Write down the

negative words your parents, spouse, children,

so-called friends, or coworkers have

spoken over you. Write down the negative

thoughts you've had about yourself too.

How many are there? Ten? A hundred?

Maybe a thousand?

With a pen, place a dot of ink on your

paper to represent each countable thought.

When you're done, compare those dots

against all the grains of sand in the world.

The sand represents God's thoughts toward

you—His good, precious, innumerable

thoughts. Remember Psalm 139? No

matter how many negative statements you

came up with, there's no comparison!

Friend, God thinks you are the bomb,

and it's time you realize it. You can't be the

champion He has created you to be if you

don't believe you are champion material.

God does not create junk! He doesn't

make mistakes. He created you—you!—on

purpose and with a purpose. Why should

it matter what other people think or say?

Let's continue our exercise. Dive into

God's Word and discover His thoughts toward

you. Write His words next to the negative

ones you listed. For example, if you

wrote, "You are a failure," write next to it, "I

am not a failure. I am the righteousness of

God." If you wrote, "You will never amount

to anything. You are just like your father."

Write down this truth, "My Father is God

Almighty, and I was made in His image. He

has great plans for me and will help me accomplish

them. I can do all things through

Christ who gives me strength!" Exchange

each lie for the truth of God.

Search the Bible daily and renew your

mind with God's thoughts toward you. If

you want to know God's will for your life,

you have to renew your mind. Change the

way you think about everything, including

yourself. As you do, God will transform you

into a new person—the champion He created

you to be (Romans 12:2).

Capturing negative thoughts, rebuking

condemning words (2 Corinthians 10:5),

guarding your mouth (Psalm 141:3)—it's

a full-time job. But it's worth the effort.

Far Left: Vennesa is all

smiles after winning the

2022 Moomba Masters in

Melbourne, Australia.

Below: Vennesa and Kristi

formed a close friendship

as Vennesa pursued her

championship title.

KRISTI OVERTON JOHNSON encourages and equips people for victory through her

writings, speaking engagements, and prison ministry. To learn more, go to kojministries.org.

PHOTOS BY HOLLY STRATFORD AND NOAH VIEKE

30 Issue 01 / 2023 VICTORIOUSLIVINGMAGAZINE.COM
---
STEPPING FORWARD

Your Pain Has Purpose

BY KORY GORDON

I'VE SPENT MANY YEARS LYING ON

bunks in jails and prisons, staring hopelessly

at the ceiling. At the time, I'd bought

into the lie that I had gone too far and it

was too late for me.

Fear, regret, and defeat convinced me

that I had wasted the best years of my life.

Those thoughts overshadowed any positivity

about my future. The emotional pain

was so intense, I could feel it physically.

I tried to escape the weight of these

emotions with drugs, pornography, and

gambling, but those things only took me

deeper into darkness. I would have died of

an overdose if Christ hadn't responded to

my cries, but He did. He jumped into my pit

and pulled me out (Job 33:28, Jonah 2:6).

Not once did He chastise or condemn me.

Instead, He wrapped His arms around me

and set my feet on solid ground. He traded

my prison blues for His robe of righteousness

and resurrected my life into one with

meaning. Because of Jesus, my life is now a

testimony of powerful restoration that leads

others to freedom. (See Psalm 40:1–3.)

As a redeemed son of God, I now walk

confidently through gates that once held

me prisoner. I am a seasoned veteran with

many battle wounds, but I am also an overcomer

through Jesus Christ. He alone has

given me the keys to freedom, and I am

committed to sharing them with my incarcerated

brothers and sisters.

It never ceases to amaze me how my

painful past helps me get eye level with

others. They have hope when they hear

what God has done and is doing in my life.

They realize if He could set me free, He can

set anyone free!

With Jesus, nothing in my life is wasted—

not even my biggest mistakes. Every experience

has become an opportunity to learn

and a powerful testimony of the goodness

of God.

Did you know that the Apostle Paul wrote

two-thirds of the New Testament from a

prison cell? Paul rejoiced in his suffering

and wanted everyone to understand that

his time in chains had a divine purpose.

He said, "Now I want you to know, brothers

and sisters, that what has happened to me

has actually served to advance the gospel"

(Philippians 1:12 NIV).

I can relate to Paul here because my

incarceration has also served to advance

the Gospel. Of course, my incarceration

was due to my disobedience to God, not

my loyalty to Him. But God's mercy is for

people on both spectrums—the sinner and

the saint. He brings beauty from ashes for

His glory, no matter how our ashes were

formed (Isaiah 61:3).

It's time to look at your past through

God's lens of purpose. Give Him those ashes.

Don't buy into the lie that your life is a

waste; God never wastes anything.

Every broken road you have traveled

has uniquely equipped you to help others.

Through your life story, you may reach

people for Christ that others cannot. And

every time you find the courage to share

the goodness of God, your testimony defeats

the enemy's hold on someone else

(Revelation 12:11).

Purpose, though, begins with surrendering

your broken life to Christ and then courageously

journeying through it with Him.

Despite all the pain you've been through, an

overwhelming victory can be yours through

Christ, who loves you (Romans 8:37).

Your testimony holds the key to someone

else's freedom. Please don't keep it to

yourself.

KORY GORDON spent 11 years in incarceration,

where he gave his life to Christ. He is now an

evangelist, sharing the Good News that set him

free. In 2021, he founded Damascus Road, a

nonprofit residential discipleship program battling

addiction, recidivism, and homelessness. Email

damascusroad2021@gmail.com for more info.

VICTORIOUSLIVINGMAGAZINE.COM

Issue 01 / 2023

31
---
STEPPING FORWARD

YOU DON'T HAVE TO GO BACK

BY DANNY R. COX

I HAD JUST A FEW MONTHS LEFT ON MY ten-year

prison sentence when a friend said to me, "I don't know

how you've been able to do these ten years, Danny."

Without thinking, I said, "One day at a time, John."

If you think about it, we're all doing time somewhere.

The question is, what are we doing, every day, with the

time we've been given?

There are two things we all do, no matter who we are.

One, we live till we die, and two, every day we're alive,

we make decisions. Good decisions generally lead to

good results, and bad decisions usually lead to bad ones.

I'll admit, I have made more than my share of bad

decisions—but that doesn't mean I have to continue

making them. No way! It took serving time in 12 federal

prisons and 5 county jails in 8 states for me to come to

my senses, but I've now made it my aim to make the

best decisions I can.

I'm in my 70s, and I have been out of prison for 20

years now, clean and green. I guess you could say I've

"learned a thing or two, about a thing or two."

Society has decided that incarceration is a form of

punishment that will deter an individual from making

If you think

about it,

we're all

doing time

somewhere.

The question

is, what are

we doing

with each

day, every

day?

the same bad decisions a second time. But does it?

Recently, I asked the men at a Bible study I

teach at a halfway house to raise their hands if

they had done more than one bit. More than half

of them raised their hands. One man had been

down 11 times. But then he said, "This is the last

time, because I've found Jesus."

Hold that thought!

What is it about Jesus that can prevent someone

from going back to prison? Shouldn't the

shame, guilt, and financial hardship we've placed

on our families be enough? Or living miles away

from everything we love? How about living in

fear and constantly looking over our shoulders?

For so many, none of those things prevent them

from going back to their old ways and ultimately

returning to prison. But Jesus can change things.

Galatians 3:22 says, "we are all prisoners of sin,

so we receive God's promise of freedom only by

believing in Jesus Christ" (NLT).

I got right with God during my first two weeks

in jail by accepting Jesus into my life. In that moment,

I knew that I was corrected. Sure, I still had

to serve the rest of my time and work through some wrong thinking, but

from that day until now, Jesus has been doing time with me. He's helped

me overcome every obstacle I've met. He's given me His strength, wisdom,

peace, and power to face each day.

Is Jesus doing time with you, or are you still trying to do everything your

way? Whatever trial you're facing, are you doing it with Him or on your own?

I've tried doing life my way. It didn't work. But when I began doing things

God's way, everything changed. He is the reason I am an ex-con, an ex-drug

dealer, an ex-drug addict, and an ex-alcoholic.

I saw a poster once that said, "Never be a prisoner of your past. It was

just a lesson, not a life sentence." With Jesus, you can be free from your

past, once and for all. His truth and Spirit can set you free (John 8:32; 2

Corinthians 3:17).

Stop trying to do things your way. Let Jesus change your heart and mind

so He can change your ways and future. You don't have to go back to your

dead-end ways; you don't have to be a statistic.

Life is about decisions, and the most important decision you can ever

make is to ask Jesus to be your Lord and Savior. Go ahead, make it today.

When you do, Jesus will come into your life and serve your time with you.

PHOTO BY GUNNAR RATHBUN

DANNY R. COX was called by God to be an evangelist while serving time in prison.

He is now a credentialed evangelist and correctional chaplain and serves on the board

of KOJ Ministries. Danny shares his story in churches and prisons worldwide. His book,

High on a Lie, may be purchased on Amazon in English and Spanish. He is the founder of

Prison2Preacher Ministries.

32 Issue 01 / 2023 VICTORIOUSLIVINGMAGAZINE.COM
---
WANT TO KNOW JESUS?

"Come to me, all you who are

weary and burdened, and I will

give you rest." —Matthew 11:28 NIV

Jared Emerson, Artist, jaredemerson.com

Do you need rest? Peace? Freedom? Forgiveness? Restoration?

Call out to Jesus, accept Him as your Savior, and be made whole.

Pray: "Jesus, I invite You into my life. I confess that I am a sinner in

need of a Savior. Thank You for saving me from my sins and making

me whole. Thank You for laying down Your life for me so that I can

have a new life in You. I receive, by faith, this forgiveness of sin. Take

my life—my past and my future. Guide my steps and speak to my

heart, Lord. Use me, God. Amen."

Let us know of your decision so we can help you grow in your faith.

Write to: VL Correspondence, PO Box 2751, Greenville, NC 27836.

PERHAPS AFTER READING the stories in this magazine, you've surrendered your life to

Jesus. Congratulations—it's the most important decision you will ever make! But you might

be wondering, now what? Here are five ways to ensure spiritual growth. Remember, the

Christian life is a journey that brings lifelong transformation.

1. PRAY. Talk to God about everything and listen for His response. You don't need

fancy words, just a sincere heart.

2. STUDY THE BIBLE. God's Word contains all the instructions we need for life. Get

into a Bible study and discover new revelations daily. Free resources are on page 34.

3. GET BAPTIZED. Although baptism is not a requirement of salvation, the Bible

clearly tells us that we are to be water baptized after salvation. Baptism symbolizes

our dying to sin and being raised to a new life in Christ Jesus (Romans 6:4). Prison

restrictions may make immersion by water difficult, so get creative and let the Holy

Spirit reveal how you can take this step of obedience until immersion is possible.

4. FIND CHRISTIAN COMMUNITY. Join a local congregation of Christ-followers. If

incarceration makes attending church difficult, fellowship with other believers the

best you can. They will help you stand strong and keep you accountable.

5. TELL SOMEONE. Share your decision to follow Christ and tell them what He has

done for you. And then, tell us! We'd love to hear from you.

WHAT NOW?

I've Accepted God's Salvation.

Now What?

VICTORIOUSLIVINGMAGAZINE.COM

Issue 01 / 2023

33
---
MINISTRY NEWS/RESOURCES

Victorious Living Prison

Outreach Update

through your prison tablet at hope@vlmag.org. PLEASE

NOTE: We cannot receive COD emails or phone calls nor

accept stories for publication or legal documents.

Because of the Lord, generous financial partners,

and new digital opportunities, Victorious Living's

ministries continue to expand across America.

• Did you know that VLMag is available on both sides of prison

walls? It is a gift to our ministry partners and can be delivered to

anyone in free society. Call 352-478-2098 or visit vlmag.org and

click the "give now" tab. A gift of any amount is appreciated.

• We offer inmates discipleship materials on tablet systems.

Search "Victorious Living" on the prison tablet to discover VL

broadcasts and podcasts.

• Family members of our incarcerated family and our ministry

partners can also enjoy our resources through pandoapp.tv

and VL's online platforms like vlmag.org, Facebook,

Instagram, and YouTube. Our care team is available to pray

with family members of our inmate family by telephone.

• We encourage believers everywhere to use our materials in their

ministry. VLMag makes an incredible witnessing tool and can

be ordered in bulk copies in free society.

• We offer fellowship to inmates through personal correspon dence.

Write to us at PO Box 2751, Greenville, NC 27836, or email us

• High transitional rates of inmates and new DOC restrictions

prevent us from mailing individual subscriptions of VLMag to

inmates. However, bulk copies are provided free of charge,

with or without staples, at the request of chaplains and

program directors. Contact us at 352-478-2098 for these free

resources. Ask about our 2023–2024 VL Prison Tour too.

RESOURCES

Below are opportunities for free Christian-based

resources for both English- and Spanish-speaking

inmates and chaplains. When you contact the

addresses below, tell our partners VL referred you.

VICTORIOUS LIVING

Personal correspondence available in English and Spanish.

Bulk copies of VLMag are available for jail and prison libraries

at chaplain's request.

PO Box 2751

Email: hope@vlmag.org

Greenville, NC 27836

2ND OPPORTUNITY

Reentry and employmentreadiness

programming;

job and housing referrals

for inmates in

jails and prisons

upon request.

PO Box 3411

Peachtree City, GA 30269

CLI PRISON ALLIANCE

Personal discipleship

studies by mail for inmates

in jails and prisons;

free Christian books and

Bibles for libraries at

request of chaplain or

authorized personnel.

PO Box 97095

Raleigh, NC 27624

RESCUED NOT ARRESTED

Free NIV Bibles, Bible study

correspondence course, and

NIV Life Application Study Bible

upon completion of study for

inmates in jails and prisons.

Call: 602-647-8325

PO Box 90606

Phoenix, AZ 85066

GLOBAL LEADERSHIP

SUMMIT

Bring world-class

leadership training

and tools to your facility

through the GL Summit

and GL Network. Write to

GlobalLeadership.org.

PO Box 3188

Barrington, IL 60011

34

WWW.VICTORIOUSLIVINGMAGAZINE.COM

VICTORIOUSLIVINGMAGAZINE.COM