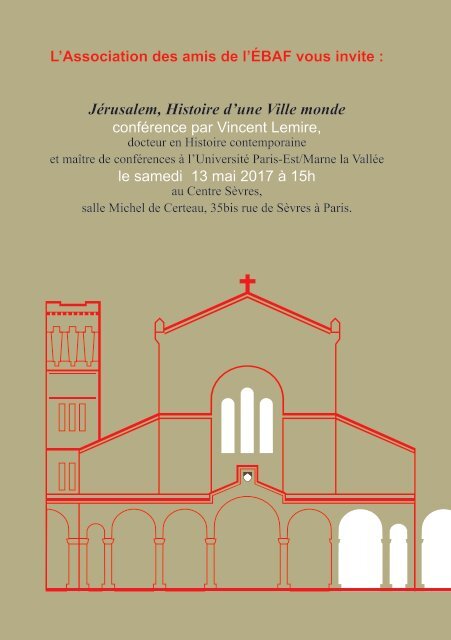 NOUVELLES DE JÉRUSALEM - Pâques 2017
Les Nouvelles de Jérusalem sont une revue d'informations de l'École biblique et archéologique française de Jérusalem, 2 à 3 fois par an, elles donnent un aperçu des travaux en cours en exégèse comme en archéologie, ici à Jérusalem. En voici le premier numéro couleurs en ligne. Les articles alternent français et anglais.

The Nouvelles de Jérusalem is an information review of the École Biblique et Archéologique française de Jérusalem, 2-3 times a year, they give an overview of the work in progress in both exegesis and archeology, here in Jerusalem. Here is the first color edition online. Articles are sometimes in French sometimes in English.
L'Association des amis de l'ÉBAF vous invite :

Jérusalem, Histoire d'une Ville monde

conférence par Vincent Lemire,

docteur en Histoire contemporaine

et maître de conférences à l'Université Paris-Est/Marne la Vallée

le samedi 13 mai 2017 à 15h

au Centre Sèvres,

salle Michel de Certeau, 35bis rue de Sèvres à Paris.
More magazines by this user