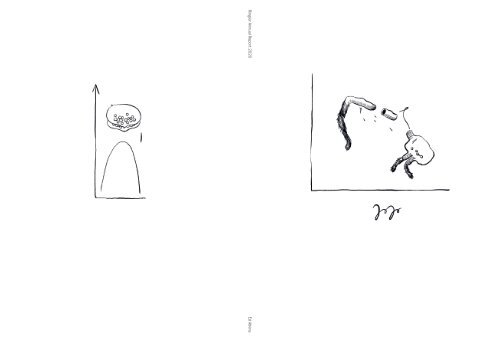 Ringier Rapport Annuel 2020 EN_FR
Create successful ePaper yourself
Turn your PDF publications into a flip-book with our unique Google optimized e-Paper software.
Ringier Annual Report 2020 Ed Atkins
---
Contents

Introduction – Ed Atkins, Artist 04

Prologue – Michael Ringier, Publisher 06

Our Year 2020 – Marc Walder, CEO and Managing Director 08

2020 in figures – Dr. Annabella Bassler, CFO 18

Epilogue – Frank A. Meyer, Publicist 26

Ringier Global Media 30

Ringier Global Marketplaces 36

Major group companies 40

Organization 42

Locations across the globe 43

Publishing details 44

3
---
Introduction

by Ed Atkins, Artist

Introduction

par Ed Atkins, artiste

2020's doomed to be remembered as the exceptional,

multifaceted horror show that it was.

In simply pondering its possible representation an

artist might reasonably expect to be entirely overwhelmed

and dissuaded, however slight her

method. Indeed, it would seem wise to avoid any

direct approach and instead presume your cooption:

any work made in the shadow of 2020 will be

indelibly marked by it and read accordingly, irrespective

of the artist's attempt to wrestle with or

eschew it.

Still, to be alive today is to consume and be consumed

by the deluge of media that claims to render

the pandemic, the protests, the wars, the paranoias

– the innominate loss – as somehow digestible

content. Infographics relate death in a manner

akin to a drawing of a black hole, and animated

text-crawls subtitle war zones with FTSE crashes

and resurgent R numbers. It's too much, even when

regurgitated as soundbites and bright colours.

What a wonderful-terrible opportunity, then, to be

invited to design the 2020 Ringier annual report: a

document of such wild specificity and total irrelevance

to me that is, nevertheless, an extraordinary

means of accurately relating an aspect of 2020. It's

precisely the combination of broad irrelevancy and

statistical scrupulousness that lends the document

such a peculiar pleasure to the outsider – specifically

in relation to a year like no other; specifically

in relation to everything else that so defined 2020

for the world at large.

Not that Ringier is in any way siloed from the effects

of the pandemic, say, but that its annual report's

purpose supersedes the kind of crippling sentiment

that floods most unrequited representations of the

year. It's amazing to encounter such an original

take on a year suffocated by hot takes. If 2020 was

a singularly globally homogeneous year – a year

where a vast majority of the world's population found

themselves in a superficially similar situation – then

one company's annual report reminds us that our

normalcy, our precious discreteness from before,

might better be understood as a kind of angled

sameness, and that the similarities of our suffering

were as superficial as our privilege. As in: not at all.

I decided to write the annual report out by hand.

Likewise, I wanted to hand draw the graphs and

infographics that illustrate the company's progress

through the year. I suppose, in some way, I wanted

to translate the hyper-specificity of the document

into another kind of crazed particularity in order to

excessively underline it: I thought to push a fantasy

that this annual report was written by one person,

by hand – a kind of compulsive, occult pouring

forth – and that this document would be a facs imile

of that frenzied outpouring.

The very consistency of an annual report feels crazy

to me right now, symbolizing, as it does, a normalcy

that it's hard to feel. And yet, like any kind of journal,

this report provides us with a clear-eyed document

of the year 2020. The year everything and nothing

changed, and all we seemed to want – desperately

and desperately sadly – was a return to the norm.

L'an 2020 est condamné à rester dans les mémoires

comme ce spectacle d'horreur qu'il fut.

En tant qu'artiste, rien qu'à réfléchir à sa possible

représentation on pourrait raisonnablement s'attendre

à être totalement accablé et rebuté, quelle

que soit la simplicité de l'approche. En fait, il paraît

judicieux d'éviter toute approche directe et, en lieu

et place, de présupposer que vous êtes du même

avis : chaque œuvre née dans l'ombre de 2020

sera inéluctablement marquée par cette année et

lue en conséquence, peu importe que l'artiste tente

de l'affronter ou de l'esquiver.

Reste que vivre aujourd'hui, c'est avaler et se faire

avaler par un déluge de médias qui prétend faire

de la pandémie, des protestations, des guerres,

des diverses formes de paranoïa – de l'innommée

perte – un contenu en quelque sorte digeste. Des

infographies racontent la mort sur un ton qui

évoque le dessin d'un trou noir et des textes défilants

sous-titrent les zones de guerre avec leurs

effondrements de cours de bourse et leurs indicateurs

R repartant à la hausse. C'est trop, même

quand c'est régurgité sous forme de courts extraits

et de couleurs vives.

Quelle occasion magnifique-terrible, par conséquent,

que cette invitation à concevoir le rapport

annuel Ringier 2020 ! Un document à la fois d'une

si furieuse spécificité et totalement dénué de sens

à mes yeux, mais qui est néanmoins un moyen hors

du commun de raconter dans le détail un aspect

de 2020. C'est précisément cette combinaison de

vaste inutilité et d'ultra-précision statistique qui fait

de ce document un plaisir si étrange pour le profane

– justement en référence à une année à nulle

autre pareille ; justement en référence à tout le

reste de ce qui a défini 2020 pour le monde

en général.

Non pas que Ringier soit, disons, de quelque manière

isolé des effets de la pandémie, mais le but

de son rapport annuel annule et remplace cette

sorte de sentiments paralysants qui submergent la

plupart des représentations indésirées de cette

année. Il est inouï d'être confronté à un point de

vue aussi original d'une année qui a étouffé sous

les points de vue extrêmes.

Si 2020 a globalement été une année singulièrement

homogène – une année où la grande majorité

de la population mondiale s'est trouvée dans une

situation superficiellement analogue –, alors le rapport

annuel d'une entreprise nous rappelle que

notre normalité, notre précieuse individualité

d'avant pourrait être mieux comprise comme une

sorte de ressemblance biaisée et que les similitudes

de notre souffrance ont été tout aussi

superficielles que notre privilège. Autrement dit :

pas du tout.

J'ai décidé d'écrire ce rapport annuel à la main. J'ai

voulu également dessiner à la main les diagrammes

et les infographies qui illustrent la progression de

l'entreprise au fil de l'an. Je suppose que, d'une

certaine manière, j'ai voulu traduire l'hyper-spécificité

de ce document dans un autre genre de singularité

insensée pour la souligner à l'extrême : j'ai

pensé créer le mythe que ce rapport annuel avait

été écrit par une seule personne, à la main – dans

une sorte de jaillissement compulsif, occulte – et

que ce document serait le facsimilé de ce jaillissement

frénétique.

La parfaite cohérence d'un rapport annuel m'apparaît

folle en ce moment, puisqu'il symbolise une

normalité qu'il est difficile de ressentir. Pourtant,

comme tout livre de comptes, ce rapport nous

livre un témoignage lucide de l'année 2020. De

cette année où tout a changé et rien n'a changé

et où tout ce que nous semblions vouloir –

éperdument et éperdument tristement – était le

retour à la norme.

4

5
---
Prologue

Michael Ringier, Publisher

Prologue

Michael Ringier, éditeur

For almost 45 years, the Association for the German

Language has been choosing the «Word of the

Year». Its selection of last December basically sums

up the year 2020. The winner was «coronavirus

pandemic» and the runner-up was «lockdown». A

year we'd all like to forget about, just as the German

radio comedian Mike Lehmann used to sing in the

1990s: «Kannste abhaken» («Good Riddance»).

As far as the financial results are concerned, I'm

happy to do that. 2020 was probably the most

difficult year for Ringier that I can remember. You'll

find the details on the following pages of this report.

But it's not just the financial side that has come

under pressure. One item of crucial importance to

journalism has suffered a lot of abuse in this

pandemic year: I'm talking about the truth. The

flood of lies, nonsense, hogwash and deception

that was spread around, especially via social

media, certainly reached pandemic proportions.

Unlike Covid-19, however, this is an illness for which

the remedy has long been available: journalism

that is based on research, built on facts and tries

to get close to the truth.

But as with Covid-19, there are a considerable number

of people who don't want to be immunized.

All the more reason why it remains one of our company's

central duties to uphold journalistic standards

– and to implement them even where the governments

themselves would rather believe in their

own conspiracy theories.

But even after this horrific year, I would like to take

a cue from a lyric by the Swiss band Baby Jail. Their

refrain was «Du muesch s'Positive gseh» («You gotta

look at the good side»). And there is something that

made the shareholders and the Board of Directors

of this company particularly happy. Our staff were

at the top of their game in these difficult times.

Thanks to their enormous efforts and their great

loyalty, the economic fallout has stayed within

limits. And so, a huge «thank you» goes out to all

of them. This also applies to the artist Ed Atkins,

who decided to write the texts of this annual

report by hand. What a wonderful idea and how

very fitting for a year that has reduced so many

things to absurdity.

Voilà tantôt quarante-cinq ans que la Gesellschaft

für deutsche Sprache couronne « Le mot de l'année ».

Son choix en décembre dernier dit tout de l'année

2020. Elle place au premier rang « Coronapandemie »

et au deuxième « Lockdown ». Une année à oublier,

donc, comme le chantait Mike Lehmann, un personnage

de comédie radiophonique allemande,

dans les années 1990 déjà : « Tu peux tirer un trait

dessus. »

Côté chiffres, je le fais volontiers. Pour Ringier,

l'exercice 2020 aura clairement été le plus pénible

dont je me souvienne. Les détails figurent dans les

pages suivantes de ce rapport. Mais les chiffres ne

sont pas seuls à s'être retrouvés sous pression. En

cette année de pandémie, un critère qui joue un

rôle crucial dans la profession de journaliste a été,

pour une part, l'objet des pires abus : je parle de la

vérité. Ce qui a été propagé, notamment sur les

réseaux sociaux, comme mensonges, insanités,

foutaises et désinformation fut clairement un phénomène

pandémique. Reste qu'à la différence du

Covid-19, l'antidote a été inventé depuis longtemps.

C'est le journalisme qui enquête, se fonde

sur les faits et tente d'approcher la vérité.

Mais comme pour le Covid-19, on trouve là également

un nombre considérable de gens qui ne

veulent pas se faire immuniser. Une des tâches

essentielles de notre entreprise reste d'autant plus

de conserver des standards journalistiques élevés.

Et de les appliquer aussi lorsque des gouvernements

préfèrent croire à leurs propres théories

du complot.

Cela dit, même après cet « annus horribilis », je

souhaite m'inspirer d'un texte du groupe pop-rock

suisse alémanique Baby Jail. Le refrain s'énonce

« Du muesch s'Positive gseh » (en français : tu dois

voir le bon côté des choses). Car il s'est produit

quelque chose qui a particulièrement réjoui les actionnaires

et le conseil d'administration. En ces

temps difficiles, nos collaboratrices et collaborateurs

ont affiché la grande forme. Grâce à leur

énorme engagement et à leur grande loyauté, les

dégâts économiques ont pu être limités. Ce qui

mérite un gigantesque « merci » à tout le monde.

Un remerciement qui s'adresse aussi à l'artiste Ed

Atkins qui a décidé d'écrire les textes de ce rapport

annuel à la main. Quelle magnifique idée, qui

convient très bien à une année où tant de choses

ont eu un caractère absurde.

6

7
---
Our Year 2020

Marc Walder, CEO

L'année 2020

Marc Walder, CEO

I remember it as if it were yesterday.

It was a year ago exactly, as I am writing these lines,

that I had a long telephone call with Antonio Hodgers,

the President of the Geneva Government Council.

Tuesday afternoon, 25 February 2020.

The coronavirus still seemed a long way away. In

fact, it was far closer: it had already arrived in Northern

Italy. Three days earlier, it later emerged, the

country had had its first Covid-19 fatality –

a 78-year-old man with a pre-existing medical

condition.

President Hodgers had one overriding concern:

what should we do about the coming 2020 Geneva

International Motor Show, a genuine mega-event

that draws hundreds of thousands of visitors to the

city's Palexpo centre from all over the globe?

From today's perspective, the discussion was a formality.

Cancel, of course. Right away. No question.

Back then, though, at the outset of the European

spread of this mysterious virus, it was a highly complex

debate. For Hodgers, a seasoned and sensitive

politician, there was clearly so much at stake – in

economic, medical and societal terms, and politically,

too. Cancel the Motor Show? Now? Who would

do that? Who would dare to?

Three days later, on the Friday, Geneva's great motoring

meet was cancelled. Along with every other

event in Switzerland attracting more than a thousand

attendees. By order of the Swiss Federal

Council.

That Tuesday, after my intense phone call with

Hodgers, I convened our Ringier Group Executive

Board – earlier than many other companies – to

create a coronavirus task force. Its mandate: to

define how Ringier should respond to the emerging

developments, in organizational, medical, financial

and technological terms.

Not knowing, and only vaguely intuiting at best,

what we all might be in for in the coming weeks and

months.

Ten days later, over 95 per cent of the 7 150 employees

of the Ringier Group were working from

home in all their various countries.

I would never have thought it possible that we would

have to take as radical an action as this. And even

less could I have imagined that all the 110-odd

companies under the Ringier holding banner would

genuinely function from home.

Media companies like the Blick Group, Bilanz, Handelszeitung,

Beobachter and Schweizer Illustrierte,

to name just a few of our Swiss media brands. Radio

Energy, the Scout24 Group, jobs.ch, Ticketcorner,

DeinDeal, geschenkidee – these, too, just a

Swiss-based selection of our many operations and

platforms – all working from their employees'

homes. It worked. It genuinely worked.

Even those areas of our business that could not

switch to working from home during these coronavirus

times – operations such as Swissprinters or

Blick TV – were able to maintain their production

under far-from-easy conditions and with full and

consistent observance of all hygiene requirements.

Almost all our employees at home. But all our services

for our customers and our users still up and

running.

Economically, the coronavirus crisis has been and

remains a fiasco for many companies in many industries

and in almost every country. As it has for

the Ringier Group.

A truly strong start into the first quarter of 2020 was

followed, once the pandemic broke out, by dramatic

revenue slumps at almost every group company

which continued well into at least the third-quarter

period. In the Media segment in particular, we recorded

massive advertising declines while simulta-

Je m'en souviens comme si c'était hier.

Il y a exactement un an aujourd'hui, au moment

d'écrire ces lignes, j'ai eu une longue conversation

téléphonique avec Antonio Hodgers, le président du

Conseil d'Etat genevois. C'était un mardi après-midi,

le 25 février 2020.

Le Covid-19 semblait encore lointain – or il était déjà

si proche, dans le nord de l'Italie. Ensuite on a appris

que, trois jours auparavant, le premier Italien avait

succombé, un homme de 78 ans souffrant de problèmes

de santé antérieurs.

Avec le président du Conseil d'Etat genevois Hodgers,

nous parlions d'un sujet crucial :

Que faire du Salon international de l'automobile qui

allait ouvrir ses portes à Genève ? Un maxi-événement

qui voit affluer des centaines de milliers de

visiteurs de tous les pays du monde.

Vu d'aujourd'hui, cet entretien téléphonique est

complètement obsolète. Clairement, il fallait annuler.

Tout de suite. Autres questions ?

Mais à l'époque, au tout début de la propagation de

l'inquiétant virus en Europe, c'était un débat hautement

complexe. Politicien pur-sang sensitif, Hodgers

s'est montré clair : l'enjeu était énorme. Economique,

médical, sociétal mais aussi politique. Mais

quand même : annuler le Salon ? maintenant ? qui

osera ? qui franchira le pas ?

Trois jours plus tard, le vendredi, le grand show de

l'automobile de Genève a été annulé. Et avec lui

toutes les manifestations de plus de 1000 personnes

en Suisse. Sur décision du Conseil fédéral.

Ce mardi-là, après mon entretien téléphonique passionnant,

j'ai réuni la direction générale de Ringier

pour créer une task-force – anticipant sur tant

d'autres entreprises. Le mandat : définir comment

notre entreprise devra se comporter. Sur les plans

organisationnel, médical, financier et technologique.

Ignorant, pressentant au mieux, peut-être vaguement,

tout ce qui risquait de se produire les semaines

et les mois à venir.

Dix jours plus tard, 95 % des 7150 collaboratrices

et collaborateurs du Groupe Ringier étaient en télétravail

dans tous les pays.

Jamais, vraiment jamais je n'aurais cru possible que

nous soyons contraints de prendre des mesures

aussi radicales. J'aurais encore moins pu imaginer

que les quelque 110 entreprises qui travaillent sous

l'égide du holding Ringier puissent bel et bien fonctionner

depuis la maison.

Des entreprises médias comme le Groupe Blick, Bilanz,

la Handelszeitung, le Beobachter, la Schweizer

Illustrierte, pour ne nommer que quelques-unes de

nos marques suisses.

Radio Energy, le Groupe Scout, Jobs.ch, Ticketcorner,

deindeal, geschenkidee – là aussi un simple

choix de marques suisses – tous à la maison. Et ça

a fonctionné. Effectivement.

Et même les secteurs qui ne pouvaient pas passer

en télétravail en ces temps de contamination, à l'instar

de Swissprinters et Blick TV, ont maintenu leur

production. Dans des conditions compliquées mais

toujours en observant les prescriptions sanitaires.

Presque tout le monde à la maison ! Mais tous

les services à nos clients et utilisateurs « up and

running ».

Pour beaucoup d'entreprises dans beaucoup de

secteurs et pratiquement tous les pays, le Covid-19

est et aura été une calamité économique. Pour le

Groupe Ringier aussi.

Après un démarrage en force au premier trimestre

2020, l'éclatement de la pandémie a engendré dans

presque toutes les entreprises des chutes de chiffres

d'affaires dramatiques au moins jusqu'au troisième

trimestre 2020. Dans la branche des médias, en

8

9
---
neously seeing record user numbers – a total paradox,

more on which will be found in our «2020 in

figures» section.

But while the coronavirus was the dominant topic

of 2020 and a constant companion for all our employees,

much more than this happened at the

Ringier Group in the course of last year. Positive,

encouraging and inspiring achievements by our

managements and our frontline teams. Despite the

historic adversities.

Turning first to the Media segment:

In Switzerland, the country welcomed its first digital

broadcaster when Blick TV went live on 17 February

after months of preparations. Blick TV got many

things right from the start: its production quality, its

journalistic standards, its winning presenters. But

it also needs to constantly further develop, in line

with its users' customs and needs.

Blick.ch substantially expanded its reach over the

course of 2020 to around 1.2 million users a day

– some 42 per cent more than the previous year

and a record result. The Blick Group also announced

in October that it would be extending its online offerings

to Western Switzerland and launching a

French-language equivalent to blick.ch in 2021.

At our Ringier Axel Springer Switzerland (RASCH)

joint venture, Alexander Theobald took over as CEO

in April from Ralph Büchi. There was positive news

at RASCH on both the print and the digital fronts.

In the digital field, handelszeitung.ch raised its numbers

of unique users per month by over 100 per

cent year on year, L'Illustré by over 200 per cent and

cash.ch by more than 240 per cent. And in the print

field, autumn brought the launch of the new Streaming

TV magazine offering a useful overview of the

competitive streaming market.

At the same time, the structural declines in advertising

revenues prompted the closure of the Style

fashion and lifestyle magazine, along with a restructuring

at our Schweizer Illustrierte publication.

After 18 months of negotiations, we were able to

announce the sale in November of Le Temps, the

only daily newspaper in the RASCH portfolio, to the

Aventinus Foundation – a good new owner and a

unique Swiss model to date.

In advertising marketing terms, 2020 was a year of

reorganization. In February Ringier acquired Swisscom's

previous 50-per-cent holding in Admeira to

make it sole owner of the ad marketing company.

Admeira, which is led by Frank Zelger, was also restructured

and now focuses on marketing TV commercial

spots, with SRG SSR Swiss TV as its most

important and long-term inventory provider. Since

October 2020, all the advertising inventory for

Ringier's media titles and the print and digital inventories

of external clients have been marketed

by the newly-created Ringier Advertising unit, which

is headed by Thomas Passen.

2020 was a challenging year for the Energy Group

in financial terms. This was due partly to the slump

in the advertising market and partly to the cancellation

of the mega-events that are so important

to the group, such as the Energy Star Night and

Energy Air.

Energy can look back on some positives for 2020.

The group's radio broadcasters were reaching over

730 000 listeners a day in the latter half of the year.

And for the third year running, Energy was the most

successful Swiss media brand on social media, taking

first place in the Storyclash interaction rankings.

Energy also broke the million-fans-and-followers

social media threshold in the course of the year.

The izzy brand, which is aligned specifically to a

young audience, also underwent a reorganization

in 2020. The restructuring delivered a new

@izzyprojects brand identity and a new izzy app,

both with the aim of achieving high user numbers

not only via social media but also through a dedicated

izzy destination.

Successes were scored in Eastern Europe, too.

The Onet news portal, which belongs to our Ringier

Axel Springer Media AG (RASMAG) company, is the

most-cited opinion former in Poland, and remains

– according to the Reuters Institute – the country's

most trusted online media channel. In Slovakia,

particulier, nous avons encaissé des reculs massifs

sur le marché publicitaire tout en enregistrant des

chiffres records parmi les utilisateurs. Un paradoxe

absolu ! Vous en saurez davantage au chapitre

« L'année en chiffres ».

Mais même si le virus a été le sujet dominant en

2020 et n'a cessé de préoccuper nos collaborateurs,

il s'est passé encore bien d'autres choses l'an

dernier au sein du Groupe Ringier. Beaucoup de

choses positives, encourageantes, inspirantes que

notre management et nos collaborateurs ont mises

sur pied. Envers et contre toute cette adversité historique.

D'abord le secteur Médias.

En Suisse, après plusieurs mois de mise en place,

Blick TV est devenu le 17 février 2020 le premier

émetteur TV numérique du pays. Dès le début, Blick

TV a largement fait tout juste : qualité des productions,

animatrices et animateurs convaincants, niveau

journalistique. Pourtant Blick TV doit continuer

d'évoluer sans relâche pour répondre aux besoins

et aux habitudes de nos utilisatrices et utilisateurs.

Au cours de l'année, Blick.ch a considérablement

accru sa pénétration : à 1,2 millions d'utilisatrices

et utilisateurs par jour désormais, soit 42 % de plus

que l'année précédente. Un résultat record ! En

outre, le Groupe Blick a communiqué en octobre

qu'il allait étendre son offre en ligne à la Suisse romande

et lancer en 2021 le pendant francophone

de Blick.ch.

Dans notre joint-venture Ringier Axel Springer Suisse

(RASCH), Alexander Theobald a repris en avril le

poste de CEO de Ralph Büchi. Les nouvelles sont

bonnes tant dans le numérique que dans le print :

dans le numérique, handelszeitung.ch, notamment,

a augmenté de plus de 100 % le nombre de ses visiteurs

uniques mensuels par rapport à l'année

d'avant, L'Illustré de plus de 200 % et cash.ch même

de plus de 240 %.

Dans le print, RASCH a lancé à l'automne le nouveau

magazine TV Streaming qui propose un aperçu du

marché très compétitif du streaming. En même

temps, au vu des recettes publicitaires structurellement

à la baisse, nous nous sommes vus contraints

de stopper Style, notre magazine de mode et de lifestyle,

et de procéder à une restructuration à la

Schweizer Illustrierte.

Après dix-huit mois de négociations, nous avons annoncé

en novembre la vente du Temps, seul quotidien

du portefeuille RASCH, à la Fondation Aventinus,

un excellent nouveau propriétaire qui constitue

à ce jour un modèle unique en Suisse.

Dans la vente de publicité, l'année 2020 a été placée

sous le signe de la réorganisation : en février,

Ringier a racheté la part d'actions de 50 % détenue

par Swisscom dans Admeira, devenant ainsi l'unique

propriétaire de l'agence publicitaire. En même

temps, sous l'égide de Frank Zelger, Admeira a été

restructurée et se concentre désormais sur la vente

de publicité TV, en particulier à la SSR, fournisseur

d'inventaire principal et sur le long terme. Depuis

octobre 2020, les titres médias Ringier, de même

que l'inventaire print et numérique de clients extérieurs

sont commercialisés à l'enseigne de la nouvelle

unité Ringier Advertising, sous la direction de

Thomas Passen.

Pour le Groupe Energy, 2020 aura été une année

compliquée du point de vue financier. D'abord en

raison de l'effondrement du marché publicitaire

mais aussi à cause de l'annulation de maxi-événements

décisifs pour Energy, comme l'Energy Star

Night et Energy Air.

Pourtant, même Energy peut jeter un regard rétrospectif

positif sur l'an 2020 : les stations de radio du

Groupe Energy ont ainsi atteint dans la seconde

partie de 2020 plus de 730 000 auditeurs quotidiens.

En plus, Energy reste en 2020, pour la troisième

année de suite, la marque média la plus suivie

sur les réseaux sociaux et occupe le premier rang

du classement d'interactions Storyclash : en 2020,

Energy a franchi le mur du son d'un million de followers

sur les médias sociaux.

Pour la marque branchée jeune public izzy, nous

avons mené à bien une réorganisation en 2020 :

une nouvelle identité de marque, @izzyprojects, a

été conçue et une app izzy lancée dans l'idée d'atteindre

des chiffres élevés d'utilisateurs non seule-

10

11
---
meanwhile, Aktuality.sk is the country's mostvisited

and most-quoted opinion-forming medium.

In Romania, where we conduct our own business

outside the RASMAG joint venture, further year-onyear

growth was achieved with our flagship Libertatea

and Gazeta Sporturilor media. The investigative

team at our Gazeta and Libertatea news brands

also gained international fame: «Collective», a documentary

film of their work, has been nominated

for the 2021 Academy Awards (Oscars) in two

categories.

In Africa all the brands of Ringier Africa Digital

Publishing (RADP) have been operating under the

umbrella Pulse brand since February 2020. Pulse

is now attracting over 100 million users a month

in Sub-Saharan Africa. And with the launch of

Pulse.sn in Senegal, the brand has extended its

reach in francophone Africa, too.

In Asia we were compelled to announce in August

that Ringier Vietnam would be closing its ELLE

Vietnam title. In Myanmar our Duwun company

acquired the Irie Digital social-first agency.

2020 also brought the creation in November of a

Global Media Unit for our entire Media segment.

This new international core team headed by Ladina

Heimgartner has been tasked with coordinating the

exchange of knowledge and expertise among the

media companies of the Ringier Group, offering

strategic guidance and facilitating access to central

technologies.

For our Marketplaces, too, the coronavirus crisis

made 2020 a challenging year. Yet through targeted

expansions to our digital products, features

and services, a number of our platforms were

still able to grow against the trend in the secondhalf

period.

Ticketcorner avait de nouveau démarré l'année en

fanfare. Mais le Covid-19 et les restrictions massives

qu'il a entraînées ont durement touché l'ensemble

du monde de la scène : le chiffre d'affaires et le volume

des ventes ont dégringolé de quelque 75 %.

Dans la première moitié de l'année, Ticketcorner a

surtout été submergé par les reports, annulations

et remboursements : 3000 manifestations ont dû

être repoussées ou annulées, plus de 600 000 bilment

services through the creation of its new «Spotted»

business unit.

The Scout24 Group reported double-digit growth

rates in traffic and leads for both its ImmoScout24

and its AutoScout24 platforms. FinanceScout24

also attracted more than three million visits in its

first year, and is increasingly positioning itself as

Switzerland's one-stop shop for financing and insurance

solutions.

Our two Swiss e-commerce companies deindeal.ch

and geschenkidee.ch adapted swiftly to the coronavirus

year's new customer needs and benefited

substantially from the general growth in online

shopping activities.

Deindeal.ch was one of the first Swiss companies

to import millions of protective facemasks. The

company also registered sizeable growth in both its

new customer volumes (which were up 55 per cent)

and its reactivations of existing customers (which

rose by 48 per cent). Geschenkidee.ch further cemented

its position as Switzerland's number-one

online gift shop, and recorded both substantial

revenue growth and a disproportionately high

improvement in its EBITDA for the year.

Ticketcorner achieved another strong start to the

year. But Covid-19 and the resulting extensive social

restrictions hit the whole event scene hard and

impacted severely on 2020's subsequent business

development, with slumps of some 75 per cent in

both revenues and sales volumes. For the first half

of the year, Ticketcorner was primarily occupied with

postponements, cancellations and refunds: 3 000

events had to be either cancelled or rescheduled,

and over 600 000 tickets refunded. In the second

half of the year the company was able to launch

some new products and innovations, such as event

security software services and solutions. And in

acquiring the Mindful app, Ticketcorner has secured

itself a strong position in the tracing field. Online

ski ticketing also generated some welcome revenue

flows towards the end of the year.

In Eastern Europe the Marketplaces portfolio underwent

further expansion. In spring our Ringier

Axel Springer Media AG (RASMAG) joint venture

JobCloud, which is Switzerland's leading digital jobseeking

and recruiting channel, launched two new

business-to-business platforms – jobcloud.joveo.

com and jobcloud.ai – which are closely tailored to

the specific needs of large corporations, personnel

service providers and SMEs. JobCloud has also

started offering AI technology-based digital recruitment

par le biais des médias sociaux mais aussi via

notre propre destination izzy.

Des succès en Europe de l'Est aussi : le site d'information

Onet, qui appartient à notre entreprise Ringier

Axel Springer Media AG (RASMAG), est le média

forgeur d'opinion le plus cité en Pologne et, selon le

Reuters Institut, il est aussi le média en ligne le plus

crédible. En Slovaquie, Aktuality.sk est le média

d'opinion le plus visité et le plus cité du pays.

En Roumanie, où nous travaillons de manière autonome

hors de la joint-venture RASMAG, nous avons

poursuivi la croissance par rapport à l'année précédente

avec nos vaisseaux amiraux Libertatea et Gazeta

Sporturilor. L'équipe d'enquête de nos titres

Gazeta et Libertatea a acquis une renommée internationale

: la version cinéma de son travail, le documentaire

Colective, a été nominé pour les Oscars

dans deux catégories.

En Afrique, depuis février 2020, toutes les marques

de Ringier Africa Digital Publishing (RADP) opèrent

sous la marque principale Pulse. Pulse atteint plus

de 100 millions d'utilisatrices et utilisateurs par

mois en Afrique subsaharienne. Avec le lancement

de Pulse.sn au Sénégal, Pulse a étendu sa pénétration

à l'Afrique francophone.

En Asie, Ringier Vietnam a été forcé d'annoncer en

août la fermeture du titre ELLE Vietnam. Au Myanmar,

notre entreprise Duwun a repris l'agence social-first

Irie Digital.

Pour l'ensemble de la branche médias, la Global

Media Unit a été mise sur pied en novembre 2020

sous la houlette de Ladina Heimgartner. Cette unité

internationale coordonne l'échange de know-how et

d'expertise entre les diverses entreprises médias du

Groupe Ringier, facilite l'accès aux technologies centralisées

et propose une supervision stratégique.

Pour les places de marché numériques aussi, 2020

fut un exercice compliqué en raison de la crise sanitaire.

Or, grâce a une extension ciblée des offres de

produits, de fonctions et de services numériques,

certains sites ont pu croître au cours du second

semestre envers et contre la tendance.

JobCloud, leader suisse du marché numérique de

l'emploi, a lancé sous la forme de jobcloud.joveo.

com et de jobcloud.ai deux nouvelles plateformes

business-to-business taillées sur mesure pour les

besoins spécifiques de divers segments de

clientèle : grandes entreprises, PME et cabinets de

recrutement ou de placement. Avec le lancement de

la nouvelle unité opérationnelle Spotted, JobCloud

propose par ailleurs des services assistés par l'intelligence

artificielle dans le domaine du recrutement

numérique.

Au sein du Groupe Scout24, tant ImmoScout24

qu'AutoScout24 ont enregistré des taux de croissance

à deux chiffres dans le trafic et dans les leads.

Dès sa première année d'existence, FinanceScout24

a su générer plus de 3 millions de visites et se positionne

toujours plus en Suisse comme un « onestop-shop

» pour les solutions de financement et

d'assurances.

Nos deux entreprises de commerce en ligne deindeal.ch

et geschenkidee.ch se sont rapidement

mises au diapason des nouveaux besoins de la

clientèle en cette année de crise sanitaire et ont

fortement bénéficié de la croissance générale des

achats en ligne.

Deindeal.ch a été une des premières entreprises

suisses à importer en 2020 des millions de masques

d'hygiène. Par ailleurs, le nombre de nouveaux

clients (+55 %) et la réactivation des clients existants

(+48 %) ont été substantiellement accrus.

Geschenkidee.ch a continué de renforcer sa position

de boutique numéro 1 des cadeaux en Suisse

et a également enregistré une forte croissance de

son chiffre d'affaires et une augmentation encore

meilleure de son EBITDA.

12

13
---
acquired a 100-per cent holding in gratka.pl, one

of Poland's biggest digital marketplaces. RASMAG

also acquired morizon.pl, which is one of the country's

leading real estate portals, and lendi.pl, an

innovative online portal for financing services. The

amalgamation of these three platforms will provide

the foundation for developing a leading group of

digital real estate marketplaces and digital financial

services for the Polish market.

In Hungary the profession.hu platform has been the

top job portal for more than ten years now. Despite

a downturn in the recruitment market as a result of

the coronavirus pandemic, profession.hu consistently

further consolidated its number-one market

position last year.

In Slovakia, too, all our marketplaces were able to

further strengthen their leading market positions.

More than 90 per cent of buyers and sellers now

trade their properties and their cars via our digital

platforms.

For our Slovakian food supplier Bistro.sk the delivery

trend spurred by the coronavirus situation

ensured buoyant business, with some 3.5 million

orders handled for the year. The platform now

enables customers to select their meals of choice

from more than 1 650 restaurants.

In the Baltic States, the CV Keskus job portal is the

clear number-one in Estonia, with three times as

many visitors as its closest competitor. For the

second year running, the company was among

the fastest-growing and the most innovative in its

core market.

In the Romanian market Ringier also operates the

two leading digital marketplaces for real estate and

jobs. For Imobiliare.ro 2020 was an important year

in multiple respects: four years after it secured a

majority shareholding, Ringier acquired the remaining

shares from the company's founders to become

its sole owner.

The Romanian employment market was severely

affected by the coronavirus crisis in 2020. This was

reflected by the decline in listing volumes at eJobs.ro,

the country's leading job portal, in the first-half period.

But by launching a «restart» campaign to reactivate

existing customers and acquire new ones,

eJobs was able to stem the negative trend in the

second half of the year and even generated some

growth in digital job postings.

In Africa, Ringier One Africa Media (ROAM) achieved

a significant year-on-year improvement in its profitability

while simultaneously raising customer satisfaction

in all its business segments (real estate,

jobs, cars and horizontals). On top of this, ROAM

substantially expanded its strategic partnership

with the MasterCard Foundation in the jobs, training

and qualifications fields. This unique collaboration

is intended to help three million young Nigerians

into gainful employment by 2024, and to give

five million of their countryfolk better qualifications

for the employment market via upskilling programmes.

Jobberman.com, Nigeria's leading job

portal, also organized the biggest virtual career fair

in Sub-Saharan Africa to date, which attracted over

7 000 participants.

Parallel to these various operational innovations

and initiatives, ROAM took steps to streamline its

business portfolio. This was achieved through the

successful sales of the Cheki Nigeria and Cheki

Ghana car platforms in the West African market,

and by divestitures at Zoom Tanzania and Brighter-

Monday Tanzania.

In Asia the MyJobs portal, which is the market

leader in Myanmar, expanded its market position

under a new CEO and made further product and

technology investments. As part of a broader

streamlining of the Asian portfolio, the MuaBan-

NhaDat real estate portal in Vietnam was closed

and its operating company wound up.

At Ringier Digital Ventures the coronavirus crisis has

helped boost development, with many involvements

progressing well ahead of plan. The focus on

investing in consumer-oriented business models

(e-commerce, subscription models and marketplaces)

paid off in 2020. Opportunities for market

consolidation also arose. In addition to company

mergers (such as Makerist/FabFab), the year

brought various exits in the form of acquisitions by

strategic buyers. As a result, the Ringier Digital

lets remboursés. Au second semestre, Ticketcorner

a lancé de nouveaux produits et des innovations,

notamment des solutions et services logiciels pour

la sécurité dans les manifestations. Et en reprenant

l'app Mindful, Ticketcorner s'est ménagé une forte

posture dans le traçage. Vers la fin de l'année, en

outre, la billetterie en ligne du ski a généré des

chiffres réjouissants.

En Europe de l'Est, le portefeuille des places de

marché a été ultérieurement renforcé. Au printemps,

notre joint-venture Ringier Axel Springer AG (RAS-

MAG) a repris 100 % des parts de gratka.pl, une des

principales places de marché de Pologne. En plus,

RASMAG a acquis morizon.pl, un des principaux portails

immobiliers de Pologne, et lendi.pl, une plateforme

innovante de traitement numérique de services

de financement. La réunion de ces trois plateformes

jettera les bases d'un groupe leader en

Pologne des places de marché immobilières

numériques et des services financiers numériques.

profession.hu est depuis plus de dix ans le site d'emploi

leader en Hongrie. En dépit du tiédissement du

marché du recrutement en raison de la pandémie,

profession.hu a continué de renforcer sa position de

numéro 1 en 2020.

En Slovaquie aussi, toutes les places de marché ont

su renforcer encore leurs positions de leader du

marché : plus de 90 % des acheteurs et vendeurs

négocient leurs immeubles et leurs voitures par le

biais de nos places de marché numériques. Pour le

livreur de repas Bistro.sk, la tendance induite par la

crise sanitaire a multiplié les commandes : en 2020,

3,5 millions de repas ont été livrés et les clients

pouvaient choisir parmi plus de 1650 restaurants.

Dans les Pays baltes, le site d'emploi CV Keskus est

numéro 1 en Estonie. CV Keskus accueille trois fois

plus de visites que tout autre site d'emploi du pays.

Pour la deuxième fois de suite, l'entreprise a compté

parmi les plus innovantes et en rapide croissance

sur son marché.

Sur le marché roumain, Ringier exploite les deux

principales places de marché en matière d'immobilier

et d'emploi. Pour Imobiliare.ro, 2020 aura été à

divers égards une année importante : quatre ans

après la reprise de la majorité d'Imobiliare, Ringier

a acquis auprès des fondateurs les parts restantes,

devenant ainsi le propriétaire unique. Le marché

roumain a été fortement affecté par la crise sanitaire

et cela s'est traduit pour eJobs.ro, le principal site

d'emploi, par un recul des chiffres des listings au

premier semestre. En lançant une « Restart Campaign

» visant à stimuler la clientèle existante et

l'acquisition de nouveaux clients, eJobs a réussi à

infléchir la courbe négative au deuxième semestre

et à créer de la croissance dans les offres d'emploi

numériques.

En Afrique, Ringier One Africa Media (ROAM) a opéré

une augmentation significative de sa profitabilité par

rapport à l'année précédente et accru simultanément

la satisfaction de la clientèle dans tous les

segments (emploi, immobilier, automobile et horizontal).

Par ailleurs, ROAM a notablement étoffé son

partenariat stratégique avec la MasterCard Foundation

dans les domaines de l'emploi, de la formation

et de la qualification. Cette coopération unique en

son genre a pour but de permettre à 3 millions de

jeunes Nigérianes et Nigérians d'acquérir une activité

professionnelle d'ici à 2024 et d'en qualifier 5

millions de plus pour le marché du travail par le biais

de programmes d'« upskilling », d'amélioration des

compétences. Jobberman.com, le plus grand site

d'emploi du Nigeria, a par ailleurs organisé une foire

aux métiers virtuelle, à ce jour la plus grande

d'Afrique subsaharienne avec plus de 7000 participants.

Parallèlement à diverses innovations opérationnelles,

ROAM a affûté son portefeuille de participations

en vendant notamment ses plateformes automobiles

Cheki Nigeria et Cheki Ghana en Afrique de

l'Ouest et en désinvestissant de Zoom Tanzania et

BrighterMonday Tanzania.

En Asie, le premier site d'emploi du Myanmar,

MyJobs, a renforcé sa position sur le marché en

2020 sous l'égide d'un nouveau CEO et continué

d'investir dans le produit et la technologie. Le portail

immobilier vietnamien MuaBanNhaDat a été fermé

dans le cadre de l'assainissement du portefeuille

asiatique et la société exploitante a été dissoute.

Pour nos activités Ringier Digital Ventures, la pan-

14

15
---
Ventures portfolio had diminished from 22 investments

to 14 by the end of the year.

Our Tech&Data segment has long been a top strategic

priority. Here, too, is just a selection of the key

projects and undertakings that were moved further

forward in 2020:

In addition to the existing tech hubs in Switzerland

and Poland, a further major tech hub was established

in South Africa. The new hub is focused on

central core technologies for developing scalable

modular marketplaces in the jobs, car, real estate

and horizontals fields. The new Myjobs.com.mm job

platform in Myanmar was migrated to the new

solution in 2020, and further platforms will follow

in 2021.

For our Media segment, a new segment-based personalization

was launched in 2020 on the use case

of the Blick website, where users are now grouped

according to their interests and offered personalized

content based on the same. We intend to make

greater use of our new personalization engine,

which has been developed in-house and which

naturally complies with all data protection requirements,

in our Marketplaces, too, in 2021, to tailor

our offers even more precisely to our users' needs.

With our Ringier Connect registration and log-in

service, 2020 saw us become one of the world's

first media organizations to offer face ID and touch

ID registration. The new Ringier Connect facilities

bring both more speed and greater security to the

process of logging onto our various platforms.

Tech&Data was also instrumental in 2020 in further

promoting our EqualVoice initiative, which is

intended to raise the visibility of women in media

reporting: the data foundation needed to quantify

these endeavours is derived from semantic analyses

of our media reporting. After a successful start

in Switzerland, EqualVoice was further extended to

12 media markets in Eastern Europe in the course

of 2020.

Another key initiative of the Ringier Group Executive

Board was also launched last year. Our Group has

long regarded diversity as opportunity. And in line

with this philosophy, a new Diversity&Inclusion

Board was created in the course of the year. We are

convinced that diversity and inclusion are vital core

values and success factors for any corporation.

One final thought on a historically difficult year:

The paramount priority of Ringier management

throughout 2020 was to protect the health of our

employees and their families. It was to this end

that we promptly adopted and consistently maintained

working from home, issued free protective

facemasks, introduced physical distancing, and

actively and transparently communicated all

these endeavours.

It has all proved its worth.

It is our 6 800 or so employees at our 110 constituent

companies who are behind the steady further

progress of the Ringier Group.

Flexibility, agility and resilience are vital credentials

that are cited today in every management manual.

Our people showed, in this coronavirus year more

than ever, how flexibility, agility and resilience can

be embraced and maintained in a crisis situation.

For this I offer them my greatest respect. And my

deepest thanks.

démie de Covid-19 a agi comme un accélérateur :

de multiples participations ont crû nettement plus

que prévu. L'orientation des investissements sur des

modèles d'affaires axés consommation (e-commerce,

modèles d'abonnement, places de marché)

s'est avérée rentable en 2020. En outre, il y a eu des

opportunités de consolidation du marché. Au delà

de fusions d'entreprises (p. ex. Makerist et FabFab),

on a aussi assisté à diverses reprises (exits) par des

acheteurs stratégiques, si bien qu'à fin 2020 le portefeuille

ne comportait plus que 14 investissements

sur un total de 22.

Le secteur Tech&Data est depuis longtemps une

priorité stratégique absolue. Petit extrait des principaux

projets portés en 2020 : En plus des tech hubs

déjà existants en Suisse et en Pologne, un grand

tech hub supplémentaire a été mis en place en

Afrique du Sud. Il se concentre sur les technologies

de base servant à développer des places de marché

évolutives et modulaires dans les domaines de l'emploi,

de l'automobile, de l'immobilier et dans l'horizontal.

En 2020, le nouveau site d'emploi Myjobs.

com.mm du Myanmar a migré sur cette solution.

D'autres plateformes suivront en 2021.

Dans le domaine des médias, une personnalisation

segmentaire a été lancée dans le cas de la page

d'accueil de Blick. De cette manière nos utilisatrices

et utilisateurs sont groupés en fonction de leurs intérêts

et reçoivent des contenus personnalisés sur

cette base. En 2021, nous mobiliserons plus encore

pour nos places de marché cet outil de personnalisation

que nous avons développé et qui respecte la

protection des données, afin de soumettre à nos

utilisateurs des offres encore plus précises.

Dans le cadre de notre service d'enregistrement et

de login Ringier Connect, nous avons été cette année

une des premières entreprises de médias à

proposer dans le monde entier une inscription via la

reconnaissance faciale (Face ID) et la touch ID. Cela

permet de se loguer encore plus vite et plus sûrement

sur nos plateformes via Ringier Connect.

Lancée à la fin de l'an 2019, l'initiative Equalvoice

a été énergiquement propulsée en 2020, notamment

grâce à Tech&Data. Cette initiative s'engage

pour que les femmes gagnent en visibilité dans la

couverture médiatique. La base de données nécessaire

à la mesure est assurée par les analyses sémantiques

de nos organes d'information. Après un

démarrage réussi en Suisse, l'initiative s'étend

maintenant à douze marques médias en Europe de

l'Est.

Une autre initiative cardinale du Group Executive

Board a été lancée l'an dernier : le Groupe Ringier

considère la diversité comme une opportunité et, de

ce fait, il a nommé un Diversity&Inclusion Board.

Nous sommes de l'avis que la diversité et l'inclusion

sont des valeurs essentielles et des facteurs de succès

pour une entreprise.

Une dernière réflexion pour une année historiquement

difficile :

La priorité absolue du management de Ringier aura

été de protéger la santé de nos collaborateurs et de

leurs familles. A cette fin, nous avons mis en place

le télétravail précocement et de manière généralisée,

distribué des masques gratuitement, introduit

les distances de sécurité et communiqué de manière

active et transparente.

Tout cela a fait ses preuves. Ce sont nos quelque

6800 collaborateurs dans 110 filiales qui permettent

aujourd'hui les progrès constants du

Groupe Ringier.

La flexibilité, l'agilité et la résilience sont les qualités

premières qui figurent désormais dans tous les manuels

de management. En cette année de pandémie,

nos collaborateurs ont montré combien la flexibilité,

l'agilité et la résilience étaient vécues en période

de crise.

Pour tout cela, ils ont droit à tout mon respect. Et à

mes profonds remerciements.

16

17
---
2020 in figures

Annabella Bassler, CFO

L'année en chiffres

Annabella Bassler, CFO

The coronavirus crisis had a substantial impact on

the Ringier Group's revenues and earnings for the

2020 business year. But innovative initiatives and

rigorous cost management helped to mitigate much

of the damage.

Group earnings before interest, taxes, depreciation

and amortization (EBITDA) for the year declined to

CHF 84.4 million (2019: CHF 114.1 million). The

lower group revenues of CHF 953.7 million (2019:

CHF 984.8 million) were attributable primarily to

the slumps in advertising and event activities as a

result of the Covid-19 pandemic and the responses

thereto. These declines were offset to some extent

by higher revenues from e-commerce activities,

albeit with the lower margins that prevail in this

business subsegment. The Ringier Group was also

able to make up for a large part of the revenue

shortfalls by taking comprehensive actions in all

business segments on both the cost and the

income front. But the 8.8 % EBITDA margin for

2020 still represented a 2.8-percentage-point yearon-year

decline (2019: 11.6 %).

Marketplaces segments remained as high as in

previous years. As a result of shifts in revenue

volumes between business areas, digital activities

accounted for 69 % of EBITDA in 2020, a slight decline

from the 72 % of 2019 but still a very high

proportion in comparison of the European media

industry. The contribution of digital products to total

group revenues rose from the 51 % of 2019 to 57 %.

After the turbulence of the Covid-19 crisis which

developed from spring 2020 on, expectations were

exceeded in the last few months of the year, a trend

that also makes us cautiously optimistic for 2021.

Ringier has set itself the objective of returning all

its relevant financial key performance indicators to

growth from 2023 onwards.

Thanks to la Mobilière's acquisition of its 25 %

equity share in Ringier AG, the Ringier Group is

now excellently positioned in financial terms with

minimal net debt, and is thus ideally equipped to

invest again in 2021 in both its organic and its

acquisitional further growth.

La crise du Covid-19 se répercute de manière sensible

sur les indicateurs financiers et le bénéfice

opérationnel du Groupe Ringier. Grâce à des initiatives

innovantes et à une gestion rigoureuse des

coûts, une partie substantielle des dommages a pu

être compensée.

L'EBITDA du Groupe Ringier se réduit à CHF 84.4

millions (2019 : CHF 114.1 millions) La diminution

du chiffre d'affaires du Groupe Ringier à CHF 953.7

millions (2019 : CHF 984.8 millions) résulte avant

tout de la chute des marchés de la publicité et de

l'événementiel due au Covid-19. Cette chute a pu

être partiellement compensée par des revenus plus

élevés dans l'activité d'e-commerce, avec néanmoins

une marge plus restreinte dans ce sous-segment.

Par des mesures d'envergure touchant les

ventes et les coûts dans tous les segments, le

Groupe Ringier compense une bonne partie de la

perte de chiffre d'affaires. Cela n'empêche pas la

marge EBITDA de tomber à 8.8 % en 2020, soit -2.8

points au-dessous de l'année précédente (2019 :

11.6 %).

médias et places de marché se situe au même

niveau que les années passées. En raison de

déplacements de volumes d'affaires entre les divers

domaines, la part numérique de 69 % à

l'EBITDA (2019 : 72 %) se situe certes légèrement

au-dessous de l'année précédente mais elle demeure

à un niveau très élevé en comparaison européenne.

Et la part des revenus du numérique

augmente de 51 % en 2019 à 57 % en 2020.

Après les turbulences de la crise du Covid-19 qui a

débuté au printemps 2020, les attentes ont été

dépassées durant les derniers mois de l'année

2020 et cela s'avère aussi modérément positif pour

2021. Ringier s'est fixé pour but de retrouver la

croissance dès 2023 dans tous ses principaux indicateurs

financiers.

Grâce à l'entrée de La Mobilière à hauteur de 25%

en 2020, le Groupe Ringier est excellemment positionné,

avec un endettement net minimal sur le plan

financier, pour se remettre à investir en 2021 déjà,

organiquement et par le biais de transactions.

The digitalization of the Ringier Group was consistently

further pursued, and the levels of investment

in digital products in both the Media and the

La numérisation du Groupe Ringier s'est énergiquement

poursuivie en 2020. La part des investissements

dans les produits numériques des segments

18

19
---
Key figures in CHF million

2020 revenue by region

2019

2020

Revenues by region

984.8953.7

From Switzerland 782.4 769.9

From Eastern Europe 190.1 173.2

From Asia and Africa 12.3 10.6

Revenues by source

984.8953.7

From digital activities 504.6 541.6

From sales and distribution 212.1 201.6

From advertising 130.5 93.3

From printing activities 62.2 53.6

From events and other media 75.4 63.6

18 %

Eastern Europe

1 %

Asia and Africa

EBITDA

114.184.4

EBITDA margin 11.6 % 8.8 %

Employees

2019

2020

Employees by region 7147 6783

Switzerland 2964 2848

Eastern Europe 3366 3210

Asia and Africa 817 725

81 %

Switzerland

20

21
---
Group revenue breakdown in CHF million

2020 revenue by source

2019

2020

Switzerland

782.4769.9

From digital activities 383.1 419.4

From sales and distribution 174.4 171.9

From advertising 111.1 79.4

From printing activities 56.9 49.4

From events and other media 56.9 49.8

Eastern Europe 190.1 173.1

From digital activities 111.2 113.2

From sales and distribution 37.8 29.7

From advertising 18.4 13.3

From events and other media 17.3 12.7

From printing activities 5.4 4.2

10 %

From advertising

5 %

From printing

activities

7 %

From events and

other media

57 %

From digital

activities

Asia and Africa 12.3 10.6

From digital and other media 11.4 10.0

From advertising 0.9 0.6

21 %

From sales and

distribution

22

23
---
EBITDA trends 2019-2020 Contribution of digital activities to EBITDA in %

EBITDA margin

EBITDA

Non-Digital Share

2019 2020

100 %

80 %

60 %

69 %

Digital Share

12 % 9 %

40 %

20 %

114.1

0 %

2011 2012 2013 2014 2015 2016 2017 2018 2019 2020

84.4

Digital revenues as percentage of total revenues

2011 2012 2013 2014 2015 2016 2017 2018 2019 2020

14 % 18 % 26 % 32 % 37 % 38 % 42 % 46 % 51 % 57 %

72 % 69 %

Non-digital revenues

Digital revenues

24

25
---
Epilogue

Frank A. Meyer, Publicist

Epilogue

Frank A. Meyer, journaliste

Never have we been more we. We citizens. We

politicians. We journalists. Never have we suffered

so much from the same hardships, the same restrictions

of everyday life, the same existential anxieties.

Members of government worry about their health,

the safety of their children, parents, grandchildren

and friends – same as we do. They reach for their

masks as reflexively as we people in the media do,

we people in the streets. We all thoroughly disinfect

our potentially corona-riddled hands, wash them

abundantly, including and especially, as recommended

by epidemiologists, our thumbs. And whenever

we meet somebody, we follow the virologists'

precepts and scrupulously maintain our distance.

We are we are we – one community, all of us.

For us journalists, this is a problem. Our inclusion in

this We, in a closed commonality, does not agree

with our job, which is to differentiate: to recognize

differences, work them out, show them up. And even

to preserve them.

For one thing is crucial to our profession: not to let

ourselves be co-opted – and to maintain that

outside position as we observe, report, describe,

evaluate.

Is that what we do? Did we do that in these times of

continually vacillating anti-corona measures? There

is a whole new phenomenon suggesting that we

have not been careful enough about maintaining

the distance between journalists and virologists

and politicians. That we haven't managed to keep

the power of the state at arm's length as clearly as

we should. That some parts of the citizenry have not

felt represented in our media – leading them to take

to the streets and the Internet and swamp the public

with provocative theories about corona.

Wherever unease, skepticism and revolt cannot be

channeled into the turbines of democracy, into the

political parties, the parliaments, the media, these

rushes of emotion will seek their own outlets. They

form spontaneous torrents of opinion, rapids of outrage,

waterfalls of wrath. And one cannot lessen

their effect by cursing their sources: «Corona deniers!»,

«Conspiracy theorists!», «Right-wing extremists!»

Yes, all these groups probably participated

when the protests spilled out into the street – but

so did many quite reasonably outraged citizens.

Have we journalists failed?

We deemed our governments' measures reasonable;

we appreciated the uncertainties affecting their

actions; we tolerated their encroachments on

democratic and constitutional rules; we excused all

that as consequences of poking around in the dark

of the pandemic.

We were we – one community, all of us.

A key example of this was provided by Der Spiegel,

formerly Europe's most unruly magazine – quite

ruthlessly keen on asserting divergent, even

outlandish points of view to provocative effect. In

January, this weekly talked to Christian Drosten, the

bellwether among Germany's virologists. The

interviewers narrowed their epistemological

interest by prefacing their questions as follows: «In

the course of this past year, corona-deniers probably

did less harm than those experts who kept arguing

against science-based measures, such as Jonas

Schmidt-Chanasit and Hendrik Streeck.» Drosten,

the government virologist, was expected to disqualify

said colleagues, both of them respected scientists.

He helplessly answered: «Do you want me to

criticize my peers by name?»

That is precisely what Der Spiegel wanted: to ostracize

anything diverging from the Corona We, in subservience

to the domineering ideology of the Great

Corona Community. Another name for this is «embedded

journalism». Journalists blissfully in bed

with power, in the example at hand: the dominant

power of opinion.

Christoph Schwennicke, a well-known political

journalist and a 15-year insider of Berlin's media

Jamais encore nous n'avons autant été nous. Nous

les citoyens. Nous les politiciens. Nous les journalistes.

Jamais encore nous n'avons autant souffert

de la même détresse, des mêmes restrictions dans

la vie quotidienne, des mêmes angoisses existentielles.

Les gouvernants se font du souci – comme

nous – quant à leur santé, celle de leurs enfants,

parents, petits-enfants et amis.

Tout comme nous, gens des médias, comme nous

gens de la rue, ils ont le réflexe du masque. Nous

nous désinfectons tous soigneusement les mains

peut-être contaminées par le coronavirus, nous les

lavons abondamment, en particulier les pouces

comme le préconisent les épidémiologistes. Et en

cas de rencontres, nous veillons scrupuleusement

aux distances, comme le prescrivent les virologues.

Nous sommes nous sommes nous : une communauté

tous ensemble.

Pour nous autres journalistes c'est un problème.

Cette intégration dans le « nous », dans un grand

tout fermé, ne s'accorde pas avec notre mission de

différencier : identifier les différences, les afficher,

les mettre en évidence. Et même les cultiver.

Car ce qui est une part essentielle de notre métier,

c'est de ne pas nous laisser récupérer. Et, en restant

à l'écart, d'observer, rapporter, décrire, évaluer

les événements.

Le faisons-nous ? L'avons-nous fait en ces temps de

mesures anti-Covid perpétuellement hésitantes ?

Un tout nouveau phénomène d'époque indique que

nous ne nous sommes pas suffisamment souciés

de la distance entre le journaliste et le politicien et

le virologue. Que nous n'avons pas observé assez

nettement la distance de rigueur avec le pouvoir

étatique. Que certains milieux de la société ne se

sont pas sentis représentés dans nos médias et

qu'ils sont descendus dans la rue et allés sur les

réseaux pour inonder l'opinion publique de théories

provocantes sur le virus.

Quand le mal-être, le scepticisme et la fronde ne

peuvent être canalisés vers les moulinettes de la

démocratie, vers les partis, les parlements et les

médias, ces sentiments se cherchent leurs propres

canaux. Il en résulte des torrents spontanés d'opinions,

des cascades d'indignation, des cataractes

de colère. Et on n'atténue pas leur ardeur en fulminant

: « Négationnistes ! Complotistes ! Extrémistes

de droite ! » Oui, toutes ces inspirations étaient bien

là quand la protestation s'est déversée dans les

rues, mais elles sont justement là aussi parmi

beaucoup de citoyennes et citoyens très sagement

indignés.

Avons-nous failli, nous les journalistes ?

Ce que les gouvernements ont décidé, nous l'avons

jugé sensé : nous avons montré de la compréhension

pour le manque d'assurance qui marquait leur

démarche ; nous avons toléré l'atteinte aux règles

démocratiques et juridiques ; nous avons excusé

tout cela comme l'effet d'un tâtonnement dans le

brouillard pandémique.

Nous étions nous, une communauté, tous ensemble.

« Der Spiegel », naguère le magazine le plus indocile

d'Europe, en a livré le meilleur exemple : franchement

très peu porté à défendre des points de vue

sans pitié ou dangereusement provocants. En janvier,

le magazine s'entretenait avec Christian

Drosten, la tête pensante des virologues allemands.

Les intervieweuses ont restreint leur intérêt

par ce préambule : « Négationnistes du Covid-19,

argumentant sans relâche contre des mesures

scientifiquement établies, des experts parmi lesquels

Jonas Schmidt-Chanasit et Hendrick Streeck

ont clairement causé l'an dernier un important

dommage. » Drosten, le virologue de l'Etat,

était censé disqualifier les deux scientifiques parfaitement

compétents. Désemparé, il répondit :

« Prétendez-vous que je critique nommément des

collègues ? »

26

27
---
usiness, wrote an article in the daily Die Welt

warning of his colleagues' growing eagerness

to belong: «We are running the risk of transferring

the power of politicians to ourselves. Of feeling that

we are sharing in this power. And that is not only

absurd; it is a systemic danger.»

In this pandemic, which has thrown so many iniquities

into stark relief, a nasty habit that had been

creeping into the media business for years has been

taken to new extremes. We are tightly closing

ranks – and those who won't toe the line are punished.

But democracy is not commonality. Democracy is

society. And society is political plurality, it is lived

liberality – it is difference, divergence and dissidence.

That is what an open society is – and it is unthinkable

without journalism. So, it is our job to represent

differences, to give them shape. Journalists are

the esthetes of political thinking, of democratic

debate, of civic interaction.

Esthetics has to do with beauty. And indeed, democracy

is the most beautiful thing in the world,

because it means the freedom of the individual.

The freedom of the human being. Of the I.

Journalism is the fiduciary of this freedom.

Or it is nothing.

Or c'est bien ce que voulait « Der Spiegel » : éliminer

tout ce qui divergeait du « nous » lié au virus pour

se mettre au service de l'idéologie omnipotente de

la grande communauté Covid. En anglais, on appelle

ça du journalisme « embedded », du journalisme

embarqué. Des journalistes confortablement

installés dans le lit du pouvoir et, dans le cas qui

nous occupe : le pouvoir faiseur d'opinion.

Dans le quotidien « Die Welt », Christoph Schwennicke,

un éminent journaliste politique initié depuis

quinze ans aux arcanes des médias berlinois, mettait

en garde contre l'envie croissante de ses collègues

de « faire partie ». « Nous courons le danger

de décalquer sur nous le pouvoir des politiques. Et

de nous croire nous-mêmes une part de ce pouvoir.

Non seulement c'est un non-sens mais c'est un

danger systémique. »

Ce qui, depuis des années, s'esquisse insidieusement

comme une mauvaise habitude du métier de

journaliste atteint au fil de la pandémie – qui laisse

apparaître crûment pas mal de choses préoccupantes

– un nouveau sommet : nous serrons étroitement

les rangs et quiconque rue dans les brancards

est puni.

Or démocratie ne signifie pas communauté. Démocratie

signifie société. Et la société est pluralité politique,

libéralisme vécu : autrement dit différence,

divergence et dissidence.

C'est ainsi qu'est une société ouverte. Sans le journalisme,

elle est impensable. C'est pourquoi notre

tâche consiste à répliquer les différences, à leur

conférer une stature. Hommes et femmes, les journalistes

sont les esthètes de la pensée politique,

du débat démocratique, des relations citoyennes.

L'esthétique est liée à la beauté. Et le fait est que

la démocratie est la plus belle chose du monde, car

elle signifie la liberté de l'individu.

La liberté de l'humain. La liberté du moi.

Le journalisme est le garant de cette liberté.

Sans quoi il n'est pas.

28

29
---
Ringier Global Media

Distributed circulation 2020

Unique users per month

Distributed circulation 2020

Unique users per month

Rockit Radio 49 000

Vintage Radio 108 000

Ringier

Blick Tabloid 95 944 3105 000

SonntagsBlick Sunday newspaper 115 960

Blick TV

Digital TV

Ringier Axel Springer Schweiz

Beobachter Consumer magazine 239 620 1165 583

Bilanz Business magazine 37 579

Bolero

Fashion and lifestyle magazine

Handelszeitung supplement

Cash.ch Financial news portal 1122 083

Glückspost Women's magazine 114 047 79 083

Glückspost Super Rätsel Puzzle magazine 18 952

gaultmillau.ch Food Channel 315 713

HandelsZeitung Business magazine 37 700 744 500

L'Illustré Celebrity magazine 54 885 228 583

LandLiebe Country-living magazine 177 309 7509

PME Magazine Business magazine 18 971 55 966

Schweizer Illustrierte Celebrity magazine 127 027 1960 000

Style*

Fashion glossy magazine

Streaming** Media magazine 36 312

Tele TV-schedule magazine 92 770 57 917

Le Temps Daily newspaper 32 473 2104 833

TV 2

TV-schedule magazine

TV 8 TV-schedule magazine 53 424

TVstar TV-schedule magazine 57 061

TVvier TV-schedule magazine 18 908

TV Land & Lüt TV-schedule magazine 11 533

TV Täglich

TV-schedule magazine

Entertainment

Websites

energy.ch 223 200

students.ch 25 700

usgang.ch 63 300

izzyprojects.ch

Radio

Net reach

Energy Basel 81 000

Energy Bern 127 000

Energy Hits 47 000

Energy Zürich 232 000

Schlager Radio 29 100

Events

Energy Air

Energy Cruise

Energy Live/Red Session

Energy Star Night

Moon&Stars*

Publishing Services

Admeira

Ringier Publishing Technology & Services

Ringier Business Services

Ringier Advertising

SMD AG

Swissprinters AG

Ringier Axel Springer Media AG

Poland

agdlab.pl 70 740

Aplikacja Onet 534 384

Aplikacja Onet Poczta 668 520

Auto Świat Car magazine 39 371

Auto Świat 4x4 Car magazine 11 800

Auto Świat Classic Car magazine 7424

Auto Świat Katalog Car magazine 14 917

auto-swiat.pl 4114 854

businessinsider.com.pl 7477 218

ekstraklasa.tv

Fakt Tabloid 180 016

Fakt Dobre Chwile Lifestyle supplement 181 607

Fakt TV TV supplement 257 288

fakt.pl 10 493 280

Forbes News magazine 20 629

forbes.pl 9470 859 220

kochaj.pl

Komputer Świat

Computer magazine

komputerswiat.pl 24 749 4543 776

KŚ Twój Niezbędnik Computer magazine

literia.pl 17 001 126 738

medonet.pl 9193 986

Newsweek Historia History magazine

Newsweek Learning English Educational magazine 12 599

Newsweek Polska News magazine 5112

Newsweek Polska EXTRA Magazine 75 339

*Publication ceased in 3rd quarter 2020 **Launched in 4th quarter 2020 *Sold in 4th quarter 2020

30

31
---
Distributed circulation 2020

Unique users per month

Distributed circulation 2020

Unique users per month

Newsweek Wydanie Specjalne Magazine 16 983

Newsweek Psychologia Magazine 8523

Newsweek Zdrowie Health Guide 14 594

newsweek.pl 4243 3216 834

nk.pl 1240 056

noizz.pl 2952 396

ofeminin.pl 4375 188

onet strona główna News portal 12 720 240

onet.dom News portal 1352 268

onet.dziecko News portal 978 642

onet.facet News portal 950 400

onet.film News portal 4543 560

onet.gotowanie News portal 1677 780

onet.kobieta News portal 4677 048

onet.kultura News portal 3267 594

onet.magia News portal 1077 894

onet.moda News portal 871 020

onet.moto News portal 54 000

onet.muzyka News portal 2912 058

onet.pl News portal 17 535 258

onet.pl zapytaj News portal 4678 560

onet.poczta News portal 3757 266

onet.podróże News portal 3780 756

onet.pogoda News portal 1750 194

onet.program tv News portal 1384 398

onet.sport News portal 5400 540

onet.technologie

News portal

onet.technowinki

News portal

onet.uroda News portal 787 468

onet.wiadomości News portal 1 390 554

onet.zdrowie News portal 10 544 472

opineo.pl 1208 142

pclab.pl 936 198

plejada.pl 5864 076

Przegląd Sportowy National sports daily

przegladsportowy.pl 15 171 1565 892

skapiec.pl 3105 000

softonet.pl 94 122

sympatia.pl 1701 540

targsmaku.pl 69 660

vod.pl 2484 378

zumi.pl 542 538

Slovakia

aktuality.sk News portal 2805 867

azet.sk 939086

byty.sk Real estate 123 715

chaty.sk Real estate 47 369

diva.sk 951 697

dobruchut.sk Food 1168 244

horoskopy.sk 155 720

kalendar.sk 437 460

najmama.sk 955 097

noizz.sk Millennial platform 718 526

noveauta.sk Cars 33 517

noveauto.sk Cars 85 894

novostavby.sk Rest estate 63 169

Pokec.sk 338 545

realsoft.sk 3757

slovnik.sk 933 616

referaty.sk 317 487

zive.sk 597715

sport.sk Sports news 871 831

Serbia

Ana.rs 690 042

Blic Tabloid 32 444 2917 691

Blic zena Women's magazine 64 855 1801 008

Blic zena specials Magazine 7352

Blic.sport.rs 1266 284

Clip.rs 50 4350

NIN News magazine 5903

Noizz.rs 946 837

Pulsonline.rs 1161 180

Hungary

14 Nap Műsorfüzet TV-schedule magazine 6583

Auto Bild Car magazine 11 306

Auto Bild Különszám Car magazine 1702

Blikk Tabloid 56 577

Blikk Extra Receptek Cooking magazine 18 139

Blikk Nők Women's magazine 47 267

Blikk Nők Extra Women's magazine 23 034

Blikk Nők Konyha Cooking magazine 9097

Blikk Nők Otthon&Kert Interior decorating magazine 6543

Blikk Rejtvény Crossword supplement 44 733

Blikk TV TV supplement 48 041

Bookazine Educational magazine 4286

Bookazine Plusz Educational magazine 1349

Csók és könny Women's magazine 7065

Eszes Crossword magazine 9425

Eszes Évkönyv

Crossword magazine

Eszes Évszakok Crossword magazine 5909

Eszes Rejtvénytár Crossword magazine

Eszes Skandi Crossword magazine 4749

Eszes Extra Crossword magazine 9819

32

33
---
Distributed circulation 2020 Unique users per month Distributed circulation 2020 Unique users per month

Rejtvény Terefere Plusz Crossword magazine 7440

GEO Educational magazine 3319

Glamour Women's magazine 49 150

Glamour Különszám Women's magazine

Havi Kópé Crossword magazine 1269

Hétpróba Skandi Crossword magazine 7058

Jó vicc! Crossword magazine 2326

Képes TV Műsor TV-schedule magazine 10 260

Kiskegyed Women's magazine 145 435

Kiskegyed Extra Women's magazine 21 994

Kiskegyed Konyhája Cooking magazine 18 953

Kiskegyed Konyhája

Különszám Cooking magazine 6548

Kiskegyed Otthona Interior decorating magazine 14 425

Kiskegyed Plusz Health magazine 5147

Kiskegyed Recepttár Cooking magazine 19 165

Kiskegyed Rejtvény Extra Crossword magazine 6480

Kópé Crossword magazine 3662

Kópé Évkönyv

Crossword magazine

Kópé Évszakok Crossword magazine 11 445

Kópé Extra Rejtvénymagazin Crossword magazine 2766

Rejtvény Terefere Crossword magazine 14 381

Rejtvény Terefere Évkönyv Crossword magazine

Rejtvény Terefere Extra Crossword magazine 4550

Rejtvény Terefere Skandi Crossword magazine 4298

Rejtvénytár

Crossword magazine

Sárga TV TV-schedule magazine 18 479

Színes kéthetes TV-schedule magazine 28 071

TV kéthetes TV-schedule magazine 38 800

TV Revü TV-schedule magazine 13 872

Tvr Újság TV-schedule magazine 39 316

TVR-Hét TV-schedule magazine 54 051

TVR-Hét Extra TV-schedule magazine 7293

Ügyes Crossword magazine 24 448

Ügyes 5 Perc Crossword magazine 2870

Ügyes évszakok Crossword magazine 20 261

Ügyes Extra Crossword magazine 4684

Ügyes Extra Szudoku Crossword magazine 4332

Ügyes Sorozat Crossword magazine 11 037

Ügyes Plusz Crossword magazine 10 025

Ügyes Skandi Crossword magazine 4754

Ügyes 100 Rejtvény Crossword magazine 1706

Vasárnapi Blikk Sunday newspaper 31 929

Blikk.hu Tabloid 2459 698

Blikk Rúzs.hu Women's magazine 1700 441

Glamour.hu Women's magazine 1139 761

EgészségKalauz.hu Health Guide 1302 035

Noizz.hu Urban culture 975 270

Recepttár.hu Gastronomy 68 130

Ringier Romania

Avantaje Women's glossy magazine 2 332

avantaje.ro 1072 244

ELLE Fashion glossy magazine 4 266

elle.ro 683 924

ELLE Decoration

Decorating glossy magazine

Libertatea Daily general public newspaper 22 630

libertatea.ro 8101 551

Libertatea Weekend TV Supplement 38 617

Libertatea pentru femei Women's mass-market magazine 11 127

libertateapentrufemei.ro 1265 619

retetepractice.ro 556 731

Povestea mea Women's weekely magazine 6 970

Intamplari adevarate Women's bi-monthly magazine 6 807

Povesti de viata Women's monthly magazine 6 199

Gazeta Sporturilor Daily sports newspaper 9 352

gsp.ro 3410 714

Unica Women's glossy magazine 3 653

unica.ro 2939 459

VIVA! Women's people magazine 4 506

viva.ro 2302 262

Lucru de mana Handcrafting magazine 7 220

Ringier Africa

Pulse

Ghana

pulse.com.gh 2 845 919

Kenya

pulselive.co.ke 2 561 843

Nigeria

pulse.ng 5 434 450

Ringier Asia

Vietnam

Elle*

Elle Decoration*

Elle Man*

Elle.vn*

Fashion & Beauty magazine

Home Decoration magazine

Fashion & Beauty magazine

Fashion & Beauty platform

Myanmar

Duwun.com.mm 2 411 709

Marry network**

*Operations closed in 4th quarter 2020 **Taken over by Com BizGroup in 1st quarter 2020

34

35
---
Unique users per month

Switzerland

alpha.ch

Jobs

anibis.ch Horizontal 3446 830

AutoScout24.ch Cars 3662 390

DeinDeal.ch

E-commerce

FinanceJobs.ch

Jobs

geschenkidee.ch E-commerce 371 405

ICTcareer.ch

Jobs

ideecadeau.ch E-commerce 114 049

ImmoScout24.ch Real estate 2418 697

INGJobs.ch

Jobs

jobs.ch Jobs 1840 057

jobs4sales.ch

Jobs

JobScout24.ch Jobs 800 538

jobsuchmaschine.ch Jobs

jobup.ch Jobs 933 722

jobwinner.ch

Jobs

medtalents.ch

Jobs

MotoScout24.ch Motorcycles 537 693

My-Store.ch

E-commerce

Ticketcorner.ch

Tickets

Topjobs.ch

Jobs

FinanceScout24.ch Financing/Insurance 287 879

Austria

karriere.at Jobs 1780 917

Ringier Digital Ventures

Archilyse AG

Baze Labs AG

Blok Enterprises OY

CheckYeti GmbH

fabfab GmbH

Flatfox AG

Insenio GmbH

Skoove

Medlanes GmbH

AirConsole

Pamono GmbH

Recommerce AG (verkaufen.ch)

Wine & Gourmet Digital AG

yamo AG

Ringier Global Marketplaces

Unique users per month

Ringier Axel Springer Media AG

Poland

jakdojade.pl Tickets 1150 146

nofluffjobs.com Jobs 152 496

StepStone.pl*

Jobs

Morizon.pl Real estate 1283 526

Gratka.pl/nieruchomosci Real estate 1495 800

Gratka.pl/motoryzacja Cars 554 580

Gratka.pl Horizontal 930 474

Gratka.pl/praca Jobs 310 446

Lendi.pl

Financing

alegratka.pl 67 662

domy.pl 123 228

nportal.pl 86 508

oferty.net 71 820

komercyjne.pl 66 528

bezposrednie.com 63 018

App Gratka Nieruchomości 32 022

App Domy.pl 24 570

App Morizon - nieruchomości 23 814

noweinwestycje.pl 24 894

Slovakia

autobazar.eu Cars 742 461

autobazar.sk Cars 324 401

bistro.sk Food 407 948

bazar.sk Horizontal 750 298

autovia.sk Cars 182 434

nehnutelnosti.sk Real estate 604 852

reality.sk Real estate 250 508

topreality.sk Real estate 354 942

Pokec.sk

Social Media

Serbia

Mojauto.rs Cars 367 492

Nekretnine.rs Real estate 469 178

Hungary

profession.hu Jobs 925 591

jobmonitor.hu Jobs 119 562

munkahelyek.hu Jobs 33 043

nofluffjobs.com

Estonia

cvkeskus.ee Jobs 401 828

Digital Ventures exits 2020: Airgreets GmbH, Campanda GmbH, Makerist GmbH *Operations closed in 4th quarter 2020

36

37
---
Unique users per month

Latvia

cvmarket.lv Jobs 101 206

Lithuania

cvmarket.lt Jobs 219 106

Ringier Romania

ejobs.ro Jobs 1099 585

imobiliare.ro Real estate 1822 050

Imoradar24.ro

Real estate

Jobradar24.ro

Jobs

Unique users per month

Uganda

Brightermonday.co.ug Jobs 67000

Ringier Asia

Vietnam

Muabannhadat.vn** Real estate 419 003

Myanmar

MyJobs.com.mm Jobs 139 865

Kazakhstan

homsters.kz

Real estate

Azerbaijan, Kyrgyzstan, Serbia

lalafo.com

Horizontal

Ringier One Africa Media (ROAM)

Ethiopia

Qefira.com Horizontal 139 000

Ghana

Jobberman.com.gh Jobs 116 000

Cheki.com.gh* Cars

Sokoso.com.gh

Jobs

Kenya

Brightermonday.co.ke Jobs 283 000

Buyrentkenya.co.ke Jobs 205 000

Cheki.co.ke Cars 427 000

Pigiame.co.ke Horizontal 640 000

Sokoso.co.ke

Jobs & Real estate

Nigeria

Cheki.com.ng*

Cars

Jobberman.com Jobs 393 000

Sokoso.ng

Jobs

Senegal

Expat-dakar.com Horizontal 397000

Mamaison.sn

Real estate

Tanzania

Brightermonday.co.tz** Jobs

Zoomtanzania.com** Horizontal

Sokoso.co.tz

Jobs & Real estate

*Sold in 3rd quarter 2020 **Operations closed in 4th quarter 2020

38

39
---
Company

Major group companies

Equity interest on 31.12.2020

Percentage

Switzerland

Ringier AG, Zofingen 100 %

Admeira AG, Bern 100 %

Swissprinters AG, Zofingen 70 %

Ringier Axel Springer Schweiz AG, Zurich 50 %

GetYourLawyer AG, Zurich 27 %

Ringier Axel Springer Media AG, Zurich 50 %

Ringier Africa AG, Zofingen 100 %

Energy Schweiz Holding AG, Zurich 65 %

Ringier Sports AG, Zurich 100 %

Scout24 Schweiz AG, Flamatt 50 %

FinanceScout24 Hypo AG, Magden 50 %

Casasoft AG, Bottighofen 50 %

IAZI, Informations- und Ausbildungszentrum für Immobilien AG, Zurich 33 %

JobCloud AG, Zurich 50 %

Ticketcorner AG, Rümlang 50 %

Geschenkidee.ch GmbH, Zurich 100 %

DeinDeal AG, Zurich 90 %

Ringier Digital Ventures AG, Zurich 73 %

Company

Percentage

Poland

Ringier Axel Springer Polska Sp. z.o.o., Warsaw 50 %

MZN Property S.A., Warsaw 45 %

Gratka Spolka Z.o.o., Warsaw 45 %

StepStone PL, Warsaw 26 %

Estonia

CV Keskus OÜ, Tallinn 50 %

Africa Pulse

Ringier Ghana Ltd., Accra 100 %

Ringier Kenya Ltd., Nairobi 100 %

Ringier Media Nigeria Ltd., Lagos 100 %

Ringier Digital Marketing SA, Dakar 100 %

Afrika ROAM (Ringier One Africa Media)

Ringier One Africa Media (Pty) Ltd., Cape Town 42 %

Cheki Africa Media Ltd., Ebène 57 %

Asia

Ringier Pacific Ltd., Hong Kong 100 %

Pyramid Solutions Company Ltd., Yangon 95 %

Nhat Viet Group Co. Ltd., Ho Chi Minh 50 %

Romania

S.C. Ringier Romania s.r.l., Bucharest 100 %

Ejobs Group S.A., Bucharest 100 %

Realmedia Network SA, Timisoara 100 %

Ringier Sportal S.R.L., Bucharest 51 %

Slovakia

Ringier Axel Springer SK a.s., Bratislava 44 %

United Classifieds s.r.o., Bratislava 26 %

SPORT.SK, s.r.o., Silein 29 %

Serbia

Ringier Axel Springer d.o.o, Belgrade 50 %

APM Print d.o.o., Belgrade 50 %

NIN d.o.o., Belgrade 50 %

New Digital d.o.o., Belgrade 50 %

Hungary

Ringier Axel Springer Magyarorszàg Kft., Budapest 50 %

Blikk Kft., Budapest 50 %

Profession.hu Kft., Budapest 50 %

40

41
---
Organization

Ringier locations across the globe

Board of Directors

Group Executive Board

Michael Ringier

Chairman

Dr. Uli Sigg

Deputy Chairman

Claudio Cisullo

Member of the board

Lukas Gähwiler

Member of the board

Felix Oberholzer-Gee

Member of the board

Marc Walder

Chief Executive Officer and

Managing Partner Ringier AG

Dr. Annabella Bassler

Chief Financial Officer Ringier AG

Alexander Theobald

COO Switzerland and

CEO Ringier Axel Springer Schweiz AG

Ladina Heimgartner

Head Global Media Ringier AG

and CEO Blick Group

Slovakia

Hungary

Switzerland

Romania

Serbia

Bulgaria

Senegal

Ghana

Lithuania

Poland

Nigeria

Latvia Estonia

Ethiopia

Kenya

Uganda

Tanzania

Myanmar

Markus Hongler

Member of the board

Axel Konjack

Head Global Marketplaces Ringier AG

South Africa

Urs Berger

Member of the board

Laura Rudas

Member of the board

Roman Bargezi

Member of the board

42

43
---
Publishing details

Impressum

Since 1998 the Ringier Annual Report has been

designed each year by an artist or artists whose work

features in the Ringier Collection. The series was

initiated by Michael Ringier and art curator Beatrix

Ruf as a means of forging closer ties between the art

world and the activities of the Ringier Group.

Publisher: Ringier AG

Coordination: Bernhard Weissberg

(Weissberg Consulting, Zurich),

Rahel Blättler (Ringier Collection),

Alejandro Velert (Corporate

Communications, Ringier AG)

Artist: Ed Atkins, Copenhagen

Graphic design: Zuni Halpern

Production: Nicolas Kutsomanolakis

(Production Services, Ringier AG)

Depuis 1998, le rapport annuel Ringier est conçu

par des artistes représenté(e)s par leurs œuvres

dans la Collection Ringier. La série a été lancée

par Michael Ringier et Beatrix Ruf dans l'idée

d'une intégration accrue de l'art dans les activités

du groupe.

Editeur : Ringier SA

Direction et coordination : Bernhard Weissberg

(Weissberg Consulting, Zurich),

Rahel Blättler (Collection Ringier),

Alejandro Velert

(Corporate Communications Ringier SA).

Artiste : Ed Atkins, Copenhague.

Conception graphique : Zuni Halpern.

Production : Nicolas Kutsomanolakis

(Services de production Ringier SA).

Ringier AG

Dufourstrasse 23

8008 Zurich

Switzerland

Phone +41 44 259 64 44

media@ringier.ch

www.ringier.com

Zurich, April 2021

Ringier SA

Dufourstrasse 23

8008 Zurich

Suisse

Téléphone +41 44 259 64 44

media@ringier.ch

www.ringier.ch

Zurich, avril 2021

44