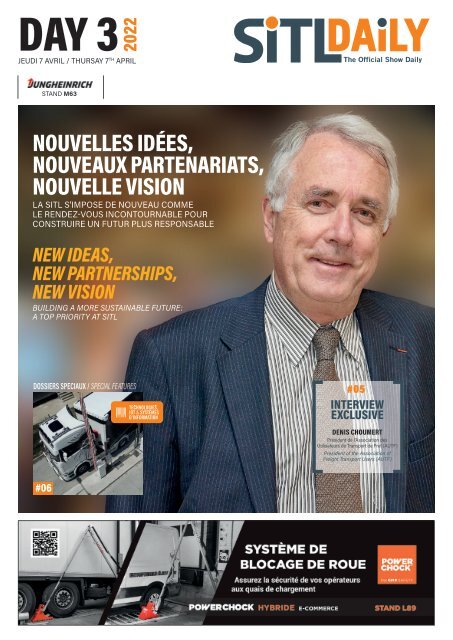 SITL Daily - DAY 3 Edition
Create successful ePaper yourself
Turn your PDF publications into a flip-book with our unique Google optimized e-Paper software.
DAY 3

JEUDI 7 AVRIL / THURSAY 7 TH APRIL

2022

STAND M63

NOUVELLES IDÉES,

NOUVEAUX PARTENARIATS,

NOUVELLE VISION

LA SITL S'IMPOSE DE NOUVEAU COMME

LE RENDEZ-VOUS INCONTOURNABLE POUR

CONSTRUIRE UN FUTUR PLUS RESPONSABLE

NEW IDEAS,

NEW PARTNERSHIPS,

NEW VISION

BUILDING A MORE SUSTAINABLE FUTURE:

A TOP PRIORITY AT SITL

DOSSIERS SPECIAUX / SPECIAL FEATURES

#05

INTERVIEW

EXCLUSIVE

DENIS CHOUMERT

Président de l'Association des

Utilisateurs de Transport de Fret (AUTF)

President of the Association of

Freight Transport Users (AUTF)

#06
---
HALL PLAN
---
By Laurence Gaborieau

Directrice de la Division Transport & Logistique, Tourisme et Sport

RX France, organisatrice de la SITL

Division Director Transport & Logistics Tourism & Fitness Healthcare

of RX France, the company organising SITL

La SITL surfe sur la

vague de l'innovation

Riding the wave

of innovation

Bonjour, je vous souhaite la

sur cette 39 e édition l'ont placée

Hello and welcome to the third

placed it at the heart of their

bienvenue pour ce troisième jour

au cœur de leur stratégie, ce que

day of SITL 2022, centring on

strategy, as we are reminded

de la SITL placé notamment sous le

nous rappelle dans une autre

the theme of maritime and river

in another interview by Fabien

thème du maritime et du fluvial. Ce

interview Fabien Esnoult, président

transport. This mode of transport,

Esnoult, President and Founder of

mode de transport, pilier de notre

et fondateur de SprintProject,

a pillar of our industry, is at the

SprintProject, our partner for the

industrie, se trouve au centre de la

notre partenaire pour la quatrième

heart of multimodality. It is a focus

fourth consecutive year. I invite you

multimodalité. Il focalise l'attention

année consécutive. Je vous invite

for all industry players, which

to attend two highly anticipated

de tous les acteurs, ce que la

à assister à deux événements très

was confirmed in the inaugural

events, which have become

conférence inaugurale est venue

attendus, devenus incontournables

conference. I also invite you to read

essential over the years: the final

confirmer. Je vous invite d'ailleurs à

au fil des années : la finale du

SITL Daily's exclusive interview

of the start-up contest, scheduled

lire l'interview que Denis Choumert,

Start-Up Contest, programmée

with Denis Choumert, president

for the end of the morning, and

président de l'AUTF, a accordée à

en fin de matinée, et la remise des

of the AUTF, where he explains

the presentation of the five awards

SITL Daily. Il explique notamment

cinq récompenses du 22 e Prix de

in particular why, together with

for the 22 nd Innovation award, the

pour quelles raisons, avec

l'innovation, dont les résultats seront

France Supply Chain, they created

results of which will be unveiled

France Supply Chain, ils ont créé

dévoilés dans l'après-midi. Encore

the Low Carbon Maritime Transport

in the afternoon. Once again, the

l'association Low Carbon Maritime

une fois, les participants ont rivalisé

association, intended to ensure

participants competed to put their

Transport destinée à assurer des

d'ingéniosité pour inscrire leur nom

regular connections between

name on the list, and the jury's

liaisons régulières entre la France

au palmarès et les délibérations du

France and the United States with

decision will be difficult. Like all

et les Etats-Unis sur des voiliers

jury promettent d'être compliquées.

cargo ships.

of you, I am eager to discover the

cargos.

Comme vous tous, je suis impatiente

winners and their innovations. May

de découvrir l'identité des lauréats

SITL does not forget the essence

the most innovative win!

La SITL n'oublie pas ce qui fait

et leurs innovations. Que les plus

of our sector: innovation. Looking

l'essence de notre secteur :

innovants gagnent !

to the future, all the companies

l'innovation. Tournées vers l'avenir,

present at this 39 th edition have

toutes les entreprises présentes

SITL Daily is a CLEVERDIS Publication 439 Route de la Seds, 13127 Vitrolles, France

• Tel: + 33 442 77 46 00

• SAS capitalised at €155,750 • VAT FR 95413604471

• RCS Salon de Provence 413 604 471 • info@cleverdis.com • www.cleverdis.com

• www.sitldaily.com

• Publisher: Jean-François Pieri • Project Manager: Bettina Badon

• Senior Account Manager: Benjamin Klene • Head of Editorial Team : Emiliana Van Der Eng

• Editorial team: Thomas Campbell, Hervé Chervy, Luc Citrinot, Fabrice Lamperti,

Frédéric Roba, Reuben Tasker

• Art Director: Hélène Beunat • Web Designer: Guillaume Vinrich

• With the participation of: Zineb Elhabiri, Sara Hirache, Veronika Verzhak

>>> To contact them: first name.last name@sitldaily.com

Cover: Crédit Photo : © Thierry Foulon - SITL /

Printer: Imprimerie Frazier - Paris

© CLEVERDIS 2022 - Registration of Copyright March 2022. Information presented in this publication is purely indicative in order to illustrate subjects contained therein. No

guarantee can be given as to the accuracy of data or content at time of printing and thus the latter should not be used for professional or commercial ends. While all efforts

have been made as to accuracy and pertinence of content and data contained in this publication, CLEVERDIS may in no case be held responsible for the consequences,

whatever their nature may be, that may result from the interpretation of this data or content, or any eventual errors therein. Any reproduction of the content of this publication,

even partial, by any means whatsoever, is strictly prohibited without the prior autorisation of the publisher. Any copy, whether by photography, photography film, magnetic

tape, disc or other means constitutes a forgery, liable to punishment under French law according to the legislation of 11 th March 1957 covering copyright. All brands cited in this

publication are registered trade marks and/or belong to companies which are their respective proprietors. The publishers and editorial staff decline all responsibility as to

opinions formulated in this publication by those interviewed or cited therein. Their opinions are entirely their own, and are included with the understanding that they contain,

to our knowledge, no malicious intent. The inclusion of all texts, photographs and other documents supplied by those included in this publication imply the acceptance

by their authors of their free publication therein. Documents and photographs will not be returned. It should be understood that this publication contains forward-looking

statements that involve risks, uncertainties and assumptions. All statements other than statements of historical fact are statements that could be deemed forward-looking

statements. Risks, uncertainties and assumptions include assumptions relating to the timing of the recorded date. If any of these risks or uncertainties materialises or any of

these assumptions proves incorrect, actual results could differ materially from the expectations outlined in these statements. Cleverdis assumes no obligation and does not

intend to update these forward-looking statements during the period of publication. Photo Credits and Copyright: All Rights Reserved.

SITL DAILY • JEUDI 7 AVRIL 2022 / THURSDAY 7 TH APRIL 2022 3
---
I ACTUALITÉS I NEWS

I

Fabien Esnoult

Président et fondateur, SprintProject

President and founder, SprintProject

Innovation Partner

L'innovation, le meilleur

moyen de sortir la tête

haute d'une crise

SprintProject est partenaire de la SITL pour la 4 e année

consécutive. Fabien Esnoult, son président et fondateur, nous

explique comment il relie grands groupes et start-up, sur lesquelles

son entreprise veille en permanence.

Pourquoi êtes-vous partenaire de la

SITL ?

L'innovation est au cœur de notre

organisation. On apporte notre

éclairage sur une problématique

complexe à aborder. La SITL est

l'opportunité de transmettre un peu

de nos connaissances spécifiques

autour de la veille. On peut faire

une forme de transfert industriel,

donner des outils que l'on utilise, en

particulier dans le cadre du Prix de

l'innovation et du Start-Up Contest.

Parlez-nous de votre expertise...

Notre métier, c'est de faire de la

veille à l'échelle mondiale sur toute

l'innovation dans cette filière pour

le compte de très grands donneurs

d'ordres. On fait travailler ces grandes

entreprises entre elles autour de

projets transformants et complexes.

On veille plus de 1000 start-up,

environ 700 en Europe, plus de 200

sur le territoire américain, environ 150

en Asie. On a une vision mondiale de

toutes les tendances, on les analyse

en permanence pour déterminer

celles qui seront transformantes dans

les années à venir, faire le tri entre

ce qui sera important aujourd'hui

ou demain de façon à orienter la

stratégie d'innovation et la politique

d'investissement. C'est toujours

extrêmement compliqué pour les

grands groupes de collaborer avec

les start-up. On essaie d'apporter les

meilleurs projets et les meilleures

solutions au bon moment. On veut

aussi garantir les intérêts des startup

qui doivent trouver un intérêt

dans cette collaboration.

Pourquoi l'innovation constitue-telle

un enjeu si important ?

L'innovation est l'actif qui vous fera

passer les crises ou être leader sur

votre marché. Il y a ceux qui sont

devant, ceux qui suivent et ceux qui

sont en retard. La crise Covid l'a

parfaitement démontré. L'innovation

est le meilleur moyen de sortir la tête

haute d'une crise.

Innovation, the best way to come

out of a crisis with your head held

high

SprintProject is a SITL partner for the fourth consecutive

year. Fabien Esnoult, its President and Founder, explains to

us how he connects large groups and start-ups, a network

his company carefully supervises.

Why are you partnering with

SITL?

Innovation is at the heart of our

organisation. We shed light on

complex issues that need to be

addressed. SITL is the opportunity

to pass on some of our specific

knowledge around monitoring.

We can carry out a form of

industrial transfer, give tools that

we use, in particular within the

framework of innovation awards

and the Start-Up Contest.

Tell us about your expertise…

Our job is to watch global

innovation in this sector on behalf

of very large clients. These large

companies are made to work

together on evolving and complex

projects. We monitor more than

1,000 start-ups, around 700 in

Europe, more than 200 in the

United States, around 150 in Asia.

We have a global vision of all the

trends, we constantly analyse

them to determine which ones

will be transformative in the years

to come, to sort out what will be

important today or tomorrow in

order to guide the innovation

strategy and investment policy. It

is always extremely complicated

for large groups to collaborate

with start-ups. We try to bring

the best projects and the best

solutions at the right time. We also

want to guarantee the interests

of start-ups and keep them

motivated in this collaboration.

Why is innovation such an

important issue?

Innovation is the asset that will

allow you to navigate crises or be

a leader in your market. There are

those who are in front, who follow

and those who are behind. The

Covid crisis has demonstrated

this perfectly. Innovation is the

best way to come out of a crisis

with your head held high.

VIDEO

Découvrez nos

vidéos "Live" !

Discover our

exclusive videos

live from the show!

SSI SCHÄFER

KÄRCHER

GMR Safety

4 SITL DAILY • JEUDI 7 AVRIL 2022 / THURSDAY 7 TH APRIL 2022

www.sitldaily.com
---
I INTERVIEW EXCLUSIVE I

© RX

Echanger sur tous

les grands sujets

structurants

Denis Choumert, Président de l'Association des Utilisateurs

de Transport de Fret (AUTF), partenaire historique de la

SITL, profite du salon pour évoquer les sujets majeurs qui

touchent son secteur.

Pourquoi est-il important pour

l'AUTF d'être présente sur la SITL ?

Nous sommes ici pour échanger

sur tous les grands sujets

structurants : les conséquences

des changements dus à la

transformation énergétique du

transport qui s'accélère avec la

crise ukrainienne, et la montée

des prix du gaz et du pétrole ; tout

ce qui concerne la résilience des

supply chains et comment trouver

des processus qui permettent

de faire face à de possibles

perturbations ; enfin, il y a tout

ce qui est lié à l'équilibre des

transports et des marchés.

Comment appréhendez-vous ces

problématiques ?

On a détourné l'acronyme RSE. Le

R, c'est Résilience ; le S, Sobriété

Discussing the major

structural topics

Denis Choumert, President of the Association of Freight

Transport Users (AUTF), a historical partner of SITL, uses the

event as a platform to discuss the major issues affecting his

sector.

Why is it important for the AUTF

to be present at SITL?

We are here to discuss all

major structural issues: the

consequences of energy

transformation in transport, which

is accelerating with the Ukrainian

crisis, and the rise in gas and

oil prices; everything related to

the resilience of supply chains

and how to find processes that

allow you to deal with possible

disruptions. Also, there is

everything related to the balance

of transport and markets.

How do you address these

issues?

We have hijacked the acronym

RSE (CSR). R stands for resilience,

S stands for energy sobriety

and E stands for ethics and the

importance of business ethics.

The Covid crisis has shaken

Denis Choumert

Président de l'Association des

Utilisateurs de Transport de Fret

(AUTF)

President of the Association of

Freight Transport Users (AUTF)

énergétique ; le E pour Éthique et

l'importance de l'éthique business.

La crise Covid a bousculé tous

les codes dans les transports. La

logistique dans son ensemble va

avoir besoin d'une main d'œuvre

assez qualifiée, manquante de

façon criante.

Quels sont les projets de l'AUTF ?

On veut continuer nos projets liés à

la réduction d'émission de CO2 et

à la sobriété énergétique. Environ

130 entreprises sont engagées,

l'objectif final, fin 2023, s'élève à

400. On va sans doute participer

à d'autres projets, l'un lié au report

modal, l'autre à la logistique

urbaine. Pour l'international,

on se penche sur l'évolution du

marché maritime, avec la future

réglementation européenne pour

mieux cadrer celui-ci.

STAND C54

up all the norms in transport.

Logistics as a whole will need a

fairly qualified workforce, which is

currently lacking.

What are AUTF's projects?

We have hijacked the acronym

RSE (CSR). R stands for

Resilience, S stands for energy

Sobriety and E stands for Ethics

and the importance of business

ethics. The Covid crisis has shaken

up all the norms in transport.

Logistics as a whole will need a

fairly qualified workforce, which is

currently lacking.

STAND C54

LOW CARBON MARITIME

TRANSPORT : PREMIERS

BATEAUX DANS TROIS

ANS

L'AUTF, en partenariat avec France Supply

Chain, a créé l'association Low Carbon

Maritime Transport. Denis Choumert

nous en explique la genèse et l'objectif :

"Certains chargeurs se demandaient si

une technologie existait pour propulser

des voiliers cargos avec le vent, en

gagnant 70-80% de l'énergie thermique

utilisée et en ayant suffisamment de

navires pour un service régulier. On

a réuni une quinzaine de chargeurs

intéressés. Les premiers bateaux seront

mis en service dans trois ans, le contrat

est sur cinq ans, pour que les armateurs

puissent s'appuyer sur ces contrats

et ces volumes afin de financer les

bateaux. Ce sont des chargeurs français,

principalement pour des flux France-

Etats-Unis. Sur chaque ligne, ce sera un

service hebdomadaire, des "transit time"

à peine supérieurs à ceux des porteconteneurs

et des prix à peine supérieurs

à ceux d'avant la crise. Le tout avec au

moins 50% d'économie de carburant."

LOW CARBON MARITIME

TRANSPORT: FIRST

BOATS IN THREE YEARS

The AUTF, in partnership with France

Supply Chain, has created the Low

Carbon Maritime Transport association.

Denis Choumert explains its genesis and

objective:

"Some shippers wondered if there was

a technology that could propel cargo

sailboats with the wind, saving 70-80%

of the thermal energy used and having

enough ships for a regular service. We

brought together about 15 shippers who

were interested in this project. The first

boats will be commissioned in three

years, the contract is for five years, so

that the ship-owners can rely on these

contracts and these volumes to finance

the boats. These are French shippers,

mainly for France-United States flows.

On each line, it will be a weekly service,

"transit times" barely higher than those of

container ships and prices barely higher

than those of before the crisis. All with at

least 50% fuel savings."

© Herbert-ABS

SITL DAILY • JEUDI 7 AVRIL 2022 / THURSDAY 7 TH APRIL 2022 5
---
DOSSIER SPECIAL

SPECIAL FEATURE

STACKR,

optimised and

safer sites by

automating

access

Franck Zulian, Founder and

President of STACKR, the French

leader in Workflow Management

Systems, discusses the benefits of

E-GESTRACK.

STACKR, des sites optimisés et

sûrs grâce au contrôle d'accès

automatisé

Franck Zulian, Fondateur et président de STACKR, leader

français sur le marché du Flow Management System, parle

des gains de E-GESTRACK.

Qu'attendent distributeurs et

industriels sur leurs sites ?

L'enjeu est de rendre le contrôle

d'accès fluide, fiable et sûr.

Ce contrôle doit être le plus

automatisé possible pour éviter

les erreurs humaines. Et donner

une traçabilité sur l'ensemble

des flux de marchandises et de

personnes dans un contexte de

chaînes d'approvisionnement

plus complexes, plus tendues et

plus segmentées.

Comment STACKR répond-elle à

ces enjeux ?

Nous sommes leader en

France sur le marché du Flow

Management System (FMS) et

notre solution E-GESTRACK

aide industriels et distributeurs

à automatiser et à digitaliser

les flux de marchandises et de

personnes aux accès de leurs

sites.

Quels gains génère

E-GESTRACK ?

Les gains sont multiples :

baisse jusqu'à 90 % des coûts

de gardiennage et jusqu'à 50

% des coûts administratifs

liés à l'accueil et au contrôle

d'accès. S'ajoute une diminution

du temps de passage et de

traitement des camions jusqu'à

40 %. Sans compter la traçabilité

et la fiabilité des données sur

l'ensemble des flux.

STAND F85

What are manufacturers and distributors

looking for at their sites?

The challenge is to keep site access fluid,

reliable and secure. The process must be

as automated as possible to avoid human

errors and ensure the flows of goods and

people are fully traceable, even for the most

complex, strained and segmented supply

chains.

How does STACKR meet this challenge?

We are the leaders in Flow Management

Systems (FMS) in France and our

E-GESTRACK solution helps manufacturers

and distributors automate and digitalise the

flow of goods and people accessing their

sites.

What benefits does E-GESTRACK bring to

the table?

It offers many benefits - Reducing the

cost of guarding by up to 90%, as well

as administrative costs associated with

reception and controlling access to the site

by 50%. It also reduces the time needed for

processing trucks by 40%, while ensuring

reliable and traceable data across all flows.

STAND F85

6 SITL DAILY • JEUDI 7 AVRIL 2022 / THURSDAY 7 TH APRIL 2022

www.sitldaily.com
---
DOSSIER SPECIAL

SPECIAL FEATURE

Timcod présente un entrepôt 4.0

immersif à la SITL 2022 avec 18

partenaires

Timcod, acteur du marché de l'intégration de solutions

informatiques pour la supply chain, invite les visiteurs de

la SITL à découvrir son entrepôt 4.0. Construit avec 18

partenaires, l'espace Timcod présente un espace immersif

comprenant 28 solutions innovantes et différenciantes de

la supply chain.

Avec Timcod'Lab, Timcod voit

grand. A la SITL, le groupe

propose avec 18 partenaires

un espace de 68 m 2 , un

espace expérientiel central et

organise des temps forts et

démonstrations sur les usages

de l'entrepôt 4.0.

A l'heure des nouveaux modes

de consommation issus des

pratiques digitales, l'entrepôt 4.0

offre des réponses concrètes

à ces problématiques en

s'appuyant sur les technologies

de la révolution digitale:

l'interconnexion des actifs

de l'entrepôt, le diagnostic

intelligent, RFID, big data,

l'Intelligence artificielle, la

réalité augmentée, l'analyse

prédictive, la communication

et sécurisation du personnel, la

robotique-cobotique, le respect

de l'environnement et le bienêtre

au travail.

Le terme « Entrepôt 4.0 »

recouvre l'ensemble des

innovations et technologies

connectées qui accroissent la

performance de la supply chain,

des personnels qui y travaillent

et donc de l'entreprise. Autant

de technologies démontrées au

salon. « Le succès de l'entrepôt

4.0 en 2021 a été supérieur à

nos attentes. Timcod a enrichi

en 2022 l'espace d'exposition

avec la création d'un parcours

expérientiel immersif et la

présentation de 28 applications

concrètes. Le visiteur peut les

tester et échanger avec nos

experts », explique Jacques

Deckert, Directeur Stratégie

Business et Innovation du

Groupe Timcod.

STAND F113

NOUVEL ENTREPÔT

AUTOPORTANT

D'AR RACKING EN

ESPAGNE

L'espagnol EHLIS, qui distribue des

produits de quincaillerie, élargit sa

capacité logistique avec un nouvel

entrepôt autoportant du spécialiste

en solutions de stockage industriel AR

Racking. Les nouvelles installations

logistiques, près de Tolède, atteignent

une hauteur de 36 mètres.

Le centre logistique repose sur

la conception et l'installation des

rayonnages galvanisés autoportants

par AR Racking. Avec ce silo de

3 125 m 2 , EHLIS peut stocker quelque

30 000 palettes distribuées dans une

combinaison de rayonnages, aussi

bien à profondeur simple qu'à double

profondeur. Les entrepôts autoportants

avec une grande densité de charge,

permettent d'importantes économies

grâce à un investissement modéré. La

manipulation de la charge à l'intérieur

des rayonnages est effectuée par

quatre transstockeurs.

STAND M55

Timcod presents an immersive 4.0

Warehouse at SITL 2022 with 18 partners

Timcod, a leading actor specialised in the integration of

IT solutions for the supply chain, invites SITL visitors to

discover its 4.0 warehouse at the SITL. Built with 18 partners,

the Timcod space presents an immersive space including 28

innovative and unique supply chain solutions.

Timcod with Timcod'Lab thinks

big. At SITL, the group offers, with

18 partners, a space of 68 m 2 , with

highlights and demonstrations at

the 4.0 warehouse.

As new consumer patterns

emerge from digital practices,

the 4.0 warehouse offers

concrete answers to these issues

by sourcing technologies of the

digital revolution. Such themes

include the interconnection of

warehouse assets, intelligent

diagnostics, RFID, big data,

Artificial Intelligence, Augmented

Reality, predictive analysis,

communication and staff security,

robotics-cobotics, respect for the

environment, wellbeing at work.

The term "Warehouse 4.0"

covers all the innovations and

connected technologies that

increase the performance of

the supply chain, the staff who

work there and their companies.

A variety of technologies are

showcased at the SITL. "The

success of Warehouse 4.0 in 2021

exceeded our expectations. In

2022, Timcod has enriched the

exhibition space with the creation

of an immersive experience

trail and the presentation of

28 applications. Visitors can

test them and discuss with

our experts", explains Jacques

Deckert, Business Strategy and

Innovation Director of the Timcod

Group.

STAND F113

NEW AR RACKING

FREESTANDING

WAREHOUSE IN

SPAIN

EHLIS, a Spanish distributor of

hardware products, is expanding its

logistics capacity with a new clad-rack

warehouse from industrial storage

solutions specialist AR Racking. The

new logistics facilities, near Toledo,

reach a height of 36 meters.

The logistics centre is based on

the design and installation of selfsupporting

galvanised shelving by

AR Racking. With this 3,125 m2 selfsupporting

silo, EHLIS can store

some 30,000 pallets distributed in a

combination of shelving, both singledeep

and double-deep. Self-supporting

warehouses, by allowing a high load

density, allowing significant savings

thanks to a moderate investment. The

handling of the load inside the racks is

carried out by four stacker cranes.

STAND M55

SITL DAILY • JEUDI 7 AVRIL 2022 / THURSDAY 7 TH APRIL 2022 7