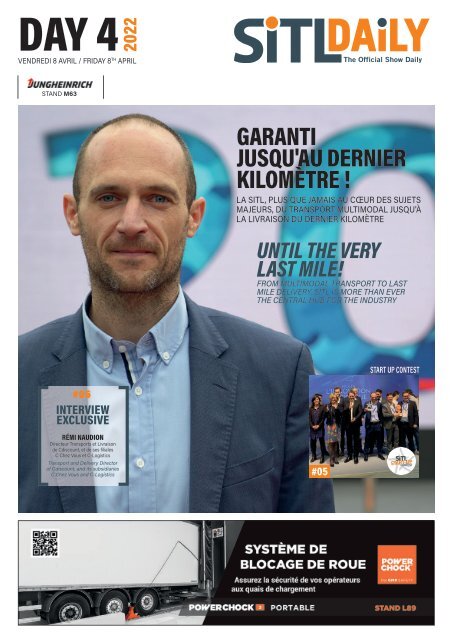 SITL Daily - DAY 4 Edition
You also want an ePaper? Increase the reach of your titles
YUMPU automatically turns print PDFs into web optimized ePapers that Google loves.
DAY 4

VENDREDI 8 AVRIL / FRIDAY 8 TH APRIL

2022

STAND M63

GARANTI

JUSQU'AU DERNIER

KILOMÈTRE !

LA SITL, PLUS QUE JAMAIS AU CŒUR DES SUJETS

MAJEURS, DU TRANSPORT MULTIMODAL JUSQU'À

LA LIVRAISON DU DERNIER KILOMÈTRE

UNTIL THE VERY

LAST MILE!

FROM MULTIMODAL TRANSPORT TO LAST

MILE DELIVERY, SITL IS MORE THAN EVER

THE CENTRAL HUB FOR THE INDUSTRY

START UP CONTEST

#06

INTERVIEW

EXCLUSIVE

RÉMI NAUDION

Directeur Transports et Livraison

de Cdiscount, et de ses filiales

C Chez Vous et C-Logistics

Transport and Delivery Director

of Cdiscount, and its subsidiaries

C Chez Vous and C-Logistics

#05
---
HALL PLAN
---
PROGRAMME

JOUR 4 / DAY 4

Vendredi 8 avril / Friday 8 th April

> Infrastructures logistiques

ZÉRO ARTIFICIALISATION NETTE (ZAN), CLIMAT, BIODIVERSITÉ,

COMMENT ET OÙ BÂTIR DES ENTREPÔTS DEMAIN ?

Diana Diziain, Jean Benet, David Taieb, Constance Maréchal-Dereu,

Ronan Sévette, Jonathan Sebbane

10:00 - 11:00 Salle Atrium

> Drones

DRONE PARADE

10:30 - 11:00 Drone Valley

> Green logistics

PROPRE, EFFICACE, SÉCURISÉ, PONCTUEL, LE FLUVIAL, L'AVENIR

Edouard de Montmarin, Thibault Fruitier, Steve Labeylie, Lionel Rouillon,

Xavier Bourat, Christiane Morel, Ronan Sévette, Thierry Kerlo

Le temps est au transport massifié. En particulier au fluvial qui, longtemps

délaissé, retrouve de la vigueur. Sûre, ponctuelle, très peu consommatrice

d'énergie à l'unité transportée, la barge n'a que des avantages. Elle est en

train de moderniser sa motorisation afin d'émettre moins de particules dans

l'air des villes. Le canal Seine-Nord sera un appel d'air. La Chatière va enfin

être percée au Havre. Comment utiliser le fluvial ? Mode d'emploi.

11:15 - 12:15 Salle Atrium

CIRCUIT TEST

11:30 - 12:00 Circuit Test

> Ressources humaines

COMMENT FAVORISER LA PARITÉ ET LA DIVERSITÉ

DES TALENTS EN LOGISTIQUE ET SUPPLY CHAIN ?

Cécile Cloarec, Audrey Lemaître, Adrian Lopez, Aurélien Beaucamp,

Hager Jemel

13:45 - 14:45 Salle Atrium

CIRCUIT TEST

13:30 - 14:00 Circuit Test

> Drones

DRONE PARADE

14:30 - 15:00 Drone Valley

> Logistical infrastructures

ZERO NET ARTIFICIALISATION (ZNA), CLIMATE, BIODIVERSITY,

HOW AND WHERE SHOULD WE BUILD THE WAREHOUSES OF THE FUTURE?

Diana Diziain, Jean Benet, David Taieb, Constance Maréchal-Dereu,

Ronan Sévette, Jonathan Sebbane

10:00 - 11:00 Atrium Room

> Drones

DRONE PARADE

10:30 - 11:00 Drone Valley

> Green logistics

CLEAN, EFFICIENT, SAFE AND PUNCTUAL, RIVER TRANSPORT

AND THE FUTURE

xEdouard de Montmarin, Thibault Fruitier, Steve Labeylie, Lionel Rouillon,

Xavier Bourat, Christiane Morel, Ronan Sévette, Thierry Kerlo

The time is ripe for mass transport. In particular, inland waterway transport, which

has been overlooked for a long time, is making a comeback. River barges offer major

advantages, including safe and punctual transport, with extremely low energy use

per unit transported. The industry is modernising its engines to emit fewer particles

into city air, the future Seine-North Canal will mark a major turning point for the

sector, and a new channel for inland waterway traffic is being dredged at Le Havre.

How do you use inland waterway transport? We'll tell you all you need to know.

11:15 - 12:15 Atrium Room

TEST TRACK

11:30 - 12:00 Test track

> Human resources

PROMOTING GENDER EQUALITY AND DIVERSITY IN LOGISTICS

AND THE SUPPLY CHAIN

Cécile Cloarec, Audrey Lemaître, Adrian Lopez, Aurélien Beaucamp,

Hager Jemel

13:45 - 14:45 Atrium Room

TEST TRACK

13:30 - 14:00 Test track

> Drones

DRONE PARADE

14:30 - 15:00 Drone Valley

SITL Daily is a CLEVERDIS Publication 439 Route de la Seds, 13127 Vitrolles, France

• Tel: + 33 442 77 46 00

• SAS capitalised at €155,750 • VAT FR 95413604471

• RCS Salon de Provence 413 604 471 • info@cleverdis.com • www.cleverdis.com

• www.sitldaily.com

• Publisher: Jean-François Pieri • Project Manager: Bettina Badon

• Senior Account Manager: Benjamin Klene • Head of Editorial Team : Emiliana Van Der Eng

• Editorial team: Thomas Campbell, Hervé Chervy, Luc Citrinot, Fabrice Lamperti,

Frédéric Roba, Reuben Tasker

• Art Director: Hélène Beunat • Web Designer: Guillaume Vinrich

• With the participation of: Zineb Elhabiri, Sara Hirache, Veronika Verzhak

>>> To contact them: first name.last name@sitldaily.com

Cover: Crédit Photo : © Cleverdis /

Printer: Imprimerie Frazier - Paris

© CLEVERDIS 2022 - Registration of Copyright March 2022. Information presented in this publication is purely indicative in order to illustrate subjects contained therein. No

guarantee can be given as to the accuracy of data or content at time of printing and thus the latter should not be used for professional or commercial ends. While all efforts

have been made as to accuracy and pertinence of content and data contained in this publication, CLEVERDIS may in no case be held responsible for the consequences,

whatever their nature may be, that may result from the interpretation of this data or content, or any eventual errors therein. Any reproduction of the content of this publication,

even partial, by any means whatsoever, is strictly prohibited without the prior autorisation of the publisher. Any copy, whether by photography, photography film, magnetic

tape, disc or other means constitutes a forgery, liable to punishment under French law according to the legislation of 11 th March 1957 covering copyright. All brands cited in this

publication are registered trade marks and/or belong to companies which are their respective proprietors. The publishers and editorial staff decline all responsibility as to

opinions formulated in this publication by those interviewed or cited therein. Their opinions are entirely their own, and are included with the understanding that they contain,

to our knowledge, no malicious intent. The inclusion of all texts, photographs and other documents supplied by those included in this publication imply the acceptance

by their authors of their free publication therein. Documents and photographs will not be returned. It should be understood that this publication contains forward-looking

statements that involve risks, uncertainties and assumptions. All statements other than statements of historical fact are statements that could be deemed forward-looking

statements. Risks, uncertainties and assumptions include assumptions relating to the timing of the recorded date. If any of these risks or uncertainties materialises or any of

these assumptions proves incorrect, actual results could differ materially from the expectations outlined in these statements. Cleverdis assumes no obligation and does not

intend to update these forward-looking statements during the period of publication. Photo Credits and Copyright: All Rights Reserved.

SITL DAILY • VENDREDI 8 AVRIL 2022 / FRIDAY 8 TH APRIL 2022 3
---
I ACTUALITÉS I NEWS

I

By Laurence Gaborieau

Directrice de la Division Transport & Logistique, Tourisme et Sport

RX France, organisatrice de la SITL

Division Director Transport & Logistics Tourism & Fitness Healthcare

of RX France, the company organising SITL

Quelle énergie !

What an ambiance!

La 39 e édition de la SITL ferme ses

portes ce soir, mais le moment de

vous dire au revoir n'est pas encore

arrivé. La quatrième et dernière

journée s'annonce tout aussi

palpitante et intéressante que les

précédentes. Il est évidemment

trop tôt pour dresser un bilan, mais

tous les feux sont au vert. Avec mon

équipe, nous tenons à remercier

l'ensemble des conférenciers et

intervenants, les exposants et les

nombreux visiteurs. Ensemble vous

avez fait de ce salon un succès.

Face aux crises successives,

le secteur du transport, de la

logistique et de la supply chain

demeure dynamique et résilient.

Il ne cesse de se réinventer pour

faire face aux multiples enjeux qui

nous attendent dans un avenir

proche. Les lauréats du Prix de

l'Innovation et du Start-Up Contest

ont su s'inscrire dans cette logique.

Ils ont enthousiasmé le jury, obligé

de décerner un Prix Spécial Coup

de Cœur, tant la compétition s'est

révélée acharnée.

Aux côtés de la responsabilité

sociale et environnementale,

l'innovation a constitué un autre

fil rouge de cette édition. Une

partie des conférences et ateliers

y a été consacrée. Aujourd'hui,

place aux derniers rendez-vous

qui évoqueront les infrastructures

logistiques, les "green logistics"

et les ressources humaines, ou

"comment favoriser la parité et la

diversité des talents en logistique

et supply chain".

Avant de tourner la page de cette

édition et de songer à la 40 e , il nous

reste un jour. Profitez-en !

The 39 th edition of SITL comes to

a close tonight, but the time to say

goodbye has not yet arrived. The

fourth and final day promises to

be just as thrilling and interesting

as the previous ones. My team

and I would like to thank all the

speakers and contributors, the

exhibitors and the many visitors.

Together, you made this show a

success.

During the recent successive

crises, the transport, logistics

and supply chain sector remains

dynamic and resilient. It is

constantly reinventing itself to

meet the many challenges that

await us in the near future. The

winners of the Innovation Awards

and the Start-Up Contest are an

embodiment of this. They enthused

the jury, with competition proving

to be fierce.

Alongside social and

environmental responsibility,

innovation was the other important

theme running through this year's

event. A selection of conferences

and workshops focused on this

important theme. Today, there

will be several interesting events,

with discussions about logistics

infrastructures, "green logistics",

and human resources, or "how

to promote parity and diversity

of talents in logistics and supply

chain".

Before turning the page on this

year's event and thinking about

the 40 th SITL, enjoy the last day of

the show!

4 SITL DAILY • VENDREDI 8 AVRIL 2022 / FRIDAY 8 TH APRIL 2022

www.sitldaily.com
---
I ACTUALITÉS I NEWS

I

SHOWROOM 360,

UN ESPACE DE

DÉMONSTRATION

SENSORIEL

Prix de l'Innovation - Start-Up

Contest : un palmarès de haute

volée

Impossible de passer par la SITL sans

faire un crochet par le Showroom 360.

Cet espace de démonstration sensoriel

regroupe trois univers : la Drone Valley,

l'Entrepôt du Futur et le Circuit de Test.

Le premier est dédié à l'application des

drones dans le domaine du transport

et de la logistique ; le deuxième se

décline sous plusieurs aspects vecteurs

de performance (éco-responsable,

automatisé, sécurisé, humain, connecté

et performant) ; le troisième répond aux

préoccupations environnementales et

expose les moyens de mobilité douce

plébiscités dans le cadre de la gestion

du dernier kilomètre. Cet espace permet

également de tester des véhicules

utilitaires légers sur un espace sécurisé.

Cette année encore, les

délibérations se sont révélées

compliquées. A tel point que

le jury de professionnels

appelé à décerner les 22 es

Prix de l'Innovation consacrés

au transport, à la logistique

et à la supply chain, l'un des

moments forts de la SITL, a

décidé d'ajouter une cinquième

distinction, avec le Prix Spécial

Coup de Cœur. Voici le palmarès

complet :

• Open GIE dans la catégorie

Services Transport &

Logistique ;

The

prestigious

Innovation

and Start-

Up Contest

awards

• Geek + dans la catégorie

Intralogistique, Robotique &

Automatisation ;

• Bary (SI MILES 88) dans la

catégorie Technologies, IoT &

Systèmes d'Information ;

• CMC SPA dans la catégorie

Emballage, Conditionnement

& Palette.

• RCR Industrial Flooring pour

le Prix Spécial Coup de Cœur

du jury.

Plus tôt dans la journée, le

Start-Up Contest, 8 e du nom, a

couronné deux jeunes pousses :

Like previous years, the

deliberations proved to be

complicated. So much so

that the jury of professionals

called upon to award the 22 nd

Innovation Awards devoted

to transport, logistics and

the supply chain, one of the

highlights of SITL, decided to

add a fifth distinction, with the

Special Coup de Cœur Prize.

Here is the full list:

• Open GIE in the Transport &

Logistics Services category;

• Geek + in the Intralogistics,

Robotics & Automation

category;

• Bary (SI MILES 88) in

the Technologies, IoT

& Information Systems

category;

Customs Bridge est le nouveau

lauréat, ainsi que la Société

Fluviale de Logistique qui a reçu

une mention spéciale. Elles ont

su convaincre le jury composé

de professionnels du secteur

après une présentation de cinq

minutes et deux minutes de

questions-réponses.

• CMC SPA in the Packaging,

Conditioning & Pallet

category.

• RCR Industrial Flooring

for the Jury's Special

"Coup de Cœur" Prize.

Earlier today, the Start-

Up Contest crowned two

companies: Customs Bridge

and the Société Fluviale de

Logistique which received

special mention. They were

able to convince the jury,

made up of professionals from

the sector, after a five-minute

presentation and two minutes

of questions and answers.

SHOWROOM

360, A SENSORY

DEMONSTRATION

SPACE

It is impossible to pass by SITL without

making a detour to the Showroom

360. This sensory demonstration

space brings together three worlds:

the Drone Valley, the warehouse of the

future and the test circuit. The first is

dedicated to the application of drones

in the field of transport and logistics;

the second comes in the form of several

performance vector aspects (ecoresponsibility,

automation, security,

humanity, connection and efficiency);

the third responds to environmental

concerns and outlines the means of soft

mobility that is popular in the context

of managing the last mile delivery. This

space also makes it possible to test light

utility vehicles in a secure area.

SITL DAILY • VENDREDI 8 AVRIL 2022 / FRIDAY 8 TH APRIL 2022 5
---
I INTERVIEW EXCLUSIVE I

L'emballage a

toujours été un enjeu

pour Cdiscount

Rencontre avec Rémi Naudion, Directeur Transports et Livraison

de Cdiscount, et de ses filiales C Chez Vous et C-Logistics. Son

objectif : réduire l'impact de ses différentes activités.

Pourquoi est-il important d'être

présent à la SITL ?

Cela fait plus de dix ans que l'on

vient à la SITL. C'est d'autant plus

important depuis que C-Logistics est

la filiale logistique et transports de

Cdiscount. Cela nous permet de voir

les nouvelles solutions en matière

d'emballages et de réfléchir à la

façon dont on peut les implémenter

dans nos entrepôts.

Pouvez-vous présenter vos

activités ?

C-Logistics gère toute la logistique

et la livraison aux clients ayant passé

commande sur Cdiscount. C-Logistics

est un nouvel acteur 3PL (Logistique

tierce partie) dans la e-logistique. C

Chez Vous, filiale de C-Logistics, est

un transporteur de produits lourds et

encombrants, à domicile et en points

relais. On travaille avec plus d'une

trentaine de clients.

Pourquoi le thème de l'emballage et

son recyclage est-il si important ?

L'emballage a toujours été un enjeu

pour Cdiscount. Il est le premier

lien physique entre le client et sa

Rémi Naudion

Directeur Transports et Livraison de

Cdiscount, et de ses filiales C Chez

Vous et C-Logistics

Transport and Delivery Director of

Cdiscount, and its subsidiaries C

Chez Vous and C-Logistics

commande. Le deuxième enjeu

concerne l'environnement. On réduit

l'impact de nos activités. En 2016,

on a été le premier e-commerçant à

déployer des machines d'emballages

3D qui adaptent au millimètre près

la taille et le gabarit de l'emballage

au contenu. Cela permet de diminuer

de 30% le volume de l'emballage et

le nombre de camions sur les routes.

Que faites-vous pour être plus

écoresponsable ?

On essaie d'impliquer davantage

le client pour diminuer l'impact du

e-commerce. On ne suremballe pas

un produit qui ne le nécessite pas. Si le

client ne commande qu'un aspirateur,

on lui propose d'utiliser seulement

l'emballage du fournisseur. Depuis

novembre 2021, on a industrialisé

la solution Hipli, un emballage

réutilisable 100 fois. Sur Cdiscount, on

peut recevoir sa commande dans cet

emballage qui se replie sur lui-même

et peut être déposé dans une boîte

postale.

NOUS SOMMES

MÉCÈNES POUR

DIFFÉRENTES

ASSOCIATIONS ET

FONDS

Limiter l'impact environnemental

est au cœur de la stratégie de

la supply chain Cdiscount, et

de ses filiales C-Logistics et

C Chez Vous. A Paris intra-muros

et Bordeaux, C Chez Vous livre

en véhicules électriques sur le

dernier kilomètre ; à Lyon, elle

travaille avec une start-up Fends

la bise qui livre des machines

à laver ou des meubles en

vélo cargo. "Sur le volet social,

Cdiscount est mécène pour

différentes associations et fonds,

souligne Rémi Naudion. On

travaille avec le réseau Envie pour

donner une seconde vie à des

produits qui ne fonctionnent plus."

WE ARE PATRONS

FOR VARIOUS

FUNDS AND

ASSOCIATIONS

Limiting environmental impact

is at the heart of Cdiscount's

supply chain strategy, and the

same applies for subsidiaries

C-Logistics and C Chez Vous.

In inner Paris and Bordeaux, C

Chez Vous delivers with electric

vehicles; in Lyon, they work with

a start-up Fends la bise, which

delivers washing machines and

furniture by cargo bike. "On the

social side, Cdiscount is a patron

for various associations and

funds", notes Rémi Naudion. "We

work with the Envie network to

give a second life to products

that no longer work".

Packaging

has always

been a

major

topic for

Cdiscount

Meeting with Rémi Naudion, Transport and Delivery Director of

Cdiscount, and its subsidiaries C Chez Vous and C-Logistics, who

seeks to reduce the impact of his various activities.

Why is it important to be present at

the SITL?

We've been coming to SITL for more

than ten years. This is all the more

important since C-Logistics is the

logistics and transport subsidiary of

Cdiscount. It allows us to see new

packaging solutions and think about

how we can implement them in our

warehouses.

Could you explain the work you do?

C-Logistics manages all logistics

and delivery to customers of orders

placed on Cdiscount. C-Logistics is

a new 3PL (Third Party Logistics)

player in e-logistics. C Chez Vous, a

subsidiary of C-Logistics, is a carrier

of heavy and bulky products, at home

and at pick-up points. We work with

more than 30 clients.

Why is the theme of packaging and

its recycling so important?

Packaging has always been an

important issue for Cdiscount. It is

the first physical link between the

customer and their order. The second

issue concerns the environment. We

have reduced the climate impact of

our activities. In 2016, we were the

first e-retailer to deploy 3D packaging

machines that adapt the size and

template of packaging down to the

millimetre. This reduces the volume

of packaging by 30%, and reduces

the number of trucks on the road.

What are you doing to be more ecoresponsible?

We try to involve the customer more

in order to reduce the impact of

e-commerce. We do not overpack

a product that does not require

it. If the customer only orders a

vacuum cleaner, they are offered to

use only the supplier's packaging.

Since November 2021, we have

industrialised the Hipli solution, a

type of packaging that can be reused

100 times. On Cdiscount, you can

receive your order in this packaging,

which folds up on itself and can be

placed in a post office box.

6 SITL DAILY • VENDREDI 8 AVRIL 2022 / FRIDAY 8 TH APRIL 2022

www.sitldaily.com
---
DOSSIER SPECIAL

SPECIAL FEATURE

The Box, le colis innovant et

réutilisable de LivingPackets

L'innovante start-up mise sur ce colis connecté,

intelligent, sécurisé et réutilisable

C'est l'une des innovations qui fait la

fierté de LivingPackets. Cette startup

place l'intelligence au cœur de

la livraison avec une traçabilité

accrue rendue possible par l'IoT.

Elle révolutionne la livraison des

colis, avec sa dernière version

de The Box, son colis connecté,

sécurisé, intelligent et réutilisable

jusqu'à 1 000 fois, protégé par 36

brevets internationaux. The Box

permet de ne plus utiliser de carton,

de ruban adhésif, de rembourrage,

d'étiquette ou de papier bulle, alors

que ce mode d'expédition ne cesse

de se développer avec la vente en

ligne, notamment en France où

500 millions de colis sont envoyés

chaque année.

Récompensée à de nombreuses

reprises, notamment lors des

éditions 2020 et 2021 du CES de

Las Vegas, The Box, coquette boîte

noire en plastique saupoudrée de

vert fluo, permet surtout de suivre

et de contrôler un colis en temps

réel grâce à un GPS, tout en étant

dotée d'un capteur de chocs,

de température et d'humidité.

Cette technologie est au service

de l'efficacité aussi bien pour

l'expéditeur que pour le client ;

elle permet d'éviter la perte ou

la détérioration des colis, mais

aussi de gagner du temps sans

attendre vainement une livraison.

La boîte se déverrouille à partir

d'une application téléchargée sur

son téléphone portable. Une fois

utilisée, The Box doit être renvoyée

ou déposée dans un point de

collecte.

STAND F113

The Box, the innovative and reusable

package from LivingPackets

The innovative start-up is betting on this connected,

smart, safe and reusable package

Meeting with Rémi Naudion, Transport and Delivery

Director of Cdiscount, and its subsidiaries C Chez Vous and

C-Logistics, who seeks to reduce the impact of his various

activities.

This is one of the innovations

that makes LivingPackets

proud. This start-up, which

places intelligence at the heart

of delivery with increased

traceability made possible by

the IoT, is revolutionising parcel

delivery. Its latest innovation, The

Box, is a secure and intelligent

parcel that can be reused up

to 1,000 times, protected by 36

international patents. The Box

makes it easier to no longer

use cardboard, adhesive tape,

padding, labels or bubble wrap,

while this method of shipping

continues to develop with online

sales, particularly in France

where 500 million packages are

sent every year.

With numerous awards, in

particular at the 2020 and 2021

editions of CES in Las Vegas,

The Box, a pretty black plastic

box sprinkled with fluorescent

green, above all makes it possible

to track and control a parcel in

real time thanks to GPS, while

being equipped with a shock,

temperature and humidity sensor.

This technology is at the service of

efficiency for both the sender and

the customer; it makes it possible

to avoid the loss or deterioration

of packages, but also to save

time without waiting in vain for a

delivery. The box unlocks from an

application downloaded to your

mobile phone. Once used, The

Box must be returned or dropped

off at a collection point.

STAND F113

KÄRCHER,

LE NETTOYAGE

AU SERVICE DE

LA LOGISTIQUE

Porté par une forte politique d'innovation,

Kärcher enrichit en permanence les solutions

pour les entreprises, notamment afin de

faciliter la logistique.

"On propose la bonne machine, le bon

accessoire, le bon détergent. On apporte

une solution globale pour nos clients",

insiste Anthony Guilloux, Responsable

National Grands Comptes. Kärcher dispose

de plusieurs machines pour nettoyer les

entrepôts. "La première étape, c'est d'aspirer

les déchets résiduels, les poussières fines.

Pour ce faire, on a des balayeuses aspirantes

avec des systèmes de filtration assez poussés ;

la deuxième étape, ce sont les autolaveuses.

Concernant les zones extérieures et les voies

d'accès sur les entreposages extérieurs, des

balayeuses industrielles sont disponibles

en différentes motorisations, avec plusieurs

capacités de stockage."

STAND T71

Find out more on

our exclusive video

KÄRCHER, CLEANING

AT THE SERVICE OF

LOGISTICS

Driven by a strong policy of innovation,

Kärcher is constantly enriching solutions for

companies, in order to facilitate logistics.

"We offer the right machine, the right

accessory, the right detergent. We provide

a global solution for our customers", insists

Anthony Guilloux, National Key Account

Manager. Kärcher has several machines

for cleaning warehouses. "The first step is

to vacuum residual waste, fine dust. To do

this, we have suction sweepers with fairly

advanced filtration systems; the second

step is the scrubber driers. Concerning the

outdoor areas and access roads to outdoor

storage, industrial sweepers are available

with different engines and with several

storage capacities".

STAND T71

VIDEO

SITL DAILY • VENDREDI 8 AVRIL 2022 / FRIDAY 8 TH APRIL 2022 7