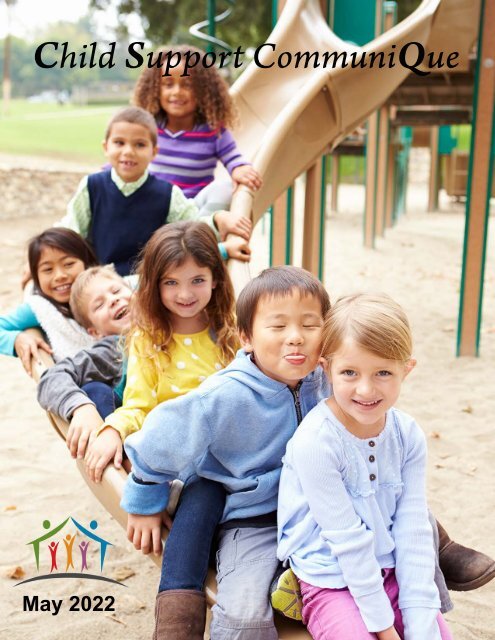 Create successful ePaper yourself
Turn your PDF publications into a flip-book with our unique Google optimized e-Paper software.
ChildSupportCommuniQue
---
Table of Contents

May 2022

President's Message……………………………………………………………………… 3

Community Corner: Tribal Child Support: A Full Circle………….…………….……....5

Reimagining Possibilities and Elevating the Child Support Experience……………...8

An Exciting Overview of Highly Effective Child Support Training Programs……….13

How Courts Responded to the Pandemic……………………………………………...21

Value Stream Mapping…………………………………………………………………..30

Policy Forum Wrap Up………………………………………......................................36

NCSEA U Alumni Spotlight……………………………………………………………….42

NCSEA On Location: And So It Began………………………………………………….43
---
Lori Bengston

NCSEA President

Hello!

It seems as if 2022 just started and just like that it is April. As I write this

article, we are springing ahead into daylight savings time, and I look

forward to the longer, warmer days! I am anxious for the spring weather,

but before we say goodbye to winter, I would like to reflect a moment on

the tremendous success of the Policy Forum held in February. For those of

you able to join in person, it was good to see you again, and for those who

joined virtually, it was nice that you could be with us from afar. I was thrilled

with this year's co-chairs, Connie Chesnik and Margot Bean, and how they,

along with their committee, really brought the theme of "Focusing on our

Vision – Recognizing our Perspectives" to life! I received a lot of positive

feedback on the content and the way each day built upon the last. It was an

informative and thought-provoking conference, and it left us with a lot to

consider on our way home.

Spring ahead and the 2022 Leadership Symposium is in full swing under

the capable direction of the conference chairs, Carla West, Phyllis Nance,

and Linda Rhyne-McKinley. The Leadership Symposium will be held

August 7-10 at the Westin in Charlotte, North Carolina. The theme will be

"Level Up…Transforming Tomorrow's Leaders." I hope you can join us for

this event, which will give us a wonderful opportunity to "level up" our

leadership skills. In keeping with the energy created at Policy Forum, we

will be looking at a variety of not only workshops and plenaries, but also

learning labs that will provide opportunities to put what we learn into action

and have some fun! Once again, NCSEA will focus on providing content

from a variety of perspectives to continue our commitment to diversity. So,

start making plans now and register today.
---
We realize that not everyone can attend conferences, so NCSEA offers

many opportunities to learn and connect with other child support

professionals, including a variety of Web Talks, NCSEA Connect events,

publications such as the Rapid Read and the Child Support Quarterly

(CSQ), along with social media posts on Twitter and Facebook, and

NCSEA's On Location podcasts. To learn more about how you can take

advantage of these offerings, visit the NCSEA website at www.ncsea.org.

Last, but definitely not least, I would like to thank the committee co-chairs

and members for all the work they have done so far this year. I always

knew a lot of amazing work happened at the committee level, but not until I

was President, and able to pop in on committee calls, did I realize just how

much! The passion and enthusiasm of members is evident in each

committee, and the work that they are producing is impactful and shaping

the future of the program. We are fortunate to have so many child support

professionals with the experience, creativity, and energy to keep moving

our program forward, always with the goal of serving families to the best of

our ability.

There are lots of exciting things on the horizon, so please take advantage

of the programs and events that NCSEA offers so you can stay informed.

Our collective voice matters and staying engaged is the best way to make

the biggest impact and provide the diverse thinking that is critical now more

than ever.

NCSEA is always on the move—whether we are springing forward or

leveling up, you can count on NCSEA to be at the forefront of new ideas

and best practices to transform the child support program. We hope you

will join us on the ride!

_________________________________________

In addition to serving as NCSEA President, Lori Bengston is a Project Manager for

Young Williams and has been active in the child support enforcement program for over

16 years. She has direct supervision of the Nebraska Child Support Call Center,

including the Early Intervention Project. Lori has been a speaker at many child support

conferences on the topics of customer service, call centers, and early intervention. Lori

has been active in NCSEA for many years, previously serving on the Board from 2007-

2013. She is a Past President of the Western Intergovernmental Child Support

Engagement Council (WICSEC) and the Nebraska Child Support Enforcement

Association Board of Directors.
---
TRIBAL CHILD SUPPORT – A FULL CIRCLE:

The Past, The Present, and The Future

by Sandy Cloer, President & Marsha

Harlan, Immediate Past President

National Tribal Child Support Association

(NTCSA)

Forty-seven years ago, in 1975, Congress created the child support

enforcement program so that states could ensure parents met their

financial responsibility for their children. Twenty-one years later, Congress

amended the Personal Responsibility and Work Opportunity Reconciliation

Act of 1996 (PRWORA). This amendment authorized federal funding to

Indian tribes or tribal organizations for the purpose of operating a child

support enforcement program with the objectives of locating absent

parents, establishing paternity and support orders, as well as modifying and

enforcing those orders.

Over the last two decades, tribes have become very accomplished

regarding child support enforcement. Of course, much of the groundwork

for success was laid long before Congress amended PRWORA via the

Balanced Budget Act of 1997, as Tribal Courts were already independently

ordering and enforcing child support. Some tribes, however, were unable to

process their cases in Tribal Courts as their programs were managed

under the states and therefore child support cases were handled in those

state courts. When federal funding initially became available to Tribes, the

gravity of the program was placed on the necessity to alleviate public

assistance programs; however, it did not take long for Tribes to determine

that the most primary need for child support was, and still is, to support our
---
most precious assets by allowing our children to enjoy the same socioeconomic

footing as their non-Indian counterparts.

Today, 60 tribes/tribal entities operate federally funded child support

enforcement programs. For fiscal year 2022, $54.7 million was allocated for

tribal child support enforcement programs. This is an increase of $2.3

million from the previous year. By having these programs, tribes have

ensured that tribal children have equal opportunities as their non-native

peers. Our children have become more involved socially with their nonnative

peers than they have been in the past.

Tribes that operate child support enforcement programs have had some

challenges. Some tribes have struggled with automated systems to monitor

their programs. Smaller tribes do not have the resources to invest in large

systems that can do this for them. Coming up with the non-federal share of

their budget has also been a challenge, as well as training opportunities

and housing a program.

In addition, tribes have not been allowed some of

the tools available to state programs. It has only

been in the past few years that tribes have been

able to access the Federal Parent Locator

System (FPLS). Further, tribes are not permitted

to offset individual state and federal taxes. While

a huge collection tool for states, this exclusion is an immense barrier for

tribal programs. Fortunately, legislation is finally in Congress to allow tribes

to use federal tax offset. The Tribal Child Support Enforcement Act (S. 534)

has passed the Senate and is now waiting in the House. We are closer

than we have ever been before to having the same tools as state child

support programs.

Even though there have been challenges, much credit for the positive

achievements of tribes is simply due to the collaboration between states

and tribal programs as well as their respective judiciaries. Once tribes and

states started to work together as a matter of routine, it became obvious

that our efforts had long lasting positive impacts on our tribal communities,

which in turn affected the entire community.

Tribes have learned best practices from state child support programs. We

have had an opportunity to learn from their lessons and to lean on them for
---
support as we begin new initiatives. Congress has created more stringent

guidelines for federally funded state programs; however, the legislature

also provides substantial tools that haven't always been available to tribal

programs. Over the last several years, OCSE has begun providing training

resources and tools to tribes.

By working together, we have historically been able to consolidate our

efforts to insure the most effective impact for all our children.

Sandy Cloer is Director of the Eastern Band of Cherokee Indians in North Carolina, and

the current President of the National Tribal Child Support Association (NTCSA).

Marsha Harlan is a partner in the firm of Legal Advocates for Indian Country, LLP and

served as President of NTCSA from 2017-2021.
---
Reimagining Possibilities

and Elevating the Child

Support Experience

by Mayra Marquez,Senior Manager,

Deloitte and Chelsea Rios,

Consultant, Deloitte

The past two years have served as a catalyst for change for the future of

child support programs. Organizations across the country are reevaluating

their interconnected processes, technology, and structures to sustain their

operations and mission. As child support organizations continue to adapt to

shifting needs of customers, they must evaluate all aspects of their

organization and consider new ways of thinking and approaching their

work. They must continually ask: What should we invest in to reimagine

possibilities and elevate the future of Child Support programs so that

people - families, staff, constituents – and their varied experiences are at

the center of all that we do? Organizations today have the unique

opportunity to capitalize on the current momentum for change to drive

meaningful impact; it's more than just adapting, it's about elevating. It's

time to elevate the child support experience.

Leading with Human-Centered Design

As child support organizations continue along the journey of organizational

change, they can lead with a

human-centered approach to

keep the experience of staff,

customers, and constituents at

the center of their day-to-day

work. Human-Centered Design

(HCD), a research-based

methodology which blends

design, strategy, research, and
---
entrepreneurial thinking, brings the human being into focus by starting with

the premise that individuals' beliefs, values, feelings, and ambitions are

important because they form the foundation for who they are and what they

want from the organizations with which they engage. HCD can be applied

in multiple scenarios—whether an organization is designing a new

technology system, updating key processes, or developing new services.

Defining and driving change with workers and customers (as opposed

to implementing changes to them) is essential to HCD and helps promote a

greater level of adoption, ownership, and impact for the process,

technology, and structural changes that await the future of child support.

We've seen a clear focus on the human experiences of workers, families,

and constituents during recent strategy sessions, surveys, and a futurefocused

hackathon with child support leaders and employees. These

discussions have also revealed priorities that child support organizations

are focusing on now and as they continue to adapt and transform both the

workforce and customer experience.

Rethinking the Workforce Experience

One key theme we've heard from child support leaders and employees is

that an investment in the workforce is necessary for child support

organizations to continue to accomplish their missions despite

shifting contexts and customer needs. Leaders and employees report

that serving the future customer as a modernized organization requires retraining,

re-skilling, and re-structuring of internal processes and culture. For

example, the onset of the pandemic offered both an opportunity and a

necessity for child support organizations to pave new paths of collaboration

and communication across once-siloed departments in their organizations.

We've engaged regional child support program teams who have committed

to establishing collaboration channels using virtual tools for crossdepartmental

communication and customer issue resolution. What were

once silos are now avenues for increased collaboration, partnership, and

innovation. Some organizations have used similar virtual tools to quickly

coordinate language services across regions and departments in real-time,

increasing accessibility to their diverse customer base. However, from this

innovation also comes a renewed need for updated training, processes,

and structures for the workforce that powers it. In order to fully realize the
---
enefits of continuous innovation, opportunity, and impact, organizations

must intentionally invest in their workforce.

Child support organizations can foster

further adaptability, skillsets, and

productivity within their workforce by

proactively investing in their workforce's

training, resources, and career

development opportunities. Several

child support teams we've engaged with

have suggested the launch of new

education and learning resources through a leadership academy model,

aiming to strengthen the skills of leaders and employees so that they may

better navigate and thrive in the hybrid environment. With this support, child

support workers are better equipped to drive their own professional

development, learning opportunities, and career paths, therefore increasing

the positive impact they have on the customer. Similarly, several child

support organizations are empowering workers to drive their own learning

through online course providers that helps organizations develop workforce

skills through self-paced learning opportunities.

Using Technology to Meet the Customer Where They Are

To truly reimagine the future of child support programs and elevate the

experience of customers, child support organizations should meet

customers where they are, understand their needs and concerns, and

respond appropriately and timely. While this approach may seem simple, it

involves a thorough assessment of sometimes multiple different customer

service interaction points.

Child support organizations must first consider how they are sourcing and

analyzing the voice of the customer. Customer feedback comes from

many mediums today, including social media, traditional focus groups and

interviews, feedback surveys, and data analytics. Organizations should

consider the power of both qualitative feedback and real-time, proactive

data analytics to provide the widest representation of feedback from their

impacted stakeholders. An example of this includes the launch of more

adaptable and data-based feedback forums (e.g., chat bots, customer

service helplines, website sentiment surveys, etc.) to not only capture

stakeholder comments and concerns, but to disseminate the findings real-
---
time to appropriate parties. Once organizations have established the forum

for this feedback, they must then consider how they may consistently track,

analyze, and assess the changing needs and preferences of customers.

Once the data is analyzed, organizations are better equipped to make datadriven

decisions to further expand and adapt services, mediums, and

interaction points with the people at the center of the experience.

As child support organizations assess and

react to the voices of their customers,

assessing their needs, preferences, and

overall experience, they must then ask, "What

new, convenient, and innovative ways can we

provide to meet the needs of the customer

in a hybrid environment?" This evaluation is

critical as customers of today have varying

internet and connectivity, language, and accessibility needs. For example,

many organizations have shifted to virtual court hearings to meet a wider

range of their customer base. In fact, these virtual connection opportunities

have proven to increase the availability and accessibility for many

customers to attend court. Child support organizations must also explore

and reimagine how they communicate information and resources to

customers across the hybrid environment. For example, many teams we've

interacted with in the field have shared their interest for more automation

around notifications and just-in-time resources to clarify the child support

process and expectations. Additionally, other teams have expressed their

desire for increased self-service functionality for customers to conveniently

upload documents, receive status on their case, and more. These

technology-powered innovations will not only help to streamline processes

and reduce employee workload, but also increase the quality and time for

human-centric interaction points. However, with these innovations in mind,

it is important to, again, meet the customer where they are.

Through the process of innovation and change, child support organizations

must continually provide equitable services to all they serve and with

whom they partner. While virtual mediums have proven convenient for

some, other customers face internet, accessibility, and financial limitations.

Child support organizations can best support their entire customer base by
---
adopting true hybrid customer interaction

points. For example, some organizations

have opted to set up self-service kiosks in

customer-service buildings. While these

kiosks and the buildings themselves may

have reduced staff, the kiosks provide a

one-stop shop for those who need an

internet connection or simply prefer the

in-person experience. As organizations focus on "right-sizing" their physical

buildings and service opportunities, they have the opportunity to realize

increased productivity and satisfaction from both customers and

employees.

Where We Start

Reimagining the future of child support

programs is an ongoing process and

investment in time, financial resources,

creativity, and dedication. However, the

future of child support can also begin

today with each individual involved in

the process. As partners, employees,

and leaders in this community we must

finally ask ourselves: How we can use the technology, tools, and resources

to magnify the human-centricity of our own interaction points throughout the

process? The possibilities are unlimited.

Mayra Marquez is an experienced change leader who works with state and local

government organizations on their most complex transformation challenges. She has

led change, culture, and organizational design work with organizations across the US.

Her current work focuses on helping government organizations prepare for and

transition to the future of work. Additionally, Mayra has experience working with

research institutions and nonprofits on communication planning/implementation and

stakeholder management.

Chelsea Rios has experience working closely with child support organization teams,

specifically through organization and stakeholder strategy. Chelsea specializes in

change management and stakeholder engagement and is energized to help child

support organizations reimagine how they can amplify their impact.
---
An Exciting Overview of Highly Effective

Child Support Training Programs

by Daryl Baker, PhD, University of Oklahoma, Center for Public

Management

Laurel Eaton, Project Coordinator, University of Oklahoma, Center for

Public Management

Joyce Match, Deloitte Consulting LLP

Karen Winkler, Director, Bucks County Domestic Relations Section

The adage "You don't know what you don't know" makes a dedicated

training program essential for all staff within many organizations, including

child support agencies. Any effective training program requires an

investment of time and resources to produce well-trained staff who feel

empowered to work independently. In her four-year study on the type of

learning environment that best helps adult learners grow and develop,

Dorothy Billington, PhD., documented key factors of the Seven

Characteristics of Highly Effective Adults Learning Programs i . The

characteristics may be summarized as:

1. A safe, supportive student environment

2. An environment fostering intellectual freedom

3. A peer-to-peer student faculty environment

4. Optimal pacing for participants

5. Active participant involvement in the learning process

6. Self-directed learning, where students take responsibility for their

learning, and

7. Regular feedback from students to faculty

This article looks at three child support training programs and aligns them

to characteristics of effective adult learning that make these programs

successful.

Oklahoma Training Program and Child Support Certification

In 1994, the Oklahoma Department of Human Services, Child Support

Services (OKDHS-CSS) began its training partnership with the University of

Oklahoma, Center for Public Management (OU-CPM). The partnership
---
egan with video production of training classes and the development of inperson

training sites. Over the years, the partnership with OU-CPM

services has steadily grown and the CSS Training Program run by OKDHS-

CSS has been significantly enhanced to include:

• Training and related instruction for all components of the Oklahoma

Child Support Services training program in collaboration with the CSS

program field representatives, OU-CPM instructional designers and

curriculum developers, who share the development and instruction of

courses. This includes training in OKDHS-CSS policy, functional

procedures, core soft skills, as well as instruction on the Oklahoma

State Information System (OSIS).

• The Child Support Specialist Certification Program works to ensure a

high standard for the management of child support cases through

worker assessments and evaluation of skills, following a standard

approach. The affiliation with the University of Oklahoma provides

access to resources that make the program exceptional. Individuals

must apply to participate in the Certification Program, and workers

receive monetary compensation for completing different segments of

the program.

• In addition, OU-CPM provides support for:

o Instructional design, curriculum development, and updates

o Updates to the CSQuest website, the essential online learning

library for child support professionals which contains training

tools to help employees in their daily work. This website

became a lifesaver during the pandemic, as it reflected the

rapid changes being made to the program.

o Web-based training through the Oklahoma Learning

Management System (LMS) and other means

o Training sites/facilities systems

o Training research and evaluation

o Project management and coordination

Currently, the Oklahoma LMS offers 76 CSS-specific courses for staff,

most of which are conducted virtually:

• 31 different instructor-led courses are taught multiple times

throughout a given year by subject matter experts (SMEs). Twentythree

of the instructor-led courses use pre- and post-testing to

measure learning.

• 10 large learning events where staff are brought together in large

groups 1 to 4 times per year depending on the group. These events
---
serve as professional development for office staff, supervisors,

managers, and attorneys from around the state.

• 26 self-paced courses that are available to employees at any time.

Courses cover a variety of topics such as job-specific trainings, IT

security, safeguarding IRS tax information, and wellness.

• 9 on-line course certifications available to employees who participate

in the Child Support Certification Program

In addition to exclusively developed Child Support classes, learning

opportunities are provided under the overarching Oklahoma Human

Services division requirements. In 2021, the CSS Center for Professional

Development facilitated over 757 hours of training to Child Support

employees. Since 2020, there have been over 16,598 enrollments in CSS

courses.

The Certification Program consists of four core assessments (Case

Fundamentals, Communications, Ethics, and Medical), four functional

assessments (Enforcement, Establishment, Finance, and

Intergovernmental), and a Recertification assessment. Since the inception

of the program 18 years ago, over 4,800

assessments have been administered, with

the number per year trending upward over

the past four years. In 2021, 225

assessments were administered. As of

December 1, 2021, 49% (122) of the filled

CSS positions (248 child support specialists)

are participating in the Certification Program,

with 52 people fully certified and 70 people

certified in at least one specialized area.

Victoria Harrison, CSS Assistant Division Director, Center for Professional

Development, says, "Our OU-CPM training partners are more than

partners, they are our peers and are critical to the mission of our program

and our professional work standards. Our partnership allows Child Support

trainers to focus on being subject matter experts and content deliverers

while OU-CPM focuses on details like space, effective learning

methodology and accessibility rules."
---
Pennsylvania Child Support Enforcement Training Institute

For more than 20 years, Pennsylvania State University has partnered with

the Pennsylvania Bureau of Child Support Enforcement (BCSE) and the

Domestic Relations Association of Pennsylvania (DRAP) to provide

comprehensive training to child support workers through the Pennsylvania

Child Support Enforcement Training Institute (PACSETI). PACSETI

provides:

• Training and related instruction for all facets of the Title IV-D Child

Support Enforcement (CSE) Program, including basic instruction in

the Pennsylvania Child Support Enforcement System (PACSES).

Most courses allow for self-registration and can be taken at any time

for initial or refresher learning.

• Curriculum development and curriculum updates

• Updates to the online Child Support Program Manual (CSPM)

• Web-based training, including worker assessments and training

evaluations

• On-site and/or customized training on request

• Project management

In 2021, PACSETI served more than 2,200 child support workers through

more than 300 trainings and more than 18,000 course enrollments. During

the pandemic, PACSETI developed 67 new training products and revised

120 training offerings through curriculum restructure and development.

Pennsylvania's focus on providing accessible, thorough training has helped

Pennsylvania to consistently rank as a top performer in the Federal

Performance Measures, including currently

having the highest ranking for the Current

Support collections measure. Jaylene

Bowers, Division Director for the Bureau of

Child Support Enforcement, says, "PACSETI

provides critical support for BCSE's mission

to ensure that Pennsylvania families are

served by professional and knowledgeable

child support staff, and the training helps ensure that child support

guidelines and enforcement remedies are applied equitably statewide."

PACSETI's success in Pennsylvania can be largely attributed to five

hallmarks of the program:
---
1. PACSETI designs, develops, delivers, and evaluates all its training

products to ensures a high standard of accuracy and consistency

across online and written materials, instruction, and messaging of the

faculty. Instructors all have direct work experience within the

Pennsylvania child support system, and include former county field

workers, managers, directors, and attorneys. PACSETI relies on input

and feedback from its partners to ensure customer satisfaction.

2. There is no cost to the individual Pennsylvania counties to participate

in training. Enrollment in all classes is free, and there is no limit to the

number of times an employee can retake courses to review and

reinforce key program points. PACSETI retains a history of the

courses an individual takes over their lifetime so that it can be used

as a guide for selection or assignment of additional courses.

3. In addition to providing structured online learning, a county can

request that PACSETI create an independent learning experience to

train an individual for a particular position unique to that county.

Instructors tap into their own experience and expertise to focus on the

skills necessary to be learned or strengthened to successfully fulfill

the individual's job responsibilities.

4. PACSETI quickly adapts to organizational learning needs. PACSETI

must develop and update courses immediately to address changes in

Pennsylvania's statewide computer system and programmatic or

legislative shifts. This relieves the pressure on individual counties to

do the training themselves. During the pandemic, PACSETI quickly

switched to total, self-paced, online training that could be used by

individuals working at home with limited technology.

5. PACSETI provides professional development training to assist future

child support leaders. The resources offered may not otherwise be

available to individual counties.

Washington, D.C. Training Program

While University-assisted training programs are wonderful resources when

they are available, other jurisdictions use different methods to provide

training to new hires and experienced staff. The District of Columbia has an

in-house resource that offers a varied training curriculum on a periodic

and/or as needed basis. Their course catalog contains several dozen

stand-alone courses ranging from general topics, such as the overall Life of

a Case, to specific subjects, such as Enforcement, and to targeted

instruction on tools used by the child support agency like Box, FPLS, and

CLEAR.
---
The District of Columbia is currently embarking on a "Back to Basics"

campaign. This campaign combines goal setting and training on all aspects

of the Child Support Services Division, at the agency, managerial, and

individual unit levels. This reset, which is largely led by middle-manager

staff, comes after two years of remote

work, and has several objectives: to

strengthen connection and community, to

validate and re-train standard processes,

and to reinforce the accountability for

every unit's work as being important to

the success of each case. Sophia Ticer,

Deputy Attorney General, IV-D Director of

the Child Support Services Division says,

"The CSSD reset was essential for our

agency to be better as a whole and for the children and residents of the

District of Columbia. We found deficiencies in the staff knowledge base and

decided to go back to basics for us to move forward."

Characteristics of Effective Training Programs

Reviewing the three child support training programs outlined above in the

context of the Seven Characteristics of Highly Effective Adult Learning

Programs (Billington, 2000), shows that while all characteristics are

represented to some degree in each program, a couple of characteristics

prominently stand out. This is especially true for the following

characteristics:

A safe, supportive student environment

In Oklahoma, the training program incorporates the characteristic that

learners are "accepted and respected as intelligent experienced

adults whose opinions are listened to, honored, and appreciated". An

example of this principle is the Oklahoma Consistent Excellence

Program (CE) where individuals come together to identify, document,

and continually improve best practices and implement them as CSS

Standard Operating Procedures (SOP) through a uniform business

model. These SOPs are then used to supplement Oklahoma's

training.

A peer-to-peer student faculty environment

In Pennsylvania, instructors all have direct work experience within the

Pennsylvania child support system. In the District of Columbia, in
---
house training staff and unit managers lead trainings and are

responsible for the bulk of the "Back to Basics." Familiarity of the

trainers with the child support program lends an important authenticity

and credibility to training.

Self-directed learning, where students take responsibility for their own

learning AND optimal pacing for participants

These two characteristics may be combined and are embodied in the

Oklahoma and Pennsylvania training programs. Both feature worker

access to online, on-demand course offerings as a highlight. In

Oklahoma, the Certification Program and the CSQuest website are

direct reflections of this characteristic. Similarly, Pennsylvania's selfservice

training website and online Child Support Program Manual

provide workers with many opportunities to learn and grow at their

own pace.

Active participant involvement in the learning process

In Oklahoma, the CSS Academy (new hire, 2-week training) and CE

are good examples of programs that include active involvement.

Though the original intent of this characteristic was for in-person

learning, in Pennsylvania, the inclusion of activities and simulations

as part of online learning also serve to engage learners.

Regular feedback from students to faculty

For both Oklahoma and Pennsylvania, most training, regardless of

delivery method, has an evaluation mechanism to provide an

assessment of the offering to training program leadership.

Assessments are taken seriously, and adjustments are made to

training material and/or delivery as appropriate.

In conclusion, training initiatives are essential to maintaining quality,

adaptive child support programs, and focused attention to the seven

characteristics of effective learning programs strengthens both the training

and the organization sponsoring the training.

____________________

+ 1 Billington, PhD, Dorothy (2000) Seven Characteristics of Highly Effective Adults Learning Programs,

University of Missouri-St Louis

http://www.umsl.edu/~henschkej/henschke/seven_characteristics_of_highly_effective_adult_learning_pro

grams.pdf
---
Dr. Daryl Baker received his Doctorate of Public Health from the University of

Oklahoma Health Sciences Center in Health Administration Policy. He has been an

analyst for the University of Oklahoma, Center for Public Management since 2001.

During that time he has worked with the Oklahoma Department of Human Services to

develop and evaluate training programs related to providing services for the state of

Oklahoma.

Laurel Eaton retired in 2016 as the Programs Manager for the Office of Planning,

Evaluation, and Learning after 46 years with the Oklahoma Department of Human

Services—38 of those years were with or related to Child Support Services. She also

spent time with IV-A, Food Stamps, Medical, and public relations. After retirement, she

returned as a Project Coordinator with the University of Oklahoma, Center for Public

Management, contracted to Child Support Services. Ms Eaton is an individual member

of NCSEA.

Joyce Match is a Child Support Specialist Master with Deloitte Consulting who focuses

on system and business process modernizations designed to enhance the experiences

of both customers and workers, following a 26-year career managing the design,

development, and implementation of child support initiatives in the Commonwealth of

Pennsylvania.

Karen E. Winkler has over 30 years' experience in county government and the courts,

working initially in the County Commissioners' Public Information Office, then in the

Domestic Relations Section. Karen received her BS in Public Administration from

Shippensburg University, an MA in Clinical-Counseling Psychology from LaSalle

University, and a Certificate in Communication for Professionals from the University of

Pennsylvania.
---
How Courts Responded to the Pandemic

by NCSEA Research Subcommittee

Judicial systems throughout the United States are often slow to embrace

change, particularly when it comes to technology, but the COVID-19

pandemic made change a necessity. As

courthouses across the country closed, judicial

administrators needed to look for new ways to

do business or face the reality that almost no

one would have access to justice. They turned

to virtual hearings. A Pew survey of jurists

working in state courts across the country found

that a majority expected virtual hearings to

become a permanent fixture of state courts. This article summarizes

several resources that discuss changes adopted by courts during the initial

phase of the pandemic.

Two Articles Describe How Courts Responded to the Pandemic

The December 2021 Pew Report "How Courts Embraced Technology, Met

the Pandemic Challenge, and Revolutionized Their Operations" and

Professor Richard Susskind's "The Future of Courts" looked at the

unprecedented adoption of technology by the courts during the pandemic

using different lenses. The Pew Report focused on whether the

technological changes made the legal system easier for unrepresented

people to navigate civil courts. Professor Susskind focused on the

introduction of remote hearings in countries across the world and how

courts must use this "unscheduled pilot program" to gather data to decide

what to keep going forward.

The Pew Report reviewed just under 10,000 state and local pandemicrelated

support orders and found that all 50 states accelerated the adoption

of automating practical tasks, such as e-filing of documents and virtual

hearings. However, these options were not available in all localities and all

types of cases. For example, in the 43 states and D.C. where courts handle

child support matters, only 33 states and D.C. set up a process that

allowed unrepresented individuals to e-file modification requests. Even

where courts implemented new technology, people faced many challenges.
---
The new technology required both internet access and the knowledge to

use it. Broadband connectivity differs across the country, with

disproportionately low rates of access for certain populations and locations.

Those with internet access faced difficulty trying to navigate confusing court

websites with no place to find help. Although many courts have worked

hard to make the process more streamlined and understandable to

everyone, people with disabilities or limited English proficiency continue to

face significant disadvantages.

Court officials across the country report increases in civil court appearance

rates as a result of moving to remote hearings, which includes people

participating virtually or by phone. This confirms pre-COVID claims that

reducing the costs associated with coming to court would allow more

people to take part in their cases. Now that courts have seen the benefits,

some forms of remote services are here to stay. In a June 2021 survey of

240 magistrates, trial judges, and appellate justices from across the

country, a majority said they expect remote proceedings to become a

permanent fixture of state courts.

Writing in the summer of 2020, Professor Susskind asked again whether

"court" is a place or a service, and whether it is always necessary to

congregate physically to settle our legal differences. Focusing on remote

hearings, he concluded that what courts cobbled together during the first

few months of the pandemic improved existing, often inefficient, work

practices but did not fully transform court practices. Nonetheless, these

enhancements have provided the opportunity to learn valuable lessons.

Susskind argued that, while not right for all legal actions, remote hearings

can handle many legal disputes, often less expensively, more conveniently,

more speedily, and less combatively than the traditional system, particularly

in the civil arena. He urged courts to capture more data about cases that

have been conducted remotely and evaluate what has been learned so that

more informed decisions can be made about when to use remote

proceedings.

Susskind found clear difficulties with remote hearings for the elderly, those

requiring translation, and those with poor internet connection. He also

noted that there have been concerns raised about privacy and security on

some video platforms, but it appears that those concerns have been

resolved.
---
According to Susskind, whether remote courts are secure and deliver

justice is a complex question, and any blanket

rejection of remote courts on the grounds of

justice should be viewed with skepticism.

Keeping remote courts in operation after the

pandemic contemplates a more fundamental

change to courts than has been seen in

hundreds of years. This shift merits deep discussion rather than dismissive

emotional appeals to justice. Susskind helped create Remote Courts

Worldwide, which is a repository for court innovators around the world to

share information on their work and allows for country-based searches.

How Child Support Programs and Their Judicial Partners Responded

to COVID-19

This section summarizes several sources that describe how child support

programs and their judicial partners responded to COVID-19 during the first

year of the pandemic, focusing on e-filing and virtual hearings. Two

workshops at the 2021 annual ERICSA conference held virtually in May

2021 focused on e-filing and virtual hearings. 1 The New York City Family

Court wrote a report on the impact of COVID-19 2 and the Institute for

Research on Poverty produced two reports on the impact of COVID on the

child support program in five counties in Wisconsin. 3

1

All plenaries and workshops from the 2021 ERICSA conference were recorded and are

publicly available at: https://www.ericsa.org/2021-ericsa-virtual-road-trip-agenda. The workshop

on virtual hearings was titled "Conducting a Virtual Hearing." It was moderated by Nicolas

Palos, Support Magistrate from Brooklyn, NY. There were four speakers: Harold Bahr, Support

Magistrate from Bronx; Teddy Andreopoulos, lawyer from the Interstate Unit of the NYC Law

Department; Kate Weaver, Referee from Oakland County, MI; and Sarah Troyer, lawyer from

St. Joseph County, IN. The workshop on e-filing was titled "Excellence in E-Filing." It was

moderated by Margot Bean from Deloitte Consulting. The speakers were Alex Satchell and

Stephanie Connelly from VA, Connie Chesnik from WI, and Gene Gustin from OR.

2

The New York City Family Court COVID Work Group. The Impact of COVID-19 on the New York City

Family Court: Recommendations on Improving Access to Justice for All Litigants (January 2022).

3

Lisa Klein Vogel et.al. The COVID-19 Pandemic and Child Support Enforcement (August

2021); Lisa Klein Vogel and Vee Yeo. COVID-19 and Transitioning to a Virtual Workforce

(August 2021).
---
Did the child support programs have access to e-filing with the courts

during the first year of the pandemic?

The jurisdictions represented on the ERICSA 2021 e-filing workshop had

varying access to e-filing during the first year of the pandemic. Although

Michigan had an e-filing system for state courts, the family courts were not

part of that system. This was rectified once the pandemic began. Virginia

had just completed incorporating an e-filing process into its computer

system prior to the pandemic. During the first year of the pandemic, it

added six additional court forms to the e-filing process.

The New York City family courts did not have an e-filing system prior to the

pandemic and still do not have one as of January 2022. In response to the

pandemic, a new system was initiated in May 2020 that allows court users

to transmit digitized documents to the Family Court. This platform is a

submission portal, not an e-filing system.

In Wisconsin, the courts have an e-filing website that the child support

program uses, but during the initial months of the pandemic some county

child support offices could not access it. Caseworker access is tied to each

county's virtual private network (VPN), and some counties have VPNs that

do not allow caseworkers to access the web when working outside of

county office buildings. The e-filing website was revised to allow

caseworker access, but this is a temporary fix as it does not have the same

level of security as other parts of the e-filing system. The Wisconsin child

support program is now building an interface with the court system to

replace child support's use of the court's e-filing website. Once this is

complete, caseworkers will access the e-filing system through the child

support computer system.

What happened to court hearings during the first year of the pandemic?

In March 2020, all courts in Wisconsin, Michigan, Indiana, and New York

City were instructed to limit court activities to "essential" functions in

response to COVID-19. All in-person hearings in child support cases were

suspended in these jurisdictions. Many courts closed their doors to the

public. In New York City, the Family Court deemed most child support

cases as "nonessential," and placed these cases on hold until January

2021.
---
Regarding contempt hearings, most of the five counties examined in the

Wisconsin study

paused contempt hearings for many months in

2020, typically resuming in August 2020. Even after

courts resumed conducting contempt hearings,

courts gave lower priority to them, and child support

offices referred fewer cases for contempt. During

this time, law enforcement agencies sought to keep

the number of people in jail at a minimum to reduce potential exposure to

COVID-19. Consequently, courts were less likely to issue warrants and jail

sentences even when non-custodial parents were found in contempt.

Family courts in these jurisdictions started using virtual hearings for child

support cases as early as April 2020; others started considerably later than

that. All family courts were conducting virtual hearings by February

2021. Indiana, Michigan, and the five counties in Wisconsin used Zoom,

while New York City started using Skype for Business but then switched

to Microsoft Teams. All of the speakers on the ERICSA panel noted that

they want to keep virtual hearings going forward because of the

convenience it provides customers, which has generated higher

participation rates.

The delay in transitioning to virtual hearings was largely due to a lack of

technology to support them. Many staff did not have computers to work

remotely, often they did not have remote access to files, VPNs frequently

had to be established to ensure confidentiality, and sometimes software

licenses had to be purchased.

Despite these challenges, many child support offices embraced the

opportunity to create innovative solutions. The following are two such

examples of how child support offices quickly pivoted to ensure customers'

participation in the court process.

The development of this article is a collaborative effort brought to you by NCSEA's

Research Committee, a subcommittee of NCSEA's broader Policy & Government

Relations (P&GR) Committee. The NCSEA Research Committee is charged with

reviewing and submitting research and other documents related to child support and

human services, for consideration and placement on the NCSEA Research webpage,

as well as reviewing current postings on a quarterly basis for relevance and timeliness.
---
Implementation of Electronic Filing

of Documents During the Pandemic

in Kern County

by Susan Saelee, Program Manager, Kern County (CA) Department of

Child Support Services

When California Governor Gavin Newsom declared a state of

emergency due to COVID-19 in March 2020, Kern County Department

of Child Support Services (KCDCSS) was electronically filing only one

legal form, the Summons and Complaint.

KCDCSS and the court agreed that moving to electronic filing would not

only expedite internal processes and save on costs, but most importantly,

would allow customers to receive outcomes in a timely manner. KCDCSS

formed an electronic filing workgroup made up of stakeholders throughout

the organization. Using the principles of Lean Six Sigma, the workgroup

created an effective and efficient process for electronic filing of seven

additional documents: Proof of Service, Amended Proposed Judgment,

Default, Registration of Foreign Order, Notice Regarding Payment of

Support, Stipulations, and Notice of Motion.

With electronic filing came the use of electronic

signature software. The California State Department

of Child Support Services provides DocuSign access

for the local child support agencies. DocuSign is a

fast and secure way to send, sign, and approve

electronic documents. KCDCSS was one of the first

counties to move forward with the use of DocuSign in conjunction with

electronic filing.

Since the pandemic began, KCDCSS has successfully electronically filed

hundreds of documents and reduced the amount of time it takes for parents

to receive an outcome. Though the pandemic halted our ability to meet with

customers face to face, it did not stop us from finding innovative ways to

help families create a better life for their children.
---
St. Joseph County Prosecutor's Office

Child Support Division and the Courts

During the Pandemic

by Ethan McKinney, DPA, Child Support Director, St. Joseph's County

(IN) Prosecutors Office

The Child Support Division (CSD) of the St. Joseph County Prosecutor's

Office worked hard to continue to serve the public throughout the

pandemic. The office relied on great cooperation from their judicial partners

in circuit court, superior court, and probate court, where most Title IV-D

cases are filed. Probate court closed briefly but reopened after CSD

installed protective barriers and the court implemented COVID-related

cleaning procedures.

When the positivity rate in the community increased, CSD partnered with

probate court to conduct video hearings. CSD had deputy prosecutors and

caseworkers participate on video with the parties to mirror the efficiency of

their in-person court practices. The office and courts agreed that paternity

and support establishment hearings and modifications of support took

precedence during this time while enforcement hearings were reduced or

eliminated, as it was evident that people who weren't paying were impacted

by the pandemic.

To reach out to parents who weren't paying, the office used its

administrative hearing practice to connect with those parents via video.

These video conferences allowed deputy prosecutors to speak to parents,

make case decisions, and in many cases refer cases for modification due

to loss of work.

The office and probate court are now preparing to resume in-person court

and a traditional court schedule. However, the circuit court has seen the

benefits of using video hearings for certain matters and seems likely to

keep some video hearings. CSD hopes to continue video hearings for

some administrative hearings and potentially include conducting

modifications via stipulation.
---
The office greatly improved its use of technology during this time, which

has allowed workers to work remotely and has given them the ability to

conduct hearings or meetings with parents via video conferencing, thereby

promoting safety and efficiency. While the pandemic forced us to evaluate

our current practices to meet the needs of the public we serve, it has

resulted in better customer service, higher employee job satisfaction, and

better working relationships with our courts.

*Be sure you are signed into access the Web-Talk Library. See top right corner for green SIGN

IN button.
---
VALUE STREAM MAPPING AND

STRATEGY

by Sheri Hurst, Arizona Department of Economic

Security, Division of Child Support Services

The State of Arizona has deployed a professional, results-driven

management system to transform the way Arizona state government thinks

and does business as one enterprise. This management system is called

the Arizona Management System (AMS) and is based on principles of Lean

management, where every state employee at every level now reflects daily

on how they perform, while always seeking a better way.

What is LEAN?

Lean is not an acronym or a separate initiative. Lean is a set of principles

and tools that helps an organization provide value to the customer from the

customer's point of view. A Lean management system increases efficiency

by identifying and eliminating wasteful activities that do not add value to the

delivery of a service or product to its customers.

What is a Value Stream?

"Whenever there is a product for a customer, there is a value stream.

The challenge lies in seeing it." 1

A value stream is the set of processes required to provide value to a

customer from initiation to the delivery of a service or product. An example

of a value stream in child support could be from the time an application for

IV-D services is received from a customer to the time the requested service

is fulfilled. If the requested service is establishment of an order for support,

then the value stream would be from initiation to establishment of an order.

The next value stream might be from establishment of an order to the

1

Mike Rother and John Shook, Learning to See: Value Stream Mapping to Add Value and Eliminate

MUDA (Cambridge: Lean Enterprise Institute, 2009).
---
customer receiving child support payments. There may be multiple value

streams within the organization.

What is a Value Stream Map?

A value stream map (VSM) is the visual format representing the set of

processes in the value stream. A VSM offers a birds-eye view of the

business value stream and should be at a higher level than a process map.

A process map features the steps or sequence of activities within each of

these high-level processes. Creating a VSM helps an organization to

visualize the value stream, and highlights where opportunities exist to

improve delivery of the product or service to increase value for the

customer.

A VSM is developed with the intent of analyzing the processes identified

within the value stream to create a current-state VSM. The current-state

VSM should describe the process as it is right now and should identify

waste and inefficiencies in the value stream. Waste is whatever is

considered non-value-added from the customer's perspective. This

analysis is used to develop a future-state VSM. The future-state map

incorporates countermeasures, or potential actions, that can be taken to

create strategy initiatives to improve efficiency and increase customer

value.
---
What is a Value Stream Improvement Plan?

A Value Stream Improvement Plan (VSIP) documents the

countermeasures. A VSIP is essentially a project plan that tracks planned

initiatives to improve the value stream as identified in the future-state VSM,

including identifying action steps that should be completed immediately and

action steps that can be completed later. This VSIP visually tracks monthly

planned target activity performance against actual target activity

performance and highlights where an activity may be off-track.

What are the benefits of VSM mapping?

Prior to the Pandemic, Arizona's Division of Child Support Services

(Division) thought it was on a pretty good path. But the pandemic changed

everything. Staff were working from home, transitioning to new virtual

processes, and needed a way to move forward in the virtual world. The

value stream had been built for in-person processes and not for the virtual

customer. Customers needed virtual services now more than ever, without

delay. The Division used VSM mapping to meet strategic goals, such as

increasing value for its virtual customers, improving team morale in a virtual

world, and improving Division performance.
---
The Division had previously been able to meet in person using a

conference room to map processes. Where once the Division had thrown

butcher paper on the wall and grabbed pencils and post-it notes to map the

value stream, this option was no longer available. In order to define the

new virtual value stream and make tactical changes, the Division needed to

create the ability to see the process from a virtual standpoint. It was

necessary to reveal disconnects and stoppages, promote metric-based

decision-making, and optimize the value stream performance to ensure all

teams were rowing in the same direction. The Division held a virtual VSM

event over three days.

Prior to the VSM Event

• Gather Information: What were the core processes that were

needed in order to provide requested services?

• Identify Teams: Who can speak to each of the processes within the

value stream and identify process steps, as well as overall expected

outcomes for each process? Who can obtain and interpret the data

associated with each process? Who is empowered to support

necessary process improvements?

• Determine and Commit to Deliverables: The defined deliverables

from the event were a Current State VSM, a Future State VSM, and a

Value Stream Improvement Plan (VSIP). The VSM event was

scheduled for three full days with extra time built in in the event the

deliverables were not completed.

• Schedule the Event: Previously, the Division had been able to

schedule conference rooms and gather everyone into one room. With

the new virtual environment, more creativity was needed. The

Division used Google Meet video conferencing for the event. Using a

video conferencing tool can be just as effective as in-person

meetings. They just require a bit of practice and planning beforehand.

Mapping the VSM Current State (Day One)

The Division began mapping the current state of the value stream. They

started from the beginning, which was application received, and moved

through each process to payment. This activity brought out conversation,

reflection, and cooperation as the group began pinpointing and creating a

visual of the current state of the value stream. The Current State VSM is
---
the basis for the Future State VSM and needs to be directionally correct,

not 100% perfect.

With all the information up on the "virtual" wall (Google Jamboards), the

team started identifying "pain points" in the value stream, looking for areas

of improvement. For example, where once customers were able to walk

into an office, this was no longer an option. Other pain points included

missing documents, paper mailing, lack of electronic communication

methods, long timeframes, and incorrect messaging, to name a few. For

each pain point area, the team added pink post-it notes identifying the

specific defects or need for improvement. The team also identified some

low hanging fruit: immediate corrections that would reduce timeframes and

improve process flow. These were referred to as "Just Do Its" and were

easily implemented for immediate impact.

Mapping the VSM Future State (Day Two)

Using the data from the Current State VSM, the team targeted waste,

prioritized improvements to be implemented, and started designing the new

Future State VSM. The target was to eliminate or combine steps and

remove as much waste from the processes as possible. Once waste had

been identified and prioritized, the team created a Future State VSM with

waste and barriers to flow removed. They now had a new and improved

VSM. The next step was to create the Value Stream Improvement Plan

(VSIP).

VSIP (Day Three)

On Day Three, the team created their VSIP, documenting initiatives to be

implemented over the next Fiscal Year to improve strategy and

performance.

VSM mapping provides a comprehensive and structured view that

documents, analyzes, and improves the flow of information and/or

materials throughout the value stream. VSM mapping may help to meet

overall strategic goals by identifying how coordinating integral parts of the

processes for value stream activities may improve both efficiency and an

understanding of what the customer values. The VSM mapping process is

also easy to understand and may improve overall morale by clarifying the

value of each person's role throughout the value stream.
---
Arizona's Division of Child Support Services found the following resources

beneficial to learning about value streams, holding events, and value

stream mapping:

Kaizen Event Fieldbook, a Shingo-award winning book on Kaizen event

principles and management, written by Mark R. Hamel.

Learning to See: Value Stream Mapping to Create Value and Eliminate

MUDA, written by Mike Rother and John Shook.

For more information on the processes that Arizona follows, or for

additional information, please contact Catalina

Ybarra @ cybarra@azdes.gov.

Sheri Hurst is currently a Lean Coach for the Arizona Management System with the

State of Arizona, Department of Economic Security, Division of Child Support Services.

In her 32 years of government experience, including over 20 years in leadership roles,

she was also the Administrator over Continuous Improvement and Data Analytics,

Executive Staff Assistant for the IVD Director, Regional Manager for both the metro and

rural offices and a supervisor. Prior to returning to Arizona and joining the Department

of Economic Security in 2005, Sheri was the Training and Policy Manager for the

Stanislaus County Department of Child Support Services. She has been certified in

Train the Trainer for the State of California, was certified as a 4Mat Learning Styles

instructor and is Six Sigma Green Belt certified.
---
2022 Policy Forum Wrap Up: Focusing on Our

Vision…Recognizing Our Perspectives

By Connie Chesnik, Co-chair, NCSEA 2022 Policy Forum

The 2022 NCSEA Policy Forum, held February 2-5 in Washington, D.C.,

was a great success, with 238 people attending in-person and 393

attending virtually. Attendees engaged in thought-provoking plenary

sessions featuring dynamic speakers whose topics centered on this year's

theme: Focusing on Our Vision: Recognizing Our Different

Perspectives.

The Policy Forum gave recently appointed OCSE Commissioner, Tanguler

Gray, her first opportunity to share her vision of ENGAGEMENT with the

child support community. Commissioner Gray noted how the child support

program has evolved over time, guided by legislation and the changing

needs of families, from a focus on retaining child support to recover welfare

costs to a more family-centered program. The Commissioner reaffirmed the

Administration for Children and Families' commitment to advancing racial

equity, improving collaboration with tribal communities, and increasing

flexibility to better position OCSE to provide guidance to states.

The first day of the Policy Forum

featured a series of plenary

sessions that complemented

Commissioner Gray's vision,

focusing on the impact that child

support program service delivery

has on different stakeholder

populations. A Customer Service

plenary highlighted the work of the American Public Human Services

Association (APHSA) in developing a roadmap to human services system
---
alignment for young families. The panel featured parents from around the

country who provided insights on their experiences accessing services

across human service programs. Their powerful presentation reminded

attendees of the need to meet people where they are and to hold space for

learning before moving to enforcement. Attendees gained valuable insight

into approaching customer participation and engagement in their states.

Building on the work begun at last year's Policy Forum, the session on

Diversity, Equity, and Inclusion focused on living what we are learning and

explored what it means to have an equity mindset. Dr. Deirdre Williams of

U-Bridge Project Consulting, LLC, addressed barriers to equity and

inclusion, the unwillingness to have uncomfortable conversations, and

resistance to change. She encouraged programs developing policies and

processes to ask who would benefit from and who would be harmed by

those policies and processes. She provided attendees with the tools for

developing an inclusive culture, one that recognizes what diversity brings to

an organization and that shows respect for different voices. Dr. Williams

noted that while we can't make people change, we can give them

experiences that make them think about their own unconscious bias and

how it may perpetuate inequities. When asked what to do when

organizations get stuck, Dr. Williams encouraged them to keep moving

forward. Listen to understand and not to act.

The equity theme continued with the first day's final plenary, which focused

on creating equity in the child support program for survivors of domestic

violence (DV). Michael Hayes from OCSE's Division of Program Innovation

and Doreen Nicholas from the Arizona Coalition to End Sexual and

Domestic Violence challenged the neutrality of child support service

delivery, emphasizing that neutrality benefits the harm-doer and not the

survivor. Attendees once again heard the importance of listening so that we

can truly be a part of DV survivors' financial safety net. The session

provided a better understanding of the intersection of domestic violence

and child support and how the child support program can lift up and support

survivors. Takeaways from this session included the need for annual DV

training for child support staff as well as the need to review the number of

cases flagged with family violence indicators.

The second day of the Policy Forum featured reviews of various

operational aspects of the child support program through an equity lens. A

panel of child support experts began the day with a review of federal
---
performance measures, why they were selected, and whether they are

effective in measuring the success of the child support program. Panelists

discussed how the current performance measures do not directly measure

how we help families escape poverty. Despite the fact that our services are

basically free, child support caseloads continue to decline. Panelists

challenged attendees to consider whether our declining caseloads are in

part a result of what we are measuring and incentivizing.

The next plenary session focused on different perspectives on

enforcement. Recognizing that enforcement is a core service of the child

support program, this session featured panelists with different perspectives

on the use of specific enforcement remedies and how their approach to

these enforcement tools has evolved over time. Panelists polled audience

members for their thoughts on what enforcement meant:
---
The results of this poll led to an interesting and meaningful discussion on

where we envision the child support program going and whether our

enforcement efforts are transactional or transformational. When income

withholding stops, do we immediately turn to enforcement, or do we stop to

ask how we could help? Are we using contempt as an enforcement tool

only when we've exhausted all other measures or is it the first enforcement

tool we use? Have we moved from more traditional methods of

enforcement with incarceration consequences to more flexible options that

focus on ability to pay? Commissioner Gray's vision of engagement

permeated throughout this

session, as various

stakeholders with differing

perspectives on

enforcement discussed the

importance of collaboration,

communication, and

outreach, all sharing the

common goal of helping

families achieve financial stability.

Commissioner Gray's vision of engagement

permeated throughout this session, as various

stakeholders with differing perspectives on

enforcement discussed the importance of

collaboration, communication, and outreach, all

sharing the common goal of helping families achieve

financial stability

Perhaps one of the most fascinating sessions focused on the history of

paternity establishment policies and practices. Professor Nara Milanich,

author of Paternity: The Elusive Quest for the Father, explored whether

paternity is about biology or morality. Dr. Milanich relayed an excerpt from

her book regarding a paternity action involving Charlie Chaplin that

changed the future of paternity laws in America. This provided a segue into

compelling discussions on Georgia's mandatory genetic testing

requirements and the implications of these issues in single sex parentage

cases.

The Guidelines session focused on the impact of the 2016 changes in

federal regulations related to state child support guidelines. Those

regulations focused on the establishment of support and imputation of

income in low-income cases. Discussion focused on how states

incorporated their own policy goals, including goals related to diversity,

equity, and inclusion, into their guidelines. Former OCSE Commissioner

Vicki Turetsky provided the perspective of the federal government at the

time the regulations were enacted. Panelists from Colorado and Wisconsin

addressed the successes, challenges, and dilemmas encountered when
---
implementing consistent, predictable, appropriate, and equitable guidelines

that serve the best interests of children.

The second day concluded with a session on Intergovernmental Hot

Topics. Child support experts from across the country addressed some of

the most frustrating issues that impact successful management of

intergovernmental cases. Attendees

had the opportunity to weigh in on the

obstacles they face and provide

recommendations for possible

solutions. Problems associated with

case closure and zero orders proved

to be a common problem among

states, along with issues related to

payment processing when an order is

issued in one state and the custodial

parent is receiving services in another state.

Saturday's sessions began with a panel on system modernization featuring

representatives from states and territories that have recently modernized

their systems. Titled "Ask not what your policy can do for your system, but

what your system can do for your policy," this interactive session

emphasized the impact decisions made today can have on policy and

technology for years to come, and the need for systems to timely support

and implement policy decisions. Engagement featured prominently

throughout the conversation, emphasizing the importance of engaging with

stakeholders to ensure that systems are designed to address the needs of

participants.

The 2022 NCSEA Policy Forum concluded with a fun, interactive session

that invited participants to focus on an area of interest from the sessions

offered over the previous two days and, with the assistance of a facilitator

at their table, develop an organizational change management plan to

operationalize in their state. Participants enjoyed a special treat while they

worked, and attendees left for home with action steps that they could

implement upon their return to their offices which aligned with NCSEA's

vision of a world where every child receives reliable financial and emotional

support.
---
The NCSEA Policy Forum would not be possible without the hard work and

planning of the Policy Forum Planning Committee. Our sincere thanks to

this team for their efforts over six months:

Margot Bean and Connie Chesnik, Co-chairs

Jason Cabrera

Robbie Endris

Corri Flores

Laura Galindo

Paul Gehm

Matthew Gomez

Emily Gregg

Alisha Griffin

Mary Johnson

Tish Keahna Kruzan

Daniel King

Christine Mahoney

Janice McDaniel

Katie Morgan

Ann Marie Oldani

Diane Potts

Amy Roehrenbeck

Hannah Roots

Laura Roth

Jonell Sullivan

Elise Topliss

Rob Velcoff

Jane Venohr

Carla West

We look forward to seeing you at next year's Policy Forum

February 2-4, 2023

JW Marriott, Washington, D.C.

Connie M. Chesnik received both her undergraduate and law degrees from the

University of Wisconsin-Madison. As an attorney for the Wisconsin Department of

Workforce Development, Connie advised the child support program for many years and

has spoken frequently on Wisconsin's child support guidelines and Wisconsin's tribal IV-

D program. She is currently the Administrator of the Division of Family and Economic

Security in the Department of Children and Families where she oversees Wisconsin's

child support, refugee and employment programs. Connie is a member of the State Bar

of Wisconsin, and the State and National Child Support Enforcement Associations. She

currently serves on the NCSEA Board of Directors.
---
Meet Our NCSEA U Alumni

NCSEA U provides a unique premier educational and professional development

opportunity. It is structured for learning leaders in the child support community and it

complements NCSEA's other educational initiatives and strategies. Taught by

nationally recognized child support leaders, it offers a variety of informative and

strategic topics.

Carla Smith - Class of 2018

Director

Crawford County (PA) Domestic Relations Section

What would you like others to know about NCSEA U?

NCSEA U was intimidating at first walking in not knowing anyone and what experience they have compared to

yours; however, the instructors quickly change the environment by establishing group discussion. NCSEA U

gave me tools I continue to use. The one in particular was the "Tips of the Trade". I used the Communication

Techniques when presenting my annual budget, creating a new management position within my office and

communicating with peers. I have so many memories from this particular session I still laugh when thinking

about the role play we did. NCSEA U is definitely a life time experience I will not forget.

Since attending NCSEA U, what opportunities (personal and professional) have you experienced?

I have since been elected President of the Domestic Relations Association of Pennsylvania (DRAP) and

received the highest prestigious award DRAP offers to leaders of child support in Pennsylvania.

What is a key leadership attribute that you appreciate in others? Why?

I appreciate a high performer. Someone I can assign a project and they will deliver a polished product that is

everything I ask for and in many cases more. High performers are self-motivated and are great advocates for

managers.

John Sours - Class 2019

Assistant Deputy Commissioner

Georgia Division of Child Support Services

What would you like others to know about NCSEA U?

NCSEA U is an excellent networking and idea sharing space and a great chance to meet child

support professionals from other states.

NCSEA U @ Leadership Symposium focuses on the emerging and learning leader. How

do you define leadership?

I define leadership as selfless commitment to empower those around you. In the space of child

support this has a direct correlation to clients which makes it even more important and

impactful.

Since attending NCSEA U, what opportunities (personal and professional) have you

experienced?

Since 2019, I was promoted to Deputy Business Administrator; I was formally in a special

assignment role.
---
NCSEA On Location: And So It Began

by Tim Lightner, Child Support Specialist II, Alaska

Child Support Division

In February 2018, a man walks down a hallway and finds a spot to sit at the

NCSEA Policy Forum at the Renaissance Washington DC, Downtown

Hotel. He carries with him a cup of coffee, his Apple Mac laptop, and a

black travel bag. He opens his computer on the table, strategically sets up

a microphone, and is soon greeted by Alisha Griffin and Robert Doar. The

man with the mic was none other than former NCSEA President Joe

Mamlin. And so it began: On Location, NCSEA's endeavor into the podcast

world.

All Things Podcast

There are over two million podcasts that exist worldwide; i however, there

are a limited number of child support related podcasts. Many deal with

family law and child custody. NCSEA On Location may be one of the first

podcasts that was created by and for child support

professionals. It was produced to be recorded "on

location" at child support conferences, meetings, and

events around the world to conduct interviews and to

hold conversations with child support and human

services professionals, as well as other stakeholders in

the program and beyond.

You might have been unaware of podcast technology in

2018, be new to the podcast scene, or you may be an avid

podcast listener. Regardless, pull up your favorite

podcast platform and you can easily find On Location. You will hear with

each episode, "This is On Location. I'm Joe Mamlin" or "I'm Tim Lightner."

"It's gonna be a great show, so stick around and we'll be right back." You'll

hear the On Location theme song, written and performed by Joe. And you'll

know that you are in the right place at the right time for another edition.

In the first year, NCSEA produced, recorded, and released seven podcasts.

They included spotlighting NCSEA Leadership Symposium, the Ohio Child
---
Support Director's Association Spring Conference, the Multi-Jurisdictional

Meeting in DC, and the Western Intergovernmental Child Support

Engagement Council's (WICSEC) conference in Omaha, Nebraska.

Why Podcasts?

According to Buzzsprout: ii

• In 2022, 51% of people have listened to a podcast and roughly 78%

are familiar with the medium

• Podcast listeners increased by 29.5% from 2018 to 2021

• Over one-third (104 million) of Americans listen to podcasts regularly

• According to Edison Research, 41% (116 million) listened to a

podcast in the last month

• 28% (80 million) of Americans are weekly podcast listeners

• Smart speaker ownership grew by over 22% during the first year of

the pandemic as more people worked from home

• During the COVID-19 pandemic, podcasting experienced

unprecedented growth and podcast audiences diversified

• Each week, more Americans listen to podcasts than have Netflix

accounts

In the past couple of years, On Location has produced 20-23 podcasts with

thoughtful, quality content each year. iii As of the publication of this article,

On Location has released 72 podcasts, which have been listened to over

4,400 times. Cumulatively over 4,948 minutes (or over 82 hours) of content

have been produced.

Podcast Performance – Daily Plays
---
The top five U.S. geographical locations that listen to On Location are

California, Washington, Alaska, Virginia, and Ohio. Top five international

geographic locations are Germany, Brazil, Ireland, U.S. Virgin Islands, and

Norway. On Location can be heard anywhere you get your podcasts,

including Apple Podcasts, Spotify, Good Podcasts, Overcast, Pocket

Casts, RadioPublic, and iHeart Radio.

Geographic Location

How Are Podcasts Produced?

The NCSEA Communication Committee and the Podcast Subcommittee

are tasked with producing and publishing podcast episodes. The

committees are made up of volunteers from the child support community,

including state, county, and tribal partners, as well as child support vendors

and private programs. While the frequency of podcasts varies, the

producers strive for weekly to bi-weekly editions to keep listeners

connected and engaged. The more consistent the content, the more
---
listeners return to check out new releases, and the converse is true—less

frequency means less engagement, and listeners drop.

Committee members keep their radar on alert for interesting ideas within

the child support community. They consider topics and speakers from

NCSEA conferences (such as Policy Forum and Leadership Symposium),

web talks, sister organizations (WICSEC, ERICSA, NTCSA, etc.), private

companies, and other human services providers, such as the Fathers and

Families Coalition of America (FFCA). They find programs (state, county,

and tribal) that garner interest and pursue producing an episode about

them. Anything that seems to spark interest is vetted for On Location.

Collaboration with committee members adds to this process, including

adding speakers, examining what can be expanded into a series, and

more. We are always looking for ways to increase the value of NCSEA

membership, keeping in mind that just as there are diverse interests among

our membership, so too is a variety of topics and speakers key to the

podcast medium's success.

On Location has also included podcasts to reflect NCSEA's commitment to

diversity, equity, and inclusion (DEI). When interviewing the co-chairs of

both the 2021 Policy Forum (Erin Frisch and Shaneen Moore) and the 2022

Policy Forum (Margot Bean and Connie Chesnik), DEI was highlighted.

We've had conversations with Zenell Brown, Esq., from her Policy Forum

plenary and her book, Coffee and Conversations: Inclusion and Belonging.

We've also talked with Cheng Yu How from (then) LA County Office of

Inclusion, Diversity and Belonging; Tish Keahna, and later Sandy Cloer and

Marsha Harlan, on the National Tribal Child Support Association (NTCSA);

Dr. James Rodriguez of the Fathers and Family Coalition of America about

the need for fathers' increased participation in the child support program;

Patience (Polly) Crozier and Diane Potts on the 2017 Uniform Parentage

Act and inclusion of same-sex parents for establishing parentage; and Dr.

Deirdre S. Williams on continuing the DEI conversation after speaking at

the 2022 NCSEA Policy Forum—and the challenge to live what you are

learning!

What Goes Into It?

Once the podcast producers secure their topic and speaker, they continue

to collaborate about questions to provide to their guest. The list of

questions is negotiated ahead of time and usually includes an insider's
---
guide to the speaker: where they are from; their role in the child support

program; how they got their start; interesting, fun facts; and professional

accolades. The goal is for the listener to feel connected to the speaker, and

to be drawn into the subject matter.

We arrange a date and time for recording, with usually an hour being

reserved for any overage or technology gaffes. In the first days of On

Location, we recorded while seated around a table, all of us facing a USB

podcast microphone, which was either plugged into a laptop or a smart

phone. These events were recorded using a voice app, such as the Voice

Memos app on the host's iPhone. As many as 11 podcast recordings were

recorded at the NCSEA Policy Forum, where we found a breakout room to

set up and record. We carefully backed up these recordings to Dropbox

(due to the size of the audio file) and saved them for the trip back home.

Given the large number of interviews in two-and-a-half conference days,

we edited the recordings so they could be in a queue for release—one at a

time, each week or two. The Policy Forum provided a captive environment

where child support professionals were gathered, so it was an opportune

time to record.

But then the COVID-19 pandemic began in 2019. Conferences and events

shifted to virtual platforms for attendance. And accordingly, NCSEA On

Location shifted as well. On Location took on a new meaning, reflecting the

different physical locations where guests and hosts were recording.

Podcasters were fortunate to have MS Teams, Zoom, and other audiovideo

platforms to record remotely. In the latter part of the pandemic (as we

are hoping), other recording platforms surfaced that allowed multiple audio

tracks to be recorded (one for each voice), such as Zencastr.com. These

multi-channel platforms made it easier and more efficient to edit out a

sneeze, a cough, a phone ringing, or as people worked remotely from

home, a doorbell or siren.

The podcast editors would then edit using the software of their choice,

ranging from GarageBand for Mac to Movavi and Audiotronic for PCs. They

removed awkward silences, "ums," and stumbles, all to create a polished

product for the listener. The On Location theme music was placed at the

front and back of each episode—not only adding to the professional

production but branding the podcast product as well.

In the early days, we used PodOmatic to release the podcasts. Today, we

upload On Location's final podcast audio files to Anchor.fm for release. We
---
add a title and description and schedule episodes for auto-release on the

next Wednesday morning at 5:00 AM Eastern Time for maximum listener

engagement.

What Makes a Good Podcast?

With such a variety of content available for the child support community,

"good" content may very well depend on each individual listener's tastes

and interests. So making a good podcast requires a variety of topics,

speaker locales, and even podcast length. In general, On Location

attempts to keep episodes within 30-40 minutes in length; however, some

may be of shorter or longer duration. The podcast medium allows listeners

to stop or pause the playing of the podcast and continue it later, or choose

a podcast based on length. It really is about listeners and their availability.

Beyond this, a truly good podcast is one where guests exhibit passion and

excitement. This energy is heightened by the hosts catching the buzz and

giving the opportunity for the listeners to catch on. It is this engagement,

centered around passion, that provides for a memorable listening

experience and podcast episode.

Fan Favorites

After 72 On Location podcasts, there are several listener favorites. The top

ten episodes from an analytical perspective, and in order from most

listened to, are:

1. The Pass-Through: Flowing More Collections to the Family (150

plays)

2. Intergovernmental Hot Topics! (133 plays)

3. A New Take on the Child Support Pass-Through Payment

4. Customer Service: Lifeline to Child Support (113 plays)

5. Child Support Awareness: Focus on Families (110 plays)

6. Tear Down the Wall: Breaking the Wall Between Probation

Supervision and Child Support Enforcement (104 plays)

7. Helping Families Thrive: Principles of Procedural Justice (102 plays)

8. A Conversation and Update of NCSEA's Policy and Government

Relations (PGR) Committee

9. Who Do We Serve, and Do We Serve Them Well? (99 plays)

10.Perspectives on the Child Support Program and Engaging Fathers

(Pt. 1) (93 plays)
---
Top Episodes

This author's favorite episodes in addition to those already mentioned

would also include A Conversation with ERICSA President Patrick Quinn;

Pairing Social Work with Child Support; As the World Changed in an

Instant; The Intergovernmental Roundtable Discussions; and On Location

at the NCSEA Policy Forum - Part 1 of 3 (with Dr. Stephen Golightly). This

list could go on and on. Find the catalogue of On Location podcasts here

and choose your favorites: https://anchor.fm/ncseaonlocation.

What's Next?

What is in the future for NCSEA On Location? A continued upward

trajectory in content and volume may be on the horizon. Buzzsprout gives

us a little more glimpse into what is coming: iv

• Industry experts expect podcasting to grow significantly in 2022 as

on-demand audio increases in popularity.

• Current estimates project that listeners in the U.S. could increase

from 75.9 million to 100 million listeners by 2024.

• Forecasts project total podcast listeners will exceed 160 million by

2023.

Whatever may happen, NCSEA will be there to continue to lead the way

and be the voice of the child support community.

NCSEA On Location is a testament to a special endeavor to provide an

audio format of child support related topics so that our NCSEA membership

listens to, finds value in, and engages with relevant information. As each

episode concludes, the guests are thanked, and our listeners are

acknowledged, On Location is extremely thankful that this podcast medium

continues to expand and grow. Ending credits say it best: "On Location is

available on iHeart Radio, Apple Podcasts, Spotify, Google Podcasts, and

anywhere you get your podcasts from. So be sure to subscribe and check

out our previous work as well. We also appreciate your ratings, feedback,

comments, and suggestions. If you have an idea for a topic or would like to

be a guest on the show, please reach out to us using the contact link on

our website [customerservice@ncsea.org]. On Location is a production of

the Communications Committee, with special production assistance from

Tim Lightner and me [Joe Mamlin]. This has been On Location."
---
Timothy (Tim) Lightner is a Child Support Specialist II with the State of Alaska's Child

Support Services Division located in Anchorage, Alaska. During his career of 23 years

with AK CSSD, he has held a variety of roles. Tim has been involved with multiple

committees with the National Child Support Enforcement Association (NCSEA) since

2010 and currently serves on the Communications Committee, Podcast Subcommittee

(Chair); NCSEA CommuniQue Committee, and the Leadership Symposium Planning

Committee. He was elected to serve as a member of NCSEA's Board of Directors from

2017 – 2020 and was re-elected in 2021 for another term. Tim has been involved with

producing, recording diverse interviews, and editing the popular NCSEA On Location

podcast since 2018.

i

Wise, Jason. "Podcast Statistics 2022: How Many Podcasts Are There?" Earthweb,

https://earthweb.com/podcaststatistics/#:~:text=There%20Are%20Over%202%20Million,Million%20Listeners%20Across%20the%20W

orld, Accessed April 1, 2022.

ii

Brooke, Alban. "Podcast Statistics and Data [March 2022]." Buzzsprout,

https://www.buzzsprout.com/blog/podcast-statistics, Accessed April 1, 2022.

iii

Id.

iv

Id.