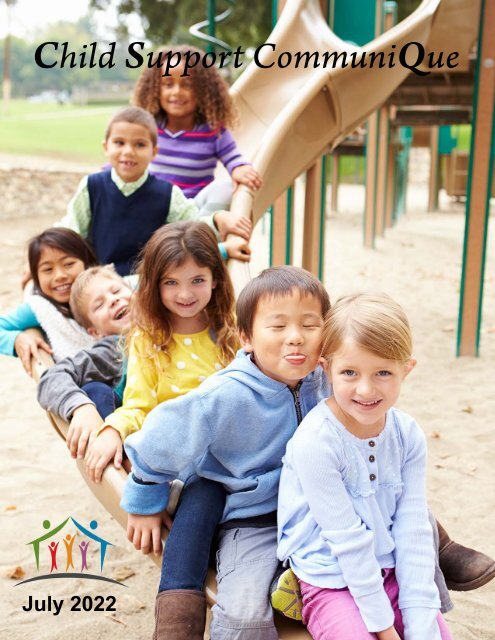 You also want an ePaper? Increase the reach of your titles
YUMPU automatically turns print PDFs into web optimized ePapers that Google loves.
ChildSupportCommuniQue
---
Table of Contents

July 2022

President's Message…………………………………………………..… 3

Community Corner: Delaware is Changing With the Times….............5

Protecting Fragile Families: New Guidance to Improve Foster Care

Referral Policies and Practices…………………………………….....…..8

Introducing New IV-D Directors…………………………………………..14

Procedural Justice in the Child Support Process……………………….20

Electronic Document Exchange…………………………………………..27

Preparation,Connection,and Competency in Hiring…..........................33

Leadership Symposium Preview………………………………………….40
---
Lori Bengston

NCSEA President

Hello!

I hope you are all enjoying the summer months and finding time to do the

things you love. As I write this message, I am thinking back to last year

when I was about to become the president of NCSEA, feeling a little

anxious and excited all at the same time. I was contemplating my theme for

the year, forming committees, and preparing for the passing of the gavel,

and now, more than ever, the phrase "time flies" takes on a whole new

meaning.

Some of you may remember last year at the Leadership Symposium I was

celebrating the birth of my five-day old grandson and becoming a first-time

grandma! The phrase "time flies" fits that situation too, as he will celebrate

his first birthday in a little over a month. Similar to my term as NCSEA

president, I look back over the past year of my grandson's life and am in

awe of how much change and growth can happen in one short year. So

many stages, accomplishments, and bright spots to reflect upon from the

past, and such a bright future ahead. Time stops for no one, and that's

okay.

As president and leader of the association, I often felt time was going too

fast and there was still so much to do before the end of my term. Then I

reminded myself that the privilege of being NCSEA president is just one

short year, but the work continues, rather seamlessly, to the next president.

The work toward our mission to promote and influence child support

policies and services, and to educate, connect, and inspire those who work

in child support never ends. While we have had some great

accomplishments this year, many initiatives will carry over as we strive to

do what's best for the families we serve.
---
The role of NCSEA president has been the highlight of my 20+ years in the

child support program. I would like to thank the Board of Directors and the

Executive Committee for always supporting me and sharing their wisdom,

experience, and passion for the program. Your support was invaluable to

me. To the committee chairs and members, you are the heart and soul of

this association. The work you do on a volunteer basis is second to none. I

can't thank you enough for all the times you said "yes" and the tireless

hours you worked toward our mission. To the vendor community and all

who pay to attend our events, there would be no NCSEA without your

support. Ann Marie, Katie, Latrese, and our MCI partners, you are the glue

that holds us all together. Last but not least, to my YoungWilliams family

and my family at home, thank you for your support this past year and

always!

It has been an honor and a blessing to serve as your president, and I will

forever be grateful for the opportunity. I will never forget the confidence you

placed in me to serve this outstanding community of child support

professionals. Soon I will place the gavel in the very capable hands of

President-elect Jim Fleming, and I will look forward to continuing my

service to NCSEA and supporting Jim wherever needed. I hope to see

many of you at the Leadership Symposium in Charlotte, North Carolina,

and I hope you enjoy the rest of your summer!

All my best,

Lori

_________________________________________

In addition to serving as NCSEA President, Lori Bengston is a Project Manager for

Young Williams and has been active in the child support enforcement program for over

16 years. She has direct supervision of the Nebraska Child Support Call Center,

including the Early Intervention Project. Lori has been a speaker at many child support

conferences on the topics of customer service, call centers, and early intervention. Lori

has been active in NCSEA for many years, previously serving on the Board from 2007-

2013. She is a Past President of the Western Intergovernmental Child Support

Engagement Council (WICSEC) and the Nebraska Child Support Enforcement

Association Board of Directors.
---
Delaware is Changing With the Times

by Theodore G. Mermigos, Jr.

Delaware Division of Child Support

I consider myself a late bloomer in the realm of social media. It became

apparent to me that I needed to catch up quickly if I was going to use social

media to promote what we were doing at the Division of Child Support

Services (DCSS) in Delaware. So this point doesn't get missed, I am

saying it in the first paragraph rather than in a later one: sometimes you

must stretch beyond your comfort zone and do things that are a little

uncomfortable to meet new successes. If you are not using social media to

promote child support programs, offer help to child support participants, or

share important information to the community at large, you are missing a

huge opportunity. Every office has a social media savvy person that can

help, or in some cases, take the lead on promoting your program on social

media.

During my 26 years as a State of Delaware employee, I have always

considered myself an ambassador of the services my department and

division provide to the public. Quality customer

service always starts with communicating

effectively with the public about what services are

available, and where to begin to maneuver through

the red tape and bureaucracy.

One of the pledges we made in 2015 when we

changed our state IV-D agency's name by

replacing the word "Enforcement" with the word "Services," was to find

better ways to connect with all of our customers. The old ways of

communicating just weren't cutting it anymore. Don't get me wrong, we still

honor traditional ways of communicating such as attending community

events, signage, literature, and the occasional press release or radio

commercial. However, we made the conscious decision to enter the world
---
of social media. After all, you must meet the people where they are, and my

friends, that is on social media.

DCSS started with creating a Division of Child Support Services Facebook

page in January 2014. In the beginning, we used the site to post job

openings and fairs, accept and respond to personal messages from our

customers, send holiday and seasonal wishes, and share office closings

and general information. We hovered around a couple hundred followers

for a couple years, ignorant to Facebook's full capacity to help us reach a

public desperate for information—especially the last two years during the

pandemic when customers were not able to freely visit local child support

offices.

In 2021, DCSS opened up a whole new world when we launched our first

Facebook Live event. For those who don't know, Facebook Live provides

an opportunity to do live videos that

can then be saved to the videos

section of the Facebook page for

future viewing. I can remember as if

this were yesterday: minutes leading

up to this first Facebook Live event,

my employees in the office of the

Director were anxious. They were

worried no one would tune in, or if the public did tune in, what they would

say. Would they be confrontational? Would they reveal too much personal

information? And most worrisome to my employees, what would I say and

how would I do answering questions on the spot?

Forty members of the public tuned in to that first Facebook Live event. We

knew after the first event that this was something we needed to continue.

We established a specific day of the month (the first Monday), hour of the

day (11:30 a.m. - 12:30 p.m. Eastern Time), and came up with the name

The Child Support Connection. The idea behind the time selection was that

it occurs around lunch time and could accommodate parents in the

workforce. DCSS employees from across the state submitted suggestions

for the name of our new endeavor. We received approximately 65

submissions, which my leadership team and I reviewed and voted on. That

is when our Facebook Live became known as The Child Support

Connection.
---
The greatest advantage of The Child Support Connection is that we are

communicating with the public in real time and giving the public an

opportunity to ask questions, raise child support case concerns, and even

express an opinion about us as an agency. Questions from the public come

in via the comments—they write their specific question and for the most

part, they keep their case specific questions free of identifiable information.

I read their questions out loud on the live event and provide answers or

instructions.

The viewership is not always extremely high, but this gives me the

opportunity to talk about DCSS enforcement tools,

changes we are making, programs we are offering,

upcoming events, how we handle intergovernmental

cases, and general child support information.

The DCSS Facebook page now has 5,202 followers

and reaches families in nine other countries. There

have been 23 live Child Support Connection events

that have had approximately 17,000 views.

Most participants in the child support process are looking for honest,

straightforward information in a time-efficient manner. Using social media is

an important and necessary tool to reach them. Facebook Live events have

aided in filling in the gaps and overcoming communication barriers. After

having such success on Facebook Live with The Child Support Connection,

Delaware DCSS is now working on building and expanding our social

media presence to Instagram and a YouTube Channel. We invite you to

follow us!

_________________________________________

Ted Mermigos has been the IV-D Director at the Delaware Division of Child Support

Services (DCSS) since April 1, 2015. Ted does a monthly Facebook Live Event, "The

Child Support Connection," the first Monday of every month at 11:30 a.m. Eastern Time.

https://www.facebook.com/DelawareDCSS
---
Protecting Fragile Families: New

Guidance to Improve Foster Care

Referral Policies and Practices

by Diane Potts, CGI

On June 8, 2022, the Children's Bureau issued new policy guidance i on the

referral process between child welfare and child support agencies. It is

centered around the question that more and more child support programs

recently have struggled with, namely, the "appropriateness" of referrals for

parents working toward reunifying with their children. The new guidance

recognizes that "[i]t is almost never the case that securing an assignment of

the rights to child support is in the best interests of a child during the time

the child is in title IV-E foster care." ii

Background

Under federal law, a state child welfare agency must take "all steps" to

secure an assignment to the state of any rights to child support on behalf of

each child who is receiving title IV-E foster care maintenance payments by

referring the case for child support services "where appropriate." iii In 2012,

the federal Office of Child Support Enforcement (OCSE) issued two policy

guidance Information Memoranda (IM) on Title IV-E Referrals: IM-12-02 iv ,

Requests for Locate Services, Referrals, and Electronic Interface, and IM-

12-06 v , Requests for Locate Services, Referrals, and Electronic Interface

between Child Welfare and Child Support Information Systems.

Recognizing that the child support and child welfare programs serve many

of the same children and families, OCSE explained that the agencies

should work together to develop criteria for appropriate referrals "in the best

interest of the child involved." vi In OCSE's view, an appropriate type of case

may be if the child will remain in foster care for a period of time, if it helps

the permanency planning process, or if collections will help relatives

assume custody of the child. vii OCSE also provided examples of cases

where a referral may not be appropriate including if the child is being
---
adopted or will be in foster care for only a short amount of time, as well as

when the "parent(s) would be unable to comply with the permanency plan

of reunification due to the financial hardship caused by paying child

support" or if the parent who formerly did not reside with the child is a

potential placement resource. viii

Research studies conducted since OCSE's guidance was published

generally demonstrate that pursuing child support in foster care cases may

cause harm to poor parents working towards reunification. The research

also has found that pursuing child support in foster care cases is not cost

effective.

In addition, a study from Orange County, California found that for every

dollar expended by the child support program to pursue support, only

27 cents actually is collected—basically a $0.27 cost effectiveness ratio

compared to the national average of $5.27 for all child support cases.

Specifically, studies in Wisconsin ix and Minnesota x found that the vast

majority of parents in the child welfare system are poor, with incomes

below $10,000 per year. The Wisconsin study also found that establishing

a child support order against a parent working to reunify substantially

increased the time the child spends in out-of-home placement, with each

$100 in child support increasing the time spent in foster care by six months.

These studies began to cast doubt on the value of requiring child support

payments from parents who are already poor and trying to reunite with their

child.

In addition, a study from Orange County, California xi found that for every

dollar expended by the child support program to pursue support, only 27

cents actually is collected—basically a $0.27 cost effectiveness ratio

compared to the national average of $5.27 for all child support cases. xii

Similarly, the Minnesota research estimated a cost-effectiveness ratio for

their foster caseload of 36 cents for each dollar spent. xiii Finally, the Orange

County study discovered that for every dollar paid in foster care

maintenance payments, the federal government recoups only four cents

through child support collections.

Although OCSE has not issued any policy guidance as a result of the

research, it did provide a new case closure criterion as part of the

Flexibility, Efficiency, and Modernization in Child Support Enforcement
---
Programs Final Rule that became effective in December 2016. The new

criterion provides that a child support program may close a case if:

Another assistance program, including IV-A, IV-E, SNAP,

and Medicaid, has referred a case to the IV-D agency that is

inappropriate to establish, enforce, or continue to enforce a

child support order and the custodial or noncustodial parent has

not applied for services. xiv

This provision provides child support programs with new flexibility to not

pursue support for foster care referrals when doing so would not be in the

best interest of the family and the reunification goal.

NCSEA's Resolution

On August 11, 2020, the NCSEA Board adopted a "Resolution for A

National Review of Child Support and Child Welfare

Referral and Coordination Policies." xv NCSEA recognized

that there was inconsistency in policies and practices

across the country, as well as inadequate informationsharing

between the child support and child welfare

agencies. In NCSEA's opinion, "there appear to be few

jurisdictions where the relationship between child support and child welfare

agencies is functional and effective, and best practices of those positive

collaborations are insufficiently understood and publicized."

NCSEA recognized the difference in pursuing support against the parent

who did not reside with the child versus the parent who was the former

custodian ("removal parent") and is undergoing reunification efforts in the

child welfare case. For the former, NCSEA explained that establishing and

enforcing a child support obligation has considerable value including

paternity establishment, a possible relative placement option, and most

important, additional financial resources to the removal parent that can help

hasten reunification.

But pursuing child support is more problematic for a removal parent who is

working towards reunification. NCSEA explained that federal law requires

that reasonable efforts must be made to preserve and reunify families and

make it possible for a child to return home safely. Citing the recent

research, NCSEA recognized that there often are cases where a child

support obligation against the removal parent may not be in the best

interest of the child and family.
---
The resolution asked the Administration for Children and Families (ACF) to

develop guidance on the appropriateness of referrals for removal parents.

Specifically, NCSEA advocated for guidance explaining that a referral to

pursue support against the removal parent working towards reunification is

appropriate against the removal parent only if the child welfare agency

determines the referral is in the best interest of the child in foster care.

NCSEA asked ACF for the following other initiatives as well:

• Convene a federal-state workgroup

consisting of child support and child welfare

leaders at the federal level and from at least

six states, as well as parents with experience

as child welfare clients, that would:

o Identify best practices for child

support/child welfare interaction that

can be disseminated nationally;

o Develop recommendations for

information-sharing between child support and child welfare

agencies, including encouraging child welfare agencies to use

FPLS data more productively;

o Assess the impact of a best-interests-of-the-child standard for use

of child support collections in foster care cases and whether states

should consider the option of using such collections for a trust fund

to help the custodial parent improve the child's standard of living

following reunification;

o Specify an agenda for future research concerning the impact of

child support establishment and enforcement on child welfare

cases, especially children in out-of-home placements.

• Fund research on the impact of child support referrals on out-of-home

placement stays, cost-effectiveness, and related issues.

• Identify best practices in child support/child welfare interactions and

disseminate such information nationally.
---
New Children's Bureau Guidance

The Children's Bureau issued new policy guidance in June 2022, in order

for child welfare agencies "to define more narrowly 'where appropriate' so

that the default position in these determinations can be for the title IV-E

agency not to secure an assignment of the rights to child support." xvi The

Children's Bureau cited both the Minnesota and Orange County studies in

explaining that securing a child support obligation is generally deemed not

to be cost effective.

Further, the new guidance recognizes that children

in foster care have been removed from homes that

qualify for financial assistance—meaning "that the

parent(s) of these children are likely to be living in

poverty." In addition, reunification efforts require

these parents to complete a variety of services such as therapy, parenting

courses, substance abuse treatment, and family time sessions. Reducing

income for these parents can divert from these efforts, potentially extending

the reunification process.

Therefore, according to the Children's Bureau, it is almost never in the best

interest of a child in foster care to require a parent undergoing reunification

efforts to pay child support. Instead of having child welfare agencies make

appropriateness determinations on a case-by-case basis as previous policy

guidance had directed, child welfare agencies should be considering

different, across-the-board policies such as not referring cases except in

rare instances where there will be no adverse effects on the child or

permanency plan. One other example would be a policy where the child

welfare agency refers a case to the child support agency only where the

parent's income is above a specified income level.

If a referral is made, child welfare agencies should review the case every

six months to re-assess whether child support should continue. Finally, the

Children's Bureau encouraged the child welfare agency to work with the

child support agency when considering the recent guidance and changes to

the referral policies.

Conclusion

The new guidance issued by the Children's Bureau is generally in line with

NCSEA's resolution adopted in August 2020, that recognized the potential

harm caused by pursuing child support against removal parents living in
---
poverty and working towards reunification. Since OCSE's guidance from

2012 now seems inconsistent with the Children's Bureau's position, OCSE

may be working on new guidance for child support agencies—especially in

light of the new case closure criterion for inappropriate Title IV-E referrals.

While it is too early to measure the overall impact of the guidance on either

the child welfare or child support programs, the ideal result will be a more

universal, family-centered approach to child support in foster care cases

across the country.

Diane Potts is a Director on the National Strategy Team at CGI Technologies and

Solutions Inc. Diane serves on the NCSEA Board of Directors and is co-chair of

NCSEA's Policy and Government Relations Committee as well as an NCSEA Past-

President, past Secretary, and an Honorary Lifetime Member. Diane also is on the

Board of Directors for the Eastern Regional Interstate Child Support Association and is

chair of its Intergovernmental Improvement Committee.

Diane served for six years as Illinois Deputy Attorney General for Child Support. She

was appointed as the official observer to the Uniform Law Commission's amendment of

the Uniform Parentage Act (UPA) on NCSEA's behalf, and currently sits on the UPA's

Enactment Committee. In 2015, she received the Illinois Child Support Lifetime

Achievement Award. Diane received her law degree from Washington University Law

School and her undergraduate degree from University of Illinois.

i

Child Welfare Policy Manual, 8.4C Title IV-E, General Title IV-E Requirements, Child Support, Question

and Answer 5, About | The Administration for Children and Families (hhs.gov).

ii

Id.

iii

42 U.S.C. §671(a)(17) (a state's Title IV-E plan must provide that "where appropriate, all steps will be

taken, including cooperative efforts with the State agencies administering the program funded under part

A and plan approved under part D, to secure an assignment to the State of any rights to support on behalf

of each child receiving foster care maintenance payments under [title IV-E])."

iv

IM-12-02 Requests for Locate Services, Referrals, and Electronic Interface.

v

IM-12-06 Requests for Locate Services, Referrals, and Electronic Interface between Child Welfare and

Child Support Information Systems.

vi

Supra at n.4 &5.

vii

Id.

viii

Id.

ix

Making parents pay: The unintended consequences of charging parents for foster care. (University of

Wisconsin Institute for Research on Poverty found 85 percent of removal parents have incomes below

$10,000 per year, well below the poverty line).

x

Child Support Collections to Offset Out of Home Placement Costs: A Study of Cost Effectiveness

(hamline.edu) (80 percent of parents have income less than $10,000 per year).

xi

Child Support and Foster Care in California.

xii

FY 2021 Preliminary Data Report and Tables | The Administration for Children and Families (hhs.gov).

xiii

Supra at n.10.

xiv

45 CFR § 303.11(b)(20).

xv

Resolution-for-a-National-Review-of-Child-Support-and-Child-Welfare-Referral-and-Coordination-

Policies_2020.pdf (ncsea.org)

xvi

Supra at n. 1.
---
Introducing New IV-D Directors

By Konitra Jack

Louisiana Support Enforcement Services

Most job postings for child support directors include language that

candidates should possess a commitment to the vision and function of the

agency, strong leadership skills, and an ability to build consensus. The

postings normally go on to describe individuals possessing a very specific

skill set. Then you see the addition of "knowledge of federal and state child

support laws and regulations," which takes the list of qualifications from

specific to exclusive. These two words seem similar, but they are not.

There's a difference and when you meet a IV-D director, you immediately

know it. When I became a director, it did not take long to learn why.

In September 2020, our director, Lydia Scales, announced that she was

retiring, and I was given the reins as Louisiana CSE Director. Shortly after,

I was invited to an "Ex-Ivy Dee" (IV-D) Annual Reunion. Now if you've ever

met Robbie Endris, Lisa Andry (former Louisiana IV-D directors), or any of

the other Ex-Ivy Dees, as they are known by, you surely wouldn't blame

Lydia for deciding to join that club. They were welcoming and ready to

nurture the "future former" IV-D directors. Being with them gave me such a

sense of hope and pride that I could one day join that club. It is truly

inspiring that those who have held this position still have that passion for

our program.

And that's the difference! When someone becomes a director, they are

taking on another role in the family. They are welcomed with open arms

and shown the way by their colleagues. They are supported, and they

quickly learn to support their teams. I believe all of the IV-D directors and

Ex-Ivy Dees would support my conclusion that being IV-D director is not

easy. Nonetheless, each of them would likely say that it is one of the most

rewarding experiences of their career. This article gives some of our
---
newest IV-D directors the opportunity to share their perspectives on what

the role means to them.

But first, let me introduce you to my colleagues:

When someone becomes a director, they

are taking on another role in the family.

They are welcomed with open arms and

shown the way by their colleagues.

Chad Shook is Director for the Mississippi Department of

Human Services, Division of Child Support. Chad comes to

the agency after practicing law in various capacities in the

Mississippi Delta, southwest Tennessee, and Hattiesburg for

over 22 years.

John Hurst currently serves as Assistant Deputy

Commissioner/IV-D Director for the Georgia Department of

Human Services, Division of Child Support Services (DCSS).

With more than 30 years of professional experience, John

began his career with DCSS as a case manager in the

Atlanta office. John is a member of the ERICSA Board of

Directors and an active member of NCSEA and NCCSD.

Frank DiBiase serves as Associate Director, Rhode Island

Department of Human Services, Office of Child Support

Services. Frank started in December 1990 as legal counsel

(line attorney) prosecuting the agency's child support cases

in the Rhode Island Family Court daily. He served as

Senior Legal Counsel in child support and Chief Legal

Counsel for the agency. In July 2021, Frank was named as the Child

Support Director.
---
Tell me about your path to becoming the IV-D Director. How long have you

been in the position?

Chad Shook: I am an attorney by trade and practiced in the areas of

family law and insurance for 22 years before beginning service as

Mississippi's IV-D director in November 2020.

John Hurst: I started my career in child support as an agent (case

manager) in 1990. In 1994, I became a supervisor with Policy

Studies, Inc., which was contracted with Georgia's child support

program to work non-TANF cases in Atlanta. After four years,

MAXIMUS won the contract rebid, and I went to that company as an

operations manager, where I stayed until 2007. I came back to work

with the state in 2007 and held positions of compliance monitor, office

manager, region manager, and deputy director before I was

appointed as IV-D director in December 2020.

Frank DiBiase: In 2004, with Sharon Santilli's ascension from Chief

Legal Counsel to Child Support Director, I was appointed as acting

Chief Legal Counsel. In December 2004, I was honored to be made

official Chief Legal Counsel of the agency. This appointment largely

ended my days in court, as I graduated to legal issues and matters at

a different level than individual cases. In May 2021, Director Santilli

retired from state service. I was honored once again when in July

2021 I was appointed as the state's child support director, which is

Associate Director of the Rhode Island Office of Child Support

Services (OCSS).

What do you see as the role of the IV-D Director? Can you offer us a few

examples?

CS: I am very fortunate to have a seasoned team associated with our

program. I am more an administrator than active hands-on manager

of daily operations.

JH: I'm not sure I can say that there is a primary role as there are so

many different areas of focus. A few of the top roles include providing

vision and oversight leadership to the program, serving as the face of

the program for department leadership and the legislature, and
---
supporting the national child support organizations (NCCSD, NCSEA,

ERICSA, and WICSEC).

FD: My initial knee-jerk response to this question is that my primary

responsibility is to make all the trains run on-time—or at least remain

on the track. I think this is reflective of all the various components

associated with the position. Perhaps at a more general level, I would

say my "primary" role is to make sure child support payments are

being paid for the benefit of children and families. But because there

are so many components to the child support program, I tend to view

my job as overseeing the various components of the program and

advancing it down the track.

Perhaps one of the most important aspects, I believe, involves full

transparency with the staff so it hopefully views management as at

least fair, reasonable, and committed to trying to address their needs.

I reinforce the appreciation I have for every member of the agency by

personally funding a random drawing every two months to choose a

staff member who will receive $100 as a thank you.

What was the most surprising part of your new job?

CS: The bureaucratic red tape that causes government to move so

slowly. Coming from the private sector, that has been the biggest

adjustment for me.

JH: I would say that one of the most surprising parts of this new role

was that I had to learn to be careful with what I say. I learned quickly

that I was often the final decision maker, and what I said could be

taken as direction or a final decision. I'm a bit of an introvert naturally,

and it surprised me that people listened to what I said!

FD: Having been with the agency for more than 30 years and having

worked very closely with the previous director, I was familiar with

almost all the responsibilities associated with the position of child

support director. There is one aspect that has surprised me—and in a

pleasant way too. I did not realize that most of the other state child

support directors worked in such a close manner. These other

directors are constantly in communication, and most are eager to

help others in any way possible. As much as I worked closely with our

state's previous director, I did not fully appreciate the degree to which

other directors are a resource for guidance and assistance.
---
What is the key to a successful program?

CS: Excellence in delivery of customer service.

JH: I believe that effective communication is a key to any successful

organization or program. It's important that the program has a clear

understanding of the direction, priorities, and goals so that everyone

is paddling in the same direction. We recently converted to a new

eFiling system and one of the first things we did was make sure we

had a communication plan to ensure that our staff and key

stakeholders were aware of the change, what the benefits of the new

system were, and the rollout schedule.

FD: I would identify four "keys" to a successful program activity. The

first is resources. No matter the desire, if there simply are not

sufficient funds or personnel, it can very easily derail a well-intended

and even well-planned project.

Secondly, good advance planning is a necessity. If an agency desires

to embark on a major project, it needs to try to anticipate in advance

as many potential issues that might arise or result from the effort as

possible.

Third, I cannot overstate how important knowledgeable and motivated

senior staff are to the success of any endeavor. I say this because,

regardless of the skill set of any child support agency director, it is

impossible to be an expert in every category.

Fourth, the entire agency needs to view the agency staff as a team. I

think this is how best to achieve some ends where the result is

dependent on a multitude of staff. It is necessary to reinforce that

there is no one unit of the agency that is more important than

another. This also requires the periodic recognition of staff when a

project is achieved.

What would you say to new and aspiring directors?

CS: From my perspective, representing families in child support

cases is vastly different from managing the IV-D program. The

general public has no knowledge of the many regulations and
---
equirements and behind-the-scenes operations that result in a

successful IV-D program.

JH: For someone interested in becoming a IV-D director, I would

recommend that you learn the "business" of child support. By that, I

mean understand how the program and incentive funding works and

what impacts the 157 report. Know how to drive performance.

Secondly, I would encourage a potential director to become involved

in the national organizations, such as NCSEA, ERICSA, WICSEC,

and NTCSA. These organizations expose you to a great community

of child support leaders and provide you the ability to help shape the

direction of the child support program. Lastly, once you become a

director, build a strong team around you. You will not have the ability

to be too involved in day-to-day operations and you will need to rely

on your leadership team to carry out your program's vision.

FD: I guess if I had to deliver one simple piece of advice, it would be

do not hesitate to ask questions if you do not understand something,

and do not hesitate to express a view even if you realize it is going to

be a minority view. I have sometimes been struck that after I have

raised what I thought was an obvious issue, someone in the group will

readily admit that they had not thought of that, and sometimes I have

been the person who says I did not anticipate a point raised by

someone else. I think the words of Ralph Waldo Emerson (or a simpler

variation by Thomas Carlyle) apply greatly in the child support world:

"In my walks, every man I meet is my superior in some way, and in that

I learn from him [or her]."

Hopefully, with these interviews you've learned that above all things being

director requires individuality and passion for the program. Though our

states are different, organizations are different, and "official titles" are

different, we all have the same passion. Special thanks to my colleagues

for taking their time to share!

Konitra Jack serves as Louisiana CSE Director, which directs the programmatic

operations for the child support enforcement section. Konitra joined the Child Support

Enforcement team in 2008 as a caseworker in Baton Rouge, LA. Konitra Jack is from

Baker, LA. She is a wife and the mother of a 10 and 11-year-old. She holds a Bachelor

of Science Degree in Mathematics, a Master's in Business Administration, and Juris

Doctorate from Southern University Law Center. Konitra serves on the NCSEA PGR,

NCSEA U, and CSQ Committees. She also serves on the NCCSD Policy & Practice,

Systems & Modernization, and Audit Committees, and the ERICSA Policy and

Legislation Committee.
---
Procedural Justice in the Child Support

Process: A Research-Informed Approach

by Kate Wurmfeld, Center for Court Innovation

The Procedural Justice-Informed Alternatives to Contempt (PJAC)

demonstration project, which began in 2016, integrated principles of

procedural justice into enforcement practices in six child support programs

across the United States. Procedural justice involves perceptions of

fairness in processes that resolve disputes and result in decisions.

Research has shown that if people perceive a process to be fair, they will

be more likely to accept the outcome whether or not the outcome was

favorable to them. 1 It is important to note that procedural justice should not

be a replacement for examining underlying structural issues and unfairness

in systems. Instead, principles of procedural justice should be considered

tools in a toolbox to achieve broader reforms in the way systems and

professionals interact with and impact the public.

The PJAC demonstration project targeted noncustodial parents who were

at the point of being referred to the legal system for civil contempt of court. 2

These parents had not met their child support obligations even though child

support programs, based on state guidelines, had determined that they had

the ability to pay. The PJAC demonstration project aimed to address

parents' reasons for not paying, improve the consistency of their payments,

and promote their positive engagement with the other parent and their

children, as well as the legitimacy of the child support program.

1

The PJAC demonstration was developed by the federal Office of Child Support Enforcement (OCSE),

which is within the Administration for Children and Families in the Department of Health and Human

Services. MDRC is leading a random assignment study of the model's effectiveness in collaboration with

research partners at MEF Associates and the Center for Court Innovation (CCI). Parents are assigned at

random to either a program group offered PJAC services or to a control group not eligible to receive

PJAC services; instead, the control group proceeds with the standard contempt process. Oversight of the

evaluation is provided by the Georgia Division of Child Support Services. For an overview of the PJAC

demonstration, see "Project." Swaner et al. (2018).

2

The noncustodial parent is the parent who has been ordered to pay child support and is generally the

parent who does not live with the child. The other parent is referred to as the custodial parent.
---
In 2020, PJAC added five new "peer learning" sites, 3 selected to address

specific agency challenges and to develop their own procedural justiceinformed

projects at various stages of the child support process. As

opposed to focusing only on the contempt phase, they also considered

establishment, modification, and enforcement. These new sites benefited

from the experience and expertise of the original PJAC sites, and from

training and technical assistance from the Office of Child Support

Enforcement (OCSE), MDRC, MEF Associates, and the Center for Court

Innovation.

The PJAC grant is drawing to a close after six years of project development

and implementation, and research and evaluation across six demonstration

grant and five peer learning sites. OCSE and the PJAC partners hope that

State and Tribal IV-D programs can draw from lessons learned to develop

more family-centered practices, utilizing procedural justice principles to

build trust, engage participants, and reduce bias in child support collection.

This article will provide an overview of procedural justice research and

guiding principles for the field as child support programs consider adopting

a procedural justice-informed approach to service delivery. The article can

also be viewed as a companion piece with the PJAC Implementation

Guide, which contains specific guidance and examples for child support

programs looking for practical ways to incorporate procedural justice in

every stage of the child support process. 4 When adapted to local

jurisdictions' unique needs and characteristics, implementing these lessons

will enable child support programs to promote procedural justice in the

context of broader systems reform work.

Procedural Justice Principles: What Does the Research Say?

The guiding principle of procedural justice is that people believe that they

are being treated fairly and with respect, and that their concerns are taken

seriously. Research demonstrates a connection between how participants

experience the process and their willingness to engage with the system. 5

While procedural justice is well established in the legal field, the PJAC

project is the first rigorous test of the impact of procedural justice on the

child support process. While the findings from PJAC are still forthcoming,

3

The five peer learning sites are Georgia; St. Joseph County, Indiana; Minnesota; Texas; and Brown

County, Wisconsin.

4

Procedural Justice in the Child Support Process | MDRC

5

Tyler (2003); Swaner et al. (2018).
---
the foundational research shows that people are more likely to view the

legal system as fair when the following elements are present: 6

Voice (participants have an opportunity to be heard): For participants in the

child support process, being able to speak out (if they so choose) and to be

heard and acknowledged by caseworkers and other agency personnel is

essential. Custodial parents, who may have encountered other

professionals who ignored or minimized their experiences, may be more

likely to see the agency as a source of help. For noncustodial parents,

research from other legal contexts demonstrates that when people feel they

are being heard, their perceptions of fairness increase. They may then be

more likely to engage with the child support system and make more

consistent support payments.

Respect (participants feel that they are being treated with dignity): When

caseworkers and other agency staff members interact respectfully with all

parties to a case (including respecting their roles as parents), participants

are more likely to feel that the process is fair.

Understanding (participants understand the child support process and how

decisions are made): Participants are often confused by child support

processes and procedural rules, the language the agency uses, and other

aspects of their cases. When agencies clearly explain the rules and how

they are applied, research confirms that participants are much more likely

to understand how to meet their support obligations and to see the agency

as a helpful resource.

Neutrality (participants believe that decision-making is free from bias):

Promoting neutrality does not mandate that all participants receive identical

services and support. Instead, it requires that they be treated equitably and

that they receive meaningful information and support tailored to assist them

in their circumstances with their specific needs. Promoting this type of

equity in service delivery can improve perceptions of fairness and help

address underlying systemic issues that act as barriers to fairness,

particularly among people from marginalized communities.

Helpfulness (participants believe that staff members are interested in their

specific situation, to the extent the law allows): Many noncustodial parents

have complex needs that serve as barriers to complying with their child

6

Center for Court Innovation (2012); Rempel (2014).
---
support orders. They may have had negative and punitive experiences with

the child support agency, making it difficult for them to trust that the agency

is there to help. Promoting helpfulness, by supporting parents holistically

and addressing their particular needs, has been shown to shift perceptions

and can encourage parents to engage with the process. Custodial parents

may also have had negative experiences. A helpful process will make it

more likely that they, too, will trust the agency and view it as a resource.

Every staff person in the child support agency can contribute to the fairness

of the child support process based on how they treat participants, and the

policies and procedures they promote. Child support professionals may

recognize good, common-sense practices that engage clients, and may

already be incorporating all or some of these practices in their work.

However, many aspects of child support systems can serve as barriers to

positively engaging participants.

Guiding Principles and Overcoming Barriers to Implementing

Procedural Justice

Promoting fair and equitable processes is critical to increasing access to

justice and building trust in legal and social service systems. The following

principles address barriers to promoting procedural justice and access to

justice generally.

Cultural Responsiveness and Reducing Bias

Cultural responsiveness may be defined as "the ability to learn from and

relate respectfully with people of your own culture as well as those from

other cultures." 7 A culturally responsive agency will ensure that it is

welcoming and truly accessible to individuals from all cultures within a

community, including those from underserved or marginalized groups, and

that child support processes are fair and understandable. Child support

agencies may find it more challenging to engender trust among

marginalized communities. People in these communities may be wary of

government systems. They may have experienced historic oppression

based on race or gender identity, disproportionate rates of incarceration,

7

National Center for Culturally Responsive Educational Systems (2008); Warshaw, Tinnon, and Cave

(2018).
---
and negative interactions with law enforcement and other legal entities.

Promoting cultural responsiveness and working to eliminate bias in all child

support services is critical to building trust. In addition to training staff

members, child support programs should develop policies and use tools

and resources that address bias and intercultural competence. In particular,

they need to increase awareness of how bias or cultural blindness affects

their delivery of services to a diverse caseload. 8

Practices That Respond to Trauma

One of the biggest challenges for child support programs is to understand

the trauma many individuals have experienced in their personal lives and in

their interactions with systems intended to help them. If child support

programs can enhance procedures to account for trauma in the child

support process and in their policies and decision-making, participants will

be better able to avoid re-traumatization, engage with the system, and take

advantage of interventions. Raising awareness among staff members of

the existence of trauma and its effects on participants' willingness to view

the child support program as a resource is essential to effectively serving

parents and children. 9

Promoting Safety and Enhancing Responses to Intimate Partner

Violence

A total of 10.9 percent of child support cases nationally have a family

violence indicator—that is, a mechanism in child support data systems that

identifies a party as needing to have their personal information protected

because of risks of domestic violence. Policies vary by state, but family

violence indicators can also guide service delivery in other ways, typically

involving additional safeguards to promote safety. Nevertheless, it is

difficult to accurately measure the percentage of child support cases

involving intimate partner violence. Survivors of violence often do not feel

safe reporting their experiences. One large-scale survey of custodial

parents suggests that close to four of ten fathers in the child support

system have a history of domestic violence against the mother or child. 10

Domestic violence involves coercive controlling behavior by one partner

8

The State of Minnesota is using the IDI (Intercultural Development Inventory; https://idiinventory.com) to

build intercultural competence and to inform its procedural justice work.

9

Warshaw, Tinnon, and Cave (2018); The Trauma Stewardship institute (2021).

10

Osbourne et al. (2013).
---
against the other. It can affect how parties to a case interact with each

other and with the child support agency. If it is not adequately understood

or addressed, the program risks being complicit with the parent causing

harm and endangering the safety and security of survivors. For example,

survivors may not be able to advocate for themselves because of power

imbalances or may be fearful of engaging in the process at all. Parents who

cause harm may try to use the process to further exert control or harass the

survivor parent. Programs should account for the possibility of intimate

partner violence throughout the process and in every case. They need to

train staff persons, implement screening, develop specific case

management strategies, and collaborate with community service providers

to provide appropriate referrals and interventions. 11

Parenting Time and Child Support Processes 12

Child support programs are clear that financial support and parenting time

are legally separate issues. While there are valid reasons for this policy,

and child support agencies are prohibited from using federal funds to

address parenting times issues, the separation of these two core parenting

functions poses a fundamental challenge in terms of how parents perceive

the fairness of the child support process. From a noncustodial parent's

perspective, the system is solely focused on their responsibilities and

completely disinterested in their rights. A custodial parent—even a parent

who has experienced intimate partner violence—may not understand why

they cannot access safe parenting time orders without the need for a

separate action. In response, many child support agencies have developed

mechanisms for addressing parenting time rights. Thirty-five states, for

example, include some parenting time calculations in their child support

guidelines. While this tacitly acknowledges the intertwined relationship of

financial support and parenting time, it further clouds the validity of

separating the two issues from many parents' perspectives. Simply telling

parents child support and parenting time are two separate legal issues, and

that agencies cannot use federal child support funds to address parenting

time, is insufficient to counter parents' distrust of this policy. Child support

11

The Center for Court Innovation (2016); Battered Women Justice Project (2021).

12

In some states where the child support agency has developed processes to incorporate a parenting

time order into the initial child support order, policies and procedures have been implemented to address

the critical safety issues posed by the high prevalence of domestic violence. These states screen for

domestic violence, provide education to parents about safety modified parenting time options, collaborate

with domestic violence service and legal assistance providers, and in some instances provide evidence

for courts to use when establishing safety modified/restricted parenting time orders.
---
agencies must account for how parents perceive the separation of support

and parenting time, and for the ways in which the policy could contribute to

actual unfairness or lack of access for some parents. Services for parents

going through the child support process should be streamlined and should

facilitate access to parenting time where it is safe to do so. OCSE has

helped states identify ways to use the federal Access and Visitation Grant

funding to provide this kind of assistance to parents. 13

Child support programs should be a port of entry for helpful services to

combat poverty and ensure that parents can meet their support obligations

and nurture their children. Too often, parents experience the system as

punitive and unhelpful, and lack trust in the legitimacy of the process. By

instituting family-centered practices using principles of procedural justice,

programs can transform participants' experiences and create a more fair

and respectful process. As a result, parents will be more likely to engage

with the process, view it as a resource, and be willing and able to

consistently support and interact with their children.

Kate Wurmfeld, Esq. is the Director of Family Court Programs at the Center for Court

Innovation (Center). In this role, Kate oversees the Center's Family Court operating

projects and provides national technical assistance and strategic planning advice to

courts wishing to improve their response to domestic violence. Kate has extensive

experience providing direct legal services on cases involving domestic violence, most

recently as a supervising attorney for Matrimonial and Family Law at New York Legal

Assistance Group, where she handled divorce, custody, orders of protection and

support matters in Supreme and Family Court throughout New York City. Kate

graduated from Seton Hall Law School and Oberlin College.

13

Examples of AV grant-funded innovations include free access to mediation and waived filing fees for

parenting time orders established at the same time as a child support order, online parenting time order

legal forms generation platforms that provide parents with a ready-to-file parenting time order, and

statewide legal assistance hotlines to help parents resolve parenting time conflicts and access legal

services when needed.
---
Electronic Document Exchange: Image Delivery

in a Heartbeat

by Beth Dittus, North Dakota DHS/CSE

Susan Smith, Indiana Child Support Bureau

Christopher Breen, Massachusetts DOR/CSED

Electronic Document Exchange (EDE) is an application within the federal

Office of Child Support Enforcement (OCSE) Portal that is used by 40

jurisdictions to securely exchange intergovernmental forms, and other

forms, online. While EDE has always been a valuable tool for state and

county IV-D programs, EDE took on added importance during the COVID-

19 pandemic. With COVID-19, most jurisdictions saw a significant shift

toward telework and a nationwide closure of child support offices that

forced all states to grapple with logistical concerns, such as how to access

documents received by mail, how to ensure those documents were

processed within mandatory federal timeframes, and how to convert those

documents into images that would remain accessible to staff for case

consult and audit purposes.

The IV-D programs in Indiana and North Dakota both use EDE extensively,

though leverage its functionality in different manners. Susan Smith,

Indiana's IV-D Intergovernmental Liaison, and Beth Dittus with North

Dakota's IV-D program, took some time to share their EDE success stories.

Indiana began using EDE in early 2014. While Indiana was not the first to

embrace EDE, the extent to which Indiana began utilizing EDE and
---
continues to utilize EDE far exceeds the initial scope proposed to the

agency.

Indiana has a state-run, county-administered structure. There are 92

counties with 91 enforcement offices that have cooperative agreements

with the state to enforce child support cases. As the county offices are not

on the state computer network, and Indiana does not have an encrypted e-

mail system, the state mails its child support documents to the county

offices. Indiana is not fully paperless; rather, it uses a legacy system that

does not support document storage capabilities. Given these restrictions,

EDE has been invaluable to Indiana. And for those states that are already

paperless, EDE is a seamless tool all around.

When EDE was first implemented in Indiana,

fewer states were using it and most other

states were not significant trading partners. It

was determined that Indiana's Central

Registry would send all intergovernmental

documents to the local county offices via EDE

to give everyone some hands-on experience

with the tool. Uniform Interstate Family Support Act (UIFSA) petitions

received are now scanned on a multi-purpose device. A cover letter and

acknowledgment are completed and attached to the scanned documents

and these documents are subsequently sent to the counties via EDE for

enforcement. Since the images are available in real-time, enforcement

actions can commence immediately without any delay. Gone are the days

of UIFSA petitions being "lost in the mail." In addition, Indiana immediately

saw savings in postage costs.

Soft copies of the UIFSA petitions are kept in a secure folder on the state

server where their images remain available for future reference. EDE has

greatly improved the ability of the Indiana Central Registry to provide more

robust customer service to other states.

Indiana's local offices are now quite proficient at sending and receiving

documents via EDE, and since EDE allows jurisdictions to relay images

securely, including Personally Identifiable Information (PII) and Federal Tax

Information (FTI), Indiana decided to look for even more ways to leverage

it. As a result of this reexamination, Indiana started using EDE as a twoway

communication tool for many situations involving its local offices and

offices at the state level. Indiana has also been using EDE to send its
---
Intergovernmental Case Reconciliation Error reports as well as documents

for hearings and bankruptcies. Another area where Indiana uses EDE is its

online application for IV-D services. These applications are processed at

the state level and their associated documents are sent to the local offices

with EDE. Lastly, Indiana plans to utilize EDE to exchange case files for

data reliability and self-assessment audits for the first time this year.

Indiana is in the process of implementing a new computer system for its IV-

D program, named INvest, and is excited that staff will be able to upload

documents to it. This will be a game-changer as it will allow documents

from EDE to be downloaded and then directly uploaded to INvest, without

the need for printing. Also, documents will be stored with respective cases

in one place, instead of in

multiple locations.

North Dakota's IV-D program

is state-administered and

organized by functional unit.

Despite differences in

organizational structure from

EDE also allows states to limit access to

certain portal users and produce reports

summarizing requests, responses, and

documents sent and received.

Indiana, North Dakota likewise gained invaluable efficiency through EDE.

North Dakota's EDE implementation effort began during the planning phase

of a federal grant project focused on improving intergovernmental

casework. In 2019, OCSE awarded the Intergovernmental Case

Processing Innovation Demonstration grant to North Dakota. In part, North

Dakota's project focused on improving communication with other states

and decreasing processing timeframes in incoming and outgoing

intergovernmental cases. EDE proved to be an asset in accomplishing

these goals.

During implementation, the agency took advantage of the EDE test

environment to explore how to best use EDE to complement the statewide

systems already in place. Through testing, it was discovered that it was

very easy to move documents from EDE to the next appropriate workflow

or electronic filing system. EDE turned out to be a much more convenient

way to receive documents than regular mail because there was no

scanning required. The documents could be kept in electronic form when

moved from EDE to the next system.

EDE also allows states to limit access to certain portal users and produce

reports summarizing requests, responses, and documents sent and

received. Capitalizing on these features, the agency was able to designate
---
specific users that would be responsible for receiving documents and

responding to requests. These users were then able to forward documents,

as needed, through the workflow system already in place. This approach

was designed to ensure that all requests were responded to in a timely and

consistent manner and that all documents were forwarded to the

appropriate case manager. The report feature offers an extra safety net to

assist in identifying outstanding requests and documents pending

download, so all cases are accounted for and properly serviced.

North Dakota implemented EDE in October 2020. The agency found that

staff were excited to use EDE and "hit the ground running." Due to the

pandemic, most staff were telecommuting when the agency went live. Staff

in other jurisdictions were also telecommuting and limited work capabilities

associated with the pandemic meant that some states were able to receive

documents and respond to requests only through electronic means during

certain periods. Thus, the ability to send and receive documents

electronically in intergovernmental cases became more important than

ever.

The agency immediately realized the efficiency achieved by electronically

exchanging documents. There was no wait time associated with mailing

intergovernmental packets or limited service requests for documents; it

could be simply and quickly accomplished through EDE. Even workers who

were initially intimidated to learn a new application found that it was userfriendly

and enjoyed having a history of actions temporarily recorded for

both jurisdictions to reference. In addition, mailing costs for lengthy

intergovernmental packets and requests were avoided. On average, North

Dakota sends about 75 intergovernmental packets to responding

jurisdictions each month, while over

100 requests for limited services are

made each month to EDE states

alone. Gaining efficiency while saving

costs was a great success.

North Dakota uses all EDE functions,

including document requests.

Intergovernmental workers have

found EDE's request feature

particularly beneficial because it

allows a request for common documents, such as certified orders and

payment records, to be made without the completion of a Transmittal #3

and Confidential Information Form. Additionally, electronic versions of the
---
documents sent and received are retained in EDE for a temporary period.

Outgoing intergovernmental workers have found this retention feature

particularly beneficial when a responding jurisdiction requests a specific

document that was already provided in an initial intergovernmental packet.

Communication is one of the biggest challenges faced in intergovernmental

casework. During the pandemic, agencies have learned to communicate

with each other in new and inventive ways, maximizing the use of

technology to the greatest extent possible. North Dakota is currently in the

process of implementing the Communication Center and is excited about

the new features it offers. North Dakota looks forward to continuing its work

with its partners via EDE and invites states considering utilizing the portal

to communicate and exchange documents to reach out to learn more about

North Dakota's experience.

The Indiana and North Dakota IV-D programs clearly illustrate the value of

EDE, and the ability to use EDE for both internal and external image

transfer. Whether your jurisdiction currently utilizes EDE or not, there is a

quarterly EDE Consortium meeting, and all interested in EDE are welcome

to attend. This group consists of states with significant EDE experience,

states new to EDE, and states considering the use of EDE. Many state

proposals come from these meetings, and OCSE has been receptive to

feedback.

If your jurisdiction has a question regarding EDE or would like to enroll in

the EDE program, please contact the Office of Child Support Enforcement

FPLS Support Team at FPLSSupport@acf.hhs.gov.

For more information on how North Dakota and Indiana leverage EDE,

please contact Beth Dittus at bldittus@nd.gov or Susan Smith at

Susan.Smith@dcs.IN.gov.

_________________________________________

Beth Dittus has been with the North Dakota Child Support Division since 2013, serving in a

dual role within the legal and policy units. As an attorney, she assists with various legal matters,

including the statewide management of complex cases and appeals and provides support with

legislative issues. In her policy role, she focuses her time on policy development and

implementation in numerous areas, including specializing in intergovernmental child support

proceedings.

Susan Smith is the supervisor of the Intergovernmental Central Registry Unit for the Indiana

Child Support Bureau. Susan has been with the Indiana State Child Support Bureau since

January 1990, acting as the supervisor of the Intergovernmental Central Registry Unit (ICRU)

since June 2007. She has served as the main point of contact for all things intergovernmental in
---
Indiana, including Electronic Document Exchange (EDE), Query Interstate Cases for Kids

(QUICK), and the Intergovernmental Reference Guide (IRG) as well as how they all work

together. Susan currently serves as a member of the ERICSA Policy and Legislation

Committee.

Christopher Breen is in his 30 th year of child support enforcement, his 19 th in a managerial

capacity. Chris currently serves on multiple NCSEA committees. He is the Deputy Director for

the Northern Region of the Massachusetts Department of Revenue's Child Support

Enforcement Division. Chris has also acted as project manager for several significant

implementations, including Massachusetts' recent Virtual Counter implementation that

leverages Zoom breakout rooms to provide online customer service. He possesses a B.A. from

Providence College with a focus in English, and an M.A. from the University of Massachusetts in

English. He is currently pursuing an MBA degree.
---
Preparation,Connection,and Competency

in Hiring: We're Looking for the Best!

by Tamara L. Thomas, Stanislaus County, California

Long gone are the days when you could simply ask a few "Customer Service,"

"Dealing with Conflict," or "What is your management style?" questions to hire

a good employee for your team or office. If you are in a position like most

public and private agencies where attracting the right candidate for

employment is centric to having success in your service delivery, you've

probably gathered that employers are facing a post-pandemic labor market

where employees hold a great deal of options deciding where they will elect to

be employed. Despite these circumstances, employers still need to ensure that

their hiring practices bring the right behaviors and competencies into their

organizations by asking potential employees the appropriate legal and valuedriven

questions. So, how do organizations make sure the best and the

brightest are at the interview table?

Here are three ways organizations, hiring panels, supervisors, and managers

can use the brief interview time they have to best assess candidates.

1. Prepare to Conduct an Effective Job Interview

Candidates have more options in deciding what agency and job they may

apply for, so make sure before running a recruitment that you can make the job

attractive to potential job seekers. Review your job descriptions and flyers to

ensure the classifications and job titles are as up-to-date as needed to enable

you to construct relevant questions that will pique an applicant's interest. Make

sure job titles and typical tasks reflect today's labor market expectations for

similar positions. Do the duties and responsibilities listed reflect the actual

current duties performed by incumbents or are they outdated? Many child

support agencies have updated job titles to reflect an emphasis on customer

service instead of enforcement. Agencies are moving away from titles that

include "officer" to titles such as Child Support Specialists, Child Support

Consultants, and Child Support Associates. Any changes to title and job tasks
---
may require an agency to meet and confer with the appropriate labor union. As

this takes time, make sure that you and your Human Resource (HR) Team

review the job classification requirements and titles prior to opening the

recruitment. An updated job task analysis will help your agency form interview

questions that paint a picture of the actual work being performed for the

position for which you are hiring.

Most job interviews tend to be nerve-racking. Prepare in

advance to make the job interview enjoyable and

comfortable for your applicants. It's difficult for potential

employees to put forward their best effort when their cortisol

levels are soaring. Don't try to intentionally make it a

miserable experience. Give applicants an idea prior to arrival

of what topics will be discussed. While you certainly wouldn't

disclose the actual questions for the interview, it's perfectly

acceptable to advise applicants of the topics or categories

that are likely to be brought up. Purposefully trying to stump candidates does

nothing but increase anxiety and limit your ability to accurately assess their

skills. You never want interviews to be adversarial. Set a positive tone and

remember applicants are also interviewing you.

Try to make a connection even if your time with the applicant is brief. Be warm,

friendly, and professional. To put candidates at ease, take some time to

introduce your agency and explain the interview process. Emphasizing your

humanity helps the candidates feel welcome, enabling you to see them in a

more relaxed state to proceed with interview questions. One best practice is to

provide applicants with a letter about the department, including its budget, its

values, behavior, and quality expectations for employees in the workplace, and

what they can expect from leadership if they choose to join the team. This

letter should be provided in advance of any conditional offer or final interview

so the applicant knows the department is interested in them.

2. Identify Job-Related Behavioral Competencies and Create

Behaviorally Anchored Interview Questions

Creating appropriate interview questions is key to determining how well-suited

an applicant is for the position. The best type of interview question allows a

candidate to demonstrate a past ability to perform work in a specific situation.

How well a person describes their experience will give you a much better

understanding of the candidate. For example, almost anyone can answer the
---
question, "What's your biggest accomplishment?" Not everyone, however, can

answer questions like, "Can you share with me a major strategic decision you

made in a previous role and how you went about making this decision? What

did you feel most proud of about the decision? What did you learn from the

experience?" To answer behavioral-based questions, candidates need to set

up the situation, describe the tasks needing to be completed, explain what

actions were completed, and talk in detail about the results. The quality of the

outcomes they convey, and how well candidates demonstrate their skills and

abilities, provide a much better understanding of candidates. Behavioral-based

questions also provide insight into candidates' ability to conduct themselves

professionally, competently, and with confidence.

So how do you determine what competencies upon which to base your

interview questions? Any competency that is a key requirement of the job gives

an opportunity to showcase quality and quantity efforts and serve your mission.

In Stanislaus County, all leadership positions are tasked with 11 core

leadership competencies that the county believes are essential to executives,

managers, and mid-level supervisors. Each competency has a matrix that

defines how well a person might

demonstrate that competency. A few of

those core leadership competencies

include building effective teams,

communication, conflict management,

customer orientation, and effective

decision making.

Here is an example of how behavioral

competencies can be used during the

interview process. If your recruitment relies on the competency of effective

decision making, choose behavioral questions to ask applicants, such as:

• Looking over your experience and career, what was one of the hardest

decisions you had to make as a manager? What made this a difficult

decision?

• Provide an example of an important decision you made that did not turn

out to be the right decision and describe how you dealt with the resulting

fallout.

The following chart shows the layers of increasing skill demonstration to

assess a candidate's answer. Going across the columns from right to left, you

will notice that a good answer builds upon a better answer, and the final left
---
column builds on skill demonstrated at the highest level of that competency.

Higher level and benchmarkable competencies generally manifest by an

outcome or solution that has an impact on an entire agency, team, or process.

CORE

COMPETENCY

Effective

Decision

Making

BENCHMARKABLE

SKILL

• Makes timely

decisions that

demonstrate a

broad and

creative range of

options and a

view toward

long-term

solutions.

• Gathers

appropriate

levels of data

and conducts

thorough

analysis to make

sound

decisions.

• Supports and

rewards

effective

decisions made

by middle

managers.

• Encourages new

and creative

alternatives.

• Is valued by

others for advice

and solutions.

EXCELLENT

DEMONSTRATION

OF SKILL

• Makes timely

decisions that

demonstrate a

broad and

creative range

of options.

• Recommends

best course of

action based

on thorough

analysis of

options and

appropriate

criteria or

guidelines.

• Supports and

rewards

effective

decisions

made by firstline

supervisors.

• Promotes new

and creative

alternatives.

SATISFACTORY

DEMONSTRATION

OF SKILL

• Makes timely

decisions

based on the

best

information

available.

• Considers

alternatives

and selects the

most effective

ones.

• Supports

effective

decisions

made by

employees.

• Is open to new

and creative

alternatives.

The more you conduct behavioral interviews focused on competencies tied to

your organization, the more easily you will recognize higher levels of

competency-based answers. The key to being a good evaluator is to ask

yourself before using your recruitment rating system, "How well did the

candidate demonstrate and answer the competency question by identifying the

result of their prior performance and behavior?"
---
So, what makes a bad interview question bad? It's always safest to ask only

questions that solicit information from job candidates that directly apply to the

skills, knowledge, and abilities to perform the job duties. Interview questions

that discriminate against a candidate should never be used. Always avoid any

question that raises information about a candidate's age, race, religion,

gender, disability status, or any other questions that refer to a protected class.

Asking illegal questions could expose an organization to a discrimination claim

and lawsuit. Employers should ensure that interviewers and anyone performing

hiring responsibilities are well-versed in what qualifies as illegal interview

questions. Here are some comparisons between illegal and legal questions:

Work/Visa Status and Citizenship

• Illegal: Are you a U.S. citizen? You sound like you have an accent,

where are you from? Where were your parents born? What is your

native language?

• Legal: Are you authorized to work in the U.S.? What languages do

you speak (only if relevant to the position)?

Marital/Family Status

• Illegal: Are you married? Do you have children? If so, what do you

do for childcare? Are you planning to have children soon? Have you

ever been divorced?

• Legal: Are you willing and able to put in the amount of overtime

and/or travel if the position requires it? Are you willing to relocate?

Age

• Illegal: How old are you? When were you born? How long have you

been working?

• Legal: Do you have any concerns about handling the long hours

and extensive travel that this job entails? Are you at least 18 years

of age (provided the job requires it)?

Disability Status

• Illegal: Do you have any disabilities or medical conditions? How is

your health? Do you take any prescription drugs? Have you ever

been in rehab?

• Legal: Are you able to perform this job with or without reasonable

accommodation? Do you have any conditions that would keep you

from performing this job?

Religion

• Illegal: What is your religion? Are you practicing?

• Legal: Can you work on weekends (only if the work requires it)?

https://ocs.yale.edu/channels/illegal-interview-questions/
---
3. Consider Adding the Competencies of Creativity and Innovation to

Your Organizational Profile

The most important result of a behavioral-based interview is successfully

predicting the chosen candidate's future job performance. Consider using

competencies like "creativity" and "innovation" to allow interviewees to freely

express how they have developed new insights, questioned conventional

approaches, encouraged innovations, and designed or implemented cuttingedge

programs and workflows. Hiring for imagination and originality will attract

people from all kinds of backgrounds, leading to an employee profile important

to the larger success of the business. Hiring boards can help agencies by

pointing out where an applicant has provided examples demonstrating

creativity and innovation.

Workplaces are at critical staffing junctures in addressing considerable

vacancies and a lack of applicants. Hiring philosophies are changing rapidly,

driven in part by the understanding that successful outcomes during the

pandemic were largely rooted in the ability of employees and employers to be

flexible and innovative. A creative workplace nurtures employees' ability to

create unique solutions to staffing and hiring challenges, even if employees

haven't fully learned or perfected the job's technical skills. Employees hired

with these types of competency traits will help develop and find new

opportunities in the workplace while instilling a growth mindset.

Talent management is no longer only an HR professional's industry and

responsibility, but the work of the collective organization. Inviting excellent

talent to take their place in your organization starts with their opportunity to

have interviews where they can showcase their competencies. Is the job well

defined and accurate? Is the applicant connecting with your organization

during the hiring experience? Do they have the opportunity to demonstrate

their passion and interest to come and work for you? If you want the best and

the brightest to accept employment with your agency, now is the time to

reassess your recruiting practices to improve your ability to discover great

candidates and turn them into your employees!

Tamara Thomas is the Human Relations Director for the Stanislaus County Chief Executive

Office in California and was previously the Stanislaus County California Department of Child

Support Services Director. She has 33 years of county government experience, 27 of which

were spent as a child support professional. She earned a Bachelor of Science Degree in

Organizational Behavior from the University of San Francisco. Ms. Thomas has been a
---
frequent presenter and trainer for the California Child Support Directors Association (CSDA)

and was President of the Western Intergovernmental Child Support Engagement Council

(WICSEC) from 2016 to 2017. She was the first recipient of the National Child Support

Enforcement Association's (NCSEA) Outstanding Leadership Award in 2015. Most recently,

she received the 2018 Stanislaus County Equal Rights Commission Award for exemplary

service in Equal Employment Opportunity matters and leadership in promoting equal rights.

She believes strongly in delivering excellent customer service and making a positive

difference in the lives of both employees and the families served by public employees.
---
NCSEA 2022 Leadership Symposium:

Take Your Skills to the Next Level!

by Phyllis Nance, Linda Rhyne-McKinley, and Carla West

NCSEA 2022 Leadership Symposium Co-Chairs

The child support program needs dynamic, visionary leaders now more

than ever. Shifting demographics, falling caseloads, and the Great

Resignation instigated in part by the COVID-19 pandemic have created

both significant challenges and opportunities. Are you ready to take your

leadership skills to the next level to bring child support into the future?

NCSEA's Leadership Symposium is the premiere event for child support

professionals to gain a national perspective on the IV-D program and hone

leadership skills. The Symposium brings together top leaders and rising

stars from across the nation to share ideas, explore new perspectives, and

discover new ways to promote and deliver child support services. This

year's event will be held at The Westin Charlotte in historic downtown

Charlotte, North Carolina, from August 7 to August 10. The location offers

access to great food and the famous NASCAR Hall of Fame. The

conference theme this year is "Level-Up: Transforming Tomorrow's

Leaders." The Leadership Symposium Committee has worked diligently to

create a next-level conference experience. We invite you to join us as we

explore this theme through plenaries, workshops, and learning labs.

"Team Synergy" kicks off the conference on Sunday. We've levelled up our

Symposium Fair into a new experience aimed at amping up networking,

brainstorming, and collaboration. Engage in Speed Networking and

connect with new colleagues who can help you on your leadership journey

beyond the conference. Participate in an Idea Exchange to kickstart

thinking about the possibilities for the child support program. Tag our
---
Graffiti Board with thoughts, ideas, and images that express your

experience throughout the event.

We have six plenaries that focus on different facets of next-level leadership

in the child support program. These are our "boss level" sessions—we've

brought together leading experts and thought leaders to give us big-picture

discussions about leadership, the future of the IV-D program, and the "why"

behind our work.

Our workshops offer an opportunity for leaders to take a deeper dive into

promising practices, innovative programs and partnerships, and leadership

trends. Over 30 workshops run the gamut from recruitment and retention to

child support modernization, creating training rockstars, and beyond.

We're also excited to offer four learning labs this year. Our learning labs

are designed to put your new skills into practice. Each of these highly

interactive sessions will take you to the next level, whether it's leading,

talking about race, empowering parents to pay, or defeating domestic

violence.

For more details on the Symposium and to register,

visit ncsealeadershipsymposium.org.

See y'all in Charlotte!

_________________________________________

Phyllis Nance has 38 years of public service including 30 years in the child support

program. She is currently the Director for the Alameda County Department of Child

Support Services. She came to Alameda County in 2016 with 24 years of experience in

the Kern County Department of Child Support Services, 8 of which she served as the

Director. Phyllis has an extensive knowledge of the child support program and broad

leadership experience having served in multiple leadership roles. Phyllis has a

fundamental belief that child support creates a better life for children. She has a strong

commitment to the child support program and currently serves on the boards of NCSEA

and the California Child Support Directors Association (CSDA) as well as numerous

committees advancing the value of child support. Phyllis has a Bachelor of Science in

Organizational Management from the University of LaVerne and a Master's Degree in

Administration from Cal State Bakersfield.

Linda Rhyne-McKinley has over 22 years in child support and is currently the Q&T

Supervisor for Mecklenburg County Child Support Services, responsible for the training

and professional development of 130+ staff members. Prior to her present role, she held

several positions in the child support profession from front line child support agent to

supervisory and managerial positions. Linda is currently on the NCSEA Board of
---
Directors and has served as NCSEA U Co-chair as well as several other NCSEA

committees. She is an NCSEA U alum. She is a graduate of University of North

Carolina-Chapel Hill.

Carla West is Senior Director for Human Services and IV-D Director for the North

Carolina Department of Health and Human Services. She is charged with integrating

and improving access to person-centered services, helping individuals and families in

North Carolina achieve self-sufficiency and improved well-being. Carla serves on the

board of the National Child Support Enforcement Association (NCSEA), a member of

the Policy Forum and CSQ committees, and is co-chair of NCSEA's 2022 Leadership

Symposium. A past president of the Eastern Regional Interstate Child Support

Association (ERICSA), Carla is a member of ERICSA's Honorary Board. She is an exofficio

board member of the North Carolina Child Support Council and is on the board of

the North Carolina Council for Developmental Disabilities. Carla has an M.B.A. and B.S.

in Business Management from Bellevue University. She is a firm believer in trying things

without fear of failure and strives to live a life of purpose.