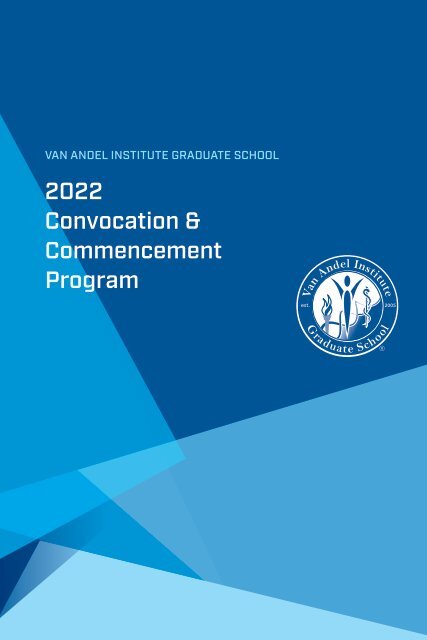 2022 Graduate School Convocation Program
Van Andel Institute Graduate School 2022 Convocation & Commencement Program
Van Andel Institute Graduate School 2022 Convocation & Commencement Program
SHOW MORE
SHOW LESS
You also want an ePaper? Increase the reach of your titles
YUMPU automatically turns print PDFs into web optimized ePapers that Google loves.
VAN ANDEL INSTITUTE GRADUATE SCHOOL

2022

Convocation &

Commencement

Program
---
MONDAY, AUGUST 22, 2022

1:30 PM | Tomatis Auditorium

Download a printable PDF of the program booklet and new student

biosketches at bit.ly/VAIConvComm2022.

PROCESSIONAL

OPENING OF CEREMONY AND DEAN'S REMARKS

Dr. Steven J. Triezenberg, President and Dean, Van Andel Institute Graduate School

EXCELLENCE IN GRADUATE EDUCATION AWARD

Recipient: Dr. Peter Laird

INTRODUCTION OF INCOMING STUDENTS

INTRODUCTION OF GRADUATES BY MENTORS

Zach DeBruine, Ph.D. — Dr. Tim Triche, Jr.

Emery Haley, Ph.D. — Dr. Juan Du

Katie Hollis, M.S. — Dr. Bart Williams

Jordan Prahl, Ph.D. — Dr. Gerry Coetzee

CONFERRING OF DEGREES

REFLECTION BY GRADUATES

CONTINUING STUDENT PERSPECTIVE

Menusha Arumugam, on behalf of the Graduate Student Association

OPENING OF THE ACADEMIC YEAR

RECESSIONAL

Reception to follow in the Cook-Hauenstein Hall.

Music for today's celebration performed by Kopper and Keys.

Van Andel Institute continues to monitor COVID-19. Participants who feel more

comfortable wearing a mask may do so. If you feel sick or experience any COVID-19

symptoms please join others in tuning in to the virtual livestream.
---
INCOMING STUDENTS

Ebenezer Asiedu

Rafael Bená De Araujo

Samuel Daniels

Arkajit De

Mehrshid Faraji Zanooz

Cameron Forton

Jui-Hsien (Rita) Lu

Jae Min (Jamie) Park

Xinyu Ye

Natasha Zandstra

VAN ANDEL EDUCATION INSTITUTE

BOARD OF TRUSTEES

David Van Andel

Chairman and CEO

Van Andel Institute

James E. Bultman, Ed.D.

Susan Keipper Meell

Juan Olivarez, Ph.D.

Teresa Weatherall Neal, Ed.D. (hon)

VAN ANDEL INSTITUTE

GRADUATE SCHOOL

BOARD OF DIRECTORS

Juan R. Olivarez, Ph.D.

Chairman of the Board

Mary O'Riordan, Ph.D.

Vice Chair

Maria Cimitile, Ph.D.

James B. Fahner, M.D.

Peter A. Jones, Ph.D., D.Sc. (hon)

Candace T. Smith-King, M.D.

Danny R. Welch, Ph.D.

Thomas Curran, J.D.

Secretary to the Board

Katie Helder, B.S.

Treasurer to the Board

VAN ANDEL INSTITUTE

GRADUATE SCHOOL

FACULTY

Stephen B. Baylin, M.D.

José Brás, Ph.D.

Lena Brundin, M.D., Ph.D.

Nick Burton, Ph.D.

Hong-Yuan Chu, Ph.D.

Gerry Coetzee, Ph.D.

Juan Du, Ph.D.

Yvonne Fondufe-Mittendorf, Ph.D.

Stephanie Grainger, Ph.D.

Carrie R. Graveel, Ph.D.

Rita Guerreiro, Ph.D.

Brian B. Haab, Ph.D.

Michael Henderson, Ph.D.

Galen Hostetter, M.D.

Scott D. Jewell, Ph.D.

Peter A. Jones, Ph.D., D.Sc. (hon)

Russell Jones, Ph.D.

Connie Krawczyk, Ph.D.

Peter Laird, Ph.D.

Heidi Lempradl, Ph.D.

Huilin Li, Ph.D.

Evan Lien, Ph.D.

Wei Lü, Ph.D.

Darren Moore, Ph.D.

Sara Nowinski, Ph.D.

Gerd Pfeifer, Ph.D.

J. Andrew Pospisilik, Ph.D.

Scott Rothbart, Ph.D.

Hui Shen, Ph.D.

Xiaobing Shi, Ph.D.

Matthew R. Steensma, M.D.

Piroska Szabó, Ph.D.

Tim Triche, Jr., Ph.D.

Steven J. Triezenberg, Ph.D., D.Sc. (hon)

Hong Wen, Ph.D.

Bart O. Williams, Ph.D.

Mary Winn, Ph.D.

Evan Worden, Ph.D.

Ning Wu, Ph.D.

Tao Yang, Ph.D.

Qiang Zhu, Ph.D.
---
HISTORY OF VAN ANDEL INSTITUTE GRADUATE SCHOOL

Van Andel Institute began with a vision to improve human health through biomedical

research and science education. Van Andel Institute Graduate School plays a key role

in this mission, combining rigorous coursework, extensive laboratory experience, and

the mentorship of VAI's expert faculty to develop the biomedical research leaders of

the future.

The Graduate School was founded in 2005, with a charter to grant doctoral and

master's degrees, through the leadership of Dr. Gordon Van Harn as the Director

of Van Andel Institute for Education. Dr. Steven J. Triezenberg became the founding

Dean in 2006, bringing a vision of creativity and innovation for biomedical graduate

education. The school earned accreditation by the Higher Learning Commission in

2013 and is gaining a national reputation for its program design, curricular approach,

and student support.

From the first cohort of three pioneering students in 2007, the Graduate School has

grown to a student body of 50 scholars from 14 different countries. Including today's

graduates, 32 students have earned Ph.D. degrees and four have earned master's

degrees. Graduate School alumni are now taking leadership positions in academia,

research and industry, carrying forward VAI's values of curiosity, collaboration,

and urgency to improve the health and enhance the lives of current and future

generations.

ACKNOWLEDGMENTS

The success of Van Andel Institute Graduate School arises from:

• The vision and generosity of Van Andel Institute Founders Jay and Betty Van Andel

• The stalwart support of David Van Andel, Chairman and CEO of Van Andel Institute

• Encouraging guidance from Van Andel Education Institute Board of Trustees

• Creative direction and diligent oversight by past and current members of the

Van Andel Institute Graduate School Board of Directors

• Committed leadership of Dr. Steven J. Triezenberg, President and Dean of

Van Andel Institute Graduate School

• Dedicated and excellent work by Graduate School staff members Dr. Sarah

Bodbyl Roels, Taylor Boyd, Dr. Brian Haab, Michelle Love, Christy Mayo,

Susanne Miller-Schachinger and Alli Roman
---
New Graduate Student Bios

Ebenezer Asiedu

Ebenezer Asiedu, completed his undergraduate

education at the University of Cape Coast (in Ghana)

with a specialization in Biochemistry. His project focused

on the stabilization of ascorbic acid through liposomal

encapsulation. His long-standing interest in genomics and

bioinformatics research led him to the Kwame Nkrumah

University of Science and Technology, where he gained

research experience in structural bioinformatics, immuneinformatics,

microarray, RNA-seq, and ChIP-seq data

analysis. He is interested in using functional genomics and

epigenomics to understand how neurodegenerative and

cardiometabolic diseases influence cancer biology and

survival.

Rafael Bená De Araujo

Rafael Bená De Araujo completed his bachelor's

degree in psychology at the Federal University of Mato

Grosso (UFMT), Brazil. He gained reseach experience

in several labs at UFMT and the University of São Paulo

spanning experimental psychology, neuroanatomy and

neuropsychobiology, and ethology and bioacoustics. He is

interested in the epigenetics of neuropsychiatric disorders,

such as depression and anxiety, intergenerational

inheritance, and the connections linking genetics and

environmental influences.

Samuel Daniels

Samuel Daniels graduated from Michigan State University

in 2019 with a bachelor's degree in chemical engineering.

As a student research assistant in a neural engineering lab,

he explored the inflammatory response to microelectrode

arrays implanted into the brain. In early 2020, Samuel

joined Dr. Hong-Yuan Chu's lab at VAI as a research

technician. His broad skill set includes stereotaxic surgery,

immunohistochemistry and confocal imaging, qPCR,

morphological analysis of different cell types, and patchclamp

electrophysiology. He would like to understand how

molecular and cellular changes of neuronal and astroglia

cells influence disease initiation and progression.
---
New Graduate Student Bios

Arkajit De

Arkajit De earned his undergraduate degree in

Biotechnology from Adamas University in India. His

primary research focuses on the structural and functional

dynamics of proteins that cause a variety of diseases.

His interests in protein homology modeling, molecular

docking, and molecular dynamics simulations motivated

him to pursue a research-focused degree in computational

structural biology. He aspires to work collaboratively

on interdisciplinary projects, perhaps applying various

computational techniques such as machine learning in

bioscience research.

Mehrshid Faraji Zonooz

Mehrshid Faraji Zonooz completed her bachelor's in

Cellular and Molecular Biology at Al Zahra University and

subsequently her master's in the Cellular & Molecular

Biology program at Islamic Azad University (Tehran,

Iran). She worked at Kariminejad-Najmabadi Pathology &

Genetics Center from 2011 to 2021 as a medical genetic

technologist and as an investigator in Next-Generation

Sequencing and Cancer groups. Mehrshid's passion for

advancing knowledge in neurodegenerative disorders and

cancer and being in touch with patients suffering from

genetic disorders encouraged her to pursue studies at the

Ph.D. level, which she began at VAI in January 2022.

Cameron Forton

Cameron Forton graduated from Michigan State

University with degrees in Human Biology and Zoology. His

wide-ranging experiences include volunteering at Sparrow

Hospital, an undergraduate assistant in biology lab

courses, and studying animal behavior. After graduation,

Cam assisted in the water quality lab at Sleeping Bear

Dunes and worked as a technician on the bone marrow

transplant floor at Spectrum Butterworth. Most recently,

he has been studying the relationship between immune

response, neurodegenerative disease, and behavior in

Dr. Lena Brundin's lab at VAI. Cam is interested in the

roles of genetics and immunology in the mechanisms of

neurodegenerative disease.
---
Jui-Hsien (Rita) Lu

Jui-Hsien (Rita) Lu is a Research Analyst at Washington

University in St Louis, working to integrate multi-omics data

to better understand cancer genomics. She obtained her

Bachelor of Science in Agriculture from National Taiwan

University in 2014 and completed her master's degree in

the same program in 2016. Rita worked at Academia Sinica

to develop bioinformatics tools for understanding and

visualizing epigenetic modifications. Translational medicine,

cancer genomics, and computational biology are research

interests for Rita.

Jae Min (Jamie) Park

Jae Min (Jamie) Park is from South Korea. He graduated

from Franklin & Marshall College with a neuroscience

degree and joined a lab at Yale University as a postbac

where he began research in neurodegeneration.

He studied alpha-synuclein functions using in vitro

experiments and bioinformatics on Parkinson's cortical

tissue. The heterogeneity of pathogenic mechanisms

in Parkinson's disease leads him to look beyond

synapse-centric approaches, including the roles of

neuroinflammation and gut microbiome.

Natasha Zandstra

Natasha Zandstra obtained her bachelor's degree in Cell

and Molecular Biology from Grand Valley State University.

She participated in research projects on cell polarity

and morphology, the ethylene synthesis pathway, and

enzymatic investigation of β-lactamases. These experiences

developed skills using confocal microscopy, RNA isolation

and extraction, and protein sequence analysis. A project

exploring the consequences of cell polarity and altered

morphology on cellular function guided her to develop

a passion for cancer biology and genetic pathology,

particularly for women's reproductive cancers and

diseases.

Xinyu Ye

Xinyu Ye graduated from the University of Wisconsin-

Madison in 2020 with degrees in pharmacology-toxicology

and chemistry. His undergraduate research project

focused on developing a saposin–detergent system to

encapsulate the transmembrane domains of proteins

with a single transmembrane helix, thereby facilitating the

challenging structural determination for such proteins.

After graduation, he joined Drs. Juan Du and Wei Lü's labs

as an assistant research technician, where he works on

the structural and functional analysis of transient potential

receptor melastatin (TRPM) family of proteins that mediate

sensations including temperature, taste, pain and vision.
---
Van Andel Institute Graduate School

transforms students into independent

scientists through an intense, problemfocused

Ph.D. degree in molecular and

cellular biology. By combining rigorous,

problem-based coursework with

extensive experience in laboratories

led by the Institute's expert faculty, the

Graduate School prepares students

for productive careers in biomedical

research and beyond. The Graduate

School thrives within the state-of-the-art

facilities of Van Andel Institute, with

access to extensive core technology

support and the resources of

collaborators in Grand Rapids,

Michigan and around the country.