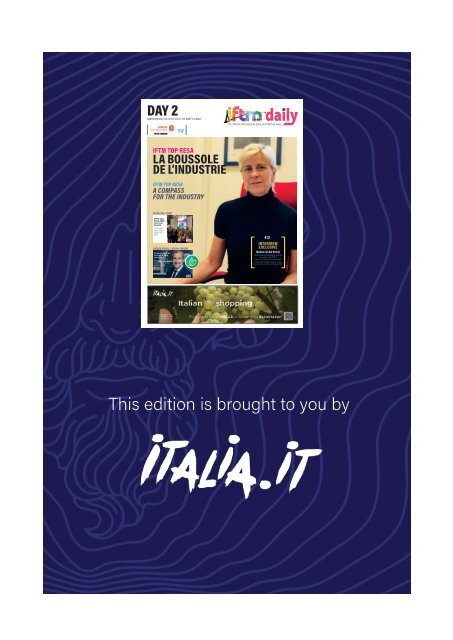 Create successful ePaper yourself
Turn your PDF publications into a flip-book with our unique Google optimized e-Paper software.
DAY 2

MERCREDI/WEDNESDAY 21 SEPT. 2022

The official international daily of IFTM Top Resa

STAND

1-S48

IFTM TOP RESA

LA BOUSSOLE

DE L'INDUSTRIE

IFTM TOP RESA

A COMPASS

FOR THE INDUSTRY

ACTUALITÉS / NEWS

IFTM Top

Resa 2022

ouvre en

beauté

IFTM Top

Resa 2022

opens on a

high

DOSSIER SPÉCIAL / SPECIAL FEATURE

Ponant, pour un

tourisme plus

durable

Ponant,

towards a more

sustainable

tourism

#05

#12

INTERVIEW

EXCLUSIVE

MARIA ELENA ROSSI

Directrice du marketing et de la

promotion de l'ENIT

(l'Agence nationale du tourisme de l'Italie)

Global Marketing Director at the

Italian National Tourist Board ENIT

#15

This edition is brought to you by
---
DAY 2

MERCREDI/WEDNESDAY 21 SEPT. 2022

The official international daily of IFTM Top Resa

STAND

1-S48

IFTM TOP RESA

LA BOUSSOLE

DE L'INDUSTRIE

IFTM TOP RESA

A COMPASS

FOR THE INDUSTRY

ACTUALITÉS / NEWS

IFTM Top

Resa 2022

ouvre en

beauté

IFTM Top

Resa 2022

opens on a

high

DOSSIER SPÉCIAL / SPECIAL FEATURE

Ponant, pour un

tourisme plus

durable

Ponant,

towards a more

sustainable

tourism

#05

#12

INTERVIEW

EXCLUSIVE

MARIA ELENA ROSSI

Directrice du marketing et de la

promotion de l'ENIT

(l'Agence nationale du tourisme de l'Italie)

Global Marketing Director at the

Italian National Tourist Board ENIT

#15
---
The official international daily of IFTM Top Resa

HALL PLAN

STAND 1-H59 STAND 1-V54

STAND 1-V43

STAND 1-V62, V53

STAND 1-R53

STAND 1-R47

STAND 1-M59

IFTM Daily is a CLEVERDIS Publication

439 Route de la Seds, 13127 Vitrolles, France • Tel: + 33 442 77 46 00

• SAS capitalised at €155,750 • VAT FR 95413604471 • RCS Salon de Provence 413 604 471

• info@cleverdis.com • www.cleverdis.com • www.iftmdaily.com

President & Publisher: Jean-François Pieri • Senior Project Managers: Bettina Badon • Account Managers: Sara Hirache,

Benjamin Klene, Veronika Verzhak • Event Manager: Zineb Elhabiri • Head of Editorial Team: Emiliana Van Der Eng

• Senior Editor: Thomas Campbell • Editors: Luc Citrinot, Laura Sharman, Florent Clerq • Art Director: Hélène Beunat

• Design & Page Setting, Webmaster: Guillaume Vinrich. With the participation of: Philipp Schiberna.

>>> To contact them: first name.last name@cleverdis.com

• Cover: © ENIT - Printing: Imprimerie Frazier, 33 Rue de Chabrol, 75010 Paris

© CLEVERDIS 2021 - Registration of Copyright September 2021. Information presented in this publication is purely indicative in order to illustrate subjects

contained therein. No guarantee can be given as to the accuracy of data or content at time of printing and thus the latter should not be used for professional

or commercial ends. While all efforts have been made as to accuracy and pertinence of content and data contained in this publication, CLEVERDIS may in no

case be held responsible for the consequences, whatever their nature may be, that may result from the interpretation of this data or content, or any eventual

errors therein. Any reproduction of the content of this publication, even partial, by any means whatsoever, is strictly prohibited without the prior autorisation

of the publisher. Any copy, whether by photography, photography film, magnetic tape, disc or other means constitutes a forgery, liable to punishment under

French law according to the legislation of 11 th March 1957 covering copyright. All brands cited in this publication are registered trade marks and/or belong to

companies which are their respective proprietors. The publishers and editorial staff decline all responsibility as to opinions formulated in this publication by those

interviewed or cited therein. Their opinions are entirely their own, and are included with the understanding that they contain, to our knowledge, no malicious

intent. The inclusion of all texts, photographs and other documents supplied by those included in this publication imply the acceptance by their authors of their

free publication therein. Documents and photographs will not be returned. It should be understood that this publication contains forward-looking statements

that involve risks, uncertainties and assumptions. All statements other than statements of historical fact are statements that could be deemed forward-looking

statements. Risks, uncertainties and assumptions include assumptions relating to the timing of the recorded date. If any of these risks or uncertainties

materialises or any of these assumptions proves incorrect, actual results could differ materially from the expectations outlined in these statements. Cleverdis

assumes no obligation and does not intend to update these forward-looking statements during the period of publication. Photo Credits and Copyright: All Rights

Reserved.

IFTM DAILY • MERCREDI/WEDNESDAY 21 SEPT. 2022 3
---
I ACTUALITÉS I NEWS

I

MERCREDI/

WEDNESDAY

21 SEPT.

10:00 - 11:15

En partenariat avec / In partnership with :

GBTA

Metaverse : tendance

éphémère ou futur des

voyages et événements ?

(sur inscription)

Metaverse: a fleeting trend or

the future of travel and events?

(upon registration)

ESPACE 2000

11:30 - 12:15

En partenariat avec / In partnership with :

TravelPro Formations

Environnement et

Changement climatique

Environment and Climate

Change

CONVERSATIONS

14:00 - 14:45

En partenariat avec / In partnership with :

FRANCE DMC ALLIANCE

La destination France sur un

plateau

The French destination on a

platter

CONVERSATIONS

14:30 - 15:30

En partenariat avec / In partnership with :

ATD

Présentation du guide des

démarches de labellisation

pour un tourisme durable

Presenting a guide to labeling

procedures for sustainable

tourism

ESPACE TOURISME DURABLE

16:30 - 18:30

FINALE DU HACKATHON

HACKATHON FINAL

AGORA

Bonjour et bienvenue à ceux

d'entre vous qui viennent d'arriver

au deuxième jour de l'IFTM

Top Resa à Paris. Je voudrais

encourager tout le monde à profiter

pleinement de notre incroyable

programme d'événements et

de conférences, à explorer les

nombreuses destinations venues

des quatre coins du monde, et à

découvrir les dernières tendances

et technologies qui façonnent

l'industrie du tourisme et du voyage.

Si vous n'en avez pas encore eu

l'occasion, visitez notre " Village de

l'attractivité ", où une série d'ateliers

se dérouleront tout au long de la

Morning

by Laurence

GaborieauBriefing

Hello and welcome to those

of you who have just arrived

to the second day of IFTM

Top Resa in Paris. I would

like to encourage everyone

to take full advantage of

our incredible programme

of events and conferences,

to explore the many

destinations which have

come from the four corners

of the world, and to learn

Le briefing

matinal

de Laurence

Gaborieau

Laurence Gaborieau

Directrice du salon IFTM Top Resa

Director IFTM Top Resa

Les affaires battent leur plein

Business

is in full swing

journée. La première, intitulée

"CV 3.0, essentiel pour faire la

différence", débutera à 10 heures.

Vous pouvez également vous rendre

à l'Arena où, au même moment, une

discussion aura lieu sur le thème

"Comment valoriser la profession

d'agent de voyage ? Une autre visite

incontournable est celle du tout

nouvel "Espace tourisme durable"

de l'IFTM, où vous pourrez vous

informer sur la gestion des déchets

dans l'industrie du voyage et sur

la manière dont l'étiquetage peut

contribuer à promouvoir le tourisme

durable, parmi de nombreux autres

sujets d'actualité. Cette année,

nous avons également mis au

about the latest trends and

technologies shaping the

tourism and travel industry.

If you haven't already

had the chance, visit

our 'Attractiveness

Village', where a series of

workshops will be taking

place throughout the day.

The first one titled 'CV

3.0, essential to make a

difference' will be starting at

10:00am. Alternatively you

can make your way to the

Arena where at the same

time, a discussion will be

held on 'How to add value

to the profession of travel

agents? Another mustvisit

is IFTM's brand new

'Sustainable Tourism Area"

where you can learn about

waste management in the

travel industry and how

labelling can help promote

point un format de conférence plus

intime appelé Conversations, qui

portera également sur la durabilité

dans l'industrie du tourisme et sera

suivi de "La Destination France"

à 14 heures, organisée par France

DMC Alliance. Je vous encourage

également à visiter notre Village

des startups, où une série de

conférences et de pitchs auront

lieu tout au long de la journée,

et où vous pourrez découvrir les

dernières innovations en matière

de voyage.

C'est un plaisir de voir l'industrie se

réunir de nouveau sous un même

toit à l'IFTM Top Resa et j'ai hâte de

vous voir dans les allées du salon

sustainable tourism among

many other hot topics. This

year we have also developed

a more intimate conference

format called Conversation,

which will also be looking

at sustainability in the

tourism industry followed

by 'La Destination France'

at 2:00pm, organised by

the France DMC Alliance. I

would also encourage you

to visit our Startup Village

where a series of keynote

talks and pitches will be

taking place throughout

the day, and where you can

learn about the latest travel

innovations.

It's a pleasure to see the

industry coming together

under one roof once again

at IFTM Top Resa and I look

forward to seeing you on

the floor

4 IFTM DAILY • MERCREDI/WEDNESDAY 21 SEPT. 2022

www.iftmdaily.com
---
I ACTUALITÉS I NEWS

I

IFTM Top Resa 2022 ouvre en beauté

La 44 e édition d'IFTM Top Resa a

été officiellement lancée hier par

Olivia Grégoire, ministre déléguée

aux Petites et Moyennes Entreprises

(PME), au Commerce, à l'Artisanat

et au Tourisme, aux côtés du patron

des Entreprises du Voyage et

président d'honneur du salon Jean-

Pierre Mas et de la directrice d'IFTM

Laurence Gaborieau. La cérémonie

a réuni des ministres

du tourisme, des

responsables d'ONT, des

organisations de voyages et des

acteurs clés de l'industrie pour

marquer le début de l'IFTM Top

Resa avec 1 200 marques et 170

destinations au rendez-vous. Olivia

Grégoire a souhaité la bienvenue à

tous et a délivré un message fort à

l'industrie : "Le tourisme, c'est une

relation humaine. Malgré les défis

récents, l'industrie a fait preuve

d'une forte résilience et d'un

dynamisme. Le salon

de cette année doit mettre l'accent

sur le partage et la construction

de synergies pour que nous

puissions tous avancer

ensemble. Cette industrie, qui

représente 8% du PIB, est au

cœur de notre économie et

elle est un merveilleux outil

de soft power"

IFTM Top Resa 2022

opens on a high

The 44 th edition of IFTM Top

Resa was officially launched

yesterday by Olivia Grégoire,

Minister delegate in charge

of Small and Medium-Sized

Enterprises (SMEs), Trade,

Crafts and Tourism, alongside

the head of Entreprises du

Voyage and honorary president

of the show Jean-Pierre Mas

and IFTM's director Laurence

Gaborieau. The ribbon cutting

ceremony brought tourism ministers,

NTO officials, travel organisations

and key industry players together, to

mark the beginning of this year's IFTM

Top Resa with 1,200 brands and 170

destinations in attendance. Ms Grégoire

welcomed everyone and delivered a

strong message to the industry, saying

"Tourism is about human relationships".

She continued: "Despite the recent

challenges, the industry has shown

strong resilience and dynamism. This

year's show must focus on sharing and

building synergies so that we can all

move forward together. The industry,

which represents 8% of the GDP, is

at the heart of our economy and is a

valuable form of soft power"

IFTM DAILY • MERCREDI/WEDNESDAY 21 SEPT. 2022 5
---
I ACTUALITÉS I NEWS

I

La Compagnie des Alpes souhaite que la

montagne reste une priorité dans la tête

des gens à l'IFTM Top Resa

La Compagnie des Alpes, le plus grand opérateur de remontées

mécaniques en Europe, exploitant de domaines skiables dans cette

montagne si prisée, participe à l'IFTM Top Resa 2022 pour promouvoir

les stations de montagne françaises et leurs dernières expériences de

voyage.

La Compagnie des Alpes looks to keep

mountains at the top of people's mind

during IFTM Top Resa.

La Compagnie des Alpes, the largest ski lift operator

in Europe, which represents skiable zones across the

popular mountain range, is attending IFTM Top Resa

2022 to promote France's mountain resorts and their

latest travel experiences.

Pour Guillaume Rosetti, directeur

commercial et marketing des Arcs,

"nous sommes ici depuis cinq ans

pour aider à la promotion de nos belles

montagnes françaises et des stations

de ski de La Compagnie des Alpes.

Nous voulons démontrer que nous

continuons d'offrir à nos clients des

expériences incroyables, notamment

à travers quelques nouveaux produits

passionnants. A 2 600 mètres d'altitude,

nous voulons offrir une expérience

innovante au-delà des sports d'hiver

traditionnels. Aux Arcs par exemple,

nous avons lancé "Les Fresques

Lumineuses de l'Aiguille Rouge",

une expérience immersive de vidéomapping

qui permet aux visiteurs de

découvrir la montagne au fil des quatre

saisons. Nous avons également créé

une nouvelle tyrolienne, la plus raide

d'Europe, avec des vues incroyables

sur le Mont-Blanc pour ceux qui

recherchent encore plus d'adrénaline"

STAND 1 - S09

Guillaume Rosetti, Sales and

Marketing Director of Les Arcs,

says: "We have been coming

here for five years to help

promote our beautiful French

mountains and the ski resorts

of La Compagnie des Alpes.

"We wanted to

show that we are

going to continue

to offer our

clients incredible

experiences and

we have some

exciting new

products.

"At 2,600 metres of altitude, we

are looking to offer innovative

experiences beyond traditional

winter sports. In Les Arcs for

example, we have launched

Les Fresques Lumineuses de

l'Aiguille Rouge, an immersive

video-mapping experience,

which allows visitors to discover

the mountain throughout

the four seasons. We have

also created a new zip line,

the steepest in Europe, with

incredible views over the Mont

Blanc for those who are looking

for more adrenaline"

STAND 1 - S09

IFTM DAILY • MERCREDI/WEDNESDAY 21 SEPT. 2022 7
---
I ACTUALITÉS I NEWS

I

8 IFTM DAILY • MERCREDI/WEDNESDAY 21 SEPT. 2022

www.iftmdaily.com
---
I ACTUALITÉS I NEWS

I

Air France : une édition 2022 de l'IFTM

sous le signe d'une forte reprise

En exclusivité pour IFTM Daily, Henri Hourcade, Directeur général

France Air France-KLM, évoque l'activité d'Air France cet été et

révèle quelques-unes des nouveautés de cet hiver 2022-23. Un

entretien effectué dans la foulée de l'inauguration du stand Air

France-KLM et de ses partenaires en compagnie d'Henri de

Peyrelongue, Directeur général Air France-KLM Commercial

Ventes.

Etes-vous surpris de la bonne tenue

du marché français cet été ?

Surpris non, conforté oui. Ce qui est

assez remarquable, c'est que, dans

un contexte parfois compliqué, Air

France a maintenu ses programmes.

Et ce, grâce à la mobilisation de nos

personnels, à l'anticipation de nos

dirigeants - on a par exemple dès

avril 2021 recruté 700 pilotes et 200

mécaniciens ainsi que des CDD à

l'aéroport Charles De Gaulle.

Notre programme a eu une fiabilité de

plus de 99% ! Nous avons la chance

d'avoir pris les bonnes décisions.

Elles ont effectivement permis de

répondre à une demande forte du

marché. Le marché français atteint

aujourd'hui 88% de ses niveaux pré-

Covid.

L'inflation pourrait-elle ralentir cette

reprise ?

Je ne suis pas expert en la matière et

c'est difficile de dire quels seront les

comportements face à l'inflation. En

revanche, je vois que les niveaux de

réservation au 4e trimestre restent

solides. Il y avait un vrai suspense car

la forte demande de l'été tenait aussi

à un phénomène de rattrapage après

le Covid. Seul le marché d'affaires n'a

pas encore totalement repris, même

s'il progresse régulièrement. On en

est à 70% des niveaux de 2019.

Comment se présente le programme

d'hiver ?

On accompagne toujours la

demande. Nous nous développons

davantage sur les marchés autour

de la Méditerranée que sur des

destinations plus traditionnellement

d'affaires en Europe. On connaît

d'ailleurs une excellente reprise sur

l'Afrique du Nord, en particulier sur

l'Algérie avec 48 vols hebdomadaires.

Sur les Etats-Unis, notre offre est

plus importante qu'en 2019 avec la

réouverture notamment de Newark.

Notre offre s'accroît également sur

les Antilles, l'Océan Indien, le Moyen-

Orient, l'Inde et l'Afrique. Elle baisse

en Asie, mais c'est surtout à cause

de la Chine, toujours fermée. Sur le

moyen-courrier, nous développons

des destinations d'hiver, en Laponie,

Norvège et Autriche.

L'intermodalité va-t-elle continuer à

se développer ?

Absolument. Nous proposons le

produit air/rail avec la SNCF au

départ de 18 gares françaises. Et

nous allons en novembre proposer

un enregistrement digital de bout

en bout pour les utilisateurs de ce

service.

Quels seront les nouveaux produits

cabines ?

On terminera avant la fin de l'année

2023 la rénovation des classes

affaires avec un "full-flat bed" et un

siège en Premium Economy offrant

une inclinaison à 119°. Cette montée

en gamme fait partie de notre

stratégie de reconquête

STAND 1 - R47

Henri Hourcade, Directeur Général, (3 ème

à g.) et Henri de Peyrelongue, Directeur

Général Commercial Ventes, (3ème à dr.)

lors de l'inauguration du stand Air France ///

Henri Hourcade, General Manager (3 rd from l.)

and Henri de Peyrelonge, General Manager

Commercial Sales (3rd from r.) at the Air France

stand inauguration

Air France at IFTM Top Resa

2022 under the banner of a

strong recovery

In an exclusive interview with IFTM Daily, Henri Hourcade, General

Manager France Air France-KLM, speaks about Air France's

activity over the summer and reveals some of the new features

for this winter 2022-23. The interview followed the inauguration

of the Air France-KLM stand and its partners, in the company

of Henri de Peyrelongue, Air France-KLM Commercial Sales

Director.

Are you surprised by the strong

performance of the French market

this summer?

Surprised no, reassured yes. What

is quite remarkable is that, in a

sometimes complicated context, Air

France has managed to maintain

its schedule. And this, thanks to

the mobilisation of our staff and

anticipation of our leaders - for

example, in April 2021 we recruited

700 pilots and 200 mechanics, as

well as contractors at Charles De

Gaulle airport. Our schedule was

reliable more than 99% of the time!

We are lucky to have made the right

decisions. They effectively made it

possible to respond to the market's

strong demand. The French market

is now at 88% of its pre-Covid levels.

Could inflation slow down this

recovery?

I am not an expert on the subject

and it is difficult to say how

behaviour will change in the face of

inflation. On the other hand, I see

that the booking levels in the 4th

quarter remain solid. There was real

suspense because the high demand

over the summer was also due to a

catch-up phenomenon after Covid.

Only the business market has not

yet completely recovered, even if it

is progressing. We are at 70% of 2019

levels.

How is the winter schedule shaping

up?

We always follow the demand curve.

We are expanding more in markets

around the Mediterranean than in

the traditional business destinations

in Europe. We are also experiencing

an excellent recovery in North

Africa, in particular in Algeria with

48 weekly flights. In the United

States, our offering is greater than in

2019 with the reopening of Newark

in particular. Our offering is also

growing in the West Indies, the

Indian Ocean, the Middle East, India

and Africa. It is falling in Asia, but this

is mainly because of China, which is

still closed. In the short and middle

ranges, we are developing winter

destinations in Lapland, Norway and

Austria.

Will this type of inter-transport

continue to develop?

Absolutely. We offer a air/rail product

with the SNCF, departing from 18

French stations. And in November

we will be offering end-to-end digital

registration for those who use this

service.

What will be the new in-flight

products?

We will complete the renovation of

business class before the end of

2023 with a "full-flat bed" and a seat

in Premium Economy offering a 119°

recline. This upmarket move is part

of our recovery strategy

STAND 1 - R47

IFTM DAILY • MERCREDI/WEDNESDAY 21 SEPT. 2022 9
---
I ACTUALITÉS I NEWS

I

Niels Olsen, ministre du Tourisme de l'Equateur (3 ème à droite) avec la délégation équatorienne à IFTM Top

Resa /// Niels Olsen, Tourism Minister, Ecuador (3 rd from right) with Ecuador's delegation at IFTM Top Resa

L'aventure au cœur de

la forêt amazonienne

en Equateur

Encore "terre vierge" pour de nombreux touristes,

l'Equateur est le paradis des aventuriers. "Notre

ministère pousse particulièrement l'aventure

et les sports, y compris extrêmes, car il s'agit

pour beaucoup de Français d'une expérience

extraordinaire, notamment au cœur de l'Amazonie

équatorienne", décrit Niels Olsen, ministre du

Tourisme présent à IFTM Top Resa.

Les visiteurs peuvent ainsi expérimenter la "Route

de l'aventure", un itinéraire promettant adrénaline

et excitation avec la pratique de sports extrêmes en

compagnie de guides professionnels. Une route qui

comprend, entre autres, du canyoning, du rafting

sur la rivière Pastaza, du kayak ou du canoë sur

la rivière Puyo. Tous ces sports permettent aussi

d'aller à la rencontre des tribus vivant le long du

fleuve. Une option plus reposante existe, avec la

visite de grottes et cavernes préhistoriques. Ainsi

que la randonnée et le vélo le long de 3 itinéraires

cyclables thématisés

STAND 1 - P03

Journey to the heart of

the Amazon rainforest

in Ecuador

Still "uncharted territory" for many tourists,

Ecuador is an adventure paradise. "Our ministry

is particularly pushing adventure and sports,

including extreme sports, because for many

French people, it is an extraordinary experience,

especially in the heart of the Ecuadorian Amazon",

explains Niels Olsen, Minister of Tourism, at IFTM

Top Resa 2022.

Visitors can for instance experience the

"Adventure Route", which promises adrenaline

and excitement with many extreme sport activities

available under the supervision of professional

guides. This includes canyoning, rafting, kayaking

or canoeing along the Puyo and Pastaza rivers.

All of these experiences also allow visitors to

meet the local tribes. There is also a more relaxing

option available, with the visit of prehistoric caves

and caverns, as well as hiking and cycling along

three themed cycle routes

STAND 1 - P03

PRÈS DE 60 TOUR-

OPÉRATEURS À

IFTM TOP RESA

C'est l'un des lieux les plus

emblématiques d'IFTM Top Resa : le

Village des TO, reflet du dynamisme

de cet important pan de l'activité

voyages. Dans un espace dédié

autour d'une place centrale avec un

bar, les visiteurs peuvent partir à la

rencontre de la soixantaine de TO

présents. Une vingtaine d'entre eux

ont souhaité se regrouper avec le

SETO (Syndicat des Entreprises du

Tour Operating) dans le «Village des

Tour-Opérateurs».

Des cocktails et événements de

networking y sont organisés par les

exposants tout au long du salon pour

accueillir les visiteurs et notamment

les agences de voyages

AROUND 60 TOUR

OPERATORSAT

IFTM TOP RESA

This is one of the most emblematic

places at IFTM Top Resa - the

TO village, which captures the

dynamism of this important part of

the travel industry. In a dedicated

area, spread around a central square

with a bar, visitors are able to meet

around sixty TOs. Some twenty of

them have decided to join forces

with SETO (Syndicat des Entreprises

du Tour Operating) in the "Tour

Operators' Village".

Cocktails and networking events

are being organised by exhibitors

throughout the show to welcome

visitors, particularly travel agencies

10 IFTM DAILY • MERCREDI/WEDNESDAY 21 SEPT. 2022

www.iftmdaily.com
---
I PAROLES DE PROFESSIONNELS I TRADE TALK I

"La Scandinavie bénéficie

d'une image de destination

nature et sûre"

Fort de 25 ans d'expérience, V.O.S. - Vision of Scandinavia

est un tour-opérateur réceptif leader sur l'Europe du Nord

avec une équipe française basée à Copenhague. Olivier Berg-

Vallée, Directeur des ventes, fait le point sur l'évolution de la

destination pour IFTM Daily.

Depuis combien d'années V.O.S.

est-il présent sur le marché

français et également à IFTM ?

Cela fait 25 ans que V.O.S. - Vision

LES VALEURS

SÛRES

RESTENT LES

FJORDS DE

NORVÈGE,

L'ISLANDE (QUI A

"CARTONNÉ"

CETTE ANNÉE)

MAIS AUSSI DE

PLUS EN PLUS LES

ILES FEROÉ.

of Scandinavia existe avec des

offres sur la Norvège, l'Islande, la

Laponie, les îles Féroé, la Suède, le

Danemark et les pays baltes. Nous

sommes réceptifs et travaillons

avec les tour-opérateurs en

France, à la fois pour les groupes

ou les individuels. Nous venons

à IFTM depuis 10 ans, mais c'est

la première fois que nous avons

notre propre stand. Notre carnet

de rendez-vous est

bien rempli grâce à

la plateforme IFTM

Everywhere. Avec de

nombreux nouveaux

contacts, ce qui est

satisfaisant !

Quelles sont les destinations

phares pour les Français ?

Les valeurs sûres restent les

fjords de Norvège, l'Islande (qui a

"cartonné" cette année), mais aussi

de plus en plus les Iles Feroé. La

Finlande reste aussi très populaire

en hiver. La Scandinavie bénéficie

d'une image de destination nature,

"sûre", à l'abri de l'instabilité

politique, sociale ou encore de

problèmes environnementaux.

Cela joue auprès des clients

STAND 1 - V39

FRANCE-

SCANDINAVIE :

UNE OFFRE

AÉRIENNE EN

CONSTANT

AJUSTEMENT

L'offre aérienne entre la

Scandinavie et la France a fluctué

depuis le début de l'année, mais

elle reste globalement inférieure à

ce qu'elle était avant le Covid. Il y

a certes eu des développements

positifs comme le lancement l'an

dernier de vols de Paris Orly vers

Billund (Danemark) et Göteborg

par Vueling ou l'arrivée des lowcost

Play et Transavia France sur

l'Islande. Cette dernière lancera

cet hiver des vols directs d'Orly

vers Copenhague et la Laponie,

ainsi que de Bordeaux vers

Copenhague. En revanche, la

réduction de vols sur Paris-Bergen

ou sur Lyon-Copenhague, ainsi

que la suspension de lignes depuis

Marseille, Nantes ou Toulouse vers

la Scandinavie freine la demande

des marchés régionaux

"Scandinavia

benefits from being

seen as a safe and

nature destination"

With 25 years of experience, V.O.S-Vision of Scandinavia is

a leading inbound tour operator in Northern Europe with a

French team based in Copenhagen. Olivier Berg-Vallée, Sales

Director, reports on the destination's evolution for IFTM Daily.

How many years has V.O.S. been

present on the French market and

at IFTM?

V.O.S-Vision of Scandinavia has

been in existence for 25 years,

offering Norway, Iceland, Lapland,

the Faroe Islands, Sweden,

Denmark and the Baltic States. We

are an inbound agency working

with tour operators in France,

for both groups and individuals.

We have been coming to IFTM

Top Resa for 10 years, but this is

the first time we have our own

stand. Our appointment book has

been filled thanks to the IFTM

Everywhere platform and carries

many new contacts, to our great

satisfaction!

What are the top destinations for

the French?

The Norwegian fjords, Iceland

- which has "hit it big" this year,

remain at the top of the list, but

also increasingly the Faeroe

Islands. Finland also remains very

popular in winter. Scandinavia

benefits from an image of a natural,

"safe" destination, sheltered from

political and social instability and

environmental problems. This

plays well with customers. On the

other hand, there has been a lack

of interest in the Baltic countries

due to their history with Russia.

Despite the fact that they remain

secure countries offering excellent

value for money

STAND 1 - V39

THE

NORWEGIAN

FJORDS, ICELAND -

WHICH WAS A BIG

HIT THIS YEAR -

BUT ALSO

INCREASINGLY THE

FAEROE ISLANDS,

ARE AT THE TOP OF

THE LIST.

FRANCE-

SCANDINAVIA:

CONSTANTLY

ADJUSTING AIR

SERVICES

Air capacity between Scandinavia

and France has fluctuated

since the beginning of the year

but remains lower overall than

before Covid. There were some

positive developments such as

the launch last year of flights from

Paris Orly to Billund (Denmark)

and Gothenburg by Vueling; or

the arrival of low-cost Play and

Transavia France to Iceland. The

latter will launch direct flights this

winter from Orly to Copenhagen

and Lapland as well as from

Bordeaux to Copenhagen. On

the other hand, the reduction

of flights on Paris-Bergen or

Lyon-Copenhagen, as well as

the suspension of routes from

Marseille, Nantes or Toulouse to

Scandinavia dampen demand from

regional markets

IFTM DAILY • MERCREDI/WEDNESDAY 21 SEPT. 2022 11
---
I INTERVIEW EXCLUSIVE I EXCLUSIVE INTERVIEW

I

ENIT place

l'humain au cœur

de sa récente

campagne à

l'IFTM Top Resa

2022

Maria Elena Rossi

Directrice du marketing et de la

promotion de l'ENIT

(l'Agence nationale du tourisme de l'Italie)

Global Marketing Director at the Italian

National Tourist Board ENIT

12 IFTM DAILY • MERCREDI/WEDNESDAY 21 SEPT. 2022

www.iftmdaily.com
---
I INTERVIEW EXCLUSIVE I EXCLUSIVE INTERVIEW I

Maria Elena Rossi, directrice du marketing et de la promotion

de l'ENIT (l'Agence nationale du tourisme de l'Italie), et Vice

Présidente, Groupe Marketing, de la European Travel Commission

(ETC), a parlé à l'IFTM Daily des temps forts de l'ENIT et de la

campagne 'Discover your Italy'.

Comment se présente l'ENIT durant

IFTM Top Resa 2022?

Il s'agit d'une importante participation

avec de nombreuses régions et tour

opérateurs que nous accompagnons

dans leur effort de promotion sur le

marché français. C'est important car

le marché français fait partie des

marchés clé, et qu'il connaît un élan

important depuis deux ans avec la

crise du Covid.

Quelles sont donc les régions que

vous présentez durant le salon ?

Les régions proches du marché

français sont toujours très présentes.

On a bien entendu la Lombardie, la

Toscane mais aussi la Ligurie. On a

beaucoup travaillé avec cette région,

notamment avec la réouverture du

pont qui relie Gênes à la France

et au reste de l'Italie. On a une

vingtaine d'exposants de Ligurie

dont huit tour opérateurs locaux. Si

les régions proches de la France sont

bien présentes, on constate que les

Français ont de plus en plus d'intérêt

pour des régions plus lointaines,

notamment avec l'ouverture de

nouvelles liaisons aériennes. C'est

pour cela que sont aussi présents

à IFTM la Calabre, le Latium, le

Frioul Vénétie Julienne ou encore la

Basilicata et la Sicile.

Pouvez vous nous expliquer ce qu'il

y a derrière la récente campagne

de l'ENIT « Discover your Italy »

(« Découvrez votre Italie ») ?

Nous avons voulu avec cette

campagne mettre l'humain au cœur

de notre promotion. C'est une des

conséquences de la crise du Covid.

Nous pensons que désormais

l'humain, l'art de vivre est revenu

au cœur des préoccupations des

voyageurs. Avec « Discover your

Italy », nous insistons sur cet art

de vivre à l'italienne à travers des

ambassadeurs qui viennent raconter

leur Italie. On a par exemple l'architecte

Stefano Boeri, le danseur Roberto

Bolle, la championne de natation

Federica Pellegrini ou encore le chef

de Modane, trois étoiles au Michelin,

Massimo Bottura. Ils racontent ce que

représente "leur" Italie.

Comment fonctionne le hub digital

italia.it? Pourquoi un tel instrument

est il ouvert à tous les publics,

professionnel et consommateur ?

Notre hub italia.it fait partie d'un projet

très ambitieux avec un financement

de 114 millions d'euros qui court sur 5

ans. Cela a été long car il nous fallait

tous - ENIT, régions, tour opérateurs

- apprendre à parler une seule et

même langue digitale. Le but étant

de réunir sous un même portail

toutes les informations concernant

la destination Italie. En donnant un

accès unique aux offres des régions,

des villes, des tour-opérateurs, des

transporteurs, italia.it est le hub qui

permet ainsi de monter un produit

complet Italie et d'en acheter tous les

composants. C'est particulièrement

important pour les PME, des petits

tour-opérateurs qui n'avaient jusqu'à

présent que peu de visibilité pour

vendre leur produits. La plateforme

vise d'ailleurs aussi bien les

particuliers que les professionnels.

Le lancement officiel de la plateforme

a été effectif en juin dernier.

Il est pour l'instant en italien, anglais

et espagnol mais va rapidement

intégrer d'autres langues.

Quelle importance revêt IFTM Top

Resa pour l'ENIT et ses partenaires?

C'est déjà le fait d'être présent

physiquement. C'est fondamental

après ce que nous avons vécu

pendant la pandémie. Et comme je l'ai

précédemment souligné, la France

reste un marché essentiel, qui a très

bien repris. Il nous faut accompagner

cet élan

ENIT places human element at the heart of its

recent campaign at IFTM Top Resa 2022

Maria Elena Rossi, Global Marketing Director at the Italian

National Tourist Board ENIT) and Vice Chair, Marketing Group

at the European Travel Commission, spoke to IFTM Daily about

ENIT's highlights and the recent 'Discover your Italy' campaign.

What is ENIT presenting at IFTM Top

Resa 2022?

We have a significant presence

with several major regions and

tour operators, supporting their

promotional efforts on the French

market. This is important because

France is one of the key markets

which has gained significant

momentum over the past two years

with the Covid crisis.

FRANCE

REMAINS AN

ESSENTIAL MARKET,

WHICH HAS

RECOVERED VERY

WELL. WE ARE HERE

TO SUPPORT THIS

MOMENTUM.

So what regions are you showcasing

here?

Regions close to the French market are

still very present. We have of course

Lombardy, Tuscany but also Liguria.

We have worked a lot with this region,

in particular with the reopening of

the bridge which connects Genoa to

France and the rest of Italy. There are

around twenty exhibitors from Liguria,

including eight local tour operators.

While these regions close to France

are still very important, the French

are increasingly interested in more

distant regions, in particular with the

opening of new air links. This is why

we are also highlighting Calabria,

Lazio, Friuli-Venezia Giulia, Basilicata

and Sicily at IFTM Top Resa.

Can you tell us what's the thinking

behind ENIT's recent "Discover your

Italy" campaign?

With this campaign, we aim to put

people at the heart of our promotion.

This is one of the consequences

of the Covid crisis. We think that

nowadays the human element, the art

of living, is at the heart of travellers'

concerns. With "Discover your Italy",

we highlight this Italian art of living

through ambassadors who come

to tell us about 'their' Italy. We have

for example the architect Stefano

Boeri, the dancer Roberto Bolle,

the swimming champion Federica

Pellegrini or the chef of Modane, three

Michelin stars, Massimo Bottura. They

are all here to talk about 'their' Italy.

... LA FRANCE

RESTE UN

MARCHÉ

ESSENTIEL, QUI A

TRÈS BIEN REPRIS.

IL NOUS FAUT

ACCOMPAGNER

CET ÉLAN.

How does the italia.it digital hub

work?

Is it open to all audiences, professional

and consumer? Our hub italia.it is part

of a very ambitious 114 million euro

project running over 5 years. It took

a long time because we all - ENIT,

regions, tour operators - had to learn

to speak one and the same digital

language. The aim is to bring together

all the information concerning the

Italian destination under the same

portal. By giving exclusive access

to offers from regions, cities, tour

operators and carriers, italia.it allows

you to set up a complete Italy product

and buy all its components. This is

particularly important for SMEs,

small tour operators, who until

now, had little visibility to sell their

products. The platform is aimed at

both individuals and professionals.

The platform was officially launched

last June. It is currently available in

Italian, English and Spanish and will

soon integrate other languages.

How important is IFTM Top Resa for

ENIT and its partners?

Already the fact of being physically

present is fundamental after what we

experienced during the pandemic.

And as I previously pointed out,

France remains an essential market,

which has recovered very well. We

are here to support this momentum

IFTM DAILY • MERCREDI/WEDNESDAY 21 SEPT. 2022 13
---
I DOSSIER SPÉCIAL : TOURISME DURABLE I

I SPECIAL FEATURE SUSTAINABLE TOURISM I

CDS Groupe

challenges Hackathon

participants to make

its booking tools more

sustainable

Ziad Minkara, CEO of CDS Groupe,

tells us more about the active role the

group is playing at IFTM Top Resa

2022, and its efforts to promote a more

sustainable tourism.

CDS Groupe met les participants du

Hackathon au défi de rendre ses outils de

réservation plus durables

Le PDG du groupe CDS, Ziad Minkara,

nous parle du rôle actif que joue le

groupe sur l'IFTM Top Resa 2022, et des

initiatives pour promouvoir un tourisme

plus durable.

Que présentez-vous au salon ?

L'année dernière, nous avons annoncé

l'acquisition de Rydoo Travel à IFTM 2021. Cette

année, nous le présenterons sous le nouveau

nom de Goelett, un outil de réservation en ligne

pour les voyages d'affaires. Cela illustre le virage

pris par CDS Groupe en 2021-22 pour devenir

une marketplace pour les hôtels d'affaires et les

voyages d'affaires.

CDS Groupe et Goelett se sont engagés à

promouvoir la durabilité, en signant la Charte

des Achats Responsables (RFAR). Aujourd'hui,

notre objectif est de partager ces objectifs

environnementaux avec le reste de l'industrie.

Nous avons pris un certain nombre de mesures

pour y parvenir, comme l'application de labels

environnementaux et la mise en évidence

d'informations sur les émissions de CO 2

pour les

voyages d'affaires et l'hébergement.

Quelles sont les activités auxquelles vous

participez ? Et pouvez-vous nous en dire plus

sur le Hackathon ?

Nous participons à plusieurs conférences,

notamment lors du Business Travel Day à 10h

le mercredi avec le Cabinet EPSA, où nous

présenterons les dernières tendances du voyage

d'affaires. Nous sommes également partenaires

du Hackathon IFTM, où nous avons invité 40

étudiants à innover sur nos outils numériques

de réservation en 24 heures, afin de les rendre

plus responsables sur le plan environnemental

et social

STAND 1 - B53

What are you presenting at the show?

Last year, we announced the acquisition of

Rydoo travel at IFTM 2021. This year we will

be presenting it under the new name Goelett,

an online booking tool for business travel. This

illustrates CDS Groupe's shift in 2021/22 , to

become a market place for business hotels

and a market place for business travel as well.

CDS Groupe and Goelett are committed to

promoting sustainability, having signed La

Charte des Achats Responsables (RFAR).

Today, our objective is to share these

environmental objectives with the rest of

the industry. We have taken a number of

steps towards achieving this like applying

environmental labels and highlighting

information on CO2 emissions for business

travel and accommodation.

What activities are you participating in this

year? And can you tell us more about the

Hackathon?

We are participating in a number of conferences,

including during today's Business Travel Day

at 10:00am with the Cabinet EPSA, where we

will present the latest trends in business travel.

We are also partners of the IFTM Hackathon,

where we have invited 40 students to innovate

our digital booking tools within 24 hours, to

make them more environmentally and socially

responsible.

STAND 1 - B53

14 IFTM DAILY • MERCREDI/WEDNESDAY 21 SEPT. 2022

www.iftmdaily.com
---
I DOSSIER SPÉCIAL : TOURISME DURABLE I

I SPECIAL FEATURE SUSTAINABLE TOURISM I

Ponant, engagé sur

une vraie démarche

pour un tourisme plus

durable

IFTM Daily a rencontré Hervé Bellaiche et Wassim Daoud,

respectivement directeur général adjoint et "head of sustainability

and CSR", pour évoquer la nouvelle campagne RSE de l'entreprise

qui coïncide avec la Semaine européenne du développement

durable ayant lieu en ce moment..

Vous êtes sur le point de lancer une

nouvelle campagne nationale RSE.

Pouvez-vous nous en dire plus ?

Hervé Bellaiche : Ponant s'est engagé

depuis longtemps sur un tourisme

plus durable, porteur de sens. Etant

des marins, il nous a toujours semblé

nécessaire de préserver les océans

d'autant que la biodiversité fait partie

de notre ADN.

Wassim Daoud : Nous avons des

engagements durables ambitieux

compatibles avec les Objectifs de

développement durable des Nations-

Unies. En février, nous avons lancé

notre feuille de route "Blue Horizon".

Parmi les points importants, nous

allons réduire les émissions de CO2 de

15% à horizon 2026 et de 30% en 2030

; nous éliminons totalement depuis

cette année le plastique à usage

unique. Nous assurons la valorisation

et la traçabilité de tous les déchets

d'ici à 2025 ; nous participons à la

recherche scientifique sur les voyages

polaires et sommes aux côtés de Blue

Nature Alliance pour créer 18 millions

de km2 d'aires marines d'ici 2025.

H.B. : Notre flotte a ainsi obtenu la

certification internationale Cleanship,

qui atteste de performances

écologiques optimales.

Parlez-nous du voilier Le Ponant qui a

repris la mer.

H.B. : Nous sommes très fiers du

retour de notre voilier Le Ponant, 30

ans après son lancement. Le voilier

s'est métamorphosé pour offrir à ses

hôtes une expérience extraordinaire.

Plus luxueux et intime, il donne la

sensation d'être sur son propre voilier.

W.D. : Le voilier accueille seulement

une trentaine de passagers dans 16

cabines spacieuses, dont une "suite

armateur" de 60m2. Les espaces

communs comprennent un restaurant

gastronomique, un spa, une salle

fitness et un solarium. Avec ces

dernières innovations technologiques,

Le Ponant version 2022 réduit au

maximum ses émissions.

Quelle est l'importance de l'IFTM Top

Resa ?

W.D. : Il est important de s'associer

aux initiatives que l'IFTM développe

pour un tourisme plus responsable.

C'est aussi une occasion de mobiliser

toutes nos parties prenantes, et de

partager nos engagements avec nos

partenaires présents sur le salon

STAND 1 - L68

IFTM Daily sat down with Hervé Bellaiche and Wassim Daoud,

respectively deputy general director and head of sustainability

and CSR, to discuss the company's new CSR campaign which

coincides with the European Sustainable Development Week

taking place this month.

You are about to launch a new

national CSR campaign. Can you

tell us more?

Hervé Bellaiche: Ponant has

long been committed to more

sustainable, meaningful tourism.

As sailors, we have always felt it

necessary to preserve the oceans

and biodiversity is part of our DNA.

Wassim Daoud: Our ambitious

sustainable commitments are

aligned with the United Nations

Sustainable Development Goals. In

February, we launched our "Blue

Horizon" roadmap. Among the

important points, we are reducing

CO2 emissions by 15% by 2026

and by 30% until 2030; since this

year, we have completely eliminated

single-use plastic. We will ensure

Hervé

Bellaiche

Directeur Général Adjoint, Ponant

Deputy General Director, Ponant

Ponant, committed to adopting

a more sustainable tourism

the recovery and traceability of all

waste by 2025; we are participating

in scientific research on polar

travel and are a member of the

Blue Nature Alliance which aims to

create 18 million km2 of protected

marine areas by 2025.

H.B.: Our fleet has thus obtained the

international Cleanship certification,

which attests to optimal ecological

performance.

Can you also tell us about your ship

Le Ponant returning to sea?

H.B.: We are very proud of the return

of our sailboat Le Ponant, 30 years

after its launch. The sailboat has

been transformed to offer its guests

an extraordinary experience. More

luxurious and intimate, it gives

guests the feeling of being on their

own yacht.

W.D.: The sailboat accommodates

only around thirty passengers in 16

spacious cabins, including a 60m2

"owner's suite". The common areas

include a gourmet restaurant, a

spa, a fitness room and a solarium.

And with its latest technological

innovations, Le Ponant version

2022 reduces its emissions as much

as possible.

How important is IFTM Top Resa

for Ponant?

W.D.: It is important to join the

initiatives that IFTM is developing

for more responsible tourism. It is

also an opportunity to mobilise all

our stakeholders, and to share our

commitments with our partners

present at the show

STAND 1 - L68

Wassim

Daoud

Head of Sustainability

and CSR, Ponant

IFTM DAILY • MERCREDI/WEDNESDAY 21 SEPT. 2022 15
---
I DOSSIER SPÉCIAL : TRANSPORT I SPECIAL FEATURE TRANSPORT I

Nicolas

Henin

Chief Commercial

Officer, Transavia

France

Transavia : Une année prometteuse

et de nouvelles destinations en 2022

Transavia est la plus importante compagnie low-cost à Paris-Orly

avec plus de 51 millions de passagers transportés depuis 2007.

Son réseau englobait cet été 100 destinations. Dans un entretien

exclusif avec IFTM Daily, Nicolas Henin, Chief Commercial Officer

(CCO) de Transavia France, décrit ce que l'on peut attendre de

cette saison d'hiver.

Comment s'est déroulée la saison

d'été ?

Nous avons connu une forte

dynamique commerciale grâce à

une forte envie de voyager. Nous

sommes ainsi proches des taux

de remplissage d'avant la crise

sanitaire. Cette reprise s'inscrit dans

la stratégie de développement de

Transavia France. De 2021 à 2022,

notre flotte est passée de 48 à 61

avions.

envisageons d'exploiter des vols au

départ de Nice, Marseille, Toulon et

Perpignan.

Comment travaillez-vous avec les

professionnels du tourisme ?

Les tours opérateurs, les agences

de voyages, mais aussi les offices

de tourisme et les aéroports sont

des partenaires essentiels à notre

développement. Notre centre de

service B2B dédié est ainsi joignable

tous les jours - du lundi au dimanche,

entre 7h et 23h

STAND 1 - R47

Transavia: A bright outlook

with new destinations

opening in 2022

APRÈS LA

FRANCE,

TRENITALIA

ARRIVE EN

ESPAGNE

Pour la première fois présent à

IFTM Top Resa, Trenitalia est

le premier opérateur européen

à être entré sur le marché des

trains à grande vitesse en

France. L'opérateur italien est

présent depuis décembre 2021

sur Paris-Lyon-Milan à raison

de deux trains par jour. En juin

dernier, l'entreprise a ajouté trois

autres fréquences quotidiennes

sur Paris-Lyon, soit 5 services

Frecciarossa quotidiens.

L'entreprise débarque maintenant

en Espagne sous le nom d'iryo

avec un ambitieux programme.

En novembre, les trains

Frecciarossa se positionneront

sur l'axe Madrid-Zaragosse-

Barcelone ainsi que de Madrid

à Alicante, Cordoue, Malaga,

Séville et Valencia. iryo

proposera jusqu'à 40 aller-retours

quotidiens avec une flotte de 20

trains

STAND 1 - N33

Quelles sont les destinations

qui enregistrent la plus forte

croissance ?

Il y a un fort intérêt pour les

destinations soleil et le bassin

méditerranéen. Avec un Maghreb

gagnant en popularité, nous ouvrons

cet hiver de nouvelles lignes au

départ de Marseille vers Casablanca,

Marrakech et Djerba. L'Egypte

trouvant également son public,

Transavia lancera pour la première

fois cet hiver des vols vers Le Caire,

Hurghada, Luxor et Sharm el-Sheikh.

Enfin, nous continuons à renforcer

notre présence en Algérie avec

86 vols au départ de 4 aéroports

français, dont Bejaïa et Sétif comme

nouvelles destinations.

Souhaitez-vous ouvrir de nouvelles

bases ?

Aujourd'hui, nous nous concentrons

sur le développement et le

renforcement de nos quatre bases

en France : Paris-Orly, Nantes, Lyon

et Montpellier. Cependant, nous

Transavia, Paris-Orly largest low-cost carrier, has carried over

51 million passengers since 2007 across its network of 100

destinations. In an exlusive interview with IFTM Daily, Nicolas

Henin, Chief Commercial Officer (CCO), Transavia France,

explains what to expect for this winter season.

How did traffic develop during the

summer season ?

We experienced strong sales

momentum thanks to a great desire

to travel. We are close to precrisis

load factors. This upturn in

traffic is part of Transavia France

development strategy. From 2021 to

2022, our fleet grew from 48 to 61

aircraft.

Which destinations experience the

strongest growth?

There is a strong interest in sunny

destinations and the Mediterranean

basin. As Maghreb countries are

growing in popularity, this winter we

opened new routes out of Marseille

to Casablanca, Marrakech and

Djerba. With Egypt also appealing

to the public, Transavia will launch

flights to Cairo, Hurghada, Luxor,

Sharm el-Sheikh for the first time this

winter. Finally, we are continuing to

boost our presence in Algeria with

86 flights from four French airports,

including Bejaia and Setif as new

destinations.

Could you open new bases?

Today, we are focusing on developing

and strengthening our four bases in

France: Paris-Orly, Nantes, Lyon and

Montpellier. However, we are looking

at operating flights out of Nice,

Marseille, Toulon and Perpignan.

How do you work with tourism

professionals?

Tour operators, travel agencies,

but also tourist offices and airports

are essential partners to our

development. Our dedicated B2B

service centre can be reached

every day- from Monday to Sunday,

between 7am and 11pm.

STAND 1 - R47

AFTER FRANCE,

TRENITALIA

LAUNCHES IN

SPAIN

Exhibiting at IFTM Top Resa for

the first time, Trenitalia is the

first European operator to enter

the high-speed train market in

France. The Italian operator has

been present since December

2021 on the Paris-Lyon-Milan

route with two daily trains. Last

June, the company added three

more daily trips between Paris-

Lyon, making a total of five daily

Frecciarossa services.

The company is now landing in

Spain under the name iryo with

an ambitious programme. In

November, Frecciarossa trains

will be positioned on the Madrid-

Zaragoza-Barcelona route as

well as from Madrid to Alicante,

Cordoba, Malaga, Seville and

Valencia. iryo will offer up to 40

daily round trips with a fleet of 20

trains

STAND 1 - N33

16 IFTM DAILY • MERCREDI/WEDNESDAY 21 SEPT. 2022

www.iftmdaily.com
---
I REGIONS I ASIE / ASIA I

PUBLIREPORTAGE

La Malaisie met en avant authenticité

et culture locale à l'IFTM Top Resa

La Malaisie est plus que jamais un paradis pour les voyageurs

désireux de découvrir un mode de vie local original et authentique,

la plupart du temps au cœur d'une nature foisonnante et préservée.

La politique nationale du tourisme de

la Malaisie étant engagée en faveur

de la durabilité, de l'écotourisme,

du tourisme communautaire,

rural et expérientiel, les visiteurs

sont encouragés à rechercher des

expériences en pleine nature et à

entrer en relation avec les habitants

pour vivre une véritable expérience

culturelle. Ces nouvelles tendances

du voyage et une sensibilisation

croissante à la protection de

l'environnement incitent les

Tourism Malaysia encourage

les visiteurs à rechercher

des expériences en pleine

nature et à entrer en relation

avec les habitants

Tourism Malaysia

encourages visitors to look

for outdoor experiences and

interact with locals

ADVERTORIAL

prestataires à proposer de nouveaux

produits touristiques durables en

Malaisie.

Il existe 223 pôles d'hébergement

chez l'habitant dans 372 villages,

prêts à accueillir les visiteurs pour

vivre une authentique expérience

malaisienne d'un "kampung"

(village). Au Sabah, le Kampung Batu

Puteh de Kinabatangan a même été

reconnu comme l'un des meilleurs

villages touristiques par le UNWTO

(Organisation mondiale du Tourisme).

Malaysia highlights

authenticity and local culture

at IFTM Top Resa

Malaysia is more than ever a paradise for travellers seeking to

experience an original and authentic local lifestyle, while being

surrounded by lush and unspoilt nature.

As Malaysia's National Tourism

Policy is committed to sustainability,

ecotourism, community-based, rural

and experiential tourism, visitors

are encouraged to look for outdoor

experiences and interact with locals

for a genuine cultural experience.

New travel trends and a growing

consciousness for environmental

protection have influenced suppliers

to come up with new sustainable

tourism products in Malaysia.

There are 223 homestay clusters

in 372 villages, ready to host

visitors for an authentic Malaysian

"kampung" (village) experience.

In Sabah, Kampung Batu Puteh in

Kinabatangan was even recognised

as one of the Best Tourism Villages

by the UNWTO (World Tourism

Organisation).

"The rich diversity of Malaysia's

culture, gastronomy, nature and

landscape gives French leisure and

business travellers a rare opportunity

to experience the local lifestyle

and culture. This is complemented

by lush nature which the country

is renowned for," said Libra Haniff,

Director of Tourism Malaysia in Paris.

New leisure attractions include

Genting Skyworlds, Dream Forest

Langkawi, an immersive, multisensory

adventure through

"La riche diversité de la Malaisie à

travers la culture, la gastronomie,

la nature et les paysages offre aux

voyageurs de loisirs et d'affaires

français une occasion rare de

découvrir le mode de vie et la culture

des locaux. À cela s'ajoute une nature

luxuriante qui fait la renommée de

la Malaisie", raconte Libra Haniff,

directeur de Tourism Malaysia à Paris.

Parmi les nouvelles attractions

de loisirs, on peut citer Genting

Skyworlds, Dream Forest Langkawi,

une aventure immersive et

multisensorielle dans la forêt tropicale

magique de Langkawi (ouverture au

1er trimestre 2023) et Merdeka 118

Tower à Kuala Lumpur, le plus haut

point d'observation d'Asie du Sud-

Est (ouverture mi-2023).

De nouveaux hôtels ouvrent aussi

leurs portes en 2022 et 2023,

notamment l'hôtel Luma Kota

Kinabalu (qui vient d'ouvrir), du

Hyatt Centric Kota Kinabalu et de

l'Alila Dalit Bay à Sabah ; du Hilton

Burau Bay, Langkawi, du Parkroyal

Langkawi Resort Mercure Langkawi

; du Le Meridien Petaling Jaya

(ouvert récemment), du Park Hyatt,

du Kempinski et du Conrad Hilton à

Kuala Lumpur.

La Malaisie est facilement accessible

avec Qatar Airways, AF/KLM,

Singapore Airlines, Turkish Airlines,

Emirates, Etihad et Thai Airways

International

STAND 1 - D47

Langkawi's magical rain forest

(opening 1st quarter 2023) and

Merdeka 118 Tower in Kuala Lumpur,

Southeast Asia's highest observation

deck (opening mid 2023).

Several new hotels are scheduled

to open in 2022 and 2023, including

Hotel Luma Kota Kinabalu (just

opened), Hyatt Centric Kota Kinabalu

and Alila Dalit Bay in Sabah; Hilton

Burau Bay, Langkawi, Parkroyal

Langkawi Resort Mercure Langkawi;

Le Meridien Petaling Jaya (recently

opened), Park Hyatt, Kempinski and

the Conrad Hilton in Kuala Lumpur.

Malaysia is easily accessible with

flights operated by Qatar Airways,

KLM/AF, Singapore Airlines, Turkish

Airlines, Emirates, Etihad, and Thai

Airways International

STAND 1 - D47

Libra Haniff

Directeur de Tourism Malaysia

à Paris

Director of Tourism Malaysia

in Paris

LE RETOUR DE

L'ACTIVITÉ MICE

EN MALAISIE

Le Malaysia Convention &

Exhibition Bureau (MyCEB)

prévoit d'apporter son soutien à

126 événements commerciaux

jusqu'à la fin de 2022. Ces

événements devraient attirer près

de 280 000 délégués et générer

un impact économique estimé à

735 millions de ringgit (RM), soit

environ 160 millions d'euros, dans

le pays.

Parmi les événements confirmés

pour 2023-24 figurent le Congrès

de l'Académie d'ophtalmologie

de l'Asie-Pacifique (APAO)

2023, la Conférence mondiale

des télécommunications

(GLOBECOM 2023) et le Congrès

mondial de chirurgie (WCS) en

2024.

THE RETURN OF

MICE EVENTS IN

MALAYSIA

The Malaysia Convention &

Exhibition Bureau (MyCEB)

is expecting to support 126

Business Events this year. These

events are projected to attract

close to 280,000 delegates and

generate an estimated economic

impact of RM735 million (approx.

160 million euros) for the country.

Some of the confirmed events

for 2023/2024 include: Congress

of Asia Pacific Academy of

Ophthalmology (APAO) 2023;

Global Telecommunications

Conference - GLOBECOM 2023

and World Congress of Surgery

(WCS) in 2024.

IFTM DAILY • MERCREDI/WEDNESDAY 21 SEPT. 2022 17
---
I REGIONS I ASIE / ASIA I

Soraya

Homchuen

Directrice de l'Office de

Tourisme de Thaïlande en

France

Director of the Tourist

Office of Thailand in

France

Sukhothai est l'une des destinations les plus

populaires pour les visiteurs français en Thaïlande

La France au top des marchés

européens en Thaïlande

Pour Soraya Homchuen, Directrice de l'Office de Tourisme de

Thaïlande en France, le marché français fait preuve d'une grande

dynamique. L'office, de nouveau présente à l'IFTM Top Resa,

cible désormais 300 000 touristes français en 2022.

Comment se comporte le marché

français en 2022 vers la Thaïlande ?

Comment se classe-t-il en Europe ?

La France est redevenue un marché

dynamique depuis la levée totale

des restrictions en juillet. Jusqu'en

juin, nous enregistrions en moyenne

12 000 Français par mois. On en a

comptabilisé 28 500 en juillet. Sur

7 mois, on recense plus de 100 000

arrivées françaises et nous espérons

atteindre 300 000 visiteurs pour

2022. En Europe, la France est le

troisième marché le plus important

de la Thaïlande derrière le Royaume-

Uni et l'Allemagne. L'Europe

représente désormais plus de 25%

de toutes nos arrivées.

Quel type de tourisme viennent

chercher en 2022 les Français en

Thaïlande ?

On constate une très forte progression

du tourisme familial. C'est d'ailleurs

vers ce segment que nous orientons

nos campagnes marketing après

avoir connu une forte augmentation

cet été. Nous mettons également

en avant le tourisme de bien-être,

la Thaïlande étant réputée pour

cela. Nos massages appartiennent

par exemple depuis 2019 au

patrimoine mondial immatériel de

l'Unesco. Enfin, nous voulons attirer

davantage les Français vers le

tourisme gastronomique, avec nos

innombrables tables étoilées !

Comment voyez-vous l'évolution du

marché ?

On cible 80% du niveau de 2019

pour la France. C'est possible

notamment avec davantage de

capacités aériennes. Thai Airways

International propose 348 sièges par

jour au lieu de 298. Elle souhaiterait

d'ailleurs passer de 7 à 10 vols

hebdomadaires. Air France devrait

aussi augmenter ses fréquences

STAND 1 - D40

France on top of European markets

for Thailand

For Soraya Homchuen, Director of the Tourist Office of Thailand

in France, the French market is showing great dynamism. The

tourist office is once again at IFTM Top Resa and is looking to

target 300,000 French tourists in 2022.

How is the French market behaving

towards Thailand in 2022? How

does it rank in Europe?

France has once again become

a dynamic market since the total

lifting of restrictions in July. Until

June, we recorded an average of

12,000 French visitors per month.

There were 28,500 in July. Over the

past seven months, there have been

more than 100,000 French arrivals

and we hope to reach 300,000

visitors by 2022. In Europe, France

is Thailand's third largest market

behind the United Kingdom and

Germany. Europe now represents

more than 25% of all our arrivals.

What type of tourism are the French

looking for in Thailand in 2022?

There is a very large increase in

family tourism. It is moreover towards

this segment that we are directing

our marketing campaigns after

experiencing a strong increase this

summer. We also want to highlight

wellness tourism, as Thailand is

renowned for this. For example,

our massages have been added to

the world heritage of Unesco since

2019. Finally, we want to attract

more French people to gastronomic

tourism, with our countless starred

restaurants!

How do you see the market

evolving?

We are aiming to reach 80% of

France's 2019 level. This is made

possible with the increase in air

capacity. Thai Airways International

is offering 348 seats per day instead

of 298. It would also like to increase

weekly flights from seven to 10. Air

France should also be looking to

increase its frequencies

STAND 1 - D40

"AMAZING NEW

CHAPTERS" EN

2023

La campagne Visit Thailand

"Amazing New Chapters"

se poursuivra tout au

long de l'année 2023 pour

accompagner le redressement

du tourisme dans le pays. En

France, elle se caractérisera

par une plus grande

promotion du nord du pays.

"Le sud a été la première

région à retrouver son

tourisme, grâce aux "Sandbox"

de Phuket et Samui. Nous

voulons désormais pousser

le tourisme français à Chiang

Mai, Chiang Rai, Lampang,

Mae Hong Son et Sukhothai,

des destinations populaires

avant la crise", décrit Soraya

Homchuen

"AMAZING NEW

CHAPTERS" EN

2023

Visit Thailand's "Amazing

New Chapters" campaign will

continue throughout 2023 to

support the recovery of tourism

in the country. In France,

this will be characterised by

a greater promotion of the

northern regions. "The south

was the first region to regain

its tourism, thanks to the

"Sandboxes" of Phuket and

Samui. "We now want to push

French tourism to Chiang Mai,

Chiang Rai, Lampang, Mae

Hong Son and Sukhothai,

popular destinations before

the crisis", explains Soraya

Homchuen

18 IFTM DAILY • MERCREDI/WEDNESDAY 21 SEPT. 2022

www.iftmdaily.com