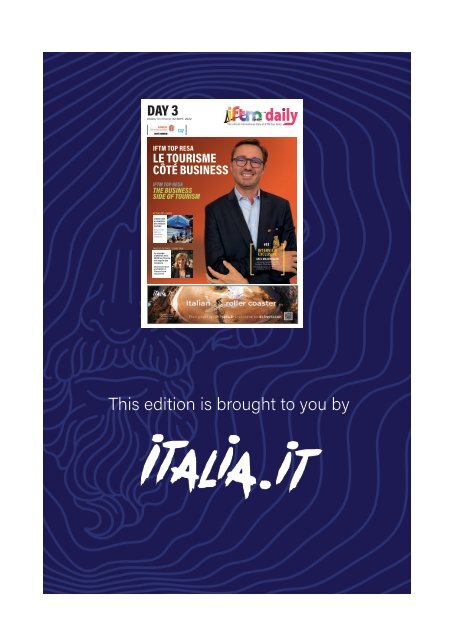 You also want an ePaper? Increase the reach of your titles
YUMPU automatically turns print PDFs into web optimized ePapers that Google loves.
DAY 3

JEUDI/THURSDAY 22 SEPT. 2022

The official international daily of IFTM Top Resa

STAND

1-S48

IFTM TOP RESA

LE TOURISME

CÔTÉ BUSINESS

IFTM TOP RESA

THE BUSINESS

SIDE OF TOURISM

ACTUALITÉS / NEWS

L'Italie met

en lumière

ses trésors

cachés

Italy shines

light on

its hidden

treasures

PAROLES DE PROS / TRADE TALK

Le voyage

d'affaires et le

MICE en France

ont repris des

couleurs

Business travel

and MICE in

France have

recovered

#07

#11

#12

INTERVIEW

EXCLUSIVE

AXEL MAZEROLLES

Directeur Général de FTI

Voyages, filiale du groupe FTI

General Manager at FTI Voyages,

subsidiary of the FTI Group

This edition is brought to you by
---
DAY 3

JEUDI/THURSDAY 22 SEPT. 2022

The official international daily of IFTM Top Resa

STAND

1-S48

IFTM TOP RESA

LE TOURISME

CÔTÉ BUSINESS

IFTM TOP RESA

THE BUSINESS

SIDE OF TOURISM

ACTUALITÉS / NEWS

L'Italie met

en lumière

ses trésors

cachés

Italy shines

light on

its hidden

treasures

PAROLES DE PROS / TRADE TALK

Le voyage

d'affaires et le

MICE en France

ont repris des

couleurs

Business travel

and MICE in

France have

recovered

#07

#11

#12

INTERVIEW

EXCLUSIVE

AXEL MAZEROLLES

Directeur Général de FTI

Voyages, filiale du groupe FTI

General Manager at FTI Voyages,

subsidiary of the FTI Group
---
The official international daily of IFTM Top Resa

HALL PLAN

STAND 1-H59 STAND 1-V54

STAND 1-V43

STAND 1-V62, V53

STAND 1-R53

STAND 1-R47

STAND 1-M59

IFTM Daily is a CLEVERDIS Publication

439 Route de la Seds, 13127 Vitrolles, France • Tel: + 33 442 77 46 00

• SAS capitalised at €155,750 • VAT FR 95413604471 • RCS Salon de Provence 413 604 471

• info@cleverdis.com • www.cleverdis.com • www.iftmdaily.com

President & Publisher: Jean-François Pieri • Senior Project Managers: Bettina Badon • Account Managers: Sara Hirache,

Benjamin Klene, Veronika Verzhak • Event Manager: Zineb Elhabiri • Head of Editorial Team: Emiliana Van Der Eng

• Senior Editor: Thomas Campbell • Editors: Luc Citrinot, Laura Sharman, Florent Clerq • Art Director: Hélène Beunat

• Design & Page Setting, Webmaster: Guillaume Vinrich. With the participation of: Philipp Schiberna.

>>> To contact them: first name.last name@cleverdis.com

• Cover: © Cleverdis - Printing: Imprimerie Frazier, 33 Rue de Chabrol, 75010 Paris

© CLEVERDIS 2022 - Registration of Copyright September 2022. Information presented in this publication is purely indicative in order to illustrate subjects

contained therein. No guarantee can be given as to the accuracy of data or content at time of printing and thus the latter should not be used for professional

or commercial ends. While all efforts have been made as to accuracy and pertinence of content and data contained in this publication, CLEVERDIS may in no

case be held responsible for the consequences, whatever their nature may be, that may result from the interpretation of this data or content, or any eventual

errors therein. Any reproduction of the content of this publication, even partial, by any means whatsoever, is strictly prohibited without the prior autorisation

of the publisher. Any copy, whether by photography, photography film, magnetic tape, disc or other means constitutes a forgery, liable to punishment under

French law according to the legislation of 11 th March 1957 covering copyright. All brands cited in this publication are registered trade marks and/or belong to

companies which are their respective proprietors. The publishers and editorial staff decline all responsibility as to opinions formulated in this publication by those

interviewed or cited therein. Their opinions are entirely their own, and are included with the understanding that they contain, to our knowledge, no malicious

intent. The inclusion of all texts, photographs and other documents supplied by those included in this publication imply the acceptance by their authors of their

free publication therein. Documents and photographs will not be returned. It should be understood that this publication contains forward-looking statements

that involve risks, uncertainties and assumptions. All statements other than statements of historical fact are statements that could be deemed forward-looking

statements. Risks, uncertainties and assumptions include assumptions relating to the timing of the recorded date. If any of these risks or uncertainties

materialises or any of these assumptions proves incorrect, actual results could differ materially from the expectations outlined in these statements. Cleverdis

assumes no obligation and does not intend to update these forward-looking statements during the period of publication. Photo Credits and Copyright: All Rights

Reserved.

2 IFTM DAILY • JEUDI/THURSDAY 22 SEPT. 2022

www.iftmdaily.com
---
Le briefing

matinal

de Laurence

Gaborieau

Laurence

Gaborieau

Directrice du salon IFTM

Top Resa

Director IFTM Top Resa

Au cœur de l'événement

Bonjour et bienvenue pour ce

troisième jour d'IFTM Top Resa

2022. L'atmosphère ici à Paris, Porte

de Versailles, a été électrique durant

ces deux derniers jours, et le meilleur

est encore à venir. Je vous invite à

assister ce matin à la conversation

à propos du marché BtoB en France

qui commencera à 10h15 et qui sera

organisée par Ty-Win. Le Village

Startups continuera de fourmiller

d'activité pendant toute la journée, à

commencer par une présentation du

Welcome City Lab et des exposants

à partir 11h30. Pour ceux d'entre vous

qui s'intéresseraient aux voyages

d'affaires, le directeur France d'Air

France et KLM, Henri Hourcade,

donnera une interview exclusive qui

se tiendra au Club Affaires à 11h45.

Après le déjeuner, venez assister

aux finales de la "Travel Agents Cup"

et de la "Travel Agents Cup Junior",

qui se dérouleront dans l'Arena

entre 13h30 et 17h30. Cet aprèsmidi

sera également l'occasion

pour les recruteurs et les candidats

à l'embauche d'échanger durant

l'événement Jobdating qui se tiendra

au Village de l'Attractivité à partir

de 15h30. Enfin, la tant attendue

"Soirée After TO", qui débutera à 19h

et qui sera organisée par le Maroc,

'Terre de Lumière'. En attendant,

j'ai vraiment hâte de vous croiser

dans les allées du salon, où nos

merveilleux exposants continuent

d'être les vitrines du meilleur de

ce que l'industrie touristique peut

offrir

Morning

by Laurence

GaborieauBriefing

In the heart of the show

Hello and welcome to the third

day of IFTM Top Resa 2022. The

atmosphere here at the Portes

de Versailles in Paris has been

electric over the past two days

and there is still so much to come. I

invite you to attend this morning's

Conversation about France's

BtoB marketplace starting at

10:15am, organised by Ty-Win.

The Startups Village will also

continue to be a hive of activity

throughout the day, starting with

a presentation by Welcome City

Lab and pitches from exhibitors

at 11:30am. For those of you

who are interested in business

travel, an exclusive interview

with Henri Hourcade, Senior Vice

President France at Air France-

KLM, will be taking place in the

Business Club at 11:45am. After

lunch, make sure to attend the

final of the Travel Agents Cup and

Travel Agents Cup Junior which

will be presented in the Arena

between 1:30pm and 5:30pm.

Also this afternoon, recruiters

and tourism candidates will have

the opportunity to exchange

at the Jobdating event in the

Attractiveness Village from

3:30pm. Finally, remember to add

the highly anticipated "After TO"

evening to your diaries, starting

at 7:30pm, hosted by Morocco,

'Kingdom of Light'. In the

meantime, I am looking forward

to seeing you all on the trade

show floor where our wonderful

exhibitors continue to showcase

the very best of what the tourism

industry has to offer

IFTM DAILY • JEUDI/THURSDAY 22 SEPT. 2022 3
---
I ACTUALITÉS I NEWS

I

Val de Loire : les professionnels

à la recherche de produits nature

sur l'IFTM Top Resa

Si le Val de Loire reste connu pour

ses superbes châteaux et ses

terroirs gastronomiques, les deux

agences de développement du

tourisme Touraine et Val de Loire

sont satisfaites d'une demande

toujours plus importante pour

des produits nature ou pour

approfondir la connaissance

du terroir. "Les professionnels

nous demandent toujours les

châteaux. Mais on voit aussi

beaucoup d'intérêt pour les

expériences nature, tels les

parcs et jardins", explique Aurore

Baudry, relation prescripteurs de

l'ADT Touraine.

"On est, par exemple, très

content de la demande pour Noël

concernant les châteaux et le zoo.

C'est la seconde année et c'est

un produit qui marche réellement

très bien auprès des agences.

On constitue une excellente

alternative aux marchés de Noël,

grâce au côté féérique qu'offrent

les décors de nos châteaux",

ajoute Sophie Duperron, en

charge des relations avec les

prescripteurs de voyage pour

l'ADT Val de Loire

STAND 1 - S22

L'ancien théâtre de Dodona

EPIRE, UN AUTRE

REGARD SUR UNE GRÈCE

INCONNUE

Inconnue d'une majorité de visiteurs,

cette région offre pourtant tout ce

que l'on pourrait chercher en Grèce

: villages ruraux, monastères perdus,

plages et montagnes. L'Epire est une

terre rugueuse, sauvage où l'histoire

s'immisce. Elle est également une

terre de légendes : l'Odyssée y situe

l'Oracle des Morts, dans la vallée de

l'Achéron. Tandis qu'à Dodone, là où

subsiste aujourd'hui un magnifique

théâtre, on venait consulter les

oracles de Zeus. Une destination à

découvrir à IFTM Top Resa

STAND 1 - S42

© Harrygouvas, CC BY-SA 3.0 , via Wikimedia Commons

Loire Valley: Tourism sector is looking for nature

related products at IFTM Top Resa

While the Loire Valley is

known for its superb castles

and its gastronomic terroirs,

the two tourism development

agencies Touraine and Val

de Loire are witnessing everincreasing

demand for nature

related products or gaining a

deeper knowledge of the land.

"Professionals still ask us for

castles. But besides the historical

aspect, there is growing interest

for nature experiences, such as

parks and gardens", explains

Aurore Baudry, key account

manager at ADT Touraine.

"For example, we are very happy

with the level of demand for

Christmas at the castles and

at the zoo. It's the second year

and really, it's a product that

works very well with agencies.

We are an excellent alternative

to Christmas markets, with

the magical side coming from

the decoration of our castles",

adds Sophie Duperron, who is

in charge of relations with tour

operators for ADT Val de Loire

STAND 1 - S22

EPIRUS, A GLIMPSE OF

UNEXPLORED GREECE

Largely unknown to the majority of

visitors, this region has everything

one could be looking for in Greece,

including rural villages, lost

monasteries, beaches and mountains.

This rugged, wild land full of history

is a true land of legends. It's where

the Odyssey placed the Oracle of the

Dead in the valley of the Acheron. In

Dodona, where a beautiful theatre

still stands today, people once came

to consult the oracles of Zeus. It is a

destination to discover at IFTM Top

Res.

STAND 1 - S42

IFTM DAILY • JEUDI/THURSDAY 22 SEPT. 2022 5
---
I ACTUALITÉS I NEWS

I

L'Italie met en lumière ses trésors

cachés à IFTM Top Resa

L'office national du tourisme italien (ENIT) a invité trois de ses régions "encore

peu connues par les Français" - la Calabre, la Basilicate et le Frioul-Vénétie

Julienne - à présenter leur offre touristique lors d'une conférence de presse à

l'IFTM Top Resa hier

Ces trois régions ont donné au public un aperçu de pourquoi

ils doivent absolument être ajoutés à la liste des favoris des

voyageurs français.

La directrice du bureau de l'ENIT à

Paris, Federica Galbesi, a ouvert la

conférence sur une note positive,

affirmant que l'industrie touristique

italienne était de nouveau sur les

bons rails, avec 2,5 millions d'arrivées

enregistrées en 2021 et des arrivées

par avion en provenance de la France

en hausse de 30% cette année.

Federica Galbesi a ensuite donné la

parole à Tatjana Familio, responsable

du bureau de presse Communication

& Digital de la région du Frioul-

Vénétie Julienne. Cette dernière a

souligné la diversité de la région,

des stations de ski abordables

des Alpes et des Dolomites aux

cafés renommés de Trieste. Elle a

également salué le premier guide

de voyages dédié à la région en

français, par Petit Futé.

Ensuite, la région méridionale de

la Basilicate a été présentée par

Marcella Di Feo, du département de

marketing national et international

de l'Office régional du tourisme, avec

une vidéo promouvant la joie de

vivre et un large éventail d'activités

de plein air. La région possède cinq

parcs nationaux et régionaux, ainsi

qu'une pittoresque côte le long de

la Mer Tyrrhénienne. La région a

développé une application intitulée

"Basilicata Free to Move", qui propose

aux visiteurs des cartes interactives

avec des itinéraires cyclables, des

points de service et bien plus encore.

Enfin, la directrice du département

du tourisme de la Calabre, Maria

Antonella Cauteruccio, a présenté

le plan 2023-25 de la région pour

"un nouveau rythme au tourisme".

Ce plan vise à rendre le secteur

plus compétitif et à diversifier

l'offre touristique avec de nouvelles

activités. Celles-ci sont promues par

la campagne de marketing "Calabre

Extraordinaire", en s'appuyant sur

des Marqueurs d'Identité Distincts

(MID), telle que la fleur de Soldanella,

qui incarne et capture l'histoire, la

culture et la beauté de la Calabre

STAND 1 - V62, V53

Italy shines light on its hidden

treasures at IFTM Top Resa

The Italian National Tourist Board (ENIT) invited

three of its 'lesser known' regions - Calabria,

Basilicata and Friuli-Venezia Giulia, to present their

tourism offering during a press conference at IFTM

Top Resa yesterday.

All three regions gave the

crowd a glimpse of why they

should absolutely be added to

French travellers' 'bucket lists'

for the coming season.

The head of ENIT's office in Paris,

Federica Galbesi, opened on a

positive note, saying Italy's tourism

industry was back on track, with 2,5

million arrivals recorded in 2021 and

airport arrivals from France up 30%

this year.

Ms Galbesi then gave the floor to

Tatjana Familio, Head of Press Office

Communication & Digital of Friuli-

Venezia Giulia, who highlighted the

region's diversity, from affordable ski

resorts in the Alps and the Dolomites

to the renowned coffee culture of

Trieste. Ms Familio also applauded

the region's first french-language

travel guide published by the Petit

Futé.

Next, the southern region of

Basilicata was introduced by

Marcella Di Feo from the National and

International Marketing Department

of the Regional Tourist Office, with a

video promoting la joie de vivre and

a wide range of outdoor activities.

The region boasts five national and

regional parks and a picturesque

coastline along the Tyrrhenian Sea.

It has also developed an app called

Basilicata Free to Move, offering

visitors interactive maps with bike

routes, service points and more.

Last but not least, Calabria's

tourism department director, Maria

Antonella Cauteruccio, presented

the region's 2023/25 plan for "a new

rhythm for tourism". The plan aims to

make the industry more competitive

and diversify its tourism offering

with new activities. These are being

promoted through the marketing

campaign 'Extraordinary Calabria',

leveraging Distinctive Identity

Markers (DIMs), which are symbols

like the Soldanella flower which

embody and capture Calabria's

history, culture and beauty

STAND 1 - V62, V53

IFTM DAILY • JEUDI/THURSDAY 22 SEPT. 2022 7
---
I ACTUALITÉS I NEWS

I

Les Seychelles

présentent leur tout

nouveau logo à l'IFTM

Les Seychelles ont lancé début septembre une

nouvelle identité de marque pour offrir une image

avec une énergie nouvellement infusée, selon les

responsables du tourisme des Seychelles. Le logo

aux couleurs vives a été visible à l'IFTM Top Resa.

The Seychelles

present their brand

new logo at IFTM

The Seychelles launched early September

a new brand identity to offer an image with

newly infused energy, according to Seychelles

tourism officials. The logo with its vibrant

colours is to be seen at IFTM Top Resa.

"C'était le bon moment pour nous

démarquer à nouveau", a déclaré

lors d'une récente présentation

officielle la directrice générale du

marketing de Tourism Seychelles,

Bernadette Willemin. Cette dernière

a dévoilé la marque remaniée en

présence des acteurs du tourisme

des Seychelles, notamment les

compagnies aériennes, les hôtels et

les représentants des DMC.

Dans sa présentation, Bernadette

Willemin a affirmé qu'il était temps

de donner un nouveau look à la

marque qui a, jusqu'à présent, connu

un grand succès sur le marché

international. Le

nouveau look

s'adapte donc à

des tendances

marketing et numériques toujours

plus prédominantes. Bien qu'il soit

plus vivant et plus coloré que le

logo précédent, l'équipe a décidé

de préserver l'essence de la marque

afin que le logo Seychelles reste

identifiable de tous

STAND 1 - J17

"It was the

right time for

us to stand out

again," said in a

recent official presentation the

Director General of Destination

Marketing of Tourism

Seychelles, Mrs Bernadette

Willemin. She unveiled the

revamped destination brand

in the presence of Seychelles'

tourism stakeholders such

as airlines, hotels and DMC

representatives.

In her presentation, Willemin

highlighted that it was time to

give a fresh look to the brand

which has so far been very

successful on the international

market. The new look is adapting

to the growing marketing and

digital trends around the world.

While looking more vibrant and

colourful than the previous

logo, the authority decided to

retain the essence of the brand

to keep the Seychelles logo

recognisable to all

STAND 1 - J17

8 IFTM DAILY • JEUDI/THURSDAY 22 SEPT. 2022

www.iftmdaily.com
---
I ACTUALITÉS I NEWS

I

La Géorgie accueillera les championnats

du monde 2023 de ski et snowboard

freestyle

C'est officiel : la Géorgie

accueillera les championnats

du monde de ski et

snowboard freestyle 2023,

dans la ville de Bakuriani.

S'étendant sur 1200

kilomètres, les montagnes

enneigées constituent

l'un des principaux atouts

de ce pays, aux cotés de

sa culture ancienne, sa

gastronomie délicieuse, sa

tradition viticole ou encore

du sens de l'hospitalité de

ses habitants. Les visiteurs

ont également l'occasion

de vivre leur propre "grande

escapade" dans l'une des

nombreuses stations de ski

que compte le pays. Parmi

elles, Gudauri et Bakuriani,

donc, qui ont récemment

été mises aux normes

internationales, ainsi que les

tout nouveaux complexes de

Goderdzi et de Mestia.

Mariam Kvrivishvili,

ministre adjointe au

ministère de l'Economie

et du Développement

Durable de Géorgie, a

annoncé "qu'accueillir ces

championnats du monde à

Bakuriani représente l'un des

plus importants événements

pour (son) pays, que cela

contribuera non seulement

au développement

économique des stations

géorgiennes, mais

également à l'amélioration

des sports d'hiver, à la

promotion d'un mode de vie

sain et au développement

du tourisme et de ses

infrastructures"

STAND 1 - V42

Bleu Marine Tour : Forte

demande sur les Antilles

françaises et Cuba

Spécialiste des Caraïbes, Bleu Marine Tour est de

nouveau présent sur l'édition 2022 d'IFTM Top Resa.

"C'est l'occasion de montrer que nous sommes là et

bien là !", explique Pierre Lavorata, Directeur général.

Plus que des nouveautés, la saison 2022 aura été celle

de la consolidation. "On a une très forte demande sur les

Antilles françaises qui bénéficient d'être "sanitairement

sûres" et possèdent une excellente capacité aérienne

par rapport à d'autres destinations. Cuba est également

en forte reprise. On assiste là à une demande pour un

tourisme solidaire et durable, les voyageurs sachant que

ce tourisme est essentiel pour donner des emplois à la

population locale", précise encore Pierre Lavorata

STAND 1 - G36

Georgia to host 2023 Freestyle

Ski and Snowboard World

Championship

It was officially announced

that Georgia will be hosting

the 2023 Freestyle Ski

and Snowboard World

Championship in Bakuriani.

The country's snow-capped

mountains, spanning 1,200

kilometres, are one of its

greatest assets, along with

its ancient culture, delicious

food and winemaking

tradition and hospitality.

Visitors can also have their

own "high adventure" at

one of Georgia's many

ski resorts. These include

Gudauri, Bakuriani, which

have recently been upgraded

to international standards

and the brand new resorts of

Goderdzi and Mestia.

Mariam Kvrivishvili, Deputy

Minister of the Ministry of

Economy and Sustainable

Development of Georgia

said: "Hosting World

Championships in Bakuriani

is one of the most important

events and achievements

for our country, which

contributes not only to the

economic development of

these resorts but also to the

refinement of winter sports,

the promotion of a healthy

lifestyle and the development

of tourism and infrastructure"

STAND 1 - V42

Bleu Marine Tour: Strong demand for

French Antilles and Cuba

Caribbean specialist Bleu Marine Tour is once again present

at this year's IFTM Top Resa. "It's an opportunity to show

that we have a strong presence, definitely!" underlines

Pierre Lavorata, General Manager. Rather than presenting

new products, the 2022 season is more about consolidating

assets. "We register a very strong demand for the French

West Indies, which benefit from the advantages of "health

security" as well as excellent air capacity compared to

other destinations. Meanwhile, Cuba is also experiencing a

strong recovery. "The island benefits of travellers' interest

for solidarity and sustainable tourism, as they know that

tourism is essential to provide jobs for the local population,"

added Lavorata

STAND 1 - G36

IFTM DAILY • JEUDI/THURSDAY 22 SEPT. 2022 9
---
I CONFERENCE I

Sur quels leviers l'industrie

aéronautique peut-elle actionner

pour atteindre le zéro émission net

d'ici 2050 ?

La table ronde dédiée à l'industrie de l'aviation et intitulée "Entre

technologies de pointe et pieux vœux, comment atteindre la

neutralité carbone dans l'aviation ?" s'est déroulée ce mardi à 14h30

dans la Zone Tourisme Durable

Le président des EDV Ile-de-France

Lionel Rabiet a questionné Fabrice

Dariot (président de la Bourse des

Vols), Vincent Etchebehere (directeur

du développement durable et mobilité

nouvelle chez Air France), et Olivier

Girault (cadre supérieur au bureau

EVP R&D et Coordination transversale

chez Amadeus) sur la durabilité des

services de transports aériens.

M. Rabiet a ouvert cette conférence

très attendue en demandant comment

les mentalités des voyageurs

évoluaient face au changement

climatique. Prenant le micro, M.

Dariot a souligné l'importance de

ce challenge pour toute l'industrie

touristique, et pas uniquement pour

l'aviation civile, avant d'ajouter "qu'il

y a dix ans, les émissions de CO2

n'étaient pas un souci pour les clients,

mais qu'aujourd'hui, il s'agit d'un

facteur important lors de l'achat d'un

billet d'avion".

L'ensemble des intervenants a

d'ailleurs souligné que l'industrie

aéronautique était responsable de

près de 2,5% des émissions globales

de CO2. Et que si elle continuait

de la sorte, ce pourcentage n'irait

qu'en augmentant. "C'est pourquoi

nous devons travailler rapidement

et ardemment pour réduire nos

émissions de carbone dans l'industrie",

a déclaré M. Etchebehere.

L'Association du Transport Aérien

International (IATA) a approuvé en

2021 une résolution visant à ce que

le transport aérien atteigne une

empreinte carbone neutre d'ici à 2050.

Pour parvenir à ce but ambitieux, M.

Etchebehere a souligné l'importance

de l'éco-flying, du renouvellement des

flottes d'appareils, en tant que leviers

permettant à réduire significativement

les émissions de CO2.

Les intervenants ont également

évoqué le potentiel déploiement

d'avions à hydrogène ou électriques,

qui pourraient sillonner le ciel d'ici à

2035. Mais ils ont également prévenu

que ce genre d'appareil ne saurait

être utilisé, mis à part pour les petits

et moyens trajets. Ils ont également

évoqué la possibilité de carburants

pour des avions qui soient plus

durables, ainsi que des biokérosènes

comme de possibles moyens pour

atteindre cette neutralité.

Toutefois, même si ces derniers

peuvent s'avérer de bonnes solutions,

leur prix, 4 à 8 fois supérieur aux

autres carburants, incarne un frein.

Leur relative rareté demeure un autre

défi à relever pour l'industrie

The round table, dedicated

to the aviation industry,

titled "Between advanced

technology and wishful

thinking, how to reach carbon

neutrality in aviation?", took

place in the Sustainable

Tourism Area at 2:30pm on

Tuesday.

Lionel Rabiet, President of EdV

Ile-de-France, questioned Fabrice

Dariot, President of Bourse

des Vols, Vincent Etchebehere,

Director of Sustainable

Development and New Mobility

at Air France and Olivier Girault,

Senior Manager, Office of the

EVP R&D and Transversal

Coordination at Amadeus about

the sustainability of air travel.

Mr Rabiet opened the widely

attended conference by asking

about how customers' mentalities

towards climate change were

changing. Taking the mic, Mr

Dariot stressed that this was a

challenge for the tourism industry

as a whole, not just aviation. He

said "whereas 10 years ago CO2

emissions were not on customers'

minds. Today, it is an important

factor when buying a plane ticket.

The panel stressed that while

the aviation industry is today

responsible for around 2.5%

De gauche à droite : le président de la Bourse des Vols Fabrice Dariot, le

directeur du développement durable et de la mobilité nouvelle chez Air France

Vincent Etchebehere, et Olivier Girault, cadre supérieur au bureau EVP R&D et

Coordination transversale chez Amadeus.

From left to right, President of Bourse des Vols, Fabrice Dariot, Vincent

Etchebehere, Director of Sustainable Development and New Mobility at Air

France, Olivier Girault, Senior Manager, Office of the EVP R&D and Transversal

Coordination at Amadeus

Which environmental levers

can the aviation industry pull

to reach net-zero by 2050?

of global CO2 emissions, if we

continue on this trajectory -

business as usual, it would be

much higher. "That's why we

need to work fast and hard to

reduce carbon emissions in the

industry", said Mr Etchebehere.

In 2021 The International

Air Transport Association

(IATA) agreed approved a

resolution for the global air

transport industry to achieve

net-zero carbon emissions by

2050. To achieve this ambitious

goal, Mr Etchebehere stressed

the importance of eco-flying and

fleet renewal, as levers for the

aviation industry to significantly

reduce CO2 emissions.

The panel also weighed up the

possible deployment of hydrogen

or electric planes, which could

take to the skies by 2035. But they

warned that these would only be

suitable for small and medium

trips. They also discussed

sustainable aviation fuels (SAFs)

and bio-aviation fuels (BAFs), as

possible solutions to reaching

net-zero.

While these could prove to be

effective, their price, which

remains four to eight times

higher, and their availability, are

obstacles which will need to be

addressed

10 IFTM DAILY • JEUDI/THURSDAY 22 SEPT. 2022

www.iftmdaily.com
---
I PAROLES DE PROFESSIONNELS I TRADE TALK I

"Nous prévoyons une reprise continue

du voyage d'affaires et du MICE en

France ces prochaines années"

Pour Valérie Golléty,

Regional Manager, Global

Business Travel Association

(GBTA) France, le voyage

d'affaires et le MICE en France ont

repris des couleurs en 2022 après les

deux années Covid. Le secteur doit maintenant se préparer aux

nouveaux défis : métavers, durabilité, circuits courts. C'étaient

les thèmes des tables rondes de la GBTA à IFTM.

Que représente la France pour la

GBTA ? Le nombre de vos membres

français s'accroît-il depuis la

pandémie ?

Le Business Travel Index de GBTA

estime à 33,5 milliards de dollars les

dépenses de voyages d'affaires en

France en 2022, ce qui représente

la 6e place mondiale et 15% du

marché européen. GBTA France

compte quelque 200 membres mais

la communauté des professionnels

du voyage d'affaires rassemble

plus de 2 500 personnes. Avec

effectivement plus de membres

cette année.

Comment se comporte le marché

du voyage d'affaires en France ?

Est-il exposé comme d'autres

marchés européens ?

Le marché français suit la tendance

européenne. Selon le BTI, les

voyages d'affaires européens

retrouvent leur dynamique après

l'essoufflement d'Omicron début

2022. Cependant, l'impact direct

de la guerre en Ukraine, l'inflation,

la pénurie de main d'œuvre et la

crise énergétique sont des facteurs

qui menacent cette évolution en

2023.

Le baromètre annuel 2022

GBTA prédit une reprise totale du

voyage d'affaires en 2026. Qu'en

est-il de la France ?

Les dépenses totales de voyages

d'affaires en France ont diminué

de 12,7 % en 2021, contre -17,1 %

en Europe occidentale. La gestion

de la crise Covid a mis à rude

épreuve les finances publiques

françaises, ce qui se traduit par une

croissance prévue de seulement

63,2 % cette année, inférieure

aux 71,7 % européens. Nous

prévoyons une reprise continue

en France, mais nous pensons que

ce sera seulement en 2026 que les

dépenses atteindront leur niveau

de 2019.

Quel rôle joue IFTM Top Resa pour

la GBTA ?

L'IFTM est un événement essentiel

de l'industrie du voyage en France

et le segment Business Travel y est

de plus en plus représenté chaque

année. La richesse du programme

2022 le prouve. La GBTA se doit d'y

être présente pour y rencontrer les

professionnels et leur faire partager

le contenu délivré par nos experts

DEUX TABLES

RONDES DE LA

GBTA DURANT

IFTM TOP RESA

La GBTA a organisé deux

tables rondes pendant

le salon. Le premier était

nommé « Metavers : tendance

éphémère ou futur des

voyages et événements ? »,

éclairant les bouleversements

technologiques à venir pour

le MICE et les approches

d'intégration pour acheteurs

et fournisseurs. La deuxième

session examinait « Le Travel et

le MICE : des catégories d'achat

globales ou locales ? », quelle

gestion locale ou globale des

catégories Travel et MICE par les

acheteurs et travel managers,

à l'heure du post-Covid et de la

RSE ? Un déjeuner a également

été organisé en partenariat avec

FREENOW for Business

"We are expecting a continued recovery in business travel

and MICE in France over the coming years"

According to Valérie Golléty,

Regional Manager, Global

Business Travel Association

(GBTA) France, business

travel and MICE in France

have recovered in 2022 after

the two Covid years. The

sector must now prepare for

new challenges: metaverse,

sustainability, short circuits.

These are the themes that

were discussed at GBTA's

round tables at IFTM Top

Resa.

What does France represent

for GBTA? Has your French

membership increased since the

pandemic?

GBTA's Business Travel Index

estimates that France will be

spending $33.5 billion on business

travel in 2022, which is the 6th

largest market in the world and

15% of the European market. GBTA

France has some 200 members, but

the whole community of business

travel professionals totals over

2,500. With new members being

added this year.

How does the business travel

market in France perform? Is

it exposed like other European

markets?

The French market is following the

European trend. According to the

BTI, European business travel is

regaining momentum after Omicron

faltering in early 2022. However, the

direct impact of the war in Ukraine,

inflation, labour shortages and

the energy crisis are factors that

threaten its development in 2023.

The GBTA 2022 annual barometer

predicts a full recovery in business

travel in 2026. What about France?

Total business travel spending in

France decreased by 12.7% in 2021,

compared to -17.1% in Western

Europe. The management of the

Covid crisis has put a strain on

public finances in France, which

translates into an expected growth

of only 63.2% this year, lower than

the 71.7% in Europe. We expect a

continued recovery in France, but

we believe that it will only be in

2026 that spending will reach its

2019 level.

What role does IFTM Top Resa play

for the GBTA?

IFTM is an essential event for the

travel industry in France and the

Business Travel segment is more

and more present each year. The

2022 extensive programme is proof

of this. The GBTA must be present

to meet these professionals and

share our expert insights with

them

TWO GBTA

PANELS DURING

IFTM TOP RESA

GBTA organised two panels

during this year's show. The

first one, entitled "Metaverse:

ephemeral trend or the future of

travel and events" took a look

at the technological upheavals

to come for MICE and the

integrated approaches for buyers

and suppliers. The session

"Travel and MICE: global or local

purchasing categories?" looked

at local vs global management of

the Travel and MICE categories

by buyers and travel managers

in the post-Covid and CSR era.

A lunch was also organised in

partnership with FREENOW for

Business

IFTM DAILY • JEUDI/THURSDAY 22 SEPT. 2022 11
---
I INTERVIEW EXCLUSIVE I EXCLUSIVE INTERVIEW

I

Ventes records pour

FTI Voyages grâce à

des prix compétitifs

et au contact

humain

Axel Mazerolles, directeur général de FTI

Voyages, filiale du groupe FTI, donne un

aperçu des performances et des stratégies

du tour-opérateur, dans un entretien

exclusif avec IFTM Daily

12 IFTM DAILY • JEUDI/THURSDAY 22 SEPT. 2022

www.iftmdaily.com
---
I INTERVIEW EXCLUSIVE I EXCLUSIVE INTERVIEW I

Axel Mazerolles: Nous sommes le troisième tour-opérateur

le plus important en Europe en termes de volume. FTI, filiale

française du groupe, est quant à elle le cinquième tour-opérateur

au niveau national, en regroupant près de 200 personnes et un

chiffre d'affaires de près de 200 millions d'euros. Le marché est

en train de reprendre et l'on s'attend à des chiffres comparables

à ceux de la saison 2018/2019. Nous concernant, le marché a

non seulement effectivement repris, à ceci près que nos chiffres

dépassent allègrement ceux de la saison 2018/2019.

Qu'est-ce qui permet à FTI de se

démarquer aujourd'hui ?

Comme d'autres acteurs,

nous sommes présents sur de

magnifiques destinations. Mais nous

faisons les choses différemment.

Notre stratégie se base sur trois

points clés. Premièrement, nous

donnons le choix aux gens, et nous

proposons entre 15 000 et 20 000

offres différentes. Deuxièmement,

nous offrons de la flexibilité, car nous

incluons dans nos offres ce que nous

... NOUS

ASPIRONS À

DEVENIR LE

TOUR-OPÉRATEUR

LE PLUS

ÉCONOMIQUE,

TOUT EN

COUVRANT

TOUTES LES

DESTINATIONS.

appelons des "forfaits dynamiques".

Et enfin, des prix abordables. En un

mot comme en cent, nous aspirons

à devenir le tour-opérateur le plus

économique, tout en couvrant toutes

les destinations. En se concentrant

sur l'offre la plus large possible, avec

des hôtels 5 étoiles en passant par

des offres familiales plus abordables

pour les porte-monnaies les moins

fournis, nous avons toujours une

offre adaptée.

Quelles sont les dernières tendances

du marché ?

Nous sommes au cœur des tendances

du marché, car nous faisons partie

des quelques tour-opérateurs à être

vendus sur l'ensemble des réseaux.

Nous restons donc vigilants à tout

ce qui se passe sur le marché

français. De manière générale, nous

observons une tendance en hausse

nette concernant les réservations

de dernière minute. Nous avons

enregistré des ventes records cette

année, mais dont les chiffres n'ont

absolument rien à voir avec ce que

nous avons pu voir par le passé.

Nous avons également observé une

augmentation des prix d'environ

20% pour le marché français

comparé à l'année dernière. Ce qui

s'applique également à FTI : nous

nous efforçons d'optimiser nos

marges, et de continuer d'offrir le

meilleur prix possible aux agences

de voyages et aux voyageurs. Car, au

final, seul le prix importe, et avec ces

augmentations, les consommateurs

se font plus exigeants. C'est en cela

que les agences de voyages ont un

rôle si important à jouer. Certains

acteurs ne vont vendre que sur les

canaux en ligne, mais nous pensons

que l'humain est la clé. C'est

l'agent de voyages qui va guider le

consommateur, tout en expliquant

pourquoi il faut choisir cet hôtel ou

cette compagnie aérienne plutôt

qu'un autre et ce, en prenant en

compte sa situation et ses demandes

spécifiques.

Axel Mazerolles: We are the third biggest tour operator in

Europe in terms of volume and FTI Voyages, the group's French

subsidiary, is the fifth biggest tour operator in France - out of

around 200, with a turnover of around 200 million euros. The

market is picking back up and people expect it will reach 2018/19

levels. For us, not only has the market picked back up, but we

have greatly surpassed our 2018/19 levels.

That's great news. What makes FTI

stand out?

Like others, we are present in

beautiful destinations, but we want

to do things differently. Our strategy

has three focus points. Firstly, giving

people the choice. So we have

between 15,000 and 20,000 offers.

Secondly flexibility, by offering

what's known as dynamic packages

and finally, affordable prices.

Simply put, we aim to be the most

affordable tour operator across all

destinations. We are generalists

specialising in B2B with the widest

possible offering, from 5-star hotels

to affordable family options for

people who have very little means.

We always have a suitable offer.

What are the latest market trends?

We are at the heart of market trends

because we are one of the few tour

operator to be sold on all networks.

So this means we keep up to date

with everything that is going on

in the French market. Globally

speaking, we are seeing a trend in

super-last minute bookings. This

year we recorded record sales, but

the peaks had nothing to do with

what we've seen in the past.

We have also seen an increase in

prices by around 20% on the French

market compared to last year.

This also applies to FTI, so we are

trying to leverage our margins and

continue to offer travel agencies

and consumers the best possible

price. Because at the end of the

day it comes down to price. And

with rising prices consumers are

becoming more demanding.

This is why travel agencies have

such an important role to play. Some

actors only sell through online

channels, but we believe the human

is key. Its the travel professionals

who help guide the consumer,

explaining why they should chose

this hotel or airline, taking into

account the traveller's individual

situation and demands.

Comment l'état d'esprit des consommateurs

évolue-t-il ?

Soyons clairs, le facteur numéro un,

c'est le prix. Mais aujourd'hui, une

nouvelle génération se dessine avec,

le plus souvent, des moins de 30

ans, spécialement concernés par

leur empreinte carbone, et par le

bien-être de la planète. Et que fontils

? Par défaut, ils réservent en ligne

plutôt que de passer par une agence

de voyages. Et que se passe-t-il ?

Nombreux sont ceux qui, au final,

rencontrent des problèmes une fois

sur place, avec leur logement par

exemple, et finissent par repasser

par les agences de voyages

FTI Voyages hits record sales with

competitive pricing and a human touch

Axel Mazerolles, general manager at FTI Voyages, subsidiary of the FTI

Group, spoke to the IFTM Daily about the tour operator's performance

and strategy in an exclusive interview

How are consumer mindsets

changing?

Let's be clear, the number one

factor is the price. But today there

is a new generation, under 30,

who are particularly concerned

about their carbon footprint and

the state of our planet. So what

do they do? By default, they will

book online rather than go through

a travel agency. But then what

happens? Many will experience

problems at the destination with

their accommodation for example

and then return seek the advise of a

travel agency

SIMPLY PUT,

WE AIM TO BE

THE MOST

AFFORDABLE

TOUR OPERATOR

ACROSS ALL

DESTINATIONS.

IFTM DAILY • JEUDI/THURSDAY 22 SEPT. 2022 13
---
La Nouvelle-Aquitaine affiche

ses couleurs à IFTM Top Resa

2022

A travers les 14 destinations présentées sur le salon, le comité

régional de Nouvelle-Aquitaine met en valeur une large variété

d'événements et d'endroits.

Nice, culture et art de vivre à

l'IFTM Top Resa 2022

Parmi ces grands événements,

on trouvera notamment la Coupe

du monde de rugby 2023, qui se

déroulera du 8 septembre au 28

octobre, avec cinq matches qui se

joueront à Bordeaux. Le Festival

International de la bande-dessinée

d'Angoulême accueillera près de

200 000 visiteurs dans le courant

de janvier. Nombre de nouveaux

hôtels sur la côte Atlantique

sont attendus, ainsi que certains

vignobles bordelais mondialement

connus pour leur devise : "Ca

bouge dans le vignoble de

Nouvelle-Aquitaine". La région axe

cette année sa communication sur

la culture et son héritage, avec la

réouverture de la maison de Pierre

Loti, près de La Rochelle, pour la

fin 2023-début 2024, ainsi que le

château de Hautefort (Dordogne),

premier château à être gratifié de

la certification "NF Environnement

- Site de Visite" pour ses efforts de

préservation de l'environnement

et de limitation de ses émissions

carbone

STAND 1 - R06

"La culture est une thématique

majeure de l'année 2023 non

seulement en raison d'une offre

culturelle exceptionnelle mais aussi

parce que nous avons l'ambition de

devenir capitale européenne de la

culture 2028", explique Savita Couty,

chargée de développement loisirs à

l'Office de Tourisme Métropolitain

Nice Côte d'Azur.

Nice cultive ses atouts culturels :

deuxième ville de France pour son

offre muséale, classée au patrimoine

mondial de l'UNESCO depuis 2021

pour son exceptionnelle architecture

de ville de la villégiature d'hiver de la

Riviera, ainsi que pour plus de 2 000

événements par an sur son territoire

métropolitain. 2023 n'échappera

pas à la règle. "On fêtera les 70

ans du musée Chagall, les 150 ans

du Carnaval de Nice, le 4e Festival

des Jardins de la Côte d'Azur et les

200 ans du Parc de la Colline du

Château", décrit Savita Couty. Sans

oublier 4 matchs de la Coupe du

monde de rugby et de nouveaux

projets hôteliers. Nice bruisse de vie

et de projets...

STAND 1 - S08

Nice puts the spotlight on culture

and lifestyle

La Nouvelle-Aquitaine flashes its

colours at IFTM Top Resa 2022

"Culture is a major theme for us

in 2023, not only because of our

exceptional cultural offering, but

because of our ambition to become

European Capital of Culture

2028," explains Savita Couty, who

is in charge of leisure tourism

development at the Metropolitan

Tourism Office of Nice Côte d'Azur.

Nice is nurturing its cultural assets.

It is the second city in France for

museums and was made a UNESCO

World Heritage Site in 2021 for its

exceptional architecture. The winter

resort city on the French Riviera

also hosts over 2,000 events per

year throughout its metropolitan

territory.

And 2023 will be no exception. "We'll

be celebrating the 70th anniversary

of the Chagall Museum, the 150th

anniversary of the Nice Carnival,

the 4th Riviera Garden Festival and

the 200th anniversary of the Parc de

la Colline du Château," says Savita

Couty. Not to mention four Rugby

World Cup matches and several

new hotel projects. Nice will be

bustling with activity…

STAND 1 - S08

The regional tourism committee is highlighting a wide range

of events and sites across its 14 destinations present at this

year's show.

Among its 'big events' is the 2023

Rugby World Cup, taking place

between the 8th of Septembre

and 28th of October, with five

games scheduled in Bordeaux.

The International Comic Festival

in Angoulême will also welcome

around 200,000 visitors throughout

January. A number of new hotels

on the Atlantic coast are also

being featured, as well as some of

Bordeaux's world famous vineyards

under the motto "Ca Bouge Dans Le

Vignoble De Nouvelle-Aquitaine".

This year the region is focusing

on culture and heritage, with the

reopening of La Maison Pierre

Loti at the end of 2023/early 2024

near La Rochelle and Le Château

de Hautefort, the first castle to be

awarded the "NF Environment -

Site de Visite" label, for its efforts

to preserve the environment and

limit its carbon emissions

STAND 1 - R06

IFTM DAILY • JEUDI/THURSDAY 22 SEPT. 2022 15
---
I DOSSIER SPECIAL I

I SPECIAL FEATURE I

ADVERTORIAL

Cruise company with "world's most

luxurious fleet" makes first appearance

at IFTM with breathtaking new voyages

Meet Regent Seven Seas Cruises at the Cruise Village

and discover the splendour of its new ships setting sail

from 2023

Regent Seven Seas Cruises believes that lavish personal space is

central to experiencing the ultimate in luxury travel.

For the first time this year, this

leading luxury cruise line is making

an appearance at the IFTM Cruise

Village where it showcases existing

voyages and exciting new routes

launching from 2023 to 2025.

The company promises guests a

"crowd-free" cruise experience

onboard its perfectly sized vessels

with spacious social areas,

sprawling suites and a splendid

selection of dining options. A focus

on personal space is at the heart of

its promise, providing guests with

the extravagant freedom they need

to explore and relax.

Regent Seven Seas Cruises

recently announced its new

Voyage Collection with a series

of new voyages departing 2024-

2025. It promises to deliver the

mystique and wonder of the world's

furthest shores from Easter Island

to Japan and the ancient sands of

Namibia. The fleet will sail 160 new

itineraries with the soothing sights

of destinations like Papeete, Amalfi

and Dunedin offering escape and

relaxation in ample doses. More

than 130 in-port overnights will

be featured across the globe with

opportunities for guests to become

immersed in local culture, while

returning to luxury onboard.

Reservations are now open for sale

on the line's new 2024-2025 Voyage

Collection.

Voyages encompass every

continent in the world, from Africa to

Asia, Australia to New Zealand, and

Canada to New England, Alaska,

and Bermuda. Popular routes

include the Caribbean, Panama

Canal, Mediterranean and Northern

Europe. In addition, fascinating

cruises explore South America and

the South Pacific, as well as scenic

sailings of Antarctica.

The 2024 to 2025 Voyage Collection

sailings range from seven nights up

to the 150 night 2025 World Cruise

Away in Wonder. It also features four

Grand Voyages, each of which is an

epic waterway adventure to dozens

of ports across multiple weeks.

New to the fleet, Seven Seas

Grandeur, arriving in November

2023, will sail to the Mediterranean

for spring 2024 and 2025.

Regent Seven Seas Cruises ships

feature some of the largest balconies

and suites at sea with a fantastic

choice of specialty restaurants

including al fresco and in-suite

dining options, lounges and bars.

A spokesperson said: "With every

luxury included, we invite you to

take hold of every moment and

make lasting memories to share

with friends and family for years to

come."

The cruise liner boasts a

personalised service with dedicated

attendants and butlers at hand

to fulfil guests' every request

and maintain each suite for the

duration of the voyage. World class

chefs, maitre Ds and sommeliers

are onboard to create a dining

experience to be savoured every

time.

"Off menu" personal requests can be

made via the concierge team while

experienced staff and crew maintain

the highest level of health and safety

standards. Highly qualified marine

officers will steer the ship smoothly

to each destination.

A spokesperson said: "Every detail

is taken care of for a truly freeing

and memorable experience."

To know more about the World's

Most Luxurious Fleet, meet

Gabriella Fonzo, Senior Sales

Manager, Europe Centrale, Moyen

Orient et Afrique, at IFTM!

STAND 1 - M59

DINING

DELIGHT

Sample the finest cuisine,

paired with exquisite wines in

sophisticated venues with an everchanging

ocean view. Ships offer

open seat dining to allow guests to

visit whenever and with whomever

they wish. Speciality restaurants

feature many tables for two while

dining venues include up to seven

casual indoor and outdoor options.

In-suite dining is also available

serving guests course by course

with a mouthwatering variety of

culinary options.

Guests can taste and savour each

destination with their palette on

one of thousands of experiences

offered by Regent Seven Seas

Cruises sailing across every

continent with access to some 450

ports.

EVERY LUXURY

INCLUDED

Regent Seven Seas Cruises is a

floating paradise with opulence

reflected in every ripple. Each

voyage comes with an array of

complimentary luxuries. Guests

can enjoy unlimited shore

excursions, unlimited Wi-Fi and

a free valet laundry service. Each

cruise includes a one-night precruise

hotel stay in concierge

suites and higher, while some also

include a two or three night land

programme after setting sail. Other

complimentary services include

unlimited drinks, fine wines and

spirits, free speciality restaurants,

free open bars and lounges plus

in-suite mini bars replenished

daily. Pre-paid gratuities are also

included.

As it celebrates 30 years of

cruising and continues to elevate

luxury travel with one unrivalled

experience after another, Regent

offers a holiday experience that

exemplifies the finest and most

marvellous aspects of luxury

cruising — allowing your guests to

cruise the world in total comfort

and confidence.

16 IFTM DAILY • JEUDI/THURSDAY 22 SEPT. 2022

www.iftmdaily.com
---
I DOSSIER SPECIAL I

I SPECIAL FEATURE I

PUBLIREPORTAGE

"La flotte la plus luxueuse du monde"

fait sa première entrée à IFTM, avec

des croisières à couper le souffle

Découvrez "Regent Seven Seas Cruises" au Cruise Village et la

splendeur de ses nouveaux navires qui prendront la mer à partir

de 2023.

Regent Seven Seas Cruises

estime qu'un espace personnel

somptueux est essentiel pour

vivre le summum du voyage

de luxe.

Pour la première fois cette année,

cette compagnie leader sur le

marché des croisières de luxe, fait

une apparition au IFTM Cruise

Village : elle y offrira un aperçu

de ses offres de voyages déja

existantes, mais également des

nouveaux itinéraires captivants qui

verront le jour de 2023 à 2025.

La société promeut une expérience

de croisière "sans foule", à bord de

navires parfaitement dimensionnés,

aux espaces communs spacieux,

aux suites tentaculaires et tous

dotés d'une formidable sélection

de choix pour se restaurer. Une

attention toute particulière est

apportée à l'espace personnel de

chacun, qui se veut au cœur de

l'expérience promise, en fournissant

aux passagers toute l'extravagante

liberté dont ils ont besoin pour

explorer et décompresser.

"Regent Seven Seas Cruises" a

récemment présenté sa nouvelle

"Collection Voyage" avec une

série de nouvelles croisières qui

débuteront dans le courant des

années 2024 et 2025, avec la

découverte des rivages les plus

éloignés du monde, de l'île de

Pâques au Japon et aux sables

anciens de la Namibie. Ce sont en

tout 160 nouveaux itinéraires sur

lesquels la flotte voguera, avec

comme perspectives d'apaisantes

destinations telles que Papeete,

Amalfi et Dunedin, autant de

synonymes d'évasion et de détente

à profusion. Plus de 130 escales

seront présentées à travers le

monde, avec l'opportunité pour les

passagers de s'immerger dans la

culture locale, tout en profitant du

luxe à bord.

Les réservations sont d'ores et

déjà disponibles sur la nouvelle

"Collection Voyage 2024-2025" de

la compagnie.

Les voyages proposés couvrent

tous les continents, de l'Afrique à

l'Asie, de l'Australie à la Nouvelle-

Zélande et du Canada à la

Nouvelle-Angleterre, l'Alaska et

les Bermudes. Les itinéraires

populaires incluent les Caraïbes, le

canal de Panama, la Méditerranée

et l'Europe du Nord. De plus, de

fascinantes croisières explorent

l'Amérique du Sud, le Pacifique

Sud, ainsi que les traversées

panoramiques de l'Antarctique.

Les offres de croisières de la

Collection Voyage 2024-2025

vont des sept nuits à bord jusqu'à

la croisière autour du monde sur

150 nuits "Away in Wonder 2025".

Quatre "Grands Voyages" sont

également proposés, dont chacun

constitue une aventure épique de

plusieurs semaines passées sur

des voies navigables en direction

de dizaines de ports.

Le Seven Seas Grandeur, dernier

né de la flotte, sera mis à l'eau en

novembre 2023 et naviguera sur la

Méditerranée durant les printemps

2024 et 2025.

Les navires "Regent Seven Seas

Cruises" disposent de certains des

plus grands balcons et suites sur

mer, avec un choix fantastique de

restaurants à spécialités, incluant

des options de restauration en

plein air comme en suite, ainsi que

des salons et des bars.

Un porte-parole a déclaré : "Avec

tout ce raffinement, nous vous

invitons à saisir chaque instant et

à créer des souvenirs durables à

partager pour les années à venir

avec vos amis et votre famille."

Chaque paquebot propose un

service personnalisé d'agents de

bord et de majordomes dévoués,

prêts à répondre à la moindre

demande des clients et à entretenir

chaque suite pendant l'intégralité

du voyage. Chefs à la renommée

mondiale, maîtres d'hôtel et

sommeliers ne vivent à bord que

pour créer une expérience culinaire

unique à chaque fois.

Les demandes personnelles

"off menu" peuvent être faites

via la conciergerie, tandis que

le personnel et l'équipage

expérimentés maintiennent à bord

les plus hauts standards en termes

de normes sanitaires et de sécurité.

Ce sont des officiers de marine

hautement qualifiés qui mèneront

en douceur le navire vers chaque

destination.

"Chaque détail compte pour une

expérience vraiment libératrice et

mémorable", a conclu un porteparole

de l'entreprise.

Pour en savoir plus sur la "Flotte

la plus luxueuse du monde" ?

Rencontrez Gabriella Fonzo,

Responsable Commerciale Senior,

Europe Centrale, Moyen Orient et

Afrique, à IFTM Top Resa!

STAND 1 - M59

LES PLAISIRS

DE LA TABLE

Dégustez la meilleure cuisine,

accompagnée de vins exquis

dans des lieux sophistiqués avec

une vue imprenable sur l'océan

en mouvement. Les navires

comprennent également des

"dinners" à ciel ouvert permettant

à la clientèle d'aller et venir avec

qui et quand bon elle le désire.

Les restaurants à spécialités

proposent de nombreuses tables

pour deux, tandis que les "dinners"

proposent jusqu'à sept ambiances

décontractées en intérieur comme

en extérieur. Le service en chambre

sera également disponible et

assurera à la clientèle un service

plat par plat, avec une offre

culinaire aussi variée qu'alléchante.

Les clients pourront goûter et

savourer chaque destination dans

toutes ses subtilités sur l'une des

milliers d'expériences proposées

par "Regent Seven Seas Cruises"

mouillant dans quelque 450 ports

sur tous les continents.

TOUT LE LUXE

EN "INCLUSIVE"

"Regent Seven Seas Cruises"

se veut un paradis flottant dont

l'opulence se ressent jusque dans

la moindre ondulation. Chaque

voyage s'accompagne d'un éventail

de services de luxe gratuits. Les

clients profitent à loisir d'excursions

à terre, d'une connexion Wi-

Fi illimitée et d'un service de

blanchisserie gratuit. Chaque

croisière comprend un séjour d'une

nuit à l'hôtel avant la croisière

en suites de type "Concierge" ou

de catégorie supérieures, tandis

que certaines incluent même des

programmes à terre sur deux ou

trois nuits et ce, après le départ.

Les autres services gratuits

incluent aussi les boissons à

volonté, vins et spiritueux raffinés,

restaurants à spécialités gratuits,

bars et lounges à ciel ouvert

gratuits, ainsi que des mini-bars

dans les suites, réapprovisionnés

quotidiennement. Des pourboires

prépayés sont également inclus.

Alors qu'elle célèbre ses 30

années de croisières et continue

aujourd'hui encore de repousser

toujours plus loin les standards du

voyage de luxe au fil d'expériences

encore jamais vues ailleurs, Regent

offre une expérience de vacances

qui illustre les aspects les plus

raffinés et les plus merveilleux des

croisières de luxe en permettant

aux passagers de parcourir le

monde confortablement et l'esprit

serein.

IFTM DAILY • JEUDI/THURSDAY 22 SEPT. 2022 17
---
I DOSSIER SPÉCIAL : GASTRONOMIE I

I SPECIAL FEATURE GASTRONOMY I

La région italienne de Basilicate

présente ses meilleurs ingrédients à

l'IFTM Top Resa 2022

Cette région du Sud de l'Italie

cherche à attirer les visiteurs

avec son patrimoine culinaire,

mélange de fromages, de vins

et de poivrons croustillants.

Comme de nombreuses régions

d'Italie, la Basilicate est réputée

pour sa gastronomie. Mais s'il y

a bien un ingrédient à retenir, ce

serait certainement le poivron de

Senise ou Crusco, dont le nom

reflète le croquant inimitable qu'il

apporte après avoir été séché et

frit dans de l'huile d'olive extra

vierge. Pendant les mois d'août

et de septembre, on peut voir ces

légumes rouge vif, qui ont reçu le

label IGP (Indicazione Geografica

Protetta), accrochés aux murs

et aux balcons des villages de la

région. Parmi les autres délices

culinaires, citons les vins rouges

raffinés de la Basilicate - Aglianico

del Vulture et Aglianico del Vulture

Superiore, ainsi que son célèbre

fromage Pecorino

STAND 1 - V62, V53

La gastronomie, un atout dans la

promotion du tourisme du Pérou

Il ne se passe pas une année sans

que le Pérou ne rafle un prix lié

à sa gastronomie. Une cuisine

savoureuse, entre traditions andines

et européennes, a propulsé le Pérou

au top des meilleures destinations

du tourisme culinaire. Ce qui est

mis en valeur sur l'IFTM Top Resa

2022. "C'est un point très fort de

notre promotion car nous avons

l'intention de devenir l'une des

premières destinations du tourisme

culinaire. On vient d'ailleurs de faire

une grande semaine gastronomique

à Paris pour la promotion des

cuisines régionales péruviennes et

des "super-aliments" pour la santé",

explique Elisabeth Hakim, Directrice

Régionale Europe de Promperu.

L'offre touristique joue donc cette

carte culinaire avec de nombreuses

activités. On peut effectuer

des circuits guidés de marchés

traditionnels, suivre des cours

en école de cuisine avec un chef,

découvrir des plats incas ou des

plantations de café. A IFTM, on

peut aussi déguster un café local,

un chocolat ou un pisco. Un bon

amuse-bouche !

STAND 1 - P20

Marcella Di Feo (on the right), from National and International

Martketing Department of the Regional Tourist Office of

Basilicata and her Consult AnnaMaria Donadio.

Gastronomy, a key asset for the

promotion of tourism in Peru

Not a year goes by without Peru

winning a prize which is linked to

its gastronomy. A tasty cuisine,

blending Andean and European

traditions, has propelled Peru to

the top of the best culinary tourism

destinations. Asked what is being

highlighted at IFTM Top Resa 2022,

the European Regional Director of

PromPeru, Elisabeth Hakim said:

"This is a very strong point of our

promotion because we intend

to become one of the leading

destinations for culinary tourism. We

have just had a major gastronomic

week in Paris to promote Peruvian

regional cuisines and superfoods

for health."

Peru's tourism offering therefore

plays this culinary card with a

wide range of activities to chose

from. You can take guided tours of

traditional markets, take courses

in a cooking school with a chef or

discover Inca dishes and coffee

plantations. And at IFTM Top Resa,

visitors can already enjoy a local

coffee, chocolate or pisco. A good

appetizer!

STAND 1 - P20

The Italian region of Basilicata is

putting forward its best ingredients at

IFTM Top Resa 2022

The southern region is looking

to attract visitors with its

culinary heritage, a mixture

of cheese, wine and crispy

peppers.

Basilicata, like many parts of

Italy, is famed for its gastronomy,

but if there was one ingredient

to pick, it would certainly be the

Senise or Crusco Pepper, whose

name reflects its unmistakable

crunchiness after being dried

and fried in extra virgin olive oil.

During the months of August

and September, these bright red

vegetables, which have been given

an IGP (Indicazione Geografica

Protetta) label, can be seen

hanging from walls and balconies

in villages across the region. Other

culinary treats include Basilicata's

refined red wines - Aglianico del

Vulture and Aglianico del Vulture

Superiore, as well as its infamous

Pecorino cheese

STAND 1 - V62, V53

18 IFTM DAILY • JEUDI/THURSDAY 22 SEPT. 2022

www.iftmdaily.com
---
WHERE

TO GO IN

PARIS

© Emilio Del Prado

Les brasseries,

des lieux si parisiens

Ce sont des institutions à Paris :

les brasseries incarnent depuis

plus d'un siècle une certaine idée

de la tradition gastronomique

française. Tout en plongeant leurs

hôtes dans une atmosphère très

parisienne...

La Coupole est incontournable. Le

restaurant mythique de Montparnasse

ne désemplit pas, accueillant avec la

même efficacité Parisiens permanents

ou de passage. Dans l'opulence de son

décor art déco, on se régale de ses

extraordinaires assiettes de fruits de

mer...

plus vieilles de Paris puisqu'ouverte en

1876. Dans cette brasserie de style Belle

Epoque, l'esprit des menus reste très

parisien avec une pointe contemporaine

du Chef Mathieu Bucher.

Autre brasserie traditionnelle,

Thoumieux, avec vue sur la Tour Eiffel.

L'établissement a connu une cure de

jouvence avec un nouveau décor plus

élégant et contemporain sans renoncer

à l'atmosphère d'un restaurant 1900. Au

menu, des plats typiques de brasserie

revisités donnent une cuisine française

traditionnelle, copieuse

et inventive.

La Coupole

© Chris Jepson

© sortiraparis.com

Voici l'institution de la Bourse,

Gallopin. Cette brasserie est l'une des

Brasseries capture

essence of Paris

They are true institutions, which

have embodied a big part of

France's gastronomic tradition for

over a century, and plunge their

diners into the atmosphere of

Paris.

You cannot miss La Coupole. The

mythical restaurant in Montparnasse is

always busy, welcoming local Parisians

or visitors with the same efficiency. In the

opulence of its art deco decor, one can

enjoy its extraordinary seafood dishes…

An institution near to the stock

exchange is Gallopin. Opened in

1876, this brasserie is one of the oldest

in Paris. In this Belle

Epoque style brasserie,

the spirit of the menus

remains very Parisian

with a contemporary

twist from Chef Mathieu Bucher.

Brasserie Gallopin

With a view on the Eiffel Tower,

Thoumieux, a traditional brasserie, has

undergone a facelift with a new, more

elegant and contemporary décor, but

without giving up the atmosphere of a

1900s restaurant. On the menu, typical

revisited brasserie dishes create a

traditional, hearty and inventive French

cuisine.

Brasserie Thoumieux

IFTM DAILY • JEUDI/THURSDAY 22 SEPT. 2022 19