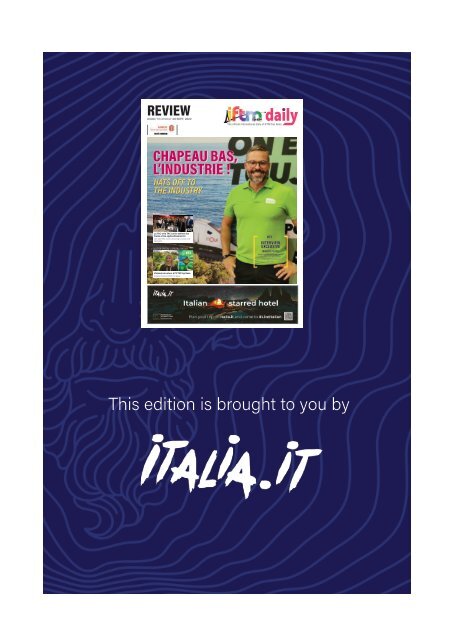 You also want an ePaper? Increase the reach of your titles
YUMPU automatically turns print PDFs into web optimized ePapers that Google loves.
REVIEW

JEUDI/THURSDAY 29 SEPT. 2022

The official international daily of IFTM Top Resa

CHAPEAU BAS,

L'INDUSTRIE !

HATS OFF TO

THE INDUSTRY

ACTUALITÉS / NEWS

#03

La TAC et la TAC Junior attirent les

foules et les applaudissements

TAC and TAC Junior draw big crowds and

applause

DOSSIER SPECIAL / SPECIAL FEATURE

#13

#11

INTERVIEW

EXCLUSIVE

MARCO FILIPE

Responsable SNCF animation

des agences de voyage

SNCF travel agency entertainment

manager

L'Islande de retour à l'IFTM Top Resa

Iceland back at IFTM Top Resa

This edition is brought to you by
---
REVIEW

JEUDI/THURSDAY 29 SEPT. 2022

The official international daily of IFTM Top Resa

CHAPEAU BAS,

L'INDUSTRIE !

HATS OFF TO

THE INDUSTRY

ACTUALITÉS / NEWS

DOSSIER SPECIAL / SPECIAL FEATURE

#03

La TAC et la TAC Junior attirent les

foules et les applaudissements

TAC and TAC Junior draw big crowds and

applause

#13

#11

INTERVIEW

EXCLUSIVE

MARCO FILIPE

Responsable SNCF animation

des agences de voyage

SNCF travel agency entertainment

manager

L'Islande de retour à l'IFTM Top Resa

Iceland back at IFTM Top Resa
---
I ACTUALITÉS I NEWS

I

The official international daily of IFTM Top Resa

IFTM Daily is a CLEVERDIS Publication

439 Route de la Seds, 13127 Vitrolles,

France • Tel: + 33 442 77 46 00

• SAS capitalised at €155,750

• VAT FR 95413604471

• RCS Salon de Provence 413 604 471

• info@cleverdis.com

• www.cleverdis.com

• www.iftmdaily.com

President & Publisher: Jean-François Pieri

• Senior Project Managers: Bettina Badon

• Account Managers: Sara Hirache, Benjamin

Klene, Veronika Verzhak • Event Manager:

Zineb Elhabiri • Head of Editorial Team:

Emiliana Van Der Eng

• Senior Editor: Thomas Campbell

• Editors: Luc Citrinot, Laura Sharman,

Florent Clerq • Art Director: Hélène Beunat

• Design & Page Setting, Webmaster:

Guillaume Vinrich. With the participation of:

Philipp Schiberna.

>>> To contact them: first name.last name@cleverdis.com

• Cover: © Cleverdis

© CLEVERDIS 2022 - Registration

of Copyright September 2022.

Information presented in this

publication is purely indicative in

order to illustrate subjects contained

therein. No guarantee can be given

as to the accuracy of data or content

at time of printing and thus the latter

should not be used for professional

or commercial ends. While all efforts

have been made as to accuracy

and pertinence of content and

data contained in this publication,

CLEVERDIS may in no case be held

responsible for the consequences,

whatever their nature may be, that

may result from the interpretation of

this data or content, or any eventual

errors therein. Any reproduction of

the content of this publication, even

partial, by any means whatsoever,

is strictly prohibited without the

prior autorisation of the publisher.

Any copy, whether by photography,

photography film, magnetic tape, disc

or other means constitutes a forgery,

liable to punishment under French

law according to the legislation of

11 th March 1957 covering copyright.

All brands cited in this publication

are registered trade marks and/

or belong to companies which are

their respective proprietors. The

publishers and editorial staff decline all

responsibility as to opinions formulated

in this publication by those interviewed

or cited therein. Their opinions are

entirely their own, and are included

with the understanding that they

contain, to our knowledge, no malicious

intent. The inclusion of all texts,

photographs and other documents

supplied by those included in this

publication imply the acceptance by

their authors of their free publication

therein. Documents and photographs

will not be returned. It should be

understood that this publication

contains forward-looking statements

that involve risks, uncertainties and

assumptions. All statements other

than statements of historical fact are

statements that could be deemed

forward-looking statements. Risks,

uncertainties and assumptions include

assumptions relating to the timing of

the recorded date. If any of these risks

or uncertainties materialises or any of

these assumptions proves incorrect,

actual results could differ materially

from the expectations outlined in

these statements. Cleverdis assumes

no obligation and does not intend

to update these forward-looking

statements during the period of

publication. Photo Credits and

Copyright: All Rights Reserved.

La TAC et la TAC

Junior attirent

les foules et les

applaudissements

à l'IFTM Top Resa

2022

Comme chaque année à IFTM, la Travel Agents

Cup (TAC) a récompensé les meilleurs agents

de voyages de France. Elle a été précédée par la

TAC Junior, qui a sélectionné le Meilleur Vendeur

Espoir de la Destination France.

Les 12 finalistes de la

Travel Agents Cup se

sont succédé sur la scène

principale de l'Arena pour

présenter leur scénario de

voyage, préalablement tiré

au sort. Le jury, composé de

professionnels du secteur

et présidé par Sophie

Jovillard, a sélectionné

quatre gagnants.

• 1 ER PRIX

Matthieu Delouche

(Havas Voyages – Clermont Ferrand

USA) ;

• 2 ÈME PRIX

Estelle Kerlidou

(Carrefour Voyages – Vannes) et

Amandine Mottola

(Selectour – Bleu Voyages) ;

• 3 ÈME PRIX

Kalliopi Karaoulanis

(American Express – Business Travel).

Le public a aussi pu voter

pour son coup de cœur

et a récompensé Emilie

Bernaud (Cediv Travel -

Ellipse Voyage).

La TAC était précédée par

la TAC Junior, en partenariat

avec la FFTST (Fédération

française des techniciens

et scientifiques du

tourisme) et la Nouvelle-

Aquitaine. Ouvert à tous

les étudiants de France

(métropole et outre-mer)

aspirant à travailler dans

le secteur du voyage, le

concours a accueilli huit

finalistes présentant une

destination en Nouvelle-

Aquitaine.

Les lauréats de cette

année sont :

• 1 ER PRIX

Adeline Patry

ISTHIA Toulouse Université Jean Jaurès

• 2 ÈME PRIX

Tom Moinet, IMS Nantes

• TIRAGE AU SORT

Maïlys Le Gurudec,

IMS Nantes

• LA FAVORITE DU PUBLIC

Lucie Michon, IEFT Lyon

TAC and TAC Junior draw

big crowds and applause at

IFTM Top Resa 2022

As every year at IFTM, the Travel Agents Cup (TAC)

rewarded the best travel agents in France at IFTM Top Resa

2022. It was followed by the TAC Junior, which selected the

best upcoming seller of the Destination France.

The 12 finalists of the Travel

Agents Cup followed one another

on the main stage of the ARENA

to present their travel scenario,

which had previously been drawn

at random. The jury, made up

of industry professionals and

chaired by Sophie Jovillard,

selected three winners.

This years winners include:

• 1 ST PRIZE

Matthieu Delouche

(Havas Voyages – Clermont Ferrand USA)

• 2 ND PRIZE

Estelle Kerlidou

(Carrefour Voyages – Vannes) and

Amandine Mottola

(Selectour – Bleu Voyages)

• 3 RD PRIZE

Kalliopi Karaoulanis

(American Express – Business Travel)

The public were also given the

opportunity to vote for their Coup

de coeur and rewarded Emilie

Bernaud (Cediv Travel – Ellipse

Voyage).

It was followed by the TAC Junior,

in partnership with the FFTST

(French Federation of Tourism

Technicians and Scientists) and

the New Aquitaine. Open to all

students in France (Metropolis

and Overseas) aspiring to

work in the travel industry, the

competition saw eight finalists

present a destination in New

Aquitaine.

This year's winners include:

• 1 ST PRIZE

Adeline Patry,

ISTHIA Toulouse Jean Jaurès University

• 2 ND PRIZE

Tom Moinet,

IMS Nantes

• DRAWN AT RANDOM

Maïlys Le Gurudec,

IMS Nantes

• AUDIENCE FAVOURITE

Lucie Michon, IEFT Lyon

IFTM DAILY • JEUDI/THURSDAY 29 SEPT. 2022 3
---
I ACTUALITÉS I NEWS

I

Laurence

Gaborieau

Directrice du salon IFTM

Top Resa

Director IFTM Top Resa

Chapeau bas, l'industrie !

Après le coup de sifflet final d'IFTM Top Resa 2022, Laurence Gaborieau

partage ses réflexions sur le succès du salon et ce qui s'en vient

Comment s'est déroulé le salon ?

Quels ont été les faits marquants ?

Ce fut une grande satisfaction.

Une fois les portes ouvertes, il a

été impressionnant de voir toute

cette foule arriver. Avec son riche

programme d'événements et

conférences, concentrés sur les trois

jours du salon, cette édition n'en a

été que plus forte en émotions et

en dynamisme, dans une incroyable

atmosphère. Je pense aussi que

l'année dernière a été une occasion

de se retrouver ; cette année, il

s'agissait d'un peu plus : le retour

aux affaires, ce à quoi nous avons

assisté.

Avez-vous quelques chiffres à

partager ?

Le nombre de visiteurs individuels

en 2021 avoisinait les 24 000

personnes ; cette année, nous avons

largement dépassé ce chiffre, avec

29 475 visiteurs professionnels

présents à l'IFTM Top Resa

2022. Avec 1 200 marques et 170

destinations exposant sur le salon

cette année, nous sommes donc

dans une excellente position si l'on

regarde le ratio visiteurs/exposants.

En fait, nous avons même dépassé

nos attentes. Ce qui ne veut pas

dire que nous ne devons pas nous

améliorer. Nous avons encore

beaucoup de travail à réaliser pour

l'édition 2023.

Y a-t-il des événements ou des

conférences sur lesquelles vous

souhaiteriez revenir ?

En effet, de très nombreux

événements ont eu lieu cette année,

comprenant la Travel Agents Cup, la

Travel Agents Cup Junior, le StartUp

Contest et le Hackathon IFTM by

CDS Groupe, qui ont rencontré un

succès énorme. Nous avons aussi

installé deux nouveaux espaces, "Le

Village de l'Attractivité" et "L'Espace

Tourisme Durable", qui n'ont pas

désempli sur toute la durée du salon.

L'espace Conversations - notre

nouveau format de conférences,

pensé pour susciter l'échange et la

collaboration - a également été très

bien reçu. Nous voulions placer les

agences de voyages au centre de

l'attention cette année, et ce nouveau

So how was the show? What were

the highlights?

It was a success right from the

start. As soon as we opened the

doors, it was impressive to see the

crowd of people arriving. Thanks to

its rich programme of events and

conferences, the past three days

have been ever more powerful

and dynamic, with an incredible

atmosphere. Also I think that while

last year was everyone coming back

together again, this year is more than

that, it's back to doing business and

that's what we've seen happening

across the trade show floor.

Could you share some figures with

us?

The number of visitors in 2021 was

around 24,000 ; this year, we were

largely above this number, with

29,475 trade professionals having

format leur a permis de participer et

de revenir sur leurs expériences.

Que gardez-vous en stock pour

l'édition prochaine ?

Bien évidemment, nous ne prendrons

aucune décision avant qu'elle n'ait

été validée par les exposants et

les visiteurs, mais j'aimerais créer

un espace dédié aux destinations

internationales, afin de partager

les connaissances et expériences,

afin que chacun puisse en retirer un

enseignement.

attended IFTM Top Resa 2022. With

1 200 brands and 170 destinations

exhibiting, we are thus in a very

good position when you look at the

ratio of visitors vs. exhibitors. In fact,

we have surpassed expectations.

Were there any events or

conferences which you would like

to highlight?

Indeed there were even more

events taking place this year,

including the Travel Agents Cup,

Junior Travel Agents Cup, StartUp

Contest and the Hackathon which

went really well. We also had two

new villages - Attractiveness and

Sustainability, which were always a

hive of activity. Our new conference

format - Conversations - which was

designed to promote exchange and

collaboration, was also very well

received. This year we wanted to

Avez-vous un message à adresser à

l'industrie ?

Comme j'ai pu le dire lors de mon

discours d'ouverture, j'aimerais

tirer mon chapeau à l'ensemble

de l'industrie. Car après tous les

challenges traversés et tout ce par

quoi ils sont passés, ils continuent de

faire face, montrant leur incroyable

résilience ainsi que leur passion

envers cette industrie

Hats off to the industry

After the final whistle blew at IFTM Top Resa 2022, Laurence Gaborieau

shares her thoughts about the show and what's to come

make travel agents the centre of

interest and this new format enabled

them to directly participate and

feedback their experiences.

What do have in store for next year?

Of course I will not be taking any

decision without it firs being

validated by our visitors and

exhibitors, but I would like to

create a space to encourage

international destinations to share

their knowledge and experiences so

everyone can learn from them.

Have you got a message for the

industry?

Well, like I said in my inauguration

speech, I would like to take my hat

off to the industry. Because after

everything they have been through

and the challenges they continue

to face, they are incredibly resilient

and passionate about this industry

4 IFTM DAILY • JEUDI/THURSDAY 29 SEPT. 2022

www.iftmdaily.com
---
I ACTUALITÉS I NEWS

I

Gekko Group, première

participation réussie à

IFTM Top Resa

Le groupe Gekko, propriétaire de plateformes de distribution

d'hôtels B2B (Teldar/HCorpo/Infinite), de programmes

d'incentives (Miles Attack/Miles & Act) et d'une division éditeur

de technologie (Gekko Tech), participait pour la première fois

au salon IFTM Top Resa.

L'Aveyron met la visite

d'entreprise à l'honneur

L'agence départementale de l'Attractivité et du Tourisme de

l'Aveyron et les professionnels aveyronnais étaient présents

sur IFTM Top Resa. Une présence qui a permis de présenter

le département sous un jour nouveau, celui du tourisme à la

découverte d'entreprises.

Une occasion pour le groupe de

présenter son expertise à 360° de la

distribution d'hôtels à la fidélisation

sur un stand unique, tout en mettant

en valeur l'innovation digitale qui

caractérise Gekko.

Le groupe avait organisé une

série d'animations pour mieux se

faire connaître des professionnels

et valoriser le savoir-faire de ses

marques : le grand jeu Gekko du

Ticket Gagnant a permis de gagner

des milliers de surprises, incluant

des trottinettes électriques, des

bons dans des hôtels ou encore

des actions "Time for the planet".

Le grand jeu Miles Attack, organisé

avec plusieurs partenaires du

monde des transports, des TO ainsi

que Teldar Travel permettait de

gagner des miles et de participer à

un tirage au sort avec billets d'avion

et nuits d'hôtel

Outre les sites traditionnels du

département comme le viaduc de

Millau, les caves de Roquefort ou les

Cités Templières, la thématique de

cette année est la visite d'entreprises.

En Aveyron, 14 établissements sont

en effet labellisées "Entreprises

et Découverte". On y trouve aussi

bien des petites entreprises

familiales ou artisanales que des

grands noms présents depuis

longtemps sur le territoire. Elles

couvrent des domaines aussi variés

que l'agriculture, le bâtiment, la

confection, l'agro-alimentaire ou

les métiers d'art. Ces entreprises

organisent des portes ouvertes pour

un large public.

Une activité qui assoit l'Aveyron

parmi les destinations françaises du

tourisme industriel et d'entreprises.

De fait, 5 entreprises aveyronnaises

figurent au Top 10 des compagnies

les plus visitées de la région

Occitanie

Aveyron puts forward

its local businesses

The department's agency for

Attractivity and Tourism and

the tourism professionals from

Aveyron presented some of

their best local businesses

at IFTM Top Resa, allowing

visitors to view the region in a

new light.

In addition to the department's

traditional sites like the Millau

Viaduct, Roquefort Cellars or

Templar Cities, this year's theme

focused on its local businesses. In

fact 14 establishments in Aveyron

have been categorised "Companies

and Discovery". These include both

small family or craft businesses,

as well as big names which have

been operating in the area over a

long period of time. The businesses

being presented covered a wide

range of sectors, from agriculture

to construction, clothing, food

and crafts. These companies are

organising 'open houses' for visitors

to explore. This activity establishes

Aveyron among the top French

destinations for industrial tourism. In

fact, 5 Aveyron companies are in the

Top 10 of the most visited companies

in the Occitanie region

Gekko Group's first IFTM Top

Resa is a resounding success

Gekko group, which owns B2B

hotel distribution platforms

(Teldar/HCorpo/Infinite),

incentive programmes (Miles

Attack/Miles & Act) and a

technology division (Gekko

Tech), was attending IFTM

Top Resa for the first time.

It was an opportunity for the group

to showcase its 360° expertise

in hotel distribution and loyalty

building on a single stand, while

also highlighting its latest digital

innovations.

The group organised a series of

activities to promote the knowhow

of its brands to professionals,

including the big game Gekko du

Ticket Gagnant, giving visitors

the chance to win thousands

of surprises, including electric

scooters, hotel vouchers and "Time

for the planet" actions. Also The big

Miles Attack game, organised with

several partners from the transport

industry, tour operators and Teldar

Travel, where visitors could earn

miles and take part in a draw with

plane tickets and hotel nights

IFTM DAILY • JEUDI/THURSDAY 29 SEPT. 2022 5
---
I ACTUALITÉS I NEWS

I

@ FlickR

Nilaya, une maison d'hôtes

célébrant le tourisme

durable au Kerala

Akadream, Leofine and

Dealy entrent au palmarès du

Hackathon IFTM by CDS Groupe

après une intense bataille

Sponsorisé par CDS Groupe, le Hackathon a vu s'affronter

sept équipes constituées d'étudiants, qui avaient chacune 24

heures pour coder une application de réservation en ligne plus

responsable autant envers l'environnement que la société.

Présent à l'IFTM Top Resa sur le

stand BB Voyages, Nilaya est un

nouveau mini-resort situé près

d'une rizière dans le village d'Irulam

à Wayanad, au Kerala en Inde. Elle

est l'œuvre d'un couple francoindien.

La maison est idéale pour

des voyageurs français, curieux

de découvrir la ruralité indienne

et de connaître les expériences

d'un couple qui a "construit" sa

vie à cet endroit. Niyala propose

deux chambres d'hôtes, un espace,

"The Central Bloc", dédié à la

rencontre, ainsi qu'une hutte tribale

traditionnelle. Le tout s'intègre à un

jardin, où sont cultivés des légumes

bio, et s'ouvre sur les rizières.

Avec ses structures en saillie,

Nilaya est une icône architecturale

contemporaine mais respectueuse

de son cadre. Le lieu a en effet

scrupuleusement respecté son

environnement. La façade offre

ombrage et protection contre

la pluie, la ventilation comme

l'éclairage sont naturels. Les

matériaux de construction

comprennent des briques

récupérées de bâtiments démolis,

du bambou et des tuiles de terre

cuite traditionnelles. Le resort a

ainsi obtenu le prix "Sustainable

India"

Les lauréats ont été désignés ce

mercredi 21 septembre après une

course acharnée pour trouver

l'option la plus durable pour le

secteur des voyages. Durant la finale,

les équipes se sont succédé sur la

scène de l'Agora afin de présenter

leur solution au jury et au public.

Le grand gagnant, Aquadream,

a reçu un chèque de 3000 euros

à partager entre les membres de

l'équipe. Egalement sur le podium,

Leoline a quant à lui remporté le

prix du Président, soit un partenariat

R&D passé directement avec le

groupe CDS. Dealy a lui aussi été

récompensé par le prix du Public,

soit un séjour pour toute l'équipe

dans les hôtels The Originals.

During the Hackathon,

sponsored by CDS Groupe,

seven teams made up of

students, were given 24 hours

to code an online booking tool

which is more responsible for

society and the environment.

The winners were announced on

Wednesday, September 21 after

an intense race to find the most

sustainable solution for business

Le jury était composé de Laurence

Gaborieau, directrice d'IFTM Top

Resa ; Ziad Minkara, PDG du groupe

CDS ; Karim Bennaziz Houmane,

responsable international chez

Commercial Cards Sales ; Cécile

Béréhouc, directrice des ventes

chez Adagio Aparthotels ; Amélie

Berruex, associée et directrice

d'Axys Odyssey ; Caroline

Harauchamps, directrice France

chez Saber Corporation ; Pierre

Mesnage, directeur général de

Goelett ; Laurent Paty, responsable

des ventes de distribution hôtelière

en ligne chez Amadeus Value Hotel ;

et enfin Louis Jeanneau, directeur

chez Bpi France

Akadream, Leofine and Dealy enter

IFTM Hackathon by CDS Groupe

hall of fame after an intense battle

travel. During the final, each team

followed one another on the main

AGORA stage to present their

solution to the jury and public. This

year's first prize winners, Akadream,

will receive a check for 3000 euros,

shared amongst the team. Also

on the podium was Leofine, who

won the President's Prize, an R&D

partnership with CDS Groupe. Dealy

was also rewarded by the audience,

winning the Public Prize and a stay

at The Originals hotels

Nilaya, a guesthouse

celebrating sustainable tourism

in Kerala

Attending IFTM Top Resa with BB

Voyages, Nilaya is a newly-opened

mini-resort located in the midst of

rice fields in the village of Irulam

in Wayanad, Kerala, India. It was

created by a Franco-Indian couple.

The house is ideal for French

travellers, curious to discover Indian

countryside and learn from the

owners who have "built" their entire

life in this place. Nilaya offers two

guest rooms, "The Central Bloc",

a central meeting area, as well as

a traditional tribal hut. Everything

is integrated into a garden, where

organic vegetables are grown, and

opens out onto the surrounding rice

fields.

With its protruding structures,

Nilaya is a beacon of contemporary

architecture, which also respects

its rural setting and environment.

The facade provides shade and

protection against rain, while the all

of the ventilation and lighting are

natural. Building materials include

salvaged bricks from demolished

buildings, bamboo and traditional

clay tiles. The resort has therefore

been given a "Sustainable India"

award.

6 IFTM DAILY • JEUDI/THURSDAY 29 SEPT. 2022

www.iftmdaily.com
---
I ACTUALITÉS I NEWS

I

Rio impressionne à l'IFTM Top Resa

2022 avec une expérience immersive

Riotur, office du tourisme officiel

de la municipalité de Rio de

Janeiro, était présent à l'IFTM

Top Resa 2022, avec l'intention

assumée d'attirer le regard des

touristes français grâce à un

stand haut en couleurs

Une expérience immersive a été proposée aux

visiteurs du salon qui ont pu virtuellement

parcourir la ville et percevoir "un véritable avantgoût

de l'esprit de Rio".

Les visiteurs ont été invités

à prendre place dans un

cube et à profiter d'une

projection présentant les

points d'intérêt de Rio

de Janeiro, incluant la

traversée en téléphérique

du Pain de Sucre et les

vols en parapentes au

large de Pedra Bonita. Les

murs réfléchissant des

cubes étaient recouverts

de miroirs, donnant ainsi

l'impression aux visiteurs

de faire partie de l'action se

déroulant sous leurs yeux.

Cette expérience immersive

mettait également en

valeur une large variété de

spectacles, dont le fameux

Carnaval de Rio qui a lieu en

février et qui ne constitue

rien de moins que l'un des

événements à ciel ouvert les

plus importants au monde.

Le réveillon du nouvel an,

organisé sur la plage de

Copacabana et qui réunit

quant à lui près de deux

millions de personnes pour

un grand feu d'artifice ainsi

que des spectacles et de la

musique, était également à

l'honneur.

L'institution cherche à

attirer les voyageurs

internationaux avec sa

campagne publicitaire

intitulée "Come Cariocar",

une référence au lifestyle

local et à la culture. La

vice-présidente de Riotur,

Fabiana Misse, a déclaré :

"Nous avons le soleil toute

l'année, ce qui signifie

que les visiteurs peuvent

profiter de la plage et des

activités en extérieur. Le

tourisme national est de

nouveau en plein essor,

et c'est pourquoi nous

sommes maintenant prêts

pour le retour du tourisme

ON OBSERVE

DÉJÀ UNE

AUGMENTATION

RAPIDE DES

ARRIVÉES ET LES

RÉSERVATIONS

PROVENANT DE

L'INTERNATIONAL

international. On observe

déjà une augmentation

rapide des arrivées et les

réservations provenant de

l'international".

L'office du tourisme prévoit

maintenant de faire voyager

son cube autour du monde,

afin de piquer la curiosité

des agences de voyages

et des tour-opérateurs, en

faisant ainsi la vitrine du

meilleur de ce que Rio a à

offrir

Fabiana

Misse

Vice-Présidente,

Vice-President,

Riotur

Rio wows at IFTM Top Resa

2022 with immersive experience

Riotur, the official tourism Board of the municipality of Rio

De Janeiro, was at IFTM Top Resa and looking to attract

French tourists with its eye-catching stand

They offered trade show visitors an immersive

experience so they could virtually travel to the city

and get a "real feel for the spirit of Rio".

Visitors were invited to step

into a giant cube and enjoy a

projection of highlights from

Rio De Janeiro, including

crossing the Sugarloaf

cable car and paragliding

off Pedra Bonita. The cubes'

reflective walls, covered in

mirrors, gives visitors the

impression that they are

part of the action.

The immersive experience

also highlighted a wide

range of entertainment,

including the famed

Carnival, which takes place

in February and is one of

largest open air events in

the world. New Year's eve on

Copacabana beach, where

two million people gather

to watch the fire works and

celebrate with shows and

music, was also on display.

The organisation is looking

to attract international

travellers with its marketing

campaign titled "Come

Cariocar", referencing the

local lifestyle and culture.

Fabiana Misse, Vice-

President at Riotur said:

"We have sun throughout

the year which means

visitors can always enjoy

the beach and outdoor

activities. Internal tourism

is back in full swing and

that's why now, we are

ready for the international

WE ARE

ALREADY

SEEING ARRIVALS

AND BOOKINGS

FROM

INTERNATIONAL

DESTINATIONS

RISING QUICKLY.

market to return. We are

already seeing arrivals and

bookings from international

destinations rising quickly."

The organisation is now

planning on taking its

immersive cube around the

world to peak the interest of

outbound agencies and tour

operators by showcasing

the very best of what Rio

has to offer

IFTM DAILY • JEUDI/THURSDAY 29 SEPT. 2022 7
---
I ACTUALITÉS I NEWS

I

Finnair repense

son modèle sans

oublier l'Asie

Finnair a revu sa stratégie, avec une

réorientation vers des marchés d'Asie

du Sud et vers les Etats-Unis. Une decision

stratégique explique Javier Roig, Directeur France et Europe du

Sud de Finnair à IFTM Daily.

"Il faut que l'on ouvre un autre

chapitre." Après avoir assis sa

réputation de compagnie de

niche avec les vols les plus courts

entre Europe et Asie, la situation

géopolitique a forcé Finnair à

repenser entièrement son modèle.

"On a été obligé de travailler sur

une nouvelle stratégie qui prend en

compte l'interdiction de vol dans

l'espace aérien russe", explique

Javier Roig.

Finnair a donc révisé son réseau et

suspendu la desserte de certaines

lignes, notamment vers le Japon et

la Chine. "Mais nous n'abandonnons

pas pour autant l'Asie. Nous volons

toujours vers Tokyo-Haneda, Séoul,

Shanghai et Hong Kong, mais on se

concentre davantage sur l'Asie du

Sud, là où nous restons compétitifs

par rapport à d'autres compagnies

en terme de fréquences et de

produit. On dessert ainsi Delhi et

Mumbai en Inde, et on a mis notre

Airbus A350-900 avec la nouvelle

classe affaires et la toute nouvelle

Economy Premium sur Singapour.

Elle arrivera également en

novembre sur Bangkok", explique

Javier Roig.

Autre nouvel axe de développement,

le lancement de lignes vers Doha

en partenariat avec Qatar Airways.

Finnair reviews strategy and

keeps Asia in picture

Finnair has reviewed its strategy and reorientated itself

towards markets in South Asia and the United States. This was

a strategic move, Javier Roig, Director France and Southern

Europe of Finnair explains to IFTM Daily.

"We have to open another chapter."

After establishing its reputation as

a 'niche company' with the shortest

flights between Europe and Asia,

the challenging geopolitical

situation has forced Finnair to

completely rethink its model. "We

had to work on a new strategy that

takes into account the flight ban in

Russian airspace," explains Javier

Roig.

Finnair has therefore revised

its network and suspended the

service on certain routes, in

particular to Japan and China. "But

we are not giving up on Asia. We

are still flying to Tokyo-Haneda,

Seoul, Shanghai and Hong Kong,

but we are focusing more on South

Asia, where we remain competitive

compared to other companies in

terms of frequencies and product.

We serve Delhi and Mumbai in

India, and we have put our Airbus

A350-900 with the new business

class and the brand new Economy

Premium on Singapore. It will also

arrive for Bangkok in November ",

says Javier Roig.

"Là aussi, il s'agit de maximaliser

l'utilisation de notre flotte. On

proposera ainsi trois vols quotidiens

en A330 depuis Copenhague,

Helsinki et Stockholm", précise

encore le Directeur Europe du Sud.

Avec un réseau en expansion

sur les Etats-Unis - notamment

l'ouverture de Dallas -, la location

d'appareils à d'autres compagnies

aériennes, Finnair espère redevenir

bénéficiaire en 2023. "Ce serait un

bon signe car la compagnie fêtera

ses 100 ans l'an prochain", ajoute

Javier Roig

Another new area of ​development

is the launch of routes to Doha in

partnership with Qatar Airways.

"Here too, it is a question of

maximizing the use of our fleet. We

will thus be offering three daily flights

in the A330 from Copenhagen,

Helsinki and Stockholm", the

Director of Southern Europe adds.

With an expanding network in

the United States - in particular

the opening of Dallas, and aircraft

rentals to other airlines, Finnair

hopes to return to profit in 2023. "It

would be a good sign because the

company will celebrate its 100th

anniversary next year," says Javier

Roig

LES BATEAUX

MOUCHES

ÉTOFFENT

LEUR OFFRE

MICE

La Seine et la Compagnie

des Bateaux Mouches sont

indissociables à Paris. Cette

véritable institution touristique

accueille chaque année plus

de 2,5 millions de visiteurs…

Un succès qui en fait la

quatrième attraction touristique

payante de la capitale. Mais

il n'y a pas que les bateaux.

La compagnie présenta à

l'IFTM Top Resa un de ses plus

récents développements - le

lieu "Mademoiselle Mouche",

un rooftop en bordure de Seine

avec une vue panoramique sur

la Tour Eiffel. L'infrastructure est

disponible pour des événements

privés, comprenant jusqu'à 400

personnes. Alternativement,

un restaurant accueille 70

personnes assises et 280

personnes pour un cocktail

THE BATEAUX

MOUCHES

EXPAND

THEIR MICE

OFFERING

The river Seine and Compagnie

des Bateaux Mouches are

inseparable in Paris. The tourist

attraction welcomes more than

2.5 million visitors each year…

A success that makes it the

fourth paying tourist attraction

in the capital. But it's not just

about the boats. At IFTM Top

Resa, the company presented

its most recent development -

the "Mademoiselle Mouche", a

rooftop on the edge of the Seine

with a panoramic view of the

Eiffel Tower. The infrastructure is

available for private events, with

capacity for up to 400 people.

Alternatively, there is also a

restaurant which accommodates

70 seats and 280 people for

cocktails

8 IFTM DAILY • JEUDI/THURSDAY 29 SEPT. 2022

www.iftmdaily.com
---
I PAROLES DE PROFESSIONNELS I TRADE TALK I

Aquatech et Xenia

remportent le concours

des startups IFTM Top

Resa 2022 ; Travelhand

s'attire les faveurs du

public

Les gagnants du concours de cette année ont été

annoncés à 17h30 ce mardi 20 septembre dans

l'Agora.

La compétition a pour but de

récompenser les initiatives les

plus innovantes présentées

chaque année au cours du

salon. Pendant la finale, dix

startups ont eu 4 minutes

pour présenter leur innovation

au public et répondre aux

différentes questions. Les

meilleurs candidats ont alors

été sélectionnés par le jury,

aux côtés du Coup de Cœur

choisi par le public. La société

montpelliéraine Aquatech

était l'une de ces compagnies

à se partager le podium, avec

sa solution innovante pour

économiser les ressources

aquatiques, à la fois en termes

de quantité et de qualité,

limitant ainsi l'impact global

sur l'environnement.

L'autre société à avoir

séduit le jury est la startup

marseillaise Xenia, grâce à

sa solution digitale et éthique

qui permet de recueillir et

décrypter les désirs des

clients. L'application web

de l'entreprise fournit

ainsi une analyse basée

sur 12 indicateurs

émotionnels, afin que le

consommateur puisse

prendre ses décisions

sur une base informée.

Dernier cité mais pas des

moindres, Travelhand a

quant à lui été récompensé

par le public. L'innovant touropérateur

d'Aix-en-Provence

accompagne les gens et

les familles présentant des

besoins spécifiques dans la

création de leur voyage, en

offrant un large panel de

services destinés aux

personnes souffrant

d'infirmités ou de

handicaps. L'ensemble

des lauréats s'est vu

attribuer un stand

gratuit pour la prochaine

édition du salon

Aquatech and Xenia win

startup contest at IFTM

Top Resa 2022, while

Travelhand secures

public vote

The winners of this year's contest were

announced on Tuesday 20 septembre at

5h30pm in the Agora.

The competition aims to

reward the best innovative

solutions being presented

every year at the trade

show. During the final,

10 Start-Ups were

each given four

minutes to present

their innovation

to the audience

and answer any

questions. The top

contestants were

then picked by the jury,

along with the Coup de

cœur - heart throb, which

is chosen by the audience.

Montpellier-based

company Aquatech was

one of the companies

to share the podium

with its innovative

solutions for

preserving water

resources, both in

terms of quantity

and quality, and

limiting its impact

on the environment.

Sharing the limelight

with Aquatech was

the Marseille-based

startup Xenia, with its

ethical digital solution for

collecting and deciphering

desires. The company's

web application provides

analysis based on 12

emotional indicators, so

its customers can take

informed decisions. Last

but not least, TravelHand

was rewarded by the

public. The innovative

tour operator, based in

Aix-en-Provence, aims

to accompany people

or families with specific

needs throughout the

creation of their trip. It

offers a wide range of

travel services for people

with disabilities. All of the

winners will be awarded

a free stand at next year's

show

IFTM DAILY • JEUDI/THURSDAY 29 SEPT. 2022 9
---
I PAROLES DE PROFESSIONNELS I TRADE TALK I

La technologie au cœur

du tourisme

Sophie Lacour est Directrice Générale d'Advanced Tourism, un

cabinet spécialisé en prospective dans le tourisme, et membre de

l'association des Femmes du Tourisme. Elle a organisé le premier

"Village innovation" à l'IFTM Top Resa et évoque l'impact des

technologies sur le tourisme.

Votre entreprise, Advanced

Tourism, est spécialisée dans la

prospective du tourisme en lien

avec le numérique, l'innovation,

la robotique, l'AI. Peut-on encore

aujourd'hui réussir dans le tourisme

sans se soucier de ses avancées

technologiques ?

Non, dans le sens où la technologie

est partie intégrante de notre vie

quotidienne, y compris le tourisme.

Oui, dans une certaine mesure, car la

déconnexion est une tendance lourde.

La question n'est pas de se soucier

des avancées technologiques, mais

plutôt de se demander dans quelle

mesure on doit en user. Plusieurs

facteurs entrent en ligne de compte

concernant cet usage. Tout dépend

du positionnement de l'entreprise,

de la clientèle à laquelle elle

s'adresse. Certaines ont une forte

appétence pour les technologies

très innovantes, d'autres sont plutôt

tournées vers un service traditionnel

qui privilégie la relation humaine en

direct. A ceci j'ajoute la montée du

désir de durabilité. Tous ces facteurs

vont influencer des choix.

Parmi les quatre éléments cités

dans la première question, quel est

celui qui domine les évolutions du

secteur tourisme ?

L'innovation est la démarche qui

sous-tend toutes les avancées,

qu'elles soient robotiques,

numériques ou sur l'IA. Dans

notre secteur en particulier, la

numérisation est devenue la colonne

vertébrale de nos échanges avec les

clients/visiteurs/consommateurs.

L'IA se révèle très utile quand il s'agit

de prédictif ou de gestion de flux.

Comment faire pour que les

avancées technologiques et

l'humain soient compatibles ?

Les gens s'adaptent à leurs outils.

Mais le développement exponentiel

de la technologie fait naître un désir

d'humain et de relation en direct.

La difficulté est de trouver un juste

équilibre entre la satisfaction client

liée des usages technologiques

et l'irritation née d'une mauvaise

implémentation de ces solutions.

Que représente votre rôle de

chairwoman de la Chaire Tourisme

Innovation Lab de l'ESTHUA ?

La chaire permet de faire le lien

entre le monde universitaire et

socio-économique, en apportant

des réponses aux problématiques

rencontrées par les professionnels,

et en réfléchissant au tourisme de

Sophie Lacour is Managing Director of Advanced Tourism, which

specialises in tourism forecasting, and member of the association

"Women in Tourism". She helped organise the first "Innovation

Village" at IFTM Top Resa last year, and discusses the impact of

technology on tourism.

Your company, Advanced Tourism,

specialises in tourism forecasting

through digital innovation, robotics

and AI. Can we still succeed in the

tourism industry without these

technological advances?

No, because on the one hand

technology is an integral part of

everyday life, including tourism. But

yes, to a certain extent, because

disconnecting is a big trend. The

question is not about technological

advances, but rather we must ask

ourselves how much we should

use them. Several factors come

into play here. It all depends on the

positioning of the company and

its target audience. Some have a

strong appetite for very innovative

technologies, others are more

oriented towards a traditional service

that favours direct human relations.

To this, I would add the growing desire

for sustainability. All of these factors

will influence people's choices.

Among the four elements mentioned

in the first question, which one is

shaping the evolution of the tourism

industry the most?

Innovation is what underpins all

advances, whether robotic, digital

or AI. In our sector in particular,

digitisation has become the

backbone of our interactions with

customers, visitors and consumers.

AI on the other hand has proven very

useful when it comes to predictive

or flow management.

How can technological advances

harmonise with human relations?

demain et ses enjeux. Mon rôle est

principalement d'incarner cette

chaire auprès des professionnels.

Je suis absolument convaincue

qu'ils peuvent trouver un intérêt à

y participer, que ce soit pour des

études, des expérimentations ou

pour montrer leur engagement dans

l'innovation

Sophie Lacour

Directrice Générale

d'Advanced Tourism

Managing Director of

Advanced Tourism

Technology at the heart of tourism

People adapt to their tools. But

the exponential development of

technology has given rise to a desire

for human and live relationship. The

difficulty is to find the right balance

between customer satisfaction

linked to technology and the

irritation resulting from a poor

implementation of these solutions.

What does your role as chair of

the Chaire Tourism Innovation Lab

ESTHUA mean?

The Chaire makes it possible to link

the academic and socio-economic

world, by providing answers to

the problems encountered by

professionals, and by reflecting

on the tourism of tomorrow and

its challenges. My role is mainly

to embody this for professionals. I

am absolutely convinced that they

can find an interest in participating,

whether for studies, experiments

or to show their commitment to

innovation

10 IFTM DAILY • JEUDI/THURSDAY 29 SEPT. 2022

www.iftmdaily.com
---
I INTERVIEW EXCLUSIVE I EXCLUSIVE INTERVIEW I

SATISFACTION

SUR LE STAND

CABARET

CHEZ MICHOU

Le stand SNCF sur IFTM Top Resa

SNCF Booth on IFTM Top Resa

La SNCF à Green Vitesse

sur IFTM Top Resa

Marco Filipe,

Responsable SNCF animation des agences de voyage

SNCF travel agency entertainment manager

Pour la première fois, le cabaret

Chez Michou avait fait le

déplacement sur l'IFTM. Et la

fréquentation du stand avec

son décor de paillettes bleues a

attiré les acheteurs. "On a eu la

visite de comités d'entreprises

mais aussi de réceptifs et de

visiteurs étrangers, du Moyen-

Orient, du Brésil, de Belgique,

d'Espagne et des Etats-Unis",

décrit Sylvain Dufour, qui

représentait le cabaret sur le

salon. L'offre mise en valeur sur

le salon comprenait des forfaits

show et dîner. Un coup d'essai

réussi pour cette première !

Ce fut la grande thématique de la

SNCF cette année à l'IFTM Top

Resa. Le credo environnemental,

non seulement en prenant le train

mais aussi en visitant le stand.

"On avait l'un des stands les plus

durables de tout le salon", affirme

Marco Filipe, responsable SNCF

animation des agences de voyage.

Un sol en bois, des matériaux

recyclables, de vraies plantes qui

retourneront en terre après le

salon. La SNCF a voulu montrer sur

la dernière édition de l'IFTM que

son engagement environnemental

n'est pas qu'une simple annonce

marketing. "Notre actualité est

la mobilité durable et on voulait

le démontrer, à la fois avec notre

slogan "SNCF, le train à green

vitesse", et avec ce stand, explique

Marco Filipe. On a un stand

recyclable et recyclé à 90% sans

moquette, avec des produits du

commerce équitable sur notre

espace bar par exemple. Du coup,

on a même été complimenté par

la Ministre Déléguée au Tourisme

(Olivia Grégoire, ndlr)", raconte-t-il.

L'entreprise ferroviaire a profité

du salon pour présenter plusieurs

nouveautés. Comme l'approbation

de la fusion entre Thalys et Eurostar.

La nouvelle entité, sous l'unique

dénomination Eurostar, sera

effective l'an prochain. Ou encore

la possibilité prochaine d'intégrer

l'ensemble des transports d'Ilede-France

sur l'application

SNCF Connect. L'entreprise a

également confirmé qu'avec la

fin de son partenariat avec la

RENFE espagnole, elle exploiterait

désormais seule la ligne Paris-

Barcelone. Et ce, à raison de deux

à trois trains quotidiens à partir de

décembre

SNCF goes Green Speed

at IFTM Top Resa

SNCF's major theme at IFTM Top

Resa 2022 was the environment,

which was not only being promoted

by encouraging visitors to take

the train, but also by visiting the

stand. "We had one of the most

sustainable stands at the entire

show," explains Marco Filipe, SNCF

travel agency animation manager.

With a wooden floor, recyclable

materials and real plants which

were to be returned to the ground

after the show, SNCF wanted to

highlight that its environmental

commitment is not just a simple

marketing announcement. "Our

news is sustainable mobility and we

wanted to demonstrate it, both with

our slogan "SNCF, the train at green

speed", and with this stand, says

Marco Filipe. "We have a recyclable

and 90% recycled stand without

carpet, with fair trade products

in our bar area for example. As a

result, we were even complimented

by the Deputy Minister for Tourism

(Olivia Grégoire)", he says.

The railway company took

advantage of the trade show to

present several news, like the

merger between Thalys and

Eurostar. The new entity, operating

under the name Eurostar, will

effectively start operation next

year. Also regional Ile-de-France

transport will now be integrated

on the SNCF Connect application.

The company has also confirmed

it will operate the connection

between Paris and Barcelona at a

rate of two to three trains per day

from December, following the end

of its partnership with the Spanish

company RENFE

SUCCESS AT

THE CABARET

CHEZ MICHOU

STAND

Chez Michou cabaret, which

was attending IFTM Top Resa

for the first time, attracted

visitors and buyers to its blue

glittery stand. "We had the visit

of works councils but also of

receptive and foreign visitors,

from the Middle East, Brazil,

Belgium, Spain and the United

States", describes Sylvain

Dufour, who represented the

cabaret at the trade show. Show

and dinner packages were on

offer at the stand. A successful

first show!

IFTM DAILY • JEUDI/THURSDAY 29 SEPT. 2022 11
---
I VU À IFTM TOP RESA I SEEN AT IFTM TOP RESA I

L'Irlande bat campagne

en France

L'Irlande part à la rencontre du grand

public et des professionnels durant cet

automne.

L'imposant stand de l'Irlande à l'IFTM Top Resa

reflète l'importance du marché français. Selon

Monica MacLaverty, Directrice Europe du Sud

du Tourisme Irlandais, "la France est l'un des

marchés prioritaires pour l'Irlande. 40% des

visiteurs reviennent après un premier voyage.

Il est primordial de poursuivre nos efforts de

communication sur ce marché. Avec les moyens

importants que nous déployons en cette fin

2022, nous maximiserons notre visitorat

français à la basse saison. Ils représentent

également un moyen pour préparer 2023."

Jusqu'au 31 octobre, l'office met en avant Dublin

et Belfast pour des city-breaks, ainsi que le

Wild Atlantic Way, à l'ouest de l'Irlande, et cible

aussi les professionels du tourisme avec des

événements dédiés

Ireland

campaigns in

France

Ireland is setting out to attract the

general public and professionals

this fall.

Ireland's impressive stand at IFTM Top

Resa reflects the importance it places on

the French market. According to Monica

MacLaverty, Southern Europe Director

of Tourism Ireland, "France is one of the

priority markets for Ireland. 40% of visitors

return after a first trip. It is essential to

continue our communication efforts in this

market. With the significant resources we

are deploying at the end of 2022, we will

maximise our French visitors during the

low season. They also represent a means

of preparing for 2023."

Until October 31, the office will promote

Dublin and Belfast for city breaks, as well

as the Wild Atlantic Way, in the west of

Ireland, and will also reach out to tourism

professionnals through targeted events

12 IFTM DAILY • JEUDI/THURSDAY 29 SEPT. 2022

www.iftmdaily.com
---
I DOSSIER SPECIAL I

I SPECIAL FEATURE I

Amiens, la culture à l'honneur

sur l'IFTM Top Resa

L'Islande de retour à

l'IFTM Top Resa

La culture redéfinit l'image d'Amiens,

l'une des grandes métropoles

des Hauts-de-France et autrefois

capitale de la région de Picardie. La

ville est l'une des cités françaises

à concourir pour être nommée

capitale européenne de la culture

2028. Une distinction dont la cité

veut se montrer digne dès cette

année avec des expositions, festivals

ou événements.

Jusqu'au 23 février, le musée de

Picardie présente, par exemple, les

chefs-d'œuvre de la chambre du

Roi-Soleil. L'exposition est organisée

par les musées d'Amiens, et le

château de Versailles présente un

ensemble de peintures provenant

de la chambre du Roi du château de

Versailles.

Du 4 octobre au 17 décembre, la

métropole organise IC.ON.IC, un

festival d'arts visuels qui invite

à découvrir des propositions

artistiques dans l'espace public. Les

rues se parent d'œuvres dédiées à

l'espace urbain et des séquences

de vidéo mapping sont projetées

sur des façades historiques de

la cité. A partir de novembre, 15

lieux formeront un parcours d'art

contemporain

"Visit Iceland" était de retour au salon afin d'échanger avec les

acteurs du secteur des voyages et de garder l'Islande tout en

haut de la liste des destinations de choix.

Sur son stand, l'office du tourisme

officiel d'Islande a particulièrement

mis en valeur deux de ses

compagnies aériennes, IcelandAir

and Play, ainsi que quatre agences

de voyages.

IcelandAir promet à ses clients un

billet flexible, permettant à celles

et ceux voyageant de l'Europe à

l'Amérique du Nord de s'arrêter en

Islande pour quelques nuits et ce,

sans aucune augmentation de prix,

sous le slogan "Islande, Amérique

du Nord, pourquoi pas les deux ?".

Le stand a également accueilli Play,

toute nouvelle compagnie low-cost

du pays lancée l'année dernière et

qui offre des vols vers l'Islande et vers

les Etats-Unis à prix réduits. "Nous

sommes très heureux de participer

de nouveau à IFTM Top Resa, et

d'ainsi promouvoir l'Islande comme

une destination durable et disponible

à toute période de l'année", a déclaré

Thordis Pétursdottir, responsable

secteur pour Visit Iceland

Iceland back at IFTM Top Resa

Visit Iceland was back at the

trade show to touch base with

travel agents and keep Iceland

among their favorites.

At the stand, the country's official

tourism organisation was in

particular highlighting two of its

airlines - IcelandAir and Play, as well

as four inbound agencies.

IcelandAir, is promoting a flexible

ticket which allows customers

travelling from Europe to North

America to stop over in Iceland for

a few nights at no extra cost under

the banner "Iceland, North America,

why not both?". Also at the stand

was the country's new low-cost

airline Play, which only launched last

year and offers affordable flights to

Iceland and the United States."We

are happy to be able to participate

in IFTM Top Resa once again and

promote Iceland as a sustainable

and year-round destination", said

Thordis Pétursdottir, Area Manager

for Visit Iceland

Amiens, shines spotlight on

culture at IFTM Top Resa 2022

Culture is redefining the image of

Amiens, one of the major cities of

Hauts-de-France, once the capital

of the Picardy region. The city is just

one of France's cities competing

to be named European Capital

of Culture 2028. To prove itself

worthy of the distinction, the city is

hosting a wide range of exhibitions,

festivals and events this year. For

example, until February 23, the

museum of Picardy is presenting

masterpieces of the Sun King, Louis

XIV. The exhibition, organised by

the museums of Amiens and the

Palace of Versailles, presents a

series of paintings from the King's

bedroom at the Palace of Versailles.

From October 4 to December 17,

the city is organising IC.ON.IC, a

visual arts festival inviting people to

discover artworks in public places.

The streets will be lined with works

based on urban spaces alongside

video mapping sequences,

projected on the historic facades of

the city. From November, 15 places

will form a contemporary art trail for

visitors to explore

IFTM DAILY • JEUDI/THURSDAY 29 SEPT. 2022 13
---
I VU À IFTM TOP RESA I SEEN AT IFTM TOP RESA I

Arabie Saoudite : une

entrée remarquée pour un

premier IFTM Top Resa

L'Arabie Saoudite aura suscité la curiosité des visiteurs de

l'IFTM avec l'un des plus grands stands du salon.

La Tanzanie :

une destination niche qui

séduit les Français

La Tanzanie était de nouveau présente à IFTM Top Resa cette

année, mettant en avant son image de destination niche pour

attirer les touristes français...

L'Arabie saoudite a fait une entrée

spectaculaire à l'IFTM 2022 avec un

stand de taille remarquable, où touropérateurs,

hôtels et compagnies

aériennes se retrouvaient sous

l'égide de l'office de tourisme,

la Saudi Tourism Authority. Une

première pour le pays comme pour

l'office d'ailleurs, puisque ce dernier

a été créé seulement en 2020.

Le stand avec son design très

contemporain est le reflet de ce

que le pays souhaite présenter.

Une destination qui a de grandes

ambitions pour le développement

de son industrie du tourisme, dans le

cadre de son plan stratégique 2030.

Sur l'IFTM, le tourisme saoudien

est parti à la conquête de nouveaux

marchés français. L'atout de la

destination ? Offrir une authenticité

culturelle arabe, des paysages

grandioses mais aussi montrer

que le pays s'est définitivement

ancré dans la modernité. Et ainsi

réussir l'ambitieux objectif d'attirer

100 millions de touristes à l'horizon

2030

Pour Gloria Munhambo,

responsable du stand de l'IFTM

pour le Tanzania Tourist Board,

la Tanzanie est une destination

diversifiée pour les Français. "Les

Français viennent en Tanzanie

parce qu'ils recherchent aussi bien

les grands espaces au nord du pays

dans nos parcs nationaux que les

plages et la culture à Zanzibar",

explique-t-elle. La présence du

Tanzania Tourist Board sur IFTM

confirme l'importance du marché

français, l'un des quatre plus gros

pays émetteurs avec l'Allemagne,

l'Italie et le Royaume-Uni.

"L'avantage de la Tanzanie par

rapport à d'autres destinations de

la région est que le pays reste une

destination niche et qu'il offre une

véritable authenticité culturelle",

raconte Francesca Lestingi,

responsable Europe du Sud du

réceptif Hors Pistes Tanzanie.

Interrogée sur ses destinations

préférées sur place, elle mentionne

le cratère Ngorongoro, le lac

Natron et les périodes de migration

des oiseaux du parc national

Serengeti...

Tanzania, a niche destination

which seduces the French

Tanzania was back at IFTM Top Resa, highlighting its image as

a niche destination to attract French tourists...

Gloria Munhambo, the IFTM stand

manager for the Tanzanian Tourist

Board, believes it is a diverse

destination for French travellers.

"The French come to Tanzania

because they are looking for both

the wide open spaces in the north of

the country in our national parks and

the beaches and culture in Zanzibar",

she explains. The presence of the

Tanzania Tourist Board at IFTM

confirms the importance of the

French market, one of the four

largest tourism emitting countries

with Germany, Italy and the United

Kingdom.

"The advantage of Tanzania

compared to other destinations

in the region is that it remains

a niche destination and that it

offers real cultural authenticity",

says Francesca Lestingi, head of

Southern Europe for the inbound

travel agency, Hors Pistes Tanzanie.

Asked about her top destinations,

she mentions the Ngorongoro

Crater, Lake Natron and the

Serengeti National Park during the

bird migration period...

Saudi Arabia makes

remarkable first entrance at

IFTM Top Resa

Saudi Arabia is sure to have peaked visitors' curiosity at IFTM

Top Resa with one of the largest stands at the trade show.

Saudi Arabia made a spectacular

entrance to IFTM 2022 with a

impressive stand where tour

operators, hotels and airlines

gathered under the auspices of the

kingdom's tourist office, the Saudi

Tourism Authority.

The stand has a very contemporary

design, which reflects what the

country wishes to present: A

destination with strong ambitions

for the development of its tourism

sector, in the framework of its

strategic 2030 plan. With this first

participation in IFTM Top Resa,

Saudi Tourism has set out to

conquer new French markets. The

destination's competitive advantage

is to offer Arab cultural authenticity,

grandiose landscapes while also

allowing visitors to discover a

country rooted in modernity, all

of which will help achieve the

ambitious goal of attracting 100

million tourists by 2030

14 IFTM DAILY • JEUDI/THURSDAY 29 SEPT. 2022

www.iftmdaily.com
---
I VU À IFTM TOP RESA I SEEN AT IFTM TOP RESA I

Vermeer en

vedette en 2023 au

Rijksmuseum d'Amsterdam

Les Pays-Bas célébreront le génie du peintre Vermeer en 2023. Avec une

série d'expositions et d'événements autour de l'homme et de l'une de

ses œuvres les plus emblématiques, la Jeune Fille à la perle.

Une partie du stand des Pays-Bas s'ornait

du visage délicat de La Jeune Fille à la

perle, l'une des œuvres les plus connues

au monde de Johannes Vermeer, peinte

en 1665. 2023 sera de fait l'année de ce

peintre. Le Rijksmuseum d'Amsterdam

consacrera pour la première fois de son

histoire une exposition rétrospective au

maître du XVII e siècle. Grâce à des prêts

du monde entier, cette exposition promet

d'être la plus grande jamais organisée

sur Vermeer.

L'exposition est le fruit d'une collaboration

entre le Rijksmuseum et l'un des autres

grands musées d'art des Pays-Bas, le

Mauritshuis de La Haye. L'exposition

Vermeer sera présentée du 10 février au

4 juin 2023 au Rijksmuseum. La Jeune

Fille à la perle retrouvera ensuite sa

place au Mauritshuis

Simone Hollen

Manager International

Sales, Mauritshuis

Vermeer to be featured

at the Rijksmuseum

Amsterdam in 2023

The Netherlands will celebrate the genius of painter

Johannes Vermeer in 2023, with a series of exhibitions

and events about his life and one of his most emblematic

works, the Girl with the Pearl Earring.

Part of the Netherlands stand

showed the delicate face of

the Girl with a Pearl Earring,

the world famous work by

Johannes Vermeer,

painted in 1665.

2023 undoubtably be

Vermeer's year.

For the first time

in its history, the

Rijksmuseum

in Amsterdam

will dedicate a

retrospective

exhibition to the

master of the 17 th

century. With loaned

pieces from around the world,

the exhibition is set to be one

of the largest ever to focus on

Vermeer.

The exhibition is the result of

a collaboration between the

Rijksmuseum and one of the

other major art museums in the

Netherlands, the Mauritshuis

in The Hague. The Vermeer

exhibition will be presented

from February 10 to June 4, 2023

at the Rijksmuseum. The Girl

with a Pearl Earring will then

be moved to the Mauritshuis

La Bulgarie,

une destination

alternative pour le

tourisme thermal

La Bulgarie était de retour à l'IFTM Top Resa, mettant

en avant sa position parmi les grandes destinations du

tourisme thermal en Europe. Elle compte plus de 700

stations thermales, la plupart ayant été découvertes et

développées il y a des siècles.

L'une d'elles est Hisarya, une station thermale située

au sud des montagnes des Balkans, près de Plovdiv.

Déjà connue dans la Grèce antique, la ville a ensuite

été conquise par les Romains et a prospéré pendant

plusieurs siècles grâce à ses sources d'eau chaude.

Hisarya compte 22 sources dont la température varie

entre 41°C et 52°C. Elles sont parfaites pour le traitement

des maladies rénales, gastro-intestinales ou musculosquelettiques.

Leurs effets curatifs peuvent être obtenus

en buvant l'eau ainsi que par des procédures aqua

pour la prévention et la réhabilitation des maladies,

en combinaison avec la physiothérapie et les régimes

alimentaires.

Hisarya n'est pas seulement une destination thermale.

La pêche, l'équitation, le trekking, le cyclisme mais

aussi la dégustation de vin sont autant d'atouts de la

région d'Hisarya. Plusieurs établissements vinicoles de

la région d'Hisarya proposent des dégustations de vins

Bulgaria, alternative destination

for spa tourism

Bulgaria was back at IFTM

Top Resa, highlighting its

position as one of the great

destinations for spa tourism

in Europe. It boasts over 700

spas, most of which were

discovered and developed

centuries ago.

One of them is Hisarya, a

spa resort located south of

the Balkan mountains near

Plovdiv.

Already known to the Ancient

Greecs, the city was then

conquered by the Romans

and flourished for many

centuries due to its hot

springs.

Hisarya has 22 springs that

range from 41°C to 52°C in

water temperature. They

are perfect for helping

people who suffer from

kidney, gastrointestinal or

musculoskeletal diseases.

Their healing effects can

be achieved by drinking the

water, as well as through

aqua procedures for the

prevention and rehabilitation

of illnesses, in combination

with physiotherapy and

dieting.

Hisarya is not only a spa

destination. Fishing, horse

riding, trekking, cyclying but

also wine tasting are some of

the region's assets. Several

wineries in the Hisarya

Region offer wine-tasting and

are part of traditional tourism

activities

IFTM DAILY • JEUDI/THURSDAY 29 SEPT. 2022 15