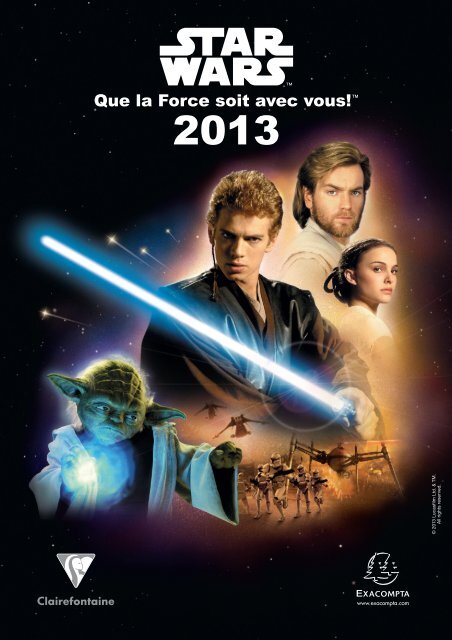 Star Wars 2013
Star Wars 2013
Star Wars 2013
SHOW MORE
SHOW LESS
Create successful ePaper yourself
Turn your PDF publications into a flip-book with our unique Google optimized e-Paper software.
Que la Force soit avec vous!

2013

www.exacompta.com
---
Garçon

Boy

Génération Star Wars TM !

Une marque iconique et pérenne qui réunit tout la famille depuis plus de 35 ans.

La saga a généré à ce jour en France 38 millions de spectateurs depuis la sortie du premier

film en 1977.

Chaque année, les diffusions TV sur les différentes chaînes rencontrent toujours un énorme

succès. En décembre 2010 par exemple, 10 millions de téléspectateurs ont regardé la saga

Star Wars TM sur W9.

Star Wars TM en chiffres :

• La plus forte licence de jouets garçons de tout le temps avec plus de 80 millions de figurines

vendues ;

• Plus de 180 millions de DVD vendus ;

• Plus de 70 millions de livres vendus.

Sortie cinéma en 3D :

• 2012 : Sortie de l'Episode I en 3D (La Menace Fantôme), qui a rapporté plus de 100 millions

de $ au Box Office mondial ;

• Septembre et octobre 2013 : sortie mondiale de l'Episode II et III en 3D;

• Un nouveau film Star WarsTM est déjà annoncé pour 2015.

Que la Force soit avec vous ! TM

Generation Star Wars TM !

An iconic and lasting brand which has united the public for over 35 years.

The saga has had 38 million viewers in France since the release of the first film in 1977.

Every year, the saga is very successfully broadcasted on different French TV channels. In

December 2012 for example, 10 million viewers watched the Star Wars TM on W9.

Star Wars TM in numbers:

• The biggest boys toy license of all time with over 80MM figurines sold;

• More than 180MM DVDs sold;

• More than 70MM books sold.

3D re-releases:

• 2012: re-release of Episode I in 3D: The Phantom Menace, which generated more than

$100MM at the Global Box Office;

• September and October 2013: theatrical 3D re-release of Episode II and III.

• New Star WarsTM film announced and to be released in 2015.

May the Force be with you! TM

Sommaire

Contents

Primaire

Papeterie

Paper products

3 - 4

Lycée

Papeterie

Paper products

9 - 11

Accessoires

Accessories

5

Accessoires

Accessories

11

Classement

Filing products

6 - 7

Primaire

7 12

Agendas

Diaries

7

Classement

Filing products

12 - 14

Lycée

+12

Bagagerie

Luggage

8

Bagagerie

Luggage

14 - 17
---
Papeterie

Paper products

Carnets et cahiers piqués

Stapled notebooks

Pelliculage mat

Matt lamination

Papier Vélin Velouté Clairefontaine 90g

Clairefontaine brushed vellum 90g paper

N. Désignation / Item description Gencod

75 x 120 mm

112903C 48 pages / 24 Sheets - L 3329681129037 12

90 x 140 mm avec élastique / with elastic

112902C 96 pages / 48 Sheets - 5 x 5 3329681129020 12

N. Désignation / Item description Gencod

A5 - 148 x 210 mm

112900C 96 pages / 48 Sheets - L 3329681129006 12

A4 - 210 x 297 mm

112901C 96 pages / 48 Sheets - Séyès 3329681129013 12

112904C 96 pages / 48 Sheets - L + M 3329681129044 12

240 x 320 mm

112905C 96 pages / 48 Sheets - Séyès 3329681129051 12

Photos non contractuelles / No contractual pictures

112900C

112901C

112904C

112905C

112903C

112902C

Primaire

3
---
Primaire

4

Carnets et cahiers reliure intégrale

Wirebound notebooks

Pelliculage mat

Matt lamination

Papier Vélin Velouté Clairefontaine 90g

Clairefontaine brushed vellum 90g paper

N. Désignation / Item description Gencod

170 x 220 mm - Cahier de textes / homework book

112914C 152 pages / 76 Sheets - Séyès 3329681129143 12

N. Désignation / Item description Gencod

A5 - 148 x 210 mm

112906C 100 pages / 50 Sheets - L 3329681129068 12

112913C 180 pages / 90 Sheets - L 3329681129136 12

A4 - 210 x 297 mm

112907C 100 pages / 50 Sheets - 5 x 5 3329681129075 12

112909C 100 pages / 50 Sheets - L + M 3329681129099 12

112906C

112913C

112907C

112909C

112914C

Photos non contractuelles / No contractual pictures
---
Accessoires

Accessories

Plumier

Pencil box

Pelliculage mat

Matt lamination

Imprimé à l'intérieur

Printed inside

N. Format / Size (cm) Gencod

112912C 21 x 5,5 x 3 3329681129129 6

Pot à crayons

Pencil pot

N. Format / Size (cm) Gencod

112911C 11,5 x 8 x 8 3329681129112 6

Sous main

Desk blotter

Imprimé au dos

Printed on the back

Sous main Star wars_ 2013.pdf 2 11/07/12 15:10

N. Format / Size (cm) Gencod

112908C 60 x 40 3329681129082 6

Carnet de coloriage

Coloring pad

N. Format / Size (cm) Gencod

112910C 20 x 20 3329681129105 10

Stylos

Pens

N. Gencod

312814C

312815C

312818C

312814C

Stylos plume pointe acier

Fountain Pens Steel Nib

Stylos Roller

Ball Pens

Stylos bille

Point Pens

312815C

Photos non contractuelles / No contractual pictures

3329683128144

3329683128151

3329683128182

312818C

1/10

Dos

Back

Sous main Star wars_ 2013.pdf 1 11/07/12 15:10

112910C

112911C

112912C

112908C

Présentoir 25 stylos

Display 25 pens

Primaire

5
---
Primaire

6

Classement

Filing products

Classeurs

Ring binders

N. Format / Size (cm) Gencod

53019E

51519E

54519E

51619E

54619E

51019E

54019E

Classeur à levier A4 carton dos arrondi 70mm

Lever arch file cardboard with round spine 70mm

29 x 32

Cahier classeur A4 polypro 4 anneaux Ø 15mm

Ring binder polypro 4 rings Ø 15mm

25 x 32

Cahier classeur A4 polypro 2 anneaux Ø 15mm

Ring binder polypro 2 rings Ø 15mm

25 x 32

Classeur A4 polypro 4 anneaux Ø 30mm

Ring binder polypro 4 rings Ø 30mm

26,5 x 32

Classeur A4 polypro 2 anneaux Ø 30mm

Ring binder polypro 2 rings Ø 30mm

26,5 x 32

51519E

54519E

Classeur A4 carton dos arrondi 4 anneaux Ø 30mm

Ring binder cardboard with round spine 4 rings Ø 30mm

27 x 32

Classeur A4 carton dos arrondi 2 anneaux Ø 30mm

Ring binder cardboard with round spine 2 rings Ø 30mm

27 x 32

3130630530190 10

3130630515197

3130630545194

3130630516194

3130630546191

3130630510192

3130630540199

Bon de commande Exacompta / Exacompta order form

20

10

53019E

51619E

54619E

51019E

54019E

Photos non contractuelles / No contractual pictures
---
N. Format / Size (cm) Gencod

55019E

59019E

85019E

25019E

Chemise polypro 3 rabats et élastiques

Elasticated 3-flap folder polypro

24 x 32

Boîte de classement polypro dos 40mm

Filing box polypro 40mm spine

25 x 33

Porte-vues A4 polypro 40 vues cristal

Display book polypro 20 clear pockets

23,5 x 31,5

Carton à dessin à élastiques pour format A3

Portfolio with elastic straps for A3 size

45 x 32

Agendas

Diaries

Photos non contractuelles / No contractual pictures

3130630550198 15

3130630590194 8

3130630850199 20

3130630250197 4

N. Format / Size (cm) Gencod

18068E

55019E

Agenda journalier - Couverture intégra imprimée

School diary - 1 page/day

12 x 17

85019E

3660942032186 12

Bon de commande Exacompta / Exacompta order form

59019E

25019E

18068E

7

Primaire
---
Primaire

8

Bagagerie

Luggage

Trousses

Pencil cases

N. Format / Size (cm) Gencod

112950C

112952C

112954C

Ronde / Round

Ø 7 x 22

Plat / Flat

22 x 9,5

Rectangulaire / Rectangular

26 x 6 x 11

3329681129501

3329681129525

3329681129549

N. Format / Size (cm) Gencod

112951C

112953C

112955C

Sac à dos à roulettes

Trolley backpack

47,5 x 33 x 15,5

Sac à dos 2 compartiments

Backpack 2 compartments

43 x 32 x 17

Cartable / School bag

41 x 34 x 15

112951C

3329681129518

3329681129532

3329681129556

6

2

112950C

112954C

112953C

112952C

112955C

Photos non contractuelles / No contractual pictures
---
Papeterie

Paper products

Pelliculage brillant

Glossy lamination

Papier Vélin Velouté Clairefontaine 90g

Clairefontaine brushed vellum 90g paper

Carnets et cahiers piqués

Stapled notebooks

N. Désignation / Item description Gencod

90 x 140 mm avec élastique / with elastic

312812C 96 pages / 48 Sheets - 5 x 5 3329683128120 10

110 x 170 mm avec élastique / with elastic

312826C 96 pages / 48 Sheets - L 3329683128267 10

N. Désignation / Item description Gencod

A4 - 210 x 297 mm

312811C 96 pages / 48 Sheets - Séyès 3329683128113 10

312816C 96 pages / 48 Sheets - L + M 3329683128168 10

240 x 320 mm

312831C 96 pages / 48 Sheets - Séyès 3329683128311 10

Carnets et cahiers reliure intégrale

Wirebound notebooks

N. Désignation / Item description Gencod

110 x 170 mm répertoire / adress book

312852C 100 pages / 50 Sheets - 5 x 5 3329683128526 10

A5 - 148 x 210 mm

Photos non contractuelles / No contractual pictures

312852C

312836C 100 pages / 50 Sheets - L 3329683128366 10

312886C 180 pages / 90 Sheets - L 3329683128861 10

312826C

312812C

312811C

312816C

312831C

312836C

312886C

Lycée

9
---
Lycée

10

Cahiers reliure intégrale

Wirebound notebooks

Pelliculage brillant

Glossy lamination

Papier Vélin Velouté Clairefontaine 90g

Clairefontaine brushed vellum 90g paper

N. Désignation / Item description Gencod

A4 - 210 x 297 mm

312845C 100 pages / 50 Sheets - L + M 3329683128458 10

312851C 100 pages / 50 Sheets - Séyès 3329683128519 10

312865C 180 pages / 90 Sheets - L + M 3329683128656 5

Cahiers à thèmes A4 - 210 x 297 mm avec 3 intercalaires

Subject notebook A4 - 210 x 297 mm with 3 dividers

312856C 240 pages / 120 Sheets - L 3329683128564 5

Carnets Clic-Clac

Clic-Clac notebooks

N. Désignation / Item description Gencod

110 x 150 mm

312825C 192 pages / 96 Sheets - L 3329683128250 5

312825C

312845C

312851C

312865C

312856C

Photos non contractuelles / No contractual pictures
---
Carnets brochés en coffret

Wirebound notebooks

N. Désignation / Item description Gencod

90 x 140 mm avec élastique / with elastic

312850C 192 pages / 96 Sheets - Uni 3329683128502 5

312855C 192 pages / 96 Sheets - L 3329683128557 5

110 x 170 mm avec élastique / with elastic

312860C 192 pages / 96 Sheets - Uni 3329683128601 5

312875C 192 pages / 96 Sheets - L 3329683128755 5

Accessoires

Accessories

Plumier

Pencil box

N. Format / Size (cm) Gencod

312874C 21 x 6 x 3 3329683128748 10

Pot à crayons

Pencil pot

Pelliculage brillant

Glossy lamination

N. Format / Size (cm) Gencod

312873C 11,5 x 8 x 8 3329683128731 10

Photos non contractuelles / No contractual pictures

312873C

312850C

312855C

312860C

312875C

312874C

11

Lycée
---
Lycée

12

Classement

Filing products

N. Format / Size (cm) Gencod

53517E

51417E

54417E

51517E

54517E

51617E

54617E

Classeur à levier A4 carton dos arrondi 70mm

Lever arch file cardboard with round spine 70mm

29 x 32

Cahier classeur A4 polypro 4 anneaux Ø 15mm

Ring binder polypro 4 rings Ø 15mm

25 x 32

Cahier classeur A4 polypro 2 anneaux Ø 15mm

Ring binder polypro 2 rings Ø 15mm

25 x 32

Classeur A4 polypro 4 anneaux Ø 30mm

Ring binder polypro 4 rings Ø 30mm

26,5 x 32

Classeur A4 polypro 2 anneaux Ø 30mm

Ring binder polypro 2 rings Ø 30mm

26,5 x 32

51417E

54417E

Classeur A4 carton dos arrondi 4 anneaux Ø 30mm

Ring binder cardboard with round spine 4 rings Ø 30mm

27 x 32

Classeur A4 carton dos arrondi 2 anneaux Ø 30mm

Ring binder cardboard with round spine 2 rings Ø 30mm

27 x 32

3130630535171 10

3130630514176

3130630544173

3130630515173

3130630545170

3130630516170

3130630546177

Bon de commande Exacompta / Exacompta order form

20

10

53517E

51517E

54517E

51617E

54617E

Photos non contractuelles / No contractual pictures
---
N. Format / Size (cm) Gencod

55517E

59517E

85517E

85617E

53617E

53717E

Chemise polypro 3 rabats et élastiques

Elasticated 3-flap folder polypro

24 x 32

Boîte de classement polypro dos 40mm

Filing box polypro 40mm spine

25 x 33

Porte-vues A4 polypro 40 vues cristal

Display book polypro 20 clear pockets

23,5 x 31,5

Photos non contractuelles / No contractual pictures

55517E

Porte-vues A4 polypro 60 vues cristal

Display book polypro 30 clear pockets

23,5 x 31,5

Trieur polypro 8 compartiments

Multipart file polypro 8 compartments

25 x 32

Trieur valisette polypro 13 compartiments

Expanding file polypro 13 compartments

33,5 x 24,5

85517E

85617E

3130630555179 15

3130630595175 8

3130630855170 20

3130630856177 12

3130630536178 5

3130630537175 4

Bon de commande Exacompta / Exacompta order form

59517E

53617E

53717E

13

Lycée
---
Lycée

14

N. Format / Size (cm) Gencod

25517E

86617E

88517E

Bagagerie

Luggage

Trousses

Pencil cases

25517E

Carton à dessin à élastiques pour format A3

Portfolio with elastic straps for A3 size

45 x 32

Porte cartes 20 pochettes - capacité 180 cartes

Trading cards holder 20 pockets

capacity 180 trading cards

24 x 32

Porte DVD 12 pochettes - capacité 24 DVDs

DVD holder 12 pockets - capacity 24 DVDs

16 x 16

N. Format / Size (cm) Gencod

312810C Ronde / Round 3329683128106

312900C Ø 8 x 22

3329683129004

312838C

3329683128380

312938C

Rectangulaire / Rectangular

22 x 4 x 10

3329683129387

312901C 3329683129011

3130630255178 4

3130630866176 6

3130630885177 4

Bon de commande Exacompta / Exacompta order form

6

312810C

312838C

312901C

88517E

86617E

312900C

312938C

Photos non contractuelles / No contractual pictures
---
Besace pour papiers

Messenger wallet

N. Format / Size (cm) Gencod

312848C

312906C 19 x 17 x 4

3329683129066

Besace

Shoulder bag

Photos non contractuelles / No contractual pictures

3329683128489

312948C 3329683129486

N. Format / Size (cm) Gencod

312835C

312848C 312906C

3329683128359

312903C 40 x 33 x 13

3329683129035

312935C 3329683129356

6

312835C

2

312935C

312948C

312903C

15

Lycée
---
Lycée

16

N. Format / Size (cm) Gencod

312813C Sac à dos à roulettes

Trolley backpack

3329683128137

312905C 47 x 34 x 17

3329683129059

N. Format / Size (cm) Gencod

312908C

Sac ordinateur / Computer bag

26 x 35 x 4

312813C

N. Format / Size (cm) Gencod

312819C Sac de sport / Sports bag 3329683128199

312919C 36 x 49 x 20

3329683129196

2

3329683129080 2

312819C

2

312905C

312908C

312919C

Photos non contractuelles / No contractual pictures
---
312820C

N. Format / Size (cm) Gencod

312820C

3329683128205

312902C

Sac à dos borne / Backpack

41,5 x 29 x 14

3329683129028

312920C 3329683129202

312821C

N. Format / Size (cm) Gencod

312821C Sac à dos 2 compartiments 3329683128212

Backpack 2 compartments

312921C 41,5 x 29 x 14

3329683129219

312904

Sac à dos 2 compartiments

Backpack 2 compartments

38 x 32 x 14

Photos non contractuelles / No contractual pictures

3329683129042

2

2

312902C

312921C

312904C

312920C

17

Lycée
---
soutient l'

www.clairefontaine.com

C LAIREFONTAINE RHODIA

OTTMARSHEIM

RD 52

68490 Ottmarsheim

FRANCE

Tel. : 03 89 83 37 77

Fax. : 03 89 83 37 78

EXPORT

Tel. : +33 3 89 83 37 83

Fax. : +33 3 89 83 37 84

PARIS

CLAIREFONTAINE

Tel. : 01 40 40 44 46

Fax. : 01 42 41 47 20

EXACOMPTA PARIS

Tel. : 01 40 40 44 44

Fax. : 01 42 41 09 60

EXPORT EXACOMPTA

Tel. : +33 1 40 40 44 06

Fax. : +33 1 40 40 44 04

DÉPARTEMENT AGENDAS

Tel. : 01 40 40 44 64

Fax. : 01 42 45 30 20

LYON

Tel. : 04 37 43 18 75

Fax. : 04 37 43 07 23

BORDEAUX

Tel. : 05 56 86 55 92

Fax. : 05 56 86 70 78

sboudat@clairefontaine.com

BRETAGNE

NORMANDIE

PAYS DE LA LOIRE

Tel. : 02 35 09 60 69

Fax. : 02 35 90 55 28

chorcholle@clairefontaine.com

BRUXELLES

EXACLAIR

Bld de l , Humanité 249

Humaniteitslaan 249

1620 Drogenbos

BELGIQUE

Tel. : + 32 2 468 21 60

Fax. : + 32 2 468 00 80

exaclair@exacompta.com

BEYROUTH

KHOUTOUT – LIGNES

Naccache Tell Srour

Zone Verte A94 Imm. Bachour

Beyrouth

LIBAN

Tel. : + 961 3 240486

Fax. : + 961 4 522554

khoutout@gmail.com