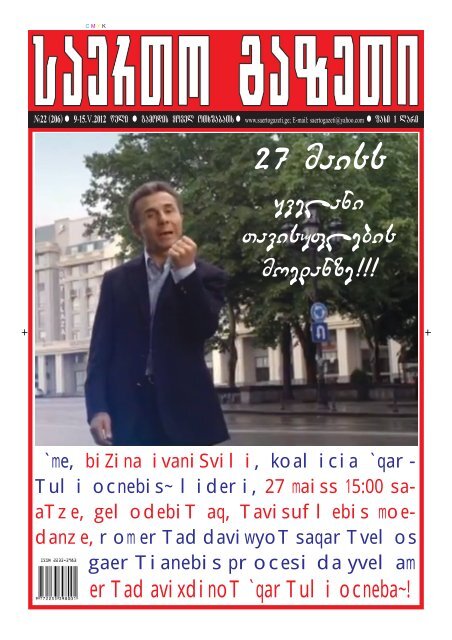 You also want an ePaper? Increase the reach of your titles
YUMPU automatically turns print PDFs into web optimized ePapers that Google loves.
C M Y K

#22 (206) • 9-15.V.2012 weli • gamodis yovel oTxSabaTs • www.saertogazeti.ge; E-mail: saertogazeti@yahoo.com • fasi 1 lari

27 maiss

yvelani

Tavisuflebis

moedanze!!!

`me, biZina ivaniSvili, koalicia `qar-

Tuli ocnebis~ lideri, 27 maiss 15:00 saaTze,

gelodebiT aq, Tavisuflebis moedanze,

rom erTad daviwyoT saqarTvelos

gaerTianebis procesi da yvelam

erTad avixdinoT `qarTuli ocneba~!
---
2

saerTo gazeTi #22 (206), 9-15.V, 2012 w.

biZina ivaniSvili sazogadoebas 27 maiss

Tavisuflebis moedanze Sekrebisken mouwodebs

koalicia ,,qarTuli ocnebis"

lideri biZina ivaniSvili sazogadoebas

27 maiss Tavisuflebis

moedanze Sekrebisken mouwodebs.

aRniSnulis Sesaxeb videorgoli

ivaniSvilis ,,feisbuqis"

veb-gverdzea ganTavsebuli.

,,me, biZina ivaniSvili, koalicia

,,qarTuli ocnebis~ lideri,

27 maiss 15:00 saaTze, gelodebiT

aq, Tavisuflebis moedanze,

rom erTad daviwyoT saqarTvelos

gaerTianebis procesi

da yvelam erTad avixdinoT ,,qarTuli ocneba~ _ aRniSnulia video mimarTvaSi.

ivaniSvilis advokatebma saqarTvelos prezidentsa da

samoqalaqo reestris saagentos sasamarTloSi uCivles

biZina ivaniSvilis advokatebma

samoqalaqo reestris saagentos da

saqarTvelos prezidentis winaaRmdeg

Tbilisis saqalaqo sasamarTloSi

sarCeli Seitanes.

rogorc dRes sastumro "Tbilisi

meriotSi" gamarTul preskonferenciaze

biZina ivaniSvilis

advokatebma _ aleqsandre baramiZem

da Salva TadumaZem ganacxades,

aRniSnuli sarCeliT

sasamarTlosgan samoqalaqo reestris

saagentos daskvna baTilad

cnobas da prezidentis davaldebulebas

moiTxoven, rom

saqarTvelos prezidentma gamosces

brZanebuleba biZina ivaniSvilis

saqarTvelos moqalaqed

miRebis Sesaxeb.

rogorc advokatebma aRniSnes,

es sarCeli Tbilisis saqalaqo

sasamarTloSi 2 maiss Sevida.

maTi TqmiT, sarCeli sasamar-

Tlom ori Tvis vadaSi unda ganixilos.

"2012 wlis 4 aprils saqarTvelos

iusticiis saministros sistemaSi

Semavalma sajaro samarTlis

iuridiulma pirma _ samoqalaqo

reestris saagentom gasca

daskvna, romlis Tanaxmadac, biZina

ivaniSvils rogorc ucxo qveynis

moqalaqes, TiTqos ar SeeZlo miemarTa

saqarTvelos prezidentisTvis

gancxadebiT saqarTvelos moqalaqed

miRebis Taobaze. saqarTvelos

prezidents raime saxis administraciuli

aqti am saqmeze ar

gamoucia. samoqalaqo reestris saagentos

daskvna aSkarad ewinaaRmdegeba

"saqarTvelos moqalaqeobis

Sesaxeb" saqarTvelos organuli

kanonis debulebas, romlis Tanaxmad,

saqarTvelos prezidenti uflebamosilia

miiRos gadawyvetileba

ucxoel moqalaqeTa da moqalaqeobis

armqone pirTa saqarTvelos

moqalaqed miRebis Taobaze.

igi aseve ewinaaRmdegeba kanonmdeblobiT

dadgenil sxva normebsac",

_ aRniSna aleqsandre baramiZem.

misi TqmiT, samoqalaqo reestris

daskvna giorgi gabrielaSvilis

mieraa momzadebuli, romelsac

aRniSnuli saqcieli daufasda

da samoqalaqo reestris saagentos

xelmZRvanelad dainiSna.

advokat Salva TadumaZis gancxadebiT,

saqarTvelos prezidentma

Tavis umoqmedobiT uxeSad daarRvia

"saqarTvelos moqalaqeobis

Sesaxeb" saqarTvelos organuli

kanonis moTxovna, romlis

Tanaxmadac, swored saqar-

Tvelos prezidenti Rebulobs

gadawyvetilebas piris saqarTvelos

moqalaqed miRebis Taobaze:

dadebiTi gadawyvetilebis

miRebis SemTxvevaSi igi gamoscems

brZanebulebas, xolo uaryorfiTi

gadawyvetilebis miRebis

SemTxvevaSi gankargulebas.

"maisis dasawyisSi Tbilisis

saqalaqao sasamarTloSi sarCeli

SevitaneT samoqalaqo reestris

saagentosa da saqarTvelos prezidentis

winaaRmdeg, romliTac moviTxovT:

1. samoqalaqo reestris

saagentos baTilad cnobas, 2. prezidentis

davaldebulebas gamosces

brZanebuleba biZina ivaniSvilis

saqarTvelos moqalaqed miRebis

Sesaxeb", _ aRniSna TadumaZem.

ivaniSvilis advokati: xelisufleba saqarTvelos

moqalaqebs eqskluziur uflebas arTmevs

biZina ivaniSvilis advokatis,

aleqsandre baramiZis SefasebiT,

saqarTvelos xelisuflebis mier

ganxorcielebuli sakonstitucio

cvlilebebi, romlis Tanaxmadac,

evrokavSiris moqalaqeebs qveynis

politikur procesebSi monawileobis

ufleba eniWebaT, faqtobrivad,

aris saqarTvelos moqalaqeebisTvis

eqskluziuri uflebis CamorTmeva,

romliTac maT sakuTari

qveynis bedis gadawyvetis ufleba

eZlevaT.

rogorc dRes sastumro "Tbilisi

meriotSi" gamarTul preskonferenciaze

advokatma ganacxada,

ivaniSvils sruliad dausabuTeblad

da ukanonod uTxres uari saqarTvelos

moqalaqeobaze.

"aris mcdeloba, rom biZina ivaniSvils

raRac sxva SemovliTi

gzebiT mieniWos SesaZlebloba,

rom man miiRos monawileoba arCevnebSi.

gaugebaria, ra saWiroa SemovliTi

gzebi, Tuki vTvliT, rom

ivaniSvilma unda miiRos monawileoba

arCevnebSi. xelisufleba TviTneburad,

raRac ucnauri Sexedulebebisamebr

cdilobs miiRos ise-

Ti gadawyvetilebebi da mimarTos

iseT gzebs, romlebic TavisTavad

ukanonoa da amasTanave, sxva ukanonobis

gadafarvis mizans emsaxureba",

_ aRniSna baramiZem.

misi TqmiT, aRniSnuli ukanonoba

SemdegSi mdgomareobs: nebismieri

qveynis konstituciur-samarTlebrivi

sistema aris agebuli ise,

rom am qveynis bedi unda gadawyviton

am qveynisve moqalaqeebma.

baramiZis SefasebiT, igi logikas

ver xedavs imaSi, rom qveynis

bedi sxva qveynis moqalaqeebma gadawyviton.

"rodesac ucxo qveynis moqalaqes

aZlev uflebas, rom man miiRos

monawileoba arCevnebSi da aniWeb

orive saarCevno uflebas rogorc

pasiurs, ise aqtiurs, amiT mas aZlev

SesaZleblobas, rom man gadawyvitos

im qveynis bedi, romlis

moqalaqec ar aris. Teoriulad SesaZlebelia

miviRoT iseTi viTareba,

rodesac saqarTvelos parlaments

Tavidan bolomde daakompleqteben

ucxo qveynis moqalaqeebi.

me amaSi veraviTar logikas ver

vxedav. es aris, faqtobrivad, saqarTvelos

moqalaqeebisaTvis eqskluziuri

uflebis CamorTmeva, rom

maT gadawyviton Tavisi qveynis bedi",

_ aRniSna baramiZem.

`medianiusi~

Tengiz svaniZe _ 75

75 wlisa Sesrulda TvalsaCino qarTveli poeti

Tengiz svaniZe amasTan dakavSirebiT saqarTvelos

mweralTa kavSirma iubilars misalmeba gaugzavna.

misalmebaSi naTqvamia:

Cveno sayvarelo Tengiz!

saqarTvelos mweralTa kavSiri, Tqveni megobari

qarTveli mwerlebi gulmxurvaled mogesalmebian

Rvawlmosil, uaRresad sayuradRebo Semoqmeds da

gilocaven RirsSesaniSnav TariRs Tqvens cxovreba-

Si _ dabadebis 75 da literaturul-SemoqmedebiTi

moRvaweobis 50 wlisTavs.

Tqveni mwerluri naTloba 1961 wels Sedga, rodesac

gazeT `axalgazrda komunistSi~ gamoaqveyneT

pirveli leqsi `dadis bilikebze~. mas Semdeg Tqveni

nawarmoebebi periodulad qveyndeba saliteraturo

Jurnal-gazeTebSi, gamodis calke wignebad.

Tqveni poeturi krebulebi `mTvaris sizmrebi~,

`lurji siSore~, `Tovlis yvavili~, `sevdis naTeli~,

`bobis gaxseneba~, `101 leqsi siyvarulze~,

`rCeuli~, `aTovs mowyenas~ da sxvebi mkiTxvels

xiblavs marTali da ZarRviani striqonebiT, samSoblos

uebro da usinjo siyvarulis dauokebeli

wyurviliT, avtoris maradiuli surviliT, Tesos

sikeTe da saTnoeba. am krebulebis gacnobisas kidev

erTxel vrwmundebiT, rom poetebi mzis Svilebi

arian, romlebic daJinebiT cdiloben sakuTar sulebSi

bavSvis, maradiuli bavSvis gadarCenas. gvixaria,

rom Tqvens arsebaSi maRali zneobrioba, moqalaqeobrivi

principebi, kultura da ganaTleba harmoniulad

erwymis niWierebasa da TviTmyofadobas,

ris gareSec warmoudgenelia WeSmariti Semoqmedi...

Tqven, martosuli poeti brZandebiT da glovobT

marTlac rom glovisfer saRamos binds, ase meTodurad

rom faravs Tqveni samSoblos sanaxebs...

gviyvarxarT imitomac, rom sulisSemZvreli striqonebi

uZRveniT Tqveni oTxfexi megobris _ Tqveni

ZaRlis _ uerTgulesi bobis xsovnas...

Tqveni leqsi emociuria, wrfeli da saTuTi...

teqnikuri inteligenciis warmomadgeneli brZandebiT,

sad ar gimuSaviaT, manqanaTmSeneblobis

kvleviTi institutis ufros mecnier-muSakad Tu

TbilqalaqmSenis sawarmoo kombinatis mTavar meqanikosad,

meqanizaciis sammarTvelos ufrosad Tu

kombinatis direqtoris moadgiled da yvelgan amayad

atarebdiT qarTveli mwerlis saxels, yvelgan

profesionalizmiTa da sikeTis keTebiT gamoirCeodiT.

Tqvens megobrebze didi STabeWdileba moaxdina

Tqvenma triptixma, romelic saqarTvelos sulier

mwyemss, uwmindessa da unetares ilia II miuZRveniT.

Cveno Tengiz!

kidev erTxel guliTadad gilocavT saiubileo

TariRs Cinebul poetsa da moqalaqes, didxans sicocxles,

janmrTelobas da axal SemoqmedebiT miRwevebs

gisurvebT.

saqarTvelos mweralTa kavSiri

`saerTo gazeTi~

mTavari redaqtori: vaxtang xarCilava

gamomcemeli: Sps sagamomcemlo centri `saerTo sityva~

mis: Tbilisi, aRmaSeneblis 164;

tel.: 2 14 40 19; 2 34 28 97

regist. #202375349; uak (UDC) 070.23 (479.22) s-158

gazeTi xelmZRvanelobs Tavisufali presis principiT.

SesaZloa, avtoris pozicia ar eTanxmebodes redaqciis azrs.

informaciis sizusteze pasuxismgebelia avtori. gasaCivreba

SesaZlebelia masalis gamoqveynebidan erTi kviris vadaSi.

Semosuli masalebi avtorebs ar ubrundeba.

am niSniT aRniSnulia sareklamo masalebi.
---
#22 (206), 9-15.V, 2012 w. saerTo gazeTi

3

rogorc cnobili parafsiqologi

da eqstrasensi serJ delakrua

irwmuneba, biZina ivaniSvili

araCveulebrivi telepatiuri ni-

WiT aris dajildoebuli da mas

SeuZlia Tavis oponentebze Sori

manZilidan, distanciurad, iseTi

fsiqologiuri zewola moaxdinos,

rom mwyobridan gamoiyvanos,

anu, Cveneburad rom vTqvaT, daadebilos,

gaagiJos, gaafreninos.

serJ delakrua _ me didi xania

vakvirdebi baton biZinas. is

ara marto brwyinvale fsiqoanalitikosia,

aramed Zalian Zlieri

eqstrasensi da telepatia.

is amJamad or subieqtze muSaobs

distanciurad da, rogorc

dakvirveba gvaCvenebs, SesaniSnav

Sedegebs aRwevs.

es ori subieqti gaxlavT mixeil

saakaSvili da Salva naTelaSvili.

am ori sacdel-saeqsperimento

subieqtis

bolodroindel qcevebs,

maT Jestikulacias,

metyvelebas, agresiul

gamoxtomebs Tu daakvirdebiT,

naTelia, rom

orives aSkarad etyoba

frenologiis niSnebi _

akviatebuli ideebi, Si-

Sebi, devnis mania, mania

grandioza, narcisizmi,

egocentrizmi daavadebaTa

iseT `Taiguls~

qmnis, romelTanac gamklaveba

Tanamedrove medicinas

Zalian uWirs.

nu davidebT codvas da yvelafers

biZina ivaniSvils nu davabralebT,

_ zemoTCamoTvlili daavadebebis

umravlesoba, rac am

or subieqts Wirs, Tandayolilia,

Tumca ramdenime daavadeba

aSkarad ivaniSvilis mier aris

stimulirebul-provocirebuli.

magaliTad, panikuri SiSi da

amiT gamowveuli araadeqvaturi

qmedebebi, rac bolo xans saaakaSvils

dasCemda, cxadia, biZina ivaniSvilis

politikaSi Semosvlas

da mis mier ganxorcielebul taqtikur-strategiul

svlebs ukav-

Sirdeba.

gansakuTrebiT mZafrad moqmedebs

saakaSvilze ivaniSvilis gadawyvetileba,

rom xelisufleba

mxolod arCevnebis gziT unda Seicvalos.

saakaSvils uWirs molodinis

reJimSi cxovreba, uWirs imis

warmodgenac ki, rom, SeiZleba,

arCevnebSi waagos, rac misTvis

katastrofis tolfasia,

ivaniSvili ki mas am

SiSs kidev ufro

umZafrebs _ Tavisi

biznescentris

yvelaze bolo

sarTulze, specialurad

eqstrasensul-parafsiqologiur-telepatiuri

saqmianobisTvis

rogorc cnobili eqstrasensi serJ

delakrua irwmuneba, biZina ivaniSvili

Tavis oponentebze Sori manZilidan

fsiqologiur zewolas axdens da

zogs adebilebs da zogs agiJebs...

mowyobil saidumlo laboratoriaSi

zis da saakaSvilis mimar-

TulebiT uwyvet telepatiur

signals agzavnis _ veravin ver

gviSvelis, arCevnebs waageb! veraferi

gixsnis _ arCevnebSi

damarcxdebi!

yovel aseT

signalze saakaSvili

cofdeba

Turme da

Tavis garemocvas

cocxals da

mkvdars utrialebs:

_ gako-

WeT! daiWireT!

cixeSi CaagdeT!

xma CaakmendineT,

Torem tanSi WianWvelebi

mivlis,

tvin-

Sic WianWvelebi

darbian...

gavgiJdebi!

amaswinaT,

xom naxeT, ra

damarTa ivaniSvilma

maxaTas

mTaze asul

saakaSvils

_ manqanidan

gadmovida

Tu ara,

egreve

ajaxa

kojridan

signali da es amxela kaci

lamis miwaze daagdo.

saakaSvilis Tvalebi xom naxeT

_ azris natamali ar qonda Sig _

esec ivaniSvilis damsaxureba iyo.

rac Seexeba Salva naTelaSvils,

impulsuri da emociuri

naTelaSvili Zalze

advilad eqvemdebareba

fsiqologiur zewolas

_ erTi saSualo

simZlavris sxivi

da qaris wisqviliviT

iwyebs xelebis

qnevas _ miSveleT!

mklaven!

teraqts

miwyoben!

ivaniSvils

Cemi mokvla

unda

da sa-

erTa-

Soriso

Tanamegobrobas SeatyobineT,

damicvan am banditisgan.

ivaniSvili mxolod

naxevari doziT moqmedebs

naTelaSvilze _ imdenad

susti fsiqika

aqvs, mTeli doza rom gamoviyeno,

SeiZleba saer-

Tod gagiJdes da codvaao,

_ uTqvams.

oriode dRis winaT, roca na-

TelaSvili brifings atarebda,

mis gverdiT gugavac mdgara. cota

meti fsiqodasxiveba mosvlia

Turme baton biZinas da naTelaSvilTan

erTad gugavac asxmartalebula.

_ doza erT kacze iyo gaTvlili

da or kacs ase rogor

mouTava xelio, _ ukvirda

Turme baton biZinas, SalvasTan

erTad gugavas fxarkals rom

uyurebda.

delakruas azriT, mTavar

siurprizs Semodgomaze, oqtombris

saparlamento arCevneb-

Si unda velodoT, roca biZina

ivaniSvili mTel Tavis SesaZleblobebs

aamoqmedebs.

ai, maSin naxeT Tqven

ivaniSvilis fsiqologiuri

zemoqmedebiT nacmoZraobis

da leiboristebis

mxardamWerebis

mier koalicia `qar-

Tuli ocnebis~ sasargeblod

biuletenebis

Cayra da saakaSvili-na-

TelaSvilis gadareva.

jerjerobiT ki biZina ivaniSvili

dinjad, Tanmimdevrulad

axorcielebs mixeil saakaSvilis

fsiqologiur damuSavebas da,

rogorc ityvian, nabij-nabij

mihyavs igi im `fsixuSkisken~,

sadac bevri

stalini, bevri bonaparati

da bevri aRmaSenebeli

cxovrobs.

rac Seexeba

Salva naTelaSvils,

delakruas

ganmartebiT, mas

ukve ar sWirdeba

`mkurnaloba~, is

sicocxlis

bolomde

sul `janmrTeli~

da `janmr-

Teli~ iqneba...
---
4 saerTo gazeTi #22 (206), 9-15.V, 2012 w.

gvesaubreba biZina ivaniSvilis

mrCeveli, `Tavisufali

demokratebis~ gamgeobis wevri,

diplomati zaza gogsaZe:

27 maiss Tavisuflebis moedanze

sruliad saqarTvelos SevkrebT

da erT muStad gavaerTianebT!

_ batono zaza, 21 aprils

partia ukve dafuZnda, ra iqneba

Semdegi nabijebi?

_ koalicia `qarTuli ocneba~,

partia _`qarTuli ocneba

_ demokratiuli saqarTvelo~

biZina ivaniSvilis xelm-

ZRvanelobiT axal-axali nabijebisTvis

vemzadebiT, rac saboloo

jamSi arCevnebSi gamarjvebamde

migviyvans. maisis bolos

vapirebT mxardamWerebis-

Tvis, didi RonisZiebis gamar-

Tvas, sadac sakuTar miznebsa

da amocanebs warvadgenT da aqtiur

saarCevno kampanias

daviwyebT. 27 maiss `qarTuli

ocneba~ Tavisuflebis moedazne

Sesakrebad vemzadebiTm

sadac Cvens samomavlo gegmebsac

gavacnobT sazogadoebas.

_ anu ras mieZRvneba 27

maisis Sekreba _ sakUTari gegmebis

gacnobas?

_ es axali etapis dawyebis

dRe iqneba, anu Cven ukve vafiqsirebT,

rom viwyebT axal

etaps, rasac uSualod arCevnebisTvis

samzadisi hqvia. rac

Seexeba, manifestacias, 27 maiss

Tavisuflebis moedanze

sruliad saqarTvelos SevkrebT

da erT muStad gavaerTianebT!

bevri kiTxva Cndeba imas-

Tan dakavSirebiT, Tu ratom

gadavwyviteT am TariRis aRniSvna

maSin, roca `saxalxo

krebas~ am dRes ukve hqonda

RonisZieba dagegmili. amaSi gansakuTrebuli

araferia, 26 maisi

mniSvnelovani TariRia

qveynisTvis da yvelas gvinda

misi aRniSvna. piriqiT, am dros,

ra Tqma unda, yvela erTad

unda iyos.

mTavari opoziciuri Zala,

koaliciaSia Tavmoyrili. dRes

ori polusia Seqmnili: erTi

_ xelisuflebis da meore _

opoziciuri, romelic ivaniSvilis

garSemoa Sekrebili.

swored, am dros 26 maisi

CvenTvis mniSvnelovania, am

dRiT vafiqsirebT, rom erTad

varT, SevdivarT safinalo

xazze, rasac arCevnebi

hqvia. bunebrivia, 26

maiss, yvelas prerogativa

damoukideblobis

dRis aRniSvnaa. rasakvirvelia,

26 maiss yvela

aRniSnavs imas, rac

SarSan moxda. xelisuflebam

jer ar naxuli

sisxliani darbeva

moawyo, saSinlad gausworda

qarTvel xalxs.

ra Tqma unda, amis winaaRmdegia

sruliad

progresuli sazogadoeba,

maT Soris Cvenc.

_ ivaniSvilis politikaSi

Semosvlis

dRidan, xalxi molodinis re-

JimSia. uSualod maT rodis

warudgenT programas, Tu ras

sTavazobs maT konkretulad

biZina ivaniSvili?

_ axla, regionebSi aqtiur

siaruls da ideebis propagandas

daviwyebT. bunebrivia,

mosaxleobasTan Sexvedrisas

Cvens programebze visaubrebT.

_ Tumca, axlaxan, kontrolis

palatam, amjerad is xalxi

dakiTxa, vinc `qarTul ocnebas~

ofisebi miaqirava. rogor

apirebT am fonze brZolis

mogebas?

_ Cemi varaudiT, es maTi

daSinebis mizniT xdeba. vis ra-

Si ekiTxeba ratom miaqiraves

`qarTul ocnebas~ adamianebma

TavianTi kuTvnileba? maT ekiTxebian,

ra kavSiri gaqvT `qarTul

ocnebasTano~. amaze pasuxi

xelisuflebas unda movkiTxoT.

xalxs masiurad ibareben.

xelisuflebas amiT Semdegi

mizani aqvs _ hgoniaT,

rom xalxs daaSineben da sxva

veRar gabedavs Cvenze farTis

moqiravebas. xelisufleba yvelanairi

meTodiT cdilobs Zalauflebis

SenarCunebas. Cveni

ubedureba swored isaa, rom

xalxma ver gaiTavisa, rom sakuTar

beds Tavad wyvets. es

maT erTxel da samudamod unda

gaiTavison. saqarTveloSi

xalxs es gacnobierebuli ar

aqvs. maT hgoniaT, rom rogoradac

ar unda iaqtiuron, xelisufleba

arCevnebs mainc gaayalbebs,

arCevnebs moigebs da

vinc opoziciis mxardamWeri

iyo daisjeba. xalxs eSinia,

rac absoluturad gasagebia,

magram arc is unda daviviwyoT,

rom SiSi ver ixsnis

sikvdilsa. Tu SiSs davZlevT,

gadavwyvetT arCevnebze vaJkacurad

mivideT da yvelam xma

im partias mivceT, vinc Cven

gvinda, Tu xalxis aqtiuroba

Zalian maRali iqneba, xelisufleba

arCevnebs ver gaayalbebs.

_ magram xalxi rom gaaqtiurdes,

opoziciamac igive magaliTi

xom unda uCvenos?

_ vmuSaobT xalxTan. yvelafers

Tavisi dasawyisi da

dasasruli aqvs. arCevnebamde

xom ar SeiZleba erTi tempiT

vimuSaoT?! yvelaferi gawerili

gvaqvs da gegmis mixedviT

midis.

_ alasaniam Tqva milioni

adamianis mobilizebas movaxdenTo,

ra keTdeba am kuTxiT?

_ rodesac xalxSi gadixar,

eubnebi maT xma momeciT _

es mobilizacia ar aris?! masiurad

vmuSaobT xalxTan, davdivarT

regionebSi, alasanias

ukve 200-ze meti sofeli aqvs

movlili, axla senakis mosaxleobas

xvdeba. es milioni

adamianis mobilizeba ar aris,

aba, ra aris?!

_ Tqven ki eubnebiT xma

mogvecio, magram ra garantiaa,

rom xelisuflebis represiuli

manqana Tqvenze ukeT ar mu-

Saobs?

_ gasagebia, raRac procenti,

albaT represirebuli iqneba,

da ver gabedavs xmis mocemas,

zogic nihilisturad

ganwyobili, magram aseTi procenti

rac SeiZleba dabali

unda iyos. xalxma nihilizms

unda sZlios.

_ ivaniSvilis politikaSi

mosvlis

dRidan xelisuflebis

mxridan ukanonobebis

kaskadi ar wydeba...

_ es xelisuflebis

sisusteze mianiSnebs.

rac ufro finalisken

wavalT, miT

met ukanonobas Caidenen.

Cven amisTvis mzad

varT da xalxic unda

iyos mzad, maT aqtiurad

unda aRimaRlon

xma am ukanonobis winaaRmdeg.

unda damTavrdes

xelisuflebaze CabRau-

Webis politika. xelisufleba-

Si mosvlis Semdeg Tu Cven ar

vivargebT, Catardeba arCevnebi

da wavalT. CvenTvis mTavari

iqneba xalxi da ara rogorme

xelisuflebaSi darCena.

_ arCevnebamde sxva formiT

rom gavilaSqroT, amas ra uSlis

xels, Tundac davafiqsiroT

Cveni protesti ivaniSvilisadmi

ukanonod CamorTmeuli

moqalaqeobis mimarT?

_ ver vityvi, rom xalxi

ar iTxovs amas, magram Tavad

batoni biZina erideba xalxisadmi

mowodebas, Tumca Cven

aqtiurad vibrZviT amisTvis.

ra ufleba aqvT, rom ar aZleven

moqalaqeobas? xalxma yvelgan

unda daafiqsiros, rom

is, rasac xelisufleba ake-

Tebs zRvargadasuli, binZuri

ukanonobaa. es SantaJia simar-

Tlis winaaRmdeg. xval viRac

ucxoeli Camova da mas SeiZleba

maSinve moqalaqeoba miscen.

amis sawinaaRmdego araferi

maqvs, demokratiuli principebis

momxre var, magram er-

Ti ram ver gamigia _ viRac gadamTiels

meore dResve vaZlevT

moqalaqeobas da kacs,

romelmac naxevari saqarTvelo

aaSena moqalaqeobas varTmevT?

Tu ara igi, vin aris aba saqar-

Tvelos moqalaqe, mixeil saakaSvili,

romelmac teritoriebis

20 procenti dakarga?!

_ am yvelafridan erTi

daskvnis gakeTeba SeiZleba, kanonis

farglebSi am xelisuflebasTan

saubari SeuZlebelia.

aki uwoda kidec alasaniam

maT kalveras banda. kalveras

bandas arCevnebiT rogor

unda ebrZoloT?

_ simarTle imarjvebs. rodesac

ukmayofilo xalxi raodenobrivad

izrdeba, es mere

xarisxobriobaSi gadadis. es

filosofiuri kanonzomierebaa

da aucileblad ase moxdeba. am

ukanono gzebiT mebrZol xelisuflebas

arCevnebiT mainc movugebT.

mTavari aqtivoba da

xalxis ganwyobaa. Tumca, brZola

advili ar iqneba.

_ bolo dros saubroben,

rom saakaSvili kvlav inarCunebs

aSS-s mxardaWeras da am

ukanasknels araferi scxia

imisa, rom miSas gadayenebis

momxrea. Tqven ras fiqrobT

amaze?

_ saakaSvils sazRvargareT

aRaravin uWers mxars. qarTvelebi

Zalian varT damokidebuli

imaze, Tu rogor gviWeren

ucxoeTidan mxars. samwuxarod,

moxda ise, rom Tu 7-8

wlis win saqarTvelo ucxoe-

Tis sagareo politikaSi privilegirebul

adgils ikavebda,

dRes gacilebiT dabal safexurzea,

rasac am xelisuflebam

Seuwyo xeli. dRes iqneba

ara ise, rogorc aSS-s unda,

aramed ise, rogorc qarTveli

xalxi gadawyvets. aSS ki

mxars dauWers xalxs da ara

saakaSvils.

_ konstituciaSi cvlileba

Sedis, romlis Tanaxmad ivaniSvils

SeeZleba arCevnebSi

monawileobis ufleba, magram

ara finansebis xarjva.

_ maT eSiniaT, rom arCevnebs

movigebT da kanons yurs

iqiT abamen, saiTac surT. dRes

moagondaT, rom Turme es kanoni

ar yofila swori da adre

Tu SeiZleboda dafinansebis

miReba, axla aRar SeiZleba.

wina arCevnebze kenWs rom iyridnen,

ratom maSin ar Secvales

es kanoni, ra maSin ar

hyavdaT iuristebi?! am yvelafers

maT SiSi akeTebinebs. sam-

Tavrobo saaTze merabiSvilma

Tqva _ Tu vova sanakoevi qar-

Tul saqmes gaakeTebs, ar gvainteresebs

igi vin aris, Tundac

fsb-s agenti iyos, ucxo

kapitals suni ar aqvso. ver

gavige, ivaniSvilze rom amboben

rusuli fuli aqvs da mxari

ar dauWiroTo, ras niSnavs

es gancxadeba?! eseni imdenad

gagiJdnen, yvelafers kadruloben.

midis propaganda, rom

ivaniSvils fuli ruseTSi

aqvs naSovni, rac sruli absurdia.

maSin, sanakoevis fuli

ratom gvinda, gaurkvevelia.

ras hgavs es?

_ batonma biZinam erT-erT

konferenciaze quCaSi gamosvlac

ar gamoricxa. gubaz sanikiZemac

Tqva amas winaT erTerT

interviuSi _ gamovalT,

ga-mo-val-To! marTlac gegmavT

aqciebs?

_ calkeul sakiTxebze SeiZleba

mitingi Catardes an

raime moTxovna gaJRerdes, magram

es sul sxvaa. Cven vemzadebiT

arCevnebisTvis da ara

aqciebisaTvis.

Tamar SveliZe
---
#22 (206), 9-15.V, 2012 w.

saerTo gazeTi

5

gasul kviras amerikis respublikurma

saerTaSoriso institutma

IRI-m kvlevis Sedegebi

gamoaqveyna, romelmac sazogadoebaSi

bevri kiTxvis ni-

Sani gaaCina. konkretulad ratom

arsebobs aseTi negatiuri

damokidebuleba kvlevebisadmi

da SesaZloa, Tu ara kvlevis

Sedegebma gavlena iqonios,

amomrCevlis gadawyvetilebaze.

,,saerTo gazeTs" politologi

ramaz sayvareliZe esaubra.

_ batono ramaz, ras fiqrobT

aSS-is saerTaSoriso

respublikuri institutis mier

Catarebul kvelvebze, ramdenad

damajereblad migaCniaT?

_ IRI-is mier Catarebuli

kvlevis Sedegebi damajereblad

ar mimaCnia da samwuxarod, am

undoblobas ewireba is, rac yvelze

Zalian miyvars _ sociologiaa.

kvlevisadmi, pirvel

rigSi, Cemi undobloba ganpirobebulia

im saidumloebebiT,

rac axasiaTebs IRI-isa da NDIis

kvlevebs. isini zust monacemebs

ar aqveyneben da mere

mkiTxaoba gviwevs. vgulisxmob,

Tundac politikuri partiis

reitingebs, romelsac Tavad ar

axmovaneben, magram viRaca yovelTvis

aqveynebs da mere gviwevs

mkiTxaoba, Tu ramdenad

zustia gavrcelebuli cifrebi.

bunebrivia, monacemebs avrcelebs

is partia, visTvisac dadebuli

reitingebi ufro xelsayrelia.

IRI-is kvlevaSi aris

aseTi kiTxva, Tu romel liders

endobiT opoziciidan. sainteresoa,

ratom aris am formiT

dasmuli SekiTxva? saer-

Tod vis endobiT ar SeiZleboda

ase dasmuliyo SekiTxva? am

SemTxvevaSi, roca ase viwrovdeba

sakiTxi, bunebrivia, ,,nacionaluri"

moZraobisTvis ufro

upriani iqneba kvlevaSi SedarebiT

,,rbili" opozicioneris

lideroba, vidre Tundac biZina

ivaniSvilis.

_ kiTxvaze, Tu romel opoziciur

liders endobiT, kvlevis

mixedviT 28%-iT giorgi

TargamaZe liderobs, meore adgilze

21%-iT biZina ivaniSvilia.

es cifrebi ramdenad asaxavs

im politikur realobas,

rac qveyanaSia Seqmnili?

_ es kiTxva unda daesvaT im

adamianebisTvis, vinc opoziciis

mxardamWeria da ara yvelasTvis.

,,nacionaluri" moZraobis

mxardamWers rom hkiTxav opoziciidan

vis uWers mxarso,

cxadia, daasaxelebs iseT kandidats,

vinc misTvis da xelisuflebisTvis

ufro komfortulia.

giorgi TargamaZe, rogorc

Cans, mmarTveli gundisTvis

misaRebi opoziciuri lideria.

_ batono ramaz, cota xnis

win ,,qdm" daviT lorTqifaniZem

politikuri Sexedulebis gamo

datova da ,,qarTul ocnebaSi"

gadavida. Tqvenc iziarebT mosazrebas,

rom ,,qristian-demokratebi"

xelisuflebis TamaSs

TamaSoben?

_ yovel SemTxvevaSi, xelisuflebisTvis

,,qristiandemokratiuli"

moZraoba arasasurvel

partiad ar aRiqmeba.

sakonstitucio iniciativa,

rac moZraobis wevrebma wamoayenes,

,,nacionalebma" aRfrTovanebiT

,,aitaces" da aseTi

harmonia maT Soris xSirad

ikiTxeba. Tavs vityuebT Tu

erTmaneTs vatyuebT _ gaugebaria.

_ respublikuri institutis

kvlevaSi kiTxvaze: xval

rom saparlamento arCevnebi iyos,

romel partias dauWerdiT

mxars reitingi ase gadanawilda

_ ,,nacionaluri moZraoba~

45%, ,,qarTuli ocneba" _ 15%,

,,qdm" _ 9%. ras fiqrobT am

maCveneblebze?

_ am formiT dasmul SekiTxvaze

aseT Sedegs rom miiRebdnen,

Zneli asaxsneli ar

unda iyos. vfiqrob, es suraTi

ufro xelovnuradaa Seqmnili.

_ anu IRI-i xelisuflebis

dakveTas asrulebs?

_ cota xnis win NDI-sac

swored am formulirebiT hqonda

kiTxvebi Sedgenili da monacemebic,

TiTqmis, IRI-is kvlevis

Sedegebis analogia. me, piradad,

studentma am formulirebiT

Sedgenili kiTxvari rom

momitanos, ukan davubruneb.

ixileT `saerTo gazeTi~

internetSi

www.saertogazeti.ge

SemogvierTdiT FACEBOOK-ze

_ ras uwunebT

konkretulad IRI-is

kiTxvars?

_ kiTxva gamiznulad

isea dasmuli,

rom SedegSi miviRoT

giorgi TargamaZe da

ara ivaniSvili. anu

dasmuli SekiTxva

provocirebas uke-

Tebs pasuxs, ise, rom

kiTxvari Segnebulad

gamiznulia konkretuli

SedegisTvis.

_ am SemTxvevaSi

visze, an raze iyo Sedegi

orientirebuli?

_ am SemTxvevaSi

giorgi TargamaZe sazogadoebaSi

ufro ndobiT

aRWurvilad unda

gamoiyurebodes, vidre

biZina ivaniSvili.

_ Tu kvleviTi organizaciis

Sedegebi realurad ar asaxavs

im situacias, rac qveyana-

Sia, maSin ra mizani aqvs

kvlevis Catarebas da SesaZloa,

Tu ara arsebulma Sedegebma

sazogadoebaze gavlena

moaxdinos?

_ SeiZleba, garkveul nawilze

moaxdinos, magram saer-

Todac rom ar moaxdinos da

Tu arCvenebze saarCevno Sedegebi

kvlevis analogi iqneba, ma-

Sin mmarTveli gundi am kvlevebs

argumentad gamoiyenebs,

rom arCvenebi gayalbebuli ar

ramaz sayvareliZe:

ar mesmis ratom dasWirda

amerikis an erT, an meore kvleviT

organizacias gamxdariyo

saakaSvilis sarCevno Stabis

erT-erTi ganyofileba?

aris. ase, rom mzaddeba arCevnebis

gayalbebis foni.

_ SesaZloa, vivaraudoT,

rom IRI-is kvlevis Sedegebi

,,nacmoZraobis" prestiJisTvis

Catarda?

_ swored es ar mesmis, ratom

dasWirda amerikis an erT

(IRI), an meore organizacias

(NDI) gamxdariyo saxelisuflebo

Stabis erT-erTi ganyofileba.

aSS-isTvis es faqtori

damamcirebelia.

_ saubroben imaze, rom aSSi

ar miiRebs saqarTveloSi gayalbebul

arCevnebs. igive IRI,

NDI xom amerikuli organizaciebi

arian, maSin ras niSnavs

es yvelaferi?

_ ki, magram, viciT vis

emorCilebian? isini ukve didi

xania saqarTveloSi muSaoben da

iqneb maT saqarTvelos xelisuflebasTan

Tavi kargad igrZnes?

saqarTvloSi NDI-i luis

navaros xelmZRvanelobamdec

arsebobda, Tumca aseT politikur

WidiliSi monawileobas ar

Rebulobda. analogiurad IRI-c

CarTulia analogiur TamaSSi.

amitom maTi moxibvla, an ,,nacionalurma"

moZraobam moaxerxa,

an TavianTi qveynis politika

Tavad am organizaciebs ar ainteresebT.

_ ra unda gakeTdes saimisod,

rom kvlevbisadmi amdeni

kiTxvis niSnebi ar daisvas?

_ iago kaWkaWiSvilma SesTavaza,

rom maT erTmaneTis kvlevebi

gadaemowmebinaT, Tumca arc

IRI-m da arc NDI-m mis iniciativas

mxari ar dauWira, rac

kidev erTxel miuTiTebs imaze,

rom amerikuli organizaciebi

WeSmaritebiT dainteresebuli

ar arian.

_ erTia, roca kvlevis Seegebs

ar endobiT, magram is

cifrebi rac IRI-m ,,qarTul

ocnebasTan" dakavSirebiT dado,

xom ar aris ganpirobebuli ivaniSvilisa

da misi garemocvis

pasiurobiT?

_ rac ufro aqtiuri iqneba

esa Tu is mxare, miT ufro nakleb

damajerebeli iqneba misi

dabali reitingi. Tumca me arc

imas gamovricxav, rom ivaniSvilis

mxares ufro dabali reitingi

arsebobdes, vidre kvlevaSia

asaxuli, radgan maTi

mxridan aqtiuroba ar aris.

Tumca am SemTxvevaSi, ufro mawuxebs

sociologiis bedi, vidre

ivaniSvilis.

_ ras gulisxmobT?

_ samwuxarod, sociologiis

diskreditacia xdeba. albaT,

sociologia simarTles roca

ityvis, arc maSin daujereben.

_ Tumca xelisufleba yovelTvis

axerxebs mZime situaciidan

gamosvlas da viTarebis

saTavisod Semobrunebas?

_ xelisufleba Zalian seriozuli

mebrZolia da brwyinvaled

icis politikuri brZolis

meTodebi da Sesabamisad

karg Sedegebsac iRebs.

_ aseTi Zlieri konkurentis

pirobebSi ramdenad sworad

moqmedebs ivaniSvili, roca

aseT pasiurobas iCens?

_ SesaZloa, arsebobdes ase-

Ti strategia, rom piks miaRwion

maSin, roca qveyanaSi winasaarCveno

bumi iqneba.

agvistos bolo da seqtemberi

iqneba piki am arCevnebisTvis

da Tqma imisa, rom am strategias

arsebobis ufleba ar

aqvs, marTebuli ar iqneba.

_ 27 maiss ,,qarTuli ocneba"

winasaarCevno kampaniis farglebSi

masStabur aqcias gegmavs.

am masStabis aqcia, Tundac

moedanze, ramdenad iqneba Sedegze

orientirebuli?

_ gaaCnia, stadionze ras

apireben `ocnebis~ warmomadgenlebi.

albaT, gaxsovT, ramdenime

wlis win, roca stadionze

opoziciis iniciativiT xalxi

Seikriba, finalma ra dramatuli

saxe miiRo da faqtobrivad,

gadaswona Sekrebis yvela plusi.

amitom gaaCnia, rogoraa gawerili

,,qarTuli ocnebis" gegmebi

da ra aqvT mofiqrebuli

saimisod, rogor gauSvan stadionze

misuli aTasobiT adamiani,

rac advili saqme namdvilad

araa. amitom ar vici, rogori

scenari muSavdeba da sanam

ar vnaxav, komentaris gake-

Teba gamiWirdeba.

miranda nabaxteveli

jon basi: yvelgan unda iyos daculi saerTaSorisod

aRiarebuli uflebebi ise,

rogorc es dasavleTSia

saqarTveloSi aSS-is elCis jon basis gancxadebiT, mniSvnelovania

rogorc mSvidobis miRweva, aseve muSaoba misi

SenarCunebisTvis da iseTi qveynebis daxmareba, visac am

TvalsazrisiT problemebi aqvs.

amis Sesaxeb jon basma dRes vakis parkSi ucnobi jariskacis

saflavis yvavilebiT Semkobis Semdeg ganacxada.

rogorc basma aRniSna, yvelgan unda iyos daculi saer-

TaSorisod aRiarebuli uflebebi ise, rogorc es dasavleT-

Sia.

`medianiusi~
---
6 saerTo gazeTi #22 (206), 9-15.V, 2012 w.

marTalia, amerikis

elCi jon basi da

misi Semcvlelic,

agreTve aSS-s zogierTi

maRalCinosanic

xSirad gamoTqvamen

SeSfoTebas saqarTveloSi

Seqmnili

antidemokratiuli

garemos da am

garemos sulisCamdgmelis

mixeil saakaSvilis

misamar-

TiT, magram am SeSfoTeba-aRSfoTebas

jerjerobiT

realuri Sedegebi

ar mohyolia _ saakaSvili

isev saakaSvilobs,

mogelaZe

mogelaZeobs, Jurnalistebs

Zveleburad

scemen, biZina

ivaniSvilis mxardamWerebs

aviwroeben,

TviTon batoni

biZinasTvis ki dRemde

aravis daubrunebia

saqarTvelos

moqalaqeoba da,

rogorc Cans, axlo

momavalSi amis gake-

Tebas arc aravin

apirebs.

Tu imasac gavixsenebT,

rom barak obamasTan vizitis

dros aSS-s prezidentma

araorazrovnad mianiSna mixeil

saakaSvils, rom aucilebelia

xelisufleba ar-

Cevnebis gziT oficialurad

gadabardes, rom saakaSvilmac

da saqarTvelomac SeinarCunos

regionSi demokratiis

flagmanis imiji, TiTqos

yvelaferi naTeli da

cxadia _ aSS arCevnebis

gziT xelisuflebis cvlilebisken

miuTiTebs saakaSvils

da samarTliani, Tavisufali,

obieqturi arCevnebis

Catarebisken mouwodebs,

Tumca is realuri situacia,

rac dRes saqarTvelo-

Si sufevs, absoluturad

sawinaaRmdegos amtkicebs _

saakaSvili arc samarTliani

arCevnebis Catarebas apirebs

da arc Zalauflebis daTmobaze

fiqrobs.

Tu mis bolodroindel

gancxadebebs

guldasmiT mivayuradebT,

saakaSvili

ar malavs, rom premier-ministrobisTvis

emzadeba da pirdapir

iTxovs saqarTvelos

mosaxleobisgan,

rom 3-4

weli xelisufleba-

Si darCenis saSualeba

mieces (gaixseneT,

wyaltuboSi gakeTebuli

gancxadeba...)

mTeli misi bolodroindeli

piari _ obieqtebis

gaxsna, lentebis gaWra, lazikis

mSenebloba da a.S. mimarTulia

erTi miznisken _

aCvenos saqarTvelos mosaxleobas,

rom is premier-ministrobisTvis

aris dabadebuli,

rom is uniWieresi

meurne, brwyinvale menejeri

da organizatoria, romelsac

SeuZlia saqarTvelo,

qarTuli ekonomika

ramdenime weliwadSi aayvavos.

mkiTxvels isic movagonoT,

ra umwvavesi reaqcia

mohyva saakaSvilis da misi

garemocvis mxridan im

ramdenime kritikul SeniSvnas

da komentars, romelic

aSS-s elCma basma

gaakeTa.

_ amerika Cveni strategiuli

partnioria, magram

aravis daaviwydes, rom saqarTvelo

suverenuli da

damoukidebeli saxelmwifoa

da Cvens Sinaur saqmeebSi

Carevis uflebas aravis mivcemTo

_ boboqrobda boboxiZe,

romelic xan saakaSvilis

gulis xvaSiads axmovanebs,

xan im adamianebs etaneba

sacemrad, romelTa galaxva

icis, rom saakaSvils

eameba.

asea Tu isea, saakaSvilis

da misi gundis reaqcia aSSs

oficialuri elCis misamarTiT

ukompromiso da gamomwvevi

xasiaTis iyo, rac

kidev erTi dasturia imisa,

rom saakaSvili da nac.moZraoba

sulac ar apireben

oqtombris arCevnebSi TviTnebobisa

da gayalbebis mravalgzis

nacad meTodebze

uaris Tqmas da Zalauflebis

daTmobas.

* * *

biZina ivaniSvilis

da misi koaliciis

mier mravaljer,

kategoriuli

toniT gacxadebul

principul mosazrebas,

rom xelisuflebis

Secvlis er-

TaderT saSualebad

arCevnebi miaCniaT,

analitikosebi

da eqspertebi imiT

xsnian, rom ivaniSvili

da koalicia angariSs

uweven aSS-s

administracias da

cdiloben. misi favoriti

saakaSvili,

romelzec amerikeli

xalxis uzarmazari

Tanxebi daixarja,

mSvidobianad,

naklebi xmauriT

da naklebi skandaliT

CamoaSoron xelisuflebas,

riT-

amerikis mxardaWerac kargia da

evrokavSirisac, magram, rogorc

qarTvel xalxs, ise biZina ivaniSvils,

erTmaneTis iqiT gza ar aqvT!..

ac, ase vTqvaT, saxe

SeunarCunon aSS-s

romelsac saakaSvilTan

mimarTeba-

Si, roca mas demokratiis

Suqurad gvisaxavda,

an raRac

SeeSala, an Segnebulad,

sakuTari saxelmwifo

interesebidan

gamomdinare,

wlebis ganmavloba-

Si mfarvelobda aSkarad

diqtatorul-avtokratiuli

Tvisebebisken midrekil,

fsiqiurad

gauwonasworebel

pirovnebas, romelmac

ara marto saqarTvelos,

aramed
---
#22 (206), 9-15.V, 2012 w. saerTo gazeTi

7

amerikis interesebsac

seriozuli dartyma

miayena Tavisi

ukontrolo da

araadeqvaturi qmedebebiT.

biZina ivaniSvils, Tavisi

uzarmazari avtoritetiT,

didi finansuri SesaZleblobebiT,

Tavisuflad SeeZlo

politikaSi mosvlis

pirvelsave dReebSi mTeli

saqarTvelo gamoeyvana gareT

da saakaSvilis reJimi drois

mcire monakveTSi daem-

Tavrebina, magram man es ar

gaakeTa, rac msoflios wamyvani

demokratiuli saxelmwifoebis

mxridin saTanadod

iqna dafasebulic da Sefasebulic.

swored amis dasturi

gaxldaT 18

qveynis elCis stumroba

mis rezidenciaSi,

rac uprecedento

SemTxvevad SeiZleba

CaiTvalos _

kerZo pirs, romelmac

jerjerobiT

mxolod politika-

Si mosvlis gancxadeba

gaakeTa, 18 qveynis

elCi saxlSi stumrobdes,

iSviaTi

ambavia.

pirvel xanebSi TiTqos

yvelaferi rigze iyo, magram

dro gadioda da am 18 saxelmwifos

da maT Soris

aSS-s oficialurad gamJRavnebul

mxardaWeras saTanado

Sedegi ar mosdevda _ biZina

ivaniSvilisTvis moqalaqeobis

dabrunebis sakiTxi,

miuxedavad Tavad ivaniSvilis

da misi garemocvis optimisturi

ganwyobisa, ver

gadawyda. gagrZelda kontrolis

palatis represiebi

ivaniSvilis winaaRmdeg, kidev

ufro gaZlierda

ivaniSvilis mxardamWerTa

devna da Seviwroeba, yvelaferi

`es ki `endiais~ da

`airais~ kvlevebma `daagvirgvina~,

sadac erT-erTi bolo

monacemiT, biZina ivaniSvils

giorgi TargamaZem gauswro

_ saqarTvelos mosaxleobis

28 procenti,

rogorc opozicioners,

TargamaZes endoba, ivaniSvils

ki mxolod 21 procenti

wyalobs Turme...

mTelma saqarTvelom icis

da `rairaim~ rogor ar

icis, rom TargamaZe iseTive

opozicioneria, rogorc `padoSaa~

dalai lama, magram

es xels ar uSlis am seriozul

organizacias kidev

erTxel Seayaros nacari saqarTvelos

mosaxleobas isedac

nacriT savse TvalebSi.

* * *

Zneli dasajerebelia,

rom miSa mar-

Tlac iseTi magaria,

rom aSS-sac ar

epueba da kvlav Tavis

Wkuaze apirebs

ixileT `saerTo gazeTi~

internetSi

www.saertogazeti.ge

SemogvierTdiT FACEBOOK-ze

qveynis marTvasac

da arCevnebis Catarebas.

Zneli dasajerebelia,

rom aSS-s

iseTi kvleviTi organizaciebi,

rogoric

`endiai~ da `airai~

SemTxveviT debdnen

aseT gamaognebel

Sedegebs da Savis

TeTrad warmo-

Cenis tradicias SemTxveviT

agrZelebdnen.

kidev ufro Zneli dasajerebelia,

rom aSS ver xedavdes

da ver amCnevdes, Tu

rogor mkacrdeba isedac mkacri

policiuri reJimi saqarTveloSi

da rogor vSordebiT

demokratiul faseulobebsa

da Rirebulebebs.

yovelive amis Semdeg, ratom

iqmneba iseTi STabeWdileba,

rom aSS mainc ver

eleva Tavis `rCeuls~ da

kvlav jiutad cdilobs saakaSvilisa

da misi gundis

xelisuflebaSi datovebas?

swored amas xom ar emsaxureba

`endiaisa~ da `airais~

ferad-feradi zRaprebis

tiraJireba da sasurvelis

sinamdviled warmoCenis mcdeloba?

* * *

arsebobs safuZvliani eWvi,

rom mavanni da mavanni

dabejiTebiT arwmuneben bi-

Zina ivaniSvils, rom mas didi

mxardaWera aqvs aSS-s

oficialuri wreebis warmomadgenlebisgan

da es mxardaWera

aucileblad dadebi-

Tad aisaxeba oqtombris saparlamento

arCevnebis Sedegebzec.

Sors varT im azrisgan,

rom es raRac boroti ganzraxviT

keTdeba da am adamianebs

Segnebulad SehyavT

SecdomaSi biZina ivaniSvili

da qarTveli xalxi.

mizezi martivze martivia

_ am adamianebs surT xazi

gausvan TavianT gansakuTrebul

misias da rols da saqme

ise warmoaCinon, TiTqos

swored isini arian gamarjvebis

erTaderTi garantorebi,

Tumca `sinamdvileSi~ ma-

Ti zedmeti aqtiuroba da

mudmivad wina planze yofna

ivaniSvilis reitings sasikeTod

ar argia _ saqme is

aris, rom qarTveli xalxis

did nawils ar uyvars amerikelebi,

rac TviTon amerikelebis

farisevluri politikis

da am politikasTan

asocirebuli saakaSvilis

didi damsaxurebaa.

Tumca, modiT, am sakiTxis

farTo ganxilvisgan

amjerad Tavi SevikavoT da

kvlav im kiTxvas davubrundeT

_ uWeren Tu ara amerikelebi

mxars ivaniSvils da

ramdenad seriozulia es

mxardaWera?

globalisturi ideologiis

mTavari principebis

gaTvaliswinebiT, romlis

mTavari medroSe aSS gaxlavT,

amerikelebs ar SeiZleba

gulwrfelad moswondeT

da uyvardeT biZina ivaniSvili,

kaci, romelic

mTeli Tavisi Segnebuli

cxovrebiT, Tavisi filosofiiT,

Tavisi msoflmxedvelobrivi

koncefciiT qar-

Tuli saxelmwifos aRorZinebasa

da mis ganviTarebas

emsaxureba.

amerikelebs ar SeiZleba

uyvardeT kaci, romelic

ityvis, rom bavSvi dedam unda

aRzardos, saidanac erTi

nabijia daskvnamde, rom adamiani

samSoblom unda aRzardos,

rom adamiani, pirvelyovlisa,

sakuTar sam-

Soblos unda emsaxuros da

amiT emsaxuros mTel kacobriobas.

ivaniSvili ara, magram amerikelebs,

gnebavT, rusebs,

gnebavT, evropelebs SeiZleba

uyvardeT da moswondeT

giorgi TargamaZe an `pado-

Sa~ an ako minaSvili, an sulac

boco wiklauri...

rogorc Cans, saqarTvelom

erTxel

da samudamod unda

gaakeTos erTi um-

Tavresi daskvna _

naklebi yuradReba

unda miaqcos imas,

vis uWers mxars romelime

ucxo saxelmwifo

da arCevani

amis mixedviT ki

ara, im niSniT unda

gaakeTos, vis uZgers

guli saqarTvelosTvis

da vin

aris mzad TavganwirvisTvis.

bevrjer iTqva da kidev

erTxel gavimeorebTo:

am arCevnebSi

biZina ivaniSvilis

damarcxeba mTeli

saqarTvelos da

TiTeuli qarTvelis

damarcxebas ni-

Snavs. sxvaTaSoris,

im qarTvelis damarcxebasac

niSnavs,

romelsac hgonia,

rom ivaniSvilze gamarjvebiT

qveyanasac

da sakuTar Tavsac

did bednierebas

moutans.

giorgi

gamezardaSvili
---
8 saerTo gazeTi #22 (206), 9-15.V, 2012 w.

`saerTo gazeTis~ dRevandeli

stumari qristian-demokratiuli

partiis wevri, sakrebulos

deputati, istorikosi

jaba samuSiaa...

_ batono jaba, Tqven Cemi

respodenti pirvelad brZandebiT

da imedi maqvs im Temebze,

romelic dRes qarTul sinamdvileSi

gansakuTrebiT aqtualuria,

gulaxdilad mesaubrebiT...

_ ki, batono, ar aris

problema...

_ Tqveni azriT, bolo er-

Ti kviris ganmavlobaSi saxelisuflebo

arxebi Sem-

TxveviT amboben aseT

frazas `saqarTvelos meore

dedaqalaqi~ da kidev,

saakaSvili ase ratom

Cqarobs quTaisi meore

politikur centrad

warmoaCinos?

_ Cemi azriT, es aris

winasaarCevno kampaniis

farglebSi da xelisufleba

cdilobs amgvari

manipulirebiT quTaisel-

Ta gulis mogebas, magram

saxelmwifoebrivi azrovneba

arCevnebidan-arCevnebamde

xom ar unda ganisazRvrebodes?

dameTanxmeT,

rom saxelmwifoebrivi

azrovneba ufro metia,

vidre arCevnebi da

rodesac Cven vsaubrobT or

dedaqalaqze, or politikur

centrze da a.S. amis analizi

ufro gvWirdeba da ara is, Tu

ra sWirdeba mixeil saakaSvils

arCevnebisTvis! piradad me, am

SemTxvevaSi es naklebad mainteresebs,

magram Cven, qristian-demokratebi

vTvliT, rom

amdagvari TemebiT manipulireba

araTu Secdomaa, aramed Zalian

saxifaToc! ufro metic, qveynis

SigniT ori politikuri

polusis gaCena ar SeiZleba da

miTumetes ar SeiZleba am Temebis

gamudmebuli manipulireba!

rodesac Cven vsaubrobT meore

dedaqalaqis gaCenaze, aq

unda amovideT pirveli biujetiT,

meore saxelmwifo interesidan

da mesame istoriuli

realobidan da istoriuli

faqtoriT! ai, es samive faqtori

miuTiTebs imas, rom aseTi

gadawyvetilebebi sakmaod sensitiuria,

imitom, rom rodesac

Cven vlaparakobT Tbilisze,

rogorc saqarTvelos dedaqalaqis

faqtorze, unda vicodeT,

rom am SemTxvevaSi da

adrec, Tbilisi mxolod saqar-

Tvelos dedaqalaqi ki ar gaxlavT,

aramed kavkasiaSi lideri

qalaqis funqcia hqonda

odiTganve da es nurc azerbaijanelebs

ewyinebaT da nurc

somxebs! istoria amas gviCvenebs

Semdegnairad, rodesac

ruseTi kavkasiaSi mkvidrdeboda

da iqmneboda erTgvari kavkasiuri

masStabis samefisnacvlo,

mefisnacvali ijda TbilisSi!

Semdgom Seiqmna da ramdenime

Tve iarseba, amierkavkasiis

federaciulma respublikam

da misi centric iyo Tbilisi!

rodesac Seiqmna amierkavkasiis

seimi, anu kavkasiis

parlamenti, misi centric iyo

Tbilisi, anu me amiT imis xazgasma

minda, rom Tbiliss

odiTganve hqonda istoriuli

mniSvneloba kavkasiis masStabiT!

axla, rac Seexeba mTeli,

saqarTvelos masStabiT, Tbilisis,

rogorc dedaqalaqis

mniSvnelobas...

qalbatono irina, vidre am

Temas mivubrundebi, minda aqve

davamato, rom quTaisis mimarT

me Cemi gansakuTrebuli pativiscema

da siyvaruli maqvs. es

aris Cemi piradi, naTesauri

urTierTobebidan dawyebuli,

udavoa, rom quTaisi sufTa

qarTuli qalaqia, Tumca saqar-

TveloSi mosaxleobis 30-35

procenti araqarTveli mosaxlea,

isini, ZiriTadad, aRmosavleT

saqarTveloSi arian dasaxlebuli

kompaqturad da er-

TaderTi didi qalaqi, romel

qalaqSic Cans, es interkulturuli

garemo aris mxolod

Tbilisi. anu, es mravalerovnuli

tradicia Tbiliss yovelTvis

hqonda da es iyo erTgvari

ixileT `saerTo gazeTi~

internetSi

www.saertogazeti.ge

SemogvierTdiT FACEBOOK-ze

ori politikuri centris

Camoyalibebam SeiZleba

saqarTvelo daSlamde miiyvanos...

mikrosaqarTvelo Tbilisis

masStabiT _ es erTi mxare! meore

es aris Tbilisis mdebareoba,

romlis mixedviTac igi ar

ekuTvnis arcerT konkretul

kuTxes da regions! SeiZleba

vinmem Tqvas, rom Tbilisi

ekuTvnis Sida qarTls, magram

mtkvris es zoli, romelic

iwyeba mcxeTasTan da mTavrdeba

daaxloebiT rusTavis mimarTulebiT,

erTi konkretuli kuTxis

kuTvnileba arasodes ar

yofila da gardamavali zonaa,

anu Tbilisi Tavisi mdebareobiT

erTaderTi qalaqia mTlianad

saqarTveloSi, romelic

esazRvreba TiTqmis yvela did

qarTul kuTxes. es aris, samxreT

saqarTvelo qvemo qarTli,

Sida qarTli, kaxeTis zona, saqarTvelos

mTianeTi da a.S. anu,

am SemTxvevaSic geografiuladac

Tbiliss gamorCeuli

mdebareoba da

funqcia aqvs, gamigeT? ra

Tqma unda ganuzomlad

didi funqcia aqvs quTaiss

qarTul sinamdvile-

Si, magram daakvirdiTm ra

gaakeTa daviT aRmaSenebelma,

roca Tbilisi aiRo?

man taxti gadmoitana TbilisSi,

radgan xedavda am

qalaqis strategiul daniSnulebas

ara mxolod

saqarTvelosTvis, aramed

regionis TvalsazrisiTac

da es yvelaferi qarTuli

saxelmwifos interesebidan

iyo gamomdinare!

_ jaba, Zalian sainteresoa

finansuri TvalsazrisiT

ramdenad gamarTlebulia parlamentis

quTaisSi gadatana?

an Tu aris wlevandeli biujetidan

gamoyofili Tanxebi am

midi-modisTvis?

_ saqmec imaSia, rom es Tanxebi

biujetSi gaTvaliswinebuli

ar aris!! parlamentis quTaisSi

gadatana da TbilisSi

mTavrobis datoveba, xom yvelam

viciT, rom gamoiwvevs damatebiT

xarjebs? Cveni gaangariSebiT,

mTeli am infrastruqturis

gadatana daaxloebiT 140

milionamde jdeba da Tu vinicobaa,

mTavrobis infrastruqturis

quTaisSi ar gadaitanen,

xarjebi ufro gaizrdeba, radgan

parlamenti da mTavroba

yvelaze ufro harmoniulad

Tanaarseboben erTmaneTTan da

erTmaneTTan mivlinebebis re-

JimSi urTierToba, xom warmogidgeniaT,

ra Tanxebze ava?

_ ori politikuri centris

arsebobs qveynisaTvis SesaZloa

damRupveli gamodges! Zalian

mdidar qveynebs evropaSi Tuki

meore didi qalaqis ekonomikurad

wamoweva undaT, parlamenti

ki ar gadaaqvT iq?

_ msoflioSi, TiTze CamosaTvlelia

is qveynebi, sadac

dedaqalaqis funqcia aqvs or

qalaqs, magaliTad, amerikaSi

aseTia vaSingtoni da niu-iorki,

niderlandebSi amsterdami

da haaga, magram saqarTvelos

SemTxvevaSi ori politikuri

centris gamoCenam istoriulad

Zalian cudi Sedegebi moitana

da qveyana daSlamde miiyvana!

anu amiT me imis xazgasma

minda, rom politikuri

centrebis ase gadanawileba

aris danaSauli da ar SeiZleba!

SeiZleba quTaisi ekonomikurad

daawinauro, gacilebiT

meti investicia gauSva am qalaqSi

da es TavisTavad Zalian

kargi iqneba, magram quTaiss,

meore politikuri centris

politikuri elferi ar

unda SesZinon! ori Tanabari

rangis politikuri centris

arseboba, vimeoreb Zalian cudia,

magram Tuki xelisuflebas

eyofa gambedaoba, unda

Tqvas, rom Tbilisi amdagvari

midgomebiT dakargavs Tavis

dedaqalaqobas!

_ jaba, ase haiharad, viRacis

neba-survilebiT unda xdebodes

dedaqalaqebis gadatanagadmotanis

sakiTxebi? sazogadoeba

ar unda monawileobdes

am sakiTxebis gadawyvetaSi?

_ai, swored eg aris qristian-demokratebis

pozicia am

sakiTxTan dakavSirebiT. pirdapir

geubnebiT, araTu prezidentis,

aramed arc erTi politikuri

partiis gadasawyveti ar

aris dedaqalaqebis ase gadatana-gadmotanis

sakiTxi. es unda

gadawyvitos sazogadoebam, saqarTvelos

yvela kuTxeSi

mcxovrebma adamianebma, radgan

dedaqalaqi ara mxolod quTa-

Turebis anda Tbiliselebis

aris, aramed sruliad saqarTvelosia

da maT aucileblad

unda hkiTxon, sad moiazreben

isini qveynis politikur centrs,

gamigeT?

_ e.i. wminda sareferendumo

Temaa da vin misca ufleba

nac. moZraobas, Tundac Cems magivrad

gadawyvitos Tbilisi

iqneba dedaqalaqi, quTaisi, ba-

Tumi Tu soxumi?

_ ra Tqma unda,

referendumiT unda gadawydes,

amas rad unda laparaki?

me, rogorc rigiTi moqalaqe,

Cems pozicias davafiqsireb,

sxva _ Tavisas, magram ase meyseulad,

ase 150 kacis gadawyvetilebiT

da ase erTi xelis

dakvriT dedaqalaqebis gadatana-gadmotanebi

ar SeiZleba! me

xazgasmiT minda aRvniSno, rom

TviT vaxtang gorgasalmac ki,

roca man mcxeTidan TbilisSi

gadmoitana dedaqalaqi, ver

SesZlo, am reformis bolomde

gatareba imitom, rom TiTqmis

erTi saukune dasWirda am process.

istoriuli wyaroebi

gvamcnoben, rom `mcxeTa icleboda

da Tbilisi Zlierdebodao~.

_ arada mcxeTa da Tbilisi

erTmaneTTan erT mtkavelze

arian, roca quTaisamde aqedan

karga didi manZilia.

_ rasakvirvelia... saqme ima-

Sic aris, rom saxelmwifoebrivad

ra perspeqtiva aqvs am

nabijs? Tu aqedan amovdivarT,

maSin Cven aucileblad unda

gvqondes gaTvlili wlebis

Semdeg ra procesebi SeiZleba

ganviTardes? ar dagvaviwydes,

rom perspeqtiviT Cven, Zalian

savalalo da uaryofiTi Sedegebi

SeiZleba miviRoT, radgan

Tbilisi swored im regionebs

esazRvreba, sadac kompaqturad

araqarTveli mosaxleobaa dasaxlebuli!

bunebrivia, es Temac

gasaTvaliswinebelia, radgan

Cveni moqalaqeebis am nawilmac

unda igrZnos, rom qar-

Tuli saxelmwifos nawili arian

da ai, am politikis Ziri-

Tadi gamtarebeli aRmosavleT

saqarTveloSi, am SemTxvevaSic

aris Tbilisi! metic, swored

Tbilisma aCvena mTel sazogadoebas

is Tu, rogor SeiZleba

azerbaijaneli da somexi

erovnebis adamianebis erT quCa-

Si mSvidobianad Tanacxovreba

maSin, roca am or ers Soris

omi mimdinareobda...

_ absoluturad geTanxmebiT,

magram ramdenime dRis win

jer kidev TbilisSi, parlamentis

Senobis win swored am

ori erovnebis axalgazrdebma

moiyares Tavi da situaciis

daZabvas araferi aklda...

_ iciT, ra? politikuri

elitis Tbilisidan gasvlis

SemTxvevaSi, am Temebma SeiZleba

Zalian

cudad

imuSaos!

amitom

vambob,

rom saxelmwifo interesebidan

gamomdinare unda iyos xelisuflebis

mxridan gadadgmuli,

nebismieri nabiji-Tqo, gamigeT?

_ iciT ra mgonia? rom saakaSvils

quTaisSi parlamentis

gadatana viRac gare Zalam

ukarnaxa da es kidev, rogorc

yovelTvis, marionetiviT emor-

Cileba.

_ modiT, ase vTqvaT, ra?

ras aZlevs quTaiss parlamentis

am qalaqSi gadatana? maqsimum

1500 kacs, romelic iq Cava

da dasaqmdeba, anu 1500 samuSao

adgils, xom? am 1500 kacidan

naxevari, SeiZleba arc ki

iyos quTaiseli, radgan xSir

SemTxvevaSi ase xdeba! Cemi azriT,

ufro upriani iqneboda,

quTaiss dabruneboda is saganmanaTleblo

funqcia, rad odiTganve

hqonda da igi gveqcia sauniversiteto

qalaqad! me geubnebiT

_ arafris momcemi ar

aris iq parlamentis gadatana,

arafris momcemi ar aris!

irine gogosaSvili
---
#22 (206), 9-15.V, 2012 w.

saerTo gazeTi

9

ar vici, sxvas ra gancdebi

aqvs, magram qarTuli e.w. politikis

Semxedvares, gamogitydebiT

da didad optimisturi ganwyobebi

ara maqvs, metic, Sinaganad

raRac sagangaSos moaxloebas

vgrZnob, ai, rusebi rom ityvian,

`vnutrenaia trevogao~,

iseTs da Cemda gasakvirad, aseTi

gancdebi Turme ara mxolod me,

aramed Cems samegobrosa da samezoblosac

hqonia...

yvela ubedurebasTan erTad

guSinwin eqvsamde balis simZlavris

miwisZvrac moxda da aRmosavleT

saqarTveloSi es biZgebi

Turme iseTi sixSiriT ganmeorda,

kaxelebs hgonebiaT, ramdenime

wuTSi saxlebi Tavze Camogveqcevao.

ra magis pasuxia da 2003

wlis Semdeg nac. moZraobam iseT

politikur Tu socialur ryevebs

migvaCvia, rom erTgvarad

imunitetic ki gamogvimuSavda da

wyaldidobebs, miwisZvrebs, qariSxlebsa

Tu sxva stiqiur movlenebs,

gulgrilad SevyurebT

da viTomc araferi momxdara,

gularxeinad ganvagrZobT cxovrebas.

ai, safrangeTSi ki sul

sxvagvarad xdeba da nikola sarkozisaTvis

6 maisis Rame da 7

maisis dila, marTlac stiqiuri

movlenis tolfasi iyo, roca is

memarcxene fransua olandma meore

turSi damaarcxa da safrangeTi

`sarkozis sarkomisgan~ gaanTavisufla!

ra gvacinebs, magram

sarkozis marcxisgan cxvirpiri

CamostirodaT da safrangeTSi

saqarTvelos elCi romaa

kudava, imas xom dana pirs ar

saakovma dagvibara...

uxsnida, iseTi mgloviare iyo da

ar aris es sasacilo?

ruseTSi ki, 10 milionian

moskovSi mxolod naxevari milioni

rusi gamovida putinis

winaaRmdeg protestis dasafiqsireblad,

rac imaze mianiSnebs,

rom SiSi oxeri ramea da rusebsac

ise SehyriaT, rogorc Cven

saakaSvilis Semxedvares! Cven ki

arada, miSas Semxedvare, nikoloz

saakaSvilis (miSas biologiuri

mama) meuRle gardacvlila,

anu miSas dedinacvali da

rogorc TviTmxilvelma miambo _

es Cveni `eris imedi~ samZimarze

iseT `formaSi~ misula, sanaTesaos

ukiTxavs: ra gWirs, ra feri

gadevs, xom janmrTelad xaro?

sxvaTaSoris, miSa saakaSvilis

ucnaur, arabunebriv saxis

ferze kaxelebmac miambes erTi

istoria, ufro sworad ki winandalSi

600 kacian pur-marilze,

rogori momakvdavis mixra-moxvriT,

TiTqmis molurjo-moSavo

saxis feriT gamocxadebula saakaSvili.

albaT, yvelas mogexsenebaT,

rom WavWavaZianT sasaxle-

Si didi sarestavracio samuSaoebi

Sesrulda da amis aRsaniSnavad,

mTeli kaxeTis `maRal Rubernatoroba~

kulturis saministro

da nac. moZraobis bulbul-iadonebic,

winandalSi Sekrebilan

`TiTo Wiqis asawevad~

da ganaxlebuli Weris dasalocad.

rogorc miambes, pur-marili

600 kacze iyo gaSlili, Citis

rZe ar aklda sufras, magram

stumrebis nawils, ver mouxerxebia

misvla da maqsimum 300

kaci misjdomia `simwriT naSovn~

xorags. saakaSvilic gamoCenila,

magram vai, im gamoCenas _ Turme

uazrod iRriWeboda, Tvalebi

Tevzisas miugavda, aTas sisuleles

roSavda da arigebda xan _

marcxniv da xan _ marjvniv, magram

saxeze Turme iseTi Semzaravi

feri edo, TviT `nacebsac~

aRuniSnavT Cumad _`vaime, naxe

ra sWirso!~

am Cems axlobels `prezidentisTvis~

Tvali ver mouwyvetia

da Turme daJinebiT, ase 5 wuTis

ganmavlobaSi Sescqeroda, magram

eg araferi miSas dacvas aseTi

`miStereba~ Tvalidan ar gamoparvia

da ise gamouxedavT am Cemi

axloblisTvis, sawyals mada

dakargvia da sul male

sufridanac wamosula _

raRac vera var kargado.

am Cemma axlobelma TbilisSi

CamosvlisTanave

damireka da miTxra: `ici,

adamianurad Semecoda eg

ubeduri, vfiqrob, didxans

veRar icocxlebs

iseTi Sav-lurji saxis

feri aqvs, Tanac xom ici,

erTi nerwyvi rom gadascdes,

wasulia magis saqme,

xelSi Caakvdeba sakuTar

dacvas da raRa dagimalo,

rogorc adamiani, Zalian

mecodebao~.

_ ra sWirs Seni Sesacodi,

Se marTla ubeduro,

an nerwyvis gadacdoma

ras niSnavs, ver migixvdi?

_ SevekiTxe me.

_ `gogo, kokainze

vinc zis, egre emarTebaT,

laparakis dros Zalian

saSiSia dorblebis yra,

radgan Tu gadascdaT, mere ve-

Rar sunTqaven da ixrCobiano.

ise, miSa jer egeTi mSvidi ar

minaxavs, ganabuli Semovida da

ganabuli ijda, marto suleliviT

ikriWeboda, Torem yvirili,

xmamaRali laparaki da egeTi ra-

Racebi rom icis, im dRes msgavsi

araferi yofila. etyoba icis

kokainis veragi siurprizebi da

amitom iyo mSvidado~.

_ sxva ra xdeboda Telav-winandalSi,

ar metyvi?

_ ra moxda da vitia tomasianis

mama daiRupa sawyali...

_ eg romelia, vicnobdi?

_ dutas babua qalo, ram gamogaStera?

_ duta sxirtlaZis?

_ ho, duta tomasianis,

sxirtlaZe mere gaxda, hoda dutas

mamis, vitias mama gardaicvala

da dakrZalvaze 25-30 kacis

garda aravin misula...

_ sawyali vitiac xom mokvda,

kargi biWi iyo is ubeduri,

magram ra ubedurebaa dakrZalvaze

miusvleloba gamoSterdiT

Telavelebi?

_ momismine kargad? jer er-

Ti dutam Tavis Tavs daabralos

aq rom aRar uyvarT da meorec,

vinmes gaagebines kaci rom mokvda?

dakrZalvaze 15-20 kaci Tvi-

Ton tomasianebi iyvnen, erTiori

dutas Tbiliseli Zmakaci

da danarCenebi kide axlo samezoblo.

ici, raSia saqme? dutam

Telavis Teatri faqtiurad, daangria,

msaxiobebi erTmaneTs wakida,

bevri adamiani samsaxuridan

gaaTavisufla da ratomRac unda

scen pativi? magis dedis mSoblebi

dodika sxirtlaZe da bebia

Tina burbuTaSvili am TeatrSi

cxovrobdnen da albaT, axla

saflavSi trialeben, magaTi SviliSvili

ase rom iqceva!

ise, erTi, yurSi sayureRa

aklda da egec gairWo am masxaram!

Telavelebi emuqrebian Zalian,

vnaxoT, SeiZleba erTi-orma

aliyurma Wkuaze moiyvanos,

ra ici? paata guliaSvilis mama,

Teatris msaxiobi ra, dutas saqcielma

ar mokla? zogadad ki

Telavelebs rom `nacebi~ da misi

`Spana~ gulze ar exatebaT,

axali ambavi ar aris da aq rom

egdo saakaSvili, moedanze marto

avtobusebiT moyvanili xalxi

idga.

_ ivaniSvilis politikaSi

gamoCenaze ras amboben?

_ ra vici, aba? gulaxdilad

rom giTxra, magis ofisTan me

bevri xalxi arasodes daminaxavs

da CvenSi rom

darCes, arc ofisis SigniT

moTavsebuli xalxisgan

gvigvrZnia didi aqtiuroba

da gamarjvebis

survili! ra, vici, aba?

Tu ginda, dawere eg ambebi,

iqneb daucacxanos Tavisianebs

da raRac aamoZraos,

Torem nametani panaSvidia

kaxeTSi da xom

unda damTavrdes es ubedureba?

maS ase, Zvirfaso mki-

Txvelo!

saakaSvilis erevnulma

xelisuflebam, rogorc

SeityveT ereklesdroindel

Telavis Teatrs duta

tomasianis (sxirtla-

Zis) xeliT ganaCeni gamoutana

da rodis daxuraven

am udidesi kulturis

centrs TelavSi da rodis

gayidian am Senobas,

aravin icis!

ise ki, arc iqneba gasakviri,

radgan mefe erekles samefo rezidenciis

Senoba amas winaT iranelebs

Caugdes xelSi (sparselebs)

restavraciis motiviT da

`nacebs~ Teatris Senoba daenanebaT?

irine gogosaSvili

fiqriukas fiqrebi _ damoukidebeli viqnebi!

_ `axalma memarjveneebma~

gadavwyviteT, amjerad

damoukideblad vibrZoloT

saparlamento arCevnebSi gamarjvebisTvis

_ ganacxada

fiqria CixraZem, romelic

rac Tavi maxsovs sul ase-

Tia _ axalgazrda, damajereblad

mosaubre, cota romantiuli

SeferilobiT

metyvelebiT, romelic mamal

tyuilsac ki ise miamiturad

da sayvarlad ityvis,

rom karga xans SeiZleba

es tyuili simarTle gegonos.

rac Tavi maxsovs, sul

aseTia qalbatoni fiqria _

sul axalgazrdaa, arada,

xsovniT sakmaod didi xania

rac maxsovs, jer kidev im

droidan zviad gamsaxurdias CauSeskus

rom eZaxda, mere SevardnaZes

rom uCliqavda enas da

edo babuo, rom wauRuRunebda

xolme, iqidan.

didi dro gavida im droidan,

Tumca qalbatoni fiqria

jer kidev imdenad axalgazrdaa,

rom qalbatonis daZaxeba merideba.

hoda, am marad axalgazrda

fiqriukam gasul kviras

morigi sensaciuri gancxadeba

gaakeTa _ damoukideblad

gavdivarT brZolis velze

da metoqeebs sul bdRviri

unda vadinoTo.

fiqriukas am istoriul

gancxadebamde cota xniT adre

misma liderma, eqimma,

biznesmenma, mewarmem da politikosma

daviT gamyreli-

Zem brZana: am saparlamento

arCevnebSi Cemi partia parlamentSi

Tu ar Seviyvane,

dakavebuli Tanamdebobidan

gadavdgebio.

vaa, gadamreven es `axali

memarjveneebi~ _ mxardamWerebi

amaT ar hyavT, reitingi

amaT ar aqvT, Tu davujerebT,

fulic ar aqvT da arCevnebSi

gamarjvebas da parlament-

Si Sesvlas rogor apireben, kaco?!

rogor apireben da biZina

ivaniSvilis lanZRvis xarjze!

axla mTavari koziri esaa _

Tu biZina ivaniSvils sistematurad

galanZRav, nacmoZraobam SeiZleba

zurgze wamogikidos an

jibeSi Cagisvas da parlamentSic

Segaparos.

swored amis imedi aqvT `axlebs~,

sxva aranairi resursi

amaT ar gaaCniaT, ise, rogorc

ar gaaCniaT sxva `damoukidebel-

~`opoziciur~ partiebs.

SeiZleba biZina ivaniSvili,

rogorc politikosi, raRaciT

ar mogwondes, SeiZleba mxars ar

uWerde, magram qarTvelma kacma,

Tu is marTla qarTvelia da

mTlad sindisgarecxili ar aris,

rogor SeiZleba ar dainaxos

is uamravi sikeTe, rac am adamians

saqarTvelosTvis gaukeTebia?

umadurobas da unamusobasac

xom aqvs sazRvari?

wina saparlamento arCevneb-

Si, roca 25 deputati ar Sevida

parlamentSi, amboben, rom

am `SesaniSnavi ideis~ avtori

daviT gamyreliZe iyoo, romelmac

moralur-zneobrivi normebis

erTgulebiT axsna am gadawyvetilebis

miRebis aucilebloba.

am dros, rogorc amboben,

swored axlebis ofisSi miitanes

is lurji CanTa, sadac `ar-

SemsvlelebisTvis~ gankuTvnili

3 milioni iyo `CapaWkuli~...

sul bolos `axlebma~ `qdm~sTan

erTad saarCevno garemos

SecvlasTan dakavSirebuli gr-

Zelvadiani debatebis finalSi

kvlav `nacmoZraobas~ gaugores

koWi da saTanado honoraric da

amomrCevelTa siebis daTvlisa

da gadamowmebis Tavkacobis pativic

maT erT-erT liders mamuka

kacitaZes ergo.

esaa Tqveni damoukidebloba,

qalbatono fiqria da ase apirebT

Tqven amomrCevelTa gulis

mogebas?

nino vereli
---
10 saerTo gazeTi #22 (206), 9-15.V, 2012 w.

araerTxel dawerili kulturuli

memkvidreobis Temas-

Tan kidev erTxel Sexeba aw

gardacvlili mecnierisa da

sazogado moRvawis, guram SaraZis

meuRlis werilma mibiZga,

romelic qalbatonma svetlanam

(batoni guramis meuRlem)

Cemi mSoblebis saxlSi

miitana. misive nebarTviT, gTavazobT

werilis teqsts, saidanac

kidev erTxel dasturdeba

Cemica da bevris azric,

rom guram SaraZis mkvleloba

muzeumis saganZuris gatanas-

Tan pirdapir kavSirSia da xelisufleba

marTlac eweva

qarTveli eris kulturuli

memkvidreobis gayidvasa da ganiavebas.

GmarTalia, guram Sara-

Zis mimarT sazogadoebas araerTgvarovani

damokidebuleba

gaaCnda _ zogisTvis (specialurad

Seqmnili imijiT) destruqciuli,

marginaluri, zogisTvis

erovnuli pirovneba,

zogi uSiSroebasTan mis kav-

Sirzec ki bedavda saubars. piradad

me, mas, rogorc mecniers,

qarTuli saqmisTvis mebr-

Zol mecniersa da uSiSar pirovnebas

vicnobdi da faqtia,

rom guram SaraZe mokles sastikad

da sxvebisTvis samagaliTod,

radgan aravin aRar gabedos

im sakiTxTan Sexeba, romelSic

"cxviri qarTvelebma

ar unda CavyoT". anu marTlmadidebluri

siwmindeebis Temas-

Tan mimarTebaSi marTlmadideblobisa

da qarTulierovnuli

faseulobebis mteri ki farisevel

mwignobarTa masonurmondealisturi

struqturebi

da "viTom demokratiaze" mosaubre

politikosebi da viTom

sazogado moRvaweebi rom arian,

esec xom viciT. swored

guram SaraZis saxels ukavSirdeba

ilia WavWavaZisa da akaki

wereTlis cxovrebaze gamoqveynebuli

samecniero naSromebisa

da muzeumis siwmindeebis

gatanis Tema. mis odiozur da

destruqciul pirovnebad Seracxva

ki "im operidan" aris,

romelic cnobil alen dalesis

doqtrinas ekuTvnis: "saxelmwifos

marTvaSi davamyarebT

qaossa da areulobas,

Cvens momxreebs SevuqmniT yvelanair

yalb avtoritets, farulad,

magram aqtiurad wavaxalisebT

CinovnikTa siregvnes.

patiosnebasa da wesierebas. ise

gvaTaxsirebT, rom isini aravis

dasWirdeba da gadmonaSTad iqceva.

davnergavT Tavxedobas,

matyuarobas, loTobasa da

narkomanias, cxovelur SiSs

erTmaneTis mimarT, nacionalizmsa

da xalxTa Soris

mrtobas. . . yvelaferi es ayvavdeba

aSkarad, magram cotani

Tu mixvdebian, ra xdeba, vinc

mixvdeba, CavayenebT umweo

mdgomareobaSi, gavxdiT sasacilos,

cils davwamebT da sazogadoebis

mtrad gamovacxadebT".

erovnuli saqmisTvis

mebrZol adamianTa "umweo

ixileT `saerTo gazeTi~

internetSi

www.saertogazeti.ge

SemogvierTdiT FACEBOOK-ze

`Tu momklaven, davisveneb,

aseT saqarTveloSi

cxovreba me ar SemiZlia!~

mdgomareobaSi Casayeneblad",

"dalesis doqtrinis" mixedviT,

pirovnebaTa marginalizacia

da maTi destruqciulad

Seracxva gamoiyeneba. swored

am meTods iyenebdnen da aseT

marginalizacias hqonda adgili

guram SaraZis mimarTac.

qalbatoni svetlanas werili

ase iwyeba: "qalbatono baia!

2012 wlis 8 Tebervals

"saerTo gazeTSi wavikiTxe

Tqveni werili _ "vin Zarcvavas

saqarTvelos erovnul saganZurs...

minda didi madloba

gadagixadoT Cemi meuRlis, guram

SaraZis xsenebisTvis, vinaidan

me da Cemi ojaxi am bednierebas

moklebuli varT. garda

ramdenime gamonaklisisa,

mag. mama basilisa da erTiori

adamianis garda mas aravin

axsenebs. Tqvenma werilma mibiZga

imisken, rom mogaxsenoT

Semdegi: Cemi pirmSo Svili

laSa SaraZe daibada 1965 wlis

12 maiss. es dRe gaxlavT

wm. andria pirvelwodebulis

xsenebis dRe. me da Cemi meuRle

bednieri adamianebi viyaviT

am dRes manam, sanam ukeTurma

Cemi Svili Cumad, miparviT,

qurdulad ar gamoasalma sicocxles.

amis Semdeg, yovel

12 maiss wminda didmowame panteleimonis

(mkurnalis) ta-

ZarSi vixdidiT SekveTil wirvas

da panaSvids. ase iyo 2007

wlis 12 maissac. wirvis Semdeg

Cven da Cveni axloblebi

SevikribeT sasaflaoze. gurams

viRacam daureka da Turme

sTxova saswrafod Sexvedra

universitetis pirvel korpusTan.

vinaidan me ori yavarjniT

davdiodi (2000 wlis 10

marts Cemi saxlis win WavWavaZis

prospeqtze damejaxa Tu

damajaxes manqana, dRemde gaurkvevelia)

ar damtova sasaflaoze

da bavSvebTan erTad

saxlSi wamomiyvana. naxevar saaTSi

mobrunda da bavSvebma kari

rom gauRes, xelSi SerCaT

babu, romelic cxare cremlebiT

tiroda. Sevida Tavis

oTaxSi pirjvris weriT, dakocna

dedamisis da laSas suraTebi.

mere momibirunda da

miTxra: "axla Sevxvdi erT

kacs, romelmac miTxra Tu rogor

gaiyida qarTuli ganZi.

greg gurovi xom CaZaRlda (avariaSi

daiRupa), axla Camodis

misi Zma da mas miaqvs qar-

Tuli siwmindeebio. sicocxlis

fasadac rom damijdes, ar

gavatano". aki, daujda kidec.

am ubedurebidan erT kviraSi,

20 maiss, guram SaraZe mokles.

dakrZalvidan erT kviraSi Tu

aT dReSi, CvenTan dareka vi-

Rac qalbatonma tiriliT:

_"ganZi waiReso". vis mivmar-

ToT, batoni gurami rom aRar

gvyavso". ki davreke viRac-vi-

RacebTan, magram aRarafers azri

rom ar hqonda, gavCerdi.

erTma qarTvelma "raindma",

"vaJkacma" da "demokratma"

biWma damireka am gamwarebul

adamians da ase miTxra: "qalo,

Sen saqme dageliao. Tu waiRes,

isev ukan Camoitaneno (ise ixaros

misma STamomavalma). sul

vafrTxilebdi Cems meuRles

(Tu gnebavT, damZraxeT) "guri,

gaCerdi, Torem mogklaven,

tyvias gesvrian-meTqi. mere

rao, Tu tyvias mesvrian, davisveneb.

me aseT saqarTveloSi

sicocxele ar mindao.

Aadamiani erTxel ibadeba da

erTxel kvdebao. waval da Cems

laSikosTan davwvebio". Rmer-

Tia mowame, ramdeni SemoTavazebebi

hqonda: mTeli ojaxiT

(aTi suli) hpirdebodnen amerikaSi

dasaxlebas, saukeTeso

binebs, maRal xelfasebs, bavSvebisTvis

swavla-ganaTlebis

micemas da sxva sikeTeebs (Tu

CavTvliT yovelive amas sike-

Ted.) piradad me mosveneba ar

mqonda: Tu telefonze rekviT

(bevrjer gineba da muqara ar

damklebia), Tu sadarbazosTan

daxvedriT, nacnob-megobrebis

mogzavniT, magram arc me, arc

Cems meuRlesa da arc Cemi

ojaxis wevrebs erTi wuTiTac

ar gvifiqria dagvetovebina

Cveni ubeduri qveyana, Cveni salocavi

miwa-wyali, Cveni saficari

saflavebi, Cveni sawyali,

magram mainc gautexeli da

vaJkaci qarTveli xalxi. bedis

ironiiT, dRes Cemi ojaxis

ramdenime wevri emigrantia, ra

Tqma unda, droebiT. Cems

sawyalsa da gaubedurebul qaliSvils,

rusudan SaraZes Seicariis

mTavrobam politikuri

TavSesafari misca qmar-

SvilTan erTad. qristiani adamiani,

rac ar unda gamwarebuli

iyos am gautanelsa da

ubedur wuTisofelSi, Tavs

ver iklavs. mec var cocxali.

velodebi, rodis inebebs ufali

Cemi sulis SeerTebas Cemi

sayvareli da saficari adamianebis

sulebTan. didxans vyoymanobdi

SemewuxebineT Tu ara,

magram mere vifiqre, bolos da

bolos Svilad mekuTvnis da

ar damZraxavs_ meTqi. pativiscemiT,

s. gaxaria-SaraZe. 28/3.

2012 weli". qalbatoni svetlanas

msgavsad, mec makvirvebs

politikosTagan ratom aravin

aRar axsenebs an

guram SaraZis mkvlelobas,

an

erovnuli saganZurisa

da kulturuli

memkvirdeobis

gatanis irgvliv

bneliT mocul

mocul Temas?

qarTveli

xalxisa da eris-

Tvis, politikos-

Ta xelisufleba-

Si mosvlaze mniSvnelovani

da

mtkivneuli swored

misi kulturuli

memkvidreobis

gatanis sakiTxia

da ara is,

romeli politikosi

ra procentiT

mova xelisuflebasa

da parlamentSi.

gvaxsovdes, rom dakargul-gayidul

saganZurze

pasuxismgebelni xelisuflebasTan

erTad Tanabrad viqnebiT

Cvenc, sazogadoebis is nawilic,

romelic am Temaze saubars

moerida da gaCumda da

amas mxolod "nacionalebsac"

veRar gadavabralebT!

me ki imiT davasruleb, ri-

Tic daviwye _ batoni guram

SarZis TemiT. guram SaraZis

Temis tabuireba, rogorc sazogadoebis,

politikosebis,

ise televiziebis mxridan, didi

unamusoba da uzneobaa. adamiani

im erovnul saganZuris,

siwmindeebisa da kulturuli

memkvidreobisTvis brZolas

Seewira, romelze xmis amoRebasac

mxolod sakuTari usafrTxoebisa

da keTildReobis

gamo bevri dResac ver bedavs.

baia amaSukeli
---
#22 (206), 9-15.V, 2012 w. saerTo gazeTi

11

kanonieri qurdebis TemiT,

albaT, arc davinteresdebodiT,

rom ara dRevandeli xelisuflebis

da maT Soris prezidentad

wodebuli mixeil saakaSvilis

am samyarosTan, rbilad rom

vTqvaT, gaurkveveli urTierTobis

Sesaxeb arsebuli informaciebi.

moarul xmebs Tu davujerebT,

saakaSvili maTi didi

xelSewyobiT movida jer SevardnaZis

xelisuflebaSi, xolo

Semdeg prezidentic ki gaxda.

`Sav samyarosTan~ sakmaod Tbili

urTierToba saakaSvilis winamorbed

eduard SevardnaZesac

rom hqonda, amis Sesaxeb araer-

Txel mogvismenia. rogorc Cans,

SevardnaZes arc komunistebis

periodSi hqonia maTTan cudi

urTierToba. am yvelafris Sesaxeb

informacia `saerTo gazeTs~

kargad informirebulma sando

wyarom miawoda. misive usafr-

Txoebidan gamomdinare, Cveni

respondentis vinaobis gamxelisgan

Tavs SevikavebT.

wyaros informaciiT, qurduli

ideologiis gamococxleba

yofil ssrk-Si 70-ian wlebSi

dawyebula, rodesac qurduli

sazogadoebebi iatakqveSeTidan

masobrivad gamovidnen. 70-iani

wlebis bolodan da 80-iani

wlebis dasawyisidan Crdilovanma

ekonomikam arnaxuli tempiTa

da masStabebiT iwyo ganviTareba,

ris paraleluradac kanonieri

qurdebi kaliebiviT moedvnen

qveyanas da maSindeli Sss-s e.w.

obxss-is TanamSromlebTan er-

Tad inawilebdnen `uSromeli~

Semosavlebidan garkveul wilebs.

1979 wels qalaq kislovodskSi

Sexvedra Sedga maSindeli

Crdilovani ekonomikis warmomadgenlebs,

e.w. cexavikebsa da

`kanonier qurdebs~ Soris, sadac

kriminalebma Crdilovani

ekonomikis `mamebs~ qurduli

`obSiagis~ Sesavsebad Semosavlis

10% mosTxoves. 1982 wels

ki TbilisSi Sedga didi qurduli

`sxodka~ imdroindeli avtoritetis

jaba ioselianis

xelmZRvanelobiT, sadac man Sokismomgvreli

winadadeba Seitana

- momxdariyo qurduli sazogadoebis

transformacia, anu qurdebis

monawileoba gazrdiliyo

qveynis ekonomikur da politikur

cxovrebaSi. gamodis, sabWo-

Ta mTavroba marTalia araoficialurad,

magram mainc aRiarebda

`kanonieri qurdebis~ kanonierebas.

im droisTvis ssrk-Si daaxloebiT.

52-mde kanonieri qurdi

iyo. realurad kanonieri qurdebis

politikaSi CarTva moxda

`perestroikis~ gamocxadebisTanave,

rodesac saxelmwifo uSiSroebis

komitetSi (suk-i) Seiqmna

organizebul danaSaulTan

brZolis danayofi, romelsac masiuri

Seteva unda ganexorcielebina

`kanonieri qurdebis~

ordenze, Tumca es danayofi Tavad

Caudga oficialurad kriminalebs

saTaveSi da maT saxelmwifoebrivi

funqciac daakisra.

saqme iqamdec ki mivida, rom Zalovani

struqturebi presti-

Jul da saxelian kriminalebs

`pativs~ scemda da ar awuxebda,

radgan icodnen, rom maT ukan

Zalze maRalCiniani da gavleniani

personebi idgnen. Zalian originaluri

damokidebuleba Camoyalibebula

maSindel miliciasa

da kanonier qurdebs Soris, isini

Turme arasdros uSlidnen

erTmaneTs nervebs, ufro metic,

erTmaneTs exmarebodnen. kerZod,

milicia masTan misul qurdebs

saqmeebs `uwyobda~, cxadia, soliduri

gasamrjelos fasad,

xolo qurdebi samarTaldamcavebs

exmarebodnen prestiJuli

gauxsneli saqmeebis gaxsnaSi da

qurdebis winaaRmdeg mimdinare

kampaniebis dros arasasurveli

qurdebis `CaZirvaSi~.

mogexsenebaT, mada WamaSi modis

da 80-iani wlebis bolos

erT-erT qurdul `sxodkaze~ gadawyda,

rom xelisuflebaSi `CaenergaT~

TavianTi warmomadgenlebi.

kandidatebi mkacrad iyvnen

SerCeulni da, Sesabamisad, maTi

vinaobac gasaidumloebuli, romlebic

SemdgomSi sazRvargare-

Tis prestiJul saswavleblebSi

gaagzavnes. swavlis damTavrebis

Semdeg es kandidatebi sargeblobdnen,

rogorc `obSiagis~

fuliT, ise qurduli kavSirebiT.

amitomac maT Tavbrudamxvevi

kariera hqondaT. ramdeni ase-

Ti `kandidatia~ dRes Tundac

saqarTvelos xelisuflebaSi,

aravin icis da albaT, verc gavigebT.

aqve unda aRiniSnos

isic, rom erT-erTi informaciiT

saqarTvelos dRevandeli

e.w. prezidenti

mixeil saakaSvili

swored `kanoneri qurdis~,

jaba ioselianis

dafinansebiT cxovrobda

da swavlobda amerikis

SeerTebul StatebSi.

Crdilovani ekonomikis aseTma

zrdam da am niadagze `kanonieri

qurdebis~ raodenobis arnaxulma

matebam suks SesaZlebloba

daukarga isini ekontrolebina.

im periodSi marto suks

ki ara, miliciasac hyavda Tavis

kontrolqveS myofi `kanonieri

qurdebi~, Tumca ufro presti-

Julad sukis qurdebi iTvlebodnen,

radgan narkotikebis

tranzits, Crdilovani ekonomikis

qvemodan marTvas da qveynis

politikaSi Carevas isini axorcielebdnen.

marTalia, im periodis

ssrk-Si erovnulma moZraobam

gansakuTrebulad warmatebuli

starti saqarTveloSi aiRo,

magram amave dros narkotranziti,

Crdilovani ekonomika da

qurduli ideologiac gansakuTrebulad

swored saqarTveloSi

yvaoda. erTi periodi qurdul

ordens saqarTveloSi daundobeli

brZolac ki gamoucxades,

magram amas ufro kampaniuri xasiaTi

hqonda, Tanac mosaxleoba

mas sadamsjelo operaciad ufro

aRiqvamda, amitomac aRniSnulma

didi veraferi Sedegi moitana.

SevardnaZis xelisuflebaSi

xelmeored mosvliT msoflio

politikaSic axali epoqa daiwyo,

kerZod, es iyo ruseTis

gavlenis Sesusteba yofili mokavSire

qveynebis teritoriaze.

unda iTqvas, SevardnaZem am misias

Tavi brwyinvaled gaarTva,

radgan man sxvadasxva xrikebiT

`kanonieri qurdebi~ da

kriminaluri samyaros

danamatad qceuli xelisufleba

ase vTqvaT, miaZina rusuli ambicia

da farTod gauRo kari dasavleTur

civilizacias. ruseTi

amas mxolod `vardebis revoluciis~

Semdeg mixvda, magram ukve

gvian iyo, radgan man aramarto

saqarTveloSi, aramed mTel amierkavkasiaSi

waago brZola. es

wageba ki misTvis savalalo aRmoCndeboda,

radgan igi zegavlenas

evropazec dakargavda, rac

sabolood, misi, rogorc msoflio

elitis qveynis ganadgurebas

gamoiwvevda. swored amitom

ruseTma Cveul meTods mimarTa,

daiwyo Zalismieri berketebis

gamoyeneba da TiTqmis daibruna

Selaxuli poziciebi. bunebrivia

am movlenebma kriminalur samyarosac

Tavisi daRi daasva. adre

Tu kanonieri qurdi

Tavad qmnida mis daqvemdebarebaSi

myof

kriminalur dajgufebas,

axla TviTon am

dajgufebebma daiwyes

sakuTari nebasurvilis

gamtarebeli `kanonieri

qurdebis~

Seqmna. am procesis

naTel magaliTad e.w.

veris saZmo SegviZlia

moviyvanoT, romlis

SeqmniTac saqarTveloSi

axali tipis mafiozur-klanuri

sistemis

Camoyalibeba

daiwyo. maT droulad

moaxdines (Tu moaxdenines)

axal droebasTan

Segueba da

dRes isini TiTqmis

martoni marTaven saqarTvelos

kriminalur elitas

da ekonomikasac ki. swored

amis gamoZaxili iyo im dauxvewavi

kanonis miReba kanonieri

qurdebisa da kriminaluri avtoritetebis

winaaRmdeg. marTalia

iyo garkveuli winaaRmdegoba sazogadoebis

mxridan am kanonTan

dakavSirebiT, gavixsenoT moWidaveebis

aqcia Tu cixis bunti,

magram saakaSvilis Tqmisa ar

iyos, `ZaRli yefs, magram qaravani

midis~.

calke saubris Temaa xsenebuli

`veris saZmo~, radgan man

kriminalur samyaroSi ruseTis

gavlena daamuxruWa da Tavad

gaxda elita, Tumca gairkva, rom

isinic ruseTisa da aSS-is er-

Toblivi ZalisxmeviT moqmedebdnen

saqarTveloSi. am dajgufebis

Seqmna 80-ian wlebSi, `perestroikis~

gamocxadebis periodSive

daiwyo. isini TavianT

Tavs meorenairad `borotebsac~

uwodebdnen. am dajgufebaSi gaerTiandnen

vera-vakeSi mcxovrebi

sportsmenebi, romlebic privilegirebuli

ojaxebidan iyvnen,

gaaCndaT farTo kavSirebi da

swored am kavSirebis gamo hqondaT

dausjelobis sindromi.

swored maT daudes saTave, Tanac

im periodidanve aramarto

saqarTveloSi, aramed mTel postkomunistur

sivrceSi axali

tipis mafiozur-klanuri

struqturis Camoyalibebas, romelsac

mTlianad unda Seecvala

socialistur-qurduli mmarTvelobis

struqtura. revolucia

marto zeda fenebSi ki ara, aramed

qveda fenebSic xdeba, igulisxmeba

kriminaluri samyaro,

romelic yovelTvis gadajaWvulia

oficiozTan da emsaxureba

mas. amitomac devnida da devnis

es xelisufleba `kanonier qurdebs~

am axalmiRebuli kanonebiT,

radgan ZiriTadi revoluciuri

gardaqmnebi mogvianebiT

daiwyo da axlac grZeldeba.

dRevandel xelisuflebaSi arian

im axali mafiozur-klanuri

dajgufebebis warmomadgenlebi,

romelTa miRebuli kanonebiTac

devnian qurdebs da es xalxi sulac

ar dagidevT imas, rom Tvi-

Ton ufro meti danaSauli aqvT

Cadenili. maTi ZiriTadi mizani

qurdebis biznesis mitaceba, maTi

qonebis xelSi Cagdeba, iaraRiT

vaWrobis biznesis daufleba da

narkotranzitis gakontroleba

iyo, romelic kanonier qurdebs

waarTves. am yvlafrisTvis ki,

politikaSi yofna aucilebelia.

yovelives ganapirobebs didi

fuli, dRes ki didi fuli swored

narkotranzitSia, Tumca mas

iaraRiT vaWrobac daemata, romelsac

2004 wels Seqmnili policiis

struqturuli danayofebis

meSveobiT axorcieleben.

am axladSeqmnili struqturuli

danayofebis TanamSromlebs

specialuri saSvebi aqvT, romelSic

aRniSnulia, rom mis

mflobels (sxaTa Soris am saSvSi

gvar-saxeli miTiTebuli ar

aris) veravin mosTxovs sabuTebis

warmodgenas. es piri, sadac

unda iq gaaCerebs avtomanqanas

da rac yvelaze mTavaria, mis

daqvemdebarebaSi myof tvirTs

veravin Seamowmebs.

wyaros gancxadebiT, `kanonieri

qurdebisa~ da kriminaluri

samyaros winaaRmdeg miRebul

xsenebul kanons saerTod ar

umuSavia, Tu ar CavTvliT qonebis

konfiskacias, rac marTla

moxda. am kanonis miRebis realuri

mizanic es iyo, Tumca aqve

isic unda iTqvas, rom qonebis

konfiskacia saerTod ar Sexebia

tariel onianis kriminaluri

dajgufebis wevrebs. `vardebis

revoluciis~ Semdeg dakavebul

yvela kanonier qurds,

rogorc wesi, raRac kanongare-

Se `aRmouCines~. zogjer saqme

kuriozebamdec ki midioda. erTerT

dakavebuls cecxlsasroli

iaraRi Caudes, arada Cxrekisas

mas marTlac aRmouCines meore

iaraRi. erT-erTma kanonierma

qurdma uari Tqva qarTuli pasportis

aRebaze da qveynidan

gasvlaze, radgan mas Tavisi saxelis

komprometaciis SeeSinda.

policielebma aseTi scena gaiTamaSes,

am qurdis magier is policieli

daakaves, romelic mas

Zalze hgavda da cecxlsasroli

iaraRi `aRmouCines~, gaformebiT

ki ra Tqma unda, yvelaferi am

`kanonier qurdze~ gaaformes da

bunebrivia, pasuxic agebines.

Cveni wyaros informaciiT,

Tu 2003 wlamde saqarTvelos

teritoriaze ruseTi akontrolebda

narkotranzits, `vardebis

revoluciis~ Semdeg es funqcia

aSS-is specsamsaxurebma Caigdes

xelSi da isini kurireben.

Turme imitom yofila atexili

imxela aJiotaJi aWaris `gasaTavisufleblad~.

saqarTvelos

mTeli strategiuli ekonomikuri

obieqtebi ki ruseTs gadaeca

mizerul fasad. rogorc Cans, am

saxiT moxda ruseTis kompensireba.

am dajgufebam, anu dRevandelma

xelisuflebam gavlenis

sferoebis xelSi Cagdebis mizniT

saqarTveloSi wesieri da

realuri investori ar gaaxara.

sxvadasxva mizezebiT, aTasgvari

fandebiTa da maqinaciebiT isini

saqarTvelodan gayares da maTi

adgilebi sxvadasxva saxelebis

gamoyenebiT TviTon Caigdes xel-

Si. mokled, erTis mxriv, Seqmnes

axali tipis kriminaluri

elita, meores mxriv ki yvelaferi

gaakeTes, rom saqarTvelo,

rogorc saxelmwifo ar Semdgariyo

da xalxs isev `kanonieri

qurdi~ monatreboda.

manana suxiSvili
---
12 saerTo gazeTi #22 (206), 9-15.V, 2012 w.

gvesaubreba partia `Tavisufali

saqarTvelos~ Tavmjdomare

kaxa kukava:

_ kaxa, ras ityviT, aSS

kvlav saakaSvils uWers mxars?

_ arsebobs politikuri TamaSis

wesebi, maT Soris amerikuli,

romelic Semdegs moiTxovs

_ qveyanaSi, rogorc

xelisufleba, ise opozicia

nominalurad unda arsebobdes.

aSS-sTvis mniSvnelovania sazogadoebriv

azrze zegavlenas

srulad flobdes, isini unda

akontrolebdnen saqarTveloSi

yvela moTamaSes _ xelisuflebas,

opoziciasac, mediasac, eqspertebsac

da arasamTavroboebsac.

amitomac, isini am logikiT

muSaoben. is, rom aSS `nac.

moZraobis~ garda `qristiandemokratebTan~,

`axal memarjveneebTan~,

`qarTul ocnebas-

Tan~ `respublikelebTan~ muSaobs,

es erTgvari speqtaklia,

partiebs eubnebian _ Tqvi, vi-

Tom opozicia xar, viTom xelisufleba

xar. am dros arc

xelisuflebaa xelisufleba da

arc opoziciaa opozicia. yvelam

kargad viciT, rom saqarTvelos

saakaSvili ki ara, aramed

aSS-s saelCo marTavs, xolo

miSa maT azrebs axmovanebs.

meore mxriv, arc opozicia ar

aris opozicia imitom, rom

isini araferSi ar ewinaaRmdegebian

xelisuflebis kurss.

daakvirdiT NDI-s da `airais~_

gamokiTxvebs. SemiZlia eqskluziurad

giTxraT Semdegi _

zustad vici, rom NDI-s gamokiTxvebis

mixedviT Cvens partias

14 procentiani reitingi

hqonda, romelic ar gamocxadebula.

Tumca, me vaiZuleb amis

Sesaxeb gancxadeba gaakeTon,

radgan zust informacias

vflob amis Taobaze, mtkicebulebebi

maqvs da NDI-s amis

aRiareba mouwevs. savaraudod

am monacemebs respublikuri institutic

flobs. ratom aqveyneben

isini sxva partiebis

reitingebs da blokaven Cvens

politikur organizacias? _

imitom, rom maTTvis pro-amerikul

partiebs Soris vis eqneba

11 procenti da vis 31 procenti,

meorexarisxovania. mTavaria

`Tavisufali saqarTvelos~

mimarT sazogadoebis simpaTiebis

zrda ar moxdes. piradi

kontaqtebidan vici, rom

isini mTavar safrTxed swored

`Tavisufal saqarTvelos~ aRiqvamen

da ara romelime im

opoziciur Zalas, romelic

Tavidan bolomde aSS-s marionetuli

mmarTvelobis mier

damkvidrebul, e.w. liberalur

faseulobebs iziarebs.

_ kaxa, natoSi gawevrianeba

da avRaneTSi Cveni jarebis

gawveva axsene. Tu erT pro-amerikul

Zalas meoreTi CavanacvlebT,

romelic aseve warmatebiT

gagvawevrianebs natoSi, av-

RaneTSi amogvixocavs qarTvel

jariskacebs, risTvis vibrZviT

maSin?

_ diax, es SekiTxva gvaqvs

Cvenc, qarTul sazogadoebas _

bolobolo unda vicodeT ra

gvinda. Cveni sazogadoeba iciT

vis hgavs? _ luarsab TaTqari-

Zes `kacia-adamianidan~, romelmac

Zalian Tu Sewuxdeba da

ofli daasxams, SeiZleba Subli

moiwmindos, an buzi Tu daajda

xeli auqnios, magram konceptualurad,

ra saxelmwifos

Seneba gvinda, amaze fiqrisTvis

qarTulma sazogadoebam jer

ver moicala, roca SevardnaZem

qarTveli sazogadoeba Zalian

Seawuxa, xalxi quCaSi gamovida

da igi gaagdes, magram arcerTi

wuTiT ar gvifiqria, Tu

ra gvindoda SevardnaZis Semdgom,

amitomac miviReT saakaSvili.

dResac, rodesac saakaSvili

ukve Zalian Semawuxebelia,

sazogadoeba drtvinavs, magram

Zalian cota dros uTmobs imaze

fiqrs, Tu ra iqneba saakaSvilis

Semdgom. garwmunebT,

rogorc SevardnaZis avtomaturma

gadadgomam progresi ar

moitana, aseve moxdeba saakaSvilis

SemTxvevaSic. kargad unda

davfiqrdeT, Tu gvinda iseTive

damoukidebelni viyoT, rogorc

safrangeTi, germania da

sxvebi, unda vicodeT, rom es

qveynebi amerikis koloniebi ar

arian. am qveynebma TavianT ganviTarebas

mxolod Zalian

principuli, ukompromiso, xSirad

sisxliani brZolis Sedegad

miaRwies. Tu Cven gvinda

aSS-s marTvis qveS myofi, axali

tipis kolonia viyoT, sadac

inglisuri saxelmwifo ena

iqneba da aSS-s 51-e Stati viqnebiT,

maSin ar unda gvqondes

pretenzia, rom iseve vicxovrebT,

rogorc germanelebi an

frangebi. amerikuli koloniebi,

Tanamedrove msoflioSi,

esaa erayi, avRaneTi, afrikaSi

uamravi damokidebuli reJimi,

libia da a.S. amitom qarTulma

sazogadoebam arCevani unda gaakeTos.

es procesi 2012 wlis

oqtomberSi ar mTavrdeba, magram

iwyeba. `Tavisufali saqar-

Tvelo~ qarTvel sazogadoebas

swored evropul arCevans sTavazobs,

raTa Tavisufali eri

viyoT. arian pro-amerikuli

partiebi, romlebic

qarTvel xalxs eubnebian

_ ar gvinda bevri

fiqri, SevcvaloT

saakaSvili, mis nacvlad

moviyvanoT savle

an pavle da sxva yvelaferi

ucvlelad

darCes. ra ufro misa-

Rebi iqneba xalxisTvis,

oqtomberSi gamoCndeba.

_ anu Tu sworad

gavige problema saakaSvilis

Secvla ki ara qveynis

amerkis koloniisgan gaTavisuflebaa?

_ dRes Cven vcxovrobT 21-

e saukuneSi, roca politikuri

brZolis formebi Secvlilia.

jer kidev me-19-e saukuneSi

ilia werda, rom xmliT mosuli

mteri saSiSi ar ariso. me-

20 saukuneSi politikur

brZolaSi spec. samsaxurebi da

finansuri monopoliebi asrulebdnen

gadamwyvet rols. ukve

amanac dakarga aqtualoba.

dRes mTavari ideologiaa _ interneti

_ `Youtube~ da

`Facebook~ bevrad ufro Zlier

gavlenas axdens politikur

procesze, vidre aSS-s yvela

spec. samsaxuri erTad aRebuli.

amitom Cveni mTavari amocana

qarTuli sazogadoebis gamofxizlebaa,

qarTuli sazogadoebrivi

azris Seqmna _ ra

gvsurs, rogori saxelmwifos

Seqmna gvinda 21-e saukuneSi.

rodesac 80-iani wlebis

bolos gamsaxurdiam da kostavam

erovnuli moZraoba daiwyes,

isini saqarTvelos damoukideblobis,

komunisturi

reJimis Secvlis da ara gumbariZis

gadayenebis moTxovniT

gamodiodnen. warmogidgeniaT,

raoden sasacilo iqneboda gamsaxurdias

mTavar moTxovnad

gumbariZis gadayeneba rom daeyenebina,

es xom arafers Secvlida?!

asea axlac, saakaSvilis

gadadgoma qveynisTvis absoluturad

arafers ar Secvlis.

amiT, SeiZleba Sinagani

boRma gavaneitralod da meti

araferi. me aravisze naklebi

siZulvili ar maqvs mis

mimarT, elementarulad Cemi

piradi bolo wlebis biografiidan

gamomdinare, magram rogorc

politikosma minda

vTqva, rom es qveynisTvis arafers

Secvlis. vimeoreb, Cven

kaxa kukava:

2006-Si vinc gvarbevda,

2007 wels Cveni Tanamoazre gaxda,

2007 wels vinc gvawiokebda,

2008-Si Cveni TanamebrZoli

gaxda. ra moxdeba 2012 wels da

vin Semogvemateba 2011 wlidan?

aSS-s marionetuli reJimis

Secvla gvWirdeba. es ar aris

Cemi axireba. politikuri sistema,

romelic ase Zalian ar

mogvwons saakaSvils ar Seuqmnia,

aramed amas msoflios yvela

kontinentze aSS hqmnis. is

ekonomikuri siduxWire, rac

saqarTveloSia, amis avtoria

ara saakaSvili, aramed e.w. Tavisufali

vaWrobis koncefcia,

romelsac swored amerikuli

institutebi qadageben. arc

kulturuli faseulobebis ngreva

da axalgazrdobis gadagvarebaa

saakaSvilis mogonili,

aramed es aris swored is, rasac

aSS liberalur faseulobebs

uwodebs da ase agresiulad

nergavs mTels msoflio-

Si. sxvaTaSoris, erTma Cemma

megobarma amas liberaluri

fundamentalizmi uwoda.

_ ras unda niSnavdes `endi-ais~

da `ai-rais~ kvlevis is

Sedegebi, romlebsac es organizaciebi

ulufa-ulufad awvdian

sazogadoebas?

_ rodesac NDI-m kvleva

gamoaqveyna, romlis mixedviTac

`nac. moZraoba~ eWvgareSe imarjvebs

am arCevnebSi, ganacxades

_ iciT, ra es ar aris amerikis

mTavrobis pozicia, aramed

luis navaroa cudi kacio. axla,

roca `ai-raimac~ igive gamoaqveyna,

eqspertebma gamoacxades

_ arc `ai-rai~ gamoxatavs

aSS-s mTavrobis poziciaso.

aSS-Si sul ori partiaa _ demokratiuli

da respublikuri.

SeiZleba demokratiuli ar

mogwondes da respublikuri

ki, an piriqiT, magram roca

arc demokratebi mogwons da

arc respublikelebi da acxadeb,

rom aSS Zalian mogwons,

es saRi azrisgan Zalian daSorebuli,

rogorc dasavleT-saqarTveloSi

ityvian daCoCebulia.

_ Cveni `respublikelebi~

amerikidan bednierni dabrundnen,

Tumca riTi _ erma ver gaigo.

_`respublikelebis~ da

qarTveli eris amocanebi erTmaneTisgan

gansxvavdeba. amitom

is, rom `respublikuri partia~

raRac procesiT kmayofilia,

isini amaSi gulwrfelni arian,

ubralod maTi amocanebi ar em-

Txveva qarTveli erisas. Tuki

`respublikelebi~ parlamentSi

xuTkacian fraqcias Seqmnian,

es mTels maT biografiaSi ise-

Tive miRweva iqneba, rogorc

saqarTvelos fexburTis nakrebi

msoflio Cempioni rom gaxdes.

amitom, bunebrivia, isini

im viTarebiT, rac axla iqmneba

kmayofilni arian.

amerikis mTavrobis gancxadebebi,

maT Soris NDI-s kvlevebisac,

ramdenjerme, winaswar

gamogicxadeT. SemiZlia giTxraT,

rogori iqneba, arCevnebis

Semdeg meore adgilze gasuli

politikuri Zalis gancxadeba

_ Cven mogvpares gamarjveba,

gagviyalbes xmebi, magram mTavaria

mTeli msoflio Cven gvi-

Wers mxars, vaCvenoT mTels

msoflios civilizebulobis

magaliTi da vemzadoT saprezidento

arCevnebisTvis, sadac

beWebze davdebT `nac. moZraobas~-o.

CaiwereT es, sityvasityviT

am gancxadebas moismenT

arCevnebidan ramodenime

dRis Semdeg.

_ saakaSvili bolo dros

araadekvaturia, Tumca aSS amaze

ar reagirebs.

_ saakaSvili aris kokainis

momxmarebeli, es politikur,

maT Soris amerikul wreebSi

saidumlos ar warmoadgens. es

informacia 2 wlis win amerikuli

pirvelwyarosgan miviRe.

me ar mjera, rom adamiani

SeiZleba 2011 wlade ar iyos

patrioti da 2011 wlis Semdgom

gaxdes. es masobrivad xdeba

qarTul politikaSi _ 2006

wels vinc gvarbevda 2007

wels Cveni Tanamoazre gaxda,

2007-Si vinc gvarbevda 2008-

Si Cveni Tanamoazre gaxda da

a.S. es ar mjera. ar SeiZleba

mogwondes 7 noemberi da aRgaSfoTos

26-ma maisma.

Tamar SveliZe
---
#22 (206), 9-15.V, 2012 w.

saerTo gazeTi

13

`saerTo gazeTis~ stumaria

profesori vaJa lorTqifaniZe

_ batono vaJa, yvelasaTvis

cxadi gaxda, rom amerikuli

arasamTavrobo organizaciis `airais~

kvlevebis SedegebiT, saqarTveloSi

mosaxleoba kvlav

nacionalur partiasa da mis liders

uWers mxars, mosaxleobam

ise Seafasa, TiTqos es gaxlavT

aSS-is mTavrobis ganwyobac

Cvens mimarT da isini mxars dauWeren

momaval arCevnebSi

kvlav saakaSvils, Tqvenc

ase fiqrobT?

_ Cemi azriT, erT-erTi

kvleviTi institutisa Tu

arasamTavrobo organizaciis

mier erT konkretul

qveyanaSi Catarebuli gamokiTxva

Tu kvleva, sulac

ar niSnavs imas, rom aSS-s

mTavroba mxars uWers am

kvlevis Sedegebs, Tu vinme

ase fiqrobs, es arasworia!

SeiZleba viRacas awyobs,

rom es ase warmoaCinos,

magram es ase ar gaxlavT.

mTavari is ki ar aris, vis

ra unda, mTavaria, es ase

aris Tu ara.

amerikis saxelmwifom

da misma liderebma araerTgzis

aRniSnes, rom isini

mxars uWeren ara romelime

liders, aramed saqarTvelos

da elodebian iseT arCevnebs,

romelic samarTlianad Catardeba.

araerTgzis aRniSnes

barak obamac da sxvebmac, rom

isini elodebian xelisuflebis

mSvidobiani formiT gadabarebas,

Secvlas. rac Seexeba calkeuli

institutebis kvlevebs, Secdoma

imaSi mdgomareobs, rom maT, Cemi

azriT, mikerZoebulad Sear-

Cies kvlevis Camtareblebi! es

xom amerikelebis mier Catarebuli

kvlevebi ar aris. me ramdenadac

vici, am kvlevebs atareben

saqarTvelos organizaciebi, is

jgufebi, romelnic pirdapir

arian mibmulni xelisuflebas.

es aris yvelaze mniSvnelovani

garemoeba. amitom, aqedan Cven ar

unda velodoT obieqturobas. es

yovelTvis iqneba mikerZoebuli

imis gamo, rom Camtarebeli organizacia

aris Semadgeneli nawili

xelisuflebis. meore Secdoma

aris isic, rom ar aris

gaTvaliswinebuli da Seswavlili

kvlevis meTodologia. sociologiis

kvlevas aqvs zusti

kriteriumebi Sesafaseblad da

es Sedegebi didad aris damokidebuli

am meTodologiaze.

aris sxva kvlevebic Catarebuli

saqarTveloSi da isini

sulac ar emTxveva am kvlevis

Sedegebs.

Tu romelime instituti ganzrax

SecdomiT Caatarebs kvlevebs,

es sulac ar niSnavs imas,

rom maTi saxelmwifos liderebi

eTanxmebian maT isac nu dagvaviwydeba,

rom amerika didi saxelmwifoa,

iq bevri sxvadasxva

ganwyobaa. Tu laparakia amerikis

dRevandel xelisuflebaze, maT

xalxis azriT

saakaSvilis antiqar-

Tuli politika –

aWara Turqebs!.. afxazeTi

da cxinvali

rusebs!.. Tbilisi, "kavkasiis

dedaqalaqi"?! xolo quTaisi,

saqarTvelos "dedaqalaqi"?!

sadac, – xan parlamentis Tavmjdomare

iqneba, – xan ki premier

– ministri!!!.. es xumroba

ar aris!.. Tu sul gamovlenCdiT

qarTvelebi da marto imis

imedad viqeniT, – moaxerxeben

Tu ara, qarTveli "respublikelebi"

an alasanias "Tavisufali

demokratebi", amerikeli

senatorebisa da kongresmenebis

darwmunebas saakaSvilis

"arademokratiulobaSi", – ma-

Sin qveyana aRar gveqneba!!!.. amitom,

qarTveli eris saakaSvilis

reJimTan dapirispireba

scildeba "saSinao CarCoebs"

`carieli adgilis~ da `liliputebis~

erTmaneTis sinqronuli lanZRviT

mxolod saqarTvelo zaraldeba...

da amavdroulad, igi unda ganvixiloT,

rogorc "sagareo

momakvdinebeli safrTxe", –

saqarTvelos saxelmwifoebriobisa

da mTlianobisaTvis, –

aqedan gamomdinare SedegebiT!!!..

moRalate Tu mosyiduli

saakaSvilis winaaRmdeg

brZola, qarTveli erisTvis

yofna – aryofnis zRvarze gadis!!!..

mokled, samSoblo gansacdelSia

da mxolod "qudze

kaci" gadaarCens mas daRupvisagan!!!

miSa Tavis stiqiaSia

ra.. soxumi qarTuli

qalaqi arasdros yofilao

_ es idiotoba

kidev gaimeora... ise aRmova-

Cine, am kacs buCqebis mimarT

marTlac saxelmwifoebrivi

midgoma aqvs..:)

araerTgzis ganacxades rom isini

mxars uWeren xelisuflebis

mSvidobian gadabarebas. amiT me

vfiqrob, yvelaferia naTqvami _

es aris maTi pozicia! es me

msmenia maTi respublikuri

partiis liderebisganac, kongresmenebisganac,

senatorebisganac.

CemTvis es ufro

mTavaria, vidre romelime

kvlevis Sedegebi. isic nu

dagvaviwydeba, rom aseTi

kvlevebi sworedac imitom

tardeba, rom am yvelaferma

xalxis ganwyobaze, maT azrze

imoqmedos _ es qveynis

Sida moxmarebisTvis aris

gaTvlili! es Sedegebi im

mizniT daido, rom xalxs es

kiTxva gasCenoda, rac Tqven

damisviT, xom ar uWers aSS

saqarTvelos xelisuflebas

mxars? aseTi kvlevebi ruseTzec

SeiZleba Cataron da

Tqvan, rom saakaSvils mxars

uWers ruseTic. es yvelaferi

arasworia. kvlevis meTodologiis

dros ar aris gaTvaliswinebuli

erTi mniSvnelovani

ram, is SiSis faqtori, romelic

dRes Cvens qveyanaSi sufevs

da xelisuflebis mxridan inergeba.

bunebrivia, roca Sedian adamianebTan,

Tanac iseT dros, roca

yvelam icis, rom kvlevis Camtareblebi

nacionaluri partiis

megobrebi arian, vin gascems

swor pasuxs an ratom? yvela

etyvis tyuilad, rom isini nacionalebis

mxardamWerebi arian.

yvelam naTlad dainaxa, rom

vinc ki gamoxata Ria mxardaWera

biZina ivaniSvilis mimarT, ra

dReSi Caagdes isini. aSineben maT

ojaxebs, ateroreben, apatimreben,

arTmeven bizness. vinc biZina

ivaniSvilis moqalaqeobas xeli

moawera. Worvileli maswavleblebis

skolebidan gaaTavisufleba

ra moqmedebaa? ra aris

imaSi gasakviri, rom maswavleblebi,

skolebidan gaaTavisufles.

es ra moqmedebaa? ra aris

imaSi gasakviri, rom maswavleblebi,

romlebic muSaoben ivaniSvilis

mier aSenebul skolaSi,

romelTac mxardaWera igrZnes am

pirovnebisgan am mZime wlebSi,

bevrisTvis is sisxliT naTesavic

aris da mxari ar unda dae-

WiraT misTvis moqalaqeobis aRdgenaze?

ar imsaxurebs es pirovneba

sul mcire, saqarTvelos

moqalaqeobas mainc? ra

aris am mxardaWeraSi cudi? es

yovelive ar apaties maswavleblebs

da moisroles da datoves

usamsaxurod da dRes ra gasakviria,

rom aseTi SiSis pirobeb-

Si igive saCxereSi, an quTaisSi

an TbilisSi xalxi daSinebulia

da Tu vinme hkiTxavs, Tu vis

miscemen xmas, ityvian nacionalebs.

ase rom, am gamokiTxvebsa Tu

kvlevis Sedegebs sinamdvilesTan

aranairi kavSiri ara aqvs. da Tu

Tqven mkiTxavT, rom am kvlevebis

ukan amerika xom ar dgas, es

gaxlavT is, rac undaT am azris

gamavrceleblebs.

_ biZina ivaniSvilisaTvis saqarTvelos

moqalaqeobis armicema

ras niSnavs nacionalebis

mxridan?

_ es imas niSnavs, rom amtkiceben

TiTqos, rom rasac undaT,

imas gaukeTeben ivaniSvils,

xalxs ki daanaxeben, rom is

Zlieri konkurenti ar aris

dRevandeli xelisuflebis. es

aris arasamarTliani qceva, da

es nacionalebs miutans sapirispiro

Sedegebs, imitom rom

odiTganve ase iyo saqarTvelo-

Si, rom sazogadoeba dgeba im

adamianis gverdiT, visac usamar-

Tlod eqcevian.

_ ramodenime dRis win medvedevma

televiziiT ganacxada,

rom is pativs scems qarTvel

xalxs da Cvens qveyanas, Tumca,

saakaSvili mxolod `carieli

adgilia~ da meti araferio,

aris Tu ara es gamoTqma misi

mxridan seriozuli?

_ me rogorc Cveni qveynis

xelisuflebis mxridan, var winaaRmdegi

aseTi aradiplomatiuri

da araseriozuli gamonaTqvamebisa,

aseve ver miviReb aseTive

qcevas maTi mxridanac. Tuki Cven

obieqturi da samarTlianebi

viqnebiT, isic unda vTqvaT, rom

Tu am xelisuflebis winaaRmdegni

arian, me ar var amaSi

darwmunebuli, im did saxelmwifos

da mis liderebs moeTxovebaT

imdeni sibrZne da politikuri

simwife, rom saakaSvilTan

pirad interesebs da qiliks ar

gadaayolon mTeli qveyana. rogorc

Cven qveyanas moeTxoveba

koreqtuloba maT mimarT, isinic

unda iyvnen koreqtulni.

_ ukacravad, magram es qiliki

da lanZRva erTmaneTis mimarT,

putins da medvedevs saakaSvilTan

sinqronSi uwevT, xan

erTi mxare eZaxis meores `liliputs~,

xan meore mxare saakaSvils

`Ïóñòîóå ìåñòî~-s. ras

unda niSnavdes es sinqroni?

_ is, rac rusebma gaakeTes

afxazeTTan an cxinvalTan mimar-

TebaSi, ar eteva aranair CarCo-

Si an wesSi imis mimarT, rom me

cud urTierTobaSi var saakaSvilTan

da amitom unda vamyofo

xalxi aseT mdgomareobaSi. Tu

qarTveli xalxi uyvars medvedevs,

maSin mis istoriasac unda

scen pativi, mis teritoriul

mTlianobas. miwis xelyofa ar

aris samarTliani qceva.

Tu afxazebma moiTxoves damoukidebloba,

xom yvelam kargad

icis, rom es aris istoriis

gayalbeba da arasamarTlianoba.

Tu 2008 wlamde yvela da

maT Soris ruseTi aRiarebda

Cveni teritoriis mTlianobas,

ra Seicvala 2008 wlis mere?

afrikul qveynebSi rom midian

da eZeben mokavSireebs, vinc

afxazeTisa da oseTis damoukideblobas

cnobs. es swori qcevaa?

saqarTvelos teritoriaze

rom ganalages TavianTi samxedro

bazebi rusebma vis jinaze

gaakeTes, erTi pirovnebisa mxolod?

cxadia, maT aseT qcevaze

damnaSave Cveni xelisuflebac

aris, magram ruseTis pasuxismgeblobas

es ar xsnis im Sedegze

_rac dRes miviReT qveyanaSi.

pativs scemde qarTvel

xalxs da mis istorias da qveyanas

ase moeqce _ sruliad SeuTavsebelia!

ase, rom medvedevis

mxridan es sityvebi aris mxolod

ritorika!

_ saakaSvilic xSirad ambobs,

rom is pativs scems rus

turistebs, xalxs. erTnair `TamaSs~

xom ar `TamaSobs~ es ori

lideri?

_ ara marto turistebi uyvarT

Cvens xelisufalT, rus

biznesmenebsac kargad uxsnian

kars. aqedan Cans, rom deklarireba

xdeba erTi ramis, realurad

ki saqme sul sxvanairadaa.

akeTebs misTvis sasargeblo gancxadebebs

ruseTis xelisufalic

da Cveni qveynisac, magram

yvelasaTvis TvalnaTelia, rom

dRemde mogebuli rCeba jerjerobiT

ruseTi! Cven varT wagebuli

da amas danaxva unda! aseTma

`SemTxveviT sinqronizaciam~

mxolod saqarTvelo daaziana!

_ SeZlebs Tu ara moaxloebul

saparlamento arCevnebSi

`nacionaluri moZraoba~ gamarjvebas?

_ vfiqrob, `airais~ msgavsi

gamokiTxvebiT isini Tavs ar moityueben.

mSvenivrad ician xalxis

ganwyoba TavianT mimarT, amitom

msgavsi gamokiTxvebiT Tu

kvlevebiT cdiloben xalxi, Cven

mogvatyuon, Torem momxreebi

bevri rom ar hyavT, mSvenivrad

ician. cxadia, yvelanairad Seecdebian,

rom arCevnebi ar iyos

obieqturi, magram sazogadoebis

roli amjerad didi iqneba. xalxi

unda Seecados imas, rom Tavi

ar moatyuebinon maT.

eTer kasreliSvili
---
14 saerTo gazeTi #22 (206), 9-15.V, 2012 w.

`saerTo gazeTis~ stumaria

mwerali merab SaTiriSvili.

_ batono merab, Tqven `qar-

Tuli ocnebis~ delegati iyaviT,

aqtiurad monawileobdiT

batoni ivaniSvilis partiis

dafuZnebaSi da ucbad sxva mxares

gaisma Tqveni saxeli, agvixseniT,

ra xdeba?

_ me vfiqrob, rom miSa saakaSvilis

winaaRmdeg brZola

konstituciuri gziT, es aris

TiToeuli qarTvelis movaleoba.

ra dros CaerTveba am

brZolaSi, amas mniSvneloba ar

aqvs, yvela Cvengani unda iyos

jariskaci. sad iqneba is, ivaniSvilis

koaliciaSi, gverdze,

mxarSi, iqneba TvalsaCino saxe

Tu ara, mniSvneloba ar aqvs,

mTavaria, monawileoba miiRo

saerTo miznisTvis brZolaSi.

amJamad, aqtiurad var Cabmuli

`kavkasiis helsinkis jgufTan~.

cnobisaTvis, 30 aprils Catardeba,

ase vTqvaT, erovnuli

Tavyriloba `erovnulebis~ saxelwodebiT.

_ ra iqneba `erovnulebi~,

moZraoba?

_ jerjerobiT es iqneba sazogadoebrivi

moZraoba, romelic

mxars dauWers arCevnebis

gziT xelisuflebis Secvlas

da `qarTul ocnebasTan~ erTad

Seecdeba daamTavros arsebuli

reJimi saqarTveloSi.

me vfiqrob, rom nebismieri

sazogadoebrivi gaerTianeba,

nebismieri jgufi, Tuki is namdvilad

saqarTvelos Tavisuflebaze

fiqrobs, am brZolaSi

unda Caebas. arcaa saWiro da-

Zaxeba _ `modi, Cems gverdze

dadeqi~, Tavisi SexedulebiT

Tavisi wili aguri unda dados

axali saqarTvelos mSeneblobaSi.

me TviT imitom movedi `erovnulebTan~,

rom, vfiqrob,

Cemi gamosvlebiT, Cemi mentalitetiT,

Cemi moqalaqeobiT

da Cemi qarTvelobiT swored

iq vdgavar, sadac nebismieri

qarTuli ojaxi. dameTanxmebiT,

albaT, rom nebismier qarTul

ojaxSi Rvivis erovnuli suliskveTeba.

patara magaliTs

getyviT, proeqt `niWierebSi~

xuloelma mamakacma

da, Tu ar vcdebi, lentexelma

qalbatonma gaimarjves

qarTuli simReriT,

momdevno wels gurjaanelma

ymawvilma, Jiuris

ar gadauwyvetia maTi gamarjveba,

maT erma misca xma.

amiT imis Tqma minda, rom

mTvlemare erovnuli muxti,

romelic TiTqmis yvela ojax-

Sia, gasaRvivebeli, asabrialebeli

da gareT gamosatania.

dameTanxmebiT, rom oci welia

ukve, erovnuli suliskve-

Teba saqarTveloSi, erovnuli

principebi da erovnuli idea

gamoketilia uxilav seifSi.

albaT, imaSic dameTanxmebiT,

rom erovnuloba politikuri

ambiciebisTvis gankuTvnili

`bliudosaviT~ gaxda. rogorc

calke kerZi, daTreuli aqvs,

rogorc xelisuflebas, aseve

calkeul politikur

gaerTianebebs, magram,

faqtiurad, xdeba erovnulobis

Segnebuli

diskreditacia.

_ sityvas gawyvetinebT,

magram unda vTqva,

faqtia, rom qarTul

realobaSi sityva `sam-

Soblo~ amovarda metyvelebidan

da Caenacvla

sityva `qveyana~...

_ amazea saubari,

rom TiTqos erovnuloba,

samSoblo, yvelaferi

qarTulis xseneba

sircxvili gaxda. TiTqos

arsebobs masze didi

civilizacia, rogoricaa

`vefxistyaosani~,

an Tundac guramiSvili,

an ilia WavWavaZis

ideebi, romelic gagr-

Zelda gasuli saukunis 90-ian

wlebSi. Cven viciT, rom erovnul

moZraobaSi iseTi liderebi

iyvnen, romlebmac ganaxorcieles

kidec garkveul periodSi

erovnuli idea, _ eseni

iyvnen zviad gamsaxurdia da merab

kostava. mere, viciT, rac

moxda, zviad gamsaxurdias xelisuflebis

damxoba, rasac

mohyva ilias gzis Caxergva,

erovnuli ideebis diskreditacia

da raRac CarCoebSi moqceva.

moxda adamianebis dayofa

ixileT `saerTo gazeTi~

internetSi

www.saertogazeti.ge

SemogvierTdiT FACEBOOK-ze

30 maiss erovnuli

gamoRviZebis zarebi

unda davarisxoT

`SevardnaZistebad~, `zviadistebad~,

mxedrionelebad~, patar-patara

jgufebad da jabasa

da SevardnaZis mentalitetis

formatSi gadaiyvanes erovnuli

idea da daukavSires

erT kacs. ra Tqma unda, sisxliT

da xorciT erovnuli iyo

zviad gamsaxurdia, magram ra-

Racnairad, TiTqos samarcxvino

gaxades, TiTqos sazogadoebisgan

ganacalkeves `zviadistebi.~

am dros ra xdeboda? _ nebismieri

arCevnebis dros, swored

am `zviadistebis ~ gareSe

ver igebda arCevnebs vercerTi

politikuri Zala, romelic

wina planze gamovidoda. saWiroebisTvis

raRacnairad gamoiyenebdnen

am Zalas, imitom

rom garkveulwilad isic iZulebuli

iyo, rom Tavisi qveynis

winsvlaSi monawileoba mieRo.

_ magaliTad?

_ magaliTad, saakaSvili

ver movidoda erovnuli Zalebis

gareSe, romelsac Tavad

arqmevdnen `zviadistebs~, gamoiyenes

da datoves motyuebuli.

cxadia, ramdenime adamianis

garda, romelic garewari iyo,

rogorc Cans, zviadis drosac

da swored am garewrebiT moxda

zviadis ideebis da mizandasaxulobis

diskreditacia,

konkretul pirebs ar vexebi,

vgulisxmob maT, vinc amJamad

`nacionalebSi~ arian.

iseTi politikuri viTareba

Seiqmna saqarTveloSi am oci

wlis ganmavlobaSi, rom, TiTqos,

erovnuli ideebis matarebeli

xalxi fanatizmSi arian

gadasuli _ isini `zviadistebi~

arian. ara, Cemo kargo, isini

`zviadistebi~ ki ar arian,

isini erovnulebi arian da im

ideis matareblebi, ilias im

gzis gamgrZeleblebi, romel

ideasac Seewira Tavad zviadi.

me vfiqrob, dRes saqarTveloSi

dadga imis dro, rom

Sewydes Cveni mxridan imaze saubari,

rom erovnul-liberalebi

varT. ara, Cemo kargo,

arc liberalizmi da arc arc

erTi politikuri mimarTuleba

erovnulobis gareSe ar ganxorcieldeba.

is, rom Cven qarTvelebi varT,

xmamaRla unda vTqvaT. erovnuli

ideis matarebel xalxs

gverdze unda davudgeT isinic,

romlebmac maSin, nebsiT

Tu uneblied, ver miviReT monawileoba

verc imdroindeli

xelisuflebis mxardasaWerad

da verc mowinaaRmdeged, viyaviT

neitraluri, an adamianebi,

romelTac maSin tyvia ar usvriaT

da ar CaudeniaT danaSauli

qarTveli erisa da saxelmwifos

winaaRmdeg.

dameTanxmebiT, rom mas Semdeg,

rac Cveni erovnuli Rirsebis

damcvelebi Cvenve viqnebiT,

kargi partniorebi aRmov-

CndebiT mezobeli qveynebisTvisac,

evropisa da amerikisTvisac.

Cven Tu Cvens erovnul

Rirsebas da erovnul faseulobebs

ar vufrTxildebiT da

ar vinaxavT, ar vaviTarebT da

ar vaRvivebT, vin varT Cven

rusisTvis, amerikelisTvis Tu

nebismieri sxva qveynisTvis,

TavSi wamosartymelebi? me, magaliTad,

SeiZleba, Turqs vce

pativi pirovnulad, magram veraviTar

SemTxvevaSi ver moviTmen

Cemi aWareli xalxis

erovnulobis Seviwroebis xarjze

aWaraSi Turquli interesis

galaRebas. es ar aris

erovnuloba, es ar aris tolerantizmi,

es ar aris keTilmezobloba

Cveni mxridan _ maT

ras verCiT, sargebloben Cveni

ugunurebiT. roca dainaxavs

igive Turqi, rom Cven varT

Rirseuli, Cveni erovnebis,

tradiciebis, wesebis, rac Segviqmnia

im kulturisa da Rirebulebebis

damcveli, cxadi

gaxdeba, rom pativsacemi eri

varT da maTTvisac gaadvildeba

CvenTan urTierToba. igive

damokidebuleba Seeqmneba nebismier

qveyanas.

Cven Tu Cveni erovnuloba,

marTlmadidebloba, Cveni kultura

ar davicaviT, verasodes

davibrunebT samaCablosa da

afxazeTs. teritoriebiT ar

ganisazRvreba eris myofadoba,

is ganisazRvreba kulturiTa

da misi sulierebiT. Cven

afxaz da os xalxTan erTad

saukuneebi vleweT, gadavleweT

da movediT dRemde. absoluturad

dakargaven isini TavianT

erovnulobas da kargaven ukve,

rac maTi brali ki ara, Cveni

bralia. Cven ver davicaviT Cveni

erovnuloba da amitom ver

davicaviT isini. Cven, qarTvelma

erma ratom SevqmeniT imis

safuZveli, rom osi da afxazi

daecva sxva qveyanas, ruseTs,

es xom Cveni bralia. xom unda

SevignoT, rom maT rusis dasacavi

araferi sWirT! Cems arsebaSi

yovelTvis mjera da yovelTvis

vambob, imitom davkargeT

afxazebi da osebi, rom

Cven davkargeT erovnulobis

dacvis meqanizmi.

saocaria, magram faqtia,

rom raRac sxva Rirebulebebis

pativiscema daviwyeT. televiziiT

vismenT frazas `prioritetulia

inglisuri

ena.~ rogor SeiZleba,

saqarTveloSi

romelime ena prioritetuli

iyos, garda

qarTulisa; rogor

SeiZleba saqar-

TveloSi prioritetuli

iyos raime,

garda qarTuli adaT-wesebisa

da qar-

Tuli kulturisa!

yvelafer qarTuls

rom korozia SeuCnda

da ufleba miveciT

Semosuliyo

ucxouri samsala,

swored aman gamoiwvia

afxazebisa da

osebis qarTvelebisgan

mowyveta. isini

Cveni Zmebi arian da

Cven Tu erovnulebi

varT, maTi erovnebac Cveni erovnebis

nawilia da maTi erovnebis

gadarCena Cveni erovnebis

Rirebulebebis gafrTxileba-

Sia.

me, mTeli Cemi arsebiT, mTeli

Cemi SegnebiTa da potencialiT

vdgavar erovnul sawyisebze,

erovnuli ideis ganxorcielebis

rigebSi da minda,

rom mTelma saqarTvelom, Ti-

Toeulma ojaxma gaaRviZos da

gareT gamoitanos masSi arsebuli

mTvlemare erovnuloba.

damTavrda! kovzi nacarSi

unda Cauvardes nebismier Savbnel

Zalas da moispos erovnuli,

Rirseuli adamianebis monaTvla

avadmyofuri formuliT.

qarTvelebi mxolod buxris

win da Caketil oTaxSi

xom ar varT, qarTvelebi unda

viyoT saqarTvelos winaSec,

mezoblebis winaSec da mTeli

msoflios winaSec.

Cveni saubari minda davasrulo

markesis SesaniSnavi

sityvebiT `me vemsaxurebi Cems

samSoblos da ara Cemi samSoblos

mTavrobas!~

maia WeliZe
---
#22 (206), 9-15.V, 2012 w.

saerTo gazeTi

15

`saerTo gazeTis~ stumaria

`kavkasiis helsinkis jgufis~

erT-erTi damfuZnebeli sandro

bregaZe

_ batono sandro, iTqva,

rom `kavkasiis helsinkis jgufis~

bazaze fuZndeba axali

erovnuli moZraoba `erovnulebi~,

dasabnevi rom ar iyos, iqneb,

ufro garkveviT ganmartoT.

_ es moZraoba ar iqmneba

konkretulad romelime organizaciis

bazaze. oriode dReSi

gamocxaddeba sainiciativo jgufis

Semadgenloba da gamocxaddeba

am moZraobis yrilobis

dRec _ 30 maisi. moxdeba yvela

im erovnuli Zalis konsolidireba,

romelic mowadinebulia

imisaTvis, rom saqarTveloSi

aRdges is erovnuli suli,

romelic gasuli saukunis

pirvel naxevarSi ilia WavWava-

Zis mier iqna aRorZinebuli,

xolo meore naxevarSi zviad

gamsaxurdiasa da merab kostavas

mier. is suli, romelic,

mogexsenebaT, Cvenda samwuxarod,

jer SevardnaZis xelisuflebis

ugunurma antiqar-

Tulma da antixalxurma qmedebebma

Cakla, xolo SemdgomSi,

dRes arsebulma reJimma moindoma,

rom sabolood gaenadgurebina

erovnuli cnobiereba.

erovnuli idea iqneba ZiriTadi

mizani im didi sazogadoebrivi

moZraobis Seqmnisa, romelic am

etapze ase aris Cafiqrebuli,

rom erqmeva moZraoba `erovnulebi~,

SemdgomSi ki ukve gamocxaddeba

konkretuli gegmebi,

ra strategiiTa da taqtikiT

imoqmedebs es sazogadoebrivi

moZraoba.

_ gamomdinare axalgazrda

Taobebis erovnuli cnobierebis

gaiSviaTebidan, sainteresoa,

moZraobis asakobrivi Semadgenloba.

_ mec mqonda daaxloebiT

amgvari STabeWdileba axalgazrda

Taobaze, magram, Cvenda sabednierod,

ase ar aRmoCnda. mas

Semdeg, rac kuluarulad ganvacxadeT,

rom erovnul-ganman-

Tavisuflebeli moZraobis yriloba

tardeba, mTeli dRis ganmavlobaSi

ar wydeba Cvens

ofisSi satelefono zarebi da

momsvleli xalxi, romlebic

gamoxataven srul mxrdaWeras

da mzadyofnas. moZraobaSi warmodgenili

iqneba yvela Taobis

warmomadgeneli. aris axalgazrdebis

Zalian saintereso jgufi,

arian Suaxnis adamianebi da

xanSiSesulebic. es iqneba erTgvari

sinTezi qarTveli sazogadoebisa,

qarTveli erisa, romelmac

unda ganaxorcielos is

xalxis azriT

roca ministri pleSu evrosabWoSi

Sesvlas "apiarebda", erT-erT sofelSi

uTxres: evrosabWoSi Sesvla ki Zalian

gvinda, magram pidarastoba savaldebulo

rom xdeba, es cota gvaSfoTebso. evropis

xaTriT ras ar izam kaci, magram mainc "texavs".

ideebi, romelic TiToeuli

CvenganisTvis Zvirfasia.

miuxedavad imisa, rom rogorc

aRvniSne, zviad gamsaxurdias

Semdgomi yvela xelisufali

cdilobda erovnuli sulis

Cakvlas, saqarTvelos mosaxleobis

absoluturi umravlesobisTvis

mainc misaRebi aris is

konservatoruli ideebi, riTic

aqamde movida qarTveli eri.

mTeli am wlebis ganmavlobaSi

ar iyo organizebuli es

Sinagani ganwyoba, rac xels

uSlida im ideebis ganxorcielebas,

rac erovnul adamianebsa

da erovnul jgufebs aqvT.

swored es aris imis mizezic,

rom dRes arsebuli xelisuflebis

mier Tavs gvaqvs moxveuli

is ideologia, romelic absoluturad

ucxo aris TiTqmis

yvela ojaxisTvis saqarTveloSi.

es aris ucxoeTidan maxinji

formebiT gadmonergili

da xalxisTvis miwodebuli

iseTi ideologia, romelsac 24

saaTis ganmavlobaSi qadageben

qarTuli televiziebi, e.w saxelisuflebo

elita da is arasamTavrobo

organizaciebi,

romlebic saqarTvelos dauZinebeli

mtrebis mier aris Seqmnili.

_ romel arasamTavrobo

organizaciebs gulisxmobT?

_ erT-erTi TvalsaCino

magaliTia `Tavisuflebis

instituti~.

Tqven mowme xarT

imisa, rom `Tavisuflebis

instituts~ mxrdamWeri

faqtobrivad,

ar hyavs saqarTveloSi

da didi agresiaa

maT mimarT, magram

miuxedavad amisa,

swored isini arian

farTod reklamirebulebi

da undaT warmoCena,

rom maTi ideebia

misaRebi.

Cven vapirebT swored am mojadoebuli

wris garRvevas,

romelic aucileblad gairRveva

kidec da TvalnaTeli gaxdeba

TiToeuli adamianisTvis,

rom erovnuli cnobiereba

ualternativoa,

rom is aris qarTveli

eris gadarCenis

erTaderTi gza da er-

TaderTi Sansi.

_ ranairad fiqrobT

xalxisTvis xmis

miwvdenas. Tbilis-

Si kidev SeiZleba

raRacnairad gavrceldes

xma, magram

saqarTvelo xom mxolod

Tbilisi ar

aris?

_ samwuxarod, arsebuli

xelisuflebisadmi

opoziciurad

sul male dafuZndeba saxalxo

moZraoba `erovnulebi~,

romlis kari yvela patrioti

qarTvelisTvis Riia...

ganwyobil adamianebsa da sxva-

Ta Soris, opoziciaSi erovnul

adamianebs aSkarad devnian

eleqtronuli mediis warmomadgenlebi,

magram

30 maiss Seikribeba

imdeni xalxi, davanaxebT

yvelas, rom amdeni

adamiani arc erTi

sazogadoebrivi Tu

sxva tipis organizaciis

Tavyrilobas ar

axsovs.

sruli pasuxismgeblobiT

SemiZlia giTxraT, rom ukve

dawyebulia saxalxo moZraoba

enTuziazmze, romelic sakmaod

myaria. adamianebi modian mxo-

vaimee, ra daarbies amferi am ruseTSi..

mTeli dRe ro xvixvineben es Cemis

trulaila miSoidebi?... 26 maisis darbevis

mere vinmes darbeva ukvirT am Cemis Tvrametianebs?...

amaTzea naTqmi: "ara, ti na svoi nos

pasmatri elii"

SevardnaZisdroindeli saarCevno kodeqsiT

saarCevno siaSi amomrCevlis piradi

nomeri fiqsirdeboda, xolo ar-

Cevnebis dRes amomrCevlis piradobis

mowmobis nomeri, es ori monacemi erTmaneTs unda

damTxveoda.

moqmedi saarCevno kodeqsiT, saarCevno

siaSi piradi nomeria Setanili da ar-

Cevnebis dResac mxolod piradi nomeri

fiqsirdeba, amdenad kontrolis es meqanizmi

gaqra. SesaZloa, winaswar Seavso monacemebi,

amomrCevlis nacvlad xelic moawero da

biuleteni gamoiyeno.

lod da mxolod imisaTvis,

rom gadaarCinon yvela is faseuloba,

romlebic Zvirfasia

qarTveli erisTvis.

viRacas hgonia, rom Cveni faseulobebi

es aris CamorCeniloba

da raRac regresi, arada, piriqiTaa,

dasavluri faseulobebi,

realurad, TanxvedraSi aris

im faseulobebTan, romelic qar-

Tvel ers aqvs. amave dros minda

vTqva, rom qarTveli eri da saqarTvelo

yovelTvis iyo erTerTi

didi qvakuTxedi im dasavluri

civilizaciisa, romelic

dRes esoden popularulia saqarTvelos

politikur Tu sazogadoebriv

wreebSi.

Cven vfiqrobT, rom

erovnuloba, romelic

demokratiul principebze

iqneba damyarebuli,

iqneba erTaderTi

gamosavali im

Cixidan, romelSic vimyofebiT.

saqarTveloSi arsebul re-

Jims veravin da veranairi saSualebiT

ver daamarcxebs Tu ar

iarseba erovnulma doqtrinam,

Tu ar iarseba erovnulma ideologiam

da Tu ar moxda erovnuli

ideologiis matarebeli

adamianebis erT organizaciul

struqturad Camoyalibeba da

im erTi didi muStis Sekvra,

romelic daamarcxebs yvela im

ukeTurobas, rac garedan gvaqvs

Tavsmoxveuli.

aucileblad aRvniSnav, rom

im e.w liberalur Rirebulebebs,

romelsac warmogvisaxaven

maTi saqarTveloSi damnergavebi,

aranairi saerTo ar aqvs

klasikur liberalizmTan, marqsistul-leninuri

ideebia da

amitom mstovrebs vuwodeb maT.

e.w liberalebis Zalisxmeva mimarTulia

iqiT, rom iarsebon

mxolod maT da aravin sxvam,

anu isini arian bolSevikebis

gzis gamgrZeleblebi, amitom,

modiT, davarqvaT is, ranic

arian, neobolSevikebi, neokomkavSirlebi...

Cven unda davanaxoT xalxs,

rom arsebobs seriozuli ideologiuri

alternativa, erovnuli

ideologia, romelsac absoluturad

yvelafris Secvla

SeuZlia saqarTveloSi ukeTesobisaken.

dasavleT evropaSi ukve

dawyebulia procesebi da safrangeTis

bolo saprezidento

arCevnebmac daadastura, rom

erovnuloba iwevs wina planze.

CvenTan, miuxedavad imisa, rom

sakmaod bevri mteri hyavs

erovnulobas, bevrad ukeT aris

saqme im mxriv, rom mainc myarad

dgas. nebismieri qarTvelis

ojaxSi rom SebrZandeT, dainaxavT

tradiciul qarTul ojaxs,

romlisTvisac mTavari

principia erovnuloba.

Tu Cven miviRebT mxolod

cvlilebas, rodesac es reJimi

Seicvleba da mis adgilze mova

imave ideologiis, warsulSi

maTTan axlos mdgomi pilitikuri

Zala, es iqneba

fasaduri cvlileba,

romelic arafer

kargs ar moutans

saqarTvelos.

_ TqvenTvis miu-

Rebel politikur

Zalebs ras upirebT.

_ araviTar Sem-

TxvevaSi ar vfiqrobT,

rom unda moikveTon

an aikrZalon.

unda iarsebon

memarjveneebmac, memarcxeneebmac,

centristebmac,

liberalebmac,

yvela politikurma

Zalam da

qarTvelma erma unda

gaakeTos maT Soris

arCevani.

_ mkvidrdeba termini `qar-

Tuli sazogadoeba,~ rogor

ggoniaT, swori formaa SerCeuli?

_ Cemi Rrma rwmeniT, es unda

Seicvalos formiT `qarTveli

eri~, romelic zviad gamsaxurdias

Semdeg politikuri

leqsikonidan nel-nela amovarda.

ki, batono, `sazogadoeba~

kargi aris, magram uZvelesi

tradiciebisa da kulturis

mqone qarTveli eri imsaxurebs

imas, rom vilaparakoT qarTvel

erze.

_ marTalia, CemTvis gaugebaria,

magram iTqva, rom saqar-

TveloSi mcxovreb sxva eris

warmomadgenlebs uxerxulobas

Seuqmnis qarTvel erze xazgasma.

_ me vfiqrob, rom sxva

eris warmomadgenlebs es ar

ewyinebaT, imitom, rom is somexic,

azerbaijanelic, afxazic

da osic imave eris mTlianoba-

Si moiazreba, romelSic nebismieri

qarTveli.

maia WeliZe
---
16 saerTo gazeTi #22 (206), 9-15.V, 2012 w.

rusTavelis TeatrSi, sadac akaki

xoravas suli trialebs, viRac

malaizieli saWmels akeTebs, ase

vuvliT Cvens erovnul Rirsebas?!

interviu dima jaianTa.

_ modiT, batono dima, visaubroT

afxazeTze. ramdenime

dRis win prezidentma uxerxul

konteqstSi moixsenia

saqarTvelos es ulamazesi

kuTxe.

_ saerTod afxazeTTan mimarTebaSi

amaT gamousworebeli

danaSauli aqvT Cadenili.

daukvirdiT, afxazeTs saer-

Tod aRar axseneben an Tu axseneben,

jobs, saerTod ar eTqvaT

raime. marTalia, erTi

mowvevis parlamentis wevri

viyavi, magram imas mainc vaxerxebdiT,

rom yoveldRiurad

Segvexesebina Cveni tkivili

afxazeTi saqarTvelos mosaxleobisTvis

cxonebuli Tamaz

nadareiSvilis dros iyo

afxazeTze aqtiurad saubari.

parlamentis sxdoma afxaze-

Tis sakiTxiT iwyeboda maSin,

axla Tu gagigiaT afxazeTze

seriozuli laparaki? ara,

xom? iciT, ratom? amaT hgoniaT,

rom Cven vakuumSi varT.

araferi viciT da verafers

vxvdebiT, sinamdvileSi yvelam

kargad viciT afxazebis da

qarTvelebis erTad yofnis gasaRebi

ruseTTan normaluri

urTierToba romaa.

_ batono dima, axlaxan

prezidentma ganacxada moviWri

organoebs afxazeTis da

cxinvalis regionis sanacvlodo...

_ amaze komentari rogor

SeiZleba, kaci xom xedavT

agoniaSia! avadmyofi da samkurnaloa!

vis ugzavnis Tavis

asos, sul ar momwons arc

medvedevi da arc putini. omi

gamoviare, Cemi TvaliT maqvs

yvelaferi nanaxi, sad iyvnen

eseni, Tundac saakaSvili im

dros? sad iyvnen saerTod es

garewrebi? ician sad aris

afxazeTi? Cems SvilTan er-

Tad vibrZodi ruseTis winaaRmdeg!

ramdeni adamianis sicocxle

Seiwina im omma! ruseTs

maswavlian eseni? ase

gvinda afxazeTis dabruneba?

viciT ruseTis xrikebi, magram

msoflioSi pirveli qveynis

sagareo saqmeTa ministri

rom gafrTxilebs, provokacias

ar ayveo da Sen Sensas rom

ar iSli, visi bralia? rogor

SeiZleba atomis mefe qveyanas

omi mougo? konstantine gamsaxurdias

aqvs genialurad

naTqvami: `ers, romelsac nacarqeqias

zRapari aqvs, gada-

Seneba ar uweriao~. ras gulisxmobda

didi konstantine?

_ moqnilobas, Wkuas, xerxs.

_ samwuxaroa, rom xelovnebis

nacvlad politikaze

gviwevs saubari.

_ xelovnebaze da Teatrze

rogor vilaparakoT, roca

Cemi nacionaluri Teatri,

rusTavelis, aseT mdgomareobaSia.

inglisSi, Seqspiris TeatrSi

SegiSveben da cekvas an

sxva sanaxaobebs dagadgmevineben?

an kulinariul gakveTilebs

Cagatarebineben? an niWiers

gamoavlenen? ar var imis

winaaRmdegi, magram aseTi RonisZiebebisTvis

sxva darbazebis

monaxva SeiZleba. iq simfoniur

orkestrsac ar uSveben!

imitom rom is Seqspiris

Teatria! amas Tavi davaneboT,

Teatridan uSveb msoflioSi

pirvel reJisors da sxva razea

saubari? es gadacemebi

dramatul TeatrebSi ar unda

tardebodes, amisTvis gvaqvs

sxva darbazebi. magram es yvelaferi

Segnebulad keTdeba,

radgan robert sturua radgan

gavuSviT, axla Teatrs

bolomde CavwixlavT. imitomac

kidev, rom rusTavelis

Teatri biZina ivaniSvilis gadarCenilia.

gaxsovT, Teatris

Senoba mTlianad amortizebuli

iyo. ramdenime dRis win

akaki xoravas saflavze viyavi

da movubodiSe, ver mogiareTmeTqi.

misi suli rusTavelis

TeatrSi trialebs da iq vi-

Rac malaizieli saWmels ake-

Tebs, viRac striptizs cekvavs.

sad kaco, sadac Cveni

Teatraluri korifeebi gamodiodnen?

ase vuvliT Cvens

warsuls, Cvens siamayes? erovnul

Rirsebas?

vfiqrob, dRes urTierTlanZRvis

dro ar aris. mec

bevri ar momwons opoziciaSi,

magram Cemgan kritika aravis

gaugia. dRes qvebis Segrovebis

droa, rodesac yvelam er-

Tad unda SevagrovoT, dawyebuli

biZina ivaniSvilidan,

damTavrebuli nino burjanaZe-

Ti. erTad unda davdgeT da

vakeToT saqme.

gia burduli

eTer xviCia erT-erTi maTgania,

vinac saqarTvelodan ucxoeTSi

wasvla ekonomikuri problemebis

mosagvareblad gadawyvita.

didi xani ar aris, rac saberZneTSi

`saerTo gazeTis~ erTguli

mkiTxveli, qalbatoni eTeri

TbilisSi dabrunda, amjerad

mudmivad sacxovreblad da oriode

dRis win redaqciaSic gvestumra.

ra iyo Camosvlis realuri

mizezi da rogori Cans aTenidan

saqarTvelo? am da sxva sakiTxebze

eTer xviCia gvesaubreba.

_ saberZneTidanac kargad

Canda, rom saqarTveloSi yvelaferi

ise ar iyo, rogorc ambobdnen.

amitomac meubnebodnen _

xom ar Cqarob, jer, iqneb, wasvla

ar Rirdeso, magram me dRes

aq var da saqarTvelodan wasuli

uamravi adamiani elodeba axla

`saerTo gazeTs~, rom gaigon,

sinamdvileSi ra xdeba da

ra perspeqtiva elodeba ucxoe-

Tidan dabrunebul adamians Tavis

samSobloSi.

sanam wamovidodi, ramdenime

xniT adre saberZneTSi saqarTvelodan

umaRlesi Tanamdebobis

pirebi Camovidnen. ise gvelaparaknen,

gvegona saqarTveloSi,

ukve samoTxe iyo. bevrma gadawyvita

maSin yvelafris mitoveba

da samSobloSi dabruneba dabrunebis

SemTxvevaSi 3000 evro-

Ti daxmarebac cota ar aris.

saberZneTSi piradad koba

subelianisgan movismine, rom

swored es saministro gascemda

Tanxebs da rom Camovedi pirdapir

batoni kobas uwyebaSi mivedi.

3000 evros nacvlad 2000

evro SemomTavazes, _ daniis

programa, romelic 3000 iTvaliswinebda,

Seicvala, Tanac,

Cven yvelas ver vexmarebiTo.

ramdenimejer mivakiTxe saministros,

magram meubnebian ise rogorc

erT mSvenier qarTul

filmSia, `gekuTvniT, magram ar

gekuTvniT~.

biznesgegma warmoadgineT,

soflis meurneobis ganviTarebisTviso,

holandiur Zroxebze

da germanul Rorebzea laparaki,

hibriduli simindis ar iyos.

fuls ar aZleven da undaT aCvenon,

rom SeuZines ori Rori,

erTi Zroxa fuli ar modis Cvenamde,

sadRac qreba. ager guSin

miTxres, rom momcemen, oRond

jer ara. amasobaSi arCevnebi iqneba,

mere evrokavSiri an gamoagzavnis,

an uars ityvis. ai, am

tyuilebs gaurbis xalxi, ga-

WirvebasTan erTad tyuils da

uimedobas gaurbis.

me mainc mgonia, rom did

tyuilzea yvelaferi agebuli.

Zalian did farisevlobasa da

tyuilze da vwerdiT amaze saberZneTSi

gamomaval qarTul gazeTSi

`eladaSic~. saqme isaa,

rom ucxoeTSi yvela sakuTari

problemebis gamoa wasuli da

qveynis momavali bevrs ar awuxebs.

saakaSvils marTaven misi

patronebi, iseve, rogorc qar-

Tul saelCoebs da sakonsulebs

marTavs es xelisufleba ucxoeTSi.

gaigos am xelisuflebam me,

eTer xviCia, ara var misi mteri.

aramed var opoziciaSi da

msurs arCevnebis gziT Seicvalos

xelisufleba. ramdenime

wuTis win damirekes aTenidan.

gugunebs opozicia:

saberZneTi

berZnebisTvis! moiTxoven

_ ucxoelebi

gavidnen saberZneTidan.

saqarTveloSi

gaubedavs vinme

msgavs manifestacias

erovnul

umciresobebs? is

ki ara, xelisufleba

kanonebs iRebs

erovnuli umciresobebis

dasacavad.

saqarTveloSi ki nelnela

qarTvelebi viricxebiT

umciresobaSi. umciresobaSi

myofma osma da afxazma wagvar-

Tva teritoriebi da umciresobaSi

myofi somxebi da azerbaijanelebi

iTxoven teritoriebs.

mivxedoT Cvens qveyanas, marto

erTi klasikosis berad aRkveca

ar niSnavs saerTo sinanuls,

Cven bevri ram davaSaveT

erovnuli xelisuflebis wina-

Se, kerZod, zviad gamsaxurdias

winaSe, romelic ambobda: saxelmwifo

dotaciaze vtoveb

jandacvas da ganaTlebas, radgan

me janmrTeli da ganaTlebuli

qarTvelebi mWirdebao.

aseT kacs aRudga iaraRiT inteligenciis

warmomadgenlebi da

axla aris Cvens qveyanaSi isev

riaria.

axlovdeba 26 maisi, romelic

merab kostavas dabadebis

da zviad gamsaxurdias prezidentad

arCevis dRea. Cemi megobrebi

agroveben Tanxas saberZneTSi.

vapirebT orive didi patriotis

saflavze mivideT da

Rirseulad mivagoT pativi maT

xsovnas, ise rogorc maT sulebs

ekadreba.

ar viciT, ra iqneba 26 maiss,

magram ar SeiZleba ase, ivaniSvili

iqiT atarebs Sekrebas,

burjanaZe gabrazda da CaSala

filarmoniaSi Sexvedra... vinc

ra unda, is Tqvas, SarSan 26 maiss

nino burjanaZe gmiri iyo,

da xelisuflebamac da opoziacamac

am dRis mimarT meti pasuxismgebloba

gamoiCinos. sxvanairi

dRea 26 maisi saqarTvelos-

Tvis. da bolos da bolos samarTlebrivi

Sefaseba unda mieces

90-iani wlebis movlenebs.

aTeulobiT gulanTebuli adamiania

gadaxvewili saqarTvelodan

erovnuli xelisuflebis mxardaWerisTvis

da maTi dabruneba

waadgeba qveyanas.

Cven vuRalateT erovnul xelisuflebas,

Cven vuRalateT

wavediT TavmoyvareobaSelaxulebi

saqarTvelodan, davbrundiT da

kvlav Tavmoyvareobas gvilaxaven

ixileT `saerTo gazeTi~

internetSi

www.saertogazeti.ge

SemogvierTdiT FACEBOOK-ze

sakuTar Tavs, amitom, rac ar

unda moxdes, arCevnebi da a.S.

yvelaferi absurdi iqneba.

aseTi cxovreba ar dagvidgeboda,

metad gonivrulad rom

vyofiliyaviT 90-ian wlebSi.

axla Tbilisi Sendeba, magram

visTvis? Cems saxlTan axlos

umweoTa dasaxmareblad ufaso

supi rigdeba, yofili mecniermuSakebi

am sasadilos xSiri

stumrebi arian.

me ki, erT Cveulebriv qarTvels,

rac saberZneTidan Camovedi,

arc erT uwyebaSi ilias,

akakis da iakobis eniT ar melaparakebian,

dayenebuli imijiT,

dayenebuli metyvelebiT, ucxouri

aqcentiT metyveleben Cveni

axalgazrdebi, romlebic Sinaganad

ar arian qarTvelebi... amas

saberZneTSi arc erTi berZeni

ar gaakeTebs. Cemi TvaliT maqvs

nanaxi berZnebis damokidebuleba

saxelmwifos mimarT. maT saber-

ZneTi berZenisTvis surT. Cven

erTxel vTqviT _`saqarTvelo

qarTvelebisTviso~ da lamisaa

gadagvayoles amas. saberZneTSi

vin gabedavs, rac gaakeTes amas

winaT parlamentis win azerbaijanelebma,

rac uwodes jondi

baRaTurias, romelime qveyanaSi

umciresoba amas gabedavda? ratom

irRveva Cems qveyanaSi Cemi

uflebebi?

wavediT TavmoyvareobaSelaxulebi

saqarTvelodan, davbrundiT

da kvlav Tavmoyvareobas

gvilaxaven. saqarTvelos xelisufleba

qarTveli xalxis

mtrad aris qceuli da Cemi azriT,

ase Zlieri saxelmwifo

ver aSendeba.

ana vadaWkoria
---
#22 (206), 9-15.V, 2012 w.

saerTo gazeTi

17

2 wlis saqarTvelos prezidentma

piroba dado, rom mewarmeebs

ukanonod gadaxdili dRgs

xan ukan daubrunebdnen, magram

es piroba, rogorc mravali sxva,

ausrulebeli darCa, radgan

finansTa saministros amisaTvis

saxsrebi arasodes ar gaaCnia.

prezidentma mewarmeebs isic

axara, rom dasabrunebeli (dRgze

gadaxdili) biujetSi unda

gaweriliyo arc es gakeTebula,

mewarmeebs erTaderTi gamosavali

rCebaT _ daTanxmdnen finansTa

saministros SemoTavazebul

CaTvlis wesebze.

saakaSvilis dRg-Si gadaxdilis

ukan dabrunebaze gacemulma

pirobebma specialistebs aTqmevina,

rom xelisufleba aRiarebs

damatebiTi Rirebulebis gadasaxadebs.

`mrewvelebis~ lideri zurab

tyemalaZe acxadebs, rom sagadasaxado

kodeqsSi dRg-s gadasaxadis

dabrunebis procedura gamartivda.

magram problema gaxda

Tanxis dabruneba. eqspert irakli

SaviSvilis ganmartebiT, bevri

mewarme dRg-s dabrunebis

moTxovnisagan Tavs ikavebs. _

eSiniaT maT kompaniebSi Semosavlebis

samsaxurma egzekucia ar

Caataros. amis gamo midis daTmobaze

gaakeTos CaTvlebi.

kidev erT eqsperts, daviT

narmanias miaCnia, rom dRg-s dabrunebis

procesi usaSvelod

iweleba, mewarmeebs ki sakuTari

uflebebis dacvis aranairi sa-

Sualeba (sakanonmdeblo doneze)

ar gaaCniaT.

ekonomikis specialistTa

ganmartebiT, kanoniT dRg-s gadasaxadi

erT TveSi unda dabrundes,

magram valebis darRvevisaTvis

saxelmwifos aranairi

sanqciebi ar ekisreba. saxelmwifo

da mewarmeebi araTanabar pirobebSi

arian.

daucveli dasazRvevebi

xelisuflebam dazRveulebis

uflebebis dasacavad,

qmediTi struqturebi dRemde

ver (an ar) Seqmna. beneficiarebis

didi nawili saxelmwifo

programebidan

ezRveva. aq ki monopolizmi

ikveTeba, askvnian eqspertebi

da amtkiceben, rom amgvari

damokidebuleba xarisxzec

axdens gavlenas.

is, rom sadazRvevo seqtorSi,

yvelaferi wesrigSi

araa, prezidenti saakaSvilic

aRiarebs. xSirad manipulaciebis

Sedegad, dazRveulma

ar icis, ras dafaravs

dazRveva. `amitom Tama-

Sis axal wesebs sTavazobT,

imisaTvis, rom sadazvevom

dazRveuli ar moatyuos~. _

acxadebs nacionalebis lideri.

sadazRvevoebSi ki acxadeben,

rom isini mosaxleobas ar atyueben.

mzRvevelebis mimarT negatiuri

ganwyobilebis mizezi is

aris, rom mosaxleoba sadazRvevoebisagn

iTxovs ufro mets,

vidre maTi polisi iTvaliswinebs.

eqspertTa ganmartebiT, sadazRvevoebisadmi

dazRveulebis

undobloba ganpirobebulia imiT,

rom xelisuflebam Tavi ver (an

ar) moaba efeqturi mediaciis

samsaxuris Seqmnas. sasamarTlo-

Si davebi TveobiT iweleba. sar-

Celis Semtanma biujetSi sadao

Tanxis 3 procenti unda gadaixados.

amas saadvokato xarjebi

emateba. amdeni nervebi da fuladi

saxsrebi saCivris SemtanT

ara aqvT. yvelaferi ki ubralo,

prezidenti sityvebiT

umuSevrobas ebrZvis da

axal sagareo valebs iRebs

ufulo moqalaqis sawinaaRmdegod

wydeba.

komunaluri momsaxurebis

tarifebs iseTive dacva

sWirdeba, rogorc

puris fass, radganac

isinic pirveladi

moxmarebis sagnebia

vidre saakaSvils Tbilisis

sakrebulos Tavmjdomared air-

Cevdnen, Tu naTelaSvilis SemweobiT

daniSnavdnen, pirobas debda,

rom dedaqalaqSi gazi, eleqtroenergia,

wyliT momarageba,

dasufTaveba erT TeTriTac ar

gaZvirdeboda. igive pirobas iZleoda

sakrebulos Tavmjdomaris

postzec. `vard-ekalosnebis~

xelisuflebaSi mosvlis

Semdeg saakaSvilis dapirebebi

daaviwyda. man mosaxleobas `qamrebis

moWerisaken, mouwoda da

daiwyo fasebis `gaTavisufleba~.

pirvel rigSi, mateba pirveladi

moxmarebis sagnebs daetyo.

avadsaxsenebeli 2003 wlidan

wylis tarifi 200 procentiT,

xolo bunebrivi airis 250

procentiT gaizarda. dasufTavebis

gadasaxadma arnaxul zRvars,

525 procents gadaaWarba.

gansakuTrebulia eleqtroenergiaze

tarifis zrdis SemTxveva.

is, rom deni ar unda gaZvirebuliyo

saqarTvelos sakonstitucio

sasamarTlos (#1-3-

136.30.12.02) gadawyvetilebaSi

iqna Cadebuli, magram vardosnebis

struqturulma danamatma _

maregulirebelma komisiam yovelives

ugulebelyofa moaxdina

da eleqtroenergiaze tarifi

nel-neli awevebiT 100 procentiT

gazarda amasac ar dayabulda

da tarifi samomxmareblo safexurebad

dahyo, ramac safasuris

gaZvireba 150 procentamde

aswia. iuristebis ganmartebiT,

sakonstitucio sasamarTlos gadawyvetilebis

ugulebelyofa

(winamdebaris anulirebis gare-

Se) mZime saxis sisxlis samarTlis

danaSaulia da isjeba soliduri

vadiT patimrobis aRkve-

TiT.

sityviT sxva,

saqmiT _ sxva

`nacionalebi~ da maTi lideri

cxare cremlebiT tirian umuSevarTa

bedze da gulSi mjiRs

icemen (mxolod arCevnebis win),

rom siRaribesa da umuSevrobas

aRmofxvrian. maT am kuTxiT gadadgmul

nabijad miaCniaT dasaqmebis

`nacmouri~ proeqti, magram

specialistebs mosalodneli

dasaqmeba droebiTad da wina saarCevno

piarad aqvT warmodgenili

da Tvlian, rom seriozul

Tanxebs uazrod yrian.

specialistebis ganmartebiT,

rodesac `nacionalebis~ mTeli

elita dasaqmebis problemebze

msjelobs, `Tavisufal asociaciaTa

kavSirma~ centralur saarCevno

(`sareferendumo~) komisiaSi

gancxadeba Seitana moTxovniT,

miecaT misTvis ufleba

Caetarebina referendumi umuSevarTaTvis

Semweobis gacemis aucileblobis

Taobaze.

`nacionalebis~ xeldasmulma

da `vardosnebiT~ dakompleqtebulma

organom (cskom) moTxovnis

gamcemT dokumentaciis registraciaze

uari uTxra.

im motiviT, rom sareferendumo

sakiTxi (umuSevarTaTvis

Semweobebis gacema)

ar warmoadgens saxelmwifoebrivi

mniSvnelobis

sakiTxs.

umuSevarTaTvis Semweobebis

gacema, maTTvis

sayovelTaod aRiarebuli

daxmarebis formaa. amgvar

daxmarebebs sxvadasxva

saxelmwifo sxvadasxva

vadebiTa da odenobiT

gascemen. dausaqmebelTaTvis

daxmarebebs postsab-

WoTa qveynebSic iZlevian.

amgvar daxmarebebs adre

saqarTveloSic gascemdnen.

Semweobebs iRebdnen

Sromis birJaze daregistrirebuli,

magram `nacionalebma~

birJa `SevardnaZis gadmonaSTad~

CaTvales da gaauqmes.

yvela registrirebul umuSevars

Seuwyda saxelmwifosgan

isedac mizeruli daxmareba.

marionet petriaSvilsac

ki Sercxva

umuSevarTa mravalricxovan

armias ar SeerTebis msurvelTa

arc ise dalxenili samuSao garemo-pirobebi

aqvT. gansakuTrebiT

es xelisuflebis mxridanmewarmeebis

iZulebiT Tavs moxveul

dasaqmebulebs exebaT. Catarebuli

gamokvlevebiT, am kategoriis

xalxs umetes SemTxvevebSi

umkacresad eqcevian. diliT

dagvianebaze an samsaxuridan

ramdenime wuTiT adre wasvlaze

sjian _ ZiriTadad, xelfasebidan

Tanxebs aWrian. gaigivebulia

arasapatio da sapatio

gacdenebi. am SemTxvevaSic ekonomikuri

sanqciebi moqmedebs.

rogorc irkveva, xelisuflebis

rekomendaciiT, dasaqmebulebs

sxvaTa msgavsad aranormirebuli

samuSao dRis grafikiT

amuSaveben. xSirad gamohyavT

dasvenebisa da sadResaswaulo

dReebSi, yovelgvari damatebiTi

anazRaurebis gareSe.

xSir SemTxvevebSi, ufrosoba

axaldasaqmebulebs Tanxebis dazogvis

momizezebiT, civ, nestian

gausaZlisTan miaxloebul pirobebs

uqmnis.

seriozuli problemaa Sromis

anazRaurebis mxrivac. saqar-

TveloSi saerTod dasaqmebulTa

saSualo wliuri xelfasi 7200

laria. mkvlevarTa ganmartebiT,

am maCvenebels ZiriTadad `qaCaven~

maRali Tanamdebobis pirTa

uzomod gaberili xelfasebi,

gansakuTrebiT saxelmwifo seqtorSi,

Cveni maCvenebeli mizerulia,

Tundac krizisul mdgomareobaSi

myof saberZneTSi dasaqmebulebTan

SedarebiT _ 29

waago `sarkom~ arCevnebi

da Rirseuladac

miiRo damarcxeba ar

eZaxis aravis bnel Zalebs

mumiebs da moRalateebs. Cevenma

maRalma demokratiis Suquram

CarTos televizori da cota

mainc iswavlos evropelebisgan

rom gadagvWama Tavi Tavisi

bilwsityvaobiT.

sarwmuno wyarodan miviReT

informacia merabiSvils

ganucxadebia

quTaisSi regionalur

TaTbirze: `ToTo bavSvic dasaWeri

rom gagvixdes, unda daviWiroT,

es arCevnebi usikvdilod

unda movigoTo"

vaimeeee... ninooo WeliZeee...xaTunaaa

Wyoi-

Zeee... vaxo... vaxo sad

xar, sixaruliZe...fsiqiatrebo,

xo xarT, ami deda vatire,

uSveleT am Cemis trulaialas

rame Tvara gadelda na-

200 evro. CvenTan saerTo maCvenebelze

bevrad dabalia xelisuflebis

mier dasaqmebulTa

anazRaureba.

damsaqmebelTan odnavi pretenziis

SemTxvevaSi mepatrones

pasuxi mzada aqvs _ ar mogwons,

wadi. Seucvleli aravinaa. iZulebiT

Tavsmoxveul dasaqmebulebs

xelisuflebis SiSiT,

ucebve ganTavisuflebas ver ubedaven.

samagierod, iseT pirobebs

uqmnian, rom man TviTon daweros

gancxadeba wasvlaze.

specialistTa gancxadebiT,

ar arsebobs mepatronis Semakavebeli

araviTari kanoni muSa-mosamsaxureebi

sakanonmdeblo doneze

arian daucveli. isini

mflobelebTan mimarTebaSi dakanonebul

monur mdgomareobaSi

imyofebian da yovelives itanen

samuSaos dakargvis SiSiTa da

kabaluri Sromis kodeqsis gamo.

kanonmdebloba imdenad miaxloebulia

baton-ymuri epoqis

kanonebTan, rom TviT `nacebis~

xeldasmulma profkavSiris Tavmjdomarem

petriaSvilma piar

aqciaze `mSromelTa damkabalebeli~

saqarTvelos Sromis kodeqsi

Sekrebili xalxis Tvalwin

daxia, magram petriaSvilis gundis

saqmianoba amis iqiT aRar

wasula. rogorc gairkva aqciis

dRe yofila msoflio profesiuli

kavSirebis mier gamocxadebuli

`Tanadgomis dRe~. petriaSvilmac,

ubralod, daamTxvia

aqcia am dRes da saerTaSoriso

profkavSirul moZraobas daanaxa,

rom igi da mis xelSi uaRresad

dakninebuli saqarTvelos

profkavSirebi jer kidev cocxlebi

arian.

zaza bilixoZe

xalxis azriT

metnavaT da bodavs, bodaaaavs,

gazafxulze uWirs, etyoba, Zaan.

erTma sakrebulos wevrma

vanidan (Sinauria)

ase miTxra, rom 500-de

adamiani yavdaT Camoyvanili

vanidan, iqiraves avtobusebi

da daxarjes uamravi resursi..

mSier xalxs 2 milioniani Sadrevani

anaxes.. vai, Cvens patrons,

ra...

gia roiniSvili, nugzar

ergemliZe da aha,

esec miemateba. asrulda

mamuliCas natvra,

ukve parlamentari coli eyoleba.

sam xmaSi imRereben exla

parlamentSi. rava meilxens miSiko

da biZo? daiSaqrebian sul,

angelozebi gegoneba rom ar icode,

vinc arian. iqedan roiniSvili

Semohkravs, aqedan nugzara

biWi da lelas venacvale, daagvirgvinebs.
---
18 saerTo gazeTi #22 (206), 9-15.V, 2012 w.

sisxlis jgufi individualuri

niSania, romelic erovnebis,

sqesisa da asakis ganurCevlad,

yvela adamians axasiaTebs.

igi arapirdapir gansazRvravs

organizmis zogad mdgomareobas,

mis kvebiT upiratesobasa da ama

Tu im daavadebebisadmi dadebi-

Tad ganwyobas.

rodesac cnobilia daavadebaTa

nusxa, romelic sisxlis

romelime jgufis mqoneebs yvelaze

xSirad axasiaTebs, es Zalian

kargia, radgan garkveulwilad,

adamiani winaswar emzadeba

maT winaaRmdeg sabrZolvelad,

gacilebiT ukeT Seimecnebs

am daavadebaTa profilaqtikisa

da mkurnalobis saSualebebsa

da meTodebs.

maS ase, modiT, erTad gaverkvioT,

Tu romel daavadebebze

migvaniSnebs Cveni sisxlis jgufi.

sisxlis

pirveli jgufi

sisxlis pirveli jgufi

Zlieri xasiaTis adamianebs axasiaTebs.

mizandasaxulni, mtkiceni

da sakuTar TavSi darwmunebulebi

sakmaod medegni arian

nevrozebisadmi da adviladac

janmrTeldebian; Tumca sxvebisgan

ambiciurobiT, mtkivneuli

TavmoyvareobiTa da ramdenadme

gamoxatuli ampartavnebiT ganirCevnian.

meniuSi gansakuTrebiT didi

adgils uTmoben xorcsa da mis

produqtebs.

gaaCniaT Zlieri organizmi

da Cveulebriv, didxans cocxloben.

yvelaze xSirad awuxebT: hipertoniuli

daavadeba, gastriti,

kuWisa da Tormetgoja naw-

sisxlis jgufi da daavadebebi

lavis wylulovani daavadeba,

arTriti, revmatizmi, aratravmuli

sisxldena, farisebri jirkvlis

disfunqcia, alergia da

hemofilia.

CamoTvlil daavadebaTa Soris

gansakuTrebul yuradRebas

saWiroebs kuWisa da Tormetgoja

nawlavis wylulovani daavadeba,

radgan msoflioSi

wylulovani paTologiiT daavadebulTa

35 procents swored

sisxlis pirveli jgufis adamianebi

Seadgenen.

arsebobs mosazreba, rom

pirveli jgufis sisxli xels

uwyobs kuWis lorwovan garsze

im membranuli receptorebis

ganviTarebas, romlebic metismetad

mgrZnobiareni arian helikobaqteriisadmi.

amitomac pirveli

jgufis mqoneni advilad

emorCilebian daavadebis gamomwvevis

neba-survils.

sisxlis meore jgufi

am jgufis warmomadgenlebi

metad komunikabelurni arian,

advilad eguebian ucxo garemos,

organulad erwymian nebismier

koleqtivs da gulgaxsnilobi-

Ta da keTilganwyobiT advilad

iwveven simpaTiebs. maTze emociebi

ver batonobs, isini saRad

azrovneben da civi gonebiT udgebian

nebismier saqmes. maT SeiZleba

endoT!

aSkara uaryofiT Tvisebad

SeiZleba miviCnioT sijiute da

is, rom ar SeuZliaT moduneba,

rac uqmniT kidec janmrTelobasTan

dakavSirebul problemebs.

advilad elevian xorcsa da

mis produqtebs, upiratesobas

vegetarianul sakvebs aniWeben,

radgan ician, rom aseTi sakvebi

maT organizms gacilebiT uxdeba.

yvelaze xSirad awuxebT: miokardiumis

infarqti, aTerosklerozi,

gulis iSemiuri daavadeba,

RviZlisa da naRvlis buStis

daavadebebi, gansakuTrebT

midrekilni arian sanaRvle

gzebSi qvebis warmoqmnisadmi,

xSirad awuxebT pnevmoniebi, radikuliti,

osteoqondrozi, podagra,

qronikuli gadaRlis

sindromi, leikozi, Trombozi,

tromboflebiti, qveda kidurebis

endarteriiti, kariesi, furunkulebi,

naadrevi dabereba,

qalebSi _ mastiti.

sisxlis mesame jgufi

am jgufis warmomadgenelTa

umravlesoba daxvewili, niWieri

xalxia, gulgaxsnili da optimistia,

axasiaTebs Taviseburi

ltolva Tavgadasavlebisadmi.

monotonuri cxovreba male bezrdebaT

da mzad arian Zireuli

cvlilebebisTvisac ki.

aSkara uaryofiTi Tvisebaa

usazRvro individualizmi da

damoukideblobisadmi uzomo

ltolva, rac xSirad maT daucvelsa

da susts xdis.

am jgufis adamianebi etanebian

xorcs, rZesa da mis produqtebs

ganusazRvreli raodenobiT.

yvelaze xSirad awuxebT: angina,

Sardgamomyofi sistemis

daavadebebi, enterokoliti, gansakuTrebiT

xSiria msxvili nawlavis

simsivneebi, naRvelkenWovani

daavadeba, qolecistiti,

aTerosklerozi, alergia da kariesi.

sisxlis meoTxe jgufi

am jgufis warmomadgenelTa

ricxvi gacilebiT naklebia, vidre

sxva jgufebisa. isini Zlieri

da mravalmxriv niWieri,

gansakuTrebiT mimzidveli adamianebi

arian. maTTan Tanacxovreba

Zalzed advilia, axasia-

TebT xasiaTis sirbile, keTilmosurneoba,

gawonasworebuloba.

maTi sisuste vlindeba mudmiv

Sinagan konfliqtebSi, rac

Zlier uqveiTebT TviTSefasebis

koeficients, meryevni arian da

eSiniaT siaxleebis.

mcire raodenobiT yvela

produqti uyvarT, Tumca erideben

kuWisTvis mZimed mosanelebel

sakvebs.

yvelaze xSirad awuxebT: angina,

gripi, haimoriti, mwvave

respiratoruli daavadebebi,

bronqiti, anemia, ekzema, hipertonia,

gulis ukmarisoba, furunkulebi.

marTalia, sisxlis jgufi

garkveul informacias iZleva

kvebis, cxovrebis wesisa da daavadebebisadmi

midrekilebis Sesaxeb,

magram ar girCevT am rekomendaciaTa

brmad mindobas,

radgan erTi da imave sisxlis

jgufis adamianebic ki, ama Tu

im TvisebaTa gamoxatvisas, sakmaod

individualurni arian es

ubralod, zogadi informaciaa,

romelic sakuTari organizmis

ukeT Secnobasa da marTvaSi unda

daixmaroT.

kalciumi rom ar dagakldeT

kalciums sakmaod bevri,

farTod gavrcelebuli produqti

Seicavs, miuxedavad amisa,

misi miReba sakvebis gziT mainc

garkveulwilad problemuria:

pirvel rigSi _ yvela produqti

ar Seicavs mas sakmarisi raodenobiT

da meore _ kalciumis

saWiro odenobis misaRebad

aucilebelia normalurad funqcionirebdes

organizmSi misi

utilizaciis (aTvisebis) fiziologiuri

instancia.

kalciumis wyaroa

kalciumis SemcvelobiT liderobs:

rZe, misi produqtebi,

yveli. garda imisa, rom Tavad

Seicaven didi raodenobiT minerals,

sagrZnoblad aumjobeseben

mis aTvisebas sxva produqtebidanac;

mSvenieri wyaroa: kvercxis

guli, kombosto, soio, mwvanili.

gaxsovdeT

rac ufro didi raodenobiT

kalciumi xvdeba organizmSi

mcenareul sakvebTan erTad, miT

karg dReSia Zvlovani qsovili.

mJave sakvebi aqveiTebs organizmSi

kalciumis normalur

cvlas.

cxoveluri warmoSobis cximebi

marTalia kalciumis mcire

dozebs Seicaven, magram sagrZnoblad

aumjobeseben mis aTvisebas;

sasmeli wyali, yovel ylupi

wylisa kalciums Seicavs,

gansakuTrebiT es wyarosa da

Wis wyalze iTqmis, romlis 1

litrSic 350-500 mg mineralia,

organizmi saWiro kalciumis

10-30% -s swored sasmeli

wyliT Rebulobs.

D vitamini da

mzis sxivebi

kalciumis Semcveli produqtiT

kveba saqmis mxolod naxevaria.

mTavari mineralis normaluri

aTviseba gaxlavT, amisaTvis

ki saWiroa D vitamini da

mzis sinaTle, romelic D vitaminis

sinTezs uwyobs xels. samxreT

raionebis mosaxleoba

praqtikulad ar etaneba rZesa

da mis nawarms, kalciumis deficits

ki mainc ar ganicdian,

radgan maTi organizmi mzis sxivebis

wyalobiT, ukanasknel miligramamde

iTvisebs kalciumis

im umcires raodenobasac ki,

romelsac sakvebis meSveobiT

iRebs.

D vitaminis saWiro raodenoba

miiReba 15-20 wuTiT mzis

sxivebqveS yofnisas, sruliad

sakmarisia mxolod saxeze da

zeda kidurebs xvdebodes mzis

sxivebi.

kalciumi

gansakuTrebiT

sWirdebaT

uZraoba kalciumis seriozul

danakargs iwvevs, amitom

kalciumiT mdidari produqtebi

gansakuTrebiT sWirdebaT hipodinamiur

_ naklebad moZrav

adamianebs, e.w. mjdomare profesiis

warmomadgenlebs da maT,

visac garkveul mizezTa gamo,

garkveuli droiT woliTi re-

Jimi uwevT.

stresi da infeqciuri daavadebebi

sagrZnoblad aqveiTebs

sakvebidan kalciumis aTvisebis

xarisxs, amitom daZabul, rTul

periodebSi, momatebuli nervuli

agznebadobis mqone pirebma,

danaklisis Sesavsebad kalciumis

Semcveli gacilebiT meti

produqti unda miirTvan;

oflTan erTad organizmidan

didi raodenobiT gamoiyofa

kalciumi, amitom aqtiuri varjiSis

Semdeg, saunaSi, ubralod

sicxeSic ki misi kompensirebaa

saWiro, amitom sportsmenebma

da orTqlis abazanebis

moyvarulebma yoveldRiurad

unda miiRon kalciumis Semcveli

mineraluri wyali, civi rZe

da kefiri;

bevri dieta meniudan saer-

Tod gamoricxavs kalciumis

Semcvel rZesa da mis nawarms,

parkosnebs, didi odenobiT kaloriebis

gamo, amitom xangrZlivi

dieta kalciumis Zlieri

deficitiT gamowveuli kidurebis

krunCxvebiT da kbilebis

dazianebiT rom ar dasruldes,

iseTi dietebi unda SearCioT,

romlebic zomieri raodenobiT

kalciumis Semcvel produqtebs

iTvaliswineben;

kalciumis aTvisebas sagrZnoblad

arTulebs fosfatebi,

romlebsac uxvad Seicavs kokakola,

kakao da sxva saxis gaziani

sasmelebi, amitom zafxul-

Si gamagrilebeli sasmelebiT

gatacebisas, am mniSvnelovan

faqtorsac nu daiviwyebT;

da bolos, kalciumi advilad

amarcxebs uZilobas, amaSi

Tavadac darwundebiT, Tu uZilobiT

gawamebulebi Zilis win

Wiqa rZes, patara naWer yvels

miirTmebT, dasaZinebeli preparatis

nacvlad ki, girCevT, sulac

kalciumis Semcveli erT

abi miiRoT.

kalciumiT mdidari

produqtebia:

100 ml rZe _ 150 mg;

100 grami araJani _ 100 mg;

100 ml vitaminizebuli forToxlis

wveni _ 150 mg;

100 grami yveli _ 700 mg;

100 grami soios yveli tofu

_ 230 mg;

100 grami iogurti _ 130 mg;

100 grami kombosto _ 150 mg;

100 grami yvavilovani kombosto

_ 30 mg;

100 grami nayini _ 100 mg;

100 grami TeTri lobio _

95 mg;

100 grami wiTeli lobio _

35 mg;

100 grami nuSi _ 285 mg;

100 grami mzesumzira _ 100

mg;

100 grami Savi puri _ 323

mg;

100 grami oragulis konservi

_ 290-310 mg;

100 grami halva _ 91 mg;

100 grami zeTis xili _ 88 m.

D vitaminiT mdidari

produqtebia:

100 grami oraguli _ 360

erT;

erTi kvercxis guli _ 25

erT;

erTi kovzi Tevzis qoni _

1360 erT.

moamzada

zviad RonRaZem.
---
#22 (206), 9-15.V, 2012 w.

saerTo gazeTi

19

msoflio presis mixedviT

sxvadasxva politika _

sxvadasxva gamokvleva: amerikeli

manipulatori saqarTvelosa

da somxeTSi.

am dReebSi sainformacio

saagentom (Ðåãíóì) swored

aseTi saTauriT gamoaqveyna

vigen akopianis werili. yovelTvis

sainteresoa iseTi

opusis komentireba, roca

igi yuradRebasa da mraval-

Srian analizs imsaxurebs.

werilis avtori konkretuli

magaliTebiT afasebs

`rbili Zalebis~ amerikuli

institutebis saqmianobas

saqarTvelosa da somxeTSi

da gamoaqvs mTavari daskvna:

`NDI-is `sociologTa~ Zalisxmevis

Sedegad, saqarTveloSi

Turme iseTi viTarebaa,

rom saakaSvilis mowinaaRmdegeebs

fexqveS miwa

eclebaT, xolo somxeTSi

xelisuflebis strategiuli

mizani Tavidanve absurduli

da miuRwevelia. ur-

TierTobis ra etapze arian

axla amerikis SeerTebuli

Statebi saqarTvelos da

somxeTis xelisuflebasTan

da ra amocanebis gadawyvetas

apireben momavalSi,

mkiTxvelma Tavadve ivaraudos~.

am varaudebiT mivdivarT

daskvnamde, rom amerikis

SeerTebuli Statebi nacionaluri

demokratiuli

institutisa (NDI) da soft power-is

sxva instrumentebiT

yovelmxriv mxars uWers saakaSvilis

xelisuflebas

saqarTveloSi, xolo somxeTSi

morigi feradi revoluciisTvis

niadags amzadeben.

gaurkvevelia, ram ganapiroba

aseTi strategia somxeTis

mimarT, romelic egreT

wodebul komplementarul,

anu urTierTSemavsebel

politikas atarebs da

romelsac amerikis SeerTebul

StatebSi, mravalmilioniani

diasporis saxiT,

sociologiuri gamokiTxvebis

safasuri samxreT kavkasiaSi

Zlieri resursi gaaCnia. es

erTaderTi kiTxva rodia,

romelic am opusis kiTxvis

mere giCndeba. bevrad ufro

saintereso sxva problemaa:

ramdenad reprezentulia

sazogadoebis sociologiuri

gamokiTxvebi, romlebsac

amerikuli institutebi atareben?

nuTu marTla ar

sZulT sinamdvilis deformacia,

romelsac vaSington-

Si, `zbignev bJezinskis feradi

revoluciebis laboratoriaSi~

damuSavebuli sqemebisTvis

mizanmimarTulad

iyeneben?

rasakvirvelia, SeiZleboda,

gagveanalizebina Rrmaazrovani

da urTierTgamomricxavi

mosazrebebi imis

Sesaxeb, ratom da ra mizniT

daafiqsira NDI-m miliarder

biZina ivaniSvilis reitingis

vardna. nuTu simarTlea,

TiTqos zemoT dasaxelebul

`laboratoriaSi~

gadawyvites (Sesabamisi gankargulebis

Semdeg), rom saqarTveloSi

feradi revoluciebis

yovlisSemmusvreli

meqanizmi jerjerobiT

ar aamuSaon, xolo somxeTSi

SesaZlebeli iqneba sxva variantebic?

yvela es sqema irRveva,

Tuki davuSvebT (Tundac

yvelaze Tamami hipotezis

saxiT), rom gamocdilma da

avtoritetulma amerikulma

organizaciam, mTels msoflioSi

sakuTari avtoritetis

damcvelma, ubralod daafiqsira

is, rac sinamdvileSia

_ reitingi marTlac

daeca. magram ratom? werilis

avtori da misi qarTveli

kolegebi rTul da

`konspirologiur~ pasuxs

iZlevian _ imitom, rom mii-

Res SekveTa `xelisuflebis

oponents `mouWiron~. amitomac,

aseTi gamokTxvebis ndoba

ar SeiZleba; xolo Tu

ivaniSvili arCevnebs waagebs,

kidev erTxel gamoCndeba,

ra veragi roli akisria

amerikul institutebs

sxva qveynebis politikur

cxovrebaSi.

Cndeba mniSvnelovani

kiTxvac: saqarTveloSi opoziciisTvis

yelSi waWera da

piriqiT, masze zemoqmedeba

somxeTSi xelisuflebis Sesacvlelad,

amerikis Seer-

Tebuli StatebisTvis imdenad

mniSvnelovania, rom mzad

arian, NDI-is (da misi

partniorebis, maT Soris

Gallup) avtoriteti Seswiron

mas, oRondac wamier mizans

miaRwion im regionSi,

romelic amerikis strategiuli

interesebis periferiul

teritoriazea?

ufro swori iqneboda,

gvemsjela, ramdenad miesadageba

postsabWoTa teritorias

sazogadoebrivi

kvlevis is meTodika, romelic

SeimuSaves da aqtiurad

iyeneben demokratiuli

tradiciebis dasavlur saxelmwifoebSi.

mivaqcioT yuradReba:

NDI-is monacemebiT, pirvel

adgilzea saqarTvelos ka-

Tolikos-patriarqi, meoreze

_ Sinagan saqmeTa ministri

vano merabiSvili, mesameze _

Tbilisis meri gigi ugulava,

meoTxeze _ prezidenti

mixeil saakaSvili. am reitingSi

biZina ivaniSvils meaTe

adgili ergo. qarTveli

opozicionerebisTvisac es

reitingi aSkarad Seusabamoa

realobasTan.

postsabWoTa teritoriaze

xelisuflebis demokratiuli

gziT Secvlis gamocdileba

ar gaaCniaT da

qarTveli (somexi, rusi,

azerbaijaneli) amomrCeveli

ver acnobierebs, rom urnaSi

Cagdebuli biuleteniT wydeba

ara romelime abstraqtuli

proeqtis, aramed misi

da misi Svilebis bedi. amitomac,

postsabWoeli amomr-

Ceveli xmas aZlevs yvelaze

martivi motivaciis gamo:

moswons Zlieri, warmatebuli,

aqtiuri, saqmiani da rac

mTavaria, Zalauflebis berketebis

mqone adamiani; xalxi

xmas aZlevs da ar acnobierebs,

rom xelisufleba

ar unda iyos personificirebuli.

xelisuflebas xmas

imitom aZleven, rom eSiniaT

cvlilebebis, destabilizaciis,

aSinebT ucnobi saxeebi...

sinamdvileSi, reitingi

ecema ara mxolod imitom,

rom NDI sazogadoebrivi

azriT manipulirebs, aramed

imitom, rom yofili sabWoTa

kavSiris teritoriaze mcxovrebi

amomrCevlebi ver acnobierebn

sakuTari Zalis

fass. maT eimedebaT xelisuflebis

an misi oponentis

Zala; amitomac opozicias

gansakuTrebuli SemarTeba

marTebs.

axla ki mivadeqiT kidev

erT mTavar kiTxvas _ ramdenad

relevanturia sazogadoebrivi

azrisa da reitingebis

kvleva, roca postsabWoTa

sociums sxva sazogadoebebisTvis

(faseulobebisa

da demokratiis gamocdilebis

sxva sistemebiT)

gankuTvnili meTodikiT ikvleven?

Znelad auxsni amerikel

sociologs, rom Tu xelisuflebas

xmas aZleven, ara

imitom, rom eSiniaT an gansakuTrebulad

uyvarT es

xelisufleba, prezidenti an

ministri; maT aSinebT kardinaluri

gardaqmnebi da

ar sjeraT, rom daqsasuli

opozicia, Zlieri da moqmedi

xelisuflebis fonze, mis

cxovrebas gaaumjobesebs da

qveynis saerTo mdgomareobas

Secvlis.

vestnik kavkaza

putinis istoriis gakveTilebi

vladimir putini, romelmac

orSabaTs Tavisi

mesame saprezidento vadis

aTvla daiwyo, ar gamoricxavs,

rom 2018 wels

gadairCion; Tumca, misi

mtkicebiT, Zalauflebas

maSinve Seeleva, Tuki dainaxavs,

rom xalxi mxars

aRar uWers.

putinis msgavsi mmarTvelebi

Znelad Tmoben Zalauflebas

_ Tundac imitom,

rom memkvidreebi ar

aumxedrnen. Tanamedrove

istoria savsea aseTi magaliTebiT

_ gvirgvindakargul

diqtatorebs SeeZloT,

bunebrivi sikvdiliT

wasuliyvnen am qveynidan an

mSvidobianad gadamdgariyvnen. zogierTma

es moaxerxa.

werilis avtori putins sTavazobs

SesaZlo variantebis sias,

romelTa gamoyenebac mas SeuZlia.

varianti 1. qveyanaSi demokratia

daamkvidroT. ganis prezidentma

rolingsma mkveTrad Secvala qveynis

ganviTareba, igi orjer airCies

am Tanamdebobaze da pensiaze 2001

wels gavida.

varianti 2. uzrunvelyaviT `gza

gasasvlelisken~. daniel ortega,

wasvlamde cota xniT adre, yvela

partias SeuTanxmda, rom Tavs Seikavebdnen

SurisZiebisgan. es 1990

wels iyo. 2006 da 2011 wlebSi igi

kvlav dabrunda nikaraguis

prezidentad.

varianti 3. ideqiT mtkiced.

prezidenti mugabe, rogorc

Cans, sicocxlis bolomde

apirebs zimbabves

marTvas; savaraudod, mas

`Tanamdebobidan gasvlis~

strategia ar gaaCnia. misi

saidumlo aseTia: almasebis

mopovebiT miRebuli mogeba

mas exmareba, SeinarCunos

masTan daaxloebulTa

da uSiSroebis ZalTa loialuroba.

varianti 4. SeqmeniT dinastia

an erTpartiuli saxelmwifo.

fidel kastrom

diqtatoruli uflebamosilebani

RviZl Zmas gadasca. erTpartiulma

sistemam ramdenime aTeuli

weli iarseba sabWoTa kavSir-

Sic.

putinis Zlieri Tvisebebis gaTvaliswinebiT,

xelisuflebidan misi

wasvlis dRe Zalzed Sors aris.

niu-iorkis universitetis profesor

brius meskitis azriT, putins

Zalauflebis Sesustebis gansakuTrebuli

stimuli ar gaaCnia, anu gamoiyenos

pirveli varianti, radganac

navTobis mopovebis Semosavali

metismetad didia saimisod, rom saaxloblos

viwro wris mxardaWera

moipovos, anu gamoiyenos mesame varianti.

Teoriuli wiaRsvlebis nacvlad,

gaTamaSdeba Zveli varianti _

adre Tu gvian, putini ruseTisTvis

Cveul meTods gamoiyenebs _ Sear-

Cevs misTvis loialur or adamians,

romlebic mzad iqnebian, putins

aaridon devna-Seviwroeba da gaTamaSebul

arCevnebze erT-erTi gaimarjvebs.

Tumca... gavixsenoT Ciles diqtator

augusto pinoCetis badi _

man sicocxlis bolo wlebi sasamarTloSi

gaatara... ase rom, `xelisuflebis

datovebis~ kargad mofiqrebuli

gegmac ifuSeba xolme.

`bevrs vkiTxulob, gansakuTrebiT

istoriul wignebs, _ ganacxada

pinoCetma dapatimrebamde cota

xniT adre, _ istoria gvaswavlis,

rom diqtatorebis bolo yovelTvis

savalaloa~.

The Wall Street Journal

internetmimoxilva

moamzada g. WavWavaZem
---
24 20 saerTo gazeTi #22 (206), 9-15.V, 2012 w.

xelisufleba uraniviT gamdidrda,

magram afeTqebas Tvi-

Ton ki ara, radiaqtiuli

sicruiT dasxivebuli xalxi

apirebs.

risi an visi bralia is,

rac ase meTodurad da mzakvrulad

Semogvinaxes da ukve

Zval-rbilSi gaujda qveyanas?!

sazogadoebis yvela fenas

moedo da yovel CasunTqva-amosunTqvaze

maxrCobela gveliviT

gviWers salteebs da ufro

da ufro gvizRudavs sicocxlis

niSansvets?!

metastazebi ise guluxvad

da myaradaa yvelgan gamjdari,

rom, etyoba, betonis satrabaxo

gzebsa da qalaqis prospeqtebs

ki ara, soflis orRobeebsa

da sacalfexo bilikebsac

siamovnebiT iyenebs.

yoveldRiurobas imdeni

SeSfoTeba moaqvs, rom yvelafris

aRnusxvac ki SeuZlebeli

gaxda, araTu yovel maTganze

aucilebeli reaqcia, qmedebebi,

romlebic uwin nervebs giZabavda

da xmamaRla aprotestebdi,

imdenad gaxSirda, rom Senda

uneburad eCvevi usamarTlobas,

SiSs, siCumes...

kidev erTxel vikiTxoT,

ratom xdeba ase?! risi an visi

bralia es?! nawvimarze sokoebiviT

momravlebuli eqspertebic

ar zogaven Tavebs da

cdiloben, rac SeiZleba xmama-

Rali pasuxi gascen am kiTxvas.

erTmaneTs gamWriaxobaSi ki

ara, ufro xSirad originalobaSi

ejibrebian da cdiloben,

sakuTari klaniviT WeSmaritebac

gaamravlon.

arada, WeSmariteba, TiTqos

mzeTunaxaviviT, erTaderTi da

ganumeorebeli unda iyos. Aase

araa?!

hoda, radgan asea, mec gadavwyvite,

misi raodenoba

mkveTrad mainc Sevamciro da

gulwrfelad vaRiaro, rom

yvelaferi, rac dResdReobiT

Cvens Tavs xdeba da ra ubedurebac

gvWirs, mxolod da mxolod

Cemi bralia.

davazustoT! Cemi rogorc

pirovnebis ki ara, Cemi fataluri

uiRblobis bralia.

da, qvemoT rasac davwer,

imas Tu yuradRebiT waikiTxavT,

darwmunebuli var,

Cems gulwrfel aRsarebas

Tqvenc daeTanxmebiT.

maS ase, viwyeb!

albaTobis Teoriis mixedviT,

adamians xan unda umarTlebdes,

xan _ ara; xan mwvane

unda aenTos, xan _ wiTeli.

Dda rac ufro xangZlivia

drois monakveTi, miT ufro metia

maTi monacvleobis Tanafardobis

albaToba.

visac ufro xSirad umarTlebs,

imas iRblians veZaxiT da

visac SedarebiT iSviaTad, imas

_ uiRblos. Tumca erTic da

meorec sabolood mainc avadsaxsenebeli

albaTobis Teoria-

Si mSvenivrad Tavsdeba, anu iRblianic

iqaa da uiRbloc.

ai, me ki... xom amboben xolme,

yvela wessa Tu kanons aqvs

gamonaklisi da es gamonaklisi

wess amtkicebso...

rogorc Cans, albaTobis

TeoriisTvis aseTi gamonaklisi

me var, anu Cemi totaluri

uiRbloba yofiT doneze alba-

Tobis Teoriis iRblianobas

amtkicebs.

Cemma iRblianobam ki ukve

didi xania, im zRvars gadaabija,

romlis iqiTac guldawyvetis

nacvlad xalisi iwyeba.

mec da Cemi megobrebic yoveli

morigi argamarTlebis Semdeg,

Temur

Wkuaseli

magrad vxalisobT xolme. Cems

uiRblobaze ukve legendebi

dadis, raRas aRar hyvebian

xolme, zogs tyuilsa da zogs

marTals, zogs aRaribeben,

zogsac piriqiT, amdidreben,

fantaziis mixedviT.

saqme iqamde mivida, rom

elementaruli survilis gamJ-

Ravneba Tu davapire, iseTis,

sxvebsac rom xels aZlevT, ma-

Sinve pirze xels amafareben,

oRond Sen ar Tqva, Torem yvelaferi

wyalSi Cagveyrebao.

Tavi davaneboT axla, alba-

Tobis ki ara, saerTod nebismier

Teorias da praqtikuli magaliTebiT

gavixalisoT urTierToba.

aseTi gegma maqvs, jer

Cemi uiRblobis tomeulebidan

ramdenime epizods SemogTavazebT

da mere imis axsnas Sevecdebi,

ratom vibraleb me

imas, rac dRes Cvens galewil

da dalewil kaloze xdeba.

aqa ramdenime epizodi uiRblo

kacis cxovrebidan...

ixileT `saerTo gazeTi~

internetSi

www.saertogazeti.ge

SemogvierTdiT FACEBOOK-ze

epizodi pirveli _

wamo, wavixemsoT...

morig sagastrolo turneSi

mivemgzavrebodiT, mgoni londonSi

da moskovSi erTi Ramis

gaTeva gviwevda. es is droa,

roca sabWoTa kavSirs maja jer

kidev esinjeboda, magram saxeze

mkvdrisferi edo. moskovSi na-

SuadRevs CavfrindiT. sastumro

`sevastopoli~ winaswar

gvqonda dajavSnili da male

nomrebSic gavnawildiT. cota

xanSi daTo abesaZem momakiTxa,

ar gSia, wamo, wavixemsoTo...

mec mSioda da wayolasac vapirebdi,

Tumca naxevrad xumrobiT

mainc vuTxari, wamogyvebodi,

magram jobda, uCemod gecada,

CemTan erTad, didi Sansia,

mSivrebi davrCeT-meTqi. vTqvi

es da wamovdeqi, daTom ki sastumros

bukleti damanaxva da

meubneba, modi aq da Caxede

amas, sastumro, Zmao, sami korpusisgan

Sedgeba. ager, a, pirveli,

meore da mesame... samive

korpusSi erTad aris 4 restorani,

6 kafe da 19 bufeti, SevkriboT...

ra gamogvdis?! kvebis

29 obieqti da Sen mimtkiceb,

rom saWmels ver SevWamT?! wamodi,

wamodi... me ganaxveb, Sev-

WamT Tu ver SevWamT. raRaca ki

gamomatanes saxlidan, magram

aRar minda es xaWapuri da moxarSuli

dedali, raRac aqauri,

rusuli momenatrao...

madridSic rom mimtkicebdi,

dedamiwis zurgze Tu vinme rames

amzadebs, am maRaziaSi yvelaferi

iyidebao, is Tu gaxsovs,

Sevubrune sityva, maxsovso,

dameTanxma. mere?! Cemi saa-

Tis elementi hqondaT?! ar

hqondaT, magram... isic kargad

maxsovs, gamyidvels ra daemar-

Ta, yviroda, ara, es warmoudgeneliao...

gaxsovs, ramdeni

eZeba da ra saxe hqonda?! hoda,

ager naxav, cota xnis Semdeg

Senc Tu iseTi saxe ar geqnebameTqi...

ixtibari ar gavitexe,

Torem, Tqven ggoniaT, marTla

mjeroda imis, rasac vambobdi?!

ara, ra Tqma unda.

daviZariT, mokled, me da

daTo.

pirvelad, bunebrivia, Cvenive

korpusis restorans CavakiTxeT

meore sarTulze. `sanitarni

den~ _ pirvelive restorani

am warweriT Semogvegeba.

gaviRimeT da mezobel korpus-

Si gadavinacvleT. verc meore

restoranSi SevediT, adgilobriv

orkestrs repeticia hqonda

gagania lanCis dros. mesame

korpusSi ori restorani iyo,

erTi Cveulebrivi da meore _

Tevzeulis. Cven oriveze Tanaxma

viyaviT, magram CveulebriSi

isev ar SegviSves _ qorwili

gvaqvs SekveTili da ver mogemsaxurebiTo.

Tevzis restoran-

Si, SesvliT ki SevediT, magram

Tumca...

damarilebuli qaSayis garda,

veraferi SemogvTavazes. samagierod,

Tavazianad dagvaimedes,

xval ueWvelad gveqneba yvelaferi

da mobrZandiTo...

restornebze rom xeli mogvecara,

kafeebze gadaverTeT.

pirvelive kafeSi ar SegviSves,

parikmaxerebis konkursi imar-

Teboda. meoreSi is mSobliuri

warwera dagvxvda _ `sanitarni

den~!

mesame kafeSi mTeli WurWeli

Tavisive dana-CangliT ratomRac

iatakze elaga da iq

rogorRa SevidodiT. meoTxes

rom Tvali SevavleT, vifiqreT,

egaa da gagvimarTlao, aSkarad

xalxi iyo SigniT. aRmoCnda,

rom viRacebs uCxubiaT da gamoZaxebuli

milicia mowmeebs

kiTxavda. mexuTeSi amxanaguri

sasamarTlo tardeboda. meeqvse

ki saRamos 7 saaTamde daketili

iyo.

kafeebzec rom mogvecara

xeli, daTo cota ki daeWvda,

es ra xdebao, magram ixtibari

ar gaitexa da axla bufetebze

mivitaneT ieriSi. TandaTan SemoviareT

yvela korpusis yvela

sabufete, magram xemsi rom xemsia,

isic ki versad movixel-

TeT. zogan Sesveneba iyo, zogs

ubralod boqlomi edo, zogan

ybadaRebuli warwerebi, an `aRwera~,

an `sanitarni den~ da

erT-or karze ki furceli dagvxvda

gakruli, naxevar saaTSi

davbrundebio...

me ukve mwared mecineba, da-

Tos ki vatyob, saxe sadacaa waeSleba

da im madrideli espaneliviT

burtyunebs, ara, es mar-

Tla warmoudgeneliao... miadga

mere romeliRac sarTulis moriges

da jiqur hkiTxa: _ Tu

SeiZleba gamagebineT, ai axla,

am wuTas Tqvens sastumroSi

SemiZlia Tu ara rame SevWamoo...

ra Tqma undao, daTosgan

gansxvavebiT mSvidad gvipasuxa

sarTulis morigem, _ SediT

derefnis boloSi liftSi da

adiT me-19 sarTulze, im sar-

Tulze bufeti saerTod ar

iketeba, dRedaRam muSaobso...

daTos madlobis Tqmac daaviwyda,

ise gavarda liftisken.

liftidan gamosulebs pirdapir

TvalebSi gveZgera warwera,

_ `bufet rabotaet kruglosutoCno~.

warweris qvemoT ki

msuye isari gviCvenebda xsnis

mimarTulebas. me davwinaurdi,

daTo sakmaod Camovitove da

bufetis karsac pirveli mivadeqi.

Sevxede da damewyo kidevac

isterikuli sicilis Semoteva.

daTo sicilSi ki gzaSive

amyva, magram roca movida da

karze mimagrebuli warwera imanac

waikiTxa, maSin xom saer-

Tod CabJirda. iciT, ra ewera

karze?! `bufetCik bolen~. ase

damTavrda Cveni waxemsebis uiRblo

istoria, Tumca...

epizodi meore _

wyaroze Cagiyvan da...

zafxulia. cxela. me da Cemi

megobari Tbilisis aeroportis

administraciis SenobasTan

axlos manqanaSi vsxedvarT. im

SenobaSi erTi Cemi nacnobi mu-

Saobs, imasTan varT raRac saqmeze

misulebi, magram stumrebi

hyavs da velodebiT, dagvpirda,

male gavuSvebo... iqve, dabali

Robis gadaRma, ezoSi onkani

mosCans. viRac qalbatoni vedroTi

xelSi miuaxlovda, wyali

guluxvad mouSva da mZlavrma

nakadma vedro wamebSi gaavso.

TiTqos manqanaSic SemoaRwia

wylis sigrilem. qalbatonma

ki wyali saxezec Seisxa, Tavi

gaigrila da wavida.

avwrialdi, avwrialdi da

megobars veubnebi, au, rogori

siamovnebiT davlevdi mag

wyals, etyoba civicaa, magram

riTi?! carieli boTli mainc

megdos sadme-meTqi.

gadaval, sabargulSi vnaxavo,

_ miTxra megobarma, magram

SevaCere: _ tyuilad irjebi,

ar maqvs. Tanac, romc megulebodes,

Cemi ambavi xom ici, roca

mWirdeba rame, zustad maSin

gaqreba-meTqi.

Cavxedav mainco da... cota

xnis Semdeg litranaxevriani

boTliT da eSmakuri RimiliT

dabrunda.

_ gamoricxulia. ara?! kidev

ityvi, bedi ar maqvso?! Sexede

rogoria, gamorecxvac ar

unda... gadaxta Robeze, mouSva

onkani, boTli saguldagulod

mainc gamorecxa, Tan ramdenjerme

mec eSmakurad gamomxeda.

me ki wyurvili ise gamiZlierda,

rom yeli amewva. iman ki

boTli ramdenjerme mZlavrad

daiqnia, narecxi wylisgan dawrita

da onkans asavsebad SeuSvira

Tu ara... wyalic Sewyda.

SerCa is garecxil-gamowretili

boTli xelSi carieli. es

orivesTvis imdenad moulodnelad

moxda, rom erTmaneTs karga

xans gaognebulebi vucqer-
---
#22 (206), 9-15.V, 2012 w.

saerTo gazeTi

21

diT da aseve karga xans xmasac

ver viRebdiT. mere me tradiciulad

mwared gamecina, iman ki

pirjvari gadaiwera da Robes

gadmoaxta.

Tumca...

epizodi mesame _

bzikis geografia

kaxeTSi var stumrad. fericvaleba

axali Cavlilia, agrilda

da xilsac gemo Seecvala.

saxlis ukan ezoSi, msxlis

xis qveS gvidgas patara magida

me da Cems kaxel megobars. aTas

rameze saubriT virTobT Tavs

da SigadaSig patara Wiqebsac

veTamaSebiT.

profesiiT inJineria Cemi

kaxeli Zmakaci, magram im yaidis

xalxidanaa, yvelaferi rom

ician amqveynad da yvelaferze

rom aqvT pasuxi. axla amas kaxuri

sijiutec daamateT...

azrs verafriT Seacvlevineb.

sxva mxriv, icocxle _ gatana,

erTguleba, stumris siyvaruli,

iumori... yvelaferi Tavis

adgilzea. msxalze vkiTxe da

gulabiao, mipasuxa. gulabi manamdec

bevri gamesinja, magram

es imdenad gansxvavebli iyo,

cota ar iyos, eWvi Semepara

mis naTqvamSi. garegnuladac ar

hgavda gulabs. iciT, rogori

forma hqonda? Taflis kasrSi

axladamovlebul xis kovzs baraqiani

wveTi TavkombalasaviT

rom Camoekideba, msxvil Tavs

rom waigrZelebs da bolosken

TandaTan wvrildeba, ai, zustad

aseTi formisa iyo is msxali.

sxvaTa Soris, gemoc Taflisa

hqonda. pirSi Tavs moixelTebda

Tu ara, dauReWavad

dneboda.

_ ara, Zmao, araa es gulabi,

mxolod gulabi. am msxlis-

Tvis es erTi saxeli naRdad

araa sakmarisi, kidev unda erqvas

rame. vTqvaT, gulabic erqvas

da RviZlabic...

_ RviZlabi ara, kuWlabi...

geubnebi, gulabia-meTqi. papaCemic

egre eZaxda. Sen ki... gana

ar vici, namdvili urwmuno Toma

xar. aqeT rom movdiodiT da

CineTi ukrainas esazRvreba-meTqi

rom giTxari, kinaRam manqanidan

gadamixti...

_ axla me momismine: es

msxali iqneb marTlac gulabia,

magram rac Seexeba CineTsa da

ukrainas... uux! erTi Seni geografiis

maswavlebeli Semaxvedra

sadme da mere me vicode da

iman. ra unda, biWo, CineTs ukrainasTan-meTqi.

adre mec mase

megonao, Cemma Zmakacma, magram

amaswineebze `vis unda oci aTasi~

iyo televizorSi, zustad

eg ikiTxes da me raRas merCio...

CamoTvlili iyo am oTxi qveynidan

romeli esazRvreba CineTso...

_ mere?

_ mere isa, roma ukrainao,

gaige?!

_ me ki gavige, magram etyoba

Sen ver gaige kiTxva wesierad.

piriqiT iqneboda, ukuRma!

romeli esazRvrebao ki ara,

romeli ar esazRrebao, amas

ikiTxavdnen. ukuRma, asineTa,

ukuRma! Tanac nasvamic iqnebodi.

ici, ras getyvi? modi, arc

Seni da arc Cemi... _ xumrobis

xasiaTze davdeqi moulodnelad:

ager, am bziks xom xedav...

_ vxedav, maS!

_ hoda, Cven Soris vin mar-

Talia da vin mtyuani, modi, am

bzikma gaarkvios-meTqi.

_ eg rogoro, _ mekiTxeba

maspinZeli.

_ rogor da, Cven Soris

mtyuans am bzikma ukbinos-meTqi.

sityva damTavrebuli ar

mqonda da rogor fiqrobT, ra

moxdeboda?? ra da zed cxvirze

damafrinda bziki da gulianad

damnestra. me tkivilisgan

wamovxti da gulabis garSemo

sirbili daviwye. iseTi SegrZneba

mqonda, TiTqos gaxurebuli

Samfuris wveri momaWires

cxvirze. Cemi keTili maspinZeli

lamis sicilisgan daixrCo.

im dRidan moyolebuli, erTi

kvira, sakuTari cxviris iqiT

verafers vxedavdi.

Tumca...

epizodi meoTxe _

Ramis Teva liftSi

da isev zafxuli... qobule-

Ti. `qarTuli xmebi~ sastumro

`inturistis~ zeda sarTulebze

vcxovrobT. es is periodia,

Suqi rom sixarulobanas gveTamaSeba.

mova, cota xniT gagvaxalisebs,

mere gvetyvis, geyofa-

To da karga xniT migvatovebs.

mere isev moulodnelad agvaJriamulebs

da ase grZeldeba.

midis _ modis, midis _ modis...

wava, atydeba liftSi lokaluri

wivil-kivili, mova da mTel

sastumros sixarulis yiJina

moswydeba-xolme. mokled, aSkarad

gaxalisda cxovreba. melifte

mudmivad morigeobs,

dRisiTac da RamiTac _ lift-

Si gaWedili xalxi gamohyavs

gareT. cxovreba ki gaxalisda,

magram Cems Tavs rom raRac ucnauri

xdeba, amasac vatyob.

liftSi ara da ar viWedebi.

rogoria?! Cemi iRblis patroni,

mgoni, mTel sastumroSi

mxolod me davrCi liftSi gauWedavi.

diliT, sauzmeze gamovCndebi

Tu ara, biWebi maSinve

mecemian xolme: ha, gaiWede?!

kidev ara?! saswaulia, sityva

aRar dagcdes uiRblobaze,

Cven, sul cota, sam-samjer gaviWedeT

ukve da Sen ambob, bedi

ar maqvso?!

vatyob, raRaca xdeba Cems

Tavs da nerviulobisgan uZiloba

damewyo. Tqven warmoidgineT,

liftiT mgzavrobasac movuxSire,

mWirdeba Tu ara, mainc

Sevdivar, egeb, gaviWedo da

amovisunTqo-meTqi, magram... gagigonia?!

amasobaSi qobuleTSi

Cveni yofnis vadac miilia, bolo

saRamos baTumidan davbrundi,

Ramis 3 saaTia. sastumros

foieSi erTaderTi kaci dgas

da lifts elodeba. lifti

rom daiZra, vatyob, Cemi Tanamgzavri

aSkarad nerviulobs, ga-

Wedvis eSinia-meTqi, gavifiqre.

es fiqri damTavrebuli ar

mqonda, sinaTlec Caqra. gaqvavda

lifti. moulodnelad, ukun

sibneleSi, Cemma Tanamgzavrma

xmamaRla gineba daiwyo. mkvdarsa

da cocxals aginebs viRacas

da rogorc mogvianebiT gavarkvie,

is viRac qobuleTis elqselebis

ufrosi yofila. dawynardi-meTqi,

misi damSvideba

vcade, qvemoT liftiori morigeobs

da cota xanSi gagviyvans

aqedan-meTqi. pasuxad jer isev

im viRacas Seagina, cotaTi xmadabla

da mere Cem gasagonad

Tqva: qvemoT rom liftiori

morigeobs, is liftiori me varo...

gaognebisagan xma Camiwyda.

is ki agrZelebs _ sinaTle Tu

movida, xom kargi, Tu arada,

dilamde mogviwevs aq yofna,

diliT Cemi `smenSiki~ movao.

magari perspeqtiva mesaxeboda,

Tumca...

epizodi mexuTe _

Coxa da `mzeTunaxavi~

roca `qarTul xmebs~ gastrolebi

gauxSirda da weliwadSi

or-samjer uwevda ucxoeTSi

gamgzavreba, windaxedulobis

gamo, Coxa-axaluxs CemodanSi

arasodes vdebdi. yovelTvis

TviTmfrinavis salon-

Si amqonda. ramdenjerme miTxres

biWebma, ras daaTrev am Coxas

win da ukan, Tavs ratom

iwuxeb, Cade CemodanSi da Caabareo...

dawynardiT, Cemi saqmisa

me vici-meTqi. Cavdeb, Cavabareb

da Cemi iRblis gadamkide

daikargeba-meTqi.

kargi erTio, miTxres, amdeni

welia, naxevarjer haerSi

varT, erTi SemTxveva mainc gaixsene,

rom vinmes Cemodani dakarguliyos.

sxvaTa Soris, arc

Senio... saqmec egaa, Coxa rom

salonSi amaqvs, Cemodanic imitom

ar ikargeba-meTqi, ixtibars

ar vitex. mokled, bolos

mainc Semabes eJvani, modi, er-

Txel vcadoT, Tu marTla rame

moxda, xmas aRarasodes amovi-

RebTo...

morigi gamgzavrebis win sagangebod

iseTi Cemodani viyide,

iseTi feris, rom kilometridan

vcnobdi _ mewamuli feris

iyo da namdvili TeTri yvaviviT

moCanda sxva Cemodnebs Soris.

biWebma magrad imxiarules

mis danaxvaze, magram mSvidad

avuxseni, jer erTi, bargis mi-

Rebis dros Soridanve SevamCnev,

meorec, wesiT, am feris Cemodnis

yidvis survili aravis

unda gauCndes da vinmes rom

aerios da Tavisi egonos, gamoricxulia.

gaigeT axla-meTqi?!

gagebiT ki gaiges, magram magaT

oRond saRadao da samasxro

mieci da... adgnen da Cems Cemodans

`mzeTunaxavi~ daarqves.

moments ar uSvebdnen, rom ar

exsenebinaT _ `mzeTunaxavi~ sadaa,

`mzeTunaxavi~ ar dagvrCes,

`mzeTunaxavi~ Caabare...

Cavabare, mokled, Coxiani

`mzeTunaxavi~ TbilisSi da gavfrindiT

parizSi. gzaSi biWebs

veubnebi, ager me da ager Tqven,

aba, vnaxoT, Tu Camova Cemi

`mzeTunaxavi~ parizSi-meTqi.

imdeni vixumreT am Temaze, imdenjer

vimsjeleT, visgan SeiZleboda

gvenaTxovra safrangeT-

Si Coxa, vinicobaa marTla dakarguliyo

Cveni `mzeTunaxavi~,

rom bolo da bolos, roca CavaRwieT

Sarl de-golis aeroportSi

da bargs velodebodiT,

yvelani erTgvarad daZabulebi

SevcqerodiT, gamoCndeboda Tu

ara Cemi Cemodani.

gamoCnda! marTlac mzeTunaxaviviT

Tavmomwoned anaTebda

sxva uRimRamo Cemodnebs Soris.

biWebma taSi dascxes da sul

male Jozefa martelisac gadavexvieT,

Cvens impresarios.

aeroportidan pirdapir rkinigzis

sadgurSi wavediT masTan

erTad. qalaq viSiSi mivemgzavrebodiT,

am qalaqidan viwyebdiT

gastrolebs. viSi Tavisi

wylebiT aris cnobili, ase

vTqvaT, safrangeTis borjomia.

operis saucxoo SenobiTac

cnobilia. Casvlidan meore

dRes, zustad im operis TeatrSi

gvaqvs koncerti. viSiSi

rom CavediT, saRamo iyo. nomer-

Si Sevedi Tu ara, maSinve Cemodani

davagde sawolze, Cveni

dauwereli kanonis mixedviT,

pirveli, rasac vakeTebT, Coxas

viRebT Cemodnidan, sakidze vkidebT

da vnamavT, kargad rom

gaswordes. hoda, mec zustad

am mizniT gavxseni Cemi `mzeTunaxavi~

da... pirveli, rac iqidan

amomyva, marTlac rom mze-

Tunaxavis saferi vardisferi

atlasis lifi iyo. miWiravs

xelSi da gaSterebuli vuyureb.

meore xeli instinqturad

mkerdze movisvi, sxvaganac vapirebdi,

magram kidev kargi, droze

gamoverkvie. morCa, daviRupeT-meTqi,

Cavilaparake. mere,

imedis raRac naglejiT, mainc

Cavxede Cemodans, iqneb viRac

mexumra-meTqi, magram ar iyo saxumarod

saqme, aSkarad viRac

qalbatonis Cemodani medo sawolze.

parizidan, anu Cemi Cemodnis

savaraudo samyofelidan,

RmerTma uwyis, ramden aseul

kilometrSi. ra ginda, rom

qna?! koncerti xval gvaqvs... me

Sen getyvi, ipovi amis patrons

da moaswreb gacvlas... avtexe

wiokoba, Sevyare yvela, aha,

Zmao, arc axla daijerebT-meTqi!?

rom daiCemeT, Caabare, Caabareo,

midiT da miSoveT axla

Coxa...

biWebs am situaciaSic aRmoaCndaT

iumoris xalisi, neta,

im qalis saxe dagvanaxva, Cemodans

rom gaxsnida da Coxas

amoiRebdao...

mokled, ki vxumrobdiT,

magram aSkarad cud dReSi viyaviT

yvelani.

Tumcaa...

epizodi meeqvse _

bulgareTSi

ra gindoda...

axla veRar vixseneb, ra

gvindoda bulgareTSi, gastrolebi

rom ar iyo, es naRdad

maxsovs, radgan `qarTuli xmebidan~

Cem garda mxolod gia

WiraqaZe, gogi doliZe da zurab

lolaZe iyvnen, sxvebi ara.

asea Tu isea, iq yofnis ZiriTadi

dro, maxsovs, saxelgan-

Tqmul `oqros qviSis~ sanapiroze

unda gagvetarebina, Tumca

or Rames dedaqalaqSic va-

TevdiT. swored sofiaSi gagvatana

erTma aqaurma megobarma

iqaur megobarTan qarTuli suvenirebi

_ rom CaxvalT, daurekeT,

imas Cemi yuradReba gauxardeba,

Tqven kidev, kargi maspinZeli

geyolebaTo, gvTxova

me, gogi doliZesa da zurab

22 gv.
---
22 saerTo gazeTi #22 (206), 9-15.V, 2012 w.

21 gv.

lolaZes. sofiaSi sastumroSi

davbinavdiT Tu ara, samivem erT

nomerSi moviyareTY Tavi da im

kacTan darekva davapireT. meubnebian

biWebi, midi, Sen daureke,

Sen ufro dalagebulad

auxsni, uTxari, rac xdeba da

barem sastumroSi mogvakiTxoso.

me ki sruliad seriozulad

vpasuxob, damijereT, me nu damarekvinebT,

guli migrZnobs,

raRac ucnauri moxdeba, rogorc

yovelTvis _ an sxvagan

movxvdebi, an misi telefoni ar

imuSavebs, an yurmils aravin

aiRebs, an is kaci sadRac iqneba

wasuli. Tu gindaT, rom yvelaferi

normalurad iyos,

Tqvengan erT-erTma darekosmeTqi.

gogis ecineba da mexveweba,

midi, midi, Sen dareke, `prosto~,

sainteresoa, marTla moxdeba

rame Tu arao... Tu marTla

moxda rame, meored darekvas

xels ra uSliso.

viReb yurmils, gogi ki nomers

mkarnaxobs...

biWos! kacis xmaa... mgoni,

gagvimarTla-meTqi, swrafad Cavulaparake

biWebs yurmilis gareT...

im kacs ki, rac SeiZleba

seriozuli xmiT vekiTxebi: esa

da es brZandebiT-meTqi?

arao, mipasuxa. me misi siZe

var da iqneb miTxraT vin

kiTxulobso...

Tqven me ar micnobT-meTqi

da... yvelaferi detalurad

avuxseni. arc imis Tqma damviwyebia,

romel sastumroSi

viyaviT...

gulisyuriT momismina siZem

da mere iseTi ram miTxra, yurmili

gamivarda xelidan... biWebi

ki cnobismoyvare saxeebiT

Semomcqerian...

mokvda!

vin mokvda... rogor... aba,

vis elaparake...

vis da... siZe iyo. is kaci ki

naxevari saaTis win momkvdara...

xom giTxariT, me nu damarekineb-meTqi,

movkali kaci...

cota xani SevyurebdiT er-

TmaneTs da mere, RmerTo gvapatie,

lamis isterikaSi CavcvivdiT,

imdeni vicineT. kargad

mesmis da geTanxmebiT, ver iyo

mTlad zneobrivi saqcieli, magram

ase iyo da tyuils xom ver

gakadrebT...

Tumca...

epizodi meSvide _

musikam dayvinTa

es ambavi im dros xdeba,

roca yvelaferis Sovna iyo sa-

Wiro, sityva `viyide~ rom saerTod

gaqra leqsikonidan da

igi `viSovem~ Caanacvla. rogorc

Cans, xelisufleba iribad

zrunavda Cvens gabednierebaze,

Tu rames kargs iSovidi,

bednieric iyavi, Tavmomwonec

da amayic.

Tqven warmoidgineT, musika

rom musikaa, isic deficiti

iyo. kargi musikac unda geSova.

nodar paladaSvili gvyavda

maSin televiziaSi, melomani da

marifaTiani biWi, acxonos

RmerTma. dediT qarTveli, mamiT

ebraeli. Tu Tavad hkiTxavdi _

sadauri xaro, RimiliT gipasuxebda,

ar vicio, radgan ebraelebi

qarTvelad mTvlian da

qarTvelebi _ ebraelado.

am nodar paladaSvils siZe

hyavda amerikeli, dis qmari. moments

ar gauSvebda xelidan, ar

waetrabaxa, Cemi siZe amerikis

fexburTelTa olimpiuri nakrebis

eqimiao. swored es eqimi

siZe ugzavnida nodars rCeul

albomebs rCeuli musikiT. ase

rom, kargi musikis Sovna Tu

gindoda, aqve axlos, sololakSi,

anu nodar paladaSvil-

Tan unda geZebna.

bevri viCaliCe Tu cota,

mec movipove Cveni sololakeli

melomanis keTilganwyoba da

erT mSvenier dRes ubednieresi

kaci gavxdi, xumroba saqme xom

ar iyo, axalTaxali, maqsvelis

firmis SesaniSnavi musikiT ga-

ZeZgili 12 audiokaseta Cavigde

xelSi.

erT dRes televizias morigi

maRali rangis stumari ewvia,

Tanac qalbatoni.

gogi doliZe, gia WiraqaZe,

zurab lolaZe da me, marTalia

maSin teleJurnalistebi gaxldiT,

magram Zalian xSirad maspinZlebadac

`vmuSaobdiT~ xolme,

gansakuTebiT SabaT-kviras.

axlac gadawyda, rom stumar

qalbatonTan erTad SabaTi

da kvirac Tbilisis zRvaze

iaxtaze gagvetarebina qarTvel

iaxtsmenTa maSindel lider,

baton iliko feraZesTan erTad.

swored ilikom miTxra, Seni

kasetebis wamoReba ar dagaviwydeso.

Tormetive wamoiRe,

vnaxoT, romeli moewoneba stumarso...

saRamos, qalaqSi rom

vbrundebodiT, Cemi kasetebi

movagrove da momaqvs. meubneba

iliko, xvalac aq amovdivarT

da eg kasetebi barem dagetovebina

iaxtazeo...

davtovebdi, iliko, magram

ra vici, rame ar moxdes, Cemi

bedis ambavi xom ici, am kasetebis

Tavmoyras ki eqvsi Tve movundi-meTqi.

_ biWo, am iaxtas 16 kaci

yaraulobs Rame, ase rom, eg

Seni kasetebi aq ufro uxifa-

Tod iqneba, vidre didubeSi me-

8 sarTulze, _ gaocda iliko.

raRa meqna?! kargi, kargimeTqi,

CaviburdRune da kasetebiani

parki gadavawode, aha da

kargad Cakete-meTqi.

im Rames iaxta CaiZira!

diliT zRvaze rom avediT,

buxtaSi mxolod Cveni iaxtis

anZis wveri da mis garSemo oblad

motivtive Cemi Tormetive

kaseta moCanda.

cota xans gaognebulebi

SevcqerodiT am suraTs da mere

ilikom mSvidad Tqva: dayvinTa

Senma musikamo...

es, albaT, bolo wveTi iyo,

situaciis absurdulobam sicilis

xasiaTze dagvayena da yvelani,

vinc maSin napirze videqiT,

didxans da gulianad vicinodiT.

Tumca...

epizodi merve,

romelic jer

ar damTavrebula

da, romelic agvixsnis Tu

ratomaa saqarTvelo dRemde

CemsaviT uiRblo da ratomaa

yvelaferi Cemi brali.

2003 wels, gazeT `kviris

palitris~ oqtombris erT-erT

nomerSi gamovaqveyne statia,

sadac sxvadasxva xasiaTis gulistkivilTan

erTad imasac

vuziarebdi mkiTxvels, Tu rogori

prezidenti msurda Cemi

qveynisTvis. Tavidan bolomde

wminda wylis survilebi iyo es

da kidev, Zalzed moridebuli

rCeva momavali liderisTvis.

(kidev erTxel mivaqcev

Tqvens yuradebas statiis gamoqveynebis

TariRs, 2003 wlis

oqtomberi, anu daaxloebiT

erT TveSi saqarTveloSi vardi

gaifurCqneba).

qveynis lideri im asakis

unda iyos, roca moazrovne

adamians araerTxel aqvs gadasinjuli

da awon-dawonili

ganvlili cxovreba _ vwerdi

am statiaSi.

_ unda hqondes gamocdileba,

azarti, energia, SiSis Zlevis

unari, sidinje da auCqarebloba,

Tavmdabloba, oponentebis

pativiscema, gawonasworebuli

optimizmi, simarTle, samarTlianoba,

globaluri azrovneba,

analizis unari, dumilis

xelovneba, adamianTa Ser-

Cevis unari, diplomatiis Tandayolili

niWi, Sesaxedaoba,

Rirseba, Tavganwirva.

statiaSi kidev bevri ram

iyo CamoTvlili, magram Cven aq

davamTavroT da barem isic

vTqvaT, rom prezidentis ori

umTavresi aucilebeli Tviseba

gamovtove maSin Segnebulad,

verc Cems Tavs vakadre da verc

savaraudo prezidents imis

Tqma, rom samSoblosa da saku-

Tari xalxis siyvarulic aucilebeli

ramaa...

ai, es aRar miTqvams xmamaRla,

mxolod vigulisxme da

Tqven warmoidgineT, Cemi uiRbloba

imdenad mgrZnobiare aRmoCnda,

rom yvelaferTan erTad

esec gaiTvaliswina da sul ra-

Rac erT TveSi moiyvana mixeil

saakaSvili.

gaigeT axla ratomaa yvelaferi

Cemi brali?! me rom es

statia ar damewera, anda yvelaferi

piriqiT meTqva, xom

vicxovrebdiT axla samoTxeSi.

epizodi mecxre _ Tumca!

axla erTi saidumlo unda

gagimxiloT. Cemi totaluri

uiRblobis miuxedavad, maSin

roca yvelaferi damTavrebuli

da gadawuruli rom mgonia, moulodnelad

koridaze gamovardnili

xariviT movardeba xolme

xsna da ixsneba kvanZi.

gikvirT xom?! mec Zalian

mikvirs, magram asea da ra vqna.

gaxsovT, yoveli epizodis

bolos erTi sityva _ `Tumca...~

rom davtoveT haerSi sapnis

buStiviT gamokidebuli? gaxsovT

xom?! hoda, droa axla

Svidive Tumcas mivubrundeT da

epizodebic rigrigobiT davasruloT.

epizodi pirveli _ wamo,

wavixemsoT...

...Tumca, `bufetCik boleno~,

xom gaxsovT? raRa gveqna

me da daTos. davrCiT mSivrebi,

magram mainc mxiarulad avbrundiT

Cvens sarTulze, wamoRebul

sagzalze gvqonda gaTvla.

iq ki biWebs erT-erT nomerSi

ukve moeyaraT Tavi. fexi SevdgiT

Tu ara, maSinve sanTlis

arayi momaCeCes xelSi. gamovar-

Tvi da vTqvi, modi es im mebufetes

gaumarjos, dRes rom

avad gaxda-meTqi...

epizodi meore _ wyaroze

Cagiyvan da...

...Tumca, wyali ki Sewyda

TvaldaxelSua, magram gamodis

am dros Cemi nacnobi Senobidan,

modis manqanisaken da xelSi

ori boTli daorTqlili `hainekeni~

uWiravs...

epizodi mesame _ bzikis geografia

...Tumca, gadis xani da mirekavs

Cemi kaxeli Zmobili _ bi-

Woo, Sena marTali yofilxar,

CemTvis unda ekbina im bziksa,

magrama... xo ici, Cemi ezos bziki

iyo da... etyoba moerida, Tanac

geografiasTan, Cemi ar

iyos, kaxeli bzikebic mwyralad

arian, gaigee?!

epizodi meoTxe _ RamisTeva

liftSi

...Tumca liftioris Semcvleli

sadRac sastumrosTan

axlos nardis TamaSs Sehyolia

Turme, sinaTle rom Caqra,

ufiqria, axla saxlSi wasvlas

jobs, sastumroSi mivide da

iqve wavuZinebo. movida kidec

da Zalian male gvixsna tyveobidan.

epizodi mexuTe _ Coxa da

`mzeTunaxavi~

...Tumca Cvenma impresariom

Jozefa martelim aeroportSi

rom dareka, im qalbatons ukve

darekilic hqonda da Tavisi misamarTi

da telefonic datovebuli.

yvelaze didi saocreba

ki is gaxldaT, rom is qalbatonic

viSiSi cxovrobda da matarebliTac

erTad gvimgzavria

Turme... damTxveva xom ginda!

maleve mogvakiTxa Cemi `mxeTunaxaviT~

da meore dRes koncertsac

daeswro...

epizodi meeqvse _ bulgareTSi

ra gindoda...

...Tumca, ara, ara... is kaci

naRdad ar gacocxlebula. mxolod

misma siZem mogvZebna sastumroSi,

erTi boTli `varcixe~

gamocala, saCuqrebi waiRo

da saRamos saxlSic mivakiTxeT

samZimarze.

epizodi meSvide _ musikam

dayvinTa

...Tumca, naviT Securdnen

zRvaSi biWebi, Tormetive kaseta

napirze gamoitanes. gadayras

vapirebdi, magram ra ici, ra

xdeba, modi gavaSroTo, ilikom.

saRamoxans Tormetive kaseta

Zveleburad ukravda da

RvTaebriv musikas talRebis

Soreuli da idumali Srialic

erTvoda Tan.

P.S erTaderTi `TumcaRa~

gvrCeba gauSifravi. erTaderTi,

magram yvelaze mTavari, saprezidento

`Tumca~, magram mis

gasaSifrad lodini mogviwevs.

Tanac magas mxolod me verafers

movuxerxeb, eg iseTi ji-

Sis `Tumcaa~, rom yvelam er-

Tad, anu mTelma saqarTvelom

unda gavSifroT oqtomberi

Temur Wkuaseli

aprili, 2012 weli
---
#22 (206), 9-15.V, 2012 w.

saerTo gazeTi

23

interviu gldanis iveriis

yovlawminda RvTismSoblis

taZris winamZRvarTan mama basil

mkalaviSvilTan

_ mamao basil, sakmao dro

gavida Tqveni gamomafxizlebeli

sityvebi ar gvixilavs presis

furclebze, ras gvetyodiT

axals?

_ saxeliTa mamisaTa da ZisaTa

da sulisa wmindisaTa,

CvenTan ars RmerTi.

minda giTxraT, erTi wuTiT

yuradReba ar momidunebia qveyanaSi

mimdinare movlenebTan dakavSirebiT,

Cemi fiqri da goneba

gamudmebiT mas dastrialebs,

mxolod amJamad dakavebuli viyavi

eklesiis ezos keTilmowyobiT.

_ im braldebasTan dakavSirebiT,

ris gamoc Tqven wlebis

ganmavlobaSi satusaRoSi imyofebodiT,

dResac azrTa sxvadasxvaobaa,

zogierTi religiebis

Semwynareblobasac qadagebs.

_ risTvis momisajes 6 weli.

iqneb imisTvis, rom bokerias

suraTebi davwviT parlamentis

Senobis win, vebrZodiT antiqristes

mociqulebs _ Tavisuflebis

institutis mesveurebs.

me xom maTi piradi patimari

viyavi? asea dResac. vinc

ar moswonT _ yvelas iWeren da

cixeSi gzavnian.

dRes religiis sakiTxSi

mTel msoflioSi marTlac qaosia.

yoveldRiurad iqmneba

axal-axali religiuri dajgufebebi.

Tugind aviRoT `ieRovelebis~

mimdevrebi. rogor

SeiZleba maT endos kaci. es

seqta viRac TaRliTma vaWarma

raselma Camoayaliba, romelmac

gamosca Jurnali, sadac Tavis

produqcias reklamas ukeTebda.

bolos es pirovneba aferistobisTvis

cixeSi Casves.

dRes ki ieRovelebi rasels

TavianT RmerTad Tvlian.

ieRovelebi acxadeben, rom

Turme saqarTveloSi qristianoba

XX saukuneSi Semosula.

pirveli ieRoveli saqarTveloSi

1953 wels fiqsirdeba.

zRvari aqvT magaT mkrexelobas?

ver amixsnia, sapatriarqos

warmomadgenlebi xmas ratom ar

iReben. swored maTi valia atexon

gangaSi.

me, Cemi gasakeTebeli wlebis

win gavakeTe. SevaCere ieRovelebisa

da sxva seqtebis gamravleba

da TareSi. amjerad ukve

asakovani var da sakmaod

avadmyofi. advili ar iyo CemTvis

5 weli cixeSi yofna. iqedan

TiTqmis dauZlurebuli gamovedi.

miuxedavad amisa, presi-

Ta Tu internetiT vebrZvi yovelgvar

usamarTlobas.

_ mamao, ar dagvaviwydes,

rom sapatriarqos sasuliero

pirni xSirad akeTeben gancxadebebs

usamarTlobis winaaRmdeg.

ixileT `saerTo gazeTi~

internetSi

www.saertogazeti.ge

SemogvierTdiT FACEBOOK-ze

es iyo gamafrTxilebeli miwisZvra, romelic

migvaniSnebs, rom Tu isev gaagrZeleben RvTis

sawinaaRmdego qmedebebs, Sedegic ar daayovnebs

visac surs iveriis RmrTismSoblis xatis namdvili asli naxos,

mobrZandiT Cvens eklesiaSi da naxeT misi namdvili saxe

_ TiTqmis yvela sasuliero

pirTa interviuebs vkiTxulob.

samwuxarod, imaTgan Zalian

mciredni arian, vinc xmas imaRlebs

arsebul saSinelebaTa winaaRmdeg.

amas winaT wavikiTxe

mRvdel zaqaria ZinZibaZis interviu.

is acxadebs: `licenzia

maqvs, romlis mixedviTac, fizikaze

dayrdnobiT, SesaZlebelia

miwisZvris zusti prognozireba.

licenzirebuli maqvs

cunamis SeCerebis saSualebao~..

Se kai dedmamiSvilo, Tu ise-

Ti Zala gaqvs, rom cunamis SeCereba

SegiZlia, SeaCere pirvel

rigSi, marTlmadideblobis mtrebi

da is usamarTlo movlenebi,

romelic saqarTveloSi xdeba.

_ mamao, yvelasTvis cnobilia,

lagodexSi deda RmrTism-

Sobeli tiris.

_ maSin, roca qveyanas

uWirs da gansacdelSia, xsna

ar Cans, xatebi winaswar amcneben

cremldeniT, an sisxlis

deniT. deda RmrTisa rogor iqneba

dawynarebuli, roca misi

wilxvedri qveyana marTlac

gansacdelSia? amitom, bunebrivia,

kargs arafers migvaniSnebs

yovelive es.

_ Tqvens eklesias Tqven ratom

uwodeT maincdamainc iveriis

RmrTismSoblis saxeli?

_ 2000 wels, saswaulebrivad,

yovelgvari sabuTis gareSe

movxvdi aTonis mTaze. sami

dRis ganmavlobaSi vevedrebodi

iveriis RmrTismSoblis xats

saqarTvelos gadarCenas. Sevpirdi,

roca davbrundebodi,

mis saxelze avaSenebdi eklesias.

roca daCoqili vloculobdi,

vgrZnobdi, rom qristes meored

mosvlis win es xati saqarTveloSi

CamobrZandeboda da

damkvidrdeboda im taZarSi,

romlis aSenebasac me vapirebdi.

amas Tavis droze adasturebda

beri gabrieli. roca mas eki-

Txebodnen, romel taZarSi damkvidrdeboda

iveriis RmrTism-

Soblis xati saqarTveloSi

dabrunebisas, is yovelTvis pasuxobda:

is eklesia jer aSenebuli

ar aris da mas aaSenebs

morwmuneTa patara jgufio. axla

vxvdebi, maSin Cems taZarze

iyo saubari, romelic marTlac

mrevlis mciredi SemowirulobiT

aSenda. es sapatriarqom

mSvenivrad icis da swored amitom

daiwyes paralelurad maxaTas

mTaze iveriis RmrTism-

Soblis saxelze taZris mSenebloba,

romelsac, albaT, aramarTlmadidebelTa

mier Sewiruli

milionebi aaSenebs.

minda xalxma gaigos,

rom iveriis Rmr-

TismSoblis xatis namdvili

asli me CamovabrZane

aTonis mTidan.

is, romelic berZnebma

gamougzavnes sapatriarqos

1989 wels

da saerTo araferi

aqvs iveriis RmrTism-

Soblis xatebTan. roca

maxaTas mTaze sa-

Zirkveli akurTxes, iq

miabrZanes milanis

RmrTismSoblis xatis

asli.

visac surs iveriis

RmrTismSoblis xatis

namdvili asli naxos,

mobrZandiT Cvens eklesiaSi

da naxeT misi

namdvili saxe.

_ mama basil, mosaxleobas

ebadeba kiTxva eleqtropasportebTan

dakavSirebiT, aseve CipebTan

mimarTebaSi. Tu yovelive

es antiqristes wina periodia,

elias da enuqis mosvliT

ra unda gvemcnoso?

_ metad saintereso kiTxvaa.

es sakiTxi sapatriarqos mosagvarebelia.

magaliTad, saberZneTSi

pasportebTan dakavSirebiT

sapatriarqom oficialuri

moTxovna gaakeTa xelisuflebasTan.

Cvens SemTxvevaSi piriqiTaa,

xelisufleba marTavs sapatriarqos.

rac Seexeba eliasa da enuqis

mosvlas. ioane naTlismcemeli

mogvevlina, raTa gza ganemzadebina

uflis mosvlisaTvis.

eliasa da enuqis gamoCena

ki imis momaswavebelia, rom

uflis meored mobrZaneba moaxlebul

ars da isinic gzas umzadeben

ufals TumcaRa sanam

mobrZandeba, mravalni movlen

keTili angelozis saxiT da

TviT uflis saxiT da isini

saswaulebs moaxdenen. wminda

werili gvamcnebs _ bolo Jams

rCeulnic Secdebiano. amitom

unda viyvneT fxizlad, raTa ar

gavebaT maT sacecebSi.

_ momravlda gasarTobi sanaxaobani,

sadac sasuliero pirni

wina rigebSi sxedan, es xom

ar aris is `sacecebi~, romleb-

Sic TviT RvTismsaxurnic ki

ebmebian?

_ sjulis kanoni gvaswavlis,

rom, roca saero Teatraluri

warmodgenebi daiwyeba,

sasuliero pirni unda gaecalon

iqaurobas. sapatriarqos

warmomadgenelTa mimarTebaSi

ki sul sxvagvarad aris saqme.

amas winaT baTumSi dadgmul

mkrexelur `qeTo da kotes~

warmodgenaze wina rigSi isxdnen

da aplodismentebiTac ajildoebdnen

egzaltirebul, zRvars

gadasul msaxiobebs.

dRes eklesia swyalobs msaxiobebs.

arian iseTebic, romlebic

Zalian axlo, saeWvo urTierTobaSi

imyofebian sasuliero

pirebTan. es cota rTuli

sakiTxia. aseve, aRsarebis saidumloc.

aravin icis, vin ra

moinania da rogor. modiT, gansasjelad

es uzenaess mivandoT,

romelic yvelas gulis

nadebis ganmxilvelia.

rusTavelis Teatridan batoni

robert sturua gaagdes,

raTa warmoedginaT sazogadoebisTvis

is mkrexeluri dadgmebi,

romelic miuRebelia marTlmadidebelTaTvis.

SeiZleba

adamians guli gauskdes, imdeni

uzneoba moedineba cxovrebis

yvela sferodan. yovelTvis vimeoreb

da axlac vityvi, sapatriarqo

yvelaferze dums, rac

niSnavs, rom TanaugrZnobs maT.

minda gamcnoT kidev erTi

RmrTissawinaaRmdego qmedeba.

faqtobrivi prezidenti mixeil

saakaSvili xom yvelafers religiisa

da marTlmadideblobis

winaaRmdeg Cadis. 6 maiss wmida

giorgis xsenebis dResaswaulze

man baTumSi gaxsna viRac arabi

Seixis saxelobis parki. swored

amitom iyo RmerTma ar daayovna,

meore dResve moxda gamafrTxilebeli

miwisZvra, romelic

migvaniSnebs, rom

vinc RmrTis sawinaaRmdego

nabijebs gadadgams,

ar gvapatiebs da

sasjelsac mogvagebs.

_ dRes RvTismsaxurnic wyevlian

urjuloebas. ramdenad

marTebulia mRvdlis wyevla?

es codva ar aris?

_ Tqven gainteresebT ramdenad

gamarTlebulia eklesiurad

e.w. wyevla. adamians yvela

codva mieteveba, garda suliwmidis

gmobisa. vinaidan dRevandeli

xelisufleba TavianTi

qmedebiT suliwmidis mgmobelebi

arian. zogierTi beri isea

SeZrwunebuli umsgavso yofierebiT,

warmosTqvamen wyevlis

sityvebs.

_ mamao, verafriT dagvamSvidebT?

_ samwuxarod, jerjerobiT

verafriT dagamSvidebT.

saakaSvilis mosvla daiwyo

Cveni eklesiis darbeviT. maSin

qarTveli xalxi dumda da dRes

am xelisuflebis mware maTraxi

TiTqmis yvelas moxvda. amitom

xalxi ukve aRaravis endoba,

miuxedavad amisa, gpirdebiT

_ es mZime, ekliani, jvarcmis

gza qarTvel ers gasavleli

aqvs, radgan swored amas mohyveba

bolo Jams iveriis gabrwyineba.

es aucileblad moxdeba.

iranda kalandaZe
---
24 saerTo gazeTi #22 (206), 9-15.V, 2012 w.

mogzauroba samSobloSi

sofel orTubanSi, zovreTis

cixe-darbazis kompleqsis garda,

samasiod metrSi naqalaqaris abanoc

aris SemorCenili, romelic

gviani SuasaukuneebiT TariRdeba.

rogorc Cans, swored aq _ or-

Tuban-zovreTSi werda zaza cnobil

samecniero naSroms (`samkurnalo

wigni karabadini~), romelic

vaxuSti batoniSvils mouZiebia da

aukinZavs. darwmunebuli var, rom

orTubnis abanos marto higienuri

daniSnuleba ar eqneboda da misi

abazanebi samkurnalodac gamoiyeneboda

erT dros. abanos saerTo

sigrZe 15 metria, sigane _ 7 m.

yvela mTavari oTaxi gumbaTiania.

zaza mkurnalis moRvaweobis

Temam TavisTavad imis survili gamiCina,

rom sofelSi mcenareuli

wamlebis Tanamedrove damamzadebelic

aRmomeCina. orTubanSi Ziri-

Tadad osuri warmomavlobis ojaxebi

cxovroben. maT Soris veranairi

aqimi ver aRmovaCine, magram

bedad aWaridan Camosaxlebuli Tina

gabaiZe mimaswavles. axalgazrda

qalma Tavdapirvelad aivanze gasaxmobad

gaSlili nairgvari yvavilebi

da balaxeuli maCvena, mere

ki Tavis afTiaqSic SemiZRva. iq

ramdenime daxarisxebuli kona, er-

Ti-ori malamo da is siTxe miCvena,

romelic gvelis nakbenisa da

zogadad Sxamis sawinaaRmdego

uebari saSualeba yofila.

TxrobaSi gabaiZeTa gearis Semoyvanam

sxva Temis gaxsnis saSualebac

mogvca: daaxloebiT 20-22

wlis winaT xeobaSi aWaris namati

mosaxleoba dafuZnda. igi kompaqturad

sofel gverZineTSi dasaxlda.

es sofeli saistorio wyaroebSi

1658 wlis erTi sabuTiT

fiqsirdeba _ cici ciciSvils aq

14 komli yma hyolia: sisaurebi,

RoRaZeebi da mraWvelebi. Semdeg

am gvarebs gasitaSvilebi, mWedliSvilebi,

WulukaSvilebi da gelaSvilebi

Sematebian. osmalosTan

da iranel dampyrobTa winaaRmdeg

brZolasa Tu SinaaSlilobas sofeli

TiTqmis sruliad dauclia

da 1862-1864 wlebSi aq osebi CamousaxlebiaT.

gasuli saukunis

90-ian wlebis dasawyisSi gverZineTeli

osebis erTi nawili ayrila

da maT nacvlad maRalmTiani

aWaris sofel riyidan mosuli ko-

CaliZeebi, gorgaZeebi, gelaZeebi,

anTaZeebi da xozrevaniZeebi dafuZnebulan.

2003 wels aq axalmosaxleTa

30 komli cxovrobda da 9-

wlian skolaSi 65 moswavle

iricxeboda. Cveni satelevizio gadamRebi

jgufi swored am skolis

direqtoris mixeil koCaliZis

saxlSi dabinavda.

im Ramis gverZineTs kidev er-

Ti yrma, vefxia Seemata.

meore dRes alions davaswariT

da yvelaze ufro saintereso nataZralTa

Semovla daviwyeT. aq

odesRac ersa da eklesias burjad

edgnen netari mamebi. Tavdapirvelad

imerxevisken gavwieT, sadac

ZaZvis samonastro kompleqsi gveguleboda.

xeobaSi Sesvla sofel

elbaqianidan SeiZleba. namonastrali

aqedan 5-6 kilometrSia, magram

gza Zalian cudia. am monastris

mTavari nageboba, romelic sanaxevrod

daqceula, ioane naTlismcemlisa

yofila da mSeneblobis

stiliT VIII-IX saukuneebs ganekuTvneba.

eklesia nagebia rogorc

fleTili qviT, ise qviSaqvisa da

Sirimis Tlili lodebiT. sakur-

Txevlis nalisebri afsidi darbazidan

qvis kankeliT yofila gamoyofili,

romlis rvawaxnaga svetebis

natexebi aqa-iqaa gabneuli.

gvian xanaSi eklesia mouxatavT,

magram gamosaxuleba aRar ikiTxeba.

taZris garda galavanSemovlebul

kompleqsSi (daaxloebiT 1

ha.) mdgara mozrdili satrapezo

(14,5X9 m), orsarTuliani samreklo

da senakebi, romelTagan

axla mxolod

nangrevebia Semonaxuli.

ezos teritoriaze

aris

ramdenime sameurneo

xaro.

... ZaZvidan gver-

ZineTSi vbrundebiT,

iqidan ki samxreTiT

miveSurebiT. gaviareT

patara soflebi

wiflovani da

kodmana, nasoflari

tyemlovana da marjvniv,

tyeSi axal-

Zveli

da

axali

burjebi

Zamis xeoba

gayvanil, cicabo

gzas avuyeviT. sabednierod

es gza

300 metrze meti ar

aRmoCnda, Torem manqanis

Zravi aseT

datvirTvas veRar

gauZlebda.

samoTxes, romelSic

aRmovCndiT,

qozifa hqvia.

mexsierebaSi samudamod

CaibeWda ma-

Rali, foTlovani

tye, mozrdili, mosworebuli

adgili

am tyeSi, eklesiaTa

nangevebi, axali, xis

aivniani keliebi,

Zveli da ganaxlebuli qozifa da misi maSenebeli berebi

uzarmazari kviparosi,

mcire mtili,

sxva freskebi. samxreT kedelze Zveli monastris gacocxlebisTvis:

ocamde ska, moWixvine iabo, Semonaxulia `RvTismSoblis taZrad

wesrigSi mohyavdaT terito-

CrdilqveS wamowolili kravi,

miyvaneba~. kompleqsSi Semavaria,

agrovebdnen gafantul qvebsa

ori nagazi da frinvelTa gadaZaxili.

li danarCeni oTxi eklesia uxe- da ber-monazonTa neStebs. erT-er-

veranairad ver vifiqrebdi Sad damuSavebuli, dakuTxuli Ti sruliad daqceuli eklesiis

Tu erT mcire monakveTSi amdeni,

nairgvarad mgalobeli frTosani

qvebiTaa nagebi, `RvTismSobeli~ ki

sufTad gaTlili bazaltis kvadrebiT.

qveS maT miagnes kriptas da iq dacul

wminda nawilebs ezos sxva

budobda.

SemorCenilia TandarTuli monakveTebSi aRmoCenili mamebis

qozifis samonastro kompleqs-

Si erTmaneTze midgmuli 5 darbazuli

qvis kankelis fragmentebic.

kompleqsis arseboba cnobili

Zvlebic daumates. kriptaSi Casvlisas

Tavzari daeca Cveni gverZi-

eklesia mdgara. maTgan ori iyo (samecniero literaturaSi neTeli maspinZlis me-8 klasel vaqvis

VII-IX saukuneebis yofila, ori _

XV-XVI da erTic _ XIII saukunisa.

amaTgan yvelaze didi, centraluri

taZari swored es ukanasknelia

igi gugomis saxeliTaa Setanili),

magram bolo dros, Turme, tyes

ise gadaevlo, rom axalgazrda berebs

gaWirvebiT miugniaT. mas Sem-

JiSvils, romelic Tan gvaxlda mamamisis

TxovniT. mereRa gavigeT,

rom igi mounaTlavi iyo. amdenad,

mis momaval gaqristianebaSi mcilis

(17,85X7,85m). RvTismSobdeg

ewoda kompleqss qozifa pareodeni

wvlili Cvenc SevitaneT

saxelobis saydari agebisTanave

mouxatavT. marTalia `RvTismSobeli~,

sxva aqauri saydrebis

msgavsad, romeliRac epoqaSi Zalian

lestinaSi arsebuli erTi monastris

msgavsad. dangreuli eklesiebi

xelaxla akurTxes RvTismSoblis,

lazares, wminda giorgis da

amdeni siwmindis CvenebiT.

im dRes monastris saZmodan

adgilze mxolod morCili lazare

dagvxvda, romelic purs acxobda.

dangreula, magram SemorCe-

SiomRvimis saxelobaze. berebis danarCeni berebi, mezoblad mdebalestinaSi

nil konqSi isev Cans `vedreba~, saZmo, winamZRvar Sios moTaveobiT re muxileTis monastris winamZRvars

`xati mandilisai~, mociqulebi, da mitropolit iobis mzrunvelobiT,

mama zenons exmarebodnen mSe-

eklesiis mamebi da XIII saukunis

dResa da Rames asworebda neblobaSi. lazarem SemogvTavaza,

urbnisisa da ruisis eparqia: wiflovanis, orxevisa da tbeTis axali saydrebi

rom is Rame qozifaSi gagveTenebina

saZmos srul SemadgenlobasTan

erTad, romelic Sebindebisas dabruneboda,

magram Cven maTi gacnoba

muxileTSi vamjobineT.

muxileTi gverZineTsa da tyemlovanas

Sorisaa, ufro konkretulad

ki Zamis im Senakadis bolo-

Sia, romelic tyemlovanamde erTvis

xeobis mTavar mdinares. amave

xazzea, oRond xevis TavSi, abuxalos

berTa qvabebi.

muxileTis monasterSi iolad

mivediT. igi RvTismSoblis dangreuli

eklesiisa da ramdenime xis

senakisgan Sedgeboda maSin. berebi

zenon iyalToelis saxelobis eklesias

uyridnen saZirkvels. niadagis

gaWra ukve moemTavrebinaT

da axla Soriaxlodan ezidebodnen

sabalavre qvebs. SromaSi Cabmuli

amdeni ber-monazoni aqamde

arasdros menaxa da axla sul

sxvagvarad warmomidga es sazogadoeba.

gansakuTrebiT qozifis monastris

24 wlis iRumenma mama Siom

miiqcia Cemi yuradReba. Sroma-

Si xom misabaZi iyo da Sesvenebis

drosac yvelasgan gamoirCeoda mozomili

sityviT (naTelSi amyofos

ufalma misi suli. sam weliwadSi

arqimandriti gaxda, magram avtokatastrofaSi

daiRupa).

male ruis-urbniseli mitropoliti

iobic amovida da kidev

erTi axali aRmoCena gavakeTe: es

iyo WeSmariti mamisa da Svilebis

Sexvedra _ gulisxmieri, ubralo

da mokrZalebuli, romelic trafaretebisa

da yalbi etiketebisagan

daclili iyo. `me erTi ubralo

beri var~ _ xSirad maxsendeba

mitropolitis sakuTari Tavis

daxasiaTeba, magram sityva `ubraloSi~

im dRidan pirvelyofil

marcvals vxedav. mas Semdeg, ager

ukve, aTma welma ganvlo. eparqia

yovelnairad ayvavda. uamravi nataZrali

ferflidan aRsdga da

uamravi axali taZari aigo misi

ZalisxmeviT. yvelas CamosaTvlelad

erTi da ori werilic ki ver

ikmarebs. eklesia-monastrebi, ra

Tqma unda, mrevlis SemowirulobebiTac

Sendeba, magram mTavari mainc

eparqiis 400-mde muxlCauxreli,

kabagaxunebuli ber-monazvnis

damsaxurebaa. isini mTel dros

locvasa da SromaSi atareben,

mZRolebic arian, kiriTxuronic,

durglebic da Sikrikebic. iSvia-

Tia aseTi eparqia!

xelSi Tu Cauvarda es werili,

SeiZleba misayveduros kidec meufem

aseTi SesxmisTvis, magram sxvagvarad

ar mZalmiZs. iSviaTia ase-

Ti marTlmadidebeli saWeTmpyrobeli

dRes: beri _ yrmis umankoebiT,

moZRvari mwvrTnelis mom-

TxovnelobiT, klde viTarca sarwmunoebis

burji, mebrZoli da Seupovari

qarTveli rogorc Tornike

erisTavi da mamxilebeli viTarca

esaia. is fexqveS egeba ubralo,

wesier kacs, magram SeuZlia Serisxos

ampartavani, fariseveli da

gancxromis moyvare saero Tu sam-

Rvdelo piri, TviT mefec da misi

vazirebic ki. amitom, boroteulni

SiSiT Zrwian da xafangebs ugeben,

magram ufali icavs gansacdelisgan.

ar mokvdeba qveyana, romelsac

Tundac erTi aseTi beri hyavs.

es aris am werilis boloTqma.

gela qoqiaSvili
---
#22 (206), 9-15.V, 2012 w.

saerTo gazeTi

25

jemal davlianiZe

rodemde unda marTon

qveynebi urwmunoebma?

politikur mxecTagan wamosuli

muqara da ubedureba dRes

ukve sayovelTaoa da kacobriobis

saR nawils didi brZola

dasWirdeba am Wiris mosaSoreblad.

mdgomareoba umZimesia, rom

ara uflis imedi!

oRond! aucilebelia Cven,

msoflios macxovreblebma, qveynebma

gamoviRviZoT da im Zilburanidan

gamovideT, am qveynis damaqcevrebma

rom Segvrekes!

pirvel rigSi, sayovelTao

arxeinoba da baliSze Zili unda

moviSoroT! usulgulobas

Cvensas unda vuSveloT!

ager, modis, moabijebs adamiani!

modis mxolod xorci! modis

xuxula! usulo, ufro ki

suldakarguli. xorcSi Caaxr-

Cobines sakuTari sulis naperwkali,

riTac igi RmerTTan

iyo dakavSirebuli!

modis, modis, moabijebs, mova

da...

rogorc vTqvi, xelSi Segr-

Ceba mxolod xorcis nageboba!

xorcis Senoba! xorcieleba, romelSic

sulierebis natamali ar

dainaxveba!

da es sabazre xorcis nagleji

Tavisi poeziiT, Tavisi qandakebiT,

Tavisi mxatvrobiT, Tavisi

kulinariiT, Tavisi ybedobiT,

Tavisi azrovnebiT, aris mxolod

ena! ena _ daxlze dadebuli, woniT

3-4 kilogrami da meti araferi...

da, radgan dRes sayovelTao

sibriyve Wixvinebs!

da, radgan dRes sipatiosne

dums mokrZalebiT!

da, radgan dRes sindiss axrCoben

saxrCobelaze!

da, radgan politikosebi bazarSi

dganan, aCexili samSoblos

naWrebis gasayidad!

radgan suliereba dRes xorcis

patimaria!

amitomac vglovob da vicremlebi!

amitomac panaSvidi maqvs!

da, dRes isea mowamluli

msoflio sazogadoeba axali

msoflio wesrigis (rac ukve

sayovelTaoa kacobriobisaTvis!)

mavne saqmianobiT, rom mravals

da mravals Cveulebriv movlenad

miaCnia, adamianebSi xorcis

anu materiis zeoba da sulieri

dacema, gaxrwna-gadagvareba.

TiTqos sulsa da xorcs Soris

darRveuli harmonia aRarafers

niSnavdes! TiTqos adamianis daniSnuleba

da uflisagan Cveni

gaCenis mizezi mxolod kuWi, simaZRre

da mxolod seqsi, - gamravlebis

isteriuli moTxovnileba

iyos!

mainc, rodemde unda gagr-

Zeldes da kacobriobam sadamde

unda moiTminos usuloTa, azrovnebiT

mwirTa, suliT dacemulTa

da oden xorciT aRzevebulTa

maskaradi?

rodemde unda stanjon xorcielma

mZorebma suliT amaRlebulni?

rodemde unda marTon qveynebi

urwmunoebma?

rodis unda iswavlos Wkua

xalxma, rom TeTri gaarCios Savisagan

da moRalate ar arCios

mamuliSvils?

gagrZeleba. dasawyisi ix.

`saerTo gazeTi~ #14-19

mware gakveTilebi

evroamerika, ruseTi da saqarTvelo

ciklidan: omi bneleTTan _ ricxvi misi 666

vin Camoagdo

mefe ruseTSi?

mrCeba STabeWdileba, rom mefis

Camogdebas ruseTSi evroamerikelebi

xelmZRvanelobdnen

sakmaod saidumlod. ruseTSi

maT zustad amerikis SeerTebuli

Statebis msgavsi warmonaqmnis

Camoyalibeba hqondaT ganzraxuli

da revoluciac moaxdines.

mefe ulmoblad daxvrites

mTel ojaxTan erTad da iwyes

masobrivi Jleta WeSmariti rusuli

inteligenciisa, sasuliero

pirebisa... milionobiT adamiani

daxvrites, SemdgomSi, leninis

sikvdilis merec gaagrZeles

da vgoneb _ stalins rom

ar emarjva, ra darCeboda ruse-

Tisagan, am veeberTela, marTlmadidebluri

qveynisagan, Zneli

warmosadgeni arc aris!

mokirkite mkiTxveli ityvis,

- kaci saqarTvelos ubedurebaze

gvesaubreba da ra SuaSia ruse-

Tio!

oo! ara da ara, batonebo!

bevrze bevri gvaqvs saerTo ruseTTan!

Tundac sarwmunoeba!

Tundac mezobloba! Tundac Tanacxovrebis

aTeulobiT weli!

Tundac is, rom mavanma da mavanma

moaxerxa, _ ruseTi Cvens

upirveles da erTaderT mtrad

daesaxa! da gana mxolod Cven

Cagvagdes SevardnaZe-saakaSvilebma

am dReSi?

iqamde mividnen, rom Cveni

udReuri xelisufleba, dRes

ociode tankiT da asi avtomatiT,

ruseTs cxvirwin muSts

utrialebs da ded-mamas aginebs!

rogorc finia ZaRls waaqezeben

xolme patronebi, iseT

dReSi arian! evroamerikelebi

dauqseven da TviTon ganze gadgebian.

TviTon Zmakacoben, Tvi-

Ton ridi aqvT amxela qveynisa,

gvarianadac eSiniaT, kinaRam qveS

Caifsan da Cvens xelisuflebas

ki amaod ayefeben!

gana yovelive rom mowyobilia

da specialuradaa, ver unda

SevignoT qarTvelebma?

gana Cveni qveynis daqucmaceba,

rogorc erTerTi qristianuli

qveynisa, evroamerikas rom

xels aZlevs, es Zneli misaxvedria?

da, am ybadaRebul e.w. dasavleTs,

yovelive cudis ruseTis

xeliT keTeba rom surs, Zneli

dasanaxavia?

evroamerikelebs ormagi mogeba

aqvT am ukeTuri xelis banviT

da CrdilSi dgomiT: saqar-

Tvelos mTlianobas anadgureben,

survils TavianTs, Canafiqrs isruleben

da Tan ruseTs abraleben,

ruseTs aZageben, mTel msoflioSi

moZalades uwodeben!

ra Tqma unda, ruseTSi

uzarmazari legionebi hyavT Canergili

da muSaoben daucxromlad!

saocaria, rogor uZlebs

dRemde ruseTi amxela ZalTa

koncentrirebul Semotevas?

erTi SexedeT maT namuSevars _

ruseTis garSemo mdebare TiTqmis

yvela e.w. yofili sabWoTa

kavSiris qveynebis gadabirebas

rogor cdiloben! veeberTela

saxsrebs xarjaven belorusia-

Si, ukrainaSi, Sua aziaSi, kavkasiaSi...

da, rogorc yovelTvis, Cven

pirvelobas xeli ar gavuSviT _

evroamerikelebad gvsurs yofna

da sakuTari miwis udides nawilebs

viRacis enis amyolebi,

TiTqmis saCuqrad da oTxdRiani

omebiT varigebT!

arada, yvelaferi es mowyobilia!

yovelive winaswaraa gaTvlili!

yovelive amas Tavisi warsuli,

awmyo da sxvaTa Soris, momavalic

gaaCnia!

revoluciis dros ruseTic

daRupvis gzaze daayenes, magram

saidanRac gamoutyvraT soso

juRaSvili, SemdgomSi stalini,

romelmac magrad Searyia bneleTis

mzakvruli Canafiqri.

eomnen, gana ar eomnen? egonaT,

Cvens azrze movaqcevTo, magram

WkuiT ajoba! jer moixmara, er-

TmaneTi Caaxocvina, mere ki,

vinc SeewinaaRmdega, miwaSi Caawvina,

vinc daimorCila, Tavis-

Tvis amuSava.

ruseTSi uamravi saocari

ram xdeboda.

magaliTad, CemTvis Zalian

gansacvifrebelia cnoba imis

Sesaxeb, rom ruseTSi, revoluciis

Semdgomi mTavrobis SemadgenlobaSi

TviT rusebi TiToorola

kaciT Semoifarglebodnen.

ase magaliTad:

22 saxalxo komisridan, 19

ebraeli yofila!

xolo revoluciis Semdgomi

ruseTis dumis 554 deputats

Soris iyo:

2 - poloneli!

1 - Cexi!

43 _ litveli!

30 - rusi!

3 _ fineli!

13 _ somexi!

2 _ qarTveli!

1 _ ungreli!

12 _ germaneli!

447 _ ebraeli!

rogor yofila ruseTis da

evroamerikis saqme, veJo?

am cnobis utyuarobis moZieba

nebismier dainteresebul adamians

SeuZlia, radgan istoria-

Si brwyinvaledaa cnobili saxalxo

komisrebis ambavic da

ruseTis dumis deputatTa raodenobac.

SevardnaZis

xelisSemwyobni

saqarTvelos

mtrebi arian!

davubrundeT eduard SevardnaZes,

romlis sulieri fesvebi

demonur samyaroSia Cazrdili.

maSasadame, SevardnaZem, romelsac

abraleben ori germaniis

gaerTianebas! romelsac amgvari

msoflio Zalaufleba hqonia,

rokis gvirabis gayvanis dakonserveba

ver aRusrulebia!

vgoneb Txrobis ZiriTad

xazs Zalian ar avcdenilvar...

1990 wlis 28 oqtombers, saqarTveloSi

Catarda arCevnebi,

gaimarjva erovnul-ganmaTavisuflebelma

moZraobam.

saqarTveloSi daiwyo qristianul-erovnuli

aRmSenebloba

da saamiso resursi gadmogvyva

sabWoTa kavSiridan.

ai, zustad am dros dasWirda

evroamerikas, moskovSi umu-

Sevrad darCenili, pensioneri

eduard SevardnaZe.

aucilebeli iyo erovnuli

aRmavlobis gzas damdgari saqarTvelos

SeCereba, magram saamisod,

pirvel rigSi, saWiro

Seiqna dovlaTis da qonebis ganiaveba!

qarTveli xalxi rogorme

SimSilis karze unda daebaT.

da, e.w. didma politikosma

(pirvel rigSi evroamerikis

imedma da jila koWma) xelebi

daikapiwa. upirvelesad yoveli

braldebisagan xelebs ibans: 9

aprilis tragedia TviTon, TavisTavad

moxda _ sisxli sxvebma

daRvares da 1991 wlis samxedro

gadatrialebac sxvebma

moawyves. TviTon, SevardnaZe, am

saqmeSi aba rogor Caereoda.

masTan Turme didi TxovniT Cadioda

uamravi qarTveli: inteligenciis

warmomadgenlebi, politikosebi,

saqmosnebi, eqimebi,

pedagogebi da sTxovdnen, damyarebuli

faSisturi reJimisagan

exsna sruliad saqarTvelo.

Turme, TviTon SevardnaZe

saqarTveloSi dabrunda qveynis

asaRorZineblad... samegrelo?

sxvebma moaoxres afxazeTi da

samaCablo? sxvebma gayides! omi?

sxvebma waages! teroristuli

aqtebi? sxvebma moawyves! saqar-

Tvelos respublikis prezidenti

zviad gamsaxurdia? sxvebma

_ kerZod, sakuTarma megobrebma,

garemocvam da danarCenma qarTvelobam

anu zviadistebma gawires!

dReis amas iqiT anu SevardnaZis

Camosvlis Semdeg, yovelive

cudi, rac xdeboda, rac xdeba

da rac moxdeba, sxvebis mier

iqneba Cadenili! yvelaferi kargi

ki, `didi politikosis~ xeliT

qmnilia... TviT uRrublo

ca, mzis amosvlac ki, raRa Tqma

unda, misi da mxolod misi damsaxurebaa!

SevardnaZis Semomgzavnma

aliansma (evroamerikam!) gadagvarebuli

qarTveli Jurnalistebis,

mwerlebis, eqimebis, inteligenciis

sxvadasxva warmomadgenlebis

meoxebiT, presa-televiziaSi

daiwyes `didi politikosis~

cxovrebis Selamazeba,

misi adreuli Tu guSindeli

cxovrebis qeba-dideba...

(gagrZeleba Semdeg nomerSi)

ixileT `saerTo gazeTi~

internetSi

www.saertogazeti.ge

SemogvierTdiT FACEBOOK-ze
---
26 saerTo gazeTi #22 (206), 9-15.V, 2012 w.

Facebook Facebook Facebook Facebook Facebook Facebook Facebook Facebook Facebook Facebook Facebook

xalxis azriT

xo naxe wina arCevnebSi yvela partiam rom

daxarja, ramdenjer aRemateboda im Tanxas

mxolod nacebis danaxarji!

iq biznesmenebi Seewevian (mogelaZem ar Seicxados!),

aq parlamentaris adgilebs gayidian

sarfianad (rogorc kervaliSvilis

SemTxvevaSi), iqiT adeiSvili miexmareba

"saprocesoebiT" (dasaWeri kidev bevria) da a.S.

ivaniSvilis xalxs rom gaekeTebina, rac

magaT gaakeTes - TiTo korpuss TiTo cxvari

da boca Rvino rom gaugzavnes, xom

warmogidgenia, ras daimxobda Tavze yvelafers

mogvelaZe da ra ambavs atexavdnen nacebis media-sanitrebi!

saxelmwifo samsaxurebSi momuSave pirebs

miatanines sakuTari da ojaxis wevrebis

piradobis mowmobebi. maT nacvlad xmas Tavad

miscemen da es xalxi imis SiSiT, rom

ojaxis wevri samsaxuridan ar gamoagdon, ver gaaprotestebs,

rom maT nacvlad sxvam moawera xeli

da biuleteni gamoiyena.

ise me maqvs erTi idea, arCevnebic aRaraa

saWiro, visac survili aqvs, yvela Sevides

parlamentSi arCevnebis gareSe, ras gvawvaleben,

an Cven an Tavs ras iwvaleben, fulic

daezogebaT. Cven mainc aravin gvismens da ra

azri aqvs, vin mogvwons da vin ara.

Tu akvirdebiT imas, rom vinc am xelisuflebasTan

adre iyo da mere opoziciaSi gadavida

yvela paCti ruseTis agentia? ra

aris es SemTxveiTobaa Tu am xelisuflebis

utvinoba ruseTis agentebs rom asaqmebs?

safrangeTs Tavisi marneuli ara aqvs, sadac

moqmedi prezidenti 110%-s iRebs?

sadme, sadac arabebi an zangebi kompaqturad

cxovroben... ra gauWirda sarkozis

aseTi? 2% waago... 3 periferiul ubanze iyo yuTi

gasatacebeli da egaa... :-)

quTaisSi xeebi rom gadabeles (totebi moaWres),

gadanaWrelze "zelionka" wausves

da axla is zelionkawasmuli xe quTaislebs

svetaforSi erevaT. magas hqvia: sul

mwvaneze gevloso..

miwisZvra damTavrebuli ar iyo, miSa gamovida

da ganacxada-ruseTis mowyobiliao...:)

xedav, ruseTi ra diversiebs gviwyobs? ar

isvenebs, ra. orSabaT dilas Seryeuli rom

daiwyebs, dRis bolos ravali SenZreuli iqneba, xo

azrze xarT? raferaa, netav, Cveni maRali?

ese igi, vinc xelmisawvdom ganaTlebas

iTxovs orosania?! ar sWirdeba miSas ganaTlebuli

xalxi,radgan imaT ese ver mar-

Tavs, rogorc dRes Tavis sulel kamandis

wevrebs marTavs.

ise mouCqara miwisZvram da Cems WaRebs ise

aTamaSebs, rom meSinia tramps qe rom WaRi

moewona baTumSi da SuriT guli gouskda,

im WaRs araferi ewios... Cemsas ras vCivi...

iyideba!

1200 kv.m. xexiliani baRi patara

saxliT sofel broweulaSi.

Tbilisidan 20 wuTis savalze.

tel.: 5 99 41 76 56; 2 34 22 97 nana

vesaubrebiT parafsiqologs,

qalbaton ana lenormans

_ qalbatono ana, Tqven monawileoba

miiReT telearx "imedis" gadacema

"100 gradusi celsiusSi",

romelic zemgrZnobiare adamianebs

exeboda. sainteresoa Tqveni azri

kerZod am gadacemisa da saerTod,

Cvens media-sivrceSi ezoTerikisadmi

midgomis Sesaxeb.

_ Cemi azriT, am gadacemaSic

`100 gradusi celsiusiT~ da sxveb-

Sic, romlebSic undaT paranormalur

mxareebs Seexon, igrZnoba, rom

sinamdvileSi saqarTveloSi parafsiqologiaze

tabua dadebuli. sazogadoebisTvis

es Tema Zalian sainteresoa,

amaze xmamaRla aravin

laparakobs, magram kuluarulad Zalian

aqtualuria. samwuxarod, mwiria

informacia, eyrdnobian araprofesionalebs,

romelTac ar ician,

ra aris Savi an TeTri magia, kosmosi,

astrali... es yvelaferi erT

mTlianobaSi aris mecniereba, rac

CvenSi ganixileba mxolod dabal

doneze, saubaria jadoze, Tvalze,

Selocvaze, ufro farTo kuTxiT ki

ver ganavrcoben. Ees mecniereba sakamaTo

Temadaa qceuli SouebisTvis.

Pprofesionaluri kuTxiT rom Sexedo,

masSi Sedis medicina, fizika,

metafizika, alqimia. Cveni telearxebi

ki aSuqeben, rogorc Sous. Mme

vfiqrob, rom aucilebelia, kviraSi

erTxel erTi saaTi daeTmos am sakiTxs

seriozuli kuTxiT. rogorc

telearxi "kavkasia" astrologs,

mixeil cagarels uTmobs eTers kviraSi

erTxel, aseve romelime arxma

unda dauTmos dro parafsiqologs.

aseT gadacemaSi ki ar unda imkiTxaon

an raRac Savbnel saqmeebze ilaparakon,

unda axsnan yvelaferi seriozul

doneze, radgan adamianebi,

romlebic arian informaciul vakuumSi,

eZeben pasuxs araswori mimar-

TulebiT da asec midis mere yvelaferi

maT cxovrebaSi. Aadamianebma

unda icodnen, ra droSi vcxovrobT,

ra samyaroseul movlenebs

aqvs adgili, ratomaa aseTi agresia

sazogadoebaSi, ratom xdeba amdeni

mkvleloba da TviTlmkvleloba, ra

aris "domovoi", qarTulad fuZis

angelozi da ase Semdeg.

_ Tqven aseve aRniSneT, rom parafsiqologis

Tu naTelmxilvelis

mier yoveldRiuri miRebebi absurdia

da amiTac SecdomaSi SehyavT

adamianebi, ratom?

_ warmoudgenelia winaswarmetyveleba

iseTi saxiT, rom rigi dgas

viRacasTan, erTi wavida, meore movida,

meaTe miiRo. Eamis dagegmva SeuZlebelia.

winaswarmetyveleba, rogorc

aseTi, TavisiT modis. Aar SeiZleba

es yoveldRiurobaSi Sekve-

TiT movides. isev vubrundebi imas,

rom unda mivides swori informacia

sazogadoebamde, unda daiweros, gakeTdes

gadacemebi seriozuli

kuTxiT, saWiroa profesionali eqsperti,

parafsiqologi. ia farulavam

am gadacemaSi aRniSna, rom yvela

msaxiobs gaaCnia meeqvse grZnobao.

Kki, batono, vTqvaT, msaxiobs

aqvs es profesiidan gamomdinare,

magram arian adamianebi, romlebic

modian kosmiuri ZaliT vunderkinduli

kuTxidan gamomdinare. aseT

rames ver Seiswavli, ver waikiTxav.

saerTod, yvela adamians aqvs meeqvse

grZnoba, Tavisi bioenergetikuli

kuTxe. Ees zogSi metadaa ganviTarebuli,

zogSi _ naklebad, magram

sul sxvaa fenomenaluri niWiT dajildoebuli

pirovneba.

_ ra azris xarT erT-erTi monawilis,

Teas Sesaxeb, ra aris mis

sxeulze gamoxatuli stigmebi?

_ me adrec viyavi dapatiJebuli

msgavs SouSi ( ar maxsovs 2001 weli

iyo Tu 2002), jer kidev iq gamovTqvi

azri am gogonaze. M vfiqrob,

rom aq adgili ar aqvs imas,

rasac ewodeba kosmiuri Zala. rogorc

aCvenebdnen, mas aqvs stigmebi,

magram es xdeboda sul sxva kuTxidan

gamomdinare.

_ ra SeiZleba iyos es?

_ me ar minda es ganvmarto, ubralod

CemTvis sxva rames niSnavs.

aseve SeuZlebelia Sexedo adamians

da daaskvna vin iyo wina cxovrebaSi.

Es sakmaod rTuli samuSaoa.

_ gadacemis bolos moxda

CarTva moskovidan biodenebiT

cnobil mkurnal junasTan.

aSkaraa, rom juna ukve didi

xania mZime emociuri stresis

gavlenis qveS imyofeba, rac,

pirvel rigSi, Svilis daRupvam

ganapiroba. ramdenad misa-

Rebi iyo masTan CarTva, iqneb,

sjobda, es ar momxdariyo?

_ juna Cemi Taobis Tbiliselia,

TiTqmis tolebi varT.

erTs getyviT. igi uZlieresi

pirovneba iyo, uZlieresi bioenergo-koreqtori.

igi aris

mkurnali da ara astralSi

gamsvleli an winaswarmetyveli.

juna gaanadgura sabWoTa

kavSirma, uSiSroebam. Bbevrs

ar awyobda misi arseboba, bevrs

sWirdeboda. gaanadgures sulierad,

fsiqika dauzianes, Svili ar daRupula,

moukles. Aara mgonia, rom am

gadacemiT dakninebuliyo, juna iyo

da aris juna.

_ Cvens saubarSi Tqven axseneT

egreT wodebuli "domovoi", Cveneburad,

fuZis angelozi; sityvam moitana

da davakonkretoT, ra arsebaa

es?

_ yvela saxls hyavs Tavisi fu-

Zis angelozi. igi uxilavi Zalaa,

suli, romelic cxovrobs saxlis

fuZeze, arian agresiulebi, arian

keTilebi.

_ anu maT Sorisac aris gansxvaveba?

_ ra Tqma unda, dadebiTi Zalis

fuZis angelozi keTilmosurned gi-

Rebs saxlis kars. xdeba isec, rom,

vTqvaT, iyida ojaxma axali saxli,

bina da daiwyo avadmyofobebi, warumateblobebi,

ese igi raRacaSia saqme,

agresiulia fuZis angelozi,

aseT SemTxvevaSi saWiroa garkveuli

rituali, Selocva, ojaxSi

mRvdlis moyvana.

_ rogor unda vceT pativi fu-

Zis angelozs?

_ yovelTvis iqonieT ojaxSi

tkbileuloba, xandaxan ki oTaxis

oTxive kuTxeSi kanfetebi unda dadoT.

aseT dros saxlis kaci nebierad

"vaxSmobs". roca ojaxSi tkbileulia,

komfortulad grZnobs

Tavs.

_ gvagebinebs Tavis arsebobas?

_ ki, zogjer raRac xmebiT, karis

kakuniT, SeiZleba umizezod gaiRos

moxuruli kari. SeiZleba

ojaxis wevris an axloblis xma CagesmaT

da es fuZis angelozi iyos.

_ Tu umizezod kari gaiRo, rame

unda Tqva am dros?

_ araferic ar unda Tqva. mTavaria

komfortulad igrZnoT Tavi

ojaxSi, sityvebs azri ar aqvs.

_ Tqven aseve isaubreT jados

moxsnaze da amisi albaTobac gangvimarteT.

Aanu, ramdenad logikuria

jados gasakeTeblad an mosaxsnelad

mkiTxavTan misvla?

_ samyaroSi arsebobs kosmiuri

programebi. vTqvaT, damTavrda programa

Cems sayvarel adamianTan, mor-

Ca, is unda wavides sxvasTan da me

sxvasTan, an davrCe marto. aseT

dros roca zedmeti Careva xdeba,

roca zedmetad exebian, ziandeba individis

fsiqika. Aanu am SemTxveva-

Si ki ar gaiwminda adamiani, sxva

rame gaukeTda. erTi jado Caanacvla

`parafsiqologia aris mecniereba,

romelic CvenTan sakamaTo

Temadaa qceuli SouebisTvis~

meorem, erTi magia Secvala meorem.

_ anu es xdeba kosmiur programaze

daqvemdebarebiT, rogor moviqceT

sworad?

_ Tu programa damTavrebulia,

azri aRarafers aqvs, radgan ar Sedgeba

sulieri kavSiri. Yyvela admians

hyavs Tavisi bedis varskvlavi,

saxeldobr "mas" unda Sexvdes. ra

Tqma unda, aris SemTxvevebi, roca

ara programiT, aramed raRac Zlieri

jados zegavleniT midis adamiani,

maSin unda moxdes moxsna da ur-

TierToba aRdgeba. saWiroa swori

diagnozi. parafsiqologma unda dainaxos

programa erTad xarT jer

Tu gaTiSulni xarT ukve. anu roca

qali Txovdeba, aucileblad esaWiroeba

astro-para-fsiqologiuri

konsultacia, ruqa. xarT Tqven erT

varskvlavze dabadebulni? risi mo-

Tmena mogiwevT iciT? unda gaarkvioT,

raze midixarT.

_ vTqvaT, mimatova sayvarelma

adamianma, movedi TqvenTan, Tqven dainaxeT,

rom igi aRar zis Cems kosmiur

programaSi, ras mirCevT?

_ gakeTdeba diagnozi. Tu davinaxe,

rom programa dasrulebulia,

pirdapir getyviT: es pirovneba aRar

aris Tqveni. aRar gWirdebaT warsulze

CaWideba. dadeqi WeSmarit

gzaze, mixede Tavs. unda daixuros

erTi da gaixsnas meore, sxva kari,

rom Seni varskvlavi kvlav gamoCndes.

Yyvelam Tavisi bedi unda eZios,

ar unda ifiqro imaze, vin ras

ityvis. SeiZleba sadRac gacilebiT

ukeTesi adamiani gelodeba, SeiZleba,

araferic ar gelodeba. mTavaria,

Savi magiis zemoqmedebiT ar iyos

sayvareli adamiani wasuli Sengan.

Tamuna qadagiZe
---
#22 (206), 9-15.V, 2012 w.

saerTo gazeTi

27

`saerTo gazeTis~ iuridiuli konsultacia

`saerTo gazeTis~ mkiTxvelTa

SekiTxvebs pasuxobs gazeTis

iuridiuli konsultanti, advokati

mTvarisa

kevliSvili.

tel.: 2 79 63 91;

0 790 60 64 69;

5 93 78 64 69

* * *

_ var mopasuxe. ra samarTlebrivi

Sedegebi dadgeba, Tu ar

warvadgen Sesagebels?

_ mopasuxis mier dadgenil

vadaSi pasuxis (Sesagebels) warudgenlobisas,

Tu es gamowveulia

arasapatio mizeziT, mosamar-

Tles zepiri mosmenis gareSe gamoaqvs

dauswrebeli gadawyvetileba.

amasTanave mosamarTle daakmayofilebs

sarCels, Tu masSi

miTiTebuli garemoebebi iuridiulad

amarTlebs sasarCelo mo-

Txovnas; winaaRmdeg SemTxvevaSi

sasamarTlo niSnavs mTavar sxdomas,

ris Sesaxebac ecnobebaT mxareebs

kanoniT dadgenili wesiT.

sxdomis Catarebis SemTxvevaSi

mopasuxisgan mtkicebulebaTa mi-

Reba ar xdeba da sasamarTlo moismens

mopasuxis mxolod

samarTlebriv mosazrebebs

sasarCelo moTxovnasTan

dakavSirebiT.

* * *

_ SeiZleba Tu ara

mowmis dakiTxva mis adgilsamyofelze?

_ mowmis dakiTxva

warmoebs Ria sasamarTlo

sxdomaze. arsebobs gamonaklisic.

kerZod: mowme

SeiZleba daikiTxos mis

adgilsamyofelze, Tu:

a) avadmyofobis, moxucebulobis,

invalidobis

an sxva sapatio mizeziT

mas ar SeuZlia gamocxaddes

sasamarTloSi;

b) saqmis garemobaTa mixedviT

misi adgilze dakiTxva ufro mizanSewonilia;

g) dakiTxul unda iqnes ramdenime

mowme, romlebic erT adgilas

cxovroben da maTi sasamarTloSi

gamoZaxeba da dakiTxva

dakavSirebuli iqneboda did xarjebTan;

d) sxva SemTxvevebSi _ sasamarTlos

Sexedulebisamebr.

* * *

_ dabarebuli var Tbilisis

saqalaqo sasamarTloSi samoqalaqo

saqmeze mowmis saxiT. vcxovrob

raionSi. finansuri saxsrebi

ar gamaCnia. rogor moviqce?

_ samoqalaqo saproceso kodeqsis

146-e muxlis I nawilis mixedviT,

mowmes ufleba aqvs, moiTxovos

sasamarTloSi gamoZaxebasTan

dakavSirebuli xarjebis anazRaureba

kanoniT dadgenili wesiT.

amave muxlis me-2 nawilis mixedviT,

sasamarTlos SeuZlia daavalos

mxares, romlis SuamdgomlobiTac

gamoZaxebulia mowme,

winaswar gadaixados mowmis sasamarTloSi

gamoZaxebasa da dakiTxvasTan

dakavSirebuli xarjebi.

aseT SemTxvevaSi mowmes gamoiZaxebs

sasamarTlo mas Semdeg,

rac mxare Seasrulebs aRniSnuli

xarjebis gadaxdis movaleobas.

* * *

_ romelma sasamarTlom unda

ganixilos Svilad ayvanis saqme?

_ bavSvis Svilad ayvanis Sesaxeb

sarCeli SeiZleba Setanil

iqnes sasamarTloSi mSvileblis

an gasaSvilebeli bavSvis adgilsamyofelis

mixedviT.

* * *

_ sad SeiZleba Sevitano sar-

Celi mamobis dadgenis Sesaxeb?

vixdi Tu ara saxelmwifo baJs?

_ samoqalaqo saproceso kodeqsis

46-e muxlis Inawilis `g~

q-punqtis Sesabamisad, saxelmwifo

biujetis sasargeblod sasamarTlo

xarjebis gadaxdisagan

Tavisufldebian mosarCeleebi danaSauliT

miyenebuli materialuri

zaralis anazRaurebis sarCelebze.

* * *

_ SeiZleba Tu ara saapelacio

instanciaSi Sevitano Segebebuli

sarCeli?

_ ara.

samoqalaqo saproceso kodeqsis

381-e muxlis mixedviT, davis

sagnis Secvla an gadideba, agreTve,

Segubebuli sarCelis Setana

saapelacio sasamarTloSi dauSvebelia.

* * *

_ gadawyvetileba Sevida kanonier

ZalaSi da eqvemdebareba

aRsrulebas. Sevitane gancxadeba

saqmis warmoebis ganaxlebis Sesaxeb.

SeCerdeba Tu ara aRsruleba?

_ saqmis ganaxlebis Sesaxeb

gancxadeba ver SeaCerebs gadawyvetilebis

aRsrulebas. sasamarTlos

SeuZlia, Tavisi ganCinebiT

droebiT SeaCeros gadawyvetilebis

aRsruleba. gadawyvetilebis

iZulebiT sisruleSi moyvana imaze

iqneba damokidebuli, iZleva

Tu ara saqmis warmoebis momTxovni

piri Sesabamis garantiebs.

* * *

_ ra SemTxvevebSi SeiZleba

sasamarTlom SeaCeros saqmis warmoeba?

_ samoqalaqo saproceso kanonmdebloba

gansazRvravs sasamarTlos

movaleobas da uflebas

saqmis warmoebis SeCerebis Sesaxeb.

mogaxsenebT orive SemTxvevis

Sesaxeb:

_ samoqalaqo saproceso kanonmdebloba

gansazRvravs sasamarTlos

movaleobas da uflebas

saqmis warmoebis SeCerebis Sesaxeb.

mogaxsenebT orive SemTxvevis

Sesaxeb:

_ sasamarTlo valdebulia

SeaCeros saqmis warmoeba Semdeg

SemTxvevebSi:

a) moqalaqis gardacvalebisas,

Tu sadavo-samarTlebrivi urTierToba

dasaSvebad Tvlis uflebamonacvleobas

an im iuridiuli

piris arsebobis Sewyvetisas, romelic

saqmeSi mxares warmoadgens:

b) mxaris mier qmedunarianobis

dakargvisas;

g) saqarTvelos SeiaraRebuli

Zalebis moqmed nawilSi mopasuxis

yofnisas an aseTive nawileb-

Si myofi mosarCelis TxovniT;

d) Tu saqmis ganxilva SeuZlebelia

sxva saqmis gadawyvetde,

romelic ganxilul unda iqnas

samoqalaqo, sisxlis samarTlis

an administraciuli wesiT;

e) Tu saqmis ganixilavs restituciisa

da kompensaciis komisia

an komisiis komiteti;

v) Tu saqmis ganmxilveli sasamarTlos

azriT, kanoniT, romelic

am saqmisaTvis unda iqnas gamoyenebuli,

ar Seesabameba an ewinaaRmdegeba

konstitucias, sasamarTlo

SeaCerebs saqmis ganxilvas

am sakiTxze sakonstitucio

sasamarTlos mier gadawyvetilebis

miRebamde, ris Semdegac saqmis

ganxilva ganaxldeba.

_ sasamarTlos, mxareTa

gancxadebiT an Tavisi iniciativiT,

SeuZlia SeaCeros

saqmis warmoeba, Tu:

a) mxare imyofeba namdvil

vadian samxedro samsaxurSi

an gawveulia raime

saxelmwifo movaleobis Sesasruleblad;

b) mxare imyofeba xangrZliv

samsaxurebriv mivlinebaSi;

g) mxare imyofeba samkurnalo

dawesebulebaSi an

avad aris, ris gamoc saSualeba

ara aqvs, gamocxaddes

sasamarTloSi da es

dainteresdeba samedicino

dawesebulebis cnobiT;

d) gamocxadebulia mopasuxis

Zebna kanoniT gaTvaliswinebul

SemTxvevebSi.

e) sasamarTlom daniSna eqspertiza.

* * *

_ Cemma advokatma fostas Caabara

sarCeli Cems yofil meuRleze

gadasacemad. saqme ganqorwinebas

exeba. Cemma yofilma meuRlem

gzavnilis miRebaze uari ganacxada.

ra moxdeba?

_ Tu adresatma uari ganacxada

gzavnilis miRebaze, misi mimtani

piri saTanado aRniSnvnas gaakeTebs

gzavnilze, romelic sasamarTlos

unda waredginos. aseT

SemTxvevaSi gzavnili adresatisaTvis

Cabarebulad CaiTvleba. es

imas niSnavs, rom dainiSneba sasamarTlo

procesi.

frenisas SeiaraRebuli damnaSaveebis

jgufi pilotis kabinaSi

SeiWra. maT daWres bortmeqanikosi

da saqarTvelos samoqalwaqo

aviaciis sammarTvelos

safrenosno-SturmanTa

ganyofilebis ufrosis moadgile.

gamtaceblebma moiTxoves

kursis Secvla da TurqeTSi

gafrena.

am ambebamde cota xniT adre

kinostudia `mosfilmSi~ gadaRebul

iqna mxatvruli filmi

`gangaSi~. igi, Cveulebriv,

sajaro CvenebisTvis ar gadauciaT.

filmi mxolod samarTaldamcavi

organoebisa da aeroflotis

TanamSromlebs aCvenes.

scenari martivi iyo, filmi

saswavlo masalas hgavda. damna-

Saveebma, romelTac sazRvargareT

wasvla gadawyvites, stiuardesas

winaSe axalgazrduli

qorwili gaiTamaSes. stiuardesas

sTxoves bileTebi da bortze

Zvirfasi WurWliT savse

CanTis Setana, rodesac `nefepatarZali~

da CanTa bortze aRmoCnda,

swrafad gamoirkva, rom

faifuris magivrad CanTaSi iara-

Ri ido. bednieri Seyvarebulebi

ki iaraRis kargad mflobeli

damnaSaveebi aRmoCndnen. filmis

scenaris mixedviT, ase iqna gatacebuli

TviTmfrinavi.

`kinos~ msgavsi scenariT,

TviTmfrinavi TbilisSi iqna gatacebuli.

aRweril movlenebamde

erTi dRis adre (e.i. 17 noembers)

momavalma teroristebma

_ skola-internatis pedagogma

da SeTavsebiT studia

`qarTuli filmis~ mxatvarma

wereTelma da samxatvro akademiis

arqiteqturis fakultetis

mesame kursis studentma patiaSvilma

(sinamdvileSi, misi

gvari iyo fetviaSvili) qorwili

gadaixades. mowveul stumarTa

Soris aeroportis Tanam-

Sromeli qalbatonic iyo. qorwilSi

mas moelaparaknen, rom

igi axaldaqorwinebulTaTvis

SeiZenda bileTebs da TviTmfrinavis

bortze, Semowmebis gareSe,

sadeputato darbazidan

Seiyvanda. rogorc Caifiqres,

isec ganxorcielda.

eqvsi damnaSave, cxrametidan

ocdaaT wlamde axalgazrdebi _

eqimi Zmebi pirvelebi (sinamdvileSi

maTi gvari iyo iverielebi-lekiSvili),

adre xulignobisTvis

orjer nasamarTlevi

kobiZe, Tbilisis erT-erTi

umaRlesi saswavleblis studenti

(gvari araa miTiTebuli

savaraudod saubaria gega kobaxiZeze)

da CvenTvis ukve nacnobi

ojaxi wereTeli-patiaSvili

(unda iyos fetviaSvili) aeroportSi

mividnen. isini iq Sexvdnen

or nacnob gogonas, romelTac

SesTavazes sxva qalaq-

Si gafrena, ise, rom sakuTari

gegma maTTvis ar gaumJRavnebiaT.

mTeli es kompania, Semowmebis

gareSe sadeputato darbazis

gavliT avida TviTmfrinav-

Si, romelic male afrinda.

frenisas damnaSaveebma salonSi

mgzavrebis Seswavla daiwyes.

isini aeroflotis usafrTxoebis

samsaxuris muSaks

eZebdnen, romlebic, rogorc wesi,

aseTi grZeli marSrutis

dros TviTmfrinavs acileben.

dadgenili wesis darRveviT,

bortze usafrTxoebis muSaki

`alfa~ TbilisSi

mifrinavs~

ar imyofeboda, magram banditebs

erTi mgzavri saeWvod moeCvenaT.

wereTelma samgzavro adgili

datova, mivida mgzavrTan da

TavSi Sampanuris boTli Caartya.

kobiZem da Zmebma pirvelebma

(iverieli-lekiSvili) Seipyres

stiuardesa, cocxal farad

ifares da pilotis kabinaSi SeiWrnen.

iaraRis muqariT maT

kursis Secvla da TurqeTSi

gafrena moiTxoves. konfliqtis

mogvarebis mizniT, bort-meqanikosi

Seepasuxa: `romeli TurqeTi?

Tqven azrze xarT, ras

ambobT? TviTmfrinavs am man-

Zilze gadafrena ar SeuZlia!~

diskusiis gareSe erT-erTma

damnaSavem auRelveblad mas esrola

da sasikvdilod daWra,

Semdeg tyvia safrenosno-SturmanTa

ganyofilebis ufrosis

moadgiles daaxala, romelic

ekipaJTan erTad mifrinavda.

magram teroristebma ver

SeamCnies rom pilotTakabinis

wina nawilSi, fardis ukan,

TviTmfrinavis Sturmani idga.

Sturmanma swrafad Seafasa vi-

Tareba da Tavdamsxmelebs sapasuxo

cecxli gauxsna, erTi

mokla da erTic daWra. xomaldis

meTauri ar daibna da haer-

Si umaRlesi pilotaJis ramdenime

figura Seasrula, riTac

damnaSaveTa moqmedeba Seaferxa.

rogorc specialistebma Semdgom

gamoTvales, am manevrebis

Sesrulebisas TviTmfrinavis

konstruqciaze zewola samjer

aRemateboda dasaSveb normebs.

am manevrebis Sedegad teroristebi

pilotis kabinidan gamovardnen

da ekipaJma kabinis karis

Caketva moaswro.

xomaldis meTauri ar daemorCila

TavdamsxmelTa moTxovnas,

da miuxedavad rikoSetuli

tyviiT fexSi daWrisa,

TviTmfrinavi Tbilisis aeroportSi

dasva. aeroportis

asafren-dasafren zolze TviTmfrinavi

mZimed daeSva, dartymam

yvela teqnologiuri luki da

marjvena mxris saavario karebi

gaaRo, sanam TviTmfrinavi safren

zolze moZraobda, erT-er-

Tma stiuardesam, isargebla ra

damnaSaveebis uyuradRebobiT,

scada TviTmfrinavis mTavari

karis gaReba da gadmoxtoma.

teroristma es SeamCnia da esrola.

mogvianebiT, eqspertizam

daadgina, rom safren bilikze

stiuardesa mkvdari daeca.

tyvia mas gulSi moxvda. es ukve

meoTxe msxverpli iyo.

daviT arabiZe

(gagrZeleba Semdeg nomerSi)
---
C M Y K

28 saerTo gazeTi #22 (206), 9-15.V, 2012 w.

romeli qveyana gaqreba pirvelad

vangas winaswarmetyvelebis mixedviT?

cnobili bulgareli winaswarmetyveli ambobs Tu ratom dai-

Rupebian evropis qveynebi. vanga laparakobs musulmanur qveynebs

Soris omze, sadac gamoyenebuli iqneba qimiuri iaraRi. Sedegad

2016 wels evropa mTlianad ganadgurdeba. qimiuri iarRisgan adamianebis

dauavaddebaT Tvalebi, sasunTqi gzebi, kuW-nawlavi, gauCndebaT

kanis sneulebani. musulmanuri saxelmwifoebi Seqmnian qimiur

iaraRs da ganadgurdeba aTobiT saxelmwifo. rac gamoiwvevs

kanis wylulebs, daibadebian juja adamianebi. 2016 wels evropa

dacarieldeba.

vangas winaswametyveleba iaponiis atomuri eleqtrosadguris

`fukusima-1~ avariis Sedegebzec saubrobs.

yarayums gamyinvareba elodeba

didi xani ar aris, rac mecnierebma SeamCnies, rom centraluri

aziis mTebSi _ yarayumze yinulis safari izrdeba. mis siaxloves

himalaize ki yinuli dnobas agrZelebs. ra aris yarayumis

anomaliis mizezi?

Tu imas gaviTvaliswinebT, rom aqtiurad midis yinulis dnoba

mTel dedamiwaze, yarayumis SemTxveva paradoqsulad CaiTvleba. ra

intensivobiTac sxvagan dneba yinuli, imave intensivobiT yarayumze

yinulis safari izrdeba, cvlilebebi aq 2005 wlidan mimdinareobs.

SegaxsenebT, rom yarayumis mTaTa sistema mongoleTs, CineTs,

indoeTsa da pakistans akravs da erT-erT yvelaze maRal mTaTa

sistemad iTvleba msoflioSi. mTis kldeTa saSualo simaRle daaxloebiT

6000 metria, ufro maRali, vidre tibetSi, sadac sa-

Sualo simaRle 4880 metri gaxlavT. yarayumSi zogierTi mTis simaRle

zRvis donidan 8000 km aRwevs. yinulis safari aq 15,4 000

kv. km-zea gadaWimuli. miiCneva, rom yarayumi yvelaze grZeli yinulovani

mTaa msoflioSi.

sainteresoa, rom gasul saukuneSi yarayumis yinulovani safari

ramdenadme Semcirda (magaliTad, yinulovani mTa bartolo

1928-58 wlebSi 500 metriT dapataravda), 70-ian wlebSi situacia

stabiluri iyo. aravin moeloda, rom saukunis bolos situacia

Seicvleboda, amitom sistematiuri kvlevebi aRar mimdinareobda.

2005 wels glaciologebi gaognebuli darCnen da hqondaT kidec

amis mizezi. yarayumis yinulis safari ufro da ufro izrdeboda.

axla mTliani yinulovani farTobi 16,3 000kv.km-ia.

himalaize yinuli dneba. amas globalur daTmobas miaweren, magram

Tuki yarayumze yinulis safari izrdeba. ra unda niSnavdes es?

kvleva daiwyes da 2000 wels TebervalSi kosmosuri Tanamgzavri

`indevori~, xolo 2008 wlis dekemberSi franguli Tanamgzavri

spot-5 gaagzavnes.

yinulis safari aSkarad gazrdili iyo. yinuli dRiTidRe izrdeba.

kvlevis Sedegebi jer ar aris cnobili.

moamzada ana vadaWkoriam

eris naTeli momavali eklesia-monastrebis mSeneblobaSia,

miiReT monawileoba wmida andria pirvelwodebulis

monastris mSeneblobaSi. ufali SegewevaT.

bednieri adamiani - morwmune adamiania.

rom gwamdes - unda daijero, rom gjerodes - unda

gindodes, madli rom moipovo - unda gsurdes. qarTvelno,

erTad RvTisaken!

RmerTma daglocoT da gagaZlieroT!

astrologiuri

prognozi

verZi _ mTlianobaSi

es periodi TqvenTvis

warmatebuli iqneba, Tumca

SesaZloa, mogiwioT garkveuli

daZabuli saubrebi.

Tu dasasveneblad gamgzavrebas

ver axerxebT, maSin mcire

xniT ganmartovdiT.

kuro _ Tu Tqven xelovnebas

raime kuTxiT

emsaxurebiT, maSin, SeecadeT,

dasvenebacota xniT

gadadoT da es dro gamoiyenoT.

tyupebi _ met-naklebad

warmatebuli kvira

geliT, mosalodnelia

perspeqtiuli winadadebebis

miReba, amitom yvela sakiTxi

seriozulad unda gaaanalizdes.

kirCxibi _ SeecadeT

axali araferi wamoiwyoT

da cota xniT

yoveldRiuri saqmiT SemoifargloT

an CaerTod daisvenoT.

lomi _ daastabilureT

urTierTobebi garSemomyofebTan

da partniorebTan,

nu iqnebiT konfliqturi

da nu SeecdebiT

sakuTari pirobebis xazgasmas.

qalwuli _ gaaqtiurdeba

Tqveni saqmiani

urTierTobebi, SeecadeT,

ar iyoT kritikuli da

zedmeti analiziTa da auditiT

momavali partniorebi ar

daafrTxoT.

saswori _ iyaviT

mSvidi da diplomatiuri,

amave dros SeecadeT,

am periodSi yvela perspeqtiva

Tu Sansi gamoiyenoT.

morieli _ kviris

dasawyisi da kviris bolo

warmatebuli iqneba,

am dReebSi mosalodnelia sasargeblo

Sexvedrebi da molaparakebebi.

mSvildosani _

mkveTrad gaumjobesdeba

Tqveni inteleqtualuri

SesaZleblobebi, rac Tavis

mxriv dadebiTad aisaxeba.

Txis rqa _ mogiwevT

sakmaod bevri informaciis

miReba-gadamuSaveba,

Tumca, mosalodnelia aq

cru da fsevdo-informaciebic

iyos.

merwyuli _ am kviraSi

garkveuli gamarTlebis

albaTobac geqnebaT,

mosalodnelia sasimamovno

informacia miiRoT ucxoeTidan.

Tevzebi _ es kvira

sakmaod mSvid tempSi

Caivlis da raime gar-

Tulebas adgili ar eqneba. mogiwevT

saojaxo problemebis

gadawyveta. SesaZloa saCuqrebiT

miiRoT.