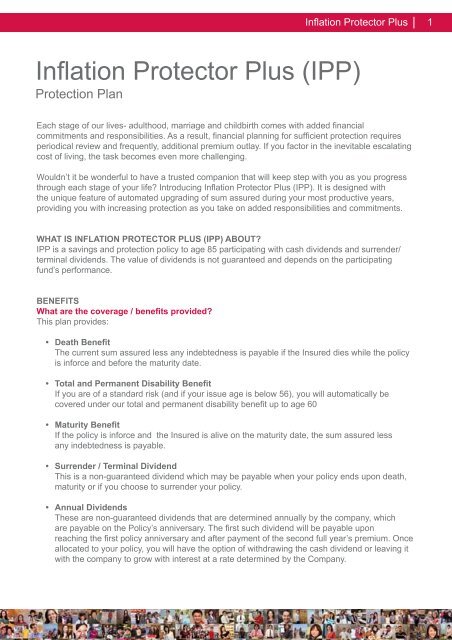 We enhance your protection as you move ahead in life - AIA
We enhance your protection as you move ahead in life - AIA
We enhance your protection as you move ahead in life - AIA
SHOW MORE
SHOW LESS
You also want an ePaper? Increase the reach of your titles
YUMPU automatically turns print PDFs into web optimized ePapers that Google loves.
PROTECTION

INFLATION PROTECTOR PLUS

About AIA Bhd.

American International Assurance Bhd. (AIA Bhd.) began

operations in Kuala Lumpur, Malaysia in 1948 as a branch

of American International Assurance Company, Limited

(AIA). With over 60 years of local market presence, AIA

Bhd. has now become one of the country's largest life

insurers, with a network of 23 branches nationwide. The

company's focus is on designing new and innovative

products to meet the changing needs of the market. AIA

Bhd. is a member of the AIA Group.

About the AIA Group

AIA Group Limited and its subsidiaries (collectively "the AIA

Group" or "the Group") comprise the largest independent

publicly listed pan-Asian life insurance group in the world,

with a broad footprint spanning 15 markets in Asia Pacific.

The Group traces its roots in the region back more than 90

years and has total assets of US$107.9 billion.

The AIA Group meets the protection, savings and

investment needs of individuals by offering a

comprehensive suite of products and services covering

accident and health insurance, life insurance and

retirement planning. It also provides employee benefits,

credit life and pension services to corporate clients.

The Group has operations in Hong Kong, Thailand,

Singapore, China, Malaysia, Korea, the Philippines,

Australia, Indonesia, Taiwan, Vietnam, New Zealand,

Macau, Brunei and India. It is a market leader in the Asia

Pacific region based on life insurance premiums, and holds

number one positions in six of its geographical markets.

AIA Group Limited is listed on the Main Board of The Stock

Exchange of Hong Kong Limited under the stock code '1299'.

Alor Setar

Wisma AIA

999 Jalan Telok Wanjah

05200 Alor Setar

Kedah Darul Aman

Tel: 04 - 735 5372

Fax: 04 - 731 9325

Batu Pahat

Wisma AIA

54A Jalan Rahmat

83000 Batu Pahat

Johor Darul Takzim

Tel: 07 - 431 1821

Fax: 07 - 433 1488

Bukit Mertajam

Wisma AIA

543 Jalan Sungai Rambai

14000 Bukit Mertajam

Seberang Perai

Tel: 04 - 538 6421

Fax: 04 - 538 9078

Ipoh

Wisma AIA

118 Jalan C M Yusuff

30250 Ipoh

Perak Darul Ridzuan

Tel: 05 - 255 7479

Fax: 05 - 255 9163

Johor Bahru

Wisma AIA

2 Jalan Bukit Timbalan

80000 Johor Bahru

Johor Darul Takzim

Tel: 07 - 227 8440

Fax: 07 - 223 7579

Klang

Ground Floor, Menara A&M

No 3, Jalan Istana

41000 Klang

Selangor Darul Ehsan

Tel: 03 - 3373 2367

Fax: 03 - 3371 7615

Kluang

Wisma AIA

230 Taman Kurnia

Jalan Mersing

86000 Kluang

Johor Darul Takzim

Tel: 07 - 774 5145

Fax: 07 - 772 0908

Kota Bharu

2nd and 3rd Floor

Lot 164, Section 8

Jalan Pintu Pong

15000 Kota Bharu

Kelantan Darul Naim

Tel: 09 - 747 3523

Fax: 09 - 747 0761

Kota Kinabalu

Wisma AIA

13 Jalan Karamunsing

88000 Kota Kinabalu

Sabah

Tel: 088 - 248 545

Fax: 088 - 221 775

Kuala Lumpur

Menara AIA

99 Jalan Ampang

50450 Kuala Lumpur

Tel: 03 - 2056 1111

Kuantan

Wisma AIA

103 Jalan Tun Ismail

25000 Kuantan

Pahang Darul Makmur

Tel: 09 - 517 8795

Fax: 09 - 515 7151

Kuching

Wisma AIA

216 Jalan Song Thian Cheok

93100 Kuching

Sarawak

Tel: 082 - 422 684

Fax: 082 - 245 408

Kulim

67-I Jalan Raya

09000 Kulim

Kedah Darul Aman

Tel: 04 - 495 9645

Fax: 04 - 491 2858

Melaka

Wisma AIA

96 Jalan Munshi Abdullah

75100 Melaka

Tel: 06 - 286 2364

Fax: 06 - 281 3088

Miri

Wisma AIA

Lot 663 Jalan Merbau

98000 Miri

Sarawak

Tel: 085 - 426 413

Fax: 085 - 414 355

Petaling Jaya

Level 3, Menara Axis

No 2, Jalan 51A/223

46100 Petaling Jaya

Tel: 03 - 7680 8686

Fax: 03 - 7680 8666

Pulau Pinang

Ground Floor

Wisma Leader

No 8, Jalan Larut

10050 Pulau Pinang

Tel: 04 - 222 6262

Fax: 04 - 222 6222

Sandakan

Wisma AIA

Block 30

Jalan Dua

90000 Sandakan

Sabah

Tel: 089 - 220 486

Fax: 089 - 218 308

Seremban

20 Jalan Dato' Lee Fong Yee

70000 Seremban

Negeri Sembilan

Darul Khusus

Tel: 06 - 763 5768

Fax: 06 - 764 4312

Sibu

17, 1st Floor

Jalan Bindang

(Brooke Drive 1)

96000 Sibu

Sarawak

Tel: 084 - 347 740

Fax: 084 - 343 900

Sungai Petani

Wisma AIA

8 Taman Patani Baru

Jalan Kampong Baru

08000 Sungai Petani

Kedah Darul Aman

Tel: 04 - 421 2327

Fax: 04 - 423 4257

Taiping

Wisma AIA

28 Jalan Long Jaafar

34000 Taiping

Perak Darul Ridzuan

Tel: 05 - 808 4845

Fax: 05 - 806 8988

Tawau

Wisma AIA,

TB 275 Block 29

Jalan Haji Karim

91000 Tawau

Sabah

Tel: 089 - 754 166

Fax: 089 - 752 949

We enhance your protection

as you move ahead in life

A unique savings and protection plan specially designed with

automatic sum assured upgrading feature without any further

health review requirements.

The Power of We

PT0810117

AIA Bhd. is licensed under the Insurance Act 1996

& regulated by the Central Bank (Bank Negara Malaysia).

Rev 0611

AIA.COM.MY
---
Inflation Protector Plus 1

Inflation Protector Plus (IPP)

Protection Plan

Each stage of our lives- adulthood, marriage and childbirth comes with added financial

commitments and responsibilities. As a result, financial planning for sufficient protection requires

periodical review and frequently, additional premium outlay. If you factor in the inevitable escalating

cost of living, the task becomes even more challenging.

Wouldn't it be wonderful to have a trusted companion that will keep step with you as you progress

through each stage of your life? Introducing Inflation Protector Plus (IPP). It is designed with

the unique feature of automated upgrading of sum assured during your most productive years,

providing you with increasing protection as you take on added responsibilities and commitments.

WHAT IS INFLATION PROTECTOR PLUS (IPP) ABOUT?

IPP is a savings and protection policy to age 85 participating with cash dividends and surrender/

terminal dividends. The value of dividends is not guaranteed and depends on the participating

fund's performance.

BENEFITS

What are the coverage / benefits provided?

This plan provides:

• Death Benefit

The current sum assured less any indebtedness is payable if the Insured dies while the policy

is inforce and before the maturity date.

• Total and Permanent Disability Benefit

If you are of a standard risk (and if your issue age is below 56), you will automatically be

covered under our total and permanent disability benefit up to age 60

• Maturity Benefit

If the policy is inforce and the Insured is alive on the maturity date, the sum assured less

any indebtedness is payable.

• Surrender / Terminal Dividend

This is a non-guaranteed dividend which may be payable when your policy ends upon death,

maturity or if you choose to surrender your policy.

• Annual Dividends

These are non-guaranteed dividends that are determined annually by the company, which

are payable on the Policy's anniversary. The first such dividend will be payable upon

reaching the first policy anniversary and after payment of the second full year's premium. Once

allocated to your policy, you will have the option of withdrawing the cash dividend or leaving it

with the company to grow with interest at a rate determined by the Company.
---
2

Inflation Protector Plus

• Critical Illness benefit

Advance Payment is payable if:

i) LumpSum Advance Payment for Critical Illness

In the event of the Insured's survival following a diagnosis of Critical Illness or surgery

for any of the Covered Surgeries, we shall advance in one lump sum of the current sum

assured less any indebtedness provided that no more than one Lump Sum Advance

Payment for Critical Illness or Covered Surgery shall be granted under this Policy.

ii) Limited Advance Payment for Angioplasty and Other Invasive Treatments for Major

Coronary Artery Disease

In the case of Angioplasty and Other Invasive Treatments for Major Coronary Artery

Disease, 10% of the current sum assured is payable subject to a maximum of RM25,000.

• Increasing Sum Assured

Increasing sum assured that comes without any further health review requirements.

Policy Year

% of Sum Assured

1 100%

2 - 4 110%

5 - 9 120%

10 -14 140%

15 - 19 160%

20 - 24 180%

> 25 200%

After 30 years or age 75, whichever is later 100%

Note : Please refer to the policy contract for full details of the benefit coverage.
---
Inflation Protector Plus 3

What are the 36 critical Illnesses covered?

The 36 critical illnesses covered are as follow:

1. Stroke 19. Coma

2. Cancer 20. Major Burns

3. Heart Attack 21. Multiple Sclerosis

4. Coronary Artery By-Pass Surgery 22. Paralysis/Paraplegia

5. Other Serious Coronary Artery Disease 23. Muscular Dystrophy

6. Angioplasty or Other Invasive Treatments 24. Alzheimer's Disease/Irreversible

for Major Coronary Artery Disease 1 Organic Degenerative Brain Disorders 2

7. Heart Valve Surgery 25. Motor Neuron Disease

8. Fulminant Viral Hepatitis 26. Parkinson's Disease 2

9. End Stage Liver Failure 27. Terminal Illness

10. Primary Pulmonary Arterial Hypertension 28. Encephalitis

11. End Stage Lung Disease 29. Benign Brain Tumor

12. End Stage Kidney Failure 30. Major Head Trauma

13. Surgery to Aorta 31. Bacterial Meningitis

14. Chronic Aplastic Anemia 32. Medullary Cystic Disease

15. Major Organ/Bone Marrow Transplant 33. Brain Surgery

16. Blindness/Total Loss of Sight 34. Loss of Independent Existence 2

17. Deafness/Total Loss of Hearing 35. HIV due to Blood Transfusion

18. Loss of Speech 36. Severe Cardiomyopathy

1

Only 10% of the sum assured, subject to a maximum of RM25,000 shall be payable (limited to only 1 payment).

The remaining balance of the sum assured will remain in force.

2

Coverage for illnesses no.24, 26 & 34 are up to the age of 65 of the insured

Am I allowed to attach any additional riders in this plan?

You have an option to further enhance your insurance protection by adding in extra coverage 3

from our range of optional benefits including;

• Hospitalization & Surgical – Provides coverage that can help to build a medical expenses

in times of hospitalization.

• Accident benefit – Provides extra coverage for injury or death due to accidents.

• Disability income– Provides yearly income to see you through your disability.

• Comprehensive Female Coverage – Payable in one lump sum upon diagnosis of female

related illnesses.

3

These benefits are made available subject to additional premiums. Please also note that there are applicable

exclusions and limitations for these benefits as specified in the policy contract.
---
4

Inflation Protector Plus

ELIGIBILITY

Am I eligible to apply for IPP?

This Plan is available to individuals of 4 weeks old to 60 years old; subject to the approval of our

underwriters.

COVERAGE AMOUNT

What is the minimum coverage amount?

Minimum coverage amount is RM15,000

In the event of death of a child, will the full basic sum assured be payable?

If the Insured is a child, the total amount that is payable will be based on the juvenile lien

percentage as illustrated in the table below;

Age last birthday

Payable as a percentage of

the basic sum assured

Less than 1 year old 20%

1 - year old 40%

2 - year old 60%

3 - year old 80%

4 - year old or above 100%

PREMIUMS

How much premium do I have to pay?

The total premium that you have to pay and the policy terms may vary depending on the

underwriting requirements. Below are some indicative annual premiums for both male and

female non smokers of standard health with RM50,000 Sum Assured:

Age Male (RM) Female (RM)

0 912.50 912.50

5 950.00 950.00

15 1,230.00 1,230.00

25 1,703.00 1,609.50

35 2,611.50 2,461.00

45 3,491.50 3,198.00

55 5,006.50 4,612.50

Please refer to the Sales Illustrations as provided by the agent if your age, sex, smoker status and health status are

different from those illustrated above.

You should satisfy yourself that this plan will best serve your needs and that the premium payable under the policy is an

amount you can afford.

What is the premium paying duration for IPP?

Premiums are level, guaranteed and payable for 20 years or up to age 55, whichever is later.
---
Inflation Protector Plus 5

What are the Options available if I decide to stop paying premium in future?

1. Cash Surrender Value

You may surrender your policy anytime after the first 3 policy years for a Cash Surrender Value

plus any annual dividend accumulations and surrender dividend less any loan indebtedness.

There will not be any cash surrender value until you have paid the premiums for three years.

You should note that upon early surrender your Cash Surrender Value may be less than the

total premium paid.

2. Reduced Paid-up (RPU) Option

Your premium payment is payable for 20 years or up to age 55, whichever is later. However

you have the option to shorten the premium duration through RPU. In exchange for a shorter

premium duration, your total amount coverage will however, be reduced accordingly and

your policy will no longer be a participating plan. Additionally, all riders that are attachable

to your policy will terminate when RPU is selected. This includes the total and permanent

disability benefit packaged under the basic plan. The RPU option is available once your policy

has acquired a Cash Surrender Value.

Critical Illness Benefit will be automatically terminated on such conversion.

3. Extended Term Insurance

You may continue this policy as a non-participating Extended Term Insurance in an amount

equal to the sum assured increased by any Paid-Up Additions, Annual Dividend Accumulations

and Surrender Dividend less any indebtedness. The length of the Extended Term Insurance

policy depends on the size of the Cash Surrender Value and the attained age of the insured.

Critical Illness Benefit will be automatically terminated on such conversion.

How can I pay the premiums?

Premiums are payable in any one of the following ways:

a) In cash or cheque. For payments in cheque, please make it payable to "American

International Assurance Bhd".

b) Autopay:

(i) Credit card

(ii) Auto Debit (HSBC, BSN and MBB)

c) Standing instruction

d) AIA Maybank Corporate Collection Account (AIA MCCA)

Your premium payments may be made once a year, twice a year, four times a year or once a

month.

Please note that for auto debit, standing instruction or AIA MCCA payment methods, the following

additional conditions will apply:

• For payment made once a year, twice a year and four times a year: the first payment has to be

payable in cash or cheque

• For payment made once a month, a minimum of first 2 payments have to be payable in cash or

cheque.

FEES & CHARGES

What are the fees and charges that I have to pay?

There are no fees and charges other than the premiums payable.
---
6

Inflation Protector Plus

In the event of any early termination or surrender, the Cash Surrender Value if any may be less

than premiums paid. Please refer to the sales illustration for a projection of the Cash Surrender

Value payable.

TERMS & CONDITIONS

What are some of the key terms and conditions that I should be aware of?

• Importance of disclosure – you must disclose all material facts such as medical condition, and

state your age correctly.

• Free-look period – you may cancel your policy by returning us the policy contract and giving us

a written notice that has been signed by you. Both written notice and policy contract must be

received by us within 15 days after you have received the policy contract. The premium that

you have paid (less any medical fee incurred) will be refunded to you.

• Grace period – you are given a grace period of 31 days from the due date for payment of each

subsequent premium. If premium remains unpaid at the end of this grace period, the policy

shall lapse, subject to the Cash Surrender Value of the policy.

Note:

This list is non-exhaustive. Please refer to the policy contract for the terms and conditions of IPP.

EXCLUSIONS

What are the major exclusions for IPP?

This plan shall not cover:

i) Death caused by suicide within 1 year from the commencement date.

ii) Any disability resulting from:

• Attempted self-destruction or Self-inflicted injuries while sane or insane.

• Service in any armed forces or public order restoration.

• Activities connected to any aerial device or conveyance except as a passenger on a

commercial airline on an established passenger route.

• Any congenital defect which has manifested or was diagnosed before the Insured attains

seventeen (17) years of age.

iii) Pre-existing disability resulting from a physical or mental condition which existed before the

Issue Date or Commencement Date of the relevant Supplementary Disability Contract.

iv) Critical illness arising from a pre-existing condition which existed prior to the date of purchase

of this policy.

v) Critical illness symptoms arising within the first 30 days after issuance of the policy or

reinstatement. (with the exception of critical illness no.2, 3,4,5 and 6 which are subject to a

60 day waiting period)

vi) Brain Surgery from the following conditions:

a) Burr hole procedures, transphenoidal procedures and other minimally invasive procedures

b) Brain surgery as a result of an accident.

vi) Any critical illness resulting from:

• Self-inflicted injuries

• Congenital Anomalies

• Any of the following conditions due to AIDS or infected by any Human Immunodeficiency

Virus (HIV) is not covered:

* Fulminant Viral Hepatitis

* Cancer

* Ecephalitis

* Bacterial Meningitis
---
Inflation Protector Plus 7

* Alzheimer's Disease or Irreversible Organic Degenerative Brain Disorders

* Terminal illness directly /indirectly due to AIDS or HIV.

Note:

This list is non-exhaustive. Please refer to the policy contract for the full list of exclusions under

this policy.

COVERAGE

When does my life insurance coverage starts?

Your coverage starts from the date on which your completed and signed application is approved

by us and upon receipt of the appropriate premium.

CANCELLATION

Can AIA cancel my policy?

No.

Can I cancel/surrender my policy?

Buying a life policy is a long-term financial commitment. If you do not pay your premiums within

the grace period, your policy may lapse unless your policy has acquired a Cash Surrender Value.

You may cancel/surrender your policy at any time by writing in to us if you haven't made a claim

yet. The cash amount that will be paid when you cancel/surrender the policy before maturity will

be less than the total amount of premiums that you have paid.

CLAIMS

How do I make a claim?

You need to complete the relevant claims forms which you can obtain from your AIA Agent, by

calling the AIA Customer Service Hotline at 1300-88-1899 or visit any AIA branch. You will find a

list of AIA branches in Malaysia on the back of this document.

What other documentation is required to be submitted together with the claim?

In addition to the relevant claims forms, we require additional medical reports (as listed at the

back of the claims form) to support the claim.

When do I have to notify AIA of a claim?

In the event of a claim, it is advisable that you notify us immediately + .

+

The notification period varies in accordance with the types of claims made. Please refer to the

policy contract.

REINSTATEMENT

Can I reinstate my policy after it has lapsed?

Yes, you may reinstate your policy subject to the company's terms and conditions. You may be

required to provide health evidence to prove your insurability at the time of reinstatement.

TAX RELIEF

Is the premium paid for this policy eligible for income tax relief?

This policy may qualify you for personal tax relief subject to the final decision of the Inland

Revenue Board.
---
8

Inflation Protector Plus

INFORMATION

What do I need to do if there are changes to my contact details?

It is important that you inform us of any change in your contact details to ensure that all

correspondences reach you in a timely manner.

Where can I get further information?

About IPP

Should you require additional information on IPP or about any other AIA insurance plans or

riders, you can contact your AIA Agent, call our AIA Customer Service Hotline at 1300-88-1899

or by visiting any AIA branch nationwide. You will find a list of AIA branches on the back of this

document. You can also contact us via email by visiting www.aia.com.my

About Life Insurance

Should you require additional information about life insurance, you may also refer to the

insuranceinfo booklet on 'Life Insurance' available at all our branches or you can obtain a copy

from the insurance agent or visit www.insuranceinfo.com.my

IMPORTANT NOTE:

BUYING LIFE INSURANCE POLICY IS A LONG-TERM FINANCIAL COMMITMENT. YOU MUST

CHOOSE THE TYPE OF POLICY THAT BEST SUITS YOUR PERSONAL CIRCUMSTANCES.

PLEASE REFER TO THE SALES ILLUSTRATION PERTAINING TO YOUR POLICY PROVIDED

TO YOU BY YOUR INSURER. YOU SHOULD READ AND UNDERSTAND THE INSURANCE

POLICY AND DISCUSS WITH THE AGENT OR CONTACT THE INSURANCE COMPANY

DIRECTLY FOR MORE INFORMATION.
---
Inflation Protector Plus 9

Inflation Protector Plus (IPP)

Pelan Perlindungan

Pada setiap peringkat hidup kita yang berbeza seperti alam dewasa, alam rumah tangga mahupun

alam keibubapaan, tanggungjawab dan komitmen kewangan kita juga akan bertambah. Justeru

itu, perancangan kewangan untuk memastikan kita mendapat perlindungan yang secukupnya

perlu dikaji semula dari masa ke semasa.Pada kebiasaannya, kajian ini melibatkan penambahan

perbelanjaan premium. Tanggungjawab ini akan menjadi semakin berat sekiranya kos sara hidup

yang kian bertambah diambil kira.

Alangkah baiknya jika terdapat teman yang sentiasa boleh diharapkan untuk bersama-sama

mengharungi setiap peringkat kehidupan anda? Diperkenalkan Inflation Protector Plus. Ia telah

direka bentuk dengan ciri khas, di mana jumlah diinsuranskannya akan meningkat secara automatik

sepanjang tahun-tahun paling produktif anda. Dengan ciri ini, anda tidak perlu lagi bimbang akan

peningkatan dalam tanggungjawab dan komitmen kewangan anda.

Apakah itu IPP?

IPP adalah polisi simpanan dan perlindungan sehingga umur 85 tahun yang disertai dividen tunai

dan dividen penyerahan/penamatan. Nilai dividen tidak dijamin dan bergantung kepada prestasi

dana penyertaan.

MANFAAT

Apakah perlindungan / manfaat yang disediakan?

Pelan ini menyediakan:

• Manfaat Kematian

Jumlah diinsuranskan semasa tolak sebarang keterhutangan akan dibayar jika Insured

meninggal dunia semasa polisi ini berkuat kuasa dan sebelum tarikh matang.

• Manfaat Hilang Upaya Menyeluruh dan Kekal

Jika anda adalah daripada risiko standard (dan jika umur penyertaan anda di bawah 56 tahun),

anda secara automatik akan dilindungi di bawah manfaat hilang upaya menyeluruh dan kekal

sehingga umur 60 tahun.

• Manfaat Kematangan

Jika polisi anda berkuat kuasa dan Insured masih hidup pada tarikh matang, jumlah

diinsuranskan ditolak sebarang keterhutangan akan dibayar.

• Dividen Penyerahan / Penamatan

Ini adalah dividen yang tidak dijamin yang mungkin dibayar apabila polisi anda berakhir –

apabila berlaku kematian, kematangan atau jika anda memilih untuk menyerahkan polisi anda.
---
10

Inflation Protector Plus

• Dividen Tahunan

Ini adalah dividen yang tidak dijamin yang ditentukan pada setiap tahun oleh Syarikat. Dividen

ini akan dibayar pada ulang tahun Polisi. Dividen pertama akan dibayar apabila mencapai

ulang tahun polisi yang pertama dan selepas premium tahun kedua dibayar dengan penuh.

Apabila diperuntukkan kepada polisi anda, anda boleh memilih untuk mengeluarkan dividen

tunai atau membiarkannya dengan Syarikat untuk bertambah dengan memperolehi faedah

pada kadar yang ditentukan oleh Syarikat.

• Manfaat Penyakit Kritikal

Bayaran Pendahuluan akan dibayar jika:

i) Bayaran Pendahuluan Sekali Gus untuk Penyakit Kritikal

Sekiranya Insured masih hidup selepas didiagnosiskan menghidap Penyakit Kritikal atau

pembedahan bagi sebarang Pembedahan Yang Dilindungi, kami akan mendahulukan

jumlah diinsuranskan semasa sekali gus ditolak sebarang keterhutangan dengan syarat

tidak lebih daripada satu Bayaran Pendahuluan Sekali Gus bagi Penyakit Kritikal atau

Pembedahan Yang Dilindungi akan diberi di bawah Polisi ini.

ii) Bayaran Pendahuluan Terhad bagi Angioplasti dan Rawatan Pembedahan Lain bagi

Penyakit Arteri Koronari Utama

Dalam hal Angioplasti dan Rawatan Pembedahan Lain bagi Penyakit Arteri Koronari Utama,

sebanyak 10% daripada jumlah diinsuranskan semasa akan dibayar tertakluk kepada

maksimum RM25,000.

• Peningkatan Jumlah Diinsuranskan

Peningkatan jumlah diinsuranskan dibenarkan tanpa sebarang keperluan kajian semula

kesihatan.

Tahun Polisi

% daripada Jumlah Diinsuranskan

1 100%

2 - 4 110%

5 - 9 120%

10 -14 140%

15 - 19 160%

20 - 24 180%

> 25 200%

Selepas 30 tahun atau usia 75 tahun, 100%

yang mana terkemudian

Nota : Untuk maklumat penuh berkenaan perlindungan manfaat, sila rujuk kepada kontrak polisi.
---
Inflation Protector Plus 11

Apakah 36 Penyakit-penyakit Kritikal Yang Dilindungi?

36 Penyakit-penyakit Kritikal yang dilindungi adalah seperti berikut:

1. Strok 19. Koma

2. Kanser 20. Melecur Teruk

3. Serangan Jantung 21. Sklerosis Berbilang

4. Pembedahan Pintasan Arteri Koronari 22. Kelumpuhan/Paraplegia

5. Penyakit Arteri Koronari Lain Yang Serius 23. Distrofi Otot

6. Angioplasti dan Rawatan 24. Penyakit Alzheimer/Gangguan

Pembedahan Lain untuk Penyakit Arteri Kemerosotan Otak Organik Tidak Boleh

Koronari Utama 1

Pulih

7. Pembedahan Injap Jantung 25. Penyakit Neuron Motor

8. Hepatitis Virus Fulminan 26. Penyakit Parkinson 2

9. Kegagalan Hati Tahap Akhir 27. Penyakit Membawa Maut

10. Hipertensi Arteri Pulmonari Primer 28. Ensefalitis

11. Penyakit Paru-paru Tahap Akhir 29. Tumor Otak Benigna

12. Kegagalan Buah Pinggang Tahap Akhir 30. Trauma Kepala Utama

13. Pembedahan Aorta 31. Meningitis Bakteria

14. Anemia Aplastik Kronik 32. Penyakit Sistik Medulari

15. Pemindahan Organ Utama/Sumsum Tulang 33. Pembedahan Otak

16. Kebutaan/Hilang Penglihatan Menyeluruh 34. Kehilangan Upaya Hidup Sendiri

(Berdikari) 2

17. Kepekaan/Hilang Pendengaran Menyeluruh 35. HIV Akibat Transfusi Darah

18. Hilang Pertuturan 36. Kardiomiopathi Teruk

1

Hanya 10% daripada jumlah yang diinsuranskan, tertakluk kepada maksimum RM 25,000, akan dibayar (hanya terhad

kepada satu pembayaran sahaja). Baki jumlah yang diinsuranskan akan terus berkuatkuasa.

2

Perlindungan untuk penyakit bernombor 24, 26 & 34 adalah sehingga insured berumur 65 tahun.
---
12

Inflation Protector Plus

Adakah saya dibenarkan melampirkan sebarang rider tambahan dalam pelan ini?

Anda boleh memilih untuk meningkatkan lagi perlindungan insurans anda dengan menambahkan

perlindungan tambahan 3 daripada pelbagai faedah opsyenal kami termasuk;

• Manfaat rawatan hospital dan pembedahan – Menyediakan perlindungan yang boleh menolong

menampung perbelanjaan perubatan semasa dimasukkan ke hospital.

• Manfaat kemalangan – Menyediakan perlindungan tambahan bagi kecederaan atau kematian

disebabkan kemalangan.

• Pendapatan hilang upaya– memberi anda pendapatan tahunan bagi menangani masalah

hilang.upaya.

• Perlindungan Wanita Menyeluruh – Dibayar penuh apabila didiagnoskan menghidap penyakit

yang berkaitan dengan wanita

KELAYAKAN

Adakah saya layak memohon IPP?

Pelan ini boleh disertai oleh individu yang berumur 4 minggu hingga 60 tahun, tertakluk kepada

kelulusan penajajaminan kami.

AMAUN PERLINDUNGAN

Berapakah amaun perlindungan minimum?

Perlindungan minimum amaun yang ditetapkan adalah RM15,000

Sekiranya berlaku kematian anak, adakah nilai penuh jumlah yang diinsuranskan akan

dibayar?

Jika Insured adalah anak, jumlah keseluruhan yang akan dibayar adalah berdasarkan mengikut

peratusan lien juvenil seperti yang dijelaskan dalam jadual di bawah:

Umur pada hari lahir terakhir

Akan dibayar sebagai peratusan daripada

jumlah asas diinsuranskan

Kurang daripada 1 tahun 20%

1 tahun 40%

2 tahun 60%

3 tahun 80%

4 tahun atau ke atas 100%

3

Manfaat ini disediakan tertakluk kepada premium tambahan. Sila ambil perhatian bahawa terdapat pengecualian dan

had yang dikenakan bagi manfaat ini seperti yang dinyatakan dalam kontrak polisi yang berkaitan.
---
Inflation Protector Plus 13

PREMIUM

Berapakah premium yang perlu saya bayar?

Jumlah keseluruhan premium yang anda perlu bayar dan tempoh polisi mungkin berbezabeza

bergantung pada keperluan penajajaminan. Berikut ialah premium tahunan indikatif bagi

lelaki dan wanita bukan perokok daripada kesihatan standard dengan Jumlah Diinsuranskan

RM50,000:

Umur Lelaki (RM) Perempuan (RM)

0 912.50 912.50

5 950.00 950.00

15 1,230.00 1,230.00

25 1,703.00 1,609.50

35 2,611.50 2,461.00

45 3,491.50 3,198.00

55 5,006.50 4,612.50

Sila rujuk Huraian Jualan seperti yang diberikan oleh ejen anda jika umur, jantina, status perokok

dan status kesihatan anda berbeza daripada yang dijelaskan di atas.

Anda hendaklah memastikan bahawa pelan ini menepati keperluan anda dan anda mampu

membayar amaun premium yang perlu dibayar di bawah polisi ini.

Berapa lamakah tempoh pembayaran premium bagi IPP?

Premium adalah sama, dijamin dan perlu dibayar selama 20 tahun atau sehingga umur 55 tahun,

mana-mana yang kemudian.

Apakah Opsyen yang ada jika saya memutuskan untuk berhenti membayar premium pada

masa depan?

1. Nilai Serahan Tunai

Anda boleh menyerahkan polisi anda pada bila-bila masa selepas 3 tahun polisi pertama

untuk Nilai Serahan Tunai dicampur sebarang pengumpulan dividen tahunan dan dividen

serahan ditolak sebarang keterhutangan pinjaman. Tiada sebarang nilai serahan tunai

sehingga anda telah membayar premium untuk tiga tahun.

Sila ambil perhatian bahawa apabila polisi anda diserahkan awal, Nilai Serahan Tunai anda

mungkin akan berkurangan daripada jumlah premium yang telah dibayar.

2. Opsyen Berbayar Terkurang (RPU)

Premium anda perlu dibayar selama 20 tahun atau sehingga umur 55 tahun,yang mana

terkemudian. Walau bagaimanapun, anda boleh memilih untuk memendekkan tempoh

premium anda melalui RPU. Tetapi sebagai pertukaran untuk tempoh premium yang lebih

pendek, jumlah amaun perlindungan anda akan dikurangkan sewajarnya. Selain itu, semua

rider yang boleh dilampirkan pada polisi anda akan tamat apabila RPU dipilih. Ini termasuk

manfaat hilang upaya menyeluruh dan kekal yang dipakejkan di bawah pelan asas. Opsyen

RPU boleh didapati apabila polisi anda telah memperoleh Nilai Serahan Tunai.

Manfaat Penyakit Kritikal akan tamat secara automatik apabila penukaran tersebut dibuat.
---
14

Inflation Protector Plus

3. Insurans Bertempoh Lanjutan

Anda boleh meneruskan polisi ini sebagai Insurans Bertempoh Lanjutan Tanpa Penyertaan dalam

amaun yang setara dengan Jumlah Diinsuranskan yang meningkat oleh sebarang Tambahan

Berbayar, Pengumpulan Dividen Tahunan dan Dividen Serahan tolak sebarang keterhutangan.

Tempoh polisi bergantung pada saiz Nilai Serahan Tunai dan umur tercapai Insured.

Manfaat Penyakit Kritikal akan tamat secara automatik apabila penukaran tersebut dibuat.

Bagaimana boleh saya membayar premium?

Premium boleh dibayar dengan salah satu cara berikut:

a) Secara tunai atau dengan cek. Bagi bayaran dengan cek, sila bayar atas nama "American

International Assurance Bhd.".

b) Bayaran automatik:

(i) Kad kredit

(ii) Autodebit (HSBC, BSN dan MBB)

c) Arahan tetap

d) Akaun Kutipan Korporat AIA Maybank (AIA MCCA)

Bayaran premium anda boleh dibuat sekali setahun, dua kali setahun, empat kali setahun atau

sekali sebulan.

Sila ambil perhatian bahawa untuk autodebit, arahan tetap atau kaedah bayaran AIA MCCA,

syarat-syarat tambahan berikut akan dikenakan:

• Bagi bayaran yang dibuat sekali setahun, dua kali setahun dan empat kali setahun: bayaran

pertama hendaklah dibuat secara tunai atau dengan cek.

• Bagi bayaran yang dibuat sekali sebulan, minimum 2 bayaran pertama hendaklah dibuat

secara tunai atau dengan cek.

YURAN DAN CAJ

Apakah yuran dan caj yang perlu saya bayar?

Tiada yuran dan caj lain, selain jumlah premium yang dibayar.

Nilai Serahan Tunai mungkin berkurangan dari premium yang dibayar jika ditamatkan dengan

awal atau penyerahan. Sila rujuk kepada huraian jualan untuk unjuran Nilai Serahan Tunai dibayar.

TERMA DAN SYARAT

Apakah antara terma-terma dan syarat-syarat penting yang perlu saya ketahui?

• Kepentingan pendedahan – anda mesti mendedahkan semua fakta-fakta penting seperti

keadaan kesihatan dan menyatakan umur anda dengan betul.

• Tempoh percubaan – anda boleh membatalkan polisi anda dengan memulangkan kontrak

polisi anda berserta dengan notis bertulis yang anda tandatangani kepada pihak syarikat.

Notis bertulis serta kontrak polisi tersebut perlu diterima terus oleh kami dalam masa 15 hari

selepas anda menerima kontrak anda. Premium yang anda telah bayar (ditolak sebarang yuran

perubatan yang ditanggung) akan dipulangkan kepada anda.

• Tempoh ihsan – anda diberi tempoh ihsan selama 31 hari dari tarikh genap tempoh bagi

pembayaran setiap premium berikutnya. Jika premium tetap tidak dibayar pada akhir ihsan

polisi ini, polisi ini mungkin luput, tertakluk kepada nilai serahan tunai polisi.

Nota:

Senarai ini adalah tidak terperinci. Sila rujuk kepada kontrak polisi untuk terma-terma dan syaratsyarat

polisi ini.
---
Inflation Protector Plus 15

PENGECUALIAN

Apakah pengecualian utama bagi IPP?

Pelan ini tidak akan melindungi:

i) Kematian yang disebabkan oleh membunuh diri dalam tempoh 1 tahun dari tarikh mula

berkuat kuasa.

ii) Sebarang hilang upaya akibat:

• Percubaan pembinasaan diri atau kecederaan diri yang disengajakan semasa siuman

atau tidak siuman.

• Berkhidmat dengan sebarang angkatan bersenjata atau mengembalikan ketenteraman

awam.

• Aktiviti yang berkaitan dengan sebarang peranti atau pengangkutan udara kecuali

sebagai penumpang dalam penerbangan komersial melalui laluan penumpang yang

ditetapkan.

• Sebarang kecacatan kongenital yang telah kelihatan atau didiagnosis sebelum Insured

mencapai umur tujuh belas (17) tahun.

iii) Hilang upaya sedia ada akibat keadaan fizikal atau mental yang wujud sebelum Tarikh

Dikeluarkan atau Tarikh Mula Berkuat Kuasa Kontrak Tambahan Hilang Upaya yang

berkaitan.

iv) Penyakit kritikal yang timbul daripada keadaan sedia ada yang wujud sebelum tarikh polisi ini

dibeli.

v) Gejala-gejala penyakit kritikal yang timbul dalam tempoh 30 hari pertama selepas polisi

ini dikeluarkan atau dihidupkan semula (kecuali penyakit kritikal no. 2, 3 ,4 ,5 dan 6 yang

tertakluk kepada tempoh tangguh 60 hari).

vi) Pembedahan Otak dari keadaan-keadaan berikut:

a) Prosedur Lubang Burr, prosedur transfenoidal dan prosedur pembedahan lain yang

minimum.

b) Pembedahan otak akibat kemalangan

vii) Sebarang penyakit kritikal akibat:

• Kecederaan diri yang disengajakan

• Anomali Kongenital

• Mana-mana penyakit berikut yang disebabkan AIDS atau dijangkiti Virus Kurang Daya

Tahan Penyakit (HIV) adalah tidak dilindungi:

* Hepatitis Virus Fulminan

* Kanser

* Ensefalitis

* Meningitis Bakteria

* Penyakit Alzheimer atau Gangguan Kemerosotan Otak Organik Tidak Boleh Pulih

* Penyakit Membawa Maut yang secara langsung atau tidak langsung diakibatkan oleh

AIDS atau jangkitan oleh sebarang HIV

Nota :

Senarai ini adalah tidak terperinci. Sila rujuk kepada kontrak polisi untuk senarai penuh

pengecualian-pengecualian di bawah polisi ini.

PERLINDUNGAN

Bilakah perlindungan insurans hayat saya bermula?

Perlindungan anda bermula dari tarikh permohonan anda yang telah lengkap diisi dan

ditandatangani itu diluluskan oleh kami dan apabila kami menerima premium yang sewajarnya.
---
16

Inflation Protector Plus

PEMBATALAN

Bolehkah AIA membatalkan polisi saya?

Tidak.

Bolehkah saya membatalkan/menyerahkan polisi saya?

Membeli polisi hayat adalah merupakan komitmen kewangan jangka panjang. Jika anda tidak

membayar premium anda dalam tempoh ihsan, polisi anda mungkin luput melainkan polisi anda

telah memperolehi Nilai Serahan Tunai. Anda boleh membatalkan/menyerahkan polisi anda pada

bila-bila masa dengan menulis kepada kami jika anda belum lagi membuat tuntutan. Amaun tunai

yang akan dibayar apabila anda membatalkan/menyerahkan polisi sebelum matang mungkin

akan kurang daripada jumlah amaun premium yang telah anda bayar.

TUNTUTAN

Bagaimana saya hendak membuat tuntutan?

Anda perlu menglengkapkan borang tuntutan yang berkaiatn yang boleh didapati daripada

Ejen AIA anda, dengan menelefon Hotline Perkhidmatan Pelanggan AIA di 1 300-88-1899 atau

mengunjungi sebarang cawangan AIA Senarai cawangan AIA di Malaysia dinyatakan di belakang

dokumen ini.

Apakah dokumen lain yang perlu diserahkan bersama tuntutan?

Di samping borang tuntutan yang diberikan, kami juga memerlukan laporan perubatan tambahan

(seperti yang dinyatakan di belakang borang tuntutan) untuk menyokong tuntutan.

Bilakah saya perlu memberitahu AIA mengenai tuntutan?

Sekiranya berlaku tuntutan, anda hendaklah memberitahu kami dengan segera + .

+ Tempoh pemberitahuan berbeza mengikut jenis tuntutan yang dibuat. Sila rujuk pada kontrak

polisi.

PENGEMBALIAN SEMULA

Bolehkah saya mengembalikan polisi saya jika ia telah luput?

Ya, anda boleh mengembalikan semula polisi anda tertakluk pada terma-terma dan syarat-syarat

dan ketentuan syarikat. Anda mungkin diminta untuk mengemukakan bukti untuk membuktikan

kebolehinsuransan kesihatan anda pada saat penerimaan kembali.

PELEPASAN CUKAI

Adakah premium yang dibayar untuk polisi ini layak mendapat pelepasan cukai pendapatan?

Polisi ini boleh melayakkan anda mendapat pelepasan cukai perseorangan tertakluk kepada

keputusan muktamad Lembaga Hasil Dalam Negeri.

MAKLUMAT

Apa yang perlu saya lakukan jika butir-butir hubungan saya bertukar?

Adalah penting bagi anda memberitahu kami mengenai sebarang pertukaran butir-butir

hubungan anda bagi memastikan semua surat-menyurat sampai kepada anda tepat pada

masanya.
---
Inflation Protector Plus 17

Di mana saya boleh mendapatkan maklumat lanjut?

Mengenai IPP

Sekiranya anda memerlukan maklumat tambahan mengenai IPP atau mengenai mana-mana

pelan insurans atau rider AIA yang lain, anda boleh menelefon Hotline Perkhidmatan Pelanggan

AIA kami di 1300-88-1899 atau mengunjungi mana-mana cawangan AIA di seluruh negara.

Senarai cawangan AIA dinyatakan di belakang dokumen ini. Anda juga boleh menghubungi kami

melalui emel dengan melayari www.aia.com.my

Mengenai Insurans Hayat

Sekiranya anda memerlukan maklumat tambahan mengenai insurans hayat, anda juga

boleh merujuk buku kecil insuranceinfo mengenai 'Life Insurance' yang boleh didapati di semua

cawangan kami atau anda boleh mendapatkan satu naskhah daripada ejen insurans atau

kunjungi www.insuranceinfo.com.my

NOTA PENTING:

MEMBELI POLISI INSURANS HAYAT MERUPAKAN KOMITMEN KEWANGAN JANGKA

PANJANG. ANDA MESTILAH MEMILIH JENIS POLISI YANG PALING SESUAI DENGAN

KEADAAN PERIBADI ANDA. SILA RUJUK ILUSTRASI JUALAN BERHUBUNG DENGAN POLISI

ANDA YANG DIBERIKAN KEPADA ANDA OLEH PENANGGUNG INSURANS. ANDA HENDAKLAH

MEMBACA DAN MEMAHAMI POLISI INSURANS ITU DAN BERBINCANG DENGAN EJEN ATAU

MENGHUBUNGI TERUS SYARIKAT INSURANS UNTUK MAKLUMAT LANJUT.
---
18

Inflation Protector Plus
---
Inflation Protector Plus 19
---
20

Inflation Protector Plus
---
Inflation Protector Plus 21
---
22

Inflation Protector Plus
---
Inflation Protector Plus 23
---
24

Inflation Protector Plus
---
Inflation Protector Plus 25