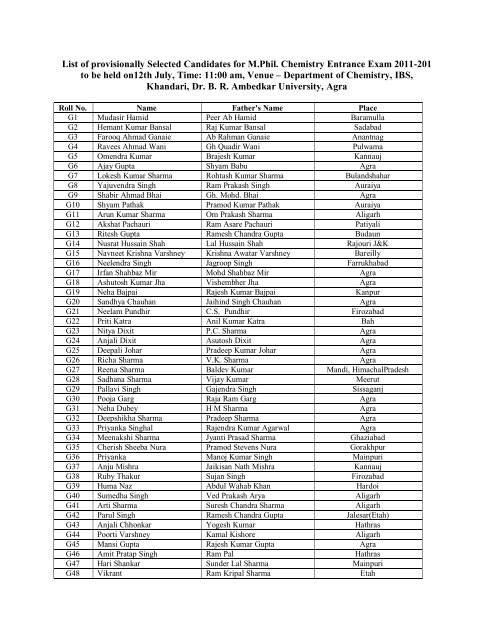 List of provisionally Selected Candidates for M.Phil. Chemistry ... List of provisionally Selected Candidates for M.Phil. Chemistry ...
G49 Shazad Ahmed Mohd. Bashir J&KG50 Krishnapal Singh Veoprakash Singh J.P.Nagar U.PO51 Dal Chandra Hans Malikhan Singh AligarhO52 Mohamad Ishaq Wani Ghulamlam Hassan Wani AgraO53 Pawan Kumar Premprakash Verma SadabadO54 Faizan Akbar Mohd Akbar AgraO55 Pradyumn Singh Dr. S S Yadav AgraO56 Anubhav Pal Mehendra Singh Pal HathrasO57 Subodh Kumar Narendra Singh MeerutO58 Siddharth Vishwakarma Brijbihari Vishwakarma KushnagarO59 Sachin Yadav Rakesh Pal Yadav AligarhO60 Saurabh Yadav Rampal Singh Yadav MainpuriO61 Deep Chandra Shri Bangali Baboo AgraO62 Jyoti Kushwaha Raghuvir Singh Kushwaha AgraO63 Kalpana Ramakant Prajapati AgraO64 Upasana Vijay Singh EtahO65 Zufisha Quareshi Ayaz Uddin Qureshi AgraO66 Jyoti Rastogi Gaya Prasad Rastogi KanpurO67 Sheetal Sexena Shabu Dayal AgraG68 Rashmi Mishra Akhilesh Kumar Mishra AgraO69 Ruchi Yadav Jagdish Kumar Singh Yadav AgraO70 Beena Yadav Hraday Ram Yadav MainpuriO71 Rukmani Kushwah Om Prakash Kushwah EtmadpurO72 Shivalini Singh Satyavir Singh AgraO73 Pushpendra Singh Shri Onkar Singh AgraO74 Shailza Chaudhary Prem Singh Chaudhary AgraO75 Rijwana Paveen Rajjak AgraO76 Seema Yadav Ganga Yadav FirozabadO77 Durgesh Kumari Naresh Giri BulandsharO78 Pragya Kumari Rathore Radhey Shyam Rathore PilibhitO79 Garima Tomar Shripal Tomar BaghpatO80 Rashmi Kumari Purushottam Singh AgraO81 Premlata Bhoop Singh AgraO82 Pravendara Kumar Bhav Singh Bhagour AgraO83 Ashok Baboo Mohan Lal FirozabadO84 Manoj Kumar Jai Vir Singh AligharhO85 Anil Kushwha Banvari Lal Kushwha HathrasO86 Hitesh Kumar Gangwar Viresh Pal Gangwar BudaunSC87 Siddhant Singh Raghu Vir Singh EtmadpurSC88 Sanjeev Kumar Genda Lal Kanshiram Nagar U.PSC89 Ajay Kumar Ravendra Singh FirozabadSC90 Priyanka Kumari Vedram Singh AligarhSC91 Priyanka Dutta Rakesh Baboo AgraSC92 Anil Kumar Mool Chand MathuraSC93 Vinorma Singh Atar Singh GhaziabadSC94 Kalpana Kumari Suraj Bhan AgraSC95 Priyanka Vyas Mukesh Vyas DholpurSC96 Anju Singh Man Singh DadriSC97 Neetu Singh Shri Kumar Pal Singh AligarhSC98 Rashmi Kain Rajandra Singh Kain AgraSC99 Anil Babu Vedram KasganjSC100 Dharmpal Singh Moti Lal AligharhSC101 Raju Kumar Ghamandi Lal Aligharh
---
ST102 Meerpal Singh Harprasad EtahST103 Bhim Sen Jawahar Singh FirozabadST104 Abrar Ahmed Lal Hussain J & KNote: Admit cards have been sent to candidates if they do not receive it by that date, theyare requested to bring one photograph of theirs to the centre and attend the admission test.
More magazines by this user