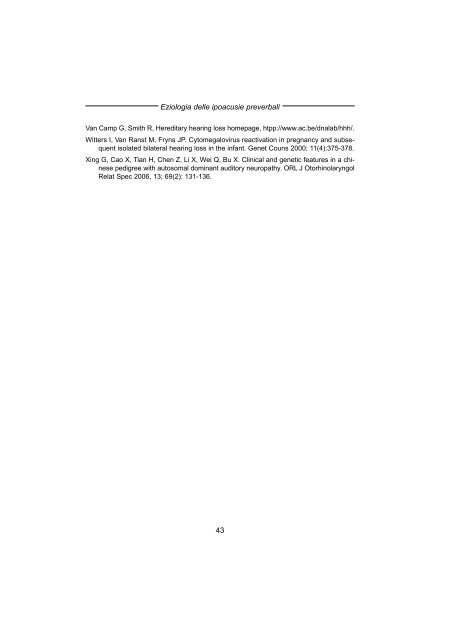 Eziologia, Diagnosi e Terapia della Sordita' Infantile Preverbale - AOOI Eziologia, Diagnosi e Terapia della Sordita' Infantile Preverbale - AOOI
Eziologia delle ipoacusie preverbali

Van Camp G, Smith R, Hereditary hearing loss homepage, htpp://www.ac.be/dnalab/hhh/.

Witters I, Van Ranst M, Fryns JP. Cytomegalovirus reactivation in pregnancy and subsequent

isolated bilateral hearing loss in the infant. Genet Couns 2000; 11(4):375-378.

Xing G, Cao X, Tian H, Chen Z, Li X, Wei Q, Bu X. Clinical and genetic features in a chinese

pedigree with autosomal dominant auditory neuropathy. ORL J Otorhinolaryngol

Relat Spec 2006, 13; 69(2): 131-136.

43
More magazines by this user