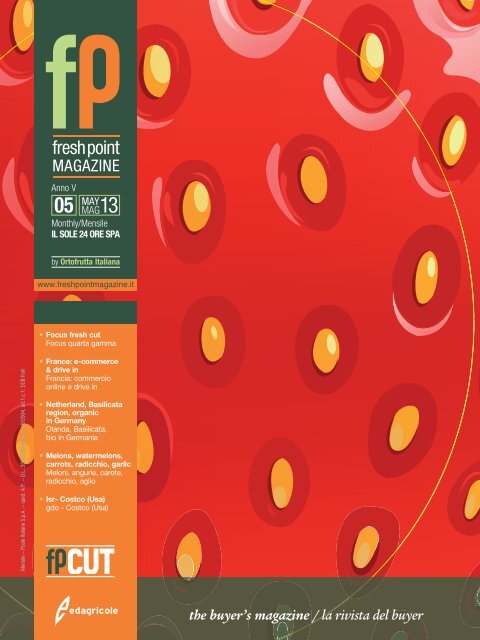 Fresh Point Magazine - B2B24 - Il Sole 24 Ore
Fresh Point Magazine - B2B24 - Il Sole 24 Ore
Fresh Point Magazine - B2B24 - Il Sole 24 Ore
SHOW MORE
SHOW LESS
You also want an ePaper? Increase the reach of your titles
YUMPU automatically turns print PDFs into web optimized ePapers that Google loves.
Mensile – Poste Italiane S.p.A. – sped. A.P. – D.L. 353/2003 conv. L. 46/2004, art.1.c.1: DCB Forlì

Anno V

MAY 05 MAG13

Monthly/Mensile

IL SOLE 24 ORE SPA

by Ortofrutta Italiana

www.freshpointmagazine.it

• Focus fresh cut

Focus quarta gamma

• France: e-commerce

& drive in

Francia: commercio

online e drive in

• Netherland, Basilicata

region, organic

in Germany

Olanda, Basilicata,

bio in Germania

• Melons, watermelons,

carrots, radicchio, garlic

Meloni, angurie, carote,

radicchio, aglio

• Isr- Costco (Usa)

gdo - Costco (Usa)

the buyer's magazine / la rivista del buyer
---
SUMMARY

SOMMARIO

5 MAY/MAGGIO 13

heading/rubriche

3

4

54

60

editorial/editoriale

news/news

the freshest cut/the freshest cut

commercial news/le aziende informano

8 focus/focus

8 Europe, market nearly saturated

Product innovation as driver

Europa, mercato quasi saturo

Conta l'innovazione di prodotto

Silvia Zucconi

12 The French drive by to pick up their shopping

In Francia la spesa si ritira al drive

Eleonora Morganti

14 market/mercato

14 The Netherlands, 2012 balance of trade up

Paesi Bassi, nel 2012 migliora il saldo degli scambi

Mario Schiano lo Moriello

19 Basilicata, apricot's

a triumph by volume and quality

Basilicata, per l'albicocca trionfo in volumi e qualità

Cèdric Green

21 Potato, Italy needs

to boost awareness and growth

Patate, in Italia un mercato

da educare e da far crescere

Jessika Pini

24 Germany, solid sales for organics

Germania, spiccano i consumi biologici

di Roberto Pinton

26 product/prodotto

26 Melon, new varieties galore

for the coming season

Melone, tante novità per la prossima stagione

Giuseppe Francesco Sportell
---
32 Seedless and mini make the market

Seedless e mini dominano i mercati

Giuseppe Francesco Sportelli

36 Carrot, Ispica organic & Pgi. Competitive niches

Carote, bio e Igp di Ispica. Nicchie competitive

Marianna Martorana

40 Radicchio, from North

to South success beyond all expectations

Radicchio, da Nord a Sud successo oltre ogni attesa

Davide Bernieri

42 Garlic, branding & quality to meet the challenge

Aglio, una sfi da di branding e qualità

Be.Te.

45 isr/gdo

45 Bargains, unbeatable prices

you can't resist at Costco

Occasioni e prezzi imbattibili

A Costco non si resiste

Daniele Tirelli

50

50 T&T, Italian bred baby-leaf greens & radicchio

T&T, dalla ricerca italiana

insalate baby leaf e radicchio

Jessika Pini

Anno V - n. 5 - may/maggio

www.agricoltura24.com

Editor/Direttore responsabile: Mattia Losi

Assistant editor/Vice direttore: Beatrice Toni

Editorial staff/In redazione: Francesco Bartolozzi, Dulcinea Bignami, Gianni Gnudi

(editor-in-chief/capo redattore), Alessandro Maresca, Giorgio Setti (editor-in-chief/capo

redattore), Lorenzo Tosi

Editorial offi ce/Segreteria di redazione: Phone/tel. (+39) 051 6575.847

Fax. (+39) 051 6575.856 - redazione.edagricole@ilsole24ore.com

Contact persons/Referenti: Lorenzo Bazzana (Coldiretti), Cesare Bellò (Opo Veneto/Unaproa), Paolo Bruni

(FedagriConfcooperative), Gianni Brusatassi (Uiapoa), Marco Crotti (Cio/Unaproa), Ambrogio De Ponti (Apol/

Unaproa), Valentino Di Pisa (Caab), Claudio Gamberini (Conad), Giuseppe La Rocca (Mof), Reinhold Marsoner

(Interpoma), Fabrizio Marzano (Unaproa), Carmelo Mennone (Alsia), Paolo Merci (Verona Mercato), Luigi

Peviani (Aneioa), Francesca Ramondo (Gruppo T18), Salvatore Rapisarda (Euroagrumi), Giuliana Roncolini (Cia),

Domenico Scarpellini (Macfrut), Luciano Trentini (Arefl h).

English version by/Versione inglese a cura di: Ilaria Menna, Ilaria Nanni, Lawrence Smith,

Claudia Spisni, David Verzoni e Marina Zaccarini.

Cover's image/immagine di copertina: Marina Alberghini - AM&QR, Bologna

Graphic/Uffi cio grafi co: Emmegi Group Srl

Design/Progetto grafi co: Lizart Comunicazione visiva – Bologna

Editorial Director/Direttore editoriale Business media: Mattia Losi

Owner and Editor/Proprietario ed Editore: Il Sole 24 ORE S.p.A.

Registered offi ce/Sede legale: Via Monte Rosa, 91 - 20149 Milano

Chairman/Presidente: Giancarlo Cerutti

Managing Director/Amministratore delegato: Donatella Treu

Operative offi ce/Sede operativa: Via Patecchio, 2 - Milano 20141 - Phone/tel. (+39) 02 3964.61

Advertising/Uffi cio Pubblicità: Phone/tel. (+39) 051 6575.822 - Fax (+39) 051 6575.853

pubblicita.agroindustria@ilsole24ore.com

Traffi c Department/Uffi cio Traffi co: Phone/tel. (+39) 051 6575.842

impianti.editoriaspecializzata@ilsole24ore.com

Printed by/Stampato da: Faenza Industrie Grafi che - Via Vittime civili di guerra, 35 - Faenza (RA)

Subscriptions/Abbonamenti: www.shopping24.it - abbonamenti@businessmedia24.com

Phone/tel. (+39) 02 or 06 3022.5680 – fax (+39) 02 3022.5402

Customer service/Servizio clienti periodici: servizioclienti.periodici@ilsole24ore.com

Yearly subscriptions abroad. Foreign subscription by priority mail/

Estero. Abbonamento annuo prioritaria: euro 119,00

Yearly subscription in Italy/Abbonamento annuo: euro 72,00

Back issues/Arretrati (disponibili i sei mesi precedenti): euro 14,40

Intestate postal account no. 13951488 to: Il Sole 24 ORE S.p.A. The subscription will start

from the fi rst reachable number/Conto corrente postale n. 87729679 intestato a: Il Sole 24 ORE S.p.A.

L'abbonamento avrà inizio dal primo numero raggiungibile.

The payment receipt of the postal account is a valid accounting document/La ricevuta di pagamento

del conto corrente postale è documento idoneo e suffi ciente ad ogni effetto contabile.

Subscription renewal in Italy/Rinnovo abbonamenti in Italia:

A warning will be sent by the Editor one month before the deadline. Upon request, Institutions and companies

may receive the above along with an offer/Attendere l'avviso che l'Editore farà pervenire un mese prima della

scadenza. Per Enti e Ditte che ne facciano richiesta l'avviso verrà inoltrato tramite preventivo. VAT discharged

by the publisher/Iva assolta alla fonte dall'Editore ai sensi dell'art. 74, 1°comma, lett. c,

D.P.R. 26101972 n. 633 e successive modifi cazioni ed integrazioni.

Sales Administration/Amministrazione Vendite: fax (+39) 051.6575823 - Casella Postale 397

Uffi cio Postale Bologna Centro 40100 Bologna - freshpointmagazine@ilsole24ore.com

Internet web site: www.freshpointmagazine.it

Reg. Tribunale di Bologna n. 7598 del 10/11/2005 Tariffa R.O.C.: "Poste Italiane s.p.a.

Spedizione in Abbonamento Postale D.L. 353/2003 (conv. in L. 27/02/2004 n. 46) art. 1,

comma 1, DCB Forlì" Iscrizione R.O.C. n. 6553 del 10 dicembre 2001

ISSN 1827 – 577X

Associato a:

ed è membro italiano di EUROFARM,

l'associazione dei più importanti giornali

periodici agricoli europei

Privacy Policy Disclosure as per Legislative Decree 196/3. The Il Sole 24 ORE S.p.A. Company, the publisher, gathers and

stores the personal data you voluntarily supply when you subscribe to any of our publications or when you purchase from

lists containing personal information regarding business transactions and the like that come under Art. 24, paragraph 1,

section d of Leg. Dec. 196/03 and uses said data to send you the publication on subscription or a complimentary copy of one

of our publications. Il Sole 24 ORE may exercise its rights as per the provisions of Art. 7 Leg. Dec. 196/03 regarding access,

deletion, correction and so forth by requesting said exercise from the Head of its Data Handling Department, Customer

Services, at the main offi ces of Il Sole 24 ORE S.p.A. located in Via Goito 13, 40126 Bologna, Italy. Articles and photographs

submitted to The Publisher shall not be returned, even if unpublished. All rights reserved. No part of this publication shall

be reproduced, stored or transmitted in any way of form whatsoever, whether digitially, electronically, via photocopy or

mimeograph machines, without written consent from the publisher. The complete, up-to-date list of all Heads of the Data

Handling Department is available at Uffi cio Privacy, Via Monte Rosa 91, 20149 Milan. Il Sole 24 ORE may share your data

with staff in its Order, Marketing, Customer Services and Administration departments and with affi liate companies of Gruppo

24 ORE for the purpose of exchanging said data with independent companies that are responsible for mailing the publication

and printed advertising matter to subscribers. Il Sole 24 ORE S.p.A., Titolare del trattamento, tratta, con modalità connesse

ai fi ni, i Suoi dati personali, liberamente conferiti al momento della sottoscrizione dell'abbonamento od acquisiti da elenchi

contenenti dati personali relativi allo svolgimento di attività economiche ed equiparate per i quali si applica l'art. 24, comma

1, lett. d del D.Lgs n. 196/03, per inviarLe la rivista in abbonamento od in omaggio. Potrà esercitare i diritti dell'art. 7 del

D.Lgs n. 196/03 (accesso, cancellazione, correzione, ecc.) rivolgendosi al Responsabile del trattamento, che è il Direttore

Generale dell'Area Professionale, presso Il Sole 24 ORE S.p.A., Servizio Clienti c/o la sede di via Goito 13 – 40126 Bologna).

Gli articoli e le fotografi e, anche se non pubblicati, non si restituiscono. Tutti i diritti sono riservati; nessuna parte di questa

pubblicazione può essere riprodotta, memorizzata o trasmessa in nessun modo o forma, sia essa elettronica, elettrostatica,

fotocopia ciclostile, senza il permesso scritto dall'editore. L'elenco completo ed aggiornato di tutti i Responsabili del

trattamento è disponibile presso l'Uffi cio Privacy, Via Monte Rosa 91, 20149 Milano. I Suoi dati potranno essere trattati da

incaricati preposti agli ordini, al marketing, al servizio clienti e all'amministrazione e potranno essere comunicati alle società

di Gruppo 24 ORE per il perseguimento delle medesime fi nalità della raccolta, a società esterne per la spedizione della Rivista

e per l'invio di nostro materiale promozionale.

Declaration as per Art 2, paragraph 2, of the "Professional Code of Ethics in Journalism for the handling of personal

data". "The Il Sole 24 ORE S.p.A. Company, publisher of Fresh Point Magazine, herewith publicly declares that it houses data

banks for editorial uses that store personal data. The place in which it may exercise the rights provided in Leg. Dec. 196/3 is

the offi ce of the Head for Personal Data Handling, secretarial desks of coordinating editors (fax. 051-6575.856)". "La società

Il Sole 24 ORE S.p.A., editore della rivista Fresh Point Magazine rende noto al pubblico che esistono banche dati ad uso

redazionale nelle quali sono raccolti dati personali. Il luogo dove è possibile esercitare i diritti previsti dal D.Lg 196/3 è l'uffi cio

del responsabile del trattamento dei dati personali, presso il coordinamento delle segreterie redazionali (fax. 051-6575.856)".
---
If fear of change seizes growth

Se la paura del cambiamento

frena lo sviluppo

Duccio Caccioni

Change is inevitable. But growth is optional. The

current economic downturn is likely a turning point

in the history of today's society–one that for decades

has carried the epithet of "consumer society". What

we don't know, of course, is the magnitude of the

changes awaiting us. Yet if we look at the retail end

of goods and services, the bedrock of consumer

civilisation, we see some emerging contours. Let's try

to short-list them.

• The middle class, while still alive, is certainly not

feeling very well. In effect, its expansion has been

the fulcrum of the prodigious technological and

commercial growth over the past century, at least in

the West. Today the malady of the middle class is a

symptom of decline, and is perhaps most apparent

in the widening gap between rich and poor, which

cannot prime the economy for growth. Today

domestic consumer spending is holding its own

only in countries like Germany where the middle

class is healthiest.

• Our cities too are changing. The fi rst fl ickers of a

new dawn hail the onset of new urban life-styles and

of mobility within metropolitan areas throughout the

western world.

• The era of the big outlet and hypermarket is

over. The major driver of retail sales for decades,

this format is on the wane today for urban and

economic reasons, not to mention that consumers

have simply tired of it.

There's a growing chorus calling for greater emphasis

on the quality of life, which is not strictly linked to

consumption alone. People are pointing to models of

consumer spending that are more aware and

sustainable in their ethical, environmental and

economic approaches. Perhaps the very paradigm of

our consumer society is at issue today. What's

increasingly evident is that we can only have a clearer

idea of things, regain hope and, hence, return to

progress only by overcoming any fear of change.

(English version by David Verzoni)

freshpointmagazine@ilsole24ore.com

Il cambiamento è inevitabile. La crescita è, invece,

un'opzione. L'attuale crisi economica segna

probabilmente un punto di passaggio nella storia della

nostra società. Che è detta, ormai da molti decenni,

"società dei consumi". Non sappiamo, ovviamente, di

quali proporzioni saranno i cambiamenti a cui andremo

incontro. Per quanto riguarda la distribuzione delle

merci, ovvero il vero caposaldo della civiltà dei consumi,

sappiamo che vi sono dei fenomeni evidenti. Proviamo a

farne una lista minima.

• La classe media non è ancora morta, ma certo non si

sente troppo bene. Sullo sviluppo della classe media

si è imperniato il prodigioso sviluppo tecnologico e

commerciale dell'ultimo secolo, perlomeno in Occidente.

Oggi la malattia della classe media è un sintomo di

decadenza e appare forse evidente ai più che la sempre

più forte biforcazione fra poveri e ricchi non può portare

ad alcuno sviluppo economico. Oggi i consumi interni

reggono solo nei Paesi (come la Germania) ove la classe

media mostra una maggiore tenuta.

• Le città stanno cambiando. Siamo agli albori, ma oggi

iniziano a evidenziarsi in tutto il mondo occidentale

nuove formule di vita urbana e nuove forme di mobilità

all'interno delle aree metropolitane.

• L'epoca delle grandi superfi ci di vendita e degli

ipermercati è fi nita. Si è trattato del maggiore motore

di sviluppo del sistema distributivo al dettaglio per

decenni, una modalità oggi al tramonto per motivi

urbanistici, economici oltre che per stanchezza da

parte dei consumatori.

Da più parti s'invoca una maggiore attenzione alla

qualità della vita, osservando come questa non sia

strettamente legata al solo consumo. Si guarda poi a

modelli di consumo più consapevole, sostenibile dal

punto di vista etico, ambientale, economico. Forse è lo

stesso paradigma di società dei consumi ad essere oggi

in discussione. Appare però sempre più chiaro che solo

superando la paura del cambiamento si può avere una

visione più chiara delle cose, ritrovare la speranza e,

quindi, il progresso.

Fresh Point Magazine n.5 – may/maggio 2013

3

editorial

editoriale
---
notizie

EU: produce sales in doldrums

Ue: in calo consumi di ortofrutta

According to fi gures released by Freshfel

in the latest issue of its Consumption

Monitor, produce sales in the European

Union are stagnant. The survey took a

close look at the fi ve-year data from

2006/2011. Although 2011 showed a re

coup over 2010, the overall fi gure shows a

3% slip in produce sales compared to the

fi ve-year average. Average EU consumption

in the last survey year, 2011, was

382 grams per capita a day, i.e. below

the 400 g recommended by the World

Health Organisation. Only fi ve, including

Italy, of the 27 member states are above

UK atop produce consumption chart

Inglesi, primi consumatori di frutta e verdura

An internet survey of 58 countries by

Nielsen shows that only 8% of Europeans

eat 5 portions of fruit and vegetables a

day, the recommended dietary regime of

today's nutritionists. In Europe the British

lead the produce-consumption polls at

22%, followed by the Irish at 18% and

the Swiss at 14%. A look at the global

chart shows that the best produce consumers

at 12% are found in Asia-Pacifi c

area and the worst in South America at

5%. The best results are not linked to

overall produce consumption by an individual

country but are strongly correlated

to public-service advertising and dietary

education campaigns undertaken by individual

countries. (DV)

4 Fresh Point Magazine n.5 – may/maggio 2013

WHO's recommended threshold. Fruit and

vegetable consumption in the fi ve biggest

EU economies–Germany, France, Italy, the

UK and Spain–is in decline, the exception

being vegetables in Germany. (DV)

Secondo i dati diramati da Freshfel nell'ultima

edizione del "Consumption Monitor" il

consumo di ortofrutta nell'Unione Europea

è stagnante. L'analisi ha riguardato in

dettaglio la situazione nel quinquennio

2006/2011. Nonostante nel 2011 vi sia

stato un recupero sul 2010, il dato riguardante

il consumo sia di frutta sia di ortaggi

denota una riduzione del 3% rispetto

Un'indagine svolta dalla Nielsen su internet

in 58 Paesi nel mondo ha rilevato che solo

l'8% degli europei consuma 5 porzioni di

frutta e ortaggi al giorno come consigliato

dalla moderna scienza della nutrizione. In

Europa gli inglesi (22%), gli irlandesi (18%)

e gli svizzeri (14%) sarebbero i consumatori

più attenti alla dieta a base di ortofrutta.

Su scala globale i migliori dati sono stati

registrati nell'area Asia-Pacifi co (12% dei

consumatori), i peggiori in Sud America

(5%). I migliori risultati non sono collegati

al consumo totale di ortofrutta nelle singole

nazioni e hanno invece una forte correlazione

con le campagne di informazione e

di educazione alimentare intraprese nei

singoli Stati.

alla media dei cinque anni precedenti.

Nell'ultimo anno preso in considerazione

da Freshfel (2011) il consumo medio di

ortofrutta nella Ue è di 382 gr pro-capite

al giorno, sotto i 400 gr raccomandati

dall'Organizzazione Mondiale della Sanità

(Oms/Who). Dei 27 Stati comunitari solo

nove (tra cui l'Italia) sono al di sopra

della soglia raccomandata dall'Oms. Nelle

cinque principali economie del continente

(Germania, Francia, Italia, Uk e Spagna)

il consumo di ortofrutticoli è in ribasso,

ad eccezione del consumo di ortaggi in

Germania. (DC)

France on accords

with the US

Francia su accordo

con Usa

French Trade Minister Nicole Bricq has

recommended that member states give

the EU Commission a mandate in regard

to any free-trade deal with the US in "…

clear, precise and fi rm" terms. In the

view of the French minister, all too often

the Commission has proved to be overly

active when it comes to signing free-trade

deals. In effect, the EU-US deal represents

a big share of world trade even in agricultural

commodities and foodstuffs, and

limits on trade, especially those placed by

the US, often regard matters having nothing

to do with tariffs. (DV)

Il ministro francese del Commercio,

Nicole Bricq, ha raccomandato che i Paesi

dell'Unione esprimano alla Commissione

un mandato "…chiaro, preciso e fermo"

per quanto riguarda il ventilato accordo

di libero scambio con gli Usa. Secondo il

ministro francese la Commissione troppo

spesso si è rivelata eccessivamente attiva

nel concludere accordi di libero scambio.

L'accordo fra Ue e Usa in effetti rappresenta

una parte importante del commercio

mondiale anche di prodotti agricoli e

agro-alimentari: spesso le limitazioni agli

scambi, soprattutto da parte statunitense,

riguardano fattori extra-doganali.
---
notizie

Turkey's citrus crop exports down

Agrumi turchi calano le esportazioni

Turkish citrus exports are on a downturn.

According to fi gures reported by the Union

of Mediterranean Exporters, this winter

saw a drop of 12% for clementine and

tangerine, of 21% for lemon, of 19% for

orange and of 7% for grapefruit. Turkey's

main citrus-trade partners are Russia and

Saudi Arabia. (DV)

L'export di agrumi turchi è in ribasso.

Secondo i dati della Union of Mediterranean

Exporters quest'inverno vi è stato un calo

delle esportazioni di clementine e mandarini

(-12%), di limoni (-21%), di arance

(-19%) e di pompelmi (-7%). I principali

clienti dei turchi per gli agrumi sono la

Russia e l'Arabia Saudita.

EU-US trade

Commercio Ue-Usa

According to a news item reported by

Spain's Fepex exporters' association,

exports of EU-grown produce to the US

are often impossible because of US plant

health restrictions. In effect, federal directives

issued by the Animal and Plant

Health Inspection Service often appear

to be a cover for protectionist intent. For

example, exports of Italian apple and

pear are impossible in practice. In fact,

Eurostat reports a drop of 20% in 2012 EU

produce exports to the US. (DV)

6 Fresh Point Magazine n.5 – may/maggio 2013

Secondo quanto dichiarato dall'Associazione

esportatori spagnola Fepex l'esportazione

sul mercato statunitense di frutta

e ortaggi prodotti nella Ue è spesso resa

impossibile dalle direttive fi tosanitarie

Usa. Di fatto i protocolli defi niti dall'organismo

federale statunitense delegato ai

controlli fi tosanitari (Aphis) paiono spesso

coprire intenti di carattere protezionistico.

Svantaggiate sono anche produzioni

italiane, come quelle di pere e mele per

le quali non è praticamente possibile

l'esportazione. Eurostat segnala per il

2012 una riduzione delle esportazioni

ortofrutticole dell'Unione Europea negli

Usa pari al 20%.

Spain, exports

on rise

Spagna, export

in salita

Spanish produce exports in the year's fi rst

three quarters show an upward swing.

Industry association Fepex reported an

11.6% in value and 5.2% by volume, or

1.2 million tons on receipts of €1.098 billion,

for January.

Nearly half of the period's exports were

vegetables from the Almeria area. By contrast,

the early-season strawberry crop in

Huelva, another area in southern Spain,

fell 25/30% because of rain and low temperatures.

(DV)

L'export di ortofrutta spagnolo nei primi

mesi dell'anno è risultato in aumento. Nel

mese di gennaio l'associazione Fepex ha

annunciato un aumento dell'export iberico

dell'11,6% in valore e del 5,2% in volume

(1,2 milioni di t pari a 1,098 miliardi di

€). Quasi la metà dell'export del periodo

è rappresentata da ortaggi prodotti nella

regione di Almeria. Intanto sempre nel

sud della Spagna, nell'area fragolicola

di Huelva, si è riscontrata una netta

diminuzione (-25/30%) delle raccolte di

fragola primaverile per effetto delle basse

temperature e delle piogge. (DC)
---
Strawberry: sales up in Italy

Fragole, aumentano i consumi in Italia

A recent CSO survey indicates that strawberry

sales have risen 31% since 2000

and 19% since 2005. The fi gures show

that 80 thousand tons were sold in 2012,

or 2% of all fruit sales by volume and 4%

by value. In effect, Italy's strawberry trade

has shown good growth over the last few

years despite strong competition in the

domestic market from its biggest rival,

Spain. (DV)

Secondo un recente studio del Cso il

Carrefour all-organic in Paris

Carrefour tutto bio a Parigi

Carrefour, the world's second largest

retail chain, opened its first entirely

organic outlet on 20 March last in Paris

in an area next to the Gare de Lyon. It's

a small-scale neighbourhood shop of

170 m2 but stocks a strong assortment

of some 2 thousand items, many under

its own label.

consumo di fragole in Italia è aumentato

del 31% a partire dal 2000 e del 19%

dal 2005. Il consumo nel 2012 è stato

pari a 80mila t, cioè il 2% del consumo

frutticolo in volume e il 4% in valore. Il

settore fragolicolo italiano ha in effetti

mostrato negli ultimi anni una buona

ripresa nonostante la forte concorrenza

esercitata anche sul territorio nazionale

dal più temibile concorrente continentale:

la Spagna.

The shop's fresh foods like produce are

mostly supplied by local and regional

producers. (DV)

La seconda catena della gdo mondiale,

Carrefour, ha aperto il suo primo punto

vendita completamente dedicato al biologico,

lo scorso 20 marzo a Parigi, in

un'area attigua alla Gare de Lyon. Si

UK, vegetable

production up

Uk, cresce

produzione

di ortaggi

The overall vegetable crop in the UK is on

the rise. Two examples underscore this

trend. It was announced last March that

two new high-tech greenhouse facilities

covering 17 ha will be built for tomato

Suffolk, its heat being provided by a nearby

incinerator plant. The fi rst crop is expected

in summer 2015. The other, further underscoring

the country's enthusiasm for local

vegetable production, is the opening by

Waitrose, one of UK's major food retailers,

of a new chain of specialist outlets called

Waitrose Garden. Each shop will feature

an outdoor area for the sale of vegetable

plants, and consumers can shop via the

web and consult experts for advice. (DV)

In Inghilterra è in crescita la produzione di

ortaggi. Per quanto riguarda il pomodoro, lo

scorso marzo è stata annunciata la costruzione

di due nuovi impianti serricoli ad alta

tecnologia per un totale di 17 ha: saranno

costruiti nel Suffolk e riscaldati utilizzando

un vicino impianto di incenerimento rifi uti.

Le prime raccolte sono previste per l'estate

2015. L'accresciuto interesse degli inglesi

per le produzioni orticole locali è confermato

anche dall'apertura da parte di una

delle principali società distributive inglesi,

Waitrose, di una nuova catena di negozi

specializzati: Waitrose Garden. Nel format

di ogni negozio è compresa un'area esterna

per la vendita di piante orticole. Sul web

sarà possibile fare acquisti e consultare gli

appositi consigli degli esperti.

tratta di un punto vendita vicinale, di

piccola superficie (170 m2) ma che

dispone di un notevole assortimento

(2mila articoli, molti dei quali a marchio

del supermercato).

L'offerta di prodotti freschi come gli

ortofrutticoli è concentrata sulle produzioni

locali e regionali.

Fresh Point Magazine n.5 – may/maggio 2013

7

notizie
---
focus/fresh cut

focus/quarta gamma

Europe, market nearly saturated

Product innovation as driver

Europa, mercato quasi saturo

Conta l'innovazione di prodotto

Silvia Zucconi - Nomisma

After years of double-digit growth, the fresh-cut trade is slowing down. Fruit sales

are 4% by volume and vegetables' are 1% of fruit. Leafy greens still the leader

Dopo anni di crescita a due cifre, rallenta l'incremento del fresh cut. La frutta di IV

gamma rappresenta in volume il 4% del totale della verdura venduta e l'1% della

frutta. Il prodotto di punta restano le insalate

Minimally processed fresh-cut produce items fi rst

appeared on the US market in the 1960s.

Soon after their debut in Europe in the 1970s, they

began to take off fi rst in France in the 1980s and

then in the UK, Germany and Switzerland. Today they

are found everywhere in Europe and are particularly

appealing to the younger age groups of the urban

population with mid-to-high disposable income.

Fruit and vegetables that are already cut and ready

to eat or use are an important and rapidly expanding

trade for growers, processors, retailers and

consumers.

Despite the currently slipping demand for produce in

Europe, the fresh-cut sector has been expanding more

quickly these last few years than other segments of the

produce industry as it has targeted not only the usual

retail outlets but also the food service trade.

Fresh-cut items have garnered quite a success

Fig. 1 - Europe: average yearly growth rates (2005-20015, % by value)

Fig. 1 - Europa: tassi di crescita media annua (2005-20015, valori %)

40

35

30

25

20

15

10

5

0

2005 2006 2007 2008 2009 2010 2011

Forecast

Source: Rabobank / Fonte: Rabobank

8 Fresh Point Magazine n.5 – may/maggio 2013

I

prodotti fresh cut ('tagliati da poco') compaiono per la

prima volta negli Stati Uniti negli anni Sessanta.

Dopo una prima apparizione sul mercato europeo negli

anni Settanta, si diffondono dapprima in Francia nei primi

anni Ottanta e da qui nel Regno Unito, in Germania e in

Svizzera. Ora sono largamente diffusi in tutto il mercato

europeo e rappresentano un'opportunità di consumo

soprattutto per le fasce giovani della popolazione a medioalto

potere d'acquisto delle aree urbanizzate.

Frutta e verdura già tagliate e pronte all'uso rappresentano

un segmento importante e in rapida espansione, d'interesse

per produttori, trasformatori, distributori e consumatori.

Negli ultimi anni, nonostante la domanda di frutta e verdura

in Europa sia diminuita, l'industria del fresh cut sta

espandendosi più rapidamente rispetto ad altri segmenti

del mercato ortofrutticolo, rifornendo non solo il canale

retail, ma anche quello del food service.

I prodotti di IV gamma hanno raccolto grande successo

2012

Forecast

2013

Forecast

2014

Forecast

2015

Forecast
---
Fig. 2 - Average yearly growth rates (2000-2010, % by volume)

Fig. 2 - Tassi di crescita media annua (2000-2010, % dei volumi)

9

8

7

6

5

4

3

2

1

0

-1

-2

Germany /

Germania

UK / Regno Unito France / Franca Holland / Olanda Europe / Europa Poland / Polonia Russia

because fi rst and foremost they represent a process

and product innovation that continues to capture

and indulge the demands of consumers. The assortment

range of these items has expanded considerably–single-item

salads have been joined by mixes of

different types of leafy greens like tender and crispy,

as well as other ready to use or cook vegetables.

The packagings too have kept changing, going from

Source: Rabobank / Fonte: Rabobank

innanzitutto perché rappresentano un'innovazione di processo

e di prodotto in grado di continuare a interpretare

le esigenze dei consumatori. L'assortimento dei prodotti di

IV gamma si è notevolmente ampliato: alle insalate monogusto

si sono aggiunti mix d'insalate di differente tipologie

(tenere, croccanti, ecc.) e altri ortaggi pronti all'uso o alla

cottura. Anche i formati sono in continua evoluzione: si

passa dal formato famiglia di 250 grammi alle confezioni

focus/fresh cut

focus/quarta gamma
---
focus/fresh cut

focus/quarta gamma

Fig. 3 - Europe: fresh-cut share of produce market (2010, % sales by volume)

Fig. 3 - Europa: il ruolo del fresh cut nei segmenti frutta e verdura (2010, % sugli acquisti a volume)

Vegetables / Vedura Fruit / Frutta

Fresh-cut

4%

Tinned /

In scatola

8%

Source: Rabobank / Fonte: Rabobank

Frozen / Surgelato

6%

Fresh / Fresco

80%

the 250-gram family format to single-portion ones

of 50-80 grams for personal use or to complement

other vegetables. The bags with mixes also take into

account colours and include red radicchio, pan di

zucchero (sugar loaf) chicory, endive and rocket for

putting together savoury and eye-appealing salads.

There's also increasing variety in the formats for fruit,

including those with small slices ready to eat any time

of the day.

Practical and fresh, they combine the growing demand

for wellness and dietary health with the increasing

lack of time available for cooking meals–the time

dedicated to preparing meals has been declining for

years, going from two and a half hours in the 1940s

to 8 minutes today. They have also become popular

for work-day meals where no in-house service is

available.

Slower pace

While fresh-cut foods have shown big growth fi gures,

their rate of growth has started to dip in the last few

years. While they posted an average growth rate in

the EU that had double-digit oscillations between

2005 and 2008, with a 35% peak in 2006 over 2005

and their projections for 2012 and thereafter see a

yearly average of 4% (Fig. 1).

Growth in the individual European markets varies

markedly and is largely linked to the trade's degree

of maturity and a given country's population structure

in terms of working hours, household type and so

forth. Here we see two rates: the eastern European

countries have ones that are higher, Russia being

the leader with an average annual rate over the last

ten years of 7%, than the more mature markets like

France, Germany (now with an average downward

trend) and the UK (Fig. 2).

10 Fresh Point Magazine n.5 – may/maggio 2013

Other /

Altre tipologie

9%

Fresh-cut

1%

Tinned /

In scatola

4%

Frozen /

Surgelato

1%

Other /

Altre tipologie

4%

Fresh / Fresco

90%

monouso (50-80 grammi) per un consumo personale o

da complemento per altre verdure. Le buste mix tengono

conto anche dei cromatismi e quindi radicchio rosso, pan

di zucchero, indivia, rucola, per comporre insalate gradevoli

al gusto e alla vista. Anche per la frutta le varietà proposte

sono sempre maggiori, con formati di piccola taglia

pronti all'uso per tutti i momenti della giornata.

Pratici e freschi, conciliano la crescente attenzione agli

aspetti salutistici e dietetici con la scarsa disponibilità

del tempo necessario alla preparazione dei pasti (il

tempo dedicato alla preparazione dei pasti è da anni

in netto declino, passato dalle due ore e mezza degli

anni '40 agli attuali 8 minuti). Inoltre, hanno trovato un

impiego anche per il consumo fuori casa per i pranzi di

lavoro, laddove non esiste la mensa.

Aumenti più contenuti

Sul mercato il fresh cut ha registrato periodo di grande

crescita, ma negli ultimi anni l'incremento, seppur sempre

presente, sta rallentando. Se nel mercato europeo,

tra il 2005 e il 2008, la crescita media annua ha visto

variazioni a doppia cifra (con un picco nel 2006 del

+35% rispetto al 2005), le previsioni per il 2012 e gli anni

a seguire segnalano un crescita più contenuta, seppur

continua (+4% in media su base annua) (Fig. 1).

La crescita nei diversi mercati europei è molto difforme

e in gran parte legata al livello di maturità del segmento

e alla struttura della popolazione (organizzazione del

lavoro, tipologie dei nuclei familiari, ecc.) dei diversi

Paesi. Si registrano due velocità: i Paesi dell'Europa

dell'Est hanno tendenzialmente tassi di crescita più

elevati (primo fra tutti la Russia, che ha un tasso di crescita

media annua negli ultimi dieci anni del 7%) mentre

i mercati più maturi sono Francia, Germania (addirittura

con trend del tasso di crescita medio negativo), Regno

Unito (Fig. 2).
---
What the trolley says

The fresh-cut trade in Europe takes on a different role

depending on market segment. Today it accounts for

1% by volume of the fruit sold in Europe, whereas loose

fresh fruit accounts for 90% of purchases. Completing

the fruit items put in the household trolley are the tinned

at 4%, frozen at 1% and other types at 4%.

The incidence of fresh-cut items rises when we look

at vegetables. They now account for 4% of the total,

although even the other types increase as well with

tinned at 8% and frozen at 6%. Loose fresh vegetables

and leafy greens clearly remain the top sellers at

80% of purchases (Fig. 3).

A look at the overall fresh-cut profi le shows that leafy

salad greens garner the most sales, accounting for

50% by volume of all the trade's produce in Europe.

Other items like baby carrots and sliced vegetables

that are ready to cook in the pan account for a healthy

40% market share. Ready-to-eat fruit accounts for

10% of sales by volume.

While the trend of the fresh-cut trade remains

upbeat, consumers are more mindful of product

quality and innovation. Product qualities and the

ability to come up with new types in assortment are

clearly factors that spell success for businesses,

although in hard economic times like today's they

too cannot ignore the price factor no matter what

level of service they offer.

(English version by David Verzoni)

Il peso nel carrello della spesa

La quarta gamma assume in Europa un ruolo differente

in funzione del segmento merceologico. Oggi, sul totale

della frutta venduta in Europa, rappresenta l'1% a volume,

mentre il 90% degli acquisti afferisce alla frutta fresca.

A completare gli acquisti in quantità delle famiglie

vi sono i prodotti in scatola (4%), i surgelati (1%) e altre

tipologie (4%).

L'importanza del fresh cut aumenta invece se si considerano

le verdure. La IV gamma pesa infatti per il 4%

del totale; anche le altre tipologie di verdure trasformate

assumono un ruolo maggiore (in scatola 8% e surgelate

6%). Verdure e ortaggi freschi rimangono chiaramente la

tipologia di prodotto più acquistata (80%) (Fig. 3).

Nel segmento fresh cut nel suo complesso, le insalate

sono il prodotto più venduto (50% delle vendite in quantità

nel mercato europeo dei prodotti ortofrutticoli di IV

gamma). Le altre verdure di quarta gamma (carote baby,

altre verdure tagliate e pronte per la cottura n padella) si

accaparrano l'altra importante quota di mercato (40%). La

frutta pronta rappresenta il 10% delle vendite in quantità.

Le dinamiche del segmento fresh cut sono positive

anche se il consumatore è sempre più attento sia alla

qualità che all'innovazione dei prodotti. Le caratteristiche

del prodotto e la capacità di proporre sempre

nuove tipologie in assortimento sono certamente fattori

di successo per le imprese che però, anche alla luce

della crisi economica, non possono trascurare il fattore

prezzo nonostante l'elevato livello di servizio.

focus/fresh cut

focus/quarta gamma
---
focus/e-commerce & drive in

focus/commercio elettronico e drive in

The French drive by

to pick up their shopping

In Francia la spesa

si ritira al drive

Eleonora Morganti

This service is available at all the big chains. Shoppers can choose the food items

they want on-line, have them packed and pick them up at a drive-by several

hours later

Questo servizio è ormai attivato da tutte le insegne della grande distribuzione. I consumatori

possono scegliere online i prodotti alimentari da acquistare. Un addetto del

punto vendita indicato per il ritiro si occupa di raggruppare i prodotti e dopo poche

ore sono pronti per essere caricati sulla macchina del cliente

In France, as in

many other EU

countries, consumer

shopping habits

and preferences

change rapidly,

especially at a time

when the internet

continuously offers

new opportunities

like on-line shopping.

Indeed, 2011 fi gures

show that e-commerce

topped 7% of

French retail sales and

retail web sites registered

an exceptional

23% growth rate.

More and more people

in France are using computers, tablets and smart

phones to connect to internet web sites to purchase

goods and services, a shopping habit that's

becoming increasingly widespread and frequent.

Indeed, nearly 31 million people in France, including

the young and more mature segments of the

population, have tried e-commerce, seemingly being

attracted by its simplicity and practicality. Ease of

use, price and the convenience of shopping from the

home are the fuel components driving the spread of

e-commerce.

12 Fresh Point Magazine n.5 – may/maggio 2013

In Francia, come in

molti altri Paesi europei,

i comportamenti e le

scelte dei consumatori

cambiano rapidamente,

soprattutto seguendo

l'evoluzione delle

nuove soluzioni fornite

da internet, attraverso

la vendita online. Nel

2011 l'e-commerce

ha superato il 7% del

mercato francese di

vendite al dettaglio

e si è registrata una

crescita eccezionale

(+23%) di siti internet

che offrono prodotti

in vendita.

Un numero crescente di francesi ha accesso a internet

attraverso computer, tablet e smartphone e, grazie

alla diffusione di questa tecnologia, l'acquisto via web

è diventato un comportamento sempre più diffuso e

frequente. Circa 31 milioni di persone hanno sperimentato

l'e-commerce, uomini e donne di giovane età, ma

anche le fascie piu mature della popolazione sembrano

attratte dalla semplicità e dalla praticità di questa

modalità d'acquisto. La facilità, i prezzi, la comodità di

scegliere i prodotti da casa sono elementi chiave per la

diffusione dell'e-commerce.
---
Cold stores

Most of the on-line purchases by the French are

intangibles like services linked to tourism, travel

and cultural events. When it comes to tangible

goods, we see strong sales growth for technology,

fashion, clothing and footwear items. A look

at foods shows that sales are lower in this market

segment than elsewhere.

Consumers here seem less inclined to forgo the

personal touch for produce, meat and food in general

before buying.

Then too the food sector incurs higher overhead

outlays for home delivery because of hygienesanitary

restrictions for the transport of perishables

under controller temperature. Apart from the issues

in managing delivery services that keep the coldstore

chain intact, there are the unforeseeable,

'last-mile' problems to contend with like traffi c

lights and congestion, and, not least, fi nding the

customer home at the right time.

On-line order & outlet pick-up

This is something of a novel formula for food shopping

that is a particular feature marking the French

retail industry. Called les drive, they are booths set

up outside super-hypermarkets where customers

drive by and pick up what they've ordered. This «online

order – outlet pick-up» is offered by all the big

chains and is often found at all a chain' superettes

and mini-outlets.

In most cases the order is packed directly in the outlet

chosen as the pick-up point. A staff member fi lls your

order directly from the shelves and packs the items

so you can pick them up and put them in the car a

few hours later. It's a service that lets consumers save

time and retailers to save the money that would be

spent on home delivery.

Supply stations

There are other novel twists in this connection on the

drawing board of the big retail chains. One of these

ideas is to set up refrigerated cabin-like units at

various points in a city to give customers fl exibility of

pick-up time and place. Installed in service stations,

shopping malls and city-station areas, the cabins

take deliveries at any time, even overnight. It thus

lets customers pick up their orders when they want

after receiving an ad hoc code number via email or

sms telling them the order is available.

The initial outlay for the prototype of this cabin unit is

high, however, and there remains the question mark

as to the response of consumers regarding such

particular and variable items as food. All eyes for the

moment are waiting to see the start of pilot projects

to test the viability of such a service.

(English version by David Verzoni)

La frigoconservazione

I francesi acquistano online soprattutto prodotti immateriali

come servizi legati al turismo ai viaggi e alla cultura.

Per il mercato dei prodotti fi sici, si osserva una forte crescita

delle vendite di tecnologia, articoli d'abbigliamento

e moda, incluse le calzature. Per quanto riguarda gli

alimentari, la fetta di mercato é largamente inferiore alle

altre tipologie di prodotti. Il consumatore sembra poco

propenso a rinunciare a toccare la frutta e la verdura,

la carne e in generale tutti gli alimenti prima dell'acquisto.

Inoltre il settore é fortemente penalizzato dai

costi di gestione delle consegne a domicilio, soggette

alle restrizioni igienico-santiarie per il trasporto di prodotti

deperibili a temperatura controllata. Alla diffi coltà

di organizzare un servizio di trasporto che assicuri la

catena del freddo, si aggiungono le criticità tipiche del

trasporto dell'ultimo miglio, quali le restrizioni del traffi -

co, la congestione e, non ultima, la reperibilità del cliente

al proprio domicilio.

Ordina in rete e ritira in negozio

In questo scenario si delinea una novità legata ai prodotti

alimentari che caratterizza in maniera particolare il panorama

francese. Sono i cosiddetti drive, sportelli creati

presso i supermercati e gli hypermercati dove il cliente

può ritirare i prodotti che ha scelto sul sito, valutando

le offerte e le occasioni del momento. Il servizio «ordina

in rete ritira in negozio» è fornito da tutte le catene di

distribuzione organizzata, e spesso é disponibile anche

nelle superette e nei mini punti vendita di tutta la catena.

Nella maggior parte dei casi, la spesa é preparata

direttamente nel negozio che è stato selezionato come

punto di ritiro. Un addetto si occupa di raggruppare i

prodotti direttamente dagli scaffali e li mette a disposizione

dopo poche ore, pronti per essere caricati sulla

macchina del cliente. Questa soluzione permette al

consumatore di risparmiare tempo e il retailer riduce i

costi legati al servizio di consegna a domicilio.

Stazioni di rifornimento

Altre soluzioni sono in via di progettazione da parte dei

grandi attori della distribuzione organizzata. Alcune ipotesi

vedono l'installazione di cabine refrigerate in diversi punti

della città al fi ne di dare al cliente fi nale piena fl essibilità

di orari e modalità di ritiro. Posizionate in stazioni di rifornimento,

nei centri commerciali, nelle stazioni delle zone

urbane queste cabine possono essere rifornite in qualsiasi

momento ad esempio attraverso un servizio consegna

notturno. Inoltre garantiscono fl essibilità al cliente che vi

può accedere grazie a un codice ad hoc nel momento in

cui riceve l'email o l'sms di disponibilità della spesa.

L'investimento iniziale per questo tipo di prototipo rimane

elevato, e persiste l'incertezza sul comportamento dei

consumatori rispetto a un prodotto così particolare e variabile

come gli alimentari. Occorre aspettare la realizzazione

dei progetti pilota e verifi care la fattabilità di simili servizi.

Fresh Point Magazine n.5 – may/maggio 2013

13

focus/e-commerce & drive in

focus/commercio elettronico e drive in
---
market/Netherlands

mercato/Olanda

The Netherlands, 2012

balance of trade up

Paesi Bassi, nel 2012

migliora il saldo degli scambi

Mario Schiano lo Moriello – Ismea

The country further consolidates its international trade profi le. Fine-tuned logistics,

transport and investment provide the platform

Confermata l'abilità di questo Paese nel commercio internazionale. Merito dell'organizzazione

della logistica e dei trasporti e degli investimenti realizzati

A

cursory look at the 2012 trade fi gures shows a

pretty good trade picture for Holland. Compared

to 2011, there's a slight rise in the balance of trade

surplus for vegetables and potato to nearly €3.485

billion, up 0.3%, and a notable reduction in the defi cit

for fruit and citrus to €492 million (-16%). The overall

rise in the surplus balance for vegetables and potato

is imputable to a 15% growth of average export

prices (+15%), which offset the 12% slide in volumes

traded. The commodities that registered the highest

rise in average export prices on the year were tomato

(+25%), cucumber (+23%), asparagus (+24%),

14 Fresh Point Magazine n.5 – may/maggio 2013

Da una prima analisi dei dati degli scambi nel 2012

emerge un quadro abbastanza positivo per i Paesi

Bassi. Rispetto al 2011, si registra un lieve miglioramento

del saldo degli scambi di ortaggi e patate che

si è attestato a circa 3.485 milioni di € (+0,3% su base

annua) ed una consistente riduzione del passivo relativo

agli scambi di frutta e agrumi che è sceso a 492 milioni

di € (-16%). Per quanto riguarda l'aggregato che comprende

ortaggi e patate, il miglioramento del saldo è

riconducibile all'aumento del prezzo medio dei prodotti

esportati (+15%) che ha compensato la riduzione dei

volumi spediti (-12%). Tra i prodotti che hanno registra-
---
Figure 1 - Holland's vegetables & porato imports & exports (t)

Figura 1 - Import ed export di ortaggi e patate dei Paesi Bassi (t)

7,000,000

6,000,000

5,000,000

4,000,000

3,000,000

2,000,000

1,000,000

0

Import

2010

2011 2012

Source: author's reworking of Eurostat data

Fonte: elaborazioni dell'autore su dati Eurostat

Export

Butterhead lettuce (+26%), Romaine lettuce (+19%),

and caulifl ower and broccoli (+17%).

Fruit and citrus also registered an overall average

hike of export prices (+13%), the factor that led to an

8% rise in receipts and a 16% trade defi cit reduction.

The commodities posting the highest rises on the

year were orange (+14%), lemon (+25%), clementine

(+22%), nectarine (+13%) and peach (+14%).

Figure 2 - Holland's fruit & citrus imports & exports (t)

Figura 2 - Import ed export di frutta e agrumi dei Paesi Bassi (t)

4,000,000

4,500,000

3,000,000

2,500,000

2,000,000

1,500,000

1,000,000

500,000

0

Import

2010

2011 2012

Source: author's reworking of Eurostat data

Fonte: elaborazioni dell'autore su dati Eurostat

Export

to i maggiori incrementi del prezzo medio all'export ci

sono: pomodori (+25% rispetto al 2011), cetrioli (+23%),

asparagi (+24%), lattuga a cappuccio (+26%), lattuga

romana (+19%), cavolfi ori e broccoli (+17%).

Analogamente, per l'aggregato frutta e agrumi l'aumento

del prezzo medio dei prodotti esportati (+13%) ha

determinato l'aumento degli introiti (+8%) e la riduzione

del defi cit di bilancio (-16%). Tra i prodotti che hanno

market/Netherlands

mercato/Olanda
---
market/Netherlands

mercato/Olanda

Figure 3 - Holland's fruit & citrus suppliers (% by value, 2012)

Figura 3 - Mercati di approvvigionamento di frutta e agrumi dei Paesi Bassi

(% in valore, 2012)

Other / Altro

36%

Argentina

3%

Germany/

Germania

3%

Peru

4%

South Africa /

Sud Africa

14%

Costa Rica

4%

Source: author's reworking of Eurostat data

Fonte: elaborazioni dell'autore su dati Eurostat

Spain / Spagna

9%

United State/

Stati Uniti

36%

Exports

Looking at Holland's 2012 vegetable and potato

exports, we see they totalled 6.2 million tons, a 12%

slide on the year, and generated receipts of €5.525

billion, up 1% (fi gure 1). Fruit and citrus exports on

the other hand posted a volume of 2.6 million t, down

4%, for receipts of €4.025 billion, up 8% (fi gure 2).

The 2012 produce export leaders were tomato (€1.269

billion), sweet pepper (€741 million), table grape (€500

million), seed potato (€351 million), cucumber (€334

million), onion (€244 million), strawberry (€231 million),

apple (€215 million), avocado (€188 million), orange

(€185 million), potato (€187 million), agaricus mushroom

(€153), cashew (€154 million), pineapple (€138

million) and mango (€137 million).

Holland is supplies fruit and citrus to quite a few

markets (fi gure 3). Its leading importers are the

Republic of South Africa (RSA), Spain and Chile,

which combine for a 31% market share, a share that

rises to 52% if we include Belgium, Brazil, the US and

Costa Rica. The country also imports most of its fruit

and citrus from outside the EU. And, if we exclude

Belgium and Germany since they mainly re-export

what they import from other countries, Spain is its

main EU export partner of these commodities.

Imports

The Netherlands had 2012 imports of fruit and citrus

amounting to 3.6 million t, up 0.4% on the year, for a

bill of nearly €4.515 billion, up €5%), and imports of

vegetables and potato of 3.2 million t, up 4%, for a bill

of €2.040 billion, up 3%.

The leading imports were table grape at €645 million,

orange at €251 million, cashew at €243 million, apple

at €239 million, tomato at €228 million, avocado at

16 Fresh Point Magazine n.5 – may/maggio 2013

Chile / Cile

9%

Belgium/

Belgio

Brazil/ 6%

Brasile

6%

Figure 4 - Holland's vegetable & potato export partners (% by value, 2012)

Figura 4 - Mercati di sbocco di ortaggi e patate dei Paesi Bassi (% in

valore, 2012)

Norway / Norvegia

2%

Italy / Italia

3%

Sweden / Svezia

4%

France / Francia

4%

Other / Altro

28%

Belgium / Belgio

9%

Source: author's reworking of Eurostat data

Fonte: elaborazioni dell'autore su dati Eurostat

Germany / Germania

35%

United Kingdom/

Regno Unito

16%

mostrato maggiori rincari si distinguono: arance (+14%

rispetto al 2011), limoni (+25%), clementine (+22%),

nettarine (+13%) e pesche (+14%).

Export

Per quanto concerne le esportazioni dei Paesi Bassi, nel

2012, quelle di ortaggi e patate (fi gura 1) hanno riguardato

6,2 milioni di t (con una fl essione del 12% rispetto al 2011)

e hanno generato introiti per 5.525 milioni di € (+1%), mentre

quelle di frutta e agrumi (fi gura 2) si sono attestate a 2,6

milioni di t (-4%) con incassi per 4.025 milioni di € (+8%).

Nel 2012, i prodotti più esportati sono stati: pomodori

(1.269 milioni di €), peperoni (741 milioni), uve (500

milioni), patate da seme (351 milioni ), cetrioli (334

milioni), cipolle (244 milioni), fragole (231 milioni), mele

(215 milioni), avocado (188 milioni), arance (185 milioni),

patate (187 milioni), funghi agaricus (153), noci di acagiù

(154 milioni), ananas (138 milioni) e mango (137 milioni).

Per i mercati di approvvigionamento di frutta e agrumi

(fi gura 3) si osserva il coinvolgimento di un numero

elevato di Paesi. I primi tre fornitori (Repubblica

Sudafricana, Spagna e Cile) detengono una quota del

31% delle importazioni complessive, mentre tale percentuale

sale al 52% se si sommano anche le quote

appannaggio di Belgio, Brasile, Usa e Costarica. Tra

i principali fornitori si rileva una prevalenza di Paesi

extra europei e, se si escludono Belgio e Germania che

prevalentemente riesportano prodotti provenienti da

altri Paesi, la Spagna è il principale fornitore europeo di

frutta e agrumi dei Paesi Bassi.

Import

Sul fronte delle importazioni, nel 2012 quelle di frutta

e agrumi sono ammontate a 3,6 milioni di t (+0,4%

rispetto al 2011) con una spesa di circa 4.515 milioni
---
HOLLAND'S IMPORTS, EXPORTS & RE-EXPORTS (2012)

IMPORT, EXPORT E QUOTA DI RIESPORTAZIONE DEI PAESI BASSI (2012)

Import

000 Kg

€181 million, pineapple at €162 million, mango at

€158 million, potato at €204 million, banana at €170

million, grapefruit at €129 million, melon at €111 million,

kiwi at €105 million and strawberry at €97 million.

A glance at its export partners for vegetables and

potato shows that a limited number account for most

of them (fi gure 4). Indeed, the two leaders, Germany

Export

000 Kg

Quota Di Re-Export

(%)

Citrus Fruit / Agrumi 991.476 540.728 55

Fresh Table Grapes / Uve Da Tavola 343.200 249.998 73

Sweet Oranges / Arance 438.512 190.505 43

Cashew Nuts, Shelled / Noci Di Acagiu' Sgusciate 40.416 30.785 76

Avocados / Avocado 119.732 103.995 87

Bananas / Banane 353.749 205.446 58

Pineapples / Ananas 273.836 198.588 73

Grapefruit / Pompelmi 167.540 116.665 70

Kiwifruit / Kiwi 75.671 28.634 38

Lemons / Limoni 108.013 84.893 79

Pistachios, In Shell / Pistacchi In Guscio 11.772 11.116 94

Limes / Lime 68.610 50.898 74

Mandarins / Mandarini 66.269 14.402 22

Clementines / Clementine 54.750 28.144 51

Nectarines / Nettarine 27.368 11.435 42

Peaches / Pesche 22.290 6.795 30

Source: author's reworking of Eurostat data / Fonte: Elaborazioni Dell'autore Su Dati Eurostat

di € (+5%), mentre le importazioni di ortaggi e patate

hanno interessato 3,2 milioni di t (+4%), con una spesa

di 2.040 milioni di € (+3%).

I prodotti maggiormente importati sono le uve da tavola

(645 milioni di €), arance (251 milioni), noci di acagiù

(243 milioni), mele (239 milioni), pomodori (228 milioni),

avocado (181 milioni), ananas (162 milioni), mango (158

market/Netherlands

mercato/Olanda
---
market/Netherlands

mercato/Olanda

and the UK, combine for a 50% share and adding

the imports of Belgium, France, Sweden, Italy and

Norway yields 72%.

Holland has a formidable international mercantile

reputation that is rooted in the country's history and

its colonial past. Today, however, it's not merely

a matter of history but mainly of its organisational

skills in the logistics, transport and investment sectors,

expertise that enables

the country to move

enormous volumes of

produce commodities. In

actual fact, considerable

quantities of its imports

are re-exported to other

countries.

While scrutiny of

Holland's official reexport

data does not

provide an exact fi gure

of this trade, a close look

at the fi gures for items

like citrus, table grape,

kiwi, banana and tropical

fruit makes possible

a pretty precise estimation.

Since none of

these commodities can

be grown in Holland for

climatic reasons, they

provide a good estimate

for re-export fi gures by

calculating the ratio of

export by import volumes.

Table shows the

2012 import and export

quantities and the ratio

between them in the last

column.

The range of exportshare

variation swings from 30% for peach to 94%

for pistachio. Holland re-exports 55% of the citrus

volume it imports, the rat going as high as 79% for

lemon, whereas it's about 43% for orange. Very high

too are re-exports of table grape, banana, pineapple

and avocado.

(English version by David Verzoni)

18 Fresh Point Magazine n.5 – may/maggio 2013

milioni), patate (204 milioni), banane (170milioni), pompelmi

(129 milioni), meloni (111 milioni), kiwi (105 milioni)

e fragole (97 milioni).

Per i mercati di sbocco di ortaggi e patate (fi gura 4) si

osserva una concentrazione abbastanza elevata delle

esportazioni verso un numero limitato di Paesi. Infatti, i

primi due clienti (Germania e Regno Unito) detengono

una quota del 50% delle esportazioni complessive, mentre

tale percentuale sale

al 72% se si sommano

anche le quote di Belgio,

Francia, Svezia, Italia e

Norvegia.

L'abilità dei Paesi Bassi

nel commercio internazionale

è notoria e affonda

le sue radici nel passato

di questa nazione e

nella sua storia coloniale.

Oggi, però, non è solamente

frutto della tradizione,

ma soprattutto

dell'organizzazione della

logistica e dei trasporti e

degli investimenti realizzati

che consentono di

muovere enormi volumi

di prodotti ortofrutticoli.

Una fetta considerevole

dei prodotti importati

dai Paesi Bassi viene

poi esportata verso altri

Paesi.

L'analisi delle statistiche

uffi ciali non consente di

quantifi care in maniera

esatta il fenomeno delle

riesportazioni, ma per

alcune categorie di prodotti,

come ad esempio

agrumi, uve da tavola, kiwi, banane e frutta tropicale,

è possibile stimare con un'elevata precisione questa

percentuale. In altre parole, tutti quei prodotti che per

motivi climatici non possono essere coltivati nei Paesi

Bassi offrono l'opportunità di stimare la quota di riesportazione,

calcolando il rapporto tra volumi esportati e

importati (in tabella 1 sono riportate, per alcuni prodotti,

le quantità importate ed esportate nel 2012 e, nell'ultima

colonna, il rapporto tra volumi esportati e importati).

Il range di variazione della quota di riesportazione oscilla

tra il 30% delle pesche e il 94% dei pistacchi. Le esportazioni

di agrumi riguardano il 55% dei volumi importati,

con picchi del 79% per i limoni, mentre la quota di riesportazione

delle arance è del 43%. Molto elevate sono

le percentuali di riesportazione di uve da tavola, banane,

ananas ed avocado.
---
Basilicata, apricot's

a triumph by volume and quality

Basilicata, per l'albicocca

trionfo in volumi e qualità

Cèdric Green

Crop tripled in ten years over its 4,763 ha. Being easy to eat and of high nutritional

profi le gives it huge market potential in Europe

Produzione triplicata negli ultimi dieci anni su un'area coltivata di 4.763 ha. Grandi potenzialità

di commercio in Europa grazie alla praticità di consumo e alle proprietà nutrizionali

«T

he apricot crop here in Basilicata has grown

200% in the last decade» was the fi rst thing

Berardino Marchitelli told me. He's President of

L.A.M.E.T.A., the association that hosted the "Quality

Apricot: management, cultivar innovation and marketing

strategies" conference in March at Scanzano

Ionico. In fact, the crop covers a combined 4,763

ha, with nearly all the acreage being in the districts

of Matera Province. It's a notable achievement even

in terms of quality, a key value that needs to be promoted

in both the domestic and export markets.

Wide-angle view

«Quality – said Marchitelli – stems from the fi eld.

We've tried to take look at the whole

pipeline by starting from the right

choice of cultivar, then to crop

practices like pruning, irrigation

and pest management

and all the way up to key

marketing issues».

Quite a number of

Basilicata's apricot orchards

today are new and managed

under advanced fi eld

techniques.

Integrated

pest management

is

employed

almost every-

Basilicata's apricot crop has tripled in the last ten years.

In Basilicata negli ultimi dieci anni la coltura dell'albicocco è triplicata.

«N

ell'ultimo decennio la coltura delle albicocche

in Basilicata è cresciuta del 200%» così esordisce

Berardino Marchitelli, presidente dell'Associazione

L.A.M.E.T.A. che ha organizzato lo scorso marzo a

Scanzano Ionico il convegno "Albicocche di qualità: tecniche

agronomiche, innovazione varietale e strategie di

mercato". In effetti la superfi cie coltivata ad albicocco in

Basilicata è di 4.763 ha, quasi tutti concentrati nella provincia

di Matera. Una produzione notevole, anche dal

punto di vista qualitativo, che cerca una valorizzazione

sia sul mercato nazionale, sia su quello internazionale.

Una visione d'insieme

«La qualità – afferma Marchitelli – parte dal campo:

abbiamo quindi cercato di avere una visione d'insieme,

partendo dalla scelta delle varietà, passando dalla gestione

degli impianti frutticoli (potatura, irrigazione, lotta ai

parassiti) per arrivare fi no ai grandi temi commerciali».

Buona parte degli impianti di albicocco in Basilicata

sono oggi nuovi e tecnologicamente avanzati. Le tecniche

di lotta integrata sono utilizzate nella stragrande

maggioranza dei casi, l'offerta varietale è estremamente

differenziata e spesso orientata alle più recenti cultivar.

Affrontare il mercato oggi non è però facile: è necessario

operare una serie di scelte strategiche sia da parte del

produttore sia del distributore al dettaglio.

L'albicocca è un frutto che ha enormi potenzialità dal

punto di vista del consumatore moderno, oltre ad avere

formidabili proprietà nutrizionali (si pensi per esempio al

contenuto di potassio, fra i più rilevanti per la frutta) ha

anche una notevole praticità di consumo. I frutti di dimensioni

contenute e che non necessitano di sbucciatura ne

fanno un prodotto adatto al consumo veloce, come snack

o a fi ne pasto. I consumatori oggi si mostrano peraltro

Fresh Point Magazine n.5 – may/maggio 2013

19

market/Basilicata region

mercato/Basilicata
---
market/Basilicata region

mercato/Basilicata

Average apricot price trends in Italy's main wholesale markets over the last fi ve years

Andamento dei prezzi medi delle albicocche nei principali mercati all'ingrosso italiani negli ultimi cinque anni

Average price / Prezzo medio €/kg

3,50

3,00

2,50

2,00

1,50

1,00

May / Maggio

where and many of the varieties being grown are

among the most recently released. Yet it's not an easy

market by any means. Indeed, both growers and big

retail operations must make the right strategic decisions.

Apricot is a fruit with enormous potential from the viewpoint

of today's consumers. As well as its formidable

nutritional properties–it has one of the highest potassium

contents among fruit–apricot is easy to eat. That

the fruit is fairly small and doesn't need peeling makes

perfect as a snack or after meals. Consumers today

appear to be very attracted to varieties with a uniform,

lively colouring with high sugar content.

The market

The most remunerative seasonal 'windows' open

for the early and late ripening varieties. The lowest

prices, instead, are found from mid-June to mid-July,

both at wholesale and retail. At the early end of the

market in April-May, we often fi nd cultivars like Bulida

from Spain that tend to have poor quality traits and,

as such, can put consumers off.

Yet varieties with a high quality profi le like Ninfa,

which is grown in well suited areas, as well as several

cultivars from France, can command good sales at

high prices even in this window. The late season from

mid-July on is also good. It could be real window of

opportunity for Italian varieties in a domestic and EU

marketplace currently dominated by French cultivars

because of the high quality standards pursued

by France's growers. Indeed, the entire EU apricot

market has good prospects for growth, albeit at the

unfortunate expense of other fruit like peach. It's up to

growers and retailers alike to make the effort needed

to meet consumer demand.

(English version by David Verzoni)

20 Fresh Point Magazine n.5 – may/maggio 2013

June / Giugno July / Luglio August / Agosto

2008 2009 2010 2011 2012

Apricot has great market potential in Italy and in Europe.

L'albicocca, in Italia e in Europa, ha una grande potenzialità

di mercato.

molto attratti dalle varietà che hanno una colorazione vivace

e uniforme, unita a un elevato grado zuccherino.

Il mercato

Dal punto di vista del mercato le "fi nestre" più remunerative

sono quelle precoci e tardive. I prezzi più bassi, sia all'ingrosso

sia al dettaglio, si riscontrano da metà giugno a metà

luglio. Nella prima fase di mercato (aprile-maggio) è spesso

frequente l'offerta di prodotti (es. cv Bulida dalla Spagna)

con caratteristiche qualitative tendenzialmente basse. Si

tratta di prodotti che possono deprimere i consumi.

In questo periodo hanno invece successo (e ottime quotazioni)

le varietà con un elevato profi lo qualitativo (es. cv

Ninfa da aree vocate – alcune nuove varietà di origine

francese). Molto interessante è anche il periodo tardivo

(dalla seconda decade di luglio). Qui per i prodotti italiani

vi sarebbero interessanti possibilità di sviluppo: buona

parte del mercato (in Italia e in Europa in generale) è

infatti dominata dalle produzioni francesi, ben valutate

anche grazie a un'adeguata politica qualitativa perseguita

dai produttori. Il mercato dell'albicocca in Italia come

in Europa ha buone possibilità di espansione anche a

spese (purtroppo) di altre tipologie di frutta (es. pesche).

È necessario che produttori e distributori lavorino al

meglio per raccogliere il consenso del mercato.
---
Potato, Italy needs

to boost awareness and growth

Patate, in Italia un mercato

da educare e da far crescere

Jessika Pini

Sales are steady but greater consumer awareness of the various types and their

qualities is needed. Bologna-based Pizzoli is fi ne-tuning its plans to develop the

potential of potato

Consumi stabili, ma manca una diffusa conoscenza delle varie tipologie e delle relative

caratteristiche. Le ricette per sviluppare il potenziale di questo tubero dell'azienda

Pizzoli di Bologna

Italy's consumers buy about 30 kilos of potato per

capita every year, an amount that is way below that

of northern European countries like the UK, where

per-capita consumption is as high as 100 kilos a year.

The 2012 season was marked by fairly high prices for

the crop harvested in late summer, a situation due

to a supply shortfall caused by drought in lowland

districts like those of Emilia-Romagna, Fucino and

In Italia si consumano circa 30 kg di patate pro capite

all'anno, un quantitativo ancora molto inferiore rispetto

ai Paesi del Centro-Nord Europa, come l'Inghilterra,

dove si raggiungono i 100 kg/pro capite.

La campagna 2012 è stata caratterizzata da quotazioni

abbastanza alte per le produzioni raccolte a fi ne estate,

dovute alla minore offerta a seguito della siccità che ha

ridotto le rese negli areali di pianura (Emilia-Romagna

Sila highland, 1,200 metres above sea level, in early August 2012, one of the growing districts of Pizzoli potatoes.

Altopiano silano, 1.200 metri d'altezza, agli inizi di agosto 2012, una delle zone di produzione delle patate Pizzoli.

Fresh Point Magazine n.5 – may/maggio 2013

21

market/italian potatoes

mercato/patate italiane
---
market/italian potatoes

mercato/patate italiane

Calabria. Prices in Europe are now generally higher

than in April 2012 as a result of poor harvests due to

heavy rains in the UK.

Europe's 2013 season began under high prices for

spring potato imports from Israel and North Africa in

the wake of the poor UK crop.

A costly cash crop

An overview of table potato shows that fewer

hectares are being sown today than in the past.

The considerable outlays for planting and crop

management throughout the growing season are

clearly not an incentive for growers, who are

reluctant to take on all the risks involved without

some kind of assurance that the market will make

the returns worth the effort in the end. One way

to secure such an assurance is to have a supply

contract with the big supermarket chains or with a

processor like Pizzoli.

With head offi ces and plant in Budrio near Bologna,

one of the areas best suited to the crop in Italy, the

Pizzoli company's core business combines fresh and

frozen potato products for a sales volume of some

120 thousand tons a year from districts all over the

country. «If you don't have proper crop scheduling

– said Andrea Marchesi, head of the company's

fresh-product marketing division, – growers will not

risk the high cost outlays. The contacts we have with

more than 300 growers from Sicily and Calabria to

Tuscany, Emilia-Romagna, Lombardy and Veneto,

assure proper returns to them and our consolidated

relations with the big retail chains give us a secure

share of the market.»

Consumer profi le

Today's hard economic times might give you the

idea that the potato is a food to fall back on because

of its high versatility in the kitchen and affordable

price. But it's not so. Potato sales in Italy are holding

steady for both fresh and frozen items, and there's

not shift from one category to the other by consumers.

«Fresh potato – said Marchesi – has a different

type of consumer than its frozen counterpart. The

target for frozen items is the consumer looking for

something that's practical, of quality and easy to

use. Fried chips are a treat and those for the oven

carry less of a restriction for meals. Consumers who

buy fresh potatoes on the other hand want to add

value by cooking them and looks for certain fl esh

traits depending on menu plans or nutritional properties

like iodine enrichment or local provenance.

Generally speaking, these consumers are mindful

of fl avour properties even though the way potato is

perceived by Italy's consumers is still very poor and

a lot needs to be done to raise awareness in this

connection».

22 Fresh Point Magazine n.5 – may/maggio 2013

in particolare), Fucino, Calabria. Prezzi in generale

maggiori rispetto ad aprile 2012, in Europa determinati

dalle abbondanti piogge che hanno colpito l'Inghilterra

precludendone i raccolti.

La campagna 2013 è iniziata con prezzi di mercato

elevati per le novelle, importate in Europa da Israele e

Nord Africa, spinti dalla scarsa produzione in Inghilterra.

Un investimento colturale oneroso

Per quanto riguarda in generale le semine delle patate

al consumo, negli ultimi anni si è assistito a una fl essione

degli ettari destinati al tubero. Gli onerosi anticipi

fi nanziari per la messa a dimora e la gestione di tutto

il ciclo colturale hanno disincentivato gli investimenti

dei produttori che non rischiano se non sostenuti da

una realtiva sicurezza nella collocazione commerciale

del raccolto. Una sicurezza che nasce per esempio

dal legame di fornitura con la grande distribuzione o

con le aziende di lavorazione e trasformazione come

la Pizzoli.

L'azienda, con sede e stabilimento a Budrio (Bologna)

una nelle aree più vocate d'Italia, ha come core business

la vendita sia del tubero fresco che surgelato per

un ammontare di circa 120mila tonnellate di patate

all'anno prodotte in tutta la Penisola: «Senza una programmazione

produttiva – afferma Andrea Marchesi,

responsabile commerciale della divisione fresco della

Pizzoli – le aziende non rischiano investimenti così alti.

Noi abbiamo contratti con oltre 300 produttori/associazioni

di produttori dalla Sicilia al Veneto, passando

per Emilia-Romagna, Lombardia, Toscana, Calabria,

ai quali assicuriamo una redditività e a nostra volta,

grazie al consolidato rapporto con la gdo, abbiamo un

sicuro spazio di collocazione».

L'identikit del consumatore

Con la crisi economica verrebbe da pensare che la

patata potesse essere un alimento rifugio, dalle rese

elevate in cucina e un prezzo contenuto, e invece così

non è stato. I consumi in Italia si sono mantenuti stabili,

con una distinzione tra chi sceglie il prodotto fresco e

il surgelato, senza migrazioni da un segmento all'altro.

«La patata di I gamma – spiega Marchesi – non

ha lo stesso consumatore del prodotto surgelato. La

seconda referenza si rivolge a un target che cerca un

prodotto pratico, di qualità e di facile fruibilità. Uno sfi -

zio, quello della patatina fritta, che con il forno diventa

meno proibito. Chi acquista il fresco, invece, vuole

darle valore cucinandola, ricerca perciò determinate

caratteristiche della polpa in base alla destinazione

culinaria o nutrizionali, come l'arricchimento di iodio o

la tipicità di un territorio. È in linea di massima un consumatore

attento agli aspetti organolettici del prodotto,

anche se, in questo senso, il percepito della patata

in Italia è ancora molto basso e c'è molto fa fare per

diffonderne la cultura».
---
Pizzoli's biomass facility for recycling potato processing wastage for biogas production: it emits no malodorous smells and is used to

generate electricity. The plant also has a facility for purifying potato wash water and recycling it into the municipal water supply system.

Centrale a biomassa della Pizzoli, dove gli scarti della lavorazione delle patate vengono utilizzati per la produzione di biogas, senza dar luogo

a cattivi odori, e il calore della combustione viene trasformato in energia elettrica. Lo stabilimento è dotato anche di un potabilizzatore che fi ltra

l'acqua utilizzata nel lavaggio delle patate e la reimmette nella rete comunale.

Market potential

Yet in Marchesi's view promoting potato sales per se

is not the right way to raise consumer awareness of

this commodity's culinary heritage and value. Rather

the entire sales arm of the supply chain can be the

real driver by putting the focus on rediscovering the

art of cooking, recouping once-traditional recipes

and inventing new combinations «Promotional efforts

for fresh potato should become part of the "food

movement", the culinary fad that has become so

explosively popular of late. It's having an emotional

impact, hitting an enthusiastic note with consumers,

who gave it all up as superfl uous twenty years ago.

Today, in the midst of a spending downturn and the

short circuit of the dominant consumption model,

wholesome and healthy food has become something

to value and, once the superfl uous is eliminated an

asset worth spending for. It's a market that offers

potential for foodstuffs carrying value of a typical

nature or of provenance designation like the Pdo

Bologna or Pgi Sila potato, and even for functional

items like Iod Pizzoli».

Marchesi also noted the effort the big retail chains

have made in stocking and promoting so many different

types of potato and in introducing label segmentations

like "potato for gnocchi", "frying potato", and

so on. He concluded our conversation saying there

was still much more to be done in making consumers

more familiar with potato types and their quality

properties and in stocking a wider range of them.

(English version by David Verzoni)

C'è spazio nel mercato

Secondo Marchesi non è però attraverso un'attività di

promozione del consumo della patata in sé che si può

diffondere la cultura di questo ortaggio, ma è il generale

sistema di vendita fi nalizzato alla riscoperta dell'arte

della cucina, delle antiche ricette e di nuovi abbinamenti

che può fare da traino. «La promozione della patata fresca

va inserita nel "movimento culinario", nella moda del

cibo e del cucinare che sta imperversando. Emozioni

che per vent'anni i consumatori avevano abbandonato

perché era tutto più superfl uo. Oggi, con la crisi e il

corto circuito del sistema di consumo dominante, il cibo

buono e sano è diventato un valore, un bene su cui,

eliminato il superfl uo appunto, vale la pena spendere.

In questo contesto c'è spazio per valorizzare i prodotti

tipici o a denominazione, come le patate di Bologna

dop e le igp della Sila, oppure quelle funzionali, come

Iod Pizzoli».

Un buon lavoro nella diffusione delle tante tipologie di

patate in commercio è stato fatto dalla grande distribuzione,

conclude, che ha introdotto le segmentazioni

"patata per gnocchi", "patata da friggere", ecc., ma

tanto si può ancora fare migliorando la conoscenza

delle tipologie e delle loro caratteristiche e offrendo una

scelta sempre più ampia.

Fresh Point Magazine n.5 – may/maggio 2013

23

market/italian potatoes

mercato/patate italiane
---
market/organic in Germany

mercato/bio in Germania

Germany, solid

sales for organics

Germania, spiccano

i consumi biologici

di Roberto Pinton

Topping the fi rst of foodstuff exporters to benefi t from the trade's strong trend is

Italy. More regional trade shows are springing up

A trarre vantaggio dal buon andamento del settore sono anche i comparti agricoli dei

Paesi fornitori tra cui primeggia l'Italia. Si moltiplicano le fi ere regionali

During the show celebrating the tenth anniversary of

Bölw (Bund Ökologische Lebensmittelwirtschaft,

the inter-professional trade show) Germany's

Agriculture Minister Ilse Aigner noted that the country's

organics market had a €6.6 billion turnover in

2011.

According to Agrarmarkt fi gures, domestic sales of

fresh organic foods grew at a 3.2% rate in 2012 (8.7%

for eggs, 5.4% for vegetables, 5.2% for potato, 4.5%

for milk, 4.3% for fruit, and 1.3% for meat).

Even though its overall balance of trade shows a solid

surplus, its agricultural industry bears a structural deficit

as Germany is the world's fourth major importer

of foodstuffs. Note too that its organic acreage keeps

growing at a lower rate than that of demand–it topped

a million hectares by 2011, or 6.1% of total arable

land.

All of this means

that the solid

trend in demand

for organics works

to the advantage

of Germany's

trade partners. In

actual fact, Italy is

traditionally fi rst

among exporters

to Germany, supplying

it with a

sixth of its organic

apple market and

divides the market

for citrus, tomato,

Biofach fair.

L'ingresso a Biofach.

24 Fresh Point Magazine n.5 – may/maggio 2013

Nell'ambito della manifestazione per il decimo

anniversario della Bölw (Bund Ökologische

Lebensmittelwirtschaft, l'interprofessionale di settore) il

ministro per l'agricoltura tedesco Ilse Aigner ha ricordato

che il valore del mercato biologico nazionale nel 2011

era di 6,6 miliardi di €.

Da gennaio a settembre 2012 il valore dei consumi domestici

di alimenti biologici freschi è ulteriormente aumentato

del 3,2% (8,7% per le uova, 5,4% per gli ortaggi, 5,2%

per le patate, 4,5% per il latte alimentare, 4,3% per la

frutta, 1,3% per la carne - dati Agrarmarkt).Anche se il

saldo complessivo della bilancia commerciale del Paese è

ampiamente positivo, quello agricolo è strutturalmente in

defi cit (la Germania è il quarto maggior importatore netto

mondiale di prodotti alimentari). A ciò va aggiunto che il

tasso d'aumento della superfi cie biologica (la soglia del

milione di ettari è stata superata a fi ne 2011, raggiungendo

una quota del 6,1%

della Sau totale) è

inferiore a quello dei

consumi.

A trarre giovamento

dall'andamento

brillante dei consumi

biologici sono di

conseguenza pure

i comparti agricoli

dei Paesi fornitori,

tra cui tradizionalmente

primeggia

l'Italia, che fornisce

un sesto delle mele

biologiche consu-
---
sweet pepper, strawberry and carrot with Spain,

Holland and Israel. Italy also supplies Germany with

large quantities of grain, oil seed (which Italy also

imports), wine, olive oil, sauces, pasta, rice and processed

foods.

Must events

There are thus enough reasons for justifying trips

to the most important international organics trade

shows, beginning with the Biofach show held last

February at Nuremburg. The current fad for "zero

mile" (Lebensmittelmeilen) foods has also come more

or less timidly to the fore in Germany and provides the

raison d'être for the BioSud (Augsburg, September)

and BioNord (Hannover, October) shows, with each

having strictly regional connotations and expecting

to host some 400 exhibitors and 4 thousand visitors.

Udo Funke, head of Biofach, admits that these two

regional shows, which will be joined for the fi rst time

by BioWest at Düsseldorf and BioOst in Berlin, will

have an impact on the number of both exhibitors and

business visitors at his Nuremburg show. It's only

logical that small and medium producers and processors

that rely on local markets are more inclined

towards regional shows, just as local wholesalers and

non-chain independent retailers put their focus on

commodities of local provenance.

(English version by David Verzoni)

mate nel Paese e divide con la concorrenza spagnola,

olandese e israeliana il mercato di agrumi, pomodoro,

peperone, fragola e carota, e che fornisce rilevanti quantità

di cereali e semi oleosi (che a sua volta importa), vini,

olio, condimenti, pasta, riso e prodotti trasformati.

Appuntamenti irrinunciabili

Ci sono quindi elementi a suffi cienza per giustifi care le

visite ai più importanti saloni internazionali del biologico

a partire da Biofach, svoltasi lo scorso febbraio a

Norimberga.

La moda del "chilometro zero" (Lebensmittelmeilen)

emerge più o meno timidamente anche in Germania,

costituendo il presupposto per le fi ere BioSud (Augsburg,

settembre) e BioNord (Hannover, ottobre) d'impostazione

rigorosamente regionale, con circa 400 espositori e

4mila visitatori ciascuna.

Udo Funke, direttore di Biofach, ammette che le due

fi ere regionali (a cui, per la prima volta, in aprile si

aggiungeranno BioWest a Düsseldorf e BioOst a Berlino)

impattano sia sul numero di espositori che di visitatori

professionali della manifestazione di Norimberga: è

comprensibile che piccoli produttori e imprese di trasformazione

di minori dimensioni e con vocazione al

mercato di prossimità si orientino a fi ere regionali, così

come i distributori locali e i punti vendita indipendenti

non a catena che abbiano scelto come focus il prodotto

del territorio.

market/organic in Germany

mercato/bio in Germania
---
product/melon

prodotto/melone

Melon, new varieties galore

for the coming season

Melone, tante novità

per la prossima stagione

Giuseppe Francesco Sportelli

The wide range of novelties underscores the impetus to innovation of all commercial

types and the solid market trend

L'ampio ventaglio di novità conferma la vivacità dell'innovazione per tutte le tipologie

commerciali e il buon andamento del mercato

New melon variety breeding for 2013 covers all

types, a sign pointing to a strong market for

the crop as a whole.

Clause has four new cultivars. Calico F1 and Gaudio

F1 are two monoecious Italian netted types having

marked ribs that turn yellow upon ripening and long

post-harvest storability. The former has fruit of excel-

Frisco F1 (Gautier).

Frisco F1 (Gautier).

26 Fresh Point Magazine n.5 – may/maggio 2013

L'

innovazione varietale proposta per il melone nel

2013 dalle società sementiere nel 2013 riguarda

tutte le tipologie, segno del complessivo buon andamento

commerciale della cucurbitacea.

Clause presenta quattro novità. Calico F1 e Gaudio

F1 sono due retati italiani monoici con fetta ben

marcata che ingiallisce a maturazione, conservabili
---
product/melon

prodotto/melone

Emerson F1 (Isi Sementi).

Emerson F1 (Isi Sementi).

lent colour, brix and fl esh fi rmness,

and the latter has oval fruit with

all-over netting, uniform size, and

fragrant, coloured, tasty,

sweet fl esh. Saphir F1

has smooth skin,

slightly oval

round, fragrant

and aromatic

fruit of uniform

size and shape,

ripening slowly to

yellow, and orange

fl esh. Batista F1 is

a Charentais with fi ne

netting covering the fruit

for a very attractive, rustic

look while combining very high

brix with the typical fragrance/fl avour

of the best Charentais.

Gautier is releasing to new ones: Frisco F1, a

roundish, netted Charentais of fi rm fl esh and excellent

taste, and Alegria F1, a netted Charentais of

roundish shape, medium size, creamish coloured,

notably furrowed skin, long post-harvest storage

life (LSL) and good tasting orange fl esh.

Isi Sementi will market two new varieties. Emerson

F1, an Amarillo Oro, has very good post-harvest

SL, oval fruit (1.5-2 kg), slightly rough, deep yellow

skin and very sweet fl esh with a small cavity. Miura

F1, a Piel de Sapo, has oval fruit (3-3.5 kg), deep

green, very rough skin, and fi rm sweet fl esh.

Med Hermes is offering Segesta F1, a rough

skinned, ovalish round, uniformly furrowed fruit

(about 2.3 kg) of good post-harvest SL, crispy,

sweet and fl avourful white fl esh with reduced cavity.

28 Fresh Point Magazine n.5 – may/maggio 2013

Segesta F1 (Med Hermes).

Segesta F1 (Med Hermes).

Gaudio F1 (Clause).

Gaudio F1 (Clause).

a lungo in post raccolta. Il primo ha

frutti di eccellente qualità per colore,

brix e consistenza. Il secondo ha

frutti ovali con rete fi tta e coprente

e calibro stabile e omogeneo, polpa

aromatica, colorata, gustosa

e dolce. Saphir F1,

melone liscio con polpa

aranciata, ha frutti

rotondo-leggermente

ovali, lisci, di elevatissima

omogeneità

di calibro e forma

e viraggio al giallo

lento, aromatici e

profumati. Batista F1,

Charentais retato con

rete fi ne e ben coprente

che fornisce ai frutti

aspetto molto attraente

e rusticità, abbina brix molto

elevato al tipico aroma/gusto dei

migliori Charentais.

Gautier propone due novità: Frisco F1, Charentais

retato con frutto rotondeggiante, a polpa soda, di

ottimo sapore, e Alegria F1, Charentais retato a lunga

conservazione (LSL) dotato di buona tenuta in post

raccolta, ha frutto rotondeggiante di medio calibro,

con buccia che tende al crema con solcature evidenti,

polpa arancione e buon sapore.

Isi Sementi inserisce sul mercato due nuove varietà.

Emerson F1, Amarillo Oro, a elevata tenuta in post

raccolta, ha frutto ovale (1,5-2,0 kg) con buccia leggermente

rugosa e di un giallo intenso, polpa molto

dolce e cavità piccola. Miura F1, Piel de Sapo, ha

frutti ovali (3,0-3,5 kg), di un verde intenso e molto
---
34-529 RZ F1 (Rijk Zwaan).

34-529 RZ F1 (Rijk Zwaan).

Monsanto Vegetable Seeds will market under its

Seminis label SV5448ML F1, an appealing ovalround

(1.1-1.7 kg) monoecious, sutured, netted

fruit of LSL with marked furrows, very fi rm fl esh of

optimum fl avour and long shelf-life.

Rijk Zwaan has a number of novelties this year.

Three Italian netted types come fi rst: 34-677 RZ F1

has oval-round, eye-appealing fruit with markedly

netted fruit with green skin and furrows, LSL, and

fi rm, very sweet and fragrant fruit; Attar RZ F1 has

oval-round, very uniform fruit (about 1.4 kg) of LSL

with markedly netted rind and deep green furrows,

very fi rm, glossy fl esh of top quality taste and fl avour;

Donar RZ F1 has uniform oval fruit (1.3-1.5 kg)

with attractive netting, green furrowing, top fl esh

quality of high brix and great fragrance.

Then there are two fragrant Charentais: Escorial

RZ F1 has beautiful, elegant, slightly round fruit of

very uniform size (about 1.4 kg) with netted rind

and optimum fl esh fl avour; Meroe RZ F1 has round,

very uniform fruit (1.2-1.4 kg) marked by fi ne, evenly

distributed netted pattern.

Next come two LSL Charentais with very uniform

round fruit (1-1.2 kg) with good eye-appeal and

netting: 34-529 RZ F1 has top-quality, crispy, very

sweet fl esh, and 34-544 RZ F1, with crispy fl esh

and very compact placental cavity.

Rijk Zwaan tops off its novelties with two more varieties:

34-151 RZ F1, an oval-round, yellowish fruit

ideal for packing and big retail because of its uniform

2.5-kilo size, high-quality, crispy white fl esh

and excellent post-harvest SL, and Reymiel RZ F1,

a Piel de Sapo type, with very attractive, uniform

fruit at about 3 kilos of good fl avour qualities and

limited cavity size.

SV5448ML F1 (Monsanto).

SV5448ML F1 (Monsanto).

rugosi, con polpa dolce e consistente.

Med Hermes presenta Segesta F1, gialletto rugoso

e tondo-ovale (2,3 kg circa) ben conservabile in post

raccolta, con marcatura uniforme dei frutti, cavità

ridotta, polpa bianca croccante, dolce e saporita.

SV5448ML F1, retato suturato monoico ESL con

solcatura della fetta, è proposto da Monsanto

Vegetable Seeds col brand Seminis. Ha frutti tondoovali

(1,1-1,7 kg) molto attraenti, dotati di ottimo

sapore, polpa molto consistente, elevata conservabilità.

Numerose novità sono proposte da Rijk Zwaan. Tre

meloni retati italiani: 34-677 RZ F1 ha frutti tondoovali

di ottima presentazione esterna con rete marcata,

sutura sempre verde e polpa ferma molto dolce

e aromatica, di ottima shelf life (ESL); Attar RZ F1 ha

frutti tondo-ovali molto uniformi (1,4 kg circa), con

retatura forte, marcata e coprente e suture marcate

verdi, pasta estremamente ferma e brillante con

ottima shelf life (ESL) e alte qualità organolettiche;

Donar RZ F1 ha frutto ovale uniforme (1,3-1,5 kg), con

retatura molto elegante e suture verdi persistenti, di

elevata qualità interna con alti brix e aroma.

Due Charentais aromatici: Escorial RZ F1, con frutti

belli ed eleganti, tondi leggermente retati, di calibro

(1,4 kg circa) molto uniforme e ottime qualità organolettiche;

Meroe RZ F1, con frutti tondi e molto uniformi

(1,2-1,4 kg circa), a retatura fi ne e ben distribuita.

Due Charentais LSL con frutti tondi molto uniformi e

regolari (1-1,2 kg) caratterizzati da bella presentazione

e retatura: 34-529 RZ F1, con polpa di alta qualità,

croccante e molto dolce; 34-544 RZ F1, con cavità

placentare molto compatta e polpa croccante.

L'offerta di Rijk Zwaan è completata da altre due novità:

34-151 RZ F1, gialletto a frutto tondo-ovale ideale

Fresh Point Magazine n.5 – may/maggio 2013

29

product/melon

prodotto/melone
---
product/melon

prodotto/melone

Taxi F1 (Zeta Seeds).

Taxi F1 (Zeta Seeds).

Syngenta is releasing three novelties.

Two are Piel de Sapos: MP3300 F1

has uniform fruit and very pleasant

sweet taste; Velasco F1 has appealing,

regular-shaped elegant fruit of

very high quality fl esh. It also debuts

Sensei F1, a Cantaloupe with postharvest

LSL, very uniform and elegant

yellow netted fruit at ripening, salmon-coloured,

fi rm and crispy fl esh.

Zeta Seeds will market fi ve new cultivars. Two

are classical netted ones with green furrowing:

01zs750 F1 has spherical fruit (1.4-1.6 kg), fi rm,

even-coloured, fragrant orange fl esh with minimum

cavity; Oasi F1 has spherical-round, LSL fruit (1.4-

1.6 kg) with fi rm, well-coloured, very sweet and

fragrant orange fl esh and compact cavity.

Then come two Amarillos of optimum storage life:

Oriolè F1 has spherical fruit with semi-smooth rind

of medium-to-small size (1.3-1.5 kg), very sweet,

crispy white flesh; Taxi F1 has oval-spherical fruit

(2.5-3 kg) with white flesh of high brix and small

cavity.

The last one is Bambulè F1, a Charentais-brodè,

that has LSL, spherical fruit (1.4-1.6 kg) of yellow

rind when ripe with evident furrowing, and very

sweet, fragrant, reddish-orange fl esh of excellent

taste.

(English version by David Verzoni)

30 Fresh Point Magazine n.5 – may/maggio 2013

per confezionamento e gdo, con pezzatura uniforme

da 2,5 kg e pasta bianca croccante di altissima qualità,

ottima tenuta in post raccolta; Reymiel RZ F1,

Piel de Sapo con frutti molto uniformi e attraenti, con

buone caratteristiche organolettiche, pezzatura di 3

kg circa e cavità placentare contenuta.

Syngenta propone tre novità. Due Piel de Sapo:

MP3300 F1 ha frutti uniformi, con gusto zuccherino

molto gradevole; Velasco F1 ha frutti regolari ed eleganti,

di qualità molto elevata. Inoltre presenta Sensei

F1, Cantalupo i cui frutti, a viraggio giallo, molto

uniformi ed eleganti per retatura e meridiani evidenti,

hanno polpa salmone, consistente e croccante, e

presentano ottima conservabilità in post-raccolta.

Infi ne Zeta Seeds introduce sul mercato cinque novità.

Due retati classici con assolcatura di fetta verde:

01zs750 F1 ha frutto sferico (1,4-1,6 kg), polpa soda

arancione ben pigmentata, compatta con minima

cavità placentare, aromatica; Oasi F1 ha frutto ESL

MP3300 F1 (Syngenta).

MP3300 F1 (Syngenta).

tondo-sferico (1,4-1,6 kg), con polpa soda arancione

ben pigmentata, compatta con minima cavità, aromatica

e molto dolce.

Due Amarillo dotati di ottima conservabilità: Oriolè

F1, dal frutto semi-liscio leggermente sferico, con

pezzatura media/medio piccola (1,3-1,5 kg), polpa

bianca e croccante, molto dolce; Taxi F1 ha frutto

sferico-ovale (2,5-3 kg), con piccola cavità e polpa

bianca, alto brix.

Infi ne presenta Bambulè F1, Charentais-brodè a

frutto ESL (1,4-1,6 kg) sferico giallo a maturazione,

con assolcature evidenti, cavità piccola e polpa

arancione-rossa pigmentata, aromatica, molto dolce

e di ottimo sapore.
---
product/watermelons

prodotto/angurie

Seedless and mini

make the market

Seedless e mini

dominano i mercati

Giuseppe Francesco Sportelli

The seed companies are showcasing seedless and mini watermelons in their new

2013 varieties. But the classic types are there too

Fra le novità varietali proposte dalle società sementiere per il 2013 prevalgono le

angurie senza semi e quelle piccole. Ma non mancano le classiche

Seedless and mini are the two types dominating

the new varieties being offered by the seed

companies in 2013. And it's no accident since both

types are atop Europe's markets and are becoming

more and more popular with Italian consumers.

No worry, though, since the regular varieties with

seeds are still there and retain a healthy share of the

domestic market.

Cora Seeds has several new cultivars. First come

three seedless in the line of striped-rind Crimson

Sweet: Denise F1 (3 kg) featuring superb fl avour

and excellent postharvest storage life, CRX 10078

F1 (7 kg), perfect for slicing (four at a good 1.5

Selene F1 (Med Hermes).

Selene F1 (Med Hermes).

32 Fresh Point Magazine n.5 – may/maggio 2013

CRX 10123 F1 (Cora Seeds).

CRX 10123 F1 (Cora Seeds).

Seedless e mini: sono le tipologie di angurie che

prevalgono nell'offerta di novità varietali delle

società sementiere per il 2013. Non a caso, perché le

une e le altre dominano sui mercati europei e si fanno

sempre più strada anche nel gusto dei consumatori

italiani. Tuttavia non mancano le classiche angurie con

semi, che si ritagliano ancora una quota importante del

mercato nazionale.

Cora Seeds propone diverse novità, soprattutto fra

le seedless con tre varietà a buccia striata Crimson

Sweet: Denise F1 (3 kg), con sapore superbo e ottima

tenuta post raccolta, CRX 10078 F1 (7 kg), ottima

anche per la fetta (quattro da 1,5 kg abbondanti), e CRX

Talete F1 (Isi Sementi).

Talete F1 (Isi Sementi).
---
kg), and CRX 10123 F1 (10 kg), with fi rm fl esh and

exceptional fl avour. Next comes the new mini Nikas

F1, which has optimum fl avour, uniform weight

at 2-2.5 kilos and optimum post-harvest storage.

Then there are the classic seeded Crimson Sweets:

the extra-early Furia F1 (8-10 kg) and the deep redfl

eshed Sunsweet F1 (12-14 kg). And there are the

new long CRX 10049 F1 (10-12 kg) and the oblong

Emblema F1 watermelons.

Esasem will debut two new, long-storage seedless

in their Crimson line: Red Box F1 is a round,

uniform midi-type (5-6 kg) with shiny dark green

skin, fi rm crispy, fi ne-textured, very sweet fl esh;

and Sweet Candy F1 is a round mini watermelon

of uniform weight (2-2.5 kg), shiny beautiful green,

handling-resistant rind, fi rm, crispy and sweet

deep-red fl esh.

Isi Sementi has three new types of Crimson Sweet:

Aston F1 has uniformly round-to-oval fruit (11-13 kg)

with medium-red, crispy, sweet and tasty fl esh; Antilop

F1 has uniform oval fruit (12-14 kg) of optimum storage

life and attractive, crispy and fl avourful red fl esh; and

the mini Talete F1 featuring uniform fruit (2-3 kg) of

deep red, crispy, sweet, very delicious fl esh.

Med Hermes has Selene F1, an oval-round seedless

fruit of uniform 8-kilo weight with shiny deep-red,

10123 F1 (10 kg), con polpa soda e sapore eccezionale.

Tra le miniangurie Nikas F1 che vanta ottimo gusto,

pezzatura uniforme di 2-2,5 kg e ottima tenuta in post

raccolta. Per le Crimson Sweet classiche presenta

Furia F1 (8-10 kg), precocissima, Sunsweet F1 (12-

14 kg), a polpa rossa intensa. Fra le angurie lunghe

propone CRX 10049 F1 (10-12 kg) ed Emblema F1,

oblunga.

Due seedless tipo Crimson dotate di ottima conservabilità

sono le novità di Esasem. Red Box F1 è

una midianguria tonda. Il frutto, uniforme (5-6 kg), ha

buccia verde scura striata e brillante con polpa rossa,

soda e croccante, senza fi bra e molto zuccherina.

Sweet Candy F1 è una minianguria con frutto tondo

di pezzatura uniforme (2-2,5 kg), buccia resistente,

di un bel verde brillante, polpa rossa intensa, soda,

croccante e dolce.

Tre angurie tipo Crimson Sweet sono le novità di

Isi Sementi. Aston F1 ha frutti uniformi da tondi a

tondo-ovali (11-13 kg), polpa rossa media, croccante e

gustosa. Antilop F1 ha frutti ovali, uniformi (12-14 kg),

dall'ottima tenuta in post raccolta e polpa rossa attraente,

gustosa e croccante. Talete F1 è una minianguria

con frutti uniformi (2-3 kg), polpa croccante, rossa

intensa, dolce e dal gusto molto gradevole.

Dolce, croccante, senza semi, con buccia chiara stria-
---
product/watermelons

prodotto/angurie

Red Box F1 (Esasem).

Red Box F1 (Esasem).

crispy, well-textured fl esh and clear-striped rind 1.5-2

cm that has long post-harvest storage life and is ideal

for long-distance transport.

Nunhems is releasing three new Crimson Sweet

types of excellent post-harvest storage that's resistant

to handling and transport, making them ideal for

big retail, traditional and export markets. Catira F1 is

a large, long uniform fruit of 9-14 kg with attractive,

shiny medium-dark green

rind and deep red,

crispy sweet fl esh.

Manitou F1 is an

oval-round, very

uniform fruit of

medium-large

size (8-10 kg),

attractive shiny

rind colour and

deep red, very

crispy fl esh. The

last is the mini

Reddly F1 featuring

uniform 2-2.5-kilo

fruit, deep red, crispy,

sweet, fl avourful fl esh with

extra-small seeds.

34 Fresh Point Magazine n.5 – may/maggio 2013

Monaco F1 (Zeta Seeds).

Monaco F1 (Zeta Seeds).

Rijk Zwaan will debut Oneida RZ F1 and Baronesa

RZ F1, both of high quality, very uniform, regular,

eye-appealing fruit that's perfect for packing in

boxes and cartons. Oneida RZ F1 is a Crimson

Sweet type with round 6-8-kilo fruit of very regular,

size and shape, shiny thick rind, deep red fl esh of

few, small pips, traits that make it ideal for big retail

and export distribution. Baronesa RZ F1 is Sugar

Baby fruit featuring very uniform fruit of 7-9 kilos,

shiny dark rind and fi ne-textured, dark red crispy

fl esh.

Catira F1 (Nunhems).

Catira F1 (Nunhems).

ta: peculiarità di Selene F1, novità di Med Hermes

che vanta elevata tenuta post-raccolta. Ha frutti

tondo-ovali e uniformi di 8 kg, polpa rossa intensa e

brillante, poco fi brosa, buccia di 1,5-2 cm ideale per

lunghi trasporti.

Nunhems propone tre novità tipo Crimson Sweet,

provviste di ottima tenuta in post raccolta e resistenza

alla lavorazione e al trasporto e quindi adatte per

gdo italiana, mercati

tradizionali ed

export. Catira F1

è un'anguria allungata

il cui frutto ha

pezzatura medio

grande e omogenea,

di 9-14

kg, buccia verde

medio scura attraente

e brillante e

Baronesa RZ F1 (Rijk Zwaan).

Baronesa RZ F1 (Rijk Zwaan).

polpa rossa intensa,

dolce e croccante.

Manitou F1

è una tondo-ovale con frutto di pezzatura medio grande

(8-10 kg) molto uniforme, dal colore esterno brillante e

attraente, con polpa rossa intensa molto croccante. La

mini anguria Reddly F1 ha frutti uniformi da 2-2,5 kg,

polpa rossa intensa, croccante, dolce, gustosa e semi

extrapiccoli.

Rijk Zwaan presenta le angurie Oneida RZ F1 e

Baronesa RZ F1, caratterizzate dall'alta qualità dei

frutti, molto uniformi e regolari, e da un'accattivante

presentazione, che li rende adatti al confezionamento

in box e cartone. Oneida RZ F1 è una Crimson Sweet

con frutto tondo di 6-8 kg, pezzatura e forma molto

regolari, buccia brillante, di buon spessore, polpa

rossa intensa con pochi semi e piccoli, che rappresenta

la giusta risposta per la gdo e l'export. Baronesa RZ
---
NIZ 64-64 F1 (Vilmorin).

NIZ 64-64 F1 (Vilmorin).

United Genetics has two new ones in its "Unigen

4Color" line, both of very good brix (11.5°). Midi

4Color F1 features ideal shape and size for supermarkets

at a uniform 4-5 kilo and fi rm, crispy deepred,

sweet fl esh. Mini Blue F1 is very uniformly

round with fi rm, deep red fl esh and uniformly thick

dark-striped rind of 2.5-3.5 kilos that's perfect for

big retail and export sales.

Vilmorin is re leasing NIZ 64-64 F1, a Crimson

Sweet with round-to-oval fruit of very uniform size

and average 8-10-kg weight and deep red, very fi rm

fl esh with very few pips, an average 11-12 °brix and

excellent post-harvest storage.

Zeta Seeds will be marketing three minis of uniform

size: Monaco F1 (1.5-3 kg), 02zs150 F1 (2-2.5

kg) and Chicago F1 (1.5-2.5 kg), each featuring

top-quality, attractive fruit with green-striped rind,

glossy red, fi ne-textured fl esh of high brix with few

pips and guaranteed good storage life. The company

also has two new seedless varieties, Daxi F1

and Bruselas F1, both of excellent quality and high

brix. Daxi F1 is long and oval-shaped in the Cal

Sweet category featuring attractive, uniform fruit

of 10-12 kilos with shiny green-striped rind, deep

red, well-textured fl esh and high brix. Bruselas F1 is

spherical in the Jubilee category and features good

post-harvest storage life, attractive, uniform fruit of

3-5 kilos with green-striped rind and deep red, welltextured

fl esh with few empty white pips.

(English version by David Verzoni)

Mini Blue F1(United Genetics).

Mini Blue F1(United Genetics).

F1 è un'anguria Sugar Baby che si distingue per i frutti

molto regolari con pezzatura di 7-9 kg, buccia scura e

brillante, polpa rossa intensa, fi ne e croccante.

United Genetics propone due novità nella gamma

"Unigen 4Color", entrambe con brix molto buono

(11,5°). Midi 4Color F1 ha frutti con forma e dimensione

ideali per il supermarket, peso medio uniforme

di 4-5 kg, polpa consistente, croccante, dolce e rossa

intensa. Mini Blue F1 è una tonda a striature scure da

2,5-3,5 kg, con elevata uniformità, polpa consistente

e rossa intensa, buccia di spessore uniforme che la

rende ottima per gdo ed export.

Vilmorin offre NIZ 64-64 F1, una Crimson Sweet con

frutti tondo-ovali, di pezzatura molto uniforme e peso

medio di 8-10 kg. Ha polpa rossa intensa, consistente,

con pochissimi semi, grado brix medio 11-12 e mostra

eccellente tenuta post raccolta.

Zeta Seeds punta su tre miniangurie con pezzature

uniformi: Monaco F1 (1,5-3 kg), 02zs150 F1 (2-2,5 kg)

e Chicago F1 (1,5-2,5 kg), caratterizzate da frutti di

ottima qualità, ben tirati, verdi striati, brillanti, di bell'aspetto,

polpa rossa brillante con pochi semi, alto brix,

senza fi bra e con ottima tessitura, garanzia di conservabilità.

Presenta poi due angurie seedless: Daxi F1 e

Bruselas F1, di qualità eccellente e brix elevato. Daxi

F1, ovale allungata in classe Cal Sweet, ha frutti ben

tirati, uniformi, verdi striati brillanti, da 10-12 kg, con

polpa rossa intensa, senza fi bra, alto brix. Bruselas F1,

sferica in classe Jubilee, ha frutti ben tirati, uniformi,

verdi striati, da 3-5 kg, polpa rossa intensa con pochi

semi bianchi vuoti, deliquescenti, senza fi bra, di ottima

tessitura, ben conservabili dopo raccolta.

Fresh Point Magazine n.5 – may/maggio 2013

35

product/watermelons

prodotto/angurie
---
product/carrot

prodotto/carota

Carrot, Ispica organic & Pgi

Competitive niches

Carote, bio e Igp di Ispica

Nicchie competitive

Marianna Martorana

The former are less under the sway of market whims, while the latter, early varieties

stand out from those of other growing districts

Le prime sono meno soggette alle speculazioni di mercato, le novelle hanno un ciclo

autunno-primaverile che le distingue dalle produzioni degli altri areali

Whether of integrated or organic management,

carrot is an important cash crop for produce

growers in eastern Sicily.

Most of the carrot grown by Colle d'Oro Farms in

Ispica (Ragusa Province), an organic producer since

the 1990s, is earmarked for the organic market and

export. Today, in fact, 45% of its total acreage of nearly

500 hectares are under carrot, courgette, red beet,

potato, and tomato in rotation with wheat and vetch.

Demand for organic carrot is strong and, despite management

costs, is a viable and competitive cash crop.

«Prices of organic commodities – said Giuseppe Brafa,

an extension agent at Colle

d'Oro. – They're less vulnerable

to speculative market

swings that are typical

of conventional foodstuffs.

That's why it's even more

important to have reliable

marketing connections».

Sowing runs from the second

half of September to

mid-November. Most of

the cultivars grown are

uncoated hybrids like

Syngenta's Dordogne,

Vilmorin's Musico and

Nunhmens's Romance,

although there are some

organic-seed varieties too.

As Brafa noted, sowing

density depends on the

type of crop you want to

36 Fresh Point Magazine n.5 – may/maggio 2013

Packinghouse.

Magazzino di lavorazione.

La carota rappresenta un'importante referenza orticola

per i produttori della Sicilia orientale, non importa

se da produzione integrata o biologica.

Destinata soprattutto al mercato estero e biologico è la

carota dell'azienda Colle d'oro di Ispica (Rg), che adotta

il sistema di coltivazione bio dalla fi ne degli anni '90.

Attualmente il 45% della superfi cie coltivata (circa 500

ha) è bio ed è investita a carote, zucchine, bietola rossa,

patata, pomodoro in rotazione con grano e veccia.

Le richieste della carota biologica sono in aumento e,

nonostante i costi, rappresenta una produzione valida

e competitiva, la cui vendita è certa. «I prezzi delle
---
Consortium mission: promotion and nutritional studies

Attività del Consorzio: promozione e studi nutrizionali

The Consortium managing the quality

seal was set up in 2010 and today has 8

members, having lost several important

growers who sold their farms. Bolstered

by ministry support funds in 2012, it

embarked on grazie a series of promotional

ventures like exhibiting at the Fruit

Logistica show in 2013 and at "Colours

values fl avours of the South" held at the

Italian Touring Club building in Milan.

It has set up a web site featuring an

advertising video and photo reportage for

consumer education purposes and will

continue with promotional events at shopping

malls and food shows. There are also

plans for studies regarding the nutritional

properties of its carrots and for advertising

efforts aimed at encouraging other growers

to join the consortium. In effect, most

pick and hence, on customer demand. The preference

is for a carrot of rather slim diameter, say, between

12 to 35 mm, and a length of 20 cm. This kind of

crop calls for a density of abut 2 million 200 thousand

seeds/ha compared to an average for other growers of

about 1 million 800 thousand. It's

the competition between plants

that yields the right size.

Picking usually starts after

mid-March and runs through

June. Once the crop is

washed, sorted and wastage

eliminated, more than

90% is placed in bins

and dispatched to northern

and eastern European

countries and the UK for

packaging and retail.

Apart from farms that pick

and pack, there are also

those that handle the entire

supply chain like the Ispicabased

Consorzio Fonteverde Producer Organisation.

Of the 10 commodities it handles, carrot is grown on

110 ha and accounts for 20-25% of its turnover, with

nearly 70% being exported. Along with its own label,

the PO is in the early stages of applying for the EU

quality seal. And it's easy to see why: the 2012 crop

bearing the Pgi seal totalled about 200 tons whereas

that marketed under own-house label was 4,500 tons.

of the area's farmers deliver sorted boxed,

unpackaged carrot to the markets in

northern Italy. But, as Carmelo Calabrese

reiterated, securing solid market share is

a matter of consolidating extant business

relations with wholesalers and retailers

while promoting the value of a crop like

Ispica carrot that is closely identifi ed with

its terroir. (DV)

Il Consorzio di tutela, nato nel 2010, è

attualmente costituito da 8 soci, dopo

la perdita di alcune importanti aziende

che hanno chiuso. Nel 2012, grazie a

fondi ministeriali sono state avviate una

serie di attività di comunicazione come la

partecipazione al Fruit Logistica 2013 e a

"Colori valori sapori del Sud" nel palazzo

del Touring Club italiano a Milano.

Al fi ne di informare il consumatore sui

produzioni biologiche, – afferma Giuseppe Brafa, tecnico

dell'azienda Colle d'Oro – sono meno soggetti alle

oscillazioni dovute alle speculazioni di mercato tipiche

del prodotto convenzionale, diventa quindi ancora più

importante avere dei rapporti commerciali ben precisi».

Le semine iniziano dalla seconda metà di settembre

fi no alla seconda decade

di novembre. Le varietà

coltivate sono generalmente

ibridi convenzionali

non trattati

come Dordogne

(Syngenta), Musico

(Vilmorin), Romance

(Nunhmens),

anche se non

mancano alcune

sementi biologiche.

Come spiega Brafa,

la densità di semina

dipende dalla tipolo-

Boxed Pgi Ipsica spring carrot.

Carota Novella di Ispica Igp

in cartone.

caratteri distintivi rispetto ad altre carote,

sono stati realizzati il nuovo sito web, video

di presentazione e reportage fotografi ci e

sono in programma altre iniziative in centri

commerciali e la partecipazione a eventi

riguardanti la gastronomia. In progetto

l'avvio di studi più approfonditi in merito

alle caratteristiche nutrizionali e la sensibilizzazione

di altri produttori per aumentare

il numero di adesioni. Ancora, infatti, la

maggior parte delle aziende conferisce il

prodotto semilavorato ai mercati del Nord.

Ma come ribadisce Carmelo Calabrese, le

strategie per rimanere sul mercato riguardano,

da un lato, il consolidamento dei

canali commerciali acquisiti, come aziende

private, e, dall'altro, la valorizzare di un

prodotto strettamente legato al territorio

quale è la carota di Ispica. (MM)

gia di prodotto che si

vuole ottenere e quindi

dalle richieste dei

clienti. Sono preferite

carote dal diametro piuttosto contenuto, compreso tra

12 e 35 mm per una lunghezza di 20 cm. A questo fi ne

si adotta una densità di circa 2milioni e 200mila semi/ha

rispetto a una media di altri produttori di circa 1milione e

800mila semi/ha. L'incremento della competizione tra le

Fresh Point Magazine n.5 – may/maggio 2013

37

product/carrot

prodotto/carota
---
product/carrot

prodotto/carota

PGI ISPICA SPRING CARROT IN PROFILE

Growing area Ragusa Province (districts of Acate,

Chiaramonte Gulfi , Comiso, Ispica, Modica,

Pozzallo, Ragusa, Santa Croce Camerina,

Scicli, Vittoria); Syracuse Province (districts

of Pachino, Noto, Portopalo di Capo Passero,

Rosolini); Catania Province (Caltagirone);

Caltanissetta Province (Niscemi)

Members 8

Acreage about 1,000 ha

Quantity 400 t certifi ed in 2012

Cultivar type semi-long Nantes & related hybrids

Marketing season 20 February - 15 June

LA CAROTA NOVELLA DI ISPICA IGP IN PILLOLE

Aree di produzione provincia di Ragusa (comuni di Acate,

Chiaramonte Gulfi , Comiso, Ispica, Modica,

Pozzallo, Ragusa, Santa Croce Camerina,

Scicli, Vittoria);provincia di Siracusa (comuni

di Pachino, Noto, Portopalo di Capo Passero,

Rosolini); provincia di Catania (Caltagirone);

provincia di Caltanissetta (Niscemi)

Associati 8

Superfi cie circa 1.000 ha

Quantitativi 400 t certifi cate nel 2012

Profi lo varietale Carota semilunga nantese e i relativi ibridi

Campagna di 20 febbraio - 15 giugno

commercializzazione

Ispica carrot from

February to mid-

June

«What really makes

Sicilian carrot stand out

– said Carmelo Calabrese

of Fonteverde PO and

President of the managing

Consortium for Pgi Ispica spring

carrot – is that it's a baby crop since it's grown in an

autumn-spring rather than the spring-autumn cycle of

the other growing districts. This means that, according

to Pgi standards, the marketing season begins on 20

February and ends in mid-June, supplying the consumers

with a fresh, sweet, fragrant and crispy carrot

with herbaceous aroma».

The overall carrot growing area is noted for its high

average winter temperatures, high number of sunny

days and good soil fertility and texture. These factors

combine to yield a crop of very deep colouring,

regular shape, solid sugar (>5% fresh weight) and beta

carotene (>4 mg/100 g fresh product) contents. Sicilian

carrot is a semi-long Nantes type with an orange taproot

"closed" at the rounded end and heart, or central

core, of the same regular fi rmness as the rest of the

root.

Photos courtesy of Fonteverde PO.

(English version by David Verzoni)

38 Fresh Point Magazine n.5 – may/maggio 2013

piante, infatti, permette di raggiungere la cilindrità richiesta.

La raccolta inizia tradizionalmente dopo la prima metà

di marzo e continua fi no a giugno. Effettuato il lavaggio,

la calibratura e l'eliminazione dello scarto, oltre il 90%

del prodotto è posto in bins e inviato ai Paesi del Nord

Europa, Inghilterra e qualche Paese dell'Est, dove avviene

il confezionamento.

Accanto al prodotto semilavorato, altre aziende si occupano

dell'intera fi liera come l'Op Consorzio Fonteverde

di Ispica (Rg). Delle 10 referenze che produce, la carota

rappresenta circa il 20-25% del fatturato per una superfi

cie di 110 ha e per circa il 70% raggiunge l'estero.

Accanto al prodotto a marchio aziendale, si sta cercando

di valorizzare quello a marchio comunitario, anche se

ancora si è in una fase iniziale. Basti considerare che, nel

2012, le produzioni Igp sono state di circa 200 t contro le

4.500 t di quelle commercializzate a marchio aziendale.

L'ispicana da febbraio a metà giugno

«La grande peculiarità della carota siciliana – spiega

Carmelo Calabrese dell'Op Fonteverde e presidente del

Consorzio di tutela carota novella di Ispica Igp – è che si

Pgi Ispica spring carrot in punnet.

Carota Novella di Ispica Igp in vassoio.

tratta di un prodotto giovane, con ciclo colturale autunno-primaverile

rispetto a quello primaverile-autunnale,

tipico degli altri areali». Ciò signifi ca che la campagna

commerciale, così come da disciplinare dell'Igp, inizia il

20 febbraio e si conclude il 15 giugno, esitando sul mercato

un prodotto fresco, dolce, profumato, croccante,

dall'aroma erbaceo».

Il territorio di coltivazione è contraddistinto da temperature

medie invernali elevate, alto numero di ore di luce

solare, terreni di buona fertilità con scheletro non grossolano.

Questo permette di ottenere una carota dalla

colorazione molto intensa, conformazione regolare, un

considerevole contenuto in zuccheri (>5% su peso fresco)

e beta carotene (>4 mg/100 g di prodotto fresco).

La carota siciliana afferisce alla tipologia semilunga nantese,

ossia con fi ttone arancione "chiuso'' nella parte

terminale (arrotondato) e dotata di un "cuore'', cioè un

cilindro centrale, poco pronunciato o di consistenza

uguale al resto della carota.

Le foto sono della Op Fonteverde.
---
product/radicchio

prodotto/radicchio

Radicchio, from North to South

success beyond all expectations

Radicchio, da Nord a Sud

successo oltre ogni attesa

Davide Bernieri

Sales in the Coop chain of 1 kilo mini-packs from OPO Veneto are big all over

Italy even as the promotional campaign winds down

La vendita nelle Coop dei minicolli da un kg di Opo Veneto ha prodotto ottimi risultati,

con un aumento dei consumi in tutta Italia. Campagna promozionale alle ultime

battute

The Coop chain's promotion of 1 kilo mini-packs

has made Veneto radicchios available to consumers

in areas where they hadn't, or only sporadically,

penetrated before. Consumer response to

these packages with their guaranteed weight has

been beyond all expectations. The promotional effort

at special prices has proved to be an exceptional

incentive, with sales increasing almost everywhere.

Indeed, notable gains were seen not only in the

country's North and Centre and along the Adriatic

coast down to Apulia, but even areas

where radicchio already has a strong

market.

All those behind the push are very

pleased with the results. Coop

has commented favourably and,

as the initiative comes to a successful

close, the Opo Veneto

Several varieties of Veneto

radicchio as packaged

for sale in Coop

supermarkets.

Diverse varietà di radicchio

Veneto nella confezione

in vendita nei supermercati

Coop.

40 Fresh Point Magazine n.5 – may/maggio 2013

Grazie ai minicolli di Opo Veneto, distribuiti in forma

promozionale dalle Coop, i radicchi veneti hanno

raggiunto aree, dove fi no ad ora non arrivavano o

erano una presenza episodica. Le confezioni da un kg

(garantito) hanno avuto una risposta dei consumatori

che ha superato ogni attesa. Sono state offerte a prezzo

contenuto e incentivante in tutto il Nord e il Centro

Italia e nella fascia Adriatica fi no alla Puglia; il riscontro

positivo è generalizzato. Si è avuto, inoltre, un

aumento di consumi anche nelle aree dove

il radicchio ha un mercato consolidato.

Soddisfazione da parte dei promotori

dell'iniziativa: commenti positivi arrivano

dalle Coop, mentre

per Opo Veneto
---
Producer Organisation also made it clear that it was

also a logistics and organisational feather in their cap.

«The results are solid – noted Opo Veneto President

Francesco Daminato – and backed up by hard numbers

that point to a very promising season next year».

Educating consumers

The promo campaign is in its last phase as the

"Veneto week" showcase window is about to open.

This is when the market goes from winter radicchios

to the early ripeners, while getting ready to put spring

salads on the table. The underlying idea of the promotion

is to further reinforce at the local level consumer

awareness and sales of radicchios by emphasising

the full range of different varieties.

The most interesting and most popular novelty is the

mini-packs distributed by the Coop's outlets. They

contain several kinds of the Veneto chicory so that

consumers can compare and enjoy a variety of fl avours

and tastes while experiencing how typical the

radicchios are. In the Veneto itself, the promo campaign

is also aimed at educating consumers about the

radicchio grown in their area by underscoring each

variety, its richness and exceptional versatility as seen

in the always new and original recipes devised by those

chefs who preside over prestigious tasting events and

special dinners dedicated to this leafy vegetable.

(English version by David Verzoni)

si tratta di un'operazione che si sta concludendo bene,

tanto più che ha rappresentato una bella prova organizzativa

e logistica.

«Risultati validi – ha commentato Francesco Daminato,

presidente di Opo Veneto – confermati da numeri

molto interessanti, che lasciano intuire buone prospettive

per la prossima stagione».

Educazione al consumo

La campagna promozionale è all'ultimo capitolo: sta

per partire la "settimana nel Veneto", in un momento

di passaggio dai radicchi invernali ai precoci, mentre si

affacciano sulle tavole le insalate primaverili. Si vuole

con questa iniziativa rafforzare ulteriormente, a livello

locale, la conoscenza e il consumo dei radicchi, valorizzando

le diverse varietà.

La novità più interessante e più apprezzata è data

dal fatto che nei minicolli, distribuiti dalle Coop, si

trovano più tipi di cicoria veneta, il che consente di

confrontare gusti, di apprezzarne la tipicità, di provare

sapori diversi. Nel Veneto la campagna promozionale

si presenta anche come una forma di educazione al

consumo di radicchio nella sua terra, mettendone in

risalto la varietà, la ricchezza e una versatilità eccezionale,

come confermano le sempre nuove e originali

proposte che vengono dagli chef che animano prestigiose

rassegne gastronomiche o serate conviviali

dedicate all'ortaggio.

product/radicchio

prodotto/radicchio
---
product/garlic

prodotto/aglio

Garlic, branding & quality

to meet the challenge

Aglio, una sfi da di branding

e qualità

Flavour, fragrance and extra long shelf-life: the "third way" for Pdo Polesano to

stand out from the Chinese, South Korean and Egyptian crowd

Sapore, aroma e ultra conservabilità: la "terza via" della dop polesana per distinguersi

dalla produzione cinese, della Corea del Sud e dell'Egitto

Through-put management that handles supplychain

organisation and product marketing strategy

combined with a sales/branding policy that sets

the quality bar extra-high for individual growers. This

is what's missing for Pdo Polesano garlic in the view

of Corrado Giacomini, chair of food industry economics

at Parma University, thoughts

he shared with the

audience a the

recent conference

on the prospects

of Pdo White

Polesano Garlic.

Occupying centre

stage during the

talks was of course

Polesano's "white

gold", a garlic grown

in 70 hectares scattered

across 29 towns

in Veneto Region (with

a potential for 350 ha)

and the only one awarded

the EU quality seal.

«Our Consortium was set

up in 2010 with 20 members

who included both growers and packagers

– said President Massimo Tovo. – Today we've got

thirty or so. We produced 2 tons in 2011 and surged

to 17.5 in 2012. So we now have enough quantity to

gain entry to the wholesale market. Now's the right

time for everyone involved in our districts to make

42 Fresh Point Magazine n.5 – may/maggio 2013

Una governance di fi liera, che sia organizzata e

che metta in campo una strategia per la gestione

del prodotto e del mercato, integrata con politiche di

marketing/branding; il tutto affi ancato all'azione delle

singole imprese produttrici,

che devono

spingere al massimo

la qualità. È ancora

ciò che manca all'Aglio

bianco polesano

dop, secondo

Corrado Giacomini,

ordinario di economiaagroalimentare

all'università di

Parma. Se ne è

parlato al convegno

sulle prospettive

per la fi liera

dell'Aglio bianco

polesano dop.

Al centro dei

lavori, quell"oro

bianco" del Polesine, unico aglio

veneto con la certifi cazione d'origine europea, prodotto

in 29 comuni con una superfi cie investita di 70 ha,

ma con una potenzialità di 350 ha.

«Come Consorzio siamo nati nel 2010 con 20 soci,

fra produttori e confezionatori – ha ricordato il presidente

Massimo Tovo –. Oggi siamo una trentina. Nel

2011 abbiamo prodotto 200 q, nel 2012 siamo saliti

a 1.750. Oggi disponiamo di un certo quantitativo, il
---
the joint investments needed to secure success with

consumers». As the Coldiretti Rovigo grower association

President Mauro Giuriolo noted, its success

could be a driving force for other Polesano growers,

for the Luisa and Rosolina Markets and for the area's

entire economy.

«The Pdo seal alone – said Giacomini – is merely a

legal symbol. What will determine its success as a

brand like Melinda and Marléne apples is whether

it becomes a de facto brand psychologically speaking,

that is, whether it immediately conjures up in

the mind of consumers a specifi c item that comes

from a specifi c place. There are two essential factors

determining success here. First, the product

must have characteristics that make it immediately

distinguishable for consumers. Second, given that

its a collective, not a private, asset, it's essential that

all players in the supply chain, whether of the public

or private sector, make a concerted effort to devise a

strategy for organising the product's effi cient supply

and promotion to consumers through branding and

co-branding approaches».

Plans are already advanced regarding initial product

quality and properties. «We grow our garlic with

enthusiasm and care – said Pierino Romagnolo,

owner of the farm by the same name. – The pains we

take with quality set the guidelines for everything we

do with our crop». And quality is the ace in the hole

nostro prodotto comincia a entrare nella distribuzione

ed è il momento giusto perché tutto il territorio faccia

un investimento comune per portare l'aglio al successo

presso il consumatore». Un successo, precisa

il presidente di Coldiretti Rovigo, Mauro Giuriolo che

farebbe da traino agli altri prodotti polesani, ai due

Mercati di Lusia e Rosolina e all'intera economia del

territorio.

«Il marchio dop da solo – ha incalzato Giacomini – è

solo un istituto giuridico. Per determinare il successo

di un prodotto a marchio, come nei casi di Melinda o

Marléne, occorre che diventi una "marca" un fatto psicologico,

l'immediata evocazione nel consumatore di

una cosa specifi ca fatta in un posto specifi co. Due gli

elementi essenziali per il successo: primo, il prodotto

deve avere delle caratteristiche che lo rendano subito

distinguibile dal consumatore; secondo, trattandosi di

un bene comune, non di proprietà privata, è essenziale

un'azione collettiva di tutti gli attori della fi liera, pubblici

e privati, che approntino una strategia per organizzare

effi cacemente l'offerta del prodotto e promuoverlo

presso il consumatore con politiche di branding e

cobranding».

Sulla qualità e caratterizzazione di partenza dell'aglio

bianco, si è già avanti. «Produciamo con passione e

con rispetto – ha detto in proposito Pierino Romagnolo,

dell'omonima azienda agricola – L'attenzione alla qualità

ci guida in tutte le fasi della lavorazione». E qualità

product/garlic

prodotto/aglio
---
product/garlic

prodotto/aglio

Big retail: shelf-sharing for PDOs

Gdo: uno scaffale comune tra i dop

Two exporters, Matteo Suriani and Lucio

Duoccio, asked for panel tests of the

taste and fl avour properties, as well as

GobalGap certifi cation, so as to keep the

road to international markets open. The

big retail chains were more than happy

to comply. As Claudio Gamberini of the

Conad chain said, «Working with an

organised supply chain is an advantage

for us in terms of costs and scheduling

purchases. Ours is a supermarket chain

that has outlets even in small towns

and areas and we devised the "Sapori e

dintorni" ('Flavours and friends') brand

to meet the demand of consumers

looking for high-end items. We'd be

happy to buy Polesano Garlic for this

label, although we have to keep in mind

that garlic is already a niche item for us

and a Pdo garlic is the niche of a niche.

We already handle Voghiera garlic and

in the international marketplace too, commented

Claudio Salvan, President of Il Polesine Coop, since

it was the foundation for securing the EU Pdo seal.

«China's always been the world's leading garlic producer

– noted Salvan. – We can't, nor shouldn't even

try to compete with its 13 thousand-ton crop, which

is whiter and bigger than our garlic but hasn't got the

fl avour and only keeps well thanks to the invention of

cold stores. Nor can we compete in price with South

Korea and Egypt since they have very low overhead

and other food safety standards. What we do have

is Pdo White Polesano, a garlic with big fl avour,

great fragrance and extra-long shelf-life. Our job is

to highlight these valuable properties so as to claim

our share of the market. The task at hand is thus to

keep improving our quality level and promote our

product identity».

(English version by David Verzoni)

44 Fresh Point Magazine n.5 – may/maggio 2013

can't keep too many types distinct one

from another. What would be needed is

to devise a common arrangement with

the consortia involved for sharing shelf

space together in the garlic segment.

Generally speaking, low price equals

low quality in the produce department.

We've shown that when dealing with

specifi c items like the Sicilian blood

oranges we sell for €1.30 a kilo, high

quality can equal the right price». (DV)

Due esportatori, Matteo Suriani e Lucio

Duoccio hanno chiesto dei panel test per

analizzare le caratteristiche organolettiche

nonché le certifi cazioni di prodotto

(Global gap) per non precludere la strada

internazionale. Grande disponibilità da

parte della gdo, che per bocca di Claudio

Gamberini di Conad, ha rilanciato: «Avere

a che fare con una fi liera organizzata per

noi è un vantaggio in termini di costi e di

programmazione degli acquisti. Siamo

una catena che vive anche nei paesini e

nei territori e abbiamo creato il marchio

"Sapori e dintorni" per andare incontro ai

consumatori che cercano l'alta gamma.

Inseriremo senza problemi l'Aglio polesano

sotto questo marchio, ma teniamo

conto che l'aglio per noi è già una nicchia

e un aglio dop è la nicchia della nicchia.

Abbiamo già l'aglio di Voghiera e non

possiamo tenerne tanti tipi distinti, per

cui sarebbe necessario fare un progetto

comune con i rispettivi consorzi per entrare

sugli scaffali assieme, nel segmento

aglio. In genere nell'ortofrutta vale l'equazione

prezzo basso uguale qualità bassa.

Noi, con le nostre operazioni su prodotti

specifi ci, ad esempio le arance rosse

di Sicilia, vendute ad 1,30 €, abbiamo

dimostrato che si può fare qualità alta al

giusto prezzo». Be.Te.

è la carta vincente sul mercato anche internazionale,

come ha precisato Claudio Salvan, presidente della

coop Il Polesine, grazia alla quale è partito l'iter per il

riconoscimento del marchio dop. «La Cina è il primo

produttore mondiale di aglio da sempre – ha ricordato

Salvan –. Noi non possiamo e non dobbiamo competere

con le sue 13mila t di prodotto, che è più bianco e

più grosso del nostro, ma non ha sapore e si conserva

solo grazie all'invenzione delle celle frigo. E neppure

possiamo competere sul prezzo con Corea del Sud

ed Egitto perché hanno bassissimi costi di produzione

e altri standard di sicurezza alimentare. Però abbiamo

l'Aglio bianco polesano dop che ha grande sapore,

molto aroma e ultra conservabilità: valorizzando in

modo adeguato queste caratteristiche potremo trovare

la nostra collocazione sul mercato. Quindi, il nostro

compito è elevare sempre di più il livello di qualità e

mantenere l'identità del nostro prodotto».

Be.Te.
---
Bargains, unbeatable prices

you can't resist at Costco

Occasioni e prezzi imbattibili

A Costco non si resiste

Daniele Tirelli

A club boasting hundreds of thousands of households: they pay for a membership

card and can shop for any kind of merchandise, from food to automobiles,

at unprecedented prices

Un club di centinaia di migliaia di famiglie: pagano una tessera e hanno accesso a

qualsiasi tipo di merce, dagli alimenti alle automobili, a costi senza precedenti

There's in inexplicable vacuum among all the retail

formats in Italy today. The benchmark here is the

Wholesale Club, i.e. a location that sells bulk merchandise

at hard discount prices to customers who

have purchased a membership card. Everything's

ready for it. Not only because of the funereal atmosphere

that has arisen in the wake of the economic

The entry of one of 's 500 warehouse outlets.

L'ingresso di uno dei 500 punti vendita Costco.

Esiste un vuoto inspiegabile tra i formati di vendita

presenti in Italia. Il riferimento è al Wholesale Club,

ovvero la vendita di prodotti in grandi formati, a prezzi

fortemente scontati e a clienti che hanno sottoscritto

una card dell'insegna. Le premesse esistono tutte. Non

solo per il clima funereo conseguente alla depressione

economica, ma anche per l'abitudine sempre più

Fresh Point Magazine n.5 – may/maggio 2013

45

isr/Costco (Usa)

gdo/Costco (Usa)
---
isr/Costco (Usa)

gdo/Costco (Usa)

Huge shelving units stock the merchandise: always packaged

brand-name items in bulk.

Grandi scaffalature dove è accumulata la merce: sempre prodotti

di marca confezionati e di grande formato.

recession but also because of the increasingly frequent

habit of suburban shoppers to skip their usual

supermarket runs and to give their custom to stalls at

open-air markets, factory outlets and no-frills stores

that sell bulk goods.

So it might be a good idea to take a close look

at : a hangar stocked full of merchandise

arranged on pallets. This is, in actual fact, how it

all began for –in an old hangar once owned

by the reclusive billionaire Howard Hughes. At any

event, walking into any one of Costco's locations

500 scattered throughout the US, as well as those in

Japan and the UK, is a not to

be missed.

A shopping rush

It's a simple business model: buy stock at the lowest

market price and display it over fl oor space that can

run as high as 20 thousand square metres. As strange

and bare-walled as it may seem, this kind of location

is a real fi llip in exciting the shopping experience. It's

a phenomenon that's well known in the US and Japan

and should sound a wake-up call for our own retailers,

who still remain rather sceptical of the idea.

This sales format essentially takes advantage of two

factors. The fi rst is to make customers feel they've

joined a club that channels the purchasing power of

hundreds of thousands of households to get the best

price deals from suppliers and, hence, stimulate others

to join a network that also lets every card holder

bring along a guest shopper.

The second is of a psychological nature in that shoppers

are free to roam in a place usually off-limits, i.e.

the warehouse of a big retailer. This is indeed the

secret dream of all consumers. Hard economic times

like today's bring out the all-consuming 'bargain-

46 Fresh Point Magazine n.5 – may/maggio 2013

Your immediately struck by the vastness of the fl oor space deriving

from the cold industrial lighting and the absence of support pillars.

La sensazione immediata è il senso di vastità data dalla fredda

illuminazione industriale dall'alto e dall'assenza di colonne portanti.

frequente, nelle periferie cittadine, di saltare il canale

classico dei supermercati per rivolgersi ad ambulanti,

spacci e negozi no-frills che giocano anch'essi sulle

grandi quantità.

Può essere utile dunque conoscere meglio Costco: un

hangar stipato di merce collocata su pallet. Questa è

la sua matrice che ci rimanda alla sua prima apertura

avvenuta, appunto, in un hangar dismesso dal miliardario

aviatore Howard Hughes. Comunque, oggi, entrare

in uno dei 500 Costco distribuiti su tutto il territorio degli

Usa, in Giappone e nell'Uk costituisce una consumer

experience non banale.

Shopping frenetico

Il programma è semplice: comprare al prezzo più basso

del mercato un assortimento esposto su una superfi cie

che può raggiungere anche i 20mila mq. Per quanto

strano e spoglio possa sembrare, quest'ambiente è

però in grado di comunicare la frenesia dello shopping.

È un fenomeno ben noto negli Usa e in Giappone e

dovrebbe suonare come un'allerta per i nostri distributori,

che restano tuttavia piuttosto scettici al proposito.

Questo formato di vendita sfrutta essenzialmente due

fattori. Il primo è far sentire il cliente parte di un club che

coalizza la forza di centinaia di migliaia di famiglie per

spuntare i migliori prezzi dai fornitori e per sollecitarne

altre ad entrare nel network, dato che ogni titolare di

card può farsi accompagnare da un altro visitatore.

Il secondo fattore, di natura psicologica, consiste nel

poter frugare liberamente nel luogo proibito al cliente,

ovvero il magazzino di un grande retailer. In fondo questo

è il sogno nascosto di tutti i consumatori. Tempi di

diffi coltà economica come quelli attuali fanno riemergere

in ognuno la vocazione del vorace "cacciatore di occasioni".

Pertanto non aspettatevi l'abituale profusione

americana di luci, decori e colori degli shopping mall.
---
hunter' urge in all of us. So don't expect the usual

American penchant for the indoor lighting, décor and

colour splashes of shopping malls. Here it's "

", the customer is very familiar with the 5-6

thousand items under big brand names or the chain's

own label and is not distracted by anything

else but price.

Immediately upon setting foot in a warehouse,

one has the impression of vastness that the

cold overhead industrial lighting and the absence of

supporting pillars help to emphasise even more. The

merchandise is arranged in islands starting from the

entry so as to make clear at once, simply and without

further ado, how unbeatable the prices are for: cars,

computers, scooters, home appliances, and even

books and clothing.

The more you buy, the more you save

The real scene, though, is the

unbeatable prices. works

on a base profi t margin of 10.5%

and, hence, has to put all its

efforts into big volume turnovers

of its merchandise. For their

part, shoppers are almost always

overcome by the Stendhal syndrome

(everything's affordable!)

and push their extra-large trolleys

around as they decide where to

begin. Dan Ariely has explored

the psychology of the not-tomiss

bargain in depth. In short,

we're in the realm of what he calls

, which is

triggered when we're faced with

an item at discounted price or as

something the seller touts as free.

, the by def-

inition, convinces its customers

that saving consists of buying as

much as you want. Calvin Klein

shirts at $19, 700 aspirins

at $4.99 and 900 nappies at

$25 are irresistible offers, even if you wonder later what

to do with 700 aspirin tablets.

Once the promotional islands are behind them,

shoppers enter the meshwork of aisles with their

big shelving holding the merchandise. These are all

brand-name items in bulk packaging–a half gallon of

mayonnaise, ketchup or any number of sauces, 1.5kilo

box-loads of breakfast cereals, clusters of eye

drops in 750-cl bottles, dozens of toothpaste tubes,

and even crates of fruit, large cuts of beef and giant

packages of hamburgers, sausages and cheeses–this

is the wholesale philosophy. It's how manages

to fi ll up your car boot and make you feel richer than

"Straight to the point", il cliente conosce bene le 5-6mila

referenze di grande marca o a marchio privato Kirkland,

e non è distratto da altre suggestioni diverse dal prezzo.

La sensazione immediata, una volta entrati in un Costco,

è il senso di vastità che la fredda illuminazione industriale

dall'alto e l'assenza di colonne portanti contribuiscono

ad accentuare ulteriormente. I prodotti possono

essere ammassati in forma di isole vicino all'entrata per

annunciare subito, semplicemente e senza indugi, i loro

prezzi imbattibili: auto, computer, motoscooter, elettrodomestici

e poi libri e articoli d'abbigliamento.

Più si acquista, maggiore è il risparmio

È infatti il prezzo imbattibile a dominare la scena. Costco

lavora infatti con un primo margine del 10,5% e, dunque,

deve ovviamente puntare ad un'altissima rotazione

di grandi volumi di merce. Il cliente, da parte sua è

quasi sempre colto dalla sindrome di Stendhal (tutto

Shoppers have the impression of being free to roam in an off-limits area, i.e. a big retailer's

warehouse.

Il cliente ha l'impressione di poter frugare liberamente in un luogo proibito, cioè nel magazzino

di un grande retailer.

troppo conveniente!) e spinge il suo carrello extra-large

indeciso da dove cominciare. Dan Ariely ha esplorato a

fondo la psicologia dell'occasione imperdibile. In breve,

siamo nel regno della cosiddetta predictable irrationality

che scaturisce di fronte al prezzo scontato o al regalo

conclamato dal venditore.

Costco, il price-chopper per antonomasia, convince i

propri visitatori che il risparmio consiste nell'acquistare

quanto più si può. Camicie di Calvin Klein a 19 $, o 700

aspirine Kirkland a 4.99 $, o 900 pannolini a 25 $ sono

un richiamo irresistibile, anche se qualcuno può chiedersi

che farci poi con 700 aspirine.

Oltrepassate le isole promozionali, lo shopper può

Fresh Point Magazine n.5 – may/maggio 2013

47

isr/Costco (Usa)

gdo/Costco (Usa)
---
isr/Costco (Usa)

gdo/Costco (Usa)

before. You've stocked up to the hilt, saved money

and increased the year-end reward points that will

pay for your annual membership card.

Household membership

No at ! No swings in prices depending

on the week. The model is clear and up front–no one

can beat the price you pay here. It's all made possible

by the fi nancial muscle provided by the hundreds of

thousands of families that every year pay $50-100-

120, depending on type of card, to become members

of the chain. This is why you can take home 10

pounds of ground Angus beef, a supply for 40 hamburgers,

for a mere $15, or 6 litres of for

a bit more than $5, or 1 kilo of bananas for $1.

So it's easy to see why the opening of a new

in an area already served by other chains has devastating

effects, at least for items that households

Consumers are familiar with the 5-6 thou sand brand-name or Kirkland house-label items

and nothing but price distracts their gazes.

I consumatori conoscono le 5-6mila referenze di grande marca o a marchio privato Kirkland

e non sono distratti da suggestioni diverse dal prezzo.

consider as basic. Yet, the purchasing power that the

most loyal customers recoup can then be spent in the

specialised chains offering higher service content that

we've talked about in previous articles.

The prospects for Costco's expansion increasingly

appear to be boundless. Established in Washington

State in 1983 to general scepticism, today it has

become a giant to rival the likes of am's , another

wholesale club owned by . What is most

impressive, however, is the increasingly expanding

range of its . At Costco you'll fi nd a stock

that runs from offi ce supplies like computers, printers,

paper, to televisions and, to the delight of homemak-

48 Fresh Point Magazine n.5 – may/maggio 2013

addentrarsi nel reticolo delle grandi scaffalature nelle

quali è accumulata la merce. Si tratta sempre di confezioni

di prodotti di marca confezionati e di grande

formato: mezzo gallone di maionese, di ketchup o di

salse varie; scatole di cereali da 1 kg e mezzo; cluster

di colluttorio in fl aconi da 750 cl o di una decina di

tubi dentifricio, ma anche casse di frutta, grandi tranci

di carne e confezioni giganti di hamburger, salsicce e

formaggi: questa è la fi losofi a del wholesale. In questo

modo Costco riesce a farti riempire il bagagliaio e a farti

sentire più ricco di prima. Hai fatto scorta e risparmiato

e sono cresciuti i punti del reward di fi ne anno che ripagheranno

il costo annuo della tessera.

Il contributo delle famiglie

Niente Hi-Lo da Costco! Nessuna altalena dei prezzi

a seconda delle settimane. Qui la logica è chiara ed

esplicita: nessuno batterà mai il prezzo pagato. E questo

è possibile anche grazie alla

consistente leva fi nanziaria che

centinaia di migliaia di famiglie

offrono alla catena, anticipando i

50-100-120 dollari dei vari tipi di

tessera. Questa è la ragione per

cui ci si può portare a casa, con

soli 15 $, 10 libbre di Angus macinata

bell'e pronta e suffi ciente per

40 hamburger, oppure 6 litri di

succo d'arancia Ocean Spray per

poco più di 5 $ o 1 kg di banane

per 1 $.

Si comprende, dunque, che l'apertura

di un Costco provoca, nei

bacini delle varie insegne già presenti,

degli effetti devastanti almeno

per quanto riguarda i consumi

di base di ogni famiglia. Tuttavia il

recupero di potere d'acquisto di

cui gode la clientela più fedele le

consente poi riversarlo in quelle

catene specializzate a maggior

contenuto di servizio di cui ho

parlato negli scorsi numeri.

Il processo espansivo di Costco appare sempre più illimitato.

Fondata nello stato di Washington, nel 1983, tra

lo scetticismo generale, oggi ha raggiunto dimensioni

gigantesche che rivaleggiano con Sam's Club, l'analogo

wholesale club di Wal*Mart. Quel che più impressiona è

l'estensione sempre più ampia del suo merchandising.

La sua offerta spazia infatti dai prodotti d'uffi cio (computer,

stampanti, carta) ai televisori, ma riesce ad allettare

le madri di famiglia con cucine e accessori di ogni tipo,

e poi gioielleria (anche d'alta gamma) e a indurre in tentazione

i padri di famiglia con le porte automatiche dei

garage, i lawn-mower (i celebri tagliaerba per i pratini) e

i set di mazze da golf.
---
ers, kitchens and every

kind of accessory, jewellery

(even high-end),

and, to tempt fathers,

automated garage doors,

lawn-mowers and sets of

golf clubs.

Unlimited assortment

For its club members

Costco also offers small

motor boats, buys back

used cars and sells

Mercedes and BMWs with

full insurance coverage

and servicing contract, just

one way it fl exes its muscles

with manufacturers.

Then too, why not provide

the basic services for

weddings? Or for funerals?

Once again its offer

is superlative: caskets run

from $950 for a richly lined,

solid wood model with

steel fi ttings, to $2,500 for

a model in natural copper

appointed with bronze fi ttings and champagne-coloured,

quilted velvet inner lining and bespoke mattress.

It can also be covered with a splendid wreath of 100

fresh roses (guaranteed as such) for $320.

The fl oor space of the locations stocked with the chain's

vast assortment is equally as vast. In actual fact, this

warehouse approach had been tried by Sol Price as

early as 1954 with its FedMart. And when it returned

in the early 1980s, market analysts snubbed it. Today

Costco has revenues of $95 billion and more than 160

thousand employees. In short, it's become a player

that must be reckoned with. An episode dating to 16

November 2009 clearly shows the power it can bring to

bear. That was the day Costco announced it would stop

selling Coca-Cola since it failed to reach an agreement

with the latter company on prices. What happened over

the next few days has never leaked out but on the following

14 December America's most popular soft drink

reappeared on Costco shelves at a decidedly aggressive

price, with a 2-litre bottle now selling for $1.10.

The chain has locations in Canada, Mexico, Australia,

Japan, South Korea, Taiwan and, above all, in the

UK where it has 22 warehouses. It seems that its

next location will be in Bussy Saint-Georges (Seineet-Marne)

to the east of Paris, which is to open by

2013, and will be followed by 2-3 new outlets a year.

And from there...who knows, Costco might even have

something in mind for our peninsular.

(English version by David Verzoni)

Prices, absolutely unbeatable, are Costco's strong suite.

I prezzi, assolutamente imbattibili, sono il punto di forza di Costco.

Assortimento senza confi

ni

Inoltre Costco compra

per i membri del suo club

anche piccoli motoscafi

, ritira le auto usate e

vende Mercedes e Bmw

mostrando i propri muscoli

direttamente alle case

madri e corredando ogni

veicolo, ovviamente, di

tutte le assicurazioni e i

servizi programmati di

manutenzione necessari.

E poi, perché non provvedere

anche ai servizi di

base per un matrimonio?

O a quelli di un funerale?

Anche in questo la sua

offerta è superlativa: i suoi

costi vanno da 950 $ per il

tipo in massello, riccamente

foderato e rifi nito con

inserti in acciaio, ai 2.500

$ del tipo in rame naturale

e fi niture in bronzo con

interno in velluto trapuntato

color champagne e letto e materasso su misura.

Il tutto da corredare con una splendida corona di 100

rose freschissime (garantite tali) a 320 $.

Le aree coperte dall'assortimento di questa catena,

sono dunque molto vaste. In realtà, questo approccio

venne sperimentato da Sol Price già nel 1954, con il

suo FedMart. Quando fu riproposto nei primi anni '80

venne snobbato dagli analisti. Oggi Costco fattura 95

miliardi di dollari e conta su più di 160mila dipendenti.

Insomma, la sua presenza è diventata decisamente

ingombrante. Un episodio accaduto il 16 novembre

2009, chiarisce bene il peso assunto dall'insegna. Quel

giorno Costco annunciò che non avrebbe più venduto

Coca-Cola, non avendo trovato un accordo sui prezzi

di cessione del prodotto. Quel che accadde nei giorni

successivi non è dato sapere, ma il 14 dicembre dello

stesso anno, la bevanda preferita dagli americani

ricomparve nelle scaffalature di Costco ad un prezzo

molto aggressivo: attualmente la bottiglia da 2 litri

costa 1,10 $.

La catena opera in Canada, Messico, Australia,

Giappone, Corea, Taiwan e soprattutto in Gran

Bretagna dove ha aperto 22 magazzini. La sua prossima

tappa sembra essere Bussy Saint-Georges (Seineet-Marne)

ad Est di Parigi, dov'è prevista la prima

apertura entro il 2013, a cui faranno seguito altre al

ritmo di 2-3 punti di vendita all'anno. E da lì, ... chissà

che non punti a fare una capatina anche nella

nostra penisola.

Fresh Point Magazine n.5 – may/maggio 2013

49

isr/Costco (Usa)

gdo/Costco (Usa)
---
T&T, Italian bred

baby-leaf greens & radicchio

T&T, dalla ricerca italiana

insalate baby leaf e radicchio

Jessika Pini

The Chioggia-based company in Veneto invests 30% of earnings in cultivar

breeding. A red radicchio for the fresh-cut trade's in a pipeline

L'azienda di Chioggia, in Veneto, investe il 30% del proprio fatturato in innovazione

varietale. In fase di studio un radicchietto rosso per la IV gamma

H

ealth and seed traits of leafy-greens are

becoming increasingly important in marketplace

and field. Rising demand is the key for

both: in the fresh-cut trade the emphasis is on

firm and crispy greens, long shelf-life and very

T&T 4070 F1, the all-Italian radicchio hybrid.

T&T 4070 F1, ibrido di radicchio tutto italiano.

50 Fresh Point Magazine n.5 – may/maggio 2013

La salubrità e le caratteristiche del seme delle insalate

acquistano sempre maggiore importanza sia

per la crescente destinazione al settore della IV gamma

che richiede consistenza e croccantezza della foglia,

una lunga shelf-life e un limite dei residui chimici molto
---
low minimum residue limits (MRLs) and in field its

enhanced resistance to major pests as more and

more chemicals are banned. T&T Srl in Chioggia,

Venice Province, is one of Italy's few seed companies.

Its core business of breeding and production

is focused on radicchio; T&T Produce, the

company's R&D arm, has established germplasm

(heirloom) bank for developing seeds suited to

grow local types of leafy chicory selected for their

health, flavour and nutraceutical properties. In

2011, crowning years of work in cooperation with

Padua University's BreedOmics testing laboratory,

the R&D division released T&T 4070 F1, the

first all-Italian radicchio hybrid. It is now working

on seed for a small radicchio that can be grown

year-round like garden valerian for the fresh-cut

trade. «The problem here – said T&T owner Silvano

Tiozzo – is keeping the same deep red colouring

throughout the year».

There are not a lot of seed companies in Italy as

most in the business reproduce seeds on license

from foreign companies. «Growers tend to buy

seed from multinational corporations instead of

domestic companies because the big brand names

have more effective advertising and often merge

so they can invest quite a lot in R&D. In our own

small way, we're able to invest 30% of revenues

in R&D, a sector that unfortunately is neglected

basso, sia per la generale richiesta di resistenza delle

colture ai maggiori parassiti dovuta alla riduzione degli

agrofarmaci consentiti. T&T Srl di Chioggia (Venezia) è

una delle poche sementiere italiane. Il core business della

ricerca e della produzione aziendale è il radicchio; T&T

Produce, l'azienda sperimentale e di ricerca della T&T Srl,

ha creato una banca del germoplasma da cui attingere

semi per il miglioramento genetico delle produzioni locali

tipiche di cicorie da foglia, attraverso una selezione in

favore delle caratteristiche alla base della salubrità, qualità

organolettica e nutraceutica degli alimenti. Nel 2011 ha

presentato T&T 4070 F1, il primo ibrido di radicchio tutto

italiano frutto di anni di ricerca genetica e sperimentale in

collaborazione con BreedOmics, il laboratorio di analisi

per il miglioramento genetico dell'Università di Padova ed

è in corso lo studio del seme di un radicchietto da usare

come la valeriana nella IV gamma, che possa essere perciò

prodotto tutto l'anno: «Il problema – spiega Silvano

Tiozzo, titolare della T&T – è il mantenimento della stessa

intensità del colore rosso durante tutti i mesi».

In Italia non sono molte le aziende sementiere, ci sono

per lo più dei riproduttori di semi di società estere: «I

produttori tendono ad acquistare il seme dalle grandi e

note multinazionali straniere piuttosto che seme italiano

perché le aziende estere sanno comunicarsi meglio e

sono dei colossi che spesso si accorpano e riescono

così a investire moltissimo in ricerca. Noi, nel nostro

piccolo, investiamo il 30% del fatturato, ma purtroppo
---
Red Radicchio (T&T 306).

Radicchio rosso (T&T 306).

in Italy. The real issue is not so much how big a

company is but the unwillingness to invest, not to

mention the difficulties in forming partnerships».

Product innovation

Most of T&T's investments are for chicory types

since these are most in demand by the fresh-cut

trade. They've also got a wide range of other baby

salad greens except for garden valerian. «Take

rocket. We're now working on a variety resistant

to fusarium fungal wilt and now have T&T Giove,

a variety that takes up few nitrates and is much

in demand by export markets like the UK and

Germany, which check this parameter carefully».

T&T has a 4-hectare experiment station with

greenhouses and another 30 elsewhere for breeding

purposes. «Cultivar breeding is a must if you

want to meet the demands of the fresh-cut trade,

a fairly stable and mature market sector where

the big agribusinesses and processors are always

looking for better quality to consolidate and

strengthen consumer loyalty and, hence, are eager

to invest in product innovation rather than in business

expansion or higher yield rates ».

Quality, concluded Tiozzo, is a must for the freshcut

trade, the key to educating consumers about

product innovation. «Real progress has been

made in raising consumer awareness about the

added value of fresh-cut items. In the beginning

it was widely assumed that fresh-cut meant the

discards from the sorting of fresh produce. Today

consumers get their information from packaging

labels and promotional campaigns that highlight

features like shelf-life and freshness».

(English version by David Verzoni)

52 Fresh Point Magazine n.5 – may/maggio 2013

si è persa in Italia la mentalità di fare ricerca. Il problema

non è tanto la grandezza delle aziende, ma gli scarsi

investimenti e la diffi coltà di fare gruppo».

L'innovazione di prodotto

La maggior parte dei nostri investimenti vanno ai vari

generi delle cicorie, oggi per lo più richieste dal mercato

della IV gamma; ampia anche l'offerta delle insalate

baby leaf che include tutte le tipologie d'insalate eccetto

la valeriana. «Per quanto riguarda le rucole, stiamo

lavorando a una varietà resistente alla fusariosi oppure

abbiamo la T&T Giove che assorbe pochi nitrati e che

ci permette di rispondere alle esigenze di mercati esteri,

come l'Inghilterra e Germania, dove c'è molta attenzione

verso questo parametro».

T&T ha 4 ettari di azienda sperimentale con serra e

30 ettari in esterno, terreni nei quali producono per

fare miglioramento varietale. «Il miglioramento varietale

è fondamentale per rispondere al mercato della

IV gamma, un segmento abbastanza stabile e saturo,

dove le grandi aziende produttrici e di trasformazione

cercano sempre una maggiore qualità per consolidare

e rafforzare la fi delizzazione dei consumatori, investendo

perciò in innovazione di prodotto più che in allargamenti

o aumenti produttivi».

È la qualità, conclude Tiozzo, la premessa irrinunciabile

per i produttori di IV gamma da cui partire per comunicare

al consumatore l'innovazione dei prodotto: «Sono stati

fatti passi in avanti nella comunicazione al consumatore

del valore aggiunto dei prodotti di IV gamma. All'inizio

era diffusa la convinzione che nel fresh cut fi nissero gli

scarti della lavorazione della I gamma. Oggi l'informazione

verso chi acquista avviene attraverso il packaging

o campagne promozionali sottolineando per esempio

caratteristiche come la durata e la freschezza».
---
the freshest cut

Polar Wind and Arctic Wind let you cool rapidly after drying. A benefi t for workers

without gaps in cold storage chain

Polar Wind e Arctic Wind consentono, dopo l'asciugatura, l'abbassamento della

temperatura in tempi molto brevi. A vantaggio dei lavoratori e senza danneggiare la

catena del freddo

54 Fresh Point Magazine n.5 – may/maggio 2013

Cooling and energy effi ciency

Innovative integrated solutions

Raffreddamento ed effi cienza

energetica

Soluzioni innovative integrate

di Alessandro Turatti

Everyone knows that fresh-cut produce items

call for minimal processing so as not to alter

their natural freshness while boosting value added

and convenience. Handling them requires a synergic

approach combining several processing steps that

rear the growth of micro-organisms and the onset of

alterations during subsequent storage.

The conditio sine qua non in their handling is the scru-

C ome

Turatti - Arctic Wind – Cooling rocket at a plant in Florida.

Turatti - Mod. Arctic Wind - Raffreddamento rucola in un impianto in Florida.

è noto, i prodotti di quarta gamma sono

sottoposti a lavorazioni minime, per non com-

prometterne le caratteristiche naturali di freschezza e

aumentando nel contempo il loro valore e la loro convenienza

d'uso. Il loro trattamento deve essere fondato

sull'azione sinergica e combinata di diversi processi, per

ostacolare i microrganismi e ritardare la comparsa di

alterazioni durante la successiva conservazione.

Tra i diversi processi summenzionati,

conditio sine qua non è il rispetto scrupoloso

della catena del freddo in tutte

le varie fasi (anche precedenti all'arrivo

presso lo stabilimento o alla successiva

distribuzione del prodotto già imbustato).

In particolare, nel corso della

lavorazione, il mantenimento di basse

temperature permette di rallentare la

carica microbica e il metabolismo della

frutta e della verdura. Sia che si tratti di

frutta quanto di verdura, i prodotti devono

essere infatti preferibilmente lavorati

a temperature comprese tra 2 e i 5 °C.

Tuttavia l'operare a temperature inferiori

ai 5 °C, rappresenta un notevole

disagio per i lavoratori: il rischio che

l'operatore corre è immediato, grave e

da valutare con la massima attenzio-
---
pulous maintenance of cold temperatures throughout

the processing steps, including the time before their

delivery to the processor's and that of distribution after

their packaging. In fact, keeping temperatures low during

handling keeps the microbial count low and slows

down the metabolic rate of the produce. Indeed, both

fruit and vegetables should preferably be processed at

temperatures ranging from 2 and 5 °C.

Yet processing at temperatures below 5C creates a

notable problem for workers since the risk they run

is immediate and serious and needs to be carefully

monitored. Then too the sensation of cold depends

on a number of ambient factors and differences in

perception of a given individual. For example, it can be

more or less severe depending on air fl ow and humidity

rate. To over-simplify somewhat, it's a cold workplace

wherein heat loss is greater than what we usually fi nd

Another factor to keep in mind is plant energy effi ciency,

especially in regard to the area housing the processing

line. The economic outlay usually required to cool a

processing line's entire area needs no further comment.

Copernican revolution

Be that as it may, obviating the problems of temperature

regulation and facilitating the processing

stages for workers can now be managed by recent

ne. La sensazione del freddo varia inoltre a seconda di

una serie di fattori ambientali e di differenze di percezione

individuali, per esempio può essere accentuata dal movimento

dell'aria o dal tasso di umidità. In estrema sintesi,

può essere considerato un ambiente di lavoro freddo

quello in cui la perdita termica è superiore a quella che si

osserva abitualmente.

Oltre a questo fattore, deve essere tenuta in debito

conto l'effi cienza energetica dello stabilimento e, nello

specifi co, dell'area in cui si trova la linea di lavorazione.

È evidente il dispendio economico necessario per

raffreddare l'intera area in cui trovano collocazione le

diverse linee di processo.

Rivoluzione copernicana

A ogni buon conto, per ovviare ai problemi di mantenimento

della temperatura e facilitare una più agevole

lavorazione da parte degli operatori, sono state sviluppate

di recente delle soluzioni innovative. Di fatto ora il

raffreddamento del prodotto può avvenire anche dopo

la fase dell'asciugatura tramite dei sistemi di tipo criogenico

(azoto) o grazie a dei sistemi di tipo ibrido (azotocorrenti

di aria fredda).

Questo comporta una rivoluzione copernicana nell'approccio

alla gestione di basse temperature: ci si concentra

sul raffreddamento del prodotto stesso piuttosto
---
innovative solutions. In fact, products can now be

cooled after drying by means of cryogenic (nitrogen)

or hybrid (nitrogen-cold air fl ow) systems.

This represents a Copernican revolution in the

approach to low-temperature management in that

the focus is on cooling the product itself rather than

lowering the room temperature.

The Turatti Company's Polar Wind tunnel is in fact

a revolutionary solution and innovation that enables

leafy salad greens and fruit to be cooled rapidly

and economically. Given the low temperatures that

it delivers, Polar Wind reduces cooling times and,

hence, notably lowers bacterial count during processing.

It lets you drop the temperature of dried product

from 12-15 °C to 4-5 °C in a rapid 2-3 minutes. This

approach provides staff with a more comfortable

workplace ambience without impairing the maintenance

of the cold chain.

Nitrogen, the best coolant

What's more, nitrogen cooling has very particular

features that make it preferable to other approaches

to cooling. In effect, it cools in an oxygen-poor

atmosphere that impedes the onset of oxidising phenomena,

thereby considerably improving packaged

product colour and freshness.

che sull'abbattimento della temperatura della sala.

Il tunnel Polar Wind della Turatti è infatti una soluzione

rivoluzionaria e innovativa: prodotti quali insalata e frutta

possono essere ora raffreddati in maniera rapida ed

economica. Grazie alle basse temperature ottenibili, i

tempi di raffreddamento vengono ridotti, abbassando

sensibilmente la carica batterica durante il processo di

lavorazione. In questa maniera, si riesce ad abbattere

la temperatura del prodotto asciugato da 12-15 °C a

4-5 °C in tempi molto brevi (circa 2-3 minuti). Questo

permette agli operatori di lavorare in un ambiente più

confortevole, senza tuttavia pregiudicare il mantenimento

della catena del freddo.

Ad azoto, la forma migliore

Per di più, il raffreddamento ad azoto ha caratteristiche

del tutto particolari che lo fanno preferire in molte

applicazioni ad altre forme di raffreddamento. Infatti, il

processo avviene in atmosfera scarsamente ossigenata

impedendo l'insorgere di fenomeni ossidativi sul prodotto,

con considerevoli miglioramenti nel colore e nella

freschezza del prodotto fi nale.

Il sistema è essenzialmente costituto da un tunnel criogenico

riprogettato in toto per garantire il raffreddamento

(e non quindi la surgelazione) per varie applicazioni quali

appunto la lavorazione di verdura e frutta fresca di quarta
---
The basic system features a completely redesigned,

cryogenic tunnel to ensure cooling (not freezing) for

use in processing fruit and vegetables for the freshcut

trade, as well as meat, cheese, fi sh and pasta, in

that its modular design makes the tunnel ideal for a

wide range of handling operations.

While the product moves through the tunnel on a

single-fi le conveyor belt, Polar Wind assures high

heat exchange thanks to a nitrogen-cooling zone that

is specially designed so as not to come into contact

with the product. An automated system for keeping

gas exchange balanced at the tunnel's conveyor belt

inlet and outlet prevents warm air entering the tunnel

and, hence, reduces heat dispersion and optimises

performance. There's also a fully automated device

regulating cryogenic liquid input fl ow in relation to

changes in product input temperature. Conveyor belt

speed and cryogenic liquid injection rate can be regulated

for maximum processing fl exibility. The tunnel

unit can be extended to suit any working line specifi -

cations at minimum energy and space expense.

Pluses

Turatti has also developed a hybrid cooling tunnel

primarily designed for rapidly lowering product outlet

temperature while lowering operational costs at the

same time. The main advantage of this model, marketed

under the name Arctic Wind, is that it can operate

with cold air or nitrogen, or both. Its tunnel has a

real-time monitoring system to ensure optimal cooling

temperature for vegetables, leafy greens and fruit. The

tunnel is designed to the strictest sanitary standards.

Both Polar Wind and Arctic Wind have pluses that are

distinguishing features of cryogenic systems - lower

initial outlay, maximum compact design (it can readily

be moved) and fully complementary with existing

mechanical cooling systems so as to ensure considerable

savings.

A fi nal, big plus in terms of

food safety and traceability

is the accuracy and fl exibility

of temperature regulation.

This makes it possible

to easily adapt these tunnels

to a range of working

conditions and an

accurate control of

product packaging

temperature via

their monitoring

and regulating

capabilities.

(English version by

David Verzoni)

Turatti – Polar Wind in compact model.

Turatti - Mod. Polar Wind nella confi gurazione compact.

58 Fresh Point Magazine n.5 – may/maggio 2013

gamma (ma anche nella lavorazione di carne, formaggi,

pesce e pasta) in quanto la progettazione modulare rende

questi tunnel ideali per una vasta gamma di operazioni.

Mentre il prodotto si muove nel sistema su un nastro

trasportatore continuo in monofi lo, si ottiene un elevato

trasferimento di calore grazie alla presenza di un'area di

raffreddamento ad azoto (che grazie alla speciale confi -

gurazione non entra in contatto con il prodotto medesimo).

Un sistema automatico per l'equilibrio dei gas

all'ingresso e all'uscita del nastro trasportatore evita l'ingresso

di aria calda nel tunnel, riducendo la dispersione

termica e ottimizzando la prestazione. Inoltre, un dispositivo

di controllo completamente automatizzato modula

l'iniezione del liquido criogenico in risposta alle modifi che

della temperatura di ingresso del prodotto. La velocità

del trasportatore e l'iniezione di liquido criogenico possono

essere regolate, ottenendo la massima fl essibilità

di lavorazione. L'impianto si può estendere e può essere

personalizzato secondo specifi che lavorazioni in linea,

richiedendo una minima quantità di energia e spazio.

I vantaggi

È stato inoltre sviluppato un tunnel ibrido di raffreddamento,

progettato primariamente per assicurare una

rapida azione di abbassamento della temperatura dei

prodotti in uscita garantendo nel contempo costi d'utilizzo

ridotti. Il principale vantaggio di questo modello

commercializzato con il nome Arctic Wind è la possibilità

di operare con aria fredda, azoto o con entrambi. Il

tunnel dispone di un sistema di monitoraggio in tempo

reale che garantisce una temperatura ottimale di raffreddamento

per verdure, prodotti in foglia e frutta. Il

sistema è progettato secondo rigorosi criteri igienici.

Sia il Polar Wind che l'Arctic Wind

sono caratterizzati dai vantaggi che

contraddistinguono i sistemi criogenici

che vanno da un ridotto investimento

iniziale alla massima compattezza del

sistema (che può essere agevolmente

spostato), passando attraverso

la massima complementarità

con sistemi a frigorie meccaniche

preesistenti garantendo

pertanto considerevoli risparmi.

Un grosso vantaggio dal

punto di vista della sicurezza

alimentare e della tracciabilità

è contraddistinto infi ne dall'accuratezza

e dalla fl essibilità

nella regolazione della temperatura.

Questo permette di adattare

facilmente l'impianto alle varie condizioni di

funzionamento consentendo il controllo accurato

della temperatura di confezionamento del

prodotto che potrà essere monitorata e registrata

attraverso sistemi gestionali.
---
commercial news

le aziende informano

New release from Agrobase-Logigram:

Homologa , the Global Crop Protection Database of MRLs

and current product registrations

Homologa, database mondiale

per la protezione delle colture

Spotting risks in the food chain is a

daily challenge faced by growers, importers,

producers, retailers, laboratories and

regulators. It is a task made all the more

diffi cult by having to wade through endless

reports, other information sources

(often in foreign languages) and trying to

compare the results of this search crosscountry

just to fi nd the bits that might

apply to you.

The regulatory framework concerning the

occurrence of pesticide residues (MRLs)

is changing. The standardization of the

MRLs for EU members helps but there is

still the problem with registered versus

expired (last use/expire date) agrochemicals.

Sometimes no MRL exists but there

are still agrochemicals in use with this

active substance in the country.

Homologa is set to change all that.

Available for use in primary production

by product and regulatory managers,

researchers, laboratories and agricultural

consultants, and in the food industry by

retailers, food processors and food chain

managers, Homologa provides agronomic

information including the current

pesticide product approval status (expired

agrochemicals are also included) of over

Homologa allows you to have all the

information existing in various countries

on a particular product.

Homologa permette di avere tutte

le informazioni esistenti nei diversi Paesi

su un determinato prodotto.

60 Fresh Point Magazine n.5 – may/maggio 2013

fi ve dozen countries together

with the MRLs, to support

strategic business decisions

and ensure compliance within

the prevailing regulatory

frameworks.

Homologa facilitates the

access to regulatory data

and hence saves important

resources to its subscribers.

There are numerous examples

in which Homologa has

been used to resolve critical

problems. Subscribers can

search online for expired

and registered crop protection

products as well as their

associated MRLs in several

countries in a single report.

There is also the possibility

to receive alert e-mails when registrations

or MRLs change. In addition, the new

version of Homologa provides access to

product label information for many countries

and companies. The database can

also be used for the search of available

pest-solutions for Minor Uses.

The Homologa Team and its global

collaborators update constantly the database.

Today the mark of 7

000 000 lines of registration

data is passed and

will continue to increase

further.

www.agrobase.logigram.

com

homologa-info@agrobaselogigram.com

Tel: +33 (0)4 50 35 07

19

L'identifi cazione dei rischi

lungo la catena alimentare

è una sfi da quotidiana per agricoltori,

importatori, produttori, dettaglianti, laboratori

e organismi di controllo. È un'impresa

molto ardua riuscire a ottenere, avendo

At the top, countries in which the

registration of pesticides; in the

countries where it operates the Mrls.

In alto, i Paesi in cui vige la registrazione

degli agrofarmaci; in basso i Paesi in cui

opera il Mrls.

un'enorme quantità di notizie, ulteriori fonti

d'informazione (spesso in lingua straniera) e

riuscire a comparare i risultati della ricerca

transnazionale fi no a trovare il tassello che

fa al caso in oggetto.

L'organismo di controllo deputato all'individuazione

dei residui di pesticidi (Mrls)

è variabile. La standardizzazione dell'Mrls

per i membri dell'Ue aiuta ma permane

il problema degli agrofarmaci registrati

rispetto a quelli revocati (data ultima di utilizzo).

Quando il Mrls non esisteva, c'erano

comunque gli agrofarmaci utilizzati con i

loro principi attivi nei diversi Paesi.

HomologaTM è destinato a cambiare lo

scenario. Disponibile per l'applicazione alle

produzioni primarie per i manager di prodotto

e dei controlli, i ricercatori, i laboratori

e i consulenti agronomici, e all'industria

alimentare per i rivenditori, gli operatori

alimentari e i gestori di fi liera, Homologa

fornisce informazioni agronomiche tra cui
---
lo status corrente del pesticida (sono compresi

gli agrofarmaci revocati) relativo a più

di 60 Paesi insieme con il Mrls, in modo

da supportare le decisioni strategiche di

business e assicurare la conformità con

l'organismo di controllo prevalente.

Homologa facilita l'accesso ai dati di controllo

e salva da oggi le importanti fonti dei

propri aderenti. Ci sono numerosi esempi

nei quali Homologa è stato usato per

The range of lettuce branded Enza Zaden

is now enriched by an important novelty:

Fuzila, the gentle lettuce from full fi eld,

recommended for the North of Italy, suitable

for spring, summer and fall crops.

It is interesting for some features it has,

such as the always small cut, the close

bottom and the smooth and small rib. It

has compact and plastic leaves that make

handling easier, to be put in boxes directly

on the fi elds by reaching

a good fi nal wholeness of

produce.

Within the seasons it

keeps its head open;

therefore, it does not

hood and it does not

make double heads in

extreme drought. The

average green and uniform

colour, its excellent

holding on the fi eld when

ripen, also thanks to the

good resistance during

the seed growing, they

are all features that make

complete this produce for

business.

As far as the adversities

are concerned, it has

proved to have high resistance to bremis

(HR: BI 1-28), to nasonovium (HR: Nr:0)

and to fusarium (hr: Fol:1), a basic feature

that allows to employ it largely in infected

soils, particularly in Romagna and Veneto.

It suits very well for loose soils, as well

as for heavier ones; such a feature is

risolvere problemi signifi cativi. Gli aderenti

possono cercare on-line i prodotti per

la protezione revocati e registrati, proprio

come gli associati al Mrls nei diversi Paesi

in un singolo documento. C'è inoltre la possibilità

di ricevere un'email di avviso quando

la registrazione o l'Mrls cambia. Inoltre, la

nuova versione di Homologa permette l'accesso

alle informazioni in etichetta del prodotto

per molti Paesi e aziende. Il database

Enza Zaden, the new lettuce Fuzila

Enza Zaden, Fuzila nuova lattuga

proved by several proofs and crops on a

large scale.

Thanks to its closeness and denseness,

this variety is also suitable for transplants

in protected crops, during spring and

summer.

For further information: Enza Zaden Italia,

ss 1 Aurelia km 96+710 (seaside), 01016

Tarquinia (VT), www.enzazaden.it.

(English version by Ilaria Nanni)

Fuzila keeps its head open, all the year round.

Fuzila nell'arco delle stagioni mantiene la testa aperta.

La gamma di lattughe della Enza Zaden si

arricchisce di un'importante novità: Fuzila,

lattuga gentile da pieno campo consigliata

per il Nord Italia, indicata per raccolte

primaverili, estive e autunnali. È interessante

per alcune prerogative, come il taglio

sempre molto piccolo, il fondo ben chiuso e

può anche essere utilizzato per la ricerca

dei pesticidi per colture minori.

Il team di Homologa e i suoi collaboratori

nel mondo aggiornano costantemente il

database. È stata già oltrepassata la soglia

di 7 milioni di dati registrati e continua a

essere innalzata. E.T.

Per informazioni:

www.agrobase.logigram.com,

homologa-info@agrobase-logigram.com

la costa liscia e poco pronunciata. La tipologia

compatta e la plasticità della foglia ne

agevolano la manipolazione per l'incassettamento

in campo con una buona integrità

fi nale del prodotto.

Nell'arco delle stagioni mantiene la testa

aperta, non tende quindi a incappucciare

né in condizioni estreme di siccità a fare le

doppie teste. Il colore verde medio molto

uniforme, la sua ottima tenuta di campo a

maturazione, grazie anche

alla buona resistenza alla

salita a seme, ne completano

le valide caratteristiche

commerciali.

Dal punto di vista delle

avversità ha dimostrato

alta resistenza alle bremie

(HR: BI 1-28), alla

nasonovia (HR: Nr:0) e al

fusarium (HR: Fol:1), caratteristica

fondamentale che

ne consente largo uso nei

terreni infetti, in particolare

della Romagna e del

Veneto, adattandosi bene

sia ai terreni più sciolti che

a quelli più pesanti; tale

caratteristica è comprovata

da diverse prove e coltivazioni

in larga scala.

G razie alla sua compattezza e densità la varietà

si presta bene anche ai trapianti in coltura

protetta nel periodo primaverile-estivo.

Per informazioni: Enza Zaden Italia, ss 1

Aurelia km 96+710 (lato mare), 01016

Tarquinia (Vt), www.enzazaden.it

Fresh Point Magazine n.5 – may/maggio 2013

61

commercial news

le aziende informano
---
commercial news

le aziende informano

Apple from Val Venosta optimized for smart phone

Mela Val Venosta ottimizzata per smartphone

Nowadays, it is possible to accede to the

magical world of apple from Val Venosta by

smart phone directly. The whole scent of

apples and the enchantment of the valley

will be within the reach of a click: by typing

www.vip.coop, it will be possible to get

access to an easy and user-friendly portal,

by lively and dynamic design, which offers

to visitors full and prompt information,

directly from our own mobile phone.

The web site is rich in information and

content made more enjoyable and userfriendly

to make smart phone reading

easier; it also points out the relationship

between the valley and its excellent produce

that cannot be set aside. An aesthetics

that grants to the portal a familiar and

user-friendly aspect, which involves the

user from the opening screen, by removing

some images, in order to optimize the content

graphics that makes reading easier.

There are six informative sections devoted

to consumers, to which it is possible to

accede by the main menu, and which

send back to the specifi c content of each

theme area, by just one click:

• A section for the typical produce from

Val Venosta: fresh, tasty and genuine

produce, among which the renowned

Apple Val Venosta, and its manifold

varieties, stands out, together with

apricots, cherries, soft fruit and several

types of vegetables;

• A room for recipes, all rigorously made

with Apple Val Venosta;

• A room for prize games and several

national contents now in progress;

• A section for events, such as business

fairs, tasting, events devoted to children;

• A section for sustainability and organic

themes, to prove Vip's commitment in

using growing methods that respect

nature and consumers;

• A room devoted to VIP's Cooperatives

and Associations.

Furthermore, there are also the social buttons:

visitors will fi nd the links to directly

accede to communication channels web 2.0

and, so, they will be able to interact with

Apple Val Venosta by following the updating

on the offi cial Facebook page, as well as

62 Fresh Point Magazine n.5 – may/maggio 2013

There is also a room for recipes,

rigorously made with Apple Val Venosta.

C'è anche uno spazio riservato alle ricette,

tutte rigorosamente a base di Mela Val Venosta.

The aesthetics gives to the portal

a familiar and user-friendly aspect.

L'estetica conferisce al portale un aspetto

intuitivo e familiare.

they will have then opportunity to preview

videos and images on Youtube and Flickr.

(English version by Ilaria Nanni)

Oggi è possibile accedere al magico mondo

di mela Val Venosta direttamente dal proprio

smartphone. Tutto il profumo delle mele e

l'incanto della valle saranno a portata di click:

digitando www.vip.coop si potrà accedere,

direttamente dal proprio supporto mobile, a un

portale semplice e intuitivo, dal design dinamico

e vivace, che offre ai visitatori un'informazione

completa, immediata e veloce.

Ricco di informazioni e contenuti resi più

fruibili e intuitivi per facilitare la lettura su

smartphone, il sito evidenzia il rapporto

imprescindibile tra la valle e i suoi eccellenti

prodotti. Un'estetica che conferisce al

portale un aspetto intuitivo e familiare che

coinvolge l'utente fi n dalla schermata iniziale,

lasciando meno spazio alle immagini per

una ottimizzazione grafi ca dei contenuti che

facilita la lettura.

Sei sono le sezioni informative del sito

dedicate ai consumatori, alle quali si può

accedere tramite il menù principale, che

rimandano con un solo click ai contenuti

specifi ci di ciascuna area tematica:

• una sezione riservata alle tipicità ortofrutticole

venostane: alimenti freschi, gustosi

e genuini, tra cui spicca la rinomata Mela

Val Venosta nelle sue molteplici varietà,

accompagnata da albicocche, ciliegie,

piccoli frutti e diverse tipologie di ortaggi;

• uno spazio riservato alle ricette, tutte rigorosamente

a base di Mela Val Venosta;

• uno riservato ai giochi a premi e ai vari

concorsi nazionali in corso;

• una sezione inerente gli eventi come fi ere

di settore, degustazioni, eventi dedicati ai

più piccoli;

• una riservata alle tematiche della sostenibilità

e del biologico, a dimostrare

l'impegno di Vip nell'utilizzo di metodi di

coltivazione che rispettano la natura e il

consumatore;

• uno spazio dedicato alle Cooperative Vip

e all'Associazione.

Non mancano inoltre i bottoni social: i visitatori

troveranno i link per accedere direttamente

ai canali di comunicazione web

2.0 e potranno così interagire con Mela Val

Venosta seguendo tutti gli aggiornamenti

sulla pagina Facebook uffi ciale, nonché visionare

video e immagini su Youtube e Flickr.
---
Pink Lady ® conquers the emerging markets

Pink Lady ® alla conquista dei mercati emergenti

Apple & Pear Australia Limited (Apal)

and Star Fruits (the holder of the exclusive

licence of the Pink Lady ® trademark

in Europe and other stakeholder

Countries) made a joint-venture – Pink

Lady ® Development Limited Pty Ltd (Pld) –

with the purpose to speed up the development

of Pink Lady ® in the most important

emerging Countries worldwide and to

optimize the effi ciency of the investments

made on brand and produce.

This new strategic tool will allow to work

out plans of conquest on new markets,

basing on experience and on the abilities

of the leading protagonists of Pink Lady ®

international supply chain, including the

Pink Lady ® Association Europe.

Strong of an experience acquired in the

last few years in South-East Asia, in

Middle-East and in East Europe,

Russia included, the Pink Lady ®

Association will contribute to the

success of this plan, together

with Apal and Star Fruits.

As Jon Durham – the general

manager at Apal and the president

of Pld – pointed out «we

need to size the several opportunities

of development for all Pink

Lady ® protagonists, either in Bric

area Countries (Brazil, Russia, India

and China) or in South-East Asia and

in Middle-East. We have to put into the

fi eld our propulsive role in developing the

consumption of apples in those markets

on the long run, once and for all».

This new frame will ensure the promotion

and the development of Pink Lady ® brand

fame, the management of licences and

the technical support to all the subjects

licence holder.

Finally, Pld will also have the purpose to

favour the complementarity of supplying

coming from the two hemispheres, to

guarantee the respect of fi rst-rate quality

of the apples marketed, in line with the

criteria of the trademark positioning, and

to supply the best technical assistance to

breeders of Cripps Pink varieties and of

the derived ones.

The whole European supply chain rejoices

at this initiative, as it is already committed

with the overwhelming majority

of these emerging markets, by the Pink

Lady ® Association Europe. The openings

of Pink Lady ® in those markets are a

conditio sine qua non for the development

of the European production and

of its economical length of time. The

Pink Lady ® Association Europe has given

itself the goal to redouble, within 2020,

the market share that those destinations

covered in the global marketing of Pink

Lady ® in 2011/12, passing from 5 to 10%

as for amounts.

(English version by Ilaria Nanni)

Pink Lady ® Development Limited Pty has

the purpose to speed up

the development of Pink Lady ®

in the Emerging Countries.

Pink Lady ® Development Limited Pty ha

l'obiettivo di accelerare lo sviluppo di Pink

Lady® nei Paesi emergenti.

Apple & Pear Australia Limited (Apal) e Star

Fruits (titolare della licenza esclusiva per la

gestione del marchio Pink Lady ® in Europa

e altri Paesi terzi) si sono associate in una

joint-venture – Pink Lady ® Development

Limited Pty Ltd (Pld) – con l'obiettivo di

accelerare lo sviluppo della mela Pink Lady ®

nei principali Paesi emergenti del mondo e

di ottimizzare l'effi cacia degli investimenti

effettuati sul marchio e sul prodotto.

Questo nuovo strumento strategico consentirà

di elaborare piani di conquista di nuovi

mercati, basandosi sull'esperienza e sulle

competenze dei principali protagonisti della

fi liera internazionale Pink Lady ® , compresa

l'Associazione Pink Lady ® Europe.

Forte di un'esperienza acquisita negli ultimi

anni nell'Asia sudorientale, in Medio Oriente

e nell'Europa dell'Est, Russia compresa,

l'Associazione Pink Lady ® Europe contribuirà,

insieme ad Apal e a Star Fruits, al

successo di questo progetto.

Come sottolineato da Jon Durham, direttore

generale di Apal e presidente di Pld, «occorre

cogliere le numerose opportunità di sviluppo

per tutti i soggetti Pink Lady ® , sia nei

Paesi dell'area Bric (Brasile, Russia, India e

Cina), sia nell'Asia sud-orientale e in Medio

Oriente. Dobbiamo mettere defi nitivamente

in campo il nostro ruolo propulsivo nello

sviluppo a lungo termine del consumo di

mele in tali mercati».

Questa nuova struttura assicurerà la

promozione e lo sviluppo della notorietà

del marchio Pink Lady ® , la gestione

delle licenze e il supporto tecnico a tutti

i soggetti titolari di licenza.

Pld, infi ne, avrà anche il compito di favorire

la complementarietà degli approvvigionamenti

provenienti dai due emisferi, di

garantire il rispetto della qualità delle mele

commercializzate in linea con criteri di posizionamento

del marchio, e di fornire una

maggiore assistenza tecnica ai produttori

delle varietà Cripps Pink e delle varietà che

ne sono sostanzialmente derivate.

Già impegnata nella stragrande maggioranza

di questi mercati emergenti, tramite

l'Associazione Pink Lady ® Europe, l'insieme

della fi liera europea si compiace di

tale iniziativa. Le prospettive di espansione

della Pink Lady ® in tali mercati sono una

conditio sine qua non dello sviluppo della

produzione europea e della sua durata

economica nel tempo. L'Associazione

Pink Lady ® Europe si è posta l'obiettivo

di raddoppiare, entro il 2020, la quota di

mercato che tali destinazioni coprivano

nella commercializzazione globale di Pink

Lady ® nel 2011/12, passando quindi dal 5

al 10% dei volumi.

Fresh Point Magazine n.5 – may/maggio 2013

63

commercial news

le aziende informano
---
commercial news

le aziende informano

Vog's apples landed in Norway

Le mele Vog sbarcano in Norvegia

The international marketing campaign of

Vog's apples went on without a break. The

fruits of the Consortium from Terlano were

the core of an intense promotional campaign

in Norway, which had the Südtirol

branded produce as leading protagonist.

From the 4th of February to the 31st of

March, the Scandinavian consumers had

the opportunity to join the contest that

offered as a prize 35 iPod Nano, accessible

either on or off line. On the Internet, it

was suffi cient to play with the web game

accessible at the web address: www.

sudtirol.no, trying to stick to apples that

fell from the upper part of the screen, as

many stamps as possible. On the contrary,

off line consumers just needed to stick 3

Südtirol stamps on one of the 50thousand

postcards put all over the Country, to take

part to the prizes drawing.

The initiative was supported by a deep

promotional campaign on Facebook and

on the most important web sites devoted

to women, nutrition, beauty and lifestyle

The iPod Nano offered as a prize.

L'iPod Nano messo in palio.

64 Fresh Point Magazine n.5 – may/maggio 2013

in Norway. Furthermore, they started a

series of in-store promotions at Ica and

Coop points of sale, as well as several

promotional micro-events at the chain of

gyms Elixia-Fitness-Studios.

Moreover, for the third year running, the

"Südtirol" brand continued to support

the Lorenskog hockey team, one of the

Premier League's team in Norway. During

the domestic matches, they have planned

some promotional moments with games

purposely conceived for the audience.

«Norway is a very interesting nation for

our produce» said the director of Vog

Consortium, Gerhard Dichgans. «We have

a close cooperation relationship with the

Scandinavian Countries, which are particularly

loyal to the Südtirol trademark

and, in these markets, we have set up

close ties of continuity and trust in years.

Therefore, we are very glad to support our

partners by activities turned to the endconsumer,

by increasing the value of our

produce and the work of our members»,

ended the director.

(English version by Ilaria Nanni).

È proseguita senza sosta la campagna di

marketing internazionale delle mele del Vog.

I frutti del Consorzio di Terlano sono stati al

centro di un'intensa attività promozionale

in Norvegia con protagonisti i prodotti a

marchio Südtirol.

Dal 4 febbraio al 31 marzo i consumatori del

Paese Scandinavo hanno potuto partecipare a

un concorso con in palio 35 iPod Nano, accessibile

sia on che off line. Su internet bastava

giocare al web game accessibile all'indirizzo

www.sudtirol.no, cercando di attaccare più

bollini possibile alle mele che cadono dall'alto

dello schermo. Fuori dalla rete, invece, ai

consumatori fi nali bastava incollare 3 bollini

Südtirol' su una delle 50mila cartoline che

sono state distribuite in tutto il Paese per partecipare

alla estrazione dei premi.

L'iniziativa è stata supportata da un'intensa

campagna pubblicitaria, declinata su

Facebook e sui principali siti web dedicati

a donne, nutrizione, bellezza e lifestyle del

Paese. Sono stati attivati inoltre una serie di

in-store promotion nei punti vendita a insegna

Ica e Coop e microeventi promozionali nella

The postcard to be sent to join the

contest.

La cartolins da spedire per partecipare al

concorso.

catena di palestre Elixia-Fitness-Studios.

Inoltre, per il terzo anno consecutivo, il

marchio 'Südtirol' ha continuato ad accompagnare

gli atleti del team di hockey del

Lorenskog, una delle formazioni che militano

nel massimo campionato norvegese.

Durante le partite casalinghe della squadra

sono in programma alcuni momenti promozionali

con giochi pensati appositamente per

gli spettatori dei match.

«La Norvegia è una Nazione molto interessante

per i nostri prodotti» ha affermato

il direttore del Consorzio Vog, Gerhard

Dichgans. «Abbiamo uno stretto rapporto di

collaborazione con i Paesi Scandinavi, particolarmente

fedeli al marchio Südtirol, e con

questi mercati abbiamo stabilito nel corso

degli anni legami di continuità e fi ducia.

Siamo pertanto felici di offrire sostegno ai

nostri partner con attività rivolte al consumatore

fi nale, valorizzando in questo modo i

nostri prodotti e il lavoro dei nostri soci», ha

concluso il direttore.