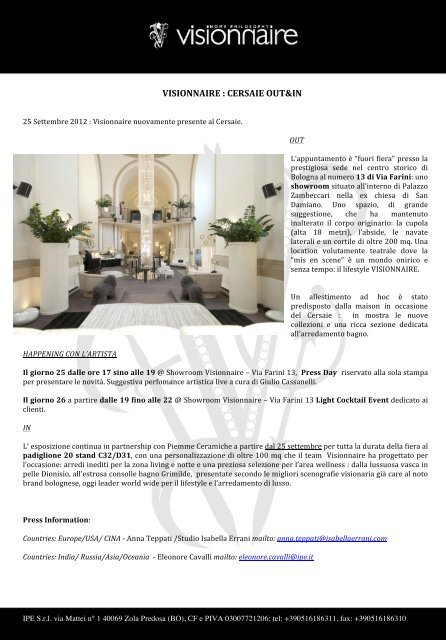 VISIONNAIRE : CERSAIE OUT∈
VISIONNAIRE : CERSAIE OUT∈
VISIONNAIRE : CERSAIE OUT∈
SHOW MORE
SHOW LESS
You also want an ePaper? Increase the reach of your titles
YUMPU automatically turns print PDFs into web optimized ePapers that Google loves.
VISIONNAIRE : CERSAIE OUT&IN

25 Settembre 2012 : Visionnaire nuovamente presente al Cersaie.

OUT

L'appuntamento è "fuori fiera" presso la

prestigiosa sede nel centro storico di

Bologna al numero 13 di Via Farini: uno

showroom situato all'interno di Palazzo

Zambeccari nella ex chiesa di San

Damiano. Uno spazio, di grande

suggestione, che ha mantenuto

inalterato il corpo originario: la cupola

(alta 18 metri), l'abside, le navate

laterali e un cortile di oltre 200 mq. Una

location volutamente teatrale dove la

"mis en scene" è un mondo onirico e

senza tempo: il lifestyle VISIONNAIRE.

HAPPENING CON L'ARTISTA

Un allestimento ad hoc è stato

predisposto dalla maison in occasione

del Cersaie : in mostra le nuove

collezioni e una ricca sezione dedicata

all'arredamento bagno.

Il giorno 25 dalle ore 17 sino alle 19 @ Showroom Visionnaire – Via Farini 13, Press Day riservato alla sola stampa

per presentare le novità. Suggestiva perfomance artistica live a cura di Giulio Cassanelli.

Il giorno 26 a partire dalle 19 fino alle 22 @ Showroom Visionnaire – Via Farini 13 Light Cocktail Event dedicato ai

clienti.

IN

L' esposizione continua in partnership con Piemme Ceramiche a partire dal 25 settembre per tutta la durata della fiera al

padiglione 20 stand C32/D31, con una personalizzazione di oltre 100 mq che il team Visionnaire ha progettato per

l'occasione: arredi inediti per la zona living e notte e una preziosa selezione per l'area wellness : dalla lussuosa vasca in

pelle Dionisio, all'estrosa consolle bagno Grimilde, presentate secondo le migliori scenografie visionaria già care al noto

brand bolognese, oggi leader world wide per il lifestyle e l'arredamento di lusso.

Press Information:

Countries: Europe/USA/ CINA -­‐ Anna Teppati /Studio Isabella Errani mailto: anna.teppati@isabellaerrani.com

Countries: India/ Russia/Asia/Oceania -­‐ Eleonore Cavalli mailto: eleonore.cavalli@ipe.it

IPE S.r.l. via Mattei n° 1 40069 Zola Predosa (BO), CF e PIVA 03007721206; tel: +390516186311, fax: +390516186310
---
VISIONNAIRE : CERSAIE OUT&IN

September 25th, 2012: Visionnaire again at Cersaie.

OUT

The appointment is "out of the

show" at the prestigious

headquarter in the historic center

of Bologna at number 13 of Via

Farini: a showroom located in

Palazzo Zambeccari, formerly San

Damiano church. A space of great

beauty which has maintained the

original body: the dome (18 meters

high), the apse, the aisles and a

courtyard of 200 sqm. A purposely

theatrical location where the "mis

en scene" is a dreamy and timeless

world: the VISIONNAIRE lifestyle.

A special setting has been prepared by the Maison for the Cersaie exhibition: the new collections are

displayed, as well as a rich section dedicated to bathroom furnishing.

HAPPENING WITH THE ARTIST

On September 25 th , from 17.00 to 19.00 at Showroom Visionnaire -­‐ Via Farini 13, Press Day to present the

news reserved to press only . Impressive live art performance by Giulio Cassanelli.

On September 26 th starting from 19:00 to 22:00 at Showroom Visionnaire -­‐ Via Farini 13 Light Cocktail Event

exclusively reserved to client.

IN

The appointment will continue from September 25th and for the entire duration of the fair, at Hall 20 booth

C32/D31 in collaboration with Piemme Ceramiche with a customization of more than 100 square meters

specially designed for this occasion by the Visionnaire team. New furniture pieces for the living and for the

night areas and a precious selection for the wellness area: from the luxury bath-­‐spa Dioniso upholstered in

leather to the Grimilde wellness console, featured according to the best visionary sets dear to the well-­‐known

brand of Bologna, today worldwide leader in lifestyle and luxury furnishings .

Press Information:

Countries: Europe/USA/ CINA -­‐ Anna Teppati /Studio Isabella Errani mailto: anna.teppati@isabellaerrani.com

Countries: India/ Russia/Asia/Oceania -­‐ Eleonore Cavalli mailto: eleonore.cavalli@ipe.it

IPE S.r.l. via Mattei n° 1 40069 Zola Predosa (BO), CF e PIVA 03007721206; tel: +390516186311, fax: +390516186310