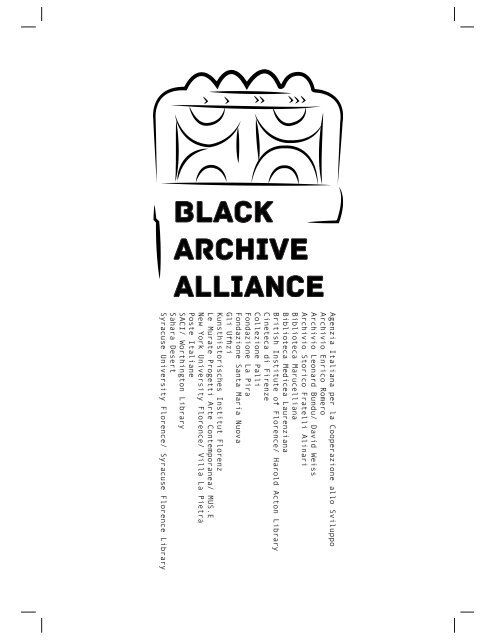 Black Archive Alliance Catalogue
You also want an ePaper? Increase the reach of your titles
YUMPU automatically turns print PDFs into web optimized ePapers that Google loves.
IMPRINT

The Publication is part of the

project Black Archive Alliance, a

collaboration with Black History

Month Florence, November 2018 /

La pubblicazione fa parte del progetto

Black Archive Alliance, una

collaborazione con Black History

Month Florence, novembre 2018

Se non menzionato in modo particolare,

i testi di Justin Randolph

Thompson, Agnes Stillger

EDITOR / EDITORE

Villa Romana e.V. and BHMF

www.villaromana.org

BLACK ARCHIVE ALLIANCE

CONCEPT / CONCETTO

Justin Randolph Thompson, Director

Black History Month Florence

Angelika Stepken, Director

Villa Romana, Florence

COORDINATION / COORDINAZIONE

Davood Madadpoor

Angelica Pesarini

Agnes Stillger

Matias Mesquita

TEXTS / TESTI

Monica barrett

Emily bruder

Caroline coxe

Michele dantini

Gleyra Herrera

Willa kate konsmo

Tatjana lightbourn

Matias Mesquita

Laurana Nyman

Yael orejuela

Mariagrazia orlandi

Sarina patel

Enrico romero

Sirpa Salenius

Julia Snyder

Ray zhong

If not specially mentioned, texts

by Justin Randolph Thompson, Agnes

Stillger /

GRAPHIC DESIGN / PROGETTO GRAFICO

Collettivo Peyote

INTERNS / STAGISTI

Emily Bruder, Laurana Nyman, Yael

Orejuela, Caroline Coxe, Eliot Raynes

Syracuse University Florence

DISPLAY FABRICATION / FABRICAZIONE

DISPLAY

Chris Wyatt Scott

PRINTER / COPISTERIA

COPYRIGHT:

Villa Romana e.V., BHMF, authors

and artists / autori e artisti
---
BLACK ARCHIVE ALLIANCE

BLACK ARCHIVE ALLIANCE è un progetto collettivo

concepito per aprire la narrazione egemonica

della storia a un ventaglio di realtà

diverse e alle tracce che queste si lasciano

alle spalle, spesso relegate in archivi cittadini

pubblici e privati. Si tratta di uno

zioni

populistiche vogliono portarci a credere

che i fenomeni migratori costituiscono

una minaccia per il futuro, piuttosto che le

fondamenta per la storia dell'umanità nel

mondo. Benché iniziale e disomogenea, questa

base di oggetti e narrazioni (documenti, fo-

-

tina

– sia essa calata nei centri del potere

o soggetta a decisa negazione – e trasforma

il modo di percepire la narrazione non solo

della storia, ma anche del nostro oggi e del

nostro domani. Allo stesso tempo è un ten-

-

in archivio, queste testimonianze dovrebbero

essere rese disponibili per aiutare ad aprire

nuove strade. Una città come Firenze potrebbe

essere un esempio di grande diversità

nella storia, nel presente e nel futuro.

Angelika Stepken, Villa Romana
---
BLACK ARCHIVE ALLIANCE

BLACK ARCHIVE ALLIANCE è una collaborazione

tra Villa Romana e Black History Month

Florence nell'ambito di Cantiere Toscana,

una rete regionale di centri indipendenti

per l'arte contemporanea in Toscana. Questa

ricerca tra una ventina di archivi e

presentazioni pubbliche non sarebbe stata

possibile – in tempi così rapidi – senza il

contributo di tutte le persone e gli studiosi

che se ne sono occupati. I nostri ringraziamenti

speciali vanno a Justin Randolph

Thompson che si è assunto la responsabilità

di incoraggiare e coordinare persone, luoghi,

istituzioni, attività, nonché i suoi

stessi studenti delle varie università straniere

con sede a Firenze. Un grande ringraziamento

anche a Matias Mesquita, Angelica

Pesarini, Agnes Stillger e Davood Madadpoor

per aver messo insieme i pezzi e aver fornito

un contributo colto e consapevole. Siamo

grati a tutte le istituzioni, gli archivi e

i proprietari che hanno accolto prima BLACK

ARCHIVE ALLIANCE e poi tutti gli interessati.

Senza il sostegno della Regione Toscana

questo progetto, che sarà alla base di ulteriori

ricerche e presentazioni, non sarebbe

stato possibile.

Angelika Stepken, Villa Romana
---
The black abyss is deeply social, speci-

blackness, in all its heterogeneity, into

appearance.

Nana Adusei-Poku_ On Being Present Where You Wish to

Disappear

…while the status of the archive today may

not be ambiguous, its role in the historical

determination of public memory remains unsettled

by mnemonic ambivalence.

Owkui Enwezor_ Archive Fever

BLACK ARCHIVE ALLIANCE

It is said that in order to expose historical

information that has been unintentionally

or deliberately heaved into the dust pile

of history, it is necessary to delve through

intent on extracting any miniscule scrap that

may reveal stories, people and presence that,

due to any number of circumstances, have yet

to receive the critical light of scholarship.

There are many such histories that have not

even grazed the notes in the margins of history

books whose relevance within contemporary

society are yet to be determined. There

are ways in which the history that we are

aware of generally is the smallest fragment

of the tip of the iceberg of what could be

told and it is the task of students and scholars

of history to remove the dust and piece

together the shabby patchwork of historical

narratives as much as it is the task of the

artist to examine these histories and to bridge

the daunting gap between information and

poetry. While, under no circumstances, does

this project deem to be exhaustive of the archives

and collections with relevant material

to Blackness and to Afro-descendent peoples

within the city of Florence and Tuscany, we

hope to shed light on the underdeveloped re-

Black History Month FLorence
---
search that is connected to these aspects of

the archives that are a part of the project,

and on the students and scholars that conducted

the research, many of whom have been

engaged in this work for years. We intend

to simultaneously encourage the sifting and

combing through these and many other sites

of research throughout the city, the country

and indeed across the globe. Black Archive

Alliance can be considered a Volume I that

closes with a massive" to be continued…".

BLACK ARCHIVE ALLIANCE

Florence is a site where the amount of scholarship

and historical documentation is so

overwhelming that art-historians, sociologists,

archeologists and scholars of all kinds

from every distant reach of the world actively

pursue the depths of hidden knowledge

embedded in the dark corners of its archives.

With photographic archives as profound as the

Archivio Storico Fratelli Alinari and holdings

as far reaching as the Biblioteca Medicea

Laurenziana, there is no shortage of uncharted

paths along the deeply worn trails of the

Florentine past. This is true of the research

around even the most noteworthy of artists

ded

within the "Western Canon" of historic

relevance. What then of the innumerous marginalized

or wholly unwritten histories within

these very archives? One crucial step in

the generation and conservation of an archive

is the preparation of a recovery plan. This

step is about reducing the risk and discerning

a strategy for safeguarding against the

loss or damage of the documents within. There

is a way in which the lens of "Western" history

can seem to nearly guarantee the loss

and or damage of the archival existence of

Blackness within its cultural framework. This

is said taking for granted that such documentation

or annotations that attest to these

histories intersections and integrations

in the "western" world have been made(writ-

Black History Month FLorence
---
BLACK ARCHIVE ALLIANCE

place which is clearly not always the case.

The group of texts and documents that this

project excavates is about hinting towards a

presence. This presence is at times in plain

sight but too often deemed irrelevant to the

cultural context in which we are situated.

The contemporary moment suggests to us that

we need to recognize the interconnectivity of

time and the antiquity of human mobility in

order to not fall for the blockish, notional

accumulation of peoples and histories into

shallow stereotypes. Within the Italian con-

scious

of what Pape Diaw calls the "folklore

of migration" 1 . The documents that make up

this project demonstrate to us the longstanding

and ongoing dialogue between the African

continent, its diaspora and Florence.

Several institutions across Florence have

stimulated and incited this type of research

over the years along with a range of

artistic development around it and we have a

great respect for the labor, oft unrecognized,

that this type of questioning and acknowledging

posits. It is all the more laudable

given the enormous gaps of scholarship

upon which to build foundations for this

research. There is a way that in order to

ves

speculation and interpretation are key

and while they must be guided by historical

context this requires an imaginative response

to the academic realm that can only be

strengthened by increased contributions of

harmonious and discordant voices. The growth

of scholarship in this realm is needed in

order to permit a "Speculative Blackness" 2

to chart a place for Afro Descendent people

in the future through a contextualization in

the past. To quote the legendary Paul Robeson

who in a 1938 speech, given in his time

in Madrid rallying against totalitarianism

Black History Month FLorence
---
in the Spanish Civil War and in the aftermath

of Guernica, states:

"Today the artist cannot hold himself aloof.

Through the destruction in certain countries

of the greatest of man's cultural heritage,

through the propagation of false ideas of racial

and national superiority, the scientist,

the writer, the artist is challenged. The

challenge must be taken up. For this culture,

a legacy from our predecessors, is the foundation

on which we build a higher and all

embracing culture. It belongs not only to us,

not only to the present generation, it belongs

to our posterity and must be courageously

defended." 3

BLACK ARCHIVE ALLIANCE

BHMF

1 Pape Diaw from his intervention at Atavistic Fear of

the Other: Between Reality and Propaganda organized by

New York Univeristy's La Pietra dialogues Moderated by

Suzanne Menghraj and journalist Imma Vitelli September

2 Carrington André M. Speculative Blackness: the Future

of Race in Science Fiction. University of Minnesota

Press, 2016.

3 Excerpt of Paul Robeson's speech in support of anti-facist

forces during the Spanish Civil War 1938

Chin, Sam. "Paul Robeson, Spain, 1938 - 'The Artist

Cannot Hold Himself Aloof.'" YouTube, YouTube, 10 Feb.

2017, www.youtube.com/watch?v=-ieHA_1y8dQ.

Black History Month FLorence
---
intimo. È il vuoto che chiama il popolo nero, in

tutta la sua eterogeneità, a rivelarsi.

Nana Adusei-Poku "On Being Present Where You Wish to

Disappear"

... mentre lo status dell'archivio al giorno

d'oggi potrebbe non essere ambiguo, il suo ruolo

nella storia della memoria pubblica rimane sconvolto

dall'ambivalenza mnemonica.

Owkui Enwezor_ Archive Fever

BLACK ARCHIVE ALLIANCE

Si dice che per esporre informazioni storiche che

sono state involontariamente o deliberatamente

inserite nella catasta polverosa della storia, è

necessario scavare attraverso l'archivio passando

al setaccio il suo contenuto, intenti ad estrarre

qualsiasi minuscolo residuo che possa rivelare

storie, persone e presenze che, a causa di casi e

circostanze, aspettano di essere illuminati dalla

luce critica di uno studioso. Ci sono molte sto-

le note ai margini dei libri di storia e la cui

rilevanza all'interno della società contemporanea

deve ancora essere determinata. E' possibile che

la storia di cui siamo consapevoli sia soltanto

un piccolo frammento, la punta dell'iceberg di

ciò che potrebbe essere detto, ed è compito degli

studenti e degli studiosi di storia rimuovere la

polvere e mettere insieme lo squallido patchwork

di narrazioni storiche tanto quanto il compito

dell'artista è quello di esaminare queste storie

e di colmare il divario scoraggiante tra informazione

e poesia. Questo progetto non ritiene

di essere esaustivo riguardo il fornire di tutto

il materiale rilevante degli archivi e delle

collezioni con materiale rilevante per i popoli

afro-discendenti all'interno della città di Firenze

e Toscana, ma vorremmo far luce sul fatto

che la ricerca che è connessa a questi temi,

Black History Month FLorence
---
aramente ma comunque presenti negli archivi che

fanno parte del progetto, è poco sviluppata, e

dare voce agli gli studenti e gli studiosi che

hanno condotto la ricerca, molti dei quali sono

stati impegnati in questo lavoro per anni. Al

tempo stesso intendiamo incoraggiare l'indagine

attraverso questi e molti altri siti di ricerca

in tutta la città, come nel paese e in tutto il

mondo. Black Archive Alliance può essere considerato

un volume I che si chiude con un enorme

"continua ...".

BLACK ARCHIVE ALLIANCE

Firenze è un sito in cui la quantità di borse di

studio e di documentazione storica è così travolgente

che storici dell'arte, sociologi, archeologi

e studiosi di ogni tipo provenienti da

ogni parte del mondo studiano i baratri della

conoscenza, nascosta negli angoli bui dei suoi

le

l'Archivio Storico Fratelli Alinari e possedimenti

quali la Biblioteca Medicea Laurenziana,

non mancano percorsi inesplorati lungo i sentieri

profondamente consumati della storia . Questo riguarda

la ricerca intorno agli artisti e regnan-

ai più degni di nota di rilevanza storica. Che

dire allora delle innumerevoli storie marginalizzate

o taciute all'interno di questi stessi archivi?

Un passaggio cruciale nella generazione e

conservazione di un archivio è la preparazione di

un piano di recupero. Questo passaggio consiste

nel ridurre i rischi di perdita di alcuni aspetti

della storia e nello sviluppo di una strategia di

salvaguardia contro la perdita o il danneggiamento

dei documenti all'interno degli archivi. La

storia "occidentale" pare quasi voler garantire

la perdita e / o il danneggiamento dell'esistenza

archivistica di alcune parti oscure all' interno

del suo contesto culturale. Si dice scontato che

tali documentazioni o annotazioni che attestano

queste intersezioni e integrazioni nel mondo

"occidentale" siano state fatte (scritte, docu-

Black History Month FLorence
---
che chiaramente non è sempre il caso. I testi e

documenti che questo progetto esplora, riguardano

il suggerimento di una presenza. Questa presenza

a volte è in primo piano, ma troppo spesso considerata

irrilevante rispetto al contesto culturale

in cui ci troviamo. La realtà contemporana

ci suggerisce che abbiamo bisogno di riconoscere

l'interconnessione del tempo e la natura perenne

della mobilità umana per non cedere alle teorie

facili di segregazione di popoli interi e di

ci dovremmo ormai essere stancati ed essere consapevoli

di ciò che Pape Diaw chiama il "folklore

della migrazione" 1

I documenti che compongono questo progetto ci

dimostrano il perenne dialogo, ancora in corso,

tra il continente africano, e la sua diaspora a

Firenze.

BLACK ARCHIVE ALLIANCE

Diverse istituzioni in tutta la città di Firenze,

nel corso degli anni, hanno stimolato e incoraggiato

questo tipo di ricerca insieme a una serie

di lavori artistici sviluppati intorno ad esso e

abbiamo un grande rispetto per il lavoro, spesso

non riconosciuto, che questo tipo di domande

e posizioni richiede. È tanto più lodevole date

le enormi lacune di mezzi di produzione su cui

costruire le basi per questa ricerca. Per affrontare

molte delle scoperte in questi archivi

l'indagione e l'interpretazione sono fondamentali.

Devono essere guidate dal contesto storico e

ciò richiede una risposta immaginativa dal regno

accademico che può essere rafforzata solo da maggiori

contributi di voci armoniose e discordanti.

L'incremento dei contributi per le borse di stu-

mettere

una "Blackness speculativa" 2

Necessita consentire di tracciare in futuro un

luogo per i discendenti degli africani attraverso

una contestualizzazione nel passato. Per citare

il leggendario Paul Robeson che in un discorso

del 1938, pronunciato a Madrid durante i suoi incontri

contro il totalitarismo nella guerra civi-

Black History Month FLorence
---
le spagnola e all'indomani di Guernica, afferma:

"Oggi l'artista non può tenersi in disparte. Attraverso

la distruzione in alcuni paesi del più

grande patrimonio culturale dell'uomo, attraverso

la propagazione di false idee di superiorità razziale

e nazionale, lo scienziato, lo scrittore,

Per questa cultura, un retaggio dei nostri predecessori,

è il fondamento su cui costruiamo una

cultura superiore e onnicomprensiva. Non appartiene

solo a noi, non solo alla generazione attuale,

appartiene ai nostri posteri e deve essere

difesa coraggiosamente." 3

BHMF

BLACK ARCHIVE ALLIANCE

1 Pape Diaw dal suo intervento all'Atavistic Fear dell'altro:

Between Reality and Propaganda organizzato dai dialoghi di La

Pietra della New York Univeristy Moderato da Suzanne Menghraj

e dalla giornalista Imma Vitelli il 13 settembre 2018 allo

2 Carrington André M.: Blackness speculativo: il futuro della

razza nella fantascienza. University of Minnesota Press,

2016.

3 Estratto del discorso di Paul Robeson a sostegno delle forze

anti-facisti durante il Chin della Guerra Civile del 1938,

Sam. "Paul Robeson, Spagna, 1938 - 'L'artista non può tenersi

in disparte.'" YouTube, YouTube, 10 febbraio 2017, www.youtube.com/watch?v=-ieHA_1y8dQ.

Black History Month FLorence
---
galleries today pass through the three

corridors that line the cortile, the

inner narrow courtyard opening to the

della Signoria on the other. Antique

sculpture and larger paintings run the

length of the halls, as does a series

of portraits installed along the top of

the walls, directly below the ceilings.

Many of these paintings date to between

1552 and 1589, copied by the artist

Cristoforo dell'Altissimo as part of a

large-scale commission by Cosimo I de'

Medici, from the scholar and historian

Paolo Giovio's vast portrait gallery.

Amongst these are two images of black

African rulers.

Like many of the other portraits that

line the corridor, these are bust-length

depictions, painted in oil on wooden

panels, roughly 23 inches in height

by 17 inches wide, framed in carved

walnut. The painting identifying its

subject as 'Atanadi Dinghil, great king

of the Abyssinians, commonly called

Prester John," shows the subject in

three-quarters view, all'antica, his

head turned to the right. He is a young

black man, and he wears a plain, solid

green cloth about his shoulders, but

the gold of his elegant pendant earring

and in the woven pattern of his shirt

glitter against the black background,

lending a certain air of richness to

his person. The inscription on the other

portrait reads Alchitrof Aethiopiae

Rex, "Alchitrof, King of Ethiopia."

Alchitrof holds a mirror, and turns

feather headdress conceals his hair,

but his curled beard and mustache and

prominent eyebrows are visible. Pieces

of white coral decorate the hoop rings

in his ears, while three strings of

pearls dangle from gold hoops piercing

his lower lip. The position of the head,

slightly tilted, and the lips, slightly

parted, give an impression of motion, as

though he has been caught in the act of

speaking or turning.

Alchitrof remains a mysterious

character; he cannot be securely

ruler. However, we know a great

deal more about the identity of the

individual in the other portrait.

'Atanadi Dinghil' was the Latin version

of the Ethiopian ruler Dawit II's given

name of Lebnä-Dengel. A member of

the Solomonid dynasty that had ruled

Ethiopia since 1270, Dawit was born in

1496 or 1497, succeeded to the throne

in 1508, and reigned until his death

in 1540. In 1533, an embassy sent by

Dawit from Ethiopia arrived in Italy.

had long-standing contact with the

Italian peninsula, sending pilgrims

and ambassadors to cities including

Venice, Rome, Florence, and Genoa,

where they arrived bearing gifts and

seeking audiences with the local elite.

desire to expand the Christian world

through conversion and to unify against

the forces of Islam, had long inspired

diplomatic contact between European

princes and the Christian kingdom of

Ethiopia, with the earliest recorded

embassy sent from Ethiopia in 1306. Five

Ethiopian pilgrims visited Bologna in

1407. Another diplomatic mission sent

from Ethiopia arrived in the city of

Naples in 1450, received by King Alfonso

V of Aragon. Dawit's embassy carried

letters and gifts to Pope Clement VII –

gifts that included a gold cross and a

portrait of Dawit himself.

Dawit's letters declare his obedience

Cristofano dell'Altissimo, Portrait of Lebnä-Dengel.

The U
---
to the Church, reminding

the pope of Ethiopia's

long-standing adherence

to the Christian faith,

and requesting that

other Christian rulers

come to his aid in the

letters were quickly

translated into Latin,

printed, and widely

circulated; as the

very real threat of

an Ottoman invasion

hung over the Italian

peninsula, a potential

military alliance with

the legendary Prester

John, powerful ruler of

a prosperous Christian

realm in the East whose

mythos had endured over

centuries, took on new

relevance. These letters

were material evidence of

Dawit's involvement in

the Christian world, but

the portrait also acted

as sign of Dawit himself.

Through it, he made

himself present before

the pope as his words

expressed respect and

allegiance, communicating

a message of Christian

brotherhood. This was

an image that traveled

great distances, charged

with carrying information

from Africa to Italy, an

object that was meant

to stage an encounter

between two individuals

who could never meet in

person.

passa attraverso i tre corridoi che costeggiano lo

Sculture antiche e dipinti di grandi dimensioni sono

disposti lungo i corridoi, insieme a una serie di

ritratti installati lungo la parte superiore delle

questi dipinti sono datati tra il 1552 e il 1589,

copiati dall'artista Cristoforo dell'Altissimo come

parte di una commissione su vasta scala di Cosimo I

de 'Medici, dalla vasta galleria di ritratti dello

studioso e storico Paolo Giovio. Tra queste ci sono

due immagini di sovrani neri africani.

Come molti altri ritratti che costeggiano il

corridoio, si tratta di busti dipinti ad olio su

pannelli di legno, alti circa 23 pollici e larghi 17

pollici, incorniciati in legno di noce intagliato.

"Atanadi Dinghil, grande re degli Abissini", mostra

il soggetto a tre quarti, all'antica, la testa

voltata a destra. È un giovane uomo di colore, e

indossa un semplice panno verde in tinta unita sulle

sue spalle, ma l'oro del suo elegante orecchino

pendente e il motivo intrecciato della sua camicia

brillano sullo sfondo nero, conferendo una certa

Aethiopiae Rex, "Alchitrof, re d'Etiopia". Alchitrof

tiene uno specchio e rivolge lo sguardo verso lo

spettatore. Il grande copricapo di piume nasconde

di corallo bianco decorano i suoi orecchini, mentre

testa, leggermente inclinata, e le labra leggermente

divaricate, danno un'impressione di movimento, come

se fosse stato colto nell'atto di parlare o girarsi.

Alchitrof rimane un personaggio misterioso; non

sovrano africano storico. Tuttavia, sappiamo molto

di più sull'identità dell'individuo nell'altro

ritratto. 'Atanadi Dinghil' era la versione latina

del sovrano etiopico Dawit II di Lebnä-Dengel.

Membro della dinastia dei Salomone che aveva

governato l'Etiopia dal 1270, Dawit nacque nel

alla sua morte nel 1540. Nel 1533 arrivò in Italia

un'ambasciata inviata da Dawit dall'Etiopia. Non

era la prima. Infatti, l'Etiopia ha avuto contatti

di lunga data con la penisola italiana, inviando

di espandere il mondo cristiano attraverso la

aveva ispirato a lungo il contatto diplomatico tra i

principi europei e il regno cristiano dell'Etiopia,

con la prima ambasciata inviata dall'Etiopia nel

1306. Cinque pellegrini etiopi visitarono Bologna

nel 1407. Un'altra missione diplomatica inviata

dall'Etiopia arrivò nella città di Napoli nel 1450,

ricevuta dal re Alfonso V d'Aragona. L'ambasciata di

Dawit portava lettere e regali a papa Clemente VII -

regali che includevano una croce d'oro e un ritratto

di Dawit stesso.

alla Chiesa, ricordando al Papa la sua adesione, di

lunga data, alla fede cristiana e la richiesta che

altri sovrani cristiani vengano in suo aiuto nella

lotta contro l'Islam. Le lettere furono rapidamente

tradotte in latino, stampate e ampiamente diffuse.

dominatore di un prospero regno cristiano in Oriente

il cui mito era durato per secoli, acquistò nuova

coinvolgimento di Dawit nel mondo cristiano, ma il

ritratto fungeva anche da segno tangibile di Dawit

stesso. Attraverso di esso si è presentato al papa

e con le sue parole ha espresso rispetto e fedeltà

Italia, un oggetto destinato a mettere in scena un

incontro tra due individui che non avrebbero mai

potuto incontrarsi di persona.
---
Sarah Parker Remond (1826-1894):

An African American Medical Doctor

By Sirpa Salenius

photos by/foto di Sirpa Salenius

Remond, qtd. in Dorothy B. Porter. "Sarah Parker Remond, Abolitionist and Physician."

Journal of Negro History 20.3 (1935): 289.

"Lecture on American Slavery by a Colored Lady." Warrington Times, 29 January 1859;

reprinted in the Liberator, 11 March 1859.

Qtd. in Angelina Reyes, "Elusive Autobiographical Performativity," in Loopholes and

Retreats: African American Writers and the Nineteenth Century, ed. John Cullen Gruesser and

Hanna Wallinger, special issue of Forecaast 17 (2009): 159.

The Revolution, 5 August 1869.
---
Sarah Parker Remond (1826-1894) graduated from the Santa Maria

Nuova hospital school in 1868 with a diploma for professional

medical practice. She was originally from Salem, Massachusetts,

where she was born into a family of free African Americans.

Her father, John Remond, was a famous local caterer and her

mother, Nancy Lenox, was a fancy-cake maker. Her sisters

ran hairdressing salons, manufactured wigs, and prepared a

medicated lotion against hair loss. The entire family was

active in campaigning against slavery, and Remond's brother,

Charles Lenox, was a well-known abolitionist lecturer who

became a speaker for the American Anti-Slavery Society. Between

1856 and 1858, she toured with other white and black activists,

including her brother as well as Susan B. Anthony and Abbey

Kelley, who were also campaigning for women's emancipation.

They spoke in New York City, Rochester, Utica, and Montreal,

and in New England, Michigan, and Ohio. As Sarah Remond

observed, the audience at their antislavery lectures was

"closely packed."1

continued to speak against slavery, at times lecturing together

received and newspapers praised her as "one of the best female

with Clementia Taylor and her husband, Peter Taylor, member

of Parliament. Their home, the Aubrey House, was one of the

central gathering places of London radical reformist circles.

Sarah Remond became a member in the London Emancipation

Committee and in the executive committee of the Ladies' London

Emancipation Society established in 1863. She also enrolled

at the Bedford Ladies College, where she studied such topics

and became friends with Giuseppe Mazzini. She participated

carried letters of introduction written by Mazzini.

Sarah Remond arrived at 'Firenze La Bella' in August 1866.

respectable pension, and signed up for a one-month membership

at the Gabinetto Vieusseux newsroom and lending library. She

wrote that she was not "here [in Florence] for pleasure, but

for study."3 Her request to be admitted to the Santa Maria

Nuova hospital school, dated 30 October 1866, was written

request reveal that in London she had studied medicine in the

departments of midwifery and surgery at London University

College, graduating as a nurse.

The name of "Sarah Parker Remond, negra d'America" appears

among the students admitted to the Department of Obstetrics

at the Santa Maria Nuova hospital for the academic year 1866-

took the entrance examination that permitted her to continue

her studies. She passed the test with excellent marks

("benissimo"). The formal request letter in which Sarah Remond

requested to be admitted to the school was dated 13 November

1867; in the letter she gave her address as 8 Via Santo

Spirito.

her name to 'Sara': on 2 July 1868 "Remond Sara di America

(Stati Uniti)" had completed her studies as well as practical

The hospital school documents testify that on 29 July 1868,

Uniti" had been given a permission to take the test, which

a regular course of study and also of hospital practice, she

[Sarah Remond] has recently passed the necessary examination,

and received a diploma for professional medical practice." Her

newspaper, the Revolution: "Miss Remond is said to be not only

well received everywhere in Florence, but she has friends among

the very best people there."4 She knew the poet Francesco

dall'Ongaro, the Greek author Margherita Mignaty who held a

salon on Via Cavour, and American art collector James Jackson

Jarves, among many other prominent people visiting or residing

"Sara P. Remond" was a housewife ("atta a casa"). She seems to

have stayed married to Pintor until her death.

Sarah Parker Remond is buried at the Non-Catholic Cemetery for

passed away on 13 December 1894. Her residence at the time of

her death was Florence and her profession, according to the

Source: Salenius, Sirpa. An Abolitionist Abroad: Sarah

Parker Remond in Cosmopolitan Europe. Amherst: University of

Massachusetts Press, 2016.

Sarah Parker Remond (1826-1894) si è diplomata presso la scuola

ospedaliera di Santa Maria Nuova nel 1868 con un diploma di

pratica medica professionale. Era originaria di Salem, nel

Massachusetts, dove era nata in una famiglia di afroamericani

liberi. Suo padre, John Remond, era un famoso ristoratore

locale e sua madre, Nancy Lenox, era una pasticcera. Le sue

sorelle gestivano saloni di parrucchiere, producevano parrucche

e preparavano lozioni medicamentose contro la caduta dei

capelli. Tutta la famiglia era attiva nella campagna contro

la schiavitù, e il fratello di Remond, Charles Lenox, era un

noto conferenziere abolizionista che fu tra i primi a parlare

della schiavitù. Nel 1856, Sarah Remond divenne ambasciatrice

per la American Anti-Slavery Society. Tra il 1856 e il 1858,

insieme ad altri attivisti bianchi e neri tra cui suo fratello,

Susan B. Anthony e Abbey Kelley, ha parlato a New York City,

Rochester, Utica e Montreal, e in New England, Michigan e

Ohio. Si battevano contro la schiavitù e per l'emancipazione

femminile e, come ha osservato Sarah Remond, il pubblico alle

loro conferenze antischiavitù era "estremamente affollato".

dove ha continuato a lottare contro la schiavitù, a volte

tenendo conferenze con personaggi di spicco come Frederick

Douglass. È stata ben accolta e i giornali l'hanno elogiata

come "una delle migliori conferenziere" che avevano sentito. A

Londra, è diventata amica di Clementia Taylor e di suo marito,

Peter Taylor, membro del Parlamento. La loro casa, la Aubrey

House, era uno dei luoghi centrali di ritrovo dei circoli

riformisti radicali di Londra. Sarah Remond è diventata membro

del London Emancipation Committee e del comitato esecutivo

della Ladies 'London Emancipation Society fondata nel 1863. Si

è iscritta anche al Bedford Ladies College, dove ha studiato

materie come il francese e il latino. A Londra, ha conosciuto

Giuseppe Garibaldi ed è diventata amica di Giuseppe Mazzini.

Ha partecipato a eventi di raccolta fondi per sostenere

Quando si è trasferita a Firenze, portava con sé lettere di

presentazione scritte da Mazzini.

Sarah Remond è arrivata a Firenze "la Bella" nell'agosto del

rispetto e si è iscritta per un mese alla redazione del

Gabinetto Vieusseux e alla sua biblioteca. Ha scritto che

non era "qui [a Firenze] per diletto, ma per studio". La sua

richiesta di essere ammessa alla scuola ospedaliera di Santa

Maria Nuova, datata 30 ottobre 1866, era scritta in italiano.

Le due lettere di referenza che accompagnano la sua richiesta

rivelano che a Londra aveva studiato medicina nei dipartimenti

di ostetricia e chirurgia presso il London University College,

diplomandosi come infermiera.

gli studenti ammessi al Dipartimento di Ostetricia all'ospedale

anno ha assistito come uditrice alle lezioni, dopodiché

ha sostenuto l'esame di ammissione che le ha permesso di

continuare i suoi studi. Ha superato il test con ottimi voti

("benissimo"). La lettera di richiesta formale in cui Sarah

Remond aveva chiesto di essere ammessa alla scuola è datata 13

novembre 1867; nella lettera il suo indirizzo risulta essere

Via Santo Spirito n.8..

italianizzato il suo nome in "Sara": il 2 luglio 1868 "Remond

Sara di America (Stati Uniti)" aveva completato i suoi studi e

il lavoro pratico e aveva chiesto di essere ammessa all'esame

Salem Stati Uniti" aveva avuto il permesso di fare il test, che

lei ha passato. Un articolo di un giornale americano conferma

che "Dopo un regolare corso di studi e anche di pratica

ospedaliera, lei [Sarah Remond] ha recentemente superato

l'esame necessario e ha conseguito un diploma per la pratica

medica professionale." Le sue prospettive a Firenze erano

buone, come testimonia un giornale americano, la Rivoluzione:

"Miss Remond si dice che non solo è ben accolta ovunque a

Firenze, ma ha amici tra i migliori." Conosceva il poeta

Francesco dall'Ongaro, l'autrice greca Margherita Mignaty che

ha tenuto un salotto in via Cavour, e il collezionista d'arte

americano James Jackson Jarves, tra molti altri personaggi

importanti in visita o residenti a Firenze. A Firenze ha

sposato un italiano sardo, Lazzaro Pintor, nel 1877. Secondo il

alla morte.

Sarah Parker Remond è sepolta nel cimitero non cattolico per

il 13 dicembre 1894. La sua residenza al momento della sua

di morte, era chirurgo ("chirurgo").

Fonte:Salenius, Sirpa. Abolizionista all'estero: Sarah Parker

Remond nell'Europa cosmopolita. Amherst: University of

Massachusetts Press, 2016
---
tutto il mondo

'Blackamoor'
---
CENTRO INTERNAZIONALE STUDENTI GIORGIO LA PIRA

Senghor e Firenze

Nel suo testamento La Pira nominava erede universale il Convento di San Marco nella persona

del Padre Provinciale dell'ordine domenicano cui il Convento afferisce; al tempo stesso

nominava suoi esecutori testamentari tre dei suoi più stretti collaboratori: Pino Arpioni,

Fioretta Mazzei e Antinesca Tilli.

Per iniziativa degli esecutori testamentari e dell'erede universale si costituiva, nel gennaio

di promuovere la nascita di una Fondazione. Scopo della Associazione (e della costituenda

Fondazione) era "la promozione di iniziative culturali e sociali nel nome del Prof. Giorgio

La Pira per tramandarne il pensiero e l'azione a livello nazionale ed internazionale e per

Giorgio La Pira. All'interno dell'archivio della Fondazione Giorgio La Pira si trova sia una

ricca documentazione riguardante il rapporto tra Giorgio La Pira, vari stati africani e gli

studenti africani a Firenze che documenti e una sentita corrispondenza epistolare fra Leopold

Sedar Senghor e La Pira, come documenta il libro di Mariagrazia Orlandi: Costruire la terra.

Avventure di vita Giorgio La Pira – Léopold Sédar Senghor (Anscarichae Domus, 2005), da cui

citiamo quanto segue:

strumento per conoscere se stessi e parteciparsi, poi, agli altri. Inoltre, essendo personaggi

che hanno attinto all'universale, le loro parole possiedono una validità eterna.

Senghor e' stato un grande poeta, un poeta che ha saputo portare l'Africa, madre dei

continenti, in tutto il mondo. L'Africa e non solo il Senegal, perché egli si preoccupo' di

creare rapporti allargati fra gli stati africani, infatti riteneva che lo sviluppo dovesse

realizzarsi in modo concentrico. E' stato Senghor ad avviare il Senegal verso un cammino

che aveva messo la poesia a servizio della politica. Lo stesso uomo che, all'inizio degli

speranza. Un Presidente, pero', che in precedenza era stato anche soldato, vivendo in prima

linea l'esperienza tragica della Seconda Guerra Mondiale. L'intellettuale nero che, nella

ridente Parigi del primo Novecento, acquista ancor maggiore consapevolezza del suo essere

determinate idee e aiutano, dando completezza e senso di perfezione, per riprodurre i colori,

i suoni, i grandi misteri dell'Africa nera. Come La Pira, anche Senghor attraversa il Secolo

da protagonista, essendo sempre in fondo un tessitore di canzoni, una persona che cercava se

stessa e che voleva incontrarsi negli altri.

Ecco il grande punto di contatto che ha dato avvio ad una straordinaria e produttiva amicizia;

dato che anche La Pira e' stato un instancabile costruttore di ponti. Un uomo coraggioso che,

le nazioni. Con lui Firenze torna di diritto sulla scena del mondo, nel modo più bello,

capace di gesti importanti (numerosissimi gli incontri con i grandi della terra); e fra i

grandi gesti mi piace porre l'iniziativa di distribuire latte caldo la mattina presto alla

stazione, per le persone che si recavano a lavorare. Negli anni austeri della ricostruzione,

speranza, il suo motto era proprio sperare contro ogni speranza. Un giurista che ha rischiato,

attiva alla stesura della Carta Costituzionale, all'avvento della Repubblica.

Se e' vero, come e' vero, che le parole sono pietre, e' fondamentale ricordare che con le

pietre si può costruire ma si può anche distruggere, si può fare del bene e si può fare del

male. Senghor e La Pira hanno un senso ancora oggi, sono costruttori di pace e tessitori di

speranza, in grado di donare, a chiunque si fermi ad ascoltarli, uno stimolo in più per vivere

ancora, e vivere meglio.

Mariagrazia Orlandi

Costruire la Terra

Avventure di vita

Giorgio La Pira- Léopold Sédar Senghor

2005 Anscarichae Domus
---
CENTRO INTERNAZIONALE STUDENTI GIORGIO LA PIRA

Senghor, La Pira and Florence

In his will, Giorgio La Pira (1904-1977) appointed the Convent of San Marco as the universal

heir in the person of the Provincial Father of the Dominican order to which the Convent

belongs; at the same time, he appointed his testamentary executors as three of his closest

collaborators: Pino Arpioni, Fioretta Mazzei and Antinesca Tilli. On the initiative of the

testamentary executors and the universal heir, in January 1978, a few months after the death

of La Pira, an association that aimed to promote the creation of a Foundation was established.

The purpose of the Association (and of the founding Foundation) was the promotion of cultural

and social initiatives in the name of Prof. Giorgio La Pira to pass on knowledge and action at

In the archive and the library of Prof. Giorgio La Pira, located in the archive of the Giorgio

La Pira Foundation, there is a rich documentation concerning the relationship between Giorgio

La Pira and various Africans, e.g. African students in Florence, and a sincere correspondence

between Léopold Sédar Senghor and La Pira, which is documented by Mariagrazia Orlandi's book

Costruire la terra. Life Adventures Giorgio La Pira - Léopold Sédar Senghor (Anscarichae

Domus, 2005), from which we quote the following:

instrument to know oneself and participate, then, to engage others. Moreover, being characters

who have drawn upon the universal, their words possess eternal validity. Senghor was a great

poet, a poet who knew how to bring Africa, the mother of the continents, to the rest of the

world. Africa, and not just Senegal, because he was concerned with creating broader relations

between African states, in fact he believed that development should take place concentrically.

It was Senghor, who started to put Senegal on a democratic path and all this in a peaceful

way. So, for a while, talking about Senegal also meant talking about Africa, Negritude, thanks

to this particular President, who had put poetry at the service of politics. The same man

who, at the beginning of the 60s, from Florence, to where he had been invited by his friend

things, that Africa is open to every current, every hope. A president, however, who previously

had also been a soldier, living in the forefront of the tragic experience of the Second

World War. The black intellectual who, in the charming Paris of the early twentieth century,

unknown, that materialize certain ideas and help, giving completeness and sense of perfection,

Like La Pira, Senghor also crosses the century as a protagonist, always being a weaver of

Here is the great point of contact that gave rise to an extraordinary and productive

years of the cold war, managed to bring people together to bring nations together. With him

Florence returned to the world scene, in the most beautiful, luminous and friendly way.

Florence, the queen of peaceful cities. A person of intense humanity, capable of important

gestures (numerous meetings with the great of the earth); and among the great gestures I like

to point out the initiative of distributing hot milk early in the morning at the station, for

A man who wanted to spread hope, his motto was to hoping against every hope. A jurist who has

part in the drafting of the Constitutional Charter, at the advent of the Republic.

If it is true, as it is true, that words are stones, it is fundamental to remember that with

stones you can build but you can also destroy them, you can do good and you can do harm.

Senghor and La Pira make sense even today, they are builders of peace and weavers of hope,

able to give anyone who stops to listen to them, an incentive to live on, and live better ".

Mariagrazia Orlandi, Costruire la Terra. Avventure di vita: Giorgio La Pira-Léopold Sédar

Senghor, Città Ideale, 2005.
---
La Biblioteca Medicea Laurenziana (in breve

Laurenziana) è una biblioteca italiana

di proprietà statale, famosa per i suoi

manoscritti. Risale agli albori del regno

dei Medici e dal 1560 è situata nel convento

di San Lorenzo, l'ex chiesa dei Medici.

La Laurenziana porta il nome di Lorenzo il

la biblioteca fondata da suo nonno Cosimo

de 'Medici. La Biblioteca testimonia alcune

composta da circa 3.000 manoscritti e libri

che, foderati in pelle rossa con lo stemma

mediceo, sono esposti dal 1571, quando la

Laurenziana fu aperta per la prima volta al

pubblico. Tra i tesori della Laurenziana sono

elencati alcuni dei manoscritti più antichi o

unici. La collezione della Biblioteca Medicea

Laurenziana è composta da circa 150.000 libri.

Africa sulla mappa

Tra i manoscritti sulla storia dell'Impero

romano vi sono dettagli sia della conquista

e della perdita del Nord Africa, della sua

integrazione nell'impero romano, e della sua

cristianizzazione.

Le rappresentazioni del XIV e XV secolo di

Hircius IV A. Hircii Commentariorum belli

africani liber datazione non espressa. In

questo testo l'autore continua sulla scia dei

commenti di Giulio Cesare, De Bello Gallico

e De Bello Civili, e il suo seguito, di un

autore sconosciuto De Bello Alexandrino.

Descrive dettagliatamente le campagne di

Cesare contro i suoi nemici repubblicani nelle

romana e uno scrittore di materie militari.

All'inizio del XIII secolo Marinus Sanudus

letteralmente sulla mappa nel suo libro

II Eiusdem [Marini Sanudi] Quaedam pauca

geographica de Asia, Africa, Europa et insulis

minoribus, cum tabulis quibusdam geographicis.

Marino Sanuto o Sanudo il Vecchio di

Torcellowas, uno statista e geografo veneziano

che svolge un ruolo importante nello sviluppo

suo testo Liber Secretorum, un manuale per

veri crociati che desideravano la riconquista

della Terra Santa. I suoi libri sono

eccellenti fonti per il commercio e le rotte

commerciali, nonché per la storia politica

e di altra natura; e attraverso le mappe e

i piani che l'accompagnano, occupa un posto

Questi e numerosi altri libri presenti

all'interno della biblioteca forniscono

una visione fondamentale delle relazioni

Destabilizzando l'amnesia storica che vede un

impegno italiano con il continente africano

come un fenomeno puramente contemporaneo,

questa collezione apre le porte a ricerche

in grado di spostare la lente e l'arco delle

traversate del Mediterraneo.

Augustini Epistolae di Sant'Agostino di Ippona

Agostino era un africano romano, nato a

paleocristiano originario della Numidia,

occidentale. Era il vescovo di Ippona

Regio in Nord Africa ed è considerato uno

dei più importanti Padri della Chiesa nel

cristianesimo occidentale per i suoi scritti

nel periodo patristico.

Africa, M. T. Cic. Somnium Scip riferisce

della Seconda Guerra Punica, in cui il

generale cartaginese Annibale invase l'Italia,

dopo un'invasione del Nord Africa guidata da

Publio Cornelio Scipione Africano, l'eroe del

poema epico.

D. Augusti ni Epistol ae

Firenze, Biblioteca Medicea Laurenziana, Ms. Plut.
---
The Biblioteca Medicea Laurenziana (Laurenziana

famous for its manuscripts. It dates back to

1560 has been located in the convent of San

Lorenzo, the former house church of the Medici.

The Laurenziana bears the name of Lorenzo il

Renaissance. Its core collection consists

which, rebound in red leather with the Medici

to the public. Amongst the treasures of the

Laurenziana are listed some of the most ancient

or unique manuscripts The Biblioteca Medicea

books.

D. Augustini Epistolae

Firenze, Biblioteca Medicea Lau

Franc. Petrarchae Africa, M. T.

Cic. Somnium Scip

Firenze, Biblioteca Medicea Lau

Africa on the map

provide details of both the conquest and the

loss of North Africa, its integration into the

Roman Empire, as well as its Christianization.

Hircius IV. A. Hircii Commentariorum belli

africani liber datazione non espressa. The

book continues Julius Caesar's commentaries,

De Bello Gallico and De Bello Civili, and

Alexandrino. It details Caesar's campaigns

against his Republican enemies in the province

one of the consuls of the Roman Republic and a

Augustin was a Roman African, born in

theologian and philosopher from Numidia whose

the bishop of Hippo Regius in North Africa

and is viewed as one of the most important

writings in the Patristic Period.

M. T. Cic. Somnium Scip reports about the

Cornelius Scipio Africanus, the epic poem's

hero.

[Marini Sanudi] Quaedam pauca geographica de

Asia, Africa, Europa et insulis minoribus, cum

tabulis quibusdam geographicis.

Marino Sanuto or Sanudo the Elder of

Torcellowas a Venetian statesman and geographer

Liber Secretorum, a manual for true Crusaders

His books are excellent sources for trade and

plans it occupies an important place in the

These and numerous other books present within

that views an Italian engagement with the

phenomenon this collection opens the door to

scholarship that can shift the lens and the

span of Mediterranean crossings.

I V. A. Hir cii Comme nta rior um bel

li afri ca ni liber

Firenze, Biblioteca Medicea Laurenzia

D. Augustini Epistolae

Firenze, Biblioteca Medicea Lau

II. Eiusdem [Marini Sanudi] Quaedam

pauca geographica de Asia, Afri

ca, Europa et insulis minoribus,

cum tabulis quibusdam geographi

cis. Firenze, Biblioteca Medicea
---
MOSI KE O NE ...

looks at erasure and asks if its possible to

make whole again what has been lost essentially

questioning if its possible to reverse

time. Can lost knowledge be reclaimed? Can

time be reversed? Is it necessary to reverse

time?

The video connects a recovery of a lost history

to the recovery of a personal self. The

digging up of bones, treasures and a restora-

-

to mean destruction.

mostra la cancellazione e chiede se è possibile

ricomporre ciò che è stato perso, essenzialmente

mettendo in discussione se è

possibile invertire il tempo. La conoscenza

perduta può essere recuperata? Il tempo può

essere invertito? È necessario invertire il

tempo? Il video collega il recupero di una

storia perduta al recupero di un sé personale.

Lo scavo di ossa, tesori e un fuoco

ristoratore. Il video entra in un archivio

visivo che utilizza un libro come simbolo di

conoscenza e il fuoco come simbolo di distruzione.

Shot on location at Villa Romana Florence,

sound design by Robert Machiri, video cam by

dewil.ch, HDV, color, audio, 11'50", Lerato

Shadi 2018

Girato in loco a Villa Romana Firenze, sound

design di Robert Machiri, video cam di dewil.

ch, HDV, colore, audio, 11'50 ", Lerato Shadi

2018

Preparing

a Recovery Plan

Kevin Jerome Everson

Alessandra Ferrini

Lerato Shadi

Bio

LERATO SHADI lives and works in Berlin. She earned a M.A.(SpaceStrategies) from Kunsthochschule Berlin Weißensee

in 2018 and she received a B.A. (Visual Art) from University of Johannesburg in 2006. From 2010 to 2012 Shadi was

a member of the 'Bag Factory artist studios' in Johannesburg. Her work was featured at the Dak'art Biennale and in

the III Moscow International Biennale in 2012. She is a fellow of Sommerakademie 2013 (Zentrum Paul Klee). Shadi

was awarded with the mart stam studio grant, Berlin in 2014 and received the Alumni Dignitas Award of the University

of Johannesburg in 2016. She presented her solo show Noka Ya Bokamoso at the South African National Arts Festival

in Grahamstown in 2016. Shadi participated in The Parliament of Bodies, the Public Programs of documenta 14 and

was awarded with the AFRICA'SOUT! residency program (Brooklyn, NY) in 2017. Shadi is fellow of the German Villa

Romana Prize in Florence (Italy) for 2018.

LERATO SHADI vive e lavora a Berlino. Ha ottenuto un diploma M.A. (SpaceStrategies) dalla Kunsthochschule Berlin

Weißensee nel 2018 e ha ricevuto un B.A. (Arte visiva) dall'Università di Johannesburg nel 2006. Dal 2010 al

2012, Shadi è stata membro degli "Bag Fractory artist studios" a Johannesburg. Le sue opere sono state presentate

alla Biennale di Dak'art e alla III Biennale Internazionale di Mosca del 2012. È membro della Sommerakademie 2013

(Zentrum Paul Klee). Shadi è stata premiata con il mart stam studio grant di Berlino nel 2014 e nel 2016 ha ricevuto

l'Alumni Dignitas Award dell'Università di Johannesburg. Nel 2016 ha presentato la sua mostra personale Noka Ya

Bokamoso al South African National Arts Festival di Grahamstown. Shadi ha partecipato a The Parliament of Bodies, i

Public Programs di Documenta 14 ed è stata premiata con l'AFRICA'SOUT! Residency program (Brooklyn, NY) nel 2017.

Shadi è membro del Premio Villa Romana tedesco a Firenze (Italia) per il 2018.

Film Screening Curated by BHMF

Project by Villa Romana in collaboration

with BHMF and Cantiere Toscana sponsored

by the Regione di Toscana

November 27th 2018

Le Murate Progetti Arte Contemporanea

screening dedicated to a proactive

engagement embedded in the foresight

that complex narratives around Black

history will be excluded from "Western"

mainstream vision. The works engage the

archive as a site for the re-generation

and proliferation of narratives newly

constructed from the historic yet

under-explored margins of history and

a re-calibrated assignment of value.

Fostering the pre-emptive preparation

for the foreseen disaster of historical

erasure, these moving image works mine

memory as a contested site for social

protest. The projection is a part of the

project Black Archive Alliance.

Progetto di Villa Romana in collaborazione

con BHMF e Cantiere Toscana sponsorizzato

dalla Regione di Toscana

27 novembre 2018

Le Murate Progetti Arte Contemporanea

Preparing a Recovery Plan è la proiezione

proattivo incorporato nella lungimiranza che

le narrative complesse sulla storia nera

saranno escluse dalla visione tradizionale

"occidentale". Le opere vedono l'archivio

come un sito per la rigenerazione e la

proliferazione di narrative di nuova

costruzione, dai margini storici ancora poco

esplorati della storia e un' assegnazione

di valore ricalibrato. Promuovendo la

preparazione preventiva per il previsto

disastro della cancellazione storica, queste

immagini in movimento funzionano nella

memoria come un sito contestato per la

protesta sociale. La proiezione fa parte del

progetto Black Archive Alliance.
---
Emergency Needs

(16mm, 7:00, color)

Emergency Needs is an experimental work, considering

the July 1968 Hough Riots

and the Glenville Shootout in Cleveland, Ohio

and the response to the crisis, as observed

in color footage from a local press conferen-

Gus Van Sant and was a featured work in the

2008 Whitney Biennial in New York City.

Emergency Needs è un'opera sperimentale che

considera i moti detti Hough Riots del luglio

1968 e il Glenville Shootout a Cleveland,

Ohio e la risposta alla crisi, come osservato

nelle riprese a colori di una conferenza

stampa locale del sindaco Carl B. Stokes.

Stokes, il primo sindaco nero di una grande

città americana, mantiene calma e misurata

compostezza; il suo comportamento e le parole

aiutano a diffondere una situazione già incendiaria.

L'attrice Esosa Edosomwan, vestita

in giacca e cravatta, consegna le dichiara-

-

missionato

da IFFR's Meet the Maestro, omag-

ra

esposta nella Whitney Biennial del 2008 a

New York.

The Citizens (2009) (16mm, 5:45, color and

black/white)

Black mayor of a major American city, maintains

calm and measured composure; his deme-

talking about life, Althea Gibson returning

The Citizens (2009) includes Mohammad Ali

anor and words help diffuse an already incendiary

situation. Actress Esosa Edosomwan, seball and three gentlemen being escorting

home as a champion, Fidel Castro playing ba-

dressed in suit and tie, delivers Stokes' into court all under the watchful eye of the

media. (16mm, 5:45, color and black/white)

performance of Edosomwan is rendered in split

screen and combined with footage/reportage The Citizens (2009) include Mohammad Ali che

parla della vita, Althea Gibson che torna a

casa come campione, Fidel Castro che gioca a

baseball e tre signori scortati in tribunale

sotto l'occhio vigile dei media. (16mm, 5:45,

colore e nero / bianco)

Bio

sity

and a BFA from the University of Akron. He is currently a Professor of Art at the University of Virginia in

ding

Tonsler Park (2017), The Island of Saint Matthews (2013), Erie (2010), Quality Control (2011), Ten Five in the

Grass (2012), Ears, Nose and Throat (2016), Spicebush (2005), Stone (2013), Pictures From Dorothy (2004), Century

(2013), Fe26 (2014), Sound That 20014), Sugarcoated Arsenic (2013) with Claudrena Harold, Emergency Needs (2007)

Other Times and I Really Hear Something: Quality Control and Other Films with a catalog distributed by Video Data

Bank.

val,

International Film Festival Rotterdam, Oberhausen Film Festival, Venice International Film Festival, Toronto

International Film Festival, New York Film Festival, Ann Arbor Film Festival, The Museum of Modern Art in New York,

the Whitney Museum of American Art in New York, The Tate Modern in London, Whitechapel Gallery in London, National

Gallery in Washington DC and Centre Pompidou in Paris. The work has also been recognized through awards and fellowships

such as Guggenheim Fellowship, an Alpert Award, a Creative Capital Fellowship, an NEA Fellowship, Ohio Arts

Council Fellowships, and an American Academy in Rome Prize.

Everson is represented by Picture Palace Pictures New York and Andrew Kreps Gallery New York.

presso l'Università dell'Ohio e un BFA presso l'Università di Akron. Attualmente è professore d'arte all'Università

della Virginia a Charlottesville, in Virginia. Ha realizzato nove lungometraggi e oltre centotrenta cortometraggi

tra cui Tonsler Park (2017), L'isola di Saint Matthews (2013), Erie (2010), Quality Control (2011), Ten Five in the

Grass (2012) ), Ears, Nose and Throat (2016), Spicebush (2005), Stone (2013), Pictures From Dorothy (2004), Century

(2013), Fe26 (2014), Sound That 20014), Sugarcoated Arsenic (2013) con Claudrena Harold, Emergency Needs (2007) e

Festival di Berlino, l'International Film Festival Rotterdam, il Festival di Oberhausen, il Festival Internazionale

del Cinema, il Festival Internazionale del Cinema di Toronto, il New York Film Festival, l'Ann Arbor Film Festival,

The Museum di Modern Art a New York, Whitney Museum of American Art a New York, The Tate Modern a Londra, Whitechapel

Gallery a Londra, National Gallery a Washington DC e Centre Pompidou a Parigi. Le sue opere sono state riconosciute

anche attraverso premi e borse di studio come Guggenheim Fellowship, un Alpert Award, un Creative Capital

Fellowship, un NEA Fellowship, Ohio Arts Council Fellowships e un American Academy in Rome Prize. Everson è rappresentato

da Picture Palace Pictures New York e dalla Andrew Kreps Gallery di New York.

SIGHT UNSEEN

HD video, 2018

Omar al-Mukhtar (1885-1931) was the leader of

the organised resistance against the Italian

colonisation of Libya (1911-1943). He became

the symbol of Libyan people's resilience

and has been greatly celebrated and exploi-

-

of the Libyan territory. In Italy, his name

in 2009. Indeed, the colonel emerged from his

plane in Rome, wearing an image of Omar al-

Mukhtar in chains, surrounded by the Fascist

Army as he was taken to his execution by public

hanging. While researching this event in

Rome, I came across a controversial history

of concealment and appropriation around the

days and spectacularised state killing. Sight

analysis of visual and material culture that

has been subject to either manipulation or

obfuscation in Italy. These materials include

the most complete - but legally unpublishable

- series of images of Mukhtar's capture and

execution; Mukhtar's contested glasses and

purse; the Hollywood production The Lion of

the Desert; and Monumento al Carabinire, a

memorial to Italian armed forces in Turin. In

this way, Sight Unseen attempts to portray

the carefully orchestrated politics of visibility

and invisibility that shape the memory

of colonial trauma in Italy.

Omar al-Mukhtar (1885-1931) fu il leader

della resistenza organizzata contro la colonizzazione

italiana della Libia (1911-1943).

È diventato il simbolo della resistenza del

popolo libico ed è stato grandemente celebra-

dai gruppi armati che attualmente combattono

per il controllo del territorio libico. In

Italia, il suo nome rimane sconosciuto - eppure

è apparso brevemente nei media duran-

2009. Infatti, il colonnello è emerso dal

suo aereo a Roma, indossando l'immagine di

Omar al-Mukhtar in catene, circondato dall'Esercito

fascista quando fu portato alla sua

esecuzione da impiccagione pubblica. Durante

la ricerca di questo evento a Roma, mi sono

imbattuto in una controversa storia di occultamento

e appropriazione attorno alla memoria

e alla documentazione degli ultimi giorni di

Mukhtar e dell'uccisione spettacolarizza-

storia attraverso l'analisi della cultura

visiva e materiale che è stata oggetto di

manipolazione o offuscamento in Italia. Questi

materiali includono la più completa - ma

giuridicamente non pubblicabile - serie di

immagini della cattura e dell'esecuzione di

Mukhtar; gli occhiali e la borsa contestati

di Mukhtar; la produzione di Hollywood Il

leone del deserto; e Monumento al Carabiniere,

un monumento alle forze armate italiane a

Torino. In questo modo, Sight Unseen tenta di

ritrarre le politiche attentamente orchestrate

di visibilità e invisibilità che modellano

la memoria del trauma coloniale in Italia.

Bio

in international exhibitions, screenings and conferences, including: Manifesta 12 Film Programme (Palermo, 2018);

the 6th Taiwan International Video Art Exhibition (2018-19); Villa Romana (Florence, 2018 and 2019); Fondazione

Sandretto Re Rebaudengo (Turin, 2018); the 16th Rome Quadriennale (2016-17); the Royal Anthropological Film Festival

(Bristol, 2017), Document Film Festival (CCA Glasgow, 2017), A-i- R Wro (Wroclaw, Poland, 2016); Festival dei

Popoli, International Documentary Film Festival (Florence, 2015). She is the recipient of the London Film Festival's

Experimenta Pitch Award 2017 and the Mead Residency 2018 at the British School at Rome. Alessandra is an AHRC

on Race and Racisms), and is currently collaborating with Archive Books/Kabinett in Berlin.

Alessandra Ferrini (Firenze, Italia, 1984) è un'artista-regista e ricercatrice londinese. Le sue opere sono state

presentate in mostre internazionali, proiezioni e conferenze, tra cui: Manifesta 12 Film Program (Palermo, 2018);

la sesta mostra internazionale d'arte video di Taiwan (2018-19); Villa Romana (Firenze, 2018 e 2019); Fondazione

Sandretto Re Rebaudengo (Torino, 2018); la 16a Quadriennale di Roma (2016-17); il Royal Anthropological Film

Festival (Bristol, 2017), Document Film Festival (CCA Glasgow, 2017), A-i-R Wro (Wroclaw, Polonia, 2016); Festival

dei Popoli, International Documentary Film Festival (Firenze, 2015). È la vincitrice dell'Experimenta Pitch Award

del London Film Festival 2017 e della Mead Residency 2018 alla British School at Rome. Alessandra è candidata al

interdisciplinare su razza e razzismo) e attualmente collabora con Archive Books / Kabinett a Berlino.
---
First established in 1917, the British Institute of Florence offers

a range of courses in Italian, English, art history, and drawing as

bicultural resources for the Italian and

international communities in Florence. Mainland Europe's largest

English library is

located in the Institute's own Harold Acton Library, where a multitude

of cultural and educational events are held throughout the

course of the year. In addition to the library's large collection

of texts on art history, English literature, and English and Italian

relations, the library also contains a wide range of sources

on English and European colonial practices around the world. In

relation to English colonial rule in South Africa, a number of books

in the Harold Acton Library illustrate both colonial and South

African points of view, including histories, biographies, autobiographies,

and memoirs.

(1904), provide colonial ethnographies of contemporary South African

tribes, and predict the futures of the native people under

continuing British rule. Others, like The Cambridge History of the

British Empire (1936) and The Economic Development of the British

Overseas Empire (1936), give more objective preapartheid histories

on colonial events, including colonial policies and laws relating

to the country's native and black inhabitants. The library also

contains more recent books, like In No Uncertain Terms: Memoirs

(1993), which recounts an English Parliament member's efforts to

end apartheid in South Africa.

Of the books written by black South African authors, Nelson Mandela's

autobiography, Long Walk to Freedom (1994), is included, as

are Let My People Go: An Autobiography (1962) and South Africa: The

Peasants' Revolt (1964). Written in the midst of apartheid in South

Africa, Let My People Go is the autobiography of Albert Luthuli,

a member and president of the African National Congress, and details

his nonviolent resistance against white rule in South Africa.

Another important work, South Africa: The Peasants' Revolt, was

written by Govan Mbeki, another South African politician, who originally

wrote the book as a guide on apartheid policy for members

of the African National Congress. After the ANC was disbanded, the

book remained a helpful tool of resistance against apartheid and

white minority rule in South Africa.

In addition to these texts, a multitude of other works on English

colonial rule in South Africa and around the world may be found in

the British Institute's Harold Acton Library.

Books on Perspective

Laurana Nyman

Syracuse University Florence
---
Fondato nel 1917, il British Institute of

Florence offre una gamma di corsi in italiano,

inglese, storia dell'arte e disegno come

risorse multiculturali ad usufrutto della

comunità internazionale di Firenze. Al'interno

dell'istituto si trova la biblioteca

Harold Acton, la più grande biblioteca

inglese dell'Europa continentale, dove vengono

svolti tutto l'anno una moltitudine di

eventi culturali ed educativi. La sua vasta

collezione comprende numerosi testi di storia

dell'arte, letteratura inglese, relazioni

internazionali tra Inghilterra e Italia e

un ricco patrimonio di documenti sulle pratiche

coloniali inglesi ed europee in tutto

il mondo.

Nella Harold Acton Library, per quanto riguarda

il dominio coloniale inglese in Sud

Africa, un certo numero di testi contengono

illustrano sia il punto di vista dei colonizzatori

che dei colonizzati sudafricani.

Alcune opere di autori inglesi, come The Es-

-

fricane

del tempo e predicono il futuro dei

nativi sotto il dominio britannico. Altre

come The Cambridge History of the British

Empire (1936) e The Economic Development of

the British Overseas Empire (1936), offrono

analisi sugli eventi coloniali legati al

pre-apartheid, comprese le politiche coloniali

e le leggi relative ai nativi e neri

del Sudafrica. La biblioteca contiene anche

libri più recenti, come In No Uncertain Terms:

Memoirs (1993), che racconta gli sforzi

di un membro del parlamento inglese per por-

Tra le pubblicazioni scritte da autori su-

Nelson Mandela, Long Walk to Freedom (1994);

Let My People Go: An Autobiography (1962) e

South Africa: The Peasants 'Revolt (1964).

Scritta nel pieno dell'Apartheid in Suda-

Albert Luthuli, membro e presidente dell'African

National Congress. Egli vi descrive

in dettaglio la sua resistenza non violenta

contro il dominio bianco in Sud Africa.

Un'altra opera importante e' South Africa:

The Peasants' Revolt, scritta da Govan

Mbeki, un politico sudafricano, che scrisse

quest'opera concependola come guida per i

membri del Congresso Nazionale Africano sulla

politica dell'apartheid. Dopo che l'ANC è

stato sciolto, il libro è rimasto un utile

strumento di resistenza contro l'apartheid

e il governo delle minoranze bianche in Sud

Africa.

Nella Harold Acton Library del British Institute,

oltre a questi testi, si possono

trovare una moltitudine di altre opere sul

dominio coloniale inglese in Sud Africa e in

tutto il mondo.

Lista di testi / Text List

Britain and South Africa (1966)

by Dennis Austin - 968.05

The Cambridge History of the British Empire:

Volume 8, South Africa (1936)

by E.A. Benians and A.P. Newton - 942.08

Edmund Garrett: a memoir (1909)

by Sir Edward Tyas Cook - 820.8

A History of South Africa, Social and

Economic (1946)

by C.W. De Kiewiet - 968.05

Bantustans : A Trek Towards the Future

(1961) by Paul Giniewski - 968.05

Naught for Your Comfort (1965)

by Trevor Huddleston - 968.05

by Dudley Kidd - 968.05

Where Sixpence Lives (1986)

by Norma Kitson - 968.05

The Economic Development of the British

Overseas Empire: Volume III, South

Africa (1936)by C.M. Knowles and L.C.A.

Knowles - 330.941

Let My People Go: An Autobiography

(1962) by Albert Luthuli - 968.05

Long Walk to Freedom: The Autobiography

of Nelson Mandela (1994)

by Nelson Mandela - 968.05

South Africa: The Peasants' Revolt

(1964) by Govan Mbeki - 968.05

Time Longer than Rope : A History of

the Black Man's Struggle for Freedom in

South Africa (1949)

by Edward Roux - 968

In No Uncertain Terms: Memoirs (1993)

by Helen Suzman - 968.05

image caption: Eliot Raynes
---
In diverse immagini non vediamo alcuna

separazione tra africani e cotone/bestiame.

Persone e attività agricole sembrano essere

viene data importanza né allo sfondo né ai

primi piani. Questa mancanza di separazione

visiva non è casuale. In maniera più o meno

volontaria, il fotografo vede i soggetti umani

e gli ambienti posizionati davanti al proprio

obiettivo come dei "beni" da cui poter trarre

imperialiste europee è stata l'idea di

un' inferiorità insita nelle culture non

bianche e non occidentali, bisognose dunque

di essere "civilizzate". Attraverso questa

manipolazione concettuale, supportata anche

molte nazioni europee hanno rivendicato una

presunta superiorità sull'Altro, attraverso

l'usurpazione di terre, risorse e vite.

In queste immagini, scattate per supportare

il progetto coloniale fascista, si possono

notare l'umanità e la soggettività concesse

agli Italiani bianchi, in contrasto

con la disumanizzazione e invisibilità

delle popolazioni dell'Africa orientale,

Immagini simili si rivelano estremamente

utili per l'analisi di razzismo e pratiche

razzializzanti nell'Italia contemporanea,

poiché, per analizzare e contrastare i

fenomeni di razzismo contemporaneo, è

necessario un riesame della storia coloniale

italiana, in modo da attuare un cambiamento

necessario in termini di rappresentazione

di questo archivio si rivelano un'importante

risorsa per l'esame della rappresentazione,

in un periodo in cui l'inquadratura

dell'obiettivo ci racconta molto più di quanto

in realtà intendesse fare.

Agenzia Italiana Per

la Cooperazione allo

Sviluppo

Gleyra Herrera

Monica Barrett

Ray Zhong
---
The Istituto Agronomico per l'Oltremare, now

the Agenzia Itliano Per la Cooperazione allo

Svilluppo

was founded in Florence in 1904 with the

task of assessing the value and potential

of Italian land holdings abroad. The

photographic collection cosists of 498

photographic albums indicated by country

charting from 1913 through the 80s. The

photos total 64.336 with the principle

collection focused on the period between

the 20's and 30's. For this project a focus

was placed on the collection with images of

Eritrea, Somalia and Ethiopia.

Since its invention, photography has long

been praised for its tendency to accurately

render a scene without any bias or personal

input from its creator. Such assumption on

the objectivity of the photography can be

true if one only judges it from its mechanics

as there is always a broader context beyond

the frame of the camera itself. Such is

the case for the photo collection in

the archives of Instituto Agronomico per

d'Oltremare. Although this photo collection

document the resources, landscape and

products of the newly conquered colonies in

Africa, this collection is more than just a

visual representation of Africa. It provides

insight into the racializing practices of

the fascist regime in the Italian Colonial

period from which these images emerge, a

topic that is too often overlooked in Italian

contemporary society.

In 1861, the Italian peninsula ended a

centuries long struggle between regional

identities and kingdoms, unifying as a

nation state. With this newfound nationhood

came the pressure to "catch up" with preexisting

global powers like England and

France, who had already spread their empires

to the African continent and were reaping

behind, coupled with the nationalistic

desire to revive the Roman Empire, an idea

prominently featured in the speeches of

Mussolini, led to the Italian conquest

of East African countries like Ethiopia,

Somalia, and Eritrea. Italian fascist

forces, intent on establishing themselves

as a powerful players on the global stage,

travelled to these new Italian colonies,

photographing the resources they had found

and the new society they were building.

They took these photos to prove that they

were truly building a strong Italian Empire

in Africa, propagandizing the people and

agriculture of East Africa in order to lure

the Italian public to join the imperialistic

cause. Through the lens of this cause, we

are able to observe the way African people,

as well as the colonies' environment and

fascist Italy with the aid of dehumanizing

propaganda.

bodies in African colonies is an extensive

one. With the rise of high imperialism

came the exploitation of African people, as

well as African environmental resources.

Advertisements for these so called "colonial

goods" often depicted black people, oft in

a very exploitative way. The bodies of black

people became synonymous with the marketed

products themselves, subjugating Africans to

a mere tool for economic gain.

It is for this reason that when we look at

images taken by the Italian fascist regime

in East Africa, we must do so critically.

The images shown perfectly exemplify the

attitudes and the motives of the Italian

fascist propagandists. It isn't until we

consider the history of commercialization

of black bodies that we can discuss the

hidden meaning behind this and images of this

sort. The selected images from the archive

present three dominant themes: a Direct

landscapes, a comparative glance at how the

colonial enforcers are represented juxtaposed

against representations of Africans and the

depiction of African Peoples amongst animals

with little visual separation.

In several images we see nos no separation

between the Africans and the cotton/

livestock that they are forced to tend to.

Both the people and the agriculture are the

focal point of the photo; neither is in the

background nor the foreground. This lack of

differentiation is no coincidence. Whether

unconscious or not, the photographer sees all

within the frame as goods and the portrayal

of these people are framed as a means of

capital gain.

idea that non-white, non-Western cultures

are somehow inferior to Western cultures.

Indigenous people are historically deemed

'uncultured' and in need of 'civilization.'

Through this manipulation, Western

civilization has simultaneously claimed

itself superior and exploited the lives and

resources of marginalized civilizations.

Instead of embracing or understanding

differences of culture, imperialistic

nations justify their greed-driven usurpation

of land, life, and goods through the

bodies. Taking advantage of these populations

and their resources through colonization

results in massive economic prosperity for

the "Mother Country."

Whiteness establishes itself as superior

by depicting black people as animals or

agricultural resources. This method of

dehumanization depict Africa and its

people as commodities in photos captured to

incentivize colonization in derailing the

value of black life in an attempt to justify

exploitation and to highlight the resources

of the lands.

Images like these become critical when we

begin to discuss the racializing practices

and racism that still occurs in Italy today.

Addressing the consequences of racism is

dependant on a re-examination of Italian

colonial history and an acknowledgement of

a need for change. The photo archive of the

Agenzia Itliano Per la Cooperazione allo

Svilluppo is an important resource for the

examination of representation in a period

where the frame of photography portrayed more

than it set out to.

L'Istituto Agronomico per l'Oltremare, ora

Agenzia Italiana per la Cooperazione allo

Sviluppo, è stato fondato a Firenze nel 1904

con lo scopo di valutare le potenzialità

dei possedimenti territoriali italiani

all'estero. La collezione è composta da

Per la realizzazione di questo progetto, si è

posto particolare interesse alla collezione

di immagini riguardanti Eritrea, Etiopia e

Somalia nel periodo che va tra il 1937 e il

1939.

Fin dalle sue prime apparizioni, la

propria "neutralità" e capacità di mostrare

gli avvenimenti in maniera imparziale

ed apparentemente "oggettiva". Se la

composizione meccanica dell'apparecchio è in

grado di riprodurre in maniera accurata una

data situazione, esiste sempre un contesto

più ampio attraverso cui interpretare

l'inquadratura catturata dall'obiettivo

stesso. Questo è il caso della raccolta di

una volta noto come Istituto Agronomico per

l'Oltremare.

Sebbene la raccolta di immagini avesse

risorse, paesaggi e prodotti delle colonie

Italiane in Africa Orientale e in Libia,

questa collezione ci offre molto più di una

semplice rappresentazione visiva. Essa ci

fornisce, infatti, informazioni preziose

sulle pratiche razzializzanti messe in

atto dal regime fascista durante il periodo

coloniale, un tema troppo spesso trascurato

dalla società italiana contemporanea.

Il 1861 vede la proclamazione del Regno

d'Italia. La necessità di forgiare una nuova

consapevolezza nazionale, spinge l'Italia

a volersi mettere al passo con le potenze

imperialiste preesistenti - come Francia e

Inghilterra – i cui progetti espansionistici

in Africa erano già consolidati da tempo.

Questo impellente senso di ritardo

contribuisce alla fondazione della cosiddetta

"colonia primogenita" in Eritrea, nel 1889.

Nonostante ciò, il desiderio di espansione

imperialista non si placa: dopo l'invasione

della Somalia (1908), Libia (1911) ed Etiopia

(1935), il nove maggio 1936 Mussolini

dichiara la nascita dell'Impero Italiano in

Africa Orientale.

dunque verso l'impero con la volontà

di ritrarre non solo le nuove risorse

"acquisite" ma anche l'emergente società di

insediamento. Le foto scattate si focalizzano

su popolazioni e possibili risorse economiche

con l'ottica di alimentare il consenso

verso la causa imperialista. Ed è proprio

attraverso le lenti usate per ritrarre questo

progetto che siamo in grado di osservare

il modo in cui i corpi africani, così come

e sfruttati tramite l'uso di una propaganda

disumanizzante.

neri nelle colonie in Africa Orientale

ha una lunga storia. Le pubblicità che

esempio, presentano il corpo nero in maniera

strumentale, rendendolo spesso sinonimo dei

prodotti stessi e dunque usato come mero

strumento di guadagno economico.

Per questo motivo, quando guardiamo le

immagini scattate in quel periodo, dobbiamo

utilizzare uno sguardo critico poiché le

le motivazioni della propaganda fascista.

Inoltre, analizzando la storia della

commercializzazione dei corpi neri possiamo

celano dietro a tali immagini.

Istituto Agronomico per l'Oltremare sembrano

presentare tre temi dominanti:

1) una connessione diretta e inseparabile tra

genti locali e paesaggi

2) uno sguardo dominante che, visivamente,

posiziona in maniera gerarchica africani e

agenti coloniali

fauna e popolazioni locali al lavoro.
---
Firenze e l'Italia hanno una lunga storia di aver ospitato concerti jazz. Storicamente la presenza

culturale afroamericana in tutta Europa è stata portata lì attraverso il corno jazz e i ritmi jazz.

Enrico Romero ha iniziato a fotografare ai concerti per passione a metà degli anni 70 con una mac-

ventina di anni. Ha documentato concerti e spetttacoli in Italia e all'estero, scattando ai Festival

-

-

e molte altre.

-

-

Black Jazz in Tuscany:

Enrico Romero archive
---
-

-

-

meras.
---
Kunsthistorisches

Institut

in Florenz
---
The African Continent

Caroline Coxe

Il Continente Africano

Caroline Coxe

Il Kunsthistorisches Institut in Florenz è un
---
The Studio Arts College

International (SACI)

Worthington Library was

founded in 1998 in Palazzo

dei Cartelloni, it currently

offers access to a varied

assemblage of information

available for graduate and

undergraduate students

studying art in Florence.

The Library considered as

an eponym to show homage

to SACI patrons, M.S.

Worthington Foundation,

Inc., provides students

books, periodicals, digital

images, and DVDs for everyday

reference, on subjects such

as photography, studio arts,

art history, painting,

printmaking, amongst vase

others. In Africa and of

African Descendants- A Book

Catalogue, a collection

of journals, magazines,

books and other materials

immediately relating to

Africa and those of African

relation, are organized

and made available to the

public. This exhibit works

to create the understanding

of diversity in various

arena's in Florence. With

over 14,000 sources in the

Worthington Library, we

designed the catalog to

immediately address what

materials are available

for research on subjects

such as african art, tribal

art, contemporary art done

by africans and those of

african descent, as well

as including exhibition

catalogs directly responding

to those artist creating art

today. The SACI Worthington

of culturally diverse

information and with Africa

and of African Descendants-

A Book Catalogue, the hope

is to display the presence

of documentation for future

advancements.

In the catalog, sources

are organized by subject

matters such as World Art,

History, Fashion Design,

Women's Studies and many

others. Africa and of

African Descendants- A Book

search of information to

better assist students in

researching in the arts

growing diversity happening

in Florence, this catalog

serves as a catalyst to

welcome the enrichment of

knowledge about african

culture and open new doors

for the opportunity to blend

cultures.

Today the SACI Worthington

Library is a member of

the Florentine and Tuscan

Libraries, with the display

of Africa and of African

Descendants- A Book

Catalogue we hope to enhance

the awareness of sources

available in our existing

collections and encourage

similar steps towards

identifying source materials

in various collections

throughout the city.

SACI Worthington

Library: Africa and of

African Descendants-

A Book Catalogue
---
La SACI Worthington Library presso la Studio Arts International

(SACI) è stata fondata nel 1998 nel Palazzo dei Cartelloni

e attualmente offre l'accesso a un variegato insieme di

informazioni disponibili per gli studenti universitari che

studiano arte a Firenze. La biblioteca rende omaggio ai mecenati

della SACI, la M.S. Worthington Foundation, Inc. e fornisce agli

studenti libri, periodici, immagini digitali e DVD come punti di

la studio-art, la storia dell'arte, la pittura e l'incisione.

Per Africa and of African Descendants- A Book Catalogue

sono state organizzate e messe a disposizione del pubblico

una raccolta di cronache, riviste, libri e altri materiali

immediatamente correlati all'Africa e ai rapporti africani.

Questa mostra si propone di creare una comprensione della

diversità in piu' ambiti culturali a Firenze. Con oltre

14.000 fonti presenti nella SACI Worthington Library, abbiamo

progettato un catalogo per indirizzare con precisione chi e'

interessato a conoscere quali materiali siano disponibili per

la ricerca su argomenti come l'arte africana, l'arte tribale,

l'arte contemporanea africana e di discendenza africana,

includendo, fra le altre pubblicazioni i cataloghi delle mostre

una moltitudine di informazioni culturalmente variegate e con

Africa and of African Descendants- A Book Catalogue, la speranza

è di mostrare la presenza di documentazione per futuri studi e

approfondimenti.

Nel catalogo, le fonti sono organizzate per materie come World

Art, Storia, Fashion Design, Women's Studies e molte altre.

Africa and of African Descendants- A Book Catalogue, fornisce

una ricerca dettagliata di informazioni come ausilio agli

studenti interessati nella ricerca nel campo delle arti. La

diversità a Firenze e' sempre piu' presente. Questo catalogo

accogliere l'arricchimento delle conoscenze sulla cultura

africana, aprire nuove porte per il diffondersi e fondersi

delle culture.

Oggi la SACI Worthington Library rientra nel circuito delle

of African Descendants- A Book Catalogue speriamo di migliorare

la consapevolezza della presenza di fonti disponibili nelle

collezioni esistenti sul territorio e incoraggiare passi simili

collezioni in tutta la città.

Selected Text:

FASHION DESIGN

Africa Rising:

Fashion, Design and

Lifestyle from Africa

Indigo: The Color that

Changed the World

POLITICS

Back to Africa

WORLD ART

Art from South Africa

Africa Explores: 20th

Century African Art

Black Africa: Masks,

Sculpture, Jewelry

Yoruba: Sculpture of

West Africa

Africa: The Art of a

Continent

Likeness and Beyond:

Portrts from Africa

and the World

Tesori dell'antica

Nigeria

Före Picasso / Before

Picasso (African

Sculpture)

African Faces, African

Figures: The Arman

Collection

African and Oceanic

Art

African Art from the

Musée de L'Homme

Black Victorians:

Black People in

British Art, 1800-1900

PHOTOGRAPHY

South Africa: The

Structure of Things

Then

100xC: Photography

in South Africa: The

Cape Town Month of

Photography Catalogue

Teju Cole: Blind Spot

Picturing Us: African

American Identity in

Photography

A History of Women

Photographers

Roy DeCarava: A

Retrospective

Eauropean Blackamoors,

African Readings

DESIGN (JEWELRY)

A World of Earrings:

Africa, Asia, America

CATALOG: EXHIBITIONS,

ONE MAN SHOWS, ETC

African Metropolis. An

Imaginary City

Omaheke

We Wanted a

Revolution: Black

Radical Women 1965-85

The White Hunter

HISTORY GENERAL

The Black Man's

Burden: Africa and the

Curse of Nation-State

The Christian World of

the Middle Ages

BIOGRAPHY-

AUTOBIOGRAPHY

Woman in the Mists:

The Story of Dian

Fossey and the

Mountain Gorillas of

Africa

WOMEN'S STUDIES

Performing In/Outside

Islam: Music and

Gendered Cultural

Politics in the Middle

East and North Africa

Bearing Witness:

Contemporary Works by

African American Women

Artists

SCULPTURE

Makonde: Wooden

Sculpture from East

Africs from the Malde

Collection

African Sculpture

JOURNALISM

117 Days

CERAMICS

La ceramica

orientale, africana e

precolombiana

SOCIAL HISTORY

A History of

Civilizations

ART CONSERVATION

Conservation, Identity

and Ownership in

Indigenous Archaeology

POETRY

African Poetry

An African Elegy

CONTEMPORARY AND POST

MODERN

Contemporary African

Art

GENERAL FICTION AND

LITERATURE

The Norton Anthology

of African American

Literature

AMERICAN ART

African and Oceanic

Art

African American Art

and Artists

A Century of African-

American Art: The Paul

R. Jones Collection

19TH CENTURY GENERAL

The Art of Exclusion:

Representing Blacks in

the Nineteenth Century

INDIVIDUAL ARTISTS

Adrian Piper: Race,

Gender, and Embodiment

Jean-Michel Basquiat
---
Throughout the Italian colonial period

in East Africa, postcards and stamps

were produced as a form of propaganda,

displaying a version of Eastern Africa

through the Italian lens. This was often

done by portraying the African locals

in a dehumanized and sexualized manner.

Examining several series of these objects

created by a range of illustrators of

the time and mass produced and sent

internationally from the African colonies

to Italy, we uncover a range of important

themes and trends that characterize the

representation of the colonial peoples.

Numerous examples of these objects many

of which were realized by the Poste

Italiane are currently a part of numerous

public and private collections and

provide insight to the role of images

created to cross international borders

enticing young soldiers to come abroad

and comforting the families of loved

ones who corresponded long distance.

Dehumanization is a theme among all the

collections of postcards and stamps.

In a series of postcards produced by

Edizione D'Arte V. E. Boeri illustrated

by D'Ercoli portraying African soldiers

look identical to one another in terms

of body type, bone structure, uniform,

skin tone and facial expression. This

effectively deprives each soldier of

their individuality, and infers that

they are one of many replaceable units.

This notion is extended through the text

that reads, "Forti Come Noi, Piu di Noi

No" ("Strong like us, Not stronger than

us"). Furthermore, in several images,

large birds, and are portrayed as if

the animals themselves. Because there

the African soldiers, the emphasis is

on the connection between the men and

the animals. One image is of several

soldiers in the foreground, running with

there are what look to be copies of

the same soldier, but translucent,

and fading into the landscape. This

symbolic disappearance or lack of full

presence seems to amplify the soldier's

disposability and lack of full humanity.

A separate series of Postcards

produced by Bonoro is characterized

by East African women in front of lush

landscapes, the women are dehumanized

in a similar way. Although they don't

literally blend into the landscape,

as the soldiers did in the previous

collection, they are portrayed as

synonymous with the lush and unspoiled

nature that surrounds them. This is

a common theme among the writing and

art of Italy's colonies during the

colonial period.

Both African men and women were

frequently portrayed as reduced to their

physical bodies by white people hence

explicitly sexualized in the colonial

period and their images were often used

as visuals for to lure soldiers, many

of which were illiterate to come to the

colonies. African women were depicted as

animalistic, hypersexualized and servile

in these images which created the idea

that they are available for sexual

exploitation. These images created a

fantasy for Italian soldiers of an erotic

'other' and created a promise of sexual

opportunities. The "otherized"African

women were not portrayed as 'women'

but 'females' fostering the capacity

of Italian men to come to the colonies

and disregard the norms and values of

society that they typically adhered

to. This fantasy created an outlet

onto which Europe could project it's

forbidden sexual desires. Acts of

pedophilia which were frowned upon in

Italy were acceptable in the colonies

because these women were seen as full

grown at a far earlier age based in part

on differentiating customs for marriage

and a less than human status. This

misrepresentation of East African women

to the Italian soldiers has consequences

that last through today.

Yet another series of images signed B.

Incegnoli examine the heroicizing of

Many of these images portray Ethiopian

soldiers as an animalistic 'other' which

making it "natural" they needed to be

controlled and tamed. The "savagery" of

Julia Snyder, Sarina

Patel, Willa Konsmo

Professor Pesarini

Black Italia

New York University

Florence

Italian Colonial

Postcards and Stamps
---
the composure of the white Italian

Soldiers. In one image in particular

the Ethiopian man is holding a

scimitar contrasted by the 'civilized'

Italian soldier who is using more

advanced weaponry. The accompaniment

of these images by texts that read

as epic war narratives entice loved

ones back home to appreciate the

gallantries of the soldiers abroad.

Innumerous examples of an Italian

construction of the image and

representation of the colonies can

be found in these illustrated goods

meant to cross borders holding high

the standing of the soldiers while

subjugating the colonial peoples and

their lands.

Durante tutto il periodo coloniale italiano in Africa orientale, cartoline e francobolli vennero prodotti come

una forma di propaganda, mostrando una versione dell'Africa orientale attraverso una lente italiana. Questo

è stato spesso fatto ritraendo gli africani locali in modo disumanizzante e sessualizzato. Esaminando diverse

serie di questi oggetti creati da una serie di illustratori del tempo e di produzione in massa, inviati internazionalmente

dalle colonie africane verso l'Italia, scopriamo una serie di importanti temi e tendenze che caratterizzano

la rappresentazione dei popoli coloniali. Numerosi esempi di questi oggetti, molti dei quali sono

stati realizzati dalle Poste Italiane, fanno attualmente parte di diverse collezioni pubbliche e private e for-

ni

soldati a venire dall'estero o confortando le famiglie dei propri cari che corrispondeva a lunga distanza.

-

in favore dell'Italia, i soldati sembrano identici l'un l'altro in termini di tipo di corpo, struttura ossea,

uniformità, tono della pelle ed espressione facciale . Ciò effettivamente priva ogni soldato della sua dualità

e ne fa dedurre che sono una delle molte unità sostituibili. Questa nozione è estesa attraverso il testo che

recita, "forte come noi, non più forte di noi". Inoltre, in diverse immagini, i soldati combattono tra leoni e

tra i soldati africani, l'enfasi è sulla connessione tra gli uomini e gli animali. Una delle immagini ritrae

diversi soldati in primo piano, correndo armati con una bandiera. Sullo sfondo, ci sono quelle che sembrano

copie dello stesso soldato, ma traslucide e che si dissolvono nel paesaggio. Questa scomparsa simbolica o man-

Un'altra serie di cartoline prodotte da Bonoro è caratterizzata da donne dell'Africa orientale di fronte a paesaggi

lussureggianti. Qui le donne sono disumanizzate in modo simile. Sebbene non si confondano letteralmente

nel paesaggio, come hanno fatto i soldati nella precedente collezione, sono ritratti come sinonimi della natura

rigogliosa e incontaminata che li circonda. Questo è un tema comune tra la letteratura e l'arte delle colonie

italiane durante del periodo.

-

nel periodo coloniale e le loro immagini erano spesso usate come immagini per attirare soldati, molti dei quali

erano analfabeti per venire nelle colonie. Le donne africane sono state dipinte come animali, ipersessualizzate

e servili in queste immagini che hanno facilitato la creazione dell'idea che sono disponibili per lo

sfruttamento sessuale. Queste immagini hanno creato una fantasia per i soldati italiani di un 'altra' erotica

e hanno creato una promessa di opportunità sessuali. Le donne africane "alterate" non erano rappresentate come

"donne" ma "femmine" promuovendo la capacità degli uomini italiani di venire nelle colonie e ignorare le norme

e i valori della società a cui in genere aderivano. Questa fantasia ha creato uno sbocco sul quale l'Europa

accettabili nelle colonie perché queste donne erano viste come cresciute precocemente, basandoci, in parte sulla

differenziazione delle abitudini matrimoniali e in parte su un trattamento disumanizzante, basata in parte

sulla differenziazione delle abitudini per il matrimonio e uno stato di trattamento disumano. Questa falsa

-

-

compostezza dei Soldati italiani bianchi. In una immagine, in particolare, l'uomo etiope tiene in mano una

scimitarra contrastata dal soldato italiano "civilizzato" che usa armi più avanzate. L'accompagnamento di queste

immagini da parte di testi che leggono come narrazioni epiche di guerra attirano i propri cari a casa ad

apprezzare le galanterie dei soldati all'estero. .

Innumerevoli esempi di un immaginario italiano dell'immagine e della rappresentazione delle colonie si posso-

soggiogano i popoli coloniali e le loro terre.
---
and infrastructures, such as cars, buses, planes, or

even advertising or tourism. It is therefore hardly

astonishing that photography particularly interested

him as a medium. The new role of photography on the

African continent could be seen in the launch of its own

biennale show, Rencontres Africaines de la Photographie

in Bamako, Mali, in 1994. Private interest and business

interest are, for Sarenco, closely connected. Artists

represented by him were also exhibited in Bamako, for

example the Madagascan artist Chang Hong Men Pierrot,

known as Pierrot Men, in 1994.

The Palli Collection currently holds 100 works from

this era, some of which make explicit reference to

their origins through the printed stamp Sarenco Club Art

Galerie. One artists with whom Sarenco was very close

is the Kenyan Cheff Mwai, who employed a variety of

artistic media. The photographic documents of the former

12 December 1963 in the Meru Stadium, Mount Kenya, are

particularly impressive.

A larger proportion of the photographs are by South

African photographers active during or shortly after

Apartheid. Among them are the photo-journalistic

works of Guy Tillim, Graeme Williams, Rodney Barnett

and Paul Weinberg. All four worked for news agencies,

including Reuters, and are known for their anti-

Apartheid stances, which they brought to bear in their

photographic documentation. These present everyday

scenes in black-and-white, of normal people, but in a

situation contaminated by racial segregation, which

is frequently presented in a grotesque way. Colour

photography seems too saccharine and thus inappropriate

for this environment. In addition to the photographs of

white South Africans, the collection also holds works by

from the school of the South African photographer

David Goldblatt, the Market Photo Workshop in Newtown,

The focus of the Carlo Palli Collection in Prato lies

on the Fluxus artists and representatives of Visual

with photographs by a number of African photographers,

principally from the period from 1985 to 1999. It was

in these years that Carlo Palli, collector and art

dealer, was in close contact with the Italian artist

Isaia Mabellini, known as Sarenco, who had been living

in Malindi from 1986. Sarenco was inspired by artists

in Africa and works such as his installation at the

49th Venice Biennale in 2001 demonstrate his high esteem

for African artistic crafts and traditions. In addition

to his collaboration with artists from a number of

different countries, Sarenco led the collective Malindi

African art - both paintings and photography - through

his own gallery space in Verona, Italy.

In Europe, in the 1980s, with a globalization of the

art market, interest in contemporary non-Western

art grew. African art was particularly popular in

private galleries in Italy, where the post-colonial

discourse within institutions was less developed and

prominent than, for example, in France or in Germany.

The interest of collectors in contemporary African

art was met by a relatively small circle of curators

and collectors, among them the celebrity curator

Achille Bonito Oliva and curator Enrico Mascelloni.

As in the epochal exhibition Magiciens de la terre

by Jean-Hubert Martin in 1989 in the Centre Pompidou

in Paris, demand principally focused on artists

felt to be authentic, original, non-western and nonacademic.

The establishment of biennale shows on the

then in Dakar in 1992, provided new impetus to the

globalisation of the art market. Sarenco's selection

displays a preference for artists who engage with

the transformation of societies and of art itself

through the representation of modern technologies

Cheff Mwai, The Independence Day 12.12.1963 Meru

Stadium, Mount Kenya, 1963 (Reprint 1995), Collezione

Carlo Palli
---
photographer to win the World Press Prize in 1998.

The collection further includes works by Salla Casset,

one of the earliest famous studio photographers from

Senegal. From 1950, that is even before national

independence, portrait photography became a lucrative

business in Senegal. The brothers Mama and Salla Casset

from St. Louis began their careers as students of the

French photographers Tennequin and Oscar Lataque in the

1910s, before they opened their own studio in Dakar.

Their clients came from the growing middle class, whose

by the early developments of the mass media culture.

La Collezione Carlo

Palli di Prato ha il

suo punto di forza

negli artisti

del Fluxus e della

Poesia Visiva. Una

sezione col tempo

divenuta minorita-

ni,

risalenti in particolare al periodo compreso tra il

1985 e il 1999. A quel tempo, il collezionista e mercante

d'arte Carlo Palli era in contatto con l'artista

italiano Isaia Mabellini, detto Sarenco, stabilitosi in

cana;

alcune sue opere, come l'installazione realizzata

per la 49esima Biennale di Venezia nel 2001, mostrano un

profondo apprezzamento per la tradizione e l'artigianato

di varia provenienza, Sarenco portò avanti il collettivo

Malindi Artist's Proof e, attraverso la sua perso-

di arte africana, sia nel campo della pittura che della

Negli anni '80, con la globalizzazione del mercato

dell'arte, l'interesse per l'arte contemporanea non

occidentale ebbe in Europa un rapido incremento. In Italia,

l'arte africana trovò apprezzamento soprattutto nel

circuito delle gallerie private; qui le istituzioni erano

meno permeate dalle tematiche post-coloniali di quanto

avveniva, per esempio, in Francia e Germania. L'interesse

per la collezione di 'arte africana contemporanea

fu coltivato da un cerchio relativamente ristretto di

curatori e collezionisti, tra cui il celebre curatore

Achille Bonito Oliva ed Enrico Mascelloni. Come già

accaduto per la mostra epocale Magiciens de la terre,

curata da Jean-Hubert Martin e presentata nel 1989 al

Centre Pompidou di Parigi, l'attenzione era rivolta prevalentemente

agli artisti percepiti come autentici, ori-

valori occidentali. Con la fondazione di alcune Biennali

d'arte nel continente africano, la prima a Johannesburg

nel 1991 e poi a Dakar nel 1992, la globalizzazione del

mercato dell'arte ricevette nuovo impulso. La selezione

operata da Sarenco mostra una preferenza per gli artisti

interessati ai temi della trasformazione delle società

e dell'arte stessa, per esempio attraverso la rappresentazione

di tecnologie e infrastrutture moderne, come

automobili, bus, aerei, ma anche pubblicità e turismo.

Non sorprende quindi il fatto che Sarenco nutrisse un

-

(Rencontres Africaines de la Photographie) a Bamako, in

Mali, nel 1994, testimonia altresì il nuovo ruolo che la

Sarenco, interesse personale e interesse economico erano

strettamente collegati. Gli artisti da lui rappresentati

esposero anche alla Biennale di Bamako; tra questi

il malgascio Chang Hong Men Pierrot, detto Pierrot Men,

Casset can now be found in the Metropolitan Museum in

New York, among other places.

A distinctive gaze is also represented through

the portraits of young women by the photographer

Maizaoumbou from Niger, which have nothing in common

with western exoticisation. Other artists held by the

collection are Kokoroko Kudzovi B.N., with quotidian

scenes from Togo, Hassner Pepler, John Mauluka and

Charles Kamangwana from Zimbabwe, as well as the

surreal compositions of Pedro Vorster from Namibia. The

largest proportion of the remaining photos come from

the Kenyan Fred Oduya, whose shots bring tradition and

modernity, rural and urban life crashing together.

Al momento la collezione Palli conserva 100 opere risalenti

a questa fase; molte di esse sono provviste

del timbro Sarenco Club Art Galerie, che rimanda esplicitamente

alla loro origine. Un artista a cui Sarenco

è stato vicino anche da un punto di vista personale

è il keniano Cheff Mwai, che ha fatto uso di diversi

media espressivi. Particolarmente impressionante è

Mau in occasione della deposizione delle armi il giorno

della proclamazione dell'indipendenza del Kenya, il

12.12.1963, presso lo stadio di Meru, in Kenya.

di fotoreporter come Guy Tillim, Graeme Williams, Rodney

Barnett e Paul Weinberg, tutti attivi per conto di

loro posizioni anti-apartheid, facilmente riconoscibili

di vita quotidiana in bianco e nero, ritraggono persone

normali, ma in un contesto fortemente contaminato dalla

separazione delle razze, che a volte giunge ad assumere

dei tratti grotteschi. In questo contesto di temi, la

-

cani

bianchi, la collezione comprende Motlhalef Mahlabe

del fotografo sudafricano David Goldblatt, la Market

Photo Workshop di Newtown, Johannesburg. Themba Hadebe

è stata la prima fotografa nera a vincere il Premio

World Press, nel 1998.

La collezione possiede anche le opere di uno dei primi,

partire dal 1950, ancor prima dell'indipendenza del pae-

cio

molto fruttuoso. I fratelli Mama e Salla Casset di

St. Louis iniziarono la loro carriera intorno al 1910,

Lataque; in seguito aprirono un loro studio a Dakar. I

clienti appartenevano al ceto medio, allora in rapida

crescita; la messa in scena delle foto ne esprimeva il

gusto, caratterizzato dalla nascente cultura massmedia-

Uniti. Stampe delle opere di Casset si trovano oggi, tra

l'altro, nel Metropolitan Museum di New York.

Uno sguardo molto personale è rappresentato dai ritratti

di giovani donne scattati dal fotografo nigeriano

Maizaoumbou; si tratta di opere che non hanno nulla in

comune con la sfumatura esotizzante imposta dal gusto

occidentale. La collezione Palli possiede inoltre opere

di B.N. okoroko Kudzovi che rappresentano scene di vita

Mauluka e Charles Kamangwana dallo Zimbabwe, così come

le surreali composizioni del namibiano Pedro Vorster. La

sta

sezione è opera del keniano Fred Oduya, nelle cui

immagini tradizione e modernità, vita urbana e rurale

Maizoumbou, Binguel: Jeune femme peulh de la region de Kornaka Maradi Niger, 1997 / Collezione Carlo Palli
---
The Marucelliana Library

La Biblioteca Marucelliana

Matias Mesquita
---
La Marucelliana è una biblioteca pubblica statale del Ministero

dei beni e delle attività culturali e del turismo. Dotata di

importanti collezioni sia antiche che moderne, ha continuato

costantemente ad accrescersi dal 1752, anno della fondazione,

provincia, di cui è depositaria dal 1911. E' una biblioteca di

fonti dell'epoca apre un mondo sulle interazioni fra l'Europa

e manoscritti che testimoniano sulla presenza italiana in

testimonianza di una collaborazione internazionale che ci parla

Con questo volume vorremmo evidenziare alcuni libri sulla

cambiamenti e nuovi movimenti ci porta verso la contemporaneità

e dei costumi dei suoi abitanti, visitare la Marucelliana è come

l'occidente.

La Marucelliana is a public state library of the Ministry

with important collections both ancient and modern, it has

basis with a humanistic and artistic orientation, especially

from the 15th century up to the present day.

books that help to cover the history of the arrival of the

story by sources of the time opens a world on the interactions

there are various volumes and manuscripts that testify to

important testimony of an international collaboration that

of human commerce that arrived in the 16th century.

history with the West.
---
The history of African city parks and

botanical gardens is interwoven with

State political or social vicissitudes,

colonization and de-colonization processes,

the establishment of new nations,

and, in varying ways, with the history

of agriculture and the forest. Above all,

it is interwoven with a fantasy that is

deeply inscribed in the European colonial

imagination, that of an African Eden designed

for hunting and timeless emotions,

and - with the norms, demarcations and

prohibitions that led to the creation of

natural parks and protected areas – made

inaccessible to local populations.

A colonial botanical garden, unlike a

metropolitan botanical garden, is in

essence the scale representation of an

idea of the indigenous landscape; the

landscape-architectural model of the

territory within which it is set.

It is perhaps possible, and in part

surprising, to reconstruct the story of

a mirage through the vicissitudes of

a surviving fragment. And all the more

surprising to consider how, for botanists

and gardeners, the mirage generates

nance

tasks every day.

Africa hosts (or hosted, until recently)

around 40 botanical gardens. Once

they gained independence, the individual

countries applied conservation and safeguarding

policies with various levels of

cultural sensitivity and funding.

ach

and decidedly not centrally located:

lacking web sites, each requires a pre-

(a network of African botanical gardens

and a systematic operational coordination

at the continental level have only

existed since 2002).

For the European colonial administrations

responsible for the creation of

botanical gardens at the end of the

Nineteenth or beginning of the Twentieth

Centuries, these gardens are of great

importance: they play a front-line role

in projects for the study and conservation

of the plant resources of vast

areas of the continent, and contribute

in great measure to the success of nascent

agro-industrial projects. Distributed

in an irregular way throughout the

territory, colonial gardens are used

as places for the acclimatization of

tropical plants for food uses: coffee,

cocoa, cotton, oil palms, bananas,

peanuts, etc. They shelter varieties of

trees prized for their wood, and nurseries

of ornamental plants. They offer

training opportunities for Africans, who

are often excluded from universities and

superior schools: here, they learn forestry

and agricultural techniques.

The Laboratoire de Botanique of Abidjan,

in Ivory Coast, the Aburi Botanical

Gardens in Ghana, the Limbe Botanical

Garden in Cameroon, the Eala and Kisantu

Botanical Gardens in Congo and the Zomba

Botanic Gardens in Malawi exemplify the

mix of agro-industrial experimentation

and technical-practical training characteristic

of colonial projects.

Beginning in the years after the Second

World War, botanical gardens no longer

seemed useful, and fell into an initial

phase of decline; agro-industrial

projects have now been launched, and the

plantation economy is widespread.

In the decades following independence, in

many cases achieved at the end of prolon-

of African botanical gardens became widespread

and consistent. Concrete historical

circumstances such as illiteracy,

poverty, illness and unemployment meant

new states could not divert funds from

health, education and employment programs,

but had to give priority to social

were exacerbated by an attitude of repudiation,

on the part of the new managing

classes, of institutions of colonial origin,

including the entities responsible

for environmental conservation. Historic

gardens in eastern and southern African

- in Nairobi, Kenya as in Entebbe,

Uganda or Lusaka, Zambia – were partially

destroyed, and began to return to wild

states. Elsewhere, for example, in Calabar

in southeastern Nigeria, they were

completely lost. Civil tensions or ethnic

in countries like Sierra Leone, Congo and

-

dire: established in 1842 and formally

inaugurated in 1890, the Aburi Botanical

Gardens covered an area of about 160

acres and offered an extraordinary testimony

of the colonial attempt to import

and cultivate in western Africa species

of trees originally from Malaysia, India,

the Caribbean, Central America and eastern

Africa.

There are positive stories as well: in

recent years, the government of Botswana

has launched the creation of the botanical

garden of Gaborone, which did not

exist at the time of the English protectorate.

A direct consequence of Botswana's

adhesion to international agreements

on the safeguarding of biodiversity signed

in Rio de Janeiro in 1992, the garden

is intended to gather plant species

native to the arid or semi-arid regions

of the Kalahari and of the Okavango delta

wetlands, created by Angolan-Namibian

damming projects on the river Kunene:

water lilies, acacias, aloe etc.

Since 2002, the South African government

has given greater attention to environmental

policies and conservation activities:

funds destined for the eight

national botanical gardens, however, have

tion,

which has hit the rand hard, has a

Per Black Archive Alliance Michele Dantini

presenta una ricerca radicata in vari archivi

internazionali che indaga sui giardini botanici

africani, sul loro concezione coloniale e sul

considerable impact on availability of

resources. The current conservators tend

to favor projects of immediate interest

and practical utility that produce income

persuading political interlocutors of the

need to provide funding, thus nurseries

are developing and attempts are being

made to cultivate as-yet little-known

indigenous fruit plans.

The triumphal Linnaean Latin of taxonomic

tradition is dismantled in the signage

of these gardens, in the prism of local

idioms and dialects, but the transformation

of paternalistic institutions into

unifying agencies is a complex process.

In European tradition, science has no

immediate political and social implications.

In indigenous languages such

as Zulu, Matabele, Shona, Xhosa, Sotho,

Vemba and Tshangani, there is no term

for "botanical garden"; savannahs and

forests have never before been at risk

of destruction. At the same time, in the

African city, greenery is everywhere and

cated

green area.

Architettura di paesaggio.

Parchi urbani e giardini

botanici in Africa

Landscape architecture.

African city parks and

botanical gardens
---
A yellow strelizia grows in the corner of

the Walter Sisulu National Botanical Garden

in Johannesburg (previously known as

Witwatersrand): endemic, it is one of the

Garden's showpieces. It was discovered,

ago, and the name given to it, Mandela's

Gold, is an homage to the moral leader of

the rainbow nation.

Public/private partnerships or private

initiatives have proved to be indispensable

for ensuring the survival of the

botanical gardens of Amani, in Tanzania,

the arboretum of Nairobi (supported by

the "Friends of Nairobi Arboretum") and

the arboretum of Seibang, near Libreville,

Gabon, to which the university

and international supporters – mainly

Scandinavian – contribute funding. The

ECOFAC cooperation program, on which

the fate of the Obo National Garden on

the Atlantic island of São Tomè depends,

ended in December 2003, and the garden,

characterized by a collection of orchids

native to the islands of São Tomè

and Principe, appears to be at the mercy

of the precarious availability of local

La storia dei parchi urbani e dei giardini

botanici africani si intreccia con

le vicende politiche o sociali degli

stati, i processi di colonizzazione e

decolonizzazione, l'instaurarsi delle

nuove nazioni; e in modi alterni con la

storia dell'agricoltura e della foresta.

Si intreccia soprattutto con una fantasia

profondamente inscritta nell'immaginazione

coloniale europea, quella di un

Eden africano adatto alla caccia e alle

emozioni senza tempo, e con le norme,

le demarcazioni, i divieti che le hanno

dato vita attraverso la creazione di

parchi naturali e aree protette, sottratte

all'uso delle popolazioni locali.

Un giardino botanico coloniale, a differenza

del giardino botanico metropolitano,

è in origine la rappresentazione in

scala di un'idea del paesaggio indigeno:

il modello paesaggistico-architettonico

del territorio entro cui sorge.

E' forse possibile, e in parte sorprendente,

ricostruire la storia di un miraggio

attraverso le vicissitudini di un

frammento su perstite. Anche più sorprendente

considerare come il miraggio desti

ogni giorno, per botanici e giardinieri,

della manutenzione.

cente

passato) circa 40 giardini botanici.

Acquisita l'indipendenza, i singoli paesi

hanno applicato politiche di conservazione

e tutela con sensibilità culturali e

gere

e decisamente decentrati: sprovvisti

di sito web, presuppongono ognuno

uno spostamento dedicato e il desiderio

di raggiungerli (solo dal 2002 esistono

un network di giardini botanici africani

a livello continentale).

Per le amministrazioni coloniali europee

responsabili della creazione di giardi-

secolo o nella prima metà del ventesimo i

giardini hanno grande importanza: giocano

una parte di primo piano nei progetti di

studio e conservazione delle risorse vegetali

di vaste aree del continente e contribuiscono

in misura decisiva al successo

dei progetti agroindustriali da avviare.

Distribuiti in modo irregolare sul territorio,

i giardini coloniali sono usati

come luoghi di acclimatazione di piante

tropicali di uso alimentare: caffè, cacao,

cotone, palme da olio, banane, arachidi

etc. Accolgono varietà pregiate di alberi

da taglio e vivai di piante ornamentali.

Offrono opportunità di formazione agli

africani, esclusi da università e istituti

superiori: vi si insegnano scienze forestali

e tecniche di agricoltura.

Il Laboratoire de Botanique di Abidjan,

in Costa d'Avorio, gli Aburi Botanical

Gardens in Ghana, il Limbe Botanical

Garden in Camerun, gli Eala e Kisantu

Botanical Gardens in Congo, lo Zomba Bo-

l'intreccio di sperimentazione agroindustriale

e didattica tecnico-pratica

caratterizzante il progetto coloniale

A partire dagli anni della seconda guerra

mondiale i giardini botanici sembrano non

essere più utili, e conoscono un primo

momento di declino: i progetti agroindustriali

sono ormai avviati e l'economia

della piantagione ampiamente diffusa.

Nei decenni successivi all'indipenden-

prolungati e sanguinosi, il decadimento

di un gran numero di giardini botanici

africani diviene più esteso e consistente.

Circostanze storiche concrete

come analfabetismo, povertà, malattia,

disoccupazione impongono ai nuovi stati

di non distogliere fondi dalle politiche

sanitarie, scolastiche e del lavoro e di

assegnare priorità alle emergenze socia-

le

nuove classi dirigenti, delle istituzioni

di origine coloniale: tra queste

appunto gli enti responsabili della conservazione

ambientale. Giardini storici

in Africa orientale e australe, a Nairobi

in Kenya come a Entebbe in Uganda o a

Lusaka in Zambia, conoscono distruzioni

parziali e processi di inselvatichimento.

Altrove, a Calabar ad esempio, nella

Nigeria sudorientale, vanno completamen-

etnici rendono impraticabili i compiti

di conservazione in paesi come Sierra

Leone, Congo, Mozambico. In Ghana, a Ac-

to

di fondi si rivelano particolarmente

acute: istituiti nel 1842 e formalmente

inaugurati nel 1890, gli Aburi Botanical

Gardens ricoprono un'area di circa 160

acri e offrono un'impressionante testimonianza

del tentativo coloniale di

importare e mettere a coltura in Africa

occidentale specie arboree originarie di

Malesia, India, Caraibi, America centrale,

Africa orientale.

Esistono episodi in controtendenza: è

il governo del Botswana, in anni recenti,

a avviare la creazione del giardino

botanico di Gaborone, che non esisteva

al tempo del protettorato inglese.

Consequenza diretta dell'adesione del

Botswana agli accordi internazionali

sulla tutela delle biodiversità siglati

a Rio de Janeiro nel 1992, il giardino è

destinato ad accogliere specie vegetali

endemiche delle regioni aride o semiaride

del Kalahari e del delta palustre

dell'Okavango, insidiato dai progetti

nene:

gigli d'acqua, acacia, aloe etc.

Dal 2002 il governo sudafricano mostra

maggiore attenzione per le politiche ambientali

e le attività di conservazione:

i fondi destinati agli otto giardini botanici

nazionali non sono però cresciuti

ha colpito duramente il rand, incide in

misura considerevole sulle risorse a

disposizione. Gli attuali conservatori

tendono a privilegiare progetti che

abbiano interesse e utilità pratiche

immediate, che producano reddito e la-

l'interlocutore politico in merito alla

sviluppano i vivai e si cerca di avviare

coltivazioni di piante da frutto indigene,

ancora poco conosciute.

Il trionfale latino linneiano della tradizione

tassonomica si scompone, nelle

segnaletiche dei giardini, nel prisma

degli idiomi e dei dialetti locali, ma

la trasformazione di istituzioni paternalistiche

in agenzie solidali è complessa.

Nella tradizione europea la scienza

non ha implicazioni politiche e sociali

immediate. Nelle lingue indigene, zulu

o matabele, shona, xhosa, sotho, vemba,

tshangani non esiste un termine per

"giardino botanico": savana o foresta non

sono mai state a rischio di distruzione

prima d'ora. Al tempo stesso, nella città

africana, il verde è diffuso e sembra

in un angolo del Walter Sisulu National

Botanical Garden di Johannesburg (già Witwatersrand):

endemica, ne costituisce un

vanto. E' stata scoperta, studiata e clas-

stato dato, Mandela's Gold, è un omaggio

al leader morale della nazione arcobaleno.

Partnerships pubblico/privato o iniziative

private si sono rivelate indispensabili

per assicurare la sopravvivenza

dei giardini botanici di Amani,

in Tanzania, dell'arboretum di Nairobi

(supportato dai "Friends of Nairobi arboretum")

e dell'arboretum di Seibang,

nei pressi di Libreville, Gabon, al cui

tà

e sostenitori internazionali, per lo

più scandinavi. Il programma ECOFAC di

cooperazione da cui dipendono le sorti

dello Obo National Garden dell'isola

atlantica di São Tomè è terminato

nel dicembre del 2003, e la sorte del

giardino, caratterizzato dalla collezione

di orchidee endemiche delle isole di

locali e volontari.
---
Fondazione Sistema Toscana nasce nel 2005

per volontà di Regione Toscana e Banca

gli scopi di missione, che la Fondazione

realizza in partenariato con soggetti

di rappresentazione dell'immaginario

emergeranno pellicole in vari paesi del

registi che hanno colto l'occasione nel

la potenza politica di rivendicarsi dalla

dall'esterno intorno ai loro popoli e

esportato attraverso il mondo del cinema

Sono vari i registi che tramite le loro

opere ritraggono la storia e i contrasti di

MEDIATECA TOSCANA / MATIAS MESQUITA
---
Fondazione Sistema Toscana nasce nel 2005

per volontà di Regione Toscana e Banca

gli scopi di missione, che la Fondazione

realizza in partenariato con soggetti

storia di rappresentazione dell'immaginario

emergeranno pellicole in vari paesi del

registi che hanno colto l'occasione nel

la potenza politica di rivendicarsi dalla

dall'esterno intorno ai loro popoli e

esportato attraverso il mondo del cinema

Sono vari i registi che tramite le loro

opere ritraggono la storia e i contrasti di
---
MIGRATION AND THE

AFRICAN DIASPORA

THROUGHOUT EUROPE

The Villa Rossa, designed by Count Mario

Gigliucci himself, became the family's private

residence at the time of its completion in 1892.

In 1937, the villa was left to Mario's three

children, Nerina, Donatello, and Bona, and 25

years later was sold to Syracuse University,

where it has been home to the Syracuse University

in Florence program ever since. With over 13,000

books and 500 DVDs covering the full range of

disciplines offered at the Florence center and

beyond, the Syracuse Florence Library has one of

the largest collections of English-language books

and DVDs of any study abroad program in Italy.

Some of the works, such as International

Migration: A Very Short Introduction (2016),

provide information on political debates on

migration as a modern global issue as well as

terrorism. Others, like Race and the Nation in

Liberal Italy, 1861-1911: Meridionalism, Empire,

And Diaspora (2006) delves into the racial issues

and tensions between the northern and southern

regions of Italy. The Library also contains

Migration and European Integration: The Dynamics

of Inclusion and Exclusion (1995) which is a

collection of theoretical perspectives

on the processes of migration,

dynamics and nature of citizenship

within the European Community within

the world economy. Others like Modern

European-American Relations in the

Transatlantic Space: Recent Trends in

History Writing (2015) discusses the

of American society and culture and

the relationship this has within a

new context of race. However most

importantly, Africa in Europe: Studies

in Transnational Practice in the Long

Twentieth Century (2013) explores

the lives and activities of people

of African descent in Europe between

the 1880's and the start of the

21st century. This text goes beyond

transatlantic focus of diaspora and

examines experiences of Africans who

settled all across Europe, caribbean,

and Americas through case studies of

family life, community- building and

politics and cultural production.

Emily Bruder

Syracuse University
---
LA MIGRAZIONE E LA DIASPORA AFRICANA IN TUTTA

EUROPA - CATALOGO LIBRO

La Villa Rossa, progettata dallo stesso conte

Mario Gigliucci, divenne residenza privata della

famiglia al momento del suo completamento nel

di Mario, Nerina, Donatello e Bona, e venticinque

anni dopo venduta alla Syracuse University, dove

da allora è sede del programma della Syracuse

University di Firenze. Con oltre 13.000 libri

e 500 DVD che coprono l'intera gamma delle

discipline offerte presso il centro di Firenze

e oltre, la Syracuse Florence Library è sede di

una delle più grandi collezioni di libri e DVD in

lingua inglese di qualsiasi programma di studio

all'estero in Italia.

il 1880 e l'inizio del XXI secolo.

Questo testo sposta oltre il focus

transatlantico della diaspora ed

esamina le esperienze degli africani

stabilitisi in tutta Europa, nei

Caraibi e nelle Americhe attraverso

studi di casi sulla vita familiare, la

costruzione della comunità, la politica

e la produzione culturale.

Alcune delle opere, come International Migration:

A Very Short Introduction (2016), forniscono

informazioni sui dibattiti politici intorno

alla migrazione come questione globale moderna,

nonché sui temi della tratta degli esseri umani,

dei richiedenti asilo e del terrorismo. Altri,

come Race and the Nation in Liberal Italy,

1861-1911: Meridionalism, Empire, and Diaspora

(2006), approfondiscono le questioni razziali

e le tensioni tra le regioni settentrionali e

meridionali dell'Italia. La biblioteca contiene

anche Migration and European Integration: The

Dynamics of Inclusion and Exclusion (1995), una

raccolta di prospettive teoriche sui processi

di migrazione che esamina in particolare le

dinamiche razziali e la natura della cittadinanza

all'interno della Comunità europea nell'economia

mondiale. Altri, come Modern European-American

Relations in the Transatlantic Space: Recent

Trends in History Writing (2015), discutono la

società e sulla cultura americana e il rapporto

che questo intrattiene in un nuovo contesto di

razza. Ma, soprattutto, Africa in Europe: Studies

in Transnational Practice in the Long Twentieth

Century (2013) esplora le vite e le attività delle

popolazioni di origine africana in Europa tra
---
"The collection of Cosimo I de' Medici, Grand Duke of Tuscany since 1569, featured a diverse

assortment of both European and non-European works that were displayed together in the Palazzo

Vecchio in Florence. Among these were two Oliphants in ivory (inv. Bg. 1879, nn. 2-3) today

housed in the in the Pitti Palace in the rooms of the Tesoro dei Granduchi (formerly Museo degli

with diamond, braid and Greek fret motifs, they were made in Kongo during the 16th century.

terms: ".two ivory horns with engraved motifs". They are the earliest recorded objects of Kongo

appropriate diplomatic gifts to European princes The two horns probably arrived in Florence

as a gift to the uncle of Cosimo I, Giovanni de' Medici, who was elected Pope with the name of

who petitioned the Vatican to designate a Kongo bishop; Leo X appointed Alfonso's son Enrique

on the 1st December 1520: the Oliphants may have been a gift as a sign of respect to Leo X

by the Kongo state trought the Portoguese because it cannot be excluded that the Congolese

Ambassadors, who likely brought the gift, were part of the large mission led by the Portuguese

Tristão de Cunha to Rome in 1514."

The collection of

Cosimo I de' Medici
---
"La collezione di Cosimo I de' Medici, Granduca di Toscana dal 1569, comprendeva un vasto assortimento

di opere europee ed extra europee che venivano esposte insieme nella sede di Palazzo Vecchio, a

Firenze. Tra queste vi erano i due Olifanti in avorio (inv. Bg. 1879, nn. 2-3) oggi conservati

motivi a rombo e trecce, questi manufatti furono realizzati in Congo durante il XVI secolo.

I due corni vengono citati per la prima volta nell'inventario di Cosimo I nel 1553, e descritti

registrati provenienti dal Congo, ad oggi reperiti in Europa. In quel periodo gli avori e altri

manufatti venivano considerati dalla diplomazia il genere di doni più appropriato per i principi

europei. I due corni probabilmente giunsero a Firenze come omaggio per lo zio di Cosimo I,

buone relazioni con il re del Congo, Alfonso I, il quale fece richiesta al Vaticano di designare

sahariana nel 1518. Enrico ricevette l'ordinazione sacerdotale in Portogallo il primo dicembre

1520. Gli Olifanti potrebbero essere stati offerti in segno di rispetto per Leone X da parte

del governo del Congo, tramite i portoghesi, giacché non si può escludere che gli ambasciatori

congolesi, che probabilmente portarono il regalo, facevano parte della grande missione guidata dal

portoghese Tristão de Cunha giunta a Roma nel 1514".
---
Sahara Desert
---
In 1991, Andrew Ndukuba initiated a vibrant African cultural centre out of nothing on the periphery of Florence, in the area where the airport now stands: Sahara Desert. As early as 1986,

the Afro Image association set itself the goal of exchange with African groups in Tuscany, promoting greater visibility for these communities and above all creating an intercultural place

of encounter.

The remaining concrete foundations on the derelict land were serving as starting material for the spatial concept of Ndukuba, a Nigerian architecture student. The project was supposed to be

the subject of his thesis: Rehabilitation of Abandoned Area in an Urban Suburb. Soon it was possible to set up tents there. The ephemeral construction of Sahara Desert in a zone that was

previously marked by motorcycle racing and prostitution was also a commentary on Florence's existing social and urban structures. The location had the advantage of inscribing alternative

realities into the unoccupied land and overcoming social hierarchisation under the banner of multiculturalism, music and art. Sahara Desert became a catalyst for a wide range of multi-ethnic

initiatives. As well as concerts and disco evenings there was cooperation with community radio stations and travel agencies, programmes for children and seniors, talks on political

-

dreams with a Sahara Desert story. The exhibition will feature archive material from Andrew N. Ndukuba, concert posters and documentary footage.

Nel 1991 Andrew Ndukuba creò dal nulla il Sahara Desert, palpitante centro culturale africano alla periferia di Firenze, in un'area vicina all'odierno aeroporto. Il progetto era stato

luogo d'incontro tra culture.

Alcuni blocchi di calcestruzzo, residui di vecchie fondamenta mai completate, fornirono il punto di partenza per lo spazio concepito da Ndukuba, allora studente di architettura che di

-