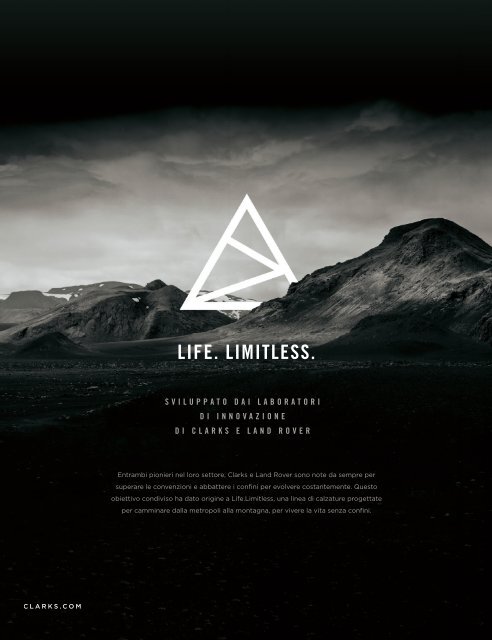 ONELIFE #38 – Italian
Land Rover's Onelife magazine showcases stories from around the world that celebrate inner strength and the drive to go Above and Beyond. New perspectives meet old traditions - these contrasts unite in the latest issue of ONELIFE. Together with Landrover we travelled around the globe. From the high-tech city of Shenzhen in China to the carnival subculture in Brazil to Wuppertal. We got to know one of the oldest space travelers, technology visionaries and watch lovers, just as the new Range Rover Evoque. An exciting journey through the world of yesterday, today and tomorrow.
SVILUPPATO DAI LABORATORI

DI INNOVAZIONE

DI CLARKS E LAND ROVER

Entrambi pionieri nel loro settore, Clarks e Land Rover sono note da sempre per

superare le convenzioni e abbattere i confini per evolvere costantemente. Questo

obiettivo condiviso ha dato origine a Life.Limitless, una linea di calzature progettate

per camminare dalla metropoli alla montagna, per vivere la vita senza confini.

CLARKS.COM
More magazines by this user