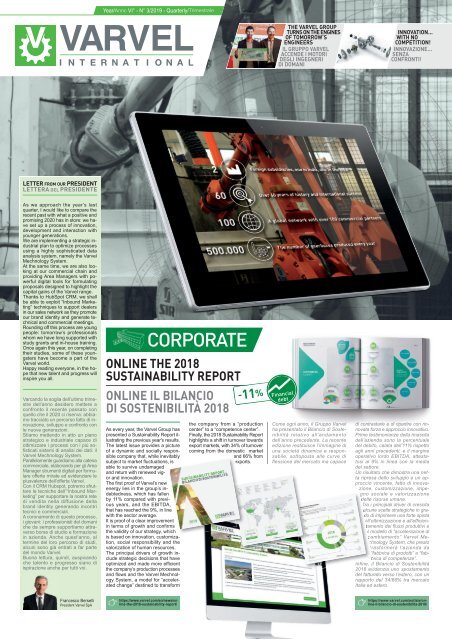 VRV-International(3-19)OKweb
Create successful ePaper yourself
Turn your PDF publications into a flip-book with our unique Google optimized e-Paper software.
Year/

VI° - N° 3/2019 - Quarterly/

THE VARVEL GROUP

TURNS ON THE EN GINES

OF TOMORROW'S

ENGINEERS

IL GRUPPO VARVEL

ACCENDE I MOTORI

DEGLI INGEGNERI

DI DOMANI

INNOVATION...

WITH NO

COMPETITION!

INNOVAZIONE...

SENZA

CONFRONTI!

LETTER FROM OUR PRESIDENT

LETTERA DEL PRESIDENTE

As we approach the year's last

quarter, I would like to compare the

recent past with what a positive and

promising 2020 has in store: we have

set up a process of innovation,

development and interaction with

younger generations.

We are implementing a strategic industrial

plan to optimize processes

using a highly sophisticated data

analysis system, namely the Varvel

Mechnology System.

At the same time, we are also looking

at our commercial chain and

providing Area Managers with powerful

digital tools for formulating

proposals designed to highlight the

capital gains of the Varvel range.

Thanks to HubSpot CRM, we shall

be able to exploit "Inbound Marketing"

techniques to support dealers

in our sales network as they promote

our brand identity and generate technical

and commercial meetings.

Rounding off this process are young

people: tomorrow's professionals

whom we have long supported with

study grants and in-house training.

Once again this year, on completing

their studies, some of these youngsters

have become a part of the

Varvel world.

Happy reading everyone, in the hope

that new talent and progress will

inspire you all.

CORPORATE

ONLINE THE 2018

SUSTAINABILITY REPORT

ONLINE IL BILANCIO

DI SOSTENIBILITÀ 2018

Varcando la soglia dell'ultimo trimestre

dell'anno desidero mettere a

confronto il recente passato con

quello che il 2020 ci riserva: abbiamo

tracciato un percorso fatto di innovazione,

sviluppo e confronto con

le nuove generazioni.

Stiamo mettendo in atto un piano

strategico e industriale capace di

ottimizzare i processi con i più sofisticati

sistemi di analisi dei dati: il

Varvel Mechnology System.

Parallelamente guardiamo alla catena

commerciale, elaborando per gli Area

Manager strumenti digitali per formulare

offerte mirate ed evidenziare le

plusvalenze dell'offerta Varvel.

Con il CRM Hubspot, potremo sfruttare

le tecniche dell'"Inbound Marketing"

per supportare la nostra rete

di vendita nella diffusione della

brand identity generando incontri

tecnici e commerciali.

A coronamento di questo processo,

i giovani: i professionisti del domani

che da sempre supportiamo attraverso

borse di studio e formazione

in azienda. Anche quest'anno, al

termine del loro percorso di studi,

alcuni sono già entrati a far parte

del mondo Varvel.

Buona lettura, quindi, auspicando

che talento e progresso siano di

ispirazione anche per tutti voi.

As every year, the Varvel Group has

presented a Sustainability Report illustrating

the previous year's results.

The latest issue provides a picture

of a dynamic and socially responsible

company that, while inevitably

subject to market fluctuations, is

able to survive undamaged

and return with renewed vigor

and innovation.

The first proof of Varvel's new

energy lies in the group's indebtedness,

which has fallen

by 11% compared with previous

years, and the EBITDA,

that has reached the 9%, in line

with the sector average.

It is proof of a clear improvement

in terms of growth and confirms

the validity of our strategy, which

is based on innovation, customization,

social responsibility and the

valorization of human resources.

The principal drivers of growth include

strategic decisions that have

optimized and made more efficient

the company's production processes

and flows and the Varvel Mechnology

System, a model for "accelerated

change" destined to transform

-11%

the company from a "production

cen ter" to a "competence center".

Finally, the 2018 Sustainability Report

highlights a shift in turnover towards

export markets, with 34% of turnover

coming from the domestic market

and 66% from

exports.

Financial

debt

Come ogni anno, il Gruppo Varvel

ha presentato il Bilancio di Sostenibilità

relativo all'andamento

dell'anno precedente. La recente

edizione restituisce l'immagine di

una società dinamica e responsabile,

sottoposta alle curve di

flessione del mercato ma capace

di contrastarle e di ripartire con rinnovata

forza e approccio innovativo.

Prime testimonianze della rinascita

dell'azienda sono la percentuale

del debito, calata dell'11% rispetto

agli anni precedenti, e il margine

operativo lordo EBITDA, attestatosi

al 9% in linea con la media

del settore.

Un risultato che dimostra una netta

ripresa dello sviluppo e un approccio

vincente, fatto di innovazione,

customizzazione, impegno

sociale e valorizzazione

delle risorse umane.

Tra i principali driver di crescita

alcune scelte strategiche in grado

di imprimere una forte spinta

all'ottimizzazione e all'efficientamento

dei flussi produttivi e

il modello di "accelerazione di

cambiamento" Varvel Mechnology

System, che presto

trasformerà l'azienda da

"fabbrica di prodotti" a "fabbrica

di competenze".

Infine, il Bilancio di Sostenibilità

2018 evidenzia uno spostamento

del fatturato verso l'estero, con un

rapporto del 34/66% tra mercato

Italia ed estero.

Francesco Berselli

President Varvel SpA

https://www.varvel.com/en/news/on

line-the-2018-sustainability-report/

https://www.varvel.com/notizie/online-il-bilancio-di-sostenibilita-2018/
---
THE VARVEL GROUP

TURNS ON THE ENGINES

OF TOMORROW'S ENGINEERS

IL GRUPPO VARVEL

ACCENDE I MOTORI

DEGLI INGEGNERI DI DOMANI

Commitment, competence and excellent

performance are some of the key characteristics

of the Varvel Group. The socially

responsible Varvel Group, which for several

years has been supporting projects promoting

collaboration between centers of

scientific learning and the manufacturing

sector, this year is rewarding Marco Radael-

AWARD

li, the best performing student in the masters

degree course in Racing Motorcycle

Engineering organized by the Bolognabased

Professional Datagest higher education

organization.

"Life is a challenge, and the real race is yet

to begin - commented Mauro Cominoli, the

Varvel Group's General Manager - and Marco

has shown a determination to be first across

the finishing line. We are delighted to help

him continue his race and to support tomorrow's

professionals. Education and training

are essential if we are to produce new talents:

our most important asset in building a better

future. They need our support and encouragement

if we are to develop motivated human

resources able to achieve growth for

our company and for the whole system."

The masters course is delivered by experts

from "Motor Valley". It is aimed at graduates

and undergraduates in mechanical, electronic

and aerospace engineering interested

in acquiring the specialist technical competences

needed to design and construct

racing motorcycles. The course covers dynamics,

electronics, track-side data analysis

and racing team management and offers

over 300 hours of lessons by experts

from motor racing teams and constructors

plus in-company and track-side practical

training sessions.

Impegno, competenza e alti standard prestazionali

sono alcuni dei fattori che da

sempre caratterizzano il Gruppo Varvel.

L'azienda socialmente responsabile, che

da diversi anni sostiene progetti volti a favorire

la collaborazione tra poli scientifici e

tessuto produttivo, quest'anno ha premiato

Marco Radaelli, lo studente che ha saputo

ottenere la pole position nel Master in Ingegneria

della Moto da Corsa organizzato

dall'ente di formazione bolognese Professional

Datagest.

"La vita è una sfida, per cui la vera gara

deve ancora iniziare - ha commentato il

Direttore Generale Mauro Cominoli - e

Marco ha dimostrato di voler tagliare per

primo il traguardo. Noi siamo ben felici di

aiutarlo nella sua corsa e di offrire un'opportunità

a un professionista di domani.

Lo studio e la formazione sono determinanti

per far emergere nuovi talenti: un

bene comune da cui attingere per costruire

il futuro, da preservare e incentivare per

attingere a risorse umane motivate che

permetteranno la crescita delle aziende e

dell'intero sistema."

Il master, con la partecipazione di docenti

provenienti dalla celebre "Motor Valley", si

rivolge a giovani laureati e laureandi in ingegneria

meccanica, elettronica e aerospaziale

interessati ad acquisire le competenze

tecniche specialistiche

per

la progettazione

e la costruzione

di

moto da corsa,

spaziando

dalla dinamica

all'elettronica,

passando

per

l'analisi dati

su pista e la

gestione di

un racing team, con oltre 300 ore di formazione,

tra lezioni in aula tenute dai docenti

provenienti da scuderie e case costruttrici

e momenti formativi nelle aziende

e nei luoghi del motorsport.

https://www.varvel.com/en/news/the-varvelgroup-rewards-passion-of-tomorrows-engineers/

https://www.varvel.com/notizie/il-gruppo-varvelpremia-la-passione-degli-ingegneri-di-domani/

PRODUCT

INNOVATION... WITH NO COMPETITION!

INNOVAZIONE... SENZA CONFRONTI!

8600

To keep pace with the speed and precision

of technological progress today, we need

cutting-edge tools and practical responses

to the needs of end users and our company's

promoters around the world. To this

end, Varvel has designed an on-line

database that provides agents and distributors

with the right turnkey elements to

offer an alternative to the competition and

quickly identify the best technical solutions

to any problem.

Starting with the data contained in the

worm gearbox catalogs, approximately

8600 possible combinations have been analyzed

and compared in terms of dimensions.

Access credentials must be entered

to gain entry to the different levels of analysis.

To start, the main characteristics of

a competitor's gearbox can be entered to

quickly identify the corresponding

Varvel product. A second analysis

provides more detailed product

specifications, focusing on all

gearboxes with those characteristics,

whether offered by

Varvel or by the competition.

The fact that the database is

available in English will provide

Area Managers and distributors

across all five continents with

the same information, promoting

the value and uniqueness of

Varvel's offer, making work easier

and optimizing effort.

In a digital future, the real engine

for change will be marketing 3.0,

which can interpret the needs of

Customers and Businesses and fully

satisfy them.

Per tenere il passo con la velocità e la

precisione richieste dal progresso

tecnologico, occorrono strumenti

all'avanguardia e risposte

concrete alle esigenze

non solo degli utilizzatori

finali, ma anche

dei promotori dell'azienda

nel mondo. In questa direzione

Varvel ha studiato un

database online che fornisca

ad agenti e distributori gli elementi

giusti, chiavi in mano, per offrire un'alternativa

rispetto alla concorrenza e trovare

rapidamente le migliori soluzioni tecniche

per ogni problematica.

Partendo dai dati contenuti all'interno dei

cataloghi dei riduttori a vite senza fine sono

state analizzate circa

8600 possibili

combinazioni secondo

una comparazione dimensionale.

Attraverso l'inserimento delle

credenziali d'accesso, è possibile arrivare

a diversi livelli di approfondimento:

in prima battuta si potranno inserire le caratteristiche

principali del riduttore di un

competitor per individuarne rapidamente

il corrispondente prodotto Varvel. Un secondo

tipo di lettura permetterà di fornire

maggiori specifiche del prodotto per focalizzare

tutti i riduttori con quelle peculiarità,

includendo sia la proposta Varvel che quella

della concorrenza.

La disponibilità

del database

in lingua inglese

doterà tutti gli Area

Manager e i distributori dei

cinque continenti dei medesimi argomenti

per diffondere il valore e l'unicità

dell'offerta made in Varvel, agevolandone

il lavoro e massimizzandone gli sforzi.

Se il futuro parla il linguaggio del digitale,

il vero motore del cambiamento è il marketing

3.0, capace di interpretare i bisogni

di Clienti e Imprese per raggiungerne la

piena soddisfazione.
---
VARVEL NEWS AND HOT TOPICS

NOVITÀ E TREND

IN CRESCITA IN CASA VARVEL

MEETING

On 1 July, at the Amati Design Hotel in Zola

Predosa (BO), a large part of the Varvel

Group sales team came together to discuss

sales trends and performance during the

first quarter of 2019, analyze the official 2018

balance sheet, meet the new resources selected

to boost our Technical Office, and

share approaches and strategies with various

company departments. In the presence

of General Manager Mauro Cominoli, who

was proud to present and illustrate our renewed

passion and the significant reduction

in our debt ratio compared to previous years,

a speech by Sales Director Francesco Pederzoli

highlighted the latest innovation and

development trends at Varvel.

The first step in this process of renewing

and improving services was to create the

Customer Care (CC) and Customer Pro-

duction Planning (CPP) organizations earlier

in the year. Both are now fully functional

and already achieving excellent results.

Marketing Manager Luca Bortolani continued

by presenting the web tool for comparing

our products with those of our competitors,

which we referred to on the previous

page, and the initial results obtained

using the HubSpot Inbound Marketing system

that we will describe later.

Lastly, Technical Director Giampaolo Giacomozzi

introduced the new staff in his department,

confirming our desire to employ

up-to-date and highly competent know-how.

The second part of the day was dedicated

to one-to-one meetings between the sales

team and company representatives, with

the aim of sharing strategic guidelines and

gearing up for continuous and indispensable

operational updates.

Il 1° Luglio, presso l'Amati Design Hotel di

Zola Predosa (BO), una numerosa rappresentanza

della squadra vendite del Gruppo

Varvel si è riunita per condividere gli andamenti

e la situazione commerciale del primo

semestre 2019, analizzare il bilancio ufficiale

del 2018, conoscere le nuove risorse scelte

per consolidare l'Ufficio Tecnico e condividere

approcci e strategie con le varie parti

aziendali. Alla presenza del General Manager

Mauro Cominoli, cui è spettato il compito

di esporre - e di sottolineare con soddisfazione

- il ritrovato slancio dell'azienda

e la decisa riduzione del tasso di indebitamento

rispetto agli anni precedenti, la relazione

del Direttore Commerciale Francesco

Pederzoli ha evidenziato il trend di innovazione

e sviluppo fatto proprio da Varvel.

L'inizio di un processo di rinnovamento e

perfezionamento del servizio che, come prima

emanazione, ha portato alla creazione

ad inizio anno dei due enti Customer Care

(CC) e Customer Production Planning

(CPP): due nuove realtà ormai entrate in

piena operatività con risultati più che positivi.

Il Marketing Manager Luca Bortolani ha continuato

la giornata presentando il tool web

per il confronto con i prodotti della concorrenza,

di cui abbiamo parlato nella pagina

precedente, e i primi risultati ottenuti con il

sistema di Inbound Marketing HubSpot di

cui parleremo in seguito. Il Direttore Tecnico

Giampaolo Giacomozzi ha infine presentato

il nuovo staff del suo reparto, dimostrando

la volontà di avvalersi di un know-how aggiornato

e fortemente competente.

La seconda parte della giornata, è stata

dedicata agli incontri one to one tra il team

commerciale e i referenti aziendali, con l'obiettivo

di condividere le linee strategiche ed

avviarsi verso un continuo - e indispensabile

- aggiornamento operativo.

TOWARDS MARKETING 3.0

WITH HUBSPOT

CON HUBSPOT VERSO

IL MARKETING 3.0

HUBSPOT

What began in December 2018 as a customer

relationship management (CRM) tool,

is now a key part of what is set to be an

Inbound Marketing plan (a combination of

digital strategies for identifying people interested

in our product/service, and making

them first contacts and later customers).

Its name is "HubSpot" and as a first test

area we chose Brittany, home to the fledgling

Bretagne Transmission, the Varvel distributor

for that area.

Its owner - who boasts over ten years' experience

in industrial plant maintenance - launched

the new tool in 2017 and immediately set out

to find the most effective way to consolidate

our brand and export reliability and competence

outside company walls. Starting with

mailing lists dedicated to the poultry/pig farming

sector and a list of users/OEMs in other

sectors, Varvel drafted an email communication

designed to share the Bretagne Transmission

company profile and certify its role

as an authorized distributor of the Group.

This excellent result proves the importance

of a digital strategy that is planned and

modulated to fit recipients' needs. HubSpot

will also give Area Managers and distributors

additional support when finalizing and

optimizing their projects.

I NBOU

ND MARKE T I NG

Quello che a dicembre 2018 era nato come

strumento di gestione dei rapporti con la

clientela (CRM), oggi assume la forma dello

strumento principe per un piano di Inbound

Marketing (insieme di strategie digitali focalizzate

sul farsi trovare da persone interessate

al nostro prodotto/servizio, facendole

diventare prima contatti poi clienti ndr) destinato

ad avere grande diffusione. Il suo

nome è "HubSpot" e come prima area test

abbiamo scelto la Bretagna, dove sorge la

giovane Bretagne Transmission, distributore

Varvel per quell'area.

Il suo proprietario - con oltre dieci anni di esperienza

nel settore della manutenzione degli

impianti industriali - ha avviato la nuova attività

nel 2017 e si è subito messo alla ricerca

del più efficace percorso di consolidamento

del brand, capace di esportarne affidabilità

e competenza oltre le mura dell'azienda. A

partire dalle sue mailing list - dedicate al settore

avicolo/suinicolo e ad un elenco di utilizzatori/OEM

di altri settori - Varvel ha elaborato

una comunicazione a mezzo e-mail

volta a condividere il company

profile della Bretagne Transmission

e a certificarne il

ruolo di distributore autorizzato

del Gruppo.

Un ottimo riscontro,

che testimonia l'importanza

di una

strategia digitale pianificata

e modulata

sui bisogni dei destinatari:

grazie ad Hub-

Spot, gli Area Manager e

i distributori avranno un ulteriore

appoggio per finalizzare e

ottimizzare i propri progetti.
---
INTERNATIONAL

THE GLOBAL DIMENSION OF VARVEL

LA DIMENSIONE GLOBALE

DELL'INDUSTRIA 4.0

Another quarter packed with meetings and

trips to Europe and the US to share developing

projects and operational decisions,

and also important international expositions

in the fields of industrial automation and

packaging. Varvel's journey down the road

of innovation knows no limits.

Un altro trimestre denso di occasioni d'incontro,

con trasferte nel Continente Europeo

e Oltreoceano per condividere progetti di

crescita e decisioni operative, ma anche importanti

kermesse internazionali nell'ambito

dell'automazione industriale e del packaging.

Il viaggio di Varvel lungo la strada dell'innovazione

continua e non conosce confini.

From 19 to 23 May, General Manager Mauro Cominoli and Sales Manager Francesco

Pederzoli flew to the United States - home to one of the two Varvel Group branches, Varvel

USA LLC - to analyze the first four-months of 2019.

From 20 to 24 May, Area Manager Eric

Desmonts organized a trip to Turkey and

the offices of distributor Nova: first to

Istanbul, for some meetings with

manufacturers (OEMs), and then

to Izmir for a meeting with Nova

management.

On 12 June, General Manager

Mauro Cominoli and Sales

Manager Francesco Pederzoli

visited our Turkish dealer, Nova,

to analyze local market performance,

examine the latest and hold important

sales negotiations.

TURKEY

Dal 20 al 24 maggio l'Area Manager Eric De -

smonts ha organizzato una trasferta in Turchia

presso le sedi del distributore Nova: dapprima

a Istanbul, per alcuni incontri congiunti

con i produttori (OEM), e successivamente

a Izmir per prendere parte a

un meeting con la Direzione Nova.

Il 12 giugno il General Manager

Mauro Cominoli e il Sales Manager

Francesco Pederzoli hanno fatto visita

alla sede del dealer turco Nova, per

analizzare insieme gli andamenti del mercato

locale, focalizzarne le tendenze e concentrarsi

su importanti trattative commerciali.

USA

Dal 19 al 23 maggio il General Manager Mauro Cominoli e il Sales Manager Francesco

Pederzoli, sono volati negli Stati Uniti - sede di una delle due filiali del Gruppo Varvel,

Varvel USA LLC - per analizzare la chiusura del primo quadrimestre del 2019.

INDIA

The Varvel Group's branch in Chennai, India, MGM-Varvel

Power Transmission Pvt Ltd, hosted the final meeting for

its 2018/2019 financial statement and final IQ analysis for

the 2019/2020 period. General Manager Mauro Cominoli

and Sales Manager Francesco Pederzoli were both present.

The visit also provided an ideal opportunity to meet

customers and branch Area Managers.

Presso MGM-Varvel Power Transmission

Pvt Ltd, sede indiana del Gruppo Varvel

a Chennai, si è svolta la riunione di

chiusura del bilancio d'esercizio relativo

al 2018/2019 e l'analisi di chiusura IQ

per il periodo 2019/2020, alla presenza

del General Manager Mauro Cominoli e

del Sales Manager Francesco Pederzoli.

La visita ha rappresentato anche l'occasione

ideale per incontrare alcuni clienti,

insieme agli Area Manager della filiale.

The Area Manager Davide Battilori

flew to Canada from 25 June to 2

July. First Vancouver, where he visited

Canadian customers and

where he took part in a meeting

with agents. Then Las Vegas, on

the occasion of EASA Convention

for electronic component and mechanical

engineering sector.

CANADA

Il viaggio intercontinentale

dell'Area

Manager Davide

Battilori ha coniugato

dal 25 giugno al 2

luglio più obiettivi: la

prima tappa a Vancouver,

in visita presso

i clienti canadesi,

è stata presto seguita

dalla riunione dedicata

agli agenti e dal

trasferimento a Las

Vegas, in occasione

della Convention

EASA rivolta al settore

della componentistica

elettronica e

dell'ingegneria meccanica.

Together with our dealer Iow

Trade, Varvel took part in the ITM

Poland international exposition

of industrial automation, held in

Poznan from 4 to 7 July. Area

Ma nager Davide Rigosi

was also in atten dan -

ce at the show.

Supported by Varvel Area Manager Cristian Fiorani, distributor

Motor 789 was among the key exhibitors at the 27 th edition

of ProPack Asia, the leading international event for Processing

& Packaging, which took place in Bangkok from 12 to 15 June.

THAILAND

POLAND

Insieme al dealer

Iow Trade, Varvel

ha preso parte all'esposizione

internazio -

nale dell'automazione in -

dustriale ITM Poland di Poznan,

tenutasi dal 4 al 7 giu gno.

Presente alla manifestazione

anche l'Area Manager Davide

Rigosi.

Supportato dall'Area Manager

di Varvel Cristian Fiorani,

c'era anche il distributore Motor

789 tra gli espositori di

punta della ventisettesima

edizione di ProPack Asia,

l'evento internazionale di rife -

rimento nel campo del Processing

& Packaging tenutosi

dal 12 al 15 giugno a Bangkok.

PUBLISHER EDITORE

Varvel SpA

Via 2 Agosto 1980, 9 - Loc. Crespellano

40053 Valsamoggia (BO) - IT

Tel. +39.051.6721811

Fax +39.051.6721825

varvel@varvel.com

REGISTRATION REGISTRAZIONE

N. 8355 del 31/07/2014

del Tribunale di Bologna

EDITOR DIRETTORE EDITORIALE

Francesco Berselli

EDITOR-IN-CHIEF DIRETTORE RESPONSABILE

Matteo Barboni

NEWSROOM REDAZIONE

Borderline srl

CREATIVE DIRECTOR DIREZIONE CREATIVA

Alan Amicosante

PICTURES FOTOGRAFIE

Archivi Varvel SpA e Borderline srl

LAYOUT IDEAZIONE E IMPAGINAZIONE

Borderline srl

Via Parisio, 16

40137 Bologna

Tel. +39.051.4450204

Fax +39.051.0130019

borderline@borderlineagency.com

PRINTER STAMPA

Grafiche MDM srl - Forlì

COPYRIGHT. ALL RIGHTS RESERVED: any mailed text, picture or image will not be returned, even if not published.

All material that appears on this magazine is subject to copyright and can only be reprinted with the prior written permission

of the publisher. Publisher and writers will not, in any case, be responsible for incidents and/or damages caused to anyone

for any reason derived by the improper use of the information published in the magazine. - COPYRIGHT E DIRITTI

RISERVATI: articoli, fotografie, disegni che pervengono in redazione non vengono restituiti, anche se non pubblicati. È

vietato riprodurre qualsiasi parte della pubblicazione senza autorizzazione scritta preventiva da parte dell'Editore. Editore e

Autori non potranno, in nessun caso, essere responsabili per incidenti e/o danni che a chiunque possano derivare per

qualsivoglia motivo o causa, in dipendenza dell'uso improprio delle informazioni qui contenute.

PERSONAL DATA PROCESSING MANAGER: Varvel SpA - Personal Data processing Office: via 2 Agosto 1980, 9 - Loc. Crespellano

- 40053 Valsamoggia (BO) Italia - varvel@varvel.com. Personal data is processed under the Italian regulation Art. 13

D.Lgs 196/2003. To update or delete personal information and for other rights under Art. 7 D.Lgs 196/2003, please send a letter

to the Personal Data Processing Manager: Varvel SpA. - RESPONSABILE DATI PERSONALI: Varvel SpA - Ufficio trattamento

dati: via 2 Agosto 1980, 9 - Loc. Crespellano - 40053 Valsamoggia (BO) Italia - varvel@varvel.com. Il trattamento dei dati personali

avviene ai sensi dell'art. 13 D.Lgs 196/2003. Per l'aggiornamento, la cancellazione dei dati e altri diritti dell'art. 7 del D.Lgs 196/2003,

è necessario scrivere al titolare dei trattamenti dei dati: Varvel SpA.