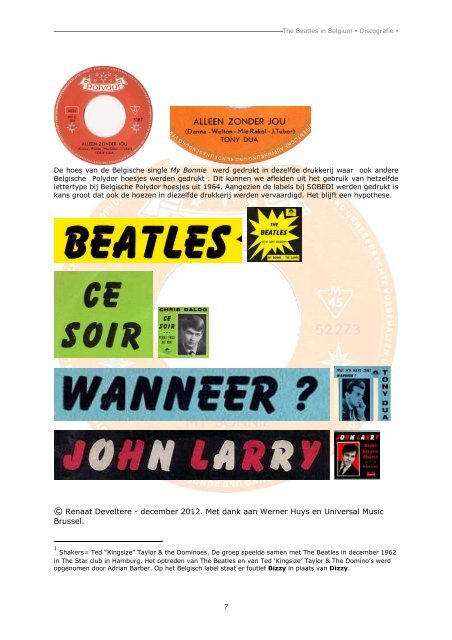 My Bonnie - Beatles in Belgium My Bonnie - Beatles in Belgium
7

The Beatles in Belgium Discografie

De hoes van de Belgische single My Bonnie werd gedrukt in dezelfde drukkerij waar ook andere

Belgische Polydor hoesjes werden gedrukt . Dit kunnen we afleiden uit het gebruik van hetzelfde

lettertype bij Belgische Polydor hoesjes uit 1964. Aangezien de labels bij SOBEDI werden gedrukt is

kans groot dat ook de hoezen in diezelfde drukkerij werden vervaardigd. Het blijft een hypothese.

© Renaat Develtere - december 2012. Met dank aan Werner Huys en Universal Music

Brussel.

1 Shakers= Ted "Kingsize" Taylor & the Dominoes. De groep speelde samen met The Beatles in december 1962

in The Star club in Hamburg. Het optreden van The Beatles en van Ted 'Kingsize' Taylor & The Domino's werd

opgenomen door Adrian Barber. Op het Belgisch label staat er foutief Bizzy in plaats van Dizzy.
More magazines by this user