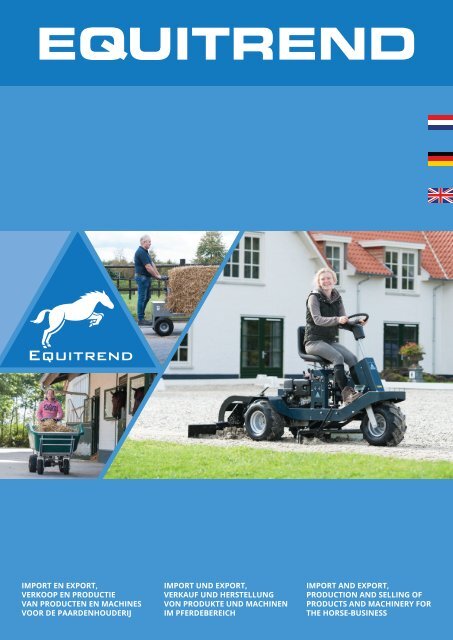 Brochure Equitrend - 2017
Create successful ePaper yourself
Turn your PDF publications into a flip-book with our unique Google optimized e-Paper software.
EQUITREND

IMPORT EN EXPORT,

VERKOOP EN PRODUCTIE

VAN PRODUCTEN EN MACHINES

VOOR DE PAARDENHOUDERIJ

IMPORT UND EXPORT,

VERKAUF UND HERSTELLUNG

VON PRODUKTE UND MACHINEN

IM PFERDEBEREICH

IMPORT AND EXPORT,

PRODUCTION AND SELLING OF

PRODUCTS AND MACHINERY FOR

THE HORSE-BUSINESS
---
Equilizer

Geachte paardenhouder,

Een goed onderhouden manegebodem geeft veel (hand)werk.

Met onze Equilizer wordt het onderhoud daarvan een stuk eenvoudiger.

Door zijn geringe afmetingen kan hij al door een doorgang

van 1.25m en is het apparaat zeer overzichtelijk. Daardoor

ook voor trainingsmolens/ longeercirkels geschikt.

Lieber Pferdesportfreund/in,

Ein gut gepflegter Reitboden ist jeden Tag mit viel (Hand) Arbeit

verbunden. Der hydraulische Equilizer hilft Ihnen diese Arbeit

leichter und schneller zu erledigen. Wendig - übersichtlich - einfach

zu Bedienen das heißt: Der Equilizer ist vielseitig einsetzbar

für Halle/Außenplatz, Longierzirkel und Führanlagen. Er arbeitet

hervorragend zwischen Hindernissen, besonders bodenschonend

durch sein geringes Eigen-gewicht. Besonders beliebt ist der

Equilizer bei den Reiterinnen, lästiges Anhängen von schweren

Werkzeugen an den Traktor entfällt.

Dear Horsefriends,

A well cared arena gives a lot of work. With the Equilizer the care

of the riding surface is a lot easier. Because of the small measures

it is very easy to pass through narrow gates from indoor arenas

or horse walkers. Due to its low empty weight it exerts little

ground pressure, so protecting the surface.

2
---
Details | Daten | Dates

Motor / Engine

13HP Honda E-start

Brandstof / Benzin / Fuel Euro 95

Werktuigen / Werkzeuge / Tools Hydraulisch / Hydraulic

Aandrijving / Antrieb / Drive Tecumseh

Versnellingen / Gänge / Gear 5 Vooruit / Vorwarts /

Forward

1 Achteruit / Rückwarts /

Reverse

Werkdiepte / Arbeitstiefe /

Working Depth

7-8 cm

Max. Snelheid /

Geschwindigkeit / Speed

10Km/h

Hefinrichting / Hebevorrichtung /

Lifting Tackle

Hydraulisch / Hydraulic

Afm. / Abm. / Measures

240x125x128cm ( LxWxH)

Gewicht / Weight

300 KG

Standaard uitvoering / Standard Ausrüstung / Standard version

● Hoefslagschuiver - Hark - Egaliseerder / Schieber - Harke -

Glätter / Side cleaner - Rake - Smoother

● Hydraulische bediening van de werktuigen / Hydraulische

Bedienung der Werkzeuge / Hydraulic Lifting of the

Workingparts

● Lichte besturing / Leichtgängerische Lenkung / Easy Steering

● Voorwiel in vork-ophanging / Forderrad in Gabelaufhängung

Frontwheel in Forkhanging

● Velgen met moerbevestiging / Felge mit Flanschbefestigung

Wheel with sludgesetting

● Snelkoppeling voor Hark - Sleep / Wechselwerkzeug für

Harke - Schleppe / Quickrelease for Rake – Harrow

Werktuig | Werkteuge | Tools

1.

3.

5.

2.

4.

6.

1. Hark met dunne pinnen

Harke mit Federzinken

Rake with smooth prings

3. Hoefslagschuiver

Bandenräumer

Side cleaner

5. Sleep

Schleppe

Harrow

Voor bodems met toevoegingen /

Für Bodem mit Späne Geopad /

For surfaces with supplementary

substances

2. Hark met gebogen pinnen

Harke mit gebogenen Zinken

Rake with curved prings

4. Egaliseermat

Glättermatte

Smoothing mat

6. Hark en egaliseerder

Harke und Glätter

Rake and smoother

3
---
Elektro-transport

Elektrisch aangedreven voerwagen

Futterwagen mit Akku-antrieb

Feedtrolley with electric drive

De Elektro-Voerwagen is de oplossing . Door de mogelijkheid om

mee te rijden zijn ook grotere afstanden of heuvelachtig terrein

geen probleem. De verdeling in 3 compartimenten maakt het

mogelijk meerdere soorten voer mee te nemen. Uitgevoerd met

deksel.

Der Elektro-Futterwagen ist die Lösung. Da mann mitfahren kann

sind längere Strecken oder hügeligem Gelände kein Problem. Die

Aufteilung mit 2 Trennwände macht es möglich um mehrere

arten von Pferdefutter mit zu nehmen. Ausgestattet mit Deckel.

The Electric feedtrolley is the solution. With the ability to stand up,

also larger distances or hilly terrain are no problem. The division

into 3 compartments allows you to take multiple types of Horsefood.

Equipped with lid.

Elektrisch aangedreven strowagen

Strohwagen mit Akku-antrieb

Trolley with electric drive

Met deze elektro-strowagen vervoert u moeiteloos grote balen

stro of hooi.

Mit dieser Elektro-Strohwagen transportieren Sie einfach grosse

Quaderballen.

With this electric-trolley it's very easy to transport big bales.

● Efficient / Effizient

● Geruisloos / Gerauschlos / Noiseless

● Makkelijke bediening / Einfache Bedienung / Easy usage

● Gebruiksduur 8 uur / Nutzungsdauer 8 Stunden /

To use for 8 hours

● Laadvermogen / Tragkraft / Max.Load 600KG

● Laadvloer / Ladefläche / Loading Floor

250x100cm / 200x100cm

● Aandrijving / Getriebe / Drive 24V – 900W

Elektrisch aangedreven kruiwagen

Schubkarre mit Akku-antrieb

Wheelbarrow with electric drive

Uitmesten is niet zo vaak het probleem, maar de volgeladen

kruiwagen dan nog naar de mesthoop brengen. Met de

elektrokruiwagen kost het u geen kracht meer. Door dubbel

scharnierende kiepbak zeer eenvoudig te kiepen.

Ausmisten ist oft nicht das Problem, sondern die geladene Schubkarre

dann auf den Misthaufen zu bringen! Mit die Elektro-Schubkarre

kostet das keine Kraft. Durch doppelt drehend Scharnier ist

die Wanne sehr leicht zu kippen.

Cleaning the stables is not often the problem, but to bring the

loaded wheelbarrow to the dunghill. With the electro-wheelbarrow

it will cost you no strength. By double hinged tipper very easy

to tip over.

4
---
Elektro-transport

Multi-Mover

Multi-Mover

Met de Multi-Mover kunt U uw aanhangwagen en caravans

eenvoudig verplaatsen en manoeuvreren over vlak terrein.

Dankzij de speciale banden en de speciale aandrijving is de multi

mover bruikbaar op zowel harde als zachte ondergrond. U kunt

de mover gebruiken op de manege, de camping, de caravanshowroom,

de werkvloer en op vele andere plaatsen.

Multi-Mover

Mit dem Multi-Mover können Sie Anhänger, Trolleys oder andere

Fahrzeuge mit einer Kupplung einfach über flaches Terrain

bewegen und manövrieren. Dank der speziellen Reifen und

des speziellen Antriebs ist der Multi-Mover sowohl auf hartem

als auch auf weichem Untergrund einsetzbar. Sie können den

Schlepper benutzen auf dem Reiterhof, Lebensmittelraum, in

dem Stall, am Arbeitsplatz und an vielen anderen Orten.

Multi-Mover

With the Multi-Mover you can easily move and manoeuvre your

trailer or other vehicle across flat terrain. Due to the special tyres

and the special drive mechanism, the multi-mover is usable on

both hard and soft roads. You could use the mover at the stables,

on the campsite, the caravan showroom, the work place and

many other places.

Model M

tot/bis/up to

1800KG

Model L

tot/bis/up to

2500KG

5
---
Kruiwagens | Schubkarre | Wheelbarrows

Bak / Wanne / Tray

Frame

Rohrgestell

Frame

Wiel

Rad

Wheel

Band / Reifen / Tyre

Polyethylene

Gegalvaniseerd

Verzinkt

Galvanised

Metaal / Kogellagers

Stahl / Kugellager

Metall / Ballbearing

4-ply w

K600L-2W

lxbxh 220 x 110 x 99

K430L-2W

lxbxh 180 x 101 x 87

Mestcontainer | Mistkulli | Manure container

Afm. / Abm / Size

Inhoud / Volume

Materiaal/Material

232 x 135 x 160 cm

2.400Ltr

RVS / Edelstahl / Stainless steel

Voerkar | Futterwagen | Feedtrolley

● 350 Liter

● 2 Wielen / Räder / Wheels 4-ply

● Metaal / Stahl / Metall

● 1 Zwenkwiel / Lenkrolle / Swiveling wheel

● 3 Tussenschotten / Trennwande / Seperations

● 2 Deksels / Deckel / Lids

● RAL 6005

Optie / Zubehör / Accessoire

Supplementenbakje / Variobox

6
---
Transport

Strowagen

Strohwagen

Trolley

● 250 X 120 CM

● Laadvermogen / Tragkraft / Max. Load 1200KG

● Banden / Reifen / Tyres 4-ply

Hinderniswagen

Jumps-trolley

● 350 x 150 CM

● Laadvermogen / Tragkraft / Max. Load 1500KG

● Brede wielen / Breite Reifen / Big Wheels

Balkenwagen

Stangen-wagen

Post-trolley

● 250 X 120 CM

● Laadvermogen / Tragkraft / Max. Load 1200KG

● 120 Balken / Stangen / Posts

● Brede wielen / Breite Reifen / Big Wheels

Hinderniswagen met Huif

Hinderniswagen mit Haube

Jumpstrolley with Hood

● 350 x 150 CM

● Laadvermogen / Tragkraft / Max.Load 1500KG

● 120 Balken / Stangen / Posts

7
---
Hooistomers | Heubedampfer | Haysteamers

Haygain's unique

manifold design

Haygain hooistomers

Betere gezondheid door beter hooi. Hooistomen met HAYGAIN

is de meest effectieve oplossing voor paarden met "Hooiallergie"

- als gevolg van allergische reactie op stof, schimmelsporen,

bacteriën of mijten. Onbetwist de beste hooistomer voor stofvrij

en lekker hooi om de gezondheid, het welzijn en de prestaties

van paarden te verbeteren.

Haygain Heubedampfer

Bessere Gesundheit durch besseres Heu. Heubedampfung mit

Haygain ist die effektivste Lösung für Pferde mit "Heuallergie" -

egal, ob die allergische Reaktion auf Staub, Pilzsporen, Bakterien

oder Milben zurückzuführen ist. Einzigartier Heubedampfer

für staubfreies und schmackhaftes Heu zur Verbesserung der

Gesundheit, des Wohlbefindens und der Leistungsfähigkeit von

Pferden.

Haygain haysteamers

Haygain's unique distribution manifold system distributes hightemperature

steam evenly through the hay, thus eliminating

harmful mould, fungal spores, bacteria and dust mites. The

benefits are many: fragrant, appetising steamed hay which is

ideal for fussy eaters and horses recovering from surgery; less

wastage in the stable; improved respiratory health in all horses;

helps to "stop the cough"; minimises vet's bills.

8
---
Hooistomers | Heubedampfer | Haysteamers

HG 2000

● Afmeting1435mm x 865mm x 730mm

● Geschikt voor een complete hooibaal

● Stoomyclus ca. 50-60 minuten

● HG-PB stoomgenerator 2900W

● Abmessung 1435mm x 865mm x 730mm

● Kapazität von über 45 Kilo Heu

● Die Dauer einer Heubedampfung ca 50-60min

● Haygain 2,9KW Boiler 230V

● Size 1435mm x 865mm x 730mm

● Holds up to 35-40 kg of hay or a fully strung bale

● Steaming cycle approximately 60 minutes

● Haygain 2.9kW steam generator 230V

HG 600

● Afmeting 720mm D x 690mm H x 700mm

● Geschikt voor een halve hooibaal

● Stoomyclus ca. 50 minuten

● HG-PB stoomgenerator 2900 KW

● Abmessung 720mm D x 690mm H x 700mm

● Kapazität von über 15 Kilo Heu

● Dampfzyklus ca 60min

● Haygain 2,9KW Boiler 230V

● Size 720mm D x 690mm H x 700mm

● Holds up to 15kg of hay or half a bale

● Steaming cycle approximately 60 minutes

● Haygain 2.9kW steam generator 230V

HG ONE+

● Afmeting 600mm diameter x 700mm

● Geschikt voor gevuld hooinet

● Stoomyclus ca. 60 minuten

● HG-PB stoomgenerator 1500 W

● Abmessung 600mm diameter x 700mm

● Fassungsvermögen: ca. 7kg Heu

● Dampfzyklus ca. 60min

● Haygain 1,5 KW Boiler 230V

● Size 600mm diameter x 700mm

● Holds up to 7kg of hay

● Steaming cycle approximately 60 minutes

● Haygain 1.5kW steam generator 230V

HG GO

HG ONE+

● Afmeting 600mm diameter x 700mm

● Geschikt voor gevuld hooinet

● Stoomyclus ca. 60 minuten

● HG-PB stoomgenerator 1500 W

● Abmessung 600mm diameter x 700mm

● Fassungsvermögen: ca. 7kg Heu

● Dampfzyklus ca. 60 Minuten

● Haygain 1,5 KW Boiler 230V

● Size 600mm diameter x 700mm

● Holds up to 7kg of hay

● Steaming cycle approximately 60 minutes

● Haygain 1.5kW steam generator 230V

9
---
Hooiruif | Heuraufe | Hayrack

Hooiruif

● Geschikt voor inbouw in de boxwand

● Vulbaar vanaf boven of vanuit de stalgang

● Op maat gemaakt

Heuraufe

● Geeignet für Einbau in die Boxenwand

● Befüllung von oben oder die Stallgasse

● Fertigung nach Kundenwünsch

Hayrack

● Well suited for installation in the stablefront

● Refillable from the top or corridor

● Custommade

Hooizak | Heusack | Haybag

Hooizak

● Model S - 85 Ltr

● Model XL - 190 Ltr

Heusack

● Model S - 85 Ltr

● Model XL - 190 Ltr

Haybag

● Model S - 85 Ltr

● Model XL - 190 Ltr

10
---
3 in 1 Voerbak | Futtertrogge | Feeder

3 in 1 Voerbak

De voederbak bestaat uit 3 compartimenten, 2 voor krachtvoer,

zoutblok of supplementen en 1 groot compartiment voor

ongeveer 15KG hooi. Door op deze manier te voederen bespaart

u gemiddeld 20% hooi. De voederbak is vervaardigd uit food

approved materiaal. Afgeronde hoeken en geen scherpe randen.

3 in 1 Futtertrogge

Der Futtertrog hat 3 Kammern, 2 für Kraftfutter, Salzblock oder

Nahrungsergänzungsmittel und 1 großes Fach für ca. 15KG Heu.

Durch Fütterung auf dieser Weise sparen Sie sich im Durchschnitt

20% Heu. Der Futtertrog ist aus food approved Material.

Abgerundete Ecken und keine scharfen Kanten.

3 in 1 Feeder

The feeder has 3 compartments, 2 for grain, saltcube or supplements

and 1 big compartment for about 15KG hay. By feeding

this way you will save up till 20% of hay. The feeder is made of

food approved material. Rounded corners and no sharp edges.

Hayshelter

De Hayshelter

de nieuwe manier van voeren

De tijd van hooiverspilling is voorbij. Met de Hayshelter bespaart

u tijd, geld en hooi. In deze moderne hooiruif eten paarden met

hun hoofd binnen. Het ruwvoer dat normaal verloren gaat als u

hooi los in de paddock / weiland voert is verleden tijd.

Der Hayshelter

die neue Art der Heufütterung

Die Zeiten teurer Heuverschwendung sind ab jetzt endgültig

vorbei. Mit dem Hayshelter, einer praktischen überdachten

Heuraufe, sparen Sie Zeit, Geld und vor allem Heu ein. In dieser

ultramodernen Heuraufe fressen die Pferde ihr Heu innerhalb

der Raufe. Das Heu, das bisher häufig verschwendet wird, wie es

bei der losen Fütterung im Paddock oder in der Weide zertreten

oder verweht wird, gehört hiermit endgültig der Vergangenheit

an.

The Hayshelter

the new way of feeding

No more wasting hay. The Hayshelter saves time, money and hay.

This modern hay feeder offers horses a way to eat with their

heads inside. Wasting hay when feeding your horses on the

paddock / pasture is a thing of the past.

Afm/Abm/Measures: 210 x 210 x 200

11
---
Solariums | Solarien

Mercurr

Mercurr

Compacte verzorg combinatie

De MeRCuRR is vervaardigd uit hittebestendig schokabsorberend

kunststof en is zeer geschikt voor situaties waar minder ruimte

beschikbaar is. Door zijn compacte vorm is het solarium in

combinatie met was- en poetsplaats de ideale verzorgplek voor

uw paard.

Kompakte Versorgungskombination

Der MeRCuRR ist aus einem hitzebeständigen, stoßbeständigem

Kunststoff hergestellt und besonders für Situationen geeignet, in

denen weniger Platz verfügbar ist. Durch seine kompakte Form

ergänzt dieses Solarium den Wasch- und Putzplatz zum idealen

Versorgungsplatz für Ihr Pferd

MaXuSS Thera

Compact care combination

The MeRCuRR is made of heat resistant shock absorbing plastic

and is very suitable for smaller areas. Because of its compact

shape the solarium is in combination with a washing place the

ideal place to take care of your horse.

Lampen / Lamps

Ventilatoren / Air Blowers

Aansluitwaarde / Anschlusswert /

Power Connection

Gewicht / Weight

Afm. / Abm / Size

22 x 150W

4 x

230V 50Hz 16A 3500W

25 kg

180 x 118 x 50cm

MaXuSS Standard

MaXuSS Standard

Ronduit het hoogste rendement

De mooie afgewerkte body vervaardigd uit twee kleuren

hittebestendige kunststof bestaat uit 3 delen. Het solarium volgt

de lijnen van het paard zodat elke spiergroep op de juiste manier

wordt aangeschenen door de IR lampen. De voorste en achterste

delen kunnen separaat van elkaar bewegen zodat U altijd de

juiste instelling voor uw paard kunt maken.

Bei weitem höchste Wärmeleistung

Der elegant verarbeitete, aus hitzebeständigem Kunststoff in

zwei Farben her-gestellte Body besteht aus drei Teilen. Das

Solarium folgt exakt der Körperlinie des Pferdes, so dass jede

Muskelgruppe optimal von den IR-Lampen besonnt wird. Die

vordere und die hintere Einheit können jeweils einzeln bewegt

werden, so dass Sie immer genau die richtige Einstellung

für Ihr Pferd wählen können.

MaXuSS Pro Edition

The highest output

The nice finished body is manufactured of a two tone heat

resistance impact-proof plastic and is made in 3 pieces. The

solarium follows the horses back lines and provides the perfect

warmth on the horses muscles because of the right angles

where the lamps are shining with. The front and rear part can be

moved up and down separately so you always can find the right

adjustment for your horse.

Lampen / Lamps

Ventilatoren / Air Blowers

Aansluitwaarde / Anschlusswert /

Power Connection

Gewicht / Weight

Afm. / Abm / Size

10 x 100W 12 x 150W 2 x

250W

6 x

230V 50Hz 16A 3500W

40 kg

240 x 130 x 80cm

12
---
Solariums | Solarien

MaXuSS Zephyr

MaXuSS Zephyr

De Zephyr heeft warme lucht blazers om uw paard snel te drogen

na een wasbeurt. De blazers zijn traploos in te stellen. Hierdoor

kunt U snel en simpel de gewenste temperatuur en luchtsnelheid

voor uw paard instellen.

Das Solarium MaXuSS Zephyr hat an beiden Seiten ein

Warmluftgebläse um Ihr Pferd z.B. nach dem waschen

schnell trocknen zu können. Das Gebläse lässt sich in 2

Luftgeschwindigkeiten und 2 Temperaturstände einstellen

hierdurch können Sie schnell und einfach die gewünschte

Temperatur und Luftgeschwindigkeit für Ihr Pferd einstellen.

MaXuSS W400

The Zephyr has two powerful warm air fans on both sides which

can dry your horse very quickly after washing. The fans can be set

to two different air speed settings and 2 temperatures. The front

and back module of the zephyr can be adjusted separately.

Solarium toebehoren | Zubehör | Accessories

Solarium controlbox

Basic

Solarium Steuerung

Basis

Muntautomaat

Münzautomat

Coin device

Solarium controlbox

timer

Solarium Steuerung

Schaltuhr

Electrische Lift

Elektrischer Hebelift

Electrical Lift

Solarium controlbox

Standard

Solarium Steuerung

Standard

Hoekbeugel

Angled support

bracked

Eckbügel

13
---
Veegmachine | Kehrmachine | Mechanical sweeper

GS 0900

Breedte / Breite / Width

Motor / Engine

Aandrijving borstel /

Bürstenantrieb / Brushdrive

90 cm

Elektrisch / Electric 12V

V-snaar / Keilriem / V-belt

Incl. acculader / Ladegerät / Batterycharger

Link-Rechts draaiend / Links-Rechts drehend / Left-Right turning

Hoefslag-kantploeg | Hufschlag-Boy | Hoofpath-Plough

14
---
Loopband | Laufband | Treadmill

Aquatrainer

Meer info / Mehr info / More info: www.equitrend.nl

15
---
Purple Packer

Voordelen

● Geen handwerk

● Geen mest in stalgang

● Weinig onderhoud

● Tijdwinst

Vorteile

● Keine Handarbeit

● Kein mist in Stallgasse

● Braucht wenig Wartung

● Zeitgewinn

Advantages

● No handwork

● No manure in corridor

● Needs less maintenance

● Saving of time

UITMESTEN ZONDER ENIG HANDWERK

De Purple Packer is een aanbouwdeel voor de mini-loader

of heftruck om de stallen uit te mesten.

Eenvoudig en snel aan- en af te koppelen waardoor de machine

ook inzetbaar is voor andere doeleinden.

Een stal van ca 12m 2 schoon in één handeling.

Geschikt voor staldeur vanaf 110cm – stalgang 240cm.

AUSMISTEN OHNE HANDARBEIT

Der Purple Packer ist ein anbauteil für Hoflader

oder Gabelstapler zum ausmisten der Stall.

Einfach und schnell an- und ab bauen wodurch die

Maschine mehrfach zu benutzen ist.

Eine Box von ca 12m 2 in einem Gang complett leher.

Geeignet ab Türbreite 110cm – Stallgasse 240cm.

MUCKING OUT THE EASY WAY

The Purple Packer is a part for mini-loader

or forklift to clean the stable.

Easy and fast to attach and detach so usable for other purposes.

A stable from ca 12m 2 complete empty in one operation.

Suitable at doorway of 110cm – stable corridor of 240cm

16
---
Purple Spreader

OPSTROOIEN MET HET GROOTSTE GEMAK

De Purple Spreader is een aanbouwdeel voor mini-loader

of heftruck om de stallen op te strooien.

Geeft een heerlijk vol strobed.

Geschikt voor grote pakken stro en machines met hefvermogen vanaf 700KG

Optie: lopende band

Afmeting: 160x100x200cm

Voordelen

● Stro blijft lang

● Weinig stof

● Eenvoudige bediening

● Minder arbeid

EINSTREUEN GANZ EINFACH

Der Purple Spreader ist ein Anbauteil für Hoflader

oder Gabelstapler zum Einstreuen von Stroh.

Macht ein herliches luftiges Strohbett.

Geeignet für Quaderballen und Maschinen ab 700KG Traglast

Option: Laufband

Abmessung: 160x100x200cm

Vorteile

● Stroh bleibt lang

● Wenig Staub

● Einfache Bedienung

● Weniger Arbeit

SPREADING STRAW THE EASY WAY

The Purple Spreader is a part for mini-loader

or forklift to divide the straw.

It produces a lovely spreaded bedding

Suitable for big rectangular bales and machines with lifting capacity from 700KG

Option: Flat-belt conveyor

Size: 160x100x200cm

Advantages

● Long straw

● Less dust

● Easy handling

● Less work

17
---
Saddlechopper

Functioneel, Design, Kwaliteit

● De SaddleChopper is in enkele seconden opgebouwd of

ingeklapt.

● Heeft geen losse aanbouwdelen, waardoor niets verloren gaat.

● De sluitingen zijn robuust.

● Zeer stabiel door brede as.

● Door de vorm van de zadeldrager blijven de zadels ook op

oneven paden goed liggen.

● Voorzien van ruime opslag onderin.

● Heeft een hoofdstelhouder.

● Door de luchtbanden ook op oneven paden goed te rijden.

● Passend voor elk soort zadel.

● Veelzijdig inzetbaar (bv voor voerzakken etc ...).

● Leverbaar voor 1 of 2 zadels in verschillende kleuren

Funktion, Design, höchste Qualität

● Der SaddleChopper ist innerhalb von Sekunden

zusammengeklappt oder aufgestellt.

● Es gibt keine losen Anbauteile, nichts kann verloren werden.

● Die Verschlüsse sind robust und ohne Verschleissteile.

● Durch eine breite Achse und Hartgummistopper ist er äußerst

standfest.

● Das Abrutschen des Sattels auf holprigen Wegen wird durch

den speziell geformten Sattelhalter verhindert.

● Er hat einen geräumigen, gelochten Zubehörkorb, der leicht zu

säubern ist.

● Er verfügt über einen Trensenhalter.

● Durch die stabile Luftbereifung mit Rollenlagerung ist er auch

beladen und auf Schotterwegen komfortabel und gut

ausbalanciert zu fahren.

● Er ist passend für alle Sättel.

● Er ist vielseitig einsetzbar (u.a. zum Transport von

Getränkekisten, Futtersäcken ...).

● Lieferbar für 1 oder 2 Sattel in verschiedene Farben

Function, design, top quality

● The SaddleChopper can be folded away or set up in seconds.

● There are no loose attachments, nothing can be lost.

● The fastenings are robust and without wearing parts.

● A wide axle and hard rubber stopper make it extremely stable.

● The specially shaped saddle holder prevents the saddle from

slipping off along bumpy paths.

● It has a spacious, perforated accessories basket which is easy

to clean.

● It has a snaffle holder.

● The stable pneumatic tyres with roller bearings ensure

convenient and well-balanced handling even when it is loaded

and on gravel paths.

● It is suitable for all saddles.

● It can be used for diverse tasks (including transporting crates

of drinks, sacks of feed...).

● For 1 or 2 saddles in various colours

18
---
Zadelwagen | Saddle rack cart | Sattelwagen

Zadelwagen, zadelbok of tuigwagens

De multifunctionele zadelwagen. Deze verrijdbare zadelwagen

kunt u het beste zien als de gereedschapskist voor ruiter en

amazone. Daarbij beschikt het over een praktisch en erg handig

gadget: het bovenste deel is draaibaar, zodat u ook de onderkant

van het zadel kunt poetsen en onderhouden. Het is nu wel zeer

gemakkelijk uw uitrusting te verzorgen en te verplaatsen.

Sattelwagen, das funktionellste

Werkzeug für Grooming

Der multifunktionelle Sattelwagen. Dieser fahrbare Sattelwagen

ist sozusagen der Werkzeugkasten für Reiter und Amazone.

Außerdem verfügt er über eine praktische und sehr raffinierte

Neuigkeit: Der obere Teil ist drehbar, sodass Sie auch die

Unterseite des Sattels säubern und pflegen können. Mit Hilfe

dieses Sattelwagens ist es sehr einfach, Ihre Ausrüstung zu

pflegen und zu transportieren.

Saddle rack cart, toolbox for grooming

The multifunctional saddle rack cart. It's a giant toolbox on wheels

for the rider. It features a highly practical and extremely useful

gadget — the upper component swivels to let you polish and

perform upkeep on your saddles. It makes it even easier to move

and care for your equipment.

19
---
Droogsysteem | Trocknungssystem | Drying system

Paardendeken droogsysteem

De dekens kunnen gemakkelijk bevestigd worden op

ons gepatenteerde droogrek. Zijn perfecte vorm en de

verwarmingscapaciteit droogt uw dekens binnen een paar uur.

Door het droogrek rechtop te plaatsen, kunt u items toevoegen

als dekjes, pees en kogelbeschermers en zijn ze droog binnen

enkele minuten. Uw paardendekens zijn perfect droog en klaar

voor gebruik.

● Stroomverbruik: 600 W per rek

● Verkrijgbaar met 1 of 4 rekken

● Schakelt automatisch uit na 3 uur

Pferdedecken Trocknungssystem

Die Decken kann mann einfach über unsere patentierten

Trockner sicheren. Seiner perfekten Form und Heizleistung

trocknet Ihre Decken innerhalb weniger Stunden. Indem Sie

den Deckenhalter in einer aufrechten Position stellen, können

Sie Einzelteile wie Satteldecken, Gamaschen und Streichkappen

hinzuzufügen und sie trocken innerhalb von Minuten. Ihre

Pferdedecken sind völlig trocken und einsatzbereit.

● Stromverbrauch 600W pro Deckenhalter

● Mit 1 oder 4 Deckenhalter

● Automatische Abschaltung nach 3 Stunden

Horse rug drying system

The rugs are easily draped over and secured onto our patented

rack. Its perfect shape and heating capacity dries your rugs within

a few hours. By putting the rug rack in an upright position, you

can add items like saddle pads, tendon and fetlock boots and

have them dry within minutes. Your rugs are perfectly dry and

ready for use.

● Power consumption 600W pro Rug rack

● With 1 or 4 rug racks

● Automatically powers off after 3 hours

20
---
Mestzuiger | Abfall-Sauger | Paddock cleaner

Equimunda - paardenmestzuiger

De ideale machine om uw mest uit de wei te verwijderen zonder

je handen en schoenen vuil te maken. Dankzij de Bosch Rexroth

hydraulisch aangedreven rotor is deze zelfs stiller dan de motor

van uw tractor of kniklader. De aandrijving van hydrauliek kan

door middel van een aftakas of hydraulisch rechtstreeks vanaf

de tractor of kniklader mits deze voorzien is van een olietank met

voldoende inhoud.

Equimunda - Pferdeäpfel- & Abfall-Sauger

Die ideale Maschine zum Mist von der Weide zu entfernen, ohne

sich die Hände und Schuhe schmutzig zu machen. Dank der

Bosch Rexroth hydraulisch angetriebene Rotor ist es sogar leiser

als der Motor Ihres Traktor oder Radlader. Der Stellantrieb der

Hydraulik kann mittels einer Zapf oder hydraulisch direkt von der

Zugmaschine oder Radlader bereitgestellt werden, wenn sie mit

einem Öltank mit geeigneter Kapazität ausgerustet ist.

Equimunda - Paddock Cleaner

The ideal machine to remove your manure from the pasture

without getting your hands and shoes dirty. Thanks to the Bosch

Rexroth hydraulic driven rotor it is even quieter than the engine

of your tractor or wheel loader. The actuator of hydraulics can be

done by means of a power take-off or hydraulically directly from

the tractor or wheel loader iff its provided with an oil tank with

suitable capacity.

21
---
Rijhalwand | Reithallenbande | Indoor-Arenawall

Rijhalwand Exclusief

De exclusieve vorm van de panelen geeft de rijhal een elegant

aanzicht. Montage: de bevestiging van de panelen is zeer

eenvoudig.

2 modellen:

Model 1 - met 2 bogen ( paneel 125 x 100 cm)

Model 2 - met 1 boog ( paneel 125 x 100 cm)

Reithallenbande Exclusiv

Die exklusive Form verleiht der Reithalle ein elegantes

Gesamtbild. Befestigung: Die Montage kann relativ einfach in

Eigenleistung erstellt werden.

2 Modellen:

Modell 1 - mit 2 Kurven (element 125 x 100 cm)

Modell 2 - mit 1 Kurve (element 125 x 100 cm)

Indoor-Arenawall Exclusive

The functional and stylisch design from the panels adds

elegance to the facility. Adaptable: the panels are very easy to

install.

2 types:

Type 1 - with 2 curves (panel 125 x 100 cm)

Type 2 - with 1 curve (panel 125 x 100 cm)

22
---
Safety Wall

Rijhalwand Safety Wall

Het is een uit kunststof vervaardigde wand, veiligheid en

een lange levensduur zijn de hoofdkenmerken van dit zeer

innovatieve product. Plaatsing van een Safety Wall maakt het

rijden in de binnenbak veiliger en zorgt voor minder onderhoud.

In 2009 was de Safety Wall genomineerd voor de equitana

innovatie award.

● Watervast

● Gladde oppervlakken

● Afrondingen

● Slagvast

● Schokabsorberend

● 5 jaar garantie (carry in basis)

● Geen apart frame of regelwerk nodig

● Eenvoudige montage door veer en groef

● Volledig recyclebaar

● Hoge chemische bestendigheid

● Leverbaar in elke RAL kleur

● Afmeting: h x b x d 1.41m x 0.93m x 0.26m

Reithallenbande Safety Wall

Es ist eine aus Kunststoff hergestellte Bande. Sicherheit und

Lebensdauer sind die Hauptmerkmale von diesem sehr

innovativem Produkt. Die Montage einer Safety Wall macht das

reiten in einer Reithalle sicherer und minimiert die Wartung.

2009 war die Safety Wall nominiert für den Innovationspreis der

Equitana.

● Wasserfest

● Glatte Oberflächen

● Abrundungen

● Schlagfest

● Stoßabsorbierend

● 5 Jahre Garantie (carry in base)

● Kein extra Rahmen oder Konstruktion nötig

● Einfache Montage durch Nut und Feder

● Komplett recyclebar

● Hohe chemische Beständigkeit

● Lieferbar in jedem RAL Ton

● Abm: h x b x t 1.41m x 0.93m x 0.26m

The Safety wall

The Synthetic arena kick wall is made of high quality plastic. The

Safety Wall makes indoor riding a lot safer and will decrease

maintenance time. In 2009 the Safety Wall was nominated for

the equitana innovation award.

● Water resistant

● Smooth surfaces

● Shock proof

● Shock absorbing

● 5 year warranty (carry in base)

● No specific frames needed

● Simple to mount

● Fully to recycle

● High chemical resistance

● In every RAL-Colour

● Size: h x w x d 1.41m x 0.93m x 0.26m

23
---
Voor meer Producten / Informatie / Demonstraties

Für mehr Produkten / Informationen / Vorführungen

For more Products / Information / Demonstrations

Equitrend

Dorshout 6D

5462 GL Veghel

The Netherlands

+31 (0)413 355746

info@equitrend.nl

www.equitrend.nl