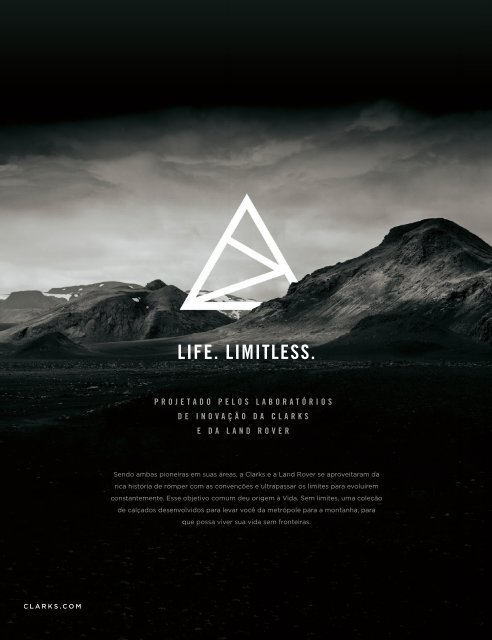 ONELIFE #38 – Brazilian Portuguese
Land Rover's Onelife magazine showcases stories from around the world that celebrate inner strength and the drive to go Above and Beyond. New perspectives meet old traditions - these contrasts unite in the latest issue of ONELIFE. Together with Landrover we travelled around the globe. From the high-tech city of Shenzhen in China to the carnival subculture in Brazil to Wuppertal. We got to know one of the oldest space travelers, technology visionaries and watch lovers, just as the new Range Rover Evoque. An exciting journey through the world of yesterday, today and tomorrow.
PROJETADO PELOS LABORATÓRIOS

DE INOVAÇÃO DA CLARKS

E DA LAND ROVER

Sendo ambas pioneiras em suas áreas, a Clarks e a Land Rover se aproveitaram da

rica história de romper com as convenções e ultrapassar os limites para evoluírem

constantemente. Esse objetivo comum deu origem à Vida. Sem limites, uma coleção

de calçados desenvolvidos para levar você da metrópole para a montanha, para

que possa viver sua vida sem fronteiras.

CLARKS.COM
More magazines by this user