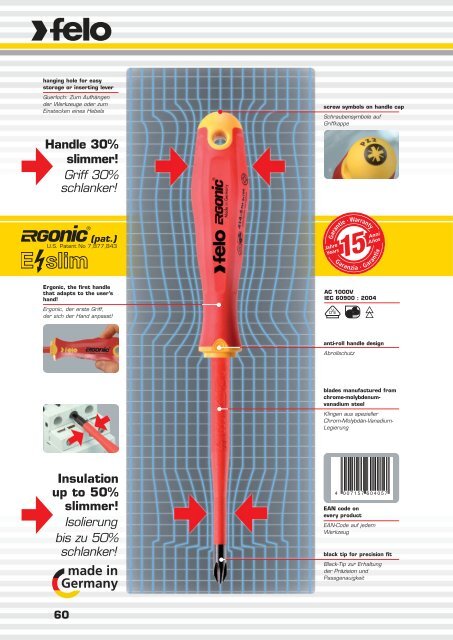 Catalog scule de mână și accesorii Felo
În magazinul Metatools găsiți o gamă vastă de biți, clești, chei, șurubelnițe, surubelnițe pentru electricieni sau unelte pentru biți de la producătorul german Felo!
hanging hole for easy

storage or inserting lever

Querloch: Zum Aufhängen

der Werkzeuge oder zum

Einstecken eines Hebels

screw symbols on handle cap

Schraubensymbole auf

Griffkappe

Handle 30%

slimmer!

Griff 30%

schlanker!

®

(pat.)

U.S. Patent No 7,877,843

Ergonic, the first handle

that adapts to the user's

hand!

Ergonic, der erste Griff,

der sich der Hand anpasst!

AC 1000V

IEC 60900 : 2004

anti-roll handle design

Abrollschutz

blades manufactured from

chrome-molybdenumvanadium

steel

Klingen aus spezieller

Chrom-Molybdän-Vanadium-

Legierung

Insulation

up to 50%

slimmer!

Isolierung

bis zu 50%

schlanker!

4 007157 604057

EAN code on

every product

EAN-Code auf jedem

Werkzeug

black tip for precision fit

Black-Tip zur Erhaltung

der Präzision und

Passgenauigkeit

60
More magazines by this user