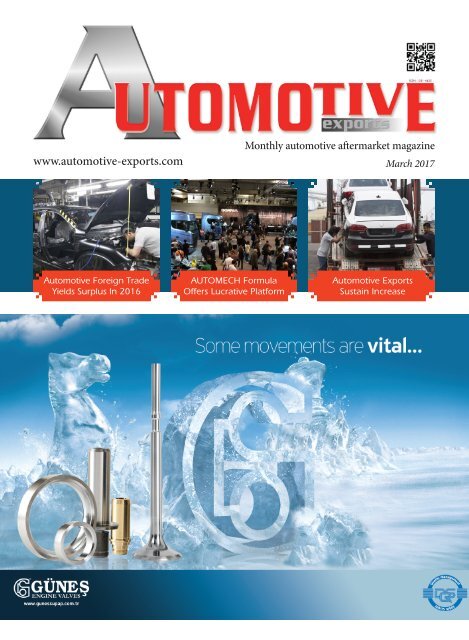 Automotive Exports March 2017
Create successful ePaper yourself
Turn your PDF publications into a flip-book with our unique Google optimized e-Paper software.
www.automotive-exports.com

Monthly automotive aftermarket magazine

March 2017

Automotive Foreign Trade

Yields Surplus In 2016

AUTOMECH Formula

Offers Lucrative Platform

Automotive Exports

Sustain Increase
---
Monthly automotive aftermarket magazine

Automobile And Light Commercial

Vehicle Market Shrinks

In February 2017, the sales of automobile and light commercial vehicle

plunged 115% over the same month previous year in the domestic market

The automobile and

light commercial vehicle

domestic market constricted 11% to

46,965 units in February 2017 year

on year. At this period while the

automobile market recorded 14.6

percent, light commercial vehicle

market increased 0.6 percent.

According to the statement from

Turkish Automotive Distributors

Association (ODD), last year in

February as 52,825 unit automobile

and light commercial vehicles

were sold, in February 2017 the

sales decreased 11% to 46,965

units. The sales of automobile and

light commercial vehicle market

performed increase in the rate of

14.88% last decade on average in

terms of February months.

In February 2016, the sales of

automobiles were 40,588 units, as

for last decade on average the sales

of automobiles surged 20.70% as

of February months.

As for the sales of light commercial

vehicle, this segment grew 0.6% in

February 2017 to 12,307 units over

the same month previous year.

In February 2016, the number

of 12,237 unit light commercial

vehicles was sold. The sales of light

commercial vehicle performed

1.13% increase in terms of the last

decade as of February months.

As for the first two months this

year, the automobile and light

commercial vehicle domestic

market decreased 3.8% to 82,288

units. The sales of automobiles

decreased 5.63% to 60,347 units.

Last year the sales were 63,946

units in the first two months.

The sales of light commercial

vehicles became 21,941 units in the

first two months growing 1.62%

compared to the same period last

year.

The share of automatic transmission

automobiles raised by 58.05%.

The sales in February, under

1600cc automobiles decreased

5.9%, as for 1600-2000cc ones

surged 12.4% and over 2000cc

automobiles recorded decrease in

the rate of 40.4%.

At the end of February, 2 electric

and 34 hybrid automobiles were

sold. According to emission values,

the automobiles between 100-

120gr/km had the highest share

with 39.18%.

The share of diesel automobiles

decreased by 60.21% and share of

automatic transmission automobiles

raised by 58.05% in the share of

total sales in February 2017.

As of the end of February 2017,

84.91% of the automobile market

comprised of low tax rate types

including A, B and C segments. C

segment reached the highest rate

with 51% to 30,753 units.

As for the body types, Sedan types

became the most preferred ones

with 47.55% in February 2017.

The van types featured the highest

sales rate with 66.64% in the light

commercial vehicles, ranging

12.38% with small trucks, 12.21%

pick up and 9% minibuses.

4 MARCH 2017
---
Monthly automotive aftermarket magazine

GROUP CHAIRMAN

H. FERRUH ISIK

PUBLISHER:

İstmag Magazin Gazetecilik

İç ve Dış Ticaret Ltd. Şti.

Genel Müdür

(Managing Editor)

Mehmet Söztutan

(mehmet.soztutan@img.com.tr)

Mehmet Soztutan, Editor-in-Chief

mehmet.soztutan@img.com.tr

The proven innovation

and dynamism…

Responsible Editor

Yusuf Okçu (yusuf.okcu@img.com.tr)

Editor

İbrahim Küpeli (ibrahim.kupeli@img.com.tr)

Advertising Manager

Nihat Akman (nakman@ihlas.net.tr)

Foreign Relations Manager

Coşkun Aktaş (coskun.aktas@img.com.tr)

The autoparts industry of Turkey has developed rapidly in line with the

automotive industry. The autoparts industry with its large capacity,

wide variety of production and high standards, supports automotive industry

production and the vehicles in Turkey and also has ample potential for

additional exports.

As a result of the far reaching structural changes the competitiveness at the

domestic level is now replaced with competitiveness on a global scale. In

addition, the consumer satisfaction standards based on domestic market

demand has now become a quality standard satisfying customers worldwide.

Fluctuations in production resulting from economic crises have now given

way to stable production patterns. In addition, the consumer satisfaction

standard based on domestic market demands has now become a quality

standard satisfying customers worldwide.

Following the shift of the focus on customers, markets, products and

competition from the local level to the global level, Turkish manufacturers and

suppliers now position themselves globally rather than locally.

The remarkable transformation in the sector urges automotive suppliers to

improve their existing structures in line with the demands of global auto

manufacturers. These improvements relate to the need to build advanced

technological skills, infrastructure, research and development means; capable

of effective and successful technical cooperation; skilled in unique product

development; equipped with the ability to obtain shares in global projects as

well as to have high brand competitiveness.

Today, the Turkish automotive industry is aware of the trend in international

markets towards the increasing demand for environmentally-friendly

products and tries to adapt itself to developments within legal and

technical regulations. Many manufacturers in the sector managed to produce

in environmental management systems and quality management systems.

We think that technology and competitive power will always be the two keys

for the survival of the automotive industry. Permanent change is the rule of

the game in the automotive industry as usual.

Our publications remain at the service of those business people seeking to

increase their share in the increasingly competitive automotive market. We

wish them and their trading partners a fruitful business.

Correspondent

İsmail Çakır (ismail.cakir@img.com.tr)

Design & Graphics

M. Masum Sert (masum.sert@img.com.tr)

Chief Accountant

Mustafa Aktas (mustafa.aktas@img.com.tr)

Subsciption

İsmail Özçelik (ismail.ozcelik@img.com.tr)

HEAD OFFICE:

Evren Mahallesi Bahar Caddesi Polat İş Merkezi

B Blok No:1 Kat: 4 Güneşli - Bağcılar/ İstanbul

Tel: (90.212) 604 51 00

Fax: (90.212) 604 51 35

www.img.com.tr turkey@ihlas.net.tr

KONYA:

Metin Demir

Hazım Uluşahin İş Merkezi C Blok

Kat: 6 No: 603-604-605 KONYA

Tel: (90.332)238 10 71 Fax: (90.332)238 01 74

PRINTED BY:

İHLAS GAZETECİLİK A.Ş.

Merkez Mahallesi 29 Ekim Caddesi İhlas Plaza

No:11 A/41 Yenibosna–Bahçelievler/ İSTANBUL

Tel: 0212 454 30 00

www.ihlasmatbaacilik.com

Please mention

Automotive Exports

when writing to

advertisers
---
Monthly automotive aftermarket magazine

Ford Otosan

Makes Hybrid

Electric

Vehicles

Ford Otosan has launched a new

activity to commission hybrid

electric and gasoline version production

for transit vehicles, in this scope the

electric vehicles would go first to China.

This is especially a project started

regarding growing and changing the

transportation possibility dimension in

London, according to the statement of

Guven Ozyurt, Deputy Director General

of Ford Otosan.

Guven Ozyurt has come together with

the students of Uludag University (UU) at

"12th National Professionals and Sectors

Congress of Successful Execs" held by the

UU Business Enterprise Community.

Highlighting electric vehicle production

had taken in their future projects,

Ozyurt said; "We have launched the

work in order to commission of our

transit vehicles' hybrid electric and

gasoline engine version. This is a project

started especially regarding expansion

of cities and changing dimension of

transportation possibilities. The efficient

vehicles are required lowering the

number of vehicles and featuring more

mass transportation."

In the production plan of Ford there is

also serial autonomy vehicle production

from 2021, every firm has a plan about

electric vehicle production, he added.

Remarking electric vehicles would be

manufactured according to market

priority in the world, Ozyurt concluded,

"In fact, the factors such as air pollution

will be effective in production of

electric vehicles. Their production will

be shaped complying with the market

needs. In Turkey currently there is not

much motivation concerning electric

vehicles. We cannot know it would

take how much time. However, there is

no difficulty in making electric vehicles.

Making, producing it has no problem; its

technique and technology are available.

In my opinion first China and some

countries imposing very tough emission

rules will enter into electric vehicles."

10 MARCH 2017
---
Monthly automotive aftermarket magazine

Automotive Exports

Sustain Increase

Beginning the year speedily, the sector exports surged 12 percent in

February, the automotive exports also performed last ten-year high in

terms of February months

Beginning the new year

speedily, the Turkish

automotive exports also performed

12 percent increase in February.

In the exports, the sector has also

performed the best in last decade

in terms of February months. As

the leading sector in the Turkish

exports, the automotive sector

performed last ten-year high in the

sector exports in February 2017,

according to the data from Uludag

Automotive Industry Exporters

Association (UIB).

Sustaining its export success over

$2 billion for the consecutive 5

months, the share of the sector in

the Turkey's overall exports became

20%.

In the product-based, the

passenger automobile exports

increased 60% to $932 million, as

for the automotive supplier exports

decreased 3% to $735 million,

special purpose vehicle exports

became $384 million with 18%

plunge. As for the exports in busminibus-midibus

remained in the

same level with last year worth

$127 million in February 2017.

The supplier industry exports

increased 6% shipped to Germany

and 38% to Iran, the exports in this

group decreased 16% to France,

13% to Italy and 27% to the USA. In

the passenger cars, the automotive

sector exports surged 57% to Italy,

33% to France, 65% to Germany,

55% to the UK and 203% to the

USA respectively.

The special purpose vehicle exports

shipped to the UK decreased 22%,

25% to Slovenia, 56% to Germany

and 45% to the Netherlands;

meanwhile the exports in this

category increased 27% to Italy,

100% to USA. The exports of busminibus-midibus

group increased

43% to France; however the

exports in this group decreased

48% to Germany, 24% to the UK.

In February the sector exports

slightly decreased 1% to $335

million to Germany which is

regraded the biggest market of the

sector, but increased 32% to $258

million shipped to Italy, and then

16% increase to $249 million in

France. In the exports performance

to Italy, 57% increase in passenger

car exports, 27% in special purpose

exports have been effective. As

for The exports to France, the

passenger car exports increased

33%, bus-minibus-midibus exports

increased 43%.

The sector exports to USA increased

49%, 30% to Poland, 69% to

Sweden, 119% to Israel and 87%

to Iran; however decreased 10%

to Morocco. The basic factor

in increase to the USA was the

passenger car exports with 203% in

February.

12 MARCH 2017
---
Monthly automotive aftermarket magazine

Peugeot Wins Title "Car Of

The Year 2017"

The winner of the "Car of the Year"-Award 2017 is the Peugeot 3008, the

criteria taken into consideration for the award are, in addition to the innovation

and the security, the design and the value for money

The winner of the "Car of

the Year"-Award 2017 is

the Peugeot 3008. The Jury is

made up of 58 journalists from 22

European countries. The final vote

took place this afternoon, live from

the Geneva International Motor,

in the presence of international

journalists. Jean-Philippe Imparato,

Peugeot CEO received the award.

The Peugeot 3008 made the

difference during the last tests

and thus won, in front of its six

competitors, the prestigious and

very coveted award. The finalists of

this year were: Alfa Romeo Giulia,

Citroën C3, Mercedes-Benz E-Class,

Nissan Micra, Peugeot 3008,

Toyota C-HR, Volvo S90/V90.

The President of the Jury, Hakan

Matson, automobile expert from

the Swedish economic magazine

Dagens Industri, justified the vote

as follows: "The jury recognizes

that the market share of SUVs and

Crossover cars has been steadily

increasing. The Peugeot is a worthy

winner."

Jean-Philippe Imparato, CEO of

Peugeot since September 1st, 2016

was visibly very touched:" We are

so happy. It is a great moment and

I am very proud to receive this prize

for our Peugeot 3008."

The criteria taken into consideration

for the award are, in addition to

the innovation and the security, the

design and the value for money.

About "Car of the Year":

The "Car of the Year" trophy is

considered as the most prestigious

and coveted award in the

automobile world. Currently, 58

journalists from 22 countries are

members of the jury. The Car of

the Year was made by STERN and

it has been awarded since 1964. It

was established by seven European

magazines from seven countries:

Germany (Stern), Italy (Auto), France

(L'Automobile), Spain (Autopista),

United Kingdom (Autocar), The

Netherlands (Autovisie) and

Sweden (Vi Bilägare).

14 MARCH 2017
---
Monthly automotive aftermarket magazine

Digitalization Brings Efficiency

To Automotive Industry

The future of automotive sector were discussed at a meeting including

digitalization in the automotive production processes, use of 3-dimesional

software, position of start-up in the future, electric vehicles and hybrid vehicles

The future of automotive

sector in Turkey was

discussed at the event held by

the cooperation of Automotive

Supplier Industry Assembly of

the Union of Chambers and

Commodity Exchanges of Turkey

(TOBB), Turkish Association of

Automotive Parts & Components

Manufacturers (TAYSAD) and

General Electric Turkey.

The effect of industrial internet and

digital solutions in the automotive

sector which achieves some 17%

of the Turkish total exports was

addressed at the event held at GE

Turkey Innovation Center.

The representatives of Turkish

automotive sector came together

in order to evaluate the effect of

digital technology in terms of the

sector as well as the future of the

sector at GE Turkey Innovation

Center.

At the event with nearly 100 toplevel

administrators' participation,

the transformation roadmap of

the sector was discussed. The

sector representatives highlighted

Turkish automotive industry

must be effective in the new

digital automotive market which

anticipated to reach by $1,5 trillion

by 2025.

Also highlighted that digitalization

was a critical need in the

automotive sector which accounts

for 17% of the Turkish total exports

and 12% of value-added.

Delivering keynote speech at the

event, Dr. Mehmet Dudaroglu

said, "The digital maturity level of

our industry is seen in the level

of 2.0 – 3.0 in the roadmap of

Smart Production Systems which

were updated by the TUBITAK

in January 2016. As for the

automotive supplier Industry

emerges forefront being one of

three strongest sectors in terms of

maturity level."

Indicating that objectives had

been constituted in the decided

three technology groups as

'Digitalization, Interaction and

Future Factories' at the end of

studies managed in order to

16 MARCH 2017
---
Monthly automotive aftermarket magazine

catch the world level, Dudaroglu

said they would target to shed

light to the studies under the

name 'Digital Transformation in

Industry' made by the Ministry of

Science, Industry and Technology"

with the workshop which was

realized at the end of the event

through the issues entitled 'Digital

Transformation and 'Future of

Automotive Production' addressed

at the meeting to assume critical

role in the future of automotive

industry.

For his part at event, Uygar

Doyuran, Director General of

GE Digital Turkey, said that the

automotive market would reach

$5,3 trillion by 2025 in the world,

adding that digital solutions which

began to show its effectiveness

in the automotive sector would

reach $1,5 trillion.

Doyuran noted, "Both increasing

efficiency and changing products'

design complying with customer

need become possible through

digitalization of the products.

As GE, we work together in

the digitalization process of the

foremost automotive producers

in the markets such as the USA,

Europe, China and Japan. In this

process, 40 thousand employees

use GE products."

At the event there was also a panel

titled 'Can Turkish Automotive

Industry Advance Furthermore'

in the moderator of Ozan Acar,

Head of TOBB Sectors and

Entrepreneurship Department and

speakers Omer Burhanoglu, CEO

of Farplas and Mehmet Baser, a

partner of McKinsey.

Ozan Acar said there were

automotive and supplier industry

and trade assemblies in the

structure of TOBB and they would

bring together the foremost

companies of the sector and

associations with the public sector,

they would act as an important

interface in letting private sector

demands to reach public sector.

Omer Burhanoglu said the new

period technologies had triggered

radical changes in the sector,

the new period would not be

successful through consideration

forms of old time.

"Industry 4.0 technologies are

not different from automation

as singular, when we begin to

use digitalization in all processes

we can pass to Industry 4.0," he

noted.

Mehmet Baser said digitalization

has brought design, production

and sales together and marketing

works based on big data analyzes

in the Turkish automotive sector

would make crucial contributions

to the sector in the upcoming

period.

Ussal Sahbaz, Leader of GE

Turkey Innovation, said; "We are

quite happy holding the 'Future

of Automotive' the first one

of events for 'Digital Future in

Industry' that we will hold directed

towards various industries in

2017. During the event we have

evaluated difficulties with which

the automotive sector faces and

possible solutions. At our center in

order to start this initiative in a quick

way we aim to produce valueadded

both for our customers and

our country by coming together

with the foremost shareholders."

From 3 dimensional technologies

to electric vehicles

Lots of issues on the agenda of the

automotive sector in both Turkey

and the world were addressed

at the event. Many critical issues

were discussed at the event such

as digitalization in the automotive

production processes, use of

3-dimesional software in the

automotive industry, position

of start-up in the future, electric

vehicles and hybrid vehicles.

18 MARCH 2017
---
Monthly automotive aftermarket magazine

20 MARCH 2017
---
Monthly automotive aftermarket magazine

Latest Trends At Erbil

Autoshow

Erbil Autoshow is taking place at the exhibition center of Erbil on 8th – 11th

March in the field of automobiles, commercial vehicles and spare parts

Erbil Autoshow is a 4 day

event being held from 8th

March to 11th March 2017 in Erbil,

Iraq. Visitors and exhibitors are

coming together for the 7th time

on the Erbil Autoshow during 4

days in Erbil.

This event showcases products

like Spare Parts, Automobile,

Automotive, Automotive Care

and Maintenance Equipment,

Alternative Fuel and Fuel Systems

Garage etc. in the Auto industry.

At the Erbil Autoshow, which is

taking place in the exhibition center

of Erbil, the growing importance

of Iraq in the field of automobiles,

commercial vehicles and spare

parts can be experienced.

"Numerous international exhibitors

will be presenting the latest trends of

the industry. Erbil Autoshow is one

of the most significant milestones

in the development of the region.

The fair has continuously improved

and grown since the very first day

it started, and where we stand

today, it has become one of the

most important autoshows not

only in Erbil but also in the region,"

according to the statement of the

fair official.

International automotive

and automotive spare part

manufacturers and importers

are leading at Erbil Autoshow.

The interest in these fairs has

been gradually increased day by

day, and these fairs, which play

a key role in the country - wide

development of the automotive

industry, significantly contribute to

the local economy, as well. The fair

is an important information and

communication platform giving

exhibitors opportunity to present

themselves to a wider audience,

and to initiate in the exchange with

each other and with the visitors

new contacts to potential business

partners which are very important

for the industry as well as the

country Iraq itself.

Product groups

Accumulators, Freight and

Transport Companies, Alternative

Fuel and Fuel Systems, Garage and

Service Station Equipment, Audio &

Entertainment Systems, Hydraulic

and Pneumatic Components, Auto

Accessories, Parts, Equipments and

Components, Heating and Cooling

Systems, Auto Seats and Upholstery,

Insurance Companies, Automotive

Care and Maintenance Equipment,

Information Technologies for Auto

Industry, Automotive Electrical &

Electronic Components, Inner Tube

and Tyres, Automotive Interiors

and Finish Products, Internal and

External Hardware, Automotive

Machinery and Manufacturing

Technology, Leasing and Financial

Companies, Batteries and Battery

Operated Vehicles, Luxury Cars,

Brake Systems and Parts, Machine

and Hand Tools.

22 MARCH 2017
---
Monthly automotive aftermarket magazine

OPEC Remains Resolute In

Their Commitment

OPEC remains resolute in their commitment to the ongoing process and

are determined to implement their obligations in a full and timely fashion

for a more balanced oil market on a sustainable basis

OPEC Secretary General,

Mohammad Sanusi

Barkindo, (21 February 2017)

delivered a keynote address at the

International Petroleum (IP) Week

conference in London.

The Secretary General initially

highlighted how much has

changed in the industry since the

last time he spoke in London at

the Oil & Money conference back

in October 2016. He highlighted

the landmark and historic decisions

reached by OPEC and non-OPEC

at the end of last year, stressing

that "collaborative and timely

intervention was taken to address

the prevailing market realities."

The Secretary General reiterated

that the implementation of these

historic decisions taken had thus

far been very encouraging.

He added that all 24 countries

involved remained resolute in

their commitment to the ongoing

process and are determined to

implement their obligations in a full

and timely fashion to help ensure

a more balanced oil market on

a sustainable basis. In addition,

he stressed the establishment of

the Joint Ministerial Monitoring

Committee and the supporting Joint

Technical sub-Committee to oversee

and monitor implementation were

"prime examples of OPEC's support

for data sharing, openness and

transparency."

He also spoke about the gravity of

the sharp contraction in oil industry

investments in both 2015 and 2016

and stressed that "the industry

cannot afford to see investment

levels fall for a third year in a row."

He said that the industry needs

regular, timely and sustainable

investment to guarantee security of

supply to the global community.

In this regard, he added, "we

believe that the recent decisions

taken by OPEC and non-OPEC are

already creating the favourable

conditions for the industry to deliver

the necessary medium- and longterm

investments for our energy

future."

IP Week, hosted by the Energy

Institute is a highly respected global

annual conference where leaders

from the global oil and gas industry

share their wealth of knowledge

and experience with fellow experts

over three days of conferences,

seminars, roundtables and social

events.

This year's event also sees the

awarding of 'The International Oil

Diplomacy Man of the Year Award'

to HE Dr. Mohammed Bin Saleh Al-

Sada, Qatar's Minister of Energy &

Industry, and the OPEC Conference

President in 2016. The OPEC

Secretary General said that "the

judgement, patience, guidance,

consistency and dedication" shown

by HE Al-Sada in bringing together

OPEC and non-OPEC in 2016 "were

a cornerstone of the great efforts

aimed at rebalancing the market,

supporting sustainable stability

and ensuring that the necessary

industry investments return."

Whilst in London, the Secretary

General also participated in the

2017 Annual IP Week Client

Briefing Seminar organised by

Citigroup. He was interviewed

by Ed Morse, the Global Head

of Commodities Research at

Citigroup, with more than 100

leading companies, including

producers, consumers, traders and

fund managers, in attendance.

The Secretary General spoke on a

number of issues including recent

OPEC and non-OPEC decisions, the

current oil market environment, the

transparency drive and the need to

develop a better understanding of

the relationship between physical

and financial markets.

The Secretary General and an

accompanying OPEC delegation

also paid a visit to the head office of

BP, where they met with a number

of BP's executives including Mr.

Lamar McKay, the company's

Deputy Chief Executive Officer

(CEO) and Mr. Spencer Dale, Chief

Economist. Talks focused on the

near- and long-term outlooks,

including elements from BP's

recently released 'Energy Outlook'

and OPEC's World Oil Outlook

2016. Both sides agreed to

enhance their cooperation through

regular technical exchanges on oil

market analysis and prospects.

24 MARCH 2017
---
Monthly automotive aftermarket magazine

Lassa And Massey Ferguson

Consolidate Their Powers

Fuel-saving and produce-effective tires of Lassa will be offered to sales at

the dealers of Massey Ferguson in line with the agreement of both brands

The most preferred tire

brand of Turkey has

signed business cooperation with

Massey Ferguson, one of the

most important brands of AGCO

featuring one of the biggest

groups of the world. In the scope

of the agreement, the sales of Lassa

agro tires will be beginning at the

dealers of Massey Ferguson across

Turkey. So, aiming the farmers to

access easier to sound and reliable

agro vehicles and tires, Lassa and

Massey Ferguson is launching a

joint-venture through 35 dealers of

Massey Ferguson in the first stage.

Lassa, one of the leading brands

of Brisa, the leader of Turkish tire

sector, has realized the special

business cooperation with Massey

Ferguson, the international brand

in the agricultural vehicle field.

According to this, fuel-saving and

produce-effective tires of Lassa will

be offered to sales at the dealers

of Massey Ferguson. Based on

cooperation of Massey Ferguson

dealers and Brisa dealers, this

agreement aims to provide a

stronger support to farmers in

terms of products, service and

counselling.

Indicating Lassa and Massey

Ferguson had focused on

supporting farmers with longrunning

business cooperation,

Korhan Korel, Deputy Director

General of Brisa Marketing and

Sales, said; "As original equipment

supplier, Lassa has laid foundations

of business cooperation with Massey

Ferguson with our innovative

products in agro segment. In the

framework of two brands' joint

passionate to develop technology

and innovative products and

to generate excellent customer

experience, we have focused

on development of business

cooperation. We have made up

platforms to support our farmers

with events held under the name

'field days'. We will offer the best

to farmers by carrying our current

cooperation one step ahead

together with our new agreement.

In the scope of our joint agreement

that we have planned to spread

the entire Turkey, Lassa tires are

going to meet with farmers at the

dealers of Massey Ferguson. This

cooperation will also offer valueadded

to both brands' dealers."

With this agreement while the

owners of agro vehicles get any

service from the dealers of Massey

Ferguson they would also possess

the chance to access to Lassa tires

with a more effective way.

26 MARCH 2017
---
Monthly automotive aftermarket magazine

Qualified MAN Vehicles

Favored By Public Bodies

Although constriction in the truck market in 2016, MAN trucks increased

its market share in the rate of 100%

MAN trucks gathered

approval and demand

from various public bodies with

the features of quality, durability,

power and high standards as well

as super performance even in the

difficult conditions. MAN increased

its public sales 100% despite

constriction in the truck market.

Over 250-year history, MAN

sustains its leading position

without making any concession to

quality understanding, advanced

technology and high standards

in heavy commercial vehicle

segment. MAN trucks offer unique

solution with supper performance

and durable structure.

With rich model diversity and

high standards, MAN vehicles

meet upper structure or special

equipment needs without making

any revision. MAN vehicles emerge

toward front with additional traction

systems with technical superiority

in 4x4 and 6x6 applications as

well as lots of features. In addition,

MAN also provides service with

widespread network, high service

quality, competitive and offering

advantageous in Turkey.

In the year 2016, MAN recorded

100% increase in sales to public

sector with the number of 341

vehicles. The fire-fighting, snowfighting

and special service

vehicles emerge to forefront in

the sales to public sector. Among

the public establishments of

MAN there are Turkish General

Directorate of Highways, General

Directorate of Forestry and Izmir

Metropolitan Municipality and

other municipalities and public

bodies.

28 MARCH 2017
---
Monthly automotive aftermarket magazine

ITO Starts Production And

Job Mobilization

Istanbul Chamber of Commerce (ITO) is starting mobilization for

production and job with over one thousand members to do business

for the giants of defense, aviation and transportation industries

Istanbul Chamber of Commerce

(ITO) is going to step into

defense, transport industry and

livestock sector for production and

job mobilization.

The main industrialists have

submitted thousands of product

samples for their needs to the

supplier industrialists the members

of the ITO.

The ITO Chairman Ibrahim Caglar

said, "Our trust is full in the

production capability and quality

standards of the ITO members.

Swimming of our supplier

industrialists on seas is not enough

from now on we will set sail for

oceans."

Bringing together Turkish supplier

industrialist with the European

main industrialists for 16 years,

this year the ITO has raised bar in

order to direct bilateral negotiations

towards value-added precision

industry in the scope of production

and employment increase. The

target is to allow the domestic

industrialists to take place in the

national production, to ensure

more business and jobs.

Over one thousand members of

the ITO that operate in supplier

industry would like to do business

with the giants of defense, aviation

and transportation industry.

Ibrahim Caglar said they would

take into consideration the quality

compliance as one of the most

important criterions in succeeding

domestic contribution and

competition capability for the main

industrialist.

Highlighting Turkish industrialists

should increase the number of

domestic made industrialists in

the sectors having high valueadded

such as defense and

transportation, Ibrahim Caglar said,

"Our supplier industrialists have

proved themselves in production

quality, price, flexibility, boutique

production and delivery speed.

In this meaning our confidence

is full in the production capability

and quality standards of the ITO

members. We should guide

both national and foreign main

industrialists to use intermediate

goods which are manufactured in

Turkey in order to be sustainable and

lasting employment. Swimming

of our supplier industrialists on

seas is not enough; we will set

sails against ocean winds. So, our

firms which do business with THY

Technique will also do business

for British Airways. Wellbeing will

spread across our country wave by

wave."

30 MARCH 2017
---
Monthly automotive aftermarket magazine

AUTOMECH Formula Offers

Lucrative Platform

AUTOMECH FORMULA, the International Motor Show for Passenger Cars,

Vehicles, Motorcycles and Commercial vehicles, is a 5 day event being held at

the Cairo International Convention & Exhibition center (CICC) in Cairo, Egypt

Automech Formula is a

5 day event being held

from 16th March to 20th March

2017 at the Cairo International

Convention & Exhibition center

(CICC) in Cairo, Egypt. This event

showcases products like car,

Automotive products etc. in the

Automotive industry.

Being held at the Cairo International

Convention & Exhibition center in

Cairo, the fair is regarded one of the

most significant events in Egypt for

the automotive industries in Middle

East & North Africa (MENA). The

event will prove to be a lucrative

platform for leading international

manufacturers and suppliers to

build strong business contacts

with the trade buyers from MENA,

according to the statement.

The event will be an important &

international podium for the MENA

region and will be displaying

products such as services station

equipment, automobile spare

parts, vehicles, buses, accessories

& feeding industries and motorcar

workshops.

o This event also showcases

products such as Car parts,

Caravans, Cars, Commercial

vehicles, Motorcycles.

Exhibitor Profile

Profile for exhibit includes Vehicles

- Buses - Trucks - Service Station

Equipment - Spare Parts - Car

Accessories - Motorcar Workshops

& Feeding Industries.

Cairo International Motor

Show Automech Formula is an

international exhibition for the

automobile sector in the African-

Arabian region.

It takes place annually at Cairo

International Convention Center

und presents cars, buses, workshop

and service station equipment as

well as automobile spare parts and

accessories.

Automech Formula Cairo

Automech Formula is an

international exhibition for the

automobile sector in the African-

Arabian region. It takes place

annually at Cairo International

Convention Center und presents

cars, buses, workshop and

service station equipment as well

as automobile spare parts and

accessories. Automech-formula,

the Cairo International Motor

Show, is the premier and the most

prestigious event for automotive

industries in the Middle East &

North Africa (MENA). The fair

provides a substantial platform

for manufacturers and suppliers

worldwide to reach out trade

buyers as well as general public.

32 MARCH 2017
---
Monthly automotive aftermarket magazine

Rise In Tax And Currency To

Reflect On Prices

The rise in the sales of automotive with regard to special consumption

tax and currency will be reflected to the prices from the fourth month,

according to the OYDER

Until finishing of stockpiles

of automobiles that

remained from last year, the

automotive firms will not reflect

tax-rise to the prices. Alp Gulan,

Chairman of Turkish Authorized

Automotive Dealers Association

(OYDER), said special consumption

tax and currency rise was not

reflected to the price of vehicles

to date much, but from now on

a period has been entered that its

pressure is being felt more. In his

evaluation, Gulan said the sales

figures in January were good

in the domestic market, but in

February the automotive sales in

the domestic market decreased

11% to some 47 thousand over the

same month last year.

Reminding the effect of regulation

in the special consumption tax in

November 2016, Gulan recorded,

"As seen previous years, the

negative effect of tax-rise begins

from following 4th month and

continues its effect for 24 months.

Here the market might be affected

negatively from the fourth month

of that regulation."

He said they would expect the

automotive market to complete the

sales slightly less in 2017 than last

year and an ease would be in the

market in line with some decrease of

currencies. Stating even being few

there were vehicles 2016 models in

the dealers, Gulan said, "The sector

was captured with stock of vehicles

when this regulation enacted.

Regarding those vehicles entered

Turkey, tax and currency rise had

not been reflected much to the sale

prices. But from the fourth month,

this pressure of price rise will begin

to be felt."

Alp Gulan said they, as OYDER,

negotiated with Prime Minister

Binali Yildirim about the vehicles

which completed their economic

lifespan and they also shared

the troubled issues related to the

application of secondhand vehicle

trade. He concluded there were

3,5 million vehicles over 20-year

old, managing a work related to

that issue might be crucial both

in terms of the environment and

economy.

34 MARCH 2017
---
Monthly automotive aftermarket magazine

Turkish Automotive Sector

Asserts To Achieve Targets

Turkish automotive sector has been assertive to accomplish its all targets in

line with the investments in R&D studies

Turkish Association of

Automotive Parts &

Components Manufacturers

(TAYSAD) held a press conference

at Avangrade Hotel about the

supplier industry exports and R

& D studies in 2017. In the news

conference Alper Kanca, Chairman

of TAYSAD said closing the year

2016 as the export champion; the

automotive sector set its record as

in previous years.

Accomplishing the year 2016 as the

export champion, the automotive

sector continued to set its own

record as every year. Saying that

condition was not a surprise for

them, TAYSAD Chairman Kanca

said, "We might experience difficult

days in terms of economy, politic

and social. But the only way

to recover this situation passes

through letting the wheel turn.

We are working studiously as the

automotive and supplier industry.

We maintain our investments in R &

D and businesses. The production

is continuing in full swing. The

exports data is the evidence of our

effort."

Despite constriction in the world

trade and the parity factor which

affects negatively Turkey's exports,

the sector had sustained its

success graph. Kanca continued,

"Sustaining its championship for

the 11 consecutive years, the

automotive sector got 16.8% of

share from the total exports worth

$24 billion in 2016. The automotive

takes place among rare sectors

featuring as an R & D intensive

sector and achieving being expert

in the export in Turkey. For this

reason, the sector has the potential

to compensate party loss."

Commenting the output about

the exports, Kanca said, "The

automotive sector shoulders one

–fifth of the exports in Turkey. The

sector continues to raise its share.

The automotive industry ranked

atop with 37% export increase

to $2 billion 69 million in January

according to the Turkish Exporters

Assembly (TIM) in the overall

exports. As for the automotive

supplier industry increased 9% to

$730 million."

28 percent of R & D centers belong

to automotive

Highlighting the focal point in R &

D issue should change, Kanca said,

"When looked at the countries

which have emerged to forefront

in the automotive manufacturing,

we see that the automotive sector,

which keep a crucial place in

innovation, seems ahead when

compared to other sectors in terms

of R & D expenditures. According

to data from OECD, Germany ranks

atop with 32% of R & D expenditures

with the automotive sector. With

24% Japan and Romania follow

Germany. In Turkey, this figure is

14%. The countries, which have

developed in R & D, focus on the

technologies that would transform

the sector. Either in our country

or other countries similar with our

country, the innovation-target

should be identified to transfer and

spread these new technologies."

36 MARCH 2017
---
Monthly automotive aftermarket magazine

The 87th Geneva International

Motor Show Opens

Opening its doors to the public from March 9-19, 2017, including 148 world

and European premiers the Motor Show displays 900 models

The 87th edition of the Geneva

International Motor Show is

opening its doors to the public from

March 9-19, 2017, with two Press

Days before the official inauguration

presided over by Mr. Johann N.

Schneider-Ammann, a member of the

Swiss National Council, opening the

exhibition of 900 models including

148 world and European premiers.

180 exhibitors will be sharing this

limelight. They include all of the large

manufacturers, smaller exclusive

constructors, high performance

preparation specialists, resolutely

timeless automotive designers, plus

suppliers of parts, accessories, and

equipment to the automotive sector.

These diverse groups will offer visitors

a unique experience and insight into

the world of the automobile.

The webcam of the site www.gims.

swiss has been following all the

activities of the construction of the

display stands in the exhibition halls

at Palexpo. The development of the

most spectacular display structures

in the automobile world can be

followed live.

"Technology and Design are the

two key words that best characterise

the Geneva Show, and that provide

the happiness for the more than

700,000 visitors who are expected.

A tour of the Show is like plunging

into a universe of bodyworks with

fluid or marked lines, colours that are

scintillating or deep matt and reflect

high performance, plus the scents

emanating from high resistance

leather" explained Mr. Maurice

Turrettini, President of the Geneva

International Motor Show, and

echoed by Mr. Andre Hefti, General

Manager of the Motor Show who

said "It is also a unique opportunity

to discover the latest technologies

of "infotainement" that have been

launched to assist in driving and other

areas to ensure our motoring is more

efficient, reliable and comfortable".

The two Press Days each year

attracts more than 10,000 media

representatives from all over the

world. 62 of the 180 exhibitors will

be presenting one or more premiers

as part of the 148 announced.

Among these it will be possible to

discover some gold nuggets such

as: the first high performance car

from the Indian constructor Tata,

a dream car for the F1 Champion

Emerson Fittipaldi made by

Pininfarina, or the sportive elegance

typical of the British constructor

David Brown Automotive. Efficiency

too, is far from forgotten: the Swiss

designer Sbarro will be presenting

a small three-wheeled vehicle that

is extremely manoeuvrable, the

exhibitors Dendrobium and Catecar

will promote their cars that are both

high performance and environment

friendly, and Segula Technologies

from France will be presenting

their concept car, a bunch of new

technologies including Virtual Reality.

40 MARCH 2017
---
Monthly automotive aftermarket magazine

Automotive Industry Surges

Production 31% In January

Including tractor production the total automotive sector production

realized 131,741 units in the first month this year

The total automotive

production surged 31

percent, as for the automobile

production 61 percent in January

2017 over the same month previous

year. The total number of automotive

production became 128 thousand

and automobile production 94

thousand units in this period. In

the historical perspective, the total

automotive production has reached

its highest level in January 2017.

Including tractor production the total

sector production realized 131,741

units in the first month this year. The

tractor production increased 10% to

3,620 units in January 2017.

The automobile production has

reached the highest level between

the years 2007 – 2017.

As for the total market, it increased

7 percent to 36 thousand units

in January 2017. The automobile

market increased 10 percent to

26 thousand units. The sales of

imported automobiles accounted

for 66 percent in January 2017. The

total sales of automobiles increased

10%, domestic made ones 19% and

imported ones 6% respectively in

this month. The total sales of light

commercial vehicles increased 3%,

domestic ones 4% and imported

ones 2% in January 2017. The

heavy commercial vehicle market

decreased 20% to 825 units, truck

market 15% to 609 units, midibus

market 49% to 116 units; and bus

market raised 25% to 100 units.

In the commercial vehicle group,

as the production constricted 13

percent over the same month last

year, the light commercial vehicle

group shrank 15%, meanwhile the

production in heavy commercial

vehicle group raised 72%. This

change in this group stemmed from

the base effect. The commercial

vehicle market increased 15%. While

the market increased 3% in the light

commercial vehicle market, in the

heavy commercial market constricted

20%.

The total automotive exports

increased 50% based on the unit

in January 2017 over the same

month previous year. In this month,

automobile exports increased 98%,

the commercial vehicle exports

decreased 11%. Tractor exports

also decreased 26% to 989 units. In

January 2017, the number of 103

thousand vehicles exported, of these

76 thousand units were automobiles

accounted for 81% of the total sector

exports.

In January 2017, the total automotive

exports increased 35% based on

dollar and 38% in terms of euro. In

this month, the total automotive

exports accomplished worth $2,08

billion, the automobile exports

became $913 million with 143%

rise. Based on euro, the automobile

exports increased 148% to 858

million in January 2017.

42 MARCH 2017
---
FOLLOW US, WE WILL

CONTINUE TO PRODUCE...
---
Monthly automotive aftermarket magazine

A Certain Driving-Range For

Secondhand Vehicles

A new regulation is be prepared in the sales of secondhand vehicles in order to

protect consumers, according to statement of Turkish Minister Bulent Tufenkci

Warranty coverage

in the secondhand

automobiles will be 10 thousand

kilometers in terms of driving range,

according to the statement from

Bulent Tufenkci, Turkish Minister of

Customs and Trade.

He said they had prepared the draft

regulation together with the sector

about secondhand vehicle trade.

Minister Tufekci recorded, "We

should protect the consumers and

restrain the sector. At the same

time, we should also activate the

secondhand automotive market.

So, we are bringing guaranty for

a certain range of driving in the

secondhand automotive. If any

mistake is available, the seller of

the secondhand vehicle should

specify and in sales of the vehicle

these features should be taken into

consideration. If the sellers say that

their vehicles do not have any fault,

maintenances are fulfilled, a certain

range of driving guaranty must

be committed. If a trouble would

appear, the seller will compensate

the bill of trouble."

Highlighting certain conditions

and responsibilities would be

brought in the sales of secondhand

vehicles; Tufenkci said those who

become mediator and guarantor

for the sales of vehicles must fulfill

the responsibilities.

Tufenkci added, "The draft

regulation is ready, but we will

be issuing it following referendum

related to amendment in the some

matters of the constitution."

Tufenkci also said the limit in the

exemption to customs rates reduced

from 75 euro to 30 euro which

is implemented for the imported

products traded via e-trade web

pages. The basic purpose is to

protect domestic e-trade websites

and domestic producers as well as

encouraging them.

Tufenkci concluded, currently they

would track the system, if it would

be necessary, a new regulation

could be done.

48 MARCH 2017
---
Monthly automotive aftermarket magazine

"Vehicle Intensity Insufficient

In Turkey"

Currently existing 150 vehicles per 1000 people, would rise by the number

of 200 within ten years

The number of 150 vehicles

account for 1000 people in

Turkey, said Berk Cagdas, Director

General of Renault Mais. The

number of vehicle per 1000 people

in Bulgaria is 300 units, 325 units in

Romania, 600 units in Germany, in

the USA 875 units, he added.

Indicating vehicle per 1000 people

in Turkey lagged behind European

countries and the USA, Berk

Cagdas said that they predicted

this number would rise in the

upcoming 10 years.

As for the market in 2017, their

expectation would be some 850

thousand units the sales number of

automobile and light commercial

vehicles in the domestic market

in Turkey. Stating the imported

vehicles rate in 60 to 70 percent

compared to the domestic made

ones, Cagdas recorded generally

the vehicles with 1.6 liter and

under engine type were preferred

in Turkey.

Pointing out 96-97 out of every

sold 100 vehicles in the country

had 1.6 and under engine volume,

Cagdas commented, "Of these

vehicles, nearly 70% is imported

ones. This situation will not also

change in 2017 and 2018 even in

the upcoming 4 years. The rate will

remain in the same level. Production

of the passenger cars are made,

we are also producer. However,

Turkish market characterizes as

a market where generally light

and heavy commercial vehicles'

production is made. Together with

the technology is sufficient in the

passenger car production much,

mostly light and heavy commercial

vehicles have big production

capacity utilization and exports

position has been at these areas.

For this reason, the current position

in the passenger cars does not

change much more. The imported

cars will be in the forefront."

Highlighting vehicle intensity was

not much more in Turkey; he said

the number of vehicles fell behind

the European countries and the

USA in terms of per 1000 people. In

Turkey, there are 150 vehicles per

1000 people, he said, "In Bulgaria,

in our nearest neighbor the vehicle

per thousand is 300 units, in

Romania 325 units, in Germany

600 units, the USA 875 units. With

this respect, vehicle intensity is

lesser. For this reason it has also a

big potential, because the country

has very young population.

Participation of this population in

the labor force increases year by

year. Stability in economy, stability

in macro political dimension and

recoveries, looking at positively

for the future mean the economy

will growth. This condition will

surge the demand in automobile

to upward trend. There is also a

very quick urbanization in Turkey,

urbanization one of the most

driving forces in the automobile

demand. So, we predict the current

150 vehicle units per 1000 will raise

by 200-220 units in the upcoming

10 years."

50 MARCH 2017
---
Monthly automotive aftermarket magazine

Vehicle Leasing Sector

Exceeds TL23 Billion

The active growth of the Turkish operational leasing sector has reached

by TL23 billion, according to the report from Turkish Operational Vehicle

Leasing Association

The number of vehicle leasing

sector has reached the total

of 330,600 units by adding 147

thousand units to its fleet in 2016,

according to the report posted

by TOKKDER (Turkish Operational

Vehicle Leasing Association).

Investing nearly TL10 billion 885

million in new vehicle purchasing

in 2016, the active growth of the

Turkish operational leasing sector

has reached by TL23 billion.

TOKKDER has added the number

of 147 thousand new vehicles to its

fleet in 2016 accounting for 19.4%

of the total sold vehicles in the

Turkish domestic market last year.

In 2015, paying tax worth TL4

billion as VAT, vehicle tax and

special consumption taxes, the

sector also paid nearly TL4 billion

950 million of the taxes in 2016.

Sharing his opinions about the

Turkish operational leasing sector,

Tolga Ozgul, General Coordinator

of TOKKDER, said; "In Turkey, the

business establishments should use

the resources in an efficient way

in order to sustain their existence.

Here in this point, regarding

advantages of the operational

leasing method to establishments

in every score, I think the sector will

continue its developments in the

upcoming period as well."

As of this research period;

Renault became the most preferred

brand of the Turkish vehicle leasing

sector with 29.8%. This brand was

followed by VW with 15.5%, Ford

with 10.7% and Fiat with 8.3%

respectively. While over half of the

sector's vehicles comprised of C

segment with 51:1%, the share of

vehicles in B segment was 28.6%

and in D segment was 12.9%. As

for power type, diesel vehicles

ranked atop with 94.7%, the share

of manual transmission vehicles

became 56.6%.

52 MARCH 2017
---
Monthly automotive aftermarket magazine

Mercedes-Benz Turk

Celebrates 50th Anniversary

Having established in 1967, Mercedes-Benz Turk has celebrated its 50th

anniversary together with its dealers from entire Turkey

Having established under

the name Otomarsan

in 1967 and celebrating its 50th

anniversary this year, one of the

biggest foreign direct investments

in Turkey, Mercedes-Benz Turk has

celebrated the anniversary together

with its dealers from entire Turkey.

Having held in the host of Suer

Sulun, Chairman of the Board

of Directors of Mercedes-Benz

Turk, with an 80 people invitees

consisting of authorized dealers

and managing directors attended

the anniversary celebration.

In his speech, Suer Sulun said,

"We have grown up together and

we have brought our company

to a very crucial place in the

global network of Daimler AG

as Mercedes-Benz Turk family,

producing together and altogether

signing on lots of firsts, innovations,

success and record in the past half

century. At the same time, we have

become a pioneer and leader in

our sector. We have been keeping

our leadership in intercity buses and

truck market for years. One of three

trucks which are manufactured in

Turkey is from our truck plant in

Aksaray province; one of two buses

manufactured at the bus plant in

the district of Hosdere. As for the

light commercial vehicle group

we have taken place in the first 3

brands achieving the highest sales

number. Last year making the sales

of breakthrough in the automotive

market, we become the number

one of premium segment. We

have also taken our place as

number one premium brand in

customer satisfaction research in

terms of aftersales services. With

authorized dealers and services

across, Turkey Mercedes Benz Turk

makes difference offering high in

quality service to its all customers.

We take pride in our successes."

Indicating also Mercedes-Benz Turk

dealers with over 4,500 employees

in Turkey have also taken place in

their success background, Sulun

continued, "None of success is

accidental. At the back of Mercedes

Benz Turk success there is effort

of our dear all employees, our

friends and effort of our dealers

are also a part of this big family.

I thank our dealers - which trust

in us - partnered our effort in

offering perfect product and

service regarding their loyalty and

supports. We, as Mercedes-Benz

Turk family, are not only proud with

our respective successes; beyond

this we are also proud offering

contribution both the country

economy and future. I know this

big family will carry this valuable

heritage to many 50 years with the

same ambition and decisiveness.

I congratulate all you dear friends

about sharing happiness in being

a big family for all big successes on

which we have signed altogether."

56 MARCH 2017
---
Monthly automotive aftermarket magazine

Full Range Of Repair &

Maintenance At Automechanika

Kuala Lumpur

Automechanika Kuala Lumpur is being held 23 – 25 March 2017 at the

Kuala Lumpur Convention Centre, Kuala Lumpur, Malaysia

The 10th edition of

Automechanika Kuala

Lumpur has evolved from modest

beginnings. Keeping pace with

the growing specific needs in the

ASEAN regions, the upcoming

show will reshape its direction

and move towards a brand new

edition that will not only highlight

the supply chain within the Repair

& Maintenance sector, but also

showcase the latest trends in smart

technology.

The Repair & Maintenance sector

will be taking the front seat at the

show, comprised of a range of items,

including collision repair, coating,

car wash, tools and equipment,

etc. The comprehensive coverage

is designed to attract body shops,

express auto service centres,

workshops, mechanics and

technicians from ASEAN countries

to participate in the show. To

enrich participants' experience, the

show not only showcases a range

of Repair & Maintenance products

and services, but also provides a

series of collision repair training

workshops with theories and

practical applications such as spray

booth and welding. Participants

will learn the most updated

information about the latest trends

in Repair & Maintenance, network

and acquire business opportunities

while attending the show.

Automotive future is in

connected mobility and smart

technology

Connected mobility is one of

the latest buzzwords in the

automotive industry. Vehicles

with smart technology are able to

communicate with each other and

the surrounding transportation

infrastructure to enhance safety,

convenience and efficient flow of

traffic.

With growing disposable incomes,

Malaysians are more eager to try

out the latest technology. As a

result, more market opportunities

will continue to evolve in this field.

According to a 2015 Malaysian

import figure from MATRADE [1],

electrical and electronic products

contribute to the largest sector

(30%) of the overall total imports in

Malaysia. GPS and audio systems

are among these electronic items

imported from other countries.

This is why the coming edition

of Automechanika Kuala Lumpur

must stay at the forefront of the

ASEAN automotive industry to

capitalise on this potential while

leading the markets to further

expansion. According to Ms Fiona

Chiew, Deputy General Manager,

Messe Frankfurt (Shanghai) Co Ltd,

"ASEAN has an enormous need for

repair, maintenance, connected

mobility and smart technology.

There is a missing dominant show

in ASEAN to meet those needs.

Automechanika Kuala Lumpur is an

excellent resource to fill the market

gaps."

EMMA – a car audio and tuning

competition with international

standards

Automechanika Kuala Lumpur

will further cooperate with one of

the supporters, AAA (Auto Audio,

Accessories and Air-Condition

Trader Association of Malaysia) in

this edition to bring an internationalstandard

audio competition to the

show. AAA has a network of 900

members throughout Malaysia

covering electronic manufacturers,

tuning shops, retailers and service

suppliers. Sony and Alpine are

among those active members. The

EMMA (European Mobile Media

Association) Car Audio Competition,

will be promoting smart technology

within the automotive audio realm.

This competition attracts many

participants from ASEAN countries

including Indonesia, Thailand

and Singapore. It offers a unique

opportunity for both exhibitors

and visitors at the show, according

to Ms Cherrie Lim, President of

AAA. "Show exhibitors will be able

to connect with countless smart

technology retailers and meet

the modern automotive market

needs with the approximate

1,000 expected ASEAN visitors

attracted from this international

car audio competition, inclusive

of participants from different

countries."

Automechanika Kuala Lumpur will

be held 23 – 25 March 2017 at the

Kuala Lumpur Convention Centre,

Kuala Lumpur, Malaysia. The

show is expected to welcome 300

worldwide exhibitors and 8,000

global buyers to the 9,710 sqm

exhibition space spanning five halls.

Automechanika Kuala Lumpur is

organised by Messe Frankfurt (HK)

Ltd, co-organised by MAI and is

strongly supported by the Malaysia

External Trade Development

Corporation (MATRADE).

58 MARCH 2017
---
Monthly automotive aftermarket magazine

Automotive Foreign Trade

Yields Surplus In 2016

In 2016, the Turkish automotive sector yielded surplus nearly $2 billion,

while it had deficit in its foreign trade in 2015

Turkish automotive industry

exports boosted 13 percent

in 2016 while the overall exports

slightly decreased in the rate of 1%.

Turkey's Automotive Manufacturers

Association posted its foreign

trade report for the 4th quarter.

According to this, the total Turkish

exports decreased 1%, on the

contrary the automotive industry

accomplished 13% increase in

2016 and accounted for 17% in the

total Turkish exports, ranging atop.

In 2016, as the total Turkish

exports constricted 1%, the imports

decreased 4%. Last year, foreign

trade deficit set back from $63

billion to $56 billion. In the scope

of Customs Tariff Statistical Positions

(CTSP), the sector exports increased

13%, as for the sector imports

increased 2%. The deficit which was

$80,9 million in 2015 was removed

and in 2016 the automotive sector

yielded surplus nearly $2 billion.

In 2016, the automobile exports

surged 21%, as for the imports

7%. In this period, the automobile

foreign trade deficit regressed up

to $1,48 billion.

In 2016, when looked at the first 10

sector's analyze in terms of foreign

trade balance data;

The first 10 sectors, which

accomplished surplus in the Turkish

foreign trade, owned the share

of 74% in terms of foreign trade

surplus.

According to foreign trade data of

last decade, except the years 2011

and 2015 the Turkish automotive

sector yielded surplus. Last decade

of the automotive sector foreign

trade balance on average also

yielded surplus of $1,6 billion.

In 2016, except March and May

months the automotive sector

yielded surplus. As for exportimport

coverage rate became 1,11

last year.

In 2016, the auto industry exports

increased 18%, automotive supplier

industry increased 4%.

In the scope of automotive exports

which was prepared by Uludag

Exporters Associations (UIB) for

the Automotive Manufacturers

Association (OSD), the data of

wagon and semi-wagon, agro

tractors are included, used vehicles

and bicycles and motorbikes are

not included in comparison with

Turkey's automotive industry

classification.

60 MARCH 2017
---
Monthly automotive aftermarket magazine

Domestic Made Automobile

Transformed To Business

Purpose Model

The domestic made automobile production has been transformed to a business

purpose model, the project would be maintained through a consortium

The domestic made

automobile has been

transformed to a business purpose

model.

Faruk Ozlu, Turkish Minister of

Science, Industry and Technology,

said that they would negotiate with

a few industrialists for the domestic

made automobile production.

He added that they would maintain

the domestic made automobile

with a new company, structure

and consortium to be formed

by the industrialists. Responding

questions of the press members

about the domestic made vehicle

brand, Minister Ozlu said the works

of the domestic made automobiles

were continuing well.

Indicating TUBITAK's various studies

in the issue, Ozlu continued;

"We have managed a work on

the business purpose model. A

transformation is underway. We

will continue with a model in

which the private sector has been

ahead and the government might

be supporting. Currently, there

are a few industrialists that we

are discussing on the issue. We

are going to sustain the business

with a consortium in which the

industrialists will constitute an

agreement. We will submit the

studies of TUBITAK to them. The

consortium will evaluate these

studies. The automobile, which

we will make, should have

commercial feature rather than

technological feature. So, we will

maintain the issue with a model

in which commercial business

establishments would be ahead.

I hope our first model will be

electric vehicle. Our objective is to

make electric taxi model by 2019."

There is an enthusiastic support

from business circles and NGOs

to the domestic made automobile

production. The taxi operation is

regarded as a huge potential for

the domestic made automobiles.

Meanwhile Bendevi Palandoken,

Chairman of Confederation of

Turkish Tradesmen and Craftsmen,

said that there were more than 3

million taxicabs in Turkey. Bendevi

also added they would start a

campaign in order to transform the

taxis to the domestic made ones.

Regarding the components of the

domestic made automobiles will be

produced in the home; the vehicles

will be cheaper, so the service

maintenance will be cheaper as

well.

62 MARCH 2017
---
Monthly automotive aftermarket magazine

64 MARCH 2017
---
Monthly automotive aftermarket magazine

American Bus Coalition Asks

Trump For Funding

A broad coalition comprised of public, private, and non-profit bus industry

leaders from across the U.S., have sent a letter to President Trump asking

him to restore bus funding

The Bus Coalition, a broad

coalition comprised of

public, private, and non-profit bus

industry leaders from across the

U.S., have sent a letter to President

Trump asking him to restore bus

funding, which could replace

approximately 14,000 buses and

generate over 100,000 jobs, as

part of his infrastructure package.

The letter, which was signed by

285 bus transit systems from 49

states, includes many systems from

less populated areas that have seen

a decline in federal resources and

face a growing backlog of older

buses and facilities.

The text of the letter, signed by

Bus Coalition Chairman Jeff Hamm

and CTAA Executive Director Scott

Bogren, sais among others "Buses

are the backbone of transit service

across America. More than onehalf

of all transit trips in America are

carried by buses, providing access

for workers, students, families,

patients, and shoppers. Many

CTAA and TBC members come

from rural and suburban areas that

rely on bus service. As you craft and

refine your investment package

proposal, we hope you will support

increased funding for public transit

as recommended by CTAA and the

American Public Transit Association.

Modernizing our nation's transit

fleet with federal support will

quickly generate thousands of

good paying manufacturing jobs

in the United States, increase

access to work and commercial

centers and help address the

backlog of aging bus fleets and

facilities. We estimate this modest

level of investment would allow

for the purchase of over 14,000

domestically manufactured buses

and generate over 100,000 jobs

across the country. Investing in bus

replacement programs can quickly

boost economic activity. Across the

country, bus purchase orders are

sitting on the shelf and, if funds

were available, orders could be

processed in a matter of days, not

months or years."

66 MARCH 2017
---
Monthly automotive aftermarket magazine

Fiat Egea Completes

World Tour

Accomplishing formidable road conditions without facing any disruption

and in terms of the first automobile produced in Turkey, Fiat Egea

completed its world tour successfully

Chosen "the best automobile

of the year 2016" in Europe,

Fiat Egea Sedan has completed

its world tour of 41 thousand

kilometers started 4,5 months ago.

Starting its tour from Tofas Plant

in the pilotage of the experienced

journalist Okan Altan, Fiat Egea

Sedan returned to the start point

by driving through 22 countries.

Accomplishing formidable roads

successfully without facing any

disruption and featuring the first

automobile produced in Turkey

and toured the world; Fiat Egea

has proofed its durability. The

employees of Tofas welcomed Fiat

Egea Sedan with enthusiasm in

Bursa. Welcoming together with

the employees, Cengiz Eroldu, CEO

of Tofas, welcomed and presented

a plaque to Okan Altan regarding

his determination and stability. The

last stop of Fiat Egea Sedan will be

Tofas Anatolian Cars Museum.

Akin Aydemir, Industrial Operations

Director of Tofas, reminding Fiat

Egea model had been entered into

force with a great self-scarification of

Tofas employees, and said with the

project working along with threeshifts

and 3,500 new jobs joined

Tofas family. Aydemir continued,

"We have made a breakthrough

with the experienced journalist

Okan Altan. From here we saw off

Okan Altan nearly 4 months ago.

We have believed Egea would

overcome formidable legs in the

various regions of the world and

we were not astonished. Egea has

proved once again its durability,

usability, oil saving on the difficult

road conditions. This success

belongs to all of us. Thanks to you,

dear employees' loyalty to Egea

and self-scarifying efforts, today

we enjoy this success. I thank both

Okan Altan and Savas Yilmaz once

again."

In his speech, Okan Altan, said; "The

idea has appeared to take Fiat Egea

on the world roads. It is beyond my

dreams launching the world tour

with an automobile produced in

Turkey with standard equipment.

We have achieved a unique,

wonderful work. We showed Egea

to the whole world by driving in

the trekking tempo in the Mexican

mountains, with 190 km/h speed

on the German autobahn."

Setting out from Turkey's border,

Fiat Egea toured Bulgaria, Romania,

Ukrainian Ural mountains and

Siberian route and then passing

through Manchuria to Vladivostok

and reached Japan without any

trouble. In the 4th led of the world

tour, Egea Sedan took way towards

Central America, passing Mexico

from top to bottom and continued

towards Europe. Enduring the

climate conditions ranging from

+44 degree centigrade to -14

degree during its travel, Fiat Egea

sedan has proved its durability once

again by performing a successful

performance in the limitless

steppes, hard climate conditions

and road conditions.

70 MARCH 2017
---
Monthly automotive aftermarket magazine

EATA Presents Next Steps For

Connected And Automated Driving

In the scope of connected and automated driving, the European

Automotive Telecom Alliance (EATA) presents deployment roadmap,

submits proposal for EU project

The European Automotive

Telecom Alliance (EATA)

presented the next steps to make

connected and automated driving

a reality. During a roundtable

discussion chaired by European

Commission Vice-President Andrus

Ansip and in the presence of

Commissioner Günther H Oettinger,

the telecoms and automotive

industries reported on the latest

technological developments and

the corresponding societal and

economic benefits for European

citizens.

In this context, EATA presented

a deployment roadmap for

connected and automated driving,

including its pilot projects and the

on-going regulatory dialogue. The

Alliance also announced that it has

submitted a proposal for funding

from the Connecting Europe

Facility, aimed at ensuring a

speedy development of connected

and automated driving across

Europe. By leveraging the latest

technologies, the EU can deliver

smarter, safer and cleaner transport

and strengthen its competitiveness

on the global stage. To support

this, the Alliance has also signed a

Memorandum of Understanding

with the 5G Automotive Association

(5GAA).

Deployment roadmap: status

of pilot projects and regulatory

dialogue

During the roundtable discussion,

EATA presented its roadmap for

testing connected and automated

driving functionalities. The kickoff

will take place in 2017 in five

EU countries (Belgium, France,

Germany, The Netherlands and

Spain), other European countries

along the TEN-T corridors are

expected to join the project

at a later stage. During this

first phase, companies will test

applications such as highway

chauffeur, truck platooning and

telecommunication network

functionalities; including network

slicing, hybrid communications

and LTE broadcasting. From 2018

onwards, functionalities such as

valet parking and the concrete

deployment of automated driving

will take the centre stage. This

will include testing cross-border

motorway networks across the

European Union.

In addition to this roadmap initiated

by the private sector, EATA stressed

that a supportive regulatory

environment is an essential

foundation for the development

and take-up of connected and

automated driving. Two main

aspects will be crucial:

• With investment efforts

in Europe's digital networks

underway, the EU should ensure

that investment requirements

are supported by the necessary

regulatory certainty. Broadband

investment is a main driver of

extensive societal and economic

benefits.

• Trust, security and

consumer protection are at the

core of the industry efforts to

ensure take-up of new products.

In this context, innovative services

and data analytics will be driving

forces of car connectivity and

automation. Hence, the EU should

avoid overregulation of privacy and

ensure the effective flow of data.

We are now looking forward to the

upcoming Digital Day on 23 March

in Rome in the margins of the

celebrations of the 60th anniversary

of the European Union. This event

with participation of the European

Commission, EU Transport and

Communication Ministers and

high-level industry representatives

is expected to further step up

the commitment to cross-border

initiatives in Europe on connected

and automated driving.

72 MARCH 2017
---
Monthly automotive aftermarket magazine

Opel/Vauxhall To Join

PSA Group

General Motors Co. and PSA Group announced an agreement under which

GM's Opel/Vauxhall subsidiary and GM Financial's European operations

will join the PSA Group in a transaction valuing these activities at €1.3 Bn

and €0.9 Bn, respectively

General Motors Co.

(NYSE:GM) and PSA

Group (Paris:UG) announced an

agreement under which GM's

Opel/Vauxhall subsidiary and GM

Financial's European operations will

join the PSA Group in a transaction

valuing these activities at €1.3 Bn

and €0.9 Bn, respectively. With the

addition of Opel/Vauxhall, which

generated revenue of €17.7 Bn in

20161, PSA will become the secondlargest

automotive company in

Europe, with a 17% market share.

A sound European foundation

for PSA to support its worldwide

profitable growth

"We are proud to join forces with

Opel/Vauxhall and are deeply

committed to continuing to develop

this great company and accelerating

its turnaround," said Carlos Tavares,

chairman of the Managing Board

of PSA. "We respect all that Opel/

Vauxhall's talented people have

achieved as well as the company's

fine brands and strong heritage.

We intend to manage PSA and

Opel/Vauxhall capitalizing on their

respective brand identities. Having

already generated together winning

products for the European market,

we know that Opel/Vauxhall is the

right partner. We see this as a natural

extension of our relationship and are

eager to take it to the next level."

"We are confident that the Opel/

Vauxhall turnaround will significantly

accelerate with our support, while

respecting the commitments

made by GM to the Opel/Vauxhall

employees," continued Mr. Tavares.

Advances GM's Transformation

and Unlocks Value

"We are very pleased that together,

GM, our valued colleagues at Opel/

Vauxhall and PSA have generated

a new opportunity to enhance

the long-term performance of our

respective companies by building

on the success of our prior alliance",

said Mary T. Barra, GM chairman and

chief executive officer.

"For GM, this represents another

major step in the ongoing work that

is driving our improved performance

and accelerating our momentum.

We are reshaping our company and

delivering consistent, record results

for our owners through disciplined

capital allocation to our higher-return

investments in our core automotive

business and in new technologies

that are enabling us to lead the

future of personal mobility.

"We believe this new chapter puts

Opel and Vauxhall in an even

stronger position for the long

term and we look forward to our

participation in the future success

and strong value-making potential of

PSA through our economic interest

and continued collaboration on

current and exciting new projects,"

Ms. Barra concluded.

Strengthens Each Company for the

Long Term

The transaction will allow substantial

economies of scale and synergies

in purchasing, manufacturing and

R&D. Annual synergies of €1.7 Bn

are expected by 2026 – of which

a significant part is expected to be

delivered by 2020, accelerating Opel/

Vauxhall's turnaround. Leveraging

the successful partnership with GM,

PSA expects Opel/Vauxhall to reach

a recurring operating margin3of 2%

by 2020 and 6% by 2026, and to

generate a positive operational free

cash flow4 by 2020.

PSA, together with BNP Paribas, will

also acquire all of GM Financial's

European operations through a

newly formed 50%/50% joint venture

that will retain GM Financial's current

European platform and team. This

joint venture will be fully consolidated

by BNP Paribas and accounted under

the equity method by PSA.

The transaction is another step in

GM's ongoing work to transform

the company, which has delivered

three years of record performance

and a strong 2017 outlook, and

returned significant capital to

shareholders. It will strengthen GM's

core business, support its continued

deployment of resources to higherreturn

opportunities including in

advanced technologies driving the

future, and unlock significant value

for shareholders.

By immediately improving EBITadjusted,

EBIT-adjusted margins and

adjusted automotive free cash flow

and de-risking the balance sheet,

the transaction will enable GM to

lower the cash balance requirement

under its capital allocation framework

by $2 Bn, which it intends to use to

accelerate share repurchases, subject

to market conditions.

GM will also participate in the future

success of the combined entity

through its ownership of warrants

to purchase shares of PSA. GM and

PSA also expect to collaborate in the

further deployment of electrification

technologies and existing supply

agreements for Holden and certain

Buick models will continue, and PSA

may potentially source long-term

supply of fuel cell systems from the

GM/Honda joint venture.

76 MARCH 2017
---
Monthly automotive aftermarket magazine

Toyota Welcomes Hydrogen-

Powered Future With

Awareness Campaign

Mirai awareness campaign kicks off at the 2017 Montréal International Auto

Show followed by other major Canadian auto shows across the country

The future of the automobile

is cleaner than ever,

thanks to vehicles like the 2016

Toyota Mirai sedan – a hydrogenpowered

fuel cell electric vehicle

(FCEV) that emits only water. And

to help demonstrate this future to

Canadians, Toyota is welcoming

three Mirai FCEVs to Canada. These

production models – already on

sale in Japan, California, and parts

of Europe – will be part of a crosscountry

awareness campaign.

Starting this month at the Montréal

International Auto Show, Canadians

can learn about FCEVs and how

they can help reduce greenhouse

gasses.

"The hydrogen-powered Mirai joins

Toyota's broad range of advanced

technology systems and vehicles –

including hybrids that we build in

Canada – to help reduce emissions

under real world conditions while

delivering everything that drivers

desire in a car, SUV or light duty

truck," said Stephen Beatty, Vice

President, Toyota Canada Inc.

"We're pleased to kick off the Mirai's

cross-Canada demonstration in

Montréal this month, and look

forward to sharing with drivers

and stakeholders this hydrogenpowered

approach to a cleaner

future. Watch for the Mirai at auto

shows and other events from coast

to coast throughout 2017."

The Toyota Mirai is part of the

advanced technology vehicle

display in the Toyota exhibit at the

Montréal International Auto Show

– January 20-29, 2017 at the Palais

des congrès.

The Toyota Mirai is a real-world

vehicle – already on sale where

sufficient hydrogen refueling

infrastructure exists. It's a clean,

efficient vehicle that's fun to drive

and easy for owners to adopt.

It has a range of approximately

500km and takes only five minutes

to refuel with hydrogen. Toyota's

decision to introduce the Mirai

awareness campaign at the

Montréal International Auto Show

also highlights Mirai's exceptional

cold-weather performance, and

Québec's role as one of the world's

leading hydrogen producers.

This ongoing Mirai awareness

campaign will underscore the

need for Canada to develop the

infrastructure required to support

FCEVs and other advanced

technology vehicles that will help

decarbonize the auto industry.

FCEVs are powerful and clean: The

Mirai's fuel cell mixes hydrogen

with air, resulting in a chemical

reaction that produces two things:

electricity and water vapour. The

electricity powers the vehicle, while

the water vapour – the Mirai's

only byproduct – exits through

the tailpipe. Toyota's commitment

to helping societies reduce their

greenhouse gas emissions is

part of the company's long-term

global Environmental Challenge

2050, which includes the New

Vehicle Zero Emissions Challenge,

aiming to reduce CO2 emissions

of new vehicles by 90 per cent

compared to 2010 levels, plus five

other climate change and natural

resource recycling initiatives.

To facilitate the widespread

adoption of hybrid vehicles and

support development of innovative

fuel cell technologies around

the world, Toyota has released

more than 5,600 royalty free fuel

cell-related patents, including

critical technologies developed

for the Toyota Mirai. Stay tuned

for more updates on Toyota's

Mirai awareness campaign as it

continues throughout the year and

beyond.

78 MARCH 2017
---
Monthly automotive aftermarket magazine

Total Number Of Tractors

Reaches 1,769,733 In Turkey

The total number of tractors in Turkey reached by 1 million 769 thousand

733 units with the additional number of 70 thousand 828 units in 2016

Turkish Chambers of

Agriculture (TZOB)

Chairman Semsi Bayraktar said

the Turkey's western province of

Manisa maintained its atop position

with the number of 83 thousand

870 unit tractors as of January

2017. As for the central province of

Konya, it ranked second in terms of

having the number of tractors.

According to the statement of

Bayraktar, these two provinces

were followed by Izmir with 61,459

units, Bursa with 61,028 units,

Balikesir with 60,850 units, Ankara

with 52,336 units, Adana with

50,330 units, Samsun with 49,615

units, Denizli with 48,127 units,

Antalya with 45,188 unit tractors.

Stating the number of tractor

increased 3,969 units in last month

and as for year on year the sales

number of tractors became 70,828

units and the total of tractors

reached by 1 million 769 thousand

733 units, Bayraktar recorded, "As

of January 2017, Manisa ranked

atop with the additional number

of 228, this province followed

by the provinces of Aydin with

163 units, Izmir with 150 units,

Konya with 150 units, Bursa with

140 units, Sakarya with 123 units,

Antalya with 111 units, Denizli with

109 units, Ankara with 96 units,

Sanliurfa with 95 units and Samsun

also with 95 units respectively. As

for the number of tractor increase

in terms of year on year, the central

province of Konya listed first with

3,005, Manisa, with 2,809, Bursa

with 2,497 units, Izmir with 2,367

units, Gaziantep with 2,173 units,

Ankara with 2,103, Denizli with

2,017 units, Sakarya with 1,878

units, Balikesir with 1,705 units in

the apect of first ten provinces."

80 MARCH 2017
---
Monthly automotive aftermarket magazine

ACMA Automechanika New

Delhi Offers Business Potential

From 21 – 24 March 2017 at New Delhi, ACMA Automechanika New

Delhi features being the center of business for the auto components and

aftermarket players to collaborate and exchange technical know-how

The business potential of

ACMA Automechanika

New Delhi remains indisputable,

with bookings intensifying for the

fair scheduled in March 2017.

In comparison to last year, the

exhibition space has increased

substantially with participation from

many newcomers and industry

leaders like Schaeffler Group, Ample

Autotech, Elofic, ZF India, Shriram

Pistons, Valeo India, Mansons, Liqui

Moly, and ACDelco among others.

While ACMA Automechanika New

Delhi will extensively cover the

automotive aftermarket through

its six product categories - Parts &

Components, Electronics & Systems,

Accessories & Customizing, Repair

& Maintenance, Management &

Digital Solutions and Car Wash,

Care & Reconditioning; a unique

'New Product Zone' will showcase

latest specialty products, auto

components and innovative

aftermarket accessories on the

show floor.

Demand for floor space from

international players continues to

remain high with pavilions from

China, Germany, Korea, Singapore,

Taiwan and the UK already

confirmed. Jointly organised by

Auto Component Manufacturers

Association (ACMA) and Messe

Frankfurt Trade Fairs India Pvt Ltd,

the 2017 edition will also see some

new initiatives along with a series

of conference sessions alongside

the fair.

Mr. Vinnie Mehta, Director General,

ACMA said: "ACMA Automechanika

New Delhi is an eminent global

platform for the auto ancillary

industry to showcase their

capabilities and offerings for the

aftermarket as also harness business

opportunities. Needless to say, this

edition will also contribute towards

making awareness on genuineproduct

availability and evolving

the aftermarket distribution chain."

When it finally opens for business

from 21 – 24 March 2017 at New

Delhi, ACMA Automechanika New

Delhi will be the center of business

for the auto components and

aftermarket players to collaborate

and exchange technical knowhow

– providing the much needed

impetus to India's Automotive

Mission Plan (AMP) 2026.

Moreover, ACMA and Messe

Frankfurt aims to build an anticounterfeiting

network for

knowledge sharing and addressing

the rising concerns on counterfeit

products sold in the replacement

market. Counterfeiting is rapidly

growing and raising serious

concerns about vehicle safety

in the country. Higher margins

make it easy to push counterfeit

products into the market. Therefore

taking a strong stand, ACMA's

ASLI-NAQLI' and 'Messe Frankfurt

against Copying' campaigns will

ensure that exhibitors and visitors

gain knowledge and understand

various safety standards.

The previous edition of ACMA

Automechanika New Delhi in 2015

witnessed a 58 percent growth in

business visitors and 72 percent

from decision makers. Confident

that the platform will be bigger,

better and busier this time round,

Mr Raj Manek, Executive Director

and Board Member of Messe

Frankfurt Asia Holding Ltd said:

"ACMA Automechanika New Delhi

will feature today what the industry

will need tomorrow – in terms of

competitive aftermarket products

and technical expertise which we

are sure will drive up the exhibitor

and visitor quality from its previous

editions."

ACMA Automechanika New Delhi is

taking place from 21 – 24 March,

2017 in Halls 7A-E, 8, 9, 10, 11, 12

and 12A of Pragati Maidan, New

Delhi.

82 MARCH 2017
---
Monthly automotive aftermarket magazine

Automobiles Transform To

Connected Version

From now on, automobiles are going to be connected to each other and

various communication devices

A

great change is happening

in the automotive sector.

From now on automobiles are going

to connect to each other and with

various communication devices.

Thanks to this, independently

moving automobiles along with

lots of features from mobile devices

will meet with consumers. But to

what extend these technologies are

reliable for users and people in their

environment are considered.

Alper Gogus, Director General of

CDT Information Technologies in

Turkey, told the related information

in the automotive sector.

Stating many automobile

manufacturers have been in

intensive research in terms of

safety in the future automobiles,

Alpay Gogus said an automobile

consumer aimed to use his or her

vehicle for long years, for this reason

including safety solutions, every

solution to be brought should be

for long term.

He continued, "Earlier the vehicles

were completely mechanic and the

biggest harm might be made by

others was stealing car. However,

now it is not so. At least five or six

wireless-access will exist in the all

vehicles in the upcoming ten years

and their safety should be provided.

Among them we can count Wi-Fi,

special Short Distance access for

communication of vehicles to each

other and infrastructure systems

and also LIDAR for crash warnings,

connection of transmitter, satellite,

tire pressure monitor system

and sound communication

with Bluetooth. All of these are

possible access points. Automobile

manufacturers want to be safe that

the vehicles would not be exposed

to any harm, even computer hackers

can make remote connection by

using by using wireless or wire

access. This condition is not only

valid for technical specifications."

Stating Mentor Graphics had

included software and software

engineering of that business in

a near time, Gogus said doubts

would be eliminated thanks to the

products that they would develop

whether Electronic Control Units

might be under protection or not

and continued; "Regrading every

electronic control unit having a

coded key, the coding should

be matched with a special key

which exist in the automobile

manufacturer. So, before any

software change is not happen,

an effective connection would be

set between the real automobile

manufacturer and electronic control

units in the vehicle in a safety way."

Gogus also reminded while safety

systems are improved and offered

for usage, much more energy,

time and money are spent. He

added new ones would be added

to the used methods and all

automobile manufacturers would

update complying with wireless

technology having safety database

or current identifying portals.

Gogus concluded that all of those

technologies would open the way

to autonomous vehicles that would

enter into our life in a near future.

84 MARCH 2017