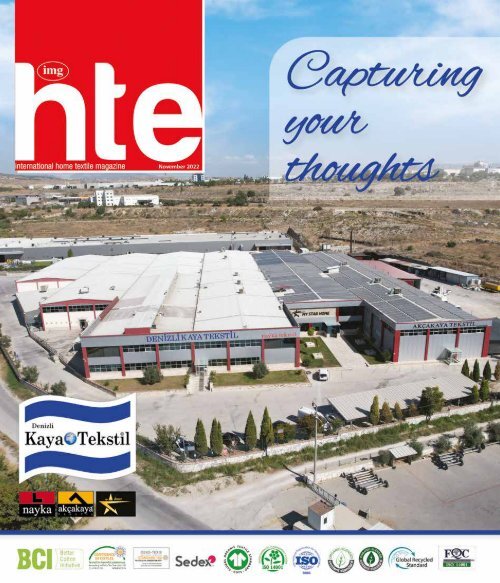 Home Textile Exports November 2022
Create successful ePaper yourself
Turn your PDF publications into a flip-book with our unique Google optimized e-Paper software.
6

HTE

Let's export

more…

Home Textile Exports

Group Chairman

Publisher

H.Ferruh ISIK

ISTMAG Magazin Gazetecilik

Yayıncılık İç ve Dış Ticaret Ltd. Şti.

As a global brand, the Turkish home textiles industry contributes greatly

to the Turkish economy with its high export capacity. It is one of the world

leaders with its wide range of products and superior quality in home textile

production, especially in the production of towels, bed sheets and covers,

curtains, tulle, embroidery, guipure and quilt covers. Türkiye has not only

proven itself to the world on home textiles but also accomplished to be

one of the countries that set the home textiles trends with its powerful

brands and attractive collections. There are home textiles companies that

have completed their branding process successfully as well as many small

and medium-sized companies that are still manufacturing on private label

basis with the orders of many international brands.

Managing Editor

(Responsible)

Advisory Board

Editorial Consultants

Mehmet SOZTUTAN

(mehmet.soztutan@img.com.tr)

Osman Nuri CANIK

Ufuk OCAK

Hilmi GULCEMAL

Pınar TASDELEN

Ayse Mehtap EKINCI

Assoc. Prof. Mehmet Ali OZBUDUN

Inkrit BERBEE

(inkrit@lobsterconcepts.nl)

Milou KET

(studio@milouket.com)

Dr. Rolf ARORA

Türkiye has the largest machine park to produce both embroidery and

guipure in the world. The largest factory producing quilt covers in Europe

is in Türkiye. The Turkish home textile industry has also acquired the latest

technology with high production capacity, a highly skilled labor force and

design talent, trend and fashion capabilities. In addition, the industry has

managed to reduce the cost of production below the world average while

it has increased the quality of its products. So, with a huge production

capacity, high quality and strong competitiveness, Türkiye is in the world's

top three suppliers in drapery, bed linens and towels.

While the COVID-19 pandemic has brought new formations to our lives,

radical and major transformations were in all industries in the e-commerce

world. The home textiles industry is no exception. So much so that the

e-commerce sector grew by 66 percent in 2020 and closed the year with a

volume of TRL226.2 billion in all industries.

The government has made new contributions to courage the increase of

this way of trade. It seems that the future of exports will be shaped according

to the adaption of these new rules, however, as almost every industrialist

says, the importance of face-to-face trade fairs never loses ground. In

the contrary, all other ways lead the way to these events. That's why we,

as Istanbul Magazine Group, run from one home textile and decoration fair

to another every month. We have, in fact, prepared an even busier international

trade fairs schedule to attend to distribute our free copies and to

cover the events in the following issues for the industry professionals.

Mehmet SOZTUTAN

(mehmet.soztutan@img.com.tr)

Correspondents

Domestic

Advertising Manager

International

Sales Manager

Technical Manager

Art Director

Chief Accountant

Subscription

HEAD OFFICE

İHLAS MEDIA CENTER

Merkez Mah. 29 Ekim Cad.

No:11 Medya Blok Kat:1

Yenibosna / İstanbul / Turkey

Tel: +90 212 454 22 22

Faks: +90 212 454 22 93

www.hometextile.com.tr

Elke ARORA

Adem SACIN

(adem.sacin@img.com.tr)

+90 505 577 36 42

Omer Faruk GORUN

(omer.gorun@img.com.tr)

Ayca SARIOGLU

(ayca.sarioglu@img.com.tr)

Tel: +90 212 604 5100

Tayfun AYDIN

(tayfun.aydin@img.com.tr)

Tolga CAKMAKLI

(tolga.cakmakli@img.com.tr)

Yusuf DEMIRKAZIK

(yusuf.demirkazik@img.com.tr )

Ismail OZCELIK

(ismail.ozcelik@img.com.tr)

BURSA

KONYA

LIAISON OFFICE:

Buttim Plaza A. Blok Kat:4 No:1038

Tel: +90. 224 211 44 50-51

Fax: +90. 224 211 44 81

H. Ulusahin Is Mrkz.

C. Blok Kat:6 No:603-604-605

Tel: +90. 332 238 10 71

Fax: +90 332 238 01 74

PRINTED BY

IHLAS GAZETECILIK A.Ş.

Merkez Mah. 29 Ekim Cad.

İhlas Plaza No:11 A/41 Yenibosna

Bahçelievler/ISTANBUL

Tel: 0212 454 30 00
---
10

EVENTS

HTE

Back on track:

Heimtextil 2023

experiences strong

international

demand

Planning for the next

Heimtextil in January

2023 is in full swing.

The industry expects an

internationally unique

platform for home and

contract textiles, interior

design and trends at

the start of the 2023/24

season.

DDuring the one-time Heimtextil Summer Special

that just ended, the industry's great need for personal

encounters, tactile impressions and creative

input became apparent. The next Heimtextil, leading

international trade fair for home and contract

textiles, will start the new season as the first event

of the year from January 10 to 13, 2023.

Over 2,200 international exhibitors from 50 countries have registered

for the event. The internationality of the event is also

remains high. Among the participating companies are promising

names from all over the world, such as ADVANSA Marketing GmbH

(D), Alfred Apelt GmbH (D), Aznar Textil, SL (E), Essenza Home

(NL), Gul Ahmed Textile Mills Ltd. (PK), Lameirinho - Indústria

Têxtil, S.A. (PT), Lenzing AG (A), Marburger Tapetenfabrik (D),

Norvigroup Denmark A/S (DK), Microcotton Inc (US), OBB

Oberbadische Bettfedernfabrik GmbH (D), Standard Fiber LLC

(US), Tanriverdi Mensucat San. A.S.(TR), Trendart (CH), Trevira

GmbH (D), Trident Limited (IND), Velamen S.A. (E) or Zorel

Tekstil (TR).

November 2022
---
12

HTE

EVENTS

The industry participants are courageously

meeting the major challenges

and are using Heimtextil to further

internationalize their clientele. Under

the current market challenges, the

industry shows a great desire for inspiration

and new approaches to solutions,

as well as for creating new customer

relationships all over the world.

Heimtextil 2023 provides the perfect

range of relevant market players and

complements the benefits for buyers

with an extensive supporting program.

Highlights at Heimtextil 2023

Thematically, the overarching theme

of sustainability will also be clearly

visible at Heimtextil 2023. With the

exhibitor guide, "Green Directory" as

well as the "Green Village", that offers

a platform for discussion with the seal

providers, Heimtextil offers important

points of orientation in the jungle of

the many sustainable offers. The popular

trade fair tours "Green Tours"

will also once again take interested

visitors to curated exhibitors to learn

November 2022
---
14

HTE

EVENTS

more about their sustainability strategy and their products.

Last but not least, the impressive "Future Materials

Library" will be presented again as part of the Trend Space

at Heimtextil 2023. The international collection of material

innovations in the interior sector is curated by the future

agency FranklinTill, which is also responsible for the

conception of the Trend Space at Heimtextil 2023. The

spectacular design and trend area will set the scene there

for Heimtextil Trends 23/24, which will be developed beforehand

by the international design offices stijlinstituut

amsterdam (Netherlands), FranklinTill (Great Britain) and

SPOTT Design & Business (Denmark).

Under the title "Textiles Matter", Heimtextil Trends 23/24

sets standards for the future-oriented and sustainable textile

furnishings of tomorrow. The focus is particularly on

the subject of the circular economy. By adding materials

to a utilization cycle again and again, the need for new raw

materials is reduced on the one hand and the production

of waste on the other. In the technical cycle, inorganic

materials, such as nylon, polyester, plastic and metal, can

be recycled with no loss of quality. In the biological cycle,

organic materials, such as linen and bast fibres, are

returned to nature at the end of their useful life. This is

the basis of the four trend themes: 'Make and Remake',

'Continuous', 'From Earth' and 'Nature Engineered'.

A new feature is that the Trend Space will be presented

in Hall 9.0. Circular economy also characterizes the staging

of Heimtextil Trends 23/24 itself: With the "Material

Manifesto", the responsible trend office FranklinTill commits

itself to a design of the area that is as sustainable as

possible with predominantly recycled materials and elements

as well as a strict waste avoidance strategy.

Interior.Architecture.Hospitality, the specialist program

for interior designers, architects and hospitality experts,

will once again take place at Heimtextil 2023 on a large

November 2022
---
16

HTE

EVENTS

scale and in the usual high quality. The program includes

the Interior.Architecture.Hospitality LECTURES, in which

renowned architects and well-known hotel experts will

present their work and discuss current industry topics

such as sustainability, as well as the Interior.Architecture.

Hospitality TOURS, which will take participants to curated

highlights and innovative textile solutions from the

contract sector. The Interior.Architecture.Hospitality

DIRECTORY will once again list all the suppliers of contract

textiles. In addition, the identification of the respective

trade show booths ensures an effective trade show

visit for the target group.

Another highlight is the Interior.Architecture.Hospitality

LIBRARY. Launched in 2020, it is a material library for

functional textiles. The library can also be found online

at www.textile-library.de. A brand new edition will be published

for Heimtextil 2023. The jury of the library will be

expanded to include application experts or interior designers.

Exhibitors with products for use in the property

can submit them for the respective property, which will

be selected by a panel of experts. The concrete naming

and labeling of these 15 functional properties ensures an

November 2022
---
18

HTE

EVENTS

even more precise highlighting of the objects on offer in 2023.

DecoTeam, the community of interests of German home textile

suppliers, is offering a far reaching event program as part of

Heimtextil 2023. The focus will be on the topic of online marketing,

with keynote speeches by Monika Winden and a subsequent

YouTube workshop. A panel discussion with interesting

discussion partners will also provide exciting insights into the

topics of sustainability and social media marketing.

With the Heimtextil Conference Sleep & More, visitors* in 2023

will again be offered a top-notch lecture program for the areas

of health, sustainability and the hotel industry. Over the course

of four days, experts will speak about the latest findings, developments

and trends in the field of healthy sleep from various

perspectives of the industry.

With the "New & Next" program for young talents, young talents

and start-up companies are given the opportunity to present

themselves in the environment of the international industry. The

fresh ideas and products of the New & Next exhibitors make a

valuable contribution to the multi-faceted Heimtextil spectrum.

Heimtextil will take place from 10 to 13 January 2023.

November 2022
---
10. – 13. 1. 2023

FRANKFURT, ALMANYA

Wow your

senses.

The true TEXTILES-TRENDS-TALKS experience.

Stay up to

date and

subscribe

to our

newsletter!

Inspire your senses at the most influential international

trade fair for home and contract textiles.

Here you'll find the latest trends, lectures and

guided tours for textile professionals with a thirst

for knowledge. Make new business contacts and

gain a complete overview of the market in just a

few days. All this is only possible at Heimtextil

with its huge WOW factor.

info@turkey.

messefrankfurt.com

Tel:

+90-216-384 50 50

www.heimtextil.messefrankfurt.com
---
22

PROFILE

HTE

Autumn Breeze with LCW

Home New Collection

LCW Home launches its new collection which has the warmest colors of autumn

with special designs decorated with pumpkin and leaf patterns. Starting from

plates to tablecloths, duvet covers to towels, stylish autumn-themed designs are

waiting for you.

utumn is one of the most romantic

A

seasons with its yellow leaves, cool

winds and its nature which turns into

thousands different kind of colors.

LCW Home brings this romance and

beauty to your homes with stylish

and unique designs. LCW Home Autumn Collection, which

is dominated by yellow, orange and earth tones, creates

a warm atmosphere in homes. Doormats, throw pillows,

tablecloths, runners and duvet cover sets welcomes the

autumn season with pumpkin and autumn leaf patterns

in unique hues.

Leaf-patterned placemats, napkins and serving trays give

a unique final touch to the dinner-tables. Plates which

look very elegant with pumpkins and leaves, glasses and

jugs in warm tones look extremely romantic. Pots, storage

boxes and coffee presses that reflect the most beautiful

colors of the season make kitchens just as beautiful as tables.

Scented candles, which can be used in every corner

of the house, look even more elegant in autumn with their

unique colors and tree, pumpkin and forest theme.

November 2022
---
24

PROFILE

HTE

Coyuchi

launches public

offering under

regulation A+

CCoyuchi, the first organic luxury home goods

brand for sustainable living, announces today

the opportunity for the general public to invest

through a Regulation A+ offering for the first

time in its 30+ year history. This Regulation

A+ offering has been qualified by the SEC and

the company is now accepting investments, along with the

chance to become part of its mission to reinvent home

textiles with sustainable practices. The offering circular

can be reviewed here.

Why invest in Coyuchi? The company is profitable

and growing.

Coyuchi has been in business for more than 30 years

and has set the standard for sustainable home textiles,

creating the market and demand for organic luxury home

goods.

Coyuchi's sustainability mission and circular business

model have proven a clear draw for customers. Over the

last two years, Coyuchi's net income has soared, with

some notable highlights:

• $33.3 million in net sales in 2021

• 26% year-over-year net sales growth, while the industry

average is only 5%

• 200,000 active customers (with more than 100% growth

between 2019 and 2021) at a 35% customer repeat purchase

rate

Adding to its innovation beyond sustainable practices and

design, Coyuchi was an early adopter of a direct-to-consumer

sales and marketing approach; creating a distinct

advantage over incumbents and start-up newcomers in

the luxury space. This has resulted in a high lifetime value

customer, luxury retail partners such as Nordstrom, and

its flagship store in Marin County.

Why Now? We cannot achieve sustainability alone.

With over 30 years of operational and market knowledge

of sustainable textiles, the time to raise money through

the public is now.

November 2022
---
26

HTE

PROFILE

Seventy four percent of consumers are willing to pay more

for sustainable products, a pattern that has only continued

to increase over the last few decades. Coyuchi's

largely millennial customer base is no exception: millennials

favor ethical consumption over price when purchasing

goods and services and 83% of millennials want the

brands they purchase from to align with their beliefs and

values (source). According to McKinsey, millennial spending

is expected to increase to $8.3 trillion by 2025; an

investment in Coyuchi highly aligns with one of the more

powerful consumer groups to date.

Coyuchi is a profitable company with experienced leadership

and a substantial direct-to-consumer model (over

80% of its sales are directly through coyuchi.com).

Sustainable products are the fastest growing sector of the

home goods market, and Coyuchi is poised for a new

phase of growth as the world awakens to sustainability

at scale.

The Market

The overall U.S. market for home textiles is currently at

$25 billion, with an expected AGR of 5% to reach $30

billion by the end of 2025, according to Statista. In 2017,

Coyuchi became the first home brand to implement a

take back and recycling program - called 2nd Home.

"We believe smart investing is investing in companies

that not only drive financial performance, but also focus

on positive environmental and social impacts in the communities

they serve. Everyone should have access to this

type of investment, which is why we're excited to launch

this Regulation A+ offering,"" said Eileen Mockus, CEO

& President at Coyuchi. "With this public investment, we

see an incredible chance to provide greater access to living

sustainably for a healthier population and world."

This round of funding will be used to grow Coyuchi's

leadership in this market through expanded marketing,

product category expansion, continued physical presence,

and B2B strategic partnerships with wholesalers,

and online marketplaces.

Coyuchi sees the world differently.

Coyuchi believes in the democratization of finance, and

wants its customers, partners, and supporters with a common

interest in Coyuchi´s mission, to have first access to

invest alongside VCs.

By investing through the Regulation A+ process, potential

investors get access to shares in the company – an opportunity

previously reserved for only the wealthiest 2%.

November 2022
---
28

FOCUS

HTE

Effect of strong brand

identity on the consumer:

Is your brand recognized

without a logo?

Consumers can easily remember some brands without seeing the brand name or logo.

This situation, which occurs subconsciously, is related to the 'strong brand identity' of

brands. Emphasizing that brands that want to create an impact should look beyond the

logo and brand name to the reminders that reach the 5 senses, Tasarist Creative Director

Musa Çelik said, "Visual elements are very effective tools in representing the brand.

However, we need to broaden our perspective and trust in the power of time in order to

create a strong brand identity and then embed it."

A strong brand identity encompasses

all the elements that enable con-

A

sumers to quickly remember the

brand. The brand name and logo

are two basic and very important issues

in brand building, but they are

extremely insufficient in placing the brand perception in

the consumer's subconscious. Therefore, from a broad

perspective, a strong brand identity with customized reminders

for the 5 senses emerges. Recently, there are

applications where global brands remove logos from their

products or advertising campaigns and give a message to

the consumer. Moreover, the consumer recognizes the

brand from the color, the shape of the packaging or the

font, without even seeing the name of the brand. Musa

Çelik, Creative Director at Tasarist, emphasizes that the

underlying reason for this is unquestionably strong brand

identity and brand awareness: "To achieve this power,

brands must associate themselves with the emotions of

the consumer and make the reminders of the brand consistent

and continuous at all times. If the strong brand

identity is not coherent and the experience offered in the

products is variable, this weakens the power of the brand

and prevents memorability by disrupting the integrity."

Musa Celik,

Creative Director

of Tasarist

November 2022
---
30

HTE

FOCUS

Tasarist, states that a strong brand identity is much more

than just the fact that a logo has been seen or a brand

name has been heard before, and that the soul and story

of the brand should be handled as a whole and presented

to the consumer as a whole.

Awareness does not bring recognition to brands

Brand awareness and brand recognition are often confused

or thought to be the same. Although the two concepts

are related, there is a significant distinction between

them, which also affects the path to brand sales.

Brand awareness is defined as the consumer's awareness

of the brand's existence, while brand recognition

is defined as the consumer's ability to identify the brand

through its visual and auditory elements. In fact, brand

awareness can lead to brand recognition in the long run

and their relationship is based on this point, but the possibility

that it may not go beyond the level of awareness

should not be ignored. Musa Çelik, Creative Director at

"Brand - consumer relationship is in the hands of

time, not money"

Strong brand identity elements of brands and their products

are used to influence consumer buying behavior.

The fact that the consumer encounters the same and reminding

content at every point of contact with the brand

increases the sense of trust in the brand without being

aware of it. In this way, the consistent brand identity gains

a place in the consumer's subconscious with its associations.

For brands that develop a strong brand identity

after deep consumer analysis, "Reflect a strong brand

identity at all touch points, and your final step is to leave

your brand to the consumer's time. It is in the hands of

time rather than money to strengthen this relationship!"

Musa Çelik says.

November 2022
---
17 - 21 Mayıs 2022

İ S T A N B U L

Stand No: HALL 2 C15
---
36

HTE

PROFILE

Coop expands innovative sleep &

wellness portfolio with the retreat

mattress topper

Coop Home Goods, a leading digitally native

Cdesigner and marketer of the first fully adjustable

pillow and ingeniously designed bedding

to meet the unique needs of every type of

sleeper, announced today the expansion of

its existing product line with the launch of

its latest innovation, the Retreat Mattress Topper. Joining

hero SKUs, The Eden pillow and The Original pillow, which

was labeled the "The Best Pillow We've Ever Tested," by

Good Housekeeping Magazine and 2022's #1 Overall

Best Pillow by Consumer Reports, while boasting 50,000+

5 star reviews on Amazon, the brand has set its sights

on reinventing the sleeping experience with The Retreat

Mattress Topper.

Retreat was designed following the highest industry standards

and has been deemed Certi-PUR US & GreenGuard

Gold certified.

"The transition from pillows to mattresses reflects our expanding

products and services that will surround all sleep

needs," said Mike Crowell, CMO of Coop Home Goods.

"Retreat has been in development for a very long time and

we've gone to extreme lengths to ensure that the mattress

provides a transformational experience for the consumer.

The tremendous increase in fill and plushness of the

topper, combined with the elimination of all pain points,

Retreat is positioned to ensure our customers are getting

the sleep they deserve."

Taking the beloved OOMPH! from Coop's #1 ranked

Original pillow, the Retreat Mattress Topper masterfully delivers

a magical night sleep. To make this dream a reality,

Coop has successfully reengineered the topper with 100%

virgin memory Cross Cut foam that delivers breathability,

unlike solid or shredded memory foam toppers, its Baffle

Box construction that allows for even distribution of fill

and fluffiness and a microfiber blend that lubricates the

foam fill to provide additional breathability. Additionally,

Where other mattress toppers take a one-size-fits-all approach,

Retreat has 20% more memory foam than its

nearest competitor while Coop's proprietary oomph! fill

delivers thousands of distributed cradling touch points

vs head, shoulders, knees and toes. With 5" of Coop's

oomph fill, it is tuned for full body support, contouring

around every curve and bend.

November 2022
---
38

INNOVATION

HTE

Innovations

presents FA22

Collection, Botanic

otanic draws inspiration from natural

materials and plants, stripping

B

down to essential elements to showcase

the raw, unconcealed nature

and unique beauty of materials like

sisal, linen, and recycled yarns. The 11 wallcoverings

in the FA22 collection highlight the allure of ornate

textures found in nature and add depth and warmth

to any room.

The collection explores natural materials like wood

and cork and tiled patterns, alongside elevated vinyl

wallcoverings that mimic the look of natural fibers.

Traditional techniques like weaving, painting and

dyeing by hand are incorporated throughout the collection,

adding to the organic look and feel of each

wallcovering.

The beauty of raw linen is explored in Normandy,

Flanders, and Holland, which each explore different

weaving techniques from a tight chevron to a

loose weave. Similarly, the organic texture of sisal

is explored in the traditional natural weave of Agave

which features a new contemporary color palette of

soft blues, greens and neutrals.

New approaches are used to add color to raw materials,

achieving softer pastel hues and earth tones.

This is most evident in the cork wallcovering Whistler,

which goes through multiple rounds of dye to achieve

a muted look while retaining the natural cork feel.

Tilework has been used for centuries as a simple way

of assembling materials and creating interesting patterns.

Traditional tiles are interpreted in new ways,

using the rough beauty of raw materials to form

November 2022
---
40

INNOVATION

HTE

statement wallcoverings in bold patterns that are

deceptively simple. Bloque features long strips of

shaved wood that are dyed by hand and arranged

in geometric forms of varying directions, generating

movement and interest. The geometric pattern in

Lido was developed from a hand painted watercolor

mosaic that has been transferred to a digital format

for printing and then printed on yarns that are individually

glued to the backing. Framework weaves

a structured tiled pattern out of recycled cellulose

and paper yarns, adding new depths of texture to

the subtle metallic design in an eco-friendly option.

We are excited to introduce a PVC free vinyl alternative,

Bursa, which is composed of 20% recycled

material and Olefin composite in a striking texture

reminiscent of raw silk. Another elevated Type II

vinyl with a textile-like finish, Anvers, is a groundbreaking

faux version of our best-selling linen

Antwerp, made using a special embossed roller that

took two years to develop to accurately recreate

the delicate natural draping and pleating of linen.

The textured weave of grasscloth is the inspiration

for the Type II vinyl Ramina, with a robust color palette

that complements the collection's statement

wallcoverings.

The wallcoverings in this collection are unpretentious

in their beauty. They tell the story of the earth

and illustrate how natural textures possess the

ability to stimulate closeness with nature. Recreate

the peaceful atmosphere of spending time in nature

and design a warm and welcoming space

with a grounding connection to the outdoors with

Innovations FA22 Collection, Botanic.

November 2022
---
42

HTE

PROFILE

COZY&SOFT,

an outcome of

excitement and

determination

Started with the motto of

"Make house to home",

Cozy&Soft brand offers

soft and lovely home textile

products you may fall in love

I

n an exclusive interview for Home

Textile Exports magazine, we asked

the details of the story of Cozy&Soft

to Buse Koca Düngel, the name behind

the success of the brand.

You built up a brand producing natural and high-quality

home decoration products. Could you start with

briefing the establishment story of your brand?

It was like designing and selling products that I produced

during my university years. I saw a dream. As

I am an interior designer this will always be in the

furniture field. I used to think. Unfortunately, the process

does not end with producing the product. Good

product design, put up for sale, package, shipping,

cost etc. You start to think about it.

At this point, I can produce my dreams freely and with

less capital. I felt the need to turn to a product group

that I could move forward with, and at this point, my

home I decided on textiles. Basics in a small bedroom

with fabric scraps Cozy&soft was thrown out,

then the trials, products, details changed over time.

Followed and our story reached here.

Cozy&Soft is a brand for 2 years and we are just

at the beginning of the road. Every detail ourselves

we think and act. Deciding on the product, making

experiments, materials we supply, we even shoot the

product in our workshop. Later on we switch to stock

production. However, we are a brand that cares about

its carbon footprint. We do not hold large volumes of

stocks. Our stocks have more orders and products.

November 2022
---
44

PROFILE

HTE

Can you tell us about your fields of activity? The

highest demand for your products? What regions

does it come from?

We only operate in the field of e-commerce. The

products we produce in our workshop we sell

through online marketplaces and our own website.

America and Canada are among the most demanded

places.

You have Oeko-Tex certified products. Can you

tell us what kind of work to get this certificate

did you do?

All the fabrics, threads and other materials we use

are Oeko-Tex certified. We select our suppliers accordingly

and attach importance to this situation.

Oeko-Tex Certification is used in textile products

that come into contact with the skin in any way.

That the components such as fabric thread, etc.

in the products are harmless and do not contain

chemicals and declares that it is not harmful to human

health.

The production you started with the motto

'Make house to home' to increase customer

satisfaction on your journey. How do you work

differently from your competitors?

Cozy & Soft produces its products with an integrated

design language and allows them to be used

in combination. Also, whatever the style of your

home is modern, minimalist, bohemian, contemporary,

Scandinavian, Cozy&Soft product's color

and design adapt to most living spaces.

You can choose from Cozy&Soft products for each

area of your living space. Throw pillows for your

seats, placemats for pleasant meal times, children

decorative baskets for your room, baskets for your

bathrooms, rope for your live plants baskets and all

of these products are compatible with each other.

Your brand cares about sustainability. What does

it prioritize as usage?

As we just mentioned about sustainability, especially

Oeko-Tex certified. We use materials and

choose our fabrics from natural cotton and linen

groups. We take care. All decoration details on our

products are made of cotton. It consists of yarns

and jute details. Sustainability of our packaging we

do this by using kraft envelopes.

November 2022
---
50

HTE

PROFILE

BEDGEAR ® takes bedding industry by

'Storm' with new performance ® pillows

EDGEAR®, the brand of Performance®

Bthat provides innovative bedding by focusing

on an active lifestyle and well-being,

today announces two new Performance

pillows in the Storm collection: Storm

Performance® Pillow and the Storm

Cuddle Curve Performance® Pillow, which includes a unique

curvature shape to accommodate all types of sleep positions.

Both pillows feature ventilated mesh sides and "air vents" for

maximum breathability.

Based on the success of the original Storm pillow, the new

dual-chamber Storm Performance Pillow and Storm Cuddle

Curve Performance Pillow feature a sophisticated look with

metallic green Air-X® mesh, metallic green piping and air

vents either on top and bottom or on all four sides for continuous

cross-ventilation throughout the pillow. An air vent

is a soft, circular fabric with a mesh center, which is about

the size of a nickel. The benefit of it is allowing hot air coming

from the head, neck and shoulders to be directed away

from the body. BEDGEAR's Ver-Tex cooling cover has been

designed with a white lofty triangular pattern and silver stitching

for a more modern look that dually contributes to better

airflow. One side of the Storm and Storm Cuddle Curve is

filled with a React blend of responsive foam that includes

silk-like fibers for soft, conforming support. The other side is

filled with a React foam crown for firm, conforming support

for the head, neck and shoulders.

The Storm Cuddle Curve Performance Pillow conforms to the

curves of the body when sleeping, allowing the pillow to stay

in place throughout the night. Its crescent design allows for

proper spinal alignment no matter the sleep position.

Both pillows include zip-off removable and washable covers

that create a clean and healthy sleep environment. The covers

are high-efficiency washable that use less water, less detergent

and less energy to wash and dry.

"BEDGEAR is always looking for new ways to continuously

maximize the rest and recovery of sleepers and reduce their

overheating so they Wake Ready the next morning. And

BEDGEAR understands every person has different sleeping

preferences, and that is why we say One Size Does Not Fits

All," said BEDGEAR CEO and founder Eugene Alletto. "As a

result, the new Storm Performance® Pillow and Storm Cuddle

Curve Performance® Pillow with their cool-to-the-touch Ver-

Tex covers are perfect for those who sleep warm or hot and

are available in four different sizes, or heights, to accommodate

stomach, back, side and multi-position sleepers of all

body types. Bodies have shapes and curves to them, so we

believe our pillows should, too, like the Storm Cuddle Curve.

BEDGEAR firmly believes in inclusivity."

November 2022
---
52

HTE

PROFILE

Crate & Barrel reimagines rug

assortment from the ground up with

new artisan-crafted rug line

Crate & Barrel unveils a new assortment

C

of rugs, crafted for customers to ground

any room in modern yet timeless design.

The collection demonstrates the brand's

commitment to meeting customer needs

through high-quality, design-forward products

with more choice and variety of materials than ever

before.

The artisan-crafted collection features best-in-class fibers

like shed-resistant New Zealand wool, premium viscose

for a luxurious look, and naturally resilient jute and sisal.

Handwoven, hand-knotted or hand-tufted and finished

with durable serged edges, the new rugs are made to last

a lifetime. "Rugs have the power to define interiors and

complete a room, and this new collection gives customers

a range of distinct styles and layers for any type of home

or project," said Sebastian Brauer, Senior Vice President

of Product Design, Global Head of Metaverse. "We hope

this assortment will inspire our customers to bring beautiful,

luxurious and artisanal foundations into their home

through stunning rugs made of the highest quality fibers."

The collection offers more than 90 new patterns in varying

fibers, textures and colors in a range of sizes including a

new 12x15 oversized option available for the first time in

select styles. An online rug buying guide helps customers

find the right size for their space. Each line of the collection

echoes the aesthetic of a global destination, like the

woven rugs inspired by Morocco's Atlas Mountains.

November 2022
---
54

PROFILE

HTE

A brand new collection by

"Yastık by Rıfat Özbek":

"Floral Rainbow"

Floral Rainbow, the latest collection of

'Yastık by Rıfat Özbek', gets its inspiration

from the unique colors and miracles

of nature. The collection, which conveys

the vitality of nature in living spaces,

includes all colors of the rainbow. The gratitude for the

values nature keeps on offering to mankind comes to life

in the unique colors and patterns in the "Floral Rainbow"

collection.

Floral Rainbow, the latest 'Yastık by Rıfat Özbek' collection

prepared by world-famous designers Rıfat Özbek and

Erdal Karaman, refers to the human admiration of nature

on account of its whole cycle and self-renewal power. The

gratitude for the values nature keeps on offering to mankind

comes to life in the unique colors and patterns in the

"Floral Rainbow" collection.

November 2022
---
56

HTE

PROFILE

The pieces in the collection, which focus on reviving the

living spaces that shrink on a daily basis as a result of modern

life, through floral breezes, create a feeling of peace,

safety and serenity. The collection, which is limited edition,

includes all the colors of the rainbow. Bougainvillea

pink, water and grassgreen, ocean and indigo blue and

turquoise tones are among the colors predominantly used

in the collection.

November 2022
---
60

EVENTS

HTE

Technology transformation

leaders of the textile industry will

come out of Denizli

echnical Textile Transformation Project in

TDenizli" which is funded by the European

Union and the Republic of Türkiye and

started in Denizli in 2020, continues

its work without slowing down. DTO

Chairman of the Board Uğur Erdoğan said

that the project which was supported within the scope

of the "Competitive Sectors Program" implemented by

the Ministry of Industry and Technology and implemented

by the Denizli Chamber of Commerce (DTO), will not

only transform the Denizli textile industry, but also will

enable the entire textile industry of Turkey to be known in

the world. He said that they considered it as a move that

would break new ground in the industry and that will bring

a new era to Denizli and many sectors in which it operates.

Erdogan; "I can proudly say that Turkey's technology transformation

leaders in the field of textiles will open up to the

world from Denizli," he said.

Technological transformation means higher value

added products and increasing export volume

DTO President Uğur Erdoğan, who shared his views on

the subject, said that Denizli, which is the first city that

comes to mind when it comes to towels and bathrobes not

only in Turkey but also in the world, aims to transform the

textile industry into a technical textile industry by taking

strength from its experience and competitive structure in

home textiles. He stated that he has had very busy days

regarding this project for two years. Erdogan; "Our Denizli,

which is an important center especially in towel and bathrobe

production, meets a significant part of the country's

annual exports in this field and is recognized as the world

capital in the field of cotton textiles. In order to achieve

better positions in exports and industry, we have set our

first goals to follow information and technology closely, to

produce products with higher added value by making the

necessary investments in innovation and R&D studies, and

thus to increase our production diversity. In this way, we

will ensure that our national wealth, which is paid abroad

for imports, remains within the country. At the same time,

we are increasing our target day by day in order to make a

great and important contribution to the Turkish economy

by establishing new employment areas."

The journey of transformation into technical

textiles will not only increase textile exports, the

price value of textile in kilograms will also jump

The Project Technical Textile Transformation Project in Denizli

(DTTD), implemented by the DTO, aims to transform the Denizli

textile industry and change the face of Turkey's textile exports

over time. Denizli industry and exporters will meet with high value-added

textile products with the DTTD Project, which is one of

the two innovative projects selected from among hundreds of

projects in the country, sent from chambers and exchanges affiliated

with TOBB and deemed worthy of support. Ugur Erdogan,

President of DTO also listed his final goals as; "Our Technical

Textile Center is an innovative and important initiative that will

draw a new path for our industry and our city and open our horizons.

It will not only ensure the emergence of new products and

inventions, but also contribute to the clustering of companies

November 2022
---
operating in this field and related sectors and business lines,

thereby paving the way for the establishment of new companies

in new business lines in our city. I can happily say in advance

that the project will give a new impetus to Denizli's textile journey,

expand the product range and increase the kilogram price

value of Denizli's exports over time,".

Everyone has taken on the responsibility and

big investment has been made in the world class

technical transformation of the textile industry

DTO President Uğur Erdoğan pointed out that a large investment

has been made in the Technical Textile Transformation

Project in Denizli, which is carried out within the scope of the

"Competitive Sectors Program" implemented by the Ministry of

Industry and Technology with the co-financing of the European

Union and the Republic of Turkey; "An area of 1000 square

meters for our Technical Textile Center was allocated to DTO

by our Denizli Organized Industrial Zone. Equipment procurement,

construction/installation processes and set up of

our center have also been completed. As Denizli Chamber of

Commerce, we have also started a new project to increase the

competitiveness of our SMEs, especially our textile industry,

in cooperation with the OIZ Directorate. Besides this center, a

Vocational and Test Training Center is also being established.

With our Vocational Training Center where technical textile and

textile technology are located side by side, our participating

companies will be able to receive all business development,

training and consultancy services from a single point. We are

making every attempt to ensure that our Denizli Technical

Textile Center serves as the attraction point in the region with

a sustainable structure."

All kinds of opportunities are provided in Denizli

for the technology transformation leaders of the

future textile industry

In order to identify and optimize the needs of companies and

new entrepreneurs before the project, surveys and workshops

were conducted with 100 textile companies, 65 of which were

in the SME status, and during the project period, advisory and

steering committee meetings, stakeholder workshop and analysis

of 166 companies were carried out. DTO President Erdoğan:

"In line with the work we have done, we have started theoratic

and practical trainings for textile companies. After the surveys

were completed and analyzed, 55 companies participated in

our workshop. We constantly shared about the launch of the

project in the promotional meetings we held and the platforms

we participated in, and we saw that the interest increased day

by day. At the end of the project, our goals such as the establishment

of our Denizli Technical Textile Center and at least

50 companies benefiting from this center, providing business

development support to 100 companies or entrepreneurs on

technical textiles, increasing the sales and/or exports of 30

companies and reducing all input costs including energy, the

establishment of at least 5 new companies and the generation

of new employment , continue to excite our textile companies

and all our stakeholders who contributed to the project. At

the same time, we will establish the Denizli Technical Textile

Cluster (DTTK).

As bringing something new in Denizli with their projects,

Erdoğan said the importance of their projects as, "Our Turkey

is a candidate to have a say in the world league with the technical

textile sector. Because, as all parties involved, we all know

well that with this project, our success in the textile industry

will be carried to higher levels with the cooperation and belief

of companies that will be known as technology transformation

leaders in the future. And I would like to underline again that

the first."technology transformation leaders of the textile industry

will happily come out of Denizli.

61
---
64

PROFILE

HTE

Parachute,

has launched

its first living

room furniture

collection with

15 pieces of

sustainably made

furniture

Parachute, a lifestyle

brand that sells direct-toconsumer

as well as brickand-mortar,

has launched

its first living room

furniture collection with 15

pieces of sustainably made

furniture.

I

Inspired by the preferences of its own customers,

the new collection embodies soft

lines and rounded edges. The collection was

made to be design fluid, meaning there is

not necessarily one style, and the pieces

serve as a building block for showcasing

one's own personal design choice. "Our online and in-store experiences

are meant to complement each other, and our stores

are so much more than a sales channel," said Ariel Kaye, CEO

and founder. "They're designed to feel like a home, allowing

customers to interact with our product first-hand; we even offer

complementary in-store and virtual design consultations.

"As we move beyond the bedroom and bathroom, we are excited

to give customers the ability to bring the comfortable look and

premium feel they expect from Parachute into one of the most

important rooms in their home." Sustainability was at the forefront

of the collection as Kaye found that the industry is over-producing

high-waste and low-quality furniture. Parachute looked to

create "trendless" investment pieces, some being made to order,

November 2022
---
"While the focus of the brand has historically centered 65

around the intimate spaces of the home, we are eager to

offer customers the comfortable look and feel they have

come to expect from Parachute in their communal spaces

as well," said Kaye. "Throughout our retail expansion, customers

have consistently asked to purchase the custom

furniture and fixtures throughout our stores, validating

that they want to recreate this unique aesthetic in their

own homes."

Kay added the the market size of the living room furniture

category, which accounts for $70 billion in estimated revenue

this year and more than any other room of the home,

led to this expansion. "We plan to continue to iterate and

introduce new products to our furniture collection in the

coming months and years. We are just getting started."

to avoid wasteful production. Key material includes

100% sustainably sourced FSC-certified hardwood

and 12 durable fabrics that are PFA-free.