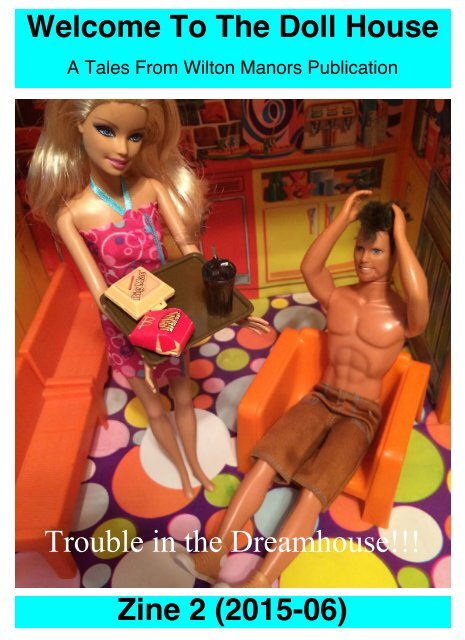 WTTDHZ2_2015-06
WTTDHZ2_2015-06
WTTDHZ2_2015-06
SHOW MORE
SHOW LESS
Create successful ePaper yourself
Turn your PDF publications into a flip-book with our unique Google optimized e-Paper software.
Welcome To The Doll House

A Tales From Wilton Manors Publication

Trouble in the Dreamhouse!!!

Zine 2 (2015-06)
---
I'LL MAKE YOU A SANDWICH ALL RIGHT

Written by DeAnna M. Majors

INT. BARBIE AND KEN'S HOUSE - DAY

BARBIE, 22, SOBS while she scrubs the dishes in her pink

porcelain sink. She looks around at the perfect Malibu

Dream House that is the core of her pretty, plastic existence.

Barbie appears perfect on the outside. She wears a size four

in all of her expensive, designer clothing, never goes without

a meticulous manicure, and carries herself with poise all of

the time.

Everything in the kitchen is perfect, from the pristine, pink

marble counter tops to the purple ceramic floors. Barbie

flings the plate in her hand, but it's plastic, so attempting to

break the dish does not satiate her anger.

BARBIE

Dammit! Dammit it all to hell!

After a few moments of emotional release, Barbie becomes

quiet and sits down at her plastic dining table with its plastic

tablecloth.

KEN, 24, enters the house and strolls into the kitchen.

KEN

How was your day baby?

Ken flashes Barbie a smile filled with perfect, white teeth.

BARBIE

It was perfect as usual. I cleaned your house, did your

laundry, ironed your clothes, mowed your lawn, and
---
walked your dog.

KEN

Good girl! You are such a perfect wife.

Ken glances around the kitchen. Anger floods his perfect,

plastic face.

KEN (CONT'D)

Where's my sandwich?

Barbie launches out of her chair in a flurry of activity and

races to the powder blue Frigidaire. She pulls out Roma

tomatoes, arugula lettuce, and mozzarella cheese.

Ken saunters to where Barbie is standing.

KEN (CONT'D)

Did you forget what the rules are?

Barbie? I give you this perfect house to live in, that perfect

pink Corvette parked in the driveway, and all of the other

perfect things you own.

Ken runs his hand up Barbie's back. Barbie stiffens as he

gets near her neck.

KEN (CONT'D)

All I ask for in return is that you have my sandwich waiting

on the table when I get home.

BARBIE

I'm so sorry Ken! It's just that Skipper called, and the dog

wouldn't behave, and--

Ken interrupts her with a maniacal LAUGH. He grabs

Barbie by the throat and SLAMS her against the refrigerator.
---
KEN

I am tired of your excuses you dim witted bimbo. When I

say want a sandwich, that means you make the sandwich.

Veggies, cheese, and balsamic vinaigrette on rye.

As Ken strikes Barbie repeatedly, a resonating THWACK

fills the air.

Tears fall down Barbie's perfect, rosy cheeks, but she

remains silent.

BARBIE

Please Ken! I swear it will never happen again.

Ken releases Barbie and admires his reflection in the

window above the sink.

KEN

It had better not. Now make my damn sandwich.

Ken stalks out of the kitchen.

Barbie stands over the sink crying once again.

BARBIE

I just don't understand. It's just a damn sandwich.

She stops crying, inhales, and admires her own reflection in

the window. She continues to prepare the sandwich when her

expression changes from sadness to resolve.

BARBIE (CONT'D)

I'll make you a sandwich all right.

She piles the toppings on the rye bread and cuts the

sandwich in half on the plate. Barbie pauses for a second,

then opens the refrigerator and pulls out a container of Grey
---
PouPon.

She slathers the sandwich with the spicy mustard and

replaces the bread. Ken hates mustard.

She calls out to Ken in her perfectly pitched voice.

BARBIE (CONT'D)

Your sandwich is ready!

Ken reenters the kitchen and takes a seat at the table.

KEN

Now that's a good wife. I guess old dogs can learn new

tricks.

Barbie takes him the sandwich and sits it down on the table.

Ken takes a large bite and instantly spits it out.

KEN (CONT'D)

I hate mustard you wench!

BARBIE

I know you don't like it, but I do.

Ken starts to get up from the table, but Barbie stops him

dead in his tracks. She produces a pink, diamond crusted 9

mm pistol from behind her back and shoots Ken, point

blank, in the center of his forehead.

BARBIE (CONT'D)

Damn. I got blood on my perfect pink wall.

Barbie sits down across from Ken's dead body, takes

the sandwich from in front of him and takes a giant bite.

BARBIE (CONT'D)

Yum! Not bad if I do say so myself.
---
Writer/Self-Publisher:

Brett Butler

Editor/Webmaster:

Eric Schleicher

Visit our Website:

for Online Version of our

Zines plus Extras:

talesfromwiltonmanors.weebly.com

Contact us by e-Mail:

talesfromwiltonmanors@yahoo.com

Like Us on Facebook:

facebook.com/

TalesFromWiltonManors

Contributors:

DeAnna M. Majors

Poems, Short

Stories, Art,

Comics,

Photography,

Feedback are

welcomed.

Submissions:

talesfromwiltonmanor

s.weebly.com/

submissions

Tales From

Wilton Manors

Zine

5 (2015-06)