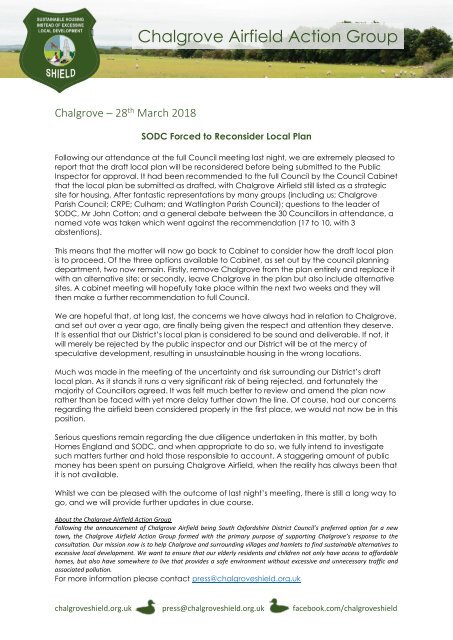 Press Release - SODC Forced to Reconsider Local Plan
You also want an ePaper? Increase the reach of your titles
YUMPU automatically turns print PDFs into web optimized ePapers that Google loves.
[Type here]

Chalgrove Airfield Action Group

Chalgrove – 28 th March 2018

SODC Forced to Reconsider Local Plan

Following our attendance at the full Council meeting last night, we are extremely pleased to

report that the draft local plan will be reconsidered before being submitted to the Public

Inspector for approval. It had been recommended to the full Council by the Council Cabinet

that the local plan be submitted as drafted, with Chalgrove Airfield still listed as a strategic

site for housing. After fantastic representations by many groups (including us; Chalgrove

Parish Council; CRPE; Culham; and Watlington Parish Council); questions to the leader of

SODC, Mr John Cotton; and a general debate between the 30 Councillors in attendance, a

named vote was taken which went against the recommendation (17 to 10, with 3

abstentions).

This means that the matter will now go back to Cabinet to consider how the draft local plan

is to proceed. Of the three options available to Cabinet, as set out by the council planning

department, two now remain. Firstly, remove Chalgrove from the plan entirely and replace it

with an alternative site; or secondly, leave Chalgrove in the plan but also include alternative

sites. A cabinet meeting will hopefully take place within the next two weeks and they will

then make a further recommendation to full Council.

We are hopeful that, at long last, the concerns we have always had in relation to Chalgrove,

and set out over a year ago, are finally being given the respect and attention they deserve.

It is essential that our District's local plan is considered to be sound and deliverable. If not, it

will merely be rejected by the public inspector and our District will be at the mercy of

speculative development, resulting in unsustainable housing in the wrong locations.

Much was made in the meeting of the uncertainty and risk surrounding our District's draft

local plan. As it stands it runs a very significant risk of being rejected, and fortunately the

majority of Councillors agreed. It was felt much better to review and amend the plan now

rather than be faced with yet more delay further down the line. Of course, had our concerns

regarding the airfield been considered properly in the first place, we would not now be in this

position.

Serious questions remain regarding the due diligence undertaken in this matter, by both

Homes England and SODC, and when appropriate to do so, we fully intend to investigate

such matters further and hold those responsible to account. A staggering amount of public

money has been spent on pursuing Chalgrove Airfield, when the reality has always been that

it is not available.

Whilst we can be pleased with the outcome of last night's meeting, there is still a long way to

go, and we will provide further updates in due course.

About the Chalgrove Airfield Action Group

Following the announcement of Chalgrove Airfield being South Oxfordshire District Council's preferred option for a new

town, the Chalgrove Airfield Action Group formed with the primary purpose of supporting Chalgrove's response to the

consultation. Our mission now is to help Chalgrove and surrounding villages and hamlets to find sustainable alternatives to

excessive local development. We want to ensure that our elderly residents and children not only have access to affordable

homes, but also have somewhere to live that provides a safe environment without excessive and unnecessary traffic and

associated pollution.

For more information please contact press@chalgroveshield.org.uk

chalgroveshield.org.uk press@chalgroveshield.org.uk facebook.com/chalgroveshield