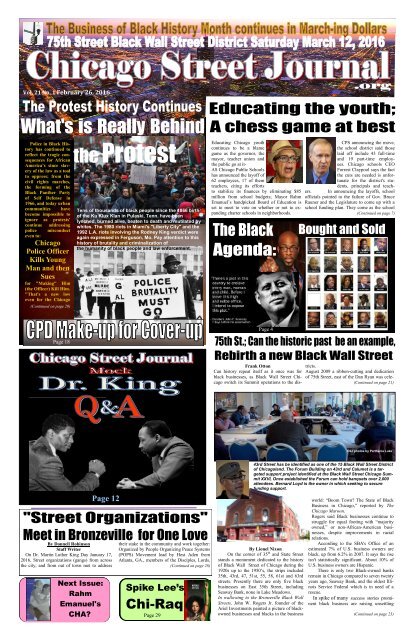 Who is really behind the protest.
You also want an ePaper? Increase the reach of your titles
YUMPU automatically turns print PDFs into web optimized ePapers that Google loves.
February 26, 2016 Page 1

Vol. 21 No. 1 February 26, 2016

What's is Really Behind

Police in Black History

has continued to

reflect the tragic consequences

for African

America's since slavery

of the law as a tool

to oppress; from the

civil rights marches,

the forming of the

Black Panther Party

of Self Defense in

1966, and today urban

communities have

become impossible to

ignore as protests'

continue addressing

police

misconduct

even to:

Chicago

Police Officer

Kills Young

Man and then

Sues

for "Making" Him

(the Officer) Kill Him.

"That's a new low

even for the Chicago

(Continued on page 20)

the Protest

Tens of thousands of black people since the 1866 birth

of the Ku Klux Klan in Pulaski, Tenn. have been

lynched, burned alive, beaten to death and mutilated by

whites. The 1980 riots in Miami's "Liberty City" and the

1992 L.A. riots involving the Rodney King verdict were

again expressed in Ferguson, Mo. Pay attention to this

history of brutality and criminalization of

the humanity of black people and law enforcement.

Educating Chicago youth

continues to be a blame

game as the governor, the

mayor, teacher union and

the public go at it-

AS Chicago Public Schools

has announced the layoff of

62 employees, 17 of them

teachers, citing its efforts

to stabilize its finances by eliminating $85

million from school budgets; Mayor Rahm

Emanuel's handpicked Board of Education is

set to meet to vote on whether or not to expanding

charter schools in neighborhoods.

CPS announcing the move,

the school district said those

laid off include 43 full-time

and 19 part-time employees.

Chicago schools CEO

Forrest Claypool says the fact

the cuts are needed is unfortunate

for the district's students,

principals and teachers.

In announcing the layoffs, school

officials pointed to the failure of Gov. Bruce

Rauner and the Legislature to come up with a

school funding plan. They come as the school

(Continued on page 7)

Page 4

Page 18

Frank Otton

Can history repeat itself as it once was for

black businesses, as Black Wall Street Chicago

switch its Summit operations to the districts.

August 2009 a ribbon-cutting and dedication

of 75th Street, east of the Dan Ryan was cele-

(Continued on page 21)

CSJ photos by Parthenia Luke

Next Issue:

Rahm

Emanuel's

CHA?

Page 12

By Donnell Robinson

Staff Writer

On Dr. Martin Luther King Day January 17,

2016, Street organizations (gangs) from across

the city, and from out of town met to address

their stake in the community and work together:

Organized by People Organizing Peace Systems

(POPS) Movement lead by Hest Aden from

Atlanta, GA., members of the Disciples, Lords,

(Continued on page 28)

Spike Lee's

Chi-Raq

Page 29

43rd Street has be identified as one of the 15 Black Wall Street District

of Chicagoland. The Forum Building on 43rd and Calumet is a targeted

support project identified at the Black Wall Street Chicago Summit

XXVI, Once established the Forum can hold banquets over 2,000

attendees. Bernard Loyd is the owner in which seeking to secure

funding support.

By Lionel Nixon

On the corner of 35 th and State Street

stands a monument dedicated to the history

of Black Wall Street of Chicago during the

1920s up to the 1950's, the strips included

35th, 43rd, 47, 51st, 55, 58, 61st and 63rd

streets. Presently there are only five black

businesses on East 35th Street, including

Seaway Bank, none in Lake Meadows.

In wallowing to the Bronzeville Black Wall

Streets, John W. Rogers Jr. founder of the

Ariel Investments painted a picture of blackowned

businesses and blacks in the business

world: "Boom Town? The State of Black

Business in Chicago," reported by The

Chicago Maroon.

Rogers said Black businesses continue to

struggle for equal footing with "majority

owned," or non-African-American businesses,

despite improvements in racial

relations.

According to the SBA's Office of an

estimated 7% of U.S. business owners are

black, up from 6.2% in 2007. It says the rise

isn't statistically significant. About 10% of

U.S. business owners are Hispanic.

There is only two Black-owned banks

remain in Chicago compared to seven twenty

years ago, Seaway Bank, and the oldest Illinois

Service Federal which is in need of a

rescue.

In spike of many success stories prominent

black business are raising unsettling

(Continued on page 23)