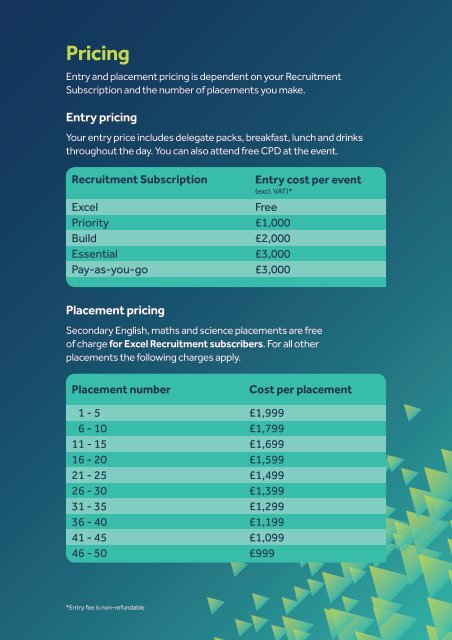 DS03284 - International - SmartMatch Recruitment Fairs Pricing A5 1pp v2 (1) Pricing

Entry and placement pricing is dependent on your Recruitment

Subscription and the number of placements you make.

Entry pricing

Your entry price includes delegate packs, breakfast, lunch and drinks

throughout the day. You can also attend free CPD at the event.

Recruitment Subscription

Excel

Free

Priority £1,000

Build £2,000

Essential £3,000

Pay-as-you-go £3,000

Entry cost per event

(excl. VAT)*

Placement pricing

Secondary English, maths and science placements are free

of charge for Excel Recruitment subscribers. For all other

placements the following charges apply.

Placement number

Cost per placement

1 - 5 £1,999

6 - 10 £1,799

11 - 15 £1,699

16 - 20 £1,599

21 - 25 £1,499

26 - 30 £1,399

31 - 35 £1,299

36 - 40 £1,199

41 - 45 £1,099

46 - 50 £999

*Entry fee is non-refundable