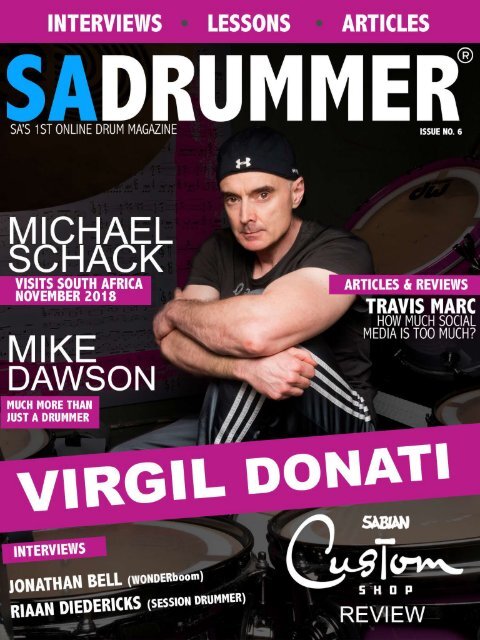 Issue 6 - Virgil Donati - November 2018
Featuring the mindbending drummer himself, Virgil Donati, We check out some sheet music straight from the man himself and also get a look at a few of his kits he loves using.

"There's something about hitting that record button, which demands the very best you can give."
– Virgil Donati

Check out some amazing drummers:
• Virgil Donati
• Michael Schack
• Jonathan Bell
• Riaan Diedericks

We met up with Michael Schack, the king of hybrid drumming, during one of his clinics here in SA and also got around to shooting some great content for the SA drummer TV channel.

Do you ever wonder whether you are hitting the social media too hard, come read our article on that very topic to help you decide whether you should pull back or give it some more.

We have a look at the Sabian's Custom Shop and see what it's all really about.

take some time out to read about the best that the drum scene has to offer in the hybrid and acoustic kit scenes.

– SA Drummer Team.
y Zan Kriegler

Jonathan

Belthestickmanforsouthafrican

bandwonderboom

Jonathan,thankyoufor

takingtimeouttochat.

Thankssomuchforhavingme.

Whatiscurentlyhappeninginyourworld?

WithWONDERboomweare

endingofourlastfewshows

oftheBestSideStoryTour.

It'sbeenrealygreatgeting

toexploremyacousticsideby

usingdiferenttexturesanda

smalercocktailtypesetup.We

alsohaveaf

alsohaveafewfestivals

comingup,thenGunsnRoses

29November2018thenintoa

Decembertouraroundthe

country.

Canyoutelushowthe

drummingbugbit?

Itwasalwaysthere.Igrewup

inamusicalfamilywheremy

dadsingsandplays

rhythmguitar,myolder

brotherplaysleadguitar

andthebandneededa

drummer.Iwasalways

drawntodrumming.I

didn'twanttotoucha

guitarincase

guitarincasemyparents

boughtmeaguitarinstead

ofdrums.Potsandpans

weremydrumsuntilI

startedlessonsat12and

thengotmyfirstkitat13.

Howdidyoulandthe

gigwithWonderboom?

Iwasfriendswiththeoriginaldrummerandthen

whenheleftthebandand

startedhisowngrouphe

askedmetoplayforhim.

Wade,ourbassistalso

playedinthatbandandwe

noticedag

noticedagreatchemistry

immediatelybetweenourselves.Thenlaterwhen

PhotographerCredit:AméBel
More magazines by this user