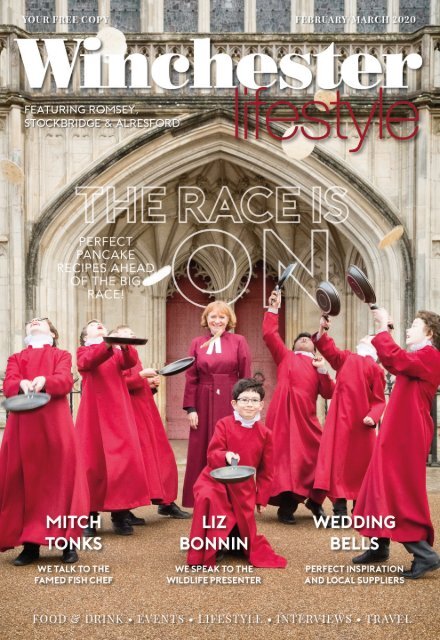 Winchester Lifestyle Feb - Mar 2020
The Early Spring edition, featuring an interview with top chef Mitch Tonks, fabulous home inspiration, delicious recipes, travel to Santa Barbara and Victorian home renovations.
The Early Spring edition, featuring an interview with top chef Mitch Tonks, fabulous home inspiration, delicious recipes, travel to Santa Barbara and Victorian home renovations.
SHOW MORE
SHOW LESS
You also want an ePaper? Increase the reach of your titles
YUMPU automatically turns print PDFs into web optimized ePapers that Google loves.
Contents

A Note

from the editor

The bleak midwinter. I often bemoan the loss

of the twinkle of festive lights and Christmas

wreaths - it seems a cruel, long stretch from

early January into spring without something

nice to look at - we can all fall victim to this

pessimism, generally because after the chaos

of the festive season, our diaries are looking a

little empty and our doors a little sad…

A Culinary recipes Journey to celebrate

through

19Three Fairtrade Northern Ireland Fortnight

How about instead of succumbing to the

midwinter gloom, we instead rejoice in

something altogether more special than strings

of lights or wrapped up presents - the gentle

awakening of spring, the shift in the seasons.

I won't look for glitter, but instead for the

solemn little heads of the snowdrops in shady

patches or the gentle bob of yellow swathes of

daffodils lining the roads on my drive to work.

I'll view my lack of social engagements not as

a problem, but as a chance to take a breath

- and maybe treat myself to a dinner without

having to worry about anyone else. Finally,

instead of filling my body with festive treats (I

assure you, there were plenty), I'll fill my lungs

with fresh air during the little 20 minutes I've

carved out of my day for a lunchtime walk.

Foodie Santa

Barbara

IN THIS ISSUE...

04 What's On

Spring is awakening! And we share

with you the pick of the best local

events

14 Perfect Pancakes

Three incredible pancake recipes

to celebrate Shrove Tuesday with -

including a curry version!

17 Mitch Tonks

22

We catch up with the West Country

chef on big business decisions and

creating a community

19 Fairtrade Fortnight

Three delicious recipes celebrating the

best Fairtrade ingredients - promising

a fair price to farmers

26 Liz Bonnin

We caught up with presenter and

wildlife expert Liz Bonnin ahead of the

Planet Earth Live in Concert tour

30 Bathroom Guide

A guide to creating your own

bathroom sanctuary and top tips for

choosing tiles

Presenter

Liz Bonnin

26

28

Amazing

Glazing

Editor Katie Thomson

e katie.thomson@minervapublications.co.uk

Publisher Sally Thomson

Pre Press Manager Kate O'Connell

Contributors Rebecca Williams, Peter Thomson, Kate O'Connell, Lucy Saunders

Angela Cave. Cover: Winchester Cathedral Choristers with The Dean of Winchester

Key Account Manager Claire Harris

e claire.harris@minervapublications.co.uk

d/l 01225 308108

twitter: @WinchesterLifes

w www.winchesterlifestyle.co.uk

All things considered, then, February doesn't

feel too bad. It's famously the month of love

with Saint Valentine's day in the middle - that

love can manifest itself with showings of

gratitude of kindness to your partner or pet,

your best friend or brother - a little bit of love

can lift even the gloomiest of spirits.

This issue we have a bumper selection of

goodies to keep you occupied too - with

a fabulous bathroom and tile guide, some

enviable inspiration on architectural glazing

and some tips on modern Victorian styling.

Add into that a catch up with the charming

chef Mitch Tonks, some tasty recipes and a

interview with the fascinating TV presenter and

biologist Liz Bonnin - well, we are confident

there is something for everyone.

We will see you again in April - when we will be

in full Easter mode!

Katie

MINERVA PUBLICATIONS

County Gate, County Way

Trowbridge, Wiltshire BA14 7FJ

t 01225 308128

w www.minervapublications.co.uk

visit our website www.winchesterlifestyle.co.uk

Disclaimer: The publishers shall not be held liable for any loss occasioned by failure of an

advertisement to appear, or any damage or inconvenience caused by errors, omissions and

misprints. No part of this publication may be reproduced without prior permission from the

publishers. The opinions expressed within are not necessarily those of the publishers.

www.winchesterlifestyle.co.uk | 3
---
EVENTS GUIDE

Finally, the days are getting longer

and spring is just around the corner.

Looking for the best local places to visit

and things to do at this time of year?

Then you can make the most of the

season with our extensive guide...

Exbury Gardens and

Steam Railway

Exbury, Southampton SO45 1AZ

023 8089 1203

www.exbury.co.uk

Saturday 14 March

Open for Spring

Exbury Gardens & Steam Railway will be

opening for the season!

Flowering highlights for March Heather

Gardens, Daffodil Meadow, Magnolias,

Camelias, Early-flowering rhododendrons.

Gilbert White's House

Selborne, Alton GU34 3JH

01420 511275

www.gilbertwhiteshouse.org.uk

Saturday 8 February, 1pm & 2.30pm

Storytelling for Children

To celebrate National Storytelling Week

they will be hosting a storytelling session

with DD Storyteller.

Made up of two 1hr sessions, it will include

interactive traditional tales and a chance to

make woodland animal masks.

Wednesday 12 February

From Fire to Ice

A Journey Through the Solar

System

We see extremes of temperatures in the

solar system from the core of our Sun to

the frigid outer reached of the solar system.

These temperatures differences shape our

little corner of the cosmos they create the

many different types of worlds that inhabit

our solar system.

Saturday 15 - Sunday 16 February

Snowdrop Weekend

The annual celebration of the Snowdrop!

Half price admission and garden tours

running through the weekend.

Tuesday 18 and Thursday 20 February,

11am - 2pm

Love Birds - Eggs & Nests

Look at real bird's nests and find out about

the different nesting habits of our native

4 | www.winchesterlifestyle.co.uk

birds. Can you match the birds to their

nests? Learn to identify different eggs and

find out what you can do to help our birds

this Spring. Suitable for ages 5 and up.

Saturday 28 March

Wedding Open Day

The Wedding Open Day gives you the

opportunity to view The 16th Century Barn

at Gilbert Whites. Look round the barn and

the parkland, meet the wedding coordinator

and discuss your individual requirements.

There will be information about all the

recommended suppliers including caterers,

photographers and florists.

Hawk Conservancy

Trust

Visitor Centre, Weyhill, Andover SP11 8DY

01264 773850

www.hawkconservancy.org

Sunday 22 March

Mothering Sunday Lunch

Treat your Mum to a three-course Sunday

lunch with a difference lunch will be served

in the Griffon Rooms with a break after the

main course for you to enjoy the Valley of

the Eagles flying display.

Hinton Ampner

Near Alresford SO24 0LA

www.nationaltrust.org.uk/hinton-ampner

Saturday 15 - Sunday 23 February

February Half Term Trail -

Spring is in Sight

Discover how plants, animals and people

welcome in the new season with this spring

family trail.

Saturday 4 April, 10am - 4pm + 15 other

dates

Cadbury Easter Egg Hunt

Pick-up the family trail to explore Hinton's

garden and parkland, with a chocolate prize

at the end.

This trail if recommended for children up to

13 years old.

Assistance dogs are welcome.

Jane Austen's House

Museum

Chawton GU34 1SD

01420 83262

www.jane-austens-house-museum.org.uk

Friday 14 February

Valentine's Day Visit and Cream Tea

Spend Valentine's Day with Jane. Visitors

can celebrate romance alongside their

own Mr Darcy or Lizzie Bennet. Take

a turn 'round the lovely gardens and

enjoy discounted admission along with a

Valentine's Day cream tea at Cassandra's

Cup tearoom

Saturday 15 February, 2pm

'Look upon Verdure' - Garden Talk

Inspired by Fanny Price's sentiment in

Mansfield Park 'to sit in the shade on a fine

day, and look upon verdure, is the most

perfect refreshment', gardener, historian

Snowdrops at Gilbert White's House

continued
---
Tie the knot

in Hampshire

Hampshire Ceremonies has over 150 venues and

12 register office ceremony rooms for marriages or

civil partnerships.

The Winchester register office, based in the 19th century

Castle Hill building, has a suite of stylish rooms to meet all

tastes and budgets. Outside, the historic cobbled avenue is

the ideal backdrop for photographs.

To find out more visit: www.hampshireceremonies.org.uk

or telephone 0300 555 1392

www.hants.gov.uk

BOTANICALS COLLECTION

N O W O N L I N E

STERLING SILVER AND GOLD VERMEIL JEWELLERY WITH

SEMI-PRECIOUS STONES - FROM £10 | hauslife.co.uk

www.winchesterlifestyle.co.uk | 5
---
and author Carol Chernega will present

a talk about the garden at Jane Austen's

House.

Tuesday 18 February, 10.45am - 11.15am

Half Term - Tuesday Tales for Tots

Join them over half term for some rhyme,

mime and song in this special storytelling

session for the under 5s. Babes in arms

also welcome! Stay on afterwards and

explore the House with the family trails.

Tuesday 18 February, 11.45pm - 12.15pm

Half Term - Tuesday Tales - Over 5s

Join them for this magical storytelling

session inspired by some fabulous

footwear on display in Jane Austen's

House. Find out about the magical role

of shoes in fairy tales, then listen to a

traditional story featuring a rather special

pair of boots.

Sunday 8 March, 10.30am - 4.30pm

Celebrate International Women's

Day

Jane Austen was a woman ahead of

her time- join them in celebrating her

and strong women the world over

on International Women's Day. Enjoy

discounted entry and a cream tea at

Cassandra's Cup.

Friday 20 March, 10.30am - 12 noon

Guided Village Walk -

First Day of Spring

Celebrate the first day of Spring with a

stroll through Jane Austen's country village

of Chawton. Walk in Jane's footsteps and

learn about her love of nature, the village

she lived in, and the importance of village

life in shaping her writing. Throughout the

walk, short readings from Austen's letters

and novels will bring her world to life.

Sunday 22 March, 10.30am - 4.30pm

Mothering Sunday Visit and Cream

Tea

What better way to say thank you than to

treat Mum to a day out at Jane Austen's

House and a cream tea at Cassandra's

Cup?

Mid Hants Railway

Watercress Line

The Railway Station, Alresford SO24 9JG

01962 733810

www.watercressline.co.uk

Saturdays 15 & 22 February and 14 & 28

March

Real Ale Train (RAT)

Enjoy friendly banter as you travel on a

steam train drinking local ale! The famous

Real Ale Train, or RAT as it is affectionately

known, continues its tradition of serving

real ale from a restored bar carriage pulled

by a steam locomotive.

Mottisfont

Nr Romsey SO51 0LP

01794 340757

www.nationaltrust.org.uk/mottisfont

Saturday 15 - Sunday 23 February

February Half Term - Daft Doodles

Silly scribbling activities inspired by the

comic exhibition.

Explore the grounds with fun February halfterm

trail, doodling as you go.

6 | www.winchesterlifestyle.co.uk

Nuffield Theatre

University Road, Southampton SO17 1TR

023 8067 1771

www.nstheatres.co.uk

Friday 31 January - Saturday 1 February

Heist

An unlikely group of men band together to

reclaim the place they call home. As the

team try to bring down the villain, they find

themselves grasping with morality, risk and

betrayal, questioning constantly 'who can

you really trust?'

Wednesday 5 February, 7.30pm

Sir Ranulph Fiennes -

Living Dangerously

Named by the Guinness Book of Records

as 'the world's greatest living explorer',

Sir Ranulph Fiennes has spent his life in

pursuit of extreme adventure, risking life

and limb in some of the most ambitious

private expeditions ever undertaken.

Tuesday 18- Sunday 23 February

The Tiger Who Came to Tea

Join the tea-guzzling tiger in this delightful

family show packed with oodles of magic,

sing-a-long songs and clumsy chaos! A

stunning stage adaptation of the classic

tale of teatime mayhem... expect to be

surprised!

Saturday 29 February, 7.30pm

The Night Sky Show

The Night Sky Show will take you on an

epic journey from our celestial back yard

and across the cosmos.

The Night Sky Show will be a truly fun,

entertaining and memorable evening.

Helping you understand and enjoy the

heavens above and universe beyond.

Helpful for the next time you're looking up

at the night sky stargazing, or when you

just look up and wonder.

Tuesday 3 - Saturday 7 March

The Gift

An outrageous play about imperialism,

cross-racial adoption, cultural appropriation

and tea.

Brighton, 1862. A day in the life of Sarah,

an African girl, adopted by Queen Victoria

and raised in the Queen's circles. Today is

the eve of her having to return to Africa but

will she go?

Wednesday 11 March

Madam Butterfly

One of the best-loved operas of all time,

Madam Butterfly's glorious music and

tragic heroine have enchanted audiences

for more than a century.

Saturday 14 - Sunday 15 March

Little Monster

Aged 3 - 6? You are invited on an exciting

puppetry adventure to find the mysterious

monster that's made everyone else run

away!

Helped by two hapless, hopeless

storytellers, their big boxes of story and

their terrible rhymes, we'll venture into the

forest, peep into deep, dark caves, build

walls and knock them down.

Sunday 15 March, 7.30pm

Arabella Weir -

Does My Mum Loom Big In This?

Devastatingly funny, excruciatingly honest

and definitely embarrassing for all of

Arabella's relatives, not to mention herself,

this is a helter-skelter tour of appalling and

appallingly funny maternal behaviour.

Tuesday 17 March - Saturday 4 April

Pride and Prejudice* (*sort of)

A fun new take on the original rom-com,

Pride & Prejudice.

Men, money and microphones will be

fought over in this irreverent, all-female

adaptation of Jane Austen's unrivalled

literary classic.

Tuesday 24 - Sunday 29 March

Cirque Berserk!

Cirque Berserk! returns with all your

favourite acts, and some thrilling new

ones, all created especially for the theatre.

Combining contemporary cirque style

artistry with adrenaline fuelled stunt action,

this astoundingly talented international

troupe includes over thirty jugglers,

acrobats, aerialists, dancers, drummers and

daredevil stuntmen showcasing the finest in

traditional circus thrills and skills.

Theatre Royal

Winchester

Jewry Street, Winchester SO23 8SB

www.theatreroyalwinchester.co.uk

Friday 7 February

Oh! What a Night

Oh! What A Night takes you back in

time on a musical journey through the

incredible career of Frankie Valli & The

Four Seasons, now immortalised in

the multi-award winning show Jersey

Boys, which has been packing theatres

worldwide since its debut in 2005.

Saturday 8 February, 7.30pm

Philly Philly Wang Wang

Phil has made a name for himself (that

name being Phil Wang) exploring sex,

romance, politics, and his mixed British-

Malaysian heritage with shows that delight

in his unique Wang brand of smart and

silly.

This one is about morality and the modern

sense of self. Swell!

Wednesday 12 February

An Evening of Marvin Gaye

Let's get it on with a special evening of

the Prince of Soul with the velvet falsetto,

Marvin Gaye.

Expect stunning soulful vocals from the

charismatic Wayne Hernandez, incredible

harmonies and infectious energy from

the star-studded Don't Stop the Beat 10

piece band.

Sunday 23 February

Fairport Convention

Fairport Convention has been entertaining

music lovers for over half a century.

During that time the band that launched

British folk-rock has seen many changes.

But one thing has remained the same -

Fairport's passion for performance.

Tuesday 25 February

Round the Horne

"Oh, Mr Horne! How bona to vada your

dolly old eek!"

From the producers of the UK tours of

The Goon Show and Hancock's Half Hour

comes another radio comedy classic live

on stage.

continued
---
Thursday 27 February

Jo Brand - Work in Progress

Join Jo Brand as she takes to the road

trying out new material along with her

special guest, Andy Robinson.

Long established as one of the UK's best

comics, Jo Brand is the star and writer

of Getting On, the BBC's BAFTA awardwinning

series set on a hospital's geriatric

ward, which was partly inspired by her

earlier career in nursing.

Wednesday 4 March

Teacups and Tiaras

In a world full of general ghastliness, trusted

authority on matters of etiquette William

Hanson has embarked on an entertaining

solo mission to gentrify the nation.

As well as enlightening us with the history

of customs, tastes and manners, William

will invite carefully selected members of the

audience to the stage to demonstrate the

dos and don'ts of polite behaviour.

Saturday 7 March

Winchester Comedy Festival Spring

Gala 2020

An evening of comedy featuring Hal

Cruttenden, Mike Cox, James Dowdeswell

and James Gill.

Sunday 15 March

Morgan and West -

Unbelievable Science

Magicians, time travellers and all-round

spiffing chaps Morgan and West have a

secret past they are genuine, bona fide,

legitimately qualified scientists, and are

now bringing their love of enlightenment to

the stage!

Sunday 22 March

Beyond the Barricade

The UK's longest running Musical Theatre

Concert Tour features past principal

performers from Les Miserables and

delivers over two hours of the best of

Broadway and the West End, ending or

course with a stunning finale from Les Mis.

Sunday 29 March, 7.30pm

Clive Anderson - Me, Macbeth and I

The host of Whose Line Is It Anyway, Loose

Ends and Talks Back takes to the road with

his much-anticipated first-ever solo tour, in

a one-man show guaranteed to be funnier

than Shakespeare's greatest tragedy.

Tuesday 31 March

Giselle

Join Ballet Theatre UK in a tragically

romantic tale of a young girl who falls

deeply in love.

However, she would soon be deceived for

he was betrothed to another.

Through despair and desperation, the

young girl kills herself as she could not live

without him.

Winchester Cathedral

Cathedral Office, Winchester SO23 9LS

01962 857 214

www.winchester-cathedral.org.uk

Sunday 19 February, 10pm - 3pm

Half Term Family Fun

Pick up a themed trail from the Entrance

Desk and explore the Cathedral, followed

by craft activities. Free on entry to the

Cathedral - admission is free for under 16s.

Children must be accompanied by an adult.

Join in the Pancake Race at the Cathedral

February 25, 12.30pm with racing from

1.00pm until 2.00pm.

Pancake Race

Winchester Cathedral Close provides

the historical backdrop for the annual

Winchester Pancake Race. Many teams,

including clergy, the university, local

schools and businesses will compete

for a trophy, awarded to the team that

completes the course in the fastest time.

Enjoy pancakes and entertainment.

Organised by Winchester Rotary in

partnership with Winchester Cathedral.

Proceeds will be shared between the

Cathedral and Winchester Rotary.

22 March, 12pm - 3pm

Mothering Sunday Carvery

Treat your mother to a delicious Sunday

Carvery at the Paul Woodhouse Suite.

£17.95pp* for main (carvery) and a dessert

£8.95 for children (up to 12 years of age)

*To include a small gift for mum.

28 March, 7pm

Waynflete Singers' 50th Anniversary

Gala

This gala concert will contain works

selected from those the Waynflete Singers

have performed over the past 50 years

and will be conducted by their three most

recent music directors.

As a result of a successful crowd-funding

campaign a new commission will be

unveiled from the composer and eminent

baritone Roderick Williams OBE, who will

also be performing.

Not to be missed!

Winchester Guildhall

The Broadway SO23 9GH

01962 840820

www.guildhallwinchester.co.uk

Friday 7 February, 7.30pm

Psychic Sally -

10 years and counting

Wowing audiences young and old across

the country Sally's show will have you

on the edge of your seat, as she brings

mediumship into the 21st century.

Saturday 22 February, 7.30pm

Hair Trigger

Hair Trigger bring you the very best 80's

rock anthems, complete with big hair, tight

spandex, and a bad attitude! They're an

all live 6 piece band, with 5 part harmony,

screaming high notes and face melting

guitar solos. Playing the massive hits from

artists including Bon Jovi, Guns n Roses,

Van Halen, Motley Crue, Poison, Alice

Cooper and many more.

Saturday 29 February, 1pm and 7pm

The Gin To My Tonic Festival

The Gin To My Tonic Festival brings

together over 100 different gins from across

the UK and beyond. Each gin stocked

behind the bars has been selected based

on outstanding craftsmanship, delightful

flavour and the most enjoyable drinking

experiences.

We take great care in compiling the listings,

however we recommend that you contact the

venue in advance as events and listings can

be subject to change.

www.winchesterlifestyle.co.uk | 7
---
The importance of extra

curricular activities

Your child has spent a long day at school, however their

first port of call when they home will probably be their

X Box or something on the TV. However, we suggest that

they will benefit greatly from a non-academic activity

that they have an interest in.

Here are some examples of extracurricular activities

that your child might enjoy.

1. Music LESSONS - Some children learn to play instruments,

while others prefer to sing. There are some who are good at doing

both. There are so many instruments to choose from that you are

bound to find something that they will enjoy playing.

2. Sports CLUBS - Sports such as football, basketball, cricket

and softball require teamwork and a lot of energy, but if this type of

sport doesn't sound like it suits your child, there are other options

such as tennis, badminton and golf that your child can try.

3. Dance LESSONS - Even among dance, there are so many

types to choose from that your child is sure to find the perfect fit.

Be it ballet, tap or modern dance is something that will help your

child develop physically and mentally as most forms of dance

require discipline and a strong body and it keeps them active as

nowadays there is very little physical activity at school.

4. Painting and Sketching GROUPS - Perhaps your child is

a blossoming artist and they will improve creative skills as the brain

will begin to develop the areas associated with creativity. Painting

and drawing can also help develop problem-solving skills.

5. Crafts, Pottery and Sculpting CLASSES - Working with

clay and creating something with their hands can give a child a

sense of satisfaction which builds confidence.

6. Martial Arts - Though the varied styles of mixed martial

arts such as judo, Taekwondo, karate and what these really teach

is discipline and how to control strength. Martial Arts teach selfcontrol

and self-discipline. They also help in socialisation skills and

physical development in your child.

7. Book Club - Book clubs are a great way for little bookworms

to have their fun and socialise with other book lovers. Many things

can be gained from a book club. Not only will the literature itself

teach your child a lot about the world, the way it works and so

much more, but it will also help them to develop their reading skills,

which will have a tremendous impact on their writing skills.

8. Drama ClubS - Your little drama kings and queens will love

this one as it is a fun and productive way to use up their dramatic

energies. Drama club helps your child to develop physical, artistic,

social and public speaking skills. It also helps to improve a their

memory and improvisation skills. Often, shy children who have a

talent for acting become more confident through drama club.

When you have a general idea of what your child wants, you can

do some research to see who provides these classes in your area

and then take the time to take your child to visit the place while

a class is in session and see if is a stimulating and comfortable

environment.

Wilton House

Antiques Fair 2020

6th–8th March, 10.30am–5pm

Enquiries

01722 746728

www.wiltonhouse.com

Wilton House, Wilton, Salisbury, Wiltshire SP2 0BJ

8 | www.winchesterlifestyle.co.uk
---
Now taking registrations

For children aged 6 weeks to 5 years

Fun is an essential ingredient

in all our nurseries where

the care and education

opportunities for each

and every child are as

extraordinary as the staff

who provide them.

We would be delighted

to show you around

Open 7.30am to 6.30pm

T: 01962 827393

E: west.downs@childbase.com

T: 01962 870977

E: maples.nursery@childbase.com

www.childbasepartnership.com

Flexi, Weekly

and Full Boarding

Visit us to fi nd

out more about

our Sixth Form

2019 Southwest Independent

Secondary School of the Year

FRANC

HA LEAL

ETO GE

Tel. 01722 430545

www.godolphin.org

www.winchesterlifestyle.co.uk | 9
---
Time to trust in the future of prep schools

It can't be easy being a prospective

parent of a prep school child. If you fall

into this category you might be forgiven

for thinking that there's not much point as

the whole fee paying independent school

sector could be abolished in the near

future if certain politically minded people

get their way.

Anything is possible, of course, but for

this extremely vindictive approach to

become a reality the Labour Party would

need to adopt it formally as a policy which

it has not yet done as well as achieve

a working majority to pass legislation

to make it happen. If all this does take

place, however, don't underestimate the

independent school sector's determination

to fight for its existence with every legal

pathway being followed to test the

legitimacy of such a policy. There could

even be a remarkable irony that should

the UK still be in the EU at the time such

legislation is brought forward it could be

the European courts who stop the move in

its tracks. As I said anything is possible.

In the meantime, there is every reason to

have confidence in prep schools and their

future. IAPS (the Independent Association

of Prep Schools) has over 600 of the top

prep and fee-charging junior schools in the

UK. The first step in your search for quality

is to check if your possible short list of

schools for your son or daughter carries

the mark of quality by being a member of

the heads' association known as IAPS.

This association has a history extending

back over 126 years and the criteria

for membership is strictly monitored to

ensure both the head, and the school they

work at, maintain the highest standards.

School inspection reports are received

by IAPS, for example, and any failings

identified have to be rectified in good time

to maintain membership. In one sense,

therefore, the first level of due diligence a

parent might feel it necessary to undertake

is already done for them if the school can

demonstrate they are members of IAPS

and, better still, have been a member for

many years.

What should you do next as you are

feeling your way through the maze of

glossy publications and enticing web sites

placed in front of you. The temptation is

to look for a 'brand' name and, to some

extent, this has merit as it will more often

than not lead you to a school with a fine

reputation polished over many years of

conspicuous achievement. The question

to ask, of course, is has the school a

reputation for success in the areas which

co-incide with the talents and interests

of your child. A fine school's sporting

tradition is of little relevance if your child is

a talented and developing musician – not

that those two areas have to be mutually

exclusive.

The resort to social media and discussion

forums is a likely step many will take but

if your chosen pathway takes you in this

direction then, at the risk of patronising

you, the reader, beware. Do you use

Tripadvisor when planning a stay away?

Do you believe all the messages posted

there and would you base your whole view

of a school on the postings of a few with

most likely a pro- or anti-line to promote

for their own reasons. There might be

themes to pick up on but it really needs

each parent to seek out the things that are

most important to you and your child.

That brings me then to what you should

do. The most important thing is to visit the

school and not just on an official Open

Day. If a school can't buff itself up to look

good on an official Open Day it really is

a poor do. However, choose a day and

time to suit you, though be reasonable

when negotiating this. Nothing much is

likely to be gained from a visit if a good

proportion of the school is off their normal

timetable or routine because it's the day

of the annual whole school cross country

event. Ask to see the class your child

would likely join at work and then visit

older age groups, looking for obvious

positive progression as revealed by the

work displayed on the wall displays. Find

out the answers to the questions you have

about the areas important to you and

judge how open and direct you find the

responses from the school. In short trust

your instincts and not wholly what others

tell you.

If you follow this advice you won't go far

wrong and then don't lose any sleep over

the long term future of your prep school.

Let IAPS do that bit for you whilst you

concentrate on finding the right school for

your child.

Christopher King

CEO, IAPS

10 | www.winchesterlifestyle.co.uk
---
Inspiring careers & open afternoon

at St Swithun's Prep school

Friday 6 March

From 1.15pm including tours of the school and the dream big

festival showcasing a breadth of careers including performance,

agriculture, medicine, law and entrepreneurial business.

Please contact us to book your visit:

www.stswithuns.com | 01962 835792
---
12 | www.winchesterlifestyle.co.uk
---
Perfect Pancakes

Get adventurous this Shrove

Tuesday and try out these

delicious recipes courtesy of

Waitrose

Buttermilk Pancakes

with chilli chocolate sauce

INGREDIENTS

For the chocolate sauce:

100ml double cream

1 Chipotle Chilli, roughly chopped

200g Divine Fairtrade 70% Dark Chocolate

For the pancakes:

150g plain flour

Pinch of table salt

25g golden caster sugar

4 eggs

100ml whole milk

100ml buttermilk

40g butter

4 tbsp rapeseed or sunflower oil

Vanilla Ice Cream, to serve

METHOD

To make the sauce, gently warm the

cream and chilli in a pan then leave to

infuse for 10 minutes. Break the chocolate

into a bowl and place on top of a pan of

simmering water, making sure the base

doesn't touch the water, and allow to melt

slowly while stirring.

Strain the warmed cream into the melted

chocolate and stir. Discard the chilli.

Keep the sauce warm while you make the

pancakes.

Sift the flour into a large bowl and add the

salt and half the sugar. In a separate dish,

crack 2 eggs into the milk. Separate the

remaining 2 eggs and add the yolks to

the milk.

Add the buttermilk to the milk and eggs

and whisk together. Slowly pour into the

flour, whisking gently but being careful not

to overmix.

In a separate bowl, add the remaining

s.ugar to the egg whites, whisk until light

14 | www.winchesterlifestyle.co.uk

and fluffy then fold into the batter mixture

in 2 stages.

Heat a little butter and oil in a non-stick pan.

Depending on the size of your pan, drop up

to 5 large tablespoons of the pancake mix

into it and fry each pancake for 40 seconds

until bubbles appear on the surface. Flip

over and fry for a further 40 seconds, then

remove. Repeat in batches with the rest of

the batter to make 18-24 pancakes.

Divide the pancakes between 6 plates and

top each with a scoop of ice cream and a

drizzle of chocolate sauce. Serve swiftly.

Chicken tikka pancakes

with mango chutney

INGREDIENTS

125g plain flour

1 egg

300ml semi-skimmed milk

1 green chilli, deseeded and finely chopped

1 tsp ground cumin

2 tbsp sunflower oil

2 x 300g packs Waitrose British Chicken

Breast Chunks In A Spiced Tikka Marinade

4 salad onions, sliced

4 tbsp Geeta's Premium Mango Chutney

4 tbsp low fat Greek yogurt

METHOD

Sift the flour and a pinch of salt together

into a bowl. Make a well in the centre

and add the egg and half the milk. Whisk

together well then stir in the rest of the milk

to make a smooth batter. Stir in the chilli

and cumin, and set aside for 30 minutes.

Reserve 1 tbsp of the oil, then heat a little

of the remaining oil in an 18cm pancake

pan or shallow frying pan and add a ladleful

of the batter. Swirl it around the pan and

cook for 1–2 minutes each side until golden.

Transfer to a plate and keep warm. Repeat

with the remaining mixture to make 8

pancakes, keeping them warm, separated

with sheets of kitchen paper.

Heat the rest of the oil in a large, non-stick

frying pan and cook the chicken for 10–12

minutes, turning occasionally, until cooked

through with no pink meat. Divide the

chicken between the pancakes, putting

it on one quarter of the pancake, and top

with the salad onions, mango chutney and

yogurt. Fold up the pancakes to make

parcels, and serve.

Toffee Apple Pancakes

with vanilla ice cream

INGREDIENTS

40g butter

4 apples, cored and cut into thin wedges

3 tbsp clear honey

3 tbsp light brown soft sugar

8 Pancakes - from scratch or store bought

4 generous scoops vanilla ice cream

25g hazelnuts, chopped and toasted

METHOD

1. Heat the butter in a large frying pan. Add

the apple wedges and fry for 3 minutes until

beginning to soften and turn golden. Stir

through the honey and sprinkle over the

brown sugar. Continue to cook for a further

4 minutes until sticky and glazed.

2. Warm the pancakes in the microwave or

oven, according to the packet instructions.

3. Divide the toffee apples between the

warmed pancakes then fold each one in

half and in half again. Place 2 filled pancake

cones on each plate and top with a scoop

of vanilla ice cream. Drizzle over any sauce

left in the pan and scatter with hazelnuts

before serving.
---
Say I Love You

This Valentine's Day, why

not 'wow' your loved one

with a special breakfast

treat, courtesy of VonShef.

Here are a few products to make sure

they start their way feeling truly spoiled!

First things first, pop the coffee on. If they

love the aromatic, rich flavour of freshly

ground and freshly brewed coffee, you

won't go wrong with the VonShef 1.5L

Bean to Cup Coffee Machine. Watch as

the machine grinds, doses and extracts

all the delicious flavours in just 3 minutes,

quite literally from bean to cup!

Next, have a think about how they like

their eggs in the morning! VonShef have

an amazing Electric Omelette Maker, so

no excuses for not serving up the perfect

omelette! This cool piece of equipment

allows you to make two plain or filled

omelettes together, so there will be no

arguments who gets brekkie first! At just

£14.99, it also doubles up to either fry or

scramble eggs, so is a great addition to

your kitchen.

If boiled eggs are more up their street,

have a look at the VonShef 2-in-1

Egg Boiler & Toaster. Including 3

interchangeable plates (1 x boiled egg

tray, 2 x steaming trays & 2 x poaching

dishes), this super cool machine can

poach eggs in the poaching dishes or

boil in the steamer tray whilst you toast

your accompaniment of choice. Priced at

£34.99, this makes boiled eggs and toast

easier than ever before!

Really spoil them with fresh waffles

thanks to the VonShef Dual Round Waffle

Maker (£27.99). This small but powerful

machine makes two 6" round waffles at

the same time - perfect for breakfast,

lunch, dessert or a cheeky snack

throughout the day. The non-stick coated

plates make it super easy to clean too!

Last but not least, you better take it up

to them, and VonShef come up trumps

again with their gorgeous Bamboo

Serving Tray. Made from lightweight

and durable bamboo, this tray is perfect

for serving breakfast in bed, carrying

drinks or wowing guests with canapés.

Two large side handles make for easy

carrying, and it even has non-slip feet

for added stability. With a wipe clean

surface, this is a steal at just £12.99!

time to WIN

VonShef have kindly given us a main

prize bundle consisting of a waffle iron,

coffee machine and tray and there are

three waffle irons up for grabs for lucky

runners up!

To have a chance of winning, enter on

the website minervacomp.co.uk using

keyword Breakfast Bundle and giving

your contact details. Competition closes

25th March 2020. T&Cs apply.

Classic waffles

INGREDIENTS

Serves: 5

250g plain flour

1 teaspoon salt

4 teaspoons baking powder

2 tablespoons caster sugar

2 eggs

355ml warm milk

75g butter, melted

1 teaspoon vanilla extract

METHOD

In a large bowl, mix together flour,

salt, baking powder and sugar; set

aside. Preheat waffle maker to desired

temperature.

In a separate bowl, beat the eggs. Stir in

the milk, butter and vanilla. Pour the milk

mixture into the flour mixture; beat until

blended.

Ladle the batter into a preheated waffle

maker. Cook the waffles until golden and

crisp. Serve immediately.

www.winchesterlifestyle.co.uk | 15
---
NATIONAL BUTCHERS'

WEEK 2020

National Butchers' Week gives us the

opportunity to celebrate and support a

mainstay of the British High Street

One of the most popular events in the butchery calendar,

National Butchers' Week takes place 9-15 March 2020. National

Butchers' Week highlights the great work being done by butchers

from around the UK that sets them apart from the competition. It

also focuses on the fantastic innovation that takes place within

butchers' shops across the land.

Never has it been more important to understand our food

provenance - especially as more of us are reshaping our diets to

eat meat less often, but crucially eating better quality when we

do. That means engaging more with the process of buying meat

- selecting carefully reared livestock, butchered properly. It's not

always possible to get that information from the supermarket.

This engagement with our food chain is essential, and should

start in the butchery shop - a butcher can not only tell you where

your meat has come from (usually a farm whose name you will

likely recognise!) but also can advise on the best cuts for certain

dishes, give you great value for money on cheaper cuts and

impart their wealth of knowledge with ready cooking tips.

Throughout the awareness week, butchers across the area will

be participating in events and putting on offers to help educate

and inform potential customers of the benefits of shopping

with them. The key takeaway is that consumers don't need to

feel intimidated about shopping there - far from needing an

extensive knowledge of each and every cut available, shoppers

can ask advice and can learn about cuts not commonly

available in the shops. As well as in the shops, lots of online

butchers will be running specials in this time, so it's well worth

looking out for those - premium meat with all the convenience

of your regular weekly shop.

So, when you're planning your meals this week, why not carve

out 10 minutes to go and visit your local butcher - you'll come

away with a lot more than the ingredients for tonight's dinner.

Perfect for Valentine's & Mother's Day

gift vouchers from £25

• beautiful presents,

beautifully presented

• two-year expiry date

• fun & educational tastings

run in convenient central

locations in Winchester

and Southampton

• valid for wine, champagne,

beer, rum, gin, whisky

tastings as well as cocktail

classes and food & wine

pairing workshops

• 5-star reviews on

TripAdvisor

02380 644350

info@hampshirewineschool.com

www.hampshirewineschool.com

16 | www.winchesterlifestyle.co.uk
---
THE CHEF

that rocks

Famed for his growing group of fabulous fish restaurants,

Rockfish, Mitch Tonks is a chef, author, restaurateur and a

passionate, lifelong advocate for all the morsels that emerge

from the deep blue sea. Sally Thomson caught up with him

to discuss expansion plans, career motivations and why his

heart will always belong to the kitchen...

Sally: I hear you have another book

on the horizon?

Mitch: I do! We're doing another

Rockfish book. It will be published

October. All very exciting!

Fantastic! How many Rockfish

Restaurants have you got

now?

At the moment there are

seven but there will be

nine by the end of the year.

They will be in Poole, Lyme

Regis, and Sidmouth. Poole

opened in January, Lyme

Regis will open in June

and Sidmouth will open

in October. We then have

two or three sites ready

for 2021 that we are just

negotiating on.

That is incredible,

when you think about

where you've come

from.

It's kind of been an

up and down journey,

because we had

Fishworks, which

grew to thirteen,

but it was a public

company and the

wrong environment

to grow restaurants

in and ultimately

the project failed.

But since 2009

Seahorses has existed down in

Dartmouth, and Rockfish is ten years

old, so we've done well to rebuild over

that period.

When we last had a chat you'd

opened Joe's Bar, how's that going?

It's going really well, and since May last

year we actually moved the entrance to

the restaurant through Joe's Bar, and

that's been a real success as people

enter the restaurant through Joe's

Bar, have a drink and start their dining

experience off with something more

special and fun.

So how do you stretch yourself with

everything going on?

Well the business is over three hundred

people, with a really good senior team,

finance, marketing, and then over four

hundred in the summer. So, I obviously

work very closely with my senior team

and I am clear about what I want to

achieve in a period of time and helping

other people to achieve those goals.

Sometimes its challenging but when you

work as a team and you are supporting

each other you can make stuff happen.

That's it really!

Managing those people, helping them

manage others, then I spend my time in

the restaurants, as well as consistently

looking at the business as a whole and

thinking 'How can our business provide

better solutions for jobs, how can we

be better than anywhere else to work

"I tend to think of the restaurants like a

community now. Everybody who works for

us belongs to the community. We talk a lot

about family but of course family are hard to

get rid of and communities are made up of

people all contributing"

17
---
"I think when Fishworks

failed…well it gives you

plenty of time to reflect on

what's really important to

you and what's not"

So I made a phone call to my agent who

was on the train on the way up. He was

mortified! All I could say to everyone was

that 'I'm sorry, I just don't want to do

it'. Financially it was suicide as it was a

very well paid job but it was prime time

television and all the things that go with

it and I didn't want to be known as a guy

on telly. I wanted to build my reputation

as a restaurateur and a chef which is

what I actually really enjoy.

I think when Fishworks failed…well it

gives you plenty of time to reflect on

what's really important to you and what's

not and allowed me to make my own

choices, not get swept along with 'this is

a great idea'. It was a great idea, it was

magnificent. The TV show would have

been great but it just wasn't for me. So

the answer is I am regularly asked to do

television bits and I will 99% of the time

turn them down and occasionally I might

do the odd thing but I don't wake up

thinking 'I'd like to do more television'.

18

for, how can we have a really amazing

strategy over five years that gives people

top pay, freedom, how can we create a

development programme so that people

can develop in the organisation.'

I tend to think of the restaurants like a

community now. Everybody who works for

us belongs to the community. We talk a lot

about family but of course family are hard

to get rid of and communities are made up

of people all contributing, so when people

don't contribute they move out of the

community and new people move in.

One thing I didn't realise is that you

made significant changes to your menu

with regards to being gluten-free. That

must have been a big change?

Yes! About ten years ago we set about

rebuilding all of cooking ranges and

changing all of our practices so that offer

everything gluten-free. We committed to

the business being gluten-free, not just

by saying 'here's a gluten-free menu'.

Everything we do is gluten-free. If we

have to swap a bun for a gluten-free bun

we do, and it basically means that the

whole menu is available to somebody

with a gluten intolerance rather than

them feeling in a minority and only being

able to choose from say five things on

the menu.

Going back, I first met you at the

beginning of the century! 2000, a

long, long time ago! Since then you've

appeared on TV, most notably with

Matt Dawson, the rugby player, but

do you find yourself too busy to make

room to do any shows as of late?

The television career took off back

around 2008/09. The series Mitch and

Matt's Big Fish became very successful

and Denham Productions and the BBC

wanted to do series two. So there was a

lot of euphoria and excitement from Matt

and the team, and they were on their way

to London to sign the deal.

We had agreed it, gone through it all and

I started to get cold feet. I was sat in the

restaurant having a brandy and a coffee

and I was just thinking to myself 'I don't

actually want to be a television chef, I

want to be in this restaurant cooking'.

Surely your heart has to be in it if it's

what you are going to do?

I think you are either on telly to drive

people to your restaurants, well I've been

there when you are in a restaurant and so

many people want to talk to you because

they've seen you on telly but never for

the right reasons, and the thought that

somebody comes to the restaurant just

to catch a glimpse of the person they've

seen on telly is just the wrong motivation.

I want people to restaurants because

they are really great places socially to

go and they have importance in the

community and they like your food and

that it's somewhere they want to come to

celebrate birthdays and all of that stuff!

Absolutely, and you've done so, I mean

The Seahorse is just brilliant I've got

to be honest. It's just delightful the

minute you walk in there, it's such

a lovely place to be and I absolutely

love coming down there and hopefully

when the weather brightens up I'll be

back. One last question; are you doing

Salcombe Crab Festival this May?

I'm still not sure if I'm going to do it this

year. I didn't do it last year, but I did

the year before, but I am hoping to do

a fish festival in Brixton, a crab festival

in Dartmouth which we always do, and

also Dartmouth Food Festival in October

which is always great.

www.mitchtonks.co.uk
---
ALL'S

FAIR

Fairtrade Fortnight 2020 forges ahead from 24 February - 8

March in the fight to secure sustainable livelihoods for farmers

in the global south. Sadly, the shocking exploitation of the people

who grow our food is still rife around the world and Fairtrade

Fortnight 2020 will highlight this reality, focusing on women

cocoa farmers, who are some of the most marginalised and

face the greatest challenges. To raise awareness, we've brought

together fabulous recipes showcasing Fairtrade ingredients

Okra Stew

Images Chris Terry and chef for

photography Danny Jack

19
---
20

CEVICHE DE

ALCACHOFAS

By Martin Morales, chef, writer and

founder of Ceviche Family. Serves 4.

'On a recent trip to the region of Junín,

near a town called Concepción, in

Peru, I drove by field after field of

beautiful, ripe artichokes. There were

women in the fields harvesting and

collecting them. Knowing then that the

freshest artichokes would be on offer, I

stopped by a roadside restaurant and

had a perfect artichoke ceviche – the

inspiration for this recipe.'

Fairtrade ingredients: olive oil, black

pepper.

Taste the good: Fairtrade spice farmers

in India invested Fairtrade Premium in

community kitchens to cook lunch for

schoolchildren to encourage those from

poor families to attend school.

INGREDIENTS

8 artichoke hearts, quartered

2 small parsnips, peeled and cut into thin

batons

2 carrots, peeled and cut into thin batons

2 red onions, finely sliced

A small bunch of basil leaves, finely

chopped

A few iceberg lettuce leaves, shredded,

to serve

For the dressing

2 tbsp Fairtrade olive oil

Juice of 12 limes

2 medium-heat red chillies, deseeded

and finely chopped

Salt and freshly ground Fairtrade black

pepper

INSTRUCTIONS

Bring a saucepan of salted water to the

boil. Blanch the artichoke hearts and

parsnip and carrot batons for 3–4 minutes

until just tender, then drain thoroughly

and either chill in iced water or cool under

running water.

Put the red onion in a large bowl and add

the cooled blanched vegetables.

Make the dressing by whisking together

the olive oil, lime juice and chilli and

season with plenty of salt and pepper.

Pour the dressing over the vegetables,

sprinkle over the basil leaves and stir very

gently to combine.

Serve on a bed of shredded iceberg

lettuce.

OKRA STEW

Ceviche de

Alcachofas

By Zoe Adjonyoh, chef, writer and founder

of Zoe's Ghana Kitchen. Serves 4.

'Okra is a common west African

ingredient and one I use in my restaurant

kitchen as well as my home. When I

started Zoe's Ghana Kitchen, I looked

for new ways to incorporate this unique

vegetable into dishes. Okra stew is one

of my absolute favourites and one of the

most traditional Ghanaian dishes I cook.'

Fairtrade ingredients: peanuts, curry

powder, chilli, ginger.

Taste the good: Fairtrade peanut

farmers in Nicaragua used their Fairtrade

Premium to equip themselves with new

skills and tools to make handicrafts,

bringing in vital additional income.

INGREDIENTS

200ml (7fl oz) sustainable red palm

oil or carotene oil (can be substituted

for Fairtrade coconut oil, rapeseed or

sunflower also)

1tsp Fairtrade chilli powder

1tsp extra hot Fairtrade curry powder

tsp salt

2 medium red onions, finely diced

2 garlic cloves, very finely chopped

7.5cm (3-inch) piece fresh root ginger,

finely grated (un- peeled if organic)

1 Scotch bonnet or habernero chilli,

deseeded and diced

750g ripe plum tomatoes, cubed or

blended

1tbsp tomato purée

250ml good-quality vegetable stock

500g okra, trimmed and sliced

150ml water

Chopped Coriander and sliced Anaheim

chillies to garnish

INSTRUCTIONS

Heat the oil on low–medium heat until it

melts (palm oil has a low smoke point,

so be careful not to let it burn), add the

onion and sauté gently for a few minutes

until translucent. Add the spices, garlic,

ginger and Scotch bonnet and stir well,

then sauté for a further 5 minutes.

Cook in the tomato purée stirring well,

then pour in the vegetable stock to de

glaze the pan, reduce the heat to low,

then add the tomatoes and salt, cover

and simmer for 25 minutes until they start

to lose their tartness.

Add the sliced okra to the pot with the

measurement water, stir though once or

twice and replace the lid and simmer for

a further 15-20 minutes until the okra is

just tender. Season to taste.

This dish is traditionally served in a bowl

with banku on a side plate and fried

plantain along with a finger bowl.

SOOJI HALWA

LADOO

Semolina halwa balls By Asma Khan,

chef, writer and founder of Darjeeling

Express. Serves 6-8.

'Indian desserts can often be too rich

and sweet for many people. But this is

an ideal end to a festive meal as it is

light and – unlike many other desserts –

soaked in neither cream nor milk. Nutmeg

is best grated yourself from the whole
---
Sooji Halwa

Ladoo

spice, as shop-bought ground nutmeg is a

shadow of the whole spice.'

Fairtrade ingredients: saffron, cassia bark,

cloves, sugar, raisins, nutmeg, cardamom

seeds, cashew nuts.

Taste the good: Fairtrade cashew nut

farmers in Burkina Faso have spent their

Fairtrade Premium on increasing adult

literacy, bicycles and cereal banks for food

security.

INGREDIENTS

¼ tsp good-quality Fairtrade saffron strands

1 piece Fairtrade cassia bark, 2.5 cm long

2 whole Fairtrade cloves

150g/ ¾cup Fairtrade granulated sugar

125 ml/ ½ cup melted ghee or unsalted

butter

25g Fairtrade raisins (golden or green)

200g/ 1 ¼ cup fine semolina flour

½ tsp freshly grated Fairtrade nutmeg

½ tsp freshly crushed Fairtrade cardamom

seeds

40g Fairtrade cashew nuts, chopped

A few edible rose petals, to garnish (optional)

INSTRUCTIONS

In a bowl, infuse the saffron strands in ½ tsp

of tepid water. Set aside.

Place the cassia bark and cloves in a pan

and cover with 500ml/ 2 cups cold water.

Bring to a boil over a medium-high heat.

Lower the heat, add the sugar to the pan

and cook, stirring until all the sugar crystals

have dissolved.

In a large non-stick karai, wok or frying

pan, heat the melted ghee or butter over a

low-medium heat. Add the raisins and stir,

then remove them with a slotted spoon

just before they expand and burst. Add the

raisins to the pan with the sugar syrup.

Now add the semolina flour to the pan with

the ghee or butter, together with the grated

nutmeg and crushed cardamom seeds.

Gently stir until the grains of the semolina

darken and smell toasted (approximately 10

minutes). Keep the heat low as you do not

want to burn the semolina grains. Remove

the pan from the heat and slowly add the

sugar syrup, stirring constantly. The contents

will sputter initially but then calm down.

Put the pan back on the heat and stir to

break up any lumps. Keep the pan on the

heat until all the sugar syrup has been

absorbed. Towards the end of the cooking,

add the chopped cashew nuts and saffroninfused

liquid.

Once the halwa is cool enough to handle, roll

it into ladoos, or balls. Alternatively, you can

serve the halwa as it is, warmed and placed

in a serving bowl, and let your guests serve

themselves. To serve, scatter over a few

edible rose petals and chopped pistachios,

plus a scattering of raisins to add a festive

flourish to this dish.

From Monday 24 February to Sunday 8

March, all are invited to join together to

celebrate farmers and workers and stop

exploitation of the people at the bottom of

the supply chain. One easy thing people can

do to make a difference is choose Fairtrade.

21
---
a

Slice

of

SANTA

BARBARA

Kate O'Connell tackles

the culinary scene of

Santa Barbara. One

mouthful at a time...

Harbor View Inn Hotel

22
---
When it comes to traveling, shockingly enough I had yet to actually

get round to visiting the USA. This also came as a surprise to my

travelling companions on this trip. Our two nations are bound together

by much history, an overlap in religion, a common legal system and

language, so how had I not visited at least one state at one time or

another?

Who knows. Our family holidays didn't stretch that far I guess. Which

may explain my eagerness when I was offered the chance to explore

Santa Barbara. Quite the destination for a first time visitor to the USA!

Aptly nicknamed 'The American Riviera', Santa Barbara is situated

90 miles (a 2 hour car journey) north of Los Angeles, tucked within

a south-facing pacific coastline on one side, and the rolling hills that

stretch into the Santa Ynez Mountains on the other. But it is its charm

and sense of style that makes this small city so tempting - indeed it is

a hotspot favourite for the rich and famous, with a whole host of A-list

celebrities calling Santa Barbara home.

If there's one things that strikes you, it's that Santa Barbara doesn't

really feel like a city at all. There's no hustle and bustle here, instead

just a wonderfully laid-back, chilled vibe. Infused with the spirit

of Spain, we were informed that 6.8 magnitude earthquake near

enough flattened the city back in 1925. Devastating yes, but like a

phoenix from the ashes, this proved the making of the city in terms of

architecture, as the city planners were convinced to rebuild the city in

a unified, Spanish Colonial Revival style inspired by the historic Old

Mission (founded by Spanish Franciscans in 1786). Red-tiled clay

roofs and white washed walls are a feature of every building, and in

addition to the climate, give the city its Mediterranean charm.

Our first stop; checking in to the newly developed North Wing of

Harbor View Inn hotel. A premier beachfront hotel, Harbour View Inn is

centrally located within the city, and made for a fabulous base to start

our trip. My room featured a very inviting king size bed, complimented

by gorgeous modern Spanish Colonial furnishings, and to top it off - a

balcony view, a chance to sip on a morning coffee and watch the

world go by. But not yet. First; dinner!

We made a short walk around the block to Loquita Restaurant for

some authentic Spanish tapas. Created as a love letter to the Spanish

origins and history of Santa Barbara, Loquita showcases a medley of

paellas, charcuterie, cheeses and seafood. We were offered a sample

of a variety of dishes on the menu, with the squid ink seafood paella

being a personal favourite of mine.

After a restful night's sleep in my luxuriously comfy bed, I was ready

for a day of exciting activities. To get us started, we required a hearty

breakfast, and Goat Tree was just the place to go. A gourmet cafe

with a relaxed vibe, Goat Tree offers everything from fresh pastries

and baked goods cooked in-house by their resident pastry chef,

through to cooked breakfasts with a Mediterranean twist. I opted

for the classic Shakshuka, accompanied by homemade flat bread.

Possibly the best, tastiest start to a morning ever.

Feeling suitably energised, it was time for a spot of kayaking down

at the harbour front, courtesy of Santa Barbara Adventure Company.

Kayaking is a great way to view a side of Santa Barbara that perhaps

few visitors get to see, so it felt like such a treat. Not only this, it was a

perfect opportunity to spot some of the resident wildlife.

Loquita Restaurant

23
---
24

It was perhaps my enthusiasm at this

opportunity that had me labelled a

'Twitcher' on this trip. On every dock

we manoeuvred around brought hoards

of enormous pelicans, gangly herons

and rather amusing loons to name but a

few. We even managed to paddle right

up to a raft of sealions. So much of the

wildlife on show were species that I had

never seen out of captivity, it was a very

special morning indeed. I can't say I am a

particularly experienced kayaker, having

only dabbled on holidays in the past, but

I needn't have worried. The Adventure

Company specialise in providing tours for

all abilities, so I was in safe hands!

A great way to experience the harbour

front is to sample some of the

specialities, and so with this we took a

stroll over to Stearns Wharf; California's

oldest wharf named after builder John

P. Stearns. There we took some seats at

Santa Barbara Shellfish Company, and

were served an array of locally caught

seafoods, all washed down with some

local beer.

To get more of an overview of the city, we

then took a 'trolley tour' via Santa

Barbara Trolley Co. This 90 minute tour is

lead by a highly insightful guide, who

beguiled us with all sorts of interesting

facts about the city, as well as a little

local celeb gossip on the side!

After a quick freshen up it was time for a

bite to eat. Cue...Cubaneo restaurant!

Californian Cuban cuisine served

alongside cocktails from Shaker Mill who

neighbour within the same premises. It is

easy to see how you could happily waste

away an evening here, and we did just

that! With a cubano sandwich in one

hand and a 'Bay of Santiago' cocktail in

the other, you could have easily fooled us

into thinking we were in Havana!

After another restful night's sleep, I

skipped breakfast in order to make room

for the immense amount of food we

would be sampling on the Eat This, Shoot

That! Funk Zone Food & Photo tour. A

three-hour expedition, this is a chance to

sample some of Santa Barbara's finest

fodder, as well as learn a little more about

the city's history, all while discovering

how best to maximize your photo-taking

ability, achieving the most Instagramworthy

images that will make you the

envy of all your friends.

The tour is also a great chance to get to

grips with the layout of the city. Santa

Barbara is made up of several districts,

one of which, The Funk Zone, has seen

its popularity boom in recent decades.

Comprising of a series of converted

warehouses, this contemporary district

is very much the place to be to sample

artisan foods from up-and-coming chefs,

and out-of-this-world Santa Barbara

Country wines. Shop fronts and walls

are adorned with graffiti murals and art

pieces; this district really is an everevolving

artistic neighbourhood that is

well worth a visit.

It was then time to travel up into the

foothills to our next hotel. And what an

iconic hotel indeed. The Belmond El

Encanto. Recently renovated in 2013,

Belmond El Encanto offers stunning

views of the American Riviera and a

whole heap of Hollywood glamour on

the side. This resort manages to feel

relaxed and low-key, while at the same

time feeling like the most exclusive place

on earth. Sitting poolside whilst sipping

a glass of 'Belmond El Encanto Cuvee',

life truly feels timeless up here. It's little

wonder that it was a favoured getaway of

the Hollywood elite.

We made our way back down from the

hills to State Street for an Italian feast

at Due Lune Cucina. Serving fresh

ingredients and hand-made pasta, I

would have been mad not to order the

Linguine alle Vongole. This was paired

with some fabulous local wines, and the

staff couldn't have been more friendly

and attentive. We topped off the night

with a nightcap at Pearl Social; an

intimate and beautifully furnished cocktail

bar. The night felt like a very classy affair

indeed.

Somehow, our final day had sadly rolled

around already! It was time to do a spot

of botanical sight seeing. Lotusland was

our destination. This 37-acre estate and

botanic garden is situated in the foothills

of Montecito, which is located to the east

of Santa Barbara. Purchased by the

rather marvellous socialite Madame

Walska (Google her, honestly!), she spent

43 years designing the gardens to her

liking. To say they were breathtaking is

an understatement. Home to all sorts of

exotic, rare collections of plants, this is

truly a garden like no other.

After another spot of wine tasting at

some of the local establishments (it

would be rude not to!), we made our

way to Bibi Ji for dinner. A modern take

on traditional Indian cuisine, Bibi Ji are

experts at pairing quality, local wines

with the most brilliant of dishes. The

moment came when the aptly nicknamed

'Californian Gold' was bought out; Santa

Barbara's locally caught sea urchins.

Beautifully presented, and filled with

biryani rice, I couldn't lie...I was a little

hesitant to try them. After all, my only

knowledge of them was to avoid standing

on them when on sandy beaches abroad.

I needn't have worried. Creamy and

indulgent, they were fantastic.

What a dish. And what a trip.

At a glance

2 nights at harbor view inn

hotel, 2 nights at belmond

el encanto hotel, private

transfers and return

flights with Norwegian air.

Parking and lounge access

with holiday extras.

No1 Lounge at Gatwick

Airport (South Terminal)

from £26 PP

Harbor view inn - Nightly

Rates vary from $268.00-

$400.00

belmond el encanto -

nightly room rates start

from $560 (inc tax),

suites from $811 (inc tax)

www.santabarbaraca.com
---
Belmond El Encanto Hotel

Kayaking around Santa

Barbara harbour

Bibi Ji Restaurant

25
---
A NATURAL

curiosity

The 'Planet Earth II Live in Concert'

arena tour will be hosted by science

and natural history TV presenter Liz

Bonnin. With a masters in wild animal

biology, Liz has presented over 40

primetime programmes including 'Blue

Planet Live', 'Super Smart Animals',

'Galapagos' and 'Horizon'.

With her recent landmark BBC One

documentary 'Drowning in Plastic', Liz

investigated the ocean plastic crisis,

with her hard-hitting environmental

reporting raising the level of public

debate on this important topic.

Here Sally Thomson was able to

discuss with Liz her passion for our

planet prior to the start of the tour.

26

Sally: When did your love of the world

and all it's creatures begin?

Liz: Well it definitely started when I was

a kid. I grew up in the south of France in

the hills above Nice and we had a little

wood beside the house. Myself and my

sister used to play outdoors all of the

time. There were snakes and hedgehogs

and spiders and birds…and we had a

ball! I knew that, without thinking about

it then, that that's what set me off with

this passion for wildlife. I used to stare

at the birds for hours, wondering how

their eyes moved in their sockets and I

really wanted to just understand how it all

worked, down to the chemical equations

that make up all of these reactions.

So that was a natural progress for you

then, to go into biochemistry?

Exactly! It all started in the woods in

the south of France! That's why when I

give talks in schools, I make sure to tell

that story because it doesn't take a lot

to remember our connection to nature

and what's important, you just have to

be in amongst nature to be inspired and

to reignite your natural curiosity that

we're all born with, and with that comes

an inherent want to protect our natural

world. It reminds you that we're all

connected to it.

What you are doing is highlighting the

dangers that the world's creatures are

facing, particularly when you went on to

do 'Drowning in Plastic'. I know when I

watched it my heart bled, but being so

close to it when you made to programme,

you must have found it difficult?

I wish that as a communicator of the

natural world, I could just be celebrating

it and continuing to inspire people about

all of these incredible creatures that we

share the planet with, but unfortunately

I am living through a time where we are

experiencing the greatest existential

threat to our future, and it is very clear

that the way we live on this planet is not

sustainable and is damaging not only the

health of the wildlife we share the planet

with, but is ultimately damaging our

health and threatening our future.

I feel a responsibility to communicate

those things. As we set off making the

plastics film, I knew what we were going

to be filming, but it really did hit me like

a ton of bricks to see it with my own

eyes. It's hard to describe. It's been

really moving and difficult, but also I

feel like I have a very well-stoked fire in

my belly now that feels like it won't be

extinguished. It is my responsibility to

engage with the public in order for us all

to become part of the solution.

I recently watched the trailer for Planet

Earth II Live in concert. Isn't that going

to be fantastic on the big screen?!

It's going to be magnificent; I can't

wait! Obviously it's an extension and

adaptation of the iconic series, but I

think bringing it to a ginormous screen

like that and then having a 74 piece

orchestra playing the music of Hans

Zimmer, it's going to be a very emotive

and very powerful experience. I think we

are desperately in need of those types

of experiences to help remind us of the

beauty of the natural world, and the

beauty of humanity as well. Our ability to

write music and to be capable of making

those types of programmes, and for us

to be all together in these huge arenas

having that connection is a much-needed

experience, and I for one am very much

looking forward to it.

Some of the things we see in these

programmes can be shocking, such as

the killer whales going after the seals.

But we of course have to remember

that they have to survive too!

You see for me I don't find any of it

shocking, isn't that strange? And it's

really weird but I'm always rooting for the

predator! Obviously there's tension and

it's quite a powerful experience to watch,

but I'm always rooting for the predator

because from my studies I've seen just

how difficult it is for a tiger to get its prey.

It's something like 1 in 100 attempts are

successful. So I celebrate that, that's part

of nature and I think it's a beautiful thing.

There is an iconic moment in Planet

Earth II with the iguana and the

snakes…

Ah that one! Okay, I have watched that

sequence four times, and every time I find
---
my screaming 'COME ON' at the camera.

Funnily enough with that one I really want

the iguana to escape! That's so funny,

with me saying I root for the predators.

That is one of the most magnificent

scenes I have ever seen, not least

because of this almost inconceivable

situation, with all these snakes coming

out of the crevasses of the volcanic

rocks, but how it was shot! You can not

underestimate how difficult it is to make

that sequence work. The smoothness

of how the camera works was absolute

perfection. So not only is it a celebration

of the magnificent wildlife we share the

planet with, it's a celebration of these

incredibly talented film makers, who

sit there for days and days to get the

magical shots that will affect us to our

very core. It's just wonderful.

Am I right in hearing that you went a

kilometre underwater in the Galapagos?

Yes! We were on this research vessel for

two weeks, joining all these scientists

at the tops of their fields who were

investigating different aspects of these

islands and how to better protect them.

At one point we got into this submersible

and went down to a thousand meters, to

a part of the Galapagos that nobody had

ever been to before, so I truly felt like an

astronaut of Earth's inner space, rather

than its outer. Everything I pointed to the

scientists would say 'Yep. New species...

Yep, don't what that is, never seen one

of those before'. So we were discovering

new life at those depths. It was the most

incredible experience.

It must be dark down there?

It's pitch black, so you have these types

of sharks down there called Chimaera,

who do have these big, bulbous eyes.

There's no iris, it's just this big, white

circle of an eye, which is supposed

to help it absorb any smidgen of light

that there might be down there, and it's

just a surprisingly colourful place in the

crevasses of all the rocks. Galapagos

are all volcanic islands, so what we

were doing is following the flanks of the

volcano all the way down to the depths.

We were down there for seven hours and

it passed by like we were down there for

an hour, time sort of stands still down

there. It was a thrilling experience.

I was watching you recently talking

about the African jungle, and you spoke

about chimpanzees, and how much

they fight. You showed how much the

alpha male will fight to protect what is

his, and it is a bit sinister!

They're not the only species that have

to fiercely protect their place in the

hierarchy. The males often are exhausted

having to protect their females from

usurpers to the throne as such, but

chimpanzees in particular can be very

violent and because we are so closely

related to them I suppose it shouldn't

be a surprise that they all have different

personalities, and sometimes you just

get a really nasty character. At the end

"it's a celebration of these incredibly

talented film makers, who sit there for

days and days to get the magical shots

that will affect us to our very core"

of the day you can argue that the nastier

the male, the more successful he will be

because it all boils down to him and his

offspring and protecting his gene pool.

I suppose it's like when male lions get

rid of any cubs that aren't their own

There is infanticide in many species. It's

all about making sure you have as many

offspring as possible, so if you kill a

female's offspring then you can mate with

her straight away.

Are there parts of the world or

creatures that you would like to visit/

see for the first time?

Yes. Snow leopards. I need to see a

snow leopard. And part of it is because

it is so difficult to see them now. They

are extremely elusive and live in an

extremely inhospitable part of the planet.

They're probably the most elusive cat,

so that's the dream. I will fall crying if I

ever see one in the wild. They are the

most glorious animals. Actually, it was

on Planet Earth II, and again it is a scene

that I've watched about three times and

it always brings me to tears; the first

time I heard the vocalisation of a snow

leopard. I had never heard that before.

And the fact that because our technology

is improving, Planet Earth II was able to

capture this glorious snow leopard at the

top of this mountain that was vocalising.

It brings me to tears every time I hear it,

it's the most glorious sound in the world.

Are they as endangered as other

leopards and big cats?

Yes. I mean, the Amur leopard is the

most endangered cat, but all big cats are

facing extinction. They are all incredibly

threatened and their populations are

dwindling.

We've spoken about the man-made

situation with plastic. But is there

anything else in the natural world that

you have seen that has shocked you?

In terms of the natural world, I think it

is all magnificent. I really do. Even with

something that might look to us to be

violent, or a little bit uncomfortable

to watch, I think that the more we

understand how animals live and all of

their adaptations that have allowed them

to find solutions to all of their problems in

order to survive - the more I understand

it, the more I am in awe of it and the more

it makes me humble and very small in

comparison. So I find it all too wondrous

to ever think that something is too much

or too shocking.

The dates for Planet Earth II Live in

Concert are as follows:

Thursday 6 March

Motorpoint Arena, Cardiff

Friday 27 March

Manchester Arena, Manchester

Saturday 28 March

First Direct Arena , Leeds

Sunday 29 March

O2 Arena (matinee), London

Sunday 29 March

O2 Arena (evening), London

Wednesday 1 April

3Arena, Dublin

Friday 3 April

Resort World Arena Birmingham

Saturday 4 April

SSE Hydro Arena, Glasgow

Tickets are available from

www.planetearth2live.uk.

27
---
AMAZING

GLAZING

When we think about our homes, it's really the windows

and doors that create the wow factor. We are all so

keen to flood our properties with natural light and the

constantly evolving technology in the world of glazing is

making some truly astonishing designs achievable, not to

mention more affordable than ever.

Whether you are self-building, extending or even

renovating your home, apportioning budget to windows

and doors is a savvy move. As well as making your home

more valuable - 69% of people say that light rooms make

them more inclined to buy - investing in clever glazing can

make you fall in love with your space once more.

BI-FOLD vs SLIDING

DOORS

Bi-fold:

PROS - for those looking for that wonderful sense of a

garden room that brings the outside in, bi-folds can help

create the sense of one open-plan space as the panels

fold away fully to the walls.

CONS - an expensive option - poorly constructed bi-folds

can also suffer from air-tightness issues around the joins

so do your research and get guarantees.

Sliding:

PROS - generally cheaper than bi-fold doors, sliding

doors also have fewer frame elements, meaning when

they are closed your view is less obstructed.

CONS - you won't get the full, uninterrupted view of the

garden - instead only a portion of the doors are openable.

Bi-fold

Sliding

69% of people say that light rooms make

them more inclined to buy - investing in

clever glazing can make you fall in love with

your space once more...

28
---
Roof Lanterns and Skylights

Compared to windows of the same surface area, skylights and

roof lanterns can increase light in a room by up to five times.

They are particularly good in extensions and for channelling

light to darker corners of the home and adding opportunities

for ventilation. These additions are no longer considered just a

luxury and can be used in a wide variety of scenarios:

• In a loft extension, tucked beneath sloped rooflines, the

presence of skylights may spell the difference between a

bright, friendly space and a murky cave.

• In a home built between closely adjoining neighbouring

houses where overlooking might be an issue, skylights may be

the best solution for introducing good natural light into rooms.

• In a single storey house build or extension, built with an open

floor plan, skylight shafts can bring much needed natural light

into the centre of large spaces.

Many of the issues experienced in the past of rooms

overheating or being hard to clean have been mediated with

a tranche of new technology, including glass panels with heat

regulatory and storage abilities and self-cleaning glass.

SINGLE STOREY EXTENSION?

In a single storey house build or extension, built with an

open floor plan, skylight shafts can bring much needed

natural light into the centre of large spaces.

Energy Efficiency

Our homes are one of the biggest energy wasters out there and

traditionally windows are the biggest energy leakage point, so

with any renovation, it can really pay to invest in glass tech to

ensure the best temperature regulation - creating huge savings

down the line. We all know that double glazing is much more

efficient than single, but newer technologies like triple glazing

are making windows nearly as efficient at energy retention as

the walls they are installed within.

As well as the glass, it is important to do you research into

frames and opt for the most airtight models.

With great green credentials, triple glazed units have the

added benefits of better thermal comfort, noise reduction and

a reduced risk of condensation between panes – so for the

self-builder or home improver looking for a premium finish with

added benefits, it's a natural choice.

29
---
2

1

dark ARTS

3

The trend for sleek black finishes

continues, with lots of companies

now supplying dark taps, shower

enclosures, towel rails and tiles

Dark tiles and fixtures look amazing - the only thing

to be aware of is living in a hard water area and the

effects that will have on the finish of taps over time.

For a sleek look, pair large-scale dark floor tiles with

white tiles on the walls, framed by black hardware.

5

Images: 1. Aquaglass Velar 8mm Black Crittall Corner

Entry Enclosure, frontlinebathrooms.co.uk; 2. Original Style

Tileworks Steel Midnight Blue, originalstyle.com; 3. Merlyn

Black Showerwall With End Panel, merlynshowering.com;

4. Duravit - Stonetto (Sand) Shower Tray, duravit.co.uk;

5. Contour Radiator, frontlinebathrooms.co.uk; 6. Pitch

Bluetooth Mirror, purebathroomcollection.co.uk; 7. Finissimo

Black Bath Filler, bathroomdealsuk.co.uk; 8. Valverdi Iguazu

Tile, londontile.co.uk;

8

4

7

BATHROOM

TECH

With homes becoming

smarter in the main, it

makes sense that similar

technology would be

extended to the bathroom.

We love this bluetooth

mirror which can play

your favourite songs and

has automatic demisting

technology

6

30
---
THE BATHROOM

& TILE GUIDE

A roundup of the trends that can beat the bathroom blues

and turn your bathroom into your own slice of heaven

1 2

3

ensuite DREAMS

According to a survey carried out by Nationwide

Building Society, an ensuite can add as much as 5%

to your home's market value - if you have the space,

it's a great investment which is luxurious too

If space permits, a roll top or freestanding

bath looks wonderful in an ensuite and

gives a true sense of luxury. If your space

is more modest, the smaller scale is a great

place to experiment with some interesting

tile combinations and colours. There are

some fabulous examples of encaustic tiles

out there at the moment, but if you do opt

for those, be aware and prepared for more

maintenance than printed tiles.

Images: 1. products from Original Style; 2. String

lights from Lights4fun.co.uk; 3. image from

carleyrowena.com; 4. Floris tile from Boniti

4

31
---
1

TILE STYLE

THE way to add style and personality to

your bathroom - choices are limitless.

Avoid following trends too closely and pick

something you really love

3

4

2

When choosing

tiles, functionality

is key - tiny mosaics look amazing, but you

don't want them in high traffic areas of a family

bathroom. Try to keep floor tiles low maintenance

and add decorative flourishes in smaller spaces.

Ceramics aren't the only option either - vinyl tiles

and laminates can work effectively.

5

6

Images: 1. Selection from Ripples; 2. Havana Dawn Self

Adhesive Vinyl Floor Tiles, zazous.co.uk; 3. Odyssey

- 8051V Seville Tile, originalstyle.com; 4. 3D Offset

Hexagon Tiles, bakedtiles.co.uk; 5. Original Style Living

Spirit Tile, originalstyle.com; 6. Windmill Geometric

Tile, tonsoftiles.co.uk; 7. Odyssey - Persian Floor Tile,

originalstyle.com

7

green SPACES

Houseplants are taking over - and

we love it! If you have natural light

in the bathroom, lots of plants can

thrive in the space!

The best plants for bathrooms are

moisture lovers - these are our

favourites: -

Zamioculcas zamifolia (the eternity

plant - so named because it is hard

to kill!), the spider plant, most ferns,

snake plant, aloe vera, cast iron plant

and orchids.

Image, left, from Dobbies - plants and

plant pots available.

NO WINDOW?

No problem! LED growing lights can be

easily installed to help your plants grow,

even without natural light.

32
---
ADVERTISING FEATURE

2020 is the perfect time to upgrade

your home with to Help to Buy

There are so many reasons for putting down roots in this beautiful region

- not least its close proximity to spectacular countryside, the breathtaking

south coast, and easy access to the delights of Winchester, Southampton,

Salisbury and Bournemouth...

It's not surprising then that so many

potential buyers are seeking out homes

here. And they won't be disappointed.

New build properties, known for their low

maintenance and energy efficiency, are a

particular favourite.

With competitive mortgage rates

available, and special schemes designed

to help people enter the property market

or move further up the property ladder,

David Wilson Homes head of sales

Tammy Bishop believes there has never

been a better time to up-grade your

home.

"We're seeing a significant rise in the

number of buyers seeking their forever

home in 2020 at our Kings Chase

development in Romsey," she says. "It's a

particularly attractive site - with a stylish

collection of three and four bedroom

homes in a traditional market town

setting, close to the New Forest and with

easy links to Winchester.

"More than ever, we're noticing people

opting to use Help to Buy again to secure

a bigger family home. It's a great way

stretching your money further to fund

your dream move."

Help to Buy is available on all new-build

homes up to £600,000 at Kings Chase.

Buyers can become owners with just a

5% deposit of the property value of their

new home. Many lenders are able to offer

a loan-to-value mortgage because the

UK Government provides a guarantee of

up to 15%.

"Many of our buyers are upsizing, having

previously used Help to Buy to secure

their existing homes. They're finding

mortgage rates as low as 1.75% and

they don't have to wait the full five years

before moving, so they're seizing the

opportunity to upgrade.

"There is a common misconception that

Help to Buy is for first timers only - and

this couldn't be further from the truth.

According to research, one in five of

those using the scheme have done so

to trade up. That's more than 32,000

households - and I expect that figure

to increase rapidly as more buyers

recognise the many advantages to

be had. Our team at Kings Chase is

at-the-ready to talk buyers through the

entire process - giving them the perfect

opportunity to acquire a wonderful new

home here in 2020."

Kings Chase features an exquisite mix

of spacious family homes in the historic

market town of Romsey. Situated on

the outskirts of the town centre, there

are plenty of local shops, cafes and

restaurants - as well as a good choice of

schools - right on the door-step.

"This popular development is designed

to suit a wide range of lifestyles," adds

Tammy. "But families, particularly, are

loving this perfect combination of a

tranquil semi-rural location close to all

local amenities."

To find out more about new homes at

Kings Chase, call 033 3355 8494 or visit

www.dwh.co.uk.

www.winchesterlifestyle.co.uk | 33
---
Look Before You Leap

While the SPAB warmly encourages people to take the

plunge and make an old building their home, it's easy

to be swept away by romance. SPAB Director Matthew

Slocombe offers a checklist of key considerations to

help potential buyers make the right choice – both for

themselves and for the building of their dreams.

Think with head and heart

Old buildings are more than a space in

which to live. If all that really interests you

is location or floor area, an old building is

unlikely to be right for you. If you appreciate

style and character, and are keen to

embrace the quirks and idiosyncrasies of an

old building, the potential rewards are great.

Compromise to get what you want

For the majority of buyers, historic interest

is a desirable factor but not the key. If your

number one aim is to live in an interesting

old building, but your means are limited,

compromising on other requirements can

sometimes help.

Authenticity can't be re-created

If you want something genuine and

authentic, recreation of lost parts is unlikely

to act as a fitting or worthwhile substitute.

Look for genuine survivals. It may be that

fireplaces have been boarded up and plaster

overlaid with modern materials, but if the

originals survive behind this offers a much

better starting point than a gutted interior.

Choose something that will fit your

longer term needs

Look a few years ahead and try to consider

whether the building is likely to fit your plans.

If you think you might need more bedrooms

or a bigger kitchen, consider whether the

building is likely to be able to accommodate

this without major change. In a modern

house, adding extensions or knocking down

walls may be relatively straightforward. In an

historic building it may not.

Consider auctions

Many old buildings needing work are sold

at auction. This can be a way to find an

interesting project, and perhaps also a

bargain. But the buyer must beware and it

is especially important to do your homework

seeking specialist help in advance.

Purchase is not the only possibility

If living in an old building is your goal, but

prices are unaffordable, other options

may exist. The commercial rental sector

general lets buildings that have been heavily

updated, but estates, farms and some

private owners may offer old buildings to

rent in a more rustic state.

Distinguish between decorative and

structural needs

This is vital. Small cracks are normal in old

buildings and can be easily remedied as part

of the redecoration process; larger cracks

may hint at structural movement.

Get good advice

The cost of professional advisers can

seem off-putting, but sound advice is

an investment. There are accreditations

schemes run by the RICS, RIBA and AABC

and the Society can offer suggestions

via its Technical Advice Line (0207 456

0916 weekday mornings). The advice of a

structural engineer, conservator (see ICON's

accreditation list), quantity surveyor or

historian may also be invaluable.

Put together the right team

If work is needed, the right team will be

crucial. Consider not just price, but the

expertise of team members. Listen to

craftspeople - good ones know exactly

what they're doing and the expertise is often

under-appreciated.

Adjust your lifestyle

Occupying an old building brings huge

benefits to your quality of life, but don't

expect it to be the same as a perfectly level,

hermetically sealed modern box. Floors

may slope, windows may be draughty, and

elaborate modern services may be difficult

to accommodate.

Research and understanding

Understanding an old building includes

knowing how it's put together and what

it's made from, as well as the uses it's had

over time and the changes previous owners

have made. Combine this with background

research, advice from organisations like the

SPAB, and knowledge from neighbouring

owners and a rounded picture of the

building should emerge.

Don't ignore consents and other statutory

requirements

Planning consents and building regulation

requirements should always be adhered

to. This is particularly so in the case of

listed buildings. If you buy a listed building

that has been altered without permission

you inherit the liability and enforcement

action could be taken against you. If you

alter or demolish a listed building without

permission you could be prosecuted.

Don't count on grants

Grants for private owners were once

relatively common. They are now rare and

should not be counted on.

Settle in before making big changes

A vacant house offers an opportunity

to tackle problems without upheaval to

occupants, but avoid the temptation to do

too much, too fast. A period of occupation

ADVERTISING FEATURE

often brings realisation about what's

necessary and what's not important.

Deal with the boring things first

Kitchens, bathroom and decorative works

may be most fun, but they should be bottom

of your list. Fixing the roof and making sure

the gutters, drains and electrics work will

provide you with a sound basis from which

to make other changes.

Scratches and Witches

Loving the lumps and bumps is all part of

old building ownership. Appreciate them

as part of the building's character and

history and avoid erasing them for the sake

of tidiness. Think too about witches! Old

surfaces often carry superstitious markings

designed to ward off bad spirits.

Repair is good

Building conservation is a branch of

environmental protection and sustainability:

repair is better than replacement. Decay

is rarely uniform and repair can allow

the undamaged parts to remain. An old

window with 20% new timber is better for

the environment and our history than a new

window with 100% fresh timber.

Make sure materials are compatible

New, innovative building products can

be valuable, but historic buildings are not

generally the place where they should be

tested. The potential for side effects is great

if incompatible materials are used.

Get involved but know your limitations

The SPAB has always encouraged a handson

approach. There is no better way to get

to know your building than through practical

work. However, it is important to know the

limitations of your own skills, to consider

safety issues, and to get training if you are

unsure. The SPAB and others run practical

conservation courses. If in doubt, call on an

experienced craftsperson.

Good new design

Where a strong and justifiable case exists

for a change or addition, sympathetic

new design offers the best approach.

This requires good design advice and a

thoughtful choice of materials.

Enjoy it!

An old building deserves to respected and

cared for, but it should be enjoyed rather

than revered.

Call the SPAB Technical Advice Line on:

020 7456 0916

34 | www.winchesterlifestyle.co.uk
---
Professional Painters &

Decorators Winchester

• Interior & exterior painting and decorating

• Wallpaper hanging

• Specialist paint finishes

• Window repair &

restoration

• Wood Staining and

Varnishing

We provide FREE

quotations, with no

obligation to you

07411 311508

paulpricepaintinganddecorating.co.uk

www.winchesterlifestyle.co.uk | 35
---
CRANBOURNe

stone limited

State-of-the-art precision machinery

is our secret formula to creating

projects that stand out from the rest...

ADVERTISING FEATURE

Why settle for the same as everyone else, when you could have

a unique and stylish look for your outdoor space? Cranbourne

Stone, located in Stockbridge, offers a warm welcome and a

friendly team who are always happy to discuss any technical

details you may have to transform your home.

Pop along to the showroom to see the amazing choice of

quality stone. Whether it's for your doorstep, or stone for a full

landscape project, Cranbourne Stone is here to help. With a

large stock of natural stone and slip resistant porcelain, available

to view at our workshop in Stockbridge (behind the Spitfire

Shoot), we provide the opportunity to turn your creative ideas

into a reality.

When it comes to individuality, our wide range of meticulously

sourced materials, combined with state-of-the-art precision

machinery is our secret formula to creating projects that stand

out from the rest.

Take advantage of our on-site template service, where you can

see your design come to life and achieve maximum accuracy for

your project.

Cranbourne Stone's products are sourced from quarries

worldwide, with quality and style at the core of the range. With

no two pieces of natural stone being the same, due to its tonal

variations and natural properties, we really do provide a unique

finish for both your home and landscape.

Visit us to find out more at Unit 1, Houghton Down Farm,

Stockbridge, Hampshire, SO20 6JR

Or find more at: www.cranbournestone.co.uk
---
ADVERTISING FEATURE

300 new homes

coming to Broadleaf

Park in 2020

An area of Rownhams in Southampton

is set to be transformed into a brandnew

housing scheme by national

homebuilder, Taylor Wimpey...

The development will be made up of 300

new homes with 40 per cent fitting the

affordable homes criteria.

Taylor Wimpey's Broadleaf Park will offer

the very best in high-quality homes in an

area which is already known for being an

incredibly friendly community. Positioned

in an excellent location, surrounded by

wide open spaces, it's expected to be

popular with those wishing to live in the

area and those tempted by the ease

and comfort of moving into a brand-new

home.

Roz Wells, sales and marketing director

for Taylor Wimpey Southern Counties

commented: "We are very excited to be

launching this new development. We

have kept the beautiful location in mind

when designing the community, with onsite

greenery and landscaping in keeping

with the existing environment."

Based on Rownhams Lane, the

development will feature properties in a

range of styles and sizes to meet growing

demand for high-quality, new-build

homes in the area within easy reach of

local amenities.

Taylor Wimpey has taken all areas

of the community into consideration

when designing this development. The

homebuilder strives to do much more

than build homes and works closely with

every demographic of a community in

order to make a positive contribution to

the local area.

The team at Broadleaf Park will be

committed to a continuous programme of

engagement with local groups throughout

the lifetime of the development. This

means local associations, schools and

charities will benefit from donations,

forging long-standing relationships.

This commitment will include a

contribution of more than £1m, with

£269,000 of that pot going towards

educational resources in the area.

Roz added: "We wanted to cater for the

wider community when bringing this

stunning development to Rownhams.

"Whether you are just starting out on

the property ladder, looking to downsize

now the children have flown the nest, or

simply need more space for your growing

family – Broadleaf Park is the perfect

place to call home."

Besides quality and luxury aesthetics,

house hunters can be assured of the

build quality at the development, with the

two-year Taylor Wimpey warranty, as well

as a 10-year NHBC 'Buildmark' warranty

and insurance policy.

Homes at Broadleaf Park are easier than

ever to secure thanks to Taylor Wimpey's

range of financial initiatives specifically

designed for all types of home buyers.

These include Easymover, which sees

Taylor Wimpey manage the sale of

the buyer's original home, and Part

Exchange, where the homebuilder buys

the property at its market value.

Part Exchange and Easymover are ideal

for existing homeowners looking to sell

their current home swiftly.

Sadly, Broadleaf Park is not open for

viewings just yet but for a sneak peek

on what to expect, take a look at Taylor

Wimpey's Kings Gate Development in

Winchester.

Roz added: "We are looking forward to

welcoming visitors once the development

is open. I have no doubt that when they

see the plans, the proximity to local

amenities and beautiful surroundings,

Broadleaf Park will tick all the boxes for

house hunters on all levels of the property

ladder."

You can also visit

www.taylorwimpey.co.uk to register

your interest and be the first to receive

updates.

www.winchesterlifestyle.co.uk | 37
---
a plant for every

space in your house

The sale of houseplants has grown considerably in the last few

years - a 10-15% year on year increase since 2013 according to

the RHS. It is particularly prevalent among young people - not

so much as part of a décor choice but more to fulfil a desire to

have something to care for and look after. For urban dwellers and

workers there are also the perceived health and well-being benefits.

The RHS website has the following: 'As well as looking good,

houseplants support human health in homes, offices, school and

hospitals. Research suggests that the greatest benefits of indoor

plants are through well-being and productivity improvement. There

is discussion around their influence on indoor air quality'.

If you have never had a plant in your life, having a plant at home

is the perfect place to start – and there is such a lot of choice!

Gone are the days of a dusty 'mother-in-law's tongue' Sanseviera

trifasciata or a Kentia palm Howea forsteriana waving brown

fronds in distress - we have a plethora of options to suit every mood

and every place in your home. My first books were on the subject of

house plants and I love to have plants of all types sharing our family

home.

There is an enormous body of research going on at the moment

into the beneficial effects of various species, how many you need

to benefit either physically or mentally, what specific problems

they can alleviate and which species can best tolerate the various

conditions they are exposed to indoors. Lack of light, temperature

fluctuations, infrequent watering - or too much watering - pity

the poor indoor plant and yet for all of the privations we put them

through they still flourish!

As I travel around the country I see so many lovely orchids on

windowsills and the moth orchid or Phalaenopsis must be present

in a high percentage of

British homes. These

orchids are incredibly

long lasting and even with

the most basic care will

flower again and again.

You could also chose a

Spathiphyllum or peace

lily, a Madagascar Dragon

Tree, Dracaena marginata

or an English ivy Hedera

helix - drape them from

cupboards and bookcases,

group them for more

impact, have one large statement plant for a

Wow factor, whatever you choose make room in your

life for a plant!

A Practical Guide to Growing Healthy Houseplants

by Matthew Biggs

www.matthewbiggs.com

www.alexandergardenservices.co.uk

- Local professional specialising in -

Landscaping - Fencing - Artificial Grass - Driveways - Decking

Paths & Patios - Water Features - Garden Design

If you are looking for someone to take on those larger garden jobs such as replacing fences,

laying paths and patios, a quick makeover or even a full re-design, then look no further...

let us take the strain out of gardening so you can fully enjoy your garden all year round.

Call today and expect that little extra...

01962 717735 07971 529217

- Established 2007 - - 5m Liability Cover -

38 | www.winchesterlifestyle.co.uk
---
www.winchesterlifestyle.co.uk | 39
---
WEDDED BLISS

Planning your nuptials this year? Read on

for top trends and lots of inspiration...

Planning your wedding is a personal

experience and to a large extent the

format, style and little touches are more

likely to be representations of your

personalities and tastes over any trends.

There is, however, an overwhelming body

of inspiration online which can put even

the most dedicated planner into a spin -

sometimes some fresh, trend-led ideas

might be just the spark to help you plan.

Princess Dresses

Channel your inner Disney princess - the

more streamlined dresses we've been

used to are making way for fuller skirts

and ball-gown styles. For evening, lots

of brides are opting for a second dress

which is less constrictive - meaning they

can dance the night away, carefree.

Personal Details

The wedding will be full of details that

nod to you as a couple, but more and

more brides are opting for personalisation

in their outfits too. Some with meaningful

words or dates embroidered into their

veils or others more edgy with painted or

stitched leather and denim jackets for the

evening (these have the added bonus of

being an item you can wear after the day!)

Sustainability

With a big shift toward eco-friendly

choices in everyday life, it's natural

that wedding venues and suppliers are

upping their green credentials to meet

the demands of green-thinking couples.

Some considerations to make: ethical

wedding rings and outfits, even consider

hiring a dress (dresses take a lot of

energy to create but are seldom worn

after the event), give guests wildflower

seeds as favours, employ caterers who

only use bio-degradable packaging, print

eco-friendly invitations on recycled paper

and for flowers pick seasonal blooms

grown locally where possible.

Wall Decorations

In more non-traditional venues with

plainer walls or in marquees, decor is

continued...
---
-WEDDING FAYRE -

Sunday 26th January 2020

Viewings are available

on evenings and

weekends strictly

by prior appointment

only.

Penton Park is an exclusive privately owned wedding venue hosting just twenty events in any

one year. Currently listed by the London Evening Standard in their top 50 Venues in the UK (the

only one in Hampshire), all couples choosing this beautiful and idyllic venue are guaranteed a

totally unique and luxury experience.

If you should have any questions please don't hesitate to email or call and we will be happy to

help you in any way we can.

Penton Mewsey, Hampshire, SP11 0RD | 01264 772 400 ext 1 | danielle@pentonpark.co.uk

www.winchesterlifestyle.co.uk | 41
---
key for setting the mood. 'Green' walls made from

foliage and picked out with white lights look elegant

and timeless, whereas paper pom poms in bright

colours are cheerful and inviting. A new trend is a

balloon wall - making arches to frame the ceremony.

Lots of couples can add a DIY element here, making

some of the decorations themselves (with a small

army of bridesmaids or ushers to help!)

Table Settings

One of the biggest transformations in recent years

is the style of tables and the seating arrangements.

The more ornate chair covers with bows have

made way for elegant chiavari chairs and tables

are bursting with informal arrangements, made

predominantly of foliage, picked out by the twinkle

of fairy lights and mirrored platters.

Incredible Venues

Stately homes and castles are having a moment,

making perfect backdrops for the big day. As well

as being historic places to tie the knot, they are full

of character and have many architectural gems -

perfect for capturing those unforgettable photos.

As ever, Pinterest is a great source of inspiration -

but try not to get too bogged down and stressed

with including every detail - the most successful

weddings focus on bringing together a happy couple

in an atmosphere of love and support - guests will

remember how they feel on the day above all else.

The Hospital of St Cross

& Almshouse of Noble Poverty

'England's Oldest Almshouse'

The Hospital of St Cross

Vacancies for Brothers

& Almshouse of Noble Poverty

The Hospital, founded in 1132, is home to 25 retired

'England's laymen Oldest ('Brothers') Almshouse' and applications are welcomed.

Vacancies A registered for Charity Brothers with a Christian foundation,

The Hospital, the founded Hospital in 1132, is situated is home to a mile 25 retired south of Winchester.

laymen ('Brothers') Each Brother and applications lives independently are welcomed. and occupies a flat

A registered Charity with a which Christian he foundation, furnishes himself. the

Hospital is situated Further a mile information south of Winchester. and an application Each form are

Brother lives independently obtainable and from: occupies a flat which he furnishes himself.

Further information Clerk and to an the application Trustees, form are obtainable from:

Clerk to the Trustees, Hospital Hospital of St Cross of St Cross Winchester, Winchester, SO23 SO23 9SD 9SD

Tel: 01962 878218 Tel: 01962 878218

E-mail: clerk@hospitalofstcross.co.uk

E-mail: clerk@hospitalofstcross.co.uk

www.hospitalofstcross.co.uk www.hospitalofstcross.co.uk

Registered Charity No.202751

Registered Charity No.202751

Beautiful Wedding Venues

within the Grounds of Winchester Cathedral

mywedding@winchestercathedral.events

01962 857258 / 07807 628215

www.winchester-cathedral.org.uk/venue-hire/weddings

Beaut

within th

Beaut

within th

myweddi

01962 8

myweddin

01962 www.win 85

www.win

42 | www.winchesterlifestyle.co.uk
---
THE LUXURY WEDDING

Wish List

Weddings with Claire

An Independent Celebrant working in

Hampshire, Surrey & the South of England

Choosing an Independent Celebrant means

you choose your style of wedding and

location. By meeting with you and listening

to your personal story and your ideas for

the perfect day, we create a ceremony that

is just for you. Based on my experience,

I can bring in elements and rituals that

you would like from all kinds of sources,

religious or not.

No two ceremonies are the same, as no

two couples are the same.

01962 734941 or

07775932485

Bloom Bloom

Wedding Florists

Every wedding is unique and entirely

personal. Whatever style of wedding you

have in mind, we would love to guide you

through the possibilities.

We will meet with you to discuss your

ideas, colour schemes and your favourite

flowers, it all helps to build a picture.

Together we will browse images of our

work and talk in detail about your wedding

flowers. Making your venue look amazing is

all part of the fun too! We have worked with

many venues and wedding planners so we

know what can be achieved.

01489 663030

bloombloom.co.uk

Change Your Scenery

Looking to add the perfect touch on

your big day? Our wedding backdrop

tapestry's add the perfect touch to your

wedding in seconds! Just hang it and your

done. Whether its a backdrop for your

dessert table or used in photo shoots your

guaranteed to get lots of compliments.

You can customise it with your name, date

and any text you desire. We have a large

range of Wedding, party and bridal shower

backdrops.

07780608094

changeyourscenery.co.uk

info@changeyourscenery.co.uk

Thomas Wellburn

Jewellery

Traditional bespoke Jeweller, design studio

and Workshop.

Synonymous with quality and style. Each

and every piece of jewellery is individually

handmade and designed with your specific

requirements in mind.

01962 865 600

jewellery@thomaswellburn.co.uk

thomaswellburn.co.uk

© Stephen Duncan

Hampshire Ceremonies:

Winchester Register Office

Winchester Register Office is located at

Castle Hill, on a cobbled avenue close

to The Great Hall. With three in-house

ceremony rooms to conduct marriage

ceremonies and civil partnerships, we can

accommodate for a range of tastes and

budgets. Our rooms have been traditionally

decorated to be in keeping with the

grandeur of this impressive building and

boast period features.

0300 555 1392

Castle Hill, Winchester SO23 8UH

Chair Covers of Hampshire

We recognise that our customers expect

a hassle-free reliable service and we don't

disappoint. Once we have received your

order you can relax and leave all the details

to us.

Our success as a company is based on

understanding what the customer needs

and providing the service that you want.

We have a wide range of covers, sashes

and venue decorations.

01489 795774

office@chaircoversofhampshire.co.uk

chaircoversofhampshire.co.uk

www.winchesterlifestyle.co.uk | 43
---
social care needs

Social care seems to be in the

news a lot at the moment, often,

unfortunately, in conjunction with

the word 'crisis'. Given that if you

need care it's a necessity, it makes

sense to understand the basics – well

before that time might come.

Social care is there to support you because

you need some extra help with daily living

or are caring for someone who requires

additional help themselves. There are a

wide range of social care services, including

care in your home or in a care home, live-in

care services, day centres, home adaptions

like handrails, and technology of various

kinds.

The first step if you or your loved one

needs some extra help and support is

to ask your local authority to carry out a

needs assessment. You might have to wait

several weeks at least for this, because

councils are strapped for cash and staff,

but it's important to have it because it's the

gateway to the wider system. Someone

from the council usually visits to establish

the type of support you might need. There's

no charge and the assessor will create a

care plan specific to your needs.

When the type of care you need is decided

and agreed the next stage is to establish

how it will be paid for through a financial

means test - which can be complex and

quite confusing. Social care isn't a free

service provided by the NHS as many

people think. Most of us have to pay for

all or some of our care and the amount

depends on the level of need and the value

of any assets we have.

Your home will not be included in the means

test if you're arranging care and support

at home but other capital assets, including

savings will be. Currently, if you have more

capital that £23,250 you will have to pay all

your care fees. If you have under £23,250,

you'll get financial assistance but may have

to contribute from your income.

44 | www.winchesterlifestyle.co.uk

The cost of care varies by area but it is not

unusual to have to pay about £20 an hour

for a care worker to come to your home

(domiciliary care) to help you with, say,

getting up, washing and dressing, if that's

what you need. You can see how the bills

add up if you need more than one visit

every day.

It is also possible that rather than

'personal care' you need a different kind of

support, such as companionship, because

you are very alone and lonely. If so, in

some places the council may refer you to

a scheme run by a charity like Age UK,

where you might have to pay a modest

amount to take part.

If your needs are such that it is best for

you to move permanently into a care home

your property, if you own one, will be

included in the means test at its present

market value, but less any mortgage

or loan you may have on it. However, it

will not be included if your partner still

lives there or, in certain circumstances, a

relative. Your home is also not included if

you need a temporary or short-term stay

in a care home. Two in five of all the older

people living in care homes now pay for

their own care.

To avoid property or other assets being

counted in the financial means test, some

people consider giving them away to a

child or grandchild. However, this could

be interpreted as 'deliberate deprivation

of assets', and your local authority may

still ask you to pay the same level of care

fees as if you still owned your home or

the other assets you have given away. It

is really important to take advice if you are

thinking of doing something of this kind.

If you do have to pay towards a care

home place it is possible to avoid selling

your property during your lifetime in order

to release the money required, namely a

deferred payment which endures while

you are alive. The council provides a loan

for your care costs secured against your

property and this is repaid either when

the property is sold or from your estate

after you have passed away. There is an

interest charge if you choose to do this

but every council is supposed to offer a

scheme of this kind, even though relatively

few people take advantage of it, possibly

because they do not know it exists.

If you have care needs and you are

not already claiming a benefit called

Attendance Allowance it is always

worth doing so. This benefit is there for

older people, to help offset the costs of

disability. In practice, many older people

use their AA to help fund their social care.

Your local Age UK can help you fill in the

forms and will be pleased to help. AA

is paid at two rates, £58 or £87 a week,

depending on your needs.

As you can see, finding social care and

paying for it is not straight forward and

there are lots of questions to ask, but Age

UK can guide you through the process

and provides independent information and

advice. If you are online there's a lot about

care on our website, or there's a free

advice line if you prefer to talk to someone

instead. Visiting your local Age UK is a

third option.

Social care has a bad reputation at the

moment, largely because it is underfunded

and there isn't enough to go round. You

may also have read horror stories in the

press of care workers being neglectful.

Please don't be put off seeking care

though - there are many wonderful care

workers. It pays to get advice and go

into it with your eyes open, but there are

hundreds of thousands of older people

whose lives are immeasurably better

because of the good care they receive.

Caroline Abrahams

Charity Director, Age UK

www.ageuk.org.uk/

information-advice/care
---
haus

HOME | LIFESTYLE

ARTISANAL SOFT

FURNISHINGS FOR

THE MODERN HOME

HANDMADE

RESPONSIBLY

SOURCED

ONE OF

A KIND

Use code LIVE15 for

an exclusive 15% off

your order

NEW COLLECTIONS OF MUDCLOTH

AND KILIM PILLOWS AND LEATHER

POUFFES COMING SOON -

AVAILABLE TO PRE ORDER NOW

FREE UK P&P ON ALL

ORDERS

www.hauslife.co.uk

Image courtesy of cityfarmhouse.com

www.winchesterlifestyle.co.uk | 45
---
Telephone: 023 8076 4389

Fax: 023 8091 4413

Email: info@southcoasturology.co.uk

South Coast Urology (SCU)

are a team of seven consultant

urological surgeons providing

a comprehensive service in all

aspects of urology...

Each consultant holds a teaching hospital appointment at

University Hospital Southampton and has the extensive

expertise in a specific area of urology.

You may choose to see any of our experts for a consultation

and diagnosis, our philosophy is that through subspecialisation

and team-working we are able to guarantee

that should they require an operation, it will be performed

by a high volume surgeon – something that has been shown

time and again to improve outcomes for patients.

Our services include:

• 2 week wait (e.g. raised PSA,

abnormal DRE, haematuria,

testis and renal masses).

• Prostate cancer diagnostics

using multi parametric MRI,

specialist and targeting

biopsy techniques (template,

fusion, smart), robotic surgery,

salvage treatments.

• Benign prostate disorders

such as benign enlargement,

infections, inflammation.

Treatment options include

TURP, HoLEP (laser surgery),

Urolift, PAE (Prostate Artery

Embolisation).

• Urinary tract stone disease

with shockwave lithotripsy,

ureteroscopy, laser lithotripsy,

micro/mini/standard PCNL

and chemical pathology

support to prevent further

stones.

• Bladder conditions such

as over-active bladder

(OAB), infections, stones,

incontinence, supported by

a high quality urodynamics

service.

• Men's health conditions

including erectile dysfunctions

(ED), andropause,

contraception (vasectomy).

• Complex robotic,

laparoscopic and open cancer

options for those with bladder,

renal, testis and neighbouring

organ tumours.

South Coast Urology work

closely with a wider network

of specialists including

radiologists, oncologists, nurses

and chemical pathologists.

Appointments are available 5

days a week at 3 leading private

hospitals in Southampton,

Bournemouth and Chandler's

Ford.

Our efficient administration

team will be happy to help

direct your patient to the most

appropriate consultant for their

condition at a time that suits.

www.southcoasturology.co.uk