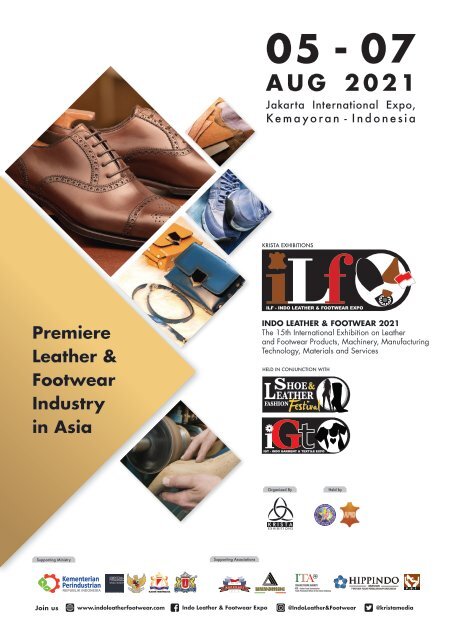 Create successful ePaper yourself
Turn your PDF publications into a flip-book with our unique Google optimized e-Paper software.
05 - 07

AUG 2021

Jakarta International Expo,

Kemayoran - Indonesia

KRISTA EXHIBITIONS

Premiere

Leather &

Footwear

Industry

in Asia

INDO LEATHER & FOOTWEAR 2021

The 15th International Exhibition on Leather

and Footwear Products, Machinery, Manufacturing

Technology, Materials and Services

HELD IN CONJUNCTION WITH

Organized By

Held by

Supporting Ministry

Supporting Associations

Kementerian

Perindustrian

REPUBLIK INDONESIA

A S P E

R A P I

P . S . I

Join us

www.indoleatherfootwear.com

Indo Leather & Footwear Expo

@IndoLeather&Footwear

@kristamedia
---
KRISTA EXHIBITIONS

HELD IN CONJUNCTION WITH

Exhibition

Information

Date : 5 - 7 August 2021

Venue : JIExpo, Kemayoran - Indonesia

Exhibition Hours : 10.00 - 19.00 WIB

Organizer : Krista Exhibitions, PT Kristamedia Pratama

Entry

• The exhibition is open to trade and business visitors only

• Admission is by registration online

• General public and minors below the age of 17 will not be permitted entry

• All visitors must be properly attired; those in shorts and slippers will not be allowed into the exhibition halls

Featuring

Bag & Handbag

Shoe & Footwear

Leather Products

Footwear & Shoe Machinery

Fashion & Accesories

Raw & Materials

Show Review

2019 m 2 8,325

290

Exhibitors

9,950

SQM

Visitors

Exhibitor

Classification

by Product

Accessories

18%

Exhibitor

Satisfaction

Survey

Machinery &

Technologies

24%

58%

Leather &

Footwear

98%

98%

will participate next year

satisfaction rate
---
Exhibitors'

Profile

LEATHER & FOOTWEAR

• Semi-finished Leather • Finished Leather • Hides & Skins • Exotic Leather

• Synthetic/Natural Materials • Man-made Leather • Equipment and Tools

• Components & Accessories • Process Chemicals & Dyes • Manufacturing Equipment

• Technology CAD • CAM System • Trade Association • Trade Press, Magazines

• Leather and Footwear Institution/Schools • Financial Institution, Services

• Leather Wear • Fur Clothing • Leather Clothing • Ladies Footwear • Men Footwear

• Children's Footwear • Sports and Leisure Footwear • Shoes and Slippers • Artificial Leather

• Health and Orthopedic Boots • Working and Protective Boots • Tanned Leather

ACCESSORIES

• Sports & Medical Shoes • Leather Garments • Leather Goods • Fashion Accessories

• Baby Shoes • Handbags & Bags • Leather Furniture • Leather Accessories • Travel wear

• Suitcases • Briefcases • Wallets and Purses • Cases and Casing • Belts

• Gifts and Advertising Goods • Fancy Goods

TECHNOLOGIES

• Footwear Machinery • Shoe Making Machines • Leather Production Machines

• Leather Processing Machinery • Sewing Machines • Tannery Machines

• Leather Auxiliaries • Raw Materials and Chemicals • Tanning and Shoe Machinery

Exhibitors'

Country

Taiwan

Malaysia

Thailand

United Kingdom

Hongkong

India Pakistan Germany

China

Italy

International

Visitors

came from

33 Countries

Afghanistan, Australia, Bahrain, Cambodia, China, Denmark, France, Germany, Hong Kong, India, Iran (Islamic

Republic of), Iraq, Ireland, Italy, Japan, Jordan, Malaysia, Morocco, Netherlands, North Korea, Pakistan, Papua

New Guinea, Philippines, Qatar, Saudi Arabia, Singapore, South Korea, Sweden, Syrian Arab Republic, Taiwan,

Province of China, Thailand, United Arab Emirates, United States

Visitors'

Profile

36% CEO/Director

23% Manager

15% Sales & Marketing Staff

7% General Manager

6% Supervisor

3% Research Development Staff

3% Purchasing Staff

3% Consultant

Data Source : POSTSHOW REPORT OF 2019 indicates High Satisfaction Rate from Exhibitors and

High Quality Trade Visitors
---
KRISTA EXHIBITIONS

HELD IN CONJUNCTION WITH

Top Local

Visitor

1. Jakarta

2. Tangerang

3. Bandung

4. Bekasi

5. Bogor

6. Semarang

7. Surabaya

8. Serang

9. Depok

10. Subang

Visitors'

Testimonial

"Good, this event eductate us about leather world in Indonesia. The products are unique. Leather business in

Indonesia can be improved in the future". Emil Riswandi - Sinar Energi Nusantara

"Fantastic, Really good supplier every component to get everything". Jenkins - India

"There are lots of international brands here and the exhibition is full of people". Endah - Redbuzz Meditama

"I was looking for new suppliers in the shoes area and I've met a lot of them". Ikhsan - BTGF Indonesia

Inspiring

Events held

in 2019

Demo Making Shoes

and Making Clothing

with Brogue Decorations

With ATK Jogja

Seminar Leather

TESTEX.

Making Safer Leather

Choice. Speaker : Kris Wan

Business Lunch

and Meeting

Perkumpulan Sepatu

Indonesia (PSI)

TESTEX

Seminar APKI

Global Aliances for

Sustainable Develoment of

Leather Sector - An Innovation

Led Path by CSIR - CLRI

Business Matching

Pakistan Tanners

Association (PTA) &

Asosiasi Persepatuan

Indonesia (APRISNDO)
---
KRISTA EXHIBITIONS

HELD IN CONJUNCTION WITH

Great Success for INDO LEATHER & FOOTWEAR 2019

The 14th International Leather & Footwear expo has concluded successfully at Jakarta International Expo, Kemayoran,

Indonesia on April 4th – 6th, 2019. ILF held in conjunction with The Indo Shoe & Leather Fashion Festival, The 7th International

Festival on Shoe & Leather Fashion and Indo Gartex, The 8th International Exhibition on Garments and Textile machinery,

manufacturing technology, materials and service.

The show at a glance

To officially mark the opening of the event, a ribbon-cutting ceremony was held on the morning of April 4th, opened

by Trade Councellor Korea, Trade Invesment Promotion Agency (KOTRA) - Kim S.J., President of Malaysia Footwear

Manufacturers Association - Rachel Foo, Chairman of International Fairs & Delegation and Leader of PTA delegation

to Indonesia - Amanullah Afbab, CEO Krista Exhibitions - Dharma Salim, General Secretary of Indonesian Footwear

Association (APRISINDO) - Lany Sulaiman, CMO Krista Exhibitions - Christina Sudjie, Director of the Textile, Leather,

Footwear and Multifarious Industry, Ministry of Industry of The Republic of Indonesia - Muhdori, Deputy for Marketing

Development Ministry of Cooperatives and SMEs, of The Republic of Indonesia - Amrih Wigiati, Chairman of Indonesian

Tanners Association (APKI) - Budi Purwoko, Trade Comissioner of Malaysia External Trade Development, Corporation

(MATRADE) - Harman Ahmad, Director of Pakistan Tanners Association - Muhammad Ali

The success of Indo Leather & Footwear 2019; Indo Garment & Textile Expo 2019 are supported by Ministry of Trade

of The Republic of Indonesia, Ministry of Industry of The Republic of Indonesia, Ministry of Cooperatives and Small and

Medium Enterprises of The Republic of Indonesia, Indonesian Chamber of Commerce (KADIN), Italian Trade Agency (ITA)

National Association of Manufacturers of Footwear, Leathergoods and Tanning Technologies (ASSOMAC), Indonesian

Footwear Association (APRISINDO), Indonesian Tanners Association (APKI), Indonesian Textile Association - DKI Jakarta

(API), Indonesian Retail Association (APRINDO), Indonesian Exhibition Companies Association (ASPERAPI)

Indonesia Commercial Tenant Association (HIPPINDO)
---
KRISTA EXHIBITIONS

HELD IN CONJUNCTION WITH

Booth

Packages

Raw Space

3 m

3 m

Space Only (min. 18 sqm)

US$ 297/sqm

For Local Company

3,600,000 IDR /sqm

• Rental of space only

• Your Company may build

your own stand

Folding

Chair

Table

Carpet

Fascia

Board

Standard Shell (min. 9 sqm)

US$ 325/sqm

For Local Company

3,900,000 IDR /sqm

• Paneled walls (both sides and rear)

• Fascia board (up to 20 letters)

• Alluminium framework

• Electricity power 2amp/220Volt

• 2 nos flourescent lights • Floor Carpeting •1 Table

• 2 Folding Chair• 1 Waste Paper Basket

Venue

Jakarta International Expo, Kemayoran

Jl. Benyamin Sueb No.1, Jakarta Pusat, 14410, Indonesia

JIExpo

Kemayoran

KRISTA EXHIBITIONS since 1995

PT. Kristamedia Pratama

Jl.Blandongan no.28d/g, Jakarta 11220 . Indonesia

Tel. +6221-6345861, 6345862, 6334581, Fax. +6221-6340140

E-mail: info@kristamedia.com Website: www.kristamedia.com