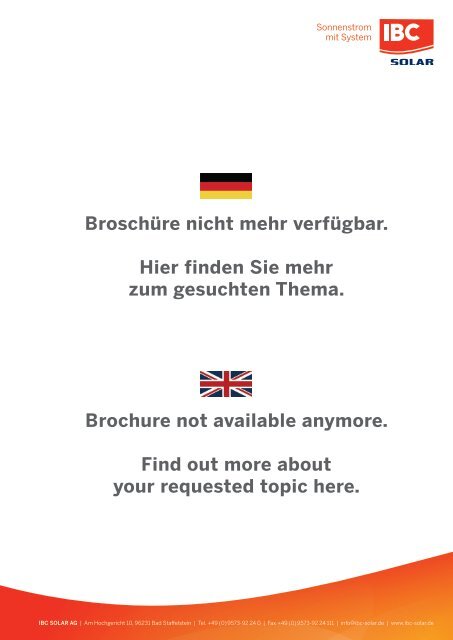 15 years warranty on solar modules and mounting systems in combination
Whether material weakness or loss of performance - if either occurs, you do not want to have discussions, but a quick and easy solution. This is taken care of with the new 15 year combination warranty for IBC SOLAR mounting systems and IBC SOLAR modules in combination.

The warranty offers a unique combination of top product quality, a particularly long performance warranty and uncomplicated handling - for optimum safety.
Broschüre nicht mehr verfügbar.

Hier finden Sie mehr

zum gesuchten Thema.

Brochure not available anymore.

Find out more about

your requested topic here.

IBC SOLAR AG | Am Hochgericht 10, 96231 Bad Staffelstein | Tel. +49 (0) 9573-92 24 0 | Fax +49 (0) 9573-92 24 111 | info@ibc-solar.de | www.ibc-solar.de
More magazines by this user