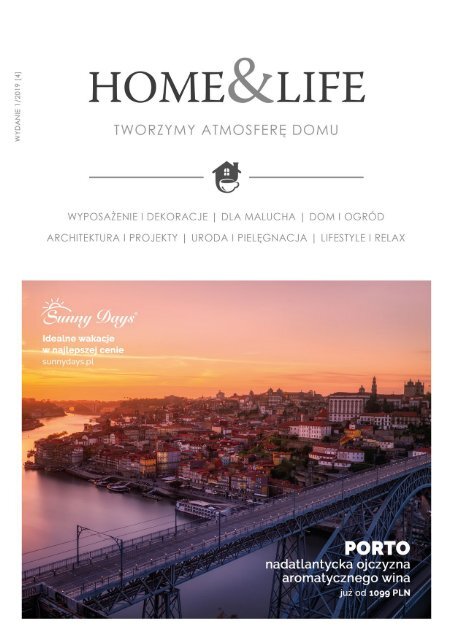 You also want an ePaper? Increase the reach of your titles
YUMPU automatically turns print PDFs into web optimized ePapers that Google loves.
HOME&LIFE | 1
---
HOME&LIFE | 3
---
REDAKCJA:

Sara Duszyńska

s.duszynska@montemmedia.pl

Adrianna Pasternak

a.pasternak@montemmedia.pl

DZIAŁ SPRZEDAŻY REKLAM:

Katarzyna Śliwa

Kierownik działu sprzedaży

tel. 504 743 341

k.sliwa@montemmedia.pl

od redakcji

DZIAŁ GRAFICZNY:

Izabela Niedziałkowska

Koordynator działu graficznego

i.niedzialkowska@montemmedia.pl

GrafiK:

Dawid Szynalewski

d.szynalewski@montemmedia.pl

ILUSTRACJA NA OKŁADCE:

SUNNY DAYS

SPECJALNE PODZIĘKOWANIA DLA:

Anny Speina

Iwony Idziak

Agnieszki Gajewskiej

PRENUMERATA:

www.montemmedia.pl

WYDAWCA:

Montem Media Sp. z o.o.

ul. Leszczynowa 10f, 80-175 Gdańsk

NIP: 583-319-78-74, REGON: 363968370

Najnowsze wydanie drukowanego katalogu

Home&Life to podsumowanie najlepszych

propozycji z roku 2018. Znajdziesz tutaj

wyjątkowe meble, dodatki oraz elementy

wykończeniowe do domu. Nie zabrakło

również rozwiązań dla miłośników ogrodów

i architektury. Na kolejnych stronach odkryjesz

urocze produkty dla dzieci i rodziców,

oferty wypoczynku w najpiękniejszych

krajach świata oraz kosmetyki i akcesoria

wspomagające dbałość o urodę i zdrowie.

Twojej uwadze szczególnie polecamy

pierwszy dział, będący zbiorem produktów

i usług najczęściej poszukiwanych

przez naszych Czytelników. Jeśli tak, jak

my – lubisz niespodzianki, zapewne ucieszysz

się z kodów rabatowych, które

możesz wykorzystać podczas zakupów.

Przeglądaj, przebieraj i wybieraj spośród

wszystkich propozycji. Wierzymy, że dzięki

różnorodności ofert, wybierzesz tutaj coś

dla siebie i najbliższych.

Przyjemnej lektury

Sara Duszyńska / Adrianna Pasternak
---
HOME&LIFE | 5
---
HOME&LIFE | 7
---
HOME&LIFE | 9
---
HOME&LIFE | 11
---
HOME&LIFE | 13
---
HOME&LIFE | 15
---
HOME&LIFE | 17
---
HOME&LIFE | 19
---
HOME&LIFE | 21
---
HOME&LIFE | 23
---
HOME&LIFE | 25
---
HOME&LIFE | 27
---
HOME&LIFE | 29
---
HOME&LIFE | 31
---
HOME&LIFE | 33
---
HOME&LIFE | 35
---
HOME&LIFE | 37
---
HOME&LIFE | 39
---
HOME&LIFE | 41
---
HOME&LIFE | 43
---
HOME&LIFE | 45
---
HOME&LIFE | 47
---
HOME&LIFE | 49
---
HOME&LIFE | 51
---
HOME&LIFE | 53
---
HOME&LIFE | 55
---
HOME&LIFE | 57
---
HOME&LIFE | 59
---
HOME&LIFE | 61
---
HOME&LIFE | 63
---
HOME&LIFE | 65
---
HOME&LIFE | 67
---
HOME&LIFE | 69
---
HOME&LIFE | 71
---
HOME&LIFE | 73
---
HOME&LIFE | 75
---
HOME&LIFE | 77
---
HOME&LIFE | 79
---
HOME&LIFE | 81
---
HOME&LIFE | 83
---
HOME&LIFE | 85
---
HOME&LIFE | 87
---
HOME&LIFE | 89
---
HOME&LIFE | 91
---
HOME&LIFE | 93
---
HOME&LIFE | 95
---
HOME&LIFE | 97
---
HOME&LIFE | 99
---
HOME&LIFE | 101
---
HOME&LIFE | 103
---
HOME&LIFE | 105
---
HOME&LIFE | 107
---
HOME&LIFE | 109
---
HOME&LIFE | 111
---
HOME&LIFE | 113
---
HOME&LIFE | 115
---
HOME&LIFE | 117
---
HOME&LIFE | 119
---
HOME&LIFE | 121
---
HOME&LIFE | 123
---
HOME&LIFE | 125
---
HOME&LIFE | 127
---
HOME&LIFE | 129
---
HOME&LIFE | 131
---
HOME&LIFE | 133
---
HOME&LIFE | 135
---
HOME&LIFE | 137
---
HOME&LIFE | 139
---
HOME&LIFE | 141
---
HOME&LIFE | 143