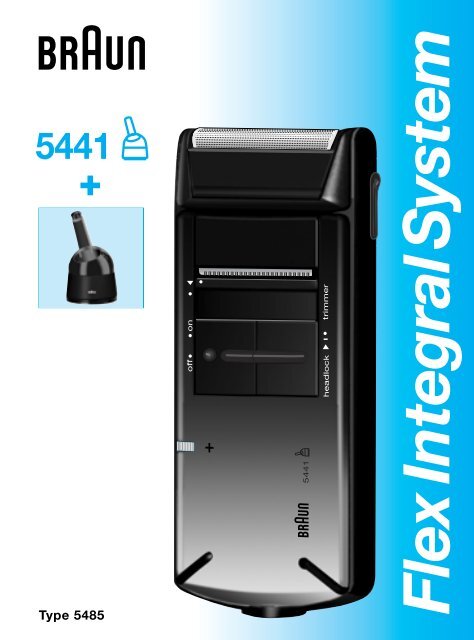 Braun Flex Integral + Clean & Charge-5441, 5442 - 5441, Flex Integral System DE, UK, FR, ES, PT, IT, NL, DK, NO, SE, FI, TR, GR
Braun Flex Integral + Clean & Charge-5441, 5442 - 5441, Flex Integral System DE, UK, FR, ES, PT, IT, NL, DK, NO, SE, FI, TR, GR
Braun Flex Integral + Clean & Charge-5441, 5442 - 5441, Flex Integral System DE, UK, FR, ES, PT, IT, NL, DK, NO, SE, FI, TR, GR
SHOW MORE
SHOW LESS
You also want an ePaper? Increase the reach of your titles
YUMPU automatically turns print PDFs into web optimized ePapers that Google loves.
5441

+

Type 5485

on

off

5441

trimmer

headlock

Flex IntegralSystem
---
Deutsch 4, 56, 61

English 8, 56, 61

Français 12, 56, 61

Español 16, 57, 61

Português 20, 57, 61

Italiano 24, 58, 61

Nederlands 28, 58, 61

Dansk 32, 59, 61

Norsk 36, 59, 61

Svenska 40, 59, 61

Suomi 44, 59, 61

Türkçe 48, 61

Ελληνικά 52, 60, 61

Internet:

www.braun.com

D

A

CH

E

P

I

NL

B

DK

N

S

FIN

TR

Braun Infoline

Haben Sie Fragen zu diesem Produkt?

Rufen Sie an: (in Deutschland und

Österreich zum Nulltarif)

00 800 27 28 64 63

00 800 BRAUNINFOLINE

08 44 - 88 40 10

Servicio al consumidor para España:

9 01-11 61 84

Serviço ao Consumidor para Portugal:

080 820 00 33

Servizio consumatori:

(02) 6 67 86 23

Heeft u vragen over dit produkt?

Bel Braun Consumenten-infolijn:

(070) 4 13 16 58

Vous avez des questions sur ce produit?

Appelez Braun Belgique

(02) 711 92 11

Har du spørgsmål om produktet? Så ring

70 15 00 13

Spørsmål om dette produktet? Ring

88 02 55 03

Frågor om apparaten? Ring Kundservice

020 - 21 33 21

Onko Sinulla kysyttävää tuotteesta? Soita

0203 77877

Türkiye'deki Tüketici Danışma Servisi:

0 800 261 19 53

5-485-450/00/X-00

D/GB/F/E/P/I/NL/DK/N/S/FIN/TR/GR

Printed in Germany
---
Flex Integral 5441

1

2

3

No. 505

5

6

7

8

9

lock

on

off

trimmer

head lock

4

10
---
Deutsch

Unsere Produkte werden hergestellt, um höchste

Ansprüche an Qualität, Funktionalität und Design zu

erfüllen. Wir wünschen Ihnen mit Ihrem neuen Braun

Rasierer viel Freude.

Wichtig

Nur das mitgelieferte Spezialkabel mit integriertem Netzteil

verwenden. Beschädigtes Kabel sofort austauschen

lassen.

Beschreibung

1 Schutzkappe

2 Scherfolie

3 Klingenblock

4 Entriegelungstaste

5 Ausklappbarer Langhaarschneider («trimmer»)

6 Einschaltsperre («lock»)

7 Schalter zur Arretierung des Schwingkopfs

(«head lock») und zum Zuschalten des Langhaarschneiders

(«trimmer»)

8 Ein-/Ausschalter

9 Ladekontroll-Leuchte

10 Steckerbuchse

Technische Daten

• Leistungsaufnahme mit Spezialkabel: 7 W

• Anschlussspannung mit Spezialkabel:

100 –240 V2/ 50 oder 60 Hz (automatische Anpassung)

• Eingangsspannung des Rasierers: 12 V

Aufladen des Rasierers

off on

+35°C

+15°C

7570

• Erstladung: Über das Spezialkabel den Rasierer

(Schalterstellung «off») mindestens 4 Stunden am Netz

aufladen. (Der Netzstecker kann sich leicht erwärmen.)

• Ist der Rasierer vollgeladen, kabellos rasieren, bis die

Akku-Einheit leer ist. Danach wieder voll aufladen

(nachfolgende Ladevorgänge dauern ca. 1 Stunde).

• Vollgeladen kann der Rasierer je nach Bartstärke

ca. 50 Minuten ohne Netzanschluss betrieben werden.

Die maximale Akku-Kapazität wird jedoch erst nach

mehreren Lade- und Entladevorgängen erreicht.

• Günstigste Umgebungstemperatur beim Laden:

15 °C bis 35 °C.

4
---
• Die Ladekontroll-Leuchte zeigt an, dass der Rasierer

geladen wird. Nach Vollladung der Akku-Einheit erlischt

die Ladekontroll-Leuchte.

Späteres, gelegentliches Aufleuchten der Ladekontroll-

Leuchte zeigt an, dass der Rasierer zur Erhaltung seiner

Vollladung nachgeladen wird.

Rasieren

Einschaltsperre

Der Rasierer wird mit der Einschaltsperre auf Stellung

«lock» ausgeliefert. Die Einschaltsperre vor der ersten

Rasur bis zum Anschlag nach oben schieben. Um ein

unbeabsichtigtes Einschalten des Geräts zu vermeiden

(z.B. auf Reisen), auf Stellung «lock» schieben.

Schalterpositionen

off = Aus

on = Ein

Rasur mit beweglichem Schwingkopf.

Das bewegliche Schersystem sorgt

automatisch für eine optimale Anpassung

an die Gesichtsform.

off on

head lock Rasur mit arretiertem Schwingkopf

(Rasur an engen Gesichtspartien,

z.B. unter der Nase).

trimmer

Langhaarschneider ist zugeschaltet

(zum kontrollierten Trimmen von Schnauzbart

und Haaransatz).

Netzbetrieb

Wenn der Akku leer ist, kann die Rasur auch direkt

über das Spezialkabel vom Netz erfolgen. (Sollte der

Rasierer nach dem Einschalten nicht sofort laufen,

ca. 1 Minute bei Schalterstellung «off» laden.)

lock

off on

head lock trim

head lock trimmer

5
---
Tipps für eine optimale Rasur

• Es empfiehlt sich, vor dem Waschen zu rasieren,

da nach dem Waschen die Haut leicht aufgequollen

ist.

• Rasierer im rechten Winkel (90°) zur Haut halten.

• Haut straffen und gegen die Bartwuchsrichtung

rasieren.

• Um eine optimale Rasierleistung zu erhalten,

erneuern Sie die Scherfolie und den Klingenblock

alle 1 1 / 2 Jahre oder sobald sie Verschleißerscheinungen

zeigen.

So halten Sie Ihren Rasierer

in Bestform

Automatische Reinigung

Das Braun Clean&Charge Reinigungsgerät reinigt und

pflegt den Rasierer vollautomatisch. Weitere Informationen

finden Sie in der separaten Bedienungsanleitung.

Manuelle Reinigung

Zur bequemen, schnellen Reinigung nach jeder Rasur

den Rasierer ausschalten, die Entriegelungstaste drücken

und die Scherfolie abnehmen und ausklopfen.

Den Klingenblock und auch die Innenseiten des

Schwingkopfs mit der Bürste reinigen. Ca. alle 4 Wochen

den Klingenblock mit Braun Reinigungsmitteln reinigen.

Wenn Sie sehr trockene Haut haben und die Leistung

Ihres Rasierers nachlässt, verteilen Sie einen Tropfen

Leichtmaschinenöl auf der Scherfolie.

oil

Scherteile-Wechsel

Die Scherfolie und der Klingenblock sind Präzisionsteile,

die im Laufe der Zeit verschleißen. Wechseln Sie die

Scherfolie und den Klingenblock nach 18 Monaten aus,

so erhalten Sie eine um 25% bessere Rasur.*

(Scherfolie und Klingenblock: Ersatzteil-Nr. 505)

(* Bewertung von Braun Benutzern, die ihre Rasur mit

neuen und mit 18 Monate alten Scherfolien verglichen

haben.)

6
---
7570

Akku-Pflege

• Um die maximale Kapazität der Akku-Einheit zu erhalten,

sollte das Gerät ca. alle 6 Monate durch Rasieren vollständig

entladen werden. Danach den Rasierer wieder voll

aufladen.

Dies prägt die maximale Ladekapazität neu.

• Das Gerät nicht längere Zeit Temperaturen über 50 °C

aussetzen.

Zubehör

Im Handel oder beim Braun Kundendienst erhältlich:

Scherfolie und Klingenblock (Nr. 505)

Umweltschutz

Dieses Gerät enthält eine Nickel-Hydrid-Akku-Einheit.

Aus Umweltschutzgründen darf das Gerät am Ende seiner

Lebensdauer nicht mit dem Hausmüll entsorgt werden.

Öffnen Sie das Gehäuse wie dargestellt, nehmen Sie die

Akku-Einheit heraus und geben Sie sie gemäß nationaler

oder lokaler Bestimmungen beim Handel oder entsprechenden

Sammelstellen ab.

Flex Integral

505

505

Änderungen vorbehalten.

Dieses Gerät entspricht dem EMV-Gesetz

(EG-Richtlinie 89/336/EWG) sowie der Niederspannungsrichtlinie

(73/23 EWG).

7
---
English

Our products are designed to meet the highest standards

of quality, functionality and design. We hope you enjoy

your new Braun shaver.

Important

Only use the power supply cord set provided.

A damaged cord must be replaced immediately.

Description

1 Foil protection cap

2 Shaver foil

3 Cutter block

4 Foil release button

5 Pop-out long hair trimmer

6 Switch lock

7 Switch for locking the swivel head («head lock»)

and for activating the pop-out long hair trimmer

(«trimmer»)

8 On/off switch

9 Charging light

10 Shaver socket

Technical specifications

• Wattage via cord set: 7 W

• Power supply via cord set: 100-240 V2/ 50 or 60 Hz

(automatic adaptation)

• Shaver input voltage: 12 V

off on

7570

Charging the shaver

• First charging: Using the power supply cord set,

connect the shaver to the mains with the switch

on position «off» and charge it for at least 4 hours

(plug might get warm).

+35°C

+15°C

• Once the shaver is completely charged, shave without

the cord until fully discharged. Then recharge to full

capacity again (subsequent charges will take about

1 hour).

• A full charge will give up to 50 minutes of cordless

shaving time depending on your beard growth.

However, the maximum battery capacity will only be

reached after several charging/discharging cycles.

• Best environmental temperature range for charging is

15 °C to 35 °C.

8
---
• The charging light shows that the shaver is being charged.

When the rechargeable battery is fully charged, the

charging light goes off.

If later on, the charging light comes on again, this indicates

that the shaver is being recharged to maintain its full

capacity.

Shaving

Switch lock

The shaver is delivered with the switch lock activated

(position «lock»). Push the switch lock up before you shave

for the first time. To avoid accidentally switching the shaver

on, e.g. when travelling, push the switch lock to position

«lock».

Switch positions

off

on

Shaving with the pivoting head. The pivoting

cutting system automatically adjusts to every

contour of your face.

off on

head lock Shaving with the pivoting head locked

(to permit shaving in difficult areas, e.g. under

the nose)

trim

trimmer

The long hair trimmer is activated

(for trimming sideburns, moustache and

beard).

head lock

Shaving with the cord

If the rechargeable battery is discharged, you may also

shave with the shaver connected to the mains via the

power supply cord set.

(If the shaver does not run immediately, charge it with

the switch on position «off» for approx. 1 minute.)

lock

off on

trimmer

head lock

9
---
oil

Tips for the perfect shave

• We recommend that you shave before washing,

as the skin tends to be slightly swollen after

washing.

• Hold the shaver at right angles (90°) to the skin.

• Stretch your skin and shave against the direction

of beard growth.

• Replace the shaver foil and cutter block every

1 1 / 2 years, or when the parts are worn, to ensure

optimum shaving performance.

Keeping your shaver in top shape

Automated cleaning

The Braun Clean&Charge automatically takes care of all

cleaning and lubrication needs of your shaver. Please refer

to separate use instructions.

Manual cleaning

For easy manual cleaning after each shave, switch the

shaver off. Press the release button, take off the shaver

foil and gently tap it out on a flat surface.

Using the brush, clean the cutter block and the inner area

of the pivoting head. About every four weeks, clean the

cutter block with Braun cleaning agents.

If your skin is very dry and you notice a reduced operation

time of the shaver, apply a drop of light machine oil onto

the shaver foil.

Replacing the shaving parts

The shaver foil and cutter block are precision parts that,

in time, are subject to wear. Replace your foil and cutter

block every 18 months and get a 25% better shave.*

(Shaver foil and cutter block: part no. 505)

(* Overall evaluation from Braun users comparing their

shave with new parts and those used for 18 months.)

10
---
7570

Preserving the cell unit

• In order to maintain the optimum capacity of the

rechargeable battery, the shaver has to be fully discharged

(by shaving) every 6 months approximately. Then recharge

the shaver to full capacity again. This reconditions the

rechargeable battery.

• Do not expose the shaver to temperatures of more than

50 °C for longer periods of time.

Accessories

available at your dealer or Braun Service Centres:

• Shaver foil and cutter block (part no. 505)

Environmental notice

This appliance is provided with nickel-hydride rechargeable

batteries. To protect the environment, do not dispose

of the appliance in the household waste at the end of

its useful life. Open the housing as shown, remove and

dispose of the batteries at your retail store or at appropriate

collection sites according to national or local regulations.

Flex Integral

505

505

Subject to change without notice.

This product conforms to the EMC-Requirements

as laid down by the Council Directive 89/336/EEC

and to the Low Voltage Regulation (73/23 EEC).

11
---
Français

Nos produits sont conçus pour satisfaire aux plus hautes

exigences en matière de qualité, fonctionnalité et design.

Nous espérons que vous serez pleinement satisfait de

votre nouveau rasoir Braun.

Important

Utiliser uniquement le cordon d'alimentation fourni avec

l'appareil. Un cordon endommagé doit être remplacé

immédiatement.

Description

1 Capot de protection de la grille

2 Grille de rasage

3 Bloc-couteaux

4 Bouton d'ouverture de la tête du rasoir

5 Tondeuse escamotable («trimmer »)

6 Bouton de verrouillage («lock »)

7 Bouton de blocage de la tête pivotante («head lock»)

et d'activation de la tondeuse («trimmer »)

8 Interrupteur central

9Témoin lumineux de charge

10 Prise du rasoir

Spécifications techniques

• Consommation via le cordon : 7 watts

• Tensions admissibles : 100-240 V2/ 50 ou 60 Hz

(adaptation automatique)

• Alimentation admissible : 12 V

Recharge du rasoir

off on

+35°C

+15°C

7570

• Première charge : Utilisez le cordon d'alimentation,

branchez le rasoir sur le secteur en mettant l'interrupteur

central en position «off » et laissez-le se charger pendant

au moins 4 heures.

• Quand le rasoir est complètement chargé, vous pouvez

vous raser sans le fil jusqu'à ce qu'il soit complètement

déchargé. Ensuite rechargez-le à nouveau pour atteindre

la capacité maximale (les recharges suivantes prendront

environ 1 heure).

• Une pleine charge procurera environ 50 minutes de rasage

sans fil en fonction du type de barbe. Cependant, la

capacité maximum des batteries sera atteinte seulement

après plusieurs cycles de charge et de décharge.

• La température idéale pour la mise en charge est comprise

entre 15 °C et 35 °C.

12
---
• Le témoin lumineux indique que le rasoir est en charge.

Quand la batterie rechargeable est complètement

rechargée, ce témoin lumineux s'éteint. Si, plus tard,

le témoin lumineux de charge s'allume à nouveau,

cela signifie que le rasoir est à nouveau en charge pour

se maintenir en pleine capacité.

Rasage

Bouton de verrouillage

Le rasoir est livré en mode «verrouillage»

(position «lock »). Pousser la sécurité avant la première

utilisation. Afin d'éviter toute décharge accidentelle

du rasoir lorsque vous voyagez, mettez-le sur position

« lock ».

Positions de l'interrupteur central

off = Arrêt

on = Marche

Rasage avec la tête pivotante.

Le système de coupe pivotant s'adapte

automatiquement aux contours du visage.

off on

head lock

trimmer

Rasage avec la tête pivotante bloquée en

angle (pour faciliter le rasage des zones

difficiles, sous le nez notamment)

Tondeuse en fonctionnement

(pour tailler les pattes, la moustache et la

barbe)

trim

head lock

Rasage avec le cordon d'alimentation

Lorsque la batterie est déchargée, vous pouvez également

vous raser avec le rasoir branché sur le secteur grâce

au cordon d'alimentation (si le rasoir ne se met pas en

marche immédiatement, laissez-le relié au courant avec

l'interrupteur central sur la position «off » pendant

environ 1 minute).

lock

off on

trimmer

head lock

13
---
Conseils d'utilisation pour un rasage parfait

• Toujours se raser avant la toilette faciale car la peau

a tendance à légèrement gonfler lorsqu'elle est humide.

• Tenir le rasoir perpendiculairement (90°) au visage.

• Tendre la peau et se raser dans le sens contraire de

la pousse du poil.

• Remplacer la grille et le bloc-couteaux de votre

rasoir tous les ans et demi, ou avant s'ils sont usés,

afin d'assurer des performances de rasage optimales.

Pour conserver votre rasoir

en bon état

Nettoyage automatique

Le chargeur nettoyant Braun Clean&Charge prend soin

de tous les besoins de votre rasoir en terme de nettoyage

et de lubrification. Merci de vous référer à la notice séparée

du chargeur nettoyant Braun Clean&Charge.

Nettoyage manuel

Après chaque rasage, mettez l'interrupteur central sur la

position arrêt («off »).

Appuyez sur le bouton d'ouverture de la tête de coupe

pour retirer la grille du rasoir.

Mettez en marche votre rasoir (la tête de coupe vers le bas)

pendant environ 4 à 10 secondes pour que les poils de

barbe coupés puissent sortir.

oil

Pour un nettoyage minutieux (hebdomadaire), enlevez

la grille du rasoir et tapotez-la contre une surface plane.

Utilisez la brosse, nettoyez le bloc-couteaux et l'intérieur

de la tête pivotante. Environ toutes les 4 semaines,

nettoyez le bloc-couteaux avec la lotion nettoyante Braun.

Si votre peau est très sèche et que vous constatiez

une performance diminuée du rasoir, mettez une goutte

d'huile de machine à coudre sur la grille du rasoir.

Remplacement des pièces détachées

La grille et le bloc-couteaux de votre rasoir sont des pièces

de précision qui, dans le temps, sont amenées à s'user.

Le remplacement de la grille et du bloc-couteaux tous

les 18 mois augmente l'efficacité de rasage de 25%.*

(Grille et bloc-couteaux : référence n˚ 505)

14

(* Appréciation globale des utilisateurs Braun lorqu'ils

comparent un rasage avec des pièces neuves à un rasage

avec des pièces utilisées pendant 18 mois.)
---
7570

Maintenir la batterie en bon état

• Afin d'optimiser la capacité et la durée de vie de la batterie,

il est nécessaire de la laisser se décharger complètement

tous les six mois environ, lors de l'utilisation courante.

Puis rechargez-la à nouveau à pleine capacité.

Ceci regénère la batterie rechargeable.

• N'exposez pas le rasoir à des températures supérieures à

50 ˚C pendant de longues durées.

Accessoires

Accessoires disponibles chez votre revendeur ou auprès

de votre Centre-Service agréé Braun :

grille de rasoir et bloc-couteaux (référence n˚ 505)

Flex Integral

505

Respect de l'environnement

Cet appareil est équipé de batteries rechargeables

nickel-hydrure. Afin de protéger l'environnement, ne jetez

jamais l'appareil dans les ordures ménagères à la fin de

sa durée de vie. Ouvrez le boîtier comme indiqué, retirez la

batterie et remettez-la à votre Centre-Service agréé Braun

ou déposez-la dans des sites de récupération appropriés

conformément aux réglementations locales ou nationales.

505

Sujet à modifications sans préavis.

Cet appareil est conforme aux normes Européennes

fixées par les Directives 89/336/EEC et la Directive

Basse Tension 73/23/EEC.

15
---
Español

Nuestros productos están desarrollados para alcanzar los

más altos estándares de calidad, funcionalidad y diseño.

Esperamos que su afeitadora satisfaga por completo sus

necesidades.

Importante

Utilice solo el cable de conexión a la red que se adjunta

con la máquina. Si aprecia su cable dañado sustitúyalo

inmediatamente.

Descripción

1 Protector de lámina

2Lámina

3 Bloque de cuchillas

4 Botón de extracción de lámina

5 Cortapatillas extensible («trimmer»)

6 Interruptor de bloqueo contra funcionamiento

accidental («lock»)

7 Interruptor para bloquear el cabezal basculante

(«head lock») y activar el cortapatillas extensible

(«trimmer»)

8 Interruptor encendido/apagado («on/off»)

9 Luz de carga

10 Conexión de la afeitadora

Especificaciones técnicas

• Consumo: 7 W

• Alimentación a través de conexión a red: 100–240 V2/

50 ó 60 Hz (se adapta automáticamente)

• Voltaje de la afeitadora: 12 V

Proceso de carga

off on

+35°C

+15°C

7570

• Para la primera carga: Utilice el cable de conexión a red y

conecte la afeitadora a la red con el interruptor en posición

apagado («off») y cárguela al menos durante 4 horas

(el enchufe puede llegar a calentarse).

• Una vez la afeitadora se haya cargado completamente,

aféitese sin utilizar el cable hasta que se descargue

completamente. Entonces, vuelva a recargarla hasta el

máximo de su capacidad (las cargas siguientes podrá

efectuarlas aproximadamente en 1 hora).

• Una carga completa le permitirá aproximadamente hasta

50 minutos de afeitado sin cable, en función del

crecimiento de su barba. Sin embargo, la capacidad

máxima se alcanzará únicamente después de varios

procesos de carga/descarga.

• Rango de temperatura ambiente ideal para el proceso

de carga: 15°C – 35 °C.

16
---
• La luz de carga indica que la afeitadora está cargándose.

Cuando la batería está totalmente cargada, la luz

se apaga.

Si posterirmente la luz de carga vuelve a encenderse,

indica que la afeitadora se está cargando de nuevo para

mantener su máxima capacidad.

Afeitado

Interruptor de bloqueo de puesta en marcha accidental

La afeitadora le ha sido entregada con el interruptor

activado (posición «lock»). Presione hacia arriba antes

de usarla por primera vez. Para evitar la puesta en marcha

accidental de la afeitadora, por ejemplo en viajes, presione

el interruptor de bloqueo hasta la posición «lock».

Posiciones del interruptor

off = Apagado

on = Encendido

Afeitado con el cabezal basculante.

El conjunto de triple afeitado se ajusta

automáticamente a los contornos de

la cara.

off on

head lock

trimmer

Afeitado con el cabezal basculante fijo

que permite un mejor apurado en áreas

difíciles (ej. debajo de la nariz)

Activa el cortapatillas (para recorte

de patillas, bigote y barba)

trim

head lock

Afeitado con cable

Si el acumulador está descargado, puede afeitarse

con la afeitadora conectada a la red. (Si la afeitadora no

funciona inmediatamente, cárguela con el interruptor

de encendido en posición «off», aproximadamente durante

1 minuto.)

lock

off on

trimmer

head lock

17
---
Recomendaciones para un perfecto afeitado

• Recomendamos que se afeite antes del lavado,

ya que la piel tiende a hincharse ligeramente, después

de lavarse.

• Mantenga la afeitadora siempre en ángulo recto con

la piel (90°).

• Estire la piel y deslice la afeitadora en la dirección

contraria al crecimiento del pelo.

• Para asegurar un óptimo afeitado, recomendamos

reemplazar la lámina y el bloque de cuchillas cada

año y medio, o cuando se hayan deteriorado.

Mantenga su afeitadora

en óptimo estado

Limpieza automática

El centro Braun Clean&Charge se encarga de satisfacer

todas las necesidades de limpieza y lubricación de su

afeitadora. Por favor, consulte el apartado de

instrucciones.

Limpieza manual

Para una fácil limpieza después de cada afeitado, apague

la afeitadora. Presione los botones de extracción para

levantar la lámina, extraiga la lámina y golpee suavemente

en una superficie lisa.

Limpie cuidadosamente el bloque de cuchillas y la zona

interna del cabezal basculante con el cepillo.

Aproximadamente cada cuatro semanas, limpie el bloque

de cuchillas con los sprays limpiadores de Braun.

oil

Si su piel es muy seca y observa que la acción de su

afeitadora disminuye, aplique una gota de aceite de

máquina en la lámina.

Recambio de componentes

La lámina y el bloque de cuchillas son componentes que,

con el tiempo, pueden deteriorarse. Sustituya su lámina

y bloque de cuchillas cada 18 meses y consiga un apurado

25% superior.*

(Lámina y bloque de cuchillas: componente no. 505)

18

(* Test realizado entre usuarios de Braun, comparando

su afeitado con recambios nuevos y con éstos utilizados

a los 18 meses.)
---
7570

Mantenimiento de los acumuladores

• Para optimizar la vida útil de los acumuladores,

la afeitadora debe descargarse por el uso cada 6 meses

aproximadamente. Entonces la afeitadora debe cargarse

al máximo de capacidad.

• No exponga la afeitadora a temperaturas superiores

a 50 ºC durante largos períodos de tiempo.

Accesorios

Disponible en su comercio habitual o en un Servicio

de Asistencia Técnica Braun:

Lámina y bloque de cuchillas (part no. 505)

Flex Integral

505

Noticia ecológica

Esta afeitadora contiene baterías recargables de hidruro

de níquel. Para preservar el medio ambiente, no tire este

producto a la basura al final de su vida útil. Extraiga las

baterías como se indica y deposítelas en cualquier Servicio

de Asistencia Técnica Braun o lugares especialmente

destinados para ello de acuerdo con la legislación vigente.

505

Sujeto a cambio sin previo aviso.

Este producto cumple con las normas de Compatibilidad

Electromagnética (CEM) establecidas por

la Directiva Europea 89/336/EEC y las Regulaciones

para Bajo Voltaje (73/23 EEC).

19
---
Português

Os nossos produtos foram desenvolvidos para alcançar

os mais altos standards de qualidade, funcionalidade

e design. Esperamos que disfrute da sua nova máquina

de barbear Braun.

Importante

Use apenas o fio de alimentação fornecido.

Um fio danificado deve ser imediatamente substituído.

Descrição

1 Tampa transparente de protecção da lâmina

2 Conjunto de lâminas de barbear

3 Redes hexagonais

4 Botão de libertação do bloco de lâminas

5 Corta-patilhas para pêlos compridos («trimmer»)

6 Interruptor de bloqueio automático («lock»)

7 Interruptor para bloquear a cabeça oscilante

(«head lock») e para activar o corta-patilhas («trimmer»)

8 Interruptor ligado/desligado («on/off»)

9 Indicador luminoso de carga

10 Conector da máquina de barbear

Especificações técnicas

• Consumo em Watts através do fio: 7 W

• Fornecimento de energia através do fio: 100 – 240 V2/ 50

ou 60 Hz (adaptação automática)

• Tensão de entrada da máquina de barbear: 12 V

Carregar a máquina

off on

+35°C

7570

• Primeira carga: Servindo-se do fio de alimentação,

ligue a máquina à rede de energia com o interruptor

na posição de desligado («off») e carregue-a pelo menos

durante quatro horas (a tomada pode aquecer).

• Quando a máquina estiver completamente carregada,

barbeie-se sem o fio até ficar totalmente sem bateria.

Depois, volte a recarregar com a máxima potência

(as cargas seguintes levarão cerca de uma hora).

+15°C

• Uma carga completo dá para usar a máquina sem o fio

durante cerca de 50 minutos, dependendo da velocidade

de crescimento da sua barba. No entanto, a potência

máxima da bateria só será atingida depois de muitos

ciclos de carga/descarga.

• A melhor temperatura ambiente para a carga é entre 15°C

a 35 °C.

20
---
• A luz da bateria mostra que a máquina de barbear está

a ser carregada. Quando a bateria recarregável

estiver totalmente carregada, a luz da bateria apaga-se.

Se, mais tarde, a luz se acender outra vez, isso indica

que a máquina está a ser recarregada, para manter a sua

máxima potência.

Barbear

Interruptor de bloqueio automático

A máquina de barbear vem com o bloqueio de interruptor

activado (posição «lock»). Empurre o bloqueio

de interruptor para cima antes de se barbear pela primeira

vez. Para evitar que a máquina se ligue por acidente,

por exemplo em viagem, empurre o bloqueio de interruptor

para a posição «lock».

Posições do interruptor

off = desligado

on = ligado

Barbear com a cabeça oscilante.

O sistema de corte oscilante ajusta-se

automaticamente a todos os contornos

do seu rosto.

off on

head lock

trimmer

Barbear com a cabeça oscilante

bloqueada (para permitir o barbear

de áreas difíceis, por exemplo,

debaixo do nariz)

O corta-patilhas para pêlos compridos

é activado (para aparar patilhas,

bigodes e barbas).

Barbear com o fio

Se a bateria recarregável estiver descarregada, também

se pode barbear com a máquina ligada à rede de energia,

através do fio de alimentação.

(Se a máquina não começar logo a funcionar, carregue-a

com o interruptor na posição «off» durante cerca de um

minuto.)

lock

off on

head lock trim

head lock trimmer

21
---
oil

Conselhos para um barbear perfeito

• Recomendamos que se barbeie antes de se lavar,

uma vez que a pele tem tendência para inchar

levemente, depois de lavada.

• Segure a máquina em posições de ângulo recto (90°)

em relação à pele.

• Estique a pele e barbeie-se no sentido contrário ao

do crescimento dos pêlos.

• Substitua a lâmina e o cortador da máquina de barbear

de 1 1 / 2 em 1 1 / 2 anos, ou quando as peças estiverem

gastas, para assegurar o melhor desempenho da

máquina.

Para manter a sua máquina

de barbear em plena forma

Limpeza automatizada

O sistema de Braun Clean&Charge trata automaticamente

de toda a limpeza e lubrificação de que a sua máquina

necessita. Por favor consulte instruções de uso

específicas.

Limpeza manual

Para uma fácil limpeza manual depois de cada barbear,

desligue a máquina. Prima o botão de libertação,

tire a lâmina da máquina e sacuda-a com cuidado numa

superfície plana.

Limpe o conjunto de lâminas e a área interior da cabeça

oscilante com a escova. Limpe as lâminas com agentes

de limpeza Braun, de quatro em quatro semanas.

Se a sua pele for muito seca ou se verificar que a máquina

funciona por menos tempo, aplique uma gota de óleo

fino de máquina na lâmina da máquina de barbear.

Substituição de peças

As lâminas e redes são peças de precisão que,

com o tempo, se tornam gastas. Substitua as lâminas

e redes de 18 em 18 meses, para obter um barbear 25%

melhor.* (Lâminas e redes: peça n.º 505)

(* Avaliação global dos utilizadores da Braun que

comparam o seu barbear com peças novas e peças

usadas durante 18 meses.)

22
---
7570

Para preservar a unidade da célula

• Para manter a maior potência da bateria recarregável,

a máquina tem de ser totalmente descarregada (através

do barbear) de seis em seis meses, aproximadamente.

Depois, volte a recarregar a máquina até à sua máxima

potência. Isto recondiciona a bateria recarregável.

• Não exponha a máquina de barbear a temperaturas

superiores a 50°C por períodos de tempo muito

prolongados.

Acessórios

à disposição no seu concessionário ou em Centros de

Serviço Braun:

Lâminas e redes (peça n.º 505)

Flex Integral

505

505

Aviso ambiental

Este aparelho está provido de baterias recarregáveis

que contêm níquel-hidreto. A fim proteger o ambiente,

não se desfaça do aparelho juntamente com o lixo

doméstico, no fim da sua vida útil. Abra o invólucro,

tal como se mostra, retire e desfaça-se das baterias

no seu armazém de revenda ou em locais de recolha

apropriados, de acordo com as normas nacionais ou

locais.

Sujeito a alteração sem aviso prévio.

Este produto cumpre com as normas de

Compatibilidade Electromagnética (CEM)

estabelecidos pela Directiva do Conselho

89/336 da CE e com o Regulamento sobre

Baixa Voltagem 73/23 da CE.

23
---
Italiano

I nostri prodotti sono studiati per rispondere ai più elevati

standard di qualità, funzionalità e design. Ci auguriamo che

il suo nuovo rasoio Braun soddisfi pienamente le sue

esigenze.

Importante

Utilizzare esclusivamente il cavo di alimentazione

in dotazione. Un cavo danneggiato deve essere

immediatamente sostituito.

Descrizione

1 Copritestina

2 Lamina

3 Blocco coltelli

4 Pulsante di rilascio della lamina

5 Tagliabasette a scomparsa («trimmer »)

6 Interruttore di sicurezza («lock »)

7 Interruttore di bloccaggio della testina oscillante

(«head lock») e di attivazione del tagliabasette

a scomparsa («trimmer»)

8 Interruttore di accensione/spegnimento («on/off»)

9 Spia di ricarica

10 Presa di corrente

Specifiche tecniche

• Potenza con alimentazione a rete: 7 Watt

• Tensione con alimentazione a rete: 100-240 V2/ 50 o

60 Hz (adattamento automatico)

• Voltaggio in entrata al rasoio: 12 V

Caricare il rasoio

off on

+35°C

7570

• Prima carica: usando il cavo di alimentazione in dotazione,

collegate il rasoio alla presa di rete con l'interruttore

in posizione «off» e caricatelo per almeno 4 ore (la spina

potrebbe riscaldarsi).

• Una volta carico, usate il rasoio senza cavo fino a quando

è completamente scarico, dopodichè ricaricatelo

nuovamente (le ricariche successive richiederanno solo

un'ora).

+15°C

• Una carica completa può fornire fino a 50 minuti di rasatura

senza cavo, a seconda della ricrescita della vostra barba.

In ogni caso, la massima capacità degli accumulatori verrà

raggiunta solo dopo diversi cicli di carica/scarica.

• La temperatura ottimale per la ricarica è compresa tra

15 °C e 35 °C.

24
---
• La spia di ricarica accesa indica che il rasoio si sta

caricando. Quando gli accumulatori sono completamente

carichi, la spia si spegne.

Se successivamente dovesse riaccendersi, ciò significa

che il rasoio si sta ricaricando nuovamente per mantenere

la massima capacità.

Rasatura

Interruttore di sicurezza

Il rasoio viene confezionato con l'interruttore di sicurezza

attivato (posizione «lock»). Prima di radervi per la prima

volta, quindi, sbloccate il rasoio spingendo verso l'alto

l'interruttore.

In seguito, onde evitare l'accensione accidentale del rasoio

(ad es., in viaggio), ricordatevi di attivare l'interruttore di

sicurezza portandolo sulla posizione «lock».

Posizioni degli interruttori

off = Spento

on = Acceso

Rasatura con testina oscillante

Il sistema radente oscillante si adatta

automaticamente ai contorni del viso.

off on

head lock

trimmer

Rasatura con testina oscillante bloccata

(per agevolare la rasatura nelle aree più

difficili, ad es. sotto il naso)

Attivazione del tagliabasette (per la

regolazione di basette, baffi e pizzetto)

trim

head lock

Rasatura a rete

Se le batterie sono scariche, potete utilizzare il rasoio

collegandolo ad una presa di corrente utilizzando il cavo

in dotazione (se il rasoio non si accende subito, caricatelo

per circa 1 minuto con l'interruttore in posizione «off»).

lock

off on

trimmer

head lock

25
---
Consigli per una rasatura perfetta

• E' consigliabile radersi prima di lavarsi il viso, poiché

la pelle rimane meno elastica dopo averla lavata.

• Impugnate il rasoio mantenendo la giusta angolazione

(90°) rispetto alla pelle.

• Tendete leggermente la pelle e radete in senso contrario

alla direzione della crescita della barba.

• Sostituite lamina e blocco coltelli ogni 18 mesi, anche

prima se risultano usurati, per assicurarvi sempre

un'ottima performance di rasatura.

Come tenere il vostro rasoio

in perfette condizioni

Pulizia automatica

L'accessorio Braun Clean&Charge è in grado di effettuare

tutte le operazioni di pulizia e lubrificazione di cui necessita

il rasoio. Per cortesia, fate riferimento al Libretto di

Istruzioni separato predisposto per questo accessorio.

Pulizia manuale

Per una facile pulizia manuale dopo ogni rasatura,

spegnete il rasoio, premete il tasto di rilascio, estraete

la lamina e sbattetela leggermente su una superficie piana.

Dopodichè, utilizzando l'apposita spazzolina in dotazione,

pulite il blocco coltelli sottostante e l'area interna della

testina.

Ogni 4 settimane circa, estraete il blocco coltelli dal

rasoio (come indicato in figura) e pulitelo con gli appositi

prodotti detergenti Braun disponibili in commercio (ad es.,

lo spray di pulizia).

oil

Se la vostra pelle è molto secca e notate una riduzione

dell'autonomia di rasatura senza cavo del rasoio, applicate

una goccia di olio per macchine da cucire sulla lamina

(come indicato in figura).

Sostituzione delle parti radenti

La lamina ed il blocco coltelli del vostro rasoio elettrico

sono componenti di precisione che, nel tempo, tendono

a consumarsi. Sostituiteli ogni 18 mesi e otterrete

un miglioramento della vostra rasatura di ben il 25%.*

(Il numero identificativo della lamina e del blocco

coltelli è: 505.)

26

(* Valutazione rilevata su consumatori Braun comparando i

risultati di rasatura ottenuti con parti radenti nuove e parti

radenti utilizzate per 18 mesi.)
---
7570

Manutenzione degli accumulatori

• Per mantenere la capacità ottimale degli accumulatori,

il rasoio deve essere completamente scaricato (radendosi)

almeno una volta ogni 6 mesi circa. Una volta scarico,

ricaricate il rasoio fino alla carica massima.

Questo processo ricondiziona gli accumulatori.

• Il rasoio non deve essere esposto per lunghi periodi

di tempo a temperature superiori a 50°C.

Accessori

Sono disponibili presso il vostro negoziante di fiducia e i

Centri di Assistenza autorizzati Braun i seguenti accessori:

Lamina e blocco coltelli (parte di ricambio n.° 505)

Flex Integral

505

Tutela dell'ambiente

Questo apparecchio è dotato di batterie ricaricabili al

nichel-idrato. Onde tutelare l'ambiente, non buttate

l'apparecchio tra i normali rifiuti al termine della sua vita

utile. Aprite il rasoio come illustrato in figura, rimuovete

le batterie e portatele presso il Centro di Assistenza

autorizzato Braun a voi più vicino o presso i punti di

raccolta specifici per questi rifiuti previsti dalla normativa

vigente.

505

Salvo cambiamenti senza preavviso.

Questo prodotto è conforme alle normative EMC

come stabilito dalla direttiva CEE 89/336 e alla

Direttiva Bassa Tensione (CEE 73/23).

27
---
Nederlands

Onze produkten zijn ontwikkeld om aan de hoogste

kwaliteitseisen, functionaliteit en vormgeving te voldoen.

Wij hopen dat u veel plezier zult hebben van uw nieuwe

Braun scheerapparaat.

Waarschuwing

Gebruik alleen het bijgeleverde snoer.

Een beschadigd snoer dient direct vervangen te worden.

Omschrijving

1 Beschermkapje

2 Scheerblad

3 Messenblok

4 Scheerblad ontgrendelingsknop

5 Uitklapbare tondeuse («trimmer»)

6 Vergrendelingsknop («lock»)

7 Vergrendelingsknop voor het flexibele scheerhoofd

(«head lock») en voor het activeren van de uitklapbare

tondeuse («trimmer»)

8 Aan/uit schakelaar («on/off»)

9 Oplaad controlelampje

10 Netsnoeringang

Technische specificaties

• Wattage: 7 Watt

• Voltage voor scheen op het lichtnet: 100–240 V2/ 50 of

60 Hz (automatische aanpassing)

• Oplaadvoltage: 12 V

off on

28

+35°C

+15°C

7570

Opladen

• Wanneer het scheerapparaat voor de eerste keer wordt

opgeladen, dient u het scheerapparaat aan te sluiten

op het lichtnet met de aan/uit schakelaar in positie «off»

en deze gedurende ten minste 4 uur op te laden

(de stekker kan warm worden).

• Wanneer het scheerapparaat volledig is opgeladen,

gebruik deze dan zonder snoer totdat het scheerapparaat

geheel ontladen is. Dan weer geheel opladen (volgende

opladingen duren ongeveer 1 uur).

• Wanneer het scheerapparaat volledig is opgeladen,

bevat deze voldoende energie voor 50 minuten snoerloos

scheren, afhankelijk van uw baard. De maximale capaciteit

zal alleen worden bereikt na een aantal oplaad/ontlaad

sessies.

• De beste omgevingstemperatuur tijdens het opladen is

15 °C tot 35 °C.
---
• Het oplaad controlelampje geeft aan dat het scheerapparaat

wordt opgeladen. Wanneer het apparaat

volledig is opgeladen, gaat het oplaad indicatielampje uit.

Wanneer het oplaad indicatielampje weer gaat branden,

geeft dit aan dat de shaver weer wordt opgeladen tot

volledige capaciteit.

Scheren

Blokkeringsschakelaar

Het scheerapparaat wordt geleverd met de blokkeringsschakelaar

in positie «lock». Duw deze knop omhoog

voordat u zich gaat scheren. Om te voorkomen dat het

scheerapparaat per ongeluk aan gaat, bijvoorbeeld tijdens

het reizen, dient u de blokkeringsschakelaar op «lock»

te zetten.

Aan/uit schakelstanden

off = uit

on = aan

scheren met het zwenkend scheerhoofd.

Het zwenkende scheersysteem volgt automatisch

de contouren van uw gezicht.

off on

head lock scheren met het zwenkend scheerhoofd

vergrendeld in een vaste stand (voor het

scheren van moeilijk bereikbare gedeelten

van het gezicht, bijvoorbeeld onder de neus)

trimmer

de tondeuse is ingeschakeld (voor bakkebaarden,

snorren en baarden)

Scheren met snoer

Als de accu leeg is, kunt u zich scheren met het

scheerapparaat aangesloten op het lichtnet. Als het

scheerapparaat niet direct werkt, laadt het apparaat dan

gedurende 1 minuut op met de aan/uit schakelaar op

positie «off».

lock

off on

head lock trim

head lock trimmer

29
---
Tips voor een perfect scheerresultaat

• Wij raden u aan zich vóór het wassen van het gezicht

te scheren, omdat het gezicht na het wassen licht

gezwollen is.

• Houdt het scheerapparaat altijd loodrecht (90°) op

de huid.

• Span de huid licht en scheer tegen de richting van

de baardgroei in.

• Vervang het scheerblad en messenblok elke 1 1 / 2 jaar

of wanneer de onderdelen versleten zijn, om een zo

optimaal mogelijk scheerresultaat te krijgen.

Uw scheerapparaat in topconditie

houden

Automatisch reinigen

De Braun Clean&Charge zorgt automatisch voor alle

reinigings en smeer-behoeften van uw scheerapparaat.

Zie aparte gebruiksaanwijzing.

Handmatig reinigen

Zet het scheerapparaat uit. Druk op de ontgrendelingsknop,

verwijder het scheerblad en klop deze rustig uit op

een vlakke ondergrond.

Maak het messenblok en de ruimte van het zwenkend

scheerhoofd schoon met het borsteltje. Reinig elke

4 weken het messenblok met Braun reinigingsspray.

Indien uw huid erg droog is en u een verminderde prestatie

van het scheerapparaat waarneemt, dient u het apparaat

te smeren met enkele druppels naaimachine olie.

oil

Verwisselen van scheeronderdelen

Het scheerblad en het messenblok zijn precisieonderdelen

die in de loop der tijd aan slijtage onderhevig

zijn. Vervang het scheerblad en het messenblok elke

1 1 / 2 jaar of wanneer ze versleten zijn, om een 25% betere

scheerprestatie te verkrijgen.*

(Scheerblad en messenblok: onderdeel nr. 505)

(* Algemene conclusie van Braun gebruikers die hun

scheerresultaat met nieuwe onderdelen met onderdelen

van 18 maanden oud vergeleken.)

30
---
7570

Behoud van de accu

• Om de capaciteit en de levensduur van de oplaadbare

batterij te behouden, moet het scheerapparaat bij

regelmatig gebruik ongeveer iedere 6 maanden worden

ontladen. Laadt vervolgens het scheerapparaat weer op

tot volle capaciteit. Dit houdt de oplaadbare batterij in

goede conditie.

• Stel het scheerapparaat niet voor langere periodes bloot

aan meer dan 50°C.

Accessoires

Verkrijgbaar bij uw Braun verkoper en bij Braun Service

Centra:

Scheerblad en messenblok (onderdeel nr. 505)

Flex Integral

505

Milieu

Dit apparaat is voorzien van een nickel-hydride accu.

Wij raden aan het apparaat aan het einde van zijn nuttige

levensduur niet bij het afval te deponeren, maar in te

leveren bij een Braun Service Centrum of op de daarvoor

bestemde adressen. Indien u toch de accu unit zelf wilt

verwijderen, verwijder deze dan door de body te openen

zoals aangegeven. Verwijder de batterijen en lever deze in

bij uw elektro speciaalzaak of andere inleverpunten zoals

die bij u in de buurt zijn aangegeven.

505

Wijzigingen voorbehouden.

Dit produkt voldoet aan de EMC-voorschriften

volgens de EEG richtlijn 89/336 en aan de EEG

laagspannings richtlijn 73/23.

31
---
Dansk

Vores produkter har den højeste kvalitet i funktionalitet og

design. Vi håber, du bliver glad for din nye Braun shaver.

Vigtigt

Brug kun det vedlagte ledningssæt.

En beskadiget ledning skal udskiftes omgående.

Beskrivelse

1 Beskyttelseshætte

2Skæreblad

3 Lamelkniv

4 Udløserknap til skæreblad

5 Pop-ud langhårstrimmer («trimmer»)

6Låseknap («lock»)

7 Knap til fastlåsning af vippehovedet («head lock»)

og til aktivering af langhårstrimmeren («trimmer»)

8Tænd/sluk knap («on/off»)

9 Opladningslampe

10 Shaverstik

Tekniske specifikationer

• Wattforbrug: 7 W

• Strømstyrke: 100–240 V2/ 50 eller 60 Hz

(automatisk tilpasning)

• Spænding: 12 V

Opladning af shaver

off on

+35°C

+15°C

7570

• Første opladning: Tilslut shaveren til lysnettet med tænd/

sluk knappen i position «off» og oplad den i mindst 4 timer

(stikket kan blive varmt).

• Når shaveren er fuldt opladet, bruges den uden ledning til

den er kørt helt flad. Derefter genoplades til fuld kapacitet

igen (efterfølgende genopladninger tager ca. 1 time).

• En fuldt opladet shaver giver op til 50 min. ledningsfri

barbering, afhængig af skægtype. Maksimal batterikapacitet

opnås imidlertid først efter adskillige

genopladninger/afladninger.

• Genoplades bedst ved temperaturer mellem 15°C og

35 °C.

32
---
• Opladningslampen viser, at shaveren er ved at blive

opladet. Når det genopladelige batteri har nået fuld

kapacitet, slukker opladningslampen. Hvis opladningslampen

senere lyser igen, betyder det, at shaveren

genoplades for at opretholde fuld kapacitet.

Barbering

Låseknap

Shaveren leveres med låseknappen aktiveret (position

«lock»). Tryk på knappen inden første barbering. For at

undgå at shaveren tænder ved et uheld, f.eks. under rejser,

sættes knappen på position «lock».

Kontaktpositioner

off = Afbrudt

on = Tilsluttet Barbering med vippehovedet.

Vippehovedet tilpasser sig automatisk

til ansigtets kurver.

off on

head lock

trimmer

Barbering med vippehovedet lukket

i en vinkel (barbering på vanskeligt

tilgængelige steder, f.eks. under næsen)

Langhårstrimmeren er aktiveret

(til bakkenbarter, overskæg og skæg).

trim

head lock

Barbering med ledning

Hvis batteriet er fladt, kan du barbere dig med shaveren

tilsluttet lysnettet. (Hvis shaveren ikke starter omgående,

så lad den oplade i ca. 1 min.)

lock

off on

trimmer

head lock

33
---
Tips til den perfekte barbering

• Vi anbefaler, at du barberer dig inden du vasker dig,

da huden hæver let efter vask.

• Hold shaveren i en 90° vinkel mod huden.

• Stram huden og barber mod hårenes groretning.

• For at sikre optimal barbering bør skæreblad og

lamelkniv udskiftes hvert 1 1 / 2 år.

Hold shaveren i tip-top stand

Automatisk rengøring

Braun Clean&Charge renser og smører din shaver

automatisk. Se venligst separat brugsanvisning.

Manuel rengøring

Sluk for shaveren efter hver barbering. Tryk på udløserknappen,

fjern skærebladet og bank det let mod en glat

overflade.

Ved hjælp af børsten rengøres lamelkniv og det indre af

vippehovedet. Ca. hver 4. uge bør lamelkniven renses med

Braun rensespray.

Hvis du har meget tør hud og mærker, at shaveren fungerer

i kortere tid, bør du komme en dråbe symaskineolie på

skærebladet.

oil

Udskiftning af reservedele

Skæreblad og lamelkniv er præcisionsdele, som med tiden

bliver slidt. Udskift skæreblad og lamelkniv hvert 1 1 / 2 år

og få en 25% bedre barbering.*

(Skæreblad og lamelkniv: varenr. 505)

(* Baseret på Braun brugeres vurdering af deres barbering

med nye dele sammenlignet med 1 1 / 2 år gamle dele.)

34
---
7570

Vedligeholdelse af batteriet

• For at sikre det genopladelige batteris optimale kapacitet

bør shaveren køres helt ned (under barbering) ca. hver

6. måned. Derefter genoplades shaveren til fuld kapacitet.

Dette holder det genopladelige batteri i perfekt stand.

• Må ikke udsættes for temperaturer over 50°C i længere tid.

Tilbehør

fås hos din forhandler eller Braun Kundeservice:

Skæreblad og lamelkniv (varenr. 505)

Flex Integral

505

Miljøoplysninger

Denne shaver er forsynet med nikkel-hydrid genopladelige

batterier. For at beskytte miljøet må shaveren ikke smides

i skraldespanden. Luk shaverkabinettet op som vist,

fjern batterierne og aflever dem i dit supermarked eller

de steder, hvor man indsamler genopladelige batterier.

505

Ret til ændringer forbeholdes.

Dette produkt opfylder EMC-bestemmelserne

i Council Directive 89/336/EEC og Low Voltage

Regulation (73/23 EEC).

35
---
Norsk

Våre produkter er designet for å imøtekomme de høyeste

standarder når det gjelder kvalitet, funksjon og design.

Vi håper du blir fornøyd med din nye Braun barbermaskin.

Viktig

Bruk kun ledningssettet som følger med barbermaskinen.

Et defekt ledningssett må byttes omgående.

Beskrivelse

1 Beskyttelseskappe for skjærebladet

2 Skjæreblad

3 Lamellkniv

4 Utløseknapp for skjæreblad

5 Utskyvbar langhårtrimmer («trimmer»)

6 Bryterlås («lock»)

7 Bryter for låsing av det svingbare skjærehode

(«head lock») og aktivering av den utskyvbare

langhårtrimmeren («trimmer»)

8På /av bryter («on/off»)

9 Ladelys

10 Barbermaskinens stikkontakt

Tekniske spesifikasjoner

• Effektforbruk via ledningssettet: 7 W

• Spenningsforsyning via ledningssettet: 100–240 V2/ 50

eller 60 Hz (tilpasses automatisk)

• Barbermaskinens tilførselspenning: 12 V

off on

7570

Lading av barbermaskinen

• Første lading: Gjennom ledningssettet, forbindes

barbermaskinen til et nettuttak med bryteren i posisjon

«off» og lades i minimum 4 timer (kontakten kan bli litt

varm).

+35°C

+15°C

• Straks barbermaskinen er fulladet, brukes maskinen uten

ledning til den erhelt utladet. Deretter lades den til full

kapasitet igjen (etterfølgende ladinger tar ca. 1 time).

• Full oppladning vil gi opp til 50 minutters barbering

avhengig av skjeggveksten din. Bemerk, maksimal

kapasitet vil kun oppnås etter flere oppladning/utladning

sykluser.

36

• Beste omgivelsestemperatur for lading: 15°C til 35 °C.
---
• Ladelyset viser at barbermaskinen lades. Når det

oppladbare batteriet er fulladet, slukker ladelyset.

Hvis ladelyset senere kommer på igjen, indikerer dette

at barbermaskinen blir ladet igjen for å opprettholde

full kapasitet.

Barbering

Bryterlås

Barbermaskinen leveres med bryterlåsen aktivert

(posisjon «lock»). Skyv bryterlåsen opp før du barberer

deg for første gang. For å unngå at barbermaskinen tilfeldig

slår seg på, for eksempel under reise, skyv bryterlåsen

til posisjon «lock».

Bryter posisjoner

off = Av

on = På

Barbering med det svingbare skjærehodet.

Det svingbare skjæresystemet tilpasser seg

automatisk ansiktets konturer.

off on

head lock Barbering med det svingbare skjærehodet

låst (for barbering i vanskelige områder,

f.eks. under nesen)

trim

trimmer

Langhårtrimmeren er aktivert

(for trimming av kinnskjegg, barter eller

skjegg).

head lock

Barbering med ledning

Hvis det oppladbare er utladet, kan du også barbere

med barbermaskinen tilkoplet nettet via ledningssettet.

(Lad opp barbermaskinen i ca. 1 minutt med bryteren

i posisjon «off».)

lock

off on

trimmer

head lock

37
---
Tips for den perfekte barbering

• Vi anbefaler barbering før vasking, da huden kan være

litt hoven etter vask.

• Hold barbermaskinen i rett vinkel (90°) mot huden.

• Strekk huden og før barbermaskinen jevnt mot

skjeggets vekstretning.

• Bytt skjæreblad og lamellkniv hvert 1 1 / 2 år, eller når

delene er slitte, for å sikre en optimal barberutførelse.

Å holde barbermaskinen

i topp stand

Automatisk rengjøring

Braun Clean&Charge tar hånd om all rengjøring og smøring

som maskinen din trenger. Vennligst les separat bruksanvisning

for Clean&Charge.

Manuell rengjøring

For enkel manuell rengjøring etter hver barbering,

slå maskinen av. Trykk inn utløseknappen, ta av skjærebladet

og slå det forsiktig mot en flat overflate.

Rengjør så lamellkniven og innsiden av det svingbare

skjærehodet med rensebørsten. Rengjør lamellkniven

ca. hver fjerde uke med Braun rengjøringsspray.

Dersom du har meget tørr hud og du merker at driftstiden

på maskinen reduseres, påføre en dråpe lett maskinolje

på skjærebladet.

oil

Bytte av barberdeler

Skjærebladet og lamellkniven er presisjonsdeler som slites

over tid. Skift skjæreblad og lamellkniv etter 18 måneder

og få 25% bedre barbering.*

(Skjæreblad og lamellkniv: del no. 505)

(* Evaluering av Braun brukere ved sammenligning av

barbering med nye deler og de som har hvert brukt

i 18 måneder.)

38
---
7570

Vedlikehold av batterieenheten

• For å optimere kapasiteten og levetiden på batteriet, bør

det lades helt ut ved regelmessig bruk hver 6. måned.

For deretter å lades opp til full kapasitet igjen.

Dette vedlikeholder det oppladbare batteriet.

• La ikke barbermaskinen utsettes for temperaturer over

50 °C for lengre perioder.

Tilbehør

Tilgjengelig hos din forhandler eller Braun Service Senter:

Skjæreblad og lamellkniv (del no. 505)

Miljø notat

Dette apparatet er utstyrt med oppladbart nikkel-hydrid

batterier. For å beskytte miljøet, skal ikke apparatet kastes

i husholdningsavfallet ved slutten av dets levetid.

Åpne huset som vist, ta ut batteriet og lever batteriet

hos din forhandler eller ved særskilte miljøavfallsplasser

i henhold til nasjonale eller lokale bestemmelser.

Flex Integral

505

505

Med forbehold om endringer.

39
---
Svenska

Våra produkter är framtagna för att uppfylla högsta krav

när det gäller kvalitet, funktion och design. Vi hoppas att

du får mycket glädje av din nya Braun apparat.

Viktigt

Använd endast den medföljande nätsladden.

Byt genast ut en skadad sladd.

Beskrivning

1 Skyddshuv

2Skärblad

3 Saxhuvud

4 Knapp för att lossa skärbladsramen

5 Trimsax («trimmer»)

6Säkerhetslås («lock»)

7 Knapp för låsning av skärhuvudet («head lock»)

samt aktivering av trimsaxen («trimmer»)

8 Strömbrytare

9 Kontrollampa för laddning

10 Kontakt

Teknisk specifikation

• Effekt via nätsladd: 7 W

• Nätspänning via nätsladden: 100-240 V2/ 50 eller 60 Hz

(automatisk anpassning)

• Spänning i tillförseln till rakapparaten: 12 V

Laddning av rakapparaten

off on

+35°C

+15°C

7570

• Första gången apparaten laddas skall den kopplas till

ett uttag (med strömbrytaren i läge «off») och ladda den

i minst 4 timmar. (Nätkontakten kan bli varm.)

• När rakapparaten är fullt uppladdad, raka sedan utan

sladd tills dess att rakapparaten är urladdad. Ladda åter

rakapparaten. (Efterföljande laddningar tar ca 1 timme.)

• Ett fulladdat batteri ger upp till 50 min. sladdlös raktid,

beroende på skäggväxt. Maximal kapacitet uppnås dock

först efter flera laddning- och urladdnings omgångar.

• Bästa omgivningstemperatur vid laddning: 15°C till 35 °C

40
---
• Kontrollampan visar att rakapparaten laddas.

När det laddningsbara batteriet är fullt släcks kontrollampan.

Om lampan åter skulle tändas indikerar detta att

rakapparaten laddas för att bibehålla full kapacitet.

Rakning

Apparaten levereras med säkerhetslåset på «lock».

Skjut upp säkerhetslåset innan du använder rakapparaten

för första gången. För att undvika att rakapparaten sätts

på av misstag, t.ex. vid resa, lås säkerhetslåset i läge

«lock».

Strömbrytare

off = Av

on = På

Rakning med det svängbara skärhuvudet.

Det svängbara huvudet följer automatiskt alla

ansiktets konturer.

off on

head lock Rakning med låst vinklat skärhuvud

(för rakning av partier som är svårare att

komma åt, t.ex. under näsan)

trim

trimmer

Trimsaxen är på (för att trimma polisonger,

mustasch och skägg).

head lock

Rakning med sladd

Om det laddningsbara batteriet är urladdat går det bra

att raka sig med rakapparaten ansluten till nätet med den

medföljande nätsladden. (Om den inte genast startar –

p g a att battericellen är tom – ladda batteriet med

strömbrytaren i läge «off» i ca 1 minut.)

lock

off on

trimmer

head lock

41
---
oil

Tips för perfekt resultat

• Vi rekommenderar att du rakar dig innan du tvättar

ansiktet eftersom huden blir lätt svullen efter tvättning.

• Håll rakapparaten i en rät vinkel (90°) mot huden.

• Sträck huden och raka mothårs över skäggväxten.

• Byt ut skärblad och trimsax efter 18 månader eller när

dessa är slitna för att säkerställa optimal rakprestanda.

Rengöring och bibehållande

Automatisk rengöring

Braun Clean&Charge tar automatiskt hand om all

rengöring och smörjning som din rakapparat behöver.

Se separat bruksanvisning.

Manuell rengöring

För enkel manuell rengöring efter varje rakning,

stäng av rakapparaten. Tryck på knappen för att lossa

skärbladsramen och dra av den. Knacka försiktigt

skärbladsramen mot ett plant underlag.

Använd borsten för att rengöra saxhuvudet samt insidan av

det svängbara skärhuvudet. Rengör saxhuvudet ungefär

en gång i månaden med Braun rengöringsspray.

Om din hud är torr och Ni märker att den effektiva raktiden

har minskat, applicera en droppe symaskinsolja på

skärbladet.

Byte av delar

Rakapparatens skärblad och saxhuvud är precisionsdelar

som slits med tiden. Byt ut skärblad och saxhuvud var 18:e

månad för att därmed erhålla 25% bättre rakning.*

(Skärblad och saxhuvud: artikelnummer 505)

(* Helhets bedömning från Braun användare som har

jämfört sin rakning med nya skärdelar mot delar som har

använts 18 månader.)

42
---
7570

Bibehållande av battericellen

• För att bibehålla battericellens maximal kapacitet skall den

laddas ur helt genom normal rakning en gång i halvåret och

sedan laddas upp fullt.

Detta konditionerar det laddningsbara batteriet.

• Utsett inte rakapparaten för längre perioder i temperaturer

överstigande 50°C.

Tillbehör

Finns hos din Braun återförsäljare eller på en Braun

auktoriserad serviceverkstad:

Skärblad och saxhuvud (artikelnummer 505)

Flex Integral

505

505

Miljö

Denna produkt innehåller laddningsbara nickel-hydrid

celler. Av miljöhänsyn skall apparaten inte slängas i det

vanliga hushållsavfallet när det är uttjänt. Demontera

batteriet som illustrerats och lämna dem till en

återvinningsstation eller en Braun serviceverkstad.

Med reservation för eventuella ändringar.

Denna produkt är anpassad till EMC-föreskrifterna

89/336/EEC och till lågspänningsdiektivet (73/23

EEC).

43
---
Suomi

Tuotteemme on suunniteltu täyttämään korkeimmat

laatu-, toimivuus- ja muotoiluvaatimukset. Toivomme, että

olet tyytyväinen uuteen parranajokoneeseen.

Tärkeää

Käytä ainoastaan laitteen mukana tullutta verkkojohtoa.

Vahingoittunut verkkojohto on vaihdettava välittömästi.

Laitteen osat

1 Teräverkon suojus

2 Teräverkkokasetti

3 Terä

4 Teräverkkokasetin vapautuspainike

5 Rajaaja («trimmer»)

6 Kytkinlukko («lock»)

7 Kytkin, jolla lukitaan ajopää («head lock»)

ja käynnistetään rajaaja («trimmer»)

8Päälle/pois päältä -kytkin («on/off»)

9 Latauksen merkkivalo

10 Runkokosketin

Tekniset tiedot

• Teho: 7 W

• Jännitealue lataamiseen: 100–240 V2/ 50 tai 60 Hz

(automaattinen jännitteen vaihto)

• Parranajokoneen sisäinen jännite: 12 V

Parranajokoneen lataaminen

off on

+35°C

+15°C

7570

• Ensimmäinen lataus: Kytke parranajokone verkkovirtaan

ja lataa sitä vähintään 4 tuntia päälle/pois päältä -kytkin

asennossa «off» (pistoke saattaa lämmetä).

• Käytä tämän jälkeen parranajokonetta ilman johtoa,

kunnes akku on täysin tyhjä. Lataa akku uudelleen täyteen

kapasiteettiin (nyt riittää noin tunnin mittainen lataus).

• Täysi lataus antaa noin 50 minuuttia ajoaikaa ilman

verkkojohtoa, riippuen parrankasvustasi. Laite saavuttaa

täyden kapasiteettinsa vasta kun sitä on käytetty ja ladattu

useita kertoja.

• Suositeltava lämpötila lataukselle on 15°C – 35 °C.

44
---
• Latauksen merkkivalo osoittaa latauksen olevan

käynnissä. Kun akku on täyteen lataantunut latausvalo

sammuu. Jos latauksen merkkivalo syttyy uudelleen,

merkitsee se, että parranajokone latautuu uudelleen

täyteen kapasiteettiin.

Ajo

Kytkinlukko

Parranajokone toimitetaan tehtaalta kytkinlukko päällä

(asento «lock»). Ennen ensimmäistä ajokertaa työnnä

kytkinlukko ylös. Jotta parranajokone ei käynnistyisi

vahingossa esim. matkalaukussa, työnnä kytkinlukko

asentoon «lock».

Kytkimen asennot

off = Pois päältä

on = Päällä

Ajo kääntyvällä ajopäällä. Kääntyvä

ajopää myötäilee automaattisesti

kasvojen piirteitä.

off on

head lock

trimmer

Tarkkuutta vaativista paikoista

(esim. nenän alta tai muista vaikeista

alueista).

Rajaaja kytkeytyy päälle

(pulisonkien, viiksien ja parran

siistimiseen).

trim

head lock

Verkkovirralla ajo

Jos lataus on lopussa, voit ajaa myös verkkojohto

kytkettynä verkkovirtaan. (Jos parranajokone ei käynnisty

heti, lataa sitä päälle/pois päältä -kytkimen ollessa

asennossa «off» noin yhden minuutin ajan.)

lock

off on

trimmer

head lock

45
---
oil

Vinkkejä täydelliseen parranajoon

• Parta kannattaa ajaa ennen kasvojen pesua,

sillä iho turpoaa hieman pesun jälkeen.

• Pidä parranajokonetta oikeassa kulmassa ihoon

nähden (90°).

• Venytä hieman ihoa ja ohjaa parranajokonetta

partakarvojen kasvusuuntaa vasten.

• Vaihda teräverkkokasetti ja terä uuteen 1 1 / 2 vuoden

välein tai useammin, jos osat ovat kuluneet.

Näin varmistat parhaan mahdollisen ajotuloksen.

Näin pidät parranajokoneesi

huippukunnossa

Automaattinen puhdistus

Braun Clean&Charge -huoltokeskus hoitaa kaikki

parranajokoneesi puhdistus- ja voitelutarpeet.

Katso lähemmin erillinen käyttöohje.

Manuaalinen puhdistus

Kytke virta pois päältä jokaisen ajon jälkeen.

Paina teräverkkokasetin vapautuspainiketta, ota teräverkkokasetti

pois ja kopauta sitä kevyesti tasaista pintaa

esim. pöytää vasten.

Käytä puhdistusharjaa kun puhdistat terää ja ajopään

aluetta. Puhdista terä noin neljän viikon välein Braun

puhdistusspraylla.

Mikäli sinulla on hyvin kuiva iho ja huomaat parranajokoneesi

käyntiajan lyhentyneen, tipauta pisara

ompelukoneöljyä teräverkkokasetille.

Teräverkkokasetin ja terän vaihtaminen

Parranajokoneen teräverkkokasetti ja terä ovat osia,

jotka käytön myötä kuluvat. Vaihda teräverkkokasetti ja

terä uuteen aina 1 1 / 2 vuoden välein saat 25% paremman

ajotuloksen.* (Teräverkkokasetti ja terä: No. 505)

(* Braun-käyttäjien keskuudessa tehty tutkimus, jossa

verrattiin uusia ja 1 1 / 2 vuotta vanhoja osia käyttäen

saavutettuja ajotuloksia.)

46
---
7570

Akkujen käyttöiän pidentäminen

• Akkujen käyttöiän pidentämiseksi parranajokoneen lataus

on käytettävä normaaliajon yhteydessä loppuun noin

6 kuukauden välein. Sen jälkeen lataa parranajokone

täyteen kapasiteettiin. Tämä toimenpide pitää akut

paremmassa kunnossa.

• Älä pidä parranajokonetta yli 50°C lämpötilassa pidempiä

aikoja.

Lisävarusteet

Saatavana valtuutetuista Braun-huoltoliikkeistä tai Brauntuotteita

myyvistä liikkeistä:

Teräverkkokasetti ja terä (No. 505)

Flex Integral

505

505

Ajattele ympäristöäsi

Tässä laitteessa on nikkeli-hydridiakut. Suojellaksesi

ympäristöäsi, älä kuitenkaan hävitä laitetta kotitalousjätteen

joukossa. Poistaaksesi akut laitteen elinkaaren

lopussa, avaa parranajokoneen kuori kuvan osoittamalla

tavalla. Toimita akut asuinkuntasi osoittamaan

kierrätyspisteeseen tai Braun jälleenmyyjälle.

Muutosoikeus pidätetään.

Tämä tuote täyttää EU-direktiivin 89/336/EEC

mukaiset EMC-vaatimukset sekä matalajännitettä

koskevat säännökset (73/23 EEC).

47
---
Türkçe

Ürünlerimiz kalite, kullanım ve tasarımda en yüksek

standartlara ulaµabilmek için üretilmiµtir. Yeni Braun tıraµ

makinenizden memnun kalacaπınızı umarız.

Önemli

Sadece ürünle birlikte verilen elektrik baπlantısı kablosunu

kullanınız. Eπer elektrik baπlantı kablosunda herhangi bir

hasar varsa, kabloyu hemen yenisiyle deπiµtiriniz.

Tanımlamalar

1 Elek koruyucu kapak

2Elek

3 Kesici blok

4 Elek çıkarma düπmesi

5 Uzun tüy düzeltici («trimmer»)

6 Kilitleme düπmesi («lock»)

7 Oynar baµlıπı sabitleme («head lock») ve uzun

tüy düzelticisini («trimmer») çalıµtırma düπmesi

8 Açma/kapama düπmesi («on/off»)

9 Ωarj ıµıπı

10 Tıraµ makinesi fiµi

Teknik özellikler

• Watt: 7 W

• Elektrik baπlantı kablosuna gelen voltaj aralıπı:

100–240 V2/ 50 veya 60 Hz (otomatik adaptasyon)

• Tıraµ makinesine giren voltaj aralıπı: 12 V

off on

7570

Tıraµ makinesini µarj etme

• ∑lk µarj: Elektrik baπlantı kablosunu kullanarak cihazı

elektriπe baπlayınız ve açma/kapama düπmesini «off»

konumuna getirip en az 4 saat boyunca µarj ediniz

(bu iµlem sırasında fiµin ısınması normaldir).

+35°C

+15°C

• Tıraµ makineniz tamamen µarj edildikten sonra, µarj

tamamen bitene kadar cihazınızı kablosuz olarak

kullanınız. Daha sonra, cihazı tekrar tamamen µarj ediniz

(µarj süresi yaklaµık 1 saattir).

• Tam olarak µarj edilmiµ cihaz – sakalınızın sertliπine ve

uzama süresine baπlı olarak – 50 dakikaya kadar kablosuz

kullanım olanaπı verir. Ancak, maksimum kapasiteye,

cihazı ancak birkaç kez µarj/deµarj ettikten sonra

ulaµabilirsiniz.

48

• Ωarj etmek için en ideal çevre sıcaklıπı: 15°C – 35 °C

arasıdır.
---
• Ωarj ıµıπı, tıraµ makinenizin µarj edilmekte olduπunu

gösterir. Makineniz tamamen µarj olduπunda µarj ıµıπı

sönecektir. Daha sonra, µarj ıµıπı tekrar yanarsa, cihaz,

pilin tam kapasitesini korumak için tekrar µarj oluyor

demektir.

Tıraµ olma

Kilitleme düπmesi

Tıraµ makinenizi aldıπınızda kilitli konumdadır

(«lock» pozisyon). Cihazınızı ilk defa kullanmadan önce

kilitleme düπmesini yukarıya kaldırın. Tıraµ makinenizin

kazara çalıµmasını önlemek için (örneπin seyahatlerde),

kilitleme düπmesini «lock» pozisyonda tutun.

Açma/kapama düπmesi pozisyonları

off = kapalı

on = açık

Oynar baµlıkla tıraµ olma. Oynar baµlıklı

kesici sistem yüz kıvrımlarınıza otomatik

olarak uyum saπlar.

off on

head lock Oynar baµlıπı sabitleyerek tıraµ olma

(burun altı gibi tıraµ edilmesi zor bölgelerde

rahat tıraµı saπlamak için)

trim

trimmer

Uzun tüy düzelticisi çalıµır konumda

(favori, bıyık ve sakal düzeltmek için)

head lock

Kablolu kullanım

Eπer tıraµ makinenizin pili boµalmıµ ise, cihazınızı

elektrikle de çalıµtırabilirsiniz. (Eπer makineniz hemen

çalıµmaya baµlamazsa, açma/kapama düπmesi «off»

konumundayken yaklaµık 1 dakika boyunca µarj ediniz.)

lock

off on

trimmer

head lock

49
---
Mükemmel tıraµ için ipuçları

• Cildiniz yıkandıktan sonra, az da olsa µiµmiµ

olacaπından, cildinizi yıkamadan önce tıraµ olmanızı

öneririz.

• Tıraµ makinenizi cildinize dik olarak

(90° açı ile tutunuz).

• Cildinizi geriniz ve sakallarınızı çıktıkları yönün tersine

doπru tıraµ ediniz.

• En mükemmel tıraµ performansını elde etmek için,

tıraµ makinenizin elek ve bıçaπını her 1.5 yılda bir veya

yıprandıklarında deπiµtiriniz.

Tıraµ makinenizin ömrünü

uzatmak için

Otomatik temizleme

Braun Clean&Charge ünitesi ile tıraµ makinenizin

tüm temizleme ve yaπlama iµlemlerini yapabilirsiniz.

Lütfen ilgili kullanım bilgilerine bakınız.

Elle yapılan temizleme

Kolay bir temizleme için her tıraµtan sonra, makinenizi

kapatınız. Eleπi çıkarmak için, elek çıkarma düπmesine

basınız ve eleπi düz bir yüzeye hafifçe vurunuz.

Sonra kesici bloπu ve oynar baµlıπın içini fırçayla iyice

temizleyiniz. Kesici bloπu, yaklaµık her 4 haftada bir,

Braun temizleme sıvısı ile temizleyiniz.

Eπer cildiniz çok kuru ise ve tıraµ makinenizin

performansında azalma farkediyorsanız, eleπin üzerine

bir damla hafif makine yaπı damlatınız.

oil

Tıraµ makinesinin parçalarını deπiµtirme

Elek ve kesici blok zamanla yıpranan parçalardır.

Bu parçaların her 18 ayda bir deπiµtirilmesi size %25 daha

iyi tıraµ saπlayacaktır.*

(Elek ve kesici blok yedek parça numarası: 505)

(* Braun kullanıcıları tarafından yeni ve 18 ay kullanılmıµ

parçalarla yapılan tıraµ karµılaµtırma sonuçları.)

50
---
7570

Pil koruması

• Ωarj edilebilir pilin tam kapasitesini korumak için, yaklaµık

her 6 ayda bir cihazı pil tamamen boµalana kadar kullanınız

ve daha sonra tekrar tamamen doldurunuz. Bu iµlem, pilin

tam kapasitesini korumanızı saπlayacaktır.

• Cihazı 50 °C'nin üzerindeki sıcaklıklara uzun süre maruz

bırakmayınız.

Aksesuarlar

Braun servis istasyonlarında satıµa sunulmaktadır:

Elek ve kesici blok yedek parça (numarası: 505)

Çevresel bildiri

Bu cihaz nikel-hidrat pil ile çalıµır. Yeniden dönüµüm için

pili, kullanım süresi bittiπinde, lütfen evinizdeki çöpe atmak

yerine uygun toplama alanlarına gönderiniz.

Flex Integral

505

505

Bildirim yapılmadan deπiµiklik yapılabilir.

51
---
Ελληνικά

Tα προϊντα µας κατασκευάζονται έτσι ώστε να

πληρον τα υψηλτερα πρτυπα ποιτητας,

λειτουργικτητας και σχεδιασµο. Ελπίζουµε τι

θα ευχαριστηθείτε την καινοργια σας ξυριστική

µηχανή Braun.

off on

52

+35°C

+15°C

7570

Προσοχή

Χρησιµοποιείτε µνο το καλώδιο που παρέχεται

µε τη συσκευή. Καλώδιο µε φθορές πρέπει να

αντικαθίσταται αµέσως.

Περιγραφή

1 Προστατευτικ κάλυµα του πλέγµατος ξυρίσµατος

2 Πλέγµα ξυρίσµατος

3 Κοπτικ σστηµα

4 Κουµπί απελευθέρωσης του πλέγµατος

5 Κπτης µακριών τριχών («trimmer»)

6 ∆ιακπτης ασφαλείας («lock»)

7 ∆ιακπτης για το κλείδωµα της περιστρεφµενης

κεφαλής («head lock») και για την ενεργοποίηση

του κπτη µακριών τριχών («trimmer»)

8 ∆ιακπτης λειτουργίας («on/off»)

9 Λυχνία φρτισης

10 Είσοδος παροχής ρεµατος

Τεχνικά χαρακτηριστικά

• Ισχς µέσω καλωδίου: 7 W

• Παροχή ρεµατος µέσω καλωδίου: 100–240 V2/ 50 ή

60 Hz (αυτµατη προσαρµογή)

• Τάση εισδου παροχής ρεµατος: 12 V

Φρτιση της ξυριστικής µηχανής

• Πρώτη φρτιση: Χρησιµοποιώντας το καλώδιο

συνδέστε την ξυριστική µηχανή µε την κεντρική

παροχή ρεµατος, µε το διακπτη λειτουργίας στη

θέση «off» και φορτίστε την για τουλάχιστον 4 ώρες.

(Το φίς µπορεί να θερµανθεί.)

• ταν η ξυριστική µηχανή φορτιστεί πλήρως,

ξυριστείτε χωρίς το καλώδιο µέχρι να αποφορτιστεί

εντελώς. Μετά ξαναφορτίστε τη πλήρως (λες οι

επµενες φορτίσεις θα χρειάζονται περίπου 1 ώρα).

• Μία πλήρης φρτιση θα σας δώσει σχεδν 50 λεπτά

λειτουργίας χωρίς το καλώδιο, ανάλογα µε το µήκος

των τριχών. Πάντως η µέγιστη λειτουργική ικαντητα

θα επιτευχθεί µνο µετά απ αρκετος κκλους

φρτισης/αποφρτισης.

• Η καλτερη θερµοκρασία περιβάλλοντος για τη

φρτιση είναι 15°C –35°C.
---
• Η ενδεικτική λυχνία δείχνει τι η ξυριστική µηχανή

φορτίζεται. ταν η επαναφορτιζµενη µπαταρία

επαναφορτιστεί πλήρως ττε η ενδεικτική λυχνία

σβήνει. Εάν αργτερα η ενδεικτική λυχνία ανάψει

και πάλι αυτ σηµαίνει τι η ξυριστική µηχανή

φορτίζεται ξανά για να διατηρήσει την πλήρη απδοσή

της.

Ξρισµα

∆ιακπτης ασφαλείας

Η ξυριστική µηχανή παραδίδεται µε το διακπτη

ασφαλείας ενεργοποιηµένο (κλειδωµένο)

(θέση «lock»). Πιέστε το διακπτη ασφαλείας προς

τα πάνω, πριν το πρώτο ξρισµα. Για να αποφγετε

την κατά λάθος ενεργοποίηση της συσκευής π.χ.

ταν ταξιδεετε, µετά απ κάθε ξρισµα βάλτε το

διακπτη ασφαλείας στη θέση «lock».

Θέσεις διακπτη

off = Κλειστ

on = Ανοιχτ

head lock

Ξρισµα µε την περιστρεφµενη

κεφαλή. Το περιστρεφµενο κοπτικ

σστηµα προσαρµζεται αυτµατα

ανάλογα µε τις καµπλες του

προσώπου σας.

Ξρισµα µε την περιστρεφµενη

κεφαλή ασφαλισµένη (για ξρισµα

σε δσκολες περιοχές, π.χ. κάτω απ

τη µτη).

off on

trim

head lock

trimmer

O κπτης των µακριών τριχών

είναι ενεργοποιείται (για φαβορίτες,

µουστάκι και µοσι).

Ξρισµα µε το καλώδιο

Εάν η επαναφορτιζµενη µπαταρία έχει αποφορτιστεί,

µπορείτε να ξυριστείτε µε το καλώδιο µέσω της

κεντρικής παροχής ηλεκτρικο ρεµατος. (Εάν δεν

αρχίσει να λειτουργεί αµέσως φορτίστε τη, µε το

διακπτη λειτουργίας στη θέση «off», για περίπου

1 λεπτ).

lock

off on

trimmer

head lock

53
---
Συµβουλές για το τέλειο ξρισµα

• Συνιστοµε να ξυρίζεστε πρίν το πλσιµο, καθώς

το δέρµα τείνει να φουσκώνει ελαφρά µετά το

πλσιµο.

• Θα πρέπει να κρατάτε την ξυριστική µηχανή σε

90 µοίρες ορθή γωνία προς το δέρµα.

• Τεντώνετε το δέρµα και ξυρίζεστε αντίστροφα απ

την κατεθυνση που φυτρώνουν τα γένια σας.

• Το πλέγµα ξυρίσµατος και το σστηµα των λεπίδων

θα πρέπει να αντικαθίστανται κάθε ενάµισι χρνο

ή ταν τα εξαρτήµατα έχουν φθαρεί, για να έχετε

τέλειο αποτέλεσµα.

∆ιατηρείστε την ξυριστική σας

µηχανή σε τέλεια κατάσταση

Αυτµατο καθάρισµα

Το σστηµα της Braun Clean&Charge (καθαρισµς &

φρτιση) καλπτει απλυτα τις ανάγκες καθαριτητας

και λίπανσης της ξυριστικής σας µηχανής.

Παρακαλοµε να δείτε τις ξεχωριστές οδηγίες

χρήσεως.

Καθαρισµς µε το χέρι

Για εκολο καθαρισµ µετά απ κάθε ξρισµα, θέστε

τη συσκευή εκτς λειτουργίας. Πατείστε το κουµπί

απελευθέρωσης του πλέγµατος, βγάλτε το πλέγµα και

ακουµπείστε το προσεκτικά σε επίπεδη επιφάνεια.

Χρησιµοποιώντας τη βορτσα, καθαρίστε το κοπτικ

σστηµα και το εσωτερικ τµήµα της κινοµενης

κεφαλής. Περίπου κάθε τέσσερις εβδοµάδες

καθαρίστε το κοπτικ σστηµα µε τα ειδικά

καθαριστικά υγρά της Braun.

oil

Εάν το δέρµα σας είναι πολ ξηρ και παρατηρήσετε

τι µειώνεται ο χρνος αποτελεσµατικής λειτουργίας,

απλώστε µία σταγνα λάδι µηχανής στο πλέγµα

ξυρίσµατος.

54

Αντικατάσταση των φθαρτών µερών

Το πλέγµα ξυρίσµατος και το κοπτικ σστηµα είναι

ανταλλακτικά υψηλής ακρίβειας, που υπκεινται σε

φθορές µε το πέρασµα του χρνου. Αντικαταστείστε

τα κάθε 18 µήνες για να έχετε κατά 25% καλτερο

αποτέλεσµα.*

(Πλέγµα ξυρίσµατος και κοπτικ σστηµα

αριθµς ανταλλακτικο 505)
---
7570

(* Γενική εκτίµηση σων χρησιµοποιον ξυριστική

µηχανή Braun, συγκρίνοντας το ξρισµα µετά την

αντικατάσταση των συγκεκριµένων ανταλλακτικών

µε το προηγοµενο.)

Συντήρηση της επαναφορτιζµενης µπαταρίας

• Για να διατηρήσετε τη µέγιστη απδοση της

επαναφορτιζµενης µπαταρίας, η ξυριστική σας

µηχανή θα πρέπει να αποφορτίζεται πλήρως

(θέτοντάς τη σε λειτουργία) περίπου κάθε 6 µήνες.

Μετά επαναφορτίστε τη και πάλι πλήρως. Με αυτ

τον τρπο συντηρείται η επαναφορτιζµενη µπαταρία

της συσκευής.

• Μην αφήνετε τη συσκευή εκτεθειµένη σε

θερµοκρασίες υψηλτερες των 50°C για µεγάλα

χρονικά διαστήµατα.

Αξεσουάρ

∆ιαθέσιµα στα καταστήµατα που πωλονται τα

προϊντα Braun ή στα εξουσιοδοτηµένα σέρβις της

Braun:

Πλέγµα ξυρίσµατος και κοπτικ σστηµα

(αριθµς ανταλλακτικο 505)

Σηµείωση για την προστασία

του περιβάλλοντος

Flex Integral

505

505

Η συσκευή περιέχει επαναφορτιζµενες µπαταρίες

νικελίου-υδριδίου. Για την προστασία του

περιβάλλοντος µην πετάξετε τη συσκευή στα οικιακά

απορρίµατα ταν φθάσει στο τέλος της χρήσιµης

ζωής της. Ανοίξτε το κάλυµµα πως φαίνεται και

αφαιρέστε τις µπαταρίες και παραδώστε τις στο

κατάστηµα λιανικής πώλησης ή στα αρµδια σηµεία

περισυλλογής, σµφωνα µε τους τοπικος

κανονισµος.

Υποκείµενο σε αλλαγές χωρίς προειδοποίηση.

Το προιν αυτ τηρεί τις οδηγίες EMC

πως έχουν καθοριστεί απ την Οδηγία του

Συµβουλίου 89/336/ΕΕC και την Οδηγία

Χαµηλής Τάσεως (73/23/ΕΕC).

55
---
Deutsch

Garantie

Als Hersteller übernehmen wir für dieses Gerät

– nach Wahl des Käufers zusätzlich zu den

gesetzlichen Gewährleistungsansprüchen

gegen den Verkäufer – eine Garantie von 1 Jahr

ab Kaufdatum.

Innerhalb dieser Garantiezeit beseitigen wir nach

unserer Wahl durch Reparatur oder Austausch

des Gerätes unentgeltlich alle Mängel, die auf

Material- oder Herstellungsfehlern beruhen.

Von der Garantie sind ausgenommen: Schäden,

die auf unsachgemäßen Gebrauch (Knickstellen

an der Scherfolie, Bruch) zurückzuführen sind,

Scherfolien- und sonstiger normaler Verschleiß

und Mängel, die den Wert oder die Gebrauchstauglichkeit

des Gerätes nur unerheblich

beeinflussen.

Bei Eingriffen nicht von uns autorisierter Stellen

oder bei Verwendung anderer als original Braun

Ersatzteile erlischt die Garantie.

Die Garantie tritt nur in Kraft, wenn das Kaufdatum

durch Stempel und Unterschrift des Händlers auf

der Garantiekarte und der Registrierkarte bestätigt

ist. Sie kann in allen Ländern in Anspruch

genommen werden, in denen dieses Gerät von

Braun oder von uns autorisierten Händlern verkauft

wird.

Im Garantiefall senden Sie bitte das vollständige

Gerät mit der ausgefüllten Garantiekarte einem

unserer autorisierten Servicehändler oder an eine

Braun Kundendienststelle. Die Anschriften für

Deutschland können Sie zum Nulltarif unter der

Rufnummer 00 800 / 27 28 64 63 erfragen.

Wir stehen Ihnen hier mit unserer Braun Infoline

auch für weitere Fragen zu unseren Produkten

gern zur Verfügung

English

Guarantee

Your Braun product comes complete with a

1 year guarantee that commences on the date

of purchase. For you to obtain service within the

guarantee period you must retain your sales

receipt as proof of purchase.

56

Please ensure you store your sales receipt

in a safe place.

Within the guarantee period we will repair, free of

charge, any defects in the appliance resulting from

faults in materials or workmanship, but may, at our

discretion, choose to exchange specific parts or

replace the complete appliance.

This guarantee does not cover: damage arising

from improper use (kinks in the shaver foil,

breakage), normal wear and defects that have

a negligible effect on the value or operation of the

appliance.

The guarantee becomes void if repairs are undertaken

by unauthorised persons and if original Braun

parts are not used.

The guarantee is valid for 12 months from the

original date of purchase as per your sales receipt.

The guarantee on any repairs or exchanges made

under guarantee expires at the end of this period.

For UK only:

This guarantee in no way affects your rights under

statutory law.

Français

Garantie

Nous accordons une garantie d'un an sur ce

produit, à partir de la date d'achat.

Pendant la durée de la garantie, Braun prendra

gratuitement à sa charge la réparation des vices

de fabrication ou de matières, en se réservant le

droit de décider si certaines pièces doivent être

réparées ou échangées, ou encore si l'appareil

lui-même doit être échangé.

Les dommages occasionnés par une utilisation

inadéquate (choc sur la grille, pièces brisées),

l'usure normale de la grille et les défauts ne portant

préjudice ni au bon fonctionnement ni à la valeur de

l'appareil excluent toute prétention à la garantie.

La garantie devient caduque si des réparations ont

été effectuées par des personnes non agréées par

Braun et si des pièces de rechange ne provenant

pas de Braun ont été utilisées.
---
La garantie ne sera valable que si, la date d'achat

ainsi que le cachet et la signature du magasin

figurent sur la carte de garantie et la carte de

contrôle.

Cette garantie est reconnue dans tous les pays où

Braun ou son distributeur exclusif commercialise

l'appareil et où aucune restriction d'importation ou

règlement officiel n'empêchent d'assurer le service

prévu par la garantie.

Pour toutes réclamations intervenant pendant la

période de garantie, envoyez l'appareil ainsi que sa

carte de garantie à votre revendeur ou à la station

service Braun la plus proche.

Toutes autres formes de prétention à la garantie

sont exclues sauf si des dispositions légales

spécifient le contraire.

Clause speciale pour la France

Outre les dispositions ci-dessus relatives aux

garanties offertes par la société Braun au-delà du

champ d'application de la garantie légale prévue

par le Code civil français, par exemple, après

l'expiration du bref délai de l'article 1648 du Code

civil, s'applique en tout état de cause la garantie

légale qui oblige le vendeur professionnel à garantir

l'acheteur contre toutes les conséquences des

défauts ou vices cachés de la chose vendue ou

du service rendu dans les conditions des articles

1641 et suivants du Code civil.

La garantía perderá su efecto en caso de ser

efectuadas reparaciones por personas no

autorizadas, o si no son usados recambios

originales de Braun.

La garantía solamente tendrá validez si la fecha

de compra es confirmada por el comerciante

mediante su firma y sello sobre la garantía y tarjeta

de registro.

Esta garantía tiene validez en todos los paises

donde este producto sea distribuido por Braun

o por un distribuidor asignado por Braun y donde

las normas oficiales no restrinjan las importaciones

ni impidan que se facilite el servicio bajo garantía.

En caso de reclamación bajo esta garantía, diríjase

al Servicio de Asistencia Técnica de Braun más

cercano.

Cualesquiera otras reclamaciones no especificadas

están excluídas, a menos que la ley prevea

otra cosa con carácter obligatorio.

Sólo para España

Servicio y reparación: Para localizar su Servicio

de Asistencia Técnica Braun más cercano, Ilame

al teléfono 93/4 01 94 40.

Servicio al consumidor: En caso de que tenga

Vd. alguna duda referente al funcionamiento de

este producto, le rogamos contacte con el teléfono

del servicio al consumidor 901-11 61 84.

Español

Garantía

Braun concede a este producto 1 año de garantía

a partir de la fecha de compra.

Dentro del período de garantía, subsanaremos,

sin cargo alguno, cualquier defecto del aparato

imputable tanto a los materiales como a la

fabricación, ya sea reparando, sustituyendo

piezas, o facilitando un aparato nuevo según

nuestro criterio.

Esta garantía no ampara averías por uso indebido

(pliegues en la lámina, rotura), desgaste normal

de la lámina y defectos que causen disminución

en el valor o funcionamiento del aparato.

Português

Garantia

Braun concede a este produto 1 ano de garantia, a

partir da data de compra, nas seguintes condições:

Dentro do periodo de garantia repararemos,

gratuitamente, qualquer avaria provocada por

defeitos de material ou de mão-de-obra.

Esta garantia não cobre qualquer avaria provocada

por má utilização (redes partidas, fracturas), o que

produza um efeito negativo no funcionamento da

máquina, ou gasto normal das peças cortantes.

Esta garantia perde o seu valor se forem efectuadas

reparações na máquina por pessoas não

autorizadas e se não forem utilizadas peças Braun.

57
---
Esta garantia só terá valor se a data de compra

for confirmada com o carimbo e assinatura do

comerciante no cartão de registo de garantia.

No caso de reclamação dentro do periodo de

garantia, entregar a máquina completa e o

cartão de garantia válido, ao agente Braun.

Quaisquer outras reclamações incluíndo danos

estão excluidas desta garantia.

Reclamações provenientes do contrato de venda

com o vendedor não estão cobertas por esta

garantia.

Válido unicamente para Portugal

Assistência técnica e reparações:

Para localizar o seu serviço de assistência técnica

mais perto chame o telefone: 17 22 00 63.

Serviço ao Consumidor:

Em caso de lhe surgir alguma dúvida relativamente

ao funcionamento deste aparelho, solicitamos-lhe

que contacte o telefone do Serviço ao Consumidor:

080 820 00 33.

Italiano

Garanzia

La Braun fornisce una garanzia, valevole per la

durata di 1 anno dalla data dell'acquisto.

Nel periodo di garanzia verranno eliminati, gratuitamente,

i guasti dell'apparecchio conseguenti

a difetti di fabbrica, sia riparando il prodotto

o sostituendo eventuali parti, sia sostituendo

l'intero apparecchio.

Tale garanzia non copre: i danni derivanti da uso

improprio del prodotto (ammaccature della lamina,

rotture), la normale usura delle parti radenti e difetti

marginali che hanno un effetto trascurabile sul

valore o sul funzionamento dell'apparecchio.

La garanzia decade se vengono effettuate

riparazioni da persone non autorizzate o con parti

non originali Braun. La garanzia è valida solo se

la data di acquisto è convalidata dal timbro e firma

del negoziante sulla cartolina di garanzia e sulla

cartolina di registrazione.

La garanzia è estesa a tutti i paesi in cui il prodotto

è fornito dalla Braun o da un suo distributore

autorizzato e dove non siano in vigore leggi

58

o regolamenti che vietino la fornitura del servizio

in garanzia.

Nel caso non foste in grado di reperire l'indirizzo

del Centro di Assistenza autorizzato, il Vostro

negoziante di fiducia potrà fornir Vi informazioni

più dettagliate.

Non dimenticate di consegnare la cartolina di

garanzia, o il documento di acquisto (fattura,

ricevuta fiscale, scontrino fiscale). E'esclusa ogni

altra rivendicazione, a meno che la legge non

preveda espressamente altrimenti.

Nederlands

Garantie

Op dit produkt verlenen wij een garantie van 1 jaar

geldend vanaf koopdatum.

Binnen de garantieperiode zullen eventuele

fabricage- en/of materiaalfouten gratis door ons

worden verholpen, hetzij door reparatie, vervanging

van onderdelen of omruilen van het apparaat.

Beschadigingen ten gevolge van onoordeelkundig

gebruik (het knikken van het scheerblad, breuk),

normale slijtage van het scheerblad en gebreken

die de werking of waarde van het apparaat niet

noemenswaardig beïnvloeden vallen niet onder

de garantie. De garantie vervalt bij reparatie door

niet door ons erkende service-afdelingen en/of

gebruik van niet originele Braun onderdelen.

De garantie geldt alleen als het garantiebewijs en

de registratiekaart zijn voorzien van

aankoopdatum, stempel en handtekening

handelaar/personeel.

Deze garantie is van toepassing in elk land waar dit

apparaat wordt geleverd door Braun of een officieel

aangestelde vertegenwoordiger van Braun en waar

service onder garantie niet gehinderd wordt door

import beperkingen of officiële reglementen.

Bij defect/storing moet het complete apparaat

met garantiebewijs aan de handelaar worden

afgegeven of rechtstreeks aan de Braun servicedienst

worden opgestuurd.

Alle andere schade-claims, inclusief beschadiging,

zijn uitgesloten van garantie tenzij de Wet anders

oordeelt.
---
Andere dan bovengenoemde garantiebepalingen

zullen door ons niet worden gehanteerd.

Dansk

Garanti

Braun yder 1 års garanti på dette produkt

gældende fra købsdatoen.

Inden for garantiperioden forpligter Braun sig til

for egen regning at afhjælpe fabrikations- og

materialefejl efter vort skøn gennem reparation,

udskiftning af dele eller ombytning.

Denne garanti dækker ikke fejl eller skader

opstået ved fejlbetjening, misbrug, mangelfuld

vedligeholdelse (ved buler i skærebladet,

brudskader) samt normalt slid på skærebladet.

Garantien bortfalder ved reparationer udført af

andre end de af Braun anviste reparatører og

hvor originale Braun reservedele ikke er anvendt.

Denne garanti kan gøres gældende i alle lande,

hvor Braun er repræsenteret, og hvor importbegrænsninger

eller andre officielle bestemmelser

om garantiydelser ikke modsiger dette.

Ved afhjælpning af fejl indsendes apparatet af

Deres forhandler til Braun vedlagt stemplet garantibevis

eller anden dokumentation for købsdato.

Braun påtager sig intet ansvar for følgeskader med

mindre dette påbydes ved lov.

Norsk

Garanti

Under følgende betingelser gir vi 1 års garanti

fra kjøpsdato på produktet:

I garantitiden vil vi gratis rette eventuelle

fabrikasjons- eller materialfeil. Vår serviceavdeling

avgjør om dette skal skje ved reparasjon, bytte

av deler eller bytte av hele produktet.

Skader forårsaket av uforskriftsmessig bruk

(bretter og skader i skjærebladet som resultat

av ytre påvirkning, brekkasje), skader som har

ubetydelig effekt for produktets funksjon eller

verdi, og skader som følge av normal slitasje

på skjærebladet dekkes ikke av garantien.

Garantien bortfaller dersom reparasjon utføres

av ikke autorisert person eller hvis andre enn

originale Braun reservedeler benyttes. Garantien

er bare gyldig dersom kjøpsdato er bekreftet

ved forhandlers stempel og signatur på garantiog

registreringskortet.

Denne garanti er gyldig i alle land der Braun eller

Brauns distributør selger produktet, og hvor

importrestriksjoner eller offentlige reguleringer ikke

er til hinder for at garantireparasjoner utføres.

Dersom krav om garantireparasjon oppstår, skal

hele produktet samt gyldig garantikort leveres til

forhandler eller til nærmeste Braun servicekontor.

Andre krav dekkes ikke av garantien, unntatt i de

tilfelle dette forlanges av gjeldende lovgivning.

NB

For varer kjøpt i Norge har kunden 1 års garanti

i henhold til NEL's Leveringsbetingelser.

Svenska

Konsumentköp EHL 91

Gäller vid försäljning till konsument av nya

elektriska hushållsapparater och reglerar,

i anslutning till Konsumentköplagen, köparens

rättigheter om apparaten är felaktig. Säljaren

åtar sig att avhjälpa fel i apparat, som förelegat

vid leveransen och som inte beror på köparen.

Avhjälpande av fel sker kostnadsfritt för köparen.

Köparen skall så snart som möjligt prova apparaten

efter mottagandet och inom skälig tid, normalt

14 dagar, reklamera eventuella fel till säljaren eller

till av säljaren eller leverantören anvisad verkstad.

Reklamation som sker senare än två år från

leveransen kan inte beaktas.

Vid reklamation skall köparen styrka inköpsdatum

och inköpsställe.

(Den fullständiga texten till Konsumentköp EHL 91

finns tillgänglig hos säljaren.)

Suomi

Takuu

Myönnämme 1 vuoden takuun ostopäivästä lukien

tässä takuukortissa mainitulle tuotteelle Suomessa

59
---
voimassa olevien alan yhteisten takuuehtojen TE 90

mukaan.

Takuuaikana korvataan veloituksetta kaikki viat,

jotka aiheutuvat materiaaliviasta tai valmistusvirheestä.

Korvaus tapahtuu harkintamme mukaan

korjaamalla, vaihtamalla viallinen osa tai vaihtamalla

koko laite uuteen.

Takuun piiriin eivät kuulu seuraavat viat: viat,

jotka johtuvat virheellisestä käytöstä (teräverkkoon

tulleet painautumat tai vekit, teräverkon normaali

kuluminen) tai viat, joilla on vähäinen merkitys

laitteen arvoon tai toimintaan.

Takuun voimassaolo lakkaa, jos laitetta korjataan

muualla kuin valtuutetussa Braun-huoltoliikkeessä

tai jos laitteessa käytetään muita kuin alkuperäisiä

Braun-varaosia.

Takuutyön suorittamisen edellytyksenä on,

että asiakas voi osoittaa takuun olevan voimassa

asianmukaisesti täytetyllä takuukortilla tai

yksilöidyllä ostokuitilla.

Η εγγηση παει να ισχει εάν το µηχάνηµα

επισκευασθεί απ µη εξουσιοδοτηµένα

συνεργεία απ την B και αν δεν έχουν

χρησιµοποιηθεί γνήσια ανταλλακτικά Braun.

H εγγηση ισχει µνον εάν η ηµεροµηνία

αγοράς βεβαιώνεται µε την σφραγίδα και την

υπογραφή εµπρου που επώλησε τη συσκευή.

H εγγηση ισχει για λες τις χώρες που

πωλονται τα προϊντα Braun.

Εάν κατά τη διάρκεια του χρνου εγγυήσεως

γίνει επισκευή η ηµεροµηνία που τελειώνει

ο χρνος δεν αλλάζει, οποιαδήποτε άλλη

απαίτηση δεν ισχει εάν δεν έχετε στείλει την

εγγηση σας στο εξουσιοδοτηµένο συνεργείο.

Ττε σε περίπτωση βλαβης να πάτε λο το

µηχάνηµα στο συνεργείο µαζί µε την εγγηση

που έχετε στα χέρια σας.

Takuu on voimassa kaikkialla maailmassa sillä

edellytyksellä, että laitetta myydään ko. maassa

Braun-tytäryhtiön tai virallisen maahantuojan

toimesta.

Takuuhuolto ei vaikuta takuun voimassaoloon.

Takuu lakkaa 1 vuoden kuluttua myös vaihdettujen

osien tai kokonaan vaihdetun laitteen osalta.

Takuuvaatimuksen yhteydessä tulee toimittaa laite

kokonaisuudessaan sekä asianmukaisesti täytetty

takuukortti tai ostokuitti liikkeeseen tai lähimpään

valtuutettuun Braun-huoltoliikkeeseen.

Ελληνικά

Εγγηση

Γι αυτ τ προϊν δίνουµε 1 χρνο εγγηση

απ την ηµέρα της αγοράς. Κατά την διάρκεια

της εγγυήσεως καλπτοµε οποιοδήποτε

ελάττωµα προερχµενο απ κακή κατασκευή

ή κακής ποιτητος υλικ, εκτς του εξωτερικο

µέρους του µηχανήµατος.

H εγγηση δεν καλπτει βλάβη προερχµενη

απ κακή χρήση, η απ χρήση σε λανθασµένη

ισχ ρεµατος.

60
---
Garantiebüros und

Kundendienstzentralen

Guarantee and Service Centers

Bureaux de garantie et centrales

service après-vente

Oficinas de garantia y oficinas

centrales del servicio

Entidade de garantia e centros

de serviço

Uffici e sede centrale del

servizio clienti

Garantiebureaux en servicecentrales

Garantikontorer og centrale

serviceafdelinger

Garanti og servicecenter

Servicekontor och centrala

kundtjänstplatser

Asiakaspalvelu ja tekninen

neuvonta

Garanti bürolari ve merkezi

servis yerleri

Εγγηση και Εργαστήριο

επισκευών

Bundesrepublik Deutschland

Braun GmbH, Kundendienst,

Westerbachstr. 23 H,

61476 Kronberg,

" 00 800 / 27 28 64 63

Argentina

Central de Reparación

de Afeitadoras S.A.,

Paraguay 757,

1057 Buenos Aires,

" 114 311 44 00

Australia

Gillette Australia Pty. Ltd.,

Private Bag 10, Scoresby,

Melbourne, Victoria 3179,

" 3 9757 4704

Austria

Gillette Gruppe Österreich,

IZ-NÖ Süd, Straße 2, Objekt M21,

2355 Wiener Neudorf,

" 00800-27 28 64 63

Bahrain

Yaquby Stores W.L.L.,

Bab-Al Bahrain Road,

P.O. Box 158,

Manama,

" 21 09 59

Barbados

Dacosta Mannings Inc.,

P.O. Box 176, Carlisle House,

Bridgetown,

" 431-8700

Belarus

Electro Service & Co Ltd.,

Belskogo St. 27-34,

220015 Minsk,

" 172 85 69 22

Belgium

Gillette Group Belgium N.V./S.A.,

J. E. Mommaertslaan 18 a,

1831 Diegem,

" 2 711 92 11

Bermuda

Stuart's Ltd., Reid Street,

P.O. Box HM 2705, Hamilton,

" 2 95 54 96

Brasil

Picolli Service,

Rua Túlio Teodoro

de Campos, 209,

Jd. Aeroporto – CEP 04360-040,

São Paulo – SP,

" 11 5031 7900

Bulgaria

Stambouli Ltd.,

16/A Srebarna Street,

1407 Sofia,

" 29 62 50 00

Canada

Gillette Canada,

110 Matheson Blvd.West,

Suite 200,

Mississauga L5R 3T4, Ontario,

" 905 712 54 00

Ceská Republika

PH SERVIS sro.,

V Mezihori 2,

18000 Praha 8,

" 2 663 105 74

Chile

Viseelec,

Concha y Toro 4399,

Puente Alto,

Santiago,

" 2 288 25 18

China

Braun (Shanghai) International

Trading Co., Ltd.,

550 Sanlin Road, Pudong,

Shanghai 200124,

" 21 584 98 000

Croatia

Iskra elektronika d.o.o.,

Bozidara Magovca 63,

10020 Zagreb,

" 01- 6 60 17 77

Curacao

Boolchand Pessoomal,

Heerenstraat 4 B, P.O. Box 36,

Curacao, Netherlands Antilles,

" 9 61 22 62

Cyprus

V. H. R. Electrical Co. Ltd.,

Megaelectric,

21 Academias Avenue,

2107 Nicosia,

" 3572 550406

Danmark

Gillette Group Danmark A/S,

Teglholm Allé 15,

2450 Kobenhavn SV,

" 33 26 91 00

Djibouti (Republique de)

Ets. Nouraddine,

Magasin de la Seine,

12 Place du 27 Juin, B.P. 2500,

Djibouti, " 35 19 91

Egypt

Zahran Trading Co.,

14 May Road – Semouha,

21615 Alexandria,

" 34 20 81 01/2/3

España

Braun Espanola S.A.,

Braun Service,

Enrique Granados, 46,

08950 Esplugues de Llobregat

(Barcelona), " 93 401 94 45

61
---
Estonia

Serwest Ltd.,

Raua 55, 10152 Tallinn,

" 627 87 30

France

Groupe Gillette France -

Division Braun,

9, Place Marie Jeanne Bassot,

92693 Levallois Perret Cédex,

" (1) 4748 70 00,

Minitel 3615 code Braun.

Liste Centres-Service sur demande

Great Britain

Gillette Group UK Ltd.,

Braun Consumer Service,

Great West Road,

Isleworth TW7 5NP;

Middlesex,

" 181 326 8608

Greece/Ellas

Berson S.A.,

47, Agamemnonos Str.,

17675 Athens,

" 01-9 40 94 00

Guadeloupe

Ets. André Haan S.A.,

B.P. 335, 97161 Pointe-à-Pitre,

" 26 68 48

Hong Kong

Audio Supplies Company,

Room 506,

St. George's Building,

2 ICE House Street,

Hong Kong,

" 25 24-93 77

Hungary

Kisgep KFT,

Pannonia u. 23,

1136 Budapest,

" 1 349 49 55

Iceland

Verzlunin Pfaff h.f.,

Grensasvegur 13,

Box 714, 121 Reykjavik,

" 5 33 22 22

India

Braun Division,

c/o Gillette Div. Op. Pvt. Ltd.,

34, Okhla Industrial Estate,

New Delhi 110 020,

" 11 68 30 218

Ireland (Republic of)

Gavins Shaver Centre,

83/84, Lower Camden Street,

Dublin 2,

" 47571 09

Israel

S. Schestowitz Ltd.,

6 Josef Caro St., Tel-Aviv, 67014

" 1 800 335 959

62

Italia

Servizio Consumatori Braun

c/o Gillette Group Italy S.p.A.,

Via G.B. Pirelli, 18,

20124 Milano,

" 02 / 667861

Jordan

A. Dajani & Sons Co.,

Shamaisani/Sherif Jamil Bin

Naser Street, P.O. Box 926976,

Amman 11110,

" 6552 5545

Kenya

Radbone-Clark Power Technics

Ltd.,

P.O. Box 49197,

Mombasa Road,

Nairobi,

" 2 82 36 60

Korea

STC Industries

Corp. Braun Division,

32, Mullae-Dong 3-KA,

Youngdeungpo-Ku,

Seoul 150-090,

" 22 678 97 32

Kuwait

Union Trading Co. W.L.L.,

P.O. Box 28,

Safat Code 13001, Kuwait,

" 4 83 46 05

Latvia

Latintertehserviss Co.,

72 Bullu Street, House 2,

Riga 1067,

" 2 40 37 19

Lebanon

Aurora s.a.r.l./Fital Group,

P.O. Box 110-773,

Beirut,

" 1 51 20 02

Lituania

Elektronas AB,

Joint Stock Company,

Kareiviu 6,

2600 Vilnius,

" 277 76 17

Luxembourg

Sogel S.A.,

1 Dernier Sol, BP 1941,

1019 Bonnevoie,

" 4 00 50 51

Libya

Ariej for Domestic & Electrical

Appliances,

First September street,

P.O. Box 4996, Tripoli,

" 21 333 8492

Malaysia

Gillette Malaysia Sdn. Bhd.,

Braun Customer Service,

11 A Persiaran Selangor,

P.O. B. 7013,

40200 Shah Alam,

Selangor Darul Ehsan,

" 3 55 19 21 16

Malta

Kind's,

287, Republic Street,

Valletta VLT04,

" 24 71 18

Maroc

Indimar S.A.,

86, rue de Chaouia

(ex. rue Colbert),

Casablanca,

" 2 26 86 31

Martinique

Decius Absalon,

23 Rue du Vieux-Chemin,

P.O. Box 71,

97201 Fort-de-France Cedex,

" 73 43 15

Mauritius

J. Kalachand & Co. Ltd.,

Bld DBM Industrial Estate,

Plaine Lauzun,

" 2 12 53 13

Mexico

Braun de México y Cia. de C.V.,

Calle Cuatro No.4,

Fracc. Industrial Alce Blanco,

Naucalpan de Juárez

53370, Estado de México,

" 5 387-1900

Nederland

Gillette Groep Nederland BV,

Visseringlaan 20-22,

2288 ER Rijswijk,

" 70-4 13 16 58

New Zealand

Key Service Ltd.,

c/o Gillette NZ,

59-63 Druces Rd.,

Manakau City,

Auckland,

" 9-262 58 38

Nippon

Braun Gillette Japan Inc.,

Siber Hegner Bldg., 7th Floor,

89-1 Yamashita-cho, Naka-ku,

P.O. Box 247,

Yokohama 231-0023,

" 4 56 81 79 53

Norge

Gillette Group Norge AS,

Nils Hansen vei 4,

Postboks 79 Bryn,

0611 Oslo, " 22 72 88 10
---
Oman (Sultanate of)

Naranjee Hirjee & Co. LLC.,

82 Oryx House, Al Burj St.,

P.O. Box 9, Muscat 113,

" 784 842

Pakistan

Anis Ahmed & Bros.,

Cambell Street, 18 Zamindar Bdg.,

Karachi 74200,

" 2 14 53 63 48

Paraguay

Paraguay Trading S.A.,

Avda. Artigas y Cacique Cara Cara,

Asunción,

" 21203350/48/46

Philippines

Gillette Philippines Inc.,

Sucat, Paranaque City,

Villongco Road,

" 2 00 22 to 29

Poland

Gillette Poland S.A.,

Budynek Orion, I pietro,

ul. Domaniewska 41,

02-672 Warszawa,

" 548 88 88

Portugal

Gillette Portuguesa, Ltd.,

Braun Service,

Centro Empresarial

Torres da Lisboa,

Rua Tomás da Fonseca,

Torre G - 9 ºB,

1600 Lisboa, " 17 22 00 63

Qatar

Al-Baker Trading Co.,

P.O. Box 9, Doha,

" 621 059

Réunion

Dindar Confort,

58, rue Maréchal Leclerc,

P.O. Box 12,

97400 St. Denis,

" 40 12 50

Romania

Tamisa Trading SRL,

Soseaua Pipera - Tunari 2C,

Comuna Voluntari 729941,

Judetul Ilfov,

" 1 49 083 60

Russia

Braun Russia

c/o Gillette Int.,

Paveletskaia sq. 2, Bldg. 3, 8 Floor,

113054 Moscow,

" (095) 258 62 65

Saudi Arabia

Salem M. Bakhashwain

Sons Co. Ltd., P.O. Box 743,

21421 Jeddah, " 65 72 900

Schweiz/Suisse/Svizzera

Telion AG, Rütistrasse 26,

8952 Schlieren,

" 17 32 15 11

Singapore (Republic of)

Beste (S) Pte. Ltd.,

6 Tagore Drive,

# 03-04 Tagore Industrial Building,

Singapore 787623,

" 4 552 24 22

Slovenia

Coming d.d.,

Slovenceva 024,

1000 Ljubljana,

" 386-01-560-40-00

Slovakia

Techno Servis Bratislava spol.

s.r.o.,

Bajzova 11/A,

82108 Bratislava,

" 7 / 55568161

South Africa (Republic of)

Fixnet cc,

17B Allandale Office Park,

P.O. Box 5716,

Cnr Morkels and Le Roux Street,

Johannesburg 1685,

Midrand,

" 11 315 9260/1

South Pacific

Woodward's Agencies,

39 Taylor's Rd., Kingston,

Norfolk Island, " 24 05

St. Maarten

Ashoka,

P.O. Box 79,

Philipsburg,

Netherlands Antilles,

" 52 33 74

St.Thomas

Boolchand's Ltd.,

31 Main Street,

P.O. Box 5667,

00803 St. Thomas,

US Virgin Islands,

" 340 776 0302

Suomi

Gillette Group Finland Oy/Braun,

Niittykatu 8, PL 9, 02200 Espoo,

Asiakaspalvelu 0203 77877

Tekninen neuvonta 09-45 28 71

Sverige

Gillette Group Sverige AB,

Division Braun, Box 1056,

172 22 Sundbyberg,

" 020-21 33 21

Syria

Unisyria, P.O. Box 35002,

Damascus,

" 11 622 2881

Taiwan, R.O.C.

Audio & Electr. Supplies Ltd.,

Brothers Bdlg., 10th Floor,

85 Chung Shan N Rd., Sec.1,

Taipei (104),

" 2 252 33 283

Thailand

Gillette Thailand Limited,

Ladkrabang Industrial Estate,

109 Moo 4,

Chalongkrung Rd.,

Lamplatew Ladkrabang,

Bangkok 10520,

" 2 326 0380 3400

Tunesie

Generale d'Equipement Industr.,

5, Rue 7182 El Manar 1,

Tunis,

" 1 89 07 50

Turkey

Bosas Bakim Onarim A.S.,

Yeniyol Sok. TEBA Is Merkezi,

No. 20,

35470 Kadikoy-Istanbul,

" 216 327 41 10

United Arab Emirates

The New Store,

P.O. Box 3029,

Dubai,

" 43 53 45 06

Uruguay

Driva S.A.,

Marcelilno Sosa 2064,

11800 Montevideo,

" 2 924 95 76

USA

Gillette Company,

Braun Division 6D,

1, Gillette Park,

Boston, MA 02127,

" 1-800-272-8611

Venezuela

Coral C.A.,

Edificio Larco,

Calle la Limonera,

La Trinidad – Caracas 1080,

" 2 93 38 77

Yemen (Republic of)

Saba Stores for Trading,

26th September Street,

P.O. Box 5278,

Taiz,

" 4 226 6359

Yugoslavia

BG Elektronik,

Bulevar revolucije 34,

11000 Beograd,

" 11 3240 030

63
---
Braun Flex Integral System

5441

Garantiekarte

Guarantee Card

Carte de garantie

Tarjeta de garantía

Cartão de garantia

Carta di garanzia

Garantiebewijs

Garantibevis

Köpbevis

Takuukortti

Κάρτα εγγυήσεως

Braun Flex Integral System

5441

Registrierkarte

Registration Card

Carte de contrôle

Tarjeta de registro

Cartão de registo

Cartolina di registrazione

Registratiekaart

Registreringskort

Κάρτα καταχωρήσεως

Service notes

Name und vollständige Anschrift des Käufers

Name and full address of purchaser

Nom et adresse complète de l'acheteur

Nombre y dirección completa del comprador

Nome e direcção completa do comprador

Nome e indirizzo completo dell'acquirente

Naam en volledig adres van de koper

Kjøperens navn og adresse

Köparens namn och fullständiga adress

Ονοµα και πλήρης διεθυνσις αγοραστο
---
Kaufdatum

Date of purchase

Date d'achat

Fecha de adquisición

Data de compra

Data d'acquisto

Koopdatum

Kjøpsdato

Inköpsdatum

Hµεροµηνία αγοράς

Kaufdatum

Date of purchase

Date d'achat

Fecha de adquisición

Data de compra

Data d'acquisto

Koopdatum

Købsdato

Kjøpsdato

Inköpsdatum

Ostopäivä

Hµεροµηνία αγοράς

Stempel und Unterschrift des Händlers

Stamp and signature of dealer

Cachet et signature du commerçant

Sello y firma del proveedor

Carimbo e assinatura do vendedor

Timbro e firma del negozio

Stempel en handtekening van de handelaar

Stempel og underskrift av forhandleren

Återförsäljares stämpel och underskrift

Σφραγίδα και υπογραφή καταστήµατος

✂

Stempel und Unterschrift des Händlers

Stamp and signature of dealer

Cachet et signature du commerçant

Sello y firma del proveedor

Carimbo e assinatura do vendedor

Timbro e firma del negozio

Stempel en handtekening van de handelaar

Forhandlerens stempel og underskrift

Stempel og underskrift av forhandleren

Återförsäljares stämpel och underskrift

Myyjän leima ja allekirjoitus

Σφραγίδα και υπογραφή καταστήµατος