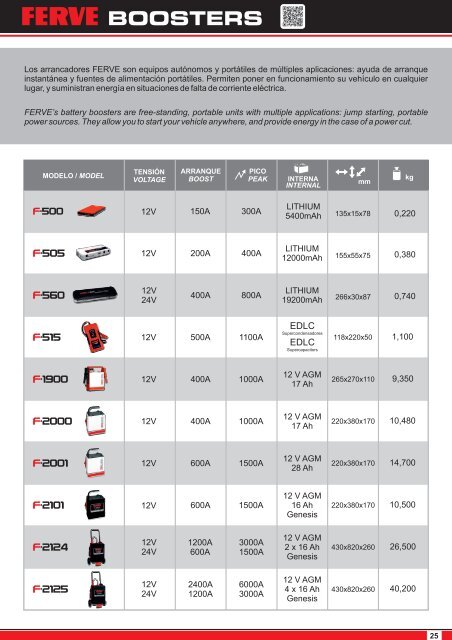 Catalogo FERVE 2020 Empresa especializada en la fabricación de cargadores y comprobadores de baterías y demás componentes al servicio de la batería de automoción desde 1956.
Principales productos: Cargadores de baterías, cargadores-comprobadores de baterías, arrancadores, comprobadores de baterías y alternadores, cables de emergencia y accesorios para batería.
BOOSTERS

25

Los arrancadores FERVE son equipos autónomos y portátiles de múltiples aplicaciones: ayuda de arranque

instantánea y fuentes de alimentación portátiles. Permiten poner en funcionamiento su vehículo en cualquier

lugar, y suministran energía en situaciones de falta de corriente eléctrica.

FERVE's battery boosters are free-standing, portable units with multiple applications: jump starting, portable

power sources. They allow you to start your vehicle anywhere, and provide energy in the case of a power cut.

MODELO / MODEL

TENSIÓN

VOLTAGE

ARRANQUE

BOOST

PICO

PEAK

INTERNA

INTERNAL

mm

kg

12V 150A 300A

LITHIUM

5400mAh

135x15x78

0,220

BOOSTER

12V

200A

400A

LITHIUM

12000mAh

155x55x75

0,380

12V

24V

400A

800A

LITHIUM

19200mAh

266x30x87 0,740

12V 500A 1100A

EDLC

Supercondensadores

EDLC

Supercapacitors

118x220x50 1,100

12V

400A

1000A

12 V AGM

17 Ah

265x270x110 9,350

12V

400A

1000A

12 V AGM

17 Ah

220x380x170

10,480

12V

600A

1500A

12 V AGM

28 Ah

220x380x170

14,700

12V

600A

1500A

12 V AGM

16 Ah

Genesis

220x380x170

10,500

12V

24V

1200A

600A

3000A

1500A

12 V AGM

2 x 16 Ah

Genesis

430x820x260 26,500

12V

24V

2400A

1200A

6000A

3000A

12 V AGM

4 x 16 Ah

Genesis

430x820x260

40,200