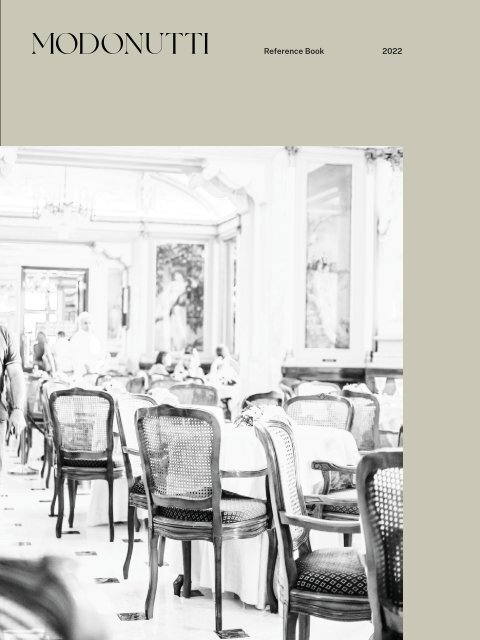 220419_Modonutti_Reference-book
You also want an ePaper? Increase the reach of your titles
YUMPU automatically turns print PDFs into web optimized ePapers that Google loves.
Reference Book 2022
---
Reference book

Il valore

della tradizione

e dell'artigianalità,

dal 1967

3

The value of tradition

and craftsmanship, since 1967
---
Reference book

L'azienda

Company

Negli anni le collezioni Modonutti sono passate di padre in figlio diventando quella che

oggi è una moderna organizzazione che opera dal settore Contract, all'Industrial e infine

al Retail. Modonutti produce qualsiasi tipologia di seduta, dalla più classica alla più

moderna, mantenendo i valori di due generazioni: tradizione artigianale, Made in Italy e

cura dei dettagli con attenzione all'innovazione e alla tendenza.

Da anni Modonutti è in contatto diretto con rinomati designer, architetti e albergatori di

tutto il mondo grazie ai suoi prodotti che si trovano splendidamente inseriti in ambienti

come il St. Petersburg Governing Palace, la sede delle Nazioni Unite a New York, prestigiosi

hotel come il Bellagio di Las Vegas, il Four Seasons di Milano, il Rome Marriott Park

Hotel di Roma o il Gran Hotel Villa d'Este di Cernobbio sul Lago di Como.

5

Modonutti is a brand that has been present in the contract furnishing sector since 1967

with strong focus in the production of classic and modern style wood chairs and wood

armchairs. Over the years the Modonutti collections passed from father to son becoming

what today is a modern organization operating right across the Contract sector, to the

Industrial and lastly to the Retail sector. Modonutti produces any type of seating, from

the most classic to the most original, maintaining the values of two generations: craft

traditions, Made in Italy and attention to detail with innovation and focus on the trends.

For years the Modonutti has been in direct contact with renowned designers, architects

and hoteliers throughout the world thanks to its products that sit splendidly placed in

surroundings like the St. Petersburg Governing Palace, la UN head-quarters in New York,

prestigious hotels like the Bellagio in Las Vegas, the Four Seasons in Milan, the Rome

Marriott Park Hotel in Rome or the Gran Hotel Villa d'Este in Cernobbio in Lake Como.
---
Reference book

Pochi oggetti raccontano la storia del design così

eloquentemente come una sedia. Un elemento

apparentemente comune ma pervaso da intensi e

complessi significati: l'estetica, l'ergonomia, l'emergere

di nuove tecnologie, contenuti culturali e sociali si

riversano nell'evoluzione di questo prodotto.

7

Very few items really tel1 the story

of design as eloquently as a chair.

What seems like an every day

item is actually the key to intense

and complex meanings: design,

ergonomics, new technology, cultural

and even social aspects are all caught

up in one product.
---
Reference book

Events

Restaurants

Residentials

9

Hotels

Theatres
---
Reference book

Eccellenza senza confini

Boundless excellence

Interlocutrice diretta di interior designer, architetti e albergatori,

Modonutti si rivolge prevalentemente al settore contract, ma parla con

stile anche al retail. Modonutti gira il mondo. Lo fa col suo prodotto,

scelto per arredare i più prestigiosi ambienti pubblici e privati. Lo fa

con la sua immagine, presentata nelle maggiori fiere internazionali

del settore. Lo fa attraverso la testimonianza di chi ogni giorno sceglie

Modonutti per rendere uno spazio esclusivo, originale ed elegante.

11

Partner of interior designers, architects and hoteliers, Modonutti is

mainly aimed at the contract sector but also addresses, with style, the

retail world. Modonutti is present worldwide. It does it thanks to its

products, chosen to furnish some of the most prestigious public and

private locations in the world. It does it thanks to its reputation, on view

at the major international sector exhibitions. It does it thanks to who

every day chooses Modonutti to make their locations exclusive, original

and elegant.
---
Reference book

Grand Caffè

Gambrinus

Naples - Italy

P 221 Dèsirée

13
---
Reference book

15
---
Reference book

Hotel

Frederiksminde

Praesto - Denmark

S 200 Amandine

P 200 Amandine

17
---
Reference book

19
---
Reference book

Pavillon d'Orléans

Versailles - France

S 200 Amandine, P 200 Amandine

21
---
Reference book

Rules

restaurant

London - UK

S 329 - Sedia fuori produzione

23
---
Reference book

Angelina

Paris - France

S 200 Amandine

25
---
Reference book

Hotel

Art Atelier

S 266 Michelle

Florence - Italy

Nome Prodotto

27
---
Reference book

29
---
Reference book

Hotel Cambridge

Jesolo - Italy

Hotel dell'Accademia

Bologna - Italy

S 800 - Sedia fuori produzione

S 219

31
---
Reference book

Hotel Trocadero

Paris - France

P 210 Caroline

33
---
Reference book

Bristol Hotel

Oslo - Norway

S 210 Caroline

35
---
Reference book

S 210 Caroline

37
---
Reference book

Corniche Hotel

Abu Dhabi - United Emirates

Mathis Hotel

Paris - France

S 245 Gisèle

P 215 Chloé

39
---
Reference book

Villa Orselina

Locarno - Switzerland

B French

41
---
Reference book

P 221 Désirée

43

B French

P 200 Amandine
---
Reference book

Kursalon

Nome S Samu Prodotto -B - Sedia fuori produzione

Vienna - Austria

S 246

45
---
Reference book

Prodotti

Products

47

P 221 Dèsirèe S 200 Amandine P 200 Amandine S 210 Caroline P 210 Caroline P 215 Chloé

S 246 S 266 Michelle S 219 B French S 245 Gisélle
---
Reference book

Indice

Index

Austria

Hotel Berner - Zell am See (AU)

Hotel Moselebauer (AU)

Hotel Norica - Bad Hofgastein (AU)

Kursalon – Vienna (AU)

Francia

Angelina – Parigi

Barocco Caffè – Pau

Brasserie Francotte – Lione

Carte Blanche – Hyères

Casa di riposo – Parigi

Chalet Mounier - Les 2 Alpes

Chateau de Beauchamp - La chapelle-de-guinchay

Chateau Les Oliviers de Salettes - Charols

Chez Lize – Nancy

Cote Rotisserie – Erveux

Domaine de la Butte Ronde - La boissiere-ecole

Dupont avec un Thé – Cabourg

Grand hotel des Sablettes Plages by Hilton

Gran Casinò Cabourg – Cabourg

Häagen-Dazs – Parigi

Hotel Altitude - Val d'Isere

Hotel Carlton Intercontinental Cannes - Cannes

Hotel Mathis Elysèes – Parigi

Hotel Trocadero – Parigi

La Gentilhommière - Artres

La maison de Lea – Parigi

La Vague D'or

La scala – Parigi

L'agua bastia – Corsica

L'Assiette du prof – Lione

Le Bourghail – Pessac

Le Budoir – Nizza

Le Chabichou – Couchevel

Le Chalet Mounier – Les Deux Alpes

Le Comptoir – Concarneau

Le Gentillhomierre – Artres

Le Meurice – Paris

Le Moulin Rejallant – Ruffec

Le Patio D'Hauteville – Penne D'Agenais

Le Pavillon caffè – Rennes

Le Saint Georges – Palavas-les-Flots

Le Wok 1 – Rennes

L'Epée – Quimper

Luxury Hotel Le Maurice – Parigi

Pavillon versailles – Parigi

Restaurant Moon – Rennes

Italia

Alle Grazie – Monza

Antica trattoria Due Mori – Trento

Azienda Agricola Luisa – Mariano del Friuli

Best Western Gorizia Palace Hotel – Gorizia

Biblioteca di Cividale – Cividale

Camera dei deputati - Roma

Caffè Commercio – Venezia

Castello ducale di Faicchio - Benevento

Castello Monaci – Lecce

Caffè Gambrinus – Napoli

Ciasa Salares - San Cassiano

Corte dei Papi – Arezzo

Four Points Sheraton – Milano

Gente di Mare – Milano

Giardino & Lounge restaurant – Ascona

Hotel Accademia – Bologna

Hotel Arnika – Moena

Hotel Art Atellier – Firenze

Hotel Cambridge – Jesolo

Hotel de Paris – Sanremo

Hotel Floridiana – Ischia

Hotel Giamaika - Villamarina di Cesenatico

Hotel la Fenice – Venezia

Hotel Villa Olmi – Firenze

Hotel Nettuno – Forio d'Ischia

Hotel Visconteo – Milano

Il Principe Palace – Jesolo

Il Veliero – Grosseto

Locanda al Castello - Cividale

Kogins – Torino

Molino Stucky – Venezia

Negozio Mila Schon – Milano

Parco La Serra - Castellana Grotte

Ciasa Salares – San Cassiano (IT)

Reference

Parco La Serra – Castellana Grotte (IT)

Corniche Hotel Abu Dhabi – Abu Dhabi (ARE)

Luxury Hotel Ritz – Madrid (SP)

Hotel Norica – Bad Hofgastein (AU)

Le Saint Georges - Palavas-les-Flots (FR)

Le Meurice – Paris (FR)

Hotel Carlton Intercontinental – Cannes (FR)

Villa giulia Ristorante al terrazzo – Lecco (IT)

Villa Ramacca – Bagheria (IT)

Molino Stucky – Venezia (IT)

49
---
Reference book

Indice

Index

Reggia dei Tessali – Ginosa

Ristorante 662 – Roma

Ristorante Bella Napoli – Varese

Ristorante Le Macine – Cosenza

Royal Hotel – Sanremo

Savoy beach Hotel – Paestum

Villa Giustinian – Treviso

Tenuta Moreno – Mesagne

Villa giulia Ristorante al terrazzo -Lecco

Villa Isabella – Caltanisetta

Villa oleandri – Paestum

Villa Ramacca – Bagheria

Lussemburgo

Le etit maison – Lussemburgo

Norvegia

Bristol Oslo – Oslo

Ucraina

Banquet Hall Lucia – Dnipropetrovsk

Stati Uniti

Sala consigliare ONU

Dupont avec un Thé (FR)

Reference

Kursalon (AU)

Hotel Frederiksmide (DNK)

Russia

Shampan - Mosca

Emirati Arabi Uniti

Corniche Hotel Abu Dhabi - Abu Dhabi

Hotel de Paris (IT)

51

Belgio

Aperitivo – Genk

Hotel Fonteinhof - Borgloon

Hotel Giamaika (IT)

Hotel Frederiksmunde (DNK)

Svizzera

Delmonico – Zurigo

Hotel & Resort Orselina – Orselina

Hotel Luxury President Wilson -Genevre

Molino Seilerhouse – Zermatt

Vanity by Capi Ombre – Ginevra

Villa Barone – Zurigo

Villa duchessa – Winterthur

Bristol (NOR)

Hotel de Paris (IT)

Danimarca

Hotel Fred Eriksminde – Praesto

Finlandia

Teatro Musicale Palatsi – Tampere

Inghilterra

Rules – London

Reggia dei Tessali (IT)

Chez Lize (FR)

Hotel Luxury President Wilson (CHE)
---
MODONUTTI S.r.l

Strada di Planez, 84 Loc. Casali Romanutti

Cividale del Friuli 33043

Udine - Italy

PI 00183100304

Tel. +39 0432731993

Fax +39 0432731981

info@modonutti.it

www.modonutti.it