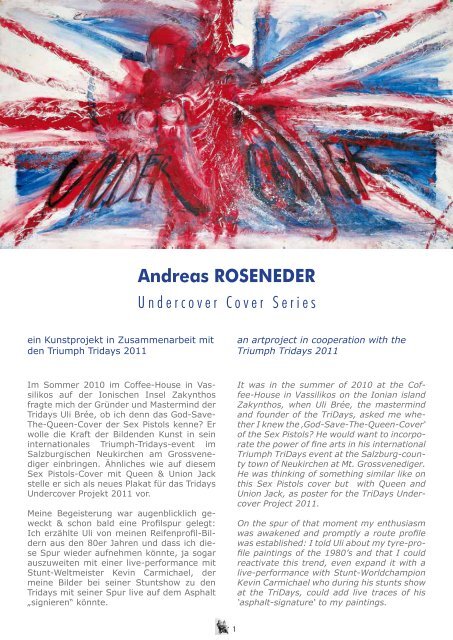 Andreas Roseneder - UNDER COVER
describes the project of the artist Andreas Roseneder for Triumph Tridays
describes the project of the artist Andreas Roseneder for Triumph Tridays
SHOW MORE
SHOW LESS
Create successful ePaper yourself
Turn your PDF publications into a flip-book with our unique Google optimized e-Paper software.
ein Kunstprojekt in Zusammenarbeit mit<br />
den Triumph Tridays 2011<br />
Im Sommer 2010 im Coffee-House in Vassilikos<br />
auf der Ionischen Insel Zakynthos<br />
fragte mich der Gründer und Mastermind der<br />
Tridays Uli Brée, ob ich denn das God-Save-<br />
The-Queen-Cover der Sex Pistols kenne? Er<br />
wolle die Kraft der Bildenden Kunst in sein<br />
internationales Triumph-Tridays-event im<br />
Salzburgischen Neukirchen am Grossvenediger<br />
einbringen. Ähnliches wie auf diesem<br />
Sex Pistols-Cover mit Queen & Union Jack<br />
stelle er sich als neues Plakat für das Tridays<br />
Undercover Projekt 2011 vor.<br />
Meine Begeisterung war augenblicklich geweckt<br />
& schon bald eine Profilspur gelegt:<br />
Ich erzählte Uli von meinen Reifenprofil-Bildern<br />
aus den 80er Jahren und dass ich diese<br />
Spur wieder aufnehmen könnte, ja sogar<br />
auszuweiten mit einer live-performance mit<br />
Stunt-Weltmeister Kevin Carmichael, der<br />
meine Bilder bei seiner Stuntshow zu den<br />
Tridays mit seiner Spur live auf dem Asphalt<br />
"signieren" könnte.<br />
<strong>Andreas</strong> ROSENEDER<br />
Undercover Cover Series<br />
1<br />
an artproject in cooperation with the<br />
Triumph Tridays 2011<br />
It was in the summer of 2010 at the Coffee-House<br />
in Vassilikos on the Ionian island<br />
Zakynthos, when Uli Brée, the mastermind<br />
and founder of the TriDays, asked me whether<br />
I knew the 'God-Save-The-Queen-Cover'<br />
of the Sex Pistols? He would want to incorporate<br />
the power of fine arts in his international<br />
Triumph TriDays event at the Salzburg-county<br />
town of Neukirchen at Mt. Grossvenediger.<br />
He was thinking of something similar like on<br />
this Sex Pistols cover but with Queen and<br />
Union Jack, as poster for the TriDays Undercover<br />
Project 2011.<br />
On the spur of that moment my enthusiasm<br />
was awakened and promptly a route profile<br />
was established: I told Uli about my tyre-profile<br />
paintings of the 1980's and that I could<br />
reactivate this trend, even expand it with a<br />
live-performance with Stunt-Worldchampion<br />
Kevin Carmichael who during his stunts show<br />
at the TriDays, could add live traces of his<br />
'asphalt-signature' to my paintings.
---
Wieder Zuhause bekam ich die dafür erforderlichen/gewünschten<br />
Bridgestone Battlax<br />
Reifen zugesandt - auf knallrote Aluminiumfelgen<br />
gezogen- und ritt bald darauf die<br />
stripes meines ersten Union Jack – nicht<br />
ohne zuvor über die Verhältnisse der Heiligen<br />
St. George, St. Patrick & St. Andrew auf der<br />
Flagge gründlich recherchiert & dadurch die<br />
ineinander verschobenen Symmetrien ihrer<br />
Kreuze auf der Flagge verinnerlicht, ja beinah<br />
einverleibt zu haben…<br />
"<br />
"<br />
Back home, I received for this purpose the<br />
required and wanted Bridgestone Battlax<br />
tyres –mounted on a bright red aluminium<br />
wheel- and was soon riding my first Union<br />
Jack stripes on canvas – not without prior indepth<br />
research though, about the relation to<br />
the flag of the saints St. George, St. Patrick<br />
and St. Andrew which enabled a deep intake<br />
if not imbibing, of the symmetrics of their<br />
intertwined crosses on the flag.<br />
Niemand kann den Spirit der Tridays so wunderbar in Farben einfangen wie<br />
<strong>Andreas</strong> <strong>Roseneder</strong>. Wir hatten die Ehre ihn für das Cover 2011 zu gewinnen.<br />
Und womit malt ein besonderer Künstler für einen speziellen Motorradevent?<br />
Selbstverständlich in Öl! Es gibt ein berühmtes Buch über die Kunst ein Motorrad<br />
zu fahren, aber keines über die Kunst eines zu malen.<br />
<strong>Andreas</strong> hat dieses Buch gewissermassen gemalt.<br />
Uli Brée<br />
Nobody can catch the spirit of the TriDays as wunderfully in colours as can<br />
<strong>Andreas</strong> <strong>Roseneder</strong>. We had the honour to interest him in the Cover 2011.<br />
And with what does such a special artist paint for such a special motorbike<br />
event? Of course in oil! There is a famous book on the art of riding a motorcycle,<br />
but none on the art to paint one. <strong>Andreas</strong> has virtually painted this<br />
book.<br />
Uli Brée<br />
"<br />
"
---
live Art Performance, Tridays 2011 - with Kevin Carmichael & Dirk Manderbach<br />
" <strong>Andreas</strong> <strong>Roseneder</strong> malt kraftvoll und ausladend, " <strong>Andreas</strong> <strong>Roseneder</strong> paints in a powerful and ex-<br />
farbenfroh und mit philosophioscher Grundlage, pansive manner, colourfully on philosophical<br />
und: Man kann ihm dabei zusehen! Bei verschie- grounds, and: You can watch him by doing! At<br />
densten Aktionen und Happenings kann man different actions and happenings you can admire<br />
bewundern, wie er mit Farben hantiert und sie how he handles colours and applies them in his<br />
phantastisch einsetzt. So etwa bei den TriDays, phantastic way. Like he did during the TriDays<br />
als unter seiner Anleitung und Regie die Stunt- when under his command and production, stunt<br />
Champions Kevin Carmichael und Dirk Mander- champions Kevin Carmichael and Dirk Manderbach<br />
mit ihren Reifen ein Werk namens 'Traces of bach helped materialize with their tyres a work<br />
Triumph' zu Papier brachten. Für alle, die dabei of art called 'Traces of Triumph'. For all who wit-<br />
waren, ein unvergessliches Erlebnis!<br />
"<br />
nessed it on the spot, an unforgettable event!<br />
"<br />
Markus Linder<br />
Markus Linder<br />
Fotos / pictures:<br />
Katja Ruge (pp. 3, 4)<br />
3
---
Kevin Carmichael & Dirk Manderbach<br />
finally the "common" artwork was signed, titled and presented at the Tridays-stage:<br />
<strong>Andreas</strong> <strong>Roseneder</strong><br />
Kevin Carmichael &<br />
Dirk Manderbach:<br />
TRACES OF TRIUMPH<br />
oil on canvas,<br />
210 x 110 cm, 2011
---
PRIMe TEST, oil on canvas, 90 x 60 cm, 2010<br />
RIM THE FLAG I & II, oil on canvas, 90 x 60 cm, 2010<br />
The Undercover Cover Series<br />
UNDeRCOVeR BLOSSOM I-VII<br />
tyreprints with oilcolour on paper, 56 x 42 cm, 2010<br />
BEST VISION, oil on canvas , 90 x 60 cm, 2010<br />
TYRe WIRe I-III<br />
tyreprints & brushstrokes with oilcolour on paper, 56 x 42 cm, 2011
---
GILBeRT MeeTS GeORGe<br />
oil on canvas, 210 x 110 cm, 2011<br />
TYRe WIRe BIKeR<br />
oil on canvas, 220 x 120 cm, 2011<br />
GeORGe MeeTS GILBeRT<br />
oil on canvas, 210 x 110 cm, 2011<br />
THe UNDeRCOVeR WHeeLY<br />
oil on canvas, 210 x 110 cm, 2011
---
timetable<br />
8
---
<strong>Andreas</strong> <strong>Roseneder</strong><br />
1960 born at Hainburg on the Danube, Austria<br />
1980-86 Fine Arts studies, Akademy of Fine Arts at Vienna, prof. Anton Lehmden<br />
1986 Fine Arts degree magister artium<br />
1982-90 ateliers at Augsburg, Berlin, Munich, Wulkaprodersdorf, Prague<br />
1997-2005 atelier "DerTurm", airport-tower at the airport Trausdorf near Eisenstadt,<br />
Burgenland<br />
lives and works since 2005 at Au am Leithaberge, Lower Austria and also elsewhere<br />
numerous solo exhibitions, group shows, publications - for detailed information go to<br />
the artist's website: andreasroseneder.com<br />
address:<br />
mag art <strong>Andreas</strong> <strong>Roseneder</strong><br />
Obere Hauptstrasse 64<br />
A -2451 Au am Leithaberge<br />
Austria<br />
mobile: +43 (0) 650 6368794<br />
mail: atelier[at]andreasroseneder.com<br />
web: andreasroseneder.com<br />
9<br />
TRIDAYS´ UNDeRCOVeR<br />
oil on canvas, 210 x 110 cm, 2010