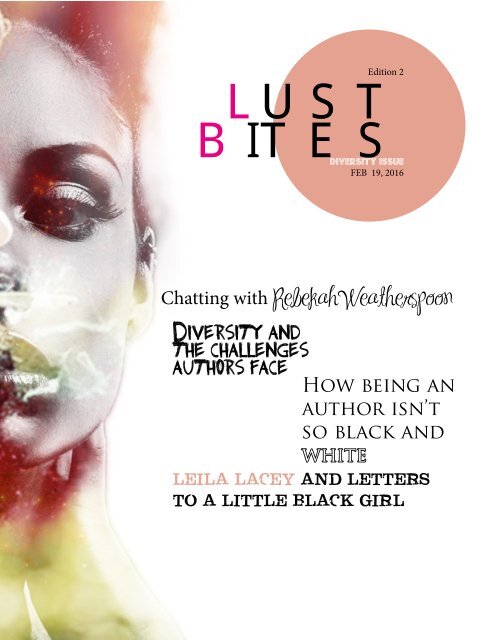 Lust Bites Magazine Diversity Issue Edition 2
The second issue of Lust Bites is all about Diversity in the publishing community, and getting to know some authors you may not even be aware are taking the charts by storm!
The second issue of Lust Bites is all about Diversity in the publishing community, and getting to know some authors you may not even be aware are taking the charts by storm!
SHOW MORE
SHOW LESS
You also want an ePaper? Increase the reach of your titles
YUMPU automatically turns print PDFs into web optimized ePapers that Google loves.
Edition 2

LUST

BITES

DIVERSITY ISSUE

FEB 19, 2016

Chatting with RebekahWeatherspoon

Diversity and

the challenges

authors face

How being an

author isn't

so black and

white

Leila Lacey and Letters

To A Little Black Girl
---
LUST

BITES

DIVERSITY ISSUE

Table

of

Contents

Rebekah Weatherspoon...................................................................................3

Leila Lacey................................................................................................................5

Foxy Fitness............................................................................................................8

Savannah Morgan..............................................................................................9

The Nympho Reviews.........................................................................................12

Top 5 Diverse Indies..........................................................................................13

Anticipated Reads/Fashion..........................................................................15

Letters From Letty.............................................................................................17
---
If you missed the last edition, be sure to check it out! You don't want to miss out on a thing with this hot new magazine

about the Indie world.

Find the magazine HERE.

And contact us with any comments, questions, concerns, or just to say hey...You might just end up in the next issue.
---
Chatting with

Rebekah Weatherspoon

3
---
So, because we know that with Rebekah Weatherspoon

comes the mouthwatering FIT Trilogy! (Keira and Daniel

RULE!) Tell me how it felt to have FIT win the RT

Award and SATED nominated for the 2015 RT Award?

It felt great, but I don't think I've thoroughly taken

time to process it. When I won the RT Award last year

I was just excited to be in Dallas and praying that I

didn't trip up the stairs on my way to the stage. After

I was just happy to see so many authors in person for

the first time. It was a great girls night out. As for the

nomination for SATED, I'm just happy that people like

it so much. Win or lose, I'm just happy to be recognized

for one of my favorite couples.

Tell me more about SO SWEET. That cover is absolutely

beautiful in its simplicity and colors.

SO SWEET was a blast to write. I'd just come back

from the 2015 RWA conference in NYC so I wasn't

sure if my brain was up for another book so soon, but

Michael and Kayla were very cooperative.

How did you come up with the idea of using a online

dating site matching up women with sugar daddies?

I have no idea. HA! My cover artist who did the great

covers for the FIT books asked me to write something

for her. She gave me one prompt—younger black

woman, older white man— and I ran with it.

Okay, so I've been following your books, and I'm looking

forward to Soul to Keep. Lesbian Romance isn't always

boosted up the way I believe it should be. What inspired

you to write this story?

Well Soul to Keep is book 3 in my vampire series. In

the previous books other characters dislike Jill and

Tokyo, independently and for very different reasons,

and they don't even really talk to each other. I liked the

idea of two people who have no real friends finding

love with each other. And then there's vampire stuff.

You did something this year that really caught our attention.

You created WOCInRomance, which promotes,

shares, and give love to Women in Color writing romance,

books, and the readers. Why did you start this?

I was seeing that white authors can write anything

and it's fine. People started talking about diversity and

white women in romance were having no problem

getting their books with black or Asian characters to

print with major publishers, so I knew it wasn't about

the characters, it was about the authors. I wanted to

create a place to promote our books. Make it easier for

readers to find us and make easier for us to find each

other.

Where can we learn more about WOCInRomance?

Right now twitter is the best place. @WocInromance,

books right at your fingertips. We'll be launching a full

website later this month.

Why do you think it's necessary for WOC Authors to

come together and support each other?

Well I think it's important for all authors to support

each other really. None of us can supply the whole

world with books single handedly. Even the Nora's and

the Brenda Jacksons of the world need a break. But

unfortunately discrimination is a very real thing and

you have to come together with like minded/situated

people to get over the rough spots.

Have you faced any struggles as an author of diversity?

Yes, but they're same struggles I face every day as

a black woman. It bleeds into publishing just like it

bleeds into anything else.

What advice would you give to other authors who are

Indie?

Don't give up. Pay attention. Research. Read, for the

love of god read. Get a copy editor, or pay your English

teacher sister in cookies to read your stuff. Get a

good cover artist. Don't give up.

What events will you be going to this year?

For sure, I will be at the RT Convention in Las Vegas.

Any more WIPs or more series that you have in store for

us all?

SO RIGHT, Michael and Kayla's next story should be

out by June. Fingers crossed.

4
---
Talking with

Leila Lacey

5
---
Thank you for agreeing to be interviewed for Lust Bites

Magazine!

Tell us about your most recent book!

Well the ones that are releasing in January and February

are I Remember Me and Chocolate Covered Valentine.

Chocolate covered valentine is of course a short story of

all types of naughtiness for Valentine's Day. I Remember

Me is a Romance/Mystery/Suspense. IRM is the first

book of this type for me. I am always trying to push

myself and expand what I can offer the readers.

What inspired you to begin writing?

I have always loved to read. Romance books to be specific.

When I was young I wished that I could read

about a book with men and women that reminded me

of real people, not just me, but the variety of people I

know. As I got to be a teenager I realized I was going

to have to write that book if I wanted to read it. LOL! I

never imagined for a minute that I could self-publish.

The "publisher" route is so daunting. I just figured that

would be a bucket list kind of thing. Then some friends

of mine told me about NANO Wrimo, in 2012 and the

rest is history.

very wealthy husbands house… grocery stores are not

her hang out. LOL But she made me think of a character

I want to put in one of my books. So I guess you could

say anything can give me a story line. LOL

How do you think the market is changing for Indie Authors?

It's opening up for the author to keep the money THEY

themselves worked hard for and put a lot of money into,

first of all. It is also opening up what we see on the book

shelves. Not every woman is a damsel in distress and

not every man is a good strong loving fella who is misunderstood.

There are strong take charge women in the

world that don't NEED a man, they want one. There are

also asshole men that are just assholes, someone can

love that. I have a uncle that has 3 wives, and I am pretty

sure he is a professional asshole. So we all want something.

LOL There is a cookie cutter way of doing things

in all professions, but when the mavericks are given a

chance to break out society is forced to say "well that

may have been THE way but it isn't the ONLY way" and

are required to make change or sink.

What recommendations do you give authors who are struggling

to get in market?

Do you have a favorite book couple?

In my books it would be Nya and Sal, from the Curvy

Goddess Series. They remind me of couples that I know.

While Nya tries to pretend she isn't soft and lovey dovely

she is; only for one person, and that is her husband.

While Sal acts like he is devoted only to his penis, he

would fight the devil in hell for Nya! They are the type

of couple I love to read. . I don't really have one for the

books I love. I mean I love them because of the book

as a whole. I even love the protagonist for being an ass

or bat crap crazy. It all just comes together to make me

love the story.

How do you come up with the ideas for your novels?

Life: Mine, my friends and family, T.V., internet, all over

really. I saw a lady walking around the grocery store

the other day she was taking orders on the phone from

someone and she seemed WAAAAY out of her element

in the $600 and up heels and the outfit that looked pricey

and was really skimpy. I remember thinking… that is

a spoiled little girl who went from daddies house to her

6

DO NOT GIVE UP!!!! You are not like anyone else.

There are people out there that want to read your story.

Also, another writer does not have to fail for you to

succeed! There is room for all of us so don't attack other

hard working people in the vein of competition and

the so called take no prisoner's attitude. Focus on your

STORY! Not theirs and you will be successful

What are some of the difficulties you've faced as a WOC

author?

Marketing, marketing, marketing. Did I say marketing?

LOL! It is so hard to find the right type of marketing

for your book and to get it in front of the right eyes.

There are so many people lying and saying they know

just what to do just give them $2600 and they will make

you triple that if not more. They actually make you $3!

So really that has been so hard. When I have marketing

in place my books FLY off the shelves so to speak when

I don't they collect dust. The other thing is other back

biting authors who pretend to be presidents and CEO's

on FB. Using FB as their platform to be bullies. That is

so annoying.
---
Speaking of powerful books for diverse readers, tell us

about Letters to a Little Black Girl. How did this come

about?

daughters, sister, mothers, friends all came out and

said…. I will! I am STILL so blown away! The call was

answered and I got busy! My husband would tell you

I'm never not busy! LOL

OH! THIS is the most important book in my life right

now. More than my very first published story. I was

raised to have respect for yourself and your family. My

grandmother use to say, when you are cutting up in the

street people aren't just looking at you. They are looking

at me and your mother too. So I am and have always

been conscious of my behavior. Now am I perfect? NO.

But the thought is there. Fast forward to 35 years later

and we have women going to awards shows NAKED…

BUCK STARK RAVING NAKED…… in the words of

Bernie Mac "BUCKED NAKED! I can see your Public

hairs" LOL.

They are "dancing" and practically well some of them

are actually having sex on the dance floor. We have

young girls PLANNING to get pregnant so they can

get on reality TV. We have girls that can't read, let alone

know how to handle themselves on the job and be professional.

Or 15 and 16 year old girls are in ABUSIVE

relationships! ARE YOU KIDDING ME!!! Abusive?

NO! We have to do something, our society is going to

hell… FAST!

I had been thinking for years I want to right an advice

book about my experience as a single mother. I knew,

I'd made mistakes and corrected mistakes that other

females were and will be making. But I kept thinking

there is more, there is so much more! So I thought if I

could get a group of women to work with me. All of us

giving advice on various topics and put it all in a book

for young girls, their mothers, and grandmother. I mean

they may already know but haven't thought to say the

words to their daughter or granddaughter, so this book

could start a crucial conversation in the lives of all three

generations. BUT I didn't think people would want to

help, AND I was still so new to publishing I wanted to

wait a minute.

So I did, 2 years and then one day, my son was telling

me about this girl he was involved with and what a mess

she was, and I got a bug up my butt and I posted on FB

a request for the women that I am "friends" with on my

page to let me know if they would be willing to contribute

to the book. To be honest, I expected nothing.

But then these amazingly smart, talented, funny, wife,

7

What gave you the idea for LTALBG?

My mother was mentally and physically abusive to me.

For years I use to tell people I was never having kids! I

didn't like kids. When I had them I realized that wasn't

true. I was afraid of being like her, the type of mother

she was to me. Each time I have to discipline my children

or give them advice make a decisions pretty much

anything having to do with being there mom, I question

myself. A LOT! So much so it has kept me up at night. I

have often thought, how would someone other than me

with the mother I had, handle this? Is there a side to this

that I may be missing? I have prayed for someone to

bounce things off of or just something to read and help

me know I am making relatively good decisions. Books

have always been my thing so naturally when I thought

of helping that is what I thought of.

What authors did you get together for this project?

Not all of them are authors, some of them are just loving

women in the community but this is the list of women

that have contributed to the book. My hands down favorite

people in the world right now.

Amber Patton

Carla Knighton

Catrina Thomas-Jefferson

Danyell Williams

Ebony Simone McMillan

Leila Lacey

LeTeisha Newton

Linda I. Brown

LiSa Marie

Lydia Evette Ruff

Meka Harris

MidnightAce Scotty

Shawanna Coley

Shea Swain

Author Sherika Lewis

Shyla Colt

Stephanie Pittman

Tracye Osby

What was the message that you wanted to get across with
---
this project?

That what one person is doing does affect us all. That we all should care, and that we all MUST contribute something

positive to raising our children if we want things to get better.

I understand the proceeds are going to some pretty important charities. Could you tell us more about that?

YES!!! I am going to donate 70% of the proceeds to non-profit organizations that help girls. Not that I don't think

the young men don't need help. But I think we as the "mothers" of the community need to focus on our girls. So

I am going to donate evenly to 3 different girl oriented charities that I have in mind. You can see a list of them at

the website for the book HERE

FOXY FITNESS

Because there's a FOX inside every reader...

Seducing Cinderella Cardio

Based on Seducing Cinderella by

Gina Maxwell

1 minute jog in place

60 jumping jacks

100 fake jump ropes

50 standing bicycle crunches

20 squat jumps

1 minute jog in place

Stretch

8
---
Savannah Morgan

Secrets: A Sapphire Springs Novel

Enter a world of danger, lust, intrigue and love. Enter the world of

Sapphire Springs, Montana, where the suspense will have you on

the edge of your seat and the sexy romances will have your panties

melting and your heart pounding.

There is a world of Secrets out there. A world where nothing is as

it seems. A world of the Italian Mafia, Eurasian Crime Organizations

and Government Black Ops. Will the Mafia Ice Princess melt for

the Native American Black Ops Agent?

Tia Mitchel has lived a dual life from a young age. Now, as an

adult, with desires and needs of her own, she fights for her right

to live the life she wants rather than the one mapped out for her

since birth.

Cole Lawson quit The Unit after being betrayed and left in enemy

hands. Now he is being pulled back in for one final mission. Destroy the woman he loves and he gains his freedom forever.

Come take a harrowing journey with Tia and Cole as they fight insurmountable odds against each other, two Mafia factions, the US Government,

and the lies and secrets that have kept them apart. Will trusting one another be more deadly than the secrets they keep?

Author's Note: Although Secrets is a standalone book, I would highly recommend you read Dreams: A Sapphire Springs Novel, book 1, first. The

Sapphire Springs series is a connected series in that the characters are recurring and are connected through deep familial ties and friendships. The

Sapphire Springs Series is an Adult Contemporary Romance and is intended for audiences 18+

Amazon Smashwords

Dakota's Autumn: A Deadly Flowers Story

Flowers can be beautiful,

For over twenty years Shane Black has been a man searching; searching for his missing twin brother, searching for the man who tore his family

apart, searching for a way to reclaim his identity, searching for a home. In the middle of a mission where his cover is blown, Shane awakens to

find himself in a shack in the middle of South America where the beautiful little flower who saved his life has left him and taken the formula

he was sent to recover. Now he must find his way home with the few items she has left for him and start a new search. For her.

Flowers can be deadly,

When Autumn is abducted by the man responsible for destroying Shane's family, he must face his personal demons and join forces with

those he holds responsible for betraying Autumn. As Shane and the Deadly Flowers race to bring Autumn home safely, she stumbles onto

what Shane has searched most of his life for, but will they be too late to end the reign of terror of a madman.

Flowers can be healing.

Autumn Bennett is a woman of many talents and secrets. A top

rate trauma surgeon and a master of Dim Mak, she is as complicated

and deadly as the flower she is named after, the Autumn

Crocus, a flower known to have both healing and life-threatening

properties. Autumn's professional life is turned upside down

when she is falsely accused of killing a patient. At odds as to

what she should do she turns to the family business, a private

security firm where her cousins have banded together to create

an all female covert ops team, the Deadly Flowers. Using her

skills as a healer, and her mastery of Dim-Mak, Autumn winds

her way in and out of her two careers searching for answers to

where she belongs, in her life, in her complicated family and the

man who fascinates her above anyone else.

Amazon

9
---
Winner's Circle

Winner was

the awesome

kat relim!

Winner was the

amazing kristen

m. long!

Thanks so much ladies for hanging out with us and coming out for the

event!! We really love hearing from our readers and sharing the good

news with everyone! Make sure you're following us (insert Stalking because

that's cool too) and get your chance to get books, swag, gift cards

and more!

instagram

twitter

facebook

magazine

10
---
Enjoy a movie night with author

LeTeisha Newton as she watches

Pretty Woman live with her fellow

Tweeters and Lust Bites Magazine!

(Did we mention you can win exclusive

swag items, read some sexy

snippets no one else has seen, and

be entered into a chance to get a

signed copy of the book??)

Use hashtag #OHGMovieNight on

March 1st, 2016 at 7pm CST on

Twitter to join in the fun!

Oh, don't have the movie? That's

okay, you could win a free copy

during her FB Hop on release day!

But that's not all. She will also be giving away PJ bottoms, jewelry and eCopies of the book at her FB Troubled

Heores Release Party on Feb 29th 2016 with USA Today bestselling author Michelle Monkou!

Don't miss all the fun with us while we have great fun! Because

Lust Bites Magazine has a bunch in store for you and we don't

want our Lustettes to miss out on a thing.

If you have any questions , want to know how to participate,

want invites, or in general want to tell us how awesome you

are, just contact us at:

lustbitesmagazine@gmail.com

We look forward to seeing you all there! In PJs!

Becuse what's a good movie night without pajama

selfies?

11
---
For those who

enjoy a bite

What if what you needed most in the world was so fucking

twisted that you couldn't hope you'd ever really find it?

And what if, through that twisted act, you found a way to

forgive yourself, and find out how to love?

Let's face it, romance isn't always pretty flowers and sweet emotions erupting through you. It can be

dirty, can tear you up, spit you out, and then build you into a stronger person than you ever thought

possible. That's what reading Dirty Ugly Toy was like for us. Braxton was a to-die-for hero who was

so messed up that you couldn't help but wonder what hell he'd gone through. You knew that the

reason he put women through such hell was because he'd had to have a life that was like stomped on

dreams.

And you still wouldn't exactly come close.

This book took us on a whirlwind for emotions, made us wonder why the hell JEssica (in the book,

not our Jessica :D ) didn't like the color purple, and what had twisted her to become the very thing

that Braxton hated—and craved. There are so many small surprises throughout this novel that you

never feel like the story lags or doesn't make since.

Each chapter builds on the last. Secrets get worst. Love grows stronger, but the darkness, that delicious,

dangerous edge of the end coming was so close it danced on your taste buds until the very

end. We were pissed when the books ended, personally. Why? Because we just didn't want this book

to end. EVER.

So many things were satisfying at the end: the tie-ups of loose ends, clarifying backstory, happy endings

(yeah that's plural!), and good old fashion comeuppance, that you just wanted more. Dirty Ugly

Toy was beautiful, heartbreaking, sexy, tragic, uplifting, and devastating in one amazing package.

That cover NAILED it, and you'll understand what we mean when you read it.

All in all, we will be picking up many more of K Webster's books, and Dirty Ugly Toy is a book you

do not want to miss.

Pick it up HERE

12

FIVE LUSTY LIPS

Dity Ugly Toy by

K, Webster
---
TOP 5 DIVERSE INDIE AUTHORS

J.J. McAvoy

Website

Eve Vaughn

Website

Brittainy Cherry

Website

Eve Langlais

Website

Minx Malone

Website

13
---
TOP 10 INDIE BOOKS

A sweet and steamy New Adult Romance

from Amazon bestselling author

of the Ruthless People series, J.J.

McAvoy…

Get it HERE

From USA Today Bestselling author

Chelle Bliss, Without Me is the sixth

book in her alpha male erotic romance

series, Men of Inked.

Get it HERE

"Unexpected ... a fairy-tale love story

to be savored." --Romantic Times

Get it HERE

The law can't touch me, but a life of

crime is a life of punishment without

handcuffs.

Get it HERE

"Marry me" were the last words

Luke thought he'd say to a perfect

stranger. Then again, Lissette never

dreamed she'd actually say "yes".

You Don't Find Love, It Finds You.

Get it HERE

Get it HERE

A talented singer loses her ability to

speak after a tragic accident, leading

her to a postcard-perfect seaside

town to find romance.

Get it HERE

There were three simple rules:

Be available.

Be discreet.

Don't fall in love.

Get it HERE

A drastic personality change brought

on by a person's upcoming twenty-fifth

birthday and the realization

that they have been EXISTING for a

quarter of a century but not LIVING.

Get it HERE

I was warned about Tristan Cole.

"Stay away from him," people said.

"He's cruel."

"He's cold."

"He's damaged."

Get it HERE

14
---
Jessica

and

LeTeisha's

Anticipated Reads

and Must Have

Reader Fashion!

Jessica

March 14, 2016

Chloe Madison. That's me. A former NYU princess

who just fell from grace, right off my pampered

Manhattan throne and onto the unforgiving

steps of Nicole Brantley, socialite and queen

bitch. Now, I walk her dog and mix her smoothies.

Try to navigate my own problems while fixing

all of hers. I want what every New York girl

wants. A career, an apartment, and true love,

preferably in a smoking hot package. It turns out

I'll have to fight for all of it.

PRE-ORDER NOW

GET ONE

LeTeisha

PRE-ORDER NOW

March 1, 2016

GET ONE

"You Were Here is wrenchingly

beautiful in its honest and achingly

accurate portrayal of grief and how it

breaks us-and the way unconditional

friendship puts us back together."-Jo

Knowles, award-winning author of

See You At Harry's and Read Between

the Lines

15
---
Don't foget to hang out with us and

show up in the magazine!

16
---
Letters from Letty

Advice for authors and readers who love them

Dear Author (and Reader on this one!)

How about we look at the numbers, eh?

Please understand how the $0.99 book isn't always the best decision, and how

this hurts the market.

It's a bit odd to say this, but it's very true. Everyone loves a good deal, right?

And you're right. It's great for a first book, a special pre-order price, and a special

gift to readers (because truly, we wouldn't be here if not for you guys!). But

that doesn't mean that readers should then turn around and feel that all books

should be that price.

0.99 gets an author 35% royalty, that means 0.34.

Hey, if the book is less than 100 pages, then I'm all for that. More than that

though? Now, you're coming into darker territory.

2.99 or more gives the author 70% royalty, that means 2.24 a book.

See the difference now?

From 2.98 to 2.98 that is the difference of dollars for an author. So please, understanding

that 0.99 can be great, wonderful, and amazing, but not all books

shouldn't be at this price. You shouldn't expect books over 100 pages to be that

rate, especially when many are willing to pay 6.99 for a Big Publisher author.

So, hey Indie Authors, stop hurting yourselves. Readers, support the Indie livelihood,

and make sure that you are loving the authors you can't stop reading.

Until next time stay Fab, Fierce, and Geeky.

Letty

18
---
Meet the Co-Founders of Lust Bites

Magazine

LETEISHA NEWTON is an author, blogger, massive geek, and villain

lover. Professionally published since 2008, she really didn't seem to

catch her stride until 2012. (You know how it is, life and all that jazz

takes over). Then she used her love of Anime, random trivia knowledge,

and excessive world building to create her paranormal romances.

Somewhere along the way she got a bunch of scrapes, bruises, and thick

skin. That probably has more to do with her mini-alpha in training then

writing, but we won't tell her that. When she's not tapping away at the

keys, she's watching Anime, playing her Playstation, or arguing about

why female superhero poses are IMPOSSIBLE, albeit sexist. One day

she'll have her own comic, and she'll do it the right way (she just has to

learn how to draw!)

JESSICA ADKINS-CHARLES is a blogger, PA, and mom extraordinaire.

Owner of Bottles & Books Reviews and Anchored by Books Promotions,

she spends her days writing rocking reviews, wearing her Personal

Assistant tiara while promoting authors & sipping on champagne

in her pajamas (she only wishes!). The best part of her day though is

spent pretending to be a variety of Nick Jr. characters while chasing

after an over-active toddler boy. She dreams of skydiving out of a plane,

visiting the Eiffel tower and taking over the world one step at a time.

Lust Bites Submissions

Don't forget to send your submissions for Show Us

YourShelves and Tasty Treats to:

lustbitesmagazine@gmail.com

with Subject: Show Us YourShelves or Tasty Treats !