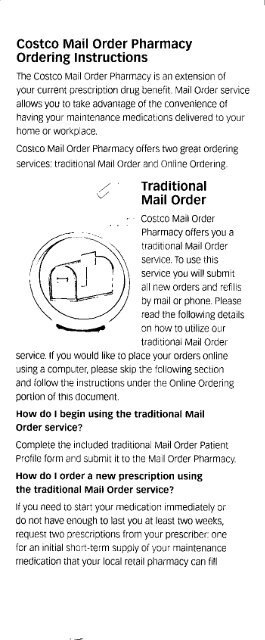 Mail Order - CWA Local 1180
Mail Order - CWA Local 1180
Mail Order - CWA Local 1180
SHOW MORE
SHOW LESS
Do you know the secret to free website traffic?
Use this trick to increase the number of new potential customers.
costco Mail Order Pharmacy

Ordering Instructions

The Costco Mail Order Pharmacy is an extension of

your current prescription drug benefit. Mail Order service

allows you to take advantage of the convenience of

having your maintenance medications delivered to your

home or workplace.

Costco Mail Order Pharmacy offers two great ordering

services: traditional Mall Order and Online Ordering.

rr;····· .....

~iJ

......

Traditional

Mail Order

Costco Mail Order

Pharmacy offers you a

traditional Mail Order

service. To use this

service you will submit

all new orders and refills

by mail or phone. Please

read the following details

on how to utilize our

traditional Mail Order

service. If you would like to place your orders online

using a computer, please skip the following section

and follow the instructions under the Online Ordering

portion of this document.

How do 1 begin using the traditional Mail

Order service

Complete the included traditional Mail Order Patient

Profile form and submit it to the Mail Order Pharmacy.

How do 1 order a new prescription using

the traditional Mail Order service

If you need to start your medication immediately or

do not have enough to last you at least two weeks,

request two prescriptions from your prescriber: one

for an initial short·term supply of your maintenance

medication that your local retail pharmacy can fill