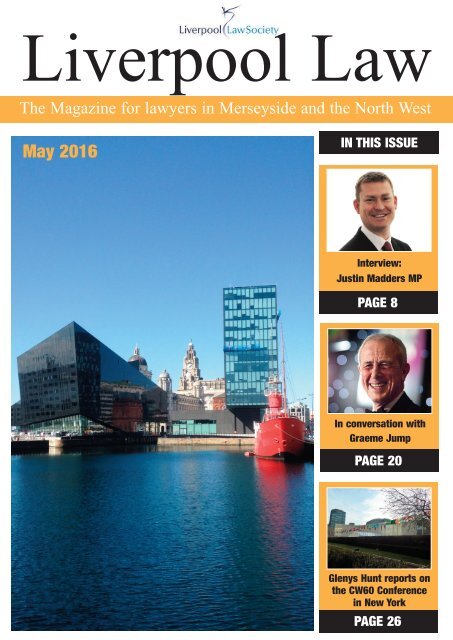 Create successful ePaper yourself
Turn your PDF publications into a flip-book with our unique Google optimized e-Paper software.
Liverpool Law

The Magazine for lawyers in Merseyside and the North West

May 2016

IN THIS ISSUE

Interview:

Justin Madders MP

PAGE 8

In conversation with

Graeme Jump

PAGE 20

Glenys Hunt reports on

the CW60 Conference

in New York

PAGE 26
---
Our self-issue pack

–

still

going strong after 10 years!

Reliable, familiar and easy to use

legall

indemnity ity policies

Take the

stress

s out

of

conveyancingng

and try us

today!

•

ng

•

•

d

•

Call 020 0 7397

7 4363 for your FREE E

PACK

C onveyancing Insura

nce (Ci) Self-Issue is a portfolio of insurance

products provided by

Legal & Contingency

Limited. Legal & Contingency Limited – 60 Fenchurch Street, London,

EC3M 4AD – DX 843

London/City – Tel: +44 (0) 20 7397 4363 – Fax:

+44 (0) 20 7397 4364.

Legal & Contingency

Ltd is authorised and regulated by the Financial

Conduct Authority.

Registered in England No. 3511606. Registered Office: 60 Fenchurch Street,

London, EC3M 4AD.
---
Welcome

Welcome to the May edition of Liverpool Law.

Since our last edition a number of our member firms will have closed their year end and started a new one. This is

also a time when we hear of partner and other promotions. We have begun to receive some photographs of new

partners this month and hope to get many more. Please do send us details of any promotions with in your firm, with

photographs where possible so we can publish and share the achievements.

Congratulations should also go to Jim Davies OBE recently appointed High Sheriff of Merseyside, a prestigious

appointment for a man who has devoted a lot of time to local charities and organisations.

I have been over to Ellesmere Port this month and my interview with Justin Madders MP appears in this month's

edition as does Julia Baskerville's meeting with Graeme Jump. A reminder here for any member who is interested in

being our Lawyer in Lights to get in touch with me at the address below.

From the Editor

3

Past President Glenys Hunt has been to New York and sent us a review of her time at the United Nations. I hope

she does not mind my mentioning that this will be her last contribution as a full time solicitor as she is now taking

on the challenge of completing an PhD at Liverpool University.

For members looking for some guidance over the EU referendum we have included details of our website a link to

the Law Society's report on legal and economic impacts for the legal profession.

We also have our usual mix of movers and shakers, our charity and CRS review as well as photos from social

events.

SYLVIA SHEPHERD

EDITOR

Editor@liverpoollawsociety.org.uk

I hope you enjoy this month's read and do remember to send us details of your news and events.

Sylvia Shepherd

Editor

editor@liverpoollawsociety.org.uk

Liverpool Law

Needs YOU!

Liverpool Law Society

Magazine is produced by and

for Liverpool Law Society

Members. This is our

opportunity to share our

news, events and

celebrations with our friends

in the legal community.

All members' contributions to

Liverpool Law are warmly

welcomed. Please send your

article (and photo captions

where possible) or request

for further information, or

assistance to the editor at

editor@liverpoollawsociety.org.uk

Photographs for

Liverpool Law

If any member has photographs

of Merseyside or surrounding

areas and would like them to be

featured on future front covers

of Liverpool Law, please email

editor@liverpoollawsociety.org.uk.

This month's photo was taken

by our President Alison Lobb

Follow us on Twitter

@LpoolLawSociety

Diary Dates

Thu19th May

Liverpool Professionals' Dinner

Wed 8th June Regulatory Conference

13 June – 1 July International Festival for Business

Wed 22nd June 2016 Personal Injury Conference

Wed 14th Sept 2016 Residential Property Conference

Wed 21st Sept 2016 Family Finance Conference

Tue 4th Oct

Liverpool Legal Walk

Thu 6th Oct

Wed 12th Oct

Conkerton Memorial Lecture &

Opening of the New Legal Year

2016 Employment Law Conference

Photographs should be

provided in the highest

resolution possible to ensure

a good reproduction.

Like us on Facebook

www.facebook.com/

Deadlines 2016

Editorial Committee

Dates 2016

The views and opinions

expressed in Liverpool Law

are those of the individual

contributed and not those of

the Liverpool Law Society.

Published by Baskerville

Publications Limited

25 Southworth Way

Thornton

Thornton-Cleveleys

Lancashire FY5 2WW

Tel: 01253 829431

Email:

j.baskerville@jbaskerville.co.uk

LiverpoolLawSociety

12TH APRIL FOR MAY

16TH MAY FOR JUNE

13TH JUNE FOR JULY

18TH JULY FOR AUG

15TH AUG FOR SEP

19TH SEP FOR OCT

17TH OCT FOR NOV

14TH NOV FOR DEC

04/04/2016 AT 13:00

03/05/2016 AT 13:00

06/06/2016 AT 13:00

04/07/2016 AT 13:00

01/08/2016 AT 13:00

05/09/2016 AT 13:00

03/10/2016 AT 13:00

07/11/2016 AT 13:00

05/12/2016 AT 13:00
---
4 From the President

Sponsored by

President's Mentions

The year seems to be whizzing

by, as I am sure it has done for

every President before me.

April was a strange month, with

no-one seeming to be sure

whether or not it was a holiday

season – due to the different

Easter breaks that schools seem

to have these days.

Isn't it wonderful though, to

finally see the signs of spring

which has seemed a long time

coming this year? There is

certainly something about a bit

of sunshine (even if it's not that

warm) and lighter evenings, to

make us all feel more cheerful!

Although this is the May edition

and I am looking back at April I

must mention an event which took

place after the April edition had

gone to print, and that was of

course the LLS/MJLD Quiz. It

definitely wasn't a fix, but my

team won – and I am still not sure

how! I was delighted (and very

relieved) that Liverpool Law

Society won overall and managed

to retain the trophy which can

remain in our possession for

another year. A massive well done

and thank you to Richard Burrows

and his JLD Committee for

organising what was a great

event, and to Wesleyan for

sponsoring it. The only downside

was that we couldn't fit in

everyone who wanted to attend –

looks like we'll have to find a

bigger venue next year! It is

really important to build on the

links between our two societies

with events like this and if anyone

has any other ideas for social

events, (perhaps with a

competitive edge) then do let us

know.

I was honoured to be invited to

the CILEX Liverpool Ball on

15th April, which took place at

the Doubletree Hotel in Dale

Street, another great addition to

the City's hotel stock. It was a

lovely venue and an excellent

turnout, so congratulations to the

current CILEX Liverpool

president, John McCreanney of

MSB Solicitors, and his

Committee, for organising a great

evening which also raised money

for the James Bulger Memorial

trust.

I have been involved in the

further discussions over a

"Blueprint for Better Business" in

our City and also continue to be a

member of the steering group for

the IFB fringe "The Edge" and

you can read more about those on

pages 5 and 6 of this issue. Quite

apart from the Blueprint idea, it is

good to know that Liverpool City

Council continue to try to engage

with the business community to

create their 5 year plan for the

future of the City, as they realise

the need to bring in more

businesses to drive the local

economy, and I have been

attending further consultations

about that as well, which I will

keep you updated on, as they

progress.

We have gone to print a little

earlier than usual this month so

there are some events which you

will read about in the next

edition, such as the interrogation I

get at the Past Presidents' lunch,

the members' meeting about the

proposed personal injury reforms,

and the MPs meeting. They're

keeping me on my toes in this

role you know!

Finally, I have to mention again

the Liverpool Professionals'

Dinner – this is the last chance I

ALISON LOBB

PRESIDENT

will have to plug it! if you

haven't booked, please do

consider it – the tickets are very

reasonably priced and we are on

course for a really good

attendance so it's a great

networking opportunity for you

and your firm.

Alison Lobb

President

CHARITY SPOTLIGHT

The Hope+Foodbank

The Hope+ Food bank is a joint initiative

of Liverpool Cathedral, the Metropolitan

Cathedral and St Brides in Catharine St.

It was started as a result of needs of the

population in the areas surrounding the 2

Cathedrals. What better name to give to

the Foodbank than that of the Street

which links them. The symbol + is

indicative of the extra support services

that have arisen as a result of the needs

of the Foodbank's clients. Clients receive

help and advice about the benefits system

and are signposted to other services.

Hope+ hold pantries three times a week at

St Brides, St Margarets and St Vincents in

inner city Liverpool. 26000 food hampers

have been distributed so far. Many of the

clients are asylum seekers who receive

precious little in help from the government

and sometimes no help whilst they are

waiting for Fresh Claims or their appeal

processes have concluded. Others are

individuals who have fallen foul of the

Benefits system either through penalties or

inefficiency in the system. Many are

families with small children.

Hope+ is run at present under the auspices

of Liverpool Cathedral but an application

has been made for it be established as an independent charity. It is dependent for funds and

food upon the goodwill of church and other non Christian faith group members and other

charitable donations. Many schools have become involved in collecting food for the pantries.

Hope+ is also dependent on a raft of volunteers who help on a regular basis to provide this

much needed service.

Jackson Canter Foundation was pleased to be able to make a donation of £7500 which went

someway to provide for the salary of the co-ordinator Nadine Daniel. A generous donation

from Liverpool City Council in the early days helped the charity get off the ground.

It is sad that Foodbanks are becoming a regular part of the fabric of our society. Poverty is all

too real and present particularly at a time when asylum seekers are on the rise and the

government seeks to readjust the welfare system. Over 3000 clients of the Foodbank have

been Syrians which tells its own story.

If firms want to consider a worthy cause then Hope+ is one that is nearby and always in need

of donations of food and money. Many of the most disadvantaged in our society will be the

beneficiaries.

For further information contact nadine.daniel@liverpool.anglican.org

Andrew Holroyd
---
5

Sub-Committee News

-

-

-

-

-

-

-

-

News from the Sub-Committees

Criminal Practice Sub-Committee: Thursday 14th April 2016

This meeting included a presentation from Leanne Galbraith Business

Product Owner Defence – CJS Common Platform Programme.(Please

see page 11 for more information)

As often happens Liverpool has been selected to pilot the CJS Common

Platform Programme. This comes on the back of successful pilots of

DCS and BCM and of course we still pilot the Section 28 procedures

for the advance cross examination of vulnerable witnesses in criminal

trials (with a number of other court centres)

This pilot is the beginning of substantial changes to the whole way in

which the Criminal Justice System will be delivered. It will build on

digitisation that has already taken place and will eventually incorporate

the Crown Court Digital Case System.

It is important to know that on the 10th May, 2016 there will be

presentations and training of the whole concept of the CJS CPP from

9am to 6pm at Liverpool Crown Court. Practitioners are advised to

attend/drop in when they can during the course of the day. It is intended

that the first stage will come into effect in June 2016 and whilst this is

in a limited way, practitioners will need to keep up to date with

developments.

The people running the training and information groups want to engage

with the defence practitioners as they are with all other user groups to

ensure that when brought into force it is user friendly and provides all

the necessary information required in a way that is easy to follow and

obtain.

We also had a discussion on the effect of the closure of St. Helens

Magistrates Court and the transfer of work to Liverpool Court centre.

There is likely to be further consultations with regard to the effect on

the duty solicitor scheme.

The date of our next meeting is the 26th May. If anyone has any issues

they wish the committee to discuss or be aware of please email the

Chair of the committee at John.weate@rmnj.co.uk.cjsm.net

John Weate, Chair

Family Sub-Committee: Wednesday 13th April 2016.

We discussed our usual standing items which include reports from the

various committees that take place at Liverpool Family Court and

updates and information from those meetings are shared and prove to be

a useful topic for general discussion.

The key matter that caused a great deal of discussion and a degree of

outrage at the meeting was the current consultation that was taking

placed regarding use of space at the Civil and Family Court in

Liverpool. It is being suggested that the current Advocate's room which

is well used particularly by those family advocates both Counsel and

solicitors is moved to the current room occupied by the PSU. All Those

who were in attendance at the meeting raised a number of key

objections around this and all were in agreement that each firm and

individuals should submit a response and that we would also submit a

response from the Law Society on behalf of the Family Sub-committee .

We also discussed the current McKenzie Friend consultation and that

given a number of our committee members have experienced with

McKenzie friends in their practices that a response from our committee

would be of benefit. We are also pleased to welcome two new members

to the committee from MSB Solicitors, Emma Carey the head of their

department and Emma Palmer.

Our next meeting is on 8th June 2016 and we are always happy to

welcome new members to our committee.This can be from those

practices that primarily represent private individuals in divorce and

ancillary relief and private law contact matters to those firms that do

more legal aid and public law work.

Adele Schofield, Chair
---
6 News

A Blueprint for Better Business

The President Alison Lobb reports on the consultation

meeting hosted by the Chamber of Commerce

Last year Emlyn Williams, the

then President, and I, had a

preliminary conversation with

Jane Corbett, Liverpool City

Council Cabinet Member for

Social Inclusion, Fairness &

Equalities, about the proposal

to launch some form of

recognition for fair and ethical

businesses in our city. We

offered our support, at least in

principle, and the idea has now

progressed to the stage where

Jane and her colleagues are now

working in conjunction with

Liverpool Vision and Liverpool

and Sefton Chamber of

Commerce on the project,

which has the support of the

Mayor of Liverpool.

Having already been present at

some discussions around the idea,

on Thursday 7th April I was

invited to a consultation meeting

hosted by the Chamber of

Commerce and with a view to

introducing the team behind

"Blueprint for Better Business"

which is a growing movement

which encourages businesses to

consider their place in the local

community, and their

relationships with their

stakeholders, customers and

employees. The meeting was

attended by leaders from all areas

of the Liverpool business

community as well as

representatives from charities and

social enterprises.

We heard short presentations from

Max Steinberg, CEO of Liverpool

Vision; Gary Millar, former Lord

Mayor of Liverpool and now

Cabinet member for Business,

Enterprise & Investment; and

Jenny Stewart, CEO of Liverpool

& Sefton Chamber, as to why

they are supporting the plan and

the advantages they believe it can

bring to businesses themselves

and the local economy. We then

had an interactive discussion

session with Charles Wookey,

CEO of Blueprint for Better

Business, where we discussed the

purpose of business, and issues

around trust, integrity and fairness

-

as well as the benefits of

employee satisfaction.

I am pleased that the team have

taken on board the comments

made by us, as well as others, of

the desire not to make this another

form of accreditation requiring

audits and additional

administration, which was seen as

rather off-putting for business

owners, but instead are envisaging

the idea as coming to fruition as

more of a citywide pledge to do

business fairly and ethically. The

Council is also intending to

integrate the need for businesses

to operate under the framework,

into its procurement criteria. We

are told that the expected

outcomes should be a sense of

fulfilment and self-worth for

business leaders, as well as

engaged and innovative

employees, loyal customers and

suppliers, and an increase in

customers and employees wanting

to be part of those organisations

which are involved. Ultimately of

course, the hope which would be

common for all businesses would

be an increase in income and

growth. We are told that there

have been numerous studies

which show that businesses which

consider their wider impact on

employees and society in general

– "purpose driven businesses" –

achieve longer term, sustainable

business benefits.

There are more issues to be

resolved, such as the criteria to

sign up to the scheme, and how it

can be monitored, and that is the

subject of further discussions. In

the meantime, however, I am

pleased that Liverpool Law

Society has been part of

developing the plans for the

Blueprint within Liverpool and

looking forward to hearing more

about the plans to implement the

project, about which I will keep

you informed. The hope is to

have some form of introductory

information event during the IFB

so do look out for details of that

to follow when they become

available. If anyone has any

further questions about this,

please do not hesitate to contact

me.

Alison Lobb

President

The EU and the Legal Sector

With the EU Referendum less than two months away, both

campaigns – "Vote Leave" and "In" are gaining momentum.

To make an informed decision, all businesses need to fully understand

the nature of the UK's current relationship within the EU, the UK's

rights and obligations and terms recently re-negotiated by the

Government with the EU. Similarly if the UK opts to leave the EU the

effects, both short and long term need to be understood by the legal

profession.

The Law Society has published a report which sets out the issues they

expect to see raised in the run-up to, and following on from, the

referendum.

The report can be downloaded at

http://www.lawsociety.org.uk/news/press-releases/the-future-ofbritain-in-europe-legal-services/

Liverpool Law Society in conjunction with Chartered Institute for

Securities and Investments is holding an event "The EU

Referendum: Potential Legal and Economic Impacts" on 20th June

at the Port of Liverpool Building.

Visit www.liverpoollawsociety.org.uk for further information
---
Interview

7

An Interview with

Justin Madders, Labour MP Ellesmere Port and Neston:

Elected May 2015 and Shadow Minister for Health.

On a wet, bleak Friday in

Ellesmere Port, Justin

Madder's constituency office

stood out as a warm, bright

oasis prominently located on

the main road through the

town. Though the door, and

umbrella shook, his office staff

made me feel very welcome

whilst I waited his return from

a school visit.

Justin was born in Manchester

but has lived, since the age of 10,

in Ellesmere Port. His week is

divided between his home in

Ellesmere Port and life at

Parliament. Travelling up to

London on Monday morning and

back home again on Thursday

evening.

I was curious about life in

Parliament and asked him to

explain the work of an MP. On

parliamentary days he is normally

in the office by 9.00 am or

earlier for breakfast meetings.

Parliament sits until 10.30pm on

a Monday and 7.30pm on

Tuesday and Wednesday.

The system for asking questions

of a governmental department

can be best described as quaint.

An MP with a question submits it

directed to the relevant

government department and then

has to wait and see if it is picked

out of a random draw. If it is,

they are allowed to ask that

question plus one supplementary.

To speak in a debate, an MP

submits an written request with

reasons why it is important for

that particular MP to speak.

Reasons can be particular

knowledge on a subject or

relevance to constituency work.

Debates are held in the Chamber

and other parts of Westminster

Hall. There can be ten debates a

week of varying lengths.

When Justin is not in the

Chamber, he is dealing with work

for his parliamentary office as

well as constituency work and

visitors. Not surprisingly he has

plenty of e-mails!

As part of his role in the shadow

government Justin is busy with

matters regarding the health

service and of course, junior

doctors. Justin considers

discussions with the junior

doctors have been badly handled

by Jeremy Hunt and believes

there has been some spurious

interpretation of weekend death

rates by the government. Having

spent time in A & E shadowing

doctors he has first-hand

knowledge of how stretched they

already are under the current

system and is concerned about the

proposed 7 day service without

increased resources.

A review of Justin's website

shows he is an MP with a wide

range of concerns but I felt there

was two issues I had to ask him

about, the EU referendum and the

Northern Powerhouse.

On the EU debate he is definitely

a remainer. He points out that in

his constituency there is a

Vauxhall car plant and Air Bus is

nearby and if the UK is not in

Europe we would be at a big

disadvantage in competing to

keep those companies and

companies like them in the UK.

Whilst he does appreciate the free

movement of people does

potentially lead to an undercutting

of local wages he feels the

position is not clear cut and the

positives of membership outweigh

the disadvantages.

One big positive for Justin is the

employment protection rights

which have been brought in by

Europe, a subject important to

him as Justin qualified as a

Solicitor and specialised as an

Employment Lawyer. Throughout

his career he was mainly

instructed on union work, lastly at

Walker Smith & Way in Chester

but before that at Thompson's in

Manchester.

I asked him what was the main

reason for him leaving the law

and seeking election as an MP.

It's basically his drive for social

justice. His work as an

employment lawyer made him

realise that employment rights in

England are weak and he felt he

needed to get into Parliament to

work to help change the law to

create a fairer system of work

place rights.

He has given his maiden speech at

the House of Commons, he was

more nervous at his first tribunal

than he was in delivering that

speech. The reason being that his

speech was prepared practised and

he didn't have to consider a

judge's awkward question nor a

witness's surprising new account.

I know Justin has commented

widely on the Northern

Powerhouse, not least in last

months' Liverpool Law! He has

raised concerns as to whether the

government is genuinely

committed to the idea or if they

even know where the Northern

Powerhouse is! He is also

concerned that the idea could

become too Manchester centric

and not benefit towns like

Ellesmere Port. His comments

include;

"Whatever the rhetoric of George

Osborne, the policies of this

government have had a

devastating effect on the

communities of the North so it

will come as surprise to nobody

that the Northern, Powerhouse

seems to exist only as a figment

of his imagination".

It's not all work though, Justin

was part of the 2015 intake of 50

new labour MP's and occasionally

they socialise together in the

evenings. Also Justin plays for the

parliamentary football team sadly

he feels he is one of the better

players.

At lunch time there is no shortage

of places to eat for an MP

although Justin usually buys his

food from the Commons cafeteria

and takes is back to his office to

carry on working. Strangers Bar

is by far the most popular with

visitors but he considers it a pretty

ordinary bar albeit with nice

views from the terrace.

Justin works out of Portcullis

House which is situated across the

road from the Palace of

Westminster. He prefers that, he

can be in the Chamber in four

minutes and does not have to

suffer the pokey offices of

Westminster. He also has a flat in

London as his week day home,

and is able to walk to work in the

mornings

On Thursday evenings he travels

home and tries to be back at a

decent time to see his 3 children

aged 18,14 and 11 before going

for a game of football which he

finds quite a de-stresser after an

intense week at Westminster.

At the weekends he also tries to

see is children play football but

also finds time for a surgery and

visits to local schools, local

business and his constituents

generally.

A big part of his constituency

work relates to housing issues,

there is chronic shortage of

council houses in the area and

private sector rentals are out of

reach of a lot of local people.

There aren't many housing

associations that serve Ellesmere

Port & Neston and Justin is

concerned that the Government

policy is going to lead to even

fewer. He also has to deal with a

large number of transport issues

brought about the congestion on

the M56, the need for the Neston

railway line to be electrified and

the lack of public transport in the

area.

As fascinating it must be to be an

MP it's clearly a 7 day a week job.

I remember Joanna Lumley being

interviewed at the time of the

Ghurkha debate. She was asked if

she would like to be an MP and

she said "absolutely not, they have

to work too hard".

Sylvia Shepherd

Editor

DLA Piper
---
8 IFB 2016

Looking Forward to the International

Festival for Business 2016

As you no doubt know by now, the IFB is back this year, running

for 3 weeks from 13th June until 1st July 2016. This year's festival

will be shorter than 2014, more focussed, and concentrated around

a central venue at the Exhibition Centre Liverpool. I have been

fortunate to be invited to a number of events outlining the plans for

the Festival (including an opportunity to see the very impressive

Exhibition Centre in its glory) and it does look like there is going to

be something for everyone. The majority of the festival calendar is

now complete and organisers say they expect around 30,000

delegates to visit the city during the festival.

The programme for the festival is available on the website. Even if you

can not see any advantage to your business or your clients in attending

one of the main events, which are clustered around the three themed

weeks of Manufacturing, Energy & Environment and Creative &

Digital, there are a number of other sessions focusing on Business

leadership, networking, and the exciting concept of the "Blue Skies"

evening sessions. These will be free to attend and will feature

nationally, or internationally prominent speakers. Already signed up to

speak are Jim O'Neill, Commercial secretary to the treasury; Liv

Garfield, CEO of Severn Trent Water and one of only 6 FTSE 100

female CEOs; and former South African President, F.W. de Klerk.

More speakers are due to be announced, and the plan is to hold 12 such

events in all. Organisers are anticipating a very high turnout so it

might be worth keeping an eye out for the dates and times to be

confirmed and plan to get there early!

You can sign up to the business club free at www.ifb2016.com to get

updates on events as the calendar is finalised as well as other business

services the are available to everyone who registers.

Convert more

conveyancing

enquiries

into clients

*

davidopie@etsos.co.uk

2 month

FREE

TRIAL *

As I have previously mentioned in earlier articles, I am a member of

the steering group for the official Fringe, which is called "The Edge".

The calendar for The Edge was officially unveiled at an event on 28th

April, and features an exciting mix of breakfast networking, working

lunches, dinners, seminars, and even awards, the events covering all

manner of topics, from global trade to working with SMEs, diversity,

growth and philanthropy. There are also three evening events which

promise to be entertaining at the very least, (and possibly hilarious)

taking place at "Oh Me Oh My" on the Thursdays of each week. For

more details go to the website www.theedgeliverpool.eu and have a

look at the events calendar. You can also subscribe to the mailing list

for further updates.

I am pleased to confirm that we at Liverpool Law Society are in talks

with The Law Society to arrange two events to add to that calendar,

further details of which will be made available soon. In the meantime,

you may already be aware that we at LLS are also hosting an event

with the Chartered Institute of Securities and Investment on 20th June,

dealing with the legal and financial implications of an exit from the

European Union, a highly relevant discussion given that it comes only

three days before the referendum is scheduled to take place.

I look forward to seeing as many of you as possible at this free event to

join in the debate as well as take up the networking opportunities on

offer.

Even if you think IFB 2016 is not for you, it is certainly worth a look at

the IFB and The Edge websites to see what's happening – you might be

pleasantly surprised.

Alison Lobb

President

Beautiful villa to rent

'Huerta el Valiente' is a large detached,

3 bedroom (can sleep up to 8), 2

bathroom, villa with two large sun

terraces, full size private pool and

grounds and fabulous uninterrupted

views over the

Andalucian countryside.

Conveniently situated

just an hour drive from

Malaga airport and

centrally located for days

out in historic Seville,

Granada, Cordoba and

Ronda, all just over an

hour away by car.

Golfing, tennis and

riding are all available

close by.

For more information, pictures of the villa and

booking details, please visit

http://dawnandalucianvilla.com/
---
News

9

CSW60

In March I attended the 60th

Commission for the Status of

Women (CSW60) at the United

Nations in New York, as a part of

the Soroptimist International

delegation. The Commission is

attended by approximately 4000

delegates, some are

representatives of the national

governments (such as Caroline

Dineage, Parliamentary Under

Secretary of State at the Ministry

of Justice and Minister for

Women and Equalities at the

Department for Education) and

some, like me, are members of

non-governmental organisations

(NGOs) whose aim is to lobby,

persuade, and support the

government decision-makers so

the final agreement is suitable for

its purpose.

The priority theme of this year's

CSW was "Women's

Empowerment and It's Link to the

Sustainable Development Goals".

The review theme was "The

Elimination and Prevention of all

Forms of Violence against

Women and Girls".

There were over 600 sessions in

total over the 2 weeks, although I

attended only for the first week.

These were official sessions, side

events and parallel events.

Choosing which to attend when

was a major problem. I had pared

the timetables down and made a

programme for myself before I

went, consisting of some sessions

relevant to Soroptimists, some

particularly relevant to me, and

some official sessions, so I could

get the flavour of the whole event.

This worked to some extent, but

there were of course other

sessions that caught my eye while

I was there, and also some that

were changed or cancelled, so one

had to be adaptable. There were a

number of different venues to

accommodate all these sessions,

so learning the geography of the

area was important too.

I arrived on the Saturday and on

the Sunday went to a Consultation

Day, which was helpful in setting

the scene, and there were some

interesting speakers and breakout

sessions. The real work then

started on the Monday morning,

beginning at 8.30 with a session

on people trafficking. In particular

trafficking internally in the US,

which was quite a revelation, this

also dealt with the impact of the

media, and pornography, and was

very compelling. Next I went to a

session on widowhood and the

problems widows face around the

world – widows not always being

elderly, but some very young,

especially in regions of conflict.

This was followed by a sessions

on empowering women by giving

them access to energy, and solar

powered cookstoves featured

heavily. The session after this was

headed by five students from the

University of West of England,

who gave a brilliant presentation

on work they had done researching

girls access to education in the

UK, and particularly their

involvement with the STEM

subjects(Science, Technology,

Engineering and Mathematics),

interestingly their view was that

girls didn't choose science subjects

because they thought they were

too difficult, and they were

unlikely to lead to a job

afterwards, yet at least three of the

girls were studying law! The

following session was on the same

subject, but this time at

governmental level, with speakers

from the Danish and British

governments, the latter being

represented by Caroline Dinenage.

One lady present commented that

in New Zealand there was a great

impetus for women to join the

construction industry after the

recent earthquake there – but that

was not to be recommended as a

promotion tool. There was then a

quick dash back to the hotel to get

ready to go to a Soroptimist

reception at an Italian restaurant

which was attended by Soroptimist

from around the world, I

personally spoke to Americans,

Japanese, Indian, Cameroon, and

even a Mongolian lady. It really

brought home the international

aspect of our organisation, and

shows we are all working to a

common aim.

I will not go through the whole

timetable of my week, the

preceding paragraph gives you a

flavour of how the time was spent.

I will mention the themes that

came through over the week.

There was overall a feeling of

optimism for the empowerment of

women, and an increase in their

status, following the Sustainable

Development Goals that had been

decided in 2015. If these could be

reached the world would be a

much better place. However now

agreement had been reached, it

was the implementation that we

had to get right, and many of the

sessions I attended were about

implementation – otherwise the

whole event would have just been

a talking shop. In order to aid

implementation statistics and data

need to be gathered on the current

situation, so any change can be

monitored. This data needs to be

disaggregated as far as possible,

so it is broken down by gender,

race, disability etc. A consistent

theme, which became almost a

mantra was "Leave no-one

behind". The involvement of men

and boys in many aspects of

achieving the goals and gender

equality is paramount.

It was very encouraging to see so

many young people attending, as

well as the university students

mentioned above, there was a

group of schoolgirls from Stroud,

all of which made presentations at

various sessions, and all of which

were articulate and confident. In

addition there was a large

contingent from WAGGS (the

World Association of Girls Guides

and Girl Scouts) from all round

the world. It seems that that the

future of gender equality is in safe

hands.

There was some talk about the

involvements of NGOs in the

whole process, as some

government representatives seem

to want us to be excluded from

many aspects. I am happy to say

that the UK government do not

seem to have this view and

welcome our input. The UK

Mission held a briefing every

evening to inform us of the latest

negotiations, and to ask out views

and what we had attended of

interest that day. One evening

there were 5 MPs, 2 Baronesses

and a Lord there, as well as the

civil servants, so they were not

just paying lip service. The

schoolgirls from Stroud were also

in attendance, and it must have

been especially encouraging for

them.

I was not involved in the high

level negotiations, although was

kept informed of them. Some of

the disputes arose around

ensuring Human Rights were

referred to frequently, and the

girls were included, as well as

women, also that there were not

too many get-out clauses to allow

governments to renege on their

commitments. Apparently the

final draft of the agreement did

include most of theses

requirements.

Overall my attendance at the

Commission was a great

experience. It was wonderful to

see how many committed people

are prepared to work to improve

the status of women and girls

worldwide.

Glenys Hunt

Carpenters

With over 60 members Atlantic Chambers is able to offer a wide

range of expertise within our specialist practice groups.

Civil Litigation including Clinical Negligence,

Family, Chancery & Commercial, Crime,

Employment, Proceeds of Crime & Public Law

4-6 Cook Street, Liverpool L2 9QU

T 0151 236 4421 F 0151 236 1559

DX: 14176 Liverpool 1.

E-mail: info@atlanticchambers.co.uk
---
10 Interview

In Conversation with Graeme Jump

Graeme Jump was recently awarded the Outstanding Lifetime Achievement Award at

the Manchester Legal Awards 2016. Graeme has practised in Manchester since the

1980s but started his career on Matthew Street in Liverpool. He talks to Julia

Baskerville about his career which spans over half a century...

Aged 18, Graeme Jump joined the firm of a sole practitioner Thos.R.

Jones & Son located on the corner of North John Street and Matthew

Street during the hey day of the Beatles as an articled clerk.

The firm was a general practice undertaking probate, litigation some

divorce and conveyancing. Graeme says "At that time there was a scale

of fees for domestic conveyancing, which was set at a level so that

firms made sufficient profit from conveyancing work to enable them to

take on less profitable work. However, this all changed when scale fees

were scrapped, firms set their own prices and, of course, income from

conveyancing fell."

Graeme was fortunate to find a firm willing to pay an articled clerk, as

many of his peers were either unpaid, or parents would have to pay the

firm to train their son or daughter.

Graeme says that despite their being vast differences between the law

firms of the 1960s and today, many of the challenges that firms face

today are not so different to those 50 years ago; namely how to

generate work, undertake it and get paid. He adds though they were

simpler times and success was often measured by the number of names

on the brass plate advertising the name of the firm on the front door –

about the only formal advertising allowed! Establishing a new firm

would be as simple as taking a lease on a property, installing a phone

line, hiring a legal secretary and then joining as many professional and

social organizations as possible.

These were the days before computers, photocopiers, mobile phones

and email and Graeme recalls that good legal secretaries were crucial to

the firm. All abstracts of title, copies of deeds, had to be typed. If a

mistake was made in a deed or particularly a will the secretary would

have to start all over again.

Graeme says that the years in a small general practice were good

experience, giving a broad perspective on all aspects of the firm and

gave him an understanding of the whole business.

After completion of his articles and spells in London and with a

country practice near Cambridge, Graeme moved to Mace & Jones

(now Weightmans) in 1971 and became involved with both Liverpool

and then Manchester Law Societies. He was the Editor of the Liverpool

Law Society magazine for a number of years and has been the

Treasurer of Manchester Law Society and was President in 1991/92.

Graeme says the role of local law societies has also changed. He says

"When I first joined Liverpool Law Society it was mainly because

Mace & Jones had a long tradition of involvement, sitting on the

Committee and attending events. Firms looked to local law societies for

leadership and support as well as policing local practices." Now local

law societies provide numerous services and benefits for their diverse

membership and Graeme sees one of the biggest challenges of today is

encouraging the larger firms to commit their support which he believes

is vital.

Graeme has also been able to observe the commercial success of both

Manchester and Liverpool since the 1960s. He said that the riots in

Liverpool during the 1980's meant that a lot of commercial work

moved to Manchester, but the last decade or so has seen Liverpool

evolve and expand to become again a thriving legal community which

its history justifies... Manchester, despite the recession has continued to

grow and is now regarded as the UK's second legal city.

Having been able to qualify as a solicitor by five years of articles after

leaving school Graeme says he was disappointed when this route was

abolished. This meant that the only route into the law was by going to

university, which was a financial obstacle for many. He is now

delighted to see that there are now many routes into the law, either

through ILEX or legal apprenticeships, which, he believes, creates a

more diverse profession.

Graeme says that when he became an articled clerk, and later upon

qualification he had no doubt that he was joining a profession. There

was considerable pride attached to this simple fact. Whilst economic

factors and a changing world have made it necessary to sharpen the

business focus of the practice of law Graeme believes it would be a loss

to all if the concept of a "profession" was to lose its resonance in the

thrust for commercial success.

Looking back Graeme says that he has been lucky to enjoy a hugely

fulfilling career in the law and has made many friends, through his firm

and his involvement with Manchester and Liverpool Law Societies. He

has also been a member of the Insolvency Lawyers Association and

Legalink spending time as head of both.

After over 50 years in the law he says "I have and am considering

retiring, but keep finding reasons not too."

-

-

-
---
Court News

11

A Summary of the presentation by Leanne Galbraith, Business

Product Owner Digital Defence - Common Platform Programme

It feels like it's been a little while since I wrote to you. This one is less

about research and more about what is happening and how important it

is for you to be involved and encourage your peers and colleagues to

get involved.

What's happening in Liverpool?

Defence Engagement Event 10th May 2016 9.00am – 6.00pm QEII

Court

The Common Platform pilot will be in Liverpool later this year. To

kick off our involvement with practitioners in Liverpool we will be

hosting a Defence Engagement Event between 9.00am and 6.00pm at

Queen Elizabeth II Court on the 10th May 2016. We will have a team

of people present at the Court, even if you have 10 mins to spare we

will make valuable use of your time.

We are still planning the exact agenda for the day, but we thought it

would be a good idea to publicise the date, so you can put it in your

diary and make sure your colleagues have done the same.

Why is defence involvement in our software development so

crucial?

When I started on the programme I was told defence practitioners are a

hard to reach stakeholder group, the very fact I have you to write to, is

proof of how far we have come. There are over a 100 organisations

engaged in the programme and over 200 individuals, but there is still so

much more we can do. We are building a national system, so we need

representatives from every part of the country. We also want the

system to work for all defence practitioners not just those that are

comfortable with digital products.

We need practitioners involved in what we are doing before we've

started to build pieces of software for defence. We also need

practitioners involved in reviewing what we have built, to make sure

we have built it right. If we have made a mistake or misunderstood

something we want to find out as early as possible, so we can change it

and improve it.

To be frank if we don't get the right level of engagement until we are in

a pilot or early adopter area, the risk is we won't have built what the

Criminal Justice System needs and the money the Government has

committed to spend on this will have been wasted.

The system when first available to you is not going to be perfect, as it

is our best guess from the research we have done with you on what you

need. We will only know for certain how the system will be used when

everyone is working with real data. We will continuously update the

system, improving it as we go, using the feedback you give us. These

updates should feel seamless to you, just like when you receive an

update to your smart phone.

How are we doing?

If you have any suggestions on how I can improve the way I

communicate with you, please email me.

Also if I have got the language or tone wrong of this update, please tell

me, I certainly don't want to put any of you off from continuing to help

us with our development:- leanne.galbraith@legalaid.gsi.gov.uk or

CJSCPComms@hmcts.gsi.gov.uk

/ Our analysis results and Expert Reports have been

used in thousands of family law cases and child

care proceedings across England and Wales

/ ISO 17025 UKAS accredited hair drug and alcohol

testing

/ Laboratory analysis in accordance with the Society

of Hair Testing

/ Speak to our experts directly to discuss the results

Lextox experts provide analysis and reports for family law

cases and child care proceedings within 5 working days

/ Responsive sample collections by qualified

healthcare professionals

/ Free SRA accredited CPD seminars

Call us today on 029 2048 4141

or email experts@lextox.co.uk for a competitively priced bespoke quotation

T: 029 2048 4141 / F: 029 2048 4321 / E: experts@lextox.co.uk / www.lextox.co.uk
---
12 Movers & Shakers

Jim Davies appointed High Sherriff of Merseyside

Co-founder of legal business DWF Jim

Davies OBE – the 'D' in 'DWF' - has been

appointed by Her Majesty the Queen as the

High Sheriff of Merseyside for 2016/17, a

voluntary and non-political role.

This important role in the county, second only

to Her Majesty's Lord Lieutenant of

Merseyside, carries responsibilities which

include supporting the voluntary sector;

upholding and actively supporting the Royal

Family; the judiciary; the police; emergency

services; local authorities and church and faith

groups.

The prestigious High Sheriff position is one of

the oldest secular offices in the UK, and Jim's

appointment reflects his longstanding

commitment to local charities and

organisations across the Merseyside region.

He has held number of roles of including

board member and trustee of Royal Liverpool

Children's Hospital, former council member

of Tate Liverpool and Chair of its

development committee and Acting Chair of

Liverpool Cathedral Foundation Trustees. Jim

is also an Honorary Fellow of Liverpool John

Moores University and in 2015 was awarded

an OBE and recognised in the Queen's New

Year Honours List for his services to charity

and the community in Merseyside.

Jim has also been a key figure in the

development and recent launch of the DWF

Foundation. As a registered charity, the

foundation was created to help drive change

throughout communities by providing

necessary funds and resources to support

homelessness, employability, education and

wellbeing initiatives across the UK.

Jim commented: "I feel very honoured and

privileged to be appointed as High Sheriff of

Merseyside and I intend to spend as much

time as possible visiting and supporting many

causes in Liverpool, Wirral, Knowsley, St

Helens and Sefton. I have every intention of

doing all that I can to help and support the

people of Merseyside."

Jim was officially installed into the position of

High Sheriff of Merseyside during a ceremony

at Liverpool Cathedral on 21 April 2016.

Jim Davies OBE

New partner for Paul Crowley &

Co solicitors

Paul Crowley & Co solicitors in Liverpool

has appointed Tracy Thompson as managing

partner.

The firm, which has branches in Anfield, West

Derby and Walton, has promoted its operations

director to the role of managing partner.

Since joining in March 2011 Tracy has worked

to develop the firm through implementing new

systems and procedures within the practice, as

well as managing corporate business planning

and marketing activity.

The appointment comes at an exciting time for

the firm as it celebrated its 25th anniversary in

January, with an exclusive event at 60 Hope

Street, while new appointments have been made

throughout the firm.

Established in 1991 by Paul Crowley, the firm

has built a strong reputation for providing

quality legal advice to its clients across

Liverpool, which it now hopes to build upon.

Tracy will join current partners Paul Crowley,

Michael Fogarty and John McKenna.

Paul Crowley, senior partner, says: "I am

delighted to announce Tracy as our new

managing partner. Over the last five years

Tracy has been an invaluable member of the

Paul Crowley & Co management team, helping

to direct and guide our ongoing development. I

cannot wait to see where this new partnership

will now take the firm as we look to continue

our growth".

Tracy Thompson, managing partner, says: "It's

an honour to have been made a partner in Paul

Crowley & Co, a firm which I have been able

to build a strong relationship with over the past

five years.

"I have thoroughly enjoyed working with our

incredible team and am fully confident that the

coming years will see yet more impressive

results".

Tracy Thompson

-
---
Movers & Shakers

13

Partner promotions at Weightmans

Top 45 National law firm

Weightmans LLP, has

announced a trio of promotions

for 2016 to Fixed Share

Membership (FSM) status.

Based at the firm's Head Office in

Liverpool, the new partners:

Sarah Conroy (CDR team), Chris

Grady (Real Estate) and Liam

McGuire (Motor) - pictured.

Commenting on the promotions,

Managing Partner John Schorah

said:"These promotions are very

well deserved. We have talented

and dedicated people across every

area of the business and we are

delighted to recognise their

contribution.

"Our clients are a priority, so it's

important for us to continue to

grow and invest in the diverse

mix of skills within our teams, to

enable us to provide the best

possible service. We welcome

Sarah, Chris and Liam to our

Partnership as their efforts have

been considerable and we are sure

that they will continue to develop

as partners as we continue to

grow as a firm."

Weightmans has also welcomed

two new partners to its Equity

Partnership. London Healthcare

Partner Rachel Kneale and Pete

Wake from Local Government in

Liverpool.

All Partners will be taking up

their promotions as of 1st May

2016.

DWF to acquire niche insurance

law firm Fox Hartley

Leading legal business DWF,

which has a strong presence in

Liverpool, is to acquire niche

law firm Fox Hartley to

strengthen its insurance,

litigation and product liability

capability, enhance its sector

expertise and help secure new

domestic and international

insurer clients.

DWF's 900-strong insurance

team, including 115 insurance

specialists in Liverpool, is already

one of the top three insurance law

firms in the UK, and the merger

will allow DWF to develop its

specialist insurance offering to

clients including QBE, Travelers

and Zurich. DWF will also

benefit from Fox Hartley's close

links to French, German, Japanese

and Swedish insurance markets.

Fox Hartley also provides

specialist product liability

guidance to insurers and

manufacturers and advises on

serious incidents and health and

safety prosecutions, which will

augment DWF's existing

expertise in delivering domestic

and international product liability

guidance to clients across a wide

range of industry sectors

including retail and marine.

Paul Rimmer, Executive Partner

in Liverpool, comments: "Fox

Hartley has excellent litigation

and insurance specialists with a

diverse range of niche expertise

that will complement our existing

teams and sector expertise and

help us secure new clients. This

merger presents significant

advantages and opportunities for

both firms, our people and our

clients."

DWF in Liverpool employs 324

people and has 23 partners

offering the full range of

commercial legal services with a

first rate insurance team in place.

The acquisition will take effect on

3rd May 2016. The firm is based

in Bristol and it is anticipated that

all of Fox Hartley's people will

join DWF, including its three

partners Trevor Fox, Michael

Hitchings and Peter Barnes.

Expect the

Unexpected

GCS are there for you…

With policies that last in

perpetuity, cover all successors

in title and can be issued

instantly!

Whether it is Instant Issue Pack,

Online or Bespoke we are

committed to providing clear,

easy solutions whatever the

problem!

Call 01435 868050 to speak to an

underwriter today.

www.gcs-title.co.uk

01435 868050

underwriters@gcs-title.co.uk

Guaranteed Conveyancing Solutions Limited is authorised and regulated by the

Financial Conduct Authority. Registered in England and Wales No. 3623950

Legal Indemnity Insurance
---
14 Practice Advice

Solicitors' Professional Indemnity Insurance sails

into unchartered waters

"No man has a good enough

memory to be a successful liar."

Abraham Lincoln

It's not only red grouse that will need to keep their heads down on 12

August this year. The Glorious Twelfth is also the date when the

Insurance Act 2015 comes into effect, imposing significant new

obligations on law firms buying professional indemnity insurance (PII).

The SRA has been consulting with the profession and others about

consequential changes it proposes to make to the Minimum Terms and

Conditions of solicitors' PII. The outcome of this consultation seems

pretty clear though.

Emerging from a Herculean consultation by the Law Commission, the

Insurance Act 2015 attempts to modernise UK insurance law in the area

of non-disclosure with a view to creating a more certain contractual

position between insurers and their policyholders. The Act will impose

a new duty on a law firm to make a 'fair presentation' of its risk to its

insurer. In essence, this means supplying information about the firm

which the firm knows about or ought to know about and which would

influence a prudent insurer in determining whether (or on what terms)

to accept the risk. The objective is to enable an insurer to consider the

placement of a firm's risk on a more informed basis, or at least put the

insurer on notice that it should ask for more information. A firm does

not need to disclose information that the insurer knows about or ought

to know about or where disclosure of certain information has been

waived.

Without overstating it, this new duty is a deep bear trap for the unwary

and it will not be sufficient simply to say 'that's what we pay our

insurance brokers for'. You can be fairly sure that your brokers'

engagement terms on this point will be as tight as a garden tap on a

frosty morning.

Every law firm will now have to conduct what's called a 'reasonable

search' before presenting its information to its insurer. As regular

interpreters of legislation, you will not be surprised to learn that the Act

gives little or no guidance on what constitutes a 'reasonable search'.

Information must be provided in a clear and accessible manner, not

chucked together in a Tesco bag like most people's office expense

receipts - a practice politely termed 'data dumping'.

As a managing partner, it is highly likely that you will be the one

having to satisfy yourself and your management group that a reasonable

search has been carried out and that the firm's insurance submission

represents a fair presentation of your firm's risk.

In non-solicitor PII markets, deliberate or reckless failure to make a fair

representation will entitle an insurer to avoid the policy and return the

premiums paid or, where failure is not deliberate or reckless, to ask a

court to impose new policy terms or conditions or a higher premium.

Under the Minimum Terms and Conditions of solicitors' PII, insurers

are currently prevented from avoiding policies on any grounds

whatsoever, to ensure clients remain protected at all times.

Nevertheless, failure to make a fair presentation of your risk will

become an increasingly important factor in any decision about what is

'just and equitable' if your insurer were to seek reimbursement from

your firm under the Minimum Terms and Conditions.

Supporters of the Act argue that the new law will reduce the likelihood

of policy disputes. Let's hope so. One thing's for sure, it will certainly

present more work for insurers, brokers and law firms as insurance

placement becomes a more technical and contractual process.

So here are SEVEN TIPS for getting yourself ready for your insurance

placement post the Glorious Twelfth:

TIP ONE - Engage an insurance broker that specialises in solicitors'

PII and can demonstrate they are fully prepared for the new placement

regime - and get someone who really understands insurance to check

the broker's engagement terms.

TIP TWO - Tell your broker that you only want to engage in a

placement dialogue with quality, rated insurers who can demonstrate a

genuine commitment to the spirit and letter of the new placement

regime.

TIP THREE - Put internal systems and controls in place to capture

and collate all risk information about your firm on an on-going basis

and make sure your practice management system enables you to

produce clear and meaningful management information reports in a

timely fashion when requested by your broker and insurer.

TIP FOUR - Put insurance renewal on your board agenda and make

sure the person liaising with your broker has sufficient internal authority

and powers of persuasion to conduct an effective 'reasonable search' for

information.

TIP FIVE - Keep your own detailed written record of all conversations

and exchanges between you, your broker and your insurer so you can

evidence everything you have done during the placement process.

TIP SIX - Don't skimp on resources for your insurance placement - it

is one of the most important contacts you will enter into this year, given

the balance sheet protection it provides and the arguably increasing risk

your business faces from a reimbursement claim by your insurer.

TIP SEVEN - At the risk of stating the obvious, read and understand

your insurance policy. It will not only send you soundly to sleep but

also hopefully stop you waking at three in the morning in a cold, cold

sweat.

© Nigel Wallis, O'Connors LLP. O'Connors LLP is a Liverpool and

London-based law firm that advises law firms, chambers and other

providers of legal services on start-ups, structures, regulation,

funding, mergers, acquisitions and disposals, contractual

arrangements with third parties and insurance. For further

information, please contact Nigel Wallis, Pamela Rafiq or Mark

O'Connor at O'Connors LLP via www.oconnorsllp.co.uk.
---
conveyancing

nci

ng

is moving on

Times

change – so why do systems and processes s seem to stay the same? You know there must be ways of saving yourself

hassle and making your work easier, it's just that someone needs to make those things real. That's where we come in.

InfoTrack is a service e provider that's challenging the norm so that conveyancing can evolve. With us, you can carry out all

your key tasks – including Searches, SDLT Submissions and AP1

Transfers – within a single website.

Times change –

and we're driving those changes, for you.

Land Registry

Searches e

SDLT AP1

To move on with InfoTrack, visit infotrack.co.uk/movingon

or call 020

7922

5777
---
-

-

VFS LEGAL FUNDING

RELEASING CASH FLOW

Do you want to improve

your Cashflow?

VFS provides quick, simple and cost effective funding

solutions that release YOUR funds locked up in YOUR profit

costs and disbursements.

The funds can be used by you for any purpose. Including, for

example, Tax and VAT payments, removing the need to rely on

costly, fixed term repayment loans from secondary funders.

Disbursement funding ('DCF')

VFS funds the ongoing disbursements incurred on PI, Clinical

Negligence and Litigation cases until their natural conclusion.

Costs advance facility ('CAF')

VFS can provide immediate funding against most bills that

have been served – releasing cash back into the practice.

For a no obligation discussion please call 020 3747 9333

or email enquiries@vfslegal.com or visit vfslegal.com
---
17

CPD

Would you like to attend an UNLIMITED number of our

training events in a 12 month period for £360* plus vat?

(1st June 2016 - 31st May 2017)

Offer would only exclude the Children Panel Qualification 3 day course and occasional other events when specified.

*If applied and paid for before 30th June 2016, otherwise cost will be £380 plus vat.

In accordance with the new training requirements, Solicitors will be required to sign a

statement of competence when renewing their practising certificate. We will provide you with

a full report of all training undertaken, which will support this.

2016/17 Training Season Ticket

THIS IS A MEMBERS ONLY OFFER

To see more information visit: www.liverpoollawsociety.org.uk

-

"I recommend unreservedly the Season Ticket which provides excellent value and encourages

participation and learning which benefits the individual, firm and clients"

Naomi Pinder, Solicitor, Jackson & Canter.

-

-

-
---
18 Council Member's Report

Council Member's Report

There was a Council Meeting on

the 30 March which I attended,

and it was a pretty interesting

one. We had the Hustings for

DVP, we discussed Governance,

ie. how many people should be

on Council and what should the

composition of Council be, the

fallout of Veyo, Regulation and

Separation, and the Presidential

plan for 2016/2017. There were

some fundamentally important

issues in that lot.

The night before Council Meeting

we had a presentation by Mike

Burnitt from Diversity at

Mackenzie, entitled ' Diversity:

Working with Difference'. This

was an interactive session and we

looked at Equality Impact

Assessment and Equality Analysis,

and it proved to be a thoroughly

interesting session. One of the

fascinating things was looking at

old job adverts… "No Beards

Please" , 'Free Swimming for

OAPs' , 'Men Conductors

Required'. It is fascinating how

society has progressed.

-

The 3 candidates for DVP were

heard in The Hustings. In effect

they were giving justification as to

why they would be appropriate

person to be elected President in

2018. All 3 gave plausible 5

minute speeches, and then took

questions.

By the time you read this edition

of Liverpool Law, the voting will

have taken place. I put the

candidate's statements in the April

edition. I will take any questions

at the LLS general committee

meeting on 12 April. By the time

you get this edition the next DVP

will have been elected.

There is currently an analysis

going on as to the composition of

Council, including the size of it,

and the nature and content of the

members. Nichola Nichols, who is

not a member of the profession, is

conducting the research project,

and consulting. This is quite an

emotive subject, for varying

reasons, and it is a subject YOU

might have a view on: I hope that

it is. Please let me have YOUR

view if you have one. I will pass

it on, anonymously or not

depending on your wish.

Similarly, call me if you wish to

discuss. It does affect you.

So does Regulation. I mentioned

this in my April Report. The

debate goes on. It was thought

that the consultation paper would

have been published by now , but

no joy. The Law Society's view is

fairly well documented, and as I

have heard from no one I assume

– as The Law Society assumes –

that it is a view shared by all

readers. If not, please do let me

know, because we do not want a

repeat of Clementi (the profession

in effect ignoring the potential

ramifications, and then saying

'why did The Society do

that'……) In particular, younger

lawyers.

The future of Regulation will

affect you rather than me. What

are you views? Are you getting

them heard, if not through LLS,

then at least via other means:

JLD, for example. I cannot stress

how important the issue is going

forward for the ( YOUR )

profession. What you think is

important, not ageing fossils like

me !

Veyo was discussed. There is a

real feeling that lessons can, and

have been, learned from the

experience. In due course a

'lessons learned' document will

be published.

We, as a profession, sometimes do

not sing our own praises enough.

We are part of a big industry. An

estimated 370,000 people are

employed in the legal services

industry, (I am surprised it is not

more), 63.3 % are solicitors or

employed by solicitor firms. The

total value of legal services is £25

B…( that's Billion). The stats

show that every 100 extra jobs in

legal services supports a further

67 jobs. Our legal industry is a

crucial part of the UK economy. It

is incumbent on us all to advertise

this to our friends, local

communities, and our MPs, who

generally do not seem to

appreciate our value, as they try to

do us down as an easy touch. Oh,

and all that is before we start on

the reputation our legal system

had overseas, and the envy our

CHARLIE JONES

COUNCIL MEMBER

Charlie.jones@weightmans.com

protection of The Rule Of Law

provokes in other jurisdictions.

And, we prevent unnecessary

litigation. Ask yourself : How

many disputes get to litigation,

and of litigated disputes, how

many get to Court? I suggest a

very small percentage. Why?

Because the public consult

solicitors who usually make them

see reason and they compromise.

That is what our profession

encourages. Imagine the state of

chaos if we were not here, and

everyone represented themselves.

It really would be chaos! …..If

only politicians could seek

compromise in a similar way!

The Current VP , Robert Bourns,

has published his draft

Presidential Plan for 2016/2017.

This will be circulated before he

takes office in July.

Charlie Jones.

Weightmans LLP.

Co Council member Liverpool

and District.

01512427919.

Charlie.jones@weightmans.com
---
The Law Society

19

Law Society Council Summary

Law Society Council

meeting summary:

30 March 2016

Council's second meeting of the

2016 calendar year saw a busy

programme of reports and papers.

Among these, Council was

updated on progress on the

review of the governance of the

Law Society. The independent

lead, Nicola Nicholls, has

conducted a number of meetings

with Council members and a

range of external stakeholders, as

well as a programme of research

with other comparable

organisations. Nicola shared ideas

for ensuring that the Law

Society's governance remains fit

for purpose and supports the

organisation in delivering its

strategy. Further updates will be

provided as more detailed

proposals are worked up. Of

course, a lot is going on in the

external environment which

impacts directly on the Law

Society and our members and this

was the main focus of the

Council meeting.

Promoting the profession -

market and regulatory change

Following HM Treasury's

publication of 'A Better Deal:

boosting competition to bring

down bills for families and firms',

Council heard of the corporate

priority to ready the Society to

respond to any consultation on

the future revised regulatory

framework for the profession.

Activity is ongoing so as to

inform the debate effectively. In

discussion, there was broad

consensus among Council that, to

support and protect the public,

regulation of legal services

should be simpler and better, and

that the legal profession should

continue to be, and be seen to be,

independent of the state. This

would involve regulation setting

and enforcing the minimum

regulatory rules consistently so

that the buyers of legal services

are protected. It would also

involve the solicitor profession

taking responsibility for

professional standards, entry into

the profession, and awarding the

professional title of solicitor.

Council noted that further work

was being done on how various

possible models would work in

practice and looked forward to

further debate in due course.

Council heard about the Society's

submission to the Competition

and Markets Authority (CMA)

study on the supply of legal

services in England and Wales,

which can be found here:

http://www.lawsociety.org.uk/new

s/press-releases/law-societyresponse-to-scope-of-cma-studyinto-the-legal-services-sector/.

Close liaison has continued

between the Law Society and the

CMA including using the Society

to facilitate engagement with

members of the profession at

large.

Council also noted the

publication, shortly before Easter,

of the Law Society's report into

the wider economic value of legal

services.

Representing the profession -

legal updates

Council noted the work that is

being done, with the Bar, the

Ministry of Justice (MoJ) and the

Legal Aid Agency (LAA) to

update the criminal crown court

fee schemes for litigators and

advocates, with working groups

including members of the Law

Society Access to Justice and

Criminal Law Committees.

The CEO took the opportunity to

remind Council that, although the

inclusion of legal professional

privilege on the face of the

Investigatory Powers Bill was a

pleasing success, work was

continuing in association with the

Bar on a number of outstanding

concerns.

Council also heard about

continuing work on civil legal

aid, in particular working with

the Bach Review of Legal Aid to

emphasise our long-standing

position, calling for the

restoration of legal aid where its

removal has had the most

significant impact on

disadvantaged groups. On civil

courts structure, Council noted

that we have submitted a

response to the interim Briggs

report calling for the profession

to be actively involved in the

development of the proposed online

court.

Supporting the profession -

engagement and other activity

The CEO reported on a wide

range of activity and events. This

included oral evidence given by

the President on court fees before

the Justice Select Committee, and

a meeting between the President

and Vice President and the EU

Justice Commissioner, as well as

a meeting with the President and

the Lord Chancellor on legal

regulation. The President's report

drew attention to a number of

visits to local law societies to

support the profession's work on

business and human rights. In line

with his presidential plan, he also

highlighted work to support the

role of solicitors in undertaking

property transactions, and thought

leadership on technology and law.

Presidential Plan 2016-17

More detail will follow but

members will be interested to

know that Council was warmly

supportive of Robert Bourns' plan

for his forthcoming year as

President which starts in July,

focusing on a programme of

work to connect further with

members in England and Wales

to identify best practice and bring

members together, promoting

pride in the profession, access to

justice for all, and access to the

profession for the best candidates

regardless of social background.

-

- -

-

-
---
20 Charity & CSR

Charity and CSR Matters

Hello! This month we

have amongst other

things, news of duck

racing for charity and a

great opportunity to

support the work of

Liverpool PSU. If you

would like to tell others

about your CSR activities,

please send me an article.

Equally, if you want to get

other lawyers involved in

offering pro-bono advice,

know of an opening for a

charity Trustee or want us

to feature a particular

charity, then let me

know too.

You can e-mail me at

matthew.smith@weightmans.com

MATT SMITH

Matthew.Smith@Weightmans.com

Opportunities at Liverpool

Personal Support Unit

Dave Troughton from Liverpool PSU tells us about the challenges

facing litigants in person and what can be done to help.

It's now been 4 years since the opening of Liverpool Personal Support

Unit, and the needs of Litigants in Person (LIPs) are higher than ever

since the severe restrictions in legal Aid have come about. PSU

currently have 320 or so client contacts per month and we see this as

highly likely to continue to rise as we gear up to meet demand. We

expect the demand for PSU will increase as the on-line court develops

and LIPs need help with digital applications. At the present time 86%

of our work is Family.

We encourage our clients to employ formal legal advice and

representation, or advise them if they might qualify for legal aid. Sadly,

the majority of our clients are either on minimum wage or unemployed,

and very few qualify for legal aid.

PSU refer our clients to a range of free legal advice clinics, and we are

always looking for more of these free services. The greatest need of

our LIPs is Legal representation. Whilst the more straightforward cases

just about manage to represent themselves there are other, more

complicated, cases where LIPs appear in court and the other side has

legal representation. In these cases there are times that the LIP feels

Justice has not been seen to be done.

PSU is a charity that relies upon volunteers and financial support to

provide its services. Any firm or individual willing to support us would

be a very welcomed partner in our work.

We would like to hear in particular from any advocate who would be

willing to work with PSU and offer to consider pro-bono representation

in cases where we feel such help could be justified. If you are

interested, please contact Dave at PSU to discuss how you might be

able to help. Dave can be contacted on 0151 296 2296 or by email at

liverpool@thepsu.org.uk .

Do you want to help change people's lives?

Do you want to give something back to your

community?

Would you like a volunteering opportunity that is

rewarding, stimulating and challenging?

Citizens Advice Wirral is currently recruiting volunteers to join our

Board of Trustees.

Citizens Advice Wirral is committed to ensuring its volunteers reflect

our diverse population; as such we would be particularly interested in

hearing from women, people aged under 50 and people from BME

groups.

For an application pack please email

joy.williams@wirralcab.org.uk

Closing date for completed applications: Monday 9 May 2016

Commercial law firm Brabners has nominated Crisis, the national

charity for single homeless people, as its chosen charity for 2016.

The charity works to end homelessness by delivering life-changing

services and campaigning for change.

Crisis was chosen by employees following a vote. Brabners has a

dedicated charity committee who will organise fundraising events over

the coming year, although fundraising began before Christmas, when

staff raised over £3,550 to support the Crisis at Christmas campaign.

Forthcoming events in the calendar include the Charity Challenge, an

action-packed weekend of canoeing, cycling and hill climbing in the

Lake District where teams from different companies across the North

West compete to finish the course in the fastest time.

There is also the return of 'The Big Idea', an apprentice-style contest

involving one team from each of the firm's offices competing against

each other to raise money for the charity. Staff will also be encouraged

to volunteer and participate in charity collections and events.

Mark Brandwood, Managing Partner at Brabners said:"We are

delighted to be working with Crisis during 2016. Our CSR programme

is thriving – all at Brabners are very keen to support charitable

endeavours. We are looking forward to getting involved in a wide range

of volunteering and fundraising activities to raise both money and the

profile of the charity across the region."

Crisis helps people rebuild their lives through housing, health,

education and employment services and works with thousands of

homeless people across the UK.

Kate Farrell, Director of Crisis Skylight Merseyside said: "We are

delighted to have been chosen as Brabners' Charity of the Year for

2016. With their help, thousands of homeless people will come to Crisis

to learn, find jobs and build confidence; helping them to leave

homelessness behind for good. We would like to thank everyone at

Brabners for their generous support and we look forward to working

with them throughout the year."

Last year the firm raised over £24,800 for its chosen charity for 2015,

Alder Hey Children's Charity.
---
Charity & CSR

21

Lees Solicitors finishes in 3rd place at annual Duck Race

On Good Friday, Wirral based Lees Solicitors took part in the

annual Manchester Duck Race in support of the firm's charity of

the year, children's charity Brainwave.

The Duck Race, now in its seventh year, was held along the River

Irwell and attracted over 10,000 people cheering on 8,000 toy ducks and

47 large model ducks that took part in the Corporate Race. The event

raised over £20,000 for Brainwave and even attracted the attention of

British Astronaut Captain Tim Peake, who paid homage via Twitter

aboard the International Space Station to one of the Corporate Ducks

designed in his honour – the appropriately named "Tim Beake" which

won the public vote for "best dressed duck".

Each corporate sponsor was invited to decorate their duck and Lees

Solicitors' "Paris theme" duck (celebrating the year 1889 in which Lees

was established and the Eiffel Tower was completed) finished an

amazing 3rd place.

Vanessa Wragg, Trainee Solicitor at Lees in their specialist Court of

Protection team, had the idea for the design and the artistic talent to

produce the finished article. Vanessa was joined on the day by

Paralegals Hanni Frankland and Adam Brislen from their Clinical

Negligence department.

Brainwave is a charity that helps children with disabilities and

additional needs to achieve greater independence. Aiming to improve

mobility, communication skills and learning potential through a range of

educational and physical therapies. The children Brainwave support

have a range of conditions including autism, cerebral palsy and genetic

conditions such as Down's syndrome.

Commenting on the event, Joanna Kingston-Davies Chief Executive at

Lees Solicitors said: "We were delighted to be involved in the Duck

Race and thrilled with a podium finish at our first attempt. It was great

to see so many people from all parts of the North West and beyond

supporting Brainwave. The work that Brainwave do helps to transform

lives and Lees are proud to support a charity that helps local families

across our region."

Richard Clarke, Head of Regional Fundraising at Brainwave added

"Brainwave is delighted to be the charity of the year for Lees Solicitors

who have really taken us under their wing. The Manchester Duck Race

is one of the largest charity events in the North West, and the largest

event organised by Brainwave. The Lees Solicitors' duck was

brilliantly decorated and we are delighted that the good people of Lees

enjoyed the event."

Up next for Lees is the Liverpool Rock 'n' Roll Half Marathon on 29th

May when six members of the firm will run the course in aid of

Brainwvave.

To find out more about Brainwave visit www.brainwave.org.uk.

The Weightmans Apprentice Competition

Weightmans LLP organised an internal competition for staff to

compete in an 'Apprentice' style competition in order to raise

money for their office charities. The competition was held over

several months and involved teams being set particular tasks to

overcome and raise as much money for charity so as to avoid being

'fired'. Each team set about undertaking activities and organising

events, demonstrating their innovation and impressive team work

whilst obtaining publicity and sponsorship from external

companies along the way.

Each team fought honourably to avoid being 'fired' by the board so as

to get through to the next stage and become the winner of the

competition. All great things must come to an end, however, and there

is only 1 winner! The winning team, self named 'Boys and Girls

Aloud' consisting of Katie Corless, Paralegal, Grainne Donnelly,

Paralegal, Jennifer Calvert, Solicitor, Steve Peacock, Partner and

Charlie Jones, Partner and former president of the Law Society, raised

a fantastic £5,200 for the Liverpool office charities.

The competition as a whole has raised approximately £10,000 to date

with money still coming in and 1 more event to go!

The money raised is split equally between the 2 Liverpool office

charities, Isaac's House, an orphanage in Uganda, and the Merseyside

Tuesday and Thursday Club, which helps adults with learning

difficulties.

A superb effort has been put in to this competition by the organisers

and all the teams that competed. The money raised goes to excellent

causes and the competition has been enjoyed by all those involved

with competitors demonstrating great sprit and skills along the way.

For further information on the competition, the charities or if you

wish to make a donation, please do not hesitate to contact Katie

Corless via Katie.corless@weightmans.com'
---
22 Local News

0151 733 3353

Media

Round-Up

LiverpoolLawSociety

@LpoolLawSociety

The first committee meeting to be

held in our new premises, Helix.. and

the sun is shining!!

The Sefton Writing

Competition

This month we publish "Takes Two" by

Emily Parr, runner-up in the competition

It's a sad fact that like jam jar lids, people are rejected, or at least dodged, if depressed.

Those most in need of company don't make good company and therefore are avoided, or

avoid it themselves. People in love are loveable; the most engaging, the engaged.

It's also a sad fact that the most romantic people are single, separated or divorced. Not the necknuzzling,

pet-naming, teddy-giving gushers, but those so determined to defend a dream that

they'd rather be alone than settle for less. Those who do desperately shoehorn a partner into the

soul mate mould eventually realise their delusion. They are then branded cruel and fickle as they

admit their folly. In daring to heed their own hearts, they are the heartless heartbreakers; the

marriage wreckers.

LiverpoolLawSociety

@LpoolLawSociety

Attend a meeting to relaunch the

Black Solicitors North and Manchester

Group..register now

http://www.liverpoollawsociety.org.uk

/society-news/latest/relaunch-bsnnorth-and-manchester-group-blacksolicitors-network-meeting

Alpha Biolabs

@AlphaBioLabs

Some of the fine people at the

liverpool law society Child Law

Conference.

For this, and a stigma dating back to witch accusations, the single are penalised daily in the face

of bargain deals for couples and families. Buy the big box, get one free. Kids eat free. Buy two

pub meals, get both cheaper. Tea for two for the price of one. There's no half price for one.

Spend more on less. Help yourself to a large trolley, but hire a small one. Squeeze mini wine for

one from a plastic bottle.

Punishment isn't confined to purchases. At work, as the one left behind while the rest mingle on

maternity leave, you shovel up the duties they abandoned, holding the fort they'll never return to

in the same way. With no dependants, you carry the anvil of being dependable. No private life,

no excuses.

Put these facts together, and you have solitary and sad romantics everywhere clinging to a

dream. Our culture, under its seemingly benign inflictions of online matchmaking and speed

dating, does nothing to help them. The injustice lies in a society constantly asserting the

abnormality of being single. It's not just parents panicking as years pass with cousins' baby

showers coming thick and fast. It's in every street café and restaurant proudly flaunting couples

in the window, or the family friends keen to assure you there's still time, or urging you to try the

walking club, again. It's in the conviction that alone means lonely.

If you're not lonely, then you're odd, say the eyes suspiciously assessing your motives on

country rambles. With him at your side, they used to smile and say hello. You were fellow

couples then, but now they are wary of you as you perch on a rock, an eerie, silent figure, albeit

sandwich eating. Nobody lone is dogless.

Perhaps the invisibility city life grants is easier. Restaurants may be no place for the unattached,

but you can safely tuck yourself in a slide-in seat for fast food. Jaded faces and furtive fingers

are no strangers there. The darkness of a cinema screen would be a sanctuary, were it not for the

walk of shame to and from the seat, or feeling obliged to stay in the couple-free front rows. Still,

dreams can thrive in soaring music and the all-consuming embraces. They ache, and you sob in

the joy and relief of feeling alive.

As much as you defend and resent and protest, all signs join the opposing tide. The truth is

undeniable; being without is missing out. It's unfair that they're right.

Need an expert in medical or

dental negligence?

Refer to us. City : Allerton : Garston

www.gadllp.co.uk
---
LIVERPOOL

PROFESSIONALS'

DINNER

The professional sional membership organisations from across the Liverpool City Region are

pleased to announce the forthcoming Liverpool Professionals' Dinner, with guest speaker

The Rt Hon. the Lord Falconer of Thoroton

the Shadow Lord Chancellor and Shadow

Secretary of State for Justice.

There will be many opportunities for business development elopment and networking at the event,

as well as supporting our charity partner, the Roy Castle Lung Cancer Foundation.

We believe e it is the ideal opportunity for professionals sionals working in the region to mix with

others, make contacts, and showcase their firms to their guests. We hope you will support

the event and look forward to seeing you there.

Lord Falconer of Thoroton

Gold sponsor:

Charity Partner:

Partners:

Date: 19 May 2016

Time: Arrival 6.45 for 7.30pm

-

11.30pm

Venue: Crowne Plaza Hotel,

Liverpool, L3 1QW

Dress Code: Black tie

Price: £600.00 + vat for a table of 10 (£720.00 inc vat).

Individual bookings also welcome at £60.00 + vat (£72.00 inc vat)

Bookings and enquiries can be made online via: http://www.liverpoollawsociety.org.uk/social-event-booking-form

/w

social-event-booking-form

or via email: socialevents@liverpoollawsociety.org.uk

ents@liverpoollawsociety.org.uk

Liverpool

Architectural

ral

Society
---
24 Conveyancing

Why conveyancers must employ

enjoyable technology

by Scott Bozinis, CEO InfoTrack

Recently I found a fascinating

book full of very interesting

statistics. Did you know that

every day the amount of data

created grows by 2.5 quintillion

bytes? That's 18 zero's! Or did

you know that less than 0.5% of

all available data is ever

analysed and used? Referring to

information of this magnitude

the buzzword 'big data' is often

used, which is simply a term to

describe structured and

unstructured data. However,

I'm more interested in how this

growth of data affects law firms.

According to the book 'The

Human Face of Big Data', the

average person now processes

more data in a single day than

they did throughout a whole

lifetime in the Middle Ages. The

majority of this data is, of course,

driven by the internet and the

sharing of information and

creation of content associated

with it. So, with the sheer volume

of data and amount of stimuli we

process day-to-day, what impact

does this have on our lives?

On a daily basis employees,

colleagues and peers are

consuming incredible amounts of

information in both personal and

professional capacities, between

which, the lines are often blurred.

So while we're taking time to

process and analyse the multitude

of data during our working day,

it's leaving us with less time to

manage operational or

administrative tasks.

Working in the conveyancing

sector, there is a huge input and

output of information generated

throughout the process. All this

resulting information then needs

to be organised, analysed and

stored in a way that is easy to

access. That's not easy when

we're constantly processing and

filtering data, so choosing a

system that can help do this

efficiently is imperative.

Furthermore, as client

expectations continue to increase,

so too does the demand for a

faster and more economical

service, placing additional

pressure upon the conveyancer.

Nowadays we are used to

technology in our personal lives

that help us easily organise,

analyse, store and access

information. This begs the

question, 'why can't the clever

technology that I use in my

personal life, be available in my

work life?', and as a busy legal

professional, I hope this resonates

with you.

Scott Bozinis

-

-

-

-

-

-

-

Commonly raised data challenges

in the conveyancing industry

include filing matters, reconciling

disbursements, and rekeying

information for SDLT

submissions or AP1 transfers.

Now, the good news is that while

the issues around the volume and

management of information are

present, there is simple, intuitive

technology built to evolve how

conveyancers manage their

matters in the most efficient way

possible. Choosing to use these

systems means less logins and

passwords to remember,

eliminates the issue of lost

disbursements, re-keying errors,

and houses all information related

to your matters in a central

system, providing one source of

truth. Opting for the right

technology for your firm gives

time back to you and your staff,

creates efficiencies and minimises

risk - why would you work any

other way?

By making the change to simple,

enjoyable technology, you can

change the way you work, store

and analyse information related to

your matters, and thus, take the

headache out of the conveyancing

process.
---
"SAN CARLO HAS THE INGREDIENTS

OTHERS CAN ONLY DREAM OF"

The Observer

Aldo Zilli now part of

the San Carlo team

WWW.SANCARLO.CO.UK

41 Castle St, Liverpool, Merseyside, L2 9SH

liverpool@sancarlo.co.uk | T: +44 (0)151 236 0073

@SanCarlo_Group

WINNER OF THIRTY TWO PRESTIGIOUS AWARDS
---
26 Regulation

Regulation Update

The latest regulation news from Michelle

Garlick of Weightmans LLP

Did you know that the month of

May is the National Smile Month?!

Hopefully that little useless bit of

info will be enough to put a smile

on your face – I doubt very much

that compliance and regulation will

do so!

Legal Ombudsman

The COLP and COFA forum held

on 11 April was delighted to

welcome the new Chief Legal

Ombudsman, Kathryn Stone and her

colleague Alex Moore from the

Policy team. Kathryn was very

appreciative of the opportunity to be

able to address lawyers at the

coalface of dealing with complaints.

She reflected on her first few

months in her role as Chief Legal

Ombudsman and admitted that there

were governance and performance

issues to address but felt it

important to reflect on the positives

including excellent staff who had

succeeded in reducing the number

of outstanding cases and offering a

high standard of service and a new

Board whose focus is a

commitment to building for the

future.

She introduced statistics on the

practice areas which generated most

complaints and the main types of

complaint – it won't I'm sure come

as any surprise to you that

conveyancing came top of the pile

followed by Family, Wills and

Probate, Personal injury and

Litigation with client care, costs,

delay, failing to advise, not

following instructions and failing to

communicate being the main

problem areas. She looked at a

couple of case studies and offered

some tips on complaint handling

which, while perhaps somewhat

stating the obvious, is always worth

a reminder! She took a number of

questions from the floor and dealt

with them openly and directly. My

personal impression which I hope

was shared by all who attended was

that Kathryn is a good listener,

empathetic and will get things done.

She recognised that she has a

number of challenges including

timeliness, quality, consistency and

value for money as well as looking

at some jurisdictional changes,

some of which are likely to be quite

controversial including third party

complaints. Kathryn will also be

speaking at the Regulatory

Conference in June and will no

doubt be welcomed back in the

future to update us on how she is

getting on.

SRA Activity

One thing which is unlikely to make

you smile is a significant increase in

visits/ investigations and

disciplinary activity by the SRA

which my Compli team has noticed

recently. We are seeing visits to PI

firms (some with very little if any

notice) with their main focus being

on compliance with referral

arrangements. This increased

interest may be tied in with the

recent comments made by Paul

Phillip that the SRA wanted to

know more about how the PI market

operates, but if it is, it is of no

consolation to those firms who have

to drop everything in order to get

together a huge amount of

information which the SRA asks to

see during their visit. If you are in

this position, please give the Compli

team a call for further guidance and

assistance.

Staying on PI, the SRA also issued

a warning notice recently to PI

firms in respect of potentially

fraudulent personal injury claims.

Anyone dealing with PI claims

should familiarise themselves with

it, not because it has anything

particularly new to say but because

the SRA might refer to it in any

investigation if they consider a

solicitor has failed to take notice of

the warning.

In a nutshell, the SRA has raised

concerns about five specific issues

1. cold calling;

2. breaching the ban on referral

fees;

3. acting on instructions without

client approval;

4. paying damages to third parties;

and

5. bringing claims without clients'

knowledge.

What is clear is that PI firms need

to audit their files and monitor their

work sources with this warning

notice very firmly at the forefront of

their minds.

You may also have seen that the

SRA has recently closed 5 practices

in a week so they have certainly

been extremely busy!

SRA v Law Society

The battle of words regarding the

future of legal regulation continues.

I recently attended a meeting with

the Vice President of the Law

Society who is keen to hear the

profession's views on this very

important issue about what

functions the SRA and the Law

Society would have under a

changed system. If you do have any

views, please feed them back to me

and they will be passed on.

Another Register!

I'm afraid yet another register has

been introduced which affects LLPs

and Limited companies and which

COLPs/COFAs may need to be

responsible for. The Register of

People with Significant Control

(PSC) has been introduced as from

6 April 2016. Companies and LLPs

(with only very limited exceptions)

will be required to hold and keep

available for inspection a register of

people with significant control over

the company/LLP ("PSC Register").

This is a major administrative

change which will apply to the vast

majority of UK companies and

LLPs and Directors/ company

secretaries and/or COLPs/COFAs

will need to acquaint themselves

with the new rules and consider

how they will apply as soon as

possible. In summary, the

obligations are to investigate, obtain

and keep updated information on

registrable persons with significant

control and relevant legal entities

with significant control over the

company. A PSC register will need

to be created which needs to include

"required particulars" of each

person with significant control over

the company who is a registrable

person. The PSC register will also

need to be monitored, updated when

necessary and reviewed at least

annually so add this to your

calendar of monitoring of

policies/procedures etc.

Panama papers

The news has been full of the

MICHELLE GARLICK

WEIGHTMANS LLP

Panama papers scandal over the last

month or so – it's as if it's come

straight out of a John Grisham

novel! There will be many lessons

to learn even at this relatively early

stage so that your law firm is not

caught up in any similar scandals or

incidents that causes such huge

reputational damage. Are your client

take-on procedures robust enough

and effective in identifying potential

money laundering? Do your fee

earners understand the importance

of asking the right questions about

source of funds? Do they know

about and are you confident that

they can recognise red flags? Are

your systems properly protected

from hackers? Have you reviewed

your Data Protection and

Information security policies

recently?

The Law Society has just updated

its practice note on protecting your

firm if you fall victim to a scam s

have a look at that and ensure you

have it all covered off.

That's it from me for this month –

keep smiling! ☺

Michelle Garlick

Weightmans LLP
---
S Code Date Time May 2016 Speaker CPD

S3834 11th 9.30 - 4.30 The Cyber Conference: Managing The Risks Various 5.5

S3704 13th 1.30 - 4.45 Corporate Insolvency: A Practical Guide Chris Beanland 3

S3838 13th 9.30 - 12.45 The SRA Continuing Competence Regulations 2016:

Training for Tomorrow

S3682 17th 9.30 - 4.45 2016 Private Client Conference

in Conjunction with STEP Liverpool

Keith Harper 3

Various 5.5

S3819 18th 2 - 3 Trade Mark Reform in The European Union Kate Cruse 1

S3776 20th 9.30 - 12.45 A Practical Approach to Bail Applications &

Plea's in Mitigation

Colin Beaumont 3

S3807 20th 1.30 - 4.45 Advising The Client in Road Traffic Offences Colin Beaumont 3

S3736 24th 9.30 - 12.45 Money Laundering Regulation Officer Update Jo Morris 3

S3798 25th 9.30 - 4.30 Portals & Fixed Recoverable Costs Kerry Underwood 5.5

S3780 26th 2 - 4.15 Important changes to the Code of Conduct and the

Accounts Rules for Property Lawyers

S3786 27th 9.30 - 10.30 Knee injuries-demystifying the complexity of

the knee explaining how the needs injured

in common traumatic events

Denis Cameron 2

Dr Andre Brittain-Dissont 1

S Code Date Time June 2016 Speaker CPD

S3777 3rd 9.30 - 12.45 Case Stated & Judicial Reviews Colin Beaumont 3

S3808 3rd 1.30 - 4.45 Drink, Drugs & The Driver For Criminal Practitioners Colin Beaumont 3

S3845 7th 9.30 - 12.45 Practical Mindfulness For Solicitors Day 1 Terry McCoy 3

S3681 8th 9.30 - 4 The Regulatory Conference 2016 Various 5

S3843 10th 9.30 - 12.45 Dishonesty and Exaggeration in Civil Claims Professor Dominic Regan 3

S2844 10th 1.30 - 4.45 Relief from sanctions and getting out of trouble Professor Dominic Regan 3

S3737 15th 9.30 - 12.45 Solicitors Accounts Rules Jo Morris 6

S3757 17th 9.30 - 12.45 Telephone Skills for First Response Teams Candy Bowman 3

S3842 20th 11 - 2.15 The EU Referendum: Potential Legal and

Economic in conjunction with CISI

Various 2

S3824 21st 9.30 - 4.45 3 Day Children Panel Course (Day 1) Safda Mahmood Training 18

S3683 22nd 9.30 - 4.15 Personal Injury Conference 2016 Various 5.5

S3787 24th 9.30 - 10.30 Psychological impact of accidents Dr Andre Brittain-Dissont 3

S3800 24th 1.30 - 4.45 Company Law The Essentials Chris Beanland 3

S3710 28th 1.30 - 4.45 Positive & Negative Covenants Over Freehold Land Paul Butt 3

S3715 29th 9.30 - 12.45 Building Regulations & Planning Permissions

For Conveyancers

Richard Snape 3

S3772 29th 1.30 - 4.45 Leasehold Flat Management Issues Richard Snape 3
---
28 MJLD

News from the MJLD

Annual MJLD v Liverpool Law

Society Quiz

On 31st March 2016, teams from Merseyside Junior Lawyers Division

and Liverpool Law Society met at Revolution, Cavern Quarter, to test

their wits and battle for the trophy in the annual MJLD v LLS quiz.

Participants were greeted with welcome drinks and a tasty buffet was

unveiled at half time to keep the teams going.

The quiz was testing, with questions such as;

'Where would you be if you were standing at the furthest point away

from any ocean; Russia, China or Canada?'

'Which series devised by Phil Redmond began in 1995?'

After 5 gruelling rounds, plus pictures and dingbats papers, the scores

were tallied up and LLS were victorious, retaining their title once more.

The team with the highest individual score were Morecrofts.

The evening was enjoyed by all and raised £404.95 for the MJLD

charity, Zoe's Place Baby Hospice.

We hope to see you all again next year!

Event kindly sponsored by Wesleyan.

Anakin Seal NQ Solicitor

Qualification Talk

Tuesday 12 April 2016

Members of the MJLD attended an NQ talk hosted by Anakin Seal on

12 April at BPP Law School, Liverpool.

Adam Zdravkovic, Conor McQuistin and Kiah Winterbottom addressed

the key issues of the Liverpool legal market, providing insight and

recommendations for securing an NQ role in 2016/2017.

Topics included:

• Overview of market, busy and quiet disciplines, NQ salary

levels and the importance of accruing PQE - in relation to law

firms in Liverpool and beyond.

• CV preparation and advice for internal as well as external

applications.

• Interview preparation specifically for NQ roles.

• Whether to move on qualification or accept an internal

position.

• Quick overview of service provided by Anakin Seal.

• FAQs e.g. in-house NQ roles, which discipline will future

proof my career?

Andrew Langfield, an in-house solicitor at Princes, offered an overview

of working in-house and tips for securing such a role, and the evening

ended on a more relaxed note at All Bar One with drinks and the

opportunity for one-on-one guidance.

Committee Elections

Are you always organising get-togethers with your friends? Maybe

you're always starting new trends on Twitter or letting your friends and

colleagues know about fun events to go to? Or is your passion

fundraising for deserving charities across Merseyside?

If you've answered yes to any of the above have you thought about

becoming our social, publicity or charity representative? Nominations

for these roles, plus many others are opening soon!

Further details will be released on our website and social media soon

but, for now, here are the key dates for your diary:

• Tuesday 3 May 2016: nominations open;

• Monday 16 May 2016, 4pm: nominations close;

• Wednesday 18 May 2016: voting opens;

• Friday 27 May 2016, 4pm: voting closes; and

• Tuesday 31 May 2016: results announced.

If you have any questions in the meantime, please contact one of our

representatives who would be more than happy to give you more

information.
---
WLD

29

News from the WLD

I have thoroughly enjoyed my year as Chair of the WLD.

The last year has flown by and I can't quite believe that we have

managed to pack in so many events.

We started the year with our welcome event. This was a great success

and it was fantastic to meet some new members. This was swiftly

followed by our cocktail-making class; what better way to get to

network and make new friends than over a custom made cocktail (or

three). Working in the legal profession our jobs can often be stressful

and our beauty event certainly ticked all the boxes for pampering and

relaxation. The WLD entered a team in the Liverpool Legal Walk, as

ever it was enjoyable to meet with others in the profession whilst

enjoying a brisk and picturesque ramble around Liverpool City Centre.

In November we took part in the Shiverpool Ghost Bus tour which was

an enjoyable tongue in cheek historical journey around Liverpool City

Centre. As we reached the end of the year we hosted our always

popular pudding club. This combined a relaxed and informal evening

with delicious sugary treats. We also had our first joint event this year

with Yres, Champagne and Fizz tasting. This was great fun and we

hope to strengthen the WLD links with the Yres and other committees

over the forthcoming year.

We ended the year with our quiz night held to raise funds for our charity

of the year, the Whitechapel Centre. This was a sell-out success raising

much needed funds for this charity.

Details of how much we have raised for the Whitechapel Centre will

follow in next month's update.

If you are interested in finding out more about our events or joining the

WLD details of how to join can be found at www.wldmerseyside.co.uk

or please e-mail any questions you have to wldevent@gmail.com.

Our AGM took place on 6 April 2016 and I stepped down as Chair.

Although I will no longer be sitting as Chair I will be staying on the

committee and maintaining an active role. I would like to wish our new

Chair, Sara Davies the best of luck with her year, I hope she enjoys it as

much as I did.

Jennifer Crompton
---
30 Almost Irrelevant

Almost Irrelevant

A humorous look at life in the law....

Hirsute Lawyers

Professional Liverpool is holding a black-tie dinner for all

professionals working in the Liverpool region on 19 May

at the Crowne Plaza. Liverpool Law Society is working

with Professional Liverpool in organising the event.

Guest of honour at the dinner will be Lord Charlie

Falconer, the Lord Chancellor in the last Labour

Government. Lord Falconer is known as a very strong

supporter of Tony Blair. Indeed, he used to share an

apartment with him when they were both young barristers,

making their ways up the greasy poles of both the bar and

political life.

Despite being seen as on the Blair side of the Labour party,

Lord Falconer is now a member of Jeremy Corbyn's

shadow cabinet, where he holds the post of Shadow Lord

Chancellor and Shadow Secretary of State for Justice.

Maybe to show his loyalty to the new regime, Lord

Falconer has ditched his clean-shaven look and grown a

beard, much like his new leader's. Indeed he recently won

the Beard of Spring 2016 award from the Beard Liberation

Front, beating the likes of Liverpool comedian and author

Alexei Sayle and Liverpool Football Club manager Jurgen

Klopp – probably not the last title which Jurgen Klopp will

miss out on!

Lawyers on television, Part I

BBC television's recent fly on the wall documentary "The

Prosecutors: Real Crime and Punishment" looked at the

operations of the Crown Prosecution Service in

Merseyside and Cheshire. It was welcomed by very

favourable reviews in the press. Indeed, there was much

appreciation of the professionalism and hard work shown

by the prosecuting lawyers in working with the Police,

victims and the public in seeking to bring criminals to

justice.

Lawyers on television, Part II

Still on the television theme, it was noted that one odd

aspect of the BBC programme "The Prosecutors" was that

the television cameras had access to everything and

everywhere involved in the CPS's work except the actual

court hearing, with cameras being banned from most court

rooms. Although filming is now permitted in the Supreme

Court and the Court of Appeal, it remains banned in the

Crown Court. However, that is set to change, with TV

cameras to be allowed into the Crown Court in a new pilot

scheme to assess whether judges' sentencing remarks

should be broadcast.

Eight courts are to be involved in the pilot scheme,

including Liverpool Crown Court and the Old Bailey.

Only the judges' sentencing remarks will be filmed so

there will be nothing like the OJ Simpson trial for viewers

to pour over as yet. Also, only the judge will be filmed

and no other court users, including prosecution and

defence lawyers, so the Liverpool bar will not be

producing any television stars as yet.

However, this has led some members of the legal

profession to cry "foul". Some defence lawyers want the

public to get an insight into the work which they do in

fighting for justice for their clients and would like the

BBC to film a similar type of documentary on their work.

Please feel free to send me your comments, observations or

photographs to ai@liverpoollawsociety.org.uk
---
At Clayton Legal your talent matters...

At Clayton Legal your tent matters.

At Clayton Legal your talent matters...

...so we specialise in connecting your legal talent to opportunities nationwide

4 Residential Conveyancers Ellesmere Port

My Residential client, a reputable Conveyancing Law firm Solicitor based in Liverpool are

looking My client, for a a reputable number Law of firm experienced based on Fee the outskirts Earners ofto

join Liverpool their are Residential looking for a Conveyancing Solicitor Department. to join their The

successful team. The successful candidates candidate must must have be a a Qualified minimum Solicitor, of 6

months Licensed Conveyancer experience or of FILEX handling with a minimum their own of 3 files yearsin

Residential conveyancing Residential Property. experience. Conveyancing Solicitor Liverpool

Contact My client,

Robert

a

Walsh

reputable

Walsh Law

rw@clayton-legal.co.uk

firm based the outskirts of

Liverpool are looking for a Conveyancing Solicitor to join their

team. The successful candidate must be a Qualified Solicitor,

Residential Conveyancing Conveyancer Solicitor Liverpool Formby

Licensed Conveyancer or FILEX with a minimum of 3 years

My Client, client, a a reputable Law Law firm based firm based in the heart on the of Liverpool outskirts

conveyancing experience.

of are Liverpool looking for are a Conveyancing looking for a Fee Conveyancing Earner to join their Solicitor team. to

Contact Robert Walsh rw@clayton-legal.co.uk

join The their successful team.The candidate successful must have candidate a minimum will have of 18 a

minimum months Residential experience of 3 years Conveyancer

working conveyancing as a Conveyancer. experience Liverpool working

in Contact a legal My Client, Robert environment a reputable Walsh rw@clayton-legal.co.uk

Law and firm handling based the caseloads. heart of Liverpool

Contact are looking Robert for a Walsh Conveyancing rw@clayton-legal.co.uk

Fee Earner join their team.

Private The Client successful Solicitor candidate must have a minimum Liverpool of 18

Residential My client, months a experience reputable Conveyancing working Law firm as Assistant based a Conveyancer.

the outskirts Liverpool of

My Liverpool Client, Contact are a looking Robert reputable Walsh for a Private Law rw@clayton-legal.co.uk

firm Client based Solicitor in the join heart theirof

Liverpool team. The successful are looking candidate for a Conveyancing must be a Qualified Assistant Solicitor, to

join

Private Client Solicitor

Liverpool

Licensed their Conveyancer team.The successful or FILEX with candidate a minimum must of 3 have years a

My client, a reputable Law firm based on the outskirts of

minimum Private Client of experience. 18 months experience working in a

Liverpool are looking for a Private Client Solicitor to join their

conveyancing Contact team. Robert department.

The successful Walsh rw@clayton-legal.co.uk

candidate must be a Qualified Solicitor,

Contact

Licensed

Robert

Conveyancer

Walsh

or

rw@clayton-legal.co.uk

FILEX with a minimum of 3 years

RTA

Private

Fee Earner

Client experience.

Liverpool

Litigation Liverpool Contact based Fee Robert Earner firm Walsh are seeking rw@clayton-legal.co.uk

an accomplished Chester RTA

Chester Fee Earner, based dealing firm, with managing pre/post a litigation caseload files of 3-6 RTA years and

Credit PQE required RTA Hire Fee files.2 for Earner this years position. minimum experience Liverpool of similar

role Contact required Liverpool Simon based Scott firm ss@clayton-legal.co.uk

are seeking an accomplished RTA

Contact Fee Earner, Simon dealing Scott with ss@clayton-legal.co.uk

pre/post litigation files 3-6 years

Private PQE Client required Legal for this position. Assistant Liverpool

Litigation My client, Contact a reputable Fee Simon Earner Scott Law firm ss@clayton-legal.co.uk

based just outside Merseyside

of Liverpool

Merseyside City Centre is looking based for firm, a Legal managing Assistant a to caseload join their Private of Fast

Private Client Legal Assistant Liverpool

Track Client

My

department. RTA files.

client, a reputable

The 2 successful years minimum

Law firm based

candidate experience

just outside

must

of Liverpool

have aof

similar minimum City

role

Centre of 2 required years is looking experience for a Legal within Assistant Private to Client. join their Private

Contact Client Robert Simon department. Walsh Scott The rw@clayton-legal.co.uk

ss@clayton-legal.co.uk

successful candidate must have a

minimum of 2 years experience within Private Client.

Contact Robert Walsh rw@clayton-legal.co.uk

Where talent matters

Private Client Solicitor

Liverpool

My Residential client, a reputable Conveyancing Law firm based in central

Liverpool Assistant

looking for a Qualified Solicitor Liverpool to join their

Private My client, Client a reputable Department.The Law firm successful based in the candidate centre of

must Liverpool be a is Qualified looking for Solicitor a Legal with Assistant a minimum to join of their 2

years Residential experience Conveyancing a private department. client department. The successful

Contact Residential Conveyancing

candidate Robert must have Walsh a minimum rw@clayton-legal.co.uk

of 2 years experience within

Assistant

Liverpool

Residential Conveyancing.

Prison My client, a reputable Law firm based in the centre of

Contact Law Robert Consultant Walsh rw@clayton-legal.co.uk Merseyside

Merseyside Liverpool is looking based for firm, a Legal looking Assistant for to Prison join theirLaw

Consultant, Residential Conveyancing department. The successful

candidate Solicitor must Property

managing

have a minimum Litigation

existing caseload

of 2 years experience Liverpool

Business

development experience required, remote

within

working

possible

Residential Liverpool based Conveyancing. specialist niche firm, looking for experienced

Robert Walsh rw@clayton-legal.co.uk

Contact solicitor Simon to manage Scott varied ss@clayton-legal.co.uk

caseload. Happy consider

NQ upwards.

Solicitor Property Litigation Liverpool

Residential Contact Simon Conveyancing Scott ss@clayton-legal.co.uk Fee Earner Litigation Chester

My

Liverpool

client,

based

a reputable

specialist niche

Law

firm,

firm

looking

based

for

in

experienced

the heart of

solicitor to manage varied caseload. Happy to consider

Chester Fee Earner are looking for a Residential Conveyancer Merseysideto

NQ upwards.

join Merseyside their team.The based firm successful are looking for candidate someone will top manage have a

Contact Simon Scott ss@clayton-legal.co.uk Litigation

minimum caseload of of Fast 3 Track years RTA conveyancing files. This position experience requires at

working

Fee least Earner 2 years in PQE a legal in a similar environment role. and handling

Merseyside

caseloads.

Merseyside

Contact Simon

based

Scott

firm are

ss@clayton-legal.co.uk

looking for someone top manage

Contact Robert Walsh rw@clayton-legal.co.uk

caseload of Fast Track RTA files. This position requires at

least Clinical 2 years Negligence PQE in a similar Solicitor role. –

Litigation

Contact Serious Fee

Simon Injury Earner

Scott ss@clayton-legal.co.uk

Merseyside

Merseyside based firm, managing a caseload of RTA

Specialist Firm based in Merseyside seeking experienced

fast/multi track

Clinical negligence Negligence

complex

Solicitor, Solicitor

cases and

dealing –

Credit hire. 2 years

with Multi Track files with

minimum Serious experience

cases up to Injury of similar role required

£500K. Minimum 3 Years PQE. Merseyside

Contact Simon Scott ss@clayton-legal.co.uk

Specialist Contact Simon Firm based Scott in ss@clayton-legal.co.uk

Merseyside seeking experienced

Clinical negligence Solicitor, dealing with Multi Track files with

Clinical

cases up

Negligence

to £500K. Minimum

Solicitor

3 Years PQE.

Chester

Chester Clinical Negligence Paralegal Merseyside

Contact Simon

based

Scott

specialist

ss@clayton-legal.co.uk

firm, managing caseload of

Clinical/Medical Merseyside based Negligence firm looking files. to expand Minimum the current of 2 years team

PQE Clinical with required an experienced Negligence medical Paralegal negligence paralegal, Merseyside managing

Contact

Merseyside a caseload Simon

based of pre Scott

firm litigated looking

ss@clayton-legal.co.uk

cases. to expand the current team

with Contact an experienced Simon Scott medical ss@clayton-legal.co.uk

negligence paralegal,

managing

a caseload of pre litigated cases.

...so we go further to connect your legal talent to opportunities nationwide

Contact Simon Scott ss@clayton-legal.co.uk

v

For For more more on these on these and and other other vacancies please contact Clayton Legal

telephone: 01772 259121

telephone: 01772 259121

email: enquiries@clayton-legal.co.uk

email: enquiries@clayton-legal.co.uk

visit our website: www.clayton-legal.co.uk

visit our website: www.clayton-legal.co.uk
---
Conveyancing made easy

Order property searches directly from your matter

Generate automated forms and documentation

Improve how you communicate with your clients

Work with one system stem - case management and accounting

Reduce time spent on administration

Find out more visit

leap.co.uk/conveyancing

0843 713 0135 | sales@leap.co.uk