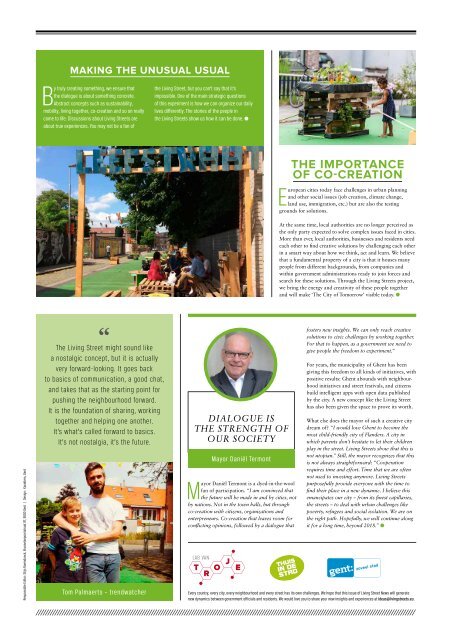 You also want an ePaper? Increase the reach of your titles
YUMPU automatically turns print PDFs into web optimized ePapers that Google loves.
MAKING THE UNUSUAL USUAL

B

y truly creating something, we ensure that

the dialogue is about something concrete.

Abstract concepts such as sustainability,

mobility, living together, co-creation and so on really

come to life. Discussions about Living Streets are

about true experiences. You may not be a fan of

the Living Street, but you can't say that it's

impossible. One of the main strategic questions

of this experiment is how we can organize our daily

lives differently. The stories of the people in

the Living Streets show us how it can be done.

THE IMPORTANCE

OF CO-CREATION

European cities today face challenges in urban planning

and other social issues (job creation, climate change,

land use, immigration, etc.) but are also the testing

grounds for solutions.

At the same time, local authorities are no longer perceived as

the only party expected to solve complex issues faced in cities.

More than ever, local authorities, businesses and residents need

each other to find creative solutions by challenging each other

in a smart way about how we think, act and learn. We believe

that a fundamental property of a city is that it houses many

people from different backgrounds, from companies and

within government administrations ready to join forces and

search for these solutions. Through the Living Streets project,

we bring the energy and creativity of these people together

and will make 'The City of Tomorrow' visible today.

Responsible Editor: Stijn Raemdonck, Brusselsepoortstraat 97, 9000 Gent | Design: Karakters, Gent

"

The Living Street might sound like

a nostalgic concept, but it is actually

very forward-looking. It goes back

to basics of communication, a good chat,

and takes that as the starting point for

pushing the neighbourhood forward.

It is the foundation of sharing, working

together and helping one another.

It's what's called forward to basics.

It's not nostalgia, it's the future.

Tom Palmaerts – trendwatcher

DIALOGUE IS

THE STRENGTH OF

OUR SOCIETY

Mayor Daniël Termont

Mayor Daniël Termont is a dyed-in-the-wool

fan of participation. "I am convinced that

the future will be made in and by cities, not

by nations. Not in the town halls, but through

co-creation with citizens, organizations and

enterpreneurs. Co-creation that leaves room for

conflicting opinions, followed by a dialogue that

fosters new insights. We can only reach creative

solutions to civic challenges by working together.

For that to happen, as a government we need to

give people the freedom to experiment."

For years, the municipality of Ghent has been

giving this freedom to all kinds of initiatives, with

positive results: Ghent abounds with neighbourhood

initiatives and street festivals, and citizens

build intelligent apps with open data published

by the city. A new concept like the Living Street

has also been given the space to prove its worth.

What else does the mayor of such a creative city

dream of? "I would love Ghent to become the

most child-friendly city of Flanders. A city in

which parents don't hesitate to let their children

play in the street. Living Streets show that this is

not utopian." Still, the mayor recognizes that this

is not always straightforward: "Cooperation

requires time and effort. Time that we are often

not used to investing anymore. Living Streets

purposefully provide everyone with the time to

find their place in a new dynamic. I believe this

emancipates our city – from its finest capillaries,

the streets – to deal with urban challenges like

poverty, refugees and social isolation. We are on

the right path. Hopefully, we will continue along

it for a long time, beyond 2018."

Every country, every city, every neighbourhood and every street has its own challenges. We hope that this issue of Living Street News will generate

new dynamics between government officials and residents. We would love you to share your new insights and experiences at ideas@livingstreets.eu.