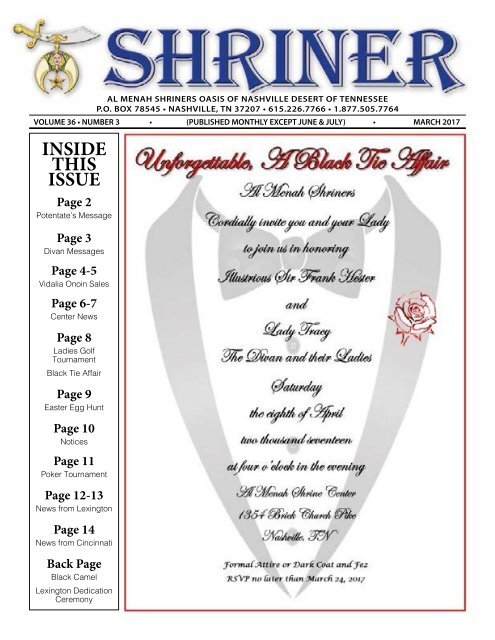 Create successful ePaper yourself
Turn your PDF publications into a flip-book with our unique Google optimized e-Paper software.
AL MENAH SHRINERS OASIS OF NASHVILLE DESERT OF TENNESSEE

P.O. BOX 78545 • NASHVILLE, TN 37207 • 615.226.7766 • 1.877.505.7764

VOLUME 36 • NUMBER 3 • (PUBLISHED MONTHLY EXCEPT JUNE & JULY) • MARCH 2017

INSIDE

INSIDE

THIS

ISSUE

ISSUE

Page 2

Potentate's Message

Page 3

Divan Messages

Page 4-5

Vidalia Onoin Sales

Page 6-7

Center News

Page 8

Ladies Golf

Tournament

Black Tie Affair

Page 9

Easter Egg Hunt

Page 10

Notices

Page 11

Poker Tournament

Page 12-13

News from Lexington

Page 14

News from Cincinnati

Back Page

Black Camel

Lexington Dedication

Ceremony
---
Al Menah Temple

Oasis of Nashville

Desert of TennessEE

P.O.Box 78545 •• Nashville, TN 37207

Phones 1.615.226.7766

1.877.505.7766

www.almenahShriners.org

The Publication Committee

The Divan/Board of Directors

Potentate .. ................... Frank Hester

Chief Rabban .. .......... Horace Perkins III III

Assistant Rabban .. .........Randy Williams

High Priest & Prophet .. ......... Scott Jones

Oriental Guide .. .......... Donnie Drayton

Treasurer .. ....................... Wes Frye

Recorder ...................Robert Daniel

Editor ..................... Maurice Smith

Published monthly except June and July

www.almenahShriners.org

PAST POTENTATES

*Charles Barham

*John E. E. Patton

*V. K. K. Stevenson

*John D. D. Whalley

*W. F. F. Hunt

* Jack Norman, Jr. Jr.

*J. *J. Pink Lawrence

*Albert Bennett

*Ed R. R. Burr

*Clyde R. R. Watson

*J. *J. Harry Murphy

*Marshall S. S. Whitley

*Charles N. Rolfe

*James J. J. White

*Paul DeWitt

*G. Cooper Holt

*E. M. Kelly

*J. *J. Coleman Hayes

*Joseph Higgins

*Donald R. R. Dunning

*Ira E. E. Parker

*J. *J. P. P. Foster

*Martin S. S. Roberts

*Gale Robinson

*R. C. C. Derivaux

*C. V. V. Cramb

*Oren A. A. Oliver

*J. *J. Nelson Bryan

*Lee L. L. Gamble

*Robert Battle

*R. R. R. Clark

*Jerry N. Tate

*William Raine

*Fred H. Gay, Jr. Jr.

*Hugh F. F. Smith, Jr. Jr.

James A. A. Campbell

*W. A. A. Bryan

*Claude G. Southall

*Charles L. L. Cornelius

*W. B. B. Lawson

*W. Bush Herbert

*Gale Robinson

*Marshall Hotchkiss J. J. Dudley Phillips

*Jess B. B. Templeton

*M. Norris Jenkins

*T. A. A. Springfield

*James F. F. Scalf, Jr. Jr.

*James G. Stahlman

*William B. B. Jones

*J. *J. Clark Akers

Jack C. C. Phelps

*R. E. E. Baulch

*David P. P. Brumfield

*Thomas E. E. Doss

*Zack S. S. Parrish, Sr.

Kerbela Temple '28

*Robert E. E. Newman

*Maurice Weinberger

George Cook

*S. N. Allen

*R. Parker Graham

*W. B. B. Hager

H. Parker Toler

*O. Lynn Meek

*R. T. T. McNaney

*Jack Norman

James L. L. Ham

*James J. J. Vaughn

Charles H. Williams

*C. H. Smith

William D. D. Jones

*Fred C. C. Laskey

John L. L. Weaver, III

*Ivo A. A. Burton

Gale B. B. Robinson

*T. W. Bray, Jr. Jr.

Joe Bell

*James R. R. Cox

Ronny L. L. Greer

*Paul R. R. Jarratt

Charles E. E. Cardwell

*J. *J. Sumpter Anderson J. J. Franklin "Jay" Scalf, III

*Hugh W. Robertson

Conley Dykes

*M. T. T. Gossett

David Smith

*Joe C. C. Carr

Jim Cain

*James T. T. Hayes

*Mike Martin

*E. Lee Bennett

Johnny Dudley

*Orris E. E. Davis

David Wantland

*Raymond H. Leathers

Melvin Meadows

*Hilry H. Shaffer

Dennis Belford

*James N.

David Vaughn

Stansell

Carl E. E. Barnes

Mike Van Sant

Jeff Head

2

** Deceased

Spring is on the way with Daylight Savings Time just around the corner and Spring

officially beginning this month. This is my favorite time of year when the trees and flowers

come to life and everything seems to have a renewed spirit. Let us take this time to

rededicate ourselves to our obligation and our mission. Thank you for all your hard work

and dedication that makes Al Menah successful.

If you missed our Valentine Dinner and Dance last month, you missed a great time.

Thanks to Frank Wilson and Geoff King, their committee and the Kitchen committee

for a great event. And a special thanks goes to the Demolay and Rainbow Girls for all

their help. Congratulations to Randy and Emily Byram for winning the "Not So Newlywed

Game"; I think that was the highlight of the evening!

Thanks to Vernon Blackburn and the Clown unit for sponsoring the Super Bowl Party,

a good time was had by all. And thanks to Van Miller and the Motor Corps for sponsoring

the Dayton 500 Party, another good time of fun and fellowship.

The Divan was honored to be invited to attend the Demolay Sweetheart Dinner and

Dance last month. It's really special to be able to see all the enthusiasm these young men

have and to see the support from so many of the other fraternal organizations.

This month we will be attending the St. Patrick's Day Parade in Erin. This is a great

event and we look forward to a big turn out from our Nobility. A special note of gratitude

goes to Houston County Shrine Club for providing a great breakfast for everyone. Our

Paper Sale Caravan will be heading out at the end of this month, March 27th thru 31st.

We look forward to seeing the Ambassadors and Nobles in all the outlying counties as

we get prepared for our annual Paper Sale. Also this month is the annual Grand Lodge

Session, March 23rd and 24th.

The Potentate's Ball is April 7th & 8th please RSVP to the Temple office prior to March

24th. Cost is $25.00 per person. A lot of hard work is being put into this and we hope

you will join us for this special evening.

I would like to welcome all the new Nobles that have joined Al Menah this year. So

far we have had 14 Master Masons join our fraternity and 15 Nobles have been restored.

We have initiated several of these new Nobles at Shrine Club meetings and are willing

to continue to do so. FYI, we will be initiating several new Nobles at Wisdom Lodge in

Erin, TN before the St. Patrick's Day Parade. If you know of a Master Mason that is interested

in joining our fraternity, let's get them on board. Give me a call and we will be glad

to come to your Shrine Club. The initiation fee is $100.00. Remember all you have to do

is "Ask a Master Mason to be A Shriner".

Nobles and Ladies thank you for all you do for Al Menah and our Shriners Hospitals

for Children.

Yours in the Faith,

Frank Hester, Potentate

"Pride, Passion & Purpose"
---
From the desk of...

From the desk of...

From the desk of...

CHIEF RABBAN

HIGH PRIEST AND PROPHET

CHIEF RABBAN HIGH PRIEST AND PROPHET

I hope everyone had a wonderful Valentine's

Day! Now it's time for the

much fun! Thanks to the commit-

The Valentine's Dinner/Dance was so

CHIEF RABBAN HIGH PRIEST AND PROPHET

St. Patrick's Day Parade in Erin,

tee members that really worked

TN on March 18th, and time for

hard and made the party fabulous!

Thank you to the DeMolay,

fun and fellowship with our Nobles

from Houston County.

Squires and Rainbow Girls for

serving our food. An awesome

Grand Lodge is just around the

group of young men and ladies that

corner on March 22nd and 23rd.

are always so gracious to assist AMT

Please make time to attend.

with our activities!

The Divan is busy, but it's an honor to

We have been visiting lots of Shrine

serve the Nobles of Al Menah, so it's time well spent. I'm

Clubs and continue to visit more in the upcoming

looking forward to the Potentate's Ball on April 8th. Try months. The St. Patrick's Day parade in Erin is March 18 and

to attend and support your Potentate!

we are looking forward to a good turnout by AMT. The Paper

2017 Ringmaster Club Memberships are now available, Sale Caravan is March 27-31. AMT is planning on visiting

and it's an amazing deal you don't want to pass up! For Shriners Hospitals for Children Medical Center in Lexington

$150, the Nobles receive a Ringmaster shirt, cap, 4 VIP for Hospital Day Open House on May 21. Anyone that is interested

in sharing in the festivities with AMT in Lexington,

seats for the Shrine Circus and 1 entry to the Ringmaster

Breakfast. The ladies membership is $125 and includes a please, contact the AMT office to reserve your transportation.

Please, see the Shriner for more details or call the AMT

Ringmaster shirt, tote bag, 4 VIP seats for the Shrine Circus

and 1 entry to the Ringmaster Breakfast. Order forms

office. This will be an amazing trip to the Lexington Shiner's

hospital where we can see directly how our contributions

are available from me, the Ringmaster Committee and the

help provide children with awesome healthcare!

Shrine office. Please support your temple and the Shrine

High Priest and Prophet

Circus by purchasing a Ringmaster Membership.

Scott Jones Chief Rabban

Again, thank you for your support!

Chief Rabban

ASSISTANT ASSISTANT RABBAN RABBAN

ORIENTAL GUIDE GUIDE

Horace Perkins, III

Good evening from the Land of OG!

Valentine's Day has come and gone

and I hope some of you didn't miss

your once a year chance at getting

ASSISTANT RABBAN ORIENTAL GUIDE lucky!!

IMPERIAL SESSION 2019

Wow what a "GREAT TIME" it going

to be 8,000 to 10,000's Nobles

of the Shrine Fun...Fellowship....

Parade.... Market Place....Music

"ALL" to take place in DOWN-

TOWN NASHVILLE

Many of our Nobles have ask

about a Block Of Hotel Rooms for

Men & Women of AlMenah. So we

need to know if you are wanting to stay downtown during

the Imperial 2019 Session, The room are Going Fast.....Call

and put your Name on the list today.

Assistant Rabban

Randy Williams

I fell up the stairs the other

day and the only thing I was

mad about was that I managed to

break my cigar, although I did bust

another body part or two. As I was

lying there contemplating wheth

er I needed one of those little rescue buttons, I

thought, "This must be what it's like to grow old." And

then I forgot why I was going up the stairs to begin with!!

Finally, it hit me that I was on my way upstairs to write

this monthly newsletter. It only cost me one cigar and this

big ugly bruise on my backside, so I hope y'all are happy.

As I sat in front of the stone tablet with my hammer and

chisel, I couldn't think of anything to say so why don't y'all

come out to the Erin parade on March 18 and celebrate St.

Patrick's Day? Don't forget your green bloomers.

Oriental Guide

Donnie Drayton.

33

3
---
Its Onion Time at Al Menah!

Units and Clubs may use this form to provide information for ordering

Onions Units for this fundraiser.

Remember – Deadline for your orders is APRIL 18 th .

Don't miss this fundraising opportunity for your Unit or Club,

4
---
Noble's use this form for taking your Onion orders.

5
---
CeNter

NeWS

Clowns

Wow, what a wonderful February we

had. Although we didn't have any dress

outs, we were still very busy. We hosted

the Football party, and it was great right

up to the end, when most of our hopes

for a Falcon's victory was deflated by the

Patriots.

The Valentines Party was a huge success

with our own Lieutenant Frank "Froggy"

Wilson Chairing the event, and our Director

General and Past Captain Geoff

"Sticks" King as Co-Chair. The dinner

was great thanks to the kitchen staff, and

service at the tables by the De Molay.

The music and dance was enjoyed by

everyone. We even got to see our Illustrious

Potentate Frank Hester's guitar skills

when he joined the band for some bluesy

rock n roll.

Now that February has come to the

finish line. It is time to head straight into

March. On the 18th we will be putting

on our first makeup for the year, when

we dress out for the Erin St. Patrick's

Day parade. Then we shift our focus to

the trophies that await us in Canton GA.

At Mid-Winter! Starting with a visit to

Greenville SC. Shrine Hospital on Friday

March 31st and then to Canton GA. For

Competitions on Saturday April 1st and

returning home on Sunday the 2nd.

Its onion selling time again and we are

excited that the customers are already

asking about our delicious Vidalia Onions.

The onions are still $10 a bag and

the dead line for orders to be in is April

18th.

We have a new Reserve Clown! Brother

Adam Evetts. If you see

brother Evetts please give him

a warm welcome.

6

God's Children and their happiness are

my reasons for being. – Red Skelton

James "Puzzles" Chambers

Secretary

Greeters

We have a busy schedule coming up Sat.

3/8 is the St Patrick's Day Parade in Erin

TN this is a big one and great fun and good

hospitality. Mon-Fri 3/27 – 3/31 is the Paper

Sale Remember both the Paper and

Plaque Sales is an on-going year round

Here is a new way to donate to help our

kids, Kroger will donate, based on your

purchases, all you have to do is register

your "Kroger Card.

Keep in our prayers Charlie Smith who

is recuperating very nicely and all those

that are hurting or ill. As well as all those in

the Armed Forces both in harm's way and

serving around the world

Lou Becker

Legion of Honor

Al Menah hosted an excellent Valentine

Dinner and Dance. It was fun, the music

and food was good and the company was

awesome. The Legion of Honor was well

represented. If you missed it, you missed

a good one.

We have been asked to post colors for

The Hooligans on Saturday March 11,

2017 at Al Menah. We need volunteers

and we should be there by 10:30am. It

will be an interesting and fun day, they

have also invited our participants to stay

and dine with them

We are looking forward to the Saint

Patrick's Day Parade in Erin, TN on Saturday

March 18, 2017. This is one of our

favorite parades. Good hospitality before

the parade at the Masonic Lodge. It's a

very colorful parade with everybody

decked out in Irish green. Always a good

crowd and the weather is usually good.

You don't want to miss this one!

The SESA Legion of Honor Mid-Winter

is scheduled for 29 March thru April

1, 2017 in Augusta, GA. This should be a

fun trip. No competition at the Mid-Winter,

just meetings, hospitality, a good

chance to get acquainted with other Legion

of Honor units and their members

sightseeing and plenty of good food.

Plan to go with us, it will be a good getaway!

The Legion of Honor has been invited

to the Mule Day Parade in Columbia,

TN on April 1, 2017. Will have more information

at our next meeting but this is

great as we have not been to a parade in

Columbia in many years.

It's time to be thinking about the Potentate

Ball coming up on Saturday April 8,

2017 at 4:00pm. We will be honoring our

new Potentate Illustrious Sir Frank Hester

and Lady Tracy and the Divan and their

Ladies. This will be a fun time so get your

reservations in, RSVP by March 24.

The Easter Egg Hunt is scheduled

for Saturday April 15, 2017 at 10:00am.

This is a family fun time. Come and enjoy.

Bring your kids, grandkids, neighbors

kids, etc. They will love it and love

you for bringing them.

Let's all continue to pray and support

our hospitals, the children, our military,

police officers, firefighters, first responders

and all who put their lives on the line

protecting us. Also all of us who have lost

loved ones.

May God Bless,

Roy Lindsey

Commander

Provost Guard

The Provost Guard is morning the loss

of a Long-time member of the Provost

Guard, Brother Billy Henderson. Billy

was a good Mason and Shriner. A plaque

in memory of Billy Henderson will be

put on the Provost Guard Float.

The Erin St. Patrick day parade is

March 18th.

The Provost Guard Drill Team will

be competing in the Dixie Shrine Association

May 18th-20th in Panama City
---
Beach Fla. This is the first time that Al

Menah Temple has participated in the

Dixie Shrine Association. This means

more trophies for Al Menah Temple.

Come on out and cheer these guys

on.

Secretary

Ken Loftis

Motor Corps

What a great month February was, the

month of L-0-V-E! What does LOVE

mean to you?

"

Love is patient, love is kind. It does

not envy, it does not boast, it is not proud.

It does not dishonor others, it is not

self-seeking, it is not easily angered, it

keeps no record of wrongs. Love does

not delight in evil but rejoices with the

truth. It always protects, always trusts,

always hopes, always perseveres." Let's

spread a little Brotherly Love as we make

our way into a new month!

March Happenings! In like a lion,

out like a lamb comes the month of

March. With it comes holidays, parades,

basketball and Spring!!

March 11 – Motor Corps Dinner Outing

– 6:30 pm Cherokee Steak House

and Marina – 450 Cherokee Dock Road,

Lebanon, TN.

March 18 th – Erin Parade – 7 AM Leave

from Al Menah

April 7 th and 8 th – Al Menah Shrine Potentate's

Ball – "Unforgettable, A Black

Tie Affair" - Must RSVP no later than

March 24 th

DID YOU KNOW? March 17: St. Patrick's

Day turns the Chicago River green,

and too many livers cirrhosis-damage-brown.

And on this day in 1973,

Pink Floyd's "Dark Side of The Moon"

first hits the Billboard Top 200 chart at

number 95. A mere 14 years later 736

Chart Weeks to be exact), it finally leaves

the top 200 for the first time, setting a

still-unbroken world record. (You've got

a long way to go, Adele.)

Food for Thought: "…We Masons

are among the fortunate ones who are

taught to meet together with others of

opposing or competitive ideas and yet

respect each other as Brothers." – author

unknown

Journalist

"Fat Rabbit", PC

SHRINE CLUB NEWS

Cumberland Hillbilly Clan No. 151

We are off and running in 2017. We had

our first gathering of the year on January

28 th where we elected our 2017 officers

and initiated 11 new Hillbillies (7

Shriners and 4 Shrine Ladies). We have

scheduled gatherings for April 29 th and

September 30 th .

All of our Hillbillies are Shriners, but

not all of our Shriners are Hillbillies. If

you fall in the latter category April 29 th

and/or September 30 th would be a great

opportunity to change that.

If you have any questions about the

Hillbilly Club, please contact me (Alvin

Hill, Jr.) at (615) 473-6327 or email me

@ l_alvin_hill2@yahoo.com. We also

have a Facebook page where we post

tidbits of information. Some of it may be

useful.

We look forward to seeing you at our

gatherings!

Cuz Little Al

Keeper of the Quill

Hendersonville Shrine Club

We need to take our hats off and say

THANKS to the Valentine Party Committee

for an outstanding party. The

steaks were great, decorations were

beautiful and the band was awesome.

Start making your plans now for the

Potentate's Ball on Saturday, April 8 th .

This is a big event honoring our Potentate

and his Lady. Call the temple

office now to make your reservations

for your table and tickets. Don't miss

this one! It is a great evening for food,

fun and fellowship honoring our Potentate.

Start making your plans now for the

first parade of the year on Saturday,

March 18 th for the St. Patrick's Day

Parade in Erin, Tennessee. It's always

one of our biggest and best parades of

the year.

The Shrine Paper Sale Caravan will

start Monday, March 27 th and our first

stop is Hiram Lodge in Franklin. We

visit as many Lodges as possible, telling

the Shrine story and how these papers

make it possible to help our kids

throughout Middle Tennessee, and if

they have a kid in their community

who needs our service through our

hospitals, call the temple for more

information to get started for our service.

We finish our week on Friday,

March 31 st at White House.

Our club would like to invite all the

Nobles and their ladies in our area to

join us for our next meeting. It will

be March 20 th at the Black-Eye-Pea,

164 East Main Street in Hendersonville.

We meet at 6:00pm for food and

fellowship and our meeting starts at

7:00pm. Make your plans to join us

next month. We need your ideas and

fellowship on how to make our club a

bigger and better club.

As we go about our daily lives, let us

remember to thank God for this great

country of ours and the freedom that

we enjoy daily, our health, our families

and bless the kids we care for through

our Shrine Hospitals. Be with those

sick and those who have lost loved

ones as well.

Boyd C. Parnell

President

7
---
8

AL MENAH LADIES GOLF TOURNAMENT

TUESDAY SEPTEMBER 12TH 2017

CHEEKWOOD GOLF CLUB

Four Golfer Scramble--Entry Fee $60.00 per player

Putting Contest, Lunch, Prizes 1st ,2nd, 3rd,and Hospitality

9:00 am Shot Gun Start

Lunch and Prizes at finish of Play

PLAYERS

NAME_________________________PHONE______________________

NAME_________________________PHONE______________________

NAME_________________________PHONE______________________

NAME_________________________PHONE______________________

INFORMATION Contacts: Al Menah Office 615-226-7766

Entry Deadline Friday September 1st 2017

Sign up early Maximum players 48 ---12 Teams
---
9
---
Notices..............................................................................

Missing Item... HELP!

If anyone has knowledge of what happened to the miniature

Potentate's Float that was in the Potentate's Guard room, please

contact Wes Frye (615-519-955). It was planned to make some

repairs and place it in the Potentate's Guard Display Case in

the Lobby.

Thank you!

Upcoming Events

(as of this publication)

MARCH 2017

Fri/Sat 3/3-4 York Rite Festival

Fri 3/17 ST. PATRICK'S DAY

Sat 3/18 St. Patrick's Day Parade,

Erin, TN

Wed/Thu 3/22-23 Grand Lodge

Mon-Fri 3/27-31 Paper Sale Caravan

Ladies Only!

Wow!!!! If you missed the Valentine Party last

month, you missed a GREAT time. I know it's

been said but worth repeating, THANK YOU so

much to the Committee for an outstanding job! It

was so much fun working with each of you.

We appreciate all those that came out last month

to support the ladies' dinner for which we profited

$85.76 to go towards our goal of buying new

steak knives for Al Menah Shrine Temple. And a

big thanks to the group of ladies that furnished the

desserts, you are awesome!

The Divan Ladies and I would like to invite each

lady to come out and join us on the Noble's Stated

Meeting night each month, the third Tuesday

at 6:00pm. This month's meeting (March 21st) we

ask each lady to bring a small baby picture of yourself

from age 0 – 2 yrs of age. We will have a Guess

Who picture game and it's guaranteed to bring on

some laughs. As usual, we will have 50/50, door

prizes and lots of other Fun!

We are working on some projects to support the

Shriners Hospitals for Children Lexington

and Cincinnati throughout 2017. We

10

APRIL 2017

Fri 4/7 Al Menah Potentate's

Ball Hospitality, Clarion Hotel

Sat 4/8 Al Menah Potentate's Ball

Thu 4/13 Maundy Thursday,

Grand Lodge

Sat 4/15 Easter Egg Hunt, 10:00 a.m.

Sun 4/16 EASTER

Fri/Sat 4/21-22 Scottish Rite Reunion

Fri/Sat 4/28-29 Scottish Rite Reunion

MAY 2017

May 4 – 7

Paper Sale

will start with collecting travel size board games

i.e. Sorry, Trouble, Clue, Yahtzee, Connect Four

and also card games i.e. Uno, Skip-Bo, etc. during

the months of March and April. These items can

be brought to the Ladies Meeting or given to any of

the Divan Ladies. There will be more details later

regarding future month collections and projects.

Ladies, we appreciate each of you so much for

the support you provide your Noble, our Shriners

Hospitals for Children and for what you do for

Al Menah Shrine Temple. We hope you are able

to come join us on April 8th for the Potentate's

Ball. For reservations, please contact the office

615-226-7766.

Thank you!

Lady Tracy Hester
---
11
---
12
---
13
---
14
---
NOTICe:

ALL communications

for the Shriner

should be sent to

editor.amsc@gmail.com

15
---
Eugene E. Davis

Madison

07/18/29 - 01/17/17

Nobles Visited By

The Black Camel

Robert E. Gooch

Clarksville

11/29/28 - 02/03/17

al MENaH TEMplE

A.A.O.N.M.S.

1354 BRICK CHURCH PIKE

P. O. Box 78545

NASHVILLE, TN 37207

www.almenahshriners.org

Nonprofit

Organization

U.S. POSTAGE

PAID

Nashville, TN

Permit No. 1731

Ray E. Cruze

Franklin

06/28/19 - 01/20/17

Edward L. Holton

Columbia

09/18/27 - 01/27/17

Millard P. Austin

Murfreesboro

09/21/31 - 01/28/17

Frank E. Loudermilk

Goodlettsville

11/4/34 - 01/28/17

Anthony L. Morris

Morrison

09/16/53 - 02/06/17

William B. Hooper

Mount Juliet

07/6/26 - 02/11/17

Wayne R. Kuhns

McMinnville

5/23/39 - 02/19/17

Jerry N. Williams

Westmoreland

12/07/42 - 02/22/17 DEADLINE FOR APRIL SHRINER IS IS MARCH 15TH 22ND