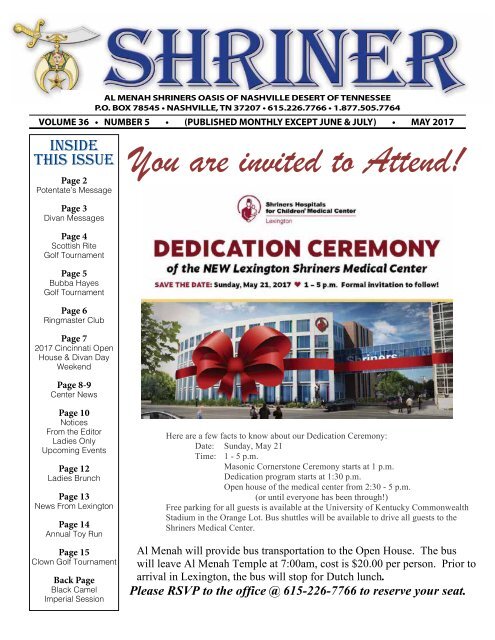 Al Menah SHRINER MAY 2017
Monthly informational magazine for members and guest of Al Menah Shriners. Contains unit activities, upcoming events, special notices and unit activities.
Monthly informational magazine for members and guest of Al Menah Shriners. Contains unit activities, upcoming events, special notices and unit activities.
SHOW MORE
SHOW LESS
You also want an ePaper? Increase the reach of your titles
YUMPU automatically turns print PDFs into web optimized ePapers that Google loves.
AL MENAH SHRINERS OASIS OF NASHVILLE DESERT OF TENNESSEE

P.O. BOX 78545 • NASHVILLE, TN 37207 • 615.226.7766 • 1.877.505.7764

VOLUME 36 • 36 NUMBER • NUMBER 4 5 • • (PUBLISHED MONTHLY EXCEPT EXCEPT JUNE & JUNE JULY) & JULY) • • MAY APRIL 2017

INSIDE

THIS THIS ISSUE

ISSUE

Page 2

Potentate's Message

Page 3

Divan Messages

Page 4

Scottish Rite

Golf Tournament

Page 5

Bubba Hayes

Golf Tournament

Page 6

Ringmaster Club

Page 7

2017 Cincinnati Open

House & Divan Day

Weekend

Page 8-9

Center News

You are invited to Attend!

Page 10

Notices

From the Editor

Ladies Only

Upcoming Events

Page 12

Ladies Brunch

Page 13

News From Lexington

Page 14

Annual Toy Run

Page 15

Clown Golf Tournament

Back Page

Black Camel

Imperial Session

Here are a few facts to know about our Dedication Ceremony:

Date: Sunday, May 21

Time: 1 - 5 p.m.

Masonic Cornerstone Ceremony starts at 1 p.m.

Dedication program starts at 1:30 p.m.

Open house of the medical center from 2:30 - 5 p.m.

(or until everyone has been through!)

Free parking for all guests is available at the University of Kentucky Commonwealth

Stadium in the Orange Lot. Bus shuttles will be available to drive all guests to the

Shriners Medical Center.

Al Menah will provide bus transportation to the Open House. The bus

will leave Al Menah Temple at 7:00am, cost is $20.00 per person. Prior to

arrival in Lexington, the bus will stop for Dutch lunch.

Please RSVP to the office @ 615-226-7766 to reserve your seat.
---
Al Menah Temple

Oasis of Nashville

Desert of TennessEE

P.O.Box 78545 •• Nashville, TN 37207

Phones 1.615.226.7766

1.877.505.7766

www.almenahShriners.org

The Publication Committee

The Divan/Board of Directors

Potentate .. ................... Frank Hester

Chief Rabban .. .......... Horace Perkins III III

Assistant Rabban .. .........Randy Williams

High Priest & Prophet .. ......... Scott Jones

Oriental Guide .. .......... Donnie Drayton

Treasurer .. ....................... Wes Frye

Recorder ...................Robert Daniel

Editor ..................... Maurice Smith

Published monthly except June and July

www.almenahShriners.org

PAST POTENTATES

*Charles Barham

*John E. E. Patton

*V. K. K. Stevenson

*John D. D. Whalley

*W. F. F. Hunt

* Jack Norman, Jr. Jr.

*J. *J. Pink Lawrence

*Albert Bennett

*Ed R. R. Burr

*Clyde R. R. Watson

*J. *J. Harry Murphy

*Marshall S. S. Whitley

*Charles N. Rolfe

*James J. J. White

*Paul DeWitt

*G. Cooper Holt

*E. M. Kelly

*J. *J. Coleman Hayes

*Joseph Higgins

*Donald R. R. Dunning

*Ira E. E. Parker

*J. *J. P. P. Foster

*Martin S. S. Roberts

*Gale Robinson

*R. C. C. Derivaux

*C. V. V. Cramb

*Oren A. A. Oliver

*J. *J. Nelson Bryan

*Lee L. L. Gamble

*Robert Battle

*R. R. R. Clark

*Jerry N. Tate

*William Raine

*Fred H. Gay, Jr. Jr.

*Hugh F. F. Smith, Jr. Jr.

James A. A. Campbell

*W. A. A. Bryan

*Claude G. Southall

*Charles L. L. Cornelius

*W. B. B. Lawson

*W. Bush Herbert

*Gale Robinson

*Marshall Hotchkiss J. J. Dudley Phillips

*Jess B. B. Templeton

*M. Norris Jenkins

*T. A. A. Springfield

*James F. F. Scalf, Jr. Jr.

*James G. Stahlman

*William B. B. Jones

*J. *J. Clark Akers

Jack C. C. Phelps

*R. E. E. Baulch

*David P. P. Brumfield

*Thomas E. E. Doss

*Zack S. S. Parrish, Sr.

Kerbela Temple '28

*Robert E. E. Newman

*Maurice Weinberger

George Cook

*S. N. Allen

*R. Parker Graham

*W. B. B. Hager

H. Parker Toler

*O. Lynn Meek

*R. T. T. McNaney

*Jack Norman

James L. L. Ham

*James J. J. Vaughn

Charles H. Williams

*C. H. Smith

William D. D. Jones

*Fred C. C. Laskey

John L. L. Weaver, III

*Ivo A. A. Burton

Gale B. B. Robinson

*T. W. Bray, Jr. Jr.

Joe Bell

*James R. R. Cox

Ronny L. L. Greer

*Paul R. R. Jarratt

Charles E. E. Cardwell

*J. *J. Sumpter Anderson J. J. Franklin "Jay" Scalf, III

*Hugh W. Robertson

Conley Dykes

*M. T. T. Gossett

David Smith

*Joe C. C. Carr

Jim Cain

*James T. T. Hayes

*Mike Martin

*E. Lee Bennett

Johnny Dudley

*Orris E. E. Davis

David Wantland

*Raymond H. Leathers

Melvin Meadows

*Hilry H. Shaffer

Dennis Belford

*James N.

David Vaughn

Stansell

Carl E. E. Barnes

Mike Van Sant

Jeff Head

2

** Deceased

Things are really happening at Al Menah! We have had several outstanding events and the Divan

has been busy visiting Shrine Clubs and representing our Temple at other functions and activities.

As you read this we will be busy with our annual Paper Sale, May 4 th thru 7 th . Please do your

part by participating with your Unit or Club. I would like to thank everyone for working so hard

during this time. Al Menah is one of the top donators to the Shriners Hospitals for Children, thank

you Nobles and Ladies!

I would like to give a special shout out of gratitude to our Hospital Transportation Chairman,

Billy Cullen, and to all the drivers for all the work you do. From driving our precious cargo to the

hospitals, driving the vans during Grand Lodge, the Paper Sale Caravan and Parades, we appreciate

your tireless dedication.

Thanks to everyone that attended the Potentates Ball and Hospitality, a great time was had by

all. Thanks to all those that worked hard to make this an outstanding event and a special Hooray

goes to Phil and Debbie Parman and Van and Vickie Miller for chairing the committee. I would

also like to thank the Motor Corps and Clowns for chairing the hospitality at the hotel; our out of

town guests were extremely complimentary on your efforts for a job well done. Last but not least,

a big thanks goes to John Whitaker for providing the music and keeping everyone moving on the

dance floor at the Ball.

Our Annual Easter Egg Hunt was well attended, but there was a sense of sorrow in the loss of

Howard Davis the previous week. Howard and Pasty had chaired this event for many years and he

will be truly missed. In his honor we named the event "The Howard Davis Memorial Easter Egg

Hunt". Thanks to Conley and Sherry Dykes and Mike and Bunny Kemp for chairing the event and

all those that helped.

Coming up in May is Fun Fest in Pigeon Forge May 11 th thru 13 th . We hope you have made

plans to attend.

On May 21 st we will be going to Lexington Hospital's Grand Opening. We have a bus chartered

and you are welcome to ride along. The cost is $20.00 per person. Please RSVP to the office to

reserve your seat. If you have not had a chance to visit one of our Hospitals for which we all work

so hard for, this is your chance.

Membership continues to be a top priority at Al Menah, please contact myself or any member of

the Divan if you have questions or need recruiting materials. We have initiated several new Nobles

at Shrine Club meetings and are willing to continue to do so. If you know of a Master Mason that

is interested in joining our fraternity, let's get them on board. Give me a call and we will be glad

to come to your Shrine Club. The initiation fee is $100.00. Remember all you have to do is "Ask

a Master Mason to be A Shriner".

We will be Dark in June and July, but we will still be busy. Keep checking your e-mails for

special notices about upcoming events and activities.

Nobles and Ladies, again thank you for all you do for Al Menah and our Shriners Hospitals for

Children.

Yours in the Faith,

Frank Hester

Potentate

"Pride, Passion & Purpose"
---
From the desk of...

From the desk of...

CHIEF RABBAN

CHIEF RABBAN

Nobles, Spring is in full swing!

Tammy and I would like to

congratulate Frank and Tracy on

a great Ball. For the ones that

missed it, you missed a great

time. The Easter Egg Hunt had

a great turn out, and the children

had a great time. A special thanks to

the committee for a wonderful job!

Please Nobles, do not forget to start

selling your Circus ads. This year there will be awards

for the top salesman. Join the Ringmaster Club and

get your Ringmaster shirts and caps…they're going

fast! Don't be the only Noble with a 75 th Anniversary

Circus shirt!! For more information on the Ringmaster

Club, contact Randy (Slappy) Slapak at 615-474-

1610 or myself at 615-943-5913. Let's get excited

about the Circus! This year, we are bringing back the

ANIMALS!!

Chief Rabban

ASSISTANT RABBAN

Horace Perkins, III

HIGH PRIEST AND PROPHET

A big thank you to everyone

involved with the Easter

Egg Hunt. It was a great

crowd and everyone had

a wonderful time. May is

going to be a busy month and

we hope to see everyone at

some of the following events:

Paper Sale, Dedication of the new

Lexington Hospital and Fun Fest, just

to name a few.

We are off to a great start for 2017 with our membership

drive. We have over 25 new nobles at this

point. If your Shrine Clubs have some candidates,

then just contact the office or any Divan member to

schedule an initiation. Keep up the great work!

High Priest and Prophet

Scott Jones

ORIENTAL GUIDE

If you're reading this, it's just

possible that you have survived

the ball, Grand Lodge, Easter

eggs, stated meeting, onion

ASSISTANT RABBAN ORIENTAL GUIDE

ASSISTANT RABBAN ORIENTAL GUIDE

sales, paper sale, reunion and

Our building has been a buzz of

activity the last few weeks with

many Nobles and their ladies

enjoying themselves at the

Potentate's Ball, children

having a good time at our

Easter Egg Hunt, as well as

several rentals.

We are continuing to have

out of town Shriners coming in to

Nashville checking out our fair city

and making their plans for Imperial Session 2019.

I hope every Noble who is able is planning to work

our paper sale in May to raise money for our Shrine

kids and that many are making plans to visit our beautiful

new hospital in Lexington, Kentucky.

Let's continue to keep having fun while helping

others.

Assistant Rabban

Randy Williams

HIGH PRIEST AND PROPHET

a myriad of other Masonic

events in the last 20 days. Over

the last couple weeks, I've

watched a whole bunch of people

put in some serious hard labor

to pull these events off and there's no way

to thank them all individually. But you've all done

a fantastic job and I do thank you for your time and

dedication to making sure even the smallest details

were just right.

After all that hard work, I think we need to take

a moment to remember our obligations and plan

some time with our families, grandkids and even

grandparents in some cases. There's a pretty good

chance they may have forgotten what you look like

and maybe y'all need to get to know each other again,

and that includes your wife!!

Oriental Guide

Donnie Drayton

3

3

3

3
---
October 19, 2017

12:30 Tee Time

Scottish Rite Golf Tournament

Nashboro Golf Club

1101 Nashboro Blvd.

Nashville, TN 37217

$75.00 Per Player

Tournament Package Includes:

o Greens Fee

o Cart Fee

o Range Balls

o BBQ buffet lunch

$300.00 Per Team

Masonic/Scottish Rite

Members

And

Nonmembers

ALL ARE WELCOME

Registration:

Name: ------------------------------------

Name: ------------------------------------

Name: ------------------------------------

Name: ------------------------------------

Contacts:

Scottish Rite (615)259-3434 scottishritetn@bellsouth.net

Barry Eldridge (615)481-5000 barryski1@aol.com

WE NEED HOLE SPONSORS $100.00

4
---
GOODLETTSVILLE MASONIC LODGE # 271

Is pleaseD to present The 2 nd annual

William "Bubba" Jefferson Hayes

Memorial Square & Compass

GOLF TOURNAMENT

Hosted By The Legacy Golf Course 100 Ray Floyd Dr. Springfield, TN 37172

CHECK IN 7:AM June 3 rd 2017 TEE TIME: 8:AM

-----------------------------------------------------------------------------------------------

• FOUR MAN SCRAMBLE

• CARTS INCLUDED

• $10,000 Hole-In-One Contest !

• CLOSEST TO THE PIN CONTEST • LONGEST DRIVE CONTEST

• PUTTING CONTEST

• WINNING TEAM'S NAME ON THE TROPHY

• LOTS OF GREAT FOOD – CHICKEN, HOTDOGS, HAMBURGERS, DRINKS

• YOUR TEAM GETS 8 MULLIGANS, A 3 FT STRING

• FIRST PLACE – 4 $50.00 GIFT CARDS and $50.00 CASH EACH PERSON

• SECOND PLACE – 4 $30.00 GIFT CARDS and $30.00 CASH EACH PERSON

• THIRD PLACE – 4 $25.00 GIFT CARDS and $25.00 CASH EACH PERSON

• PLUS ADDITIONAL PRIZE DRAWINGS AT END OF TOURNAMENT

LIMITED TO 32 TEAMS ONLY

CORPORATE HOLE SPONSORSHIPS AVAILABLE FOR $100

-----------------------------------------------------------------------------------------------------------------------------------------------

Team Application – 2017 2nd Annual William (Bubba) Jefferson Hayes Memorial Square & Compass Golf Tournament

1st Players Name (Will be team contact) ___________________________ Phone ____________ Email _______________________

Other Players name and email ____________________________________________________________________________________________________________________

____________________________________________________________________________________________________________________________________________________________

$300.00 Per Team. Payment Type: __ Check ___ Money Order __ Cash

Please Send All Payments To: Goodlettsville Lodge #271, 108 Memorial Dr., Goodlettsville TN. 37072

All Applications and Payments MUST Be In By May 27th. No Cancellations After This Date.

For More Information Contact: Jim Asad 615-969-7765 or email at jimasad@comcast.net. All funds to benefit the

Goodlettsville Masonic Lodge #271 F&MA

5
---
Chief Rabban Horace Perkins

invites you to become an

Elite Member of the 2017 Ringmaster Club

Contact: Horace Perkins 615-943-5913

Randy "Slappy" Slapak 615-474-1610

Dan Clark 615-596-7269

Men's Membership—$150.00

Includes: Ringmaster shirt, Ringmaster cap, 4 Shrine Circus tickets for

VIP Ringmaster seating and 1 entry to the Ringmaster Club Breakfast on October 7th.

Ladies' Membership—$125.00

Includes: Ringmaster Shirt, Ringmaster tote bag, 4 Shrine Circus tickets for

VIP Ringmaster seating and 1 entry to the Ringmaster Club Breakfast on October 7th.

Name________________________________________________________________

Address______________________________________________________________

City_______________________________State___________Zip_______________

Phone_____________________Email____________________________________

Man's Shirt Size: (circle one) Small Med LG XL 2-XL 3-XL 4-XL

Lady's Shirt Size: (circle one) Small Med LG XL 2-XL 3-XL 4-XL

FOR OFFICE USE:

Amount Paid:________________ Method of Payment:__________________ Date Paid:_______________

6

PROCEEDS ARE FOR THE BENEFIT OF AL MENAH SHRINERS AND ARE NOT TAX DEDUCTIBLE AS A CHARITABLE DONATION
---
2017 Open House &

Divan Day Weekend

Friday, August 25 | Saturday, August 26

The Board of Governors of Shriners Hospitals for Children ® — Cincinnati are thrilled to invite...

ALL DIVANS, NOBLES, MASONS, LADIES, STAFF AND GUESTS

to attend our 2017 Cincinnati Hospital Open House and Divan Day Weekend.

Cincinnati Reds

Baseball Game

Friday Night Social for EVERYONE... August 25, 2017

Friday, August 25, 2017

GAME STARTS AT 7:10 PM

Cost for game ticket, food & drinks is

$53 per person. Includes a ticket for a

batting cage experience if you like!

For additional information or questions,

please e-mail Sherry Helen @

skappel@shrinenet.org or

call: 513-872-6207

Amenities include:

• Access to the Handlebar, which is

climate-controlled and features a

26-foot video wall and several HD

video columns

• All-inclusive upscale food buffet

• 6 drink tickets per person good for

available alcoholic beverages

redeemable ONLY in the Handlebar*

• Unlimited Coke products

Watching a game from The Handlebar is one of the most

fun and unique experiences in Great American Ball Park!

HOTEL ARRANGEMENTS

(Holding 45 Rooms)

Hampton Inn

Cincinnati Riverfront

8:00 - 9:30 AM Continental breakfast

in the Atrium

8:30 AM Hospital tours

10:00 - 11:30 AM Presentations

in the Atrium

Please register no later than Friday, August 4, 2017

PLEASE NOTE: Indoor Handlebar Access Passes provide entry to the ballpark

inside the Handlebar Club but DOES NOT include a ballpark seat.

Please call now & make your

reservations asking for the

Shriner-Cincinnati Rate:

$125.00 + 11.3% tax = $139.12

200 Crescent Avenue

Covington, KY 41011

Phone (859) 581-7800

Fax 859-581-8282

Divan Day Program and Tours... SATURDAY, August 26, 2017

11:30 AM Hot buffet lunch for all guests

in the Atrium

12:30 PM Gift Presentations

1 - 3 PM OPEN HOSPITAL BOARD MEETING

All nobles are invited to attend the

hospital's August Board meeting

RSVP FORM

Please register no later than

Friday, August 4, 2017

YES, I am planning on attending the

Open House and Divan Day Weekend.

I will participate in the following events:

(Please indicate the number of attendees for EACH event

Friday Night Social

$53 per person

# of attendees:

Batting Cage (free)

# of attendees:

Saturday Divan Day

Program & Tours

# of attendees:

Name (first and last):

Spouse / Guest (first and last name):

Temple / Group:

Address:

City, State and Zip Code

Phone (daytime):

e-mail address:

If you require any of the auxiliary aids or services identified in the Americans with

Disabilities Act, please include these requirements in writing with your registration.

Please send completed

registration & check

made out to:

Shriners Hospitals for

Children – Cincinnati

Attn: Sherry Helen Kappel

Administration, ML #180

3329 Burnet Avenue,

Cincinnati, OH 45229

For additional information

or questions, please

e-mail Sherry Helen at

skappel@shrinenet.org

or call 513-872-6207

7
---
CeNter

NeWS

Clowns

On April 1 st the Fabulous AlMenah

Clowns did rather well at Mid-Winter

in Canton GA. We came home with 12

first place, 4 second place, and 6 third

place trophies! We had a great time

with some old friends, and made new

lifelong friends as well.

April 8th was the Potentate's Ball,

with all the hard work from the Nobles

and their ladies it was a great success.

April 15 was the Easter Egg Hunt, in

which we couldn't have asked for better

weather, and it was smiles all around as

we entertained the children and adults

alike.

As May is quickly approaching we

have got many things to do. Heading

it all up is our annual Paper Sale May

4th thru 7th. ( please be in touch with

for times and places you are planning to

work). This is, no doubt our time to do

all we can to support our hospitals.

May 11th thru 13th is the Fun Fest in

Gatlinburg TN. with the parade there

on Sunday the 13th. Also two other

parades in Portland and Franklin TN.

May 21st is Hospital Day in Lexington

KY. I hope to see everyone there

for this historical occasion. If you are

wanting to go, make your plans now

before it's too late!

May 28th thru June 3rd Potentate's

Trip to Rivera Mexico.

As you can see we have many opportunities

to do our part in supporting

the honorable endeavor of the Shriners

Hospitals for Children. May we give

our very best during these days, that we

may be able to look back and know we

have done our part.

James "Puzzles" Chambers

Secretary

8

Director's Staff

Greetings! It's been a busy year thus

far and we are still just getting started!

Don't forget to attend your regular

stated meeting night for upcoming

events and important information, as

well as our monthly unit meeting. We

are gearing up for our paper sales this

month and need all hands on deck!

The Potentate's ball was an unforgettable

night and we want to

congratulate and thank all that helped

make the evening a success and joyous

event! The Easter Egg Hunt also was

a very fun day with great weather and

a good turnout. We will be having our

yearly weekend at fun fest in Pigeon

Forge this year Mother's Day weekend.

Don't forget to reserve your room and

come down for the fun!

As a reminder, at March's stated

meeting it was noted that all Kroger's

have given permission for us to sell outside

their doors. Please note, if selling

at any Kroger location, you need NOT

inform the store or any management

that you are there. We have the all clear

to show up, complete our day and move

on. Also, if you will be having any outside

helpers, please be sure that person

sticks with you and is not covering an

entry or exit by themselves. Be sure

to wear your Fez and appropriate attire

that will show you are a Shriner.

In recognition of our freedoms &

ability to belong to such a Grand Organization,

we thank our service members

working tirelessly, both abroad & at

home and recognize their families as

well who sacrifice so much that we

may be free. God Bless our Temple &

members. Always remember out Pride,

Passion and Purpose and God Bless

America.

Cordially,

Randy D. Byram

Captain

Lookie here you Mountaineers! Youins

had a wonderful Easter party day at our

old Shrine Temple. It was great to see

all them young children having a good

time.

Boys, almost paper sale time and

I gotta tell you we must do great for

this is the most important job we have.

Another event we must do well with

is our onion sale. Remember it is our

responsibility to our unit to sell these

beautiful things. Without this funding,

the old Mountaineers could not make it.

In closing we need to participate in

the activities of our Temple. We need

to have better attendance in our Mountaineer

Unit and to add new members.

Pray for children in our hospitals, our sick

and our troops in harms way across this

troubled world. God bless the USA. Until

next time keep your powder dry.

Danny Wyatt

Captain

Greeters

The Greeters have done a remarkable

job on the onion sales. Keep up the

great work on the Paper and Plaque

Sales

Remember both the Paper and

Plaque Sales is an on-going year round

Did you know that millions of Airline

Miles expire or are not used each

year?

What a great feeling when you donate

your Airline Miles to the Shriners

Hospitals for Children, that you are not

going to use or are about to expire

Here is a new way to donate to help

our kids, Kroger will donate, based on

your purchases, all you have to do is

register your "Kroger Card

Keep in our prayers Charlie Smith

who is recuperating very nicely. and

Yom York , as well as all those that

are hurting or ill, and all those in the

Armed Forces both in harm's way And

serving around the world
---
Hope everyone had a happy Easter

and Passover.

Lou Becker

Legion of Honor

The "Black Tie Affair", (Potentate's

Ball) was truly unforgettable. The

decorations

were beautiful. The food, drinks

and music was good and as always it's

great to be able to enjoy good times

with good friends. Illustrious Sir Frank

Hester and Lady Tracy and members of

the Divan and your ladies may this be

one fantastic year for all of you.

The Legion of Honor was invited to

the "Mule Day Parade" in Columbia,

TN on April 1 st . We had a good turn

out and we went along with the Fez and

some good parade marshalls. They had

a very good hospitality breakfast. We

enjoyed it. The parade was awesome, I

have never seen so many mules in my

life. Lots of spectators seemed to love

the Shriners so we were well received

and hope to be invited back next year.

The "Easter Egg Hunt" was a lot of

fun for everyone. The Legion helped

with the "Child Identification Program"

which collects information on children

for the parents to have that can help the

police find them if they ever go missing.

It is a good and helpful program.

We had a very good turn out and

everyone did their part to help make it a

success. A job well done, thanks to all

who participated.

We must now focus on the "Shrine

Paper Sale" coming up on 4,5,6, and

7 May. Please do your part and help

us sell papers. This is how we are able

to run our Shrine Hospitals and help

the children which is why we are all

Shriners!

Then the Vidalia Onions will arrive,

we have ordered 400 bags. Let's get

out there and sell them while they are

fresh!

Please keep our shrine hospitals,

shrine patients, doctors, nurses, our

military and all first responders who are

there for us around the clock in your

prayers.

May God Bless,

Roy Lindsey

Commander

Provost Guard

Easter is over and hope everybody

found the Golden Egg. Now it is paper

sale time.

We need to sell these papers and

raise a lot of money for the Hospitals.

The Provost Guard Drill Team will

be going to Dixie in a couple weeks. I

think when they get back they will have

to built a bigger Trophy case.

Secretary

Ken Loftis

Motor Corps

What being a Shriner means to me!

Being a Shriner, first and foremost,

means working tirelessly to help raise

funds for, and raise awareness of, our

Hospitals that provide services to burn

and orthopedic children. What does it

mean to you?

I became a Shriner to have F-U-N,

while loving what I was doing. I

became a Shriner to see the countless

smiles on children's faces, while having

F-U-N doing whatever it was that

made them smile! I became a Shriner

to pledge my support to my Temple,

to my fellow Brothers, while having

F-U-N doing so and while taking care

of the business within. While always

and forever keeping my Obligation to

my Masonic Lodge as most important,

I am thankful that the idea of a new

fraternity for Masons stressing F-U-N

and fellowship was established in

1870. The Ancient Arabic Order of the

Nobles of the Mystic Shrine!

I challenge each one of you to come

out to the events planned, join us at

Stated Meeting to see what is going on

in YOUR Shrine Center, volunteer to

help whenever and wherever you can

without being asked to, visit a Hospital,

encourage new membership. Find

the F-U-N in being a Shriner! I did...

although it sadly seems to be missing

from a few.

Journalist

"Fat Rabbit", PC

SHRINE CLUB NEWS

Williamson County Shrine Club

& Motor Division

I want to thank everyone who helped or

has agreed to help out in the Shrine Paper

Sale & Rodeo Parade. We do it for

the children at the Shriners Hospitals

for Children. You are the best and that

explains why I always say, "WCSC is

the greatest Shrine Club on the Planet"!

Our Motor Division plans to be out

in force at the Franklin Rodeo Parade

coming up on May 13. We invite all Al

Menah Units and Clubs to come down

and enjoy the fun with us. We will have

breakfast hospitality at Hiram Lodge

beginning at about 9:30am. Line up for

the parade is 11:00 am and step off at

High Noon.

Let's keep those who have lost loved

ones, our sick list, our Military, Firemen

and Law Enforcement Officers in

our prayers. Nobles, we need to thank

God for every day on this earth as they

are all precious.

Butch Mays

Ambassador

9
---
Notices..............................................................................

(see yellow arrow).

Ladies

Only!

I would like to thank everyone

that came out to the Ball Hospitality

and purchased tickets

for our Baskets. We were overwhelmed

with the response and

feel so fortunate to have raised

enough money to sponsor three

Shrine Patients to attend Camp

Ytiliba this summer. And a special

great big Thank You to the

Motorettes, Clownettes, Directorettes,

Williamson County

Shrine Club, Daughters of the

Nile and the Divan Ladies

for donating their

time, talent and monies

10

in providing those beautiful baskets.

You ladies ROCK! Additionally,

I'm proud to announce

that we had two other donors

that provided funds to support

two more Shrine Patients to attend

Burn Camp this summer.

Our next scheduled Ladies

Nite before the temple goes dark

for the summer is May 16th and

BINGO is back. We hope you

will come out and join us for an

evening of FUN, Fellowship and

prizes. Dinner with the men will

begin at 6:00pm. If you have an

activity idea or recommendation

for our Ladies Nite, please let us

know.

Thank you!

Lady Tracy Hester

Upcoming Events

(as of this publication)

MAY 2017

MARCH 2017

May 4-7 Paper Sale

Fri/Sat 3/3-4 York Rite Festival

May 11-13 Fun Fest

Fri 3/17 ST. PATRICK'S DAY

May 21 Hospital Day - Lexington

Sat 3/18 St. Patrick's Day Parade,

JUNE 2017

Erin, TN

Wed/Thu 3/22-23 Grand Lodge

June 3 Memorial Square &

Mon-Fri 3/27-31 Paper Sale Caravan

Compass Golf

APRIL 2017

June 17

Fri 4/7

June 24

Sat 4/8

June 25

Thu 4/13

Sat 4/15

Tournament

Tracy & Co

Al Menah Potentate's

Ladies Luncheon

Ball Hospitality, Clarion Hotel

Casino Party

Al Menah Potentate's Ball

Toy Run

Maundy Thursday,

Grand Lodge

Easter Egg Hunt, 10:00 a.m.
---
Paper Sale Donation from Kroger

On Monday, 7/18 Potentate Jeff Head and members of the Williamson

County Shrine Club were with Kroger Management at their Belle

Meade store where they presented a $1,000.00 to us for the Shrine

Hospitals for Children. The Kroger Manager was an acquaintance of

Scotty and Teresa Travis who put this together for the Al Menah Shrine

Hospitals for Children Paper Sale.

This is a portion of a message from Phyllis Berry, wife of this

Kroger Store Manager, Michael Berry.

Let me tell you, our son was a Shrine Hospital patient

and we are forever grateful The experience was an

awakening in humanity. The care was phenomenal. The

friendship my family made. The support from the men in

your fraternity was phenomenal. We thank you for all you

and your members do for children across the country.

Sincerely

Phyllis Berry

Fraternally,

Butch Mayes, WCSC

11
---
12
---
Patients are now receiving care in the new medical center

On Monday, April 17, Shriners Hospitals for Children Medical Center — Lexington

began caring for patients at the new location, 110 Conn Terrace. Monday was a

busy and successful opening day. All departments from clinic, surgery,

prosthetics & orthotics, radiology, therapy, and motion analysis center

administered patient care on opening day. Our patients and their families were

very excited to see the new location and had many positive things to say. Check

out the pictures below from opening day!

Lauren was the first patient

at our new specialty care

clinic. "The new facility is

very bright & colorful. No

one can be afraid of coming

to the doctor at this

location!" said Lauren

Our Shriner van drivers

carry precious cargo as

patients travel from near and

far for appointments at the

Lexington Shriners Medical

Center. These gentleman are

from the Al Menah Shrine

Temple and were the first

Shriner van drivers on

opening day to transport a

patient!

13
---
14
---
Clown Golf Tourney

Monday June 5 th , 2017

Old Hickory Country Club & Golf Course

1904 Hadley Avenue

Old Hickory, TN 37138

$85 per Man /$340 per team

(Includes gift pack, golf cart, green fees, & Dinner)

There will be fun, food, and a great golf tournament!

There will be great prizes for contest holes, door prizes and meal served afterwards.

Registration 11:00 a.m.

Shotgun Start 12:30 p.m.

Deadline for entry: Wednesday May 31, 2017

Name:

Name:

Name:

Name:

We are in need of hole sponsors. A sign will be placed to show your support, with entire amount

going to the Hospitals. You will also get a plaque showing your support to the Shrine Hospitals.

Sponsorships are: $100.00 - sign at a hole.

So PLEASE let Guy know if you or a business wishes to help donate to the Shrine

Hospitals via a hole sponsorship!

Please mail your application with your foursome or sponsorship information to:

Guy Whitley

PO Box 210266

Nashville, TN 37221 for more info email: guycw1216@gmail.com

15
---
REMINDER!

NOTICe:

ALL communications

for the Shriner

should be sent to

editor.amsc@gmail.com

16
---
Wes F

Nobles Visited By By

The Black Camel

LARRY DEAUNE KIMBRELL

Lawrenceburg

07/29/1948-03/19/2017

LEON STRAUSS

Nashville

06/18/1927-03/24/2017

MICHAEL LESTON HIRE

Lafayette

07/23/1953-04/12/2017

CARL GOSSETT JOHNSON

Brentwood

04/08/1927-04/14/2017

DONALD LEE YOUNG

Madison

09/30/1937-04/14/2017

THOMAS HARRISON WARD

Belvidere

10/18/1929-04/15/2017

Nonprofit

AL MENAH AL TEMPLE MENAH TEMPLE

Organization

U.S. POSTAGE

A.A.O.N.M.S. A.A.O.N.M.S.

PAID

1354 BRICK CHURCH 1354 PIKE BRICK CHURCH PIKE

P. O. Box 78545 P. O. Box 78545 Nashville, TN

Permit No. 1731

NASHVILLE, TN 37207 NASHVILLE, TN 37207

www.almenahshriners.org

Nonprofit

Organization

U.S. POSTAGE

PAID

Nashville, TN

Permit No. 1731

VOLUME 36 • NUMBER 1 • (PUB

INSIDE

THIS

ISSUE

PAGE 2

Potentate's

Message

DEADLINE FOR JUNE SHRINER IS MAY 17

PAGE 3

Divan

Messages

PAGES 4

Notices

Upcoming Events

AL MENAH SHRINERS O

P.O. BOX 78545 • NASHVI

Al Men

Chief Rabban

Horace Perkins, III &

Lady Tammy

PAGE 5

From Lady Tracy

Dedication

Ceremony

PAGE 6-7

Unit News

PAGE 7

Membership Notice

High Priest & Proph

Scott Jones & Lady Ki

PAGE 11

Message From

PR Chairman

BACK COVER

Black Camel

Imperial Session