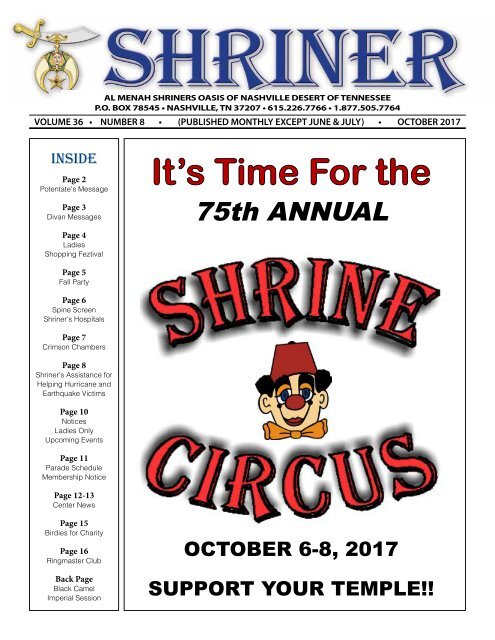 SHRINER OCTOBER 2017
Monthly activities for Al Menah Shrine
Monthly activities for Al Menah Shrine
SHOW MORE
SHOW LESS
You also want an ePaper? Increase the reach of your titles
YUMPU automatically turns print PDFs into web optimized ePapers that Google loves.
AL MENAH SHRINERS OASIS OF NASHVILLE DESERT OF TENNESSEE

P.O. BOX 78545 • NASHVILLE, TN 37207 • 615.226.7766 • 1.877.505.7764

VOLUME 36 36 • NUMBER • NUMBER 4 8 • • (PUBLISHED MONTHLY EXCEPT JUNE JUNE & JULY) & JULY) • OCTOBER APRIL 2017

INSIDE

INSIDE THIS

ISSUE Page 2

Potentate's Message

Page 3

Divan Messages

Page 4

Ladies

Shopping Feztival

75th ANNUAL

Page 5

Fall Party

Page 6

Spine Screen

Shriner's Hospitals

Page 7

Crimson Chambers

Page 8

Shriner's Assistance for

Helping Hurricane and

Earthquake Victims

Page 10

Notices

Ladies Only

Upcoming Events

Page 11

Parade Schedule

Membership Notice

Page 12-13

Center News

Page 15

Birdies for Charity

Page 16

Ringmaster Club

Back Page

Black Camel

Imperial Session

OCTOBER 6-8, 2017

SUPPORT YOUR TEMPLE!!
---
Al Menah Temple

Al Menah Temple

Oasis of Nashville

Desert Oasis of Nashville

TennessEE

Desert of TennessEE

P.O.Box 78545 • Nashville, TN 37207

P.O.Box Phones 785451.615.226.7766

•• Nashville, TN 37207

Phones 1.877.505.7766

1.615.226.7766

www.almenahShriners.org

1.877.505.7766

www.almenahShriners.org

The Publication Committee

The Publication Committee

The Divan/Board of Directors

Potentate The . ................... Divan/Board of Directors Frank Hester

Chief Potentate Rabban .. ................... . Horace Frank Perkins Hester III

Assistant Chief Rabban Rabban .. ..........Randy Horace Perkins Williams III III

High Assistant Priest Rabban & Prophet .. .........Randy . Scott Williams Jones

Oriental High Priest Guide & Prophet ............ . ......... Donnie Scott Drayton

Jones

Treasurer Oriental Guide ......................... . Donnie Wes Drayton Frye

Recorder Treasurer .. ...................Robert Wes Daniel

Frye

Editor Recorder ..................... ...................Robert Maurice Smith Daniel

Editor Published ..................... monthly except June Maurice and July

Smith

Published www.almenahShriners.org

monthly except June and July

www.almenahShriners.org

PAST POTENTATES

PAST POTENTATES

*Charles Barham

*V.

*Charles

K. Stevenson

Barham

*W.

*V. K.

F.

K. Hunt

Stevenson

*J.

*W.

Pink

F. F. Hunt

Lawrence

*J.

*Ed

*J. Pink

R. Burr

Lawrence

*J.

*Ed

Harry

R. R. Burr

Murphy

*J.

*Charles

*J. Harry

N. Murphy

Rolfe

*Paul

*Charles

DeWitt

N. Rolfe

*E.

*Paul

M. DeWitt

Kelly

*Joseph

*E. M. Kelly

Higgins

*Ira

*Joseph

E. Parker

Higgins

*Martin

*Ira E. E. Parker

S. Roberts

*R.

*Martin

C. Derivaux

S. S. Roberts

*Oren

*R. C. C. A.

Derivaux

Oliver

*Lee

*Oren

L.

A.

Gamble

A. Oliver

*R.

*Lee

R.

L. L.

Clark

Gamble

*William

*R. R. R. Clark

Raine

*Hugh

*William

F. Smith, Raine

Jr.

*W.

*Hugh

A. Bryan

F. F. Smith, Jr. Jr.

*Charles

*W. A. A. Bryan

L. Cornelius

*W.

*Charles

Bush

L.

Herbert

L. Cornelius

*Marshall

*W. Bush Hotchkiss

Herbert

*Jess

*Marshall

B. Templeton

Hotchkiss

*T.

*Jess

A.

B. B.

Springfield

Templeton

*James

*T. A. A. Springfield

G. Stahlman

*J.

*James

Clark G.

Akers

Stahlman

*J.

*R.

*J. E.

Clark

Baulch

Akers

*Thomas

*R. E. E. Baulch

E. Doss

Kerbela

*Thomas

Temple

E. E. Doss

'28

*Maurice

Kerbela Temple

Weinberger

'28

*S.

*Maurice

N. Allen

Weinberger

*W.

*S. B.

N. Hager

Allen

*O.

*W.

Lynn

B. B. Hager

Meek

*Jack

*O. Lynn

Norman

Meek

*James

*Jack Norman

J. Vaughn

*C.

*James

H. Smith

J. J. Vaughn

*Fred

*C. H.

C. Smith

Laskey

*Ivo

*Fred

A.

C. C.

Burton

Laskey

*T.

*Ivo

W.

A. A.

Bray, Burton

Jr.

*James

*T. W. R.

Bray,

Cox

Jr. Jr.

*Paul

*James

R.

R. R.

Jarratt

Cox

*J.

*Paul

Sumpter

R. R. Jarratt

Anderson

*J.

*Hugh

*J. Sumpter

W. Robertson

Anderson

*M.

*Hugh

T. Gossett

W. Robertson

*Joe

*M. T.

C.

T. Carr

Gossett

*James

*Joe C. C.

T. Carr

Hayes

*E.

*James

Lee

T.

Bennett

T. Hayes

*Orris

*E. Lee

E. Bennett

Davis

*Raymond

*Orris E. E. Davis

H. Leathers

*Hilry

*Raymond

H. Shaffer

H. Leathers

*Hilry H. Shaffer

*James N.

Stansell

*James N.

Stansell

2

*John E. Patton

*John

*John E.

D.

E. Whalley

Patton

Jack

*John

Norman,

D. D. Whalley

Jr.

*Albert Bennett

Jr.

*Clyde

* Jack Norman, Jr.

*Albert

R. Bennett

Watson

*Marshall

*Clyde R. R. S.

Watson

Whitley

*James

*Marshall

J. White

S. S. Whitley

*G.

*James

Cooper

J. J. White

Holt

*J.

*G.

Coleman Cooper Hayes

Holt

*J.

*Donald

*J. Coleman

R. Dunning

Hayes

*J.

*Donald

P. Foster

R. R. Dunning

*J.

*Gale

*J. P. P. Foster

Robinson

*C.

*Gale

V. Cramb

Robinson

*J.

*C.

Nelson

V. V. Cramb

Bryan

*J.

*Robert

*J. Nelson

Battle

Bryan

*Jerry

*Robert

N. Battle

Tate

*Fred

*Jerry

H. N.

Gay, Tate

Jr.

James

*Fred A.

H. Campbell

Gay, Jr. Jr.

*Claude

James A. A.

G. Campbell

Southall

*W.

*Claude

B. Lawson

G. Southall

*Gale

*W. B. B.

Robinson

Lawson

J.

*Gale

Dudley Robinson

Phillips

J.

*M.

J. Dudley

Norris Phillips

Jenkins

*James

*M. Norris

F. Scalf, Jenkins

Jr.

*William

*James F. F. B.

Scalf,

Jones

Jr. Jr.

Jack

*William

C. Phelps

B. B. Jones

*David

Jack C. C. P.

Phelps

Brumfield

*Zack

*David

S.

P. P.

Parrish, Brumfield

Sr.

*Robert

*Zack S. S.

E. Parrish,

Newman

Sr.

*George

*Robert E.

Cook

E. Newman

*George

*R. Parker Cook

Graham

H.

*R.

Parker Parker

Toler

Graham

*R.

H. T.

Parker

McNaney

Toler

James

*R. T. T. L.

McNaney

Ham

Charles

James L. L.

H. Ham

Williams

William

Charles D.

H. Jones

Williams

John

William

L. Weaver,

D. D. Jones

III

Gale

John

B.

L. L.

Robinson

Weaver, III

Joe

Gale

Bell

B. B. Robinson

Ronny

Joe Bell

L. Greer

Charles

Ronny L. L.

E. Greer

Cardwell

J.

Charles

Franklin

E. E. "Jay"

Cardwell

Scalf, III

J.

Conley

J. Franklin

Dykes

"Jay" Scalf, III

David

Conley

Smith

Dykes

Jim

David

Cain

Smith

*Mike

Jim Cain

Martin

Johnny

*Mike Martin

Dudley

David

Johnny

Wantland

Dudley

Melvin

David Wantland

Meadows

Dennis

Melvin Belford

Meadows

David

Dennis

Vaughn

Belford

Carl

David

E. Barnes

Vaughn

Mike

Carl E.

Van

E. Barnes

Sant

Jeff

Mike

Head

Van Sant

* Jeff Deceased

Head

** Deceased

Where does the time go? It is already Fall and the year is going by fast. We have

had many great events and functions this year and many more to come.

Thanks to all the Nobles and Ladies that attended the Southeastern Shrine

Association Convention and congratulations to those than competed in

competitions and won Trophies. I would also like to congratulate Scott Jones on

being elected President of the Southeastern Clown Association, Harry Dunn for

being elected Commander of the Southeastern Legion of Honor, Bob Sylvia for

being elected 1st Lieutenant Commander of the Southeastern Legion of Honor

and Josh Waynick for being elected 1st Vice President of the Southeastern Provost

Guard.

A big thank you goes to Eddie Hill and the Directors Staff for hosting the

Directors Staff Golf Tournament last month. And also thanks to James Ham and

all those that helped make the Ladies Golf Tournament a successful and fun day for

the Ladies.

We had a good turnout for the Fall Ceremonial last month. I would like to thank

all those that helped in the degree work and Arch Presentation and also to the

Directors Staff for the fun. And A huge thanks to Ronnie Brown and the Kitchen

Committee for preparing the meal and also to the Ladies for seeing that the new

ladies were welcomed. As always, we appreciate your support. I would like to

offer a special thank you to Imperial Sir Jim Cain for his help throughout the day.

Be sure and welcome all the new Nobles and their Ladies to Al Menah Shrine and

encourage them to be active and have fun.

The Car Show was also last month and I would like to thank all those that

participated, sold sponsorships and bought sponsorships. We appreciate all the

units that came out and supported this event. A special thanks to Keary Fleenor and

his committee for all their hard work that made this a success.

This month is our 75th Annual Al Menah Shrine Circus October 6th thru the

8th. This is our main fund raiser for next year and we need the Nobles to please

purchase your Nobility Tickets. We will have hospitality upstairs as usual and look

forward to seeing everyone at the Circus!!

The Fall Party is October 21st and it will be Pirates of the Caribbean theme. There

will be a chili and soup cook off and we encourage you to bring a finger food to

share and it is BYOB. Our very own DJ John Whitaker will be providing the

music. There will be prizes for the cook-off, best costume and for best unit area

decorations. Doors open at 5:30 and the fun begins at 6:00, ARGHHH!!

Nobles and Ladies thank you for all you do and your support of Al Menah

Shrine and the Shriner's Hospitals for Children.

Yours in the Faith,

Frank Hester

Potentate

"Pride, Passion & Purpose"
---
From the desk of...

From the desk of...

CHIEF RABBAN

HIGH A BIG PRIEST thank AND you to PROPHET the fabulous

Al Menah Clowns for doing

CHIEF RABBAN

I hope everyone had a great month. I would what HIGH they PRIEST do best…. AND Clowning PROPHET around

at the TN State Fair

like to thank all the Nobles and their ladies from September 8 – 17. The clowns presented their skits to the

who bought Ringmaster Club shirts. It was public and created smiles and laughter with children of all ages!

a success! We sold over 100. Great job Clowns and Clownettes also worked the Monster Trucks event

from that committee, Chairman Randy on Friday and Saturday nights. Good times was had by all that

Slapak and members: Joe Anderson, Dan attended! Thank you – Al Menah Clowns and Clownettes!

Clark, Bobby Crotts, Jimmy Crotts, Bob We added some worthy nobles to Al Menah Shriners during

DeBerry, Donnie Drayton, Chris Johnson, the Fall Ceremonial on September 23. Thanks to everyone

John Kerr, Fred Lysak, Jack Patterson and that helped with bringing a new noble in to Al Menah and with

Bobby Sircy. I thank you from the bottom the presentation of the men and ladies programs. The Fall

of my heart! Al Menah is lucky to have 5 board Ceremonial was in memory of Mike Martin, PP. We are all

members of the Shriners Hospital Board. Tim Mason, Randy committed to increasing our shrine membership… by bringing

Slapak and Jack Patterson are on the Cincinnati Board, and David in new nobles and their ladies to our 2017 Fall Ceremonial,

Wantland and Chris Johnson are on the Lexington Board. When you this shows our commitment to the fraternity and philanthropy.

see these Nobles, please thank them for what they do!

Thank you for your commitment! Let's keep them coming…

The Al Menah Car Show was on September 30 and was a fun

Chief Rabban

event! Lots of hard work by Keary Fleenor and the committee

Horace Perkins, III

for this event.

The Al Menah Circus will be live on October 6-8 at

ASSISTANT RABBAN ORIENTAL GUIDE

Nashville Municipal Auditorium. Good times will be had by all

Did "YOU" Know...

attended, hard work by all the members of the committee, and

You can now, Pay Your ... Regular delicious hospitality nonetheless. Thanks for all the support and

Membership, Lifetime Membership, attendance at the circus. Please, remember to support the circus

Associate Membership Dues, further by paying your circus tickets of $48.00 to the office as

even make a Temple or Hospital soon as possible. This is our big fundraiser event of the year for

Donation. You can also pay for the fraternity! Thanks.

your 2017 Shrine Circus tickets. The Clown Auction is coming soon in October! Get ready

WOW ! ! ! Just go www. for some catfish and fixings…. We hope to see you involved in

almenahshriners.org, when the page an upcoming Al Menah event soon!

comes up "CLICK" the tab.. Renew

High Priest and Prophet

ASSISTANT RABBAN

Membership.

Thats all its takes.

ORIENTAL GUIDE

Are you getting the Al Menah EMAIL

Scott Jones

BLAST? Every Sunday an email is sent out about

upcoming Temple, Units, and Clubs Events & Meetings. Also

ASSISTANT RABBAN ORIENTAL GUIDE

from time to time you will receive an EMAIL about a Nobles'

Passing, changes in a scheduled event, Shrine Hospital Info or

an upcoming deadline. If you are not getting this info, call the

office or send an email to temple@almenahshriners.org and

request to be added.

Helping Kids be Kids ..."That's Why I Wear a FEZ"

Assistant Rabban

Randy Williams

HIGH PRIEST AND PROPHET

Fall is in the air along with the VOLS

football season!

SESA was well attended and Al Menah

was well represented in Warner

Robbins, GA by the Al Menah Clowns,

Legion of Honor, Motor Corps., and

Provost Guard. Appreciate all of your

hard work, dedication and time that it

took to prepare for competition. We all

enjoyed the wonderful hospitality!

Just sitting here on the front porch trying

to think of something to say that would

convey the wisdom and profound

judgement that comes with serving

as Oriental Guide..... Well so much

for that...

See you guys at the circus and

remember our Chief Rabban Horace

Perkins has ordered that there will

be no water guns or cream pies at the

circus this year. I don't guess it would be

wise to stand around Horace any time soon

Oriental Guide

Donnie Drayton

3

3

3
---
4
---
5
---
Shriners Hospitals for Children ® is proud to announce the launch of its new mobile

app, SpineScreen. The app allows families to perform a preliminary spine check

on children, in the comfort and privacy of their own homes.

SpineScreen is a free app developed by the orthopaedic specialists at Shriners

Hospitals for Children. With SpineScreen you can:

• Learn the signs of scoliosis and treatment options available

• Perform a preliminary spine check on your child at home

• Schedule calendar reminders for annual screenings

The app is available now for free download on the App Store and Google Play.

DOWNLOAD NOW

Early detection is key with scoliosis, and SpineScreen gives parents a quick way to

routinely monitor their child's spine. As this is strictly an initial check for possible

signs of scoliosis, it should be followed up by a doctor's examination to determine

if your child has scoliosis. Information provided on the SpineScreen app and

scoliosis resource portal does not replace the advice of a medical professional.

Learn other tips and treatment options with the free SpineScreen mobile app or

on the Shriners Hospitals for Children scoliosis resource portal.

6
---
Meet Crimson Chambers, Patient Ambassador from

Shriners Hospitals for ChildrenÒ - Cincinnati!

Help us give Crimson the experience of a lifetime at the

2017 Shriners Hospitals for Children Open!

Shriners Hospital for Children – Cincinnati is proud to nominate patient ambassador Crimson

Chambers as our representative at the 2017 SHC OPEN. Crimson was chosen as one of 22 patient

ambassadors throughout the country to represent the hospital network at the tournament, where she

will serve as a standard bearer throughout the weekend. It is a rare "inside the ropes" opportunity

that allows patients to carry the scores of professional golfers and show the world how Shriners

Hospitals for Children has helped transform their lives!

Last July, Crimson's family survived a home fire. Although everyone made it out, 14 year old Crimson

was burned on more than 30 percent of her body with second and third degree burns. After several

surgeries and intense physical therapy, Crimson is learning to live her new life as a burn survivor.

She is still receiving treatment for scar management, which will continue for the next few years.

An Arab, Alabama native, Crimson's favorites pastimes include rooting for the University of

Alabama's Crimson Tide football team, make-up special effects, reading, writing and spending time

with her parents and siblings, Cody and Graylyn.

Crimson also attended Camp Ytiliba this summer. She loved the experience and made life-long

friendships. With her positive attitude and outgoing personality, she proved to be a great role model

as well, and hopes to be a junior counselor when she is older.

DONATE TODAY

donate.lovetotherescue.org/crimson-chambers

"The purpose of the Shriners Hospitals for Children Open is to not only bring PGA Tour golf to Las

Vegas, but to more importantly, to bring awareness to the great work of Shriners Hospitals for

Children and the work those hospitals do to help transform the lives of children with orthopedic

conditions, burns, cleft lip and palate and spinal cord. Injuries" – Adam Spering, executive director

to the SHC Open.

7
---
Shriners Assistance for Hurricane & Earthquake victims

Shrine leadership have received inquiries from around the world as to how

Shriners can help provide relief to Masons and Shriners who have been impacted

by recent Hurricanes & Earthquake.

In determining how to provide effective and meaningful help to Shriners and

Masons in these areas, Shriners International has determined that the best and most

effective way to provide financial assistance is to use the charitable arm of the

Masonic Services Association of North America ("MSA") which has been

specifically established for the purpose of obtaining tax deductible donations and

to effectively distribute and account for the funds provided to Masons and Shriners

who receive assistance. You should know that the entire gross donation will be

sent to the affected jurisdiction. MSA deducts nothing for administrative expenses

or expenses of any kind. Therefore, when you give $100.00, $100.00 goes to that

relief area!

Here's how you can give:

Make checks payable to "MSA Disaster Relief Fund" and send them to:

Masonic Service Association

3905 National Drive, Suite 280

Burtonsville, MD 20866

Please write on the memo portion of the check, "Florida Disaster Appeal",

"Mexico Disaster Appeal" or "Texas Disaster Appeal" to be sure that the

money is specifically designated for the relief of that states Masons.

Click here to donate via PayPal or credit card.

Our friends in Puerto Rico were also impacted. Below is an update from Shrine

leaders in Puerto Rico. (Al Rai'e Saleh Shriners (San Juan, PR)) We are all

doing fine. The surrounding islands got the worst part. We are helping Masons and

Nobles that came this week to hospitals here. We identified one Mason and we are

taking good care of him. He was surprised for all we have being doing to him -

Clothes, towels, blankets even did his laundry. Our Shriners are doing a good job.

Our thoughts and prayers are with ALL those affected by the Hurricanes &

Earthquake.

8
---
Nobel's, at Shriners Hospitals for Children ® , we are changing lives every day by doing

everything we can to make kids better.

Paralympians, athletes, philanthropists, musicians, scientists ...

These are just a few of the things our incredible patients at Shriners Hospitals for Children can

call themselves. We call them inspirations.

Our patients inspire us every day to continue the high-quality, compassionate care we are

known for, and we need YOU to help us give them the EXPERIENCE OF A LIFETIME at the

2017 Shriners Hospitals for Children Open ® in Las Vegas!

Give Now

Twenty-three patient ambassadors were chosen to represent their local hospitals at the

tournament, walking 18 holes each day while carrying the scoring standards for professional

golfers as they compete in the tournament, and making memories that will last a lifetime.

Please check out our patients' stories and donate TODAY to help us send them to the 2017

Shriners Hospitals for Children Open and show the world how Shriners Hospitals have helped

transform their lives!

As part of their participation in the tournament, their inspiring stories will appear in the

tournament program, and their information will be shared on the Golf Channel, which will

televise the tournament internationally, reaching over 900 million homes across 240 countries

and territories worldwide!

Because of generous supporters like you, our patients will have the experience of a lifetime.

Thank you for supporting our patients. We hope their stories of commitment, determination, and

courage inspire you to make a generous gift today!

9
---
Notices..............................................................................

In Reponse...

From the widow of Carl Johnson who wrote poem

To Be A Shriner published last month in the Shriner.

From: "Audrey C. Johnson"

Subject: Re: To Be A Shriner.

Thank you so much for sending me this information.

It gave Carl so much joy to share the poem

with the Shrine club and on several occasions some

who missed the meeting that nite asked him to

bring them to another meeting. He loved the outstanding

Williamson County Shrine Club and the

leadership we are so blessed to have. This is another

example of the wonderful fellowship that exists

in this very special organization. He would be so

pleased you honored him by placing this in The

Shriner Magazine.

You all made such a difference in both our lives.

Audrey

OCTOBER 2017

OCT 6-8

OCT 14

OCT 21

OCT 28-29

NOVEMBER 2017

NOV 3-4

NOV 4

NOV 10-11

NOV 11

UPCOMING EVENTS

AS OF THIS PUBLICATION

SHRINE CIRCUS

CLOWN PAPER SALE AUCTION

FALL PARTY

YORK RITE FESTIVAL

SCOTTISH RITE REUNION

LADIES EXTRAVAGANZA

SCOTTISH RITE REUNION

VETERAN'S DAY

Ladies Only!

Thank you to all the Ladies that came out last month

and showed your guessing skills. We also had a

wonderful time playing "Family Feud". Congratulations

to Valerie Wilson and Rachel Whitaker for

high points.

We hope you have your calendars marked for the

Ladies Extravaganza coming up on November 4th.

If you need any flyers to hand out or have an interested

Vendor, please let us know. Be sure to invite

your neighbors, family, friends, and ladies groups

and come on out. There will be entertainment and

refreshments as well.

Our next scheduled Ladies Nite will be October

17th. We will have an introductory Self Defense

class hosted by two former police officers with Royal

Range at no charge. Please dress casual and comfortable

and we hope you will come out and join us.

Ladies it is very important that we know how to protect

ourselves, especially this day and age. If you

are interested in participating in a full self-defense

class for a nominal fee on a separate day or evening,

please let me know by email (tracy@seiwh.com) or

text. Time and space does not allow us to offer this

in the Vision Building on Stated Meeting night.

Don't forget to bring your 50/50 money and we

will have door prizes! Dinner with the men will begin

at 6:00pm at the Shrine Center. We look forward

to seeing you soon. Thank you!

Lady Tracy Hester

615-308-3920

10
---
Current Parade Schedule:

Date Town Type Line Up Step Off Start Location

5-Nov Hendersonville, TN Veteran's 1:00 2:00 Drakes Creek Park

18-Nov Murfreesboro, TN Veteran's 10:00 11:00 VA TN Valley Healthcare

25-Nov Manchester, TN Christmas 5:00 6:00 TBA

2-Dec Portland, TN Christmas 4:30 5:30 Victor Reiter Parkway

9-Dec Granville, TN Christmas 1:00 2:00 TBA

9-Dec Hartsville, TN Christmas 9:00 10:00 Corner Market

9-Dec Millersville, TN Christmas 12:00 1:00 TBA

Membership Notice

Our goal is 100 New Nobles

and 100 Restorations.

2017 Membership Chairman

Sam Isbell (sisbell@eml1.com or

615-579-0765) & Co-Chairman

Dale Pewitt (dalepewitt@comcast.

net or 615-533-6714) are soliciting

our help and support. Will you

help us find new Nobles?

One of the ways you can be

active in this effort is to sign up to

be a virtual mentor for our candidates.

There are candidates waiting

to hear from us. We need a

few good men!

11
---
CeNter

NeWS

Clowns

I have to say we fared well at the

Tennessee State Fair this past month.

We entertained all ages with skits, and

had a great turn out of Clowns.

Al Menah's first Circus was in 1944,

and that same sparkle in the children's

eyes can be seen every year since the

first night we began. The Clowns have

been practicing skits and plan on being

there in full force to be sure that age

old tradition is met with the grand

expectancy of what we do.

As the Circus moves on it's time for

the Clown Auction Oct. 14th. Who's

going to be the big bidder this year?

Nothing like a bidding war to jolt a little

laughter.

May we never get caught up in

the fun, and laughter to forget the

seriousness of our work as Shriners.

Our Hospitals and Children are

counting on us. So, let's make our time

count for them.

James "Puzzles" Chambers

Secretary

Director's Staff

What a great car show this year and also

a BIG welcome to our new members

who took part in this past ceremonial!

Fall is here and there are plenty

of activities coming up. Be

sure to attend our fall party

12

October 21st it is a pirate theme. Come

dressed to impress to win the costume

contest.

Of course, the circus was a success

and we thank all that helped make it a

fun weekend for the cause.

The holidays will be upon us soon

as well. Keep an eye out for dates to

attend our holiday events and share in

fellowship.

For now and as always we give our

thanks and gratitude for those who serve

our country and keep us safe. We send

out prayers to any sick members in our

unit and temple and we thank God for

the opportunity to provide our special

services as time to children in need.

Cordially,

Randy D. Byram

Hello Mountaineers. Here we are

approaching the fall of the year with

many things on our plates.

MEMBERSHIP---Have you done

your very best to get a new Shriner?

BIG OL SHRINE CIRCUS---Get

ready it's almost here and our center

needs all our help. Boys, that means to

get them dollars sent in for them tickets.

In closing, our circus is October

6th thru 8th. We will need you to

mark those days as needed to help

our Shrine Center. We need a good

turnout. Let's show um how them

Mountaineers help out.

Pray for our Shrine children,

our Shrine Center and our Troops in

harms way across this troubled world.

God Bless,

Danny Wyatt, Captain

Legion of Honor

Our trip to Warner Robins, GA for

SESA was fantastic. I'm sure it was

enjoyed by all who attended. Al Menah

Legion of Honor took a first place

trophy for In-Line Inspection under

the direction of Noble Steve Singleton

and a second place trophy in Parade

Marching under the direction of Noble

Wayne Steele.

We were honored to have our

Potentate Frank Hester and his Lady

Tracy join us at the SESA LOH banquet.

Also, we were sorry that Noble Gene

Hunter could not attend SESA due

to his Lady Jo Ann having health

problems. Please keep her in your

prayers.

Our Past Commander Harry Dunn

was promoted to SESA Legion of Honor

Commander for 2017 – 2018 and our

past Commander Robert E. (Bob) Silva

was promoted to SESA First Lieutenant

Commander.

We represented Al Menah at the "Ole

Timers" Parade in LaVergne on Sept.

9th. We were the only Shrine unit in

the parade with the exception of one

Clown and seven Parade Marshals.

We were proud to participate in the

"POW/MIA Wreath Laying Ceremony"

at the Traveling Vietnam Veterans Wall

in Clarksville on Sept. 15th. Then we

were back in Clarksville on the 16th

for the "Veterans Appreciation Parade".

They treated us with a breakfast before

and hospitality afterwards. It was a good

couple of days and a great parade.

Remember the Legion of Honor

will be involved with the Ladies

Extravaganza on 4th Nov. We will be

selling breakfast foods, coffee, donuts,

biscuits, etc. We will also sell soft

drinks, sweet tea, etc. Please come with

your wives, you will enjoy it. It's not just

for Ladies!!!

We still need a couple of new

recruits. If you are a military veteran

and a shriner, ask any of our members if

you may be eligible to become a proud

member of the Legion of Honor.

Let's keep our hospitals, the

children, doctors, nurses, police,

firefighters, all 1st responders and our

men and women in the military in our

prayers please.

Thank you and may God bless,

Roy Lindsey

Commander
---
Provost Guard

Congratulations to Al Menah Provost

Guard drill team. They went to S.E.C.A.

and won two more trophies. Second

place in the completion and Third place

in Uniform Inspection. These guy's

deserve a big hand.

The Ceremonial is September

23, Car show September30th and the

Circus is 6th thru 8th of October. Busy

season is getting started so lets all get

out and help with the Circus.

Secretary

Ken Loftis

Motor Corps

Summer is gone and Fall is upon us,

with old Dad Winter close behind!

That means it is time to get in gear

for the Circus, for multiple group

gatherings and lots of seasonal parades!

Do your part! Get involved! Plan for it!

Make a difference, not excuses!

Just like the seasons of each year,

CHANGE happens. Some changes

happen over time, some happen

sooner rather than later, some

happen immediately, but like it or

not, CHANGE happens. If you aren't

willing to change, then how can you

grow? Don't fight it, don't stand in the

way of it. It's sad what this world has

come to...sad indeed!

"Plans are nothing; planning is

everything." ~ Dwight D. Eisenhower

"The secret of CHANGE is to

focus all of your energy not on fighting

the old, but building on the new." ~

Socrates

Till next time,

"Fat Rabbit", PC

Journalist

Shrine Club News

Hendersonville Shrine Club

Nobles, Circus time is here. Starting

Friday October 6th and running

through the 8th. We need volunteers

to help at the Circus. If you can help,

call April Dimond at the Temple office

at 615-226-7766 and she will direct

you from there. We all know how

important the Circus is to our Temple

budget for 2018. Ticket sales and

Circus Ads are so important. Nobles, if

at all possible, when you get your Circus

tickets, send the Temple a check. If you

can't pay in full, send a small donation

to the Temple. These profits are used to

fund our day to day expenses for 2018.

Future 2018 Potentate Horace Perkins

can perform magic, but not miracles.

On Saturday, October 21st, we are

having our Fall Party at the Temple.

Start now making your plans for a

fantastic evening.

The Hendersonville Shrine Club

would like to invite all the Nobles are

their ladies in our area to join us at our

next meeting on Monday, October 23rd.

We meet at the Black-Eye-Pea, 164 East

Main Street in Hendersonville. We

meet at 6:00pm for food and fellowship

and at 7:00pm we start our meeting.

Invite a friend to join you at our next

meeting. We need new members and

new ideas.

In closing, remember our sick and

those who have lost loved ones, our kids

and be with the doctor that provides

their care, our troops that protect us,

keep all of these in your prayers.

Boyd Parnell

President

Williamson County Shrine Club

OK, all these articles are about alike

alerting you to the upcoming events

and important stuff going on. Let's

understand what the Shrine is by

reading:

The Shriners Creed

Shriners believe in God and that He

created man to serve His purposes,

among which is service to others in His

name.

We believe that care for the less

fortunate, especially children who suffer

from burns and crippling diseases, is our

institutional calling.

We are patriots, each willing to serve

his country with fidelity and courage.

We cherish independence under law and

freedom with responsibility.

We honor family. We respect our

parents, wives and children. We should

instill in our children the tenets of this

creed, and the heritage from which it

emanates.

As individuals we pledge ourselves to

integrity, virtue and nobility of character.

Our intentions will be honorable, our

relations will be trustworthy and our

spirits forgiving of each other.

As brothers we offer each other

fraternal affection and respect. Together

we will support each other in adherence

to this creed, so that we and our

communities will be the better because of

our fraternity and its principles.

As Shriners we look beyond ourselves

to serve the needs of others, especially

children who cannot help themselves.

We believe Shriners Hospitals to be the

world's greatest philanthropy, and we

covenant with each other to support

its "temples of mercy" with spirit, time,

talent and means.

All Shriners and their Ladies are

invited to visit WCSC on the third

Thursday of each Month, 6:00 pm at

Logan's Steakhouse. We have great

speakers at the meetings and a good

time. Let's remember to keep those

who have lost loved ones and our sick

list in your prayers. We thank God

every day for this great Country of ours.

Butch Mays,

WCSC Ambassador

13
---
Paper Sale Donation from Kroger

On Monday, 7/18 Potentate Jeff Head and members of the Williamson

County Shrine Club were with Kroger Management at their Belle

Meade store where they presented a $1,000.00 to us for the Shrine

Hospitals for Children. The Kroger Manager was an acquaintance of

Scotty and Teresa Travis who put this together for the Al Menah Shrine

Hospitals for Children Paper Sale.

This is a portion of a message from Phyllis Berry, wife of this

Kroger Store Manager, Michael Berry.

Let me tell you, our son was a Shrine Hospital patient

and we are forever grateful The experience was an

awakening in humanity. The care was phenomenal. The

friendship my family made. The support from the men in

your fraternity was phenomenal. We thank you for all you

and your members do for children across the country.

Sincerely

Phyllis Berry

Fraternally,

Butch Mayes, WCSC

14
---
When you support a campaign like Birdies for Charity,

you bring hope and healing to children, regardless of the

families' ability to pay.

In addition, we have secured a multi-year agreement

continues our existing sponsorship of an official PGA

TOUR FedEx Cup event in Las Vegas, Nevada and will

see our activation grow throughout the tournament

broadcast and on-site experience.

While we continue to grow our Standard Bearer Ambassador program which

will see each of your hospitals represented during the 3rd and final round of the

tournament, we are also creating additional programs associated with the

event. Birdies for Charity® provides an opportunity for donors and supporters of

our organization to win a trip to Las Vegas for the Ultimate V.I.P getaway. Click

here for your chance to enter for the chance to visit the 2018 event and meet our

tournament champion.

As you know, the Shriners Hospitals for Children ® Birdies for Charity

fundraiser is underway, and I hope you have already made your best guess for a

chance to win amazing prizes!

We're so excited about this fun, new way for you to show your support for

Shriners Hospitals for Children. To us, it's more than just a game of golf.

At this time, here are the top five hospitals that have received the most

donations so far in the challenge:

Tampa

Philadelphia

Houston

Galveston

Greenville

Don't see your favorite hospital listed? Ramp up your donations! Now through

November 1, 2017, golf fans nationwide can guess the number of birdies that will

be recorded during the 2017 Shriners Hospitals for Children Open while

supporting life-changing care for kids.

Don't forget to tune in to the Golf Channel telecast November 2-5!

15
---
Chief Rabban Horace Perkins

invites you to become an

Elite Member of the 2017 Ringmaster Club

Contact: Horace Perkins 615-943-5913

Randy "Slappy" Slapak 615-474-1610

Dan Clark 615-596-7269

Men's Membership—$150.00

Includes: Ringmaster shirt, Ringmaster cap, 4 Shrine Circus tickets for

VIP Ringmaster seating and 1 entry to the Ringmaster Club Breakfast on October 7th.

Ladies' Membership—$125.00

Includes: Ringmaster Shirt, Ringmaster tote bag, 4 Shrine Circus tickets for

VIP Ringmaster seating and 1 entry to the Ringmaster Club Breakfast on October 7th.

Name________________________________________________________________

Address______________________________________________________________

City_______________________________State___________Zip_______________

Phone_____________________Email____________________________________

Man's Shirt Size: (circle one) Small Med LG XL 2-XL 3-XL 4-XL

Lady's Shirt Size: (circle one) Small Med LG XL 2-XL 3-XL 4-XL

FOR OFFICE USE:

Amount Paid:________________ Method of Payment:__________________ Date Paid:_______________

16

PROCEEDS ARE FOR THE BENEFIT OF AL MENAH SHRINERS AND ARE NOT TAX DEDUCTIBLE AS A CHARITABLE DONATION
---
REMINDER!

NOTICe:

ALL communications

for the Shriner

should be sent to

editor.amsc@gmail.com

17
---
Nobles Visited By By

The The Black Camel

THOMAS H BROWN

FRANKLIN

11/8/33 – 9/15/17

THOMAS D JOHNS SR

LUTTS

11/28/33 – 8/26/17

Nonprofit

AL MENAH AL MENAH TEMPLE TEMPLE

Organization

A.A.O.N.M.S. A.A.O.N.M.S. PAID

U.S. POSTAGE

1354 BRICK CHURCH PIKE

P. O. Box 78545 1354 BRICK CHURCH PIKE

P. O. Box 78545

NASHVILLE, TN 37207

NASHVILLE, TN 37207

Nashville, TN

Permit No. 1731

www.almenahshriners.org

www.almenahshriners.org

Nonprofit

Organization

U.S. POSTAGE

PAID

Nashville, TN

Permit No. 1731

AL MENAH SHR

P.O. BOX 78545 • N

VOLUME 36 • NUMBER 1

INSIDE

THIS

ISSUE

PAGE 2

Potentate's

Message

•

Al M

PAGE 3

DEADLINE FOR NOVEMBER SHRINER IS OCTOBER 20th Divan

Messages

PAGES 4

Notices

Upcoming Events

Chief R

Horace Pe

Lady T

PAGE 5

From Lady Tracy

Dedication

Ceremony

PAGE 6-7

Unit News

PAGE 7

Membership Notice

High Priest

Scott Jones

PAGE 11

Message From

PR Chairman

BACK COVER

Black Camel

Imperial Session