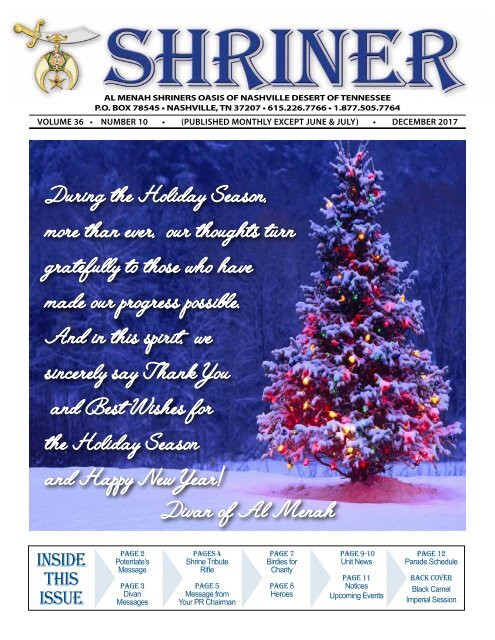 SHRINER DECEMBER 2017
December 2017 magazine of activities for Al Menah Shrine Center.
December 2017 magazine of activities for Al Menah Shrine Center.
SHOW MORE
SHOW LESS
You also want an ePaper? Increase the reach of your titles
YUMPU automatically turns print PDFs into web optimized ePapers that Google loves.
VOLUME 36 36 • NUMBER • NUMBER 4 10 • • (PUBLISHED MONTHLY EXCEPT JUNE JUNE & JULY) & JULY) • • DECEMBER APRIL 2017

INSIDE

THIS

ISSUE

AL MENAH SHRINERS OASIS OF NASHVILLE DESERT OF TENNESSEE

P.O. BOX 78545 • NASHVILLE, TN 37207 • 615.226.7766 • 1.877.505.7764

During the Holiday Season,

more than ever, our thoughts turn

gratefully to those who have

made our progress possible.

And in this spirit, we

sincerely say Thank You

and Best Wishes for

the Holiday Season

and Happy New Year!

Divan of Al Menah

INSIDE

THIS

ISSUE

PAGE 2

Potentate's

Message

PAGE 3

Divan

Messages

PAGES 4

Shrine Tribute

Rifle

PAGE 5

Message from

Your PR Chairman

PAGE 7

Birdies for

Charity

PAGE 8

Heroes

PAGE 9-10

Unit News

PAGE 11

Notices

Upcoming Events

PAGE 12

Parade Schedule

BACK COVER

Black Camel

Imperial Session
---
Al Menah Temple

Al Menah Temple

Oasis of Nashville

Desert Oasis of Nashville

TennessEE

Desert of TennessEE

P.O.Box 78545 • Nashville, TN 37207

P.O.Box Phones 785451.615.226.7766

•• Nashville, TN 37207

Phones 1.877.505.7766

1.615.226.7766

www.almenahShriners.org

1.877.505.7766

www.almenahShriners.org

The Publication Committee

The Publication Committee

The Divan/Board of Directors

Potentate The . ................... Divan/Board of Directors Frank Hester

Chief Potentate Rabban .. ................... . Horace Frank Perkins Hester III

Assistant Chief Rabban Rabban .. ..........Randy Horace Perkins Williams III III

High Assistant Priest Rabban & Prophet .. .........Randy . Scott Williams Jones

Oriental High Priest Guide & Prophet ............ . ......... Donnie Scott Drayton

Jones

Treasurer Oriental Guide ......................... . Donnie Wes Drayton Frye

Recorder Treasurer .. ...................Robert Wes Daniel

Frye

Editor Recorder ..................... ...................Robert Maurice Smith Daniel

Editor Published ..................... monthly except June Maurice and July

Smith

Published www.almenahShriners.org

monthly except June and July

www.almenahShriners.org

PAST POTENTATES

PAST POTENTATES

*Charles Barham

*V.

*Charles

K. Stevenson

Barham

*W.

*V. K.

F.

K. Hunt

Stevenson

*J.

*W.

Pink

F. F. Hunt

Lawrence

*J.

*Ed

*J. Pink

R. Burr

Lawrence

*J.

*Ed

Harry

R. R. Burr

Murphy

*J.

*Charles

*J. Harry

N. Murphy

Rolfe

*Paul

*Charles

DeWitt

N. Rolfe

*E.

*Paul

M. DeWitt

Kelly

*Joseph

*E. M. Kelly

Higgins

*Ira

*Joseph

E. Parker

Higgins

*Martin

*Ira E. E. Parker

S. Roberts

*R.

*Martin

C. Derivaux

S. S. Roberts

*Oren

*R. C. C. A.

Derivaux

Oliver

*Lee

*Oren

L.

A.

Gamble

A. Oliver

*R.

*Lee

R.

L. L.

Clark

Gamble

*William

*R. R. R. Clark

Raine

*Hugh

*William

F. Smith, Raine

Jr.

*W.

*Hugh

A. Bryan

F. F. Smith, Jr. Jr.

*Charles

*W. A. A. Bryan

L. Cornelius

*W.

*Charles

Bush

L.

Herbert

L. Cornelius

*Marshall

*W. Bush Hotchkiss

Herbert

*Jess

*Marshall

B. Templeton

Hotchkiss

*T.

*Jess

A.

B. B.

Springfield

Templeton

*James

*T. A. A. Springfield

G. Stahlman

*J.

*James

Clark G.

Akers

Stahlman

*J.

*R.

*J. E.

Clark

Baulch

Akers

*Thomas

*R. E. E. Baulch

E. Doss

Kerbela

*Thomas

Temple

E. E. Doss

'28

*Maurice

Kerbela Temple

Weinberger

'28

*S.

*Maurice

N. Allen

Weinberger

*W.

*S. B.

N. Hager

Allen

*O.

*W.

Lynn

B. B. Hager

Meek

*Jack

*O. Lynn

Norman

Meek

*James

*Jack Norman

J. Vaughn

*C.

*James

H. Smith

J. J. Vaughn

*Fred

*C. H.

C. Smith

Laskey

*Ivo

*Fred

A.

C. C.

Burton

Laskey

*T.

*Ivo

W.

A. A.

Bray, Burton

Jr.

*James

*T. W. R.

Bray,

Cox

Jr. Jr.

*Paul

*James

R.

R. R.

Jarratt

Cox

*J.

*Paul

Sumpter

R. R. Jarratt

Anderson

*J.

*Hugh

*J. Sumpter

W. Robertson

Anderson

*M.

*Hugh

T. Gossett

W. Robertson

*Joe

*M. T.

C.

T. Carr

Gossett

*James

*Joe C. C.

T. Carr

Hayes

*E.

*James

Lee

T.

Bennett

T. Hayes

*Orris

*E. Lee

E. Bennett

Davis

*Raymond

*Orris E. E. Davis

H. Leathers

*Hilry

*Raymond

H. Shaffer

H. Leathers

*Hilry H. Shaffer

*James N.

Stansell

*James N.

Stansell

2

*John E. Patton

*John

*John E.

D.

E. Whalley

Patton

Jack

*John

Norman,

D. D. Whalley

Jr.

*Albert Bennett

Jr.

*Clyde

* Jack Norman, Jr.

*Albert

R. Bennett

Watson

*Marshall

*Clyde R. R. S.

Watson

Whitley

*James

*Marshall

J. White

S. S. Whitley

*G.

*James

Cooper

J. J. White

Holt

*J.

*G.

Coleman Cooper Hayes

Holt

*J.

*Donald

*J. Coleman

R. Dunning

Hayes

*J.

*Donald

P. Foster

R. R. Dunning

*J.

*Gale

*J. P. P. Foster

Robinson

*C.

*Gale

V. Cramb

Robinson

*J.

*C.

Nelson

V. V. Cramb

Bryan

*J.

*Robert

*J. Nelson

Battle

Bryan

*Jerry

*Robert

N. Battle

Tate

*Fred

*Jerry

H. N.

Gay, Tate

Jr.

James

*Fred A.

H. Campbell

Gay, Jr. Jr.

*Claude

James A. A.

G. Campbell

Southall

*W.

*Claude

B. Lawson

G. Southall

*Gale

*W. B. B.

Robinson

Lawson

J.

*Gale

Dudley Robinson

Phillips

J.

*M.

J. Dudley

Norris Phillips

Jenkins

*James

*M. Norris

F. Scalf, Jenkins

Jr.

*William

*James F. F. B.

Scalf,

Jones

Jr. Jr.

Jack

*William

C. Phelps

B. B. Jones

*David

Jack C. C. P.

Phelps

Brumfield

*Zack

*David

S.

P. P.

Parrish, Brumfield

Sr.

*Robert

*Zack S. S.

E. Parrish,

Newman

Sr.

*George

*Robert E.

Cook

E. Newman

*George

*R. Parker Cook

Graham

H.

*R.

Parker Parker

Toler

Graham

*R.

H. T.

Parker

McNaney

Toler

James

*R. T. T. L.

McNaney

Ham

Charles

James L. L.

H. Ham

Williams

William

Charles D.

H. Jones

Williams

John

William

L. Weaver,

D. D. Jones

III

Gale

John

B.

L. L.

Robinson

Weaver, III

Joe

Gale

Bell

B. B. Robinson

Ronny

Joe Bell

L. Greer

Charles

Ronny L. L.

E. Greer

Cardwell

J.

Charles

Franklin

E. E. "Jay"

Cardwell

Scalf, III

J.

Conley

J. Franklin

Dykes

"Jay" Scalf, III

David

Conley

Smith

Dykes

Jim

David

Cain

Smith

*Mike

Jim Cain

Martin

*Johnny

*Mike Martin

Dudley

*Johnny

David Wantland

Dudley

Melvin

David Wantland

Meadows

Dennis

Melvin Belford

Meadows

David

Dennis

Vaughn

Belford

Carl

David

E. Barnes

Vaughn

Mike

Carl E.

Van

E. Barnes

Sant

Jeff

Mike

Head

Van Sant

* Jeff Deceased

Head

** Deceased

Lady Tracy and I are humbled and honored to have been chosen to serve as

your 2017 Potentate and First Lady. We are thankful to have a Temple that

is so strong and has such great members and ladies. Our heartfelt thanks go

out to all of the nobles and ladies that have served and helped with the many

events and functions we have had this year. We could not have done it without

you and the support of everyone that participated and contributed their

time and talent. We wish Al Menah much success in the future and pledge our

support in keeping Al Menah the best Temple in all of Shrinedom.

Last month was full of many events and functions. The Ladies Extravaganza

was a huge success and raised $9,000.00. Thanks to Bill Chaussee

and Lady Janice for chairing the event and all those that worked so hard to

make it successful. Also last month we honored our Veterans by participating

in the Hendersonville Veterans and Nashville Veterans Day Parades and

we thank all who serve and have served in our Military. May God continue

to bless each of you. Additionally, we honored our Hospital Drivers at the

Annual Drivers Dinner. We can't thank these men enough for all they do

in making sure our children are well cared for as we transport them to and

from our Hospitals. A special thanks to Billy Cullen for his continued dedication

as our Transportation Chairman and congratulations to Noble Everett

Vanhooser for being awarded Driver of the Year.

Parade season is upon us, beginning last month with our first Christmas

Parade in Springfield. Although the weather was a little threatening, we still

had a great turn out and enjoyed a wonderful hospitality provided by the

Robertson County Shrine Club.

This month is even busier with the hustle and bustle of Christmas Parties

and Parades. Be sure and get those machines and floats shined up for the

parades and put on your best attire for the parties and come out and have

fun and fellowship during this joyous time of year. We look forward to

seeing everyone at these events.

Our annual Patient Christmas Party is Sunday Dec. 17th at 2:00 PM.

You won't want to miss this opportunity to visit with our Shrine patients

and their families. Please remember that this party is for our Shrine patients

only and not our children. It's a pleasure to see these children enjoy

the afternoon with Santa, Clowns and some early Christmas presents.

Lady Tracy and I wish each and every one of you a Very Merry Christmas

and a Happy and Prosperous New Year!!

Yours in the Faith,

Frank Hester

Potentate

"Pride, Passion & Purpose"
---
From the desk of...

CHIEF CHIEF RABBAN RABBAN

Parade season has started! The Veteran's

Day Parade has passed. It is always

great to see the people come out

and support our Veterans and our

Country. Please try to make all the

Christmas Parades. It's a great time

to show our cities and towns how

much we appreciate them and their

support they give to the Paper Sale.

Hope everyone had a great Thanksgiving

and Merry Christmas and always a

Happy New Year!!

Chief Rabban

Horace Perkins, III

HIGH HIGH PRIEST PRIEST AND AND PROPHET PROPHET

Well the holiday season is upon us. The

Christmas Parades have started and

Thanksgiving is over until next year.

Hope to see everyone sometime during

the parade season and at the upcoming

Patients' Christmas Party. If you have

not experienced this party, then you

should come on out and see the miracles

that our hospitals have performed.

Kim and I wish everyone a Merry Christmas

and a Happy New Year! Safe travels..

. High Priest and Prophet

Scott Jones

ASSISTANT ASSISTANT RABBAN RABBAN

ORIENTAL ORIENTAL GUIDE GUIDE

We have arrived at the season of Christmas

Breaking news from the land of OGG, in my

Parades and Holiday Parties. As of this

last letter I had made some observations

writing, we have already experienced

on the proficiency of clowns and their

fun in the Springfield, Manchester,

ability to compete such a simple task

and Dickson parades and looking

as throwing cream pies.

forward to more. It is great to

I find it my duty to print a correction

experience fun and fellowship with

on the abilities of said clowns,

our Shrine brothers and their ladies at

whereas I stated that the clowns at

the many holiday gatherings planned.

the circus only managed to achieve

We are looking forward to seeing our

a 60% hit percentage based on their

Shrine Patients at their annual party on

level of competence and ability - I now

December 17. Thanks to everyone who

must state that with 4 clowns working as

have given to help our St. Louis temple after the fire that a

ORIENTAL team, GUIDE 30 days

of planning, a victim willing to stand

ASSISTANT destroyed many RABBAN of the

Christmas gifts for their patient party.

ORIENTAL GUIDE

perfectly still, and a working can of whipped cream - our clowns

Your generous hearts truly demonstrate that most importantly, can hit a target 100 percent of the time. I know, I know, you have

Christmas season is a season of giving.

to be wondering how can this be??? I can only say that just before

On a personal note, Lady Beth and I want to thank everyone the cream pie blocked my vision, I could see the lovely wives of

for the thoughts, prayers, and good wishes on the birth of our these goof balls making the final targeting corrections. There

beautiful grand babies. We will try not to annoy everyone too

much with pictures.

We wish for all of you a joyous and festive Christmas season.

Assistant Rabban

Randy Williams

you have it - a true account of the capabilities and competence of

our Clown unit

.

Oriental Guide

Donnie Drayton

ANNOUNCEMENT FROM

CHIEF RABBAN HORACE PERKINS:

Starting in January 2018, the Stated Meeting will begin at 7:30pm with

Unit Rooms open prior to the meeting. No Temple Dinner will be provided.

(Units may provide their own meals if they choose.)

Drawings will be held each Stated Meeting for special prizes.

There will be no cost, but you MUST be present to win.

You don't want to miss it!!

3

3

3

3
---
Dear Nobles,

As a benefit of being a Shriner, we are providing you with a pre-issue advance

notice of the availability of a unique and special firearm before it is released to the

general public. The Shrine Tribute Rifle is manufactured by Henry Repeating

Arms Company ("Henry RAC") and sold through their network of retailers.

This rifle is not yet available for sale. However, it is scheduled to be offered for

sale to the public on December 13, 2017. You can find out more about Henry

RAC and the special Shriners Tribute Rifle by visiting www.henryusa.com. For

exact information on the release date, request a catalog and sign up to their email

listing for new releases.

Many of you saw images of the new Shriners Tribute Rifle manufactured by

Henry RAC at the 2017 Imperial Session. Attached are the images of that rifle as

displayed at the 2017 Imperial Session. You will note this distinctive Shrine rifle

bears our name, unique symbols and marks.

Arrangements have been made to have the first Shriners Tribute Rifle produced

in this special series displayed in our memorabilia room at Shriners International

Headquarters in Tampa, Florida

Fraternally yours,

Gary J. Bergenske

Imperial Potentate

4
---
The

Public

Relations

Voice

A FRATERNAL NEWSLETTER November 2017

A Message From Your Public Relations Chairman

Dear Fellow Nobles,

I hope everyone here in the U.S. had a wonderful,

meaningful Thanksgiving holiday. We have much to be

thankful for – every day – from our families to being part

of the Shriners organizations, and having the opportunity

to improve the lives of children and families around

the globe.

With the holidays and other activities, fall is always a

busy time for families, and it's certainly no different for

our Shriners family. The Shriners Hospitals for Children

Open in Las Vegas concluded just a few weeks ago. We

want to congratulate the winner, Patrick Cantlay, and

thank our staff and the many volunteers for presenting

such a successful event. We also want to thank all of the

patient ambassadors for serving as standard bearers, and

for being such outstanding representatives for Shriners

Hospitals for Children ® .

Once again, we start the New Year with a parade. Our

organization will be represented in the Rose Parade in

Pasadena, California, on New Year's Day. The parade

will be telecast live on several networks in the U.S., as

well as in Armenia, the Caribbean, Latin America and on

American Forces Network. It will also be shown at other

times in other countries. This will be our sixth appearance

in the legendary parade, which is an amazing opportunity

to potentially introduce Shriners Hospitals to millions of

spectators and viewers. Our float, Caring for Kids Around

the World, exemplifies our mission to help children,

wherever they may live.

And then, later in January, we gather in St. Petersburg,

Florida, for the 93rd East-West Shrine Game ® , which

has become as much a tradition for college football

as it is for our Shriners organizations. Your support by

attending, watching live, or volunteering has kept this

tradition strong and benefited our hospitals for more than

90 years. We look forward to seeing as many nobles

and their families as possible at Tropicana Field on Jan.

20. This event is a perfect time for Shriners to gather

together for our special brand of fun, as well as a perfect

opportunity to make new friends and share our pride in

being part of Shriners International with them, and invite

them to learn more. If you can't be here in person, you

can still participate – encourage your temple to host a

watch party, and invite your friends and neighbors to join

you in watching the game on NFL Network.

Even though we haven't even met Old Man Winter yet,

it's not too early to be planning for spring. The Shriners

Hospitals for Children College Classic, a premier college

baseball tournament is scheduled for March 2-4 at

Minute Maid Park in Houston. The three-day, six-team,

nine-game event will feature the University of Houston,

Sam Houston State, Louisiana-Lafayette, University

of Kentucky, Mississippi State and Vanderbilt. The

tournament benefits our philanthropy, so please mark

your calendars for three days of great baseball.

All of these events play an important role in supporting

Shriners Hospitals and in raising awareness of both our

philanthropy and fraternity. People around the world love

both the Rose Parade and sports events of all kinds –

the media coverage and other opportunities provided by

these events are invaluable. We appreciate your support

and encourage you to attend if possible, or to watch them

on television.

As we get ready to turn the calendar to the last page for

2017, we wish you Happy Holidays, and hope you have a

wonderful, memorable time with your family and friends,

and an exceptional New Year.

Thank you for all you do for Shriners International and

Shriners Hospitals for Children. We appreciate your

efforts, dedication and commitment.

Yours in the faith,

Jim L. Cain Sr.

Imperial Chief Rabban

Public Relations Chairman

5
---
Paper Sale Donation from Kroger

On Monday, 7/18 Potentate Jeff Head and members of the Williamson

County Shrine Club were with Kroger Management at their Belle

Meade store where they presented a $1,000.00 to us for the Shrine

Hospitals for Children. The Kroger Manager was an acquaintance of

Scotty and Teresa Travis who put this together for the Al Menah Shrine

Hospitals for Children Paper Sale.

This is a portion of a message from Phyllis Berry, wife of this

Kroger Store Manager, Michael Berry.

Let me tell you, our son was a Shrine Hospital patient

and we are forever grateful The experience was an

awakening in humanity. The care was phenomenal. The

friendship my family made. The support from the men in

your fraternity was phenomenal. We thank you for all you

and your members do for children across the country.

Sincerely

Phyllis Berry

Fraternally,

Butch Mayes, WCSC

6
---
Dear Nobles,

It is time to announce the winners of our Birdies for Charity challenge!

Shriners Hospitals for Children — St. Louis received the most donations

throughout the challenge and the opportunity to host the 2018 Shriners Hospitals

for Children Open® Media Day. The event will include an appearance from the

2017 tournament champion, a patient visit, press conference and meet-and-greet

opportunity for local hospital supporters.

A total of 1,429 birdies were made during the 2017 Shriners Hospitals for

Children Open. Congratulations to the individual prize winners!

Grand Prize Winner:

Terry M. guessed 1,433 (-4)

Two (2) First Prize Winners:

Donna B. guessed 1,424 (-5)

Richard M. guessed 1,450 (-21)

Four (4) Second Prize Winners:

James W. guessed 1,368 (-61)

Dan C. guessed 1,497 (-68)

Kathryn J. guessed 1,500 (-71)

Hadley D. guessed 1,500 (-71)

Thank you to everyone who supported us in this effort. You helped to raise

critical funds needed to continue to provide expert pediatric care to children with

orthopaedic conditions, burns, spinal cord injuries and cleft lip and palate

regardless of the families' ability to pay. We couldn't have done it without you!

Yours in the faith,

Gary J. Bergenske

Imperial Potentate

7
---
Heroes always leap to action when they're needed …And our Shriners Hospitals for Children

Heroes really came through on Giving Tuesday!

Thanks to heroes like you, we can be there for every child who needs us, regardless of their

family's ability to pay. But your support does more than help our young patients receive lifechanging

care.

You give kids like Brayden the courage they need to keep going. Six year old Brayden was

born with arthrogryposis, a rare condition characterized by stiff, contracted joints and

underdeveloped muscles. After a series of surgeries and intensive physical therapy, Brayden took

her first steps with the aid of a walker in September.

Since then, Brayden has made tremendous progress and is now capable of walking on her

own. Her next goal? To get out of bed by herself on Christmas morning.

We also had friends of Shriners Hospitals for Children sharing messages about their own

heroes, big and small:

"We love Shriners!! Such an amazing place that our daughter loves as well! They have

literally changed her life!"

"A great place that helps kids, all you see is smiling faces. Very inspiring."

"My baby has been blessed. She has severe scoliosis, kyphosis, and Beal's syndrome.

Thanks to the help we have received from Shriners Hospital, her quality of life was much

improved."

Let's keep it going! You can be a hero for our kids all year long:

• Ask for donations instead of gifts for your birthday or Christmas

• Connect with us on our social pages like Facebook, Twitter and Instagram

• Learn about other ways to support Shriners Hospitals for Children

On behalf of the children and families we serve at Shriners Hospitals for Children, thank you so

very much. You are an inspiration to all of us.

Sincerely,

Gary J. Bergenske

Chairman of the Board

Shriners Hospitals for Children

P.S. It's never too late to be a hero. Please make your gift to Shriners Hospitals for Children

today!

8
---
CeNter

NeWS

Clowns

I hope everyone had a wonderful

Thanksgiving. This year has really

went by so very fast. Now that we are

in the thick of the parade season, I

hope everyone can enjoy all of the

events coming up in this month.

This year has been a busy one, and

as it is drawing to an end. I would like

to thank the ones who have helped

me, and given me advice during this

year. We have many events coming

up this month, and I for one look

forward to seeing everyone during

this eventful season.

We have a wonderful effort we are

working towards. May we do all we

can for our mission for the Shriners

Hospitals for Children.

James "Puzzles" Chambers

Secretary

Director's Staff

As 2017 is winding down we will

soon be ushering in the 2018 New

Year! A big thanks to the supporters

of our dinner and auction this past

November.

December 9th, 2017 will be our

Director Staff Christmas party,

sharing the night with other units.

NOTE: This dinner required an RSVP

to attend, please contact Emily Byram

to see if an accommodation can be

made 913-306-6423 or

Emily.byram@live.com.

December 17th, will be

9

our annual Patient Party. Please plan

on attending this event and bringing

a desert for the kids that does not

require any utensils or cutting. On

December 14th is election night and

stated meeting. Come out and show

your support for the candidates.

As we always do in each edition of

this newsletter and our meeting, we

ask God to be with us and to be with

our Military through these Holidays

and in the New Year. God bless

our Temple, the work we do and all

those who contribute to the success

of Al Menah Temple and our shared

mission.

Cordially,

Randy D. Byram

Legion of Honor

We are well into the parade season

already. Veterans Day parades

have come and gone. Now for the

Christmas parades. Let's all be merry

and enjoy as many of these as we can.

I love this time of year!

The Pirate's Party was really

good fun for all who attended. The

Legion of Honor Booth looked

fantastic thanks to pirate ship

builder Wayne Steele and the entire

Hospitality Committee chaired by

Steve Singleton. Of course, we could

not have done it without the help

of our ladies. Everybody loved the

decorations!

The Ladies Extravaganza turned

out really great. It was fun, exciting

and we did alright with our sales.

We had lots of help at our booth

under the direction of Art Devooght

and Bob Silva and I want to thank

everyone for their participation.

Several of our members donated their

time and some products for the sale.

Thank you all, it went well and we are

looking forward to doing it bigger and

better next year. Also a special thanks

to Lady Darlene Clark for creating

the Legion of Honor tablescape for

us again this year. She has done this

for several years now and we just

want to show our gratitude. She does

a great job. Thank you, Darlene, we

appreciate you.

The Legion of Honor Christmas

Dinner and Installation of Officers is

coming up on Friday Dec. 15th 2017.

We certainly hope to see all of you

there with your ladies. It will be a fun

time you don't want to miss, not to

mention good food and drink. This

is when I surrender my command to

Vice Commander Art Devooght. I'm

sure the Legion of Honor will be in

good hands with Art as Commander,

Wayne Steele as Vice Commander,

Steve Singleton as Lt. Commander,

Ron Queen as Finance Officer and

Gene Ornes as Adjutant.

I have thoroughly enjoyed my time

as your commander. You have made

it easy for me with your enthusiasm

and full participation. I want to

thank all of you from the bottom of

my heart for allowing me to serve as

your commander. I will continue to

support the Legion of Honor and the

new leadership team.

I highly recommend the Legion of

Honor if you are a Shriner and a

military veteran. Talk to any of our

members for an application. You may

be eligible to become one of us.

Please keep our hospitals, doctors,

nurses, patients, military, police,

firefighters and all first responders in

your prayers.

May God Bless.

May God Bless,

Roy Lindsey,

Commander

Provost Guard

Thanksgiving has passed and now we

are into the parade season. Everyone

is looking forward to this time of year.
---
The Provost Guard Christmas will be

December 22.

The Dixon parade was Sunday A

big Thanks to Dickson County for a

Great Hospitality.

Ken Loftis

Secretary

Motor Corps

Here we are again, at the end of

another year. It's been a GREAT

year! Hats off to our Illustrious

Potentate and his wonderful Lady

for continuing to work towards

achieving their goals for the good of

our Philanthropy, working for our

hospitals and our children and never

losing sight! We wish you well, Frank

and Tracy…and WE thank you!

I offer Prayers to ALL for a

wonderful Holiday season. If you

happen to be in the gift giving spirit,

here are a few suggestions!

To your enemy, give forgiveness.

To an opponent, give tolerance.

To a friend, give your heart.

To a customer, give service.

To all, give charity.

To every child, set a good example.

To yourself, show respect.

Merry Christmas!

"Seeking happiness, I passed many

travelers headed in the opposite

direction, seeking happiness."

- Robert Brault

Till next time, I SUPPORT…and I

approve this message

~ Till next time,

Journalist

"Fat Rabbit", PC

Shrine Club News

Williamson County Shrine Club

Many thanks to outgoing Potentate

Hester and his Divan. We appreciate all

the hard work. You have done a great

job this year and we appreciate it.

Also thanks to outgoing President

Isbell and our WCSC Officers. You

have also done a great job.

Let's get behind our incoming

Potentate / Divan / our incoming

President / WCSC Officers and make

2018 the best year yet!

Thanks to WCSC for your great

work on the Paper Sale and Plaque

Sale. We still have time left to get

more Plaque Sales in! Have you

renewed your Plaque? Have you sold

one? We still have a little time left.

We meet on the third Thursday of

the Month at Logan's Roadhouse in

Cool Springs on Bakers Bridge Road.

Come on out, we would love to have

you with us.

Remember to pray for our leaders,

our Doctors / Nurses at the Shrine

Hospitals and our Military who are

fighting to ensure our freedom.

Shriners Help Children!

Butch Mays, Ambassador

The Greeters Present The

2018 KICKOFF PARTY

at

Al Menah Shrine Center

Dec. 31st, 2017

8:00pm—til??

UNIT ROOMS WILL BE OPEN

(All units are welcome to participate)

10
---
Notices..............................................................................

MEMBERSHIP NOTICE

Our goal is 100 New

Nobles and 100 Restorations.

2017 Membership

Chairman Sam Isbell

(sisbell@eml1.com

or 615-579-0765) &

Co-Chairman Dale Pewitt

(dalepewitt@comcast.net

or 615-533-6714) are soliciting our

help and support. Will you help us find new

Nobles?

One of the ways you can be active in this effort is

to sign up to be a virtual mentor for our candidates.

There are candidates waiting to hear from

us. We need a few good men!

11

Patients

Christmas Party

Nobles and Ladies:

The Annual Patient's Christmas Party on

December 17th is approaching. The program will

be the same as in previous years with a possible

surprise guest(s). Ladies, we would be very appreciative

if you can bring finger foods for dessert

(Cookies, brownies, cupcakes) that do not require

cutting.

As in past years, this party is for our Hospital

Patients so please refrain from bringing siblings,

grandchildren, et al. so that all attention is directed

to our Patients.

Thanks for all your support and help with this

heartwarming event.

Wes Frye

2017 Sumner County

Christmas Party

Due to scheduling issues

the Christmas Party

scheduled for December 15th

has been changed to

December 23rd!

O' Charleys Restaurant

Gallatin, TN

5:00 PM

Billy Ward Carver, President

Ladies Only!

I would like to extend a HUGE thank you to Janice

Chaussee, Debbie Parman and Alicia Villines for all of

their hard work on the 2017 Ladies Extravaganza! It

was a very successful event and I also appreciate all

of the ladies that worked on the committee as well as

brought baked goods and came out and enjoyed the day

with us. Thank you, Thank you!!!

Ladies, we have had a tremendous year and I thank

you for supporting Al Menah's Ladies Program the last

several years. We have had a lot of great laughs, fun,

and fellowship. I am very proud of the work we accomplished

this year from raising money to buy new

steak knives for the temple, collecting travel games for

Cincinnati Shriners Hospitals for Children, to contributing

baskets and buying tickets to support four ($1,400)

Shrine Patients to attend Camp Ytiliba this summer. Al

Menah Shrine is blessed to have such wonderful Ladies

that not only support their Nobles in the work they do,

but have such talents in making the events beautiful and

fun throughout the year.

Frank and I want to wish each of you a very Merry

Christmas and a Blessed New Year!

Lady Tracy Hester

615-308-3920
---
Current Parade Schedule:

Date Town Line Up Step Off

December 3, 2017 Lebanon 1:00pm 2:00pm

Smyrna 1:00pm 2:00pm

December 9, 2017 Donelson 1:00pm 2:00pm

Gallatin 11:00am 12:00 noon

Granville 1:00pm 2:00pm

Hartsville 9:00am 10:00am

Mt. Juliet 10:00am 11:00am

Millersville 12:00 noon 1:00pm

Cookeville 5:00pm 6:00pm

Linden 6:00pm 7:00pm

December 23, 2017 Bethpage 1:00pm 2:00pm

DECEMBER 2017

DEC 6

DEC 17

DEC 19

DEC 31

UPCOMING EVENTS

AS OF THIS PUBLICATION

CHIEF RABBAN DINNER

PATIENTS CHRISTMAS PARTY

STATED MEEETING / ELECTION

NEW YEAR'S EVE PARTY - CANCELLED

Thank you from the

Ladies Extravaganza

Committee:

This year's 6th annual Ladies Extravaganza and

Shopping Feztival on November 4, 2017 was a

fabulous success! We raised $9,000 for Patsy Cain's

Imperial First Lady's 2018 program and other Al

Menah activities. Lady Tracy Hester was so excited

to learn this year raised the highest total ever for this

wonderful event! The Al Menah Legion of Honor

supplied yummy breakfast goodies and drinks, lunch

was donated and served by the Rainbow Girls, 30+

vendors displayed arts & crafts and the Daughters of

the Nile graciously worked the fabulous Bake Sale

Booth where items were donated by our Al Menah

Ladies. The Committee is especially appreciative

of the 20 beautiful and creative tablescapes and

Christmas trees sponsored by the Al Menah Units,

local Shrine Clubs, and individual sponsors. The Al

Menah Shrine Center was alive with live music, step

dancing groups, and door prize winners throughout

the day.

The event was a huge success that could not have

been accomplished without everyone's effort. We

are so appreciative of your generosity and support!

Thanks again,

Janice Chaussee,

Lady of Noble Bill Chaussee

Committee Chair, 2017

12
---
REMINDER!

NOTICe:

ALL communications

for the Shriner

should be sent to

editor.amsc@gmail.com

13
---
Nobles Nobles Visited Visited By By

The Black The Black Camel Camel

William B Kincaid, Jr.

Brentwood

7/1/31 – 1/10/17

Johnny B Dudley PP

Gallatin

3/13/44 – 10/22/17

AL AL MENAH TEMPLE

A.A.O.N.M.S.

1354 BRICK CHURCH PIKE

1354 BRICK P. O. CHURCH Box 78545 PIKE

NASHVILLE, P. O. Box 78545 TN 37207

NASHVILLE, TN 37207

www.almenahshriners.org

www.almenahshriners.org

Nonprofit

Nonprofit

Organization

Organization

U.S. POSTAGE

U.S. POSTAGE

PAID

Nashville, TN

Permit Nashville, No. 1731 TN

Permit No. 1731

Floyd B Dennis, Sr.

Smyrna

9/9/36 – 11/14/17

Thomas E Leeton

Franklin

3/24/47 – 11/14/17

Bobby F Howell

Westmoreland

2/6/34 – 11/19/17

Charles R Miller

Hendersonville

9/19/30 – 10/25/17

Norman R Green

Hendersonville

11/16/36 – 10/21/17

William H Stanley

Madison

5/15/47 – 10/28/17

John T Corkan Jr

White Bluff

2/17/26 – 10/20/17

Coy A Noblitt

Manchester

6/1/29 – 10/17/17

Deadline for January Shriner is Friday Dec 22, 2017

14