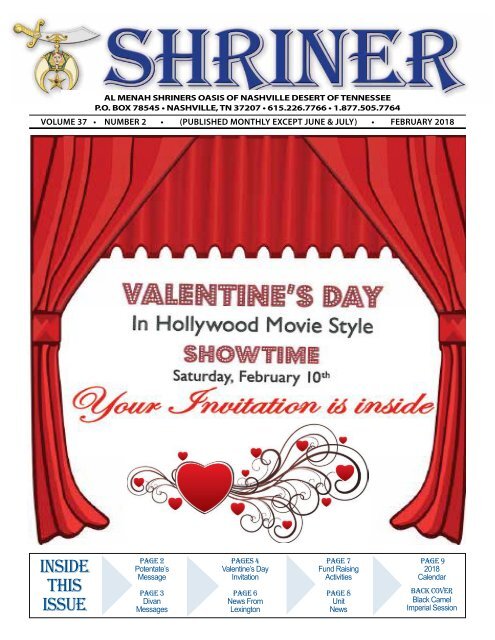 SHRINER FEBRUARY 2018
Details for Al Menah activities for February 2018.
Details for Al Menah activities for February 2018.
SHOW MORE
SHOW LESS
You also want an ePaper? Increase the reach of your titles
YUMPU automatically turns print PDFs into web optimized ePapers that Google loves.
AL MENAH SHRINERS OASIS OF NASHVILLE DESERT OF TENNESSEE

P.O. BOX 78545 • NASHVILLE, TN 37207 • 615.226.7766 • 1.877.505.7764

VOLUME 36 37 • NUMBER • NUMBER 4 2 • • (PUBLISHED MONTHLY EXCEPT JUNE & JULY) & JULY) • • FEBRUARY APRIL 2018 2017

INSIDE

THIS

ISSUE

INSIDE

THIS

ISSUE

PAGE 2

Potentate's

Message

PAGE 3

Divan

Messages

PAGES 4

Valentine's Day

Invitation

PAGE 6

News From

Lexington

PAGE 7

Fund Raising

Activities

PAGE 8

Unit

News

PAGE 9

2018

Calendar

BACK COVER

Black Camel

Imperial Session
---
Potentate ........... Horace Perkins III

Chief Rabban. .........Randy Williams

Assistant Rabban .......... Scott Jones

High Priest & Prophet. ... Donny Drayton

Oriental Guide ...... Vernon Blackburn

Treasurer .................. Wes Frye

Recorder. .............. Robert Daniel

Editor. .............. Maurice Smmith

*Charles Barham

*V. K. Stevenson

*W. F. Hunt

*J. Pink Lawrence

*Ed R. Burr

*J. Harry Murphy

*Charles N. Rolfe

*Paul DeWitt

*E. M. Kelly

*Joseph Higgins

*Ira E. Parker

*Martin S. Roberts

*R. C. Derivaux

*Oren A. Oliver

*Lee L. Gamble

*R. R. Clark

*William Raine

*Hugh F. Smith, Jr.

*W. A. Bryan

*Charles L. Cornelius

*W. Bush Herbert

*Marshall Hotchkiss

*Jess B. Templeton

*T. A. Springfield

*James G. Stahlman

*J. Clark Akers

*R. E. Baulch

*Thomas E. Doss

Kerbela Temple '28

*Maurice Weinberger

*S. N. Allen

*W. B. Hager

*O. Lynn Meek

*Jack Norman

*James J. Vaughn

*C. H. Smith

*Fred C. Laskey

*Ivo A. Burton

*T. W. Bray, Jr.

*James R. Cox

*Paul R. Jarratt

*J. Sumpter Anderson

*Hugh W. Robertson

*M. T. Gossett

*Joe C. Carr

*James T. Hayes

*E. Lee Bennett

*Orris E. Davis

*Raymond H. Leathers

*Hilry H. Shaffer

*James N. Stansell

2

*John E. Patton

*John D. Whalley

Jack Norman, Jr.

*Albert Bennett

*Clyde R. Watson

*Marshall S. Whitley

*James J. White

*G. Cooper Holt

*J. Coleman Hayes

*Donald R. Dunning

*J. P. Foster

*Gale Robinson

*C. V. Cramb

*J. Nelson Bryan

*Robert Battle

*Jerry N. Tate

*Fred H. Gay, Jr.

James A. Campbell

*Claude G. Southall

*W. B. Lawson

*Gale Robinson

J. Dudley Phillips

*M. Norris Jenkins

*James F. Scalf, Jr.

*William B. Jones

Jack C. Phelps

*David P. Brumfield

*Zack S. Parrish, Sr.

*Robert E. Newman

*George Cook

*R. Parker Graham

H. Parker Toler

*R. T. McNaney

James L. Ham

Charles H. Williams

William D. Jones

John L. Weaver, III

Gale B. Robinson

Joe Bell

Ronny L. Greer

Charles E. Cardwell

J. Franklin "Jay" Scalf, III

Conley Dykes

David Smith

Jim Cain

*Mike Martin

*Johnny Dudley

David Wantland

Melvin Meadows

Dennis Belford

David Vaughn

Carl E. Barnes

Mike Van Sant

Jeff Head

Frank Hester

* Deceased

Thank you to everyone who attended the New Year's Eve

Kickoff Party. It was a great time. Close to 100 Nobles

and their Ladies attended with over 50 staying till 12:01am

to see the Divan and myself be installed. We had over 200

people for the Public Installation. As I have said before, I

am very humbled to be your Potentate.

The snow caused us to cancel the Stated Meeting, but the

Divan and myself did not want anybody to get hurt. We will

get caught up at the February Stated Meeting. Remember

the Stated Meeting schedule: Captains Meeting at 5:30,

Unit Meetings at 6:00 and the Stated Meeting at 7:30pm.

There will be a drawing for a .22 Marlin rifle at the next

Stated Meeting at no cost… only your attendance is required

to be eligible to win.

We have a busy schedule ahead…. The Valentines Dinner

is on Feb 10th. Gospel Singing will be at the Springhill

United Methodist Church in Erin, TN on Feb 24th. Don't

forget to make reservations for my Potentate's trip and

Imperial Session. July 15th through the 19th will be a great

week of fun.

In closing, remember… BE HUMBLE, BE KIND and

BE NOBLE!

Yours in Faith,

Horace Perkins, III

Potentate
---
From the desk of...

CHIEF RABBAN

CHIEF RABBAN

We hope everyone has had fun and kept

safe and warm from our recent bout of

cold, ice and snow. I don't know about

all of you, but I am ready for spring!

We have several events coming up this

month and I hope to see many of you.

Please let us know if you have

any ideas, concerns, or suggestions

to improve our Shrine Center. There is

always room for improvement.

February is noted as being a month of love.

Please take a moment and reflect on the many blessings that we

enjoy and remember those that are in need.

Chief Rabban

Randy Williams

ASSISTANT RABBAN

We hope everyone has had a warm and

safe winter so far. The weather so far has

not cooperated, but warmer weather is

hopefully in our future.

We hope everyone can come out

ASSISTANT RABBAN

to the Valentine's Party on the 10th as

the committee has worked very hard

to make sure everyone has a great

time. For tickets, just call the office or

see a Divan member.

We had a great turn out for the Ambassadors

and Drivers Meeting. A big thank you to

everyone for all that you do for our children, hospitals and

fraternity.

We will be traveling to Shrine Clubs, weather permitting, so

I hope to see everyone soon.

Until next time, stay warm.

.

Assistant Rabban

Scott Jones

HIGH HIGH PRIEST PRIEST AND PROPHET AND PROPHET

This new job is pretty cool. As High Priest,

I've had the chance to marry several

couples even though I don't know

if the guy with the farm animals

is gonna count? Also, you just

wouldn't believe the things people

will admit to in the presence of a

man of the cloth. I wonder why they

think I care who they're sleeping with

and why do they get so offended when

you ask for their phone number? You

can see I have lots to learn.... My kids hate

this prophet thing to the bone - I mean how hard is it to predict

your teenager is gonna do something stupid?

Speaking of predictions, I have had a few visions: the

Potentate, BBQ, and Beech - don't know what that means?

Jingle bells and cool whip - maybe a clown thing? Green

streets and no spandex - No idea! Anyway, we will see what

the future holds.

If you need me, call me.

High Priest and Prophet

Donnie Drayton

ORIENTAL GUIDE

Mother Nature has certainly proven

to have a great sense of humor this

past month. Warm enough in the

morning to wear shorts and a t-shirt

and before the sun has time to set

ORIENTAL GUIDE

we're bundled up wondering if the

feeling in our fingers and toes will

ever return. I don't like to wish

time away, but I for one am ready for

warmer weather.

Speaking of warmer weather, make plans

to be in Daytona on July 18, 2018 and to participate in the

pageant and installation of the Imperial Potentate. This will

surely be a memorable event for all of Al Menah.

If you don't already have your tickets to the Al Menah

Valentine's Party, be sure to see any Divan member and get

yours soon. You won't want to miss this great opportunity

to show your Lady some appreciation, and enjoy some fun

brotherly fellowship.

The Divan will be visiting Shrine Clubs, so please be sure to

update the Office of any changes in meeting times or location.

As always, Thank you for all that you do for Al Menah and

Shriners International. It is your dedication to improving the

lives of children, that defines what it means to be a Shriner.

Oriental Guide

Vernon Blackburn

3

3
---
4
---
Paper Sale Donation from Kroger

On Monday, 7/18 Potentate Jeff Head and members of the Williamson

County Shrine Club were with Kroger Management at their Belle

Meade store where they presented a $1,000.00 to us for the Shrine

Hospitals for Children. The Kroger Manager was an acquaintance of

Scotty and Teresa Travis who put this together for the Al Menah Shrine

Hospitals for Children Paper Sale.

This is a portion of a message from Phyllis Berry, wife of this

Kroger Store Manager, Michael Berry.

Let me tell you, our son was a Shrine Hospital patient

and we are forever grateful The experience was an

awakening in humanity. The care was phenomenal. The

friendship my family made. The support from the men in

your fraternity was phenomenal. We thank you for all you

and your members do for children across the country.

Sincerely

Phyllis Berry

Fraternally,

Butch Mayes, WCSC

5
---
An entire family of patients finds hope and healing at Shriners

Hospitals for Children

Dad, daughter and two sons are all

patients of Shriners Hospitals for

Children

6

Sam was born with Marfan syndrome, a

genetic disorder that affects the body's

connective tissues. Connective tissue holds all

the body's cells, organs and tissues together.

It also plays an important role in helping the

body grow and develop properly. Because

connective tissue is found throughout the

body, Marfan syndrome can affect many

different parts of the body as well. Features of

the disorder are most often found in the heart,

blood vessels, bones, joints and eyes.

According to the Marfan Foundation, about one in 5,000 people have Marfan syndrome.

About three out of four people with Marfan syndrome inherit it, meaning they get the genetic

mutation from a parent who has it.

Scoliosis is common in individuals present with Marfan syndrome characteristics. At the age

of 14, Sam had a successful spinal fusion surgery performed at Shriners Hospitals for Children

— Chicago. As Sam continued to grow during his teen and adults years, he developed, remained

healthy and encountered minimal additional effects from Marfan syndrome. He played every

sport available at the small Christian school he attended and achieved all life's major milestones.

Sam and Carla married in 2000 and were under

the impression that Marfan syndrome skipped a

generation. Due to health issues also present on

Carla's side they understood that it might be

difficult for them to have children. When the

couple found out that they were pregnant with

their first child, Jadon they were beyond elated.

Shortly after birth they recognized that Jadon

presented with characteristics of Marfan

syndrome.

Read more at https://www.shrinershospitalsforchildren.org/lexington/news-and-events/anentire-family-of-patients-finds-hope-and-healin-514
---
By order of the Potentate and the Imperial Council A.A.O.N.M.S., the following excerpt from General Order #1 is hereby

published for the information of the Nobility and the Clubs and Units of Al Menah Shrine Center.

FUND-RAISING ACTIVITIES

It is natural to associate the fez with Shriners Hospitals for Children. Because of this, meticulous attention must be given to all fundraising activities,

including circuses, to make certain that such activities comply with the law of the land and that a contributor is not led to believe that his money wilt be

used for the Hospitals when all or a portion thereof will be used otherwise. The integrity of our charity and of our fraternity must remain above reproach.

Your specific attention is called to the following fraternal and charitable bylaws:

§335.3 USE OF NAME "SHRINERS HOSPITALS FOR CHILDREN." The use of the name "Shriners Hospitals for Children" or reference to the

Hospitals in connection with any fund-raising activity by a temple or Noble without the written consent of the Imperial Potentate and the Chairman

of the Board of Trustees of the Hospitals is prohibited.

§503.10 The use of the name "Shriners Hospitals for Children" or reference to the hospitals in connection with any commercial product or

business enterprise is prohibited unless the written consent of the Board of Directors and Trustees has been first obtained.

Now, therefore, IT IS HEREBY ORDERED:

1. Fund Raising for Fraternal Purposes:

(a) No Noble (in his capacity as a Shriner), club, unit, organization of Nobles or affiliated or appendant corporations, shall engage in any fundraising

activity without the express written consent of the potentate of the temple having jurisdiction thereof.

(b) There can be no representation, express or implied, that the proceeds will be for the benefit of Shriners Hospitals for Children. (c) The

temple potentate shall carefully examine all phases of the advertising, promotion and solicitation to determine that it complies with sections

335.3 and 503.10 of the fratemal and charitable bylaws.

(d) The temple potentate must approve the terms and provisions of any contract for a fund-raising activity after receiving the advice of the

temple attorney, and, additionally, as may be required by the temple bylaws.

(e) A copy of the temple potentate's written consent shall be mailed to the Executive Vice President - Imperial Council. Further, such written

material pertaining to the fund-raising activity, as requested by the Executive Vice President - Imperial Council, shall be promptly mailed to

him.

2. Fund Raising for Charitable Purposes:

(a) No Noble (in his capacity as a Shriner), club, unit, organization of Nobles or affiliated or appendant corporations shall engage in any

charitable fund-raising activity other than for Shriners Hospitals for Children. Permission therefore must be first obtained in writing from

the temple potentate. The temple potentate must then obtain written permission from the Chairman of the Boards of Directors and

Trustees. This request for written permission shall be sent to the Executive Vice President, Imperial Council, P.O. Box 31356, Tampa,

FL33631-3356.

However, a joint charitable lundraising activity with another Section 501 (c)(3) charity may be authorized provided that a minimum of

50% of the net proceeds are for the benefit of Shriners Hospitals for Children, and the chairman of the beards of directors and trustees

determine, on a case by case basis, that it is in the best interest of Shriners Hospitals for Children and they grant their written permission

for the activity.

(b) 100% of net proceeds (as defined in the Charitable Fund Raising - Approval And Reporting provisions of this General Order) from

charitable fund raising must be given to Shriners Hospitals for Children except for such portion thereof as may be retained for the temple

Shrine Hospital Transportation Fund, pursuant to the Special Purpose Funds provisions of this General Order. Provided, however, if the

Chairmen of the Boards of Directors and Trustees determine for good cause shown, that the law of the land requires that a portion of the

net proceeds must be distributed locally, then they may, if they determine it to be in the best interest of Shriners Hospitals for Children,

grant their written permission for such distribution.

(c) The temple shall report the result of each charitable fund raising activity within sixty days of the activity, pursuant to the Charitable

Fund Raising - Approval And Reporting provisions of this General Order

(d) This section shall not apply to activities exempt under section 335.4(b) of the bylaws of The Imperial Council.

(e) Each independent corporation or entity that receives the permission of the Chairmen of the Broads of Directors and Trustees to

raise money for Shriners Hospitals for Children, and which does not have its financial accounts audited pursuant to sections 334.5 & 337.8 of

the bylaws of The Imperial Council, shall have its financial accounts audited by a certified, chartered or licensed public accountant and shall

submit such audit report to The Imperial Council within 120 days of the activity.

3. Statement of Purpose and Disclosure:

(a) Every fund-raising activity must contain factual information on its solicitation material, tickets, programs and documents regarding

the use of the proceeds. Examples:

"Proceeds are for the benefit of (_______ Shriners) (_______ Shrine Club) activities."

"Proceeds are for the benefit of Shriners Hospitals for Children."

(b) Every fund-raising activity which is not entirely for the benefit of Shriners Hospitals for Children shalt prominently state on the

solicitation material, tickets and documents that "payments are not deductible as charitable contributions."

(c) There must be compliance with the Revenue Act of 1987 provision of any existing general order by U.S. Temples.

4. Compliance with Applicable Laws:

It is the responsibility of the temple potentate, after receiving the advice of the temple attorney, to determine that there is compliance with all applicable

laws in its jurisdiction for the temple's fund-raising activities.

5. Financial Records:

(a) The temple shall maintain detailed financial records pertaining to all fund-raising activities involving Nobles, clubs, units,

organizations of Nobles or affiliated or appendant corporations. Details of all revenues and disbursements shall be maintained in such financial

records.

(b) The temple must retain such detailed financial records for a period of seven (7) years.

(c) There must be compliance with Financial Reporting on Charitable Funds and Activities provision of any existing general order.

6. Notification to Nobility:

A copy of the Fund-Raising Activities provisions of this General Order shall be printed in the temple publication at least once every

calendar year. If there is no temple publication, then a copy shall be mailed to each Noble in the temple not later than the last day in March of

each calendar year.

7. Discipline:

Any officer, Noble or temple which violates a provision of Fund-Raising Activities is subject to discipline pursuant to the bylaws of

The Imperial Council.

7
---
CeNter

NeWS

Clowns

2The great blizzards of January are

over and it kept us from "clowning" a

little bit, but February should keep us

busy working on skits getting ready

for competition.

The South East Shrine Clown

Association (SESCA) Mid-Winter

convention and clown competition;

or rather the "2018 Shrine Clown

Jamboree", is coming up fast and

will be held March 8th through 10th

in the Great Smokey Mountains,

Gatlinburg Tennessee! It will be a little

different this year where all Shriner

card-carrying clowns will be able to

compete. We are looking forward

to a very exciting competition and

fellowship with brother clowns from

other Shrine temples.

Thank you to all of you for what

you do to support our children's

hospitals. Please keep those that are

sick and unable to attend our events

in your prayers.

Keep on Clowning!

Jim "Snips" Lee

Secretary

Motor Corps

Well 2017 is in the rear-view mirror,

and 2018 promises to be very exciting

for the Motor Corps. Congratulations

to Phil "Fat Rabbit" Parman for

winning the very prestigious 2017

Shriner of the Year Award. Thank you

to Past Captain Van Miller

and his lady Vickie for an

outstanding 2017 year.

8

The elected 2018 Motor Corps

Officers are,

Captain, Jim Asad Adjutant, Leighton

Bush, Jr. Secretary/Treasurer, Barry

Molasy Recording Secretary, Terry

Posey Parliamentarian, Greg Hill

Journalist, Phil Parman Historian &

Chaplain, Frank Hester P.P., Classic

Cars Lt. – Gary Graf Dune Buggies

Lt. – Kyle Mason Life Members Lt.

– John Anderson Motorcycles Lt. –

Tommy Stevenson

We look forward to working with

the Divan and all the units during the

upcoming year.

Also, this Shriners Creed is a great

reminder why we all became Shriners:

The Shriners Creed

Shriners believe in God and that He

created man to serve His purposes,

among which is service to others in

His name.

We believe that care for the less

fortunate, especially children who

suffer from burns and crippling

diseases, is our institutional calling.

We are patriots, each willing to serve

his country with fidelity and courage.

We cherish independence under law

and freedom with responsibility.

We honor family. We respect our

parents, wives and children. We

should instill in our children the

tenets of this creed, and the heritage

from which it emanates.

As individuals we pledge ourselves

to integrity, virtue and nobility of

character. Our intentions will be

honorable, our relations will be

trustworthy and our spirits forgiving

of each other.

As brothers we offer each other

fraternal affection and respect.

Together we will support each other

in adherence to this creed, so that

we and our communities will be the

better because of our fraternity and its

principles.

As Shriners we look beyond

ourselves to serve the needs of others,

especially children who cannot help

themselves. We believe Shriners

Hospitals to be the world's greatest

philanthropy, and we covenant with

each other to support its "temples of

mercy" with spirit, time, talent and

means.

Thank you,

Jim Asad

Captain Motor Corps

Fat Rabbit

Journalist

Shrine Club News

Hendersonville Shrine Club

Congratulations to Potentate

Frank Hester and the Divan for

an outstanding year for Al Menah

Temple.

Our first big event for the year

is our Valentine Party. It will be

Saturday, February 10th. The doors

will open at 5:30pm, dinner at 6:30pm

and the entertainment will follow.

Tickets are $25 each and can be

purchased from a Divan member or

in the Shrine Office.

Once again, I would like to

invite any Shriner in our area to

come out and fellowship with the

Hendersonville Shrine Club. We meet

on the 4th Monday of each month at

the Black-Eyed-Pea Restaurant at 164

East Main Street in Hendersonville.

We would love for you to join us to

share good food, fellowship and share

your ideas with us.

In closing, let's remember to keep

our Temple, our kids, our sick and

those who have lost loved ones in

our prayers. Last but not least, our

military men and women fighting for

our freedom. "God Bless America".

Boyd Parnell

President
---
CALENDAR OF EVENTS

AS OF THIS PUBLICATION – SUBJECT TO CHANGE

February

Feb. 10 Valentine Party

Feb. 17 Demolay Sweetheart Dance

Feb. 20 Stated Meeting

Feb. 24 Gospel Singing For Shriners

Hospital - Erin, TN

March

Mar. 17 Erin Parade

Mar. 20 Stated Meeting

Mar. 23 Potentate Ball Hospitality @

Maxwell House

Mar. 24 Potentate Ball @ AMT

Mar. 28 Grand Lodge

Mar. 29 Maundy Thursday

Mar. 31 Patient's Easter Egg Hunt -

Patients Only

April

Apr. 2-6 Paper Sale Caravan

Apr. 13-14 Rainbow Girls Event @ AMT

Apr. 13-14 Scottish Rite Reunion

Apr. 17 Stated Meeting

Apr. 20-21 Scottish Rite Reunion

Apr. 22 Gospel Singing @ AMT

May

May 10-12 Fun Fest - Pigeon Forge

May 15 Stated Meeting

May 17-20 Dixie Association

Convention-Panama City -

More Information To Come

June

June 2 Ladies Luncheon

June 19 Captain's Meeting Only @ 6:00PM

June 23 Casino Party @ AMT

July

July 8-14 Demolay Conclave

July 15-19 Imperial Session - Daytona Beach, Fl

July 24 Captain's Meeting Only @ 6:00PM

August

Aug. 16-18 Southeastern Shrine Association

(S.e.s.a) - Pigeon Forge, TN

Aug. 21 Stated Meeting

Aug. 24-25 Cincinnati Shriners Hospital

Divan Weekend

September

Sept. 15 Ceremonial @ AMT

Sept. 18 Stated Meeting

Sept. 20 Directors Staff Golf Tournament

Sept. 29 Al Menah Car Show

October

Oct. 5-7 Shrine Circus - Municipal Auditorium

Oct. 13 Clown Auction

Oct. 16 Stated Meeting

Oct. 20 Oes Homecoming @ AMT

Oct. 27-28 York Rite Festival

November

Nov. 1 Hospital Driver's Dinner @ AMT

Nov. 2-3 Scottish Rite Reunion

Nov. 3 Ladies Extravaganza @ AMT

Nov. 9-10 Scottish Rite Reunion

Nov. 10 Director Staff Auction

Nov. 20 Stated Meeting - Dinner @ 6:00PM /

Meeting To Follow

Nov. 24 Manchester Parade

Nov. 25 Dickson Parade

December

Dec. 5 Chief Rabban Dinner

Dec. 9 Patients Christmas Party @ AMT

Dec. 18 Chief Rabban Dinner

Dec. 20 Stated Meeting - Election Night

Dec. 31 New Year's Eve Party

9
---
REMINDER!

NOTICe:

ALL communications

for the Shriner

should be sent to

editor.amsc@gmail.com

10
---
Nobles Nobles Visited Visited By By

The Black The Black Camel Camel

CHARLES B. TAYLOR

Gallatin

3/7/27 – 12/4/17

GEORGE E. FARRELL

Clarksville

8/19/36 – 1/11/18

AL AL MENAH TEMPLE

A.A.O.N.M.S.

1354 BRICK CHURCH PIKE

1354 BRICK P. O. CHURCH Box 78545 PIKE

NASHVILLE, P. O. Box 78545 TN 37207

NASHVILLE, TN 37207

www.almenahshriners.org

www.almenahshriners.org

Nonprofit

Nonprofit

Organization

Organization

U.S. POSTAGE

U.S. POSTAGE

PAID

Nashville, TN

Permit Nashville, No. 1731 TN

Permit No. 1731

WALTER H. SLATER

Goodlettsville

1/8/26 – 12/30/17

JAMES W. MARTIN

Nashville

2/9/44 – 1/11/18

BILLY R. BUTLER

Hendersonville

12/2/37 – 1/4/18

Deadline for March Shriner is February 22, 2018

11